City life in Bangkok, Jungle life in the National Parks and Island life in the Andaman. This two-week Thailand Itinerary is perfect for any first-time visitors. Get a taste of everything in Thailand. Conveniently fly in and out of Bangkok and avoid overcrowded areas.
Thailand Two-Week Itinerary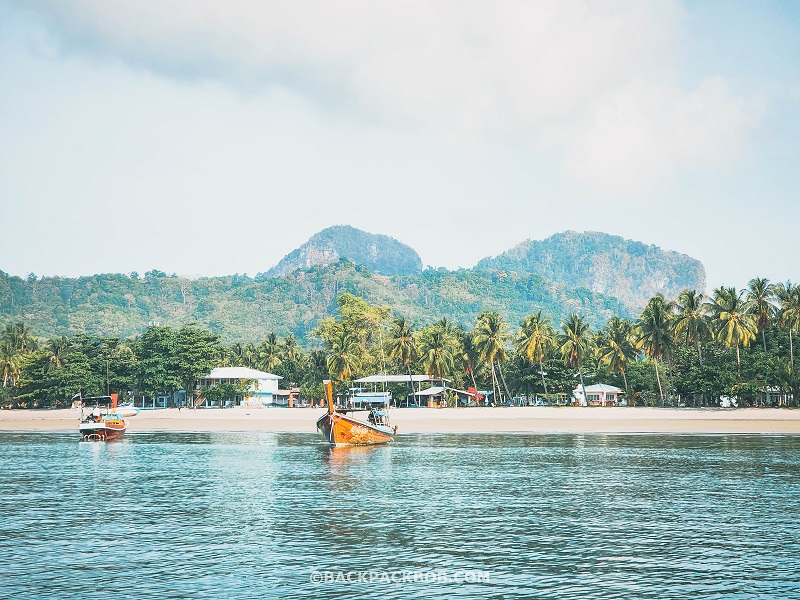 This two-week itinerary starts out in Bangkok, seeing the temples, the Grand Palace, and more. Before travelling south through the Andaman Islands. Use a combination of flights and long-distance taxis to get to Khao Sok National Park, then spend two nights in the rainforest before travelling by private car into Krabi. Visit the Phi Phi Islands on a day tour, take a speedboat to Koh Mook explore the emerald cave and then onto Koh Lipe to snorkel and relax on the beach. Experience Thailand's sleeper trains while travelling back into Bangkok, to connect with a flight home.
I'll share all you need to know before embarking on a two week trip to Thailand right here in this free travel guide.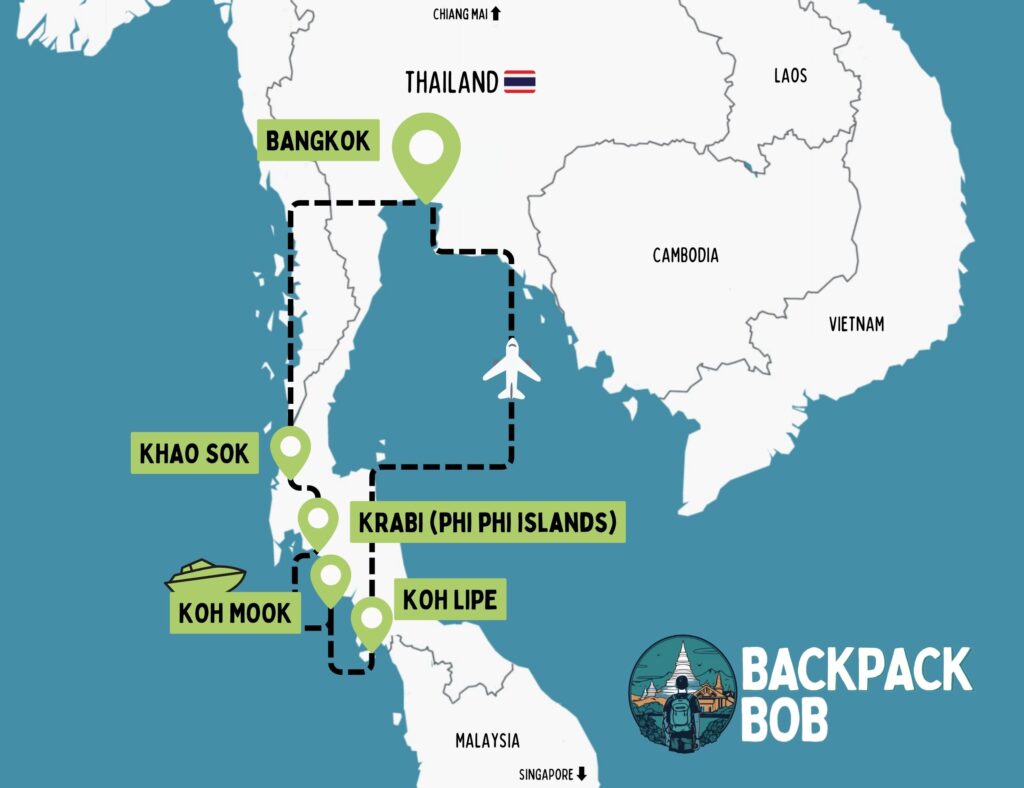 2 Week Thailand Itinerary in Short
Day 1 – Bangkok: Arrive in Bangkok, China Town, Temples and Night Market

Day 2 – Bangkok: Explore Bangkok and Chao Phraya Dinner Cruise

Day 3 – Khao Sok: Morning travel to Khao Sok by airplane. Explore Khao Sok

Day 4 – Khao Sok: Khao Sok Lake Tour

Day 5 – Krabi: Taxi From Khao Sok to Krabi. Explore Krabi/ Ao Nang

Day 6 – Krabi: Private day tour to the Phi Phi Islands & Krabi Night Market

Day 7 – Koh Mook: Moring speedboat from Krabi to Koh Mook, explore Koh Mook

Day 8 – Koh Mook: Emerald Cave and Koh Kradan Snorkel Tour

Day 9 – Koh Mook: Relax at Koh Mook

Day 10 – Koh Lipe: Speedboat to Koh Lipe, Explore Koh Lipe

Day 11 – Koh Lipe: Boat & Snorkel Tour Lipe and Koh Adang National Marine Park

Day 12 – Koh Lipe: Relax at Koh Lipe, Thai Massage and Beach

Day 13 – Overnight Train: Sleeper train from Trang(Koh Lipe) to Bangkok

Day 14 – Bangkok: Back to Bangkok; Lumpini Park and Skywalk before flying home.
Note: Koh (เกาะ) is the English translation of 'Island'. For example, Koh Mook means Mook Island.
Use 12Go Asia to book taxis and speedboat tickets, SRT dTicket for trains, and Trip.com to find the cheapest flights.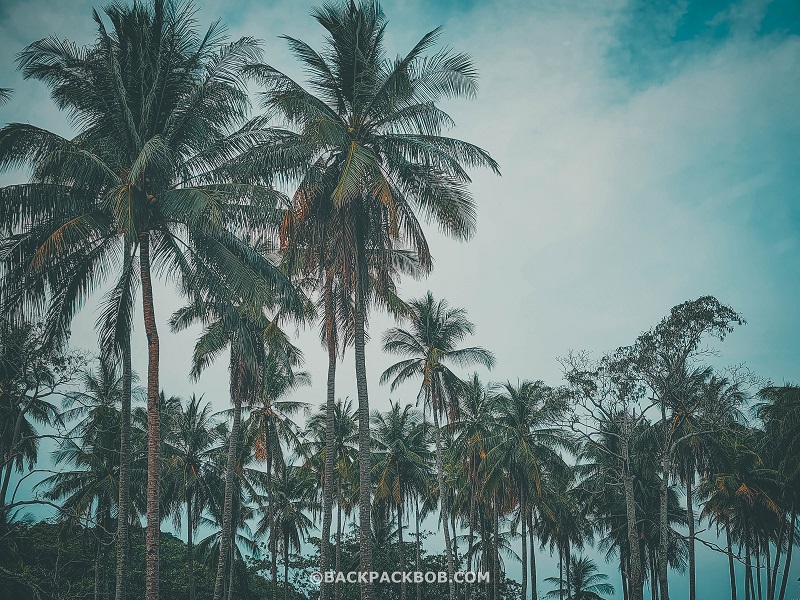 Why This Itinerary
It's written by someone who knows the country better than most. I've lived in Thailand for the best part of a decade now, spending a lot of time in different regions. I have extensively travelled Thailand and visited all 77 provinces. Having previously worked as a tour guide here too, in my younger years. It's safe to safe I know a thing or two about planning an itinerary for Thailand. Most Thailand itinerary guides which you'd find on Google nowadays- such as this one from Nomadasaurs– are becoming seriously outdated.
I originally created this itinerary as a family trip, when my parents were flying over for a 2 week vacation. Countless hours went into planning this and I'm sharing it with you, for free. This route was assembled to take things slow, not be rushed, and avoid the 'typical tourists 'sleazy' areas and overcrowded places- so no; Phuket, Pattaya or Khaosan Road; for example. Favouring private taxis between destinations rather than backpacker-oriented minibuses. And choosing to stay in places and islands which are further away from the masses and crowds. The goal of this itinerary is to stay in unique places, avoid areas geared towards partying and to be able to show a first-time visitor, a more authentic side of Thailand. It's a great itinerary to experience the 'real' Thailand while avoiding the craziness of 'tourist' Thailand.
Is Two Weeks Enough For Thailand
Now, Thailand is a massive country. Seriously. Even after living here for so long, there are still new places I am discovering. The common mistake I see from travellers in Thailand is trying to squeeze too much in on too little time. (E.G: Don't try to visit Chiang Mai and Phuket in the same two week trip)!
If you want to see everything in Thailand. And by that, I still really only mean the 'tourist areas'. You'll need a year at a minimum. Two weeks, however, is a great amount of time to spend in Thailand. Especially if it's your first time visiting! But, you'll need to choose either the south or north and then narrow it down even further to pick the four or five places you most want to experience. You don't want to move around too much- because travelling between destinations really eats into your time.
This 2-week Thailand itinerary focuses on giving you a small taste of everything in Thailand so you can experience a little bit of each region in the south. (no doubt after two weeks you'll be dying to return)! Use this 2 week itinerary as a guide for visiting the Andaman side of Southern Thailand. Fly from Bangkok to Khao Sok before travelling down to Krabi and onto the islands. Island Hop into the deep south by speedboat before taking the overnight sleeper train back to Bangkok. Perfect 🤲
Is a Visa Needed for Two Weeks in Thailand
No visa is needed for two weeks in Thailand. Hi-Five! Thailand offers visa-free entry to citizens of many countries, including those from Europe, the UK, Asia, South America, and North America (including the US). Upon arrival, tourists visiting Thailand receive a 30-day visa-free entry stamp at no cost. All you need is a valid passport, and there is no additional documentation required. Immigration authorities will automatically stamp your passport, allowing you to stay in the country for 30 days starting from the day of your arrival in Thailand. Some countries (mainly India and Mexico) will need to apply for a visa on arrival, upon arriving at the airport; which grants a stay of fourteen days.
It is advised to confirm you do not need a visa; checks can be made based on nationality using this website. Note: You might be asked to show a return flight ticket when you arrive in Thailand. More details are here.
What To Know in Preparation for Two Weeks in Thailand
Best Time to Visit Thailand
This two week itinerary focuses heavily on the South of Thailand and the Islands in the Andaman Sea.
⭐⭐⭐⭐⭐ November until April: The best time to do this itinerary is from the beginning of November until the end of April. This is the peak season, all services will be operating, the weather is great, chances of rain are slim and sun is pretty much guaranteed. However, places are generally busier and prices are increased for hotels and other services during the peak season.
⭐⭐⭐⭐May until August: This is the wet season. It can be a great time to spend two weeks in the south of Thailand because prices, especially for hotels can be up to 50% lower than in the peak months! The downside is there is a higher chance of rain. It can be a gamble on the weather. Some days will be beautiful and sunny but it can pour down on other days. Rain doesn't usually last for long and it's always warm.
⭐⭐ September and October: 'Monsoon' Season. Sea conditions are noticeably poorer during these two months. Speedboat services cease to operate and it's not a great time to visit the islands. Some areas of the Khao Sok National Park such as the nature trails will also close. *Consider visiting the Gulf of Thailand (east) during these months instead.
1️⃣ Day One Arrive in Bangkok: Night 1 of 2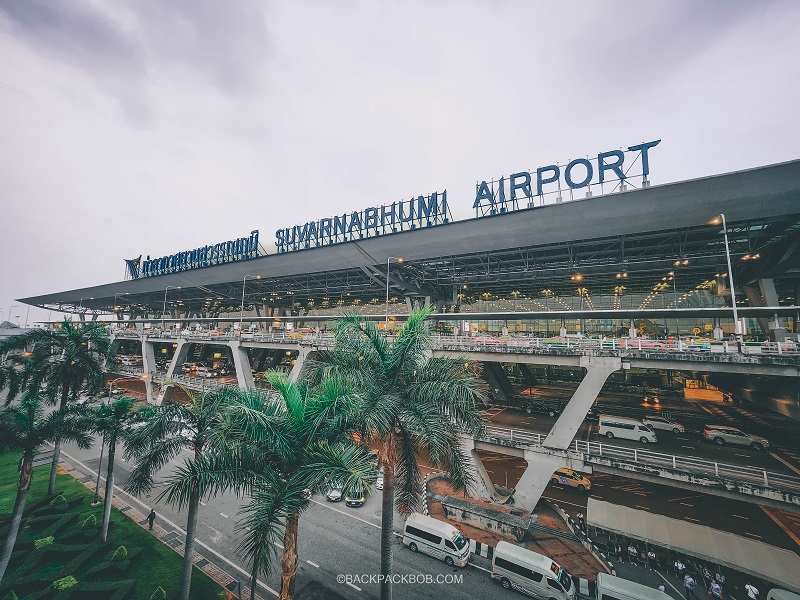 Depending on where you are flying from. When you arrive, you'll probably want some time to get used to the heat, get adjusted to the time zone, and maybe take a quick nap before diving into Bangkok. I recommend choosing a flight which arrives in the morning if possible and having a hotel booked for when you arrive. Check flight prices.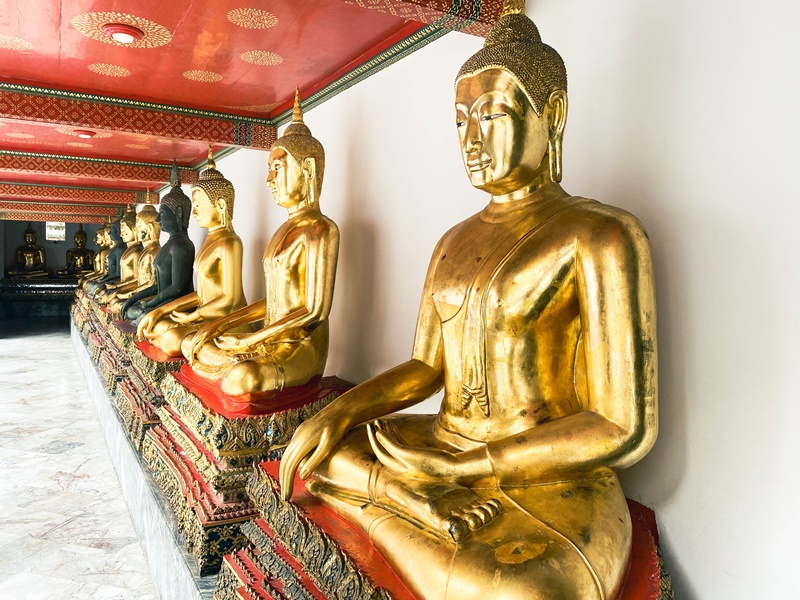 There are two airports in Bangkok. If you arrive at Don Muang (DMK) take a taxi to your hotel. Make sure to use the official taxi rank. If you arrive at Suvarnabhumi (BKK) the train station on the ground floor connects to the Bangkok Sky Train.
Spend some time getting your bearings and perhaps finding somewhere to eat- if you are hungry after your flight.
Where to stay in Bangkok
For a tourist visiting Bangkok for the first time, (excluding the Khao San Road area) there are two areas I would recommend staying in. The first area is Sukhumvit. Sukhumvit is a large area. Choosing somewhere in the Asok/Prom Pong area in Sukhumvit is best because of the easy connections to the MRT subway train AND the BTS Skytrain. It's straightforward to get anywhere in the city from here.
The second area I'd recommend is Sathorn. Sathorn is next to the Chaoprayah River, Maha Nakhon Tower and near to Asiatique Night Market. It's close to Icon Siam and has a BTS Skytrain Station and an Express Ferry Port. You can catch a ferry(50 Baht) from Sathorn to the Grand Palace, Wat Arun Temple and Chinatown.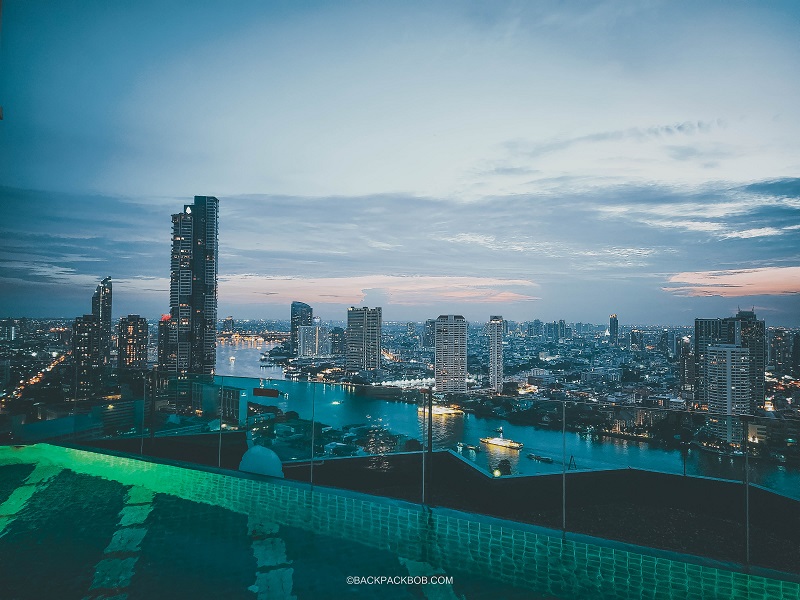 Apartments with rooftop infinity pools can be booked in both Sathorn and Sukhumvit for around $50 USD a night. When it comes to booking accommodation in Bangkok I recommend finding a luxury condo block to stay in or VRBO.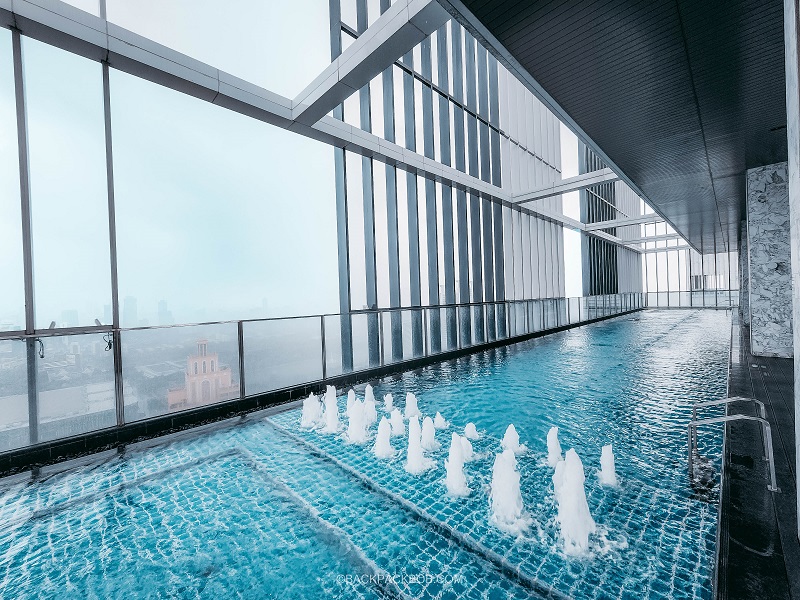 Activities on Day One
Don't try to do too much on your first day. I recommend visiting just one temple. The Grand Palace(500Baht) is a great place to get an introduction to Thai Culture, (don't forget your elephant pants). You can easily get there on the Chao Prayah Express River Boat, and there are plenty of local spots nearby to try some famous Thai Food. Khao Pad Gra-Paw anyone?
In the evening Jodds Fair Night Market(Free Entrance) in the Sukhumvit area is a fantastic place to try some of Thailand's even more unique flavours. If you love seafood and you love bargains- then you'll love this market. (100 to 1000Baht). Jodds fair night market is open seven nights a week.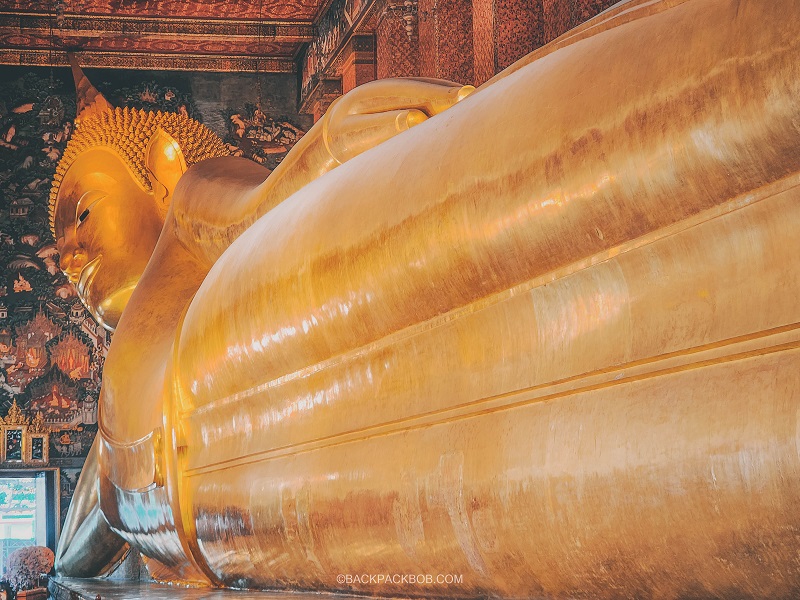 2️⃣ Day Two Bangkok: Night 2 of 2
Hopefully feeling well rested for the second day in Bangkok because there is so much to do and see in the city on the second day on this Thailand itinerary.
Activities on Day Two
Wander around the markets in Bangkok China Town, take a tuk-tuk ride through the streets of Bangkok, spend some time exploring Lumpini Park(FREE), and visit some of Bangkok's most iconic temples like Wat Arun(100 Baht) and Wat Pho(200 Baht)(full temple guide here).
All of these places are nearby to each other and the Chao Prayah River Boat is the best transport option to get between each destination.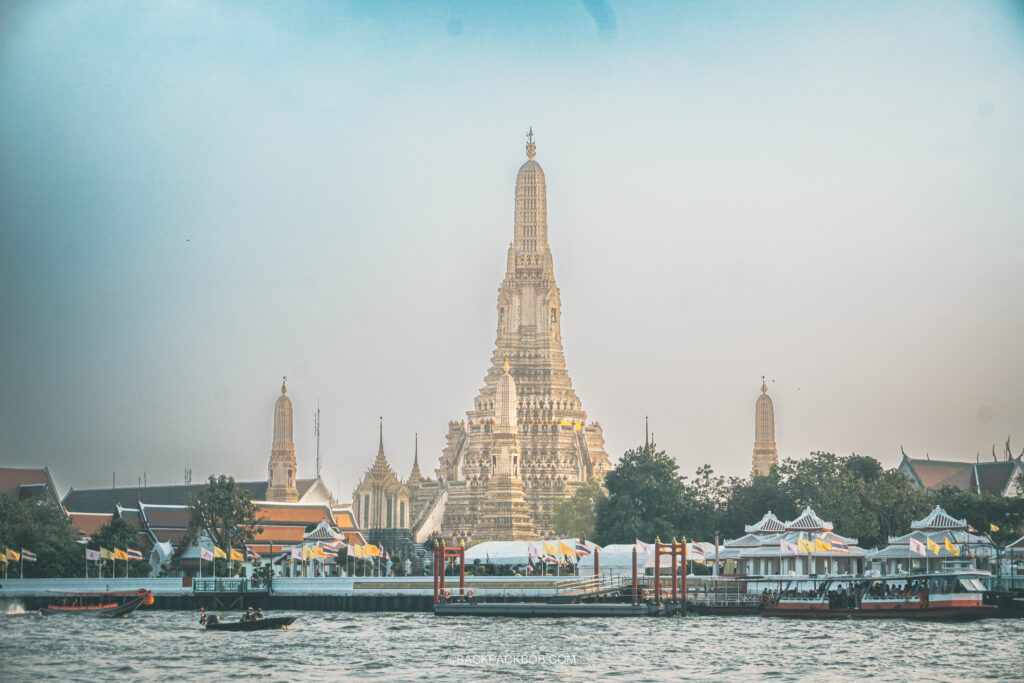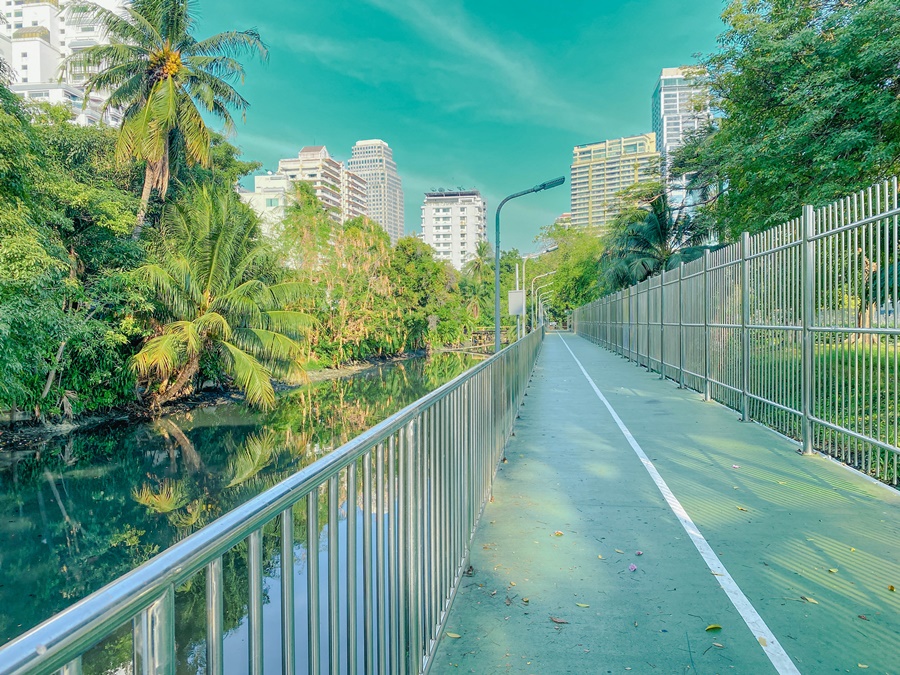 In the evening is an activity not to be missed. One of my favourite things to do while in Bangkok is to take a dinner cruise on the Chao Prayah River. Granted, the entertainment can be a little bit tacky, but in all, it's great fun. Boats leave from the Asiatique Harbor between 7:00 pm and 9:00 pm.
Tickets for the dinner cruise cost around 1,500 Baht. You can book online here. I've also put together a full guide for the Bangkok Dinner Cruise. Enjoy a buffet on the open top deck of a cruise boat, and watch a performance from traditional Thai Dancers as you meanderer along the Chao Phraya River and take in the city views.
3️⃣ Day Three Khao Sok: Night 1 of 2
On the third day of this two week itinerary, it's time to kiss goodbye to Bangkok (for now) and travel south to Khao Sok National Park. It's best to book a morning flight so you'll have a full afternoon to explore Khao Sok when you arrive. Walk around the small Khao Sok village, do a half-day hike in the National Park(700 Baht) or even go tubing on the lazy river for a few hours in the afternoon! (500 Baht).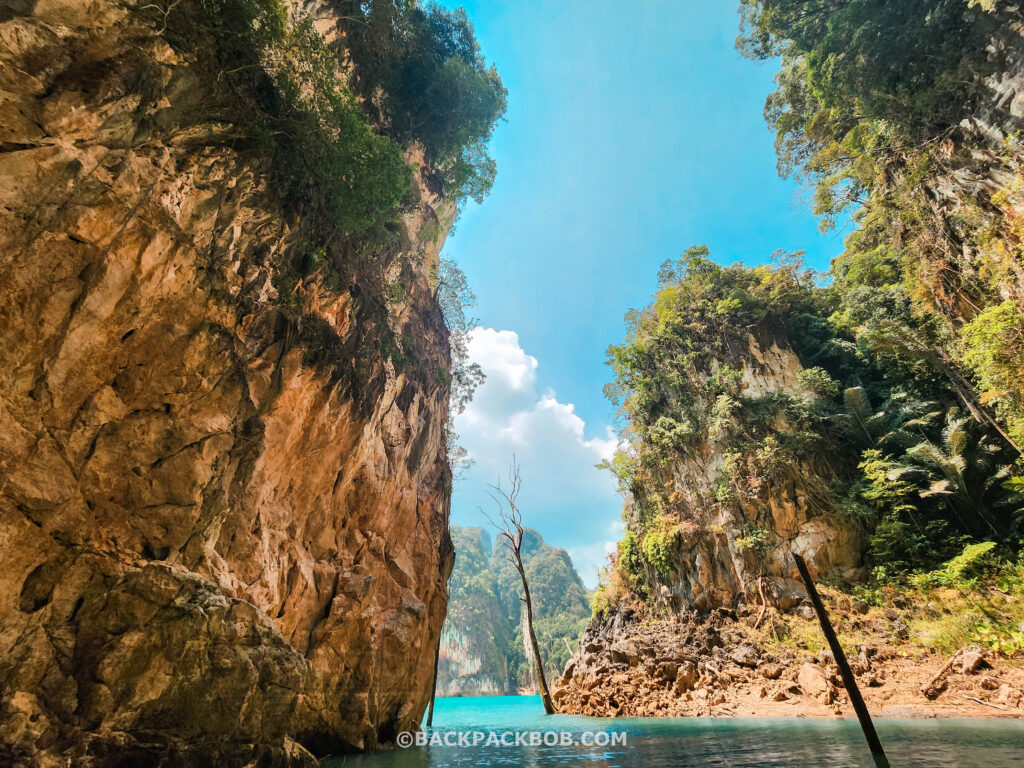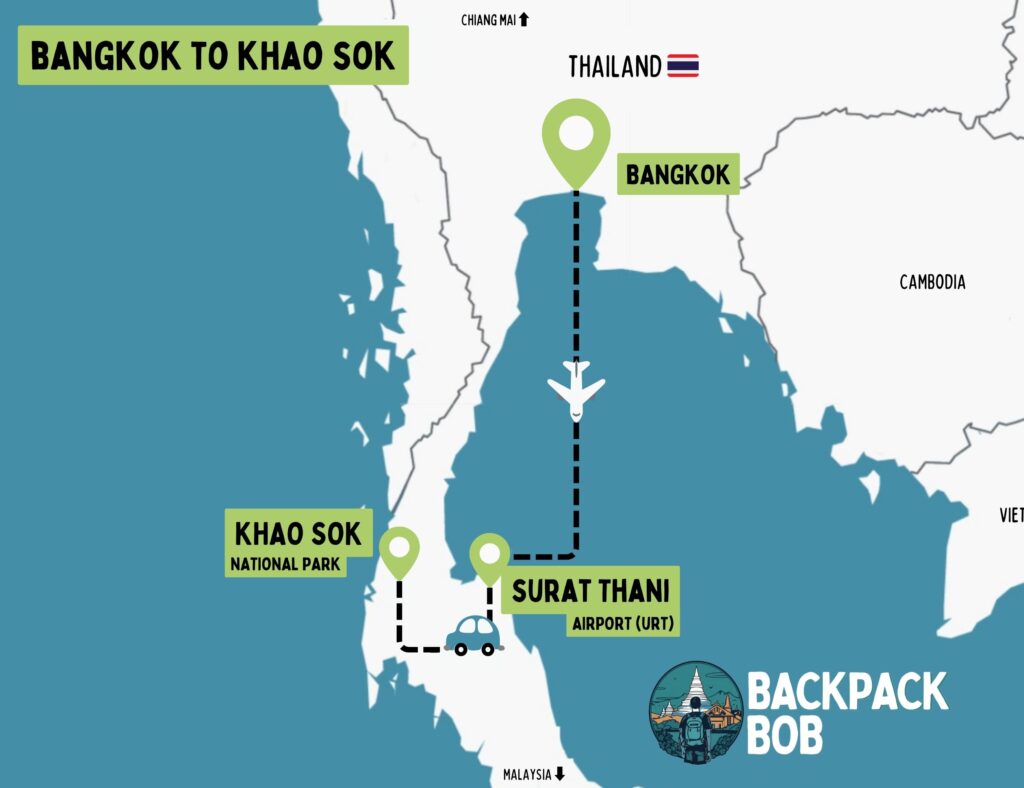 How to Get From Bangkok to Khao Sok
1) Fly from Bangkok to Surat Thani: AirAsia or Thai Lion Air usually have the best fares. Depending on the season and how far in advance you book, one-way tickets can cost as little as $17 USD, or less than 1,000 Baht. Check prices and times here.
2) Taxi from Surat Airport (URT) to Hotel in Khao Sok National Park: Then it takes 2 hours to reach Khao Sok from the Airport, the drive is 110km. A taxi costs 2,000 Baht ($60 USD) and the cost can be split between passengers. I prefer to book a taxi in advance, and a driver will be waiting with a name board when your flight lands.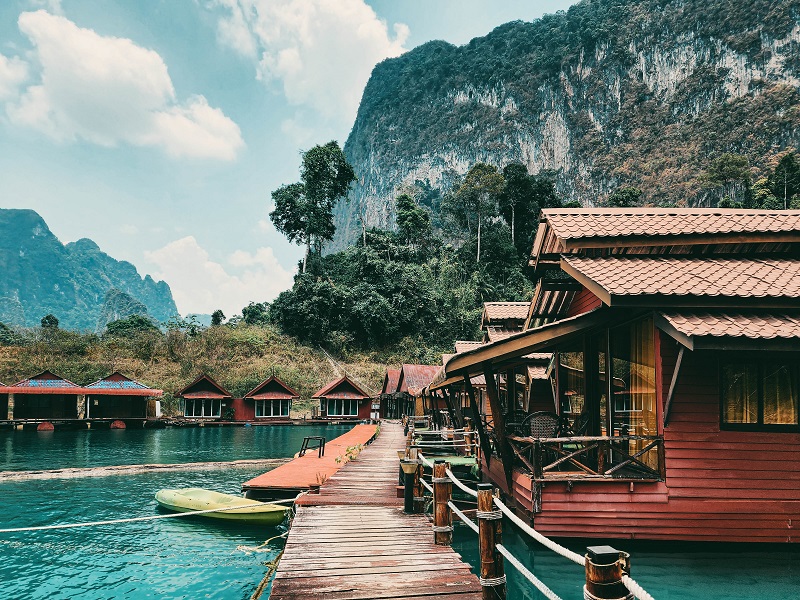 Where To Stay in Khao Sok
Khao Sok National Park is huge. However, no hotels exist inside the park because it is a protected area. All of the Khao Sok hotels are located in the Khao Sok Village which is close to the National Park's main entrance.
Khao Sok Village
The Khao Sok Village and hotels are all located in the jungle on the outskirts of the National Park. Each guesthouse in Khao Sok has a unique feel. Having stayed in Khao Sok village twice, here are the guesthouses I recommend most.
Khao Sok Treehouse Resort – This guesthouse has a lovely owner and you feel welcome here. The rooms are actually treehouses! Built on the treetops.
Montania Lifestyle Hotel – The Montana lifestyle resort is closer to the town and has a more luxurious feel. With an infinity pool and views of the jungle and limestone cliffs, it's a very peaceful place to stay.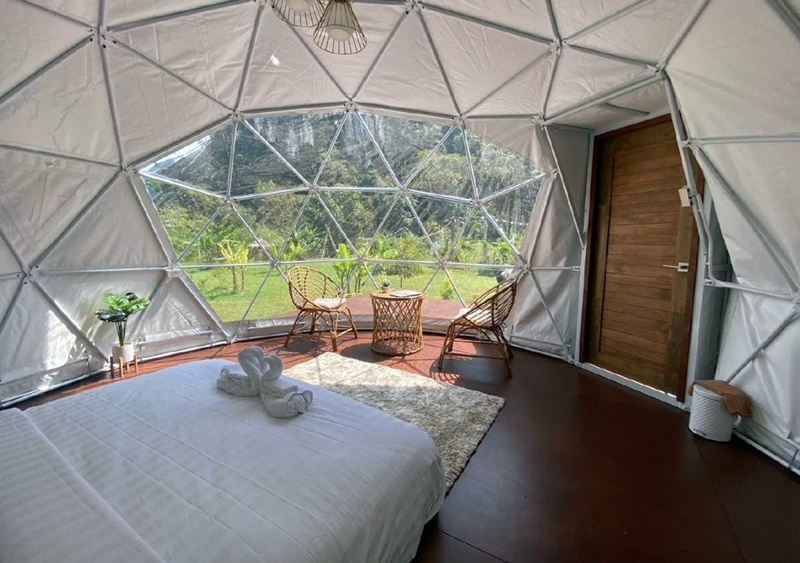 Cosy Garden Khao Sok – Go Glamping in Khao Sok and sleep under the stars in a luxurious bubble dome tent- budget-friendly.
Floating Bungalows
The exception is the Khao Sok Floating Bungalows which are on Cheow Lan Lake and inside the park.
The National Park Bungalows (Pictured above) cost 500 Baht a night but cannot be booked online. You need to call Khao Sok National Park in advance to book (077 395 154) *Recommended to have a Thai speaker call on your behalf.
500 Rai Floating Resort is one of the most unique and luxurious places to stay anywhere in Thailand. But expect to pay upwards of 500USD a night and reservations are needed, often two months in advance, or more.
4️⃣ Day Four Khao Sok: Night 2 of 2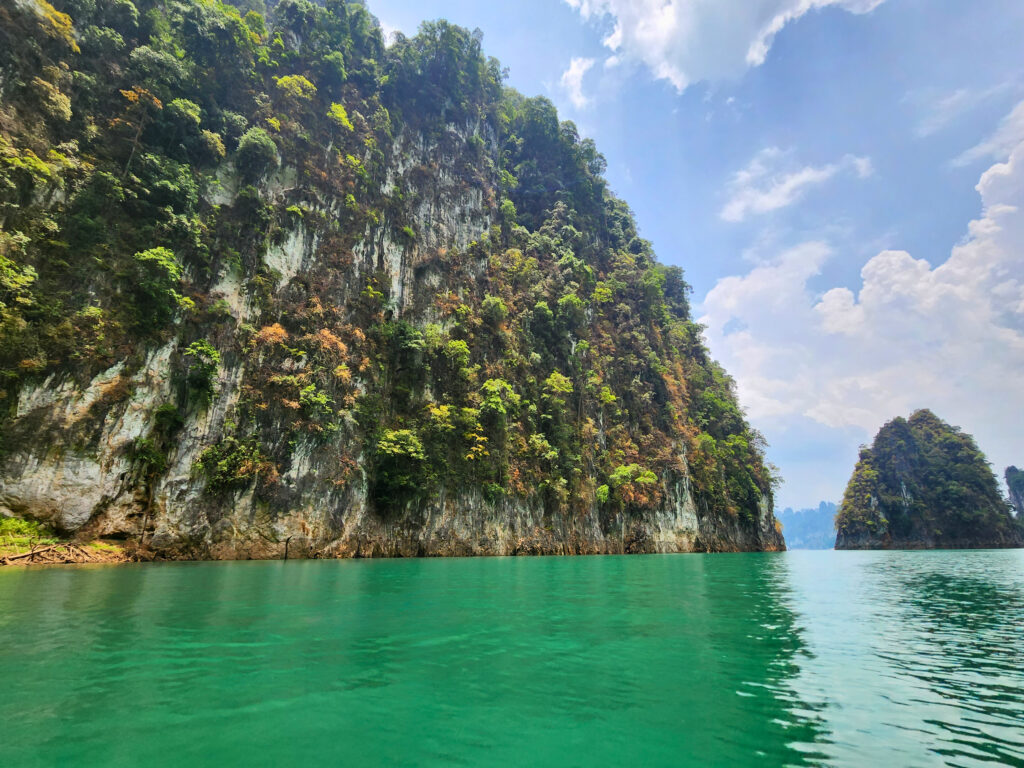 Spend the entire fourth day in Khao Sok National Park! There are a few things you can do here but I recommend booking a Khao Sok day tour such as this one. The main attractions are Cheow Lan Lake which you can tour by longtail boat and swim in the lake. A full-day tour should also include some trekking the Khao Sok trails in the National Park and there is an ethical elephant sanctuary too.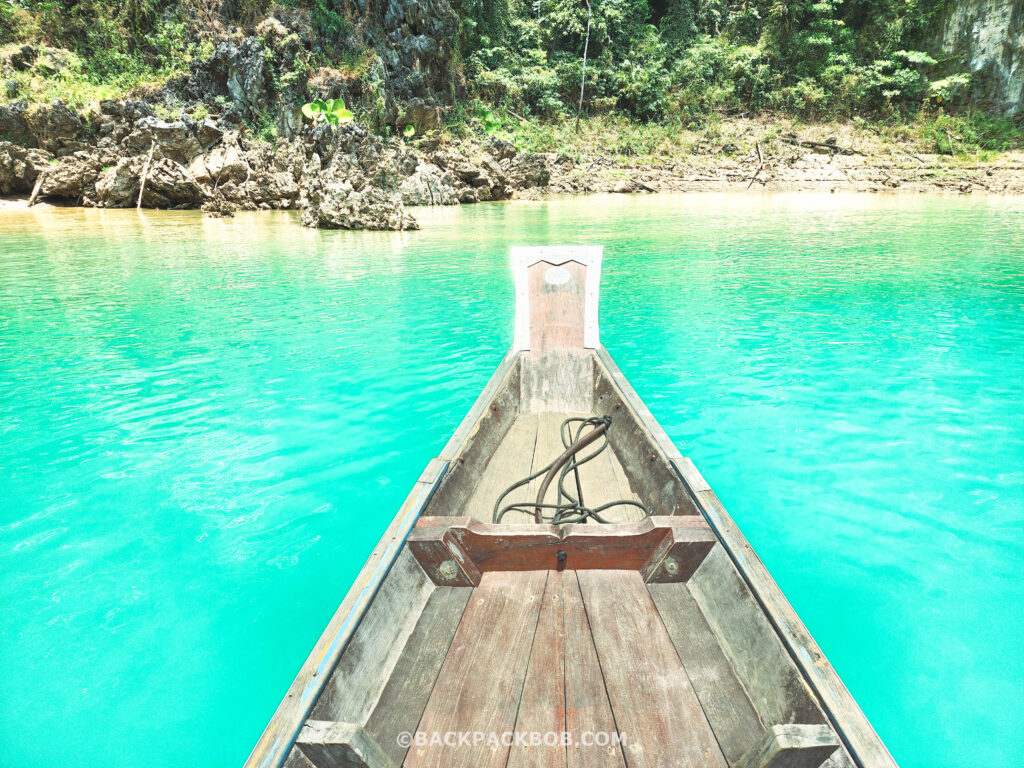 A full-day tour covering all these attractions (nature trails, wildlife and Cheow Lan Lake) should cost around 2,500 Baht for a full day on a shared basis, or around 11,000 on a private basis (two people).
There are plenty of cute 'bamboo-built' restaurants in the Khao Sok village to have dinner. Meals cost around 100 Baht.
5️⃣ Day Five Krabi (Ao Nang): Night 1 of 2
Travel from Khao Sok to Krabi or Ao Nang Beach on the fifth day of your two weeks in Thailand. I recommend using a private driver to travel between these destinations. I used 12Go to book a private taxi. Cars can be booked online and the cost is around 2,000 Baht (65 USD). It takes around 2 hours to get to Krabi. The distance is about 104 Kilometers and drivers will normally make a pit-stop at a 7-11 halfway.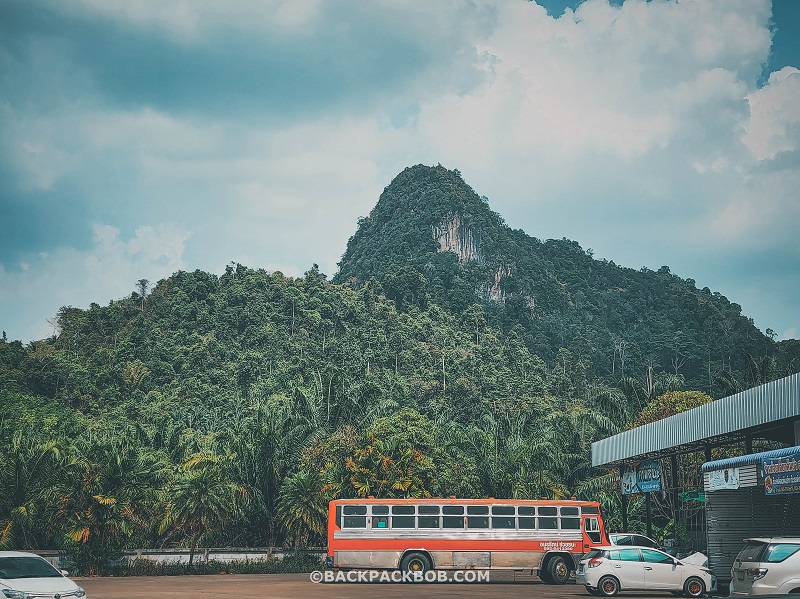 There is also a shared minibus service but you'll need to travel at the times set by the bus company. It is cheaper at around 300 Baht a person, but you can easily lose an entire day to travel by taking the bus.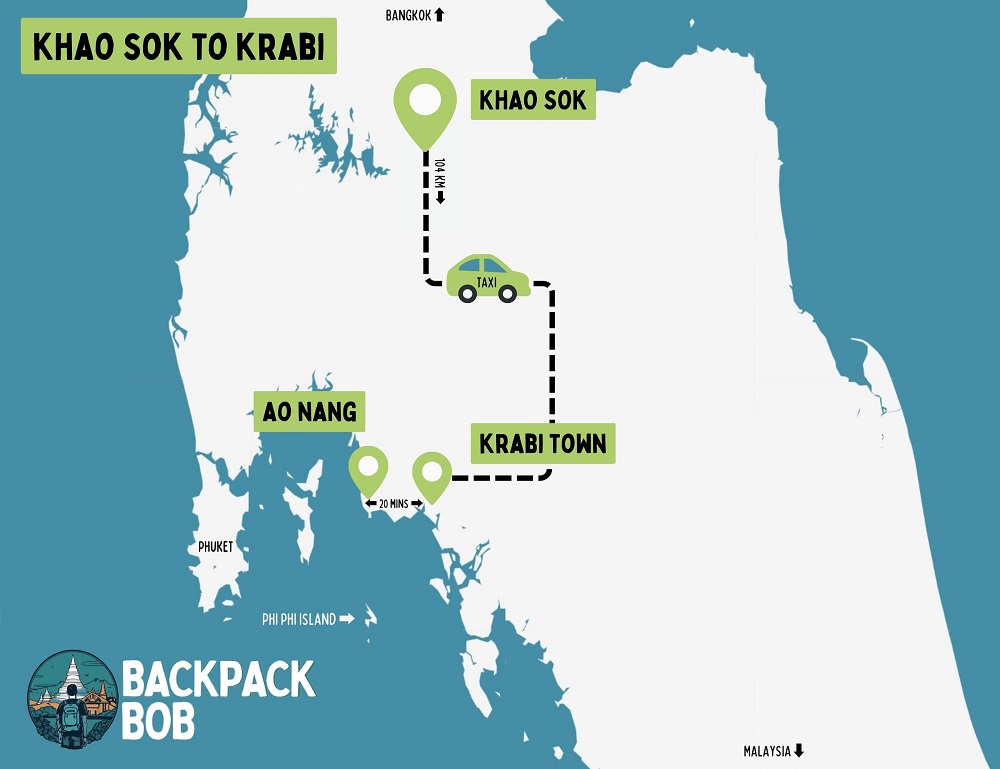 Where to Stay in Krabi / Ao Nang
There is often some confusion with the name of this place. So I'll try to explain the differences.
Krabi is a province and inside the province, there are two main towns. Krabi town and Ao Nang (Beach) Town. These two spots are a 20-minute drive apart from one another. The Phi Phi Islands are also a part of Krabi Province.
Krabi Town is next to the river. Chose to stay in Krabi Town if you prefer something quieter, cheaper more local, more relaxed and more night markets.
Ao Nang is next to the Beach (Noppharat Thara Beach). Choose to stay in Ao Nang if you prefer somewhere busier with more nightlife and more catered towards tourism.
For a two-week itinerary, I don't recommend staying in Phi Phi Island overnight due to lack of time. Instead, I recommend taking a day trip to Phi Phi from the mainland.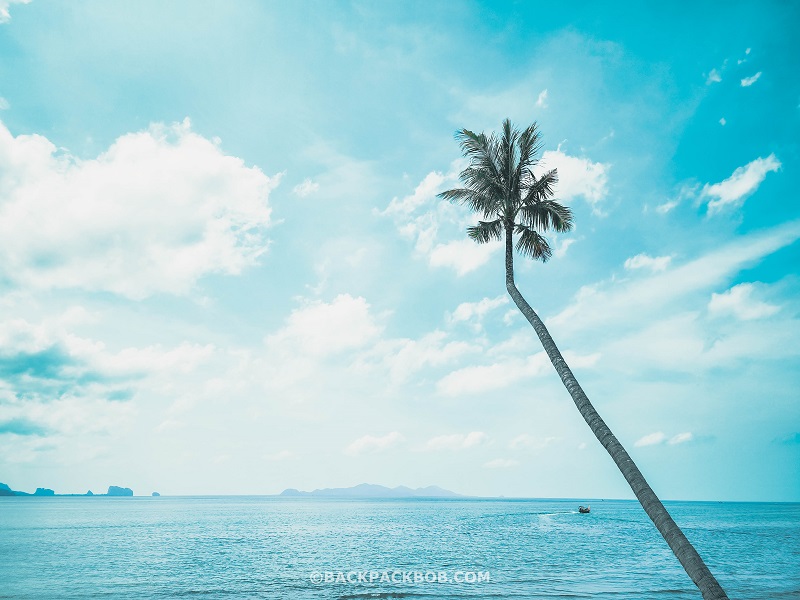 Activities on Day Five (Krabi/Ao Nang)
Assuming you've taken a taxi to Krabi in the morning, you'll then have the rest of the day to explore Krabi and there are a ton of things to do. The Tiger Cave Temple and the Dragon Crest Hike are some of my favourite activities here. And the night market in Krabi is one of the best you'll find in Thailand (read my Krabi Nightmarket guide here).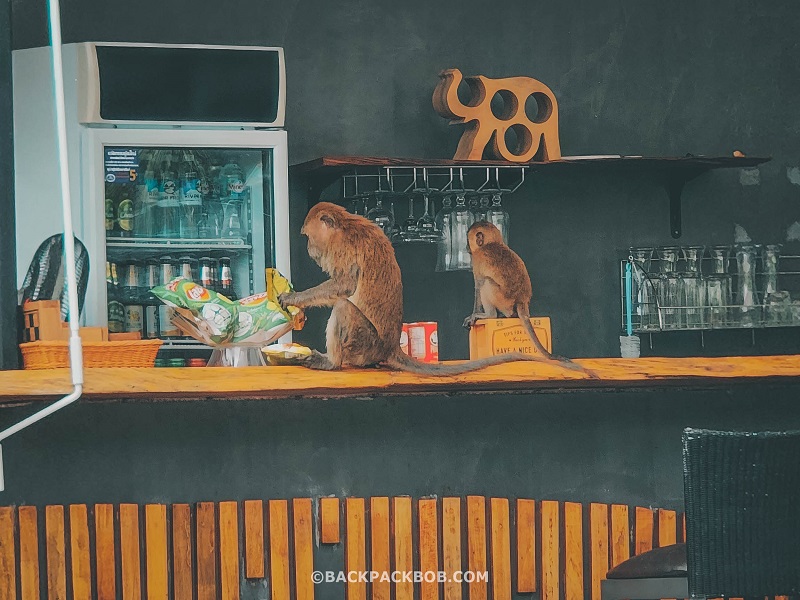 There are lots of islands to visit on a day trip from Krabi, (James Bond Island, The Phi Phi Islands and The Four Islands are the most popular day tours from Krabi) but you'll need a full day for these trips, so don't try and squeeze a boat trip in on the same day as your arrival!
Railay Beach is also nearby and is a cool spot which can be visited for an afternoon. Longtail boats cost 100 Baht each way and leave every few minutes from Ao Nang Beach. No need to book in advance.
6️⃣ Day Six Krabi (Ao Nang): Night 2 of 2 (The Phi Phi Islands)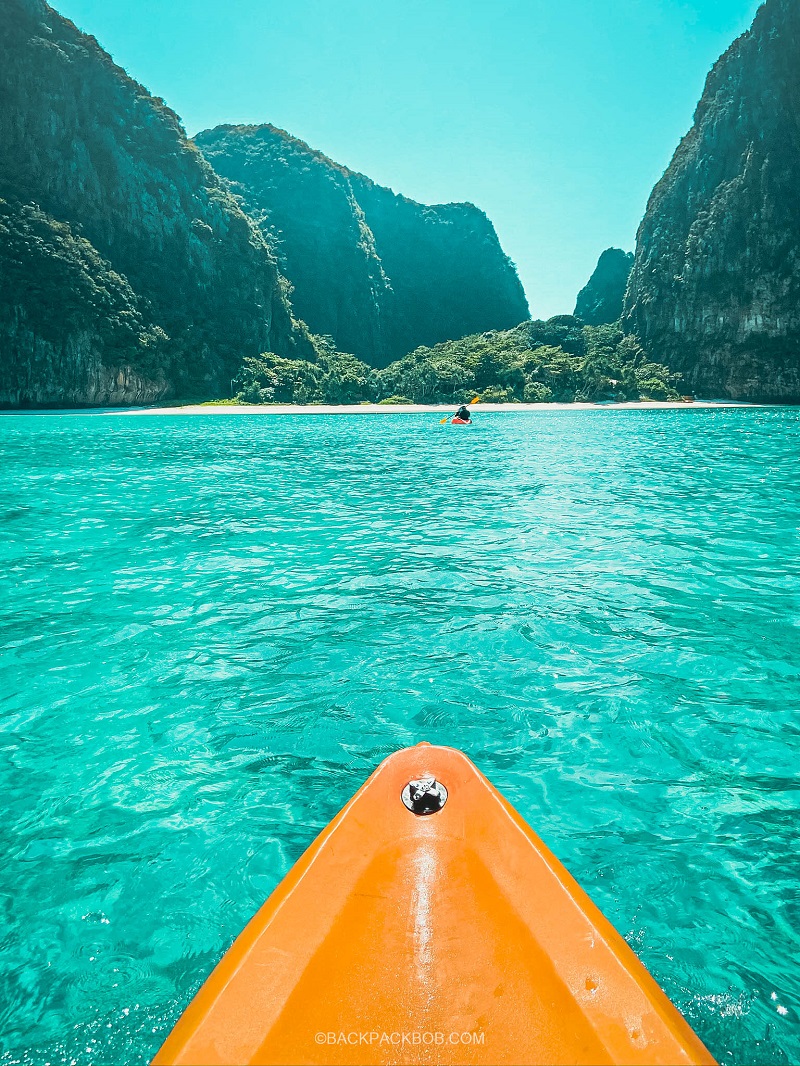 Phi Phi Islands are the literal most 'touristy' place in Thailand. I should know, I lived there for two years, including during the coronavirus lockdowns. Now, when it comes to Phi Phi I urge you to book a private boat tour of the islands. Five Star Thailand Tours are who I know and use, and their tours are worth every last baht. Shared group tours to Phi Phi are hell on earth. Crammed into a boat a shuttled around. Every group tour company offers the same poor service.
On a Phi Phi Island Tour, everything should be all-inclusive, so you'd be picked up with a taxi in Krabi/Ao Nang, ride the speedboat to Phi Phi Island and then meet your private longtail, boat and captain to take you on a six-hour island sightseeing and snorkelling tour.
On a private tour, you'll have space to yourself. We had a private tour guide and we were able to take a different tour route to avoid the crowds~ to some extent. But the experience was 1000x better than a typical 'cattle' tour.
Book a Private Tour of the Phi Phi Islands here – this tour includes a round trip to Phi Phi Island by speedboat, hotel collection and drop off and six hours on a private longtail boat to explore the islands!
7️⃣ Day Seven Koh Mook: Night 1 of 3
Koh Mook (sometimes spelt Koh Muk) is a really unique island. It's part of a cluster of three 'Trang Islands'. Koh Mook, Koh Ngai and Koh Kradan. The other two islands can be visited as day trips from Koh Mook.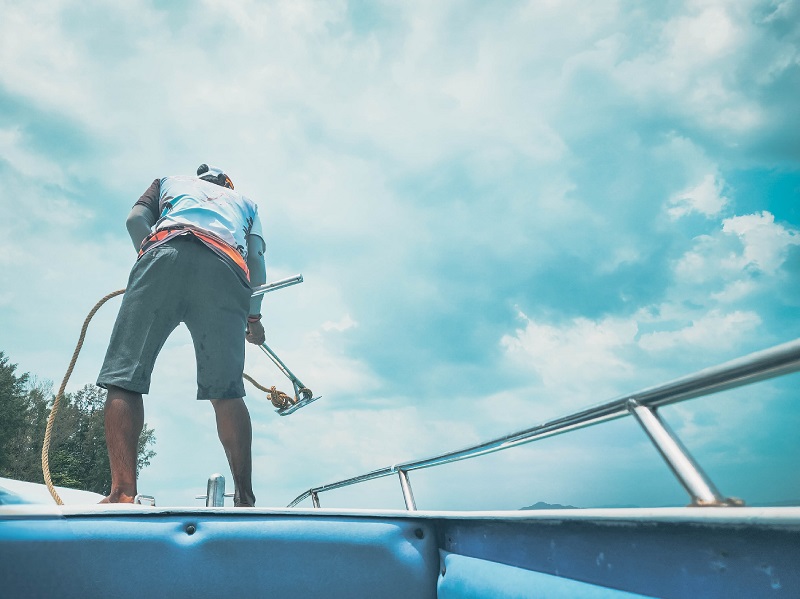 Getting from Krabi / Ao Nang to Koh Mook is really easy. There is a speedboat that pickups up passengers at Noppharat Tharra Pier in Ao Nang and Chao Fah Pier in Krabi Town. Speedboat tickets can be booked online with 12Go and there are three companies operating this route. Satun Pakbara Speedboat Club, Budhaya and Tigerline (SriLanta).
Tickets cost 1500~2000 Baht and the ride takes 3 hours making a stop at Koh Lanta on-route. The speedboat only operates from October until June. Outside of these months, you'll need to take a taxi to Pak Meng Pier in Trang and catch a ferry from there instead.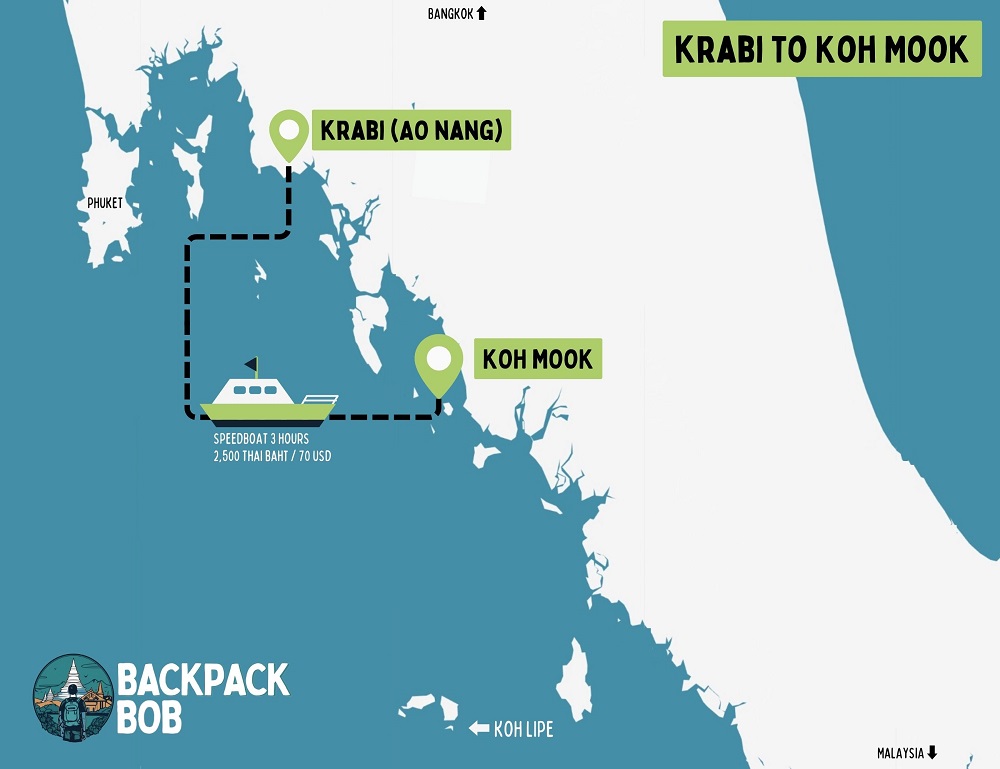 Koh Mook is one of my favourite islands in Thailand its beautiful, quiet and peaceful. The Emerald Cave is one of the most beautiful sights I've ever laid eyes upon in Thailand- incomparable to even Maya Bay Beach or the James Bond Island. Despite the outstanding natural beauty here- Koh Mook is rarely visited by tourists! It really is a hidden gem.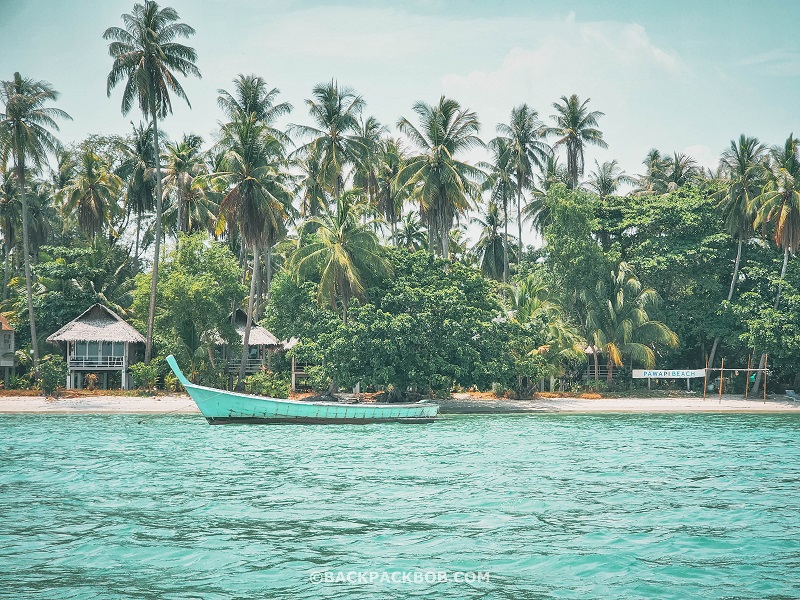 Where To Stay on Koh Mook
Koh Mook is a really small island so it doesn't make much difference in which location you stay. Getting around Koh Mook Island is really easy too. It's easy to walk around the island, or, if the sun is too hot- then motorcycles with sidecars can be found all over Koh Mook. The cost is fixed at 50 Baht to go anywhere else on the island.
I recommend staying at the Pawapi Beach Resort. The place is really off the tourist radar (for now at least). The resort is small and luxurious with only a few villas- which are huge and great value for money.
The Beach Villas and Beach Bungalows are right on the sand (pictured) and there is an infinity swimming pool next to the ocean too. I've stayed in a lot of hotels, condos and resorts in Thailand over the years and Pawapi is easily one of my favorite places. It costs around 75 USD for a beach-front villa here.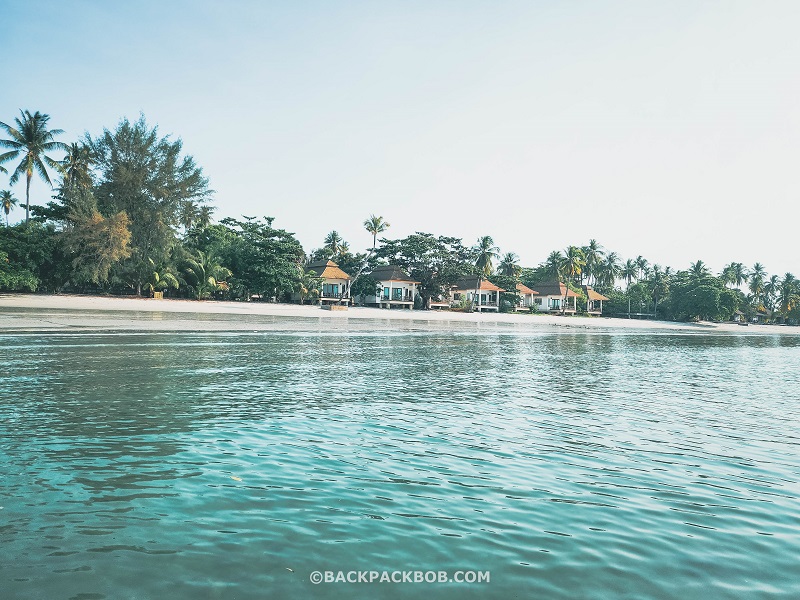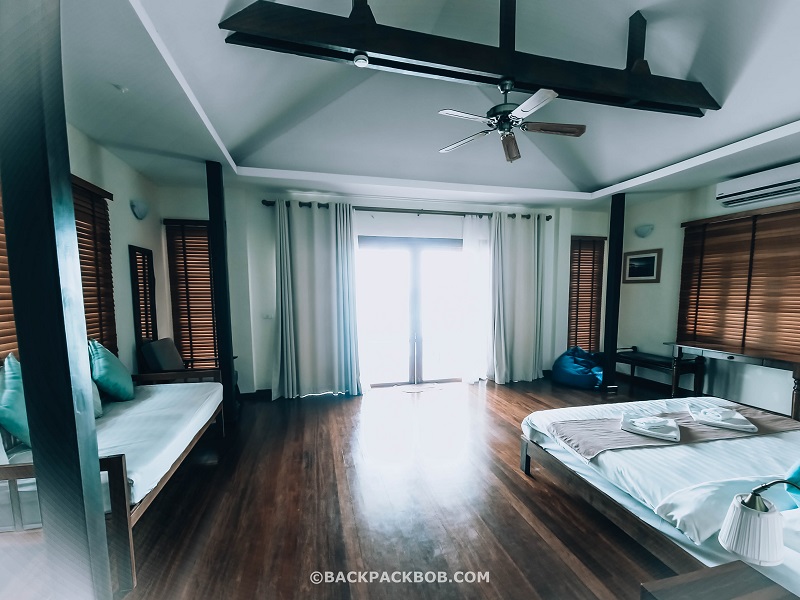 Book a room at the Pawapi Beach Resort in Koh Mook here.
Cheaper accommodation is defiantly available on Koh Mook too ($25+ Per Night) but it's such a beautiful island that I recommend 'splurging' a little here and having a beachfront villa. It's one of those places where you get a lot more value for a little extra.
Sivalia Beach Resort is another great resort on the same stretch of beach- however, the rooms aren't as extravagant, and the prices are a little higher.
Activities on Day Seven
There aren't loads of things to do at Koh Mook. Which is kind of the beauty of this island- there's plenty of time to chill out. Depending on the speedboat schedule, usually you would arrive in the early afternoon. Spend the day hanging out in a hammock on the beach and getting your bearings on the island. Swim in the ocean and eat a BBQ Dinner on the beach in the evening after watching a beautiful Andaman Sea sunset.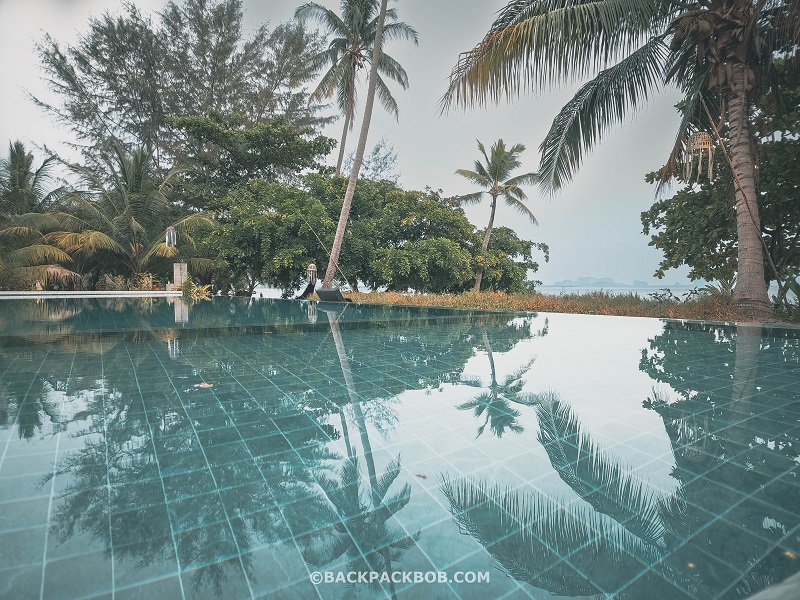 8️⃣ Day Eight Koh Mook: Night 2 of 3
Day eight is a full day on Koh Mook Island. Wake up next to the beach and have a slow start to the day. Private boats are really affordable to charter on Koh Mook. A private tour can be arranged for less than half the price of what it costs in Phi Phi. We booked our private Koh Mook Tour again, with Five Star Thailand Tours and paid 4,500 Baht ($100 USD) for a full-day boat charter!
We booked the tour a few days in advance, and the boat docked right on the beach outside our resort the next morning.
There are two must-see places on a boat tour from Koh Mook.
The first is the Emerald Cave– which is one of my favourite places in the entire country. Not a lot of people visit here which makes it even more special. You'll need to time it right as the cave can only be accessed at low tide. Swim 80 meters through the dark cave system with a head torch. On the other side there you'll arrive at what can only be described as Thailand's prettiest bay. Beautiful white sand, clear water and you're surrounded 360 degrees by towering limestone cliffs. Don't skip the emerald cave!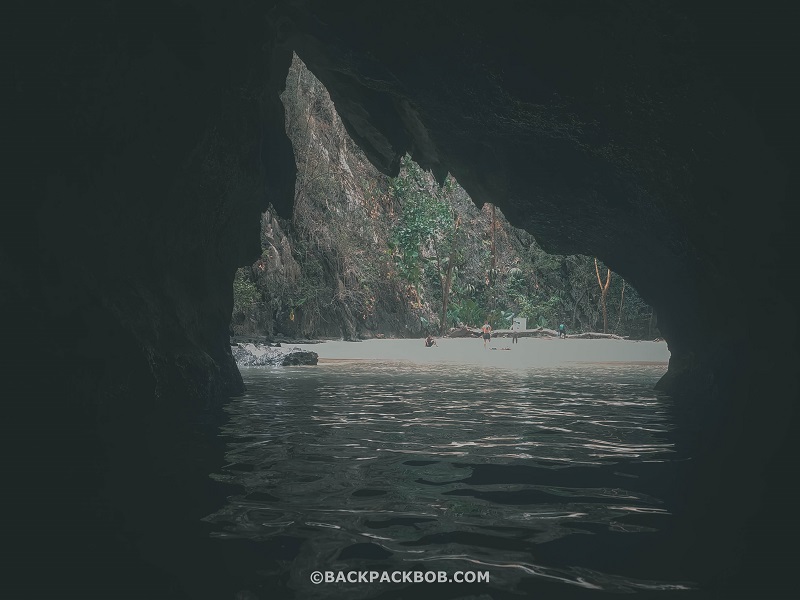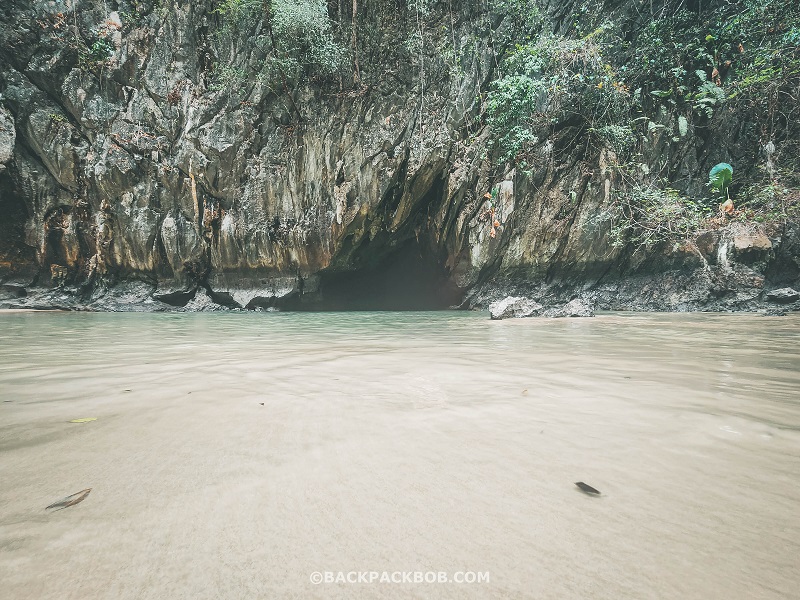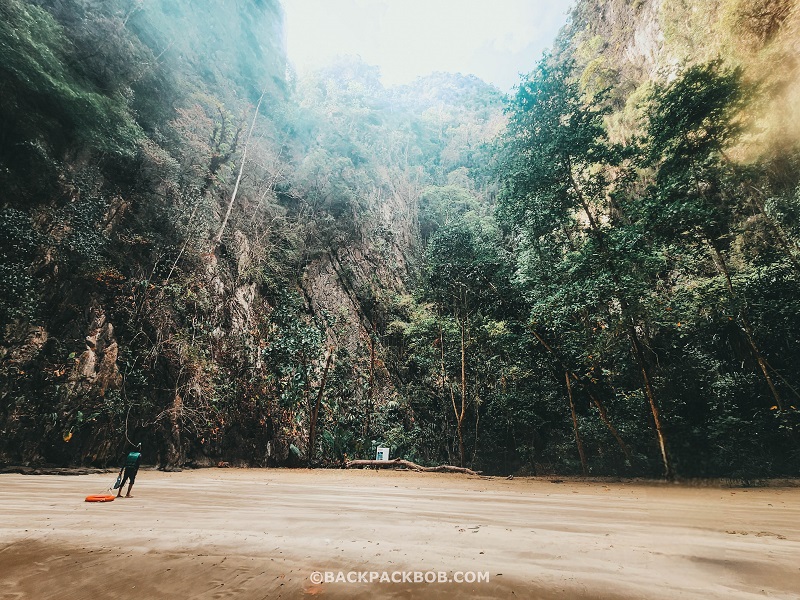 The other notable place is Koh Kradan. This is another island which is a 15-minute boat ride from Koh Mook. Koh Kradan has some of the nicest snorkelling in all of Thailand. The marine life and corals here are thriving (please help keep it this way) 💙 Koh Ngai island is nearby too and can also be included as part of a day trip.
9️⃣ Day Nine Koh Mook: Night 3 of 3
Day nine on this two week itinerary for Thailand. Spend a second full day in Koh Mook. Keep this day open to relax and soak up some sunshine. Vacations shouldn't be all rushing around and it's nice to take things slow on the islands and see where life takes you.
Rent a kayak at Charlie Beach(100 Baht) Grab a fresh coconut(60 Baht) and sit in the sand, get a traditional Thai Massage on the Beach(300 Baht), have a dip in the ocean (Free) or grab a cocktail or a mocktail from the evening beach bar.
Did you know the Trang Islands are one of the last places on earth you can see Dugongs(sea cows). They are common in the waters surrounding Koh Libong as well as Koh Mook. If you go down to the pier in the morning there is a high chance of spotting a Dugong!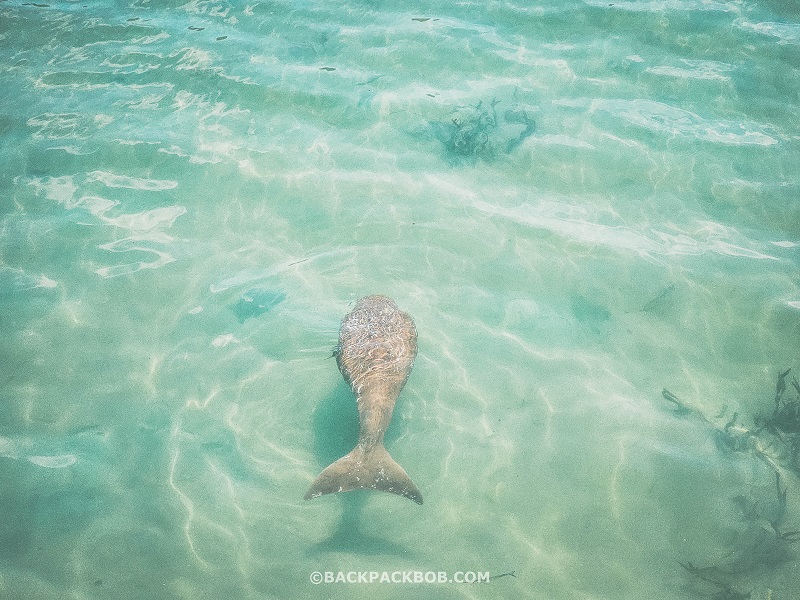 1️⃣0️⃣ Day Ten Koh Lipe: Night 1 of 3
Koh Lipe is one of the most built-up Andaman Islands and it's a popular destination for tourists. However due to the remote location of Lipe things are a little more 'upmarket', there is a lesser rowdy crowd to be found here and it's much more chilled.
Koh Lipe is part of a cluster of islands in the Tarataou National Park. Some of the best snorkelling in Thailand can be found here as well as some of Thailand's nicest beaches. If you want to extend your trip further it's even possible to catch a boat from Koh Lipe over to Langkawi Island in Malaysia!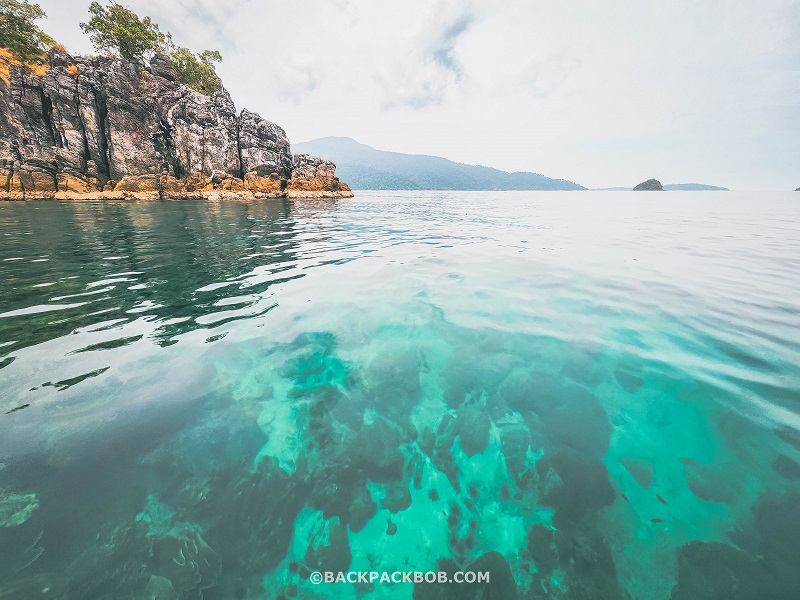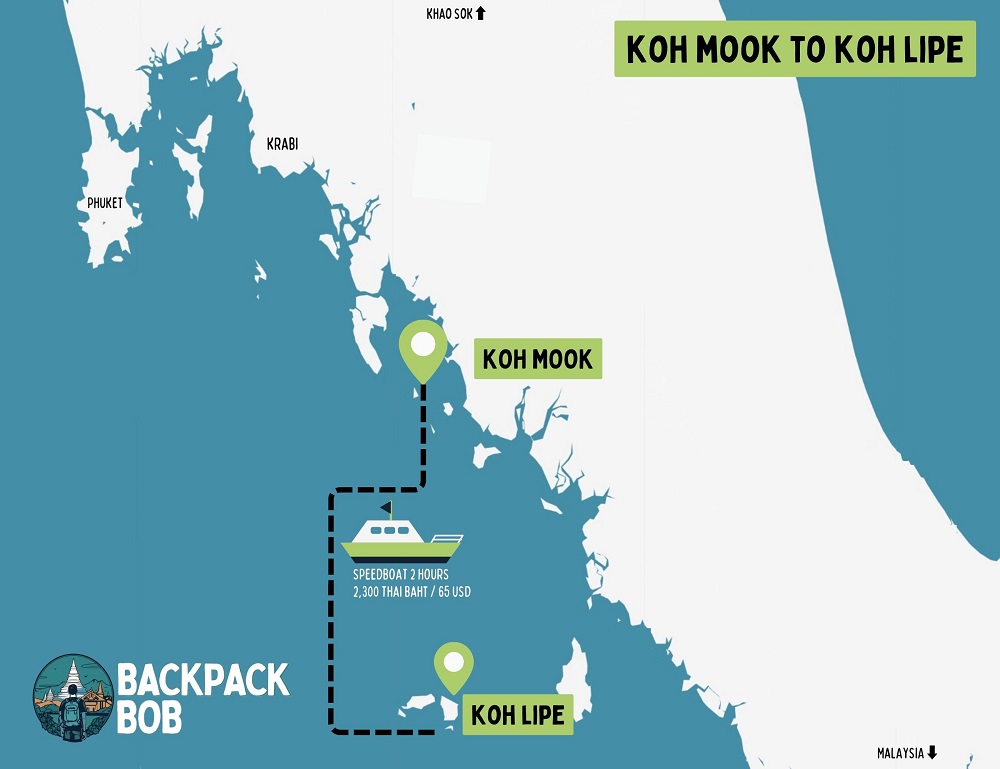 Getting from Koh Mook to Koh Lipe is really easy. The speedboat takes around two hours and runs directly between the two islands. Satun Pakbara and Budhaya Speedboats are the two companies currently operating this route. Tickets cost 2,000 Baht and can be booked here.
You should arrive at Koh Lipe in the early afternoon, (boats usually leave Koh Mook about 11.00 am). You'll have the afternoon to get settled, have something to eat and hang out on the beach in paradise.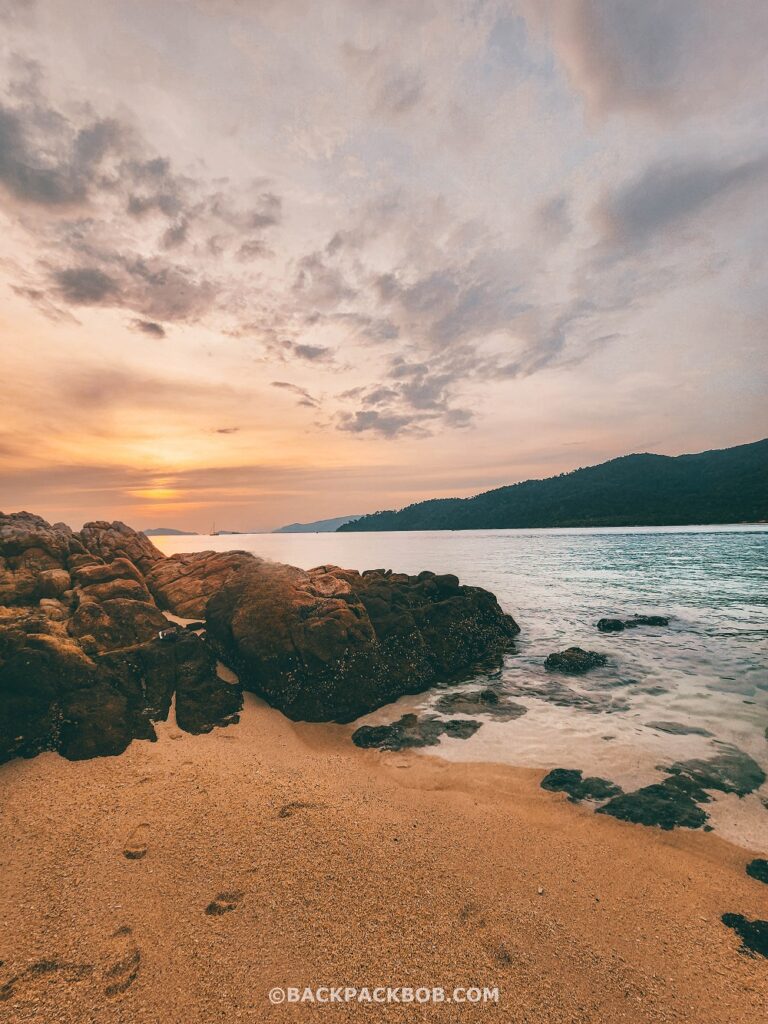 Koh Lipe is another small island so choosing where to stay comes down to a matter of choosing one of three beaches. We stayed at the Bulow Casa Grand View Resort & Spa which was on Sunrise Beach (the best area, in my opinion) but it's not a cheap resort. Pattaya Beach is the most popular area, which is also the cheapest place for accommodation on the island. But it's a bit louder in this area. Wherever you stay on Lipe Island you'll be walking distance from anywhere you want to get to. Check the costs of Koh Lipe Hotels here.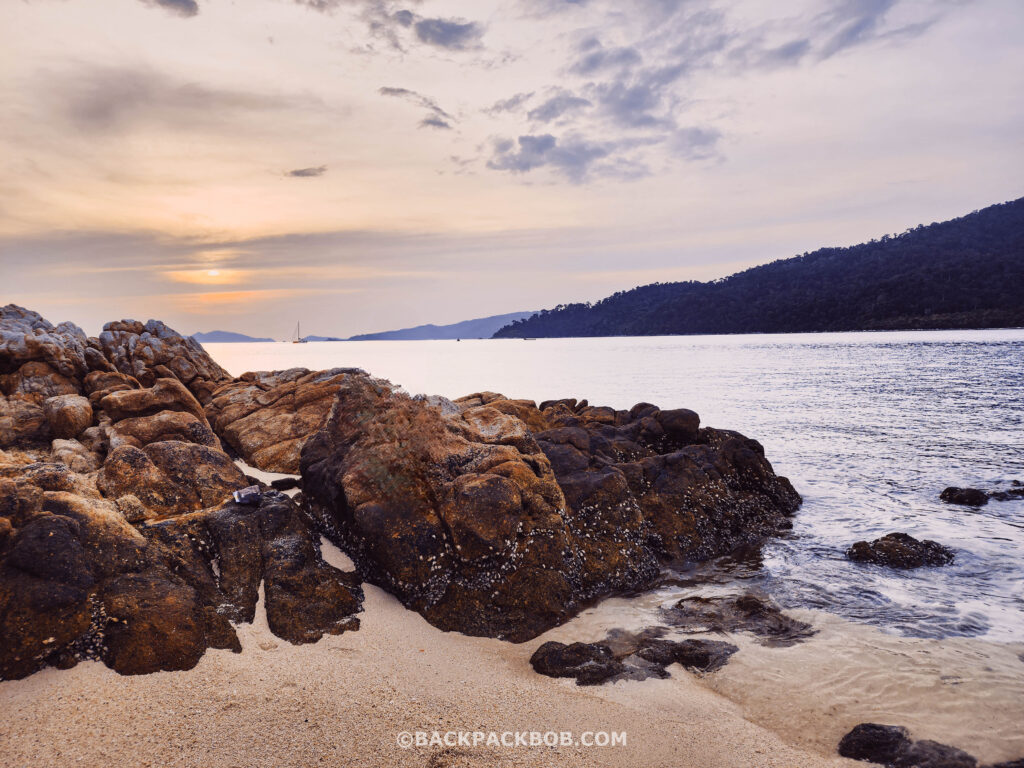 1️⃣1️⃣ Day Eleven Koh Lipe: Night 2 of 3
One of the best things to do in Koh Lipe is to snorkel. The waters around Koh Lipe are protected by the Thai National Parks Department. The water is crystal clear with shades of blue and green you can only imagine existing.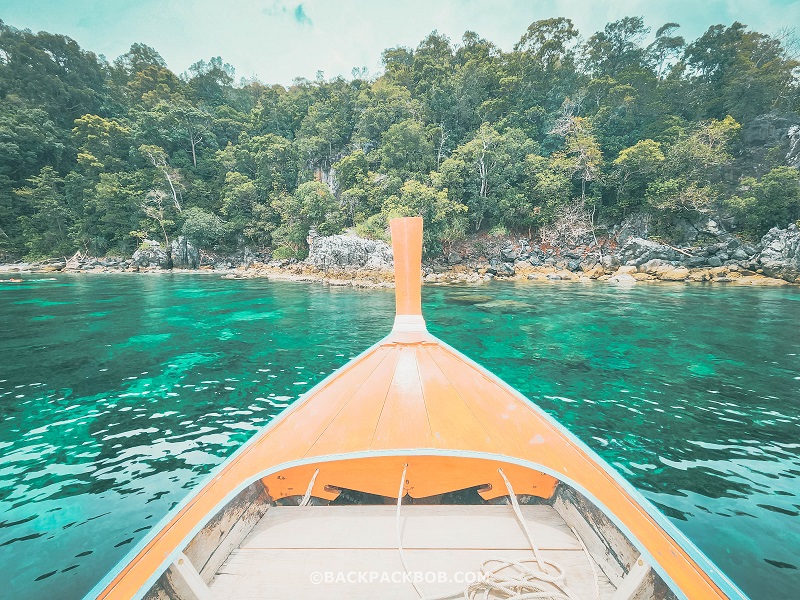 In Koh Lipe, there is no shortage of Longtail Boats for hire. The cost should be around 2000~3000 Thai Baht. You won't find private tours in Koh Lipe, but boats can be chartered by negotiating a rate directly with the captain. The are 4 marked snorkelling areas around Lipe Island and there are other islands where you can explore the beaches of- Koh Adang and Koh Rawi Island. A six-hour boat charter is enough time to see all the other islands and make 4 or 5 snorkel stops.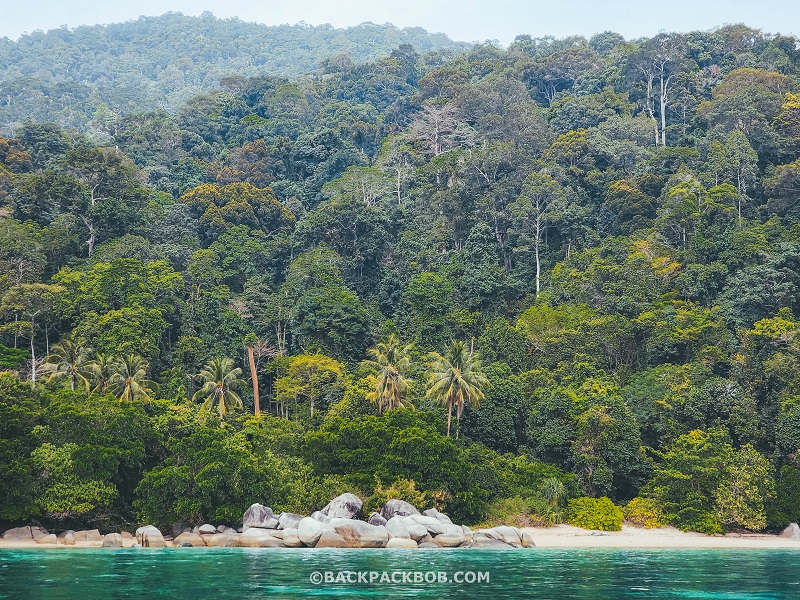 1️⃣2️⃣ Day Twelve Lipe: Night 3 of 3
Day twelve out of fourteen on a two week trip to Thailand. The end always comes around so fast. Make the most of the last day on the island because you're in for a huge shift in contrast once you arrive back in Bangkok!
I recommend exploring the walking street in the centre of Koh Lipe or finding a massage parlour on the beach. Authentic Thai Massages are very inexpensive on Koh Lipe and they leave you feeling fantastic.
1️⃣3️⃣ Day Thirteen: Sleeper Train
Now I'm going to be totally honest here in saying that the train is more expensive than flying! But the experience on Thailand's overnight trains is incredible. In the second-class cabins, you'll have your own bed and a large window (the route is very scenic). And first class you will have a private cabin with a washroom. There is a restaurant carriage to eat dinner and a steward will make your bed when you are ready to sleep.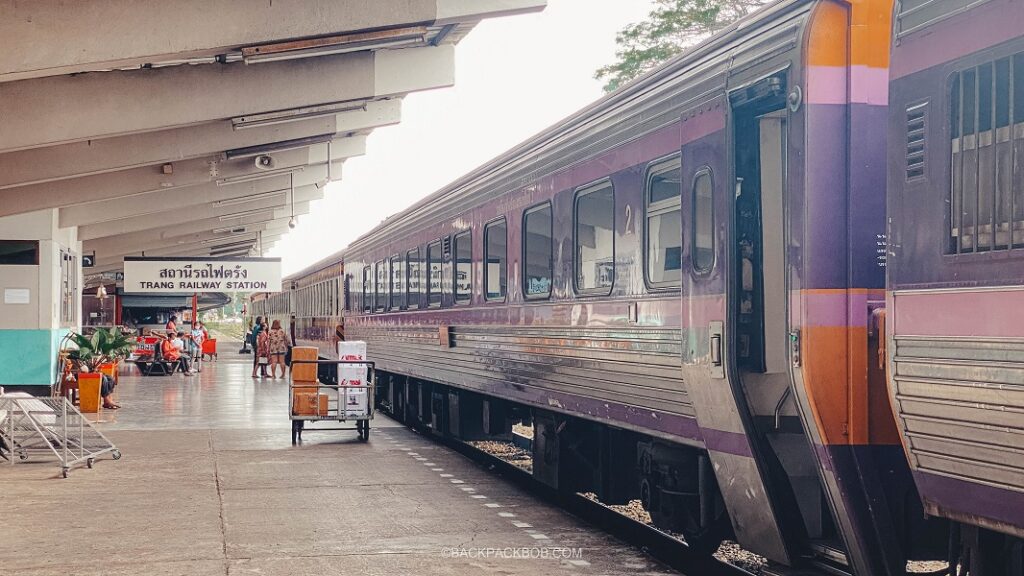 Note: Overnight sleeper trains in Thailand are really popular with locals and beds sell out fast. Try to book train tickets as early as possible~ ideally two weeks before.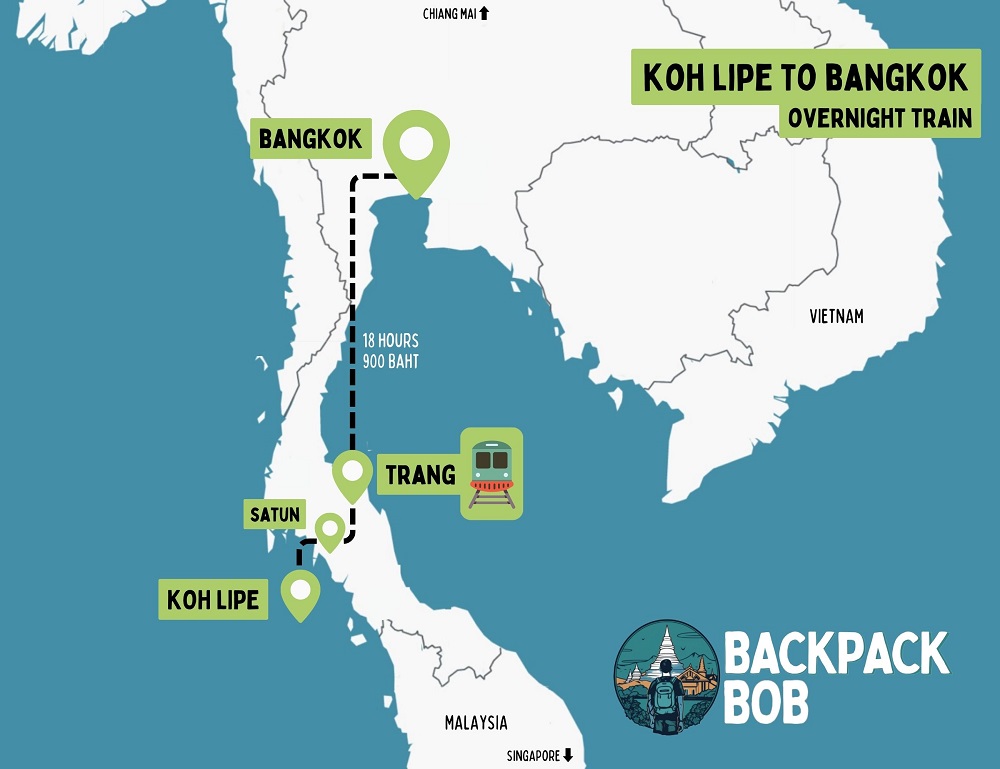 It is best to book train tickets direct with State Railway Thailand, However, an account is required. You can also book train tickets using 12Go if you don't have an SRT account.
Travel From Koh Lipe back to Bangkok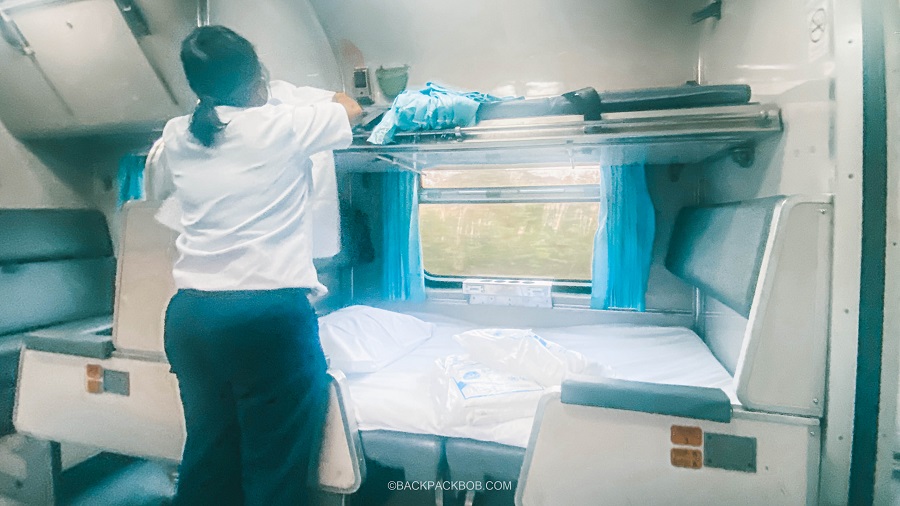 There are two daily train services from Trang to Bangkok. Train 168: 13:30pm – 07:00am. And Train 84: 17:00pm – 09:30am. I prefer the later train as you can sleep a little longer and you don't have to leave Koh Lipe too early. But you have more hours of daylight to see out the window on the earlier train.
Get from Koh Lipe to Trang Railway Station by taking the speedboat from Koh Lipe to Satun Pakbara Pier in mainland Trang(1,200 Baht) book tickets here. After, there is a 90-minute taxi ride into Trang Town(2,000 Baht). It's possible to find a taxi driver when you arrive at Pakbara Pier. But for total peace of mind, it is advised to arrange a driver in advance.
Other than a few small coffee shops, Trang is a very small town and there isn't much to do while you are in town.
1️⃣4️⃣ Day Fourteen Back in Bangkok: Night 1 of 1
Arrive back in Bangkok on day fourteen, after an awesome two weeks in Thailand. Long-distance trains in Thailand are usually very efficient and reliable. But even so, I'd recommend keeping a 'buffer day free', to stay in Bangkok the night before your flight home. Find a nice rooftop pool to hang out by.
If you are struggling with ideas on things to do in Bangkok on the last day heading to the Maha Nakhon Bangkok Sky Walk is my recommendation. This is Bangkok's tallest building and the open-air rooftop is a cool spot to visit. You'll have views over the entire city which will put your entire trip into perspective.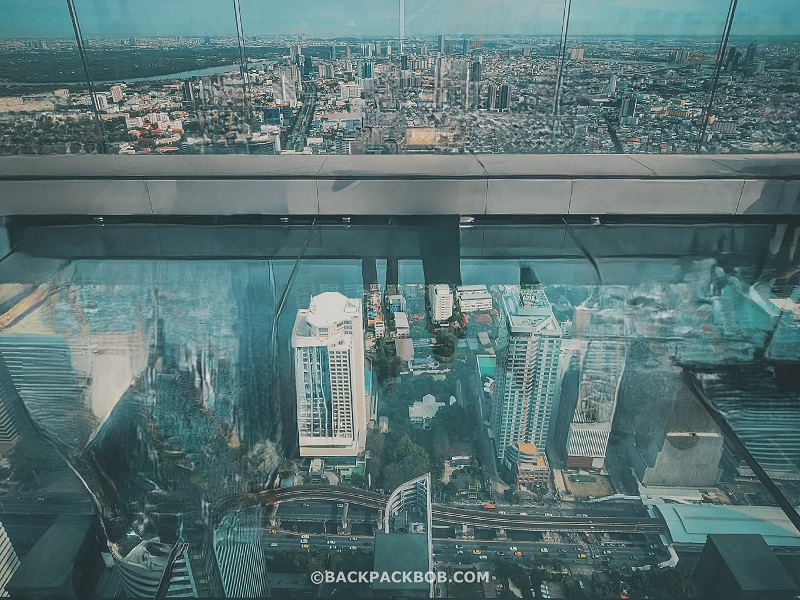 Skyscanner is where I recommend heading to check flights to Thailand.
Final Thoughts
I hope you've found my two-week travel itinerary for Thailand useful for planning your own getaway. You can follow this route exactly as I've laid it out in this post or you can change it up to fit your needs. Either way, you won't regret spending two weeks in Thailand, it's one of my favourite countries on this planet. Money goes so much further, the weather is beautiful, the people are warm and welcoming and above all the country is safe. Welcome to the "Land of Smiles".
Have you taken a similar itinerary in Thailand? Or are you planning an upcoming trip? I'd love to hear more about it in the comments section!
Need More Help Planning Two Weeks in Thailand
For anyone who, after reading this is still undecided on their two week itinerary for Thailand here is some more reading. First, check out this page – I have written a lot about Thailand and this is where you'll find all my travel guides to find some more inspiration.
You can also check out these two week itineraries as recommended by other travellers:
Still, need help planning your itinerary for Thailand? How about some bespoke travel planning? I use my local knowledge to plan itineraries for those planning a trip to Thailand. Get in contact with me and find out how I can help you with your upcoming travel arrangements.