The Cheapest Phi Phi Island Tour
Ko Phi Phi has a reputation for being one of the more expensive islands in Thailand. And due to the size of the island, supply-and-demand, logistics and importing goods are a significant factor in increased costs. While it is true that prices are slightly higher here, you'll still be paying a fraction of what you would in the western world.
The 'price increase' on Phi Phi Island, (or Ko Pee Pee), applies to everything; eating out, shopping in the convenience stores, accommodation and of course boat tours.
So in 2023, is it still possible to get your hands on tickets for a CHEAP Ko Phi Phi Boat Tour?
I am cutting straight to the point, but. The answer is yes, and the price is around $15USD. But keep on reading to find out how to book tickets, and what you'll get for your money.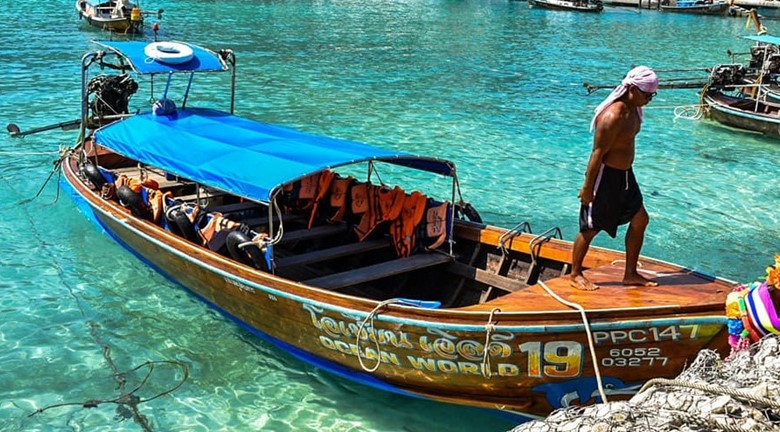 How To Save Money On A Phi Phi Island Tour
There's a few choices out there when it comes to the type of boat. And the type of boat has a massive impact on cost. For example, a traditional Thai Longtail Boat has a little cost to operate; in comparison to a gas-guzzling speedboat or a 30-foot catamaran!
To get the cheapest Phi Phi tour, rule out any boat choices asides from the local Thai boat.
As local boats cannot carry tourists over to Ko Phi Phi from the mainland, this makes an overnight stay on the island compulsory. So, don't forget to factor in return ferry tickets and overnight accommodation, when checking prices.
Staying on Phi Phi Don overnight get you the bonus of watching the sunset over the ocean, as part of the tour. And without having to worry about catching the ferry after the trip. You'll find yourself much more relaxed.
Watch Out For National Park Charges
Another factor to consider are the infamous Phi Phi Island National Park fees. The rate has fluctuated between 200 – 400 Thai Baht over the past few years, but in 2020 – the price seems firmly stuck at 400 baht.
Bamboo Island (Koh Phai) & Ko PP Leh's Maya Bay (The Beach) are both Thai National Parks, however since the closure of Maya Bay in 2018, Bamboo is the only island you'll need to pay the entry fee.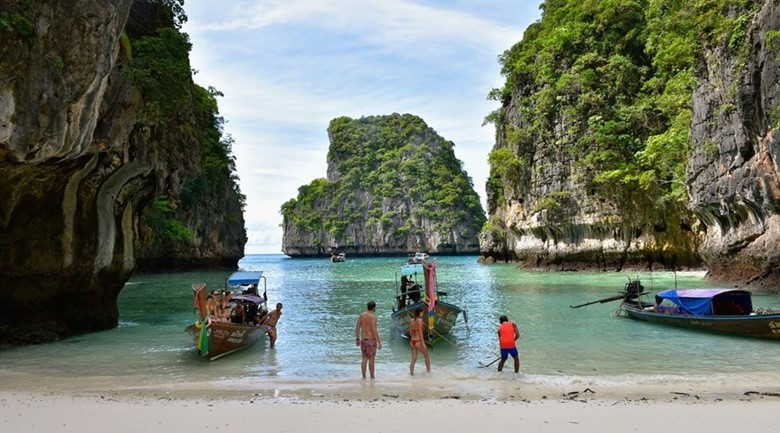 Which Phi Phi Island Boat Tour Is The Cheapest
So the book the cheapest; budget Phi Phi Boat Tour, there are three main factors to consider.
Take the tour on a traditional Thai boat
Leave from Koh Phi Phi Island itself
Avoid National Parks (Bamboo Island)
The half day long boat tour meets all of these criteria and the price is often 500 Baht or less (roughly $15USD or £12GBP). That's fantastic value for money, and there are no national park charges to pay.
The boat tour leaves from Koh Phi Phi Don at 2:00 pm every day, taking around 15 travellers on an awesome snorkel tour around Koh Phi Phi Leh. The boat stops at the Monkey Beach, Viking Cave, Pilleh Lagoon, Loh Samah Bay & a quick snorkel stop at Maya Bay.
* Only access to the beach is restricted, and guests can still snorkel in the clear waters. Without paying any extras.
Watch a beautiful sunset on the cruise away from Pi Pi Lee, and there's even a last stop after dark. To night-swim with glowing plankton. And yes you did read it right, you really do get all this for ฿500! Plus with free mask and snorkel hire, and complimentary bottled water and cooked dinner on the boat. There's not much more you can ask for. Perfect for backpackers & budget travellers.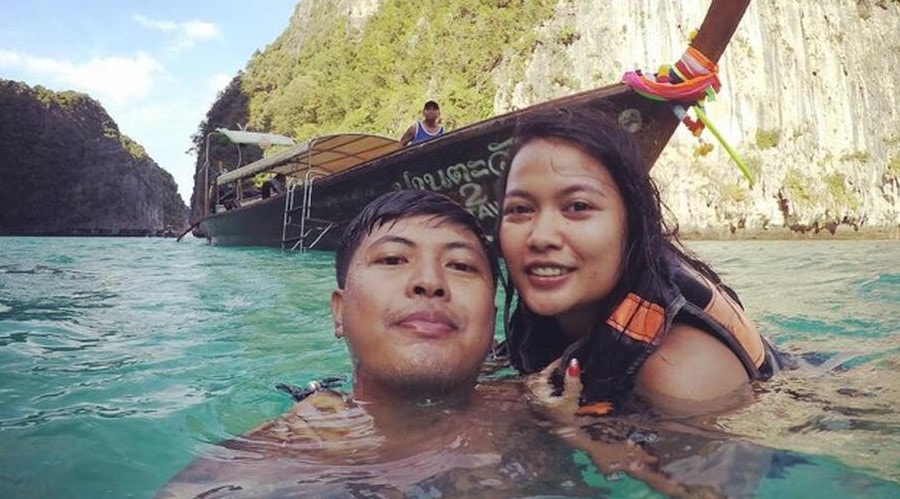 How Can You Book The Cheapest Phi Phi Island Tour
You can book a budget-friendly half-day tour online! No need to waste your time on the island looking for the best price, when you've already found it.
Seriously, you'll be laughed out of most shops and have a tough time finding something cheaper, (but if you manage to do you, please, do, let me know)!
Want to know about Phi Phi Islands, you're in luck. If you want something a little more prestigious you can check out my guide to Private Boat Tours in Phi Phi Islands, want to find out about other things to do in Phi Phi, you'll find 101 ideas here. And I even have an entire dedicated guide to Phi Phi Islands that will give all the information you need.