Koh Rok is a picturesque island in Thailand. A protected Marine Park, nicknamed 'The Queen of the Andaman'. Koh Rok is one of the most beautiful islands in Thailand. White sand beaches, clear blue waters and epic snorkelling points all make it a dream destination.
You might have heard of Koh Rok as a place to visit on a day trip. But we were looking for a different kind of experience and decided to spend the night on Koh Rok island! Two nights, in fact. We slept in tents, under the stars, pitched on the beach. A beach which is packed full of tourists throughout the day, yet it became our own private beach in the evenings. Our own private island. Camping at Koh Rok is an insane experience. It's difficult to organise, and few people manage to achieve it. But the reward is worth it. A real hidden gem. Really, where else can you rent a private island for the cost of a hostel bed?
So here is everything you need to know about Koh Rok. The story of how we managed to camp out overnight on the Island, and how you too can have the same experience. 🔽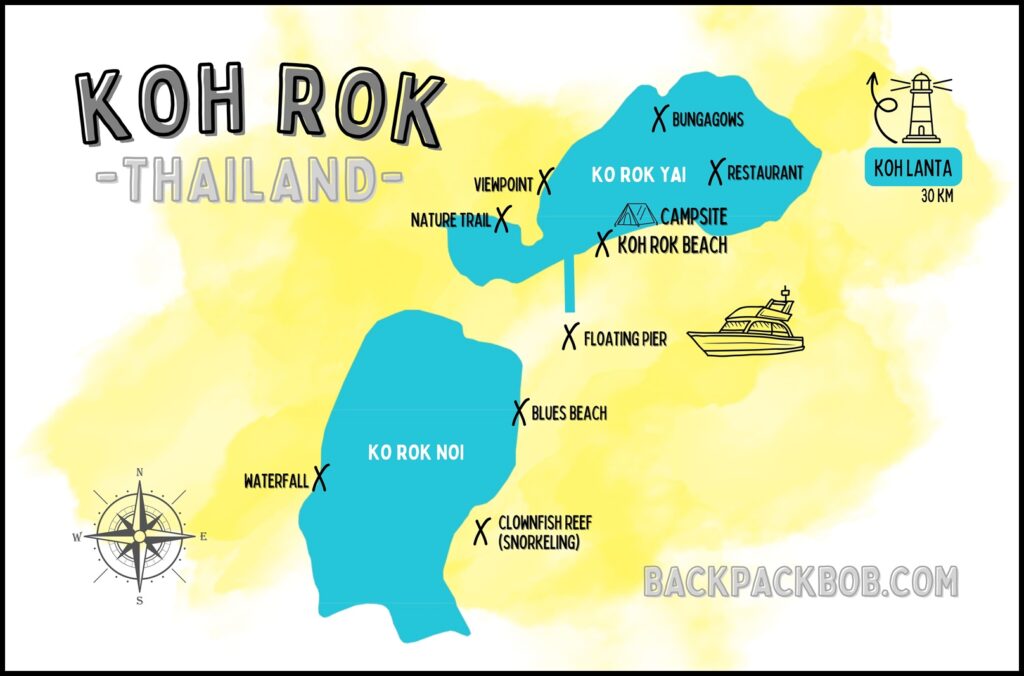 How Much Does Koh Rok Cost
In total it cost us 5,500 Baht for two people to camp on Koh Rok, for two nights. Not the cheapest experience by Thai standards… but easily affordable and worth every single baht. Our biggest expense was travel to and from the island. The second largest expense was buying food and drinks in the restaurant onsite. Here is the full breakdown of our costs.
| | |
| --- | --- |
| Expense | Cost (Thai Baht) |
| Tour to Koh Rok | 2,200 THB (Two Pax) |
| National Park Entrance | 0 – 400 Baht |
| Tent Costs | 1000 THB (Two Nights) |
| Meals | 800 THB (Total) |
| Water | 300 THB (30 Baht a Bottle) |
| Ride back to Lanta | 1,200 THB (Two Pax) |
The National Park Fee on Koh Rok is 40 Baht for Thai and 400 Baht for foreigners(Racist). However… we were never charged the park admission. I guess they forgot? It's often included in a tour price, in these situations the National Park usually gives the tour company a commission between 100 – 200 Baht for each person.
TIP: There is a cell tower near Koh Rok where you can pick up a mobile signal. However, the service only works with the AIS network.
Koh Rok – The Plan
The plan was simple, we knew there was a National Park Ranger Station on Ko Rok. And we knew that tents could be rented from the National Park. But this is one activity we had to meticulously plan out by ourselves.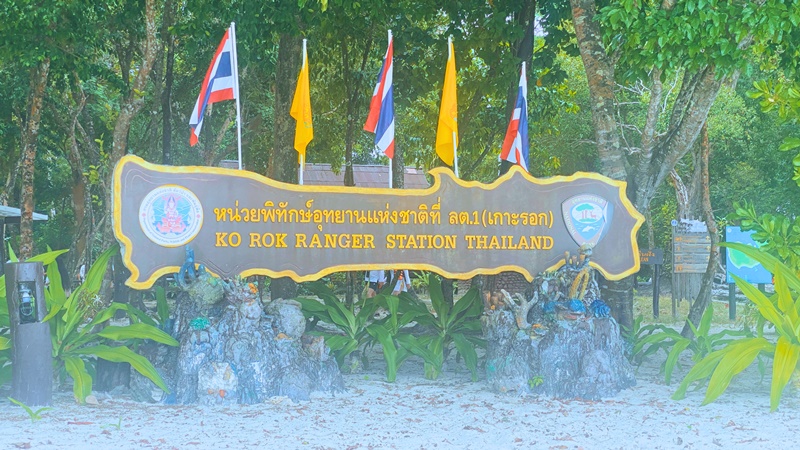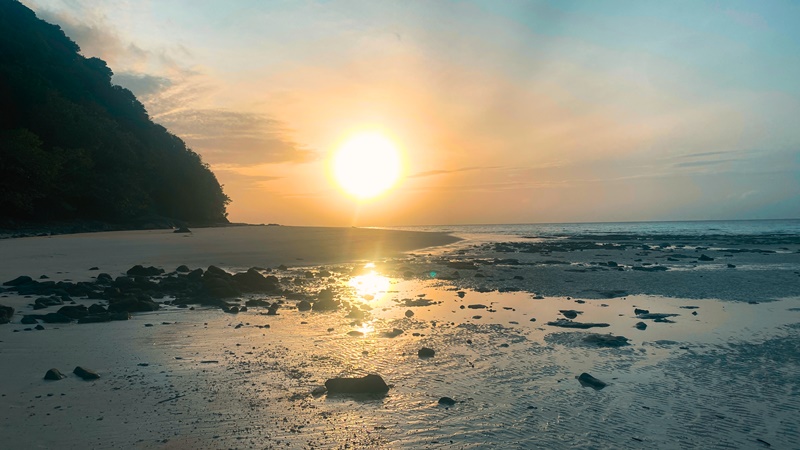 Where Is Koh Rok (And How to Get There)
Koh Rok is located in the Andaman sea. It's actually a set of two islands, neither of which is inhabited. Both as beautiful as another, and both are protected National Marine Parks. The Koh Rok Islands are really secluded. The open ocean is all you can see from the beach with the nearest mainland points being located either 30 Kilometres north at Koh Lanta or Pak Meng which is 40 Kilometers to the east.
There were no boats to Koh Rok. Getting there was going to be more difficult than we had first anticipated.
Koh Rok Island Tour
Our options for getting to Koh Rok were limited. Our first thought was chartering a Private Longtail Boat, but after being quoted about 6,000 Baht we soon realised it was out of our price range. We were also aware that the Longtail Boat was not the safest way of getting to Koh Rok.
But because Koh Rok is such a popular island to visit on a day tour we decided to look into the possibility of booking a day tour which included a stop at the island and then… well kind of just running away from our tour group, once we reached Koh Rok. Which is exactly what we did.
Booking tickets for the cheapest tour we could find which cost us 1,000 Baht each(excluding the park entrance fee). The tour would visit 'Koh Ha Islands' and then Koh Rok Islands. Perfect.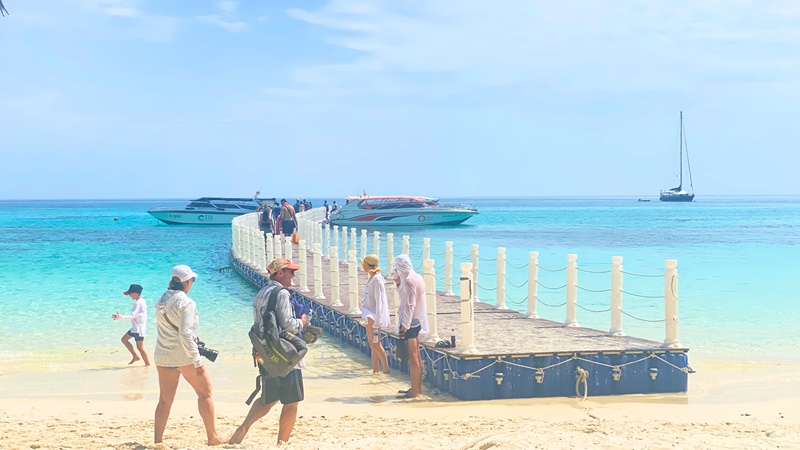 The tour was absolute ****. The guide was miserable as were most of the others in the tour group. But we didn't care. We were only interested in getting to Koh Rok. We did inform our 'tour guide' about our plan to stay at Koh Rok in the morning. He seemed confused about the situation and muttered something about paying 400 Baht for the National Park entrance.
Arriving At Koh Rok
Our tour stopped first at Koh Ha 'Five Isalnds' for snorkelling and we stayed on the boat while the 30+ tourists that were packed onto our boat leapt into the ocean one by one.
Honestly, we were not prepared to be on a snorkelling tour at all. Neither of us were wearing bathing suits and we were both carrying our full 30-litre backpacks, loaded with camera gear, laptops and electronics. There was no place offered to store our luggage on the boat, so we spent the next hour defending our backpacks from tourists dripping on them, throwing their wet towels over the top of them and pretty much every other way possible they could find, to drench our backpacks.
Although our luggage was damp, luckily, nothing was damaged. But we were relieved to have arrived at Koh Rok Island.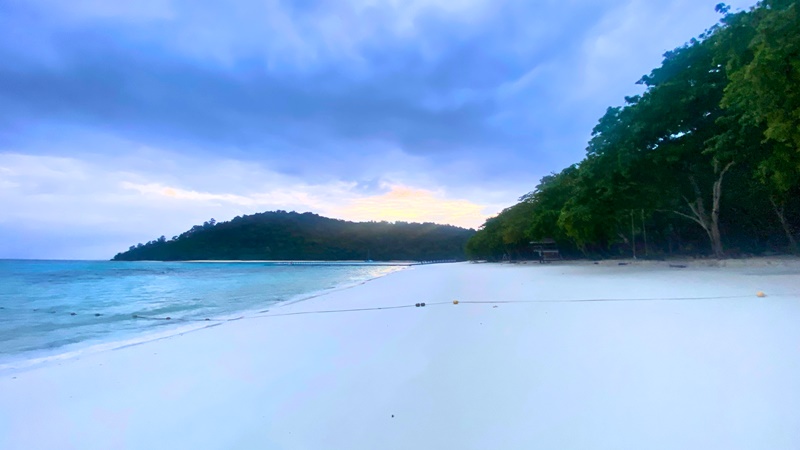 The first impressions of the Island were stunning. Like a beach you could only dream exists. It was perfect and it was still a bit surreal to think that we'd be spending the night here, alone. Like real castaways.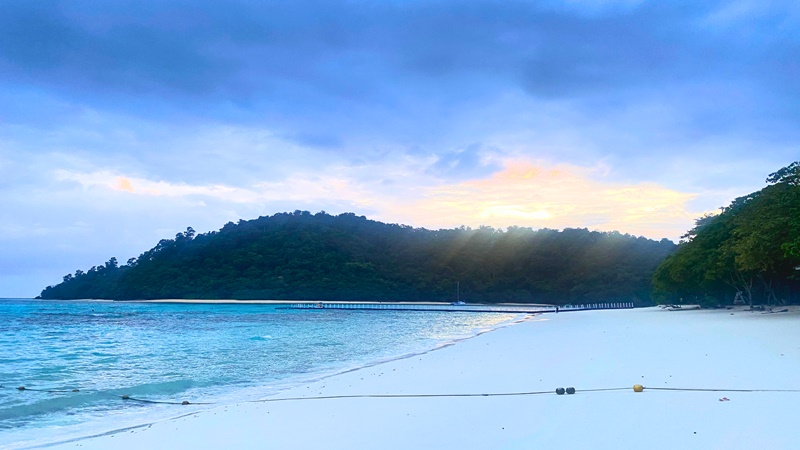 For the small size of the Koh Rok Islands, there were a ridiculous amount of tourists. But it's the same everywhere you go in Thailand. We were expecting that, and it's one reason why we wanted to stay the night and see a different perspective from the island.
Lunch was included with our tour and served at Koh Rok. There were about ten tour companies all with a buffet lunch offering. Our tour had the worst lunch out of them all. Oh well. Not knowing where our next meal would come we took full advantage, eating as much as was humanly possible, before grabbing as many bottles of water as we could carry and then quickly scurrying away. We could not stop smiling!
Night One on Koh Rok
There are two accommodation options on Koh Rok Island. The first is a bungalow with hot running water and all the comforts of home. The second option, which is what we decided was to camp out on the beach.
Accommodation on Koh Rok can only be booked with the National Parks directly. And they will need to grant you permission to stay overnight. It's possible to book on their(the DNP) website if you can navigate your way around the online mess. Or you can give them a call using +6675656576. Koh Rok islands are included as part of the Mu Koh Lanta National Park.
Our stay was approved via the DNP website, but when we arrived at Koh Rok the National Park Staff seemed a little confused. I guess overnight visitors are not common at Koh Rok. But it didn't take them long to verify everything and soon we were set up with our tent pitched right next to the beach.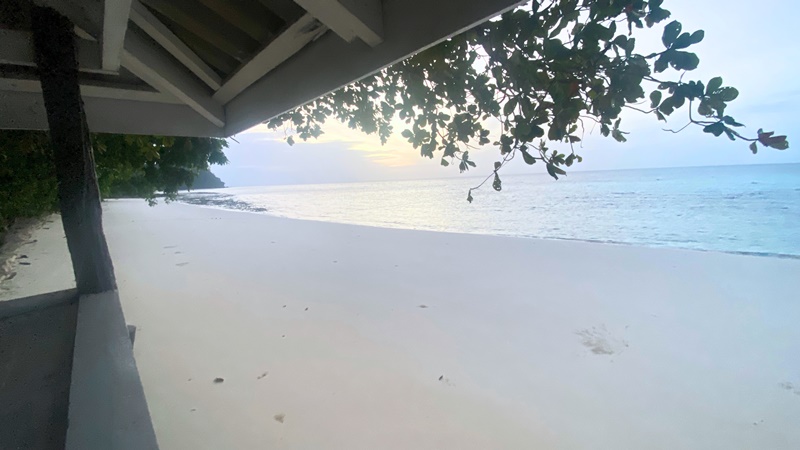 It costs 500 Baht per night to rent a tent at Koh Rok or bungalows cost 1,200 Baht. You can bring your own tent and pay for the pitch which is 150 a night. When renting a tent sleeping bags, roll mats and pillows are provided. They can also be rented separately.
A park ranger who we had befriended told us that as soon as it gets to 3.00 PM we'd be the only ones left at the island. With our camp all set up, we strung out hammocks next to the sea and waited.
We waved goodbye to our tour boat from a distance and watched the rest of the speedboats leave Koh Rok one by one. Then sure enough at exactly 3.00 PM, we watched the last speedboat pull away from the floating pier. That was it, there was no backing out now and there was no way to leave the island.
Just like that, all the tourists were gone. I didn't have to endure the Instagram posers any longer. Koh Rok, for the next 12 hours or so had become our own private island.
Waking Up on Koh Rok
This is the moment I was anticipating most.
Waking up and unzipping the tent.
It was surreal and for a brief moment in that morning daze. I had forgotten where we were. But as the light flooded into our tent, I was soon reminded. The smell of the ocean was so strong and the sound of the waves coming from just a few meters away was so peaceful.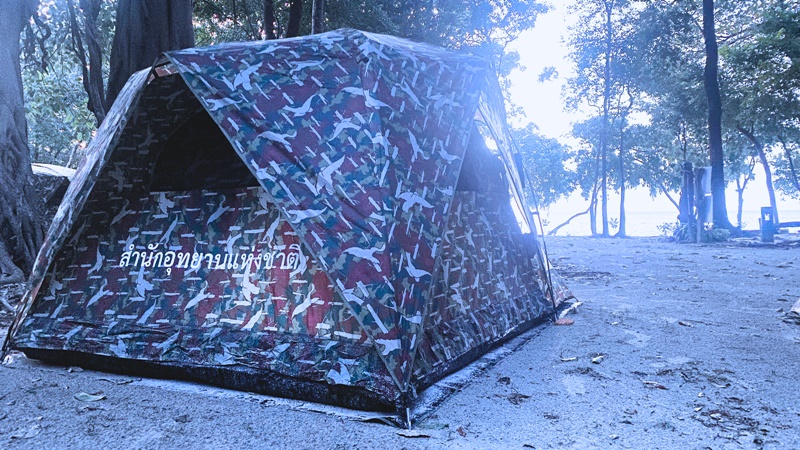 We woke up at 6.00 AM with the sunrise to give ourselves the longest amount of time possible, to enjoy Koh Rok possible before the tour boats returned.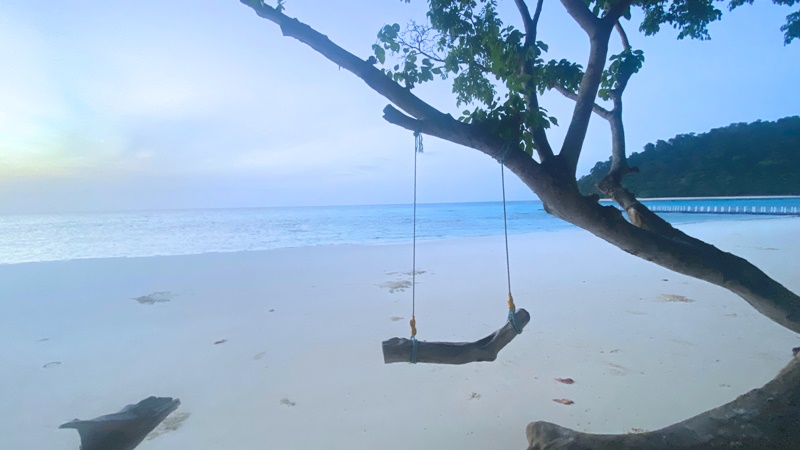 Did I mention there is a restaurant at Koh Rok too? They open three times a day for Breakfast, Lunch and Dinner, like clockwork. Yet, we were the only customers they had. Although I am pleased there was a restaurant, we had stuffed our backpacks full of instant noodles and cereal bars as a backup. But getting served scrambled eggs on toast was a little luxury I wasn't expecting. We ate our breakfast and fell back into the hammocks for a morning snooze.
Sure enough right around 11.00 AM the tour boats returned. We decided to make ourselves scarce for a few hours and set off to hike the nature trail to the viewpoint.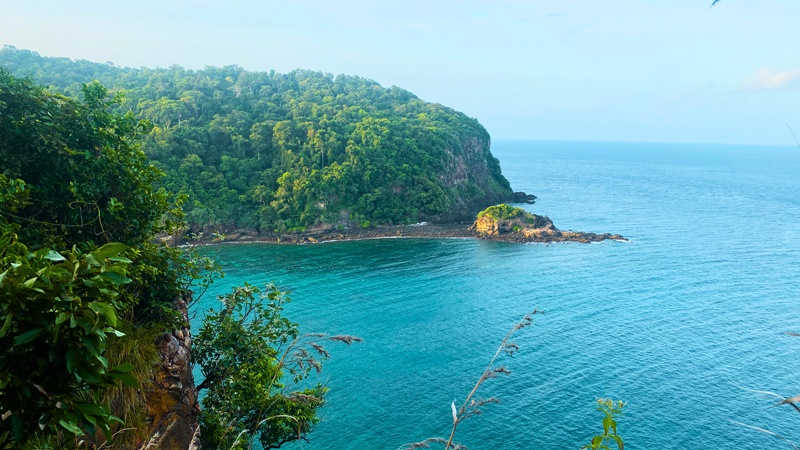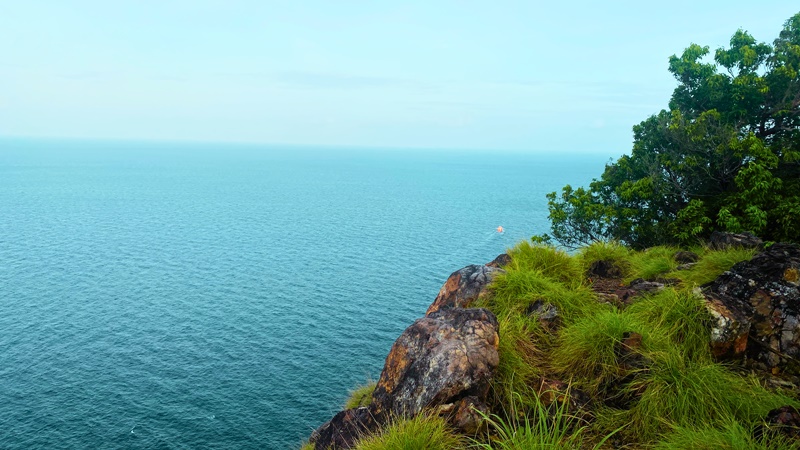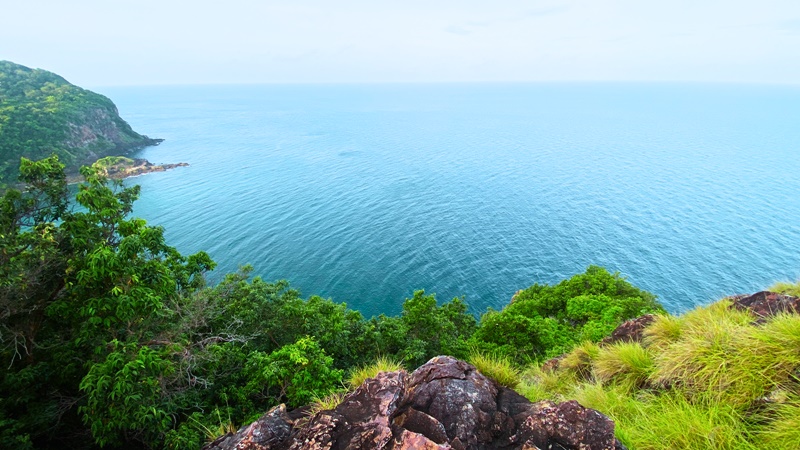 Day and Night Two on Koh Rok
We spent the morning hiking the nature trail, a short two-kilometre path around the outskirts of Koh Rok Yai. The hike passes over the viewpoint so we spend some time hanging out there too before returning to the beach.
We snorkelled in the ocean for an hour or so and when the tour boats arrived so did their buffet lunches. It was feeding time at the zoo.
We decided to take advantage of the situation, striking up a conversation with one of the tour guides we attempted to offer him a few hundred baht in exchange for a plate from the buffet. After explaining our situation, that we were in fact camping on Koh Rok he refused to take any payment and loaded up full plates of Thai Curries, Chicken Wings and fresh pineapples. We ate like kings that day. Then to let our lunch go down, you guessed it… we laid back in our hammocks under the sun. 😄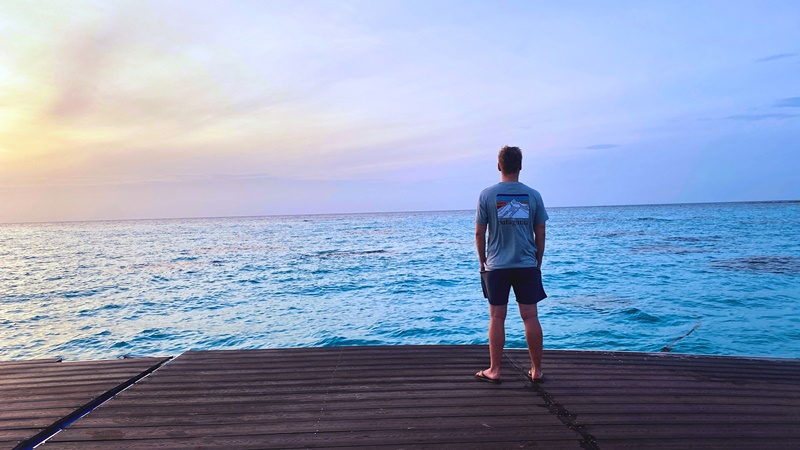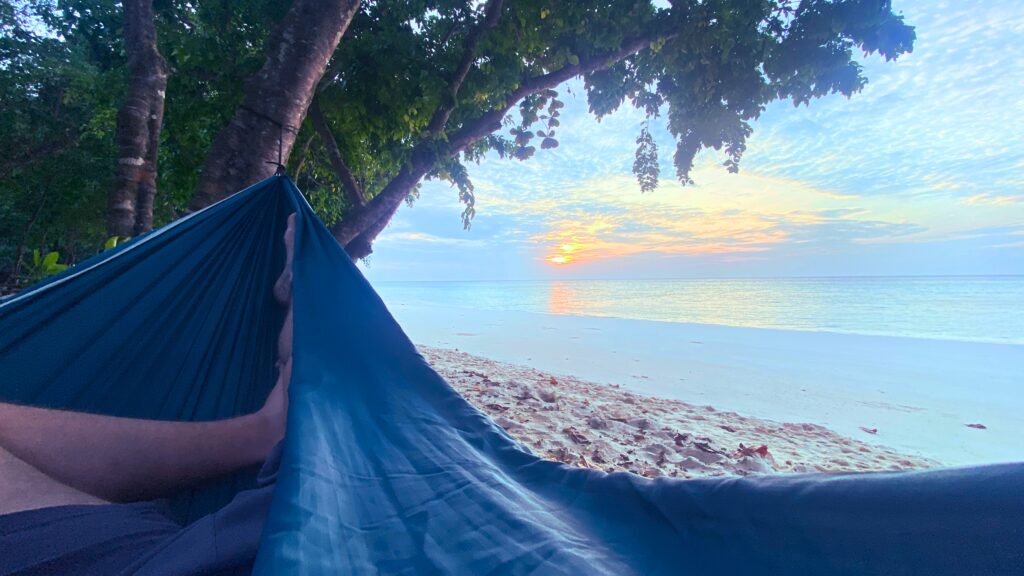 And again as 3 PM came around, the last boat left the island. The hoards of tourists were gone again and the island was quiet once more. There is electricity on Koh Rok (I'm not sure if there is a generator or an undersea cable), but despite the fact, there is electricity. During the night all the lights are out.
Koh Rok island is in the middle of nowhere, essentially. It's pitch black. Darkness like you could never imagine. With the only light shining from the stars above. It's so beautiful, it's scary.
Staying the night on the island really gave us a unique perspective of things. Seeing the demeanour change from the National Park Staff is difficult to explain. Authority figures during the day, became giggling children in the evening as they push each other on the beach swings.
Alcohol is prohibited in All of Thaialnds National Parks. But I guess Koh Rok is an exemption. Beers are openly sold in the restaurant, not cheap at 100 Baht a can but a price worth paying.
The Storm
Anyone that's spent time in southern Thailand during the Monsoon season will know the weather can change in an instant. And that is exactly what happened to us. The skies open up and it began lashing it down with rain. The ocean which had been so calm was suddenly filled with range. The National Park Rangers were so kind about it. Even going as far as to offer us a bungalow for the night.
"No need we said", the tent is fine. With the sound of a tropical storm outside, I slept like a baby.
Leaving Koh Rok – Back to Koh Lanta
So what was the plan to return to Koh Lanta? To be honest, there wasn't one. We know tour boats were coming to and from the Island and we hoped we would be able to board one.
We had hoped to find a boat heading further south to another island but sadly it wasn't to be. We did end up getting a ride back to Koh Lanta though.
Once the speedboats started to arrive with the usual tour groups I headed down to the bottom of Koh Rok's floating pier. Where the boats stopped, and began to ask around the speedboat captains where they were heading, after Koh Rok. Two boats were going to Koh Jum and another two to Koh Phi Phi. Before I found a boat captain who had Koh Lanta as the return destination. Bingo.
Explaining that we'd been on Koh Rok for two nights and that we needed a ride back to Koh Lanta genuine Thai Hospitality kicked in. We'd hit the jackpot and met the nicest tour guide in Thailand. 'T' was his name.
The first question T asked was "had we eaten yet". It didn't take long before we were sitting with the boat crew and tucking into lunch. We ended up invading a snorkel tour group by paying 600 Baht a person for the ride back to Koh Lanta. I'm not sure what the rest of the tour group was thinking with the crew picking up a couple of hitchhikers out on Koh Rok but everyone was friendly enough. We even got to stop at one last snorkel site on the ride back.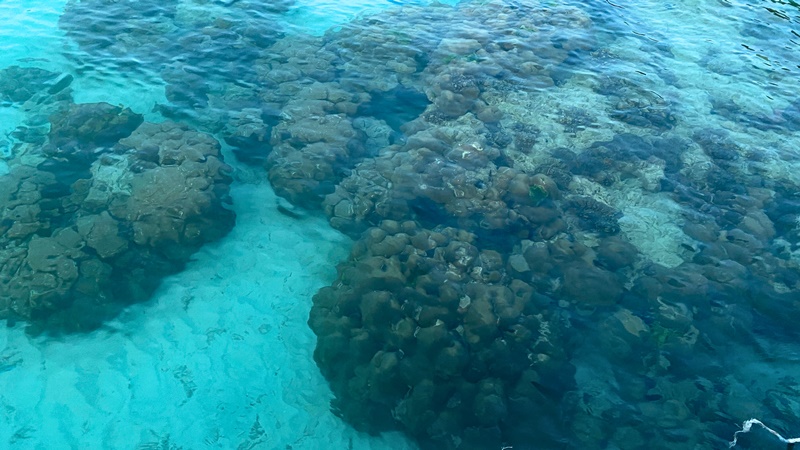 Even though we joined the tour midway we still got treated as customers, we were offered fruits, snacks, and drinks. Compared to the tour that we arrived with- the hospitality was a world apart.
So if you're planning to visit Koh Rok as a day tour only, the company we rode back with was called Tin Adventure Tours'. I cannot recommend them enough. They even to stored our backpacks in the boat dry locker too! We were so relieved that we didn't have to worry about our luggage this time.
Back To Koh Lanta
After two nights on Koh Rok Island, we arrived back in Koh Lanta. It all seemed like a distant memory. Had that actually just happened? Did we really camp out on the island? The memory of unzipping the tent in the morning and seeing the ocean and desserted beach will be baked in my mind for a lifetime.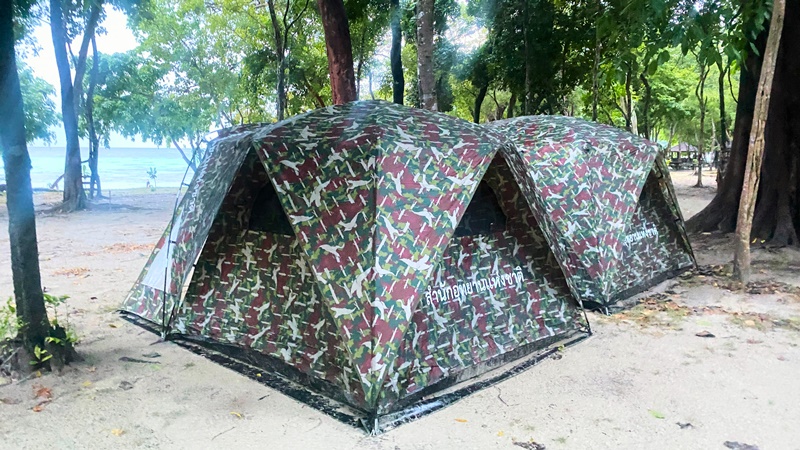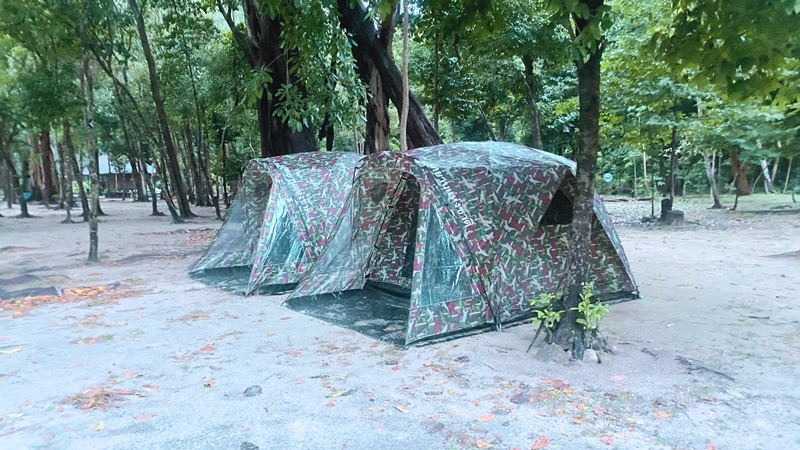 And me? "I still believe in paradise. But now at least I know it's not someplace you can look for. Because it's not where you go. It's how you feel for a moment in your life when you're a part of something. And if you find that moment, it lasts forever."