I cannot stress this enough. Taking a Private Phi Phi Island Tour was the single best choice we made in Thailand.
Phi Phi Islands are one of the most popular destinations in Thailand. The natural beauty here cannot be compared to anywhere else in the world. But the most beautiful spots can only be reached by boat. On a tour from Phi Phi, Phuket or Krabi. In fact a Phi Phi Island Boat Tour is the single most popular thing to do in Phi Phi Islands.
But with the islands ever increasing popularity there is also a downside, avoiding crowds can be difficult.
Competition between tour operators on the island is high, which means prices are competitive. On the surface this would seemingly be beneficial for travelers. However the opposite is true, with tour prices being so low operators are forced to pack their boats to maximum capacity in order to turn a profit.
We are so glad we choose to take a Private Phi Phi Island Tour. On our tour we passed countless boats tightly packed with tourists. And honestly it looked like hell (in paradise).
So if you want to know more about taking a Private Phi Phi Island Tour, keep on reading and I'll fill you in.
Finding a Private Longtail Boat Captain
All You Need To Know About Private Longtail Boats Tours At Koh Phi Phi Island
To rent a private longboat in Koh Phi Phi you'll first need to find yourself a trustworthy boat captain or tour operator who handle private boat tours.
It can be tough to know which boat captains to trust, and who will deliver a great experience.
Numerous boat captains can be found around the main island of Koh Phi Phi Don. Occasionally captain can be found hanging out by their boats and on nearby beaches on quieter days. But during Thailand peak season, (October until April). It's unlikely than any boat captains will be seen mooching around.
The increase of visitors to Phi Phi Islands is on average, 600% higher than the out of season months. During this period, – the tables turn around – & rather than captains struggling to find customers, it is visitors who often struggle to find a captain! To avoid disappointment, booking a private tour in advance is strongly recommended. Especially for travellers visiting the islands during peak months.
Phi Phi Island Private Boat Tours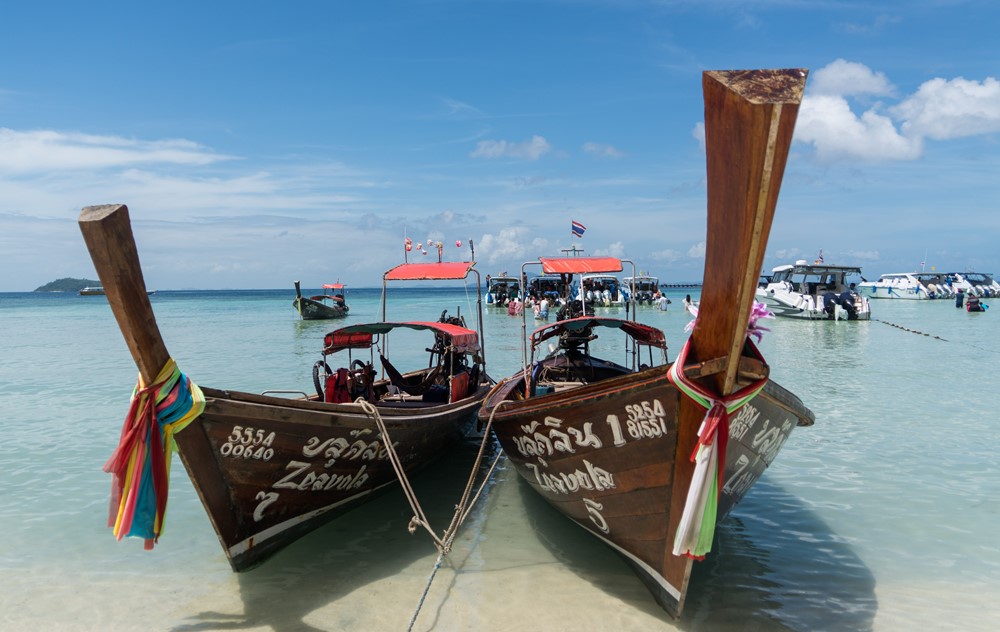 Where To Visit On a Private Phi Phi Boat Tour
Visitors to Phi Phi Island may be worried that due to lack of knowledge about the area – choosing a private Longtail boat trip would mean not getting to see all of the places that they would do on a group tour. This statement is far from the truth – & travellers on a private boat trip of Phi Phi Island will get to see the same places and more off-the-path secret beaches. In the words of Thailand: "same-same-but-better."
At least, this is true when booking with Five Star Thailand Tours. The only tour company locally based in Phi Phi Don to offer private longboat charters of the surrounding islands. Their boat captains are out on the Andaman Sea every single day and have better knowledge of the archipelago than anyone else. Allowing them to offer a fine-tuned tour route to see the best and least crowded sites at any given time of day.
The most popular places to visit in Phi Phi Islands are all in or around the Phi Phi Leh National Marine Park. This smaller and uninhabited island is home to the famous beach; Maya Bay as well as the Blue Lagoon, the Monkey Beach & the Viking Cave. It takes usually three-four hours to explore all the sights at this island. As this island is the most popular it's also the busiest.!
After visiting Koh Phi Phi Le, you'll find some much quieter beaches and snorkelling sights off the coast of Phi Phi Don. Beaches like Laemtong, Loh Bakao or Runtee are nowhere near as famous as Maya Bay, and as such, the number of people choosing to visit these beaches is far fewer. One of the perks of a private boat tour is the ability to leave the busier areas fairly quickly and move over to secluded snorkelling spots such as Loh Lana Bay.
A Typical Private Phi Phi Island Tour
A typical private longtail boat trip leaving from Koh Phi Phi Don. Would usually, head over Koh Phi Phi Leh Island first. – That's the one, the island which is font on the postcards; the island people picture when thinking about Phi Phi Islands. There are some snorkelling spots at this island & its the home of 'Maya-Bay' beach. Which was closed to tourism in 2018. The bay is still open to swim & snorkel in & travellers can even get a glimpse of the paradise beach.
Phi Phi Le generally tends to be the highlight for a group boat tour – with most boats landing in the same locations at the same time. However, on a Private Phi Phi Island boat trip, the best is yet to come. The beaches on Phi Phi Don often have fewer or no crowds. So if these beaches are prettier & quieter – then why don't group tours visit them? Most people are not willing to try something new or don't have enough information to do so. It's a catch-22 and one that can work in your favour. While the crowds descend on one island, you can explore the secluded beaches in peace.
And don't forget about the Bamboo Island, (Koh Mai Phai).
When translated to English, the full name of the island is 'The Island Without Bamboo'. But get shortened down to just 'Bamboo Island' often leading tourists to confusion about the origin of the islands name.
You'll want to spend around one hour or so at the Bamboo Island, it is a beautiful island but after the recent closure of Maya Beach, Bamboo Island has seen an increase in visitors stopping on the shores here. Still, it's a picture-perfect island, and I wouldn't advise to skip out on this one. The island boasts tropical warm and clear water and white sand beaches all around. Perfect for relaxing, sunbathing and swimming in the ocean.
The downside of the Bamboo Island is that it comes at a cost. The land was claimed from Thai fishermen in the 1980s by the Department For National Parks, who began to charge all foreigners an entry fee. Today the cost to set foot on the island is 400 Thai Baht. Now, of course, the full amount doest go to the National Parks. When it's broken down the National Park will take 200 Baht and your boat captain or guide will earn a 200 Baht commission. And don't expect to be issued a ticket, tickets issued are fees accounted for. Most National Parks in Thailand have a reasonable admission fee at around 100 baht. But at Koh Phi Phi, Thailand's most profitable park. It's a shame that fees have become so high.
But that being said, you should still visit Bamboo Island, suck it up and hand over the 400 Thai Baht. It's about 10USD and visiting Bamboo Island on a private longtail boat trip is still worth it – its a once-in-a-lifetime experience. To fly the long-haul route into Thailand, make the pilgrimage to Phi Phi Islands – and then NOT visit Bamboo Island because of a 10USD charge just doesn't make sense.
Private Phi Phi Island Tours From Phuket or Krabi
Don't think you have to be staying in Phi Phi Islands to take a private long-tail boat tour. Phi Phi Islands are close by to many mainland locations and making a day trip is a possibility from Phuket, Patong, Krabi, Ao Nang, Koh Lanta, Koh Yao Yai & Koh Yao Noi.
Private Phi Phi Island tour from Phuket
Private Phi Phi island tour from Koh Phi Phi Don
Private Phi Phi Island tour from Patong
Private Phi Phi Island tour from Krabi
Private Phi Phi Island tour from Ao Nang
Private Phi Phi Island tour from Koh Yao
It isn't safe to travel to Phi Phi Islands on a Thai Long Boat. These boats are designed to navigate the shallow waters and close to the shore. Long-Tail boats aren't designed to travel the open ocean on the busy shipping and ferry lanes between Phuket & Phi Phi Island. It also tends to get uncomfortable after riding on the boat for three hours straight! And the cost of gasoline would cost almost 7 times as much as a ticket on the speedboat!
A day trip to Phi Phi Islands- the best choice for travellers staying outside the Phi Phi Islands is to find a tour operator who offers a package with both return transfers to Phi Phi Island and also a private longtail boat trip of the islands. Prices for such trips are usually in the region of 5,000 Thai Baht per person (150USD), but you'll have lunch included, drinks & snacks, land transfers and sea transfers all included. Prices are often higher than joining a group tour but on a public tour you'll likely find upwards of 30 – 40 people on one speedboat! Yikes!
What To Expect On A Private Longtail Tour
On a private long tail boat Phi Phi tour you'll be able to customise the experience to your specific taste. A massive perk over joining a public tour. On a private boat trip, you won't have to worry about the needs of other travellers, and you'll have more time to explore the beaches and snorkel in the luscious ocean.
The biggest perk is the flexibility of a private boat tour. If you've done your research and know exactly which spots you want to visit, that can be arranged or what most travellers prefer to do is sit back and let the boat captain take them to the best spots around the islands. A long tail Phi Phi tour is so flexible that you can even change your mind on where to visit during the trip!
You can choose how long to stay in each location! If you visit somewhere which is busy, like the island of Koh Phi Phi Leh you might want to leave after ten minutes of photo taking. There's no waiting for the rest of a tour group. Jump back onto your boat and head to the next stop. If you find a remote beach and want to stick around for an hour two to have lunch and swim in the ocean, that's fine. No one will tell you when to leave. Leave when you are ready to do so!
Do boat captains in Koh Phi Phi speak English?
It's unreasonable to go abroad and expect everyone to speak you language and Thailand is no different. Most boat captains on the island would have been islanders and local fishermen before tourist began to visit. Most of them wouldn't have needed to lean English then.
For boat captains in Koh Phi Phi, English is their second language. And most didn't start to learn a new language until later on in life. Captains speak enough English and have enough useful phrases memorised to remove the language barrier, communication with these guys isn't an issue so long as you're patient. Captains are very proud of their home and love to show off the best parts of the island to foreign visitors from around the globe.
Booking a private boat tour in advance can help to find a vetted captain with quality English skills.
Boat Captains Speak Perfect 'Broken' English
Avoid The Crowds On A Private Phi Phi Tour
There is no denying, Phi Phi Islands get busy. The islands are small and so many travellers want to take a long tail boat tour. For those staying on Koh Phi Phi Don itself, you'll have an advantage over other day trippers.
Private long tail boats can be rented and take to the waters as early as 5:30 am! You can catch the sunrise just after 6 o'clock in the morning and you'll have the islands to yourself! For a few hours at least, as the morning goes on more and more people will be getting out and about and around 10:00 am the majority of boat tours from Phuket begin to hit Phi Phi Leh. Luckily by that time, you'll have seen the island already and can move on to check out the snorkel sites and beaches of Phi Phi Don!
Times can be set to avoid crowds and get a real authentic experience of Koh Phi Phi. 6 o'clock is an early start especially on a well earned holiday – but it is by far the best time to get out & hit the water!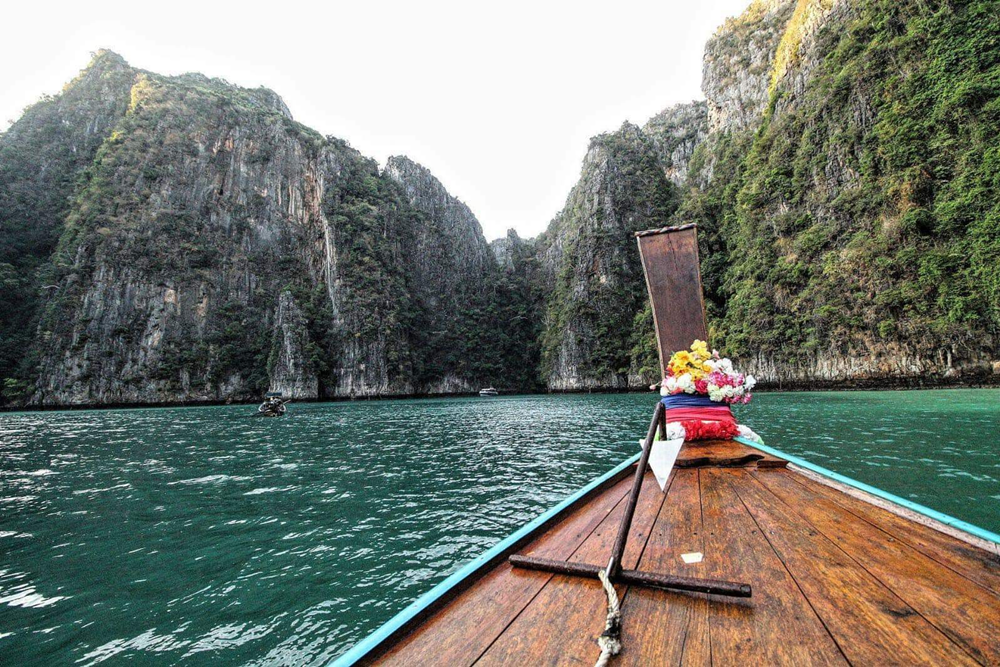 How Much Does a Long Tail Boat Tour Phi Phi Cost?
So you're interested in chartering your own long tail boat in the Phi Phi islands. But you're unsure as to how much that might cost! Surprisingly, the cost of chartering a Private Longtail boat is not as expensive as you may think.
The price often surprises people when they realise it can work out as a cheaper option in comparison to taking a group tour. Pricing is influenced by the duration of the trip combined with, the number of passengers. So for larger groups, it is often the cheapest tour option.
The base cost to charter a long tail boat tour is 1,000 Thai Baht. Then there is a 500 Thai baht charge for each person & 500 for per hour. So for two people on a six-hour longtail boat tour, you should be paying around 4,500 Thai Baht, (with lunch and drinks included).
If you're travelling in from an outside location such as Phuket, Ao Nang or Koh Yao Island there will be an additional cost as you'll need to factor in taxi transfers, return boat tickets to Phi Phi Island and entry fees at the island. Prices from outside Koh Phi Phi are typically around 4,500 Thai Baht per person- all inclusive.
Whats Included On A Private Long Tail Boat Tour?
That really depends who you book your private tour with, weather you choose to book with a reputable company or if you're a Gung-Ho type traveller who will find a boat captain on the beach of Phi Phi Island.
If you are planning to hire a boat captain yourself, you'll want to also bring the essentials yourself. Prepare or buy a packed lunch, bring along plenty of bottle water, some fruits, snorkelling gear. And perhaps a pack of beer.
When you book a private tour through Five Star Thailand Tours you'll have everything taken care of for you. You have a chiller box of ice on your long tail boat, which is pre-stocked with cool beers, bottled water and soft-drinks. Fresh season fruits are included and will be sliced and served by your boat captain, usually ripe pineapple or watermelon depending on the season. Lunch is included, you'll have a pre packed Thai pinto lunch box packed with four tasty Thai selections each to tuck into. And snorkelling gear is provided, (mask and snorkel) and life jackets.
You might see some tourists using fins or flippers when snorkelling around Phi Phi Islands. But you should know that it has been banned by the DNP to use flippers in Phi Phi Islands as it can damage to coral reefs.
How Many People Can Join a Private Long Boat Tour
Thai Long Tail Boats come in all sizes. The smaller sized boats might be suitable for only one or people and offer no protection from the sun. These boats aren't suitable for carrying tourists and are more commonly used for fishing. If you're booking a private tour in person, make sure to ask about the size of the boat!
Some of the larger longtail boats are purpose-designed for taking tourists on tours. These boats will have more comfortable, padded seating. And more space. Some of the largest boats can hold up to 25 passengers. And if you're group is bigger than 25 people, boat captains can work in tandem following the same route and cruising alongside each other.
How About A Private Phi Phi Island Speedboat Tour Instead?
Speedboats are much more versatile than a traditional Thai Longboat. Private speedboats can comfortably tackle open seas and are more suitable for private charters outside of Koh Phi Phi such as a private speedboat Phuket to Phi Phi Island Tour.
Now speedboats are great fun. But, you can charter a private speedboat anywhere in the world. It's not just Phi Phi Island. Where as the Thai Longboat is not found globally, you won't have a chance to ride on a long-tail boat anywhere but southern Thailand and Koh Phi Phi. Long Tail Boats are are a pinnacle of the islands and offer an authentic insight into life before for the locals.. before tourism.
Ok, you want a private speedboat Phi Phi Island. Gotcha. And there are plenty of speedboat hire companies around the islands of Koh Phi Phi and Koh Phuket. But the cost to rent a speedboat in Thailand comes at a much higher cost than a long tail boat rental. To rent a private speedboat in Koh Phi Phi, for a small group you should expect to be paying around 20,000 Thai Baht for the day or around 35,000 Baht if you're staying in Phuket.
Chartering a private speedboat from Phuket to Phi Phi Islands is certainly not the cheapest choice, but it is the quickest and most glamorous. Speedboats travel the islands much quicker than long tail boats meaning you can easily jump from one beach to the next in a matter of minutes.
But to secure a private speedboat in Koh Phi Phi for a day tour you'll almost certainly need an advanced reservation, as speedboats and captains cannot be found on the streets or beaches in similar fashion to longboats.
Speedboat operators aim to provide a high level of service and have a tour guide on board to work alongside the captain; also, if booked online in advance, with Five Star Thailand – you can avoid paying National Park fees! – Ok, you still have to pay, but the charge is bundled into our charter price, so you don't need to carry cash. It feels like it's free, though, right..?
Don't Worry About Bad Weather On Phi Phi Island
What about poor weather conditions? "I have heard during poor weather my boat trip might get cancelled?" While this is certainly a possibility, it is an improbable scenario; especially; if you're taking a tour during the peak season, then you have nothing to worry about. There is almost 0% chance that you will be struck with a spell of bad weather this time of year.
However, when it comes into the low season months, there is a slim chance that the sea will be too rough for boats to head out safely. Although this only happens on a handful of days each year, so it's doubtful you'll be affected, and you shouldn't need to alter any travel plans.
If your private boat tour is cancelled, it will usually be done because the sea conditions are unsafe to operate the boats, due to high waves or recommendations from Marine Park Government staff who are continually monitoring weather patterns, tides, and other sea conditions on the behalf of Phi Phi Island tour companies.
Information recorded is shared with operators on Koh Phi Phi so they can make an educated decision & cancel a service when necessary to keep travellers safe. Nobody like to have their plans changed or their trip cancelled – but sometimes it's better to be safe than sorry. – At Five Star Thailand Tours, safety is a top priority! If your tour gets cancelled and you're unable to travel on an alternative date, rest assured you'll be refunded the full value of your trip. Although most bad weather will pass in less than a day and you can reschedule the tour for a later date if your travel plans are flexible enough.
The weather forecast in Koh Phi Phi is non-existent, while travellers and visitors to the island swear by their online weather applications – where do these apps get their data? Physical wheater stations. There aren't currently any recording instruments on Phi Phi Island, so ignore the information given by your weather app as it holds little value on Phi Phi Island. – Don't base your travel plans on false information!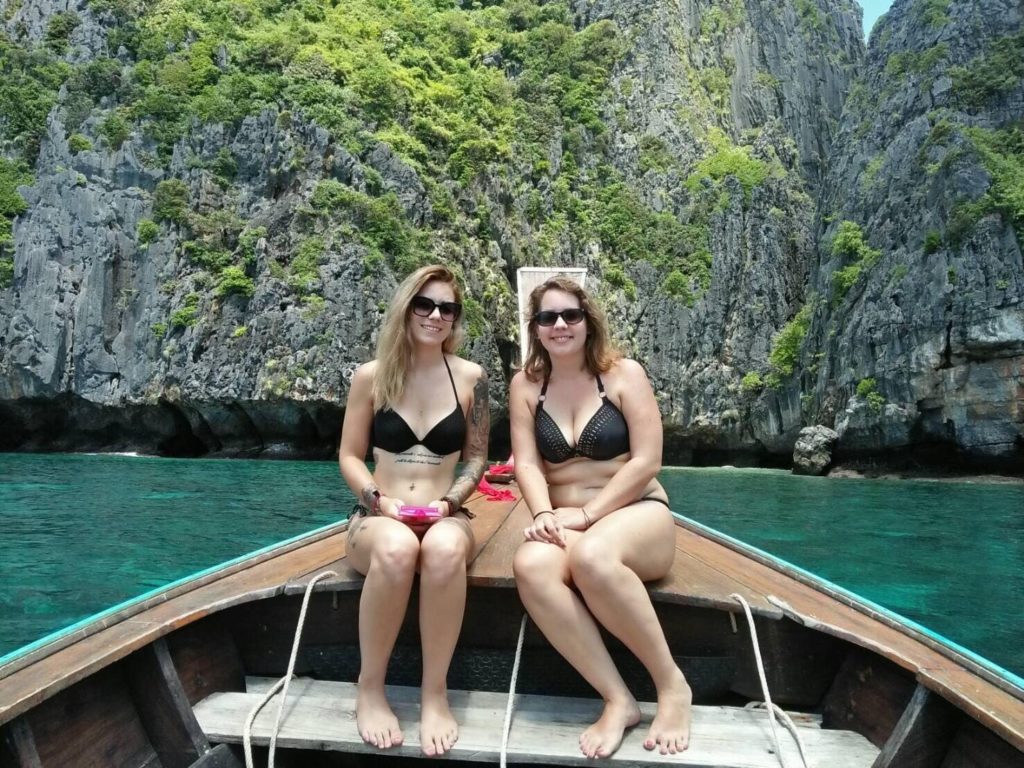 How To Choose A Boat Captain?
How can I guarantee I will be with a good captain who won't mess me around? Unfortunately, this is something I've heard time and time again. The bottom line seems to be that people are cheap. Travellers like paying the captains as little as possible, haggling them down to next-to-nothing and still expecting the best service.
The captain sitting on the corner with a rotting boat and poor English skills – this guy doesn't care about providing an excellent service – after all, there is no place to leave a review about him, and, likely, you'll never cross paths again after the trip is over and after leaving Koh Phi Phi.
If you're paying a 'low' price – you should expect a low service in return. That's life – don't complain to me after aggravating you captain, by paying an insulting price for their services!
Cheapest rarely means the best, and an underpaid captain does not have your best interests as a priority. When booking a tour in advance, you can rest assured that captains are paid a fair rate in exchange for their service & knowledge of the area. Tour companies have an online reputation to protect – and stick by their motto of quality over quantity!