Things to do in Phi Phi Island. What is there to do on Phi Phi Islands? There are lots of activities to do and things to see in Phi Phi Islands. Some of the most popular things to do include hiking to the Phi Phi Viewpoint, taking an island-hopping boat trip around the other islands, lounging out on the most beautiful beaches in Asia, or partying the night away at the open-air beach clubs. We've put together the ultimate list of every activity you could find on the island and ranked them numbers 1 through to 72. So read on and find out what you can be getting up to in Phi Phi Islands.
Things To Do In Phi Phi Island
Phi Phi Island Things To Do: Island Hopping Tours
Phi Phi is built up from 6 individual islands, the largest of the 6, Ko Phi Phi Don is the only inhabited isle and it's where you'll be staying if you visit.
But the prettiest beaches, and must lusted after lagoons are found hidden on the other islands. These islands, Koh Phi Phi Leh, Bamboo Island, Mosquito Island, Bida Nai & Bida Nok. Can only be reached by sea.
As such, one of the most popular things to do in Phi Phi island is to hire a long-tail boat and take a trip out on the ocean, to explore these mysterious islands.
Tours of the Phi Phi Islands cost anywhere from 1,500 Baht to 4,000 Baht per person. But as tour operators have a tendency to pack tourists into their boats as tight as possible, make sure to ask how many others will be on the boat, before you book.
Here are the 9 best island hopping tours to consider when looking for things to do in Phi Phi Island.
Rent Your Own Long-Tail Boat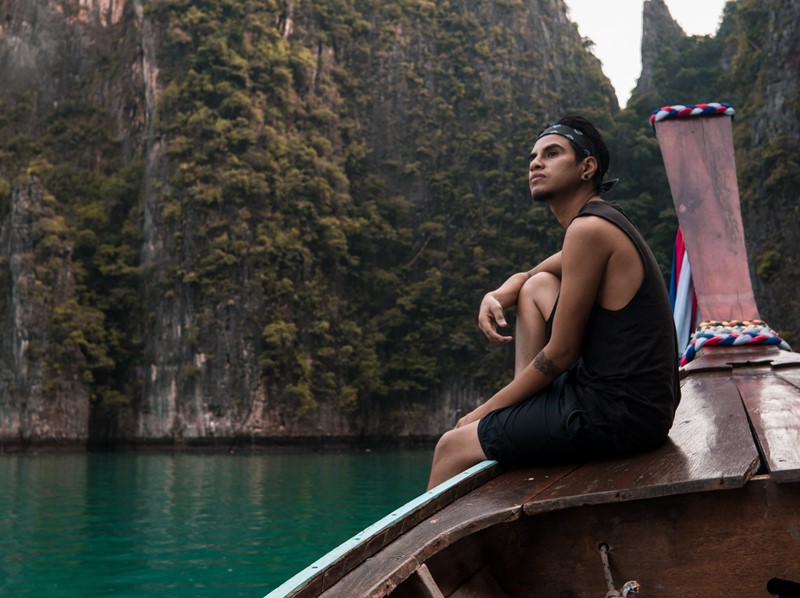 The long-tail boat is pinnacle of southern Thailand, boats which were once used by locals for fishing are used by captains today to show travellers around the islands.
Riding on a long-tail boat around Phi Phi Islands is a must-do activity that no visit would be complete without. These boats have a sense of charm and romance about them that cannot be replicated anywhere else in Asia.
And you can charter your very own Thai long-tail boat in the Phi Phi Islands. Chartering your own boat gets you much better value for money in comparison to join in on a public tour, and you'll have a more enjoyable experience. Unless you're a solo traveller or on a super tight backpackers budget, there is no reason no rent your own.
Private boat tours are perfect for families and couples seeking some privacy and exclusivity. While other positive reasons for choosing a private tour include the freedom to get off the beaten track. You won't be limited to a pre-defined tour route and you'll have much more flexibility as you go.
Read My Full Post On Chartering Your On Private Longtail Boat In The Phi Phi Islands Here.
The Phi Phi Pirate Boat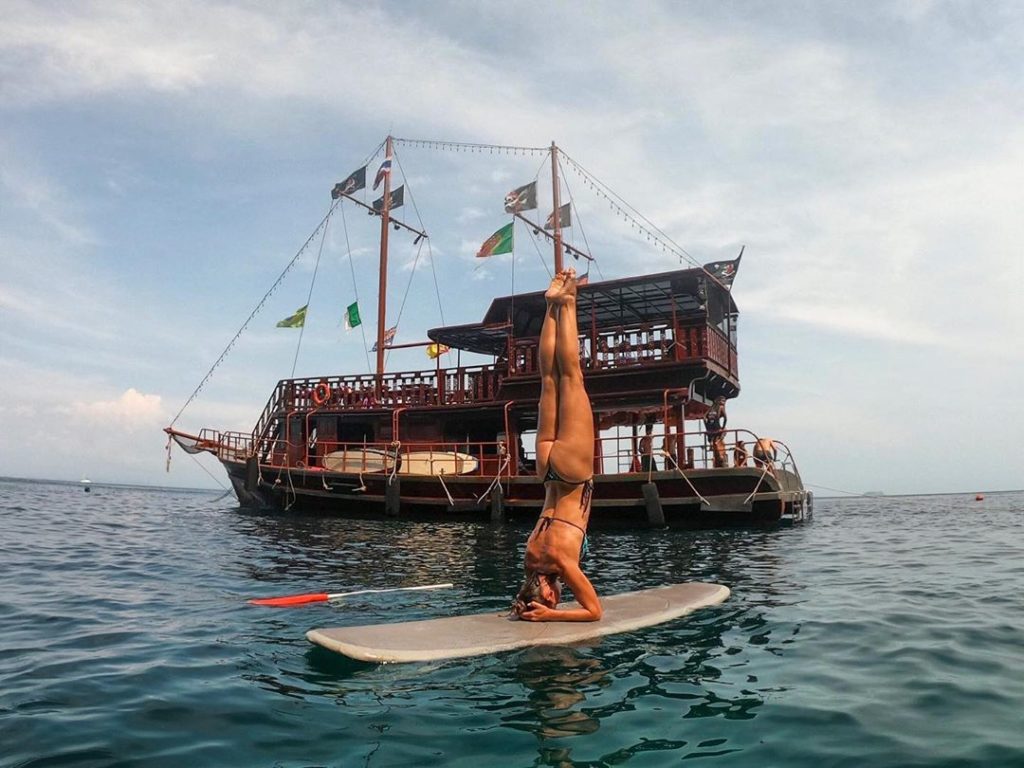 This is Koh Phi Phi's most famous; 'not-a-boat-party'- boat party. The tour is focused more on having a good time, and taking part in all the fun Phi Phi Island activities that they offer. While at the same time mixing that fun in with drinking at the bar on the boat. It's not a crazy boat party, but there a definite a wild side to the Phi Phi Pirate Boat.
The tours leaves from the Pirate Bar on Phi Phi Don and it is easily one of the best things to do in Phi Phi Islands. The tour has glowing reviews on TripAdvisor and Facebook, proving a hit with travellers and there are even mentions of the Pirate Boat in Lonely Planet guidebooks.
You'll have a chance to visit all of the popular spots like the Monkey Beach and the Blue Lagoon. The typical crowd on the tour is sociable backpackers, so for solo travellers the Pirate Boat is a fantastic place to meet with like-minded others.
Tickets cost 1,200 Baht ($40) which included dinner and National Park charges so it's incredible value for money. To join the Phi Phi Pirate Boat, you need to book in advance. You can learn more or book the tour on their own website with a 5 dollar deposit.
Phi Phi Island Sunrise Tour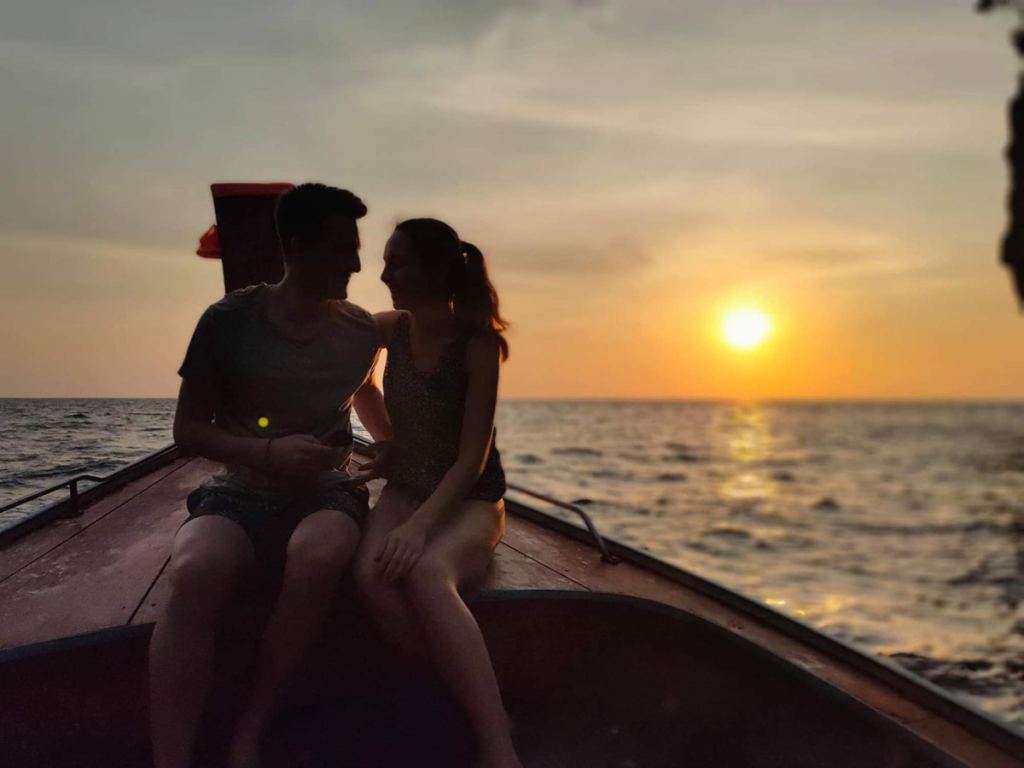 It probably comes as no surprise to find out that Phi Phi Islands are a popular place, drawing in large crowds. Popular beaches can fill up pretty quickly. But if you want to combat that, and have the opportunity to capture beautiful photos without other travellers in the background then one of the best things for you to do in Phi Phi Islands is to book yourself onto an early bird or a sunrise tour.
There are a few ways to go about this, the best option would be to charter your own long-tail boat. Giving you the freedom to leave shore at 6 o'clock in the morning.
Alternatively, if you want a lower cost activity you can book onto a public sunrise package tour. There are two choices for public sunrise tours in Phi Phi Islands. First of all the Early Bird is a speedboat trip from 6 am until mid-afternoon, it costs 1,600 Baht for a ticket and the crew will take you all around Koh Phi Phi Leh, Koh Phi Phi Don and Bamboo Island. The downside is there are ofter 30 – 40 people packed into a single speedboat.
But if fewer people on your trip sounds like a better thing to do in Phi Phi Island for you, you could also consider a semi-private tour. The semi-private supreme takes a maximum of 6 people and lasts a brief four hours, enough time to catch the sunrise and explore the beaches before other tour boats begin arriving.
Find out more about booking things to do in Phi Phi Island:
Book the Early Bird speedboat tour here.
Spend A Night At Maya Bay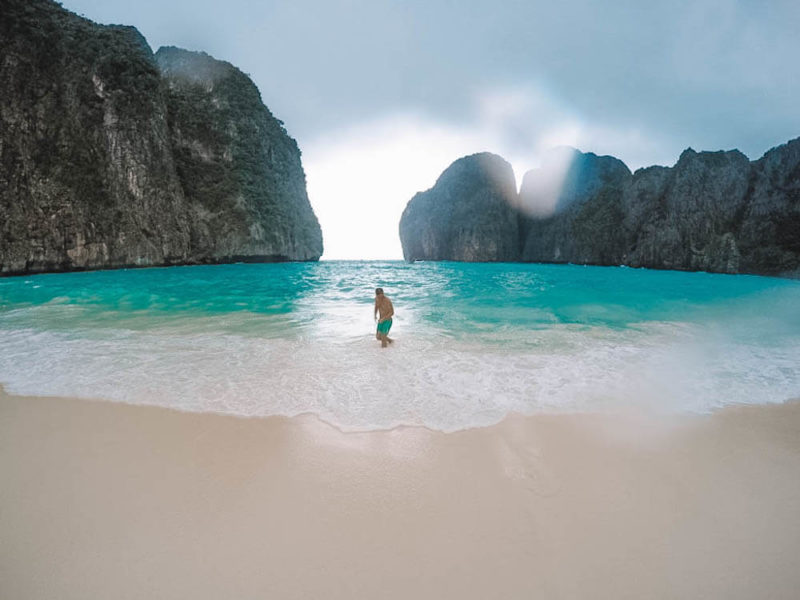 This is defiantly one of the more unique things to do in Phi Phi Island. But one that will earn you some serious bragging rights. Maya Bay is Phi Phi Islands most beautiful beach. It was only used as a film set for the Leonardo DiCaprio movie, "The Beach".
The only downside to the May Bay Sleep Aboard tour is the ticket cost, with tickets going for close to $150 on a public tour, your money could go much further by choosing other things to do in Phi Phi Islands.
But if you want to break off the track and see a side to Phi Phi Islands that most travellers usually don't get to see, then sure go for it. You can find out more and book the Maya Bay Sleep aboard here.
The Blanco Booze Cruise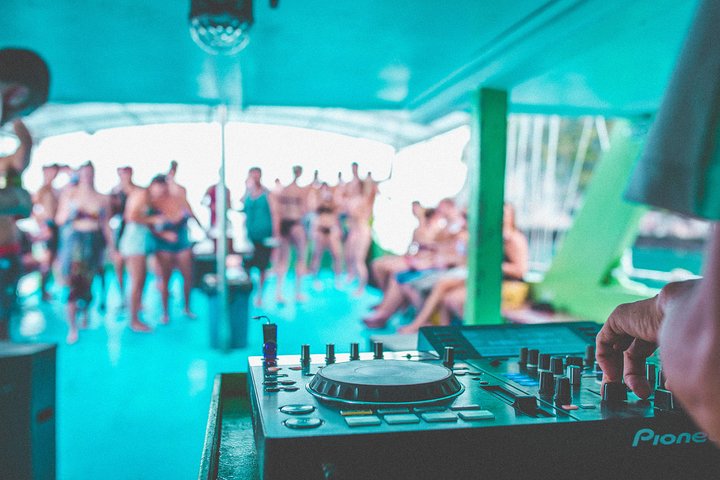 If you're in Phi Phi Islands to party and want to blow off some steam. Book yourself a ticket onto the Blanco boat. It's probably the wildest thing to do in Phi Phi Islands and you'll make some life-long memories and friends.
Blanco offers unlimited alcoholic drinks included in the cost of their tickets! And you can really go wrong with an open bar. You'll still see the popular beaches and spots as your sail around the Phi Phi Islands. Plus you can eat for free from the BBQ at the after-party, which is thrown at the Blanco Beach Bar. Book tickets for the Blanco Booze Cruise here.
Sail Around Phi Phi Islands
Shangri-La is Phi Phi Islands only sailing yacht; one of the greatest things to do in Phi Phi Island. The exclusive experience gives travellers a chance to cruise the tropical islands on a luxury 58-foot sailing yacht.
Admission onto the cruise costs 1,700Bhat and the ticket price includes alcoholic drinks and a sunset BBQ. You cant book tickets online for this Phi Phi Island activity, instead, you need to head to the Irish Bar on Phi Phi Don and reserve a spot in person.
The Shangri-La Yacht has some pretty cool features including a sea jacuzzi, which is a cargo net is suspended over the side of the yacht and as the boat moves through the ocean ripples emerge and create a jacuzzi effect.
*Shangri-La has been reported as no longer operating as a thing to do in Phi Phi Islands. If you have any updated info on the Shangri-La tour please leave a comment below.
Phi Phi Island Sunset Tours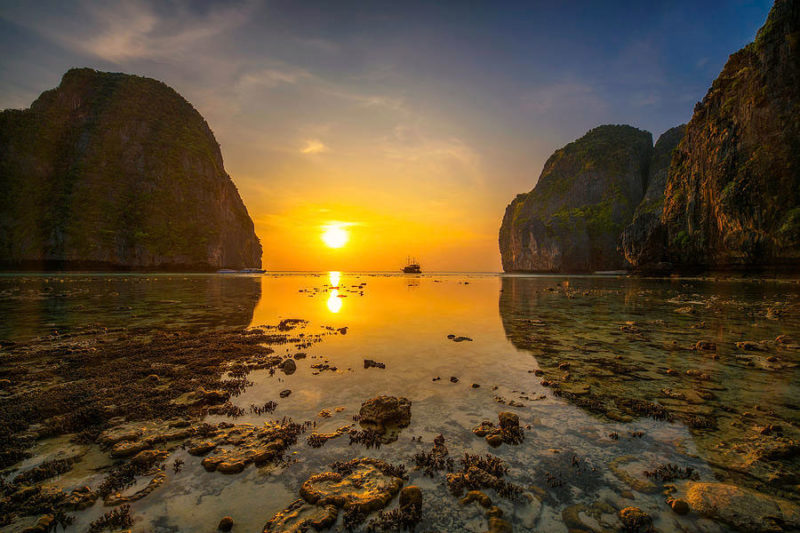 This is one of the greatest things to do in Phi Phi Island and sunset is the most beautiful time of day. An afternoon sunset cruise sits on the cheaper end of the scale as an affordable low-cost Phi Phi Island activity.
Sunset tours typically leave somewhere around 2:30 pm and the sun sets in Phi Phi a few hours later, at 6:30 pm. 4 hours is enough time to make your way around Phi Phi Island, making stops at the Monkey Beach, the Lagoon, Viking Cave & Maya Beach.
You'll have a couple of choices to make when booking a sunset cruise, you will need to decide first of all if you want to go private or if you don't mind sharing a boat with others to reduce costs. And second of all you'll need to choose the type of boat you'll be traveling.
Sunset cruises in Phi Phi Islands are operated on long-tail boats, speedboats and also bigger cruise boats. The big boat is the most popular choice, but I'd personally pick a long-tail boat ride for the authenticity and charm. You can often find public sunset tours priced around 500 Baht a person ($10 USD) if you choose a long-tail tour and don't mind sharing with others.
You'll see the most beautiful sunset over the ocean, and some tours even include a night swim the glowing-plankton.
The Phi Phi Happy Boat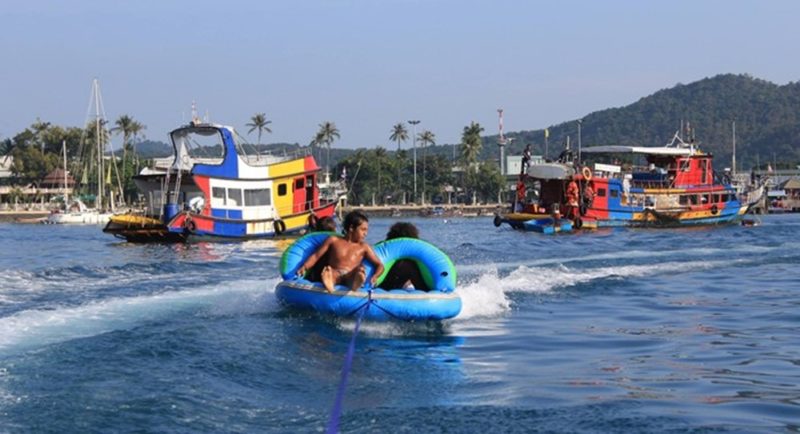 The Phi Phi Island Happy boat is a one of a kind thing to do in Phi Phi Islands. The tour uses two colourful, brightly painted ships; the 'Happy Boat' & the 'Baby Boat' – there's plenty of open decking space for travellers to lounge around. Comfortable colourful bean-bags lay around on the open-air deck, chilled out music sets a calming mood on the boat, and French guides created a unique atmosphere.
The happy boat includes some awesome watersport activities bundled into the cost of the excursion, including the flying fish, where travellers are dragged behind a speedboat on an inflatable banana boat. And the hamster roll balls, allow travellers to climb inside and roll around on the surface of the ocean.
Phi Phi Island Full Day Boat Tour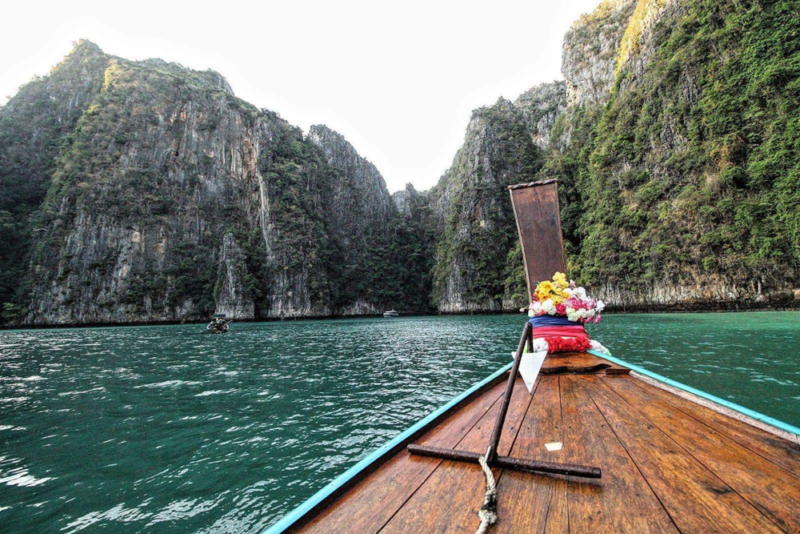 A full-day tour is a popular thing to do in Phi Phi Island for travellers that are perhaps, a little pushed for time on your stay, a full-day boat trip can take you to see all of the islands hot spots, and the islands, all the beaches, lagoons, caves, everything in one day.
Its also fantastic value for money. And a typical full day excursion should cost less than 1,000 Baht for a 10 hour tour, from 9:00 am until sunset.
So even with a limited schedule you don't have to miss out of any of the Phi Phi Islands. Again, you'll have a choice of a long-tail boat or a speed-boat for your full day tour. Long-tail boat are more authentic and cheaper. Speedboats tend to carry for bigger passenger groups and cost much more, usually 2,000 Baht for a full day trip.
The common belief is that on a speedboat tour you'll see more places, but as Koh Phi Phi is so small, you'll see all the hot-spots whether you choose a longboat snorkel trip or a speedboat snorkel trip.
Phi Phi Island Things To Do: The Best Beaches & Hotspots
Phi Phi Island is a paradise island. There are so many things to do and see in Phi Phi Islands to keep you entertained. But the thing that makes the island so perfect for travellers is the beaches. The island hosts beautiful white sand beaches with tropical clear water oceans.
Some beaches are busier than others, but if you know where to look, you can still find beaches which are secluded, deserted and free from other travellers. Phi Phi Islands are home to a ton of beaches, snorkelling destinations, coves, lagoons and historic caves. Most of these sites can only be reached by boat, so it's a great idea to incorporate them into a Phi Phi Island Boat Tour.
And the main island of Phi Phi Don has its fair share of picturesque beaches. So take a day off to spend topping up on your tan, lounging around on the sands and you can tick a beach day off your list of things to do in Phi Phi Island.
Phi Phi Leh National Park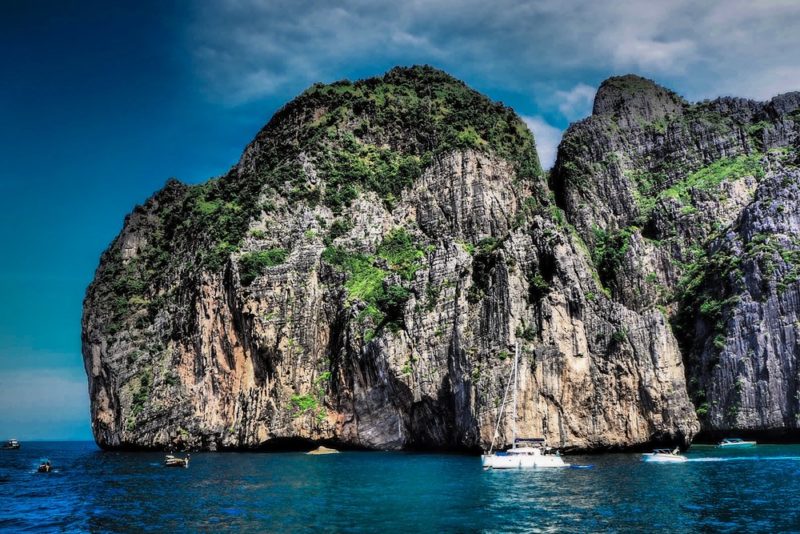 Travels want only the best things to do in Phi Phi Islands, and the Koh Phi Phi National Marine Park is right up there. This island houses five of the most sough after destinations in Phi Phi.
Travellers researching the places they want to visit on a boat tour will often come back with the same lists. You want to see Pilleh Lagoon, Monkey Beach, Viking Cave, Loh Samah Bay and May Bay. Little do they know, all of these location are minutes apart from each other on the epic island of Phi Phi Leh.
If you only want to explore the National Park, 3 hours is a good amount of time to hire a boat for. It will give you enough time to see all the locations and some time to snorkel, and of course meet the monkeys.
The drawback to Phi Phi's most beautiful island is the amount of travellers that all want a slice of the action. It is best to get here as early on as possible to beat the crowds. There are also lots of incredibly beautiful snorkel sites and beaches around Phi Phi Don which remain empty throughout the day, thanks to Koh Phi Phi Leh taking all the attention away.
Phi Phi Monkey Beach
One of the coolest things to do in Phi Phi Island is to meet the local residents, marquee monkeys.
These guys like to hang out in the town occasionally, but your much more likely to find them chilling on the sand and 'Monkey Beach'. There are two Monkey Beaches of Phi Phi Don Island and you can even kayak to the bigger beach in under 10 minutes.
The smaller Monkey Beach is on Phi Phi Don's southernmost tip, just a five minute boat ride from the Phi Phi Leh National Park. Its formed of three small beaches which are exposed only during low tides. At high tides the beaches disappear and the monkeys are forced into the cliffs.
Remember to take precautions when you decide to include a trip to Monkey Beach on your bucket list of things to do in Phi Phi Island. You must remember these are wild animals. They might seem cute, but their goal is to steal any food or drinks they can find on you. They have been known to bite tourists who try and pick them up or refuse to hand over their box of fried rice!
Viking Cave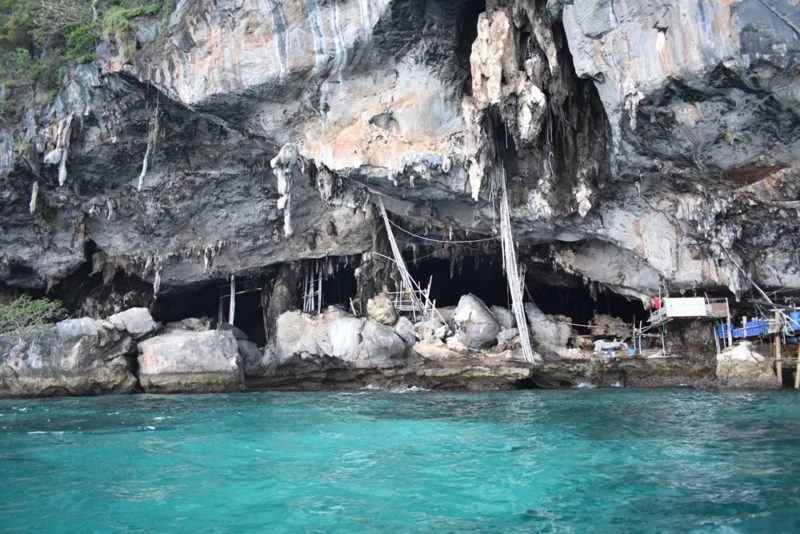 The most dreary and f****** boring thing to do in Phi Phi Island. You find 90% of tour operators beef up the tour programmes with a stop at the Viking Cave included. It sounds like a cool spot in theory. But once you find out the cave is closed, if fact boats can't even get too close to the cave. It starts to sound less appealing.
The Viking cave does, however, hold some interesting history and serves a current day purpose. The concept of the cave is pretty cool. Legend has it that Vikings for Scandinavia were stranded during a storm, (hence the name 'Viking Cave'). It is said they took shelter in the cave after their boat was destroyed. As they awaited rescue the sailors survived by eating the nests of swiftlet birds and the documented their stay with now ancient paintings on the cave walls.
he paintings resemble Scandinavian Drakkar's. But you can't see any of that for yourself. The best you'll get is a blurry photo of the cave entrance from 200 meters out. Why the cave is recommended by so many travels is beyond me. My advice is to skip this one and save yourself the disappointment. There are much better things to do in Phi Phi and you'll still get a glimpse as you pass by on the route to Koh Phi Phi Leh.
Pilleh Lagoon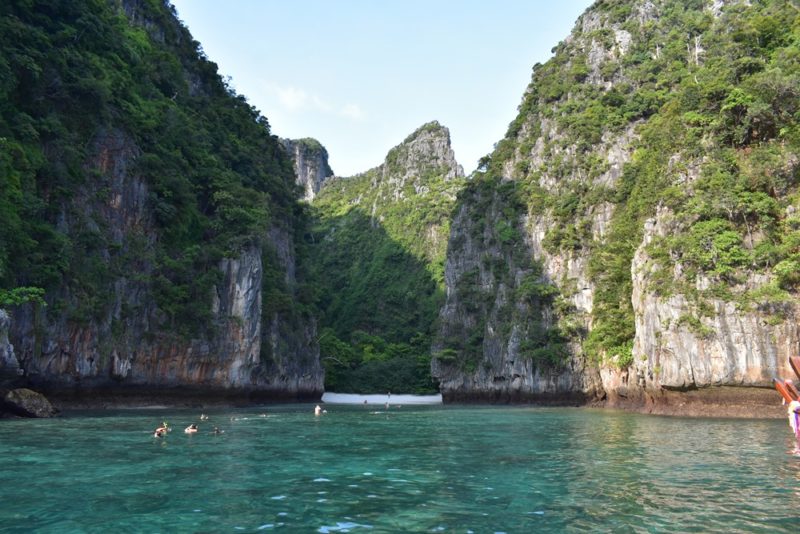 Pilleh Lagoon is one of the prettiest sites in the Phi Phi Islands. This Lagoon deserves a spot on any travellers bucket list of things to in Phi Phi Island.
The Lagoon is tucked away and hidden behind towering limestone formations on the island of Koh Phi Phi Leh. The stunning blue waters found here make for an excellent snorkelling site. The coral holds incredible beauty and there is tons of marine life and colourful fishes you can spot when snorkelling in Pilleh Lagoon.
You find yourself immersed in nature at Pilleh Lagoon. The sheltered waters are soft and peaceful and you'll hear pure bliss and tranquillity with the soothing sounds of waves gently crashing into the rocks.
Pilleh Lagoon is another thing to do in Phi Phi Island that a lot of people want to do. Give yourself the best chance of beating the crowds by chartering a private long-tail boat and heading to the lagoon at sunrise.
Maya Bay & Loh Samah Bay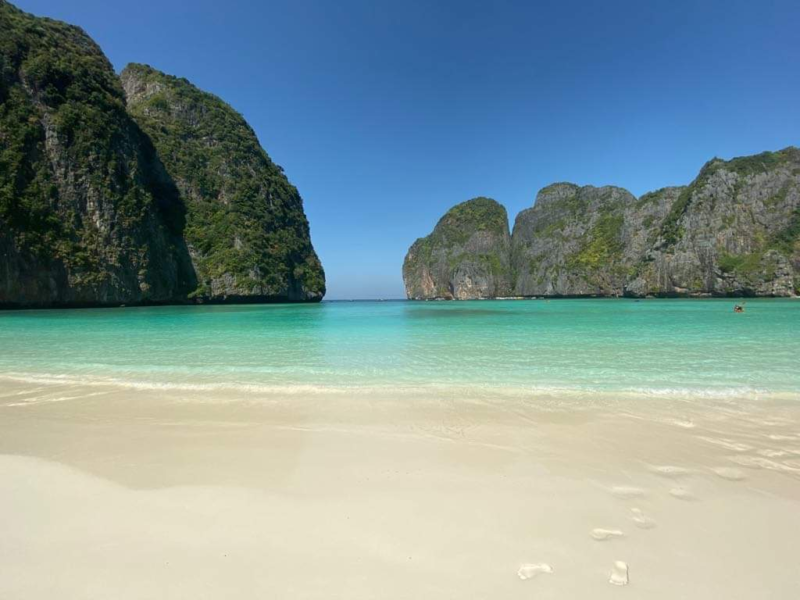 Maya Bay was used as the filming location for the Beach, starring Leonardo DiCaprio. The blockbuster movie was released to the world in the year 2000, bringing Maya Bay into the public eye for the first time. Maya Bay is often regarded as the most beautiful beach in the world.
Until the closure of the beach in 2018, up to 5,000 tourists would visit the 250-meter strip each day. Due to its popularity and beauty, the bay was suffering from mass tourism and thankfully the Department for National Park's stepped in, closing the beach indefinitely.
While the beach remains closed, the Bay is still open for boats to visit freely. Even throughout the closure, tourists are undeterred and still flock to the bay, two years on from the closure.
Loh Samah Bay is the cove connecting to Maya Beach, the rear entrance to the bay remains open and is a stunning destination for snorkelling. There is a small white sand beach which is exposed at low tides, and a small island a few meters from the bay, with stunning corals which can be seen below the surface of the ocean.
Bamboo Island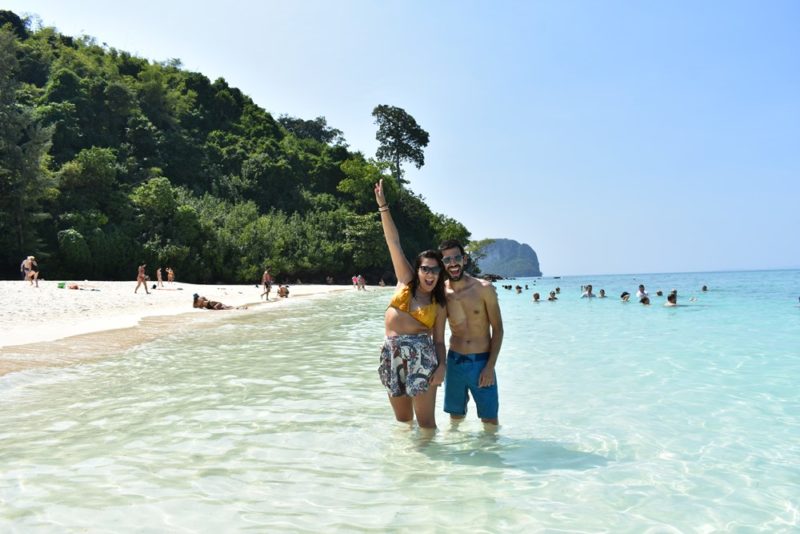 Bamboo Island is one of south-east Asia's prettiest islands, and definitely of the best things to do in Phi Phi Island. The island is picture-perfect, with white-sand beaches stretching across the entire perimeter. And clear blue waters surrounding, the island is perfect for swimming- it's easy to see why paying a visit to Bamboo Island is a favourite thing to do in Phi Phi Islands.
The island lures in crowds from nearby Phuket as well as travellers from Phi Phi Don so it tends to get busy. Visit the island at sunrise to beat the crowds!
Why is it called Bamboo Island? Uninhabited Bamboo Island or 'Koh Mai Phai' in Thai. Translates to 'The Island Without Bamboo'! The name often gets shortened to, 'Bamboo Island', leaving travellers puzzled over where the name originated.
How can you spend the whole day at Bamboo Island? The island is usually visited by day-trippers, with tours stopping here for around an hour, that sometimes is not long enough. If you want to soak up the sun and spend the whole day here, you'll need to buy yourself tickets for the Andaman Wavemaster Island Hop.
The island-hopper is a shuttle boat which makes stops at Tonsai Pier, Leamtong Pier and Bamboo Island throughout the day. Tickets cost around 1,000 Bhat for a full day pass. Or 300 Baht for a single journey.
Visiting Bamboo island does come with a catch, as a National Marine Park, all foreign visitors are required to pay 400 Baht in cash on arrival.
Mosquito Island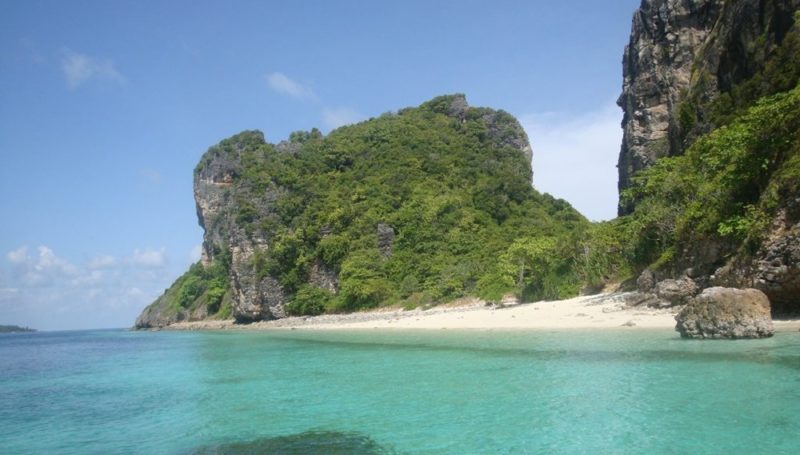 Mosquito Island is found north of Phi Phi Don and much closer to Bamboo Island that the Phi Phi Leh National Park. The island is an incredible site for snorkelling with some of the most populated reefs in all of Koh Phi Phi. It's at mosquito island you'll have a check to see the clownfish, and at low tides, many small remote beaches are exposed.
While mosquito island defiantly deserves a place on this list of things to do in Phi Phi Islands, you might no be able to visit this island at the moment.
In 2016 the department for National Parks made a decision to close Mosquito Island to tourism. The closure was part of a trial rehabilitation project to collect some data before closing the more popular Maya Bay.
As Mosqition island is far less popular and less controversial than Maya Bay, the closure did create the same media attention that the closure of Maya Beach created. Rehabilitation of the reefs at Mosquito Island have shown outstanding results over the past four years and there is currently no date set for the isle to be reopened.
Hin Klang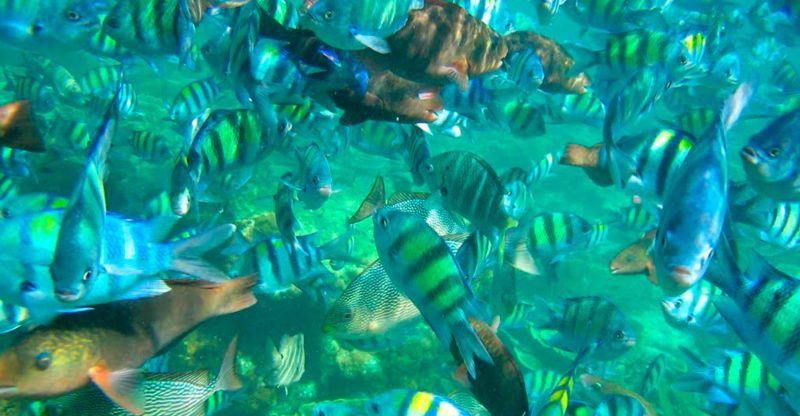 Hin Klang has the second most active reef in Phi Phi Islands, closely following Mosquito island. With a high change of spotting clownfish, sea turtles and black tip sharks here, its easy to see exactly why visiting Hin Klang is such a popular thing to do in Phi Phi Islands.
Hin Klang is sometimes regarded as Phi Phi's seventh island. But the tip of the landmass doesn't quite break the surface of the water.
While we can argue over whether or not Hin Klang is an island we can all agree that it is a prime snorkelling destination.
Located off Phi Phi Dons eastern coast it's easy enough to incorporate a quick stop here on the journey to the Bamboo Island. Hin Klang is relatively unheard of and therefore remains quiet. It doesn't get crowded at anywhere near the scale that the destinations in Koh Phi Phi Leh National Park can.
And if your ideal guide of things to do in Phi Phi Island includes world-class snorkelling, then Hin Klang should defiantly hold a spot on your list.
Phi Phi Shark Point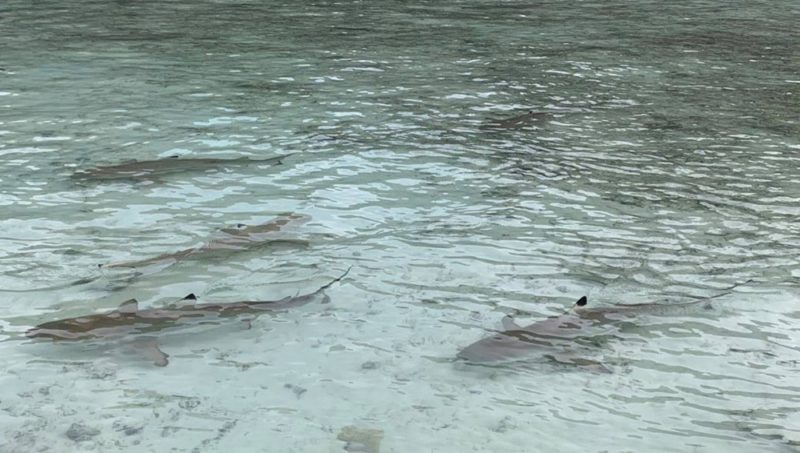 Some travellers might be a little off-put at the idea of swimming with sharks, thinking of it as a dangerous thing to do in Phi Phi Islands. That's far from the truth and swimming with reef sharks is one of the single greatest things to do in Phi Phi Islands. If you didn't go shark watching in Koh Phi Phi, then you need to get yourself back to the island.
So there is no guarantee that you will actually see sharks and you're going to need a boat to get out to the Shark Point. But if you are going to see the Koh Phi Phi black Tip Reef Shark, you'll get the best chance at the Shark Point.
The species of shark that call the waters around Koh Phi Phi home are Reef dwelling Black-Tip Reef Sharks, these gracious and gentle creatures don't pose a threat to humans and are incredible to see up close in the wild whilst snorkelling
Hawksbill turtles can also be spotted in the waters of Koh Phi Phi, although rare – there is always a chance. To get the best odd's of seeing the Sharks or Turtles, getting out early on a Sunrise Tour is crucial.
Long Beach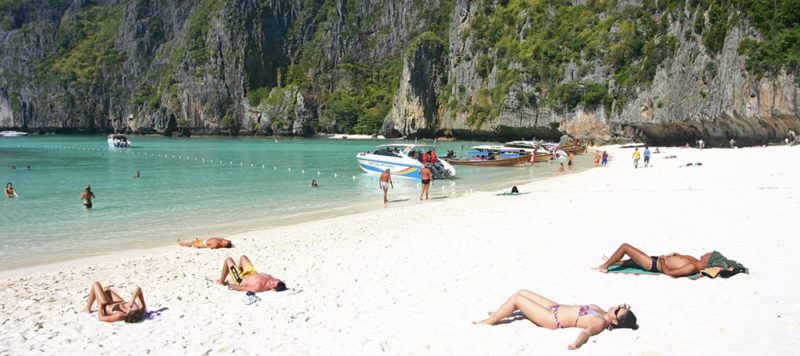 If your idea of a perfect holiday is lying on a soft white beach or a deck chair, reading a book, sipping a fresh coconut and topping up your tan in the hot sun. Then spending a chill-out day at Long Beach is the perfect thing for you to do in Phi Phi Islands!
You'll find everything that you could possibly need here. Mini-marts, rustic bars and romantic restaurants line the beachfront- and a few all-inclusive resorts and swimming pools can also be found nearby. With perfect views of Phi Phi Leh island in the distance, it's a great place to get a massage and then spend an entire day relaxing with a book on the beach.
How to get to Long beach? Long Beach is a thirty-minute hike from the main town in Phi Phi Island, which is the recommended way to get there. Its signposted all long and there are scenic ocean views on the hike.
If you're feeling a little lazy? You can charter a long-tail boat from Tonsai Pier to Long Beach, typically you should be paying around 500 Baht each way, and a little extra after dark. No need to book such a trip in advance; you'll find taxi-boat captains hanging out around Tonsai Pier ready to go, at all hours of the day!
Bida Nok & Bida Nai Islands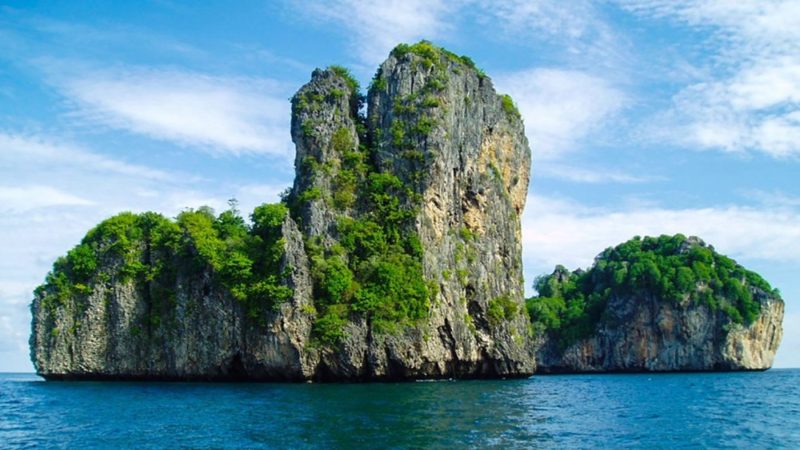 The Bida islands are the most southern islands, and also the smallest of the Phi Phi Islands. There are no beaches on the islands, so unless you are scuba diving, there are other better things to do in Phi Phi than visit here.
The twin islands are nothing more than limestone rock above the surface of the water. But bellow the surface there is an entire new world. While the Bida islands are great for snorkelling, and are a quiet spot. You ideally need to sign on with a scuba diving school to make the most of these islands.
Pak Nam Beach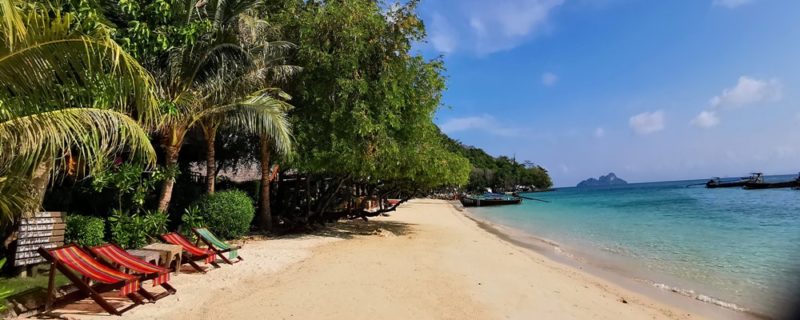 Pak Nam Beach, Pak Nam Bay or Relax beach as its sometimes called is well an truly off the tourist radar, for most travellers at least. It's a relatively quiet and unknown beach, a well kept secret of Phi Phi Islands. Until now.
You'll find a few rustic beach houses where locals live to the backside of the beach and there is a small beach bar and restaurant. The facilities are owned and operated by the Relax Beach Resort, but day-trippers are fully welcome to use the amenities here.
Loh Bakao Beach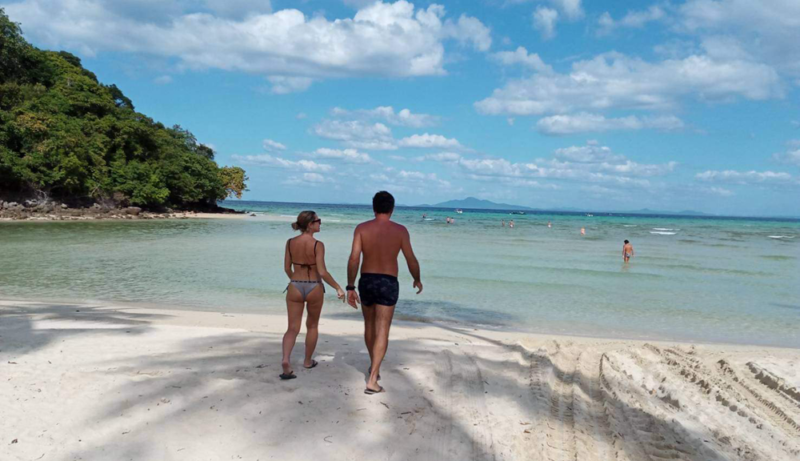 Loh Bakao Beach is one the longest beaches on Phi Phi Island. So much space for activities.
The Beach is a whopping 800 meters long and covers a huge chunk of Phi Phi Don Islands eastern coast. There is an upscale resort on the beach, The Phi Phi Island Village Resort. And their amenities are open to the public.
If you're looking for something to do in Phi Phi Islands to get out of the town and avoid the hustle and bustle, then this is a top spot to come to. You can hike here from the town, but it can be a long walk in the hot sun. Or you pay a local boat captain to bring you to the beach instead.
The resort covers 70 acres of land which houses 4 bars and three restaurants. Coconut trees line the beaches giving a paradise feel to the bay and there are some bamboo bars and local eateries scattered around the beach.
Runtee Beach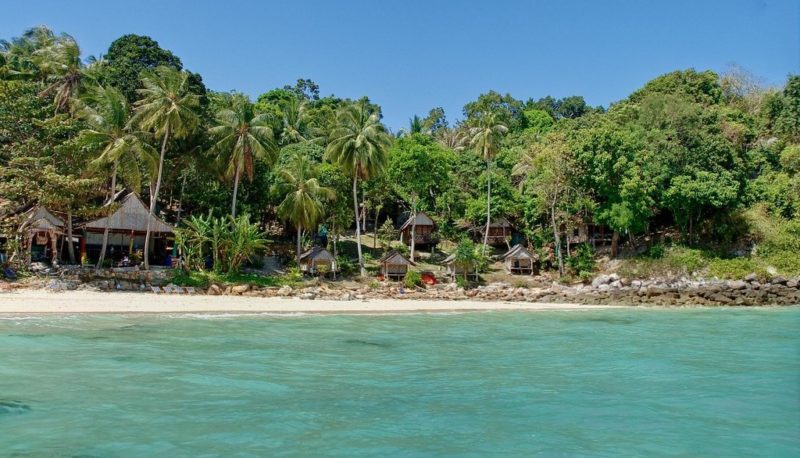 Runtee or Rantee Beach is not particularly well know and rarely spoken of amongst travellers. I doubt you'll find Runtee beach listed as a suggestion in any guide book with things to do in Phi Phi Island.
Runtee is a perfect beach to find some peace, quiet and solitude. Far from the busy town. The ocean water is turquoise and clear, it's great for snorkelling and palm trees on the sand provide shaded areas to relax.
On a normal day, you might see one or two tour boats stop by here for a brief snorkelling session. Nothing like the hundreds of boats you'd see an hour at more popular beaches like Maya Bay. So if you're desperate to get off the beaten track and didn't think such a thing was possible to do in Phi Phi Island, Runtee Beach is the place to be. Bring along a hammock and a book and you could easily find yourself on the bay for the entire day!
Loh Moo Dee Beach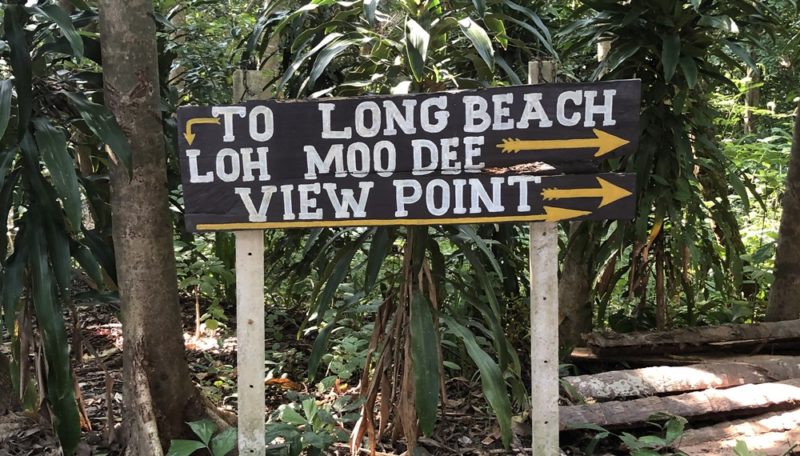 Loh Moo Dee Beach, one of the most deserted bays in Koh Phi Phi. It is not often you'll find others at this beach, with all the hype and focus on Koh Phi Phi Leh, this bay has been neglected and unspoken of in guidebooks. The perfect place to escape from crowds, on the eastern coast of Phi Phi Don Island.
How to get to Loh Moo Dee Beach? You can actually walk to Loh Moo Dee Beach, in around 30 – 45 minutes from the town. The hike is easy-going and suitable for most. If you're planning on walking to Longbeach, you're already half-way there!
Make sure to visit Loh Moo Dee while you can! New construction plans have emerged to take over the secluded beach. Focusing on all-inclusive and package holidaymakers a new mega-resort and water park is to be built on the bay.
Laem Tong Beach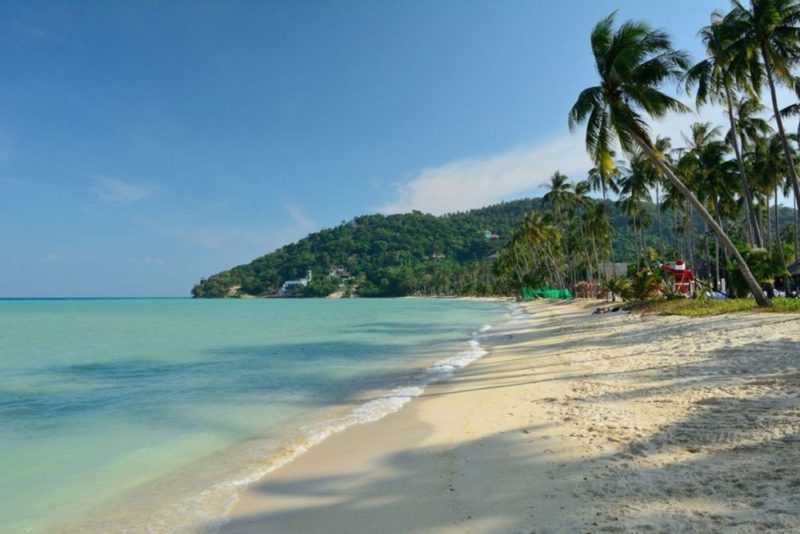 One of the best things you can do on a Phi Phi Island getaway is checking out the beaches. Most travellers never leave the town during their stay on the island, but with so many beautiful white-sand bays to visit on Phi Phi Don, you'll be missing out if you don't.
You can find some great hings to do in Phi Phi at this beach, everything you could want is here, including poolside beach bars, pizza joints and beach-front BBQ restaurants.
Laemtong is a perfect example of a beautiful white-sand, a blue-ocean quiet-ish beach where you can spend a day relaxing, sipping from fresh coconuts and cool cocktails.
As its one of the most up-market locations on the island, prices are a little more inflated here. Some of the most exclusive and luxurious resorts on the Phi Phi Islands are located in Leamtong. While the beach is not in walking distance of the town, you be able to pick up a day pass for the Andaman Wavemaster island hopper, the shuttle boat runs between Laemtong and Tonsai Pier at intervals during the day.
Things To Do In Phi Phi Island: Daytime Activities
Phi Phi Island is world-famous for snorkelling, most travellers visit the islands for the sole purpose of taking a ride on a long-tail boat and going out to explore the islands, reefs and marine life.
But there is so much more to do during an overnight stay on Phi Phi Island that most people realise; here are the most awesome activities and things to do on Koh Phi Phi, (you might need to extend your stay)!
Phi Phi Viewpoint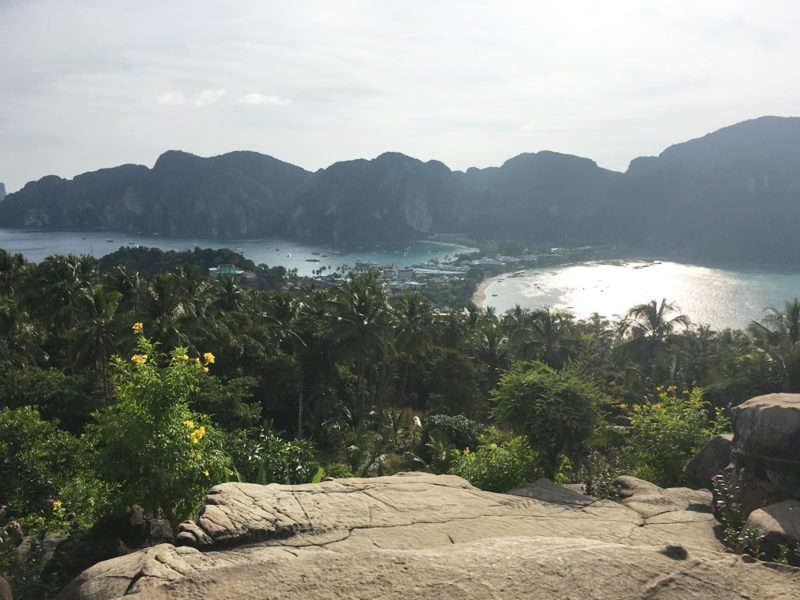 One of the more popular things to do in Phi Phi Islands is to hike up to the famous viewpoint. It's a must-do, and really not as far as people make out- if you know the quickest route to take, and are in somewhat decent shape, and not hungover! You can reach the summit in less than 20 minutes from the town.
Taking the steep staircase is the quickest route to the top, but there are countless other routes you can take. Most routes are scenic and pass through the jungles on Phi Phi Island, but there are plenty of signposts so you shouldn't worry too much about getting lost.
The Phi Phi Island viewpoint is privately owned land, and not free to enter. When you arrive at Viewpoint One, you'll need to part with 30 baht to purchase an admission ticket. Tickets are valid throughout the entire day. Make sure to carry cash with you, as it's a long walk back down to the nearest ATM.
There are three viewpoints, all providing awesome views of the Phi Phi Islands- take a break at viewpoint one, before carrying on your assent to viewpoint two. Viewpoint two has the best view of the island, and in recent years a viewing platform has been constructed, and a glass restaurant built, (with air-conditioning)! The owners of the land are a Muslim Family, for religious reasons, there is no alcohol sold or permitted at the top. It would be the perfect place for a lookout bar, but for the time being, you'll have to stick with water.
You can find my full guide, with tips and tricks to dominate getting to get the Phi Phi Viewpoint here.
Deep Water Solo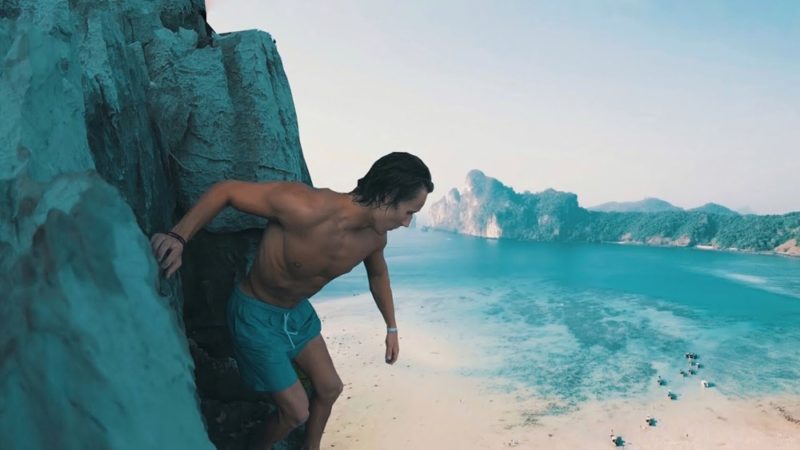 The once-popular craze of cliff jumping in Koh Phi Phi has been ended by the Department of National Parks. The once-popular thing to do would see thrill-seeking travellers pull up to the cliff face on a Thai longtail boat, scramble to the top without safety equipment and then diving off into the ocean below. There are now signs hanging from the cliffs to warn risk-taking travellers of the inherent dangers.
The ban has been in place as of February 2016, with no plans to re-introduce the activity. The un-regulation, and lack of training for guides operating these activities; Deep Water Solo and Cliff Jumping in Phi Phi Islands made it an extremely dangerous thing to do in Phi Phi Island. With novice climbers and experts left to their own devices, this activity caused many a traveller to cut their Backpacking plans short.
Rock Climbing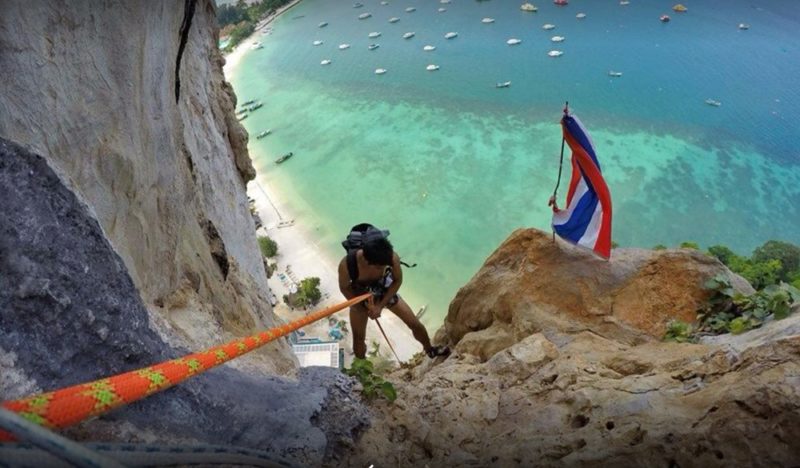 Climbing Phi Phi Islands Tonsai Tower was an awesome thing to do in Koh Phi Phi. And although it was a safe activity, the sport met the same fate as deep water solo and cliff jumping. The limestone cliff-face at Tonsai Tower looks out over Tonsai beach and provides incredible views of the Andaman ocean. A once-popular and magnificent destination for climbing has been left untouched in recent years.
Yes, sorry to break the news, but rock climbing in Koh Phi Phi is no more! While rock climbing is still heavily promoted online as one of the best activities to do on Koh Phi Phi. You'll have a tough time finding a climbing school when you arrive!
Why was rock-climbing banned on Koh Phi Phi? The ban was implemented due to safety concerns after the then Park Chief declared the sport as unsafe. "There is no need for an expert's opinion on this; I can see myself that it is not safe." – declared the Park Cheif. Without any proper investigations, the sport was caught up with the safety concerns of cliff-jumping and was banned alongside cliff jumping and deep water solo (DWS).
A ban was implemented sometime around February 2016. At the time the National Parks assured rock-climbing schools they could continue to operate after applying for a soon-to-be-launched permit. The details of the permits were never finalized and as such no applications were accepted, putting climbing schools out of business. To do this day rock-climbing has been almost forgotten about in Koh Phi with climbers now preferring to head to Railay beach as an alternative, Raily is around two hours from Phi Phi Island by ferry and a haven for climbers.
Sea Kayaking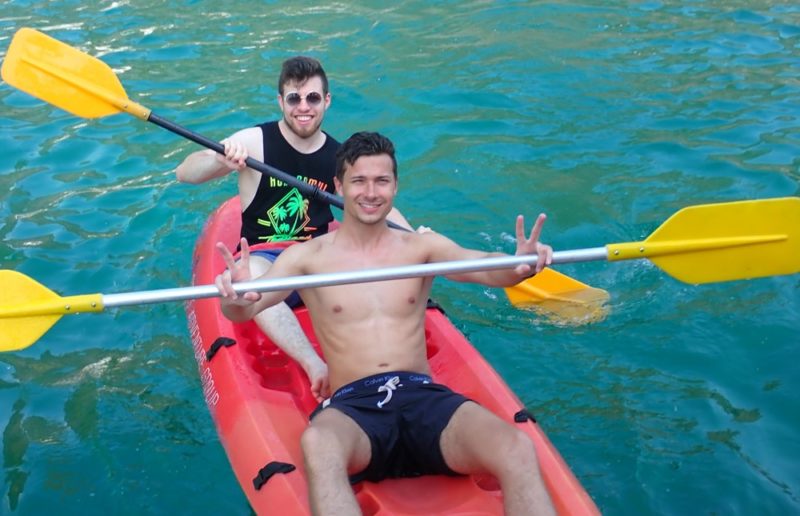 Renting a sea is a fun thing to do in Phi Phi Island! You can find huts on both Tonsai Beach and Ao Loh Dalum Beach, where you'll be able to rent a Kayak. And for groups of 3, you can even pick up a tri-yak! 
Typically the cost to rent a kayak on Phi Phi Island will start at 200 baht per hour on average, deals can be negotiated for longer rentals. When renting a sea kayak from Ao Loh Dalum Bay, you can paddle your way out to monkey beach in about 15 minutes, or those feeling more adventurous, you can make your way over to Phi Phi Islands stunning Nui Beach.
Tip: When renting a Kayak from Loh Dalum Beach, wait until low tides, the tide in the bay will be out almost half a kilometre, meaning you'll use less energy to get to the Monkey Beach, plus, on the return trip, the incoming tides will ease your energy, bringing you into shore!
Some Phi Phi Island Tours incorporate sea-kayaking as an activity. So if you want to explore further, joining a boat trip such as the Phi Phi Pirate Boat will give you more opportunities to Kayak around Bamboo Island and Pilleh Lagoon!
Phi Phi Pub Crawl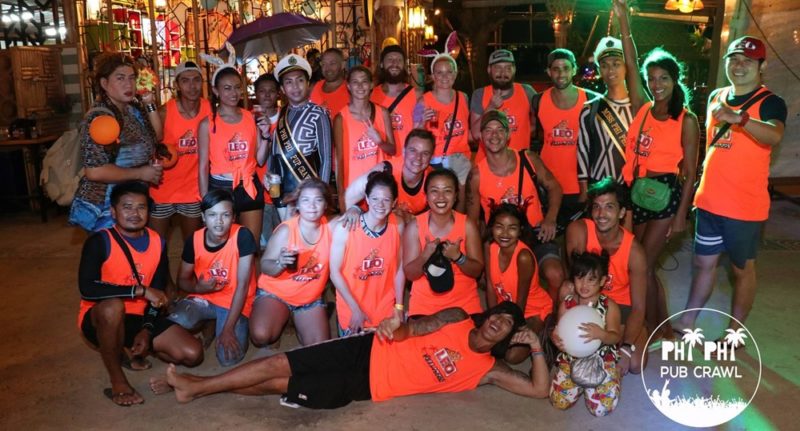 For some travellers the greatest things to do in Phi Phi Island are hanging out by the pool or tanning on the beach, relaxing. But many backpackers are in Phi Phi Islands for a totally different reason. They're here to experience unique and often crazy nightlife.
If you want to get to know the best spots on the island for nightlife and make some new friends than joining in on an island bar crawl is your best choice. In Phi Phi Island alcohol is sold by the bucket, there are bars with boxing rings, rooftop bars and open-air beach clubs open until the small hours of the morning. Read the full guide to nightlife on Phi Phi Island here.
Phi Phi Pool Parties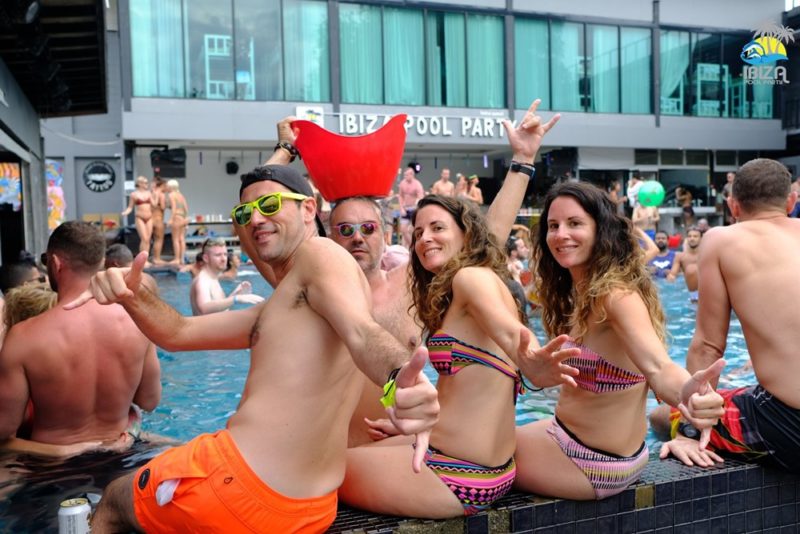 If you're in Koh Phi Phi to party, a pool party should be high up on your list of things to do.
Ibiza House hosts Thailands biggest pool party 3 times per week. The purpose-built Ibiza pool, on Loh Dalum Beach, has ocean views, live Dj's beer-pong tables, free entry and awesome vibes. Not to worry, if there is no pool party open at Ibiza during your stay in Phi Phi Island, Princess Pool host regular parties every other day. Princess pool is a little smaller but located conveniently located a few meters down from Ibiza!
More Information: Check The Upcoming Dates For Ibiza Pool Party.
Phi Phi Infinity Pools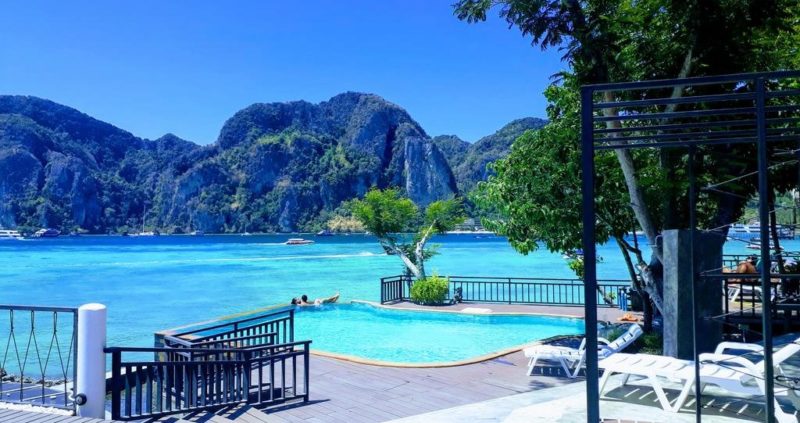 With the hot sun beating down on the island of Koh Phi Phi, spending some time chilling out in an ocean view pool is one of the greatest things to do in Phi Phi Island when you need to cool-off and relax! Without the madness you'll find at the Ibiza Pool Party, there are plenty of swimming pools which outside visitors can take advantage of!
The Don Chukkit restaurant allows outsiders to use their pool, granted you're staying in their hotel or buying their food and drinks. The views overlook the Phi Phi Harbour where ferries and long-boats can be seen coming into port.
Phi Phi Princess Resort has their pool open to the public for a small entry fee, which includes the use of poolside seats. With ocean views of Loh Dalum Beach, there is no better thing to do on a hot afternoon in Phi Phi Island!
Watch The Phi Phi Sunset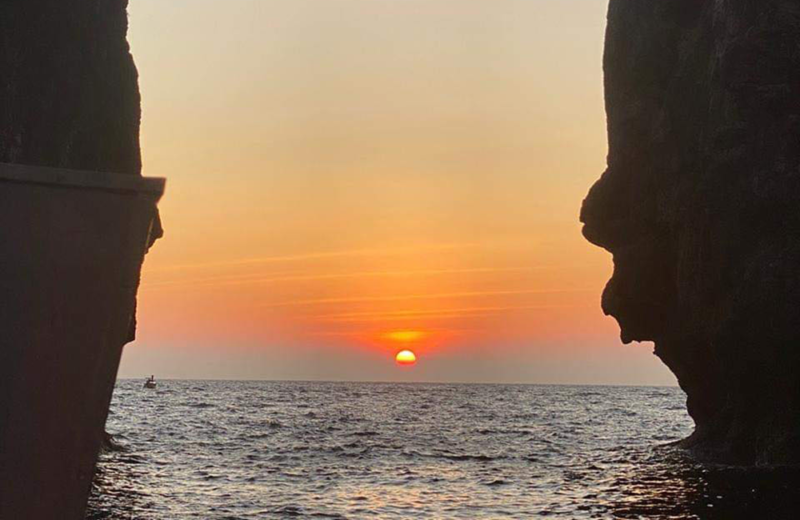 When it comes to free things to do in Phi Phi Island. There is nothing better to do than watching the sun go down. Phi Phi Island is one of the most beautiful places on earth to watch the sunset. There are a few hidden look-out spots where you can catch the sun-setting, but so long as you're looking over Loh Dalum Beach you should get a great view.
Some of the bars, like the Phi Phi Island Only Bar, (Sunset bar), boast oceanview terraces, proving an awesome place to catch the sun go down. The Phi Phi Island Viewpoint is another option, but with crowds all sharing the same idea it can get a little busy, much better to head there for sunrise!
But by far the best place to watch the sunset in Phi Phi Island is at sea. Floating majestically on a wooden Thai long-tail boat will be one of the most peaceful things to do in Phi Phi Island. Put the camera down, listen to the sound of the ocean waves- and for a brief moment, you'll escape reality- watching the sun disappear over the horizon.
The sun goes down at the same time all year round, between 6:30 PM – 7:00 PM. You can incorporate watching a sunset at sea with a sunset boat tour that, or charter your own private boat!
Stand Up Paddle Boarding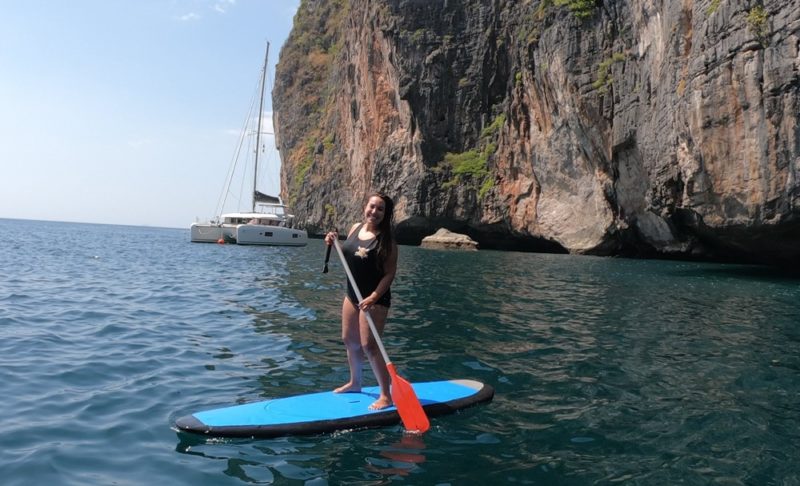 Here is a Phi Phi Island activity for adventurous travellers. Stand up Paddle Boarding can be a fun thing to do in Phi Phi Island. While you won't find any places renting out the gear you can join in with a boat tour that incorporates paddle-boarding as an activity.
The Phi Phi Pirate Boat is a great example, and you can combine multiple things to in Phi Phi Island into the one trip. The boat tour offers not only paddle boarding but kayaking and snorkelling as well. These activities take place in the Pilleh Lagoon which with the clear blue waters, makes it a perfect spot for these water sports.
Rent a Private Speedboat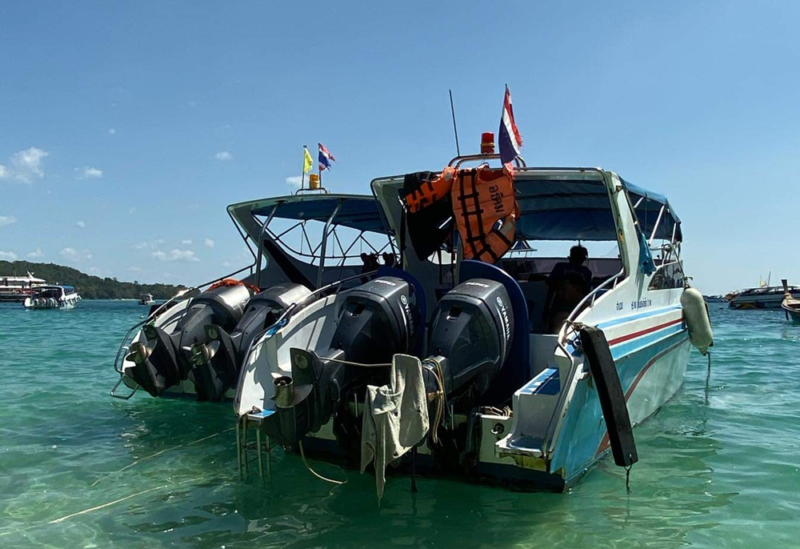 Chartering your own personal speedboat to explore beaches, bays and lagoons can be a surprisingly inexpensive thing to do in Phi Phi Island. You can take full control over your island experience and explore at your own pace.
The cost to charter a private speed boat is much less than people might think and if you're travelling in a group you can split the costs between you for even lower prices. You should't have any trouble finding a speedboat to charter for around 15,000 Baht. Its a must do activity in Phi Phi Islands.
Go Snorkelling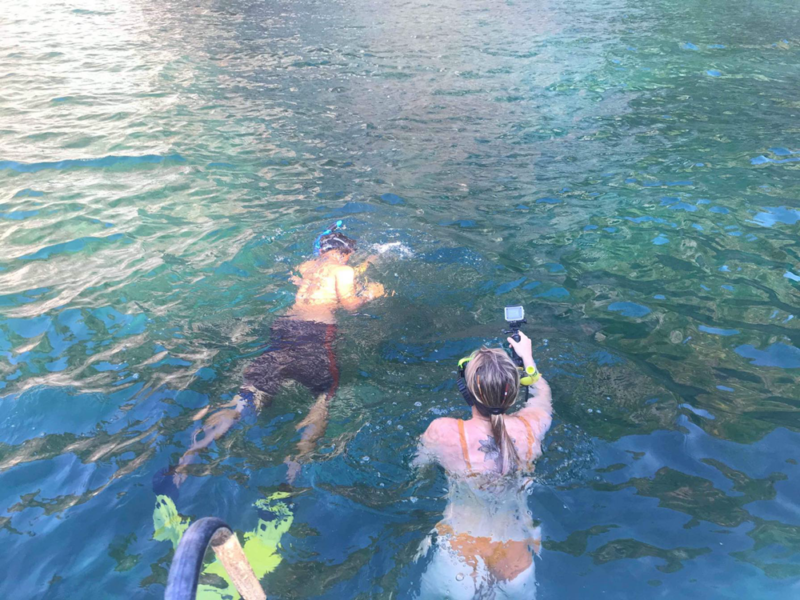 This is one of the top-rated things do in Phi Phi Island and its the main reason Phi Phi Islands became a popular destination for tourism. No backpacker should leave Phi Phi Islands without snorkeling.
There a few different choices when it comes to snorkelling in Phi Phi Islands, first of all and the most popular choice is to spend a full day or an afternoon on a boat trip and snorkelling at various spots around the islands. But an alternative choice is to pick up a mask and snorkel set from the market and head over to one of the beaches yourself. Long beach is probably the best place to snorkel that is within walking distance from the town.
There is so much marine life beneath the surface and stunning coral reefs that you could get lost for hours marvelling at the underwater paradise.
The Waters Sports Experience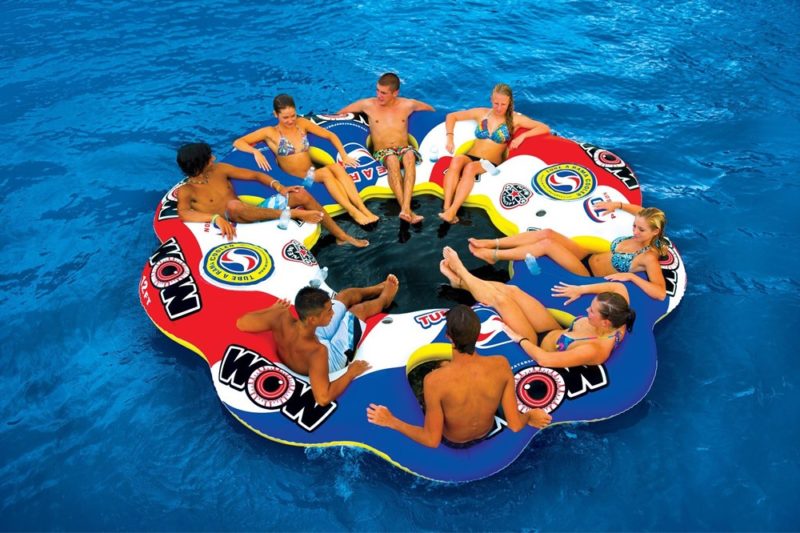 Wakeboarding, waterskiing, banana boating, tubing, inflatables are just some of the things to do in Phi Phi Island which are packed into this action-filled tour.
Much like Captain Bob's Booze Cruise, all you can drink beer is included in the coat of the attraction, but the watersports experience also comes with, well… watersports. It's, therefore, a little less party focused since some vague level of sobriety is needed for the activities. The watersports included are tubing and waterskiing/wakeboarding. You can pick one all of them!
You'll usually need to book tickets a day in advance and you'll find ticket sellers promoting the activity outside the Banana Bar during the day.
Captain Bob's Booze Cruise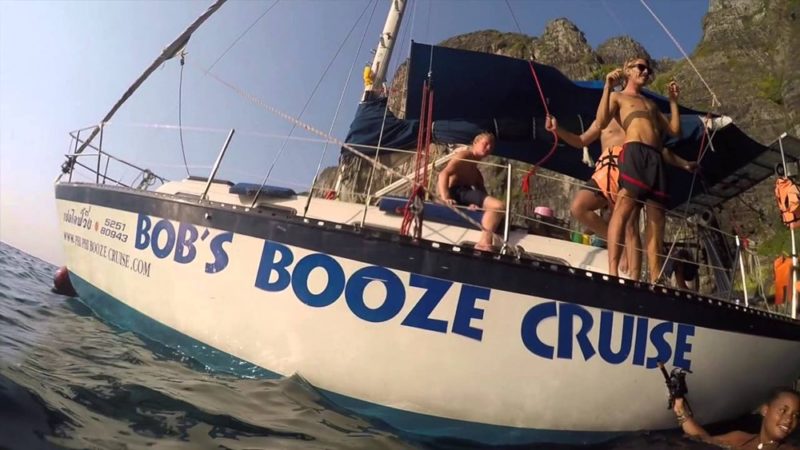 Captain Bob's booze cruise is one of the highest rated things to do in Phi Phi Islands, and ranks as the number one things to do in Phi Phi Islands on TripAdvisor.
Bob's is an all inclusive booze cruise running on sailing yachts and occasionally speedboats. What really makes bob's such a fun thing to do in Phi Phi Islands is the passion and energy from the guides and the staff.
Tickets onto Bob's Booze Cruise sell for 3,000 Baht per person with all your alcoholic drinks included. You can book your places online here. Or head over to their stall once you arrive on Phi Phi Island.
Get Lost In Tonsai Town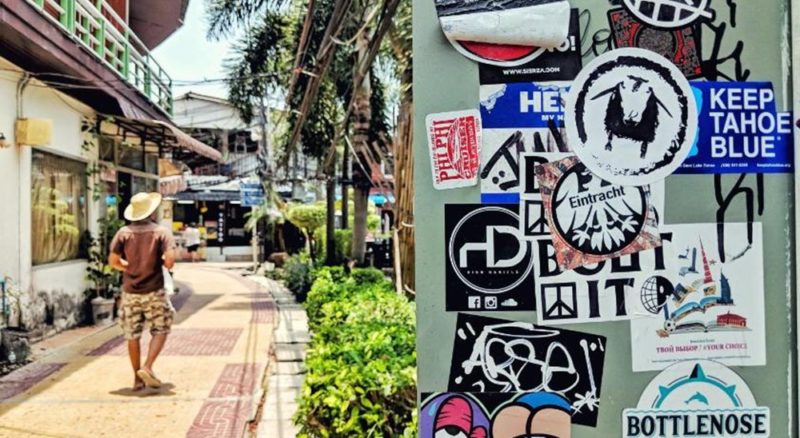 Tonsai town is where all the action is at, its the home of Tonsai Pier. It's the first port of call for most visitors to Phi Phi Island, and its where the majority of the accommodation, bars and restaurants will be found.
The town can feel like a maze at first, all the streets some-what similar-looking, and incredible smells coming from the local Thai restaurants. Wherever you walk, it won't take long before ending you end up on a stunning beach! So take some time to get lost strolling around the town.
Shooting Range
Probably the worst things to do on Phi Phi Island. Now I'm not saying that shooting ranges are dull, but rather the ranges on Phi Phi Island are not good. There are three ranges on the island, one right at the pier, another close to the long beach and a third fond central in the town.
The reason that these ranges are so bad is the size, they are all built-in retail units which are designed to be souvenirs shops. There isn't enough distance. They are thrown together overnight and look run down from the day they open. Dirty egg-cartons are stuck on the walls, there are no set opening hours. Mostly due to the fact they have so few customers half the time it's not worth even being open. You're guaranteed a terrible experience! If you do visit a shooting range in Phi Phi let us know in the comments section about your experience.
Day Trip To Koh Lanta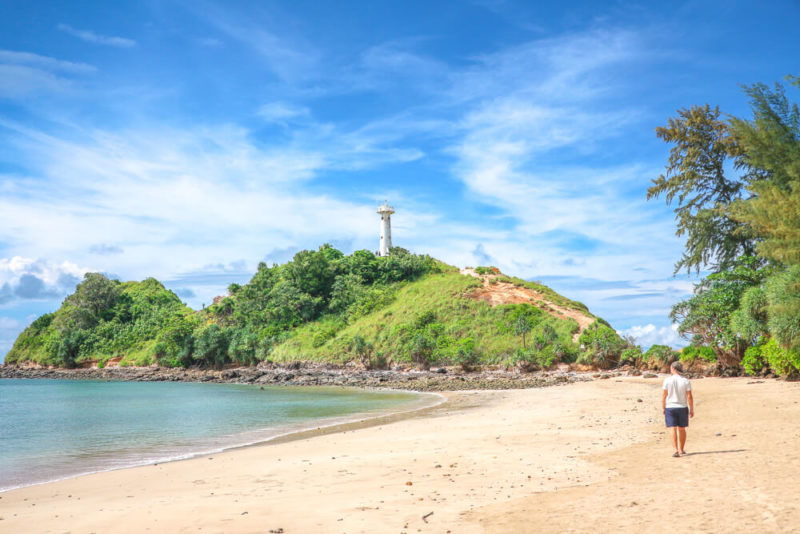 You'll probably be much better off spending a couple of days in Koh Lanta rather than treating it as a thing to do in Phi Phi Islands. But if you're pushed for time and are desperate to see Lanta Island then it is totally possible to make a day trip there.
Ferries between Phi Phi Island and Koh Lanta run only once per day, and if you're plan is to use the ferry then you're out of luck, you'll have a grand total of 30 minutes on Lanta Island, maybe enough time to grab a quick bite to eat at the pier if you're lucky.
You'll instead want to find a long-tail boat captain willing to take you over, the ride takes around one hour from the Phi Phi Islands and will cost you somewhere in the region of 5,000 Baht for the day. As an added bonus you'll also have a boat captain to take you around to all the different beaches in Koh Lanta, a unique method of navigating the island.
If you happen to be travelling during the peak season then you will find public speedboats operating the route a few times per day. You can take the morning speed boat to Koh Lanta at 9:30 am and return back at 5 pm in the evening. You won't have all day on the island, but you'll have a fair amount of time. You can rent a scooter right at the pier when you arrive.
Scuba Diving in Phi Phi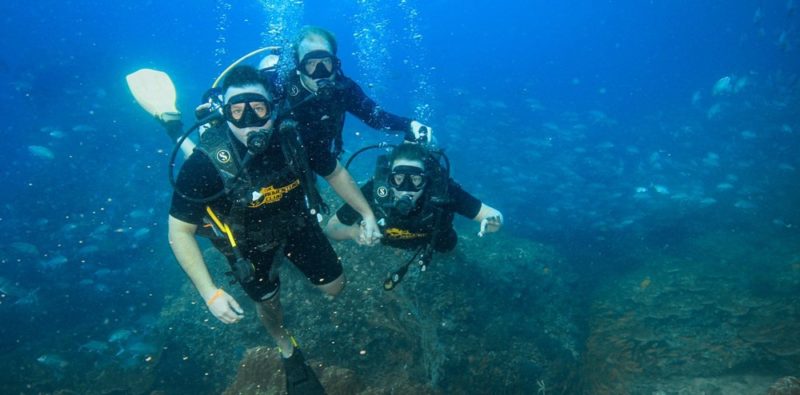 Phi Phi Islands are home to awesome dive sites, such as the King Cruiser Wreck. Scuba diving is one of the most popular things for travellers to do in Phi Phi Islands.
Immerse yourself and get lost in the underwater world. And you don't need to be a licenced diver to get out there, scuba schools offer try dives for beginners in shallower waters to give you a feel for the activity.
There are countless professional Scuba Diving schools on Phi Phi Island, you'll have no trouble finding someone ready to take you out on your first dive. But we'd recommend paying a visit to the Adventure Club.
Beach Massage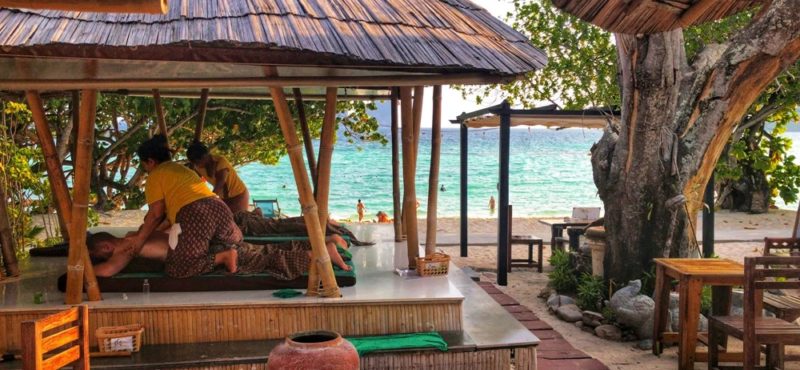 Thailand, the land of smiles. Home to a million a one massage parlours. There's no better way to relax than by getting an authentic Thai Massage.
There are plenty of massage shops found in Tonsai Town such as Baan Sabai Thai Massage. But for the best experience, walking out of town towards the Long-Beach, you'll find the beachfront, open-air parlours. And while prices here might be a little more than in the town, the sounds of the ocean makes for a more relaxing experience.
Hand Poked Bamboo Tattoo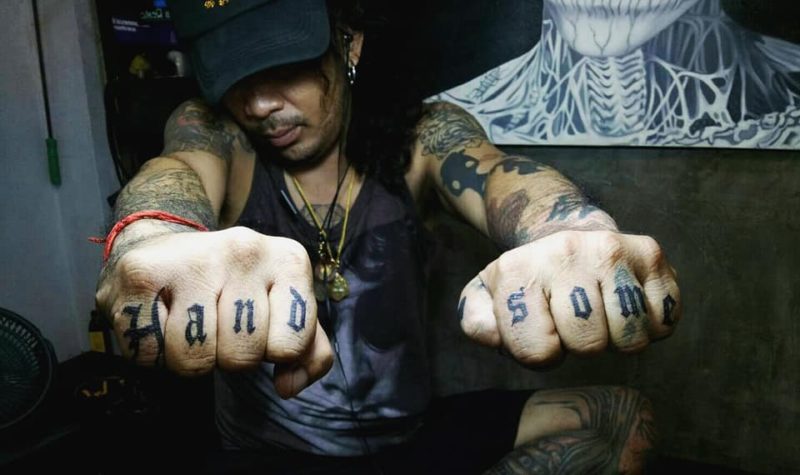 A tattoo is a pretty permanent souvenir, so it's not a great idea to get something you'll later regret. But if you were already planning to get a tattoo; why not your tattoo Handpoked with Bamboo! It's a unique thing to do in Phi Phi Islands and you'll get much finer detailing and almost no time to heal.
Tattoo shops on the island are generally clean, but prices might leave you shocked. Take your time to find a quality artist and shop, somewhere like Handsome Heart Tatoo and never haggle on the price. It's not worth pissing off the guy who is about to permanently ink your skin over a few hundred baht! If you don't agree with the price, move on and find another shop.
The Phi Phi Island Market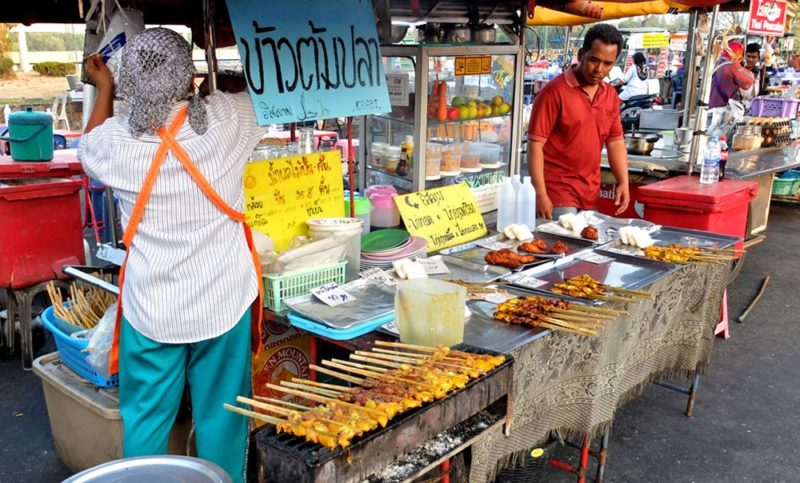 Thailand is well known for its markets with vendors selling almost anything imaginable, delicious street food and deals are found on every corner. Koh Phi Phi is no different. Visiting the market in Phi Phi Islands is a must.
The local market on Phi Phi Island is pretty small and takes up a single side street. You'll find some tasty foods on offer here and an assortment of stalls selling a variety of local produce.
The market is a short walk away from Tonsai Pier. On weekends, an extension of the market reaches out onto the boardwalk at the pier, this secondary market is where the best foods are found, but there's no guarantee the market will open, and if so, when it will open!
Phi Phi Parasailing
An awesome activity for thrillseekers looking for things to do in Phi Phi, and for the next adventure. Strap yourself into the parachute on Loh Dalum Beach before being pulled in the air around Loh Dalum Bay behined a speedboat. You'll get scenic views over all the Phi Phi Islands from up here!
At the moment parasailing isn't operating in Phi Phi Islands, but keep your eyes open around the beaches, as the activity will re-appear every so often; usually in the mid of the peak season. If there is no parasailing when you are in Phi Phi Islands, you'll find what you are looking for and more watersports such as Jet-Skiing in the nearby Patong Beach, Phuket.
Pet The Lazy Cats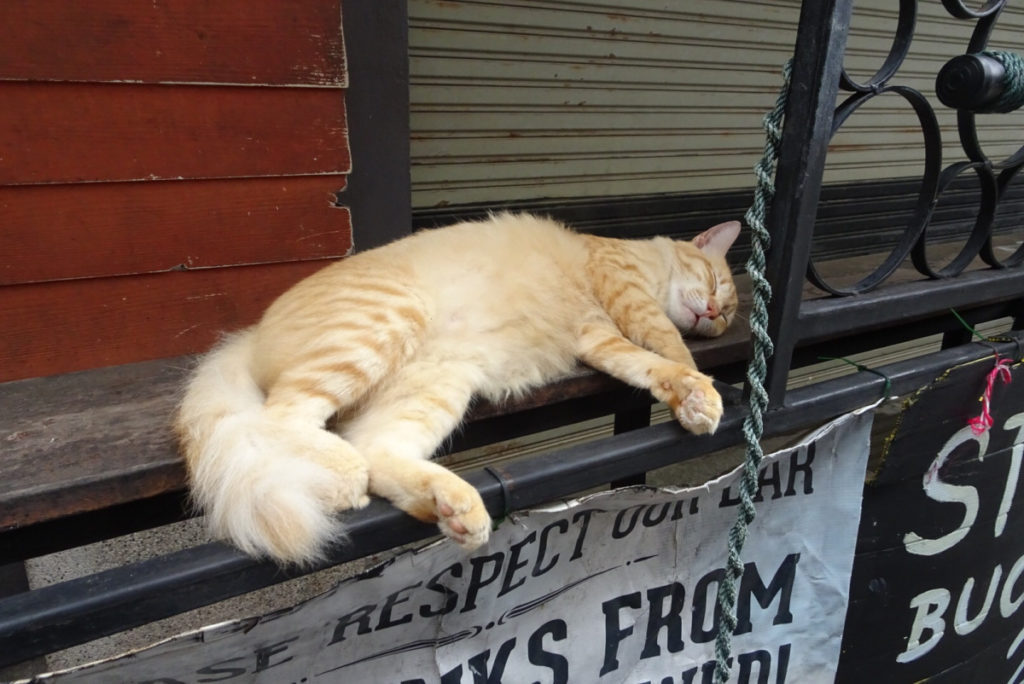 Phi Phi Islands if full of cats roaming the streets, and they are some of the chunkiest boys you'll see on Thailand streets. The cats in Koh Phi Phi are looked after well. Most of the cats have a go-to 'owner' or two who will leave out food for them and tourists will often buy them tins of cat food for the supermarkets.
They are probably the laziest street cats on the planet, with food given to them regularly. No natural predators and check ups annually from nearby animal clinics. The cats spend 90% of their days laying in the middle of the streets, blocking paths and generally not giving a f***. Pet as many of the cats as you can and you buy them some food, you'll become friends pretty quickly.
Non 'Touristy' Things To Do In Phi Phi Island
Phi Phi Island is a travellers and tourists paradise, but you've hiked the viewpoint, taken an awesome Phi Phi Island Tour and now you're looking to get off the beaten track and try out some of the non-touristy things to do in Phi Phi Island.
The island, while beautiful, is a tourist destination at heart- there is no denying that. While there are still local people who live on the island and remember the times before tourists knew Koh Phi Phi existed; this community is small but respected.
The majority of Thai workers moved to the island from other provinces. Due to the tourism boom providing higher-paying jobs. Here's our list of the top 'Non-Touristy' activities to do on Koh Phi Phi!
Clean a Beach With Trash Hero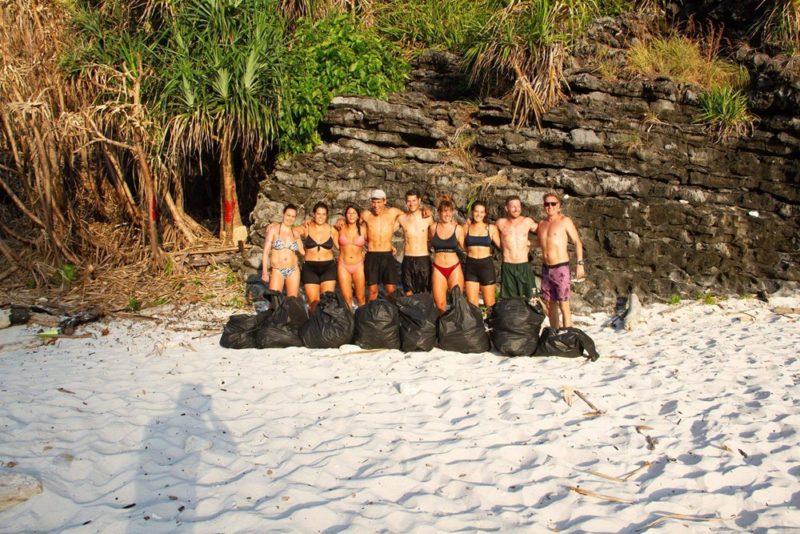 Like it or not, if you visit Phi Phi Islands, you are contributing to creating waste. Most travellers are responsible and are able to clean up after themselves. So travellers, however, are just plain incompetent and ignorant. Garbage disposal and waste management have become contrevestianl topics, and provide unique challenges on an island which is so small in size.
Litter appears on Koh Phi Phi's beaches at an alarming rate, but thankfully the charity organisation trash hero has taken things into their own hand in an attempt to stamp out the issue before it becomes too big.
So for the ultimate non-tourist things to do in Phi Phi- a beach cleaning day come at the top of this list. You can give something back to the island and feel better about yourself for it.
Beach clean-ups are organised by Trash Hero each week, usually on Sunday afternoons around 4 pm. But you can find the latest information on the Trash Hero Facebook Page. And find out more information about the organisation and other ways you can help on the Trash Hero Network website.
Hit The Gym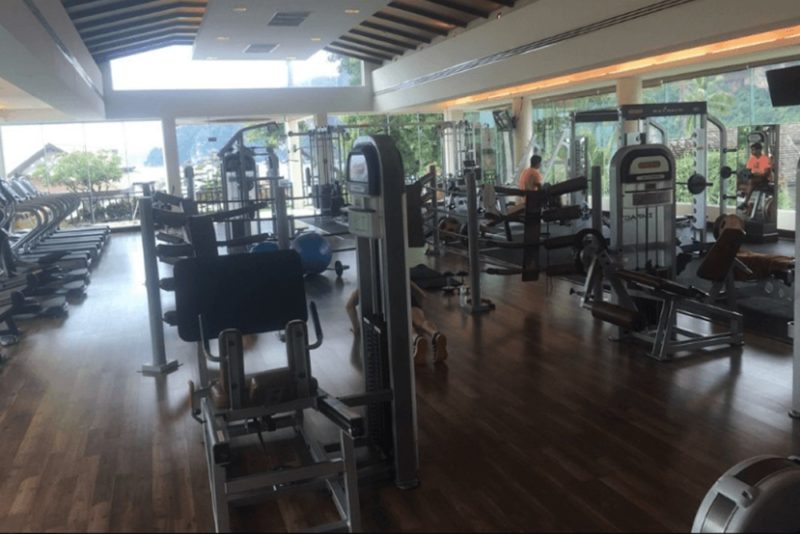 Are you looking for things to do in Phi Phi Island when it's raining? Vacations and holidays are a time of relaxation and great foods, and Thailand is the home of tasty cuisine, wok-fried street foods and dirt cheap beers.
So if you find yourself in Phi Phi Islands on a rainy day and you're not sure what to do, you might want to spend some time working all those Phad Thai's and Chang Beers in the gym! Luckily Koh Phi Phi has an air-conditioned fitness centre open to the public.
Part of the Banyan resort near Tonsai Pier. The gym is well maintained with air-conditioning, ocean views, quality cardio equipment and a collection of free weights.
But holding a monopoly over the gym's on the island, access doesn't come cheap. Entry is 400 Thai Baht a person, per session! Or grab a week pass for an eye-watering 2,300 Baht ($75) + 40 Baht a session. The Banyan Fitness Center is open at the most awkward possible hours, between 10:00 am and 6:00 pm, so for the early risers, you're out of luck. Perhaps a jog on the beach or a hike to the viewpoint instead.
For budget travellers and backpackers, the Tapear Gym is a more affordable option, while not a glamorous- the open-air gym is certainly authentic. And costs just 50 Bhat per session. Alternative gyms can be found at the Harbour View Hotel and The Chao Koh Phi Phi Lodge.
Find Out More: Banyan Fitness Center
Find Out More: Tapear Gym / Tapear Gym Facebook
Overnight Camping
Since around 2012 Maya Bay Camping and overnight stays are no more. The activity has been removed form the guidebooks and can no longer be considered for things to do in Phi Phi Island. No more permits are being issued, no tour operators are permitted to run Maya Bay camping trips- and no outside visitors can stay overninght on the uninhabited Phi Phi Leh Island.
But for adventurous travellers there's noting stopping you from bringing your own tent and camping on one of Phi Phi Don's more remote beaches?
Phi Phi Island Village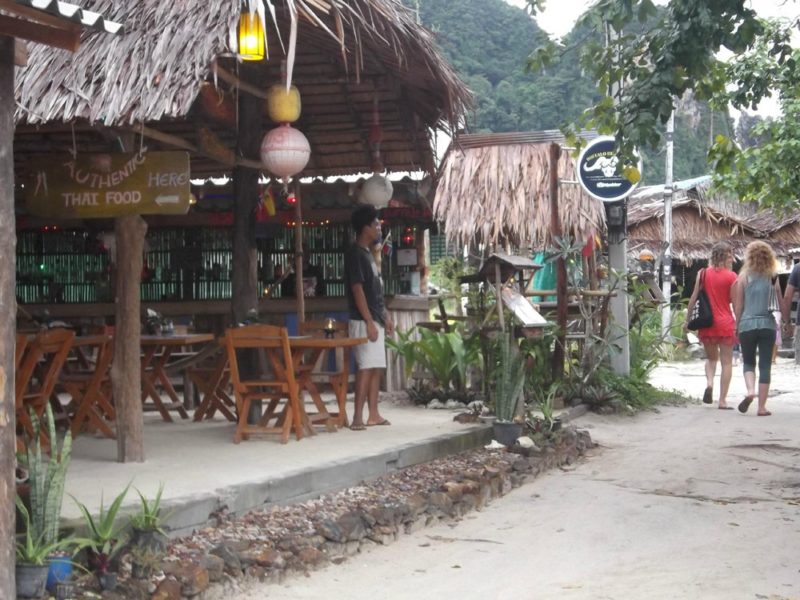 Phi Phi Islands are bigger than most people often realise, so visiting some of the smaller towns, resorts and beaches is one of the must do things in Phi Phi Islands.
The Phi Phi Island Village (not to be confused with Tonsai Town), is a world away from all the chaos in the main hub of the island, Tonsai. It's a place which very few travellers in Phi Phi Island even know exists! You'll find mangrove forests, lagoons and rivers, and authentic village community with a few bamboo restaurants and bars.
Walking here takes just over an hour of trekking through the jungle. Or if you're feeling lazy, you'll be able to find a longtail boat captain willing to taxi you here fro around 1,500 Baht.
Phi Phi Paint Bar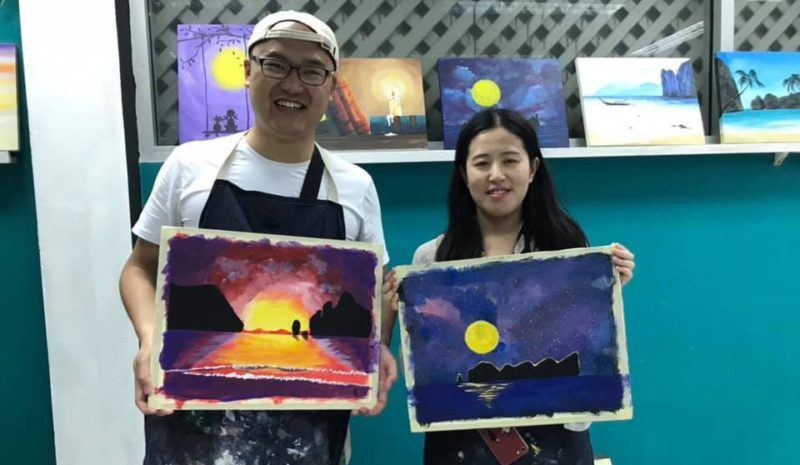 So you;re looking for non-touristy things to do in Phi Phi Islands? You got it.
The Phi Phi Paint Bar is a unique attraction on the main island, Koh Phi Phi Don. Suitable for all ages and skill-sets, and a great way to relax and wind-down.
You'll be supplied with your own easel and canvas and there are cool beers included in the price. You'll be taught as a class and create a scenic painting of Phi Phi Islands. A souvenir most go without.
There are many talented artists and paint shop owners on Phi Phi Island, a painting isn't a cheap souvenir. But its a memorable one. Most artists will arrange to ship to your painting to your home country at no extra cost.
Deep Sea Fishing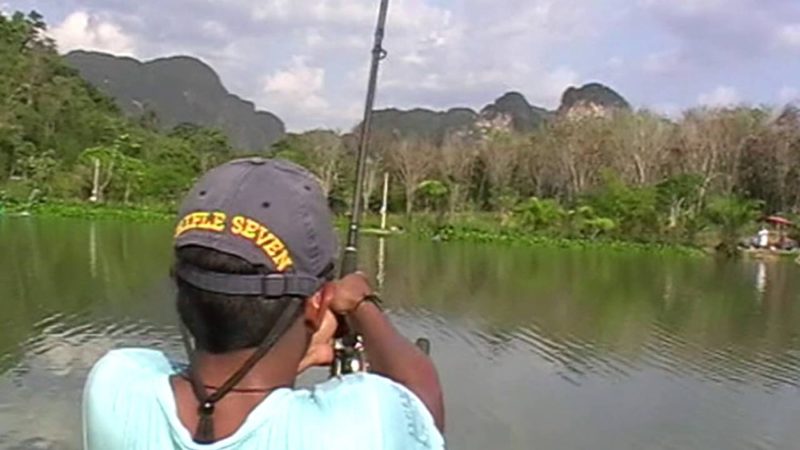 If you're looking for adventure and or some different things to do in Phi Phi Islands. The ultimate non-tourist activity, an incredible activity, experienced by few, deep-sea fishing in the Andaman is the perfect thing to do.
Very few people can say they've fished in Koh Phi Phi, but it's one of the best activities on the islands. You'll have the chance to catch Squid & Barakuda in the waters.
Five Star Thailand Tours arrange bespoke fishing tours, (from Phuket or Koh Phi Phi) where you can spend an entire day out on the Andaman Sea. You'll have all your fishing gear provided and you can spend the day learning to fish like a local on a traditional Longtail Fishing Boat!
Bring along a pack of cold beers, kick back with a cool one in the hot sun & see what you can catch!
Marine Discovery Centre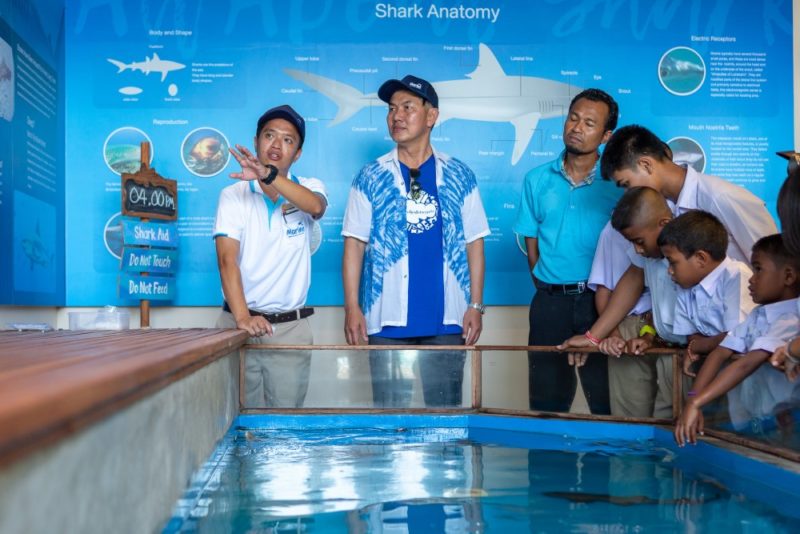 The marine discovery centre at the Phi Phi Island Village Beach Resort proves of the educational things to do in Phi Phi Island. The biology centre houses four rooms; the Shark Room, the Phi Phi Islands Room, the Clownfish Room, and the Auditorium – and offers visitors colourful, interactive displays explaining the life cycles and habits of the unique marine species endemic to the region.
The educational centre aim to educate both locals and tourists on the importance of sustainability in the oceans.
This unique attraction is also used to raise Bamboo & nurse sharks, also operates a special programme to re-introduce clownfish and bamboo sharks to Phi Phi.
Learn More: Marine Discovery Brochure
Thai Cooking Class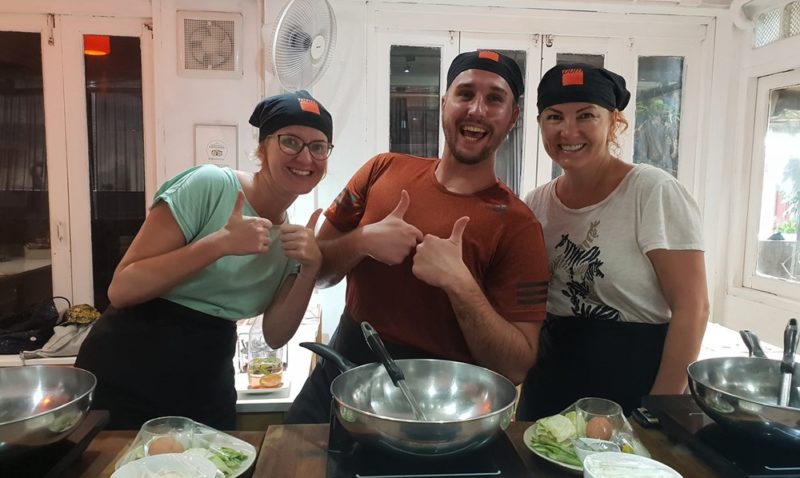 You might be surprised to see a cooking class on a list of 'non-touristy' things to do in Phi Phi Islands, and while Pum's cooking class is heavily publicised in almost every blog about Koh Phi Phi, the school itself remains quiet.
It's rare to ever see anyone taking the classes nowadays, but it's still one of the best things to do in Phi Phi, with such little demand, you're pretty much guaranteed a private or semi-private one-on-one class.
There is only one Pum's Cooking school on the island, if fact, for that matter; there is only one cooking school on the island. The prices are affordable with classes starting at 500Baht & you keep the food you cook – so you save money on lunch.
Fish Foot Massage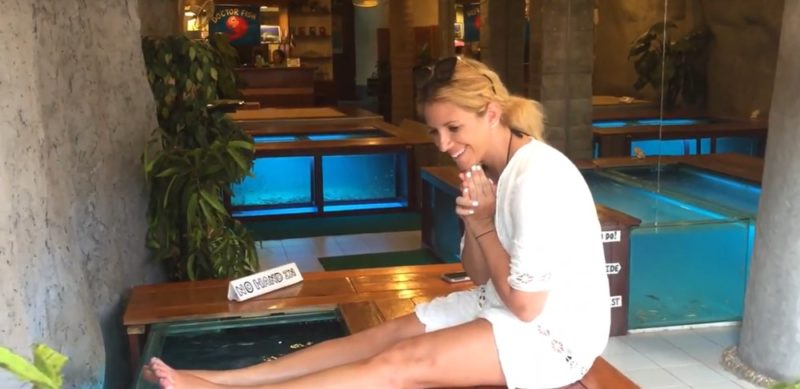 You'll find 'Doctor Fish' in the centre of Tonsai Town. This isn't one of the greatest things to do in Phi Phi islands, and you will find fish foot massages at markets around Thailand. But it's a great way to kill off an hour or so between checking out of your hotel and waiting for the ferries to arrive.
It's certainly a weird experience and those of you that have never experience the fish foot massage before are in for a ticklish treat. None the less is still a great thing to do in Phi Phi Islands. The fish will swim around your feet nibbling and removing any dried or dead skin. Prices start at 300 Baht for an hour with the fishes.
Become a Fire Performer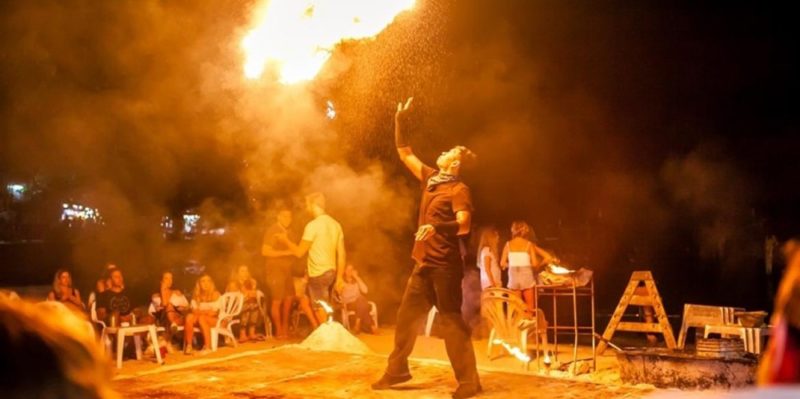 So if you've spent any time in Thailand, you'll probably know already that you can go and watch the impressive fire performances along the beaches in Phi Phi Islands. But did you know that you can also learn to become a fire performer yourself? If you're seeking non-tourists things to do in Phi Phi Islands, make sure to include this activity on your list.
Classes run throughout the afternoons on the beach outside Carlitos Bar. Learn these world class skills yourself and you can take home the souvenir of a new skill, picked up in Phi Phi Islands.
The classes aren't advertised at all, there is no online bookings, no reviews or any any of that crap. Its old school and authentic. Fire performers at Carlitos Bar run the workshops themselves during the daytime as a little side hustle. So you can expect one on one time and no massive tour groups.
It's a very chilled out and relaxed vibe, and after a long-tail boat ride its on of the most authentic things to do in Phi Phi Islands where you can get to know a few of the locals. There is no schedule or set timings for the workshops, you'll need to head over to the Carlitos Beach Bar and ask for more information there.
Sing Thai Karaoke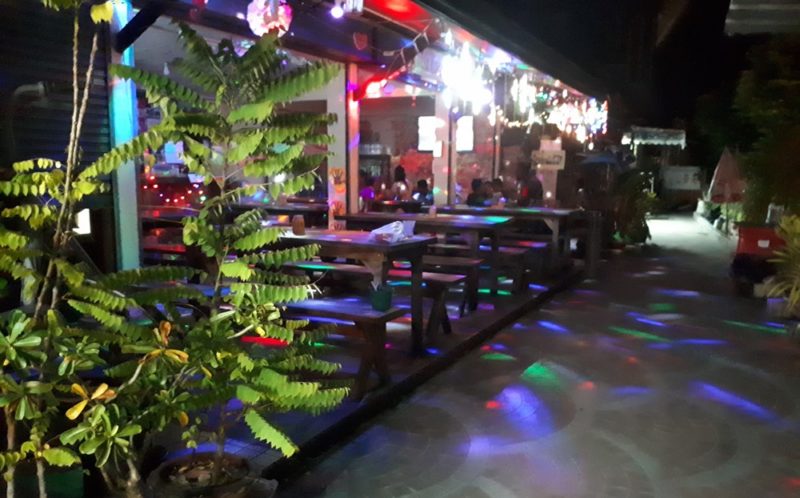 Visa Karaoke is a local hang out spot and the islands only Karaoke Bar. A real non-touristy thing to do in Phi Phi Island. The place will be packed with locals and give you a great vibe for the real side of Phi Phi Island. It's a great place to kick-off your evening.
Phi Phi Nui Beach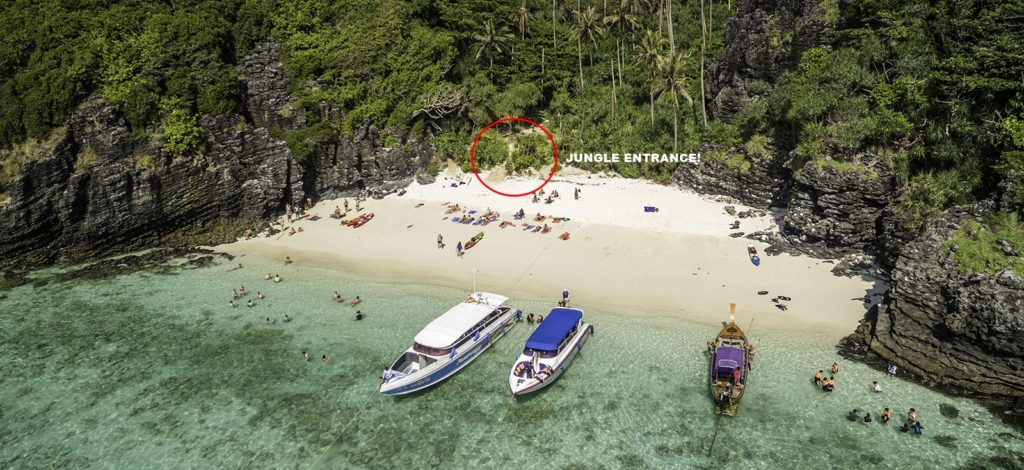 Since the closure of Maya Bay Beach, Ao Nui Beach has become a more popular place to visit. The stunning beach is in the north of Phi Phi Don and there are three ways you can choose to get here. So this is almost three things to do in Phi Phi Islands rolled into one.
The different ways to get to Nui Beach are
Hike through the Phi Phi Island Jungle
Rent a Sea Kayak at Ao Loh Dalum Beach
Hire a Thai long-boat boat
Not many people can say they've walked to Phi Phi Don's most beautiful beach! It's a long walk and it will take around two hours to reach the bay. But getting off the beaten track makes it one of my favourite things to do in Phi Phi islands when I visit.
Nui Bay is Phi Phi Don Islands most beautiful beach. Sitting on the northernmost tip of the island, the secluded bay is a tropical paradise. It's known about, but its much quieter than the likes of the Phi Phi Leh National Park.
Some choose to hire a boat to visit this beach, some will rent a kayak and paddle there, but for real non-touristy things to do in Phi Phi Island, hiking to Nui Bay is a must-do, as the trail is so stunning and scenic.
The two-hour hike from Tonsai Town will pass through the Phi Phi Island Village, and through dense jungles. On this hike, you'll see a side of Koh Phi Phi, that most travellers could begin to imagine exists. There is so much more to Koh Phi Phi than meets the eye, you've just got to get out and do it. Just remember the route isn't marked out on Google Maps or signposted.
And if you don't fancy the hike back bring cash and there's always a chance you'll find a few tour boats at Nui Beach and you can often offer the boat captain some money to buy your way onto a tour boat for the journey back!
Things To Do In Phi Phi Island at Night
Phi Phi Island is well known and world-famous for its natural beauty, scenery and outstanding views. But it's no secret that after dark Phi Phi becomes a party-goers haven- with alcohol sold by the bucket, at low prices.
Physcadellic trance parties line the beaches, happy shakes can be easily found and music plays until the early hours of the morning. Phi Phi Island Nightlife is such an incredible vast scene and it often trumps other things to do in Phi Phi Islands which might be going on during the daytime. You can read the full guide to Phi Phi Island Nightlife here. But these are the most popular things to do in Phi Phi Islands at night.
Night Swim With Glowing Plankton
There is a notable scene in the movie "The Beach", which shows DiCaprio kissing his on-screen partner underwater while surrounded by bio-luminescent glowing-plankton. As the movie was shot in Phi Phi Islands, people naturally assume they can share the same experiences and see the glow-plankton for themselves. Read more about where the beach was filmed in Phi Phi Islands.
While it is true to an extent, and the glow plankton can be seen in Phi Phi Islands. It's not something worth adding to your things to do in Phi Phi Island bucket-list.
The plankton can be seen only after dark on a handful of Phi Phi Dons beaches. If you're desperate to see the plankton for yourself it's best to incorporate it into a sunset tour. Chartering a private long-tail boat becomes much more expensive after dark. Glowing Plankton can be seen in Phi Phi islands after sunset at 6:30 pm. The plankton is visible all year round, but the best time to see the plankton in Phi Phi is closer to a full-moon when it will appear the most vivid and bright.
Loh Dalum Phi Phi Beach Parties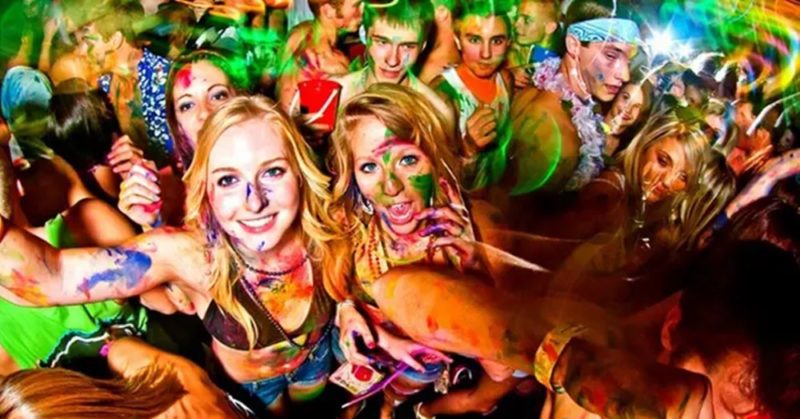 Ao Loh Dalum Beach is the party hub of things to do in Phi Phi Island at night. The beachfront strip in lined with some of the craziest open air bars and clubs you can find in Thailand.
Beach clubs usually open up somewhere around midday, and the evenings entertainment usually gets going about 8 o'clock. At Ao Loh Dalum you'll find the wildest fire performance with each bar trying to outdo one another. Fire entertainers show off their poi and slack rope skills leaving crowds in awe.
Alcohol is sold in literal buckets, for no more than a few dollars. It can be easy to over indulge when drinking party buckets so make sure not to over do it. One bucket contains the same amount of alcohol as 7 double-measured drinks in the USA!
DJ's create a euphoric atmosphere and one of the greatest party destinations in Thailand. Revellers can dance well into the night and the small hours of the morning. Slinky Bar is one of the best beach clubs and there is a hawker pizza shop right next door, a late-night drunken snack. Find out more on things to do in Phi Phi Islands at night here.
Watch a Fire Show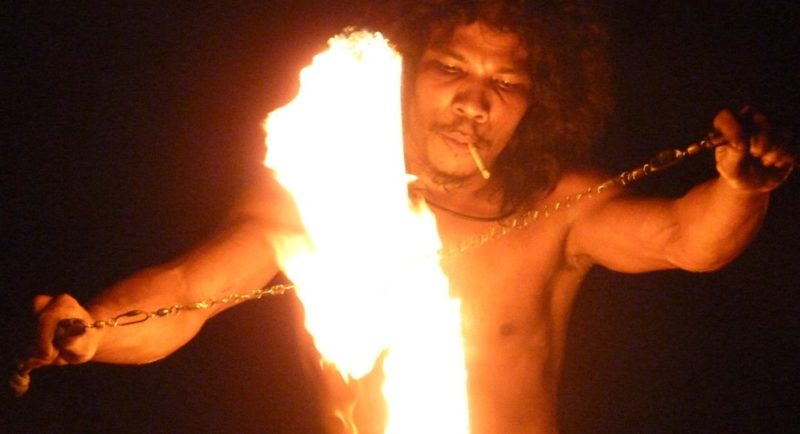 Poi is very common in Thailand and even more so when it comes to things to do in Phi Phi Islands. You might have even taken some lessons in the art of Poi yourself. If you want to find out more about that, scroll on up to my non-tourist things to do in Phi Phi Island section.
You can find fire shows on almost every beach in Phi Phi Islands, at Ao Loh Dalum, Long Beach and Tonsai Beach around dusk you won't struggle to find a show. The performances are free to watch and the entertainment is designed to lure in punters. With the hopes that you buy a drink or a bucket for their bar.
You'll find the craziest fire shows at Slinky Beach Bar, but the most choreographed performance is held at Carlitos Beach Bar on the other side of the island.
Phi Phi Sunset Cinema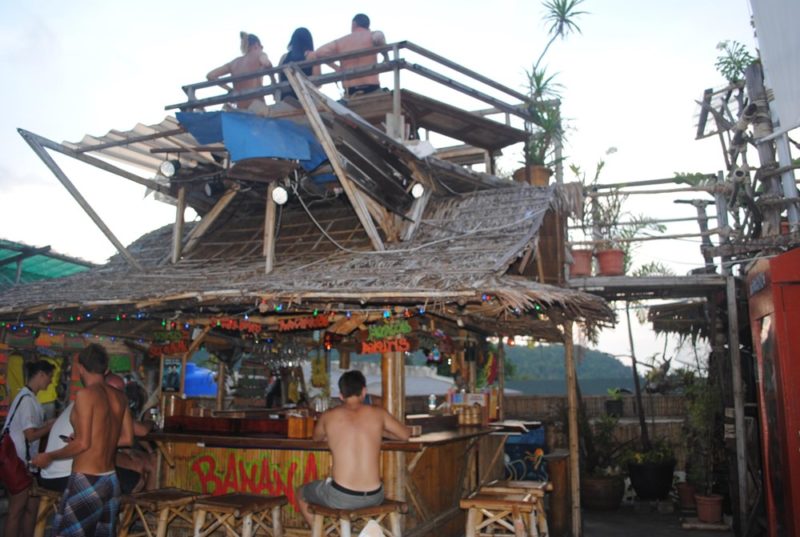 At the Phi Phi Island Banana Bar, after dark at around 7 pm, you can catch a movie in the open-air cinema. In true Thailand fashion, you'll usually be watching a pirate copy of the latest blockbuster movie. Unless it's a Monday night, in which case you'll be watching The Beach.
Banana Bar is the most laid back and chilled bar you'll find on Phi Phi Island. The bar is constructed from Bamboo on the roof of a Mexican restaurant.
Happy hour starts at '4:20' where the bean bags are laid out and Mexican food can be ordered from the restaurant downstairs. Get yourself some nachos and a special cigarette from the bar to enjoy with the movie.
You'll also find a second sunset cinema on Phi Phi Islands, so if the Banana bar is too full to get a seat. You can visit the Only Bar instead. The only bar has the same vibes, smoke for sale and the only real difference is you'll be eating Thai food instead of Mexican.
Phi Phi Hippies Beach Bar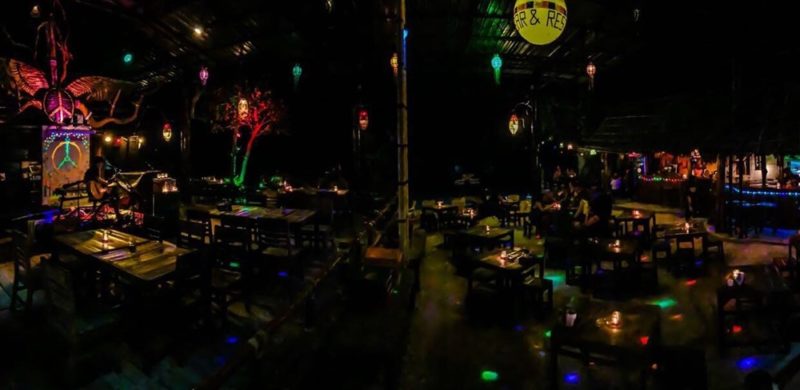 The Hippies Beach Bar is one of the oldest bars in Phi Phi Island to date. To get an authentic feel into the Phi Phi Island of the 1980's then paying a visit is a thing to do in Phi Phi Island that you absolutely have to experience.
For those that want to escape to youthful party scene at Ao Loh Dalum Beach Hippies Bar is perfect for you. Live sports are shown at the back of the bar and live entertainment is hosted on the beach. You get views of the Phi Phi Leh National Park Islands from the bar and there is laid-back atmosphere overhanging.
You can get dinner at the rustic Hippies Bar and also smoke if that's your thing. The food isn't the best on the island but the location and atmosphere make up for that.
Muay Thai Fight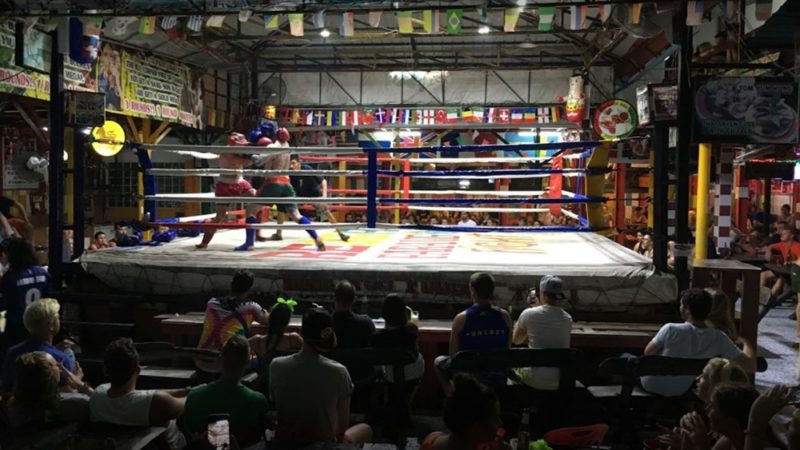 Do you want to watch Thai Boxing on Phi Phi Island or do you want become a Thai Boxer? Both of theses things to do on Phi Phi Island are possibilities at the Reggae Bar. And in traditional backpacker fashion, it's often best to let the alcohol make that decision for you.
Phi Phi Island, home to the Reggae Bar. Easily one of the most unique things to do in Phi Phi Island at night.
This famous bar is located in the center of the Tonsai Town, and features a full sized boxing ring in the bar! Proffesional Thai fighters warm up the crowd with scheduled Muay Thai fights at 9 PM, while later on in the evening tourists are invited into the ring themselves!
Tourists who choose to fight and entertain the other partreons, have thier efforts rewarded with a bucket of Thai Whisky and a plastic medal. Fights are usually kept pretty tame, with a referee overseeing three one minute rounds.
The bar has been used in film and television over the years and is a popular place for visitors in Phi Phi Island to visit. It's free entry, once you've brought a drink- their bar is full every evening, and as such, there is often a long queue to enter. So if you want ringside seats, make sure to get here early on.
Silent Disco Phi Phi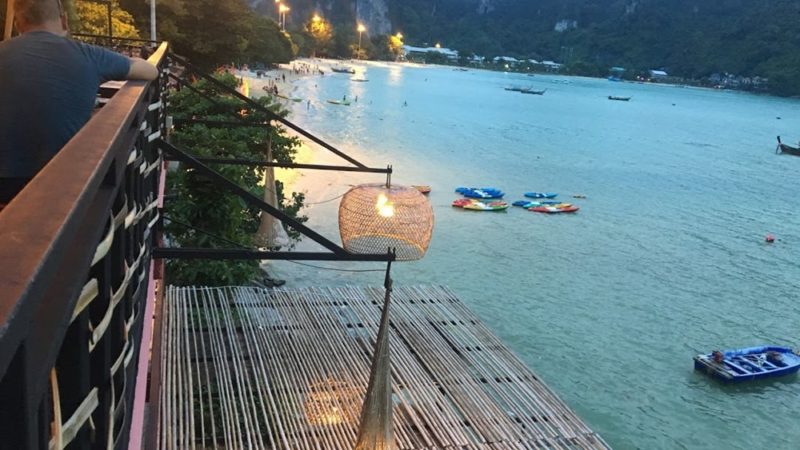 Drinking regulations have taken effect on things to do in Phi Phi Islands and the Phi Phi Islands nightlife. The nationwide and provincial restrictions see most bars ordered to close at 1 am. But The Sunshine Bar is one of the newest things to do in Phi Phi Island. The bar opened in 2019 and is fighting back against the entertainment curfews.
The bar is at the bottom of Loh Dalum Beach, with ocean views and a rooftop dance floor. This is Phi Phi Islands first silent disco. Drinks are affordable, for 600 Baht you can have access to an open bar for the evening. It doesn't get bust here until other bars start to close up about 1 o'clock.
Live Music Bar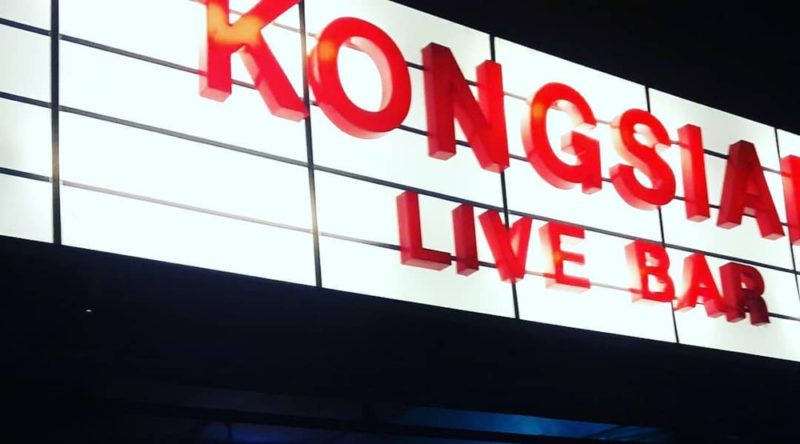 The live music bar has some of the entertainment out of the things to do in Phi Phi Islands. Located centrally in Tonsai Town it's impossible to miss this bar. You can hear the live bands and punters singing along, and feel the atmosphere in the air from a mile away.
The live music bar is a very popular thing to do in Phi Phi Island, and the small size of the bar can make it problematic to host all the travellers desperate to get in on the action! Often time and on busier evenings the bar will be packed along with the streets surrounding as travellers stand outside in crowds singing along.
Right next door to the Klong Siam bar you'll find the Paddy Shack or the 'Bucket Lady'. She claims to have the cheapest and strongest buckets on the island. And after taking up that offer, you'll find it to be completely truthful.
Sunset At The Only Bar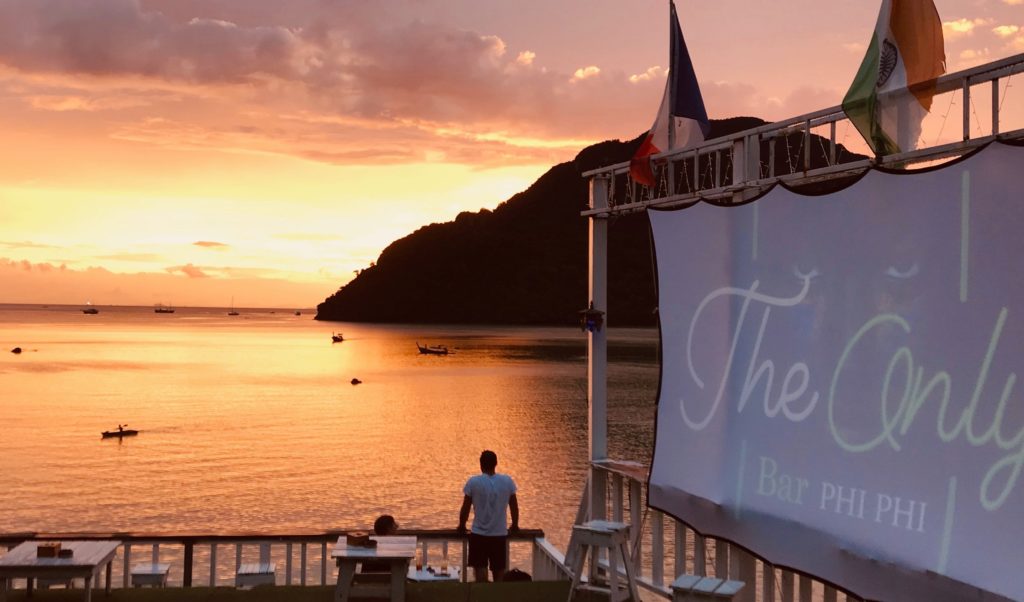 One of the most loved and free things to in Phi Phi Island is watching a sunset over the Andaman Sea. There are so many spots in Phi Phi Islands where you can watch the sun down, each one as beautiful as the last. But if your'e looking to catch a sunset on Phi Phi Island one of my favourite places was at the Phi Phi Only Bar.
The Only Bar has a balcony hanging over the waterfront at the bottom of the main beach. The vies are some of the best on the island. And with comfortable seating and reasonably prices drinks there is no better location to watch a sunset on Phi Phi Island. Not long after dark a movie will be shown as the bar transforms into an open aired cinema. Sticking around for dinner and a movie are some low-budget things to do in Phi Phi Island.
Play A Match Of Beer Pong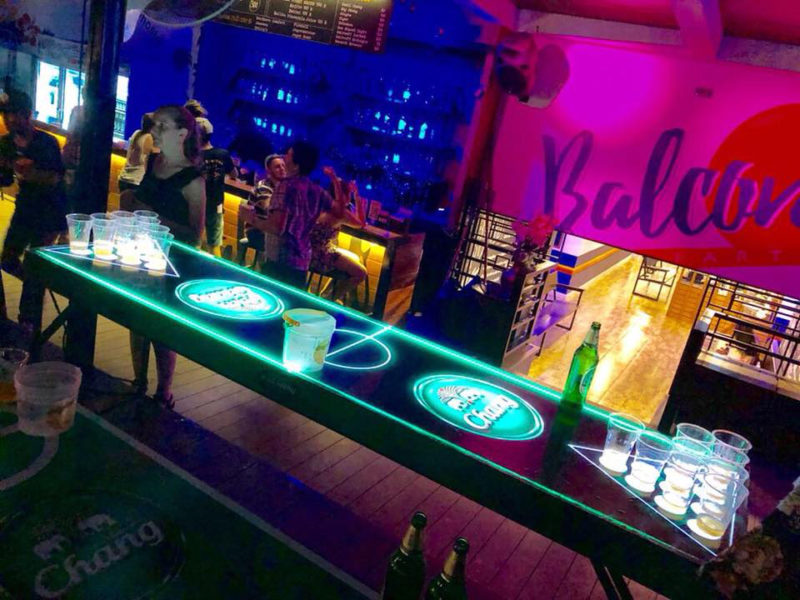 Beer Pong, Not Ping Pong. In Thailand Ping Ping has a totally different meaning. But in Phi Phi Islands Beer Pong in the unofficial sport and one of the most popular things to do in Phi Phi Island at night.
You'll find Beer Pong tables set up in the Only Bar, Dojo Bar, Stockholm Syndrome and Banana Bar. Or if you head on over to the beach, you'll find outdoor beer pong at the Blanco beach Bar.
Ride The Mechanical Bull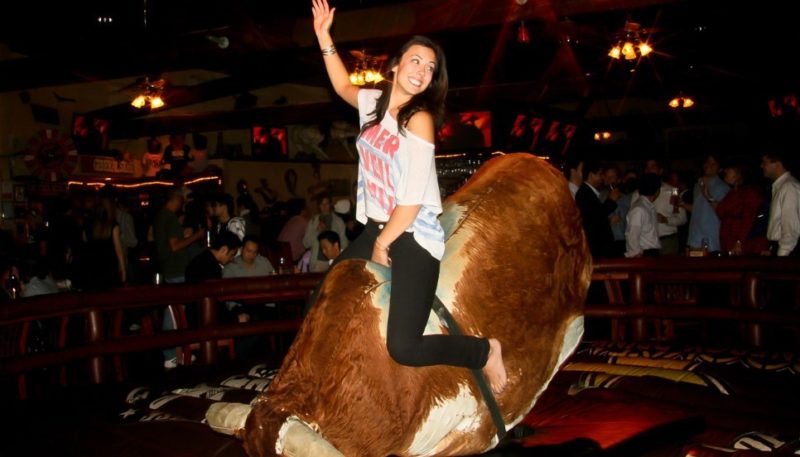 If you're looking out for Things To Do In Phi Phi island where you can easiy embare yourself after knocking back a few drinks you don't have to look any further. Inside the slinkys bar you'll find the mechanical inflatable bull ride. While it might seem like a great idea after a couple of drinks the Bucking Bhronco will have thrown across the dance floor in no time at all.
At Slinkys Bar, you will also find a slide from the roof of the bar down to the beach party. Slinkys is one of the most popular open-air beach clubs in Phi Phi Islands and you read more about things to do in Phi Phi Islands at night here.
Fire Limbo And Fire Skipping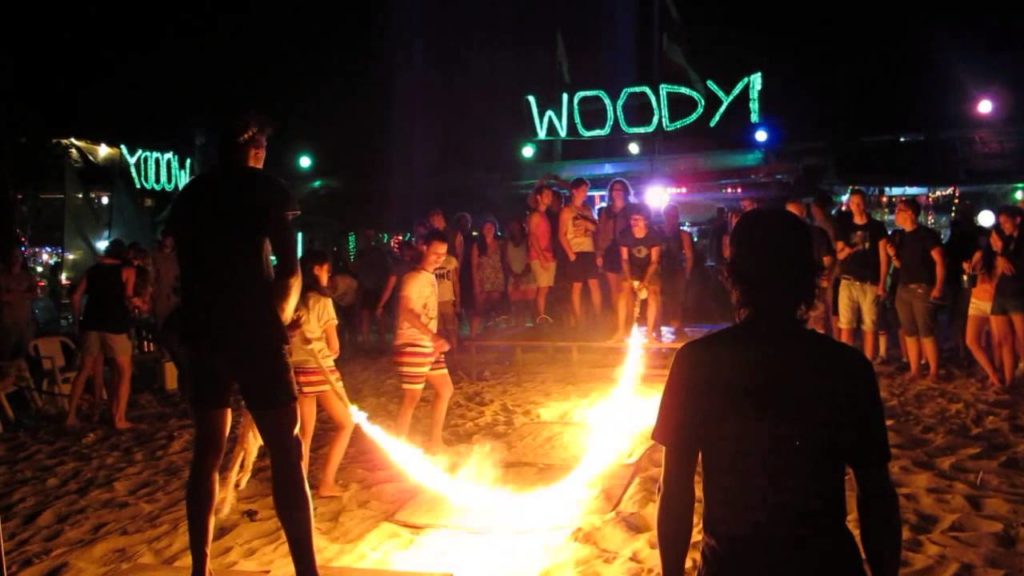 Fire skipping and fire limbo are pretty cool things to do in Phi Phi Islands. You'll find these beach games at either end of Loh Dalum Beach. But these fire games don't come without risks.
This is real fire and if you've been drinking all afternoon you hand to eye coordination might be a little out of whack. The hosts are usually pretty quick to whip the jump rope out of the way if they think that anyone could be in danger. But I've still seen a few ankles burned here. It's more fun to people watch rather than join in the antics here.
Here are some NSFW, but hilarious photo's of what happens when you mix fire games and a little bit too much dutch courage: Stupid, Drunk, Sunburned & Burnt.
Get Your Face Painted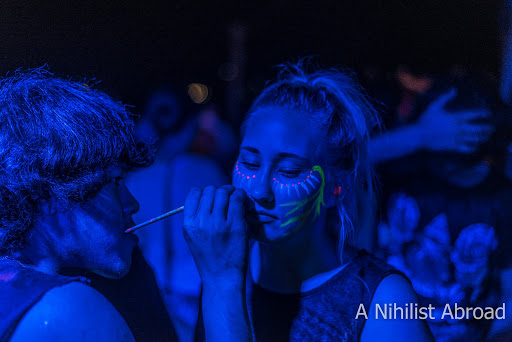 Hoping to piss off your guesthouse owner and have the honour of paying a cleaning fee, then getting body paintings and face paintings are the perfect things for you to do in Phi Phi Islands. You'll wake up hungover with everything you've touched glowing in neon colours. But you'll look the mutts nuts while you're roaming the beaches of Koh Phi Phi
Watch The Sunrise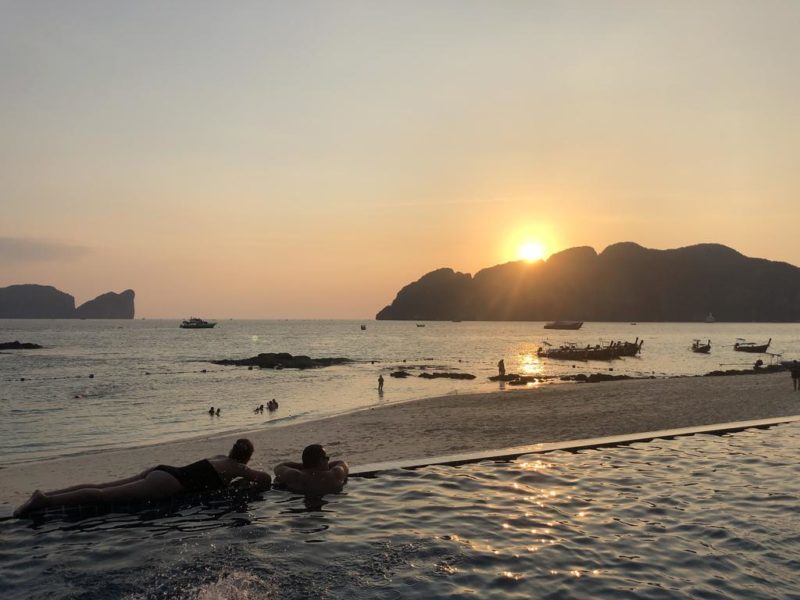 If you've made some poor decisions on things to do in Phi Phi Islands, chances are you'll find yourself still hanging out on the beaches after the bars and clubs have closed up. So what is there to do now… is it worth going to sleep? After all if you made it this far you might aswell stay up to watch the sunrise.
The sun rises at 6:30 am in Phi Phi Island, the same time all year round and only a few hours after the last bar closes up for the night. Barbecue stalls are open almost all night so you get yourself some grilled chicken or a slice of pizza to tuck into while you watch the sun rising, try and sober up, and reevaluate your poor choices and awesome memories.