Choosing the best area to stay in Bangkok doesn't have to be complicated. This simple guide will help you find the best place. Luxury $30 rooftop pool hotel here.
See The Full list of all Hotels in Bangkok Here. Over 2,500 Hotels and Hostels >>
This is probably, one of the most in-depth resources out there, on how to choose the best place to stay in Bangkok(กรุงเทพมหานคร). After reading this — you should have a pretty good understanding of how Bangkok is geographically laid-out, with an idea of the best hotels to choose from too. As someone who has lived in Bangkok for almost ten years, I can recommend just three neighbourhoods that are perfect for tourists. These are: Bangkok Old Town(Rattanakosin), Sathorn, and Sukhumvit. As a tourist, I wouldn't consider anywhere else.
These neighbourhoods are all centrally located, near the most popular attractions, and have excellent transportation links. Luxurious–Traditional Sathorn, the Cheap–Authentic Old Town, or Modern–Trendy Sukhumvit.
In Bangkok an ideal place to stay would be near a Skytrain or a Metro Station — this is very important for getting around the city. There is nothing worse than booking a nice hotel only to find yourself stuck in a less-than-convenient location, miles from the city centre. That's why I've written this guide; to help you pick the best area to stay in Bangkok. I'll discuss the pros and cons of each of the three neighbourhoods I mentioned, with the purpose of helping you decide which one is right for you.
Note: This guide is best suited to tourists, backpackers, travellers, and holidaymakers — who want to figure out where to stay in Bangkok. It might not be suitable for finding long-term accommodation in Bangkok.
Note: Low-cost hotels and rooms are often fine to book on short notice- sometimes even on the same day. But the nicer hotels in Bangkok often get booked up well in advance, especially during the peak season months of November thru March.
🏨 Use These Websites to Book Hotels in Bangkok 🛎
Hostelworld: Best for booking social hostels, where you can meet others travelling around Bangkok, you can also find low-cost private rooms.
Booking: The Daddy of hotel bookings. Just about every Bangkok hotel is listed here. There are flexible payment options including pay-at-property.
Trip.com: This website is rapidly growing as one of the best sites for booking places to stay in Bangkok, and Thailand. Newly launched in partnership with Skyscanner they often have the lowest room rates for.
Agoda: Another popular hotel booking platform, which is fully owned by Booking.com group.
VRBO: Best for booking private residencies, condo buildings, and apartments — a good alternative to Airbnb.

Hotels in Bangkok often have an odd relationship with these third-party booking websites. More often than not it's cheaper to book on one of these sites than it is to book direct. I often try to book hotels in Bangkok directly, only to have the staff request that I use (usually) booking.com instead.
🔔 The Best Areas To Stay In Bangkok
Where to stay in Bangkok – at a glance. These are the three best areas to choose from — Sathorn is the best place to stay in Bangkok, for most people — it's one of the oldest neighbourhoods in the city, where most of Bangkok's well-established hostels are located. The Bangkok Old Town (officially called Rattanakosin) is great for backpackers — it's the most cultural, traditional, and sociable area. Sukhumvit is more suited to those staying long term — it's the most modern neighbourhood to stay, in Bangkok. พักที่ไหนดีในกรุงเทพ?
1️⃣ The Bangkok Old Town – First Time in Bangkok:
BACKPACKERS | SOLO TRAVELERS | BUDGET TRAVELLERS
The Old Town isn't suited to everyone — but it is the best place to stay in Bangkok for; backpackers, solo-travelers, and for those visiting the city for the first time. Accommodation is some of the cheapest you can find in Bangkok and you'll discover a mix of culture and tradition nearby — the Grand Palace, and other famous temples are located here. It's also where China Town is located — and it's home to the most famous street in Bangkok: Khaosan Road.
Other Names: Banglampu, Khaosan Road Area, Rambutri, Rattanakosin Island.
2️⃣ Sathorn Riverside – The 'Classic' Bangkok:
ON VACATION | COUPLES | FAMILIES | HONEYMOONERS
Sathorn is the best place for most people to stay. It's centrally located on the Chao Phraya River and is known as the 'hospitality' area. Bangkok has a reputation for having the cheapest 5-star hotels in the world, and it's in Sathon where most of these iconic properties are located — on the riverfront. Prices are higher in Sathorn than in other parts of Bangkok, but it is still affordable and is worth it for the unforgettable experience. The Bangkok Old Town is just a few minutes away by riverboat, and there are also nearby Skytrain stations for easy access to other parts of the city.
3️⃣ Lower Sukhumvit – The 'Modern' Bangkok:
STAYING A WEEK OR MORE | SECOND VISIT TO BANGKOK
In Eastern Bangkok, the Sukhumvit area is a great area to stay in. It's a modern area with easy access to the Bangkok Skytrain — but the demographic is more suited to those living and working, or staying for a longer time in Bangkok. There are some nice bars and restaurants, but otherwise, not much for tourists to do.
Areas in Sukhumvit Include: Nana, Asok, Thong Lor, Phrom Pong, Chit Lom.
How Much Does it Cost to Stay in Bangkok
How much does it cost to stay in Bangkok is a difficult question to answer, because — Hotels in Bangkok can cost anywhere from nothing to everything. I've stayed in both Bangkok's Cheapest hostel — Ploy — which costs 70 Baht a night, and Bangkok's most expensive hotel — The Mandarin Oriental — Which (usually) costs 40-70,000 Baht a night. You can find accommodation for any price range in-between — whatever your budget.
Hotel Prices in Bangkok, (or Thailand for that matter) can, and will fluctuate massively depending on the season. Prices are lowest in the out-of-season months — between May to October. The peak season is from November, until April — which is when prices are much higher — often double or triple the standard rate — or more. During Christmas and New Year's, prices can easily be inflated five-fold. Booking in advance can help to some extent in getting the best deals.
🗺 Note: To make this guide easier to understand, hotel prices are listed in Thai Baht. However, hotels with a nightly cost of 100 USD or more, the prices are listed in USD — 10 USD = 350 THB.
Area Map of Bangkok
This map of Bangkok shows where to stay in Bangkok. The location of each of the areas I will mention in this guide are outlined on the map. I have also pinned some of the BTS Stations and Landmarks, and marked out the location of each hotel and hostel, which I would recommend in Bangkok.
This area map is interactive, you can scroll around and click on each area for more information. If you want to download a copy of this Google Map for iPhone or Android, you can find it here.
Bangkok can be a difficult city to geographically wrap your head around. Some places have multiple names, they can be referred to by the District Name, the Sub District Name — or the name of the neighbourhood — a road — or even just a nickname. For example, Ban Rak — which is sometimes called 'riverside' is located inside Sathorn, which in itself, is located inside Silom! Or the Bangkok Old Town, which is just a nickname given to Rattanakosin Island– which in itself is an area that contains three separate districts and 21 sub-districts. Or Sukhumvit — which is actually just an unofficial nickname of three neighbouring districts! Confusing, I know — but I'll try and break down my understanding of the city — and lay out the geography and areas in such a way that's simple for everyone to understand.
1️⃣ Bangkok Old Town – ($)
Other Names: Old Town, Banglampu, Rattanakosin Island, Yawrorat, China Town, Khaosan Road, Samsen, Phra Nakon.
Bangkok's Old Town (เกาะรัตนโกสินทร์) is the best area to stay for Backpackers, Solo Travelers, Budget Travelers, Young Travelers and those visiting the city for the first time. But you won't find any fancy hotels here, because, legally — nowhere in the Old Town can be taller, or as fancy as the Grand Palace.
Good to Know: Bangkok Old Town is sometimes called Banglampu, or Rattanakosin Island. The Old Town is actually a literal 'Island', which is separated from the rest of Bangkok, by the Chao Phraya River and a mix of man-made canals, which together, form a moat circling around the Old Town. The official term is an 'Artificial River Island' — there are five other river-islands on the Chao Phraya River.
Khao-San Road, Chinatown (Yaowarat) and Samsen are located in the Old Town. You can get to other parts of Bangkok on the Chao Phraya Ferry, and in 2019, three new metro stations opened in the Old Town. Four more 'purple line' stations are currently under construction — including a MRT Train station at Khaosan (National Library), expected to open in 2026-27.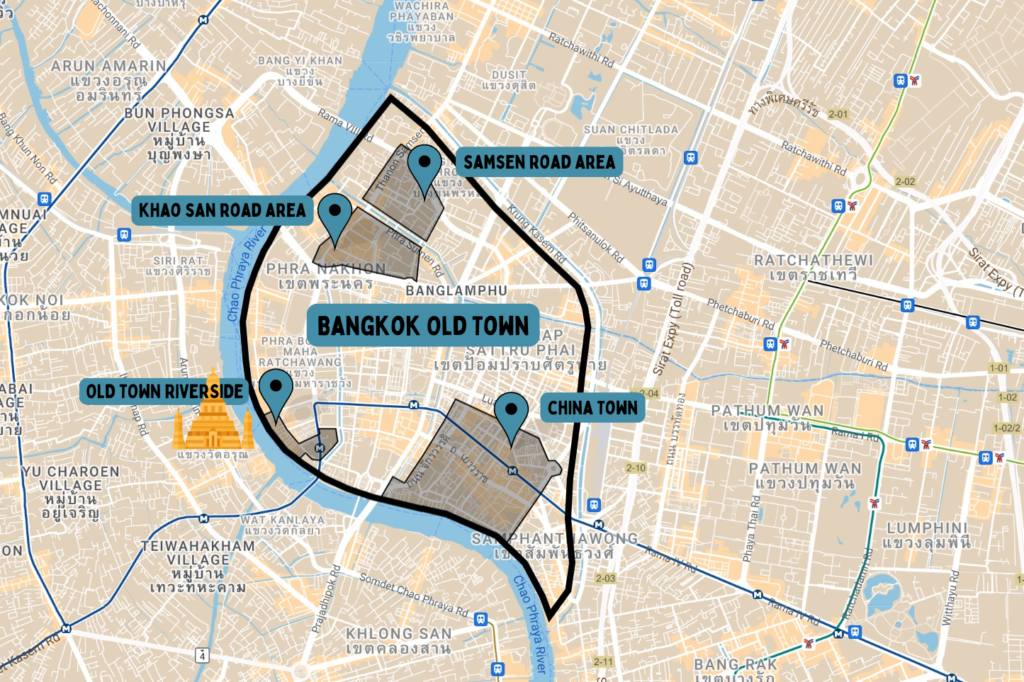 When the city of Bangkok was founded in 1782(2325 in Thai Years), by King Rama the First — the Old Town was the first land to be developed. It's the area where Bangkok's most beautiful temples are located — including the Grand Palace, the Reclining Buddha, and Wat Arun. Khaosan Road is located here too, which was a former rice and wholesale market — turned backpacker social hub.
The Bangkok Old Town covers an area of eight square kilometres. This used to be the entire size of Bangkok.
Nowadays, most of modern Bangkok is indistinguishable from other major cities. But, the old town is a different world, that feels like a step back in time. Here, you can wander through narrow streets lined with centuries-old architecture, buildings, homes, temples and palaces; and experience the real Bangkok of centuries past. The Old Town is the most authentic place to stay in Bangkok.
The best areas to stay in Bangkok, within the ancient walls of the Old Town are: the Old Town Riverside Area, the Khaosan Road area, and the Samsen Area. China Town is also located within, the the Old Town, but I don't recommend staying there. It's near enough to visit for a day-trip, in the evening — or on a street food tour.
📌 Staying Riverside in The Old Town
Staying riverside in Bangkok's Old Town — you'll have some of the most epic views of the city. I have two hotel recommendations for the Old Town, Riverside area, and one hostel recommendation — all of which have views of Wat Arun — one of Thailand's most famous and beautiful temples. These hotels have the best transport connections in Bangkok's Old Town because Sanam Chai Metro Station is just a few minutes away.
➡ Best Riverside Hotels in Bangkok Old Town
($$) Arun Residence: This is one of the best value-for-money 'luxury' hotels that you can find in Bangkok. The is only one room type, the 40m² suite which is designed in the classic Thai style. The rooms have a private balcony and a view of Wat Arun Temple across the Chao Phraya River. Surprisingly you can often find rooms here for around the one-hundred dollar mark(!)
Average Cost $99-$150 USD. Check prices for your dates >>
($$$$) Sala Rattanakosin Bangkok: Sala Rattanakosin is one of Bangkok's oldest hotels with a massive focus on Thai Culture which is inspired in the room design, service, food and more. Breakfast is included and served on the rooftop, overlooking Wat Arun — one of Bangkok's most famous temples. The rooftop bar is also open to the general public in the evenings and it's a nice place to watch a Bangkok Sunset.
Average Cost $200-$400 USD. Check prices for your dates >>
➡ Best Riverside Hostels in Bangkok Old Town
($) Ralph Hostel: This hostel is in a prime location for sightseeing. It's not a 'party hostel' but it is a sociable space. The Ralph Hostel is located next door to the Sala Rattanakosin— one of Bangkok's most expensive hotels, and it's just 300 meters to walk to the Grand Palace. There is a choice of private rooms or shared dormitory rooms — both of which have very affordable prices. The rooftop terrace is open 24 hours and has views of Wat Arun, across the river. Sanam Chai Metro Station is 500 meters away.
Average Cost ฿350-฿500 THB. Check prices for your dates >>
📌 Staying in Khao San Road
I still remember the first time I visited Bangkok, I'd already been living in southern Thailand for more than two years at this point, so I thought I knew what to expect. But Khao San Road, hits different. It's intense, loud, crazy, even frustrating at times — but it's a brilliant thing to experience.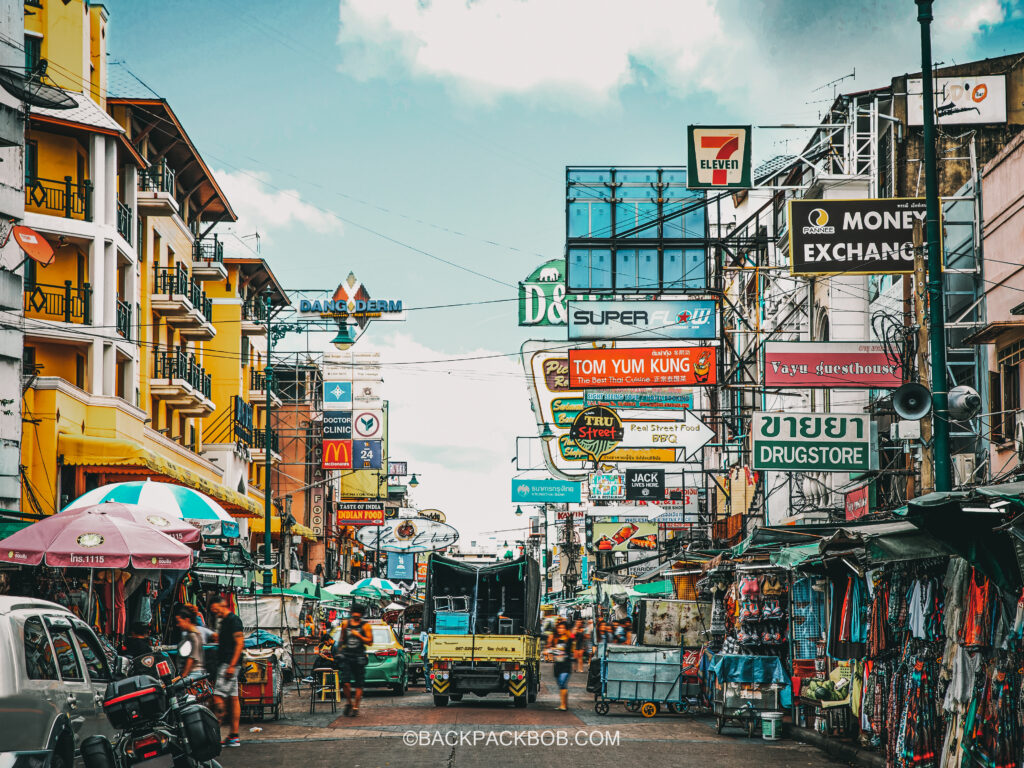 I booked a hostel slap-bang in the middle of Khao San. It was hot and stuffy, it was so loud you couldn't sleep, the beds were rock hard and the rooms were 'clean enough'. But it was one of the best, most care-free, and insane experiences that I'd ever had, and I met some of the most incredible people, who I still consider to be close friends years later.
If you are backpacking in Thailand, travelling solo, if it's your first time in Bangkok, if you want to socialize, or if you want to meet new people, then I strongly encourage you to stay — as close to Khao San Road as possible.
I know a lot of people will disagree with me. I know there is a lot of hate for Khao San Road and the Old Town area of Bangkok, especially among expats. And I'm in a similar position, after living in the city for the best part of a decade — for me, it would be absolute hell to stay in this area of Bangkok now. But for your first time in Bangkok — there is no better experience. Just book one night, to begin with, and try it out. If you like it, extend. If not, move — simple.
🏨 Accommodation on Khao San Road
Khao San Road is the centre of Bangkok's fun nightlife — it's not seedy like Soi Cowboy, Patpong, or Nana. Staying here is a good choice idea if you want to party, and make new friends — but keep in mind the area can be very loud, with music often played until 3-4 am. The accommodation style is more authentic, and classic. If you want to take on Bangkok properly, these are the best hostels, rooms, and hotels in the Khaosan Road Area.
➡ Best Hostels in Khao San Road Area
Back in the day, there were hundreds of hostels on and around Khaosan Road, you could arrive on the bus with a few Baht in your back pocket and find a bed with no troubles. Now — things have changed. You'll need to book a bed online, and few hostels remain. These, are the best hostels to stay at, in the Khaosan Area of Bangkok:
➡ Best Private Rooms in Khao San Road Area
($) Green House: This is one of the cheapest rooms you'll find in Bangkok. It's a 'no-questions-asked' ten-story guesthouse. Rooms have a balcony, fridge, bathroom and air-conditioning — and that's about all. But it can cost less than 500 Baht a night to stay here. This place has been open for decades, on the corner between Khao San Road and Rambutri Road. This is one of the few remaining hotels you can show up to any pretty much any time, and check in without a booking.
Average Cost 350-550 THB. Check prices for your dates >>
➡ Best Hotels in Khao San Road Area
📌 Staying in Samsen Road
Samsen is one of the fastest-growing social hubs in Bangkok. It's a popular spot for backpackers to stay, and it's where the cheapest hostels in Bangkok are located. It's not as hectic as the Khaosan Road area, but it's within walking distance. The area is far enough from Khaosan that it's quiet enough to sleep in the night. And there is more of a tight-knit, less-bitchy community of backpackers.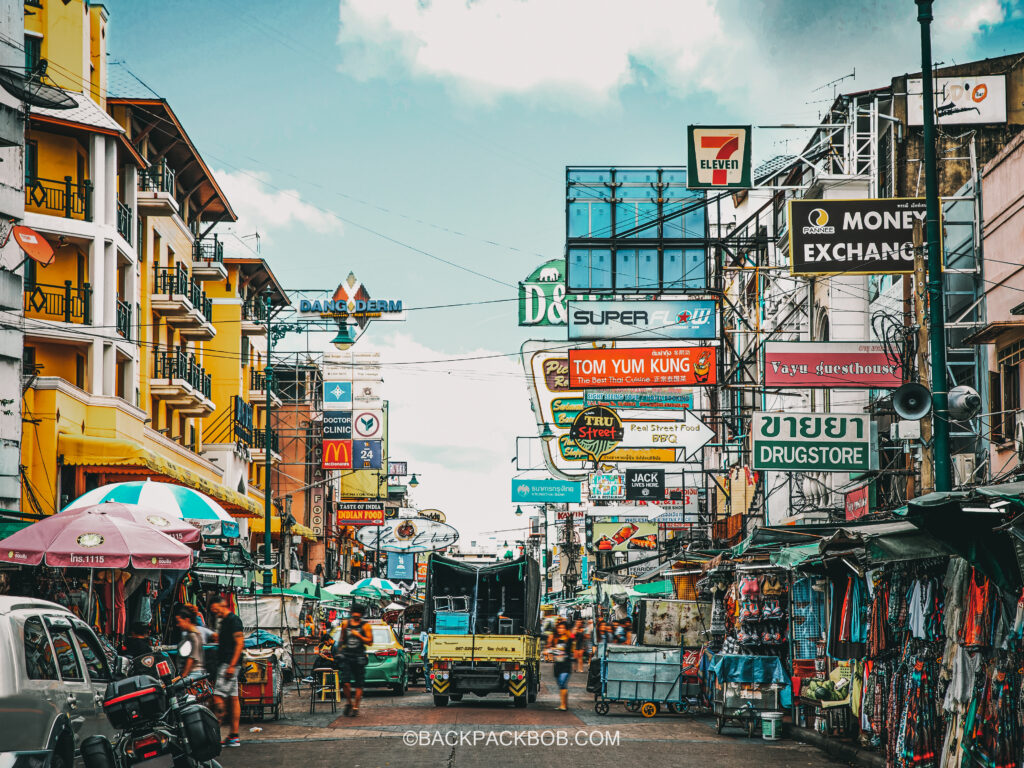 There is a canal which separates the Samsen Area and the Khaosan Area. You'll find a hectic vibe on the Khaosan Side, and a more relaxed vibe on the Samsen Side. Use the Nororat Bridge to walk between the two areas. You'll find plenty of Tasty Street-Food along the route.
I lived out of the Samsen Hostels for around two-months during the 2020 pandemic so I know the area well. In fact, I have stayed in every-single one of these hostels and hotels(!) But I do miss the crazy cheap 'covid-price' discounts. At one point we were paying less than 40? Baht a night! Nowadays, you can still find a cheap room, but the prices are closer to 200 Baht a night — the cheapest hostel in Bangkok is actually located here.
➡ Best Hostels in the Samsen Road Area
Hostels in the Samsen Road area are not Party Hostels, those are all located at Khao San Road. But there is still a massive social vibe — just a bit more low-key and respectful. There are no bars, holiday reps, pre-paid wristbands or shot challenges here. It's the type of place you can sit and enjoy a beer without it feeling too rowdy. The best hostels are located from soi two, to soi six.
($) Ploy Hostel: Ploy is the absolute cheapest hostel in Bangkok. Walk-in bookings cost less than 100 Baht. But it's a case of you getting what you pay for. The only good thing about the place is the location and price — if you're going ultra-low cost. There is even breakfast included. Granted, the breakfast is Jam and Toast, but still, that's not bad for Bangkok's cheapest place to stay.
Average Price 98-140 THB. Check prices for your dates >>
($$) 3Howw Hostel: Otherwise known as 'Tree House' this is one of the best hotels in the Samsen Area. There is a social vibe and an outdoor seating area. The hostel is a popular place to stay in Bangkok for a whole mix of travellers from all over the world.
Average Price 240-320 THB. Check prices for your dates >>
($) Oh Bangkok: I have a love-hate relationship with this place. I hate everything about this hostel — but I'm always wanting to return. I have many cherished memories here, but I also think the owner is a dick. The hostel is also a cannabis dispensary, so it's a great place to chill-out and smoke. Some (female) backpackers will be able to pick up casual work here.
Average Price 144-280 THB. Check prices for your dates >>
➡ Best Private Rooms in the Samsen Road Area
($$) Back Home Backpackers (OYO): These are the best private rooms you can find in the Samsen Road Area, less than a five-minute walk from Khaosan and there is lots of street-food nearby. The place survived the pandemic and closed down in late 2021, just before tourism resumed in Bangkok! Formerly just called 'OYO's. It reopened under new ownership in 2023. This place is really tucked away and hidden — rooms have TVs signed into Netflix.
Average Cost 570-855 THB. Check prices for your dates >>
($$) Bangkok Boutique: A spin-off of 'Oh Bangkok' hostel — this block of private rooms has no front desk, and most people wouldn't even know they are there. It's a quiet place to stay in Samsen Area, at an affordable rate.
Average Cost 380-510 THB. Check prices for your dates >>
➡ Best Hotels in the Samsen Road Area
($$$) Nouvo City Hotel: This became Bangkok's first 'quarantine hotel' in 2020. It's now a 4-star modern boutique hotel, with a front desk, swimming pool and spa — at an affordable price. Granted you can get better value for money elsewhere, but you're paying for the great location here — in the Old Town, just 500 meters from Khaosan, with a view of the canal nearby.
Average Cost 1,490-2,150 THB. Check prices for your dates >>
($$) Chillax Resort: This is a hotel aimed at couples, in the Samsen Area of Bangkok's Old Town. Breakfast is included, there are spas and massage packages offered and there are hot tubs in most rooms. In this price range, I will suggest considering places to stay, in the Sathorn Area instead.
Average Cost $45-$90 USD Check prices for your dates >>
2️⃣ Sathorn District (สาทร) – ($$$)
Other Names: Bangrak, Bangkok Riverside, Silom.
Sathorn is a well-established central area — a great place for most people to stay in Bangkok. Located riverside on the Chao Phraya, Sathorn is just a few minutes from the Bangkok Old Town by boat. Sathorn also has a wide variety of beautiful hotels and accommodations to choose from, including many that are more upscale. It's close to the action without feeling too overwhelming, making it perfect for couples, families, and anyone who wants to be well-connected.
Charoen Krung Road was the first road in Bangkok, built for diplomats and royals to have a dedicated place to walk — the road runs between Sathorn and the Bangkok Old Town, starting from the Grand Palace.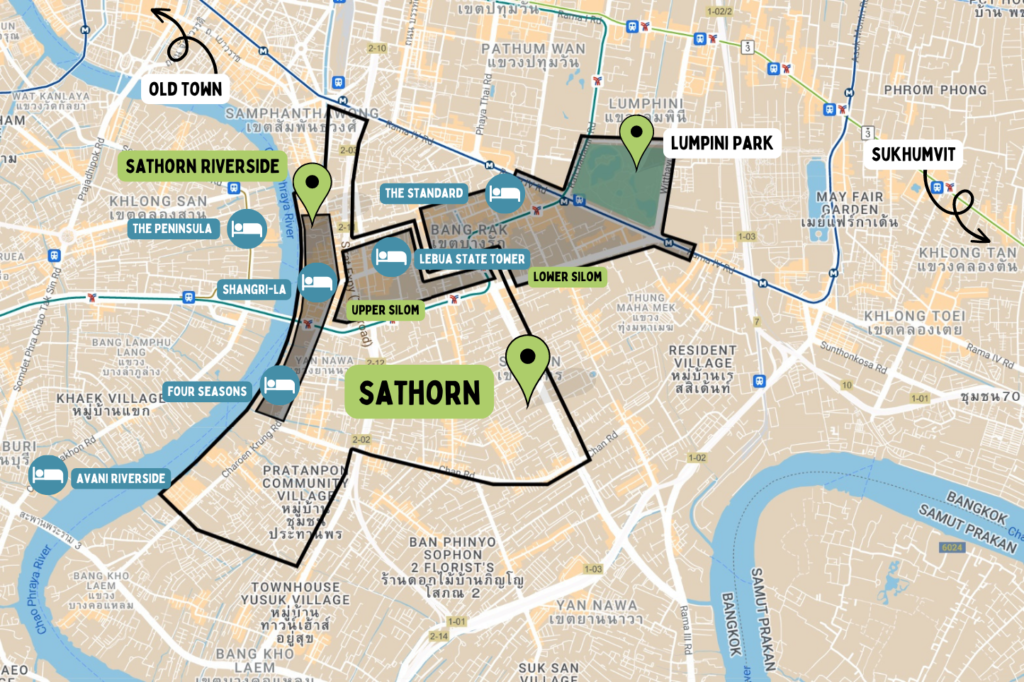 Sathorn is generally the best area to stay in Bangkok, for most tourists — although it can depend on your budget, because accommodation prices in Sathorn — especially on the river-front, are a little higher than in the Old Town.
Sathorn is one of the 50 districts in Bangkok. It is located along the riverfront, next to the Bang Rak District. Silom is also in this same area, Silom is a very well-known place — but also a very small part of Bangkok. You've probably heard the name 'Silom' — well it is actually a nickname given to the area which surrounds Silom Road.
The 'Silom Area' overlaps parts of Sathorn and parts of Bang Rak District — it also means that one hotel can be located in both Sathorn and Silom, at the same time.
Silom Road starts at Lumpini Park, and ends once the road meets the Chao Phraya River. Sathorn itself is located on the bank of the Chao Phraya River. It's where the Chao Phraya Dinner Cruises depart from, and it's where Icon Siam, and the Asiatique Market are located.
There are good transport connections from Sathorn to other parts of Bangkok. The Silom Train Line conveniently runs through the heart of the district and connects with the MRT, BTS and the Sukhumvit Area. Then there is also the ferry on the Chao Phraya River which has convenient boat stations on the Sathorn Riverfront — which you can use to travel between; Sathorn, China Town, and Bangkok Old Town.
Being on the riverside, Sathorn has a unique, calming, and traditional vibe — and it is because of this, that most of Bangkok's iconic, unique, and luxurious hotels are located here.
🏨 Accommodation in Sathorn Area
Sathorn is where the most spectacular riverside hotels are located — if these places are within your price range you will always have a memorable experience. Thailand is famous for its world-class hospitality, and this is the area where you'll be able to find the best examples of this.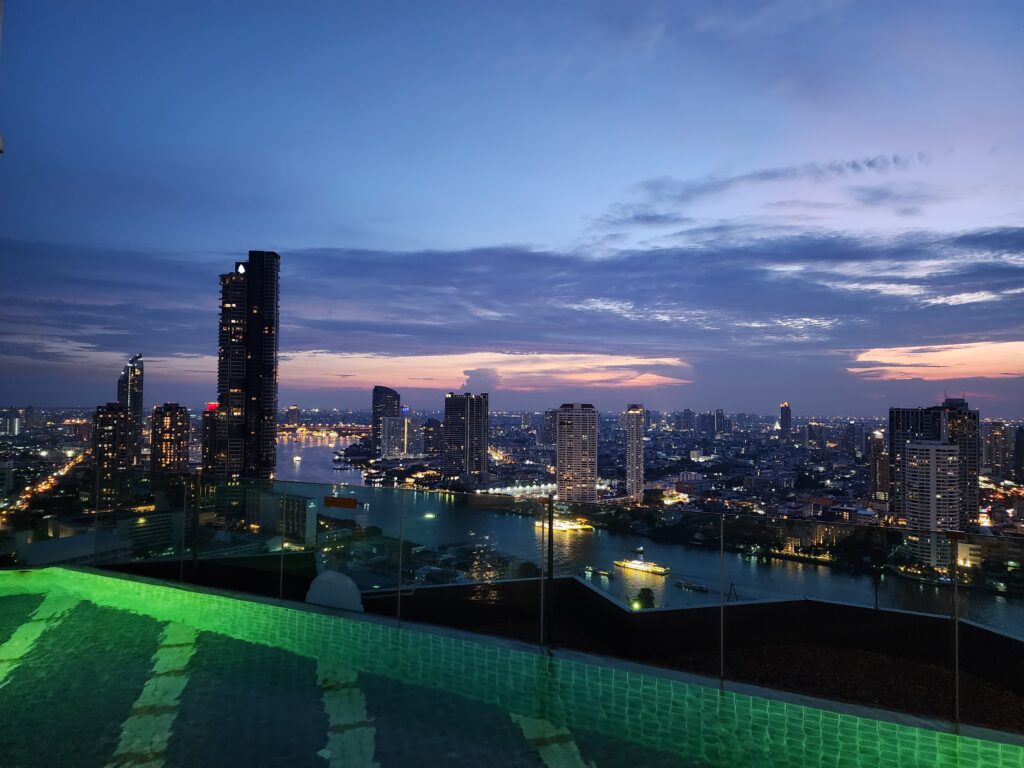 ➡ Best Hotels in The Sathorn Area
These are far from the cheapest hotels you can find in Bangkok — in fact most of Bangkok's most expensive hotels are located in this area. But if you are seeking a memorable experience this is where you'll find it.
If I was visiting Bangkok for the first time again, as a tourist and money was no object — I would hard pressed to choose between the Chao Phraya Four Seasons, the Peninsula or the Shangri-La. For me, these three hotels symbolize the best of Bangkok and the best of Thailand's heritage and culture. If I wanted the best value for money, with a similar cultured hotel experience in the Sathorn Area, I would choose the Arun Residence, where rooms can cost $100 or less.
($) The Grand Sathorn: This is the best value-for-money hotel in the Sathorn Area of Bangkok. A riverside hotel near all the tourist attractions, with a luxurious rooftop swimming pool, massive penthouse rooms, and a full Thai buffet breakfast.
Average Cost ฿1,500-฿3,500 THB. Check prices for your dates >>
($$$) The Bangkok Shangri-La: The Shangri-La Bangkok is a luxurious hotel that has been a Bangkok icon since it opened in the late 1980s. It could be found in every tourism brochure of the times and has maintained its reputation for incredible service and beautiful rooms ever since. With lots of outdoor green spaces and multiple swimming pools — it truly feels like a tropical resort in the city. The hotel is in a prime location on the Chao Phraya River, and the suites have stunning river views. It is also within walking distance of the BTS Skytrain, making it easy to get around the city.
Average Cost $232 – $330 USD Check prices for your dates >>
($$$$$) The Chao Phraya Four Seasons: This is the most modern-traditional place to stay in Bangkok. A hotel which offers pure luxury — although, at an eye-watering price. This would probably be the place I would recommend most, (assuming your budget stretches this far). The Four Seasons is where I would personally choose to stay if I was vacationing in Bangkok. The rooms have some of the best views in the city — overlooking the Chao Phraya River — the location is perfect, near the upmarket Asiatique Market, and there is a Skytrain station less than 10 minutes away.
Average Cost $617 – $1,025 USD Check prices for your dates >>
Note: Suites and villas can exceed $2,000+
($$) Lebua at the State Tower: State Tower is a 64-story building on Silom Road in the heart of Sathorn. It was the second tallest building in Bangkok when it was completed in 2001 — and it was used as the filming location for the Hangover Part 2. The Lebua Hotel occupies the 21st to 25th floors of the state tower, and it's one of two, five-star hotels in the building. Other amenities include four bars, two Michelin Star Restaurants and the Sirocco Restaurant and Bar on the rooftop. For a five-star hotel, prices here are very affordable.
Average Cost $177 – $400 USD Check prices for your dates >>
($$$$) The Peninsula Hotel: The Peninsula is a chain of hotels, with properties in Shanghai, Tokyo, Hong Kong, and London. Staying at the Peninsula Hotel in Bangkok is a cultural experience in itself. The hotel is located on the Thonburi side of the river and has a fleet of unique wooden 'Tuk-Tuk' boats to shuttle guests across the Chao Phraya. There is a BTS Gold Line Station and the luxurious Icon Siam Shopping Mall is right next door, where events are often held.
Average Cost $430 – $600 USD Check prices for your dates >>
($$) Avani Riverside Bangkok Hotel: This is one of the most popular hotels in Bangkok, and within the Sathorn Area. And it is easy to see why — value for money, luxury and serenity. I would recommend the junior suite room type which has huge full-height windows providing one of the best river views you can find and the bathtub, also overlooks the river. It's clean and luxurious, and the rooftop swimming pool is one of the nicest you'll find in Bangkok.
Average Cost $195 – $300 USD Check prices for your dates >>
($$$$$) The Standard at Bangkok Mahanakhon: The Standard Hotel is technically just outside of Sathorn — it's located in Silom. It's one of the most modern and luxurious hotels in Bangkok and the chain also has locations in Miami Beach, London and the Maldives. The hotel is located in the Mahakanon Tower — Bangkok's tallest building, and occupies the 8th – to the 18th floor.
Average Cost $350 – $1,200 USD Check prices for your dates >>
➡ Best Hostels in The Sathorn Area
A hostel is cheaper than a hotel — because you'll share the room with others. There are not many hostels in Sathorn, at least not any places I would consider recommending in this guide. Stick to the Old Town, Samsen Road or Khao San Road if you prefer to stay in hostels in Bangkok. There is one hostel I would recommend, although it's not technically in Sathorn — it's just a few minutes away — in Silom.
($$) Warm Window Silom: This hip hostel is located in the vibrant Silom district, just a short walk from Sathorn. It has a rooftop terrace with stunning views of the city, and each dorm room has only 4 beds. But the real unique selling point is the double beds, making it a great option for couples on a budget. There's also a Skytrain station nearby, and a coffee shop on the ground floor for those early risers.
Average Cost 380-700 THB. Check prices for your dates >>
3️⃣ Sukhumvit Area (สุขุมวิท) – ($$)
Other Names: Lower Sukhumvit, Nana, Asok, Thong Lor, Huai Khwang, Watthana, Bangkok CBD.
Sukhumvit can be a great place to stay in Bangkok; but I don't recommend staying here on your first visit. It's too far from the popular sightseeing areas and there is not much for tourists to do in Sukhumvit. However, if you've already done the 'touristy things', seen the temples — taken a cruise on the river — eaten the street food in China Town — etc, etc. Then Sukhumvit can be a great choice.
The area is more suited for those staying or living long-term in Bangkok with a big focus around dining and nightlife — it's also where two of Bangkok's most infamous red light districts are located.
Good to Know: Soi is a transliteration of the Thai word 'ซอย'. It's pronounced the same as it's spelt, Soy — like the sauce — and it can mean street, road, or alley. The word is often used for small roads as opposed to highways or main roads.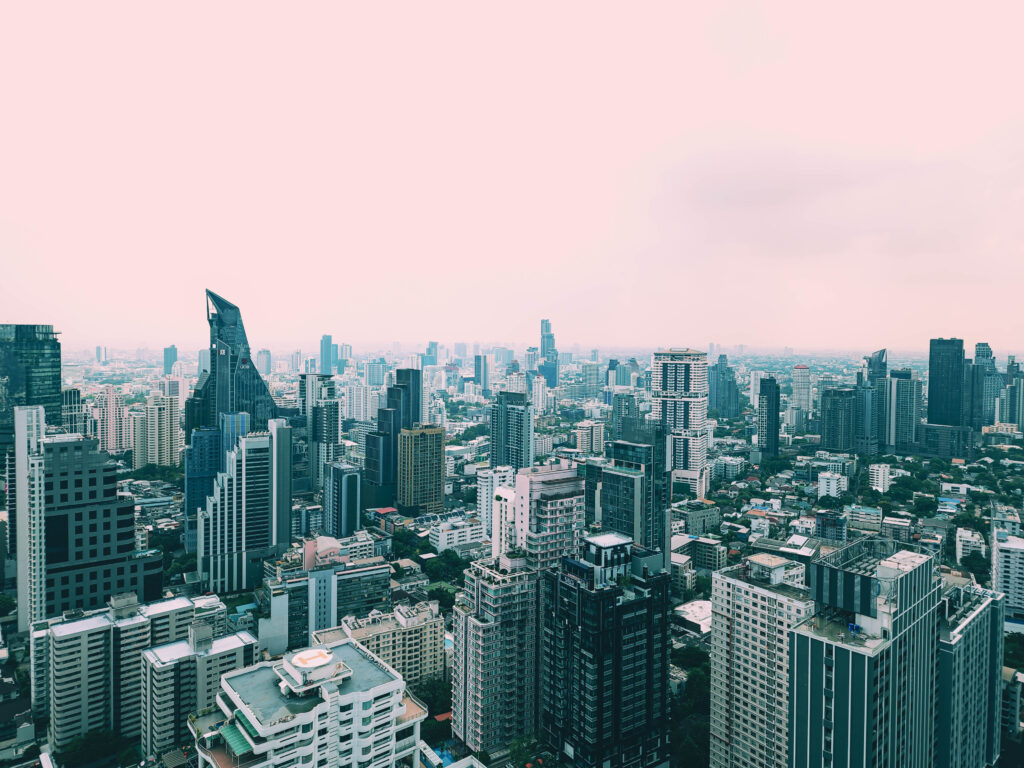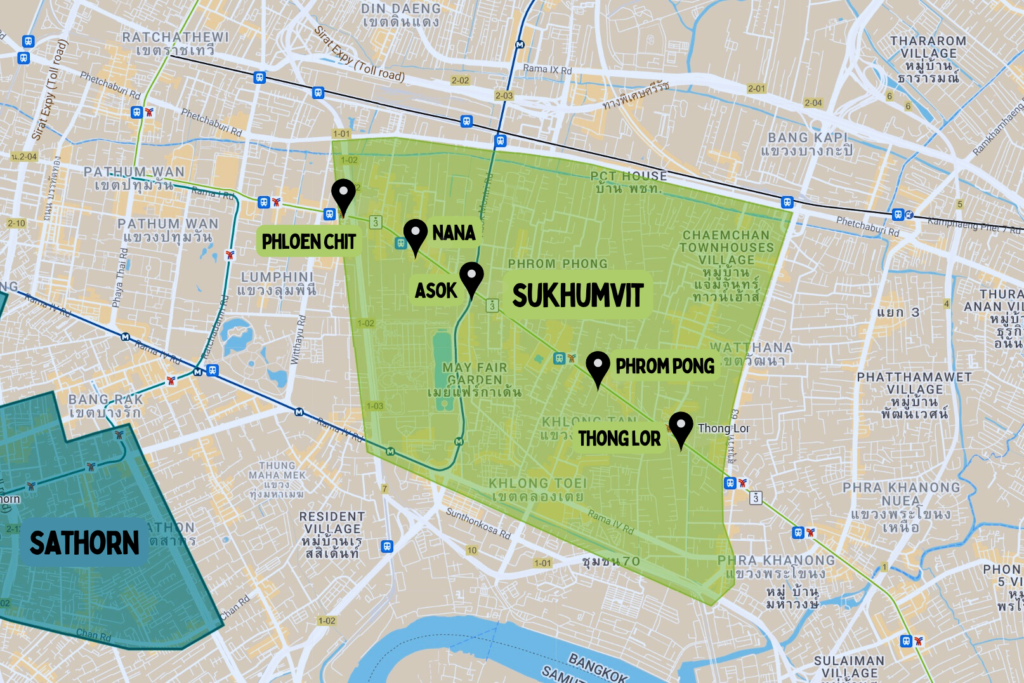 There are often disagreements as to what actually constitutes as 'Sukhumvit' — because Sukhumvit is not an official district of Bangkok — it's a nickname. This is something that really confused me, to begin with, but it actually makes perfect sense. The area takes its name from Sukhumvit Road. A near 500-kilometer road which runs through the centre of the 'Sukhumvit Area' — beginning in Phloen Chit, Bangkok, and stretching all the way into Cambodia!
If you were to follow the road east, you would leave Bangkok, and enter the Province of Samut Prakan — somewhere around The Bang Na area, before passing through the beach town of Pattaya and eventually arriving at the Phnom Penh Thai/Cambodian Border.
Navigating the Sukhumvit Area of Bangkok is really easy, once you understand how the streets are laid out. Sukhumvit Road runs through the middle, with streets branching off on either side. The streets are all named Soi Sukhumvit — followed by a number. For example, Soi Sukhumvit 1 is located in Pelion Chit and is the first street in the Sukhumvit area. Streets are named in numerical order with odd-numbered streets branching off on the north side of Sukhumvit Road, and even-numbered streets branching off on the southern side of Sukhumvit Road. The BTS Sukhumvit Line is a train line that runs along the centre of Sukhumvit Road, elevated on a platform above the road.
For the purpose of this guide — I will define Sukhumvit as the area between Sukhumvit Soi 1 — until Sukhumvit Soi 60, which is located further east — in Thong Lor. This area is often referred to as 'Lower Sukhumvit' — because the streets have the lowest numbers. I will use the Saen Saeb Canal to mark the northern boundary of the Sukhumvit Area — and Rama 4 Road to mark the southern boundary. (There is a boat route along the cancel between lower Sukhumvit and Bangkok's Old Town).
Contained within this area of Lower Sukhumvit — there are five main neighbourhoods. From west to east, these are: Phloen Chit, Nana, Asok, Phrom Pong, and Thong Lor. Each of these neighbourhoods are located around one kilometre from each other. There are plenty of accommodation options in each of these areas — although the hotels around these areas are usually more 'modern' — they are often smaller rooms, which don't have that traditional Thai Charm you might expect to find in Bangkok.
I will explain the pros and cons of each neighbourhood in the Sukhumvit area, including some recommendations for the best hotels — at all price ranges. The Lower Sukhumvit Areas are all somewhat similar to one another — but each has their own quirks and differences.
Note: I have not included many hostel recommendations for the Sukhumvit Area, because there are not many I would recommend. The best hostels in Bangkok are in the Old Town. In Sukhumvit, the focus is more on private rooms, hotels and condo buildings.
📌 Staying in Phloen Chit
Phloen Chit is one of the tamer places to stay in the Sukhumvit area. A good option for families to stay — Peloen Chit is very central and close to Siam Square, where a lot of Bangkok's Shopping Malls, like Siam Paragon, and MBK are located — it's also the location of international attractions like Madame Tussauds, and Sea Life Bangkok. The Erewan Shire is located too.
➡ Best Hotels in Phloen Chit
Sukhumvit Road — Including Alleys Numbered – Sukhumvit Soi 1, to Sukhumvit Soi 7
Hotels in Phloen Chit are not great value for money — unless you are in Bangkok to go shopping, you can find nicer hotels in the same price range in the Sathorn area, or the Phrom Pong/Thong Lor areas of Sukhumvit.
($$$$$) Siam Kempinski: I couldn't compile a guide on where to stay in Bangkok without including this epic hotel. It's actually located around a kilometre west of Phloen Chit — attached to the Siam Paragon Luxury Shopping Mall. It's one of the most striking places to stay in Bangkok and great for families. You really feel like royalty when you walk into this hotel. I've never stayed the night here. But I've often spent an afternoon in the cigar room — which has the most variety in Bangkok.
Average Cost $330 – $525 USD Check prices for your dates >>
($$$$$) The Rosewood Bangkok: The Rosewood is a 5-star hotel, which, although it is cheaper than you might expect a true five-star hotel to cost, it still comes with a hefty price tag. It's located a few minutes from the Phloen Chit BTS Station and it's one of the best hotels in Bangkok if you are here to shop.
Average Cost $305 – $475 USD Check prices for your dates >>
📌 Staying in Nana / Asok
Sukhumvit Road — Including Sukhumvit Soi 11, to Sukhumvit Soi 31
Nana and Asok. These are two of the most popular, and affordable places to stay in Bangkok — especially Asok. Asok has fantastic connections to the rest of Bangkok because there is an underground MRT Train Station, and BTS Skytrain Station too — it's a good central location to base yourself, where you can get around the city with ease. Terminal 21 Shopping Mall is located in Asok and has a popular food court on the top floor.
I've grouped Asok and Nana together because these two neighbourhoods are next to one another and share a lot of the same characteristics. These areas are the heart of Bangkok's infamous nightlife scene and home to two of the most well-known red-light districts — Soi Cowboy in Asok, and Nana Plaza, in Nana. You can find some great hotel deals in these areas and there is plenty to do in the daytime and the nighttime.
➡ Best Hotels in Nana
The hotels you'll find in the Nana area of Sukhumvit, Bangkok are mostly so-so. As in — they are not bad hotels, but they are nothing special — they are generally mid-ranged, nice-enough box rooms. They're clean, modern and affordable. Although it's tough to find somewhere that stands out in this area — and arguably, while there is nothing wrong with the hotels here — they are not the best value for money.
($$) Aloft Nana – Sukhumvit Street 11: Aloft would be my go-to hotel in the Nana Area of Sukhumvit. It's nothing special — but it's nicer than the competition. Rooms are on the smaller side, but they are clean and the hotel is in a good location. Rooftop pool, gym, breakfast included — all the standard stuff. And it's a 4-star hotel owned by the Marriot chain.
Average Cost $110 – $150 USD Check prices for your dates >>
($$) Eleven Hotel – Sukhumvit Street 11: Rooms at the Eleven Hotel are fairly basic. But they are modern, clean and a little more spacious. The staff are welcoming and the location is good, it's next door to Aloft, and within walking distance to the Skytrain, there is a pool bar and breakfast included at this hotel. Rooms here are good value for money and have some of the lowest prices in the Nana area.
Average Cost $70 – $120 USD Check prices for your dates >>
➡ Best Hotels/Condos in Asok
Asok, (sometimes spelt Asoke), has a connecting MRT/BTS Train Station. This makes the area a more desirable place to stay because of how convenient it is to get around other parts of Bangkok from here — this has also caused hotel costs to inflate.
The rooms and hotels in Asok are pretty basic and none really stand out — unless you go five-star — but if you're spending 5-star hotel money, you're better off in the Sathorn District. A lot of hotel rooms in Asok do not have a window — make sure to consider this when looking at hotels in Asok.
📌 Staying in Phrom Pong / Thong Lor
Sukhumvit Road — Including Sukhumvit Soi 33, to Sukhumvit Soi 61
Prom Pong and Thong Lor are also located next to one another in the Sukhumvit area of Bangkok — and they share a lot of similarities. They are the 'trendiest' areas in Bangkok — and both spots would be considered upmarket. So because of the similarities, I have decided to group these two neighbourhoods into one section.
In my opinion — Phrom Pong or Thong Lor are the best places you can pick to stay in, once you've decided to stay in Sukhumvit. The areas are the home of upscale entertainment, and fine dining at affordable prices. You're not in the thick of the red-light districts, although you're not too far away — and the area is upbeat, trendy and relaxed. There are plenty of breakfast cafes and coffee shops — outdoor and indoor dining options — restaurants and bars, nightclubs, comedy clubs, cannabis clubs, cocktail bars, rooftop terraces, and karaoke joints — some of Bangkok's best nightlife is in this area. Locals will come to this area instead of Khaosan Road.
You'll be spoiled for choice in this area — for dining and drinking — there are even a handful of Michelin Star Restaurants too. There is a lot to explore, but the one recommendation I'll give in this guide is the Cocktail Bar on the Tichuca Rooftop — it's affordable, has great views and a great vibe.
The downside of staying in Prom Pong or Thong Lor, is how far they are located from the rest of Central Bangkok. There is a BTS Trainline here, but it takes around 20-30 minutes to ride to the Central Station.
➡ Best Hotels in Phrom Pong
($$) Park Origin – Sukhumvit Street 24: Park Origin is a condominium complex in the heart of Phrom Pong on Soi 24. There are five-towers which form the complex, and many of the rooms are rented out on a short-term basis, through booking.com, Airbnb, and Agoda. This place is great value for money, and although rooms are on the smaller side you'll find one of the nicest rooftop pools to compensate for that.
Average Cost $85 – $150 USD Check prices for your dates >>
($$$) Skyview Hotel Bangkok – Sukhumvit Street 24: There is so much to love about this hotel in Phrom Pong, (there is also a sister Skyview hotel in Phuket). The rooms are spacious, the rooftop pool is luxurious and the location is fantastic — a few meters from BTS Phrom Pong Station. The building is near identical to the Condo Towers found all over Bangkok — only this one actually is a hotel, so there is no need to feel on edge or sneak around. The suites have beautiful views over the city — from both the bedroom and the bathroom! And the terrace on the rooftop has two upscale restaurants and bars — drink prices are kept at a reasonable amount, for a skybar. This is easily one of the best places you can stay in the Sukhumvit Area of Bangkok — but luxury at this price often books out fast so make sure to book this hotel well in advance, especially during peak season.
Average Cost $105 – $180 USD Check prices for your dates >>
($$) Staybridge Suites – Sukhumvit Street 24: Staybridge is another hotel that embraces the Modern Style of Condominium found in the Sukhumvit area of Bangkok. The corner suites are great value for money and there is a rooftop pool and terrace with sun loungers — and there is a Japanese Onsen Bath. All the rooms have cooking and dining facilities — not that I'd be cooking with all the delicious street foods to be found around Phrom Pong(!) — but it's a nice touch. The hotel is located on Sukhumvit Soi 24, the same street as the Skyview (my preferred choice in Phrom Pong).
Average Cost $80 – $150 USD Check prices for your dates >>
➡ Best Hostels in Phrom Pong
($) Met A Space Pod – Sukhumvit Street 35: 'Space Pod' hostels have become increasingly popular in recent years — Met A, has had hostels in Bali, Indonesia, Malaysia and Singapore for a number of years now. Now there is a space hostel in Bangkok too and the style fits perfectly in the Phrom Pong Neighborhood. The capsule has air-conditioning, a TV and mood lighting. It's a unique experience and a cheap place to stay if you just need a place to sleep.
Average Cost ฿400 – ฿600 THB Check prices for your dates >>
➡ Best Hotels in Thong Lor
($$) Hotel Nikko Thonglor – Sukhumvit Street 55: Modern and spacious rooms in a calm area of Sukhumvit. This hotel has a Japanese theme in the design, and food. There are two Japanese Restaurants in the hotel and the rooms are equipped with Japanese washrooms too. Of course, there is an outdoor pool and the BTS Train is a few minutes to walk too.
Average Cost $165 – $220 USD Check prices for your dates >>
($$) Somerset Thonglor – Sukhumvit Street 55: These open-planned studio rooms are spacious and much bigger than a typical hotel room — the bedroom and living room are attached and there is an en-suite bathroom. The rooms are modern and tasteful with the decoration — as is the hotel bar, swimming pool and fitness rooms. Prices are very reasonable at this hotel — which is located on Thong Lor Road itself, near the BTS Skytrain.
Average Cost $120 – $200 USD Check prices for your dates >>
($$$) Ascott Thonglor – Sukhumvit Street 59: This is about as far out in Sukhumvit that I'd recommend finding a place to stay. The Ascott in Thong Lor is a beautiful hotel on Sukhumvit Road itself. Two of Bangkok's most popular sky bars are within walking distance, Tichuca Rooftop Bar, and the Octave Rooftop Lounge & Bar. The rooms at the Ascott are basically mini apartments — with a living room, bedroom, bathroom and kitchen. There is a decent-sized swimming pool with a view.
Average Cost $150 – $190 USD Check prices for your dates >>
📌 Staying in Ekkamai / Phra Nakhon / On Nut
Sukhumvit Road — Including Sukhumvit Soi 63, to Sukhumvit Soi 91
Ekkamai, Phra-Khanong, and On Nut are three popular locations at the far-eastern-end of the Sukhumvit Area. This is (debatably) where Lower Sukhumvit becomes Upper Sukhumvit. These areas can be very nice for expats looking for affordable housing and a quiet, authentic lifestyle — in fact, I spent almost a year living in this area of Sukhumvit, and there are not many tourists around at all.
But there is a good reason for that — it's inconvenient and there is **** all for tourists to do around here — the journey from this area to the Old Town Bangkok Temples can take over an hour using multiple transport methods.
Bangkok is one of the few places where you don't need to get off the tourist trail. I strongly encourage you to consider alternative areas to stay in Bangkok, if you are here on a short trip. If you really want somewhere cheap, and quiet it's best to get out of the city completely. Find an island instead, I would suggest Koh Lanta or Koh Jum. You'll find low-cost beach bungalows, peace and quiet and you'll also have a beach to hang-out at.
⛔ Places NOT To Stay in Bangkok
If you ask around in any of the Bangkok forums, or the Facebook Groups — for the best areas to stay in Bangkok — after you've had your ear chewed off — you'll often be recommended some nice, quiet spots around the city, which are perfect for expats and long-term stays. But as a tourist, you would have totally different requirements — and most of the quieter areas are just too far from the heart of the action.
Bangkok is a well established city with millions of visitors annually. Bangkok is one of the only places where you don't want to get off the beaten track — you don't need to try and do what the locals do. Get stuck in with other tourists, travellers and likeminded people and you'll get the most out of the city.
In Bangkok — try to find the busiest, most popular areas. This is the total opposite advice that I'd give for anywhere else. But in Bangkok, there is good reason why some areas are busier than others — sometimes, following the crowds is the best thing you can do, not the worst.
These are The Places in Bangkok I Don't Recommend Staying In.
These places are all listed, not because they are bad places to stay. But because they are bad areas for tourists to stay. Most of them are far from the centre and lack anything for tourists to actually do.
But despite that, I've seen them all recommended in other 'Where to stay in Bangkok' Guides. Granted, some of these areas can be cheaper, and quieter — but that's not what Bangkok is about.
What's the point of saving money if you never get to see the main tourist attractions of Bangkok. If you're staying long-term in Bangkok — definitely check out some of these areas — especially Ari and the Upper Sukhumvit Areas. But as a tourist (or traveller) you'll have a lot more fun by getting stuck into the thick of Bangkok, in the Old Town, or relaxing by the Riverside in Sathorn.
❌ Udom Suk/Bang Na – This area of Bangkok is actually pretty chill. Luxury apartments can cost around $250/$300 a month and there is a BTS Station on the Silom Line. But there isn't really anything for tourists to do here. It's possible to connect with the rest of Bangkok on the train, but the distance you'd be commuting means it's not the best place to stay short-term.
❌ Upper Sukhumvit: Upper Sukhumvit is an area in the East of Bangkok. It's located between Thong Lor and Bang Na, occupying Sukhumvit from street 60, to street 103. Areas in Upper Sukhumvit include Ekkamai, Phra Nakhon, and On Nut. I actually really like this area but the distance from central Bangkok makes it impractical for tourists to stay here — you'd be miles away from everything.
Note: This area would be a fantastic choice for staying long-term in Bangkok, on a budget.
❌ China Town: I love China Town — it's one of the first established communities in Bangkok, there is a unique vibe and you'll find some of Bangkok's best street food here. China Town is not actually a bad area to stay in, in Bangkok — but it's located in the Old Town — which means there are much better accommodation options nearby. Arun Residence is less than 10 minutes from China Town with a a river view of Wat Arun. Or, the Khao San Road/Samsen Area is a few minutes away. In short; China Town is a must-visit place in Bangkok, but there are just so many better places to stay nearby, that make China Town not worth it.
❌ Siam/Chit Lom: The Siam Area of Bangkok, is too much for me. It's the 'Shopping Mall Area' with Siam-Discovery. Siam Center, Siam Paragon and MBK are all located here. It is a central area so it's easy to base yourself here to get around the city. But unless your main purpose of being in Bangkok is for shopping, then I recommend looking at other areas, there are much nicer places to choose from. Sukhumvit is within walking distance, or just a couple of stations away on the Skytrain. (If you are in Bangkok to shop, the Siam Kempinski Hotel is attached to the Paragon Mall).
❌ Ari: Located near Chatuchak and MO Chit — this is quickly becoming one of the most hip neighbourhoods for expats in Bangkok. Relatively unheard of until recently, Ari shares many similarities and quirks that you would find in Thong Lor or Phrom Pong — there are plenty of Coffee Shops, Cafes, Cannabis Cafes, Bars and Restaurants. But Ari is located in the far north of Bangkok and although there is a Skytrain station — it doesn't change the fact that Ari is just too far outside the city centre that staying here for a short visit to Bangkok doesn't make sense.
❌ Pratunam: Pratunam is growing a reputation for of the best places to stay in Bangkok — however the area is often mislabeled. Pratunam is in a central location of Bangkok, but it's not an actual district, It's a neighbourhood located in the Ratchatewi District. And it's basically the outskirts of Siam. It used to have some massive markets and was a nice shopping district for those wanting to avoid the malls. Now-a-days, Pratunam doesn't have a lot going for it — and because of the location — in between Sukhumvit and Sathorn, you'd be much better off picking one of those areas instead.
❌ Bangkok Airport: Bangkok has two Airports — Suvarnabhumi in the East, and Don Muang in the North. Both airports are about 45 minutes to one hour outside the city — and neither of them are actually located in the provinces of Bangkok, (Suvarnabhumi(BKK) is in Samut Prakan Province and Don Muang(DMK) is in Nonthaburi Province). Needless to say, this is the worst area you could choose to stay in — in the middle of nowhere, and with nothing to do. Both airports have direct train lines into the city centre and because of the easy public transport connections to the airports, there really is no longer any need to stay near either airport. If you have an early flight you can find a Grab or Taxi in Bangkok, 24 hours a day — especially from any of the areas I recommended in this post — Old Town, Khaosan, Sukhumvit or Sathorn. A ride to the airport costs a maximum of 500 Baht ($12) on the meter, from anywhere in Bangkok.
What Type of Accommodation Can You Find in Bangkok
Bangkok has different types of accommodation to suit different requirments, and different budgets. The different accommodation types in Bangkok can be broken down into four main categories; Hostels, Private Rooms, Hotels, and Condos (apartments).
Bangkok Hostels ($)
If you're travelling solo, backpacking or trying to save money. Hostels will be your best friend. You can often stay for a week in a hostel for the same nightly rate as a hotel. But the best part about staying in hostels is that they are great places to make friends, socialise — and meet up with other like-minded travelers. Make sure to pack earplugs and eye-mask though, because when you're sharing a room with others — there's a higher chance of being woken up by someone snoring or switching on the lights(!) Hostelword is currently the best site to book Hostels in Bangkok.
Bangkok Private Rooms ($$)
You might think that a Private Room and a Hotel are the same thing, but they're not. A private room is often much cheaper and it's exactly that, a private room — without the other amenities you'd find at a hotel. Expect a bed, a bathroom and an air-conditioner — but not much else. There won't be a front desk, a concierge, breakfast, no swimming pool — nada. It's just a cheap place to get some sleep for those who want to save money but don't want to share a dormitory room in a hostel. Some hostels offer shared rooms and private rooms.
Bangkok Hotels ($$$)
Choosing to stay in a hotel in Bangkok is the traditional option. And it's the best way to immerse yourself in the Thai culture. Prices might be off-putting for backpackers, but for couples and families on a fixed-time vacation a hotel is going to be the best choice — but they can be a bit lonely for solo travel. There are some incredibly beautiful and famous hostels in Bangkok, like the Peninsula, The Shangri-La, The Chao Phraya Four Seasons or the Lebua State Tower; conveniently all of these are in Sathorn — near the Chao Phraya River Bank. They offer some of the best examples of Thai Hospitality and an insight into Thai Culture — and you'll have all the expected amenities like daily room cleaning, transportation arrangements, dining, massages, pools, gyms and more.
Airbnb in Bangkok (Short-Term Condo Rent)
I should touch on the topic of Airbnb's in Thailand — It wouldn't be a complete where to stay in Bangkok guide, otherwise.
You might have heard that Airbnb is illegal in Thailand — and although there is some truth in this statement — there is not an outright ban on Airbnb — it's a bit of a controversial topic. And as someone who owns one of these Condos, it's a topic I'm actively invested in — Airbnb can inflate costs making it unafordable for local people — so therefore I haven't listed many recommendations for condo buildings in this guide — aside from the few that have basically become hotels already.
As is the case with a lot of things in Thailand, there isn't a clear — black-and-white answer. There is a lot of grey. Techinally short-term rentals are illegal — in some (but not all) situations. Most people have no problems — but it's important to know these rules exist nonetheless.
Although it is a complex topic — I'll try and summarise the basics of Airbnb laws and rules in Thailand.
Renting a condo short term in Bangkok is great — there are some beautiful sleek and modern buildings around — especially in the Sathorn Area — with amazing river views. Airbnb offers a totally different experience than hotels. The condo owner will usually be your only point of contact — and you'll be left to your own devices — you'll have access to all the building amenities, which usually includes a Swimming Pool, Sauna, and Fitness Room — often located on the rooftop — and often nicer than some hotels. And the nightly rate is significantly less than a hotel.
Sounds Good? Well, you should know that renting an Airbnb in Bangkok is technically illegal — but only if you are a foreigner, and you are renting for less than 30-days — but don't worry too much, this rule is rarely enforced (without reason). And in a worst-case scenario, all fault lies with the host — not the guest.
The thing that makes Airbnb 'illegal' is the fact that all hotels in Thailand are required to upload a record of their guest's passport details onto Thailand's Immigration System(TM30) — so that Immigration officers, can see at a glance where foreigners are staying — at all times.
It's a technicality — because condo units cannot register as a hotel and therefore cannot have access to Thailand's Immigration Systems to register guests — this is the only reason that makes Airbnb 'illegal'. As a guest — you won't have broken any laws — it is the responsibility of the host to ensure guests are registered with Immigration. If you have Thai citizenship there is no immigration requirement and Airbnb is totally legal.
These rules don't apply to stays that are longer than 30 days — because in these situations foreigners can self-report their address to immigration, making it legal.
Even if Airbnb was 100% legal in Thailand — there are still rules set out by the building owners, which often prohibit renting rooms on a short-term basis. So if you do decide to rent short-term through Airbnb in Bangkok keep in mind that regular working-class people; own, and live in these same buildings permanently. Residents do get frustrated with short-term tourists overtaking shared facilities, drinking and playing loud music — or overtaking the pool for an Instagram Photo Shoot.
But — providing you are respectful, choosing to stay in a condo in Bangkok, can be a rewarding experience and a great way to enjoy a luxury experience, at a fraction of the cost of a hotel. If you act like you belong, you should be just fine and you can enjoy a luxury experience at a fraction of the cost.
TL; DR. Where To Stay in Bangkok
TL;DR (Too Long, Didn't Read) — There is an abundance of places to stay in Bangkok. The city is known for having some of the cheapest five-star hotels, in the world — but you can find accommodations to suit literally any budget — seriously, you can find rooms for as little as a few dollars a night, and you can find rooms that cost a few thousand dollars a night — often these places can be located next to each other, sometimes — even on the same street!
But the most important thing to consider when looking for a place to stay in Bangkok is the location, (location, location). If you're staying near a BTS Train Station, MRT Station, or Chao Phraya Boat Station — it will make it much easier to get around the city. And if you're staying in one of the three areas I recommend in this guide — Sathorn, The Old Town or Sukhumvit you can relax in the knowledge you've picked a good area to stay in.
Don't listen to recommendations from expats when you are choosing somewhere to stay in Bangkok, more often than not — the needs of a traveller will be overlooked and people will recommend quieter areas of the city, which are great for long-term stays, but terrible for tourists. Bangkok is one place where you don't need to try and get off the tourist trail. Stay in the busiest areas — embrace the nightlife — visit the Temples — and enjoy falling in love with this vibrant city. ✌
Useful Travel Links
My Most Popular Travel Guides
My Favourite Countries, I Have Written About
Book Your Accommodation
The best place to book accommodation in South-East Asia is Hostelworld. Hosteworld consistently has low prices and in recent years they have grown to include private rooms too. It's still the most sociable accommodation booking app. Booking.com and Agoda are good choices too. These sites have the largest inventory of rooms.
Don't Forget Your Travel Insurance
Never travel overseas, without travel insurance. I've seen first hand the consequences of travel without it. Don't be, that guy. These are my go-to companies for insurance.
Other Recommendations
Check out my resource page to discover new and useful travel apps, businesses and websites. These are sites you need to know about to save money, spend like a local, avoid visa hassles, book rooms, find flight deals, and more.