Ha Giang Loop. This adventure ranked tenth in the New York Times article, The 52 best places to Travel in 2023. Three of us embarked on this road trip of a lifetime. Sitting down with a beer to reflect- after successfully completing the Ha Giang Loop. The question was asked "Where would the Ha Giang Loop rank in your top lifetime experiences" Now, all three of us are well travelled. This ain't our first rodeo. Yet, all of us agreed at that moment. That the Ha Giang Loop now held the top spot for us all. "VIETNAM, MAN; YOU DON'T KNOW, YOU WEREN'T THERE!"

There is a ton of information about Ha Giang in this post. Don't forget to bookmark this so you can return later on- use the contents to jump between the different sections ✌
We rode 350 Kilometers over 4 epic days- and here is everything you need to know about doing the Ha Giang Loop.
Riding the Ha Giang Loop is not as scary as you might think. I encourage you to go and see this part of the world, while you still can. And I promise it will be one of the best experiences of your life. If you're not confident on a bike, take an easy riding tour!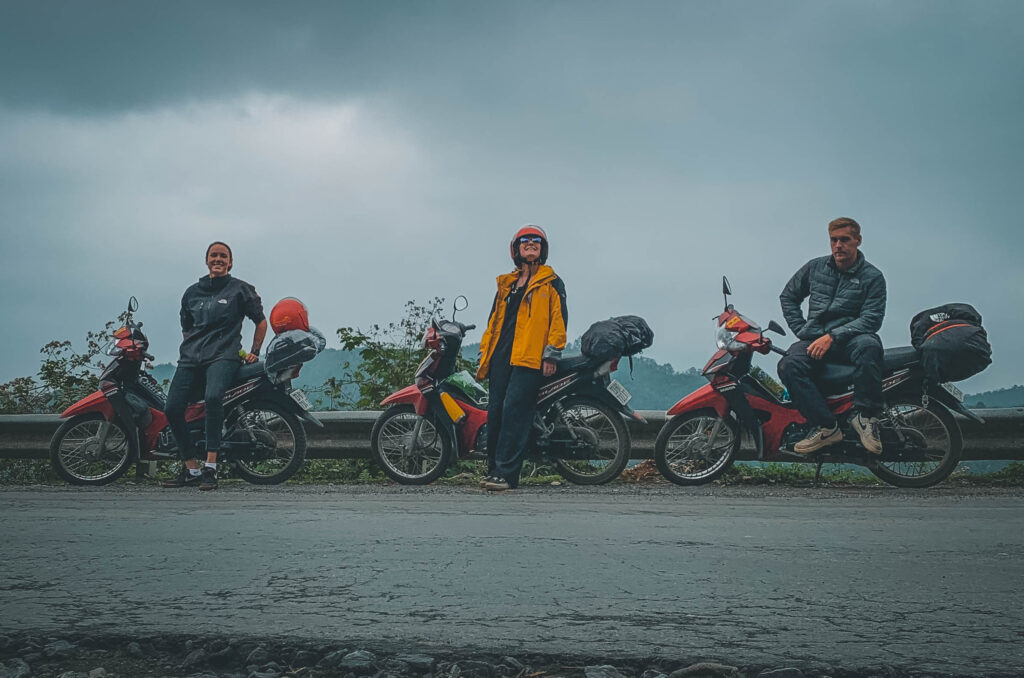 Keep reading and I'll answer all the questions you have in anticipation of embarking on the Ha Giang Loop. Weather, Routes, Accommodation, Renting Bikes, and the question on everyone's lips, do you need an International Drivers Licence? I'll share everything, right here, in this guide.

Tips on Learning to Ride a Scooter in South East Asia 🛵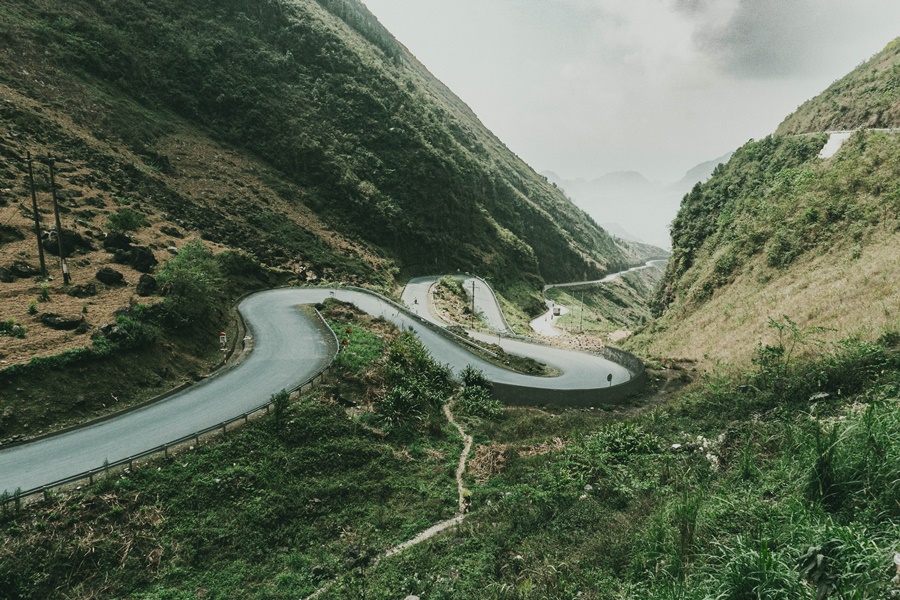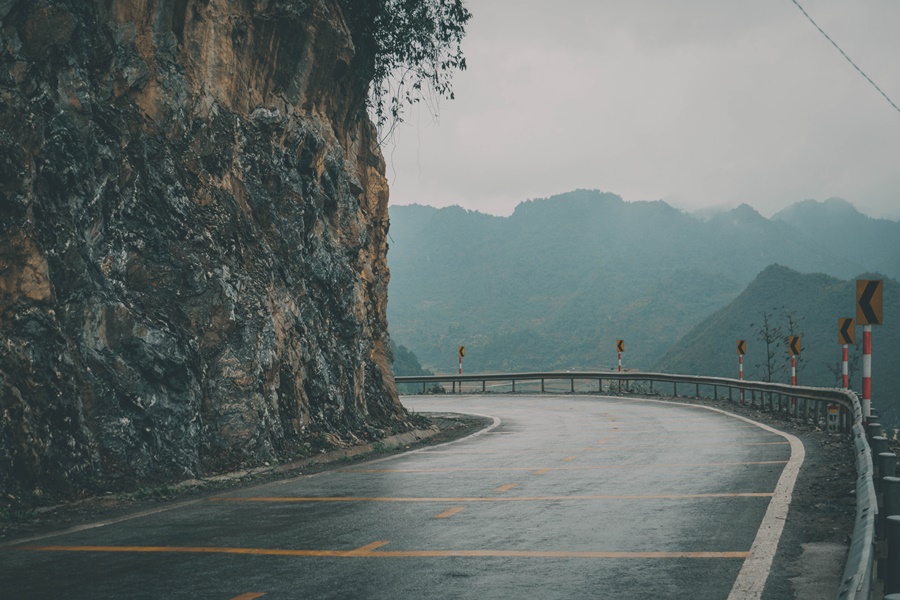 About Ha Giang
Ha Giang is Vietnam's Northernmost Province- with a ring road circling the perimeter. This road has become known as the Ha Giang Loop. This region is best explored on two wheels and there is so much to take in. Narrow winding roads pass through the mountain ranges along the Chinese border, magnificent rivers flow through the valleys, rice terraces are situated in the hillsides and mountain ranges that stretch as far as the eye can see surround the track. Ha Giang really does have it all.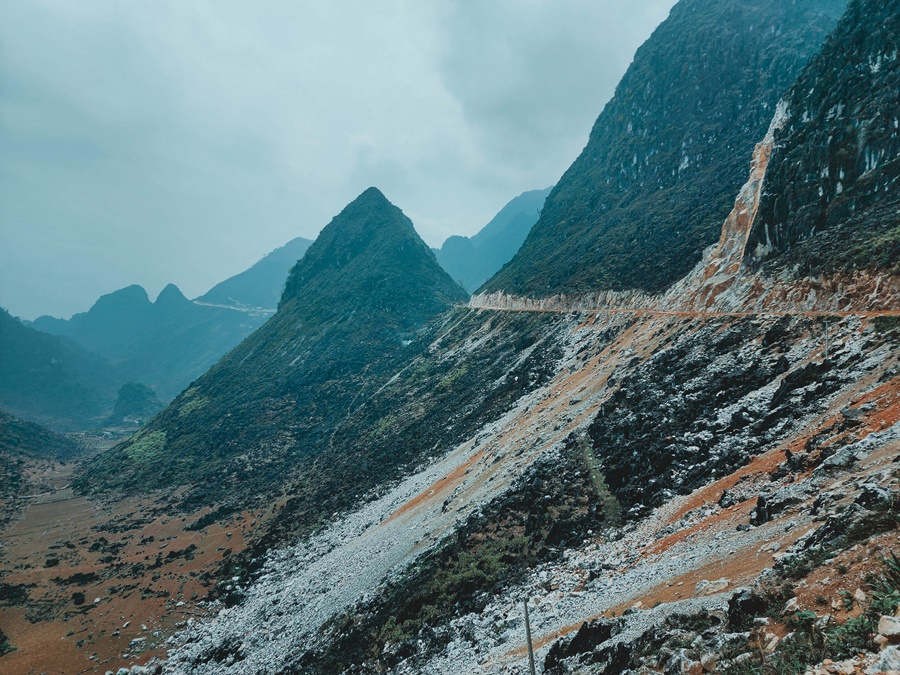 Ha Giang is such a unique place. There is nowhere else I've been, that I could compare it to. Locals literally stand by the side of the road to wave at you as you ride past, like, around the entire loop. You feel so welcome and there is a sense of freedom and adventure. Just being here you feel an atmosphere which is so unique. I saw this place leaving travellers in a total state of awe, myself included. The photos just don't give this place the justice it deserves, if you have the opportunity to do so I highly recommend visiting Ha Giang and embarking on the famous loop yourself.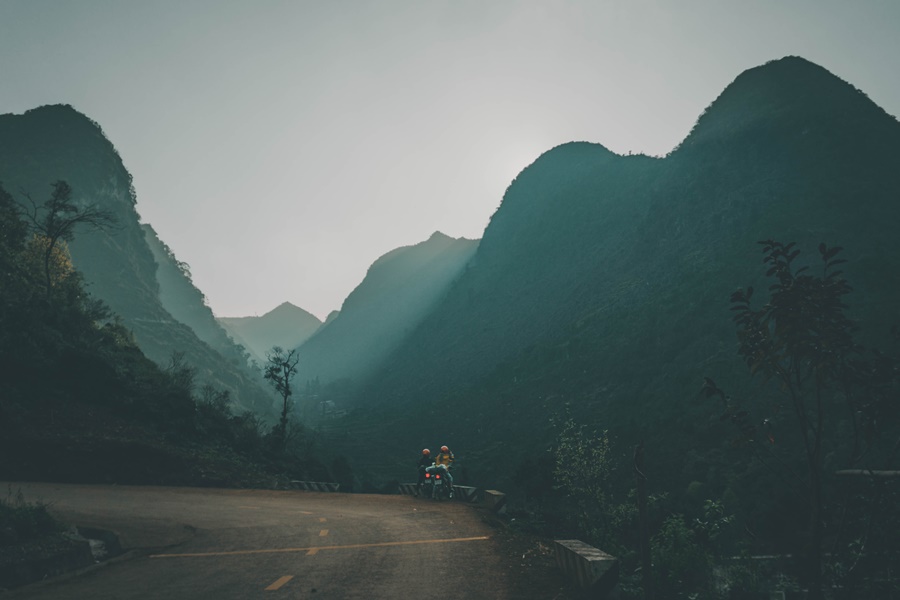 Tips For The Ha Giang Loop
Prepare for all Weather Conditions
We experienced all types of weather on the Ha Giang Loop. Some days, the fog was so thick that we could barely see more than a few meters ahead. It was freezing cold, and we even got a little rain. But there was also sunshine, and I even got sunburned on the third day! I recommend buying suitable clothing in Hanoi beforehand, such as long sleeves, a warm jacket, and long pants.
You Don't Have to go With Jasmine Tours
You don't have to go with Jasmine Tours, just because that's what everyone else does. This company has become huge in Ha Giang, somehow managing to commercialise the loop. We saw their tour groups on the road and it looked miserable. Huge groups, with up to 100 bikes make it impossible to stop at all the beautiful spots. Most travellers I've met after the loop said they booked with Jasmine Tours. I don't recommend them. Plus they are also the most expensive company. It's much more enjoyable to ride the Ha Giang Loop yourself, but if you feel more comfortable on the back, with a tour, then shop around for companies with smaller riding groups.
Don't Ride (Yourself) Unless You're Experienced
Riding the Ha Giang Loop yourself is hands-down the best choice. You have complete freedom and control. But what if you've never ridden a motorbike before? Well, I'll be blunt in saying that Ha Giang is not the place to learn. Instead look at booking an 'Easy-Rider' tour' where you'll be paired with a local guide and ride the loop on the back of their bike, as a passenger.
Road Conditions
Some of the roads aren't even roads! The conditions on the Ha Giang Loop are tough. Some sections of the road are paved. But on those sections, you'll be taking on the insane Vietnamese traffic, with trucks flying around blind bends at speed. And then other sections are completely off-road such as dirt sections, and stone roads where you have to be careful of the all too common landslides. You'll need a geared bike to safely handle the steep terrain and get used to hearing the sound of horns blaring nonstop.
The Ha Giang Loop is not a Race
Choose a suitable bike, prepare yourself in advance and take it slow. Keep your whites about you, use your horn of every blind bend. And if someone wants to overtake you, so be it. Let them. The Ha Giang Loop is not a race. Don't underestimate how dangerous this place can be.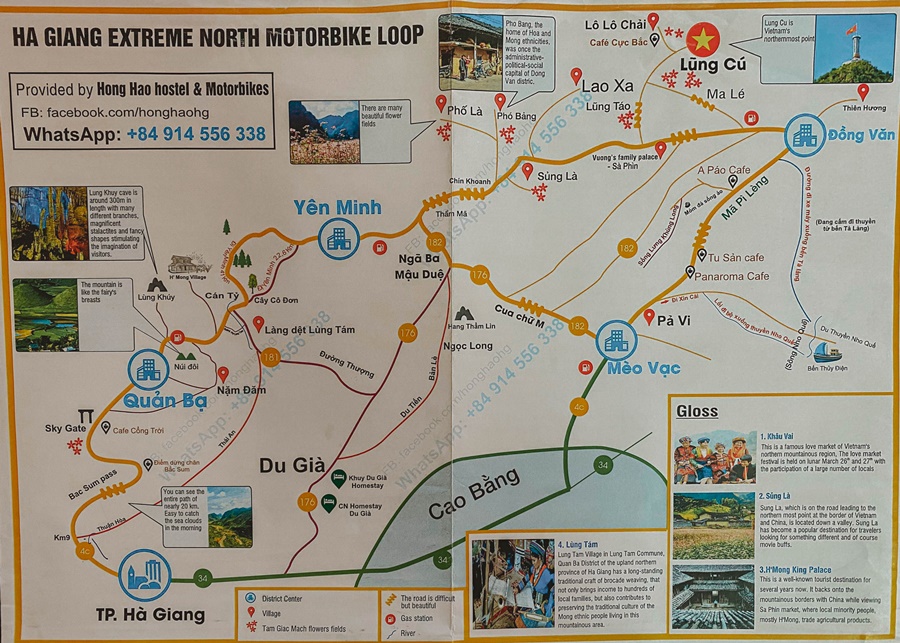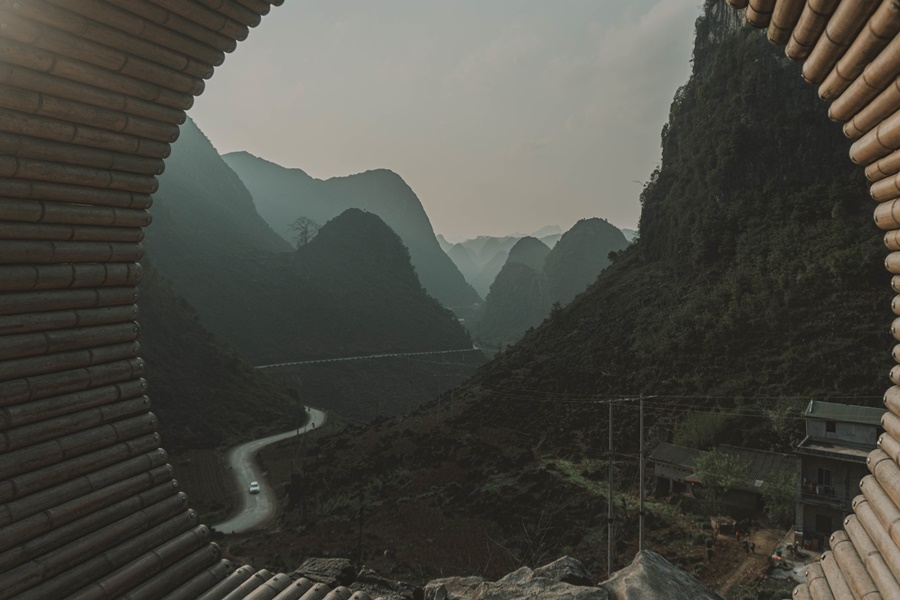 Gas Stations and Amenities on the Ha Giang Loop
The Ha Giang Loop crosses some of the most scenic mountain ranges in rural Vietnam. Despite the rural location of Ha Giang, it is still possible to buy essentials on the route.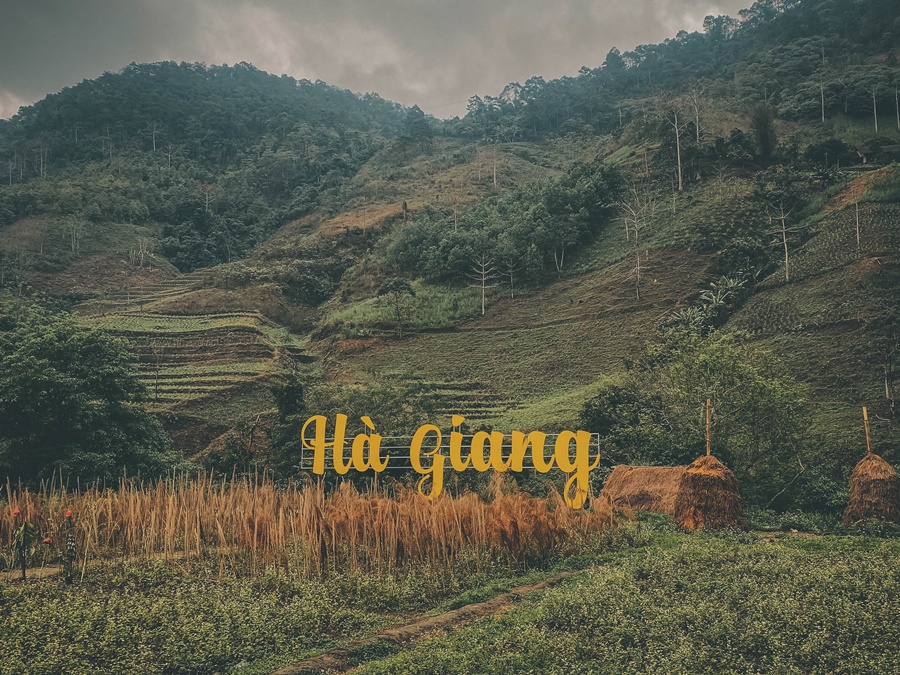 The Ha Giang Loop road passes through five towns and some smaller villages. All the towns have amenities like local restaurants, ATMs, mechanics, convenience stores, and gas stations. You're never more than 50 kilometres from the nearest town or fuel station. And in between the towns, local people along the track are showing their entrepreneurship by selling plastic bottles of gasoline and Bahn Mi Rolls from outside their homes.
What is The Food Like on the Ha Giang Loop?
There are many places to eat on the Ha Giang Loop. In each town, there are restaurants and cafes that serve affordable food. In the bigger towns, you can even find more specialized restaurants, like Italian. However, we mostly ate at cheap and local restaurants.
One thing we learned in Vietnam is that you don't always get to choose the food you order. The food chooses you! More often than not, we were told that they only had one dish available, and that's what we had to order. But even though we didn't have much choice, the food was usually delicious, like a bowl of beef fried noodles or pho chicken soup.
I also developed a slight Bahn Mi addiction in Vietnam and made a habit of buying a Vietnamese baguette each morning (bahn mi are sold all around the Ha Giang Loop). I would hang it on my bike until lunch.
Is an International Licences Needed For The Ha Giang Loop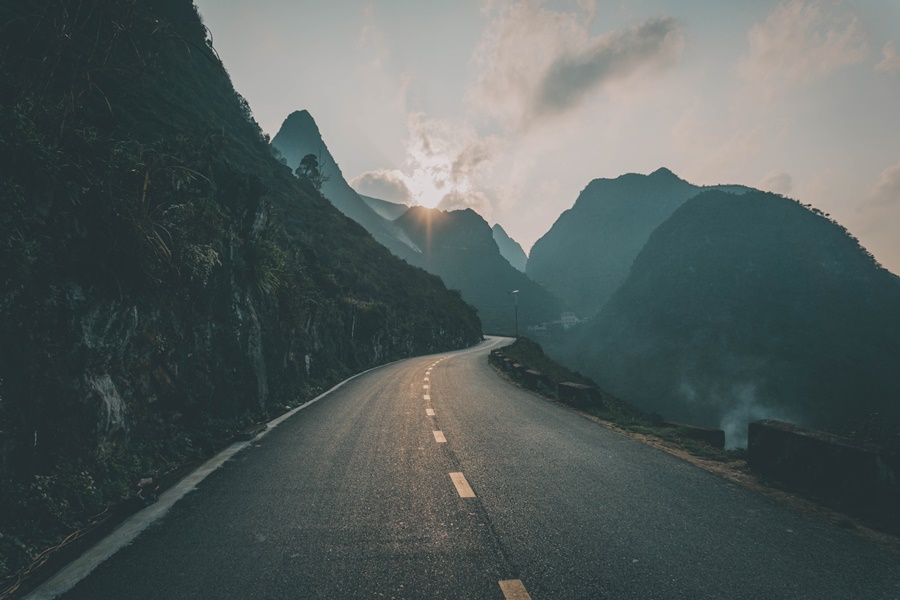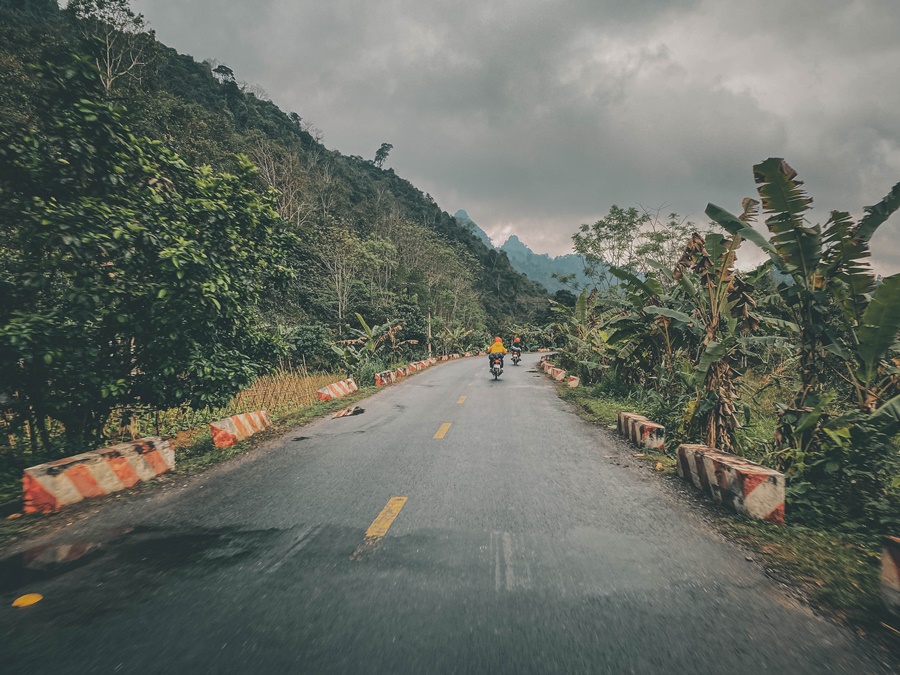 Do you need an international licence to ride the Ha Giang Loop? or International Drivers Permit or 'IDP'. We heard the same conversations over and over in our hostel.
There is a lot of conflicting information about this, and not being able to find a clear answer, so we loaded our wallets with bribe money for the worst case and we decided to risk it and find out. As it happens, we discovered that you don't need an international driver's licence for the Ha Giang Loop. But you do need a driver's licence, from your home country.
The people who will tell you you need an international permit are those selling the tours. There is a lot of scaremongering from tour operators hoping that you'll buy their package instead of riding yourself. Now, there is some truth behind it and police have 'cracked down' by warning rental shops not to rent bikes to those with a licence. However, the requirement is any driver's licence- it does not have to be international.
Stopped at the Ha Giang Police Checkpoint
How did we find this information? We were stopped at a police checkpoint while riding the Ha Giang Loop. No more than 20 kilometres into the loop! We even paid a couple of locals to ride our bikes out past the main checkpoint in Ha Giang, not knowing there was a second checkpoint a few kilometres further, haha, what a waste of money that was.
Anyway, this was the moment of truth, we had been pulled over. Was our adventure about to end before it had even begun? Out of the three of us, I was the only one who did have an international driver's licence. But my two pals who I was riding with, did not. They had licences from their home countries. But I certainly wasn't going to be riding the loop solo. No sir.
The police spoke zero English, almost fumbling the word 'Hello' even. They showed us a picture of a driver's licence on their phone- as their request for us to show them ours. Wait, the picture they showed us was of a French Licence… interesting.
We tried the same tactic, and each of us showed the police a photograph of our driver's licences, on our phones. And it worked. The police were happy to accept photographs of our non-international, non-Vietnamese licences.
(None of us used a photoshopped picture which we made in the hostel the night before, *cough* *cough, not encouraging that *cough*).
The stop took a few minutes and we were on our way. Brilliant. We never got to use our bribe money or find out how much it would have cost us. But we expected it to be around 200,000k VND (£7.00). It is rumoured there is a main police check as you leave Ha Giang where the bribe can be as high as 2 million Vietnam Dong (£70.00) if caught without a licence. Maybe it wasn't such a bad idea paying those locals to ride us past that point, after all.
Important: Police will accept any driver's licence for the Ha Giang Loop. But, your insurance company will not!
More Police Checkpoints
We passed five other police checkpoints on the Ha Giang Loop, but we were waved through every single one of them. It seems that the police are only stopping tourists at the start of the loop. The police checkpoints on the loop were mostly stopping locals and not tourists.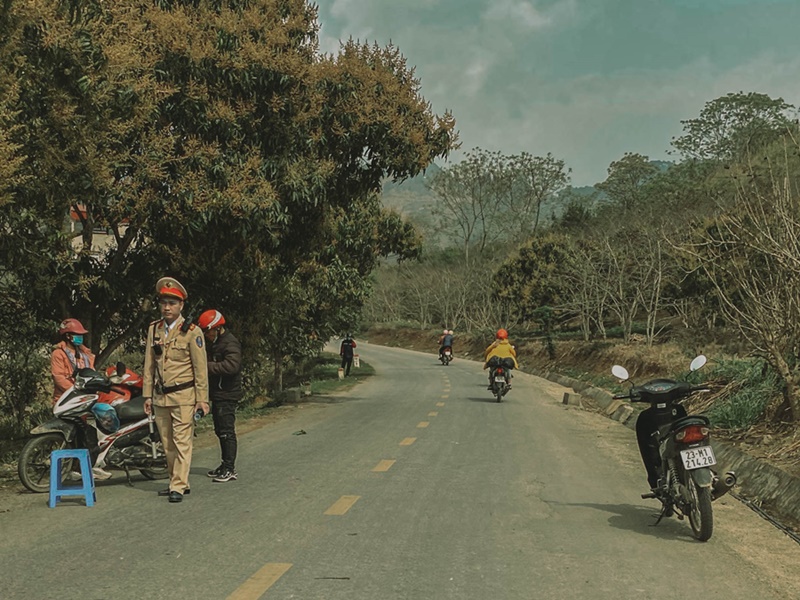 So as long as you have a driving licence, of some form, from your home country. You are fine to ride the Ha Giang Loop without having to worry. You will be told otherwise- don't believe the rumours being passed around the hostels. And don't drive if you have no licence at all.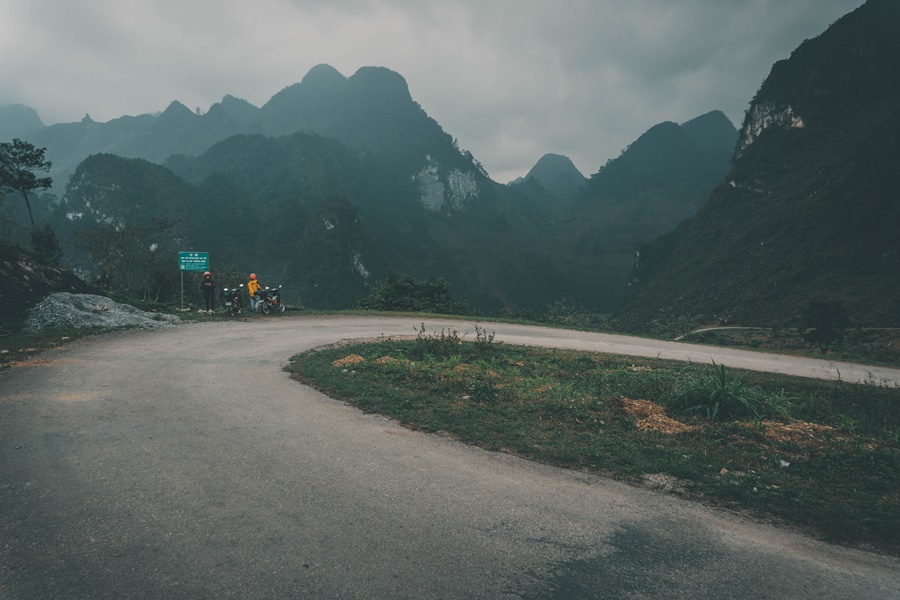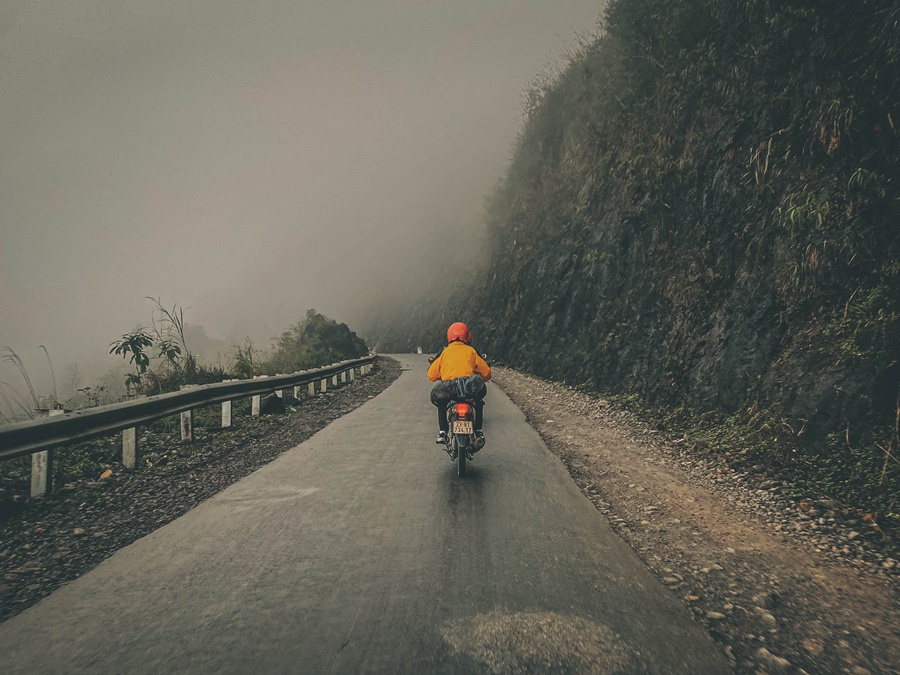 Insurance For The Ha Giang Loop
Insuring Yourself
You shouldn't even need to think about this one, you should have travel insurance for the Ha Giang Loop, whether you are riding yourself, or whether you are riding as a passenger on a tour.
Insurance will usually cover you in the event of an accident as a passenger with no questions, assuming you were wearing appropriate safety gear. If you are a rider, however, your insurance will often demand proof that you were riding legally with the correct documentation, including an international licence before paying for any claims.
I've been insured with World Nomads for the past decade. I didn't need to make a claim on the Ha Giang Loop, but it was nice to have peace of mind. I advise you to contact your insurer before you start the Ha Giang Loop. Send them an email and let them know you plan to easyrider or self-ride. Make sure you're covered and get it in writing. Many insurers will class this activity as extreme and it will be excluded from some policies.
Insuring Your Bike
Insurance is not legally required for vehicles in Vietnam. The hostel we rented bikes from offered insurance for an additional 100,000₫ per bike per day (£3.50). We decided not to take the insurance because bike repairs are cheap in Vietnam and we were willing to pay out of pocket for any damage. The insurance would have also covered the cost of repairs for breakdowns such as flat tires. We did have a flat tire, but we were able to get it repaired at a local shop for 20,000₫.
Is The Ha Giang Loop Dangerous
Yes. Tourists die while riding the Ha Giang Loop. It is not uncommon. During our trip, we were passed by an ambulance later finding out that it was a British tourist, riding with a tour group, who had lost his foot after being struck by a landslide in Ma Pi Leng Pass. The first-hand account of the event sounded gruesome. And it's safe to say we took things a little slower and with more caution the next day.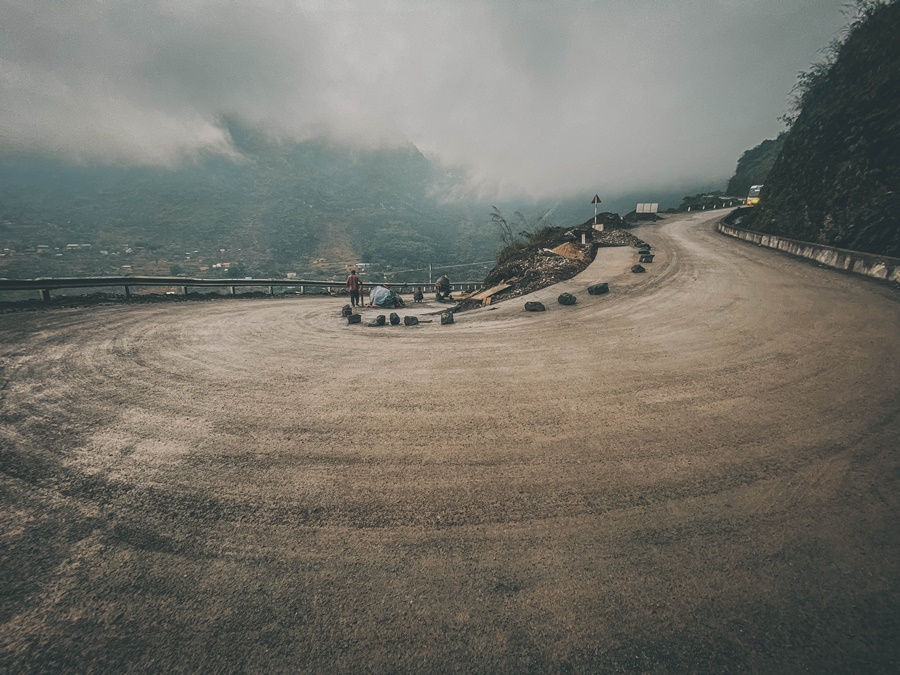 There is at least one death each year. It's not difficult to find these news reports. Just run a Google Search for Ha Giang Loop, and click on the news section. On second thoughts, maybe run that search after you've ridden the loop.
The Ha Giang Loop is a risky road. There is no doubt about it. There is a risk of collisions with other vehicles, driving or slipping off, over a cliff edge, or being struck by a landslide. I'm not telling you this to scare you, but to prepare you.
In life, we all have to assess the level of risk we're willing to take. For me, the rewards from the Ha Giang Loop outweighed the risks.
In reality, the level of danger is different for each individual rider. The Ha Giang Loop is as dangerous as you make it. If you feel comfortable with the motorbike, wear safety gear, go slow, and keep level-headed and in control. I would say it's a pretty standard mountain pass drive. If you're going super fast, inexperienced, over-confident and not wearing a helmet then you'll probably end up hurt, or worse.
The Meltdown
We almost had to call off our trip on the second day. Riding the Ha Giang Loop is not for everyone and it can be overwhelming. One of our group, already terrified, has a small prang while shifting the gears on the bike to ride up a steep hillside.
We spent the next part of two hours sitting at the roadside- one of us in tears because they "made a mistake". The Ha Giang Loop is dangerous, and it is scary. But the flip side of that is the adventure, thrill and excitement that comes with it.
We were so close to calling off the adventure and finding alternative travel back to Ha Giang- but we were still more than 20km from the nearest town. There was no alternative other than to ride there. We all completed the loop successfully in the end. But it goes to show how extreme this loop is. The geared bikes, the roads, the traffic. Vietnam, man! It all takes time to get accustomed to.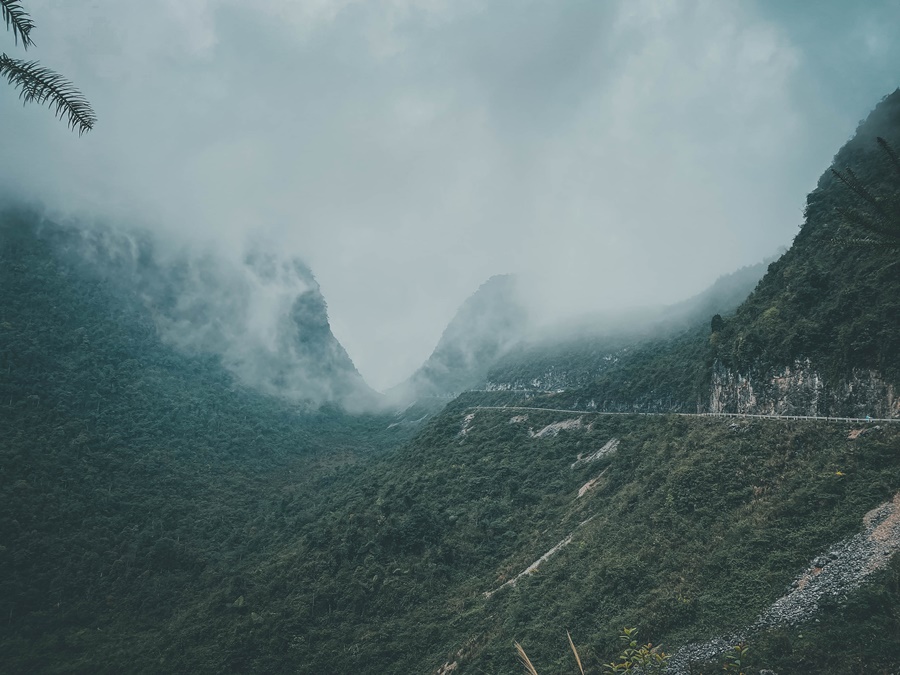 Getting to Ha Giang
Hanoi is the nearest city to Ha Giang and it's the point most travellers will connect from. There are over ten busses following the seven-hour drive between Hanoi and Ha Giang every day with tickets costing around 300,000k (£9.00). Busses can be booked in person through your hostel or any tour shop throughout the town.
What is the weather like in Ha Giang?
You can experience four seasons in a single day in Ha Giang! The Weather is unpredictable. Don't try to plan a trip to Ha Giang to have perfect weather- because the reality is it's not going to happen.
We were so fortunate to have had minimal rain during the four days we spend in Ha Giang but we did experience mist fog and dew in the air with road conditions less than ideal.
The most important thing is to pack for all weather conditions. Some days are hot- you'll need suncream. Other days are freezing; you'll want thick gloves and a coat to keep warm. Pack plenty of waterproof clothing- disposable coats and leg covers can be brought from many shops in the town of Ha Giang before you set off.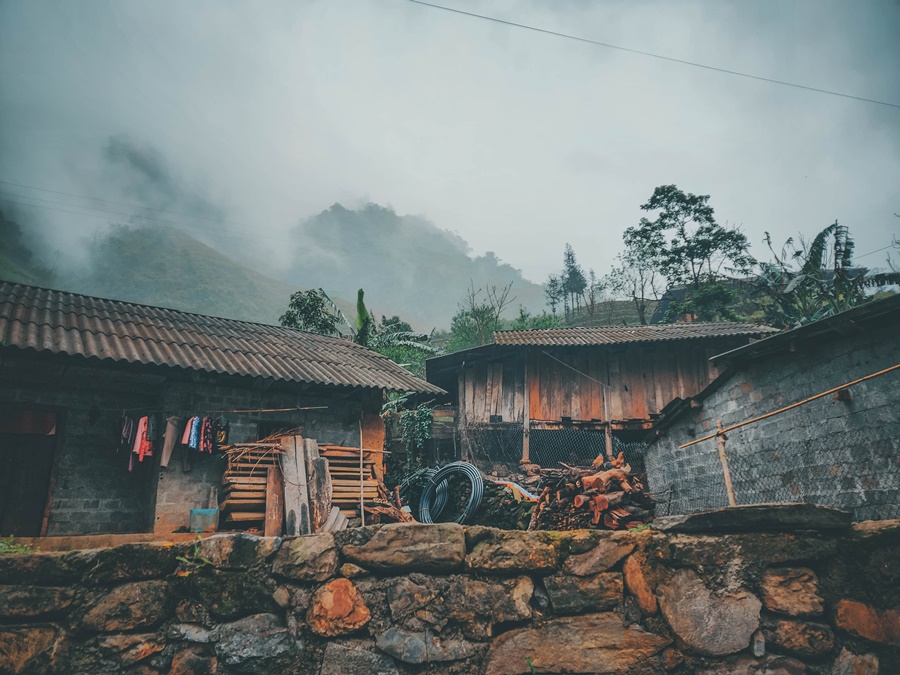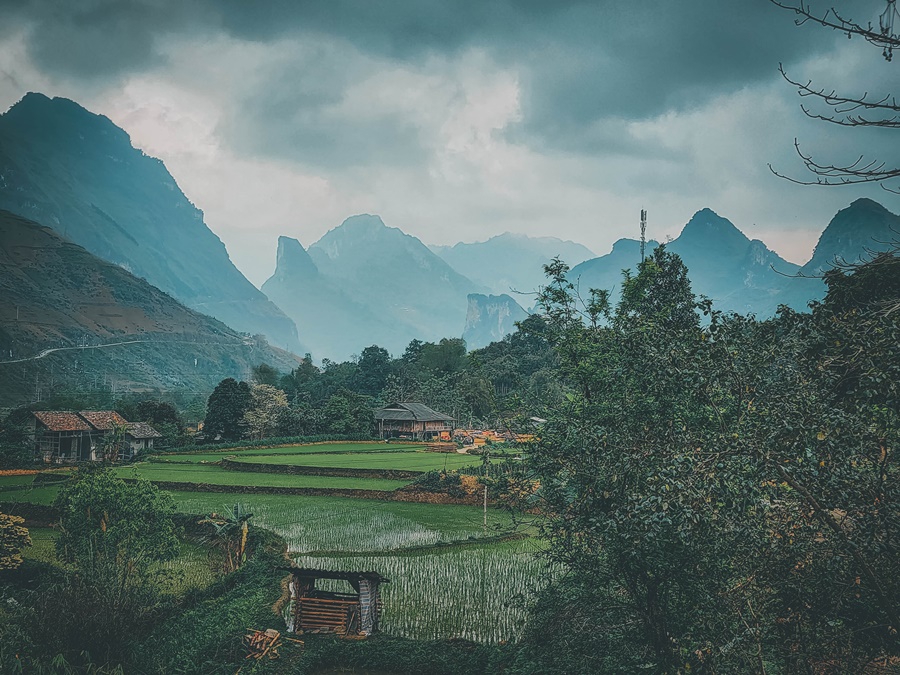 Which Month is Best to Do the Ha Giang Loop?
The weather in the Ha Giang Region is totally unpredictable. It's a rural mountain range and each month offers something different. Try to avoid the months of May June, July, August and September- if you can. This is the 'Rainy Season' when floods or landslides are more common.
October to March is probably the best time to visit Ha Giang- weather-wise at least. December to February usually proves to be the dryest months.
We completed the loop in the middle of March and conditions were great it was the start of the flower season- making the region even prettier than usual. And there is an annual market held in Khau Vai on March 26th and 27th.
Options For Getting Around the Ha Giang Loop
We rented our own motorbikes, one each and set off on the adventure around Ha Giang ourselves. Initially, I assumed this to be the only option. Well, it isn't- there are also 'Lazy Rider Tours' around the Ha Giang Loop where you can ride as a passenger with a local guide. Here are the three options for completing the Ha Giang Loop.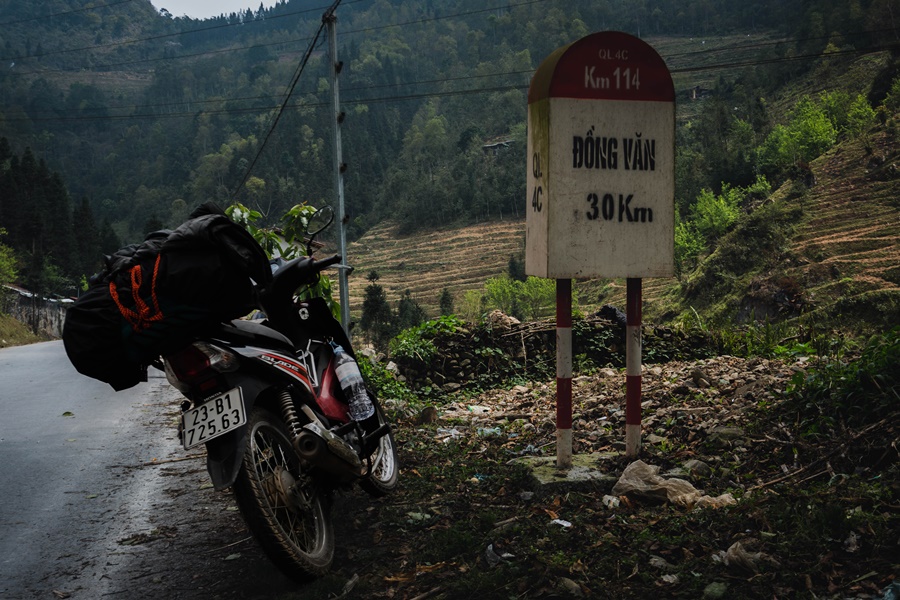 1) Rent a Bike and do it Yourself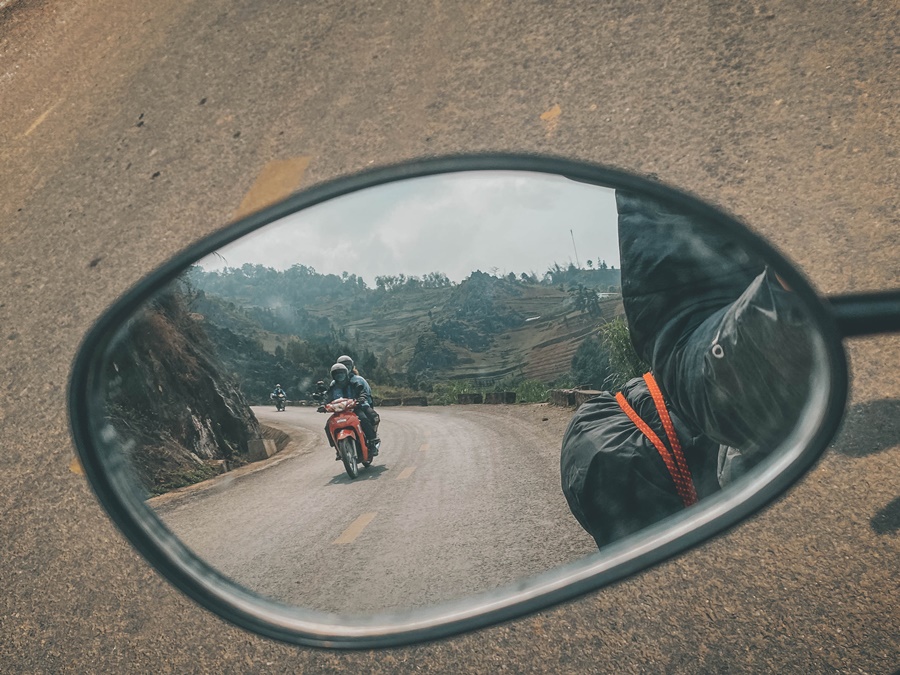 Renting a bike for the Ha Giang loop is the only option I would recommend. Renting a motorbike and setting off to explore Ha Giang at your own pace is one of the most liberating things you'll ever do. Although please, don't consider this option if you've never ridden a bike before.
2) Join an Easy Riding Tour
An easy-riding tour of the Ha Giang Loop is where you ride pilon on the back of a motorcycle with a local tour guide. My idea of hell- being on the back of someone else's bike with no control over the speed and driving style. You're putting all your trust in another person. Plus it's uncomfortable and the lack of flexibility about where to stop and where to visit would drive me insane.
But there are some positives too. If you have no experience riding a motorcycle but want to experience the Ha Giang Loop on two wheels- then this would be a great choice. These tours also roll around in large groups with 10 – 20 bikes so if you're travelling solo there is a great social aspect to these tours too.
▶ Book an Easy Rider Tour Here
3) Go with a Car Instead
So it is technically possible to do the Ha Giang Loop in a car. But I wouldn't bother with this. If you're not comfortable getting on two wheels to explore Ha Giang just miss it altogether. You'll need to skip a lot of areas because not all of the roads are suitable or wide enough for cars. Plus driving a car around the Ha Giang Loop and dealing with the local traffic is not something you can learn in a few days- you'd need a driver too.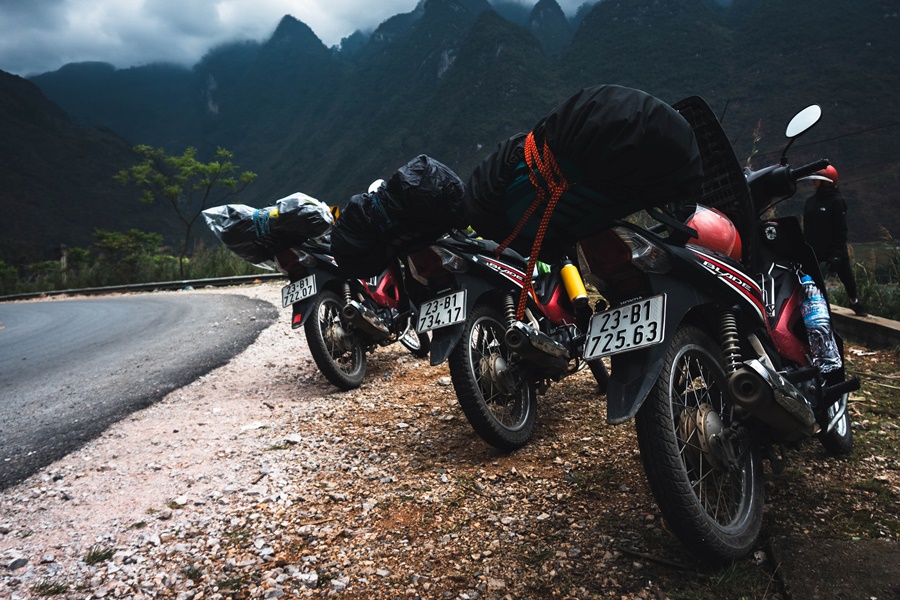 Where To Rent a Bike in Ha Giang
Where to rent bikes from for Ha Giang? You'll have no trouble finding a motorbike for rent in the town of Ha Giang. The cost to rent a bike in Ha Giang is around double the rate elsewhere in Vietnam- but it is still low-cost and affordable.
The easiest option is to rent a motorbike from whichever hostel you are staying at in Ha Giang. Every single hostel in the town has bikes for rent. We stayed at Hong Hao Hostel and Motorbikes and renting bikes from the hostel meant we could use their luggage storage room too- so we didn't have to take our entire backpacks with us.
The deposit was also low (500,000k) or £35. And we had a flexible time frame of when to return the bikes. We paid for three days upfront and extended the trip while on the road to four days which was no problem at all.
The Hong Hao Hostel in Ha Giang was one of the nicest I've stayed at in Vietnam. The rooms were great and I would recommend it. But the atmosphere sucked with the owners upselling their easy-riding tours.
Scooter Rental Costs in Ha Giang:
| | |
| --- | --- |
| Motorbike | Cost to Rent |
| Semi-Automatic | 180,000₫ |
| Automatic Scooter | 300,000₫ |
| Manual Bike | 350,000₫ |
| Dirt Bike | 550,000₫ |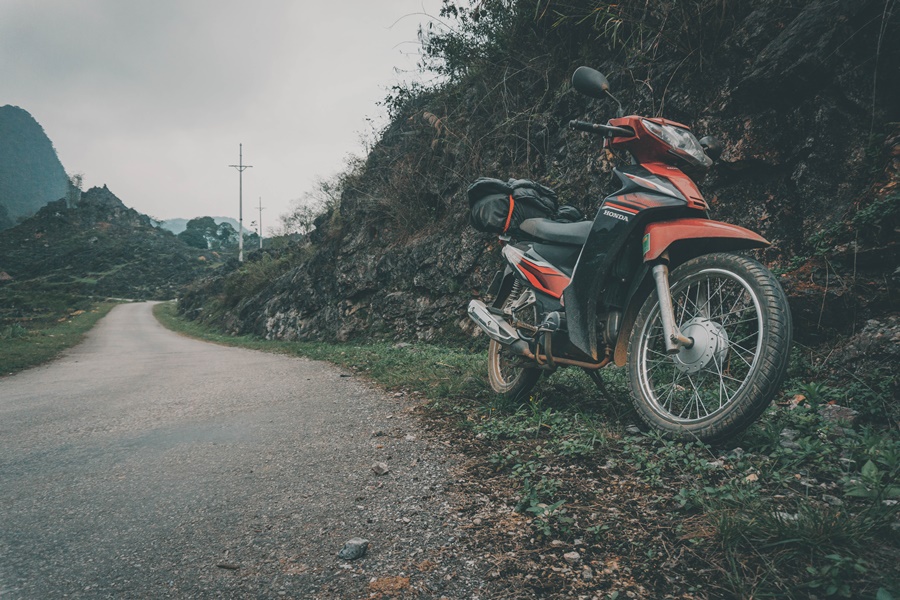 Which Bike to Rent For Ha Giang Loop
You've got three choices of motorcycles to rent for the Ha Giang Loop. A full manual dirt bike (crosser), a semi-automatic or a scooter. Around 50% of the roads on the Ha Giang Loop are paved (although there is a lot of construction ongoing).
Dirt Bike (Crosser)
This is the most ideal bike to complete the Ha Giang Loop. The thick tyres and quality suspension make it perfect for the dirt sections on the Ha Giang Loop. While these bikes are the most suitable, they are also the most expensive to rent. And you'll need prior riding experience with a similar bike. They are powerful 150cc – 250cc and you'll need to know how to ride a bike with a clutch.
Semi-Automatic (Recommended)
Semi- Automatic motorbikes are recommended for the Ha Giang Loop. We rented three 110cc Honda Blade Motorbikes for the loop- which was perfect for us. Semi-automatic bikes have the benefit of gears but no clutch- a great choice for anyone. You'll be able to make the steep inclines which would be a challenge on a scooter and you'll be able to safely descend without brakes overheating. It doesn't take long to get used to riding a semi-auto.
Scooter (Automatic Moped)
If scooters are what you've become used to while travelling through southeast Asia you might be tempted to rent one for the Ha Giang Loop- Don't. It's unsafe. The roads are steep and you'll need to shift gears when going downhill. Your brakes will overheat if you ride the Ha Giang Loop on an automatic moped. It's easier to slip out on the corners and you'll also struggle to make it up the hills.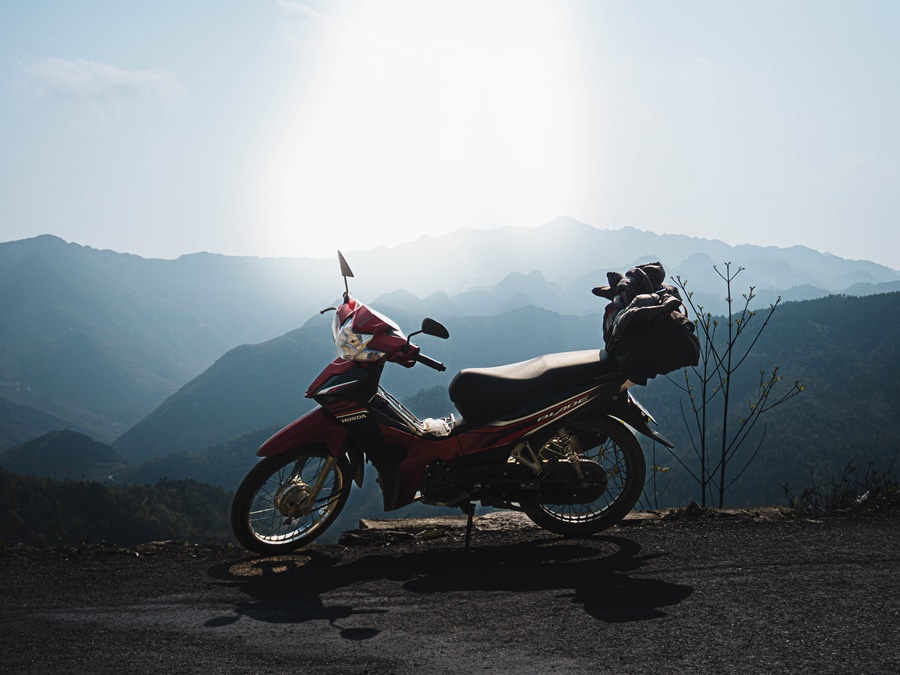 What to Pack For Ha Giang Loop?
Pack as light as possible for the Ha Giang Loop! You don't need to take a lot with you and all your possessions will be strapped to the back of your motorcycle. Our hostel (Hong Hao Hostel) had free luggage storage or an option to rent a locker for 50,000₫ (£1.25). Which we opted for as I was storing valuables too (laptop and bulky camera gear).
With bags stripped to the bare minimum I literally packed a couple of t-shirts, and a few pairs of boxers. I had one pair of waterproof trousers which I wore every day plus a warm but not too bulky North Face Jacket- both brought in Hanoi. I also had to buy a pair of trainers to replace my flip-flops!
Waterproof clothing is the most essential thing to pack for the Ha Giang Loop! I brought a waterproof backpack cover in Hanoi and a thin raincoat. I also stocked up disposable raincoats and shoe covers- fortunately, we never encountered much rain but it felt good to be prepared and long sleeves and long pants are a must.
The Hostel from where you rent Motorbikes would include luggage straps too. Make sure your bag is covered from any rain and spend a few minutes learning how to tie your bag to your bike– before you set off.
How Many Days Does The Ha Giang Loop Take
How much time do I need for the Ha Giang loop? We spent 3 nights, and 4 days on the loop which I felt was the right amount of time. There are five towns along the route and most people will spend a night in each- we skipped two of the towns. If I was to ride the loop again I would add an extra night in Lung Cu.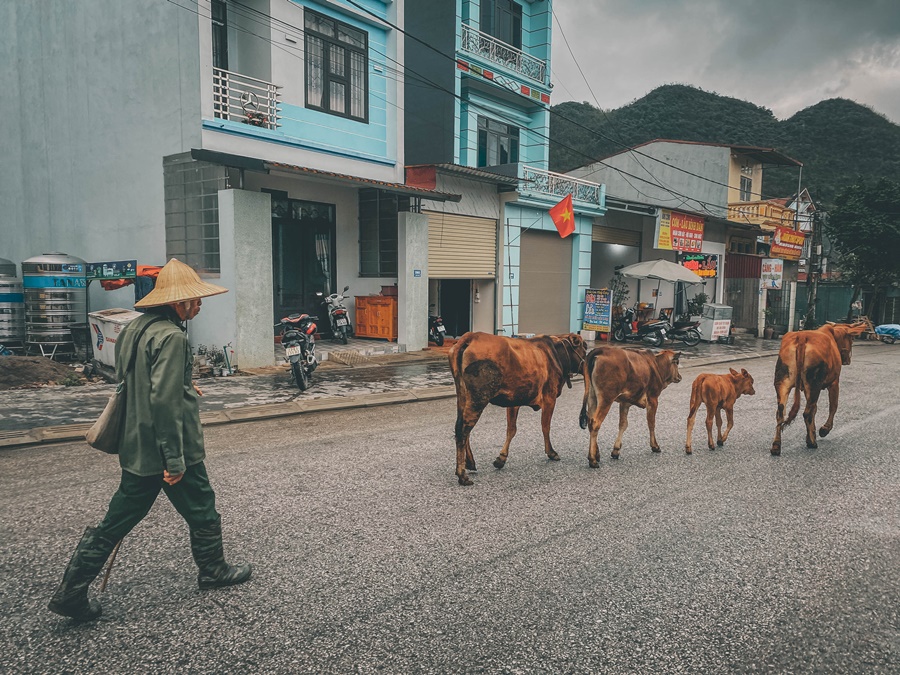 Towns on The Ha Giang Loop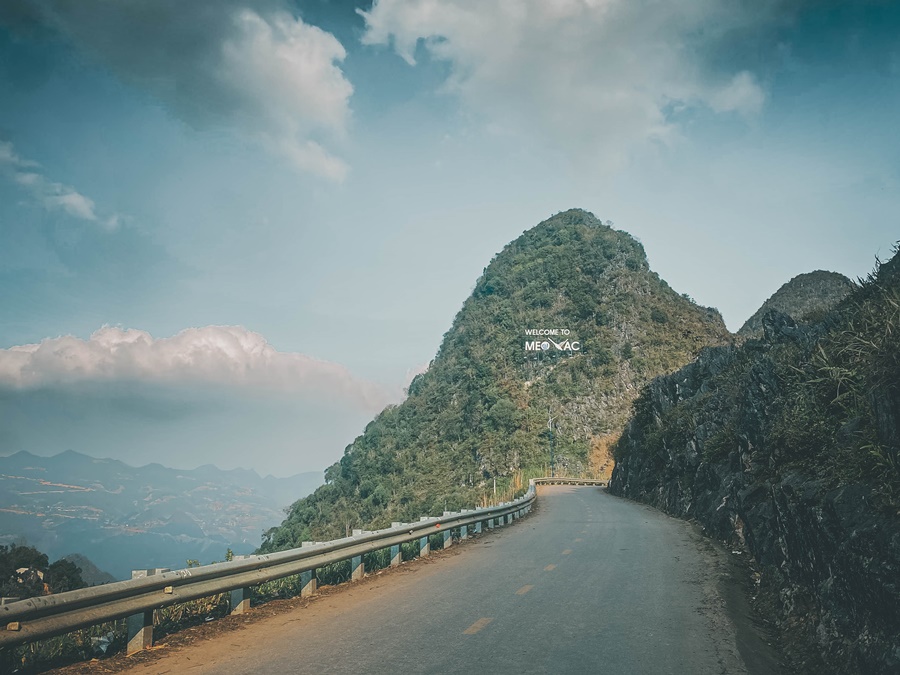 There are five towns that the Ha Giang Loop passes through in each town you'll find services like an ATM, homestays and hostels, restaurants, fuel and other basic amenities.
Tam Sơn (Quan Ba)
Yên Minh
Đồng Văn
Mèo Vạc
Du Già
Map of Ha Giang Loop
This map of the Ha Giang Loop shows the main towns and the route to follow.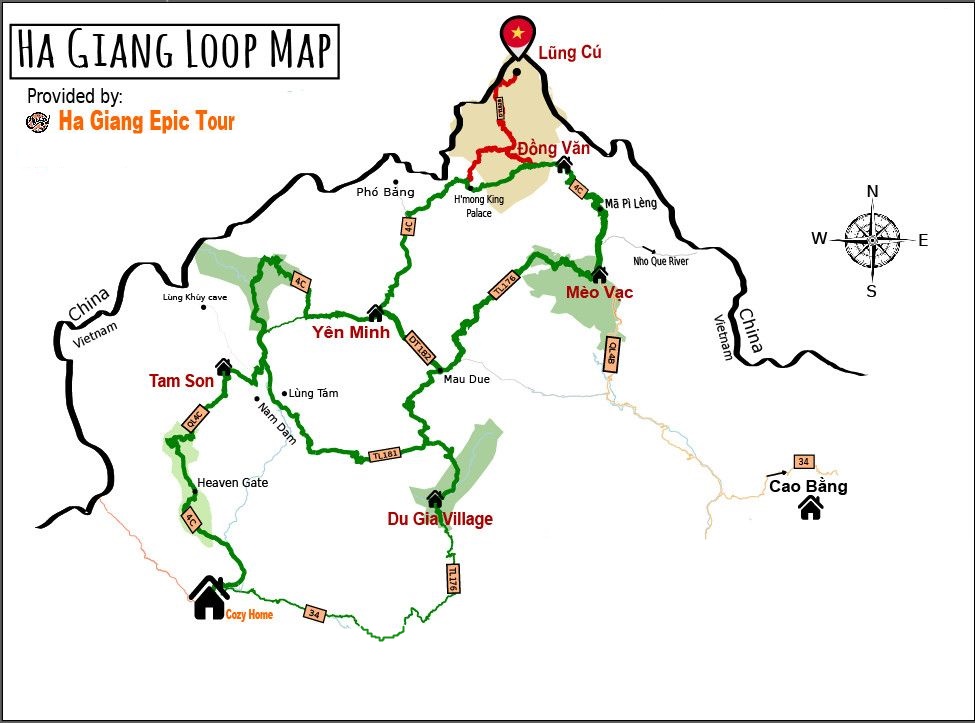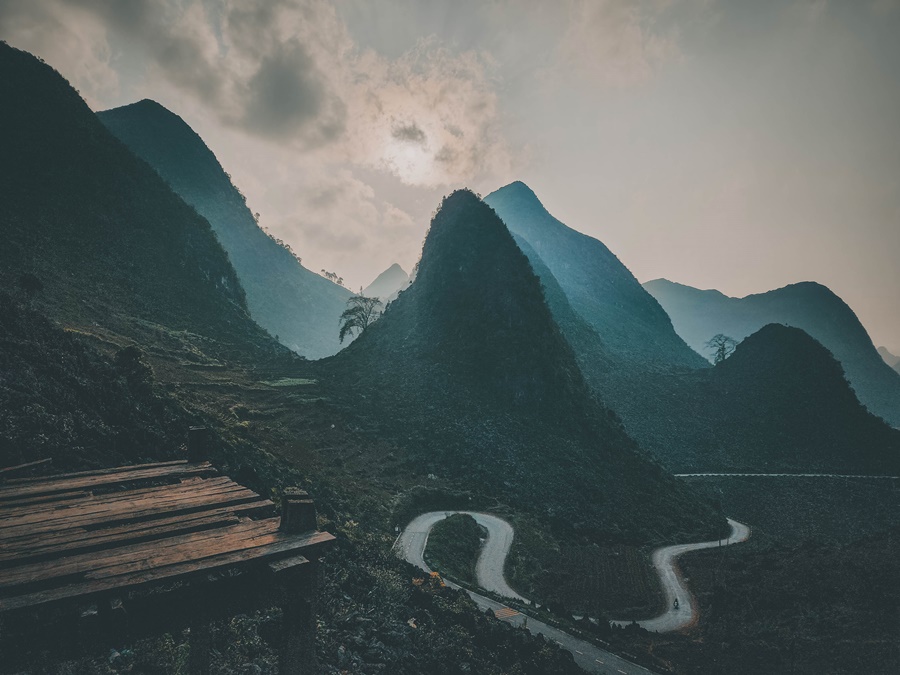 Ha Giang Loop Route / Itinerary
The Ha Giang Loop can be ridden east to west or west to east. But where to start and End the Loop? We opted for the latter because that is the direction most of the tours take and decided it best to go with the bulk flow of traffic rather than against it. Starting in Ha Giang- our first stop was Yen Minh. We rode on average 70 Kilometers each day to get between each town on the Ha Giang Loop.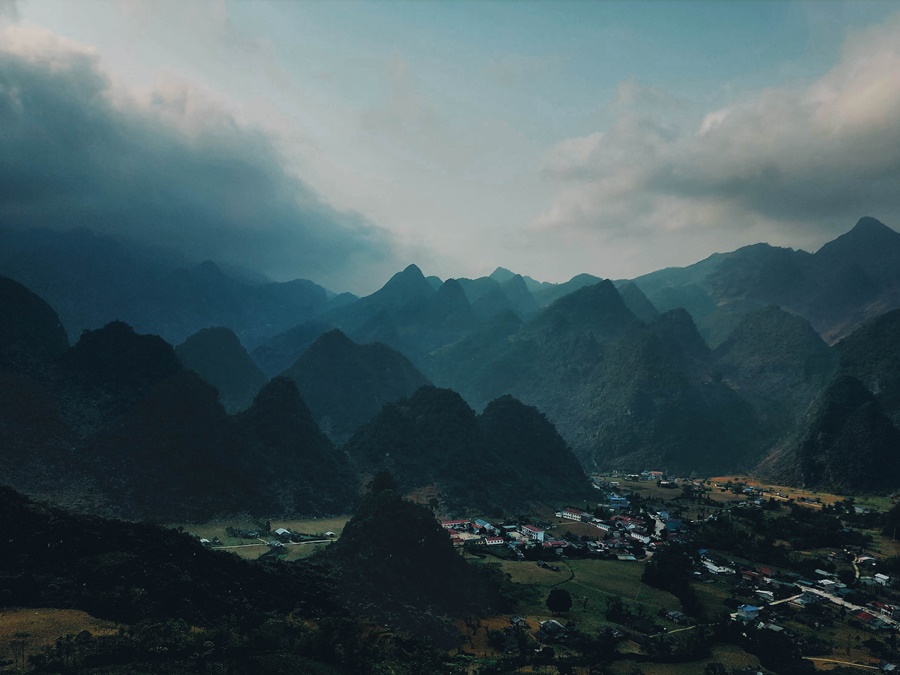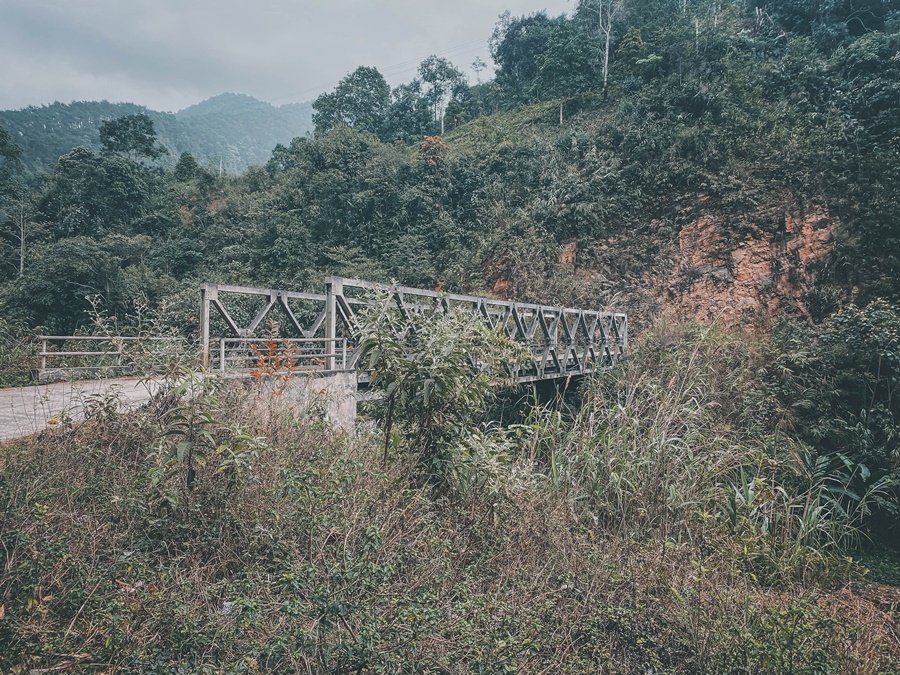 Day One: Ha Giang to Yen Minh – 102km
The first day was the longest drive at just over 100 Kilometers. This day was all about getting used to the bikes, the roads are paved and smooth to drive on and there are a ton of scenic spots to see on the way. We passed through the village of Tam Son and stopped for lunch before arriving in Yen Minh before nightfall.
Day Two: Yen Minh to Meo Vac – 67km
There are non-stop places of beauty along this stretch of the Ha Giang Loop. This is where you'll find the famous Ma Peng Pass and there is also a detour you can take to visit the northernmost point of Vietnam where there is an unofficial Chinese border.
Day Three: Meo Vac to Dua Gia – 75km
This is where things got rough- the tarmacked roads were long gone and we now essentially off-roading along cobbled roads. The route became rough and rocky with one of the bikes succumbing to the road in the form of a punctured tyre. However, there was less traffic to deal with here with was a bonus.
Day Four: Du Gia to Ha Giang – 72km
The final stretch of our ride back to Ha Giang and sad that the adventure was coming to an end. But not without one last scenic ride across bumpy mountain tracks.
Ha Giang Loop Map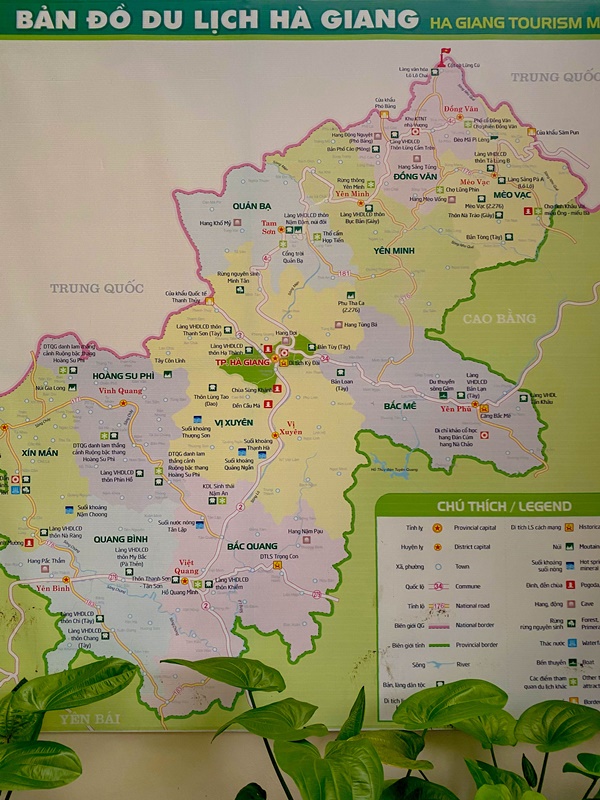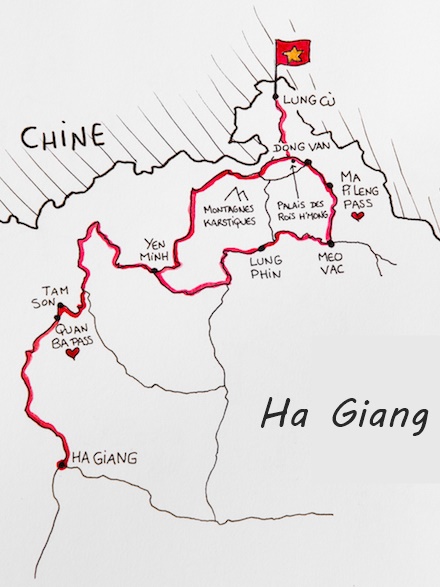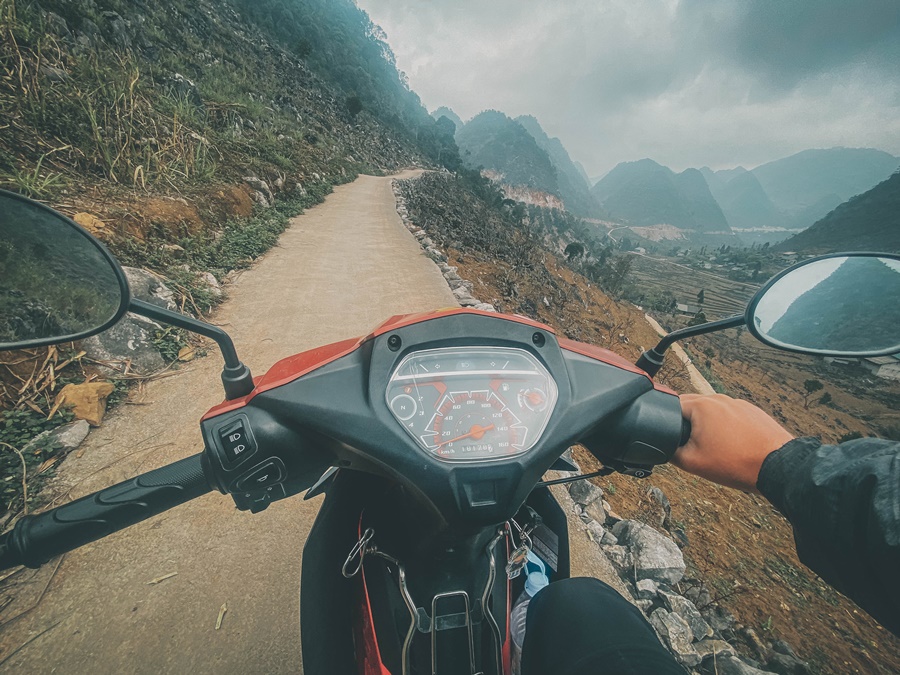 Where to Stay along the Ha Giang Loop
There are plenty of homestays along the Ha Giang Loop- however, the best ones tend to get booked up in advance. This leaves a dilemma to overcome- do you remain flexible and book accommodation on a daily basis- settling for whatever is left? Or do you plan out the entire route before you leave- removing the flexible aspect but guaranteeing a decent place to stay?
We were on a budget of around 250,000₫ per night for accommodation on the Ha Giang Loop (£9.00) which was enough for private rooms- as opposed to hostel beds. Here is where we stayed.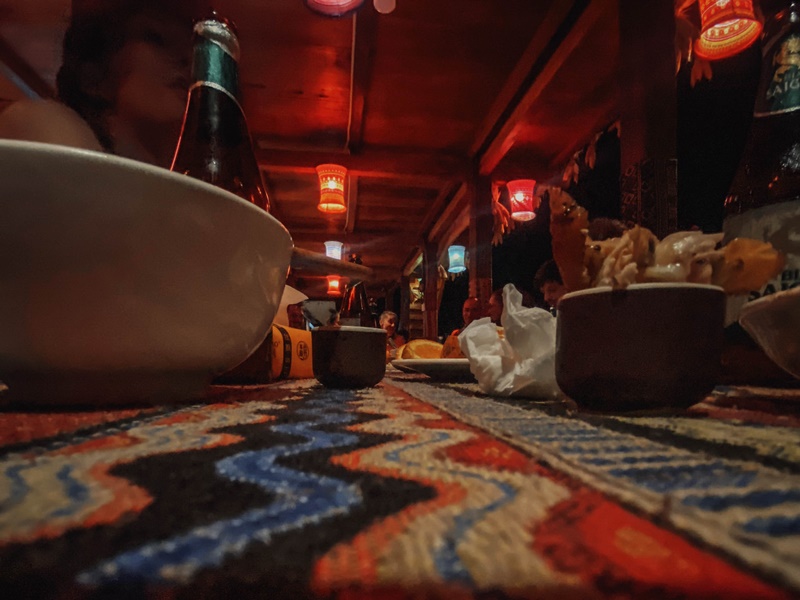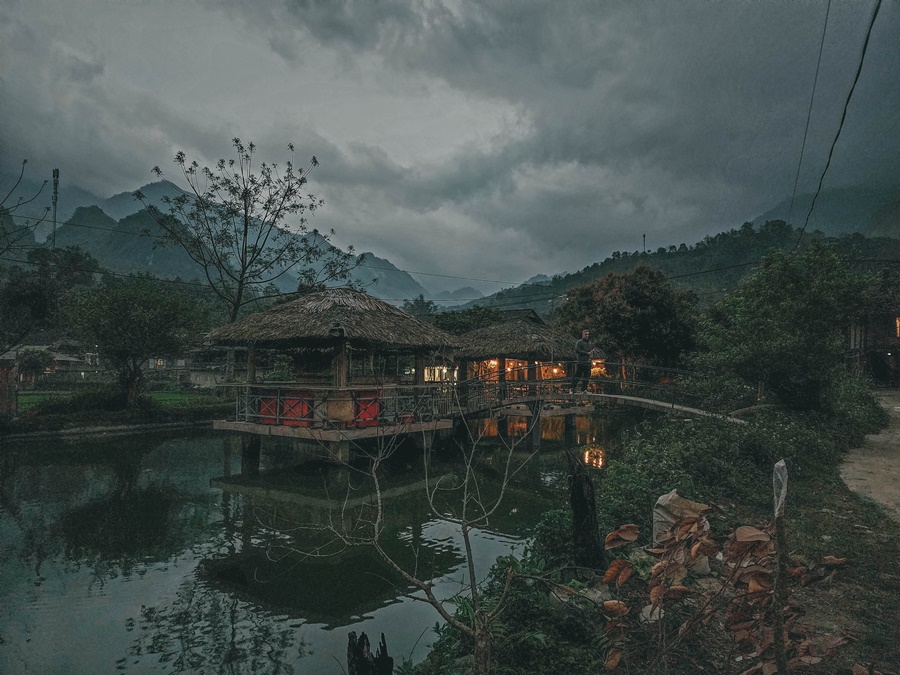 Things to Do on The Ha Giang Loop
There are not a ton of 'things to do' on the Ha Giang Loop as such but there are definitely some scenic and notable spots around the loop that you'll want to check out. There are a ton of sidetracks to be explored too depending on how much time you have. Here are the best things to do on the Ha Giang Loop.
Fairy Mountain
This pair of mountains are found in the Quan Be region of Ha Giang.
Fairy Mountain, Charlie. Yeah, Charlie, we're going to Fairy Mountain. Come with us, Charlie. Yeah Charlie, It'll be an adventuuure.
If you're riding the loop west-to-east this will be one of the first spots you come to. The mountains are described by locals as looking like the breasts of a fairy, which is where the name originates from. It's a cool lookout point and worth stopping to snap a picture.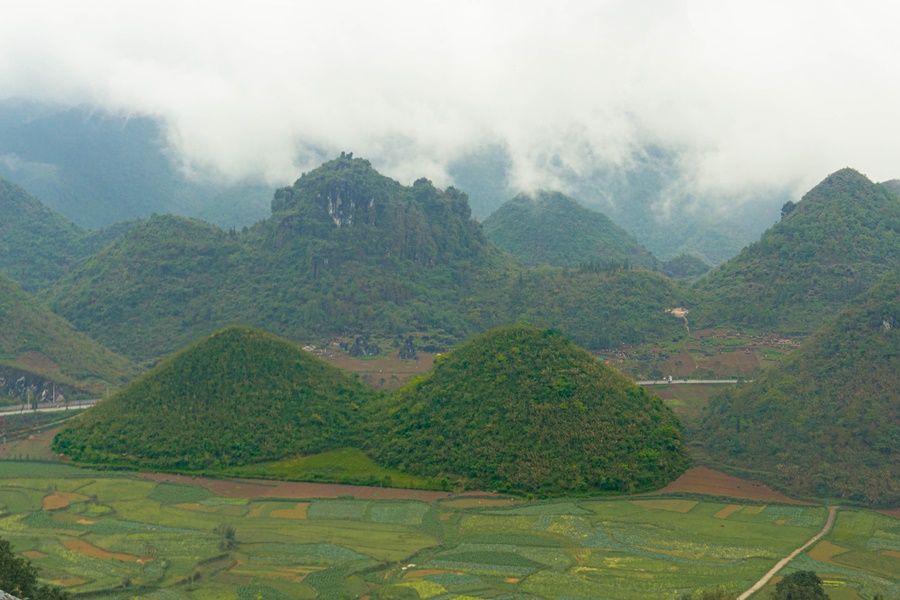 Sky Gate
The Sky Gate or sometimes called Heaven's Gate is one of the first scenic roads you'll arrive at on the Ha Giang Loop. There is a cafe overlooking the top where you can stop for a smoothie or coffee.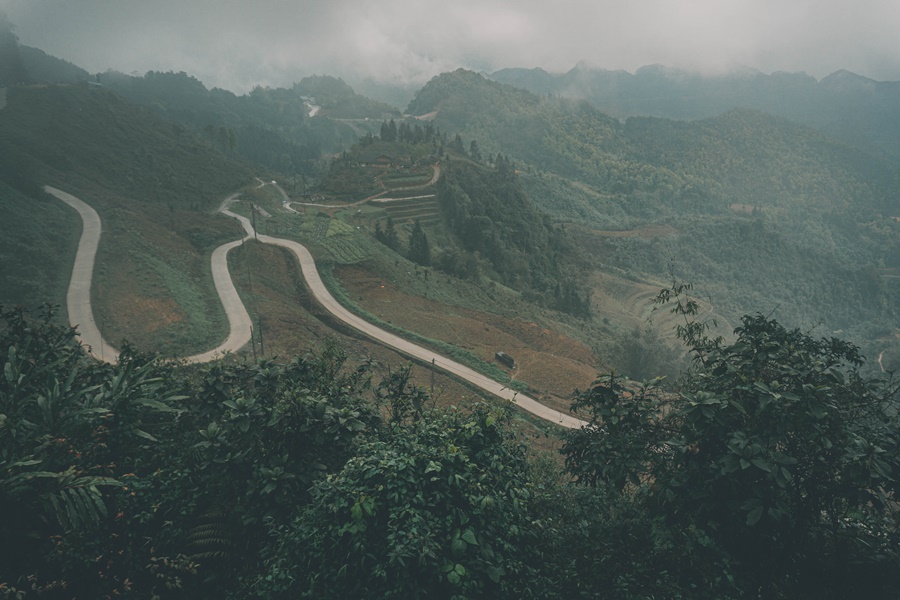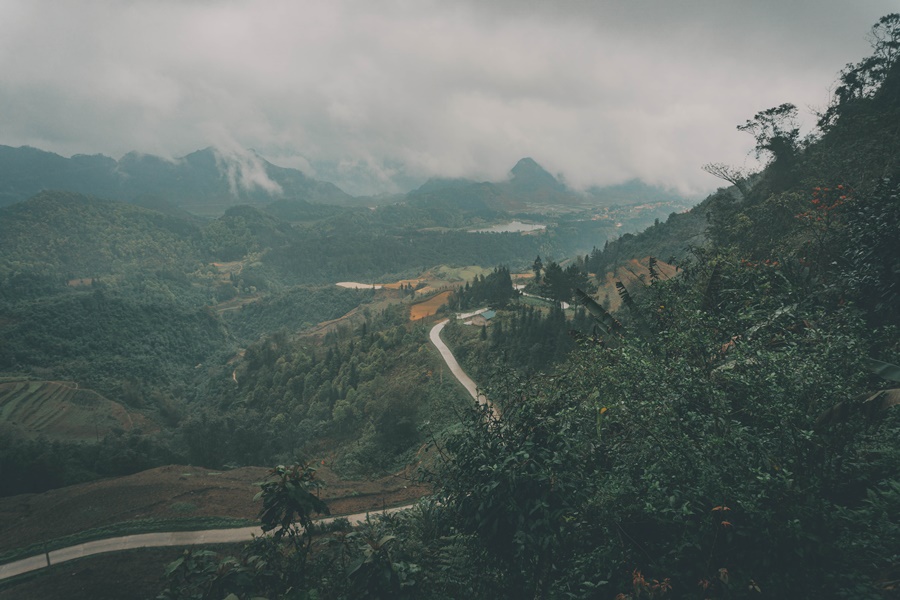 Lung Khuy Cave
This cave only opened up to visitors in 2015. It's around 300 meters long and located in the Quan Ba region of Ha Giang. It's a small detour off the main loop but worth checking out as it's just 7 kilometres from the town of Tan Son.
Du Gia Waterfall
There are a ton of streams, rivers and waterfalls in the mountains of Ha Giang but the Du Gia waterfall is easily the most beautiful of all and worth going out of your way to visit. It's pretty tricky to find the Du Gia Waterfall but we followed some good instructions from our host at the Du Gia Village Homestay and found it with no trouble.
Ma Pi Leng Pass
One of, if not the, most scenic roads on the Ha Giang Loop you'll want to take it slow while riding this section of the loop and give yourself time to take it all in.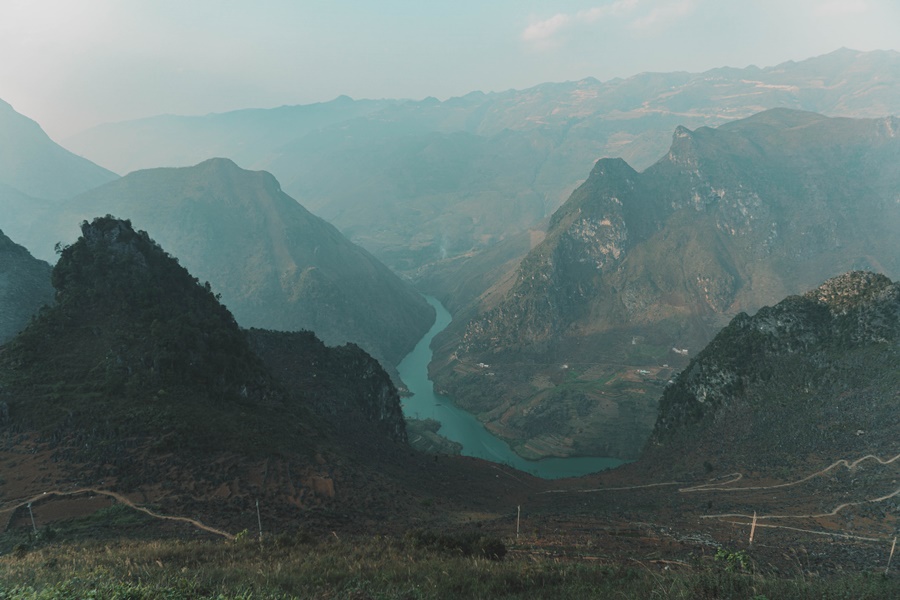 The Skywalk
The skywalk or the skypass on the Ha Giang Loop is a narrow uphill track following a turn-off at the Ma Pi Leng Pass. If you've seen the famous photos from Ha Giang where tourists sit on the rock sticking out from the mountainside- this is the Ha Giang Skywalk. However, it might be best to skip this one- the day we were there another tourist was tragically struck by a falling boulder while taking a photo in this spot which resulted in him falling two metres onto the rocks and having a foot amputated. Not worth it for a photo and I'm assuming the closure of this site will be enforced from now on.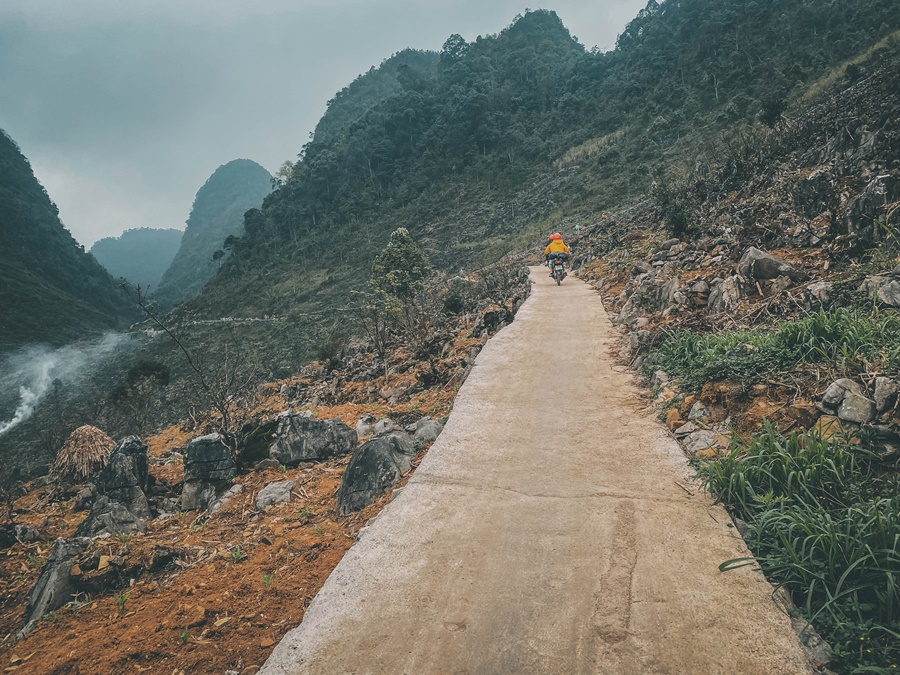 Tu San Canyon (Nho Que River)
This was the spot that everyone recommended to us. Head down to the river at the bottom of the mountain! You'll see the river flowing through the canyon from above, while you ride through the Ma Pi Leng Pass. But to give yourself another perspective, you can ride down to the bottom of the canyon and hop on a short boat cruise on the river. It costs 100,000₫ for a one-hour boat ride (£3.50).
Tham Ma Pass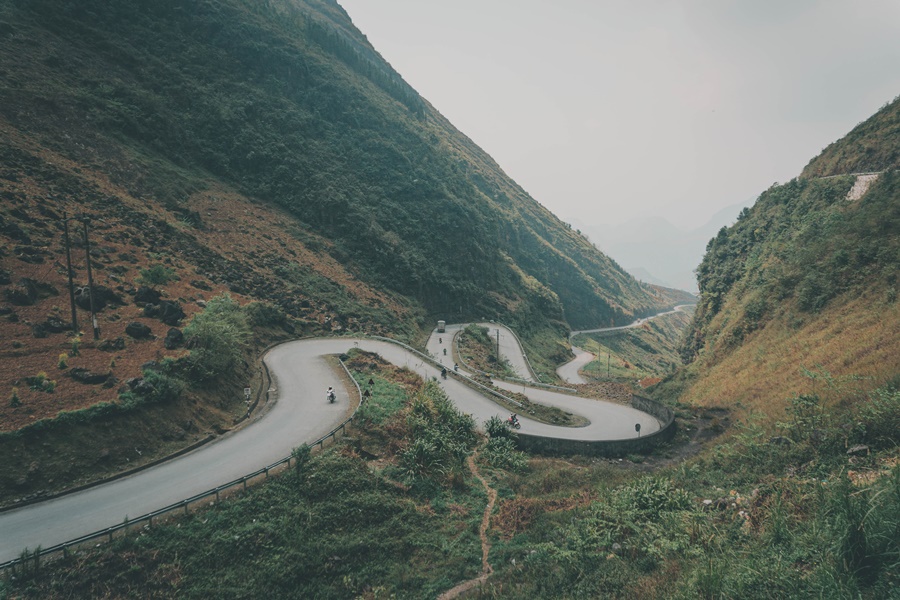 This is one of the most iconic spots on the Ha Giang Loop. You'll see the four hairpin turns in the road and before trailing off into the distance through the mountains. There is a small market at the top where locals are selling fruits, snacks and drinks.
Lung Cu Flag Pole
The northernmost town in Vietnam is right on the Chinese border. To get to the town of Lung Cu there is a pretty big detour of around 50 kilometres. And to be honest there isn't a lot going on here other than the flagpole. But in my opinion, it's not something you should miss. I couldn't bring myself to travel all the way around the Ha Giang Loop and not be able to say I'd been to the northernmost point.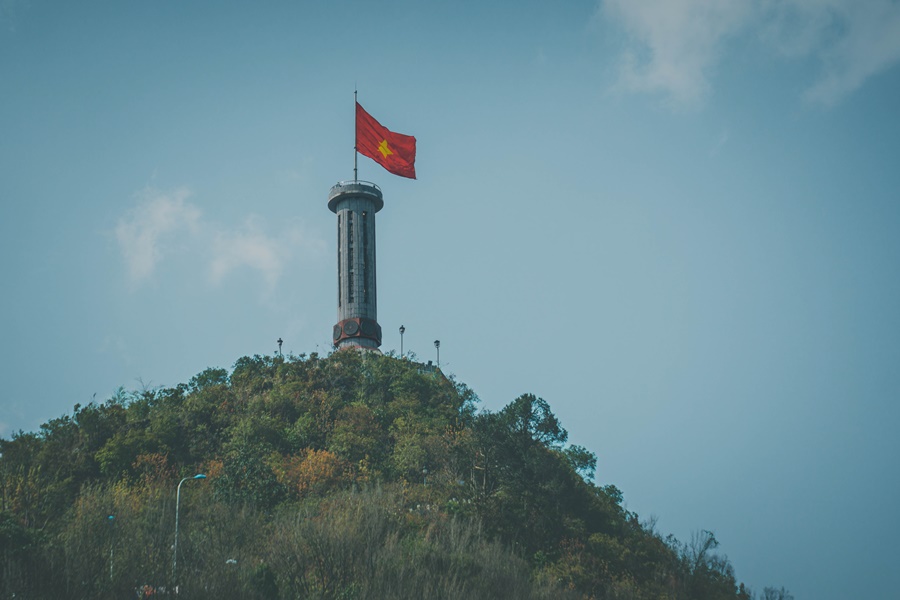 Time was cut pretty short in Lung Cu so I didn't have time to really explore the area and cross into China. But there is accommodation here and if I was to loop Ha Giang again I'd definitely be including an overnight stop in this town to give me a chance to really explore the area and dip into China too.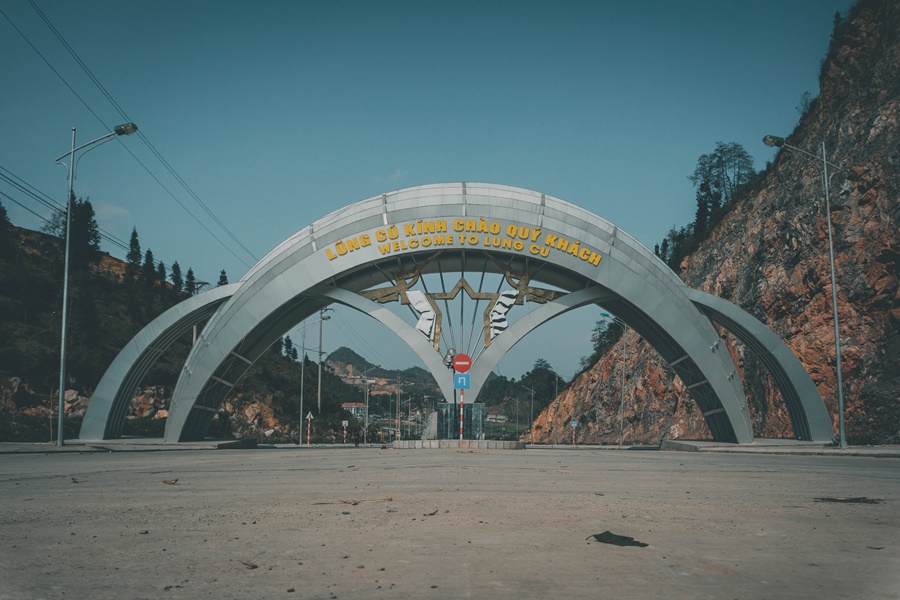 Bac Sum Pass
The Bac Sum Pass was described to us as "Beautiful but Difficult". From the Bac Sum Pass, you can see a huge stretch of mountain roads winding through Ha Giang. You can see almost 20 Kilometres of the road on a clear day. On a cool day, you'll climb into the clouds.
Sung La
Sung La is easily the most beautiful village in the Ha Giang region during the spring is the flower season when pink flowers bloom and cover everywhere you look. And in autumn is the buckwheat season giving the village an even more unique look and feel. The buckwheat and flowers are mostly grown by the locals on high hills.
Read More about things to do in Sung La
What if Your Bike Breaks Down
We were fortunate that we didn't experience many breakdowns during our journey on the Ha Giang Loop. However, the rough roads, particularly on the dirt sections, can be brutal to your bikes. While two of the bikes held up perfectly fine, one of them clearly struggled on the loop – leaking oil every night and then suffering a puncture on the fourth day.
Since the problematic bike was a rental, we didn't take any action to address the oil leak. Whoops. Nevertheless, we couldn't ignore the punctured tire. Fortunately, luck was on our side once again, as the puncture occurred in a town where we found a mechanic just 50 meters away. Replacing the inner tube cost us a mere 80,000₫ (£2.75).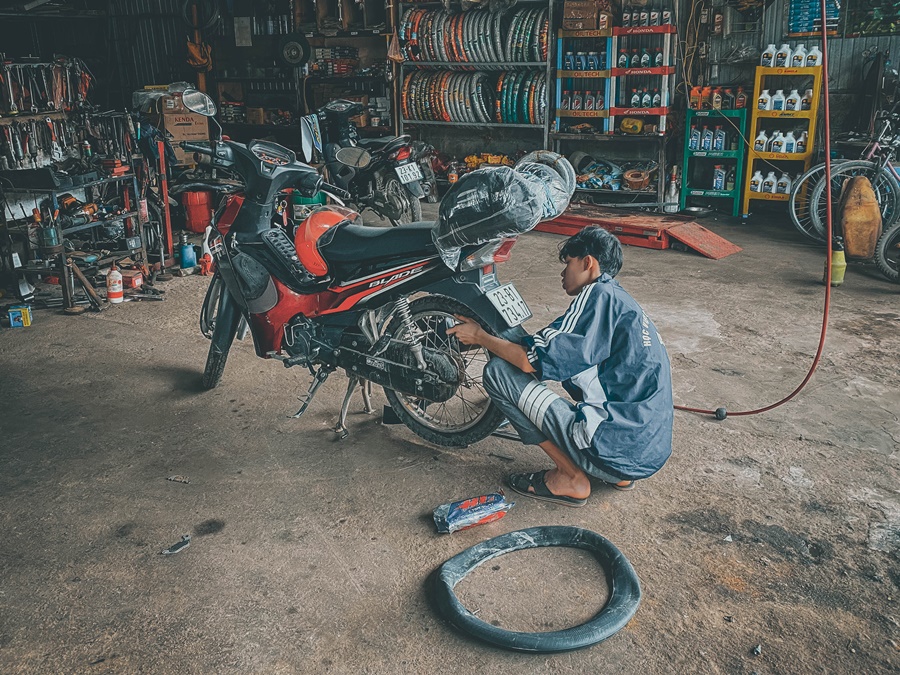 How Much Does the Ha Giang Loop Cost (How Much to Budget)
Dong, Dong, Dong. Get your Dong out.
How much to budget for the Ha Giang Loop? Over the course of three nights and four days, we spent around £86 each. All the costs are per person, and for the entire trip.
It's more expensive to do the Ha Giang Loop as a tour. Easy-riding Ha Gang tours will cost between four million to eight Million Dong- for the bike, rider, food and accommodation, (£200 – 300)- (Check Ha Giang Tour Prices Here).
The total cost of our Ha Giang trip including buying new clothes and transport from Hanoi was: 4.1 Million Vietnamese Dong! £142. Seriously… that's all I spent? And I got new trainers. I hadn't realised how cheap it was- it felt a lot more expensive at the time.
Excluding transport from Hanoi the total amount we spent to complete the loop was two point five million 2,500,000₫ or £86.
Jesus that's a cheap four days. Here is a breakdown of our costs:
Clothing in Hanoi – In preparation for all weather I brought a raincoat, a puffer jacket, long pants, a couple of long-sleeved t-shirts and a pair of trainers.
Total Cost: 1,000,000₫ (£34.00)
Bus Tickets – Sleeper bus cost 300,000₫ each way from Hanoi to Ha Giang.
Total Cost: 600,000₫ (£20.00)
Hostel in Ha Giang – We stayed in the Hong Hao Hostel the night before starting the loop and again when we returned to Ha Giang. The room was one of the nicest hostel rooms I've ever stayed in and cost 120k per night including breakfast. We also rented a locker to store some items in while on the loop for 50k.
Total Cost: 290,000₫ (£10.00)
Motorbike Rental – How Much Does it Cost to Rent a Scooter for the Ha Giang Loop? This is one of the main costs for the loop. Our Honda Blade bikes cost us 150k per bike per day. We paid upfront for two days and another two days when we returned. The deposit was 500k and returned with no issues.
Total cost: 450,000₫ (£15.00)
Gasoline/Petrol – We managed the entire loop on 2.5 tanks of fuel. It cost us around 80k to fill the tank.
Total Cost: 220,000₫ (£7)
Accommodation on The Loop – We were travelling as a trio- on some nights had a triple room and on other nights we'd rent out two rooms. The average cost for each double room was 250,000₫.
Total Cost: 750,000₫ (£26)
Beers – We always had a few beers in each town we stopped in while looking over the map and making a plan for the following day. Beer is cheap (10-20k)- but we worked our way through enough of it.
Total Cost: (£9)
Meals – The most expensive meal we ate was in Gu Dia (150k each) for a full-on home-cooked meal. There were over ten different dishes with meats and vegetables. On other nights our meals cost around 50k each.
Total Cost: 250,000₫ (£8)
Misc – Snacks, Bottled Water, Bahn Mi Sandwiches, Bike Repairs, Admission Fees and (delicious) Vietnamese Coffee are the other things which we spend money on while exploring the Ha Giang Loop. These items are not expensive but I wanted to include this section for full transparency on how much the Ha Giang Loop costs.
Total Cost: 300.000₫ (£10)
Conclusion and Final Thoughts
So there is it- everything you could possibly need to know before embarking on the trip of a lifetime around the Vietnamese Ha Giang Loop. Most importantly, stay within your limits and stay safe. But it's totally worth doing and one of the best experiences you'll have anywhere in South-East Asia.
Riding the Ha Giang Loop will give you an insight into local life- about as far from the western world as you can reasonably get. It's a wild ride- filled with ups and down- literally and emotionally, from beginning to end. There were tears of happiness, sadness and frustration. You'll experience more in three days in this place than you would anywhere else.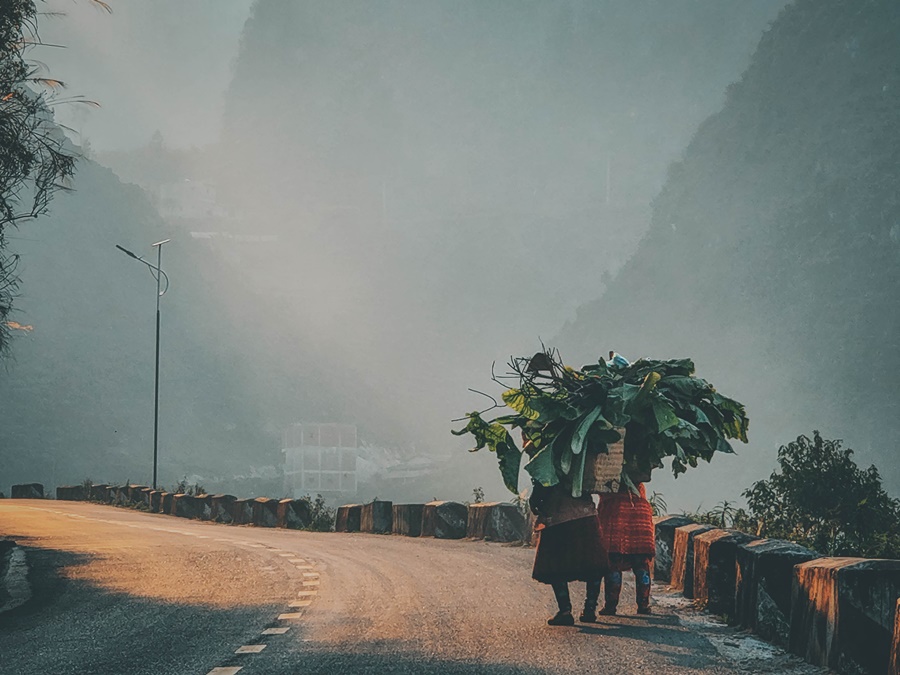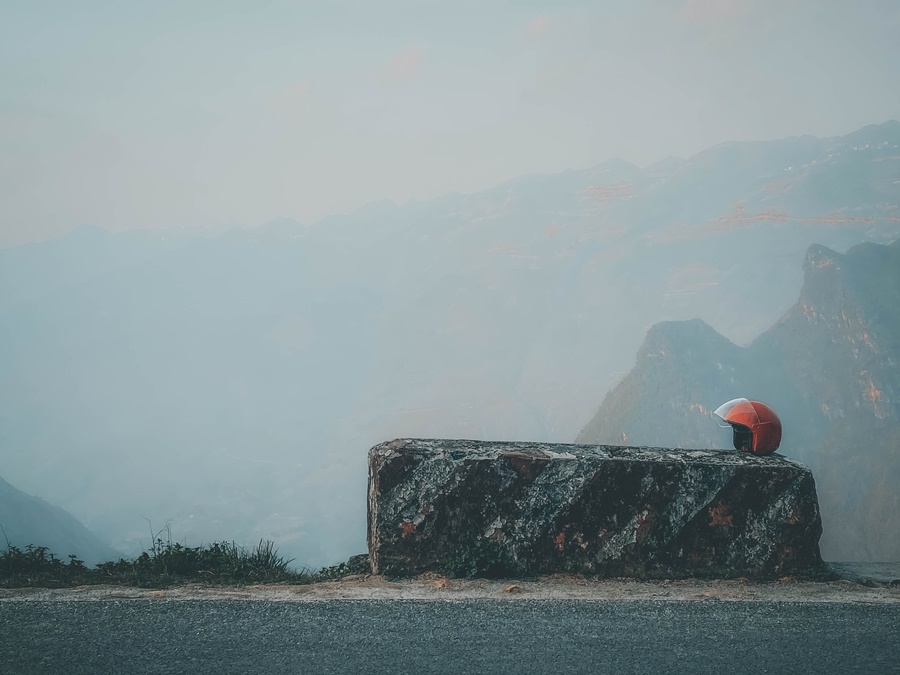 It's seriously a lot to take in, and reflecting back on it now- it almost doesn't seem real. But I do know, that I would do it all again, in a heartbeat- and perhaps that's why, people, when they get back from this place always say the same thing, Vietnam: You don't know, man! You weren't there!
#vietnam #vietnamese #comunist #bahnmi