You Can Ride a Scooter in Thailand
Scooter, Moped or Motorcycle. Whatever you call it, getting around Thailand without one is hard! 🛵
Learning to ride a scooter in Thailand is essential. It opens doors to endless possibilities and gives so much freedom. It's not as difficult as you might think!
For years I refused to ride a scooter in Thailand. Leaving it so late is one of my biggest regrets. I missed so many opportunities because of the fear. Here is how I learned to ride a scooter for the first time, in South East Asia.
Most blogs and forums will advise you not to ride a scooter. Ignore them all. Learn to ride a scooter in Thailand. It's not as difficult or scary as you might think. If you can ride a bicycle, you can ride a scooter!
–
Before I continue I need to make it clear that while I do recommend learning to ride a scooter in Thailand. I do not wish to advocate that it is not without risk. As with any country, while precautions can be taken to drive safely, there is no way to control the actions of other road users. And in Thailand, there tends to be a greater number of dangerous and undisciplined drivers on the road, than in the countries that most of us come from.
Ultimately, it is up to each individual to evaluate the potential risks and weigh them against the benefits of traveling by scooter in Thailand.
–
If you think you still want to learn how to ride a scooter in Thailand then keep on reading and I'll share everything you need to know 🛵⏬.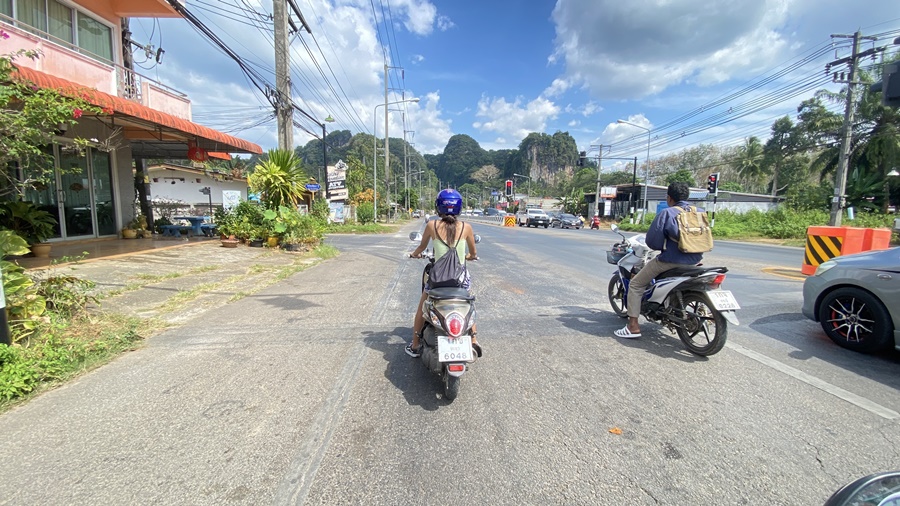 If You Don't learn to Ride a Scooter
If you don't learn to ride a scooter in Thailand you'll be stuck at or near your hotel. Never being able to explore more than a few kilometers away. You'll miss a lot.
Thailand's roads suck for walking, there are rarely any footpaths so you can't explore far.
If you don't learn to ride a scooter in Thailand you need to pay for a taxi when you want to get anywhere. Taxis are sometimes difficult to find and prices shouted are way too high. You'll have no choice other than to pay it. A three day scooter rental costs the same as a one hour taxi ride.
If you don't learn to ride a scooter in Thailand it will be difficult to visit any attractions, and you certainly won't be able to discover any hidden or secret places. You limit yourself to package tours which lack freedom.
If you don't learn to ride a scooter in Thailand and you meet new friends at your hostel, you'll be unable to go out on excursions where you need a scooter to get there.
Basically without learning to ride a scooter in Thailand your transport options are limited. You'll always be relying on some form of taxi or transfer service, you'll spend the biggest percentage of your budget on transport and you won't have any freedom.
Learn To Ride a Scooter, It's Not as Scary as You Think!
I became fed up with being extorted by taxi drivers constantly. And fed up with taking these miserable pre-organized package tours. I didn't want to be crammed into the tourist bus anymore, and I wanted to stop paying taxi drivers 'tourist prices' which are set at 5x to 10x the local rate.
I wanted freedom, I needed it. I wanted to spend my money on the things I enjoy and I wanted to travel on my own terms. When you learn to ride a scooter in Thailand it changes everything.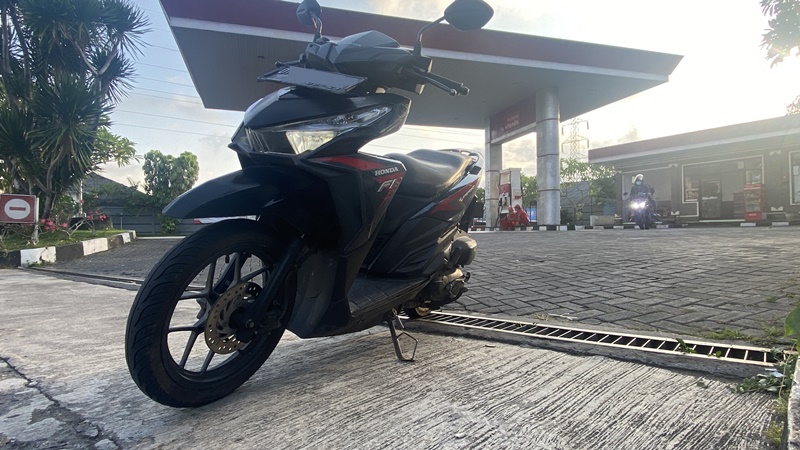 Scooters can be rented in Thailand and across most of Southeast Asia for 200 THB – 350 THB a day. 250 THB is the standard rate per day for a Honda Click 125i rental. But I've had scooter rentals for as low as 100 Baht. Lower rates can also be agreed for weekly or monthly rentals.
Riding a Scooter For The First Time
My track record of riding scooters was not good. When I was 19, I moved to work in Greece for the summer and rented a scooter for a month. After assuring the shop owner I knew how to ride a scooter (I didn't) I promptly crashed through the open doors of a bakery no more than 100 meters away. With a bruised ego and gasoline seeping out onto the pan-au-chocolates I decided that riding a scooter was not for me.
That incident scared me away from driving a scooter, for almost a decade.
Countless friends had tried to persuade me to ride a scooter and many had offered to teach me. An invitation I turned down every time. It wasn't until the COVID-19 pandemic hit and most transport ceased to exist, that I finally accepted an offer to teach me to ride a scooter.
I borrowed the bike from a friend. Putting on a pair of long pants and a long sleeve jumper, I rode on the back (fearing for my life) until we got to a small paved carpark.
Fearful at first I mounted the bike and slowly rode up and down the carpark. And it was at that moment I realized just how easy it actually is: learning to ride a scooter in Thailand. We spent about 30 minutes practicing in this car park before heading to the rental shop where I paid for the second month-long scooter rental of my life. And this time no baked goods were harmed!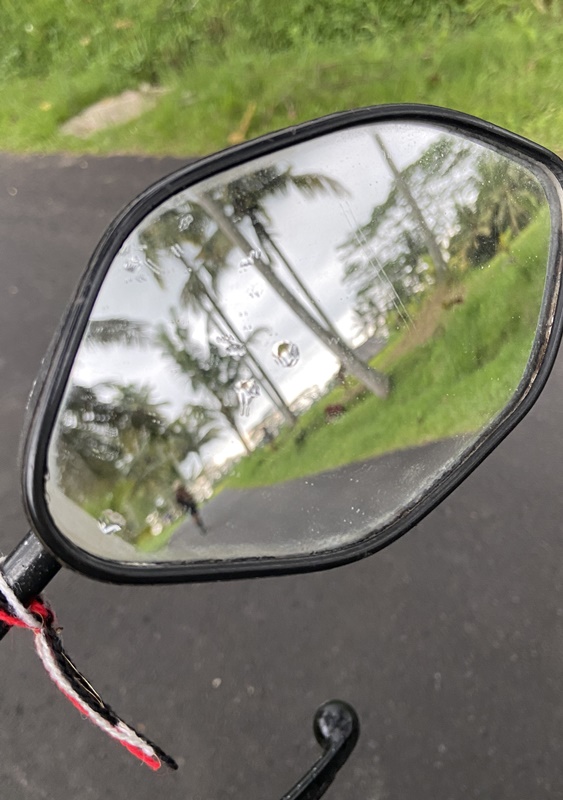 TIP: The most difficult thing for a beginner to learn is the responsiveness of the throttle. Be very gentle at the beginning and you'll quickly learn.
How to Ride a Scooter for the First Time
You might not have the luxury of having a friend who's bike you can use or someone who is willing to teach you. If it's your first time riding a scooter in Southeast Asia I recommend renting the bike from your hotel or hostel, not from a tour agent or rental shop. This way you can practice in the hotel's parking area before taking to the roads.
If you're staying in hostels there is a good chance of befriending a backpacker that's willing to teach you to ride.
Tips for riding a scooter for the first time:
Get to know the throttle first of all. This was the most difficult part for me. You need to be careful not to pull back too hard.
Try to get used to being on the bike first. Thailand has licensed motorcycle taxi drivers in most cities and built up areas. Ride on the back a couple of times as a passenger to get a feel for things.
This should go without saying. But wear a helmet. You'll see a lot of people riding without a helmet. Don't follow them. It's stupid and also illegal.
Start riding for the first time in a place without traffic. A car park, a side-street or alley. Don't rent a bike from a shop on the main road because it means you'll need to take to the road to leave the shop. (better to rent from a hotel/hostel)
How to Start the Scooter
At first the weight of the bike can feel challenging to contend with. But you'll soon get used to it. Here is how to get a scooter from parked to riding, and the same information applies to the Honda Click and Scoopy, and Yamaha Fino and NMAX.
Sit on the bike, with your feet on the floor. Leaving the kickstand down try moving the bike side to side with your hips to get accustomed to the weight. With the key out pull the throttle back and release a few times to get an idea of things.
Put the key in the ignition slot and turn it to the right, setting one is to open the storage area in the seat, the next setting will switch on the ignition. You'll see some lights show on the dashboard.
A scooter will not start unless the rider is holding both brakes and the kickstand is in the up position.
Pull both brake levers, lift the kickstand with your foot and press the start button located on the right.
That's it. The engine is running and pulling back on the throttle will move you forward.
Which Scooter is Best for Beginners
You'll find the same few bikes for rent everywhere. All of these should be 125cc variants. For a beginner it's best to steer away from the 150cc scooters, or bigger.
Honda Click: This is the bike I learned to ride on and it's still my favorite scooter to ride. About 75% of the scooters rented in Thailand are the Honda Click model. This is a good bike in Thailand for a beginner to learn on.
Price: 150 – 250 Baht per day.
Honda Scoopy: The Honda Scoopy is usually a 125cc, but there is a 110cc engine option too. These bikes are nice to ride but the handling takes a bit longer to get accustomed to. This is an ok scooter for a beginner in Thailand, but I prefer the Honda Click.
Price: 200 – 300 Baht per day.
Yamaha Fino: Very similar to the Honda Scoopy in the design and the handling takes some getting used to. Try to choose a Honda to learn with if possible.
Price: 200 – 250 Baht per day.
Yamaha N-MAX: The Yamaha N-Max is not a scooter I would recommend for a beginner. It's much heavier than other scooters, better to choose a smaller bike until experience is gained.
Price: 250 – 400 Baht per day.
Taking Scooter Riding Lessons in Thailand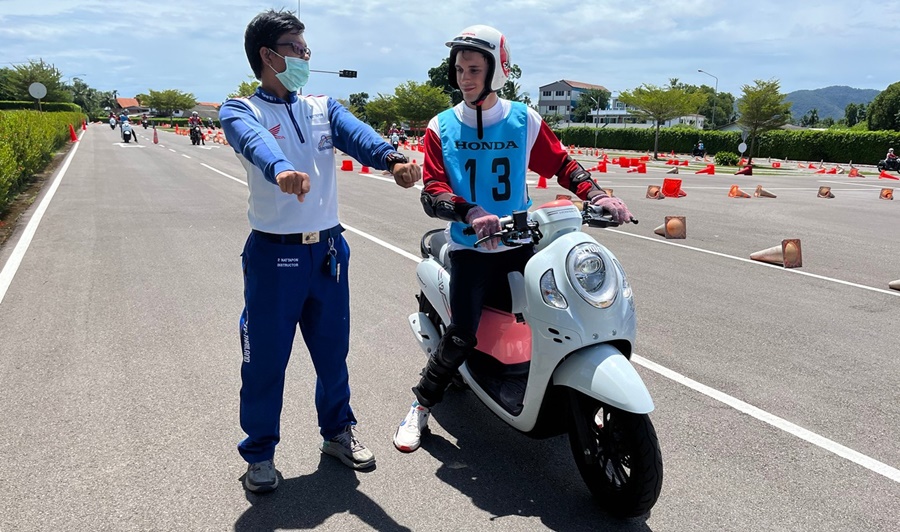 I don't think it is necessary to take lessons before riding a scooter in Thailand. But if you're a complete beginner (never ridden a bike before) and you think that taking a quick lesson would help to build your confidence then go for it. There are a few places where you can take a scooter riding lesson in Thailand and prices are not expensive. You can find riding courses and lessons also in Koh Samui, Pattaya and Krabi.
Scooter Lessons For Beginners in Chiang Mai:
The Honda Safety Riding Park Chiang Mai – This is a full course lasting three days with 6 hours training per day. The course is dedicated to foreigners and conducted in English language and costs 3,000 Thai baht.
https://hondasafety.thaihonda.co.th/course/pre-basic-course-foreigners-only
https://hondasafety.thaihonda.co.th/course?lang=en
Scooter Lessons For Beginners in Bangkok:
Fatboy's Motorbike Rentals in Bangkok is a rental shop also offering private lessons for beginners. The cost is about 1,000 Baht an hour which includes the rental cost of the scooter. Fatboy has two training locations in Ekkamai and Sathorn, both which are reachable using the Bangkok BTS Skytrain.
https://www.fatboysmotorbikes.com/motorbike-driving-lessons/
Scooter Lessons For Beginners in Phuket:
The Asia Moto Club in Phuket offers beginner scooter riding lessons. With collection from your hotel and transfers to their training park. The Express 2.5 hours course will teach everything a beginner needs to know to learn to ride a scooter in Thailand. The course costs 2,000 Baht.
https://asiamoto.club/eng/phuket-motoschool/
TIP: When Riding a scooter as a beginner you'll need to get a feel for how to maneuver the bike. Steering a scooter is done mostly with the hips. Gently leaning side to side. It's not a case of just turning the handlebars.
Leaving a Deposit for a Scooter Rental
When you rent a scooter in Thailand it is normal to give a deposit.
But never leave your passport as a deposit for a scooter.
Rental shops should accept a cash deposit along with taking a photo of your passport. The cash amount should be 2,000 – 4,000 Baht. If anyone is asking for a deposit higher than this amount or requesting you to leave your passport behind. Walk Away.
If you hand over your passport and the scooter owner decides they don't want to play fair, there is little you can do about it. Only ever give cash, and make sure it's an amount you can comfortably lose in the event things go bad.
Choose carefully who you rent a scooter from. The person I'm renting from is the most important thing I look for when renting a scooter in Thailand. There are some people who come off as aggressive, rude or something that just doesn't feel right about the person. If I get that feeling I'll rent from somewhere or someone else.
When you rent a scooter in Thailand you take on a lot of responsibility and you only want to rent from a person who has a sound mind and positive attitude. In a worst case scenario, if you cause any damage to the bike you'll want to have it rented from a person who you can openly discuss options with.
You'll also want to be careful because, although uncommon and thankfully not something I've personally experienced. I know of situations where a rental shop will blame customers for existing damage and withhold a deposit or demand more money for repairs. Another reason why a passport should not be deposited.
Do You Need a Driving License to Ride a Scooter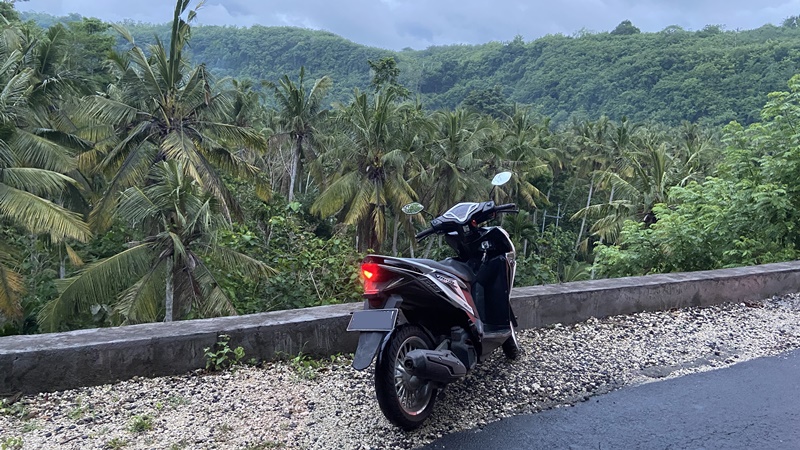 Yes, you need a license to ride a scooter in Thailand! (not really)
I got stopped at a police check point when I happened to be riding without a license, and also heading the wrong way down a one way street. oops. I did earn a few bonus points for wearing a helmet though. Now this was the worst time for me to be stopped. This happened during lockdown, I was solo and had zero money, waiting for a transfer that wouldn't reach me until a few days later. The bribe was set at around 20 USD. After explaining the situation the bribe was reduced to one cigarette'. I still couldn't afford it! With the officers either taking pity on me, (or just wanting me gone) they ended up giving me a carton of cigarettes' and sending me on my way. Riding back the correct way down the street! (love ya, Thailand) 🤗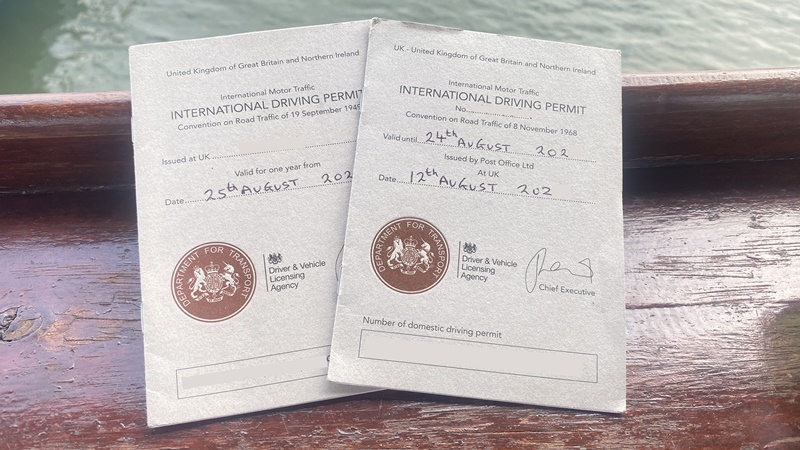 So even though you technically need a drivers license to ride a scooter in Thailand, you don't really need one if you're prepared to embrace the corruption instead.
Although Thai law states that you need to have a driving license, it is rarely enforced in reality. A rental shop will never ask to see your license. If the police stop you at a checkpoint and you are driving without a license, you'll need to pay them a bribe/fine which is about 500 Baht. Make sure to keep small cash bills on your person for this reason. The police will let you continue your journey after the 'bribe' is settled.
A driver's license from your home country, although beneficial when it comes to knowing the rules of the road- is not valid in Thailand. You must have an International Driving Permit which can be applied for in your home country before traveling. Thailand recognizes both the 1949 and 1968 International Driver's Licenses as valid. The 1968 is valid for three years and the 1949 is valid for 12 months. Even though both these license types are valid and should be accepted this is not always the situation in reality. Even with the correct permit the police may still ask you to donate a few hundred baht to the force anyway.
TIP: If you 're driving a scooter without a license you should at least have a basic understanding of the rules of the road, with regards to who has right of way and when. If you don't hold a driver's license in your home country I don't recommend learning to ride a scooter in Thailand.
Do You Need Insurance to Ride a Scooter in Thailand
There are two types of insurance you need to consider when learning to ride a scooter in Thailand. Your travel insurance and insurance for the scooter.
Travel Insurance:
Most travel insurance policies do not include cover for accidents involving motorcycles. With most travel insurers it's usually an added optional extra. This should go without saying, but I'll add it anyway. Do not learn to ride a scooter in Thailand if you do not have valid travel insurance. And if you have insurance then make sure to double check the policy to ensure it covers you to ride a scooter.
World Nomads are the insurers I have always used for my travel insurance and cover riding motorcycles in Thailand as standard.
Insurance for the Rented Scooter:
The scooter is not insured. That is pretty much guaranteed. Every bike I have rented I always ask if there is insurance. I'm told no 100% of the time. If you crash or otherwise damage a scooter while learning to ride you will be responsible for the damage.
Repair costs for a scooter are inexpensive, usually. Scooters in Thailand cost about the same as GoPro cameras. Keep in mind that a brand new Honda Click costs 35,000 Baht and a second hand one costs 7,5000 – 15,000 baht on average. If you're a beginner and fearful about damaging the scooter, you might want to choose to rent an older bike while you learn.
Tip: You can find the value of the motorcycle you are renting by checking for similar listings on the Facebook marketplace.
Is it Safe to Ride a Scooter in Thailand
Chiang Mai is one of the places where tourists will often learn to ride a scooter in Thailand for the first time. Riding a scooter on the road between Pai and Chiang Mai is a backpacker's right of passage. The winding road, packed with hairpin turns and epic views is considered one of the best roads in Thailand. It's still on my bucket list though, because- I chose to ride the bus 🥱.
The group I was travelling with at the time, all 7 others chose to rent a scooter in Chiang Mai and ride up to Pai. They were mostly beginners. And for a few it was their first time ever riding a scooter. I arrived at the hostel first, around two hours later the rest of the group arrived. It had started to rain on the drive. All seven of them arrive cut and bruised. They had all fallen off on the ride, at one point or another.
Now don't let that put you off from learning to ride a scooter in Thailand. The takeaway from this should be that it is safe to ride a motorcycle in Thailand. Providing you stay within your limits, drive cautiously and don't get overconfident. If you don't feel comfortable, don't ride. And never, never ride a scooter if you've had a drink.
Thailand is infamous for road accidents, and it's estimated that over 50% of incidents involve alcohol.
Is it Difficult to Ride a Scooter in Thailand
Learning to ride a scooter, even as a beginner, is really easy. If you can ride a bike, you can ride a scooter. The only controls are the accelerator and the brake. It's twist and go. The rest is automatic. Once you know the basic controls there isn't much more to learn. Most people grasp the basics in under an hour.
It will take some time to get used to riding a scooter and get the feel of things. If I go a few months without riding a scooter it normally takes a day or two for me to get comfortable riding again. I find that making a longer trip usually helps. Riding 40-50 Kilometers to the next town or beach on a variety of roads has me feeling like a pro again in no time.
Wear a Helmet
The number #1 rule for riding a scooter in Thailand.
Don't ride a scooter in Thailand without a helmet. It doesn't matter how short the journey is. It doesn't matter that you feel stupid wearing it. It doesn't matter that you've seen others riding without wearing a helmet. It doesn't matter if you are a passenger or a rider. Wear a helmet! It can save your life.
You will see others riding without a helmet. It does not mean you should follow them. Not only is it dangerous, it's also illegal.
And don't settle for the low quality helmet either. Especially if your learning to ride a bike as a beginner. You'll want a decent helmet, the type that sits over your ears too.
How To Refill Your Scooter For Beginners
Refilling a scooter in Thailand is easy and cheap. Fuel costs around 30 Baht a liter and the fuel tank usually stores about 4 liters. The Honda Click has a 3.5 liter fuel tank so you take it from empty to full for 115 Baht. That full tank will get you around 200 Kilometers riding!
You can buy fuel at any gas station. Ride up to the pump and the attendant will fill the bike for you. You just need to inform them how much fuel you want, i.e. 'full tank' or '100 Baht'. The fuel tank is located under the seat. Open the seat storage area and twist the fuel cap off at the back. 
Tip: Fuel gauges are often broken on rental scooters. If the fuel gauge is not working on your scooter you can open the gas cap and rock the scooter side to side to see how much gasoline you have.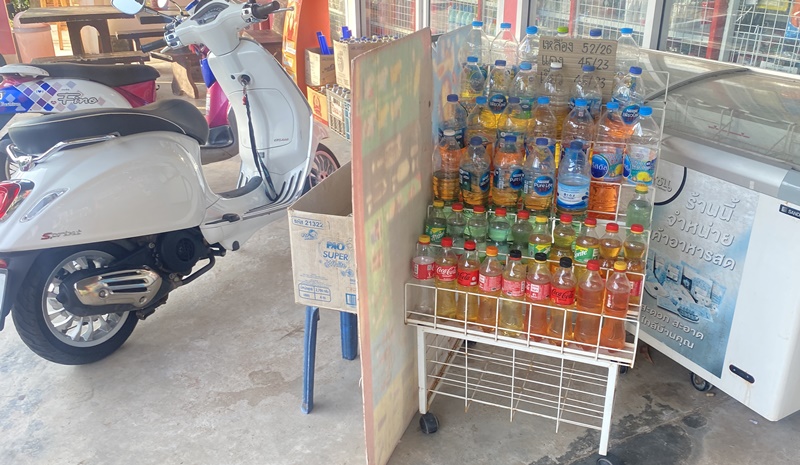 Fuel stations are commonplace in towns, cities and built up areas. On the islands and in rural areas, you'll find gasoline being sold at the roadside instead. Sellers will fill up empty Whisky bottles and plastic bottles and sell it by the liter.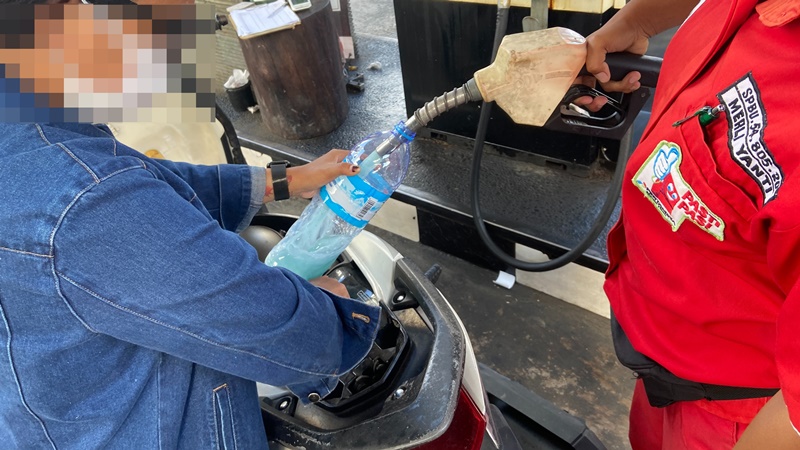 Tips For Riding a Scooter as a Beginner Riding a Scooter in Thailand
Thai roads, especially on the islands are not always maintained to a high standard. So drive slowly, watch the road at all times and be on a constant lookout for hazards such as sand on the road, gravel sections, potholes, monkeys sat in the roads and dogs running out.
Drive defensively. Assume everyone is trying to hit you. Road laws in Thailand are pretty relaxed and it's common to see things such as vehicles driving the wrong way down the road.
Be careful of the changing weather conditions in Southeast Asia. The weather can turn from a bright summer's day to a tropical storm in a matter of minutes. Remember to keep a poncho/ raincoat in your seat for this reason. And take extra precautions when driving in wet conditions.
My second scooter 'crash' occurred when the roads were wet. Pulling the brake too quickly while rolling downhill sent the bike into a skid and I tumbled off with a full audience watching from the bar across the street.
Get used to riding up and down hills, something you'll encounter a lot on the islands. Don't be afraid when going downhill and don't brake suddenly or sharply.
Don't carry a passenger on the back when you are learning to ride a scooter. Build up the confidence on your own first. Remember you are responsible for that other persons safety.
Riding a scooter is easy. When you realize this it's easy to overconfident and take risks. Always be cautious and give your full attention to the road.
I didn't have any difficulty riding with my full backpack (30 liter). Once you realize how liberating it is to get around Thailand on a scooter you'll end up taking longer trips and bringing luggage along. Try to keep backpack straps long enough that the bag rests on the seat rather than the weight being on your back.
Avoid wearing flip-flops while you are learning to ride a scooter. You'll need to have your feet on the ground at times, wearing proper sneakers makes this easier.
Conclusion
So there you have it. Everything you need to know about Learning to Ride a Scooter in Thailand for the first time, as a beginner. So go and enjoy your new found freedom. And enjoy exploring this beautiful country on your own terms.