Are you packing a bag for a trip to Thailand? Need to know what to pack? So was I, when I wrote this guide. I'll share what I packed for a month-long trip.
Whilst I was researching what to pack for Thailand- I noticed a theme within the search results. Go ahead and run a Google Search for 'What to Pack for Thailand'. I'll wait. 
You'll find that most packing guides for Thailand are useless, even misleading at times. They're written by people who want to sell you stuff, not by people who have actually been to Thailand. They're full of expensive, non-essential bulky items that you don't need. Essentially, an author's wish list full of affiliate links. However, this packing guide is different. It's written by someone who has extensively travelled Southeast Asia and knows what you actually need to pack.
This is what I actually packed for a month-long trip to Thailand. Now I don't recommend that you copy me exactly- everyone will have their own individual need when travel packing. But this guide is a great place to start. And to be honest, with only a few minor tweaks, this packing list could be used for any South East Asian Country. Like; Malaysia, Vietnam or Laos.
My Packing Style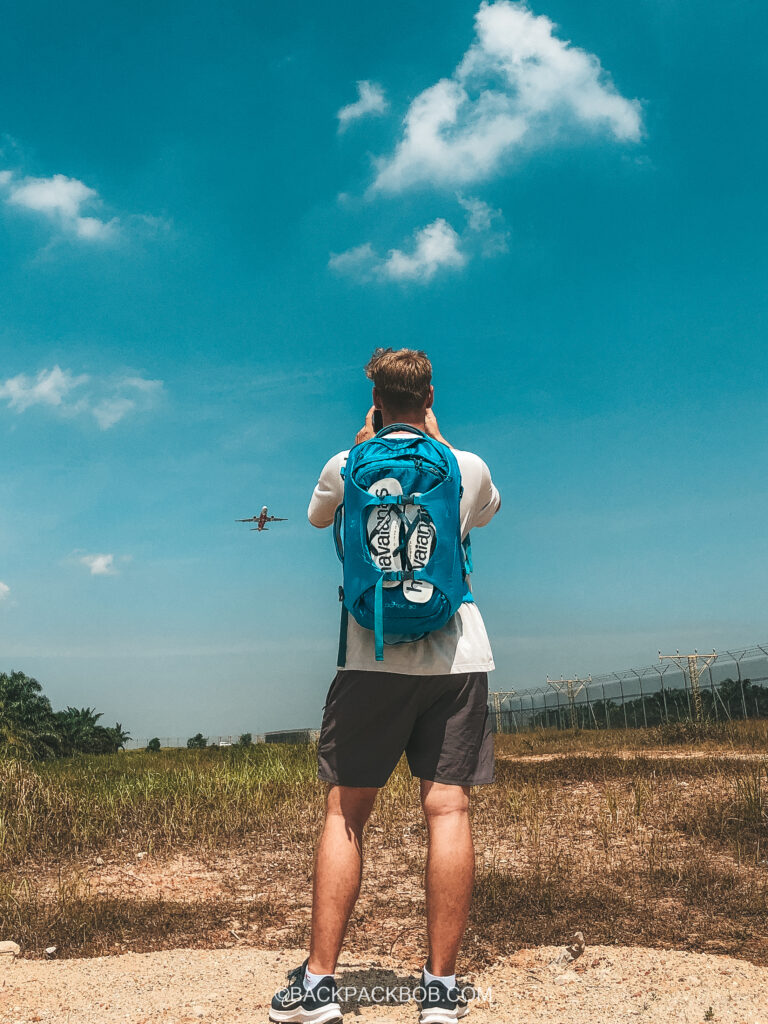 I am a guy, in my early 30s, so this guide is more suited for men, but with a few minor tweaks, it can serve as a great base guide for women or anyone else too!
I pack as lightly as possible and only carry what I consider to be essential. If my bag doesn't fit in an overhead locker on an aeroplane, it's too big and time to rethink my strategy.
I have over a decade of 'backpacking' under my belt. In the beginning, on my first few trips overseas I made a lot of packing mistakes. Over the years I've worked on fixing those mistakes and sliming down my pack as much as possible. Every single item in my backpack has been carefully selected.
I used to be one of those backpackers who would lug around a huge 70-litre backpack, but I quickly realized that it was a mistake. I was miserable, sweating, and struggling to get around. Now, I travel with a much smaller 30-litre backpack, and it's made all the difference. I'm able to move more freely, I'm not as sweaty, and I'm not weighed down. I see other backpackers making the same mistake, and I feel pity for them. They're carrying around so much stuff that they don't need, and it's making their travels miserable. Don't make this common mistake.
The Importance of Packing Light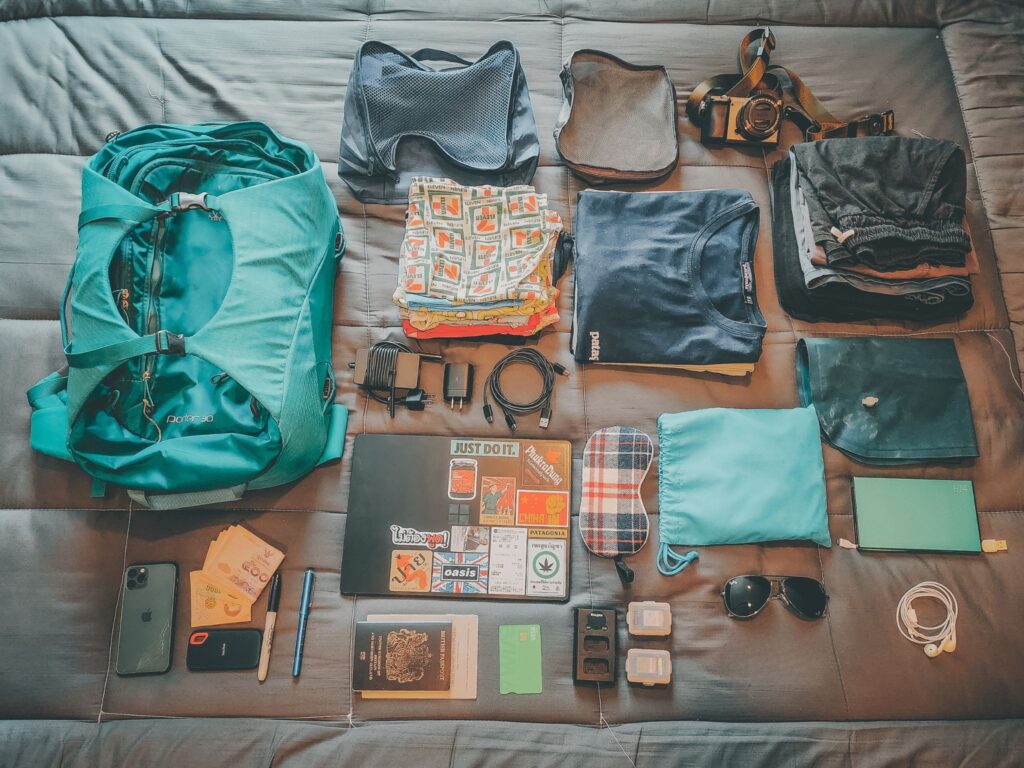 The less you pack, the better. You'll thank yourself for it later. This is a point I'll reiterate again and again. It is the number one packing tip I can give you- and most others would agree with me.
I carry an Osprey Porter 30 Bag on my travels, I've used this bag for 5 years+ and can't recommend it enough. However, I plan to lighten my load even further by making a switch to the Alpa 28-Litre.
The best thing about Packing Light? Your bag is always by your side. I used to dread taking ferries in Thailand and having my bag thrown into the pit to be buried, squashed and inaccessible if I wanted anything. Or worse, being left outside to bake in the hot sun. That is no longer an issue. Bus, Boat, Train, my backpack is always within arms reach.
And don't get me started on flying. It. is. bliss. No longer am I sweating nervously as I navigate the airport, from the fear my bag would be weighed at any moment. I can arrive at the airport an hour before the flight and waltz directly to the gate- skipping the entire check-in queue. And when I leave the airport, again I can stroll past everyone else stuck waiting at the baggage carousel(suckers)! But the real pièce de résistance- never having to pay to check in a bag again.
My Packing List For Thailand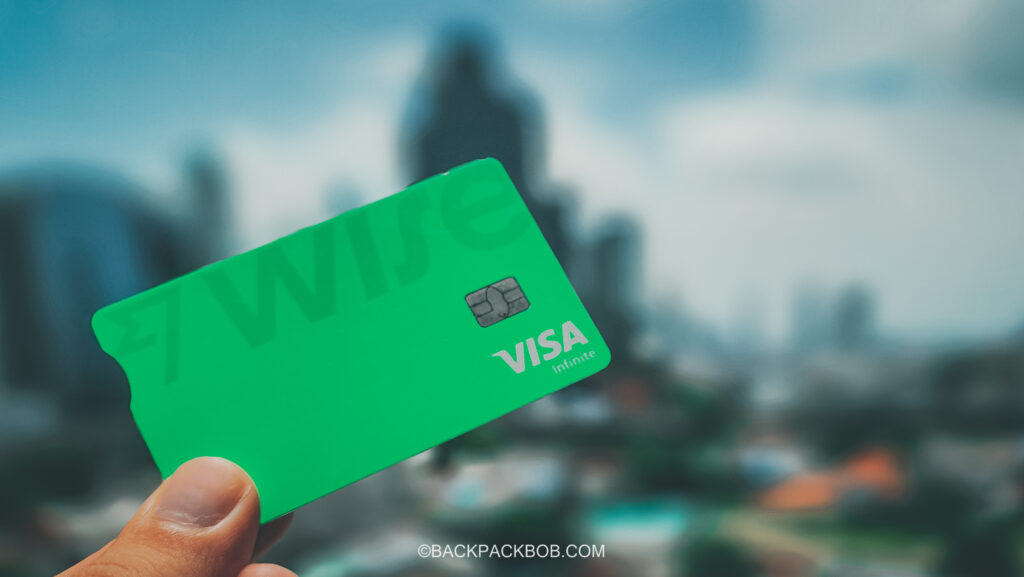 You want to be prepared when you travel to Thailand, you don't want to touch down to realise you've left something that can make or break your trip. But on the other hand, you don't want to be lugging a huge backpack around.
My advice– don't be afraid to leave things behind when packing for Thailand. If there is any doubt as to whether you'll use something- don't bring it! The beauty of South East Asia is that you'll be able to buy almost anything imaginable, when you need it, at affordable prices.
My trip lasted 30 nights. It included both northern and southern Thailand. Even if I was traveling for longer I still wouldn't pack more than what's on this list. This pack can be used to travel in South East Asia indefinitely.
Here's a complete packing list of everything from travel insurance to my travel pillow. I'll break it down into categorised sections later on so you can figure out which items are important, and why.
Essentials
Osprey Porter 30 backpack + rain cover
Compression packing cubes
Passport + Photocopy and Spare Passport Photos
Wise Travel Card (and backup credit card)
Mobile phone with ESIM (and backup phone)
Travel insurance (Printed out)
Shoes:
Comfortable multi-purpose shoes (boots or trainers)
A pair of good quality Flip-Flops (no fakes or copies)
Clothing:
Underwear: Seven pairs of boxer shorts
4x T-Shirts + One to wear
3x Shorts + Wearing one pair
One pair of swim shorts
One pair of North Face (Convertable) Long Pants/Trousers
Sun Hat
Pair of UV protection sunglasses
Tech:
Lightweight Laptop (13" Surface Laptop) and charger
A Camera (Sony A6400) + Charger and spare batteries
External SSD Drive to Backup on the go (Sandisk 2TB)
Power Bank (20,000mha)
Wired Headphones
Thailand/US Wall Brick with USB-/C Outlets (instead of travel adapter)
1x USB C to C Cable, 1x USB C to A Cable
An Apple Airtag
Hygiene
Toiletries Bag with basics and essentials such as toothbrush, paste and deodorant.
Sun Cream / Sun Block
Comfort
Inflatable Travel Pillow
Eye Mask
Foam Ear Plugs
Miscellaneous:
Cash (100 US Dollars equivalent)
International Driving Permit (IDP)
Playing Cards
Combination Padlock
In addition to these items which are all packed away in my 30 Litre carry-on bag. I was also wearing an additional outfit. Comprising of, yes, you guessed it- a pair of shorts and a T-shirt.
Things to Consider When Packing For Thailand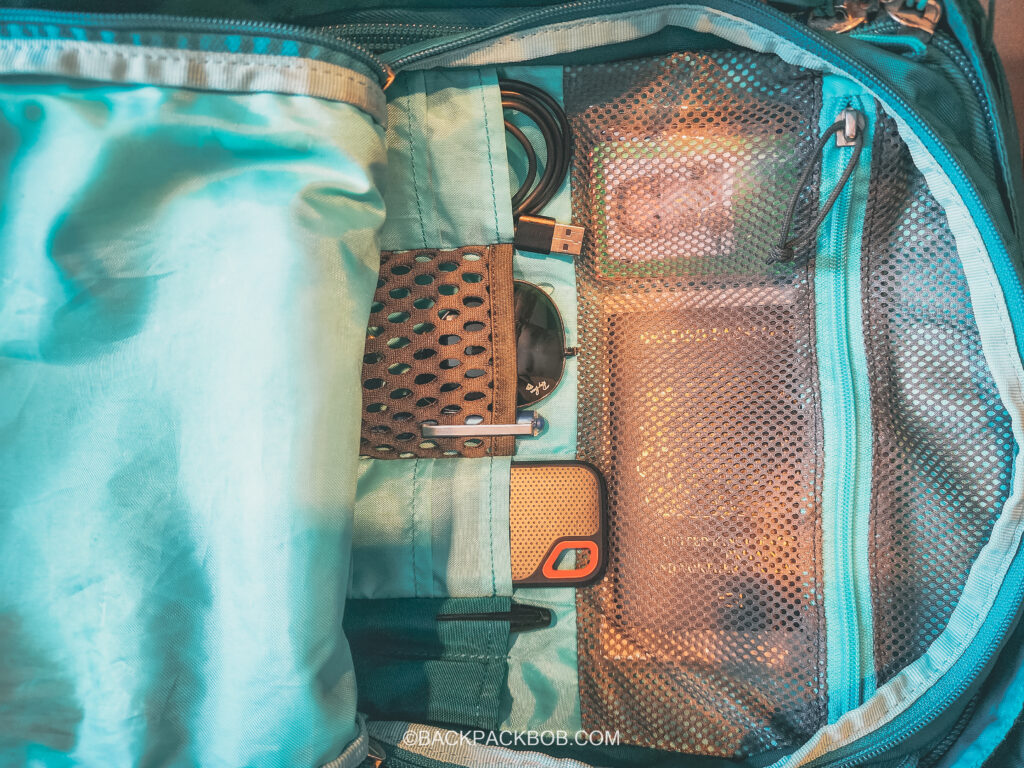 Nature & Photography
If you're into photography, pack a zoom lens for wildlife shots. You'll need it to get a close-up of the monkeys' cheeky faces as they steal your food. Or a shot of the Elephants in Phu Kradung.
If you're spending time on islands, an action camera- like a GoPro is a good choice for underwater shots.
Climate & Weather
Thailand is hot and humid, so pack shorts, t-shirts, and swimwear.
You don't need to pack warm clothing. Coats and jumpers are not needed.
Make sure your backpack has a waterproof cover.
Long-Sleeve Clothing: I don't pack long sleeve T-shirts. But, I do keep one pair of 'convertible', long pants. Which can zip into shorts, at the knee. They are useful for hiking in areas which are overgrown. And are also useful as additional protection from mosquitos in the evenings.
Rain: Rain in Thailand (and much of South East Asia) usually occurs seasonally and in short bursts. I carry a disposable rain poncho for emergencies but more often than not you can find a spot to wait out the rain, which usually clears within an hour. Ponchos can be brought from any convenience store (7-11) in Thailand. A lightweight raincoat is great too- although it can often be tricky to get it dry before packing for your next destination. Most importantly make sure you have a waterproof cover from your backpack!
Religion
Thailand is a majority Buddhist country, so be respectful of religious practices. Don't wear anything you wouldn't wear in your home country.
Be sure to dress appropriately for temples, which typically require covering your knees and shoulders. You can rent clothing or buy a pair of the classic Thai Elephant Pants if you don't have anything that fits the dress code.
Packing The Essentials
Ok so let's get into the packing list. Here I'll break down every single item I carried in my backpack when travelling in Thailand. Starting with the passport.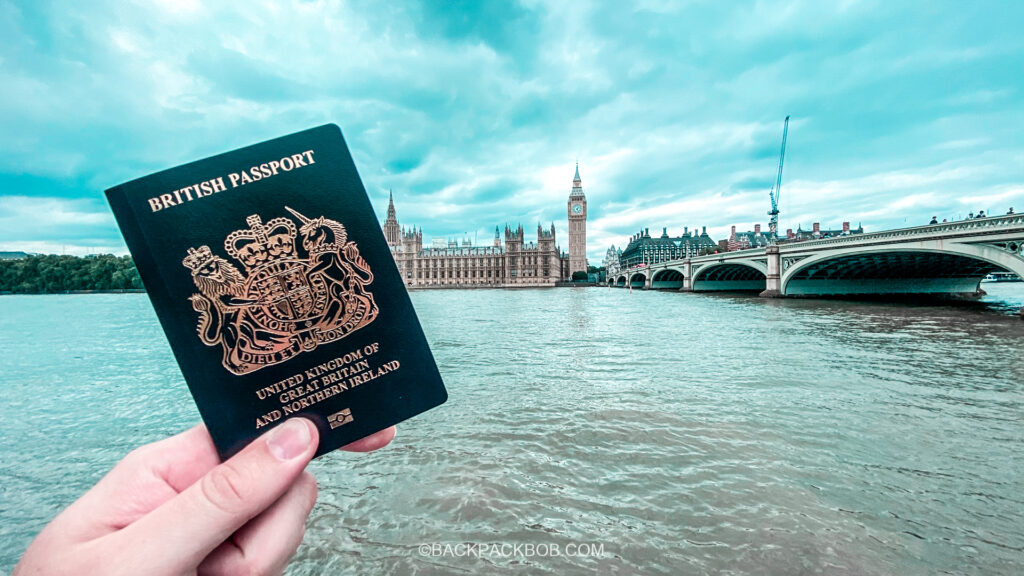 I've always said there are only four essential things you need for travel. With these 3 items; a Passport, a Bank Card, a Mobile Phone and a change of clothes. You can travel anywhere, do anything, and solve any problem. Everything else is a luxury.
Honestly, that is all you'd actually need. After all clothes and toiletries can be purchased, cheaply. In fact, I know a few travellers who have flown out to Thailand with only these items, an otherwise empty backpack and stocked up when arriving in South East Asia.
Choosing a Backpack For Thailand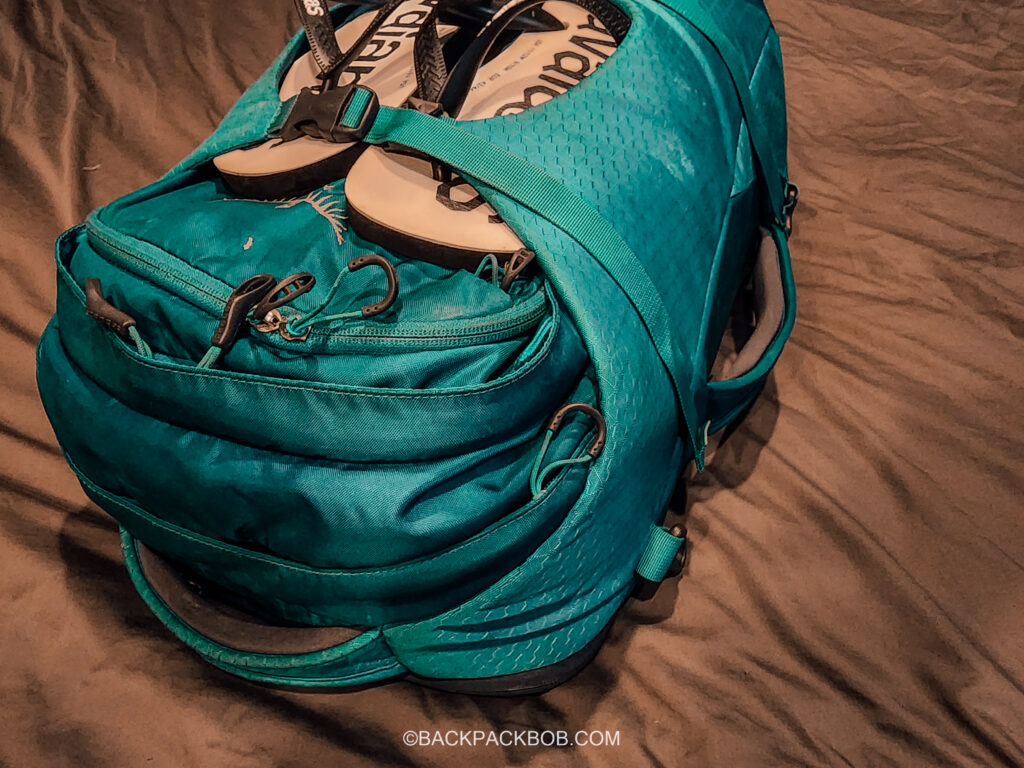 Choosing the right backpack is essential. It's step one when it comes to packing for Thailand.
The most important feature for me when it comes to choosing a backpack is that it should be front loading. This means the zips open up the front of the pack and you can reach anything you might need. With a top-loading backpack, you'd need to remove items to reach the bottom.
I used the Osprey Porter 30 litre. It's a fantastic bag. The small(ish) size means I can take it on flights as a carry-on (hand luggage), it can fit under an airline seat if need be and it's always by my side. The one downside is the weight of the pack. It has a lot of protection and padding which makes it a bulky pack- even when empty.
While this pack is great, ideally I would have preferred something a little smaller. The Cotopaxi Alpa 28 Litre, would have been ideal for this trip.
Other features to look for include a laptop sleeve, durable material and zippers (ideally with a waterproof cover included). 
There are three backpacks I would recommend. These are:
Osprey Porter 30 Litre
This is my go-to backpack for Thailand. It's got everything you could ask for. All the necessary compartments. a laptop sleeve. Insanely high-quality materials and zippers. And it can fit in an overhead locker. An absolutely solid travel bag. The downside of the osprey porter is that it can be a bulky bag. There is high-quality padding all around to protect your gear. Which serves its purpose well, but adds to the overall size and weight.
Cotopaxi Allpa 28 Litre
Storage in the Apla 28 is pretty much on par with the Osprey Porter. However, this bag is more lightweight and has less padding. It's a pro travel pack to go lightweight but slightly less suited to those travelling with electronics like drones, laptops or camera gear.
Osprey Farpoint 40 Litre
If you think a 30 Litre backpack is too small for Thailand the Osprey Farpoint is a lot more spacious. However, at this size you'll be categorized with everyone else- you'll likely need to check your bag in on flights and it's not as practical.
Don't buy a backpack any bigger than 40 litres (and even that is a push). If you are considering a 50-litre, 60-litre, or the dreaded 75-litre backpack, don't. Don't 'backpack'. Get a suitcase instead.
And here's why. With a huge backpack, you won't be able to hold the weight on your back for long and you'll be checking it in as a regular bag anyway. So you might as well make things more comfortable for yourself by using a case with wheels on it.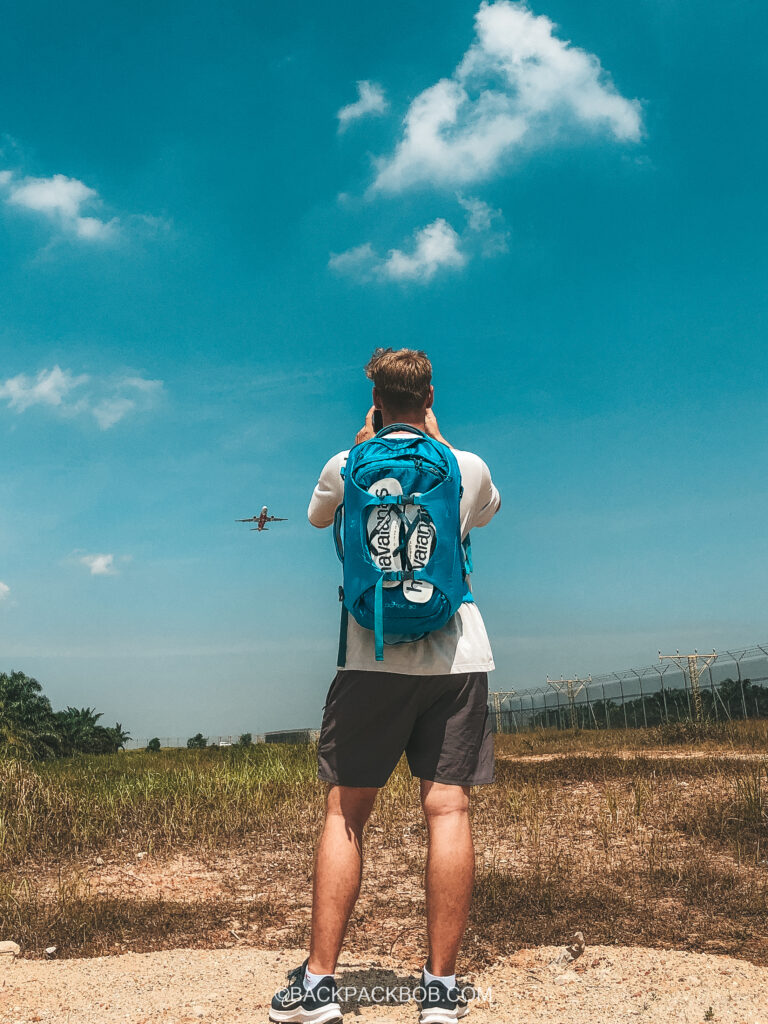 Packing Cubes
Packing cubes are game changers. Until I started using them recently I was convinced that using the method of rolling your clothes was superior. Boy was I wrong. It's insane the amount of space I can save using packing cubes. They have changed the way I pack for a trip and I'll never look back.
I am still in the process of trying out different brands of packing cubes and haven't yet found a set which is 100% perfect. So there isn't a brand I'd feel comfortable recommending yet. So in the meantime let me refer you to this Reddit community. But a few tips for buying packing cubes is to find a set which fits the size and width of your bag the best. Make sure the zips are high quality (a common failure point) and to save even more space look for 'compression' packing cubes.
What Shoes to Pack For Thailand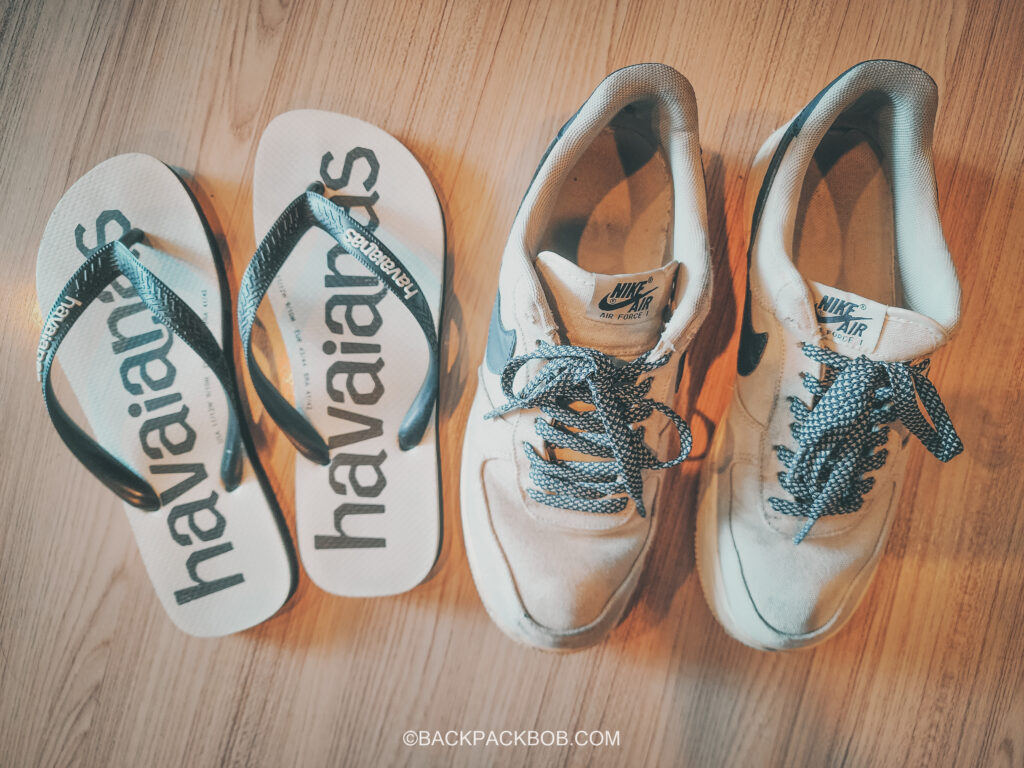 When packing for Thailand, you'll need to choose shoes that are both comfortable and versatile. They are the bulkiest item you'll pack, so choose wisely.
Personally, I carry two pairs. Flip-flops are one of the most important things to pack for Thailand. You'll wear them almost every single day—they're comfortable and practical for walking around beaches and islands. They're surprisingly common in cities and towns too. You can even get away with only bringing flip-flops if you wanted to go ultralight.
Because you'll get so much use out of them, you don't want to cheap out here. Cheap flip-flops are easy to find in Thailand, but I advise spending a bit more money on a quality pair that will be comfortable and durable. I've found that Superdry and Havaianas are two of the most comfortable brands.
I also have a pair of multi-purpose trainers, which are great for hiking or exploring temples. When moving from one destination to the next, I'll also wear my trainers. My flip-flops then take up minimal space in my backpack.
What Clothes to Pack For Thailand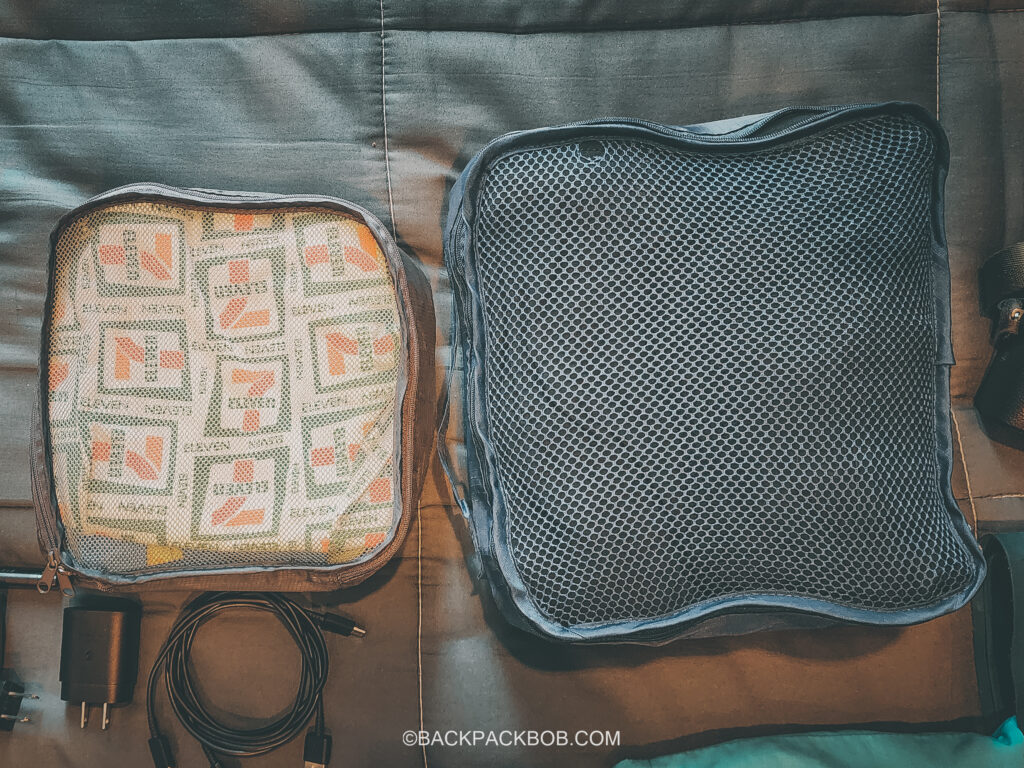 Thailand is a hot country which is important to keep in mind when packing. Loose-fitting cotton clothing is the best. It will keep you cooler, it's lightweight and quick to dry too.
Don't bring your entire wardrobe to Thailand with you! You'll find yourself uncomfortably lugging a huge bag around with you for no reason. You don't need to pack a lot of outfits for Thailand. Clothes can be washed (and brought) pretty much anywhere in the country. Laundry services are cheap and the turnaround time is quick- often as little as a few hours. On average it costs around £1 per kilo of clothes to wash. I've put together a full guide to help you with doing laundry in Thailand.
Underwear – 7 Pair of Boxer Shorts
Underwear takes up less space in my backpack. Some items such as shorts can be worn for two or three days before needing to be washed. The same cannot be said for underwear. Especially with the hot and humid climate. So I like to have more boxers than I do shorts and T-shirts.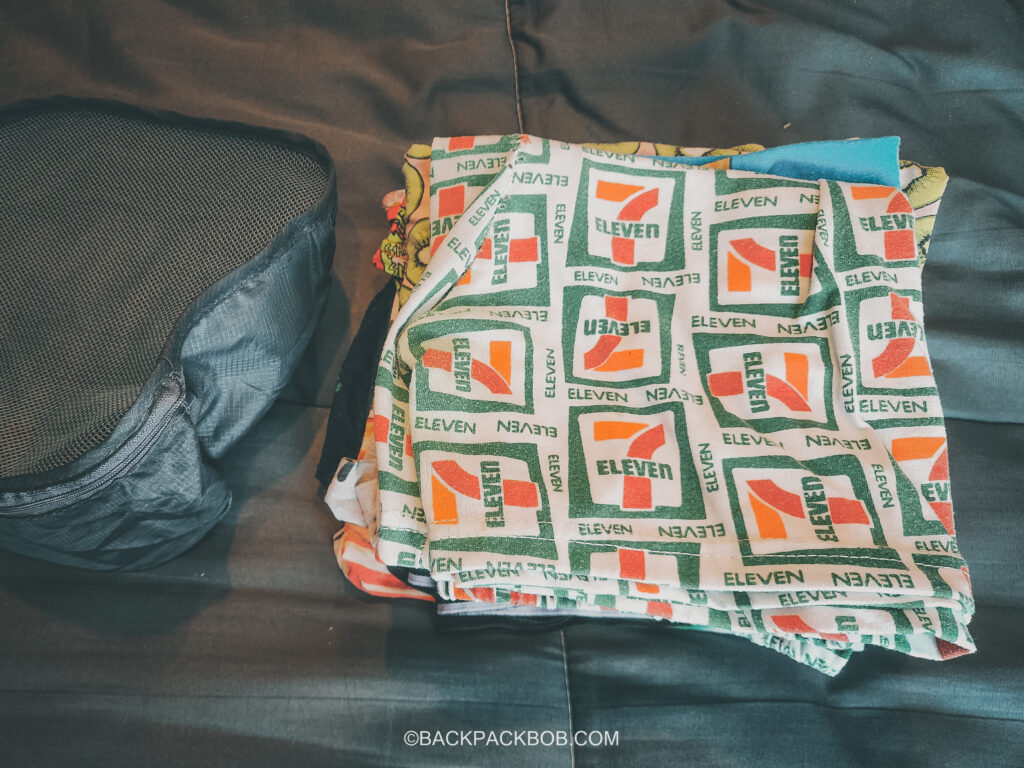 T-Shirts – 4 T-Shirts
Lightweight, loose-fitting cotton T-shirts are best. I've found 4 to be the ideal amount to pack + one that I'll be wearing, a total of 5.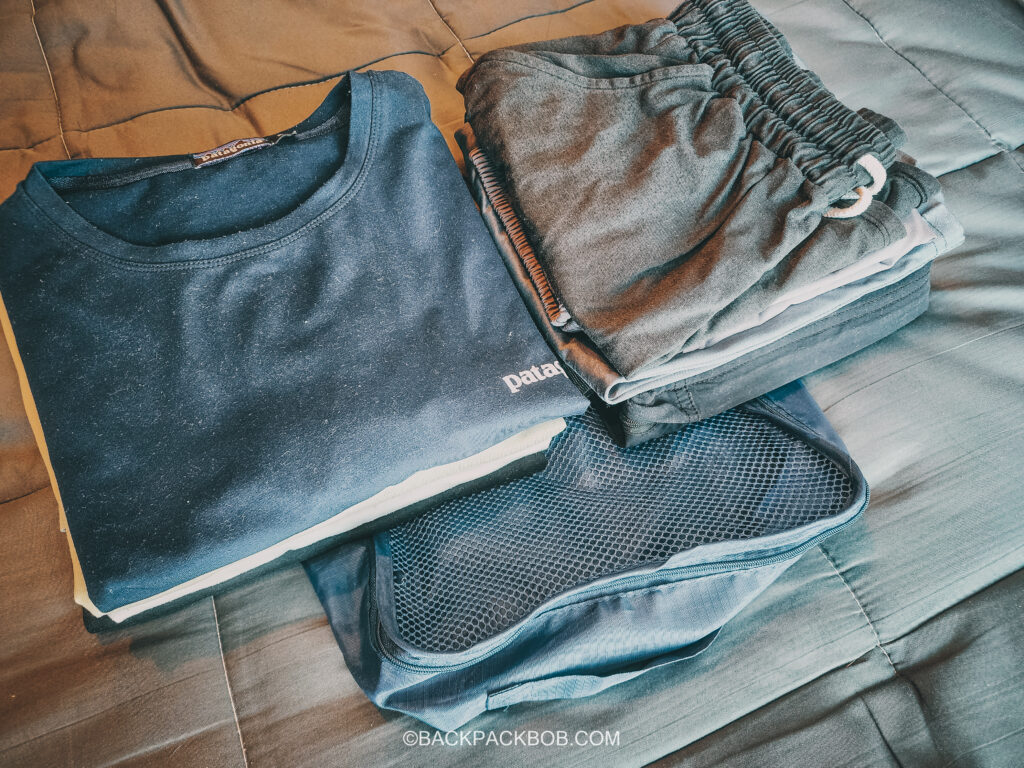 Shorts – 3 Pairs of Shorts
I can often get two or even three days of use from a pair of shorts, depending on what activities I'm doing. Therefore I carry fewer pairs of shorts. Three pair is my sweet spot + a pair I'll be wearing.
North Face Convertible Pants – One Pair
It's nice to have a pair of long pants/trousers in your pack. Useful for visiting temples, hiking in areas where there is long grass or to wear in the evenings when mosquitos are out. The Convertible Pants are lightweight and stretchy. They unzip at the knee to convert into shorts. I brought mine at the market in Hanoi for around £5. One of my favourite purchases ever.
Swim Shorts – One Pair
Thailand is famous for its beautiful islands so no doubt you'll be in the sea at some point. A lot of hotels also have a pool. Choosing a pair of board shorts that are quick drying is important so you'll be ready to pack up for your next destination without carrying wet clothes.
Sun Protection – One Sun Hat, One Pair Sunglasses
A sun hat will protect your face and neck from sunburn and prevent heat stroke. Something I've witnessed first-hand in Thailand, more than once.
Sunglasses should have a good quality lens with UV protection. It doesn't mean they need to be branded- but I would avoid the £1 plastic pairs you can find in the Thai markets.
To quickly and easily distinguish between worn and clean t-shirts and shorts, I will turn them inside out. This takes up no additional space and is a simple way to signal that the clothes need to be washed.
What Electronics to Pack For Thailand
When it comes to electronics everyone is going to be different. For me, a laptop is essential because I work online. And I also use it to write content for Backpack Bob! However, most travellers could make so with just a phone or a tablet. I also pack a power bank, a pro camera and sometimes a drone or GoPro, depending on where I'm visiting. It goes without saying that I also have a mobile phone (which is why that's listed in the essentials section, rather than electronics).
Laptop
My laptop is an essential item for me. I use it for photo and video editing, blogging, and managing my online business. I wouldn't be able to afford to travel without it. I choose backpacks with dedicated laptop storage areas and laptops that are lightweight but powerful. My Surface Laptop weighs just 1kg and has 16GB of RAM and a four-core i7 processor. It can also be charged through Type C, so I don't need to carry an additional charger.
Camera Gear
Depending on where I'm heading I'll pack a DJI Mini Drone, and/or a GoPro Camera. However, the Sony A6400 with Kit Lens is my go-to all-around travel camera. The mirrorless body is small enough to easily stow in my backpack, but I still need to pack spare batteries for each camera—a necessary evil.
Storage
When you're visiting new places you'll inevitably be taking a lot of pictures. If you are using your phone as a primary camera you're probably fine to use cloud backups- please make sure it's switched on, set up and working. But if you are capturing content on a drone, GoPro or Pro Camera you'll want an SSD to take backups on the go. I use a Sandisk 2TB SSD- this thing is incredible. It's tiny (3.5 inches tall, 49 grams), shockproof, and waterproof- not that I'll be testing those features.
Power Bank
Anker is usually my go-to brand for power banks. Look for a device with a Type C Input (so you don't need an additional cable). Has 65+ Watt fast charging and a wireless charger built in. Make sure to choose a power bank which is 20,000mha or less- this is the maximum-sized power bank you can take on a plane in South East Asia.
Headphones
Airpods, or wired headphones. Whatever your preference this is an essential item to pack for Thailand. With long flights, overnight trains and busses- you'll have a lot of downtimes where you'll want to keep yourself entertained. I prefer to use wired headphones because it's one less device to keep charged- which can be a hassle when staying in hostels. I also recommend a small set of in-ear phones instead of over-ear headphones in order to save space.
Cables and Chargers
USB. Type C. You are beautiful. I carry one power brick (wall brick) with a USB C output. This single brick can be used to charge all my devices! I use the Type C to Type C cable to charge my phone, laptop, power bank and camera! I also have an old-skool Type C to regular USB cable- for situations when I want to charge my phone in an airport and there are only type A sockets available.
Packing tip: To save weight don't buy a travel adaptor- just buy a new power brick for Thailand and connect your existing USB cables to that.
Apple Airtag
Here is my tech travel hack. Get yourself an Airtag (or Android equivalent)- set it up and stow it in your bag. Mine is stitched into the lining! Which is why it is not shown in my packing picture. If you are ever separated from your bag on a bus journey or if you have to leave you pack in a hostel common area before your room is ready. You'll be able to keep tabs on it at all times.
What Toiletries to Pack
Don't overthink it when packing toiletries for Thailand. You can buy anything you need while you are on to the road. The thing to keep in mind when travelling with a carry-on bag is the liquid limit maxes out at 100ml. But I do like to bring a small 100ml bottle or two filled with shower gel- because I find the soap which is supplied in Thai Hotels to be a little bit too feminine and not great for more skin.
So, toiletries- what to pack for Thailand.
Toothbrush and Toothpaste
Razor and Small shaving foam
Roll on deodorant
Small tub of hair wax or hair styling powder
And that's it. I'm a simple guy- I don't need much other than to keep clean. I pack all my toiletries into a smaller bag which is loaded into the main section of my backpack.
Suncream: You can easily buy sunblock in Thailand, but the prices are expensive. This is because there is not much demand for it from locals- so it's sold only in tourist areas. If you are travelling with a carry on bring a small 100ml bottle. If you have a checked bag, bring a more modest-sized bottle.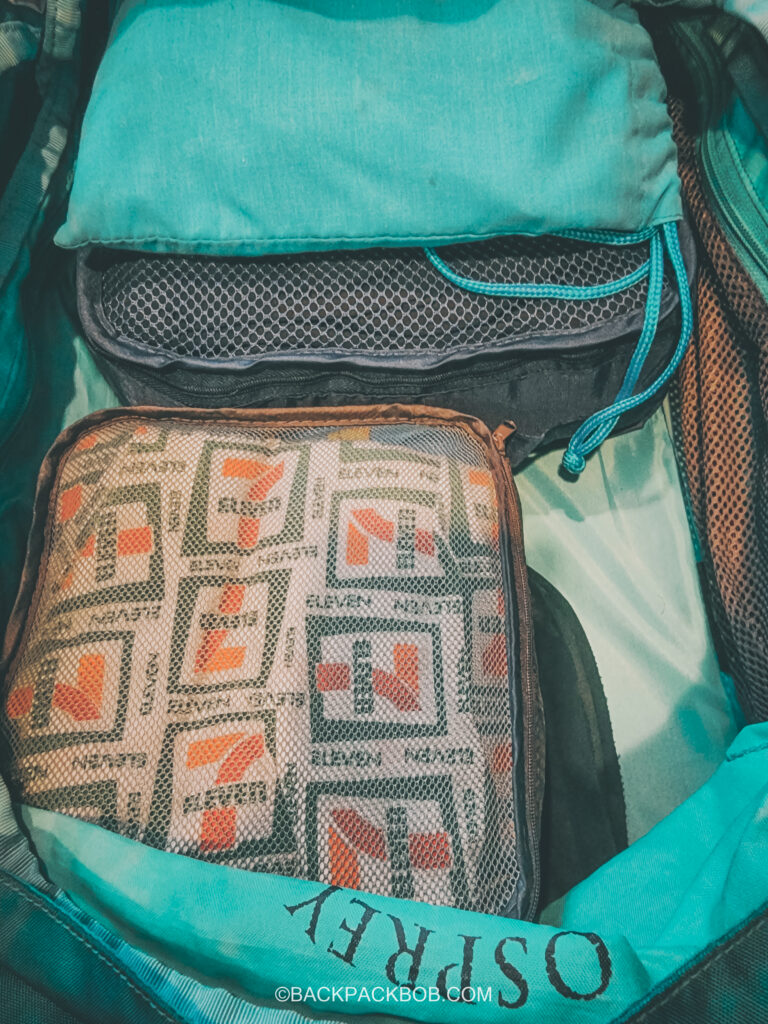 Miscalenios and Comfort Items to Pack
There are some other items you should pack for a trip to Thailand that will make your adventures flow a little smoother, perhaps you haven't thought about these items yet. Are they on your Thailand Packing List?
Sleeping Comfortably
These three items take up next to no space in my backpack and make a world of difference.
Inflatable Travel Pillow
This is my 'luxury item' and takes up almost no space in my bag. Sleeping on the airport floor?- Sorted. Taking a flight, train, bus- you got it. But I also use it in hostels too. I need two pillows to get a comfortable night's sleep- and in most hotels and hostels you'll only be given a single pillow. This travel pillow folds up so small and slips into the top of my bag.
Eye Mask
I was so pleased to have packed this item. It came in super useful on the overnight train– the cabin lights are left on and bright all night long. It's great for hostels too- when that di**he*d you're sharing a room with decides to switch on all the lights at 6.00 am.
Ear Plugs
I always keep a couple of pairs of foam earplugs slipped into the side of my backpack. It's not often that I need to use them. But they are fantastic to have on hand when needed. Sharing a dorm with a heavy snorer, snoozing on an airport floor? Block out all the noise and sleep in peace.
Other
Cash
It's good to have some cash in the local currency when you arrive. Not essential, but recommended. I keep the equivalent of 100 US Dollars in the local currency stashed away in the bottom of my bag. I've never needed to spend it but it's nice to know it's there for emergencies.
International Drivers Licence
Make an application for an IDP- International Driving Permit in your home country before travelling. Even if you don't plan on driving now- things can change on the road. It's a simple process before you travel and nearly impossible to obtain while on the road. Your travel insurance will be invalid if you ride a bike without one. Read more about riding scooters in Thailand.
A Pen (or Two)
I can't say how many times this has saved me. It's happened often- arrive at a border- get presented with a form to fill out. But you don't have a pen! Desperately trying to find someone with a pen to lend before you can fill out the form and cross the border. I keep a pen in my bag and can fill out these forms on the fly and jump the queue of those who must wait for their turn to use the communal pen.
Playing Cards
Travelling solo- having a pack of playing cards is a great way to make new friends, socialise and cure boredom.
Padlock
I use a simple combination lock to secure my backpack's laptop compartment. A small lock won't prevent theft but it can act as a deterrent to an opportunist thief. When you stay in hostels, most lockers require you to use your own padlock to keep your belongings secure. So it comes in handy there too.
What Not to Pack
This is probably the most important section of this guide. Shedding weight. You don't need to pack everything for a trip to Thailand. The key is to carry as little as possible. So here are the things NOT to pack for Thailand.
Drugs
Prescription drugs- make sure to check that any prescription drugs you take in your home country are legal in Thailand. Some common medications such as ADHD meds are illegal in Thailand. Cannabis has recently been legalized in Thailand, but you cannot import or export it without a permit.
Towel
This is the number one mistake, backpackers make, a towel is bulky and not essential- you don't need one. 100% of hotels and hostels provide towels for their guests.
Water Bottle
I wish I could include this on my packing list to bring to Thailand- because a reusable bottle is great for the planet. However, in Thailand, it will be redundant and take up space in your backpack- because it will be impossible to find anywhere to refill it. It sucks, but unfortunately, plastic bottled water is still the only choice in Thailand.
Torch
Unless you are going camping or overnight hiking. You don't need to pack a torch for Thailand. The flashlight on your phone will suffice.
Hairdryer
A hairdryer takes up an insane amount of space in your backpack. You. Don't. Need. It. With Thailand's heat, it doesn't take long for hair to dry naturally. Plus the vast majority of hotels will provide a hairdryer to use for free.
Toiletries Don't overpack toiletieries. Pack the bare minimum you can buy any extras you might need when you land.
Mosquito Spray You can buy this locally, much cheaper than you'll find at home. Besides being cheaper, the local stuff works 100 times better.
Electric Toothbrush / Beard-trimmer If you're serious about saving weight in your backpack dropping these items and switching to a manual toothbrush and a razor can save you so much space and weight.
International Power Adaptor / Extension Leads This is another thing that takes up lots of valuable space in your pack. Do you really need a huge power adaptor that will fit plug sockets across the globe? I travel with just a USB cord and pick up a local 'brick' at a market when I arrive, these things are much smaller and much less hassle.
Travel Sheets / Sleeping Bag These items take up close to half your backpack. You'll do just fine without them.
Expensive Jewellery / Unnecessary Valuables Generally speaking both backpackers and Thai people are honest and trustworthy. But opportunist theft does happen in Thailand, If you leave behind the unessential you'll have a much clearer mind and won't have to worry about leaving your bag in a hostel.
Final Thoughts
So that is everything that I pack for a trip to Thailand. And everything not to pack too. As tempting as it might be to bring more- just in case. Don't do it, because you'll only regret it later on. Choose a smaller bacpack- you don't need a huge pack for Thailand. You don't need extra empty space in your bag. You want to be lightweight, free and nimble to have the best experience.
Rememner Thailand is a place you can buy just about anything. And you can wash your clother cleaply and quickly. As long as you have a passport, a bank card and a phone- you'll do just fine.