I spent three days exploring Langkawi, during our two weeks in Malaysia. I was blown away by the island. For those of you who don't know. I spend six months a year living in the Phi Phi Islands, and there is a daily speedboat running between Phi Phi and Langkawi. I even sold tickets for the boat operator at one point! But even though I've been living so close to Langkawi for years, it took me seven years to finally visit. I'm so glad I finally had the chance, but I wish I had done it sooner. Langkawi is incredible, and I highly recommend it to anyone looking for a beautiful and exciting vacation destination. This post is a comprehensive guide to the best things to do in Langkawi for first-timers.
Introduction to Langkawi
This Langkawi Guide can help you plan your own itinerary for the island. I will focus on the best things to do in Langkawi, but you will also find some useful information and travel tips about the island. This includes hotel recommendations, the best areas to stay, how to get around the island, and how much you should budget for your trip. I'll share my perspective of Langkawi in this travel guide. It's also a good idea to set up an account wise Wise so you can make contactless and QR payments in Langkawi.
Things To Do In Langkawi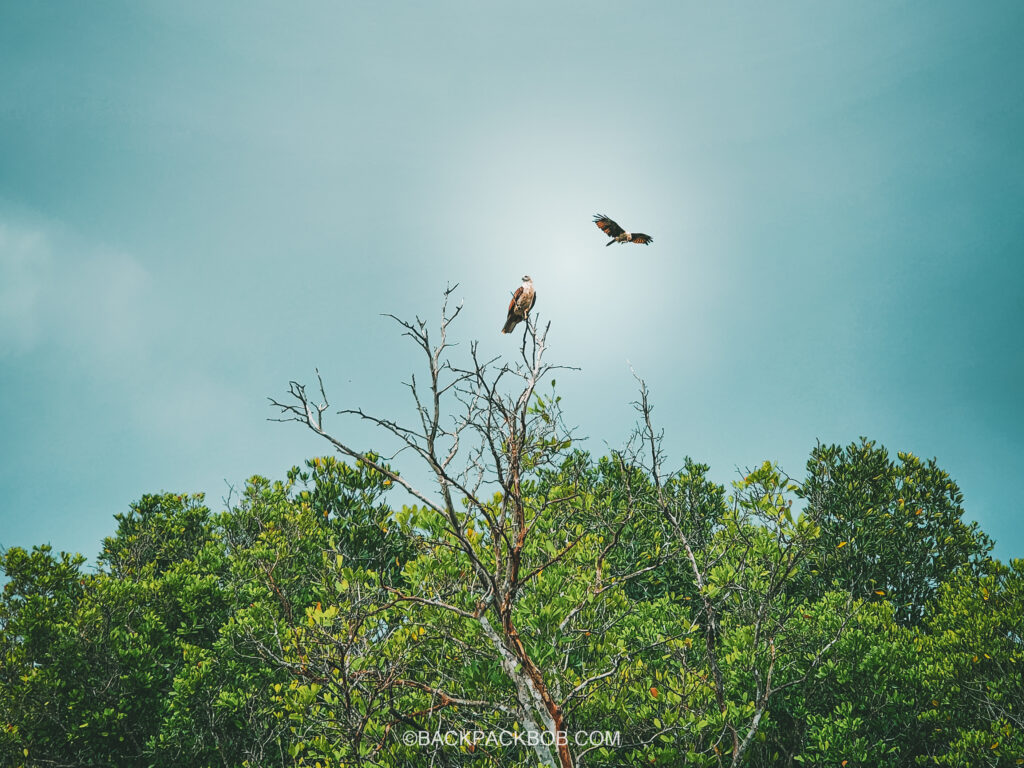 Langkawi is a popular destination for its beautiful beaches, waterfalls, jungles and mangrove forests. Some of the best activities to do on the island include snorkelling, scuba diving, mangrove kayaking, jungle trekking, and hanging out at the beach. The most popular attraction on the island is the cable car ride, which offers stunning views of the surrounding area. Langkawi is also a popular destination for nightlife, thanks to the zero per cent tax on alcohol.
Things To Do In Langkawi
Kilim Geoforest Mangrove Tour
Includes Seeing Langkawi Eagles, Crocodile Cave and Bat Cave.
Gunung Machinchang Cable Car
Visit the Beaches
Tanjung Rhu Beach, Pantai Tengah and Pantai Kok.
Temurun Waterfall
Watersports
Jet Skiing, Banana Boating and Parasailing.
Plane Spotting
Dataran Lang Eagle Monument
Mangrove Kayaking
Scuba Diving
Langkawi Cable Car and Sky Bridge
We spent our first full day in Langkawi visiting the Langkawi Cable Car and Sky Bridge, two must-do activities on the island. We booked tickets online and rented a scooter to get there, stopping at the Seven Pools Waterfall on the way. If you can, visit mid-week as we did, there was no queue for the cable car and we even got a private gondola.
The cable car is supposedly the steepest in the, taking you to the summit of Gunung Machinchang. The skybridge is also at the summit. The 125-meter-long suspension bridge offers even more amazing views. I published a separate guide on the Langkawi Cable Car and Skywalk. More info here.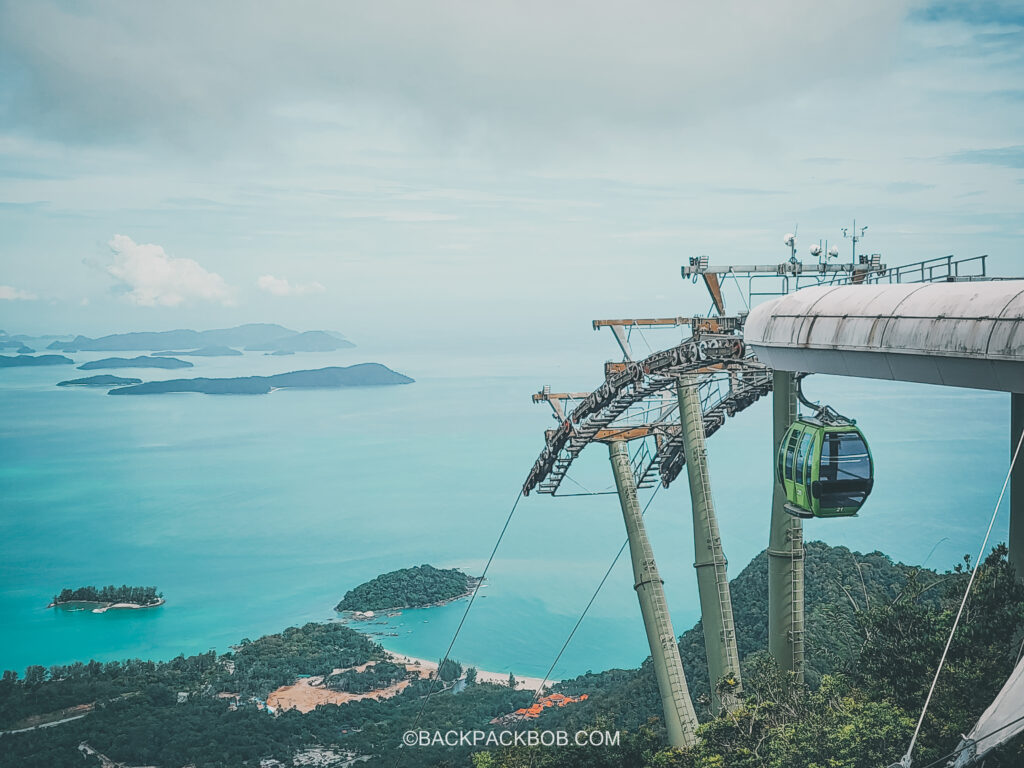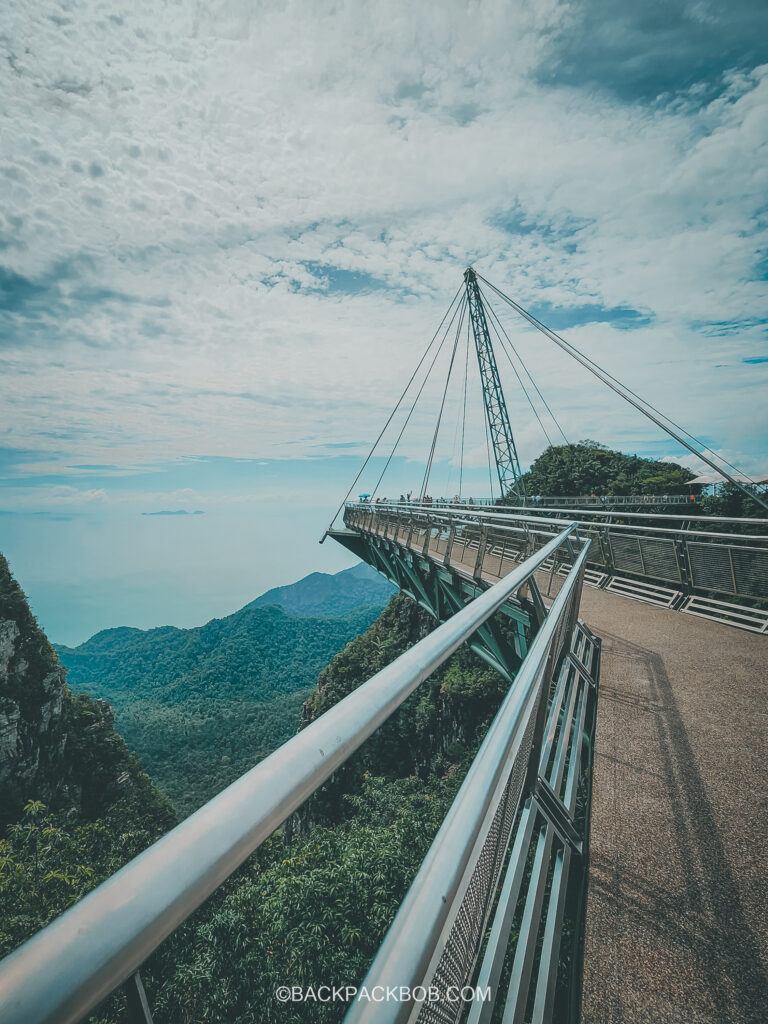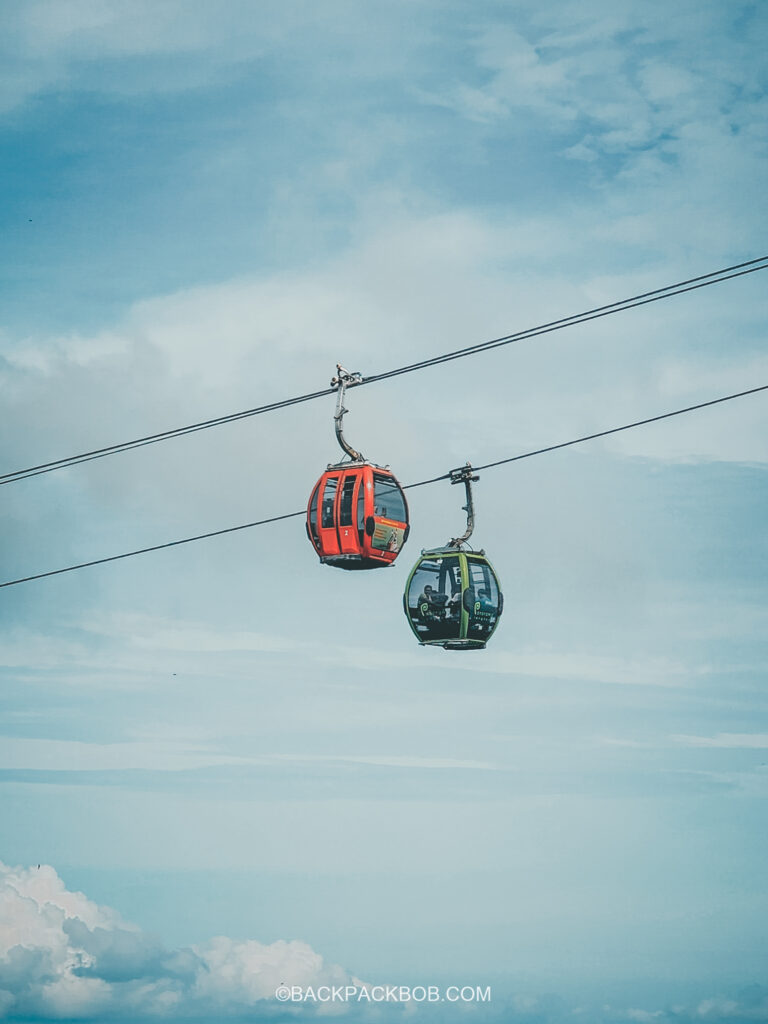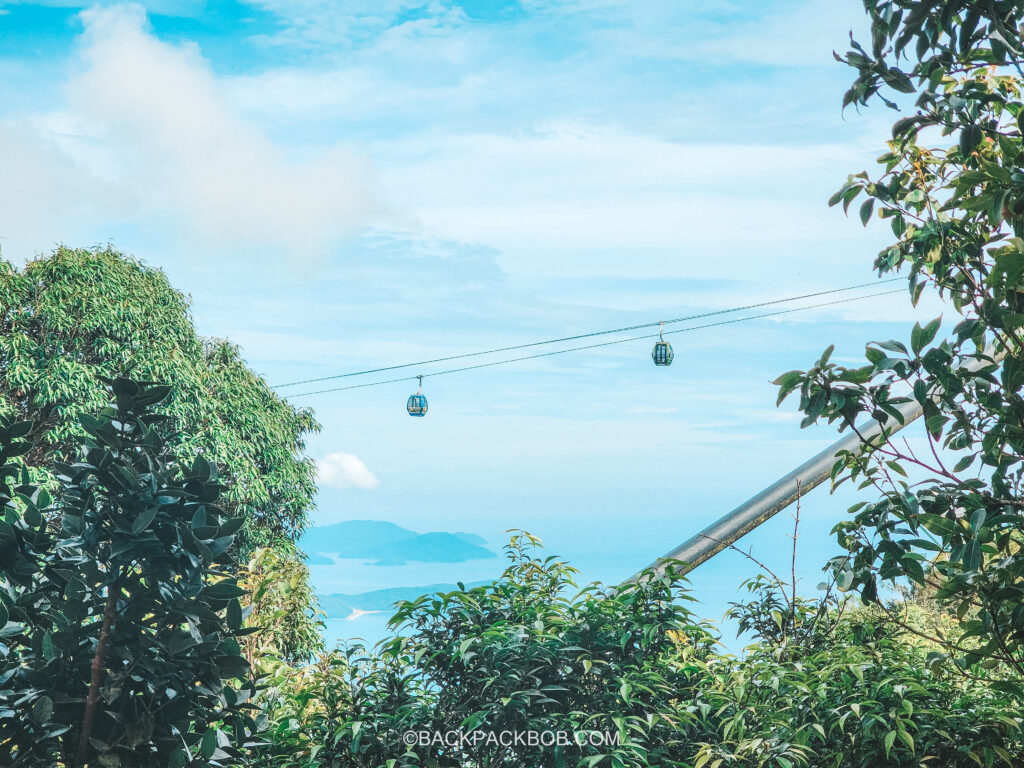 We booked our tickets for the Langkawi Cable Car and Sky Bridge on Klook. Klook tickets are open tickets, which means you can use them at any time on the day you choose. Just show your mobile voucher at the ticket office when you arrive. The price is the same as if you bought tickets in person (55 MYR), but you're guaranteed a spot if it's busy.
Telaga Tujuh (Seven Wells) Waterfall
Seven Wells Waterfall is a popular Langkawi attraction for its seven natural pools connected by a gushing river. The falls are split into two sections, the upper pools and the lower pools, separated by a striking vertical waterfall cascading down a 91-meter-high cliff face. The lower pools are the most popular, as they are easily accessible and offer a great view of the waterfall. The upper pools are a bit more challenging to reach, as they require a 638-step hike. However, the views from the upper pools are even more spectacular, and you'll be rewarded with the chance to swim in the refreshing natural pools. The pools are at their fullest during the low season (April – October).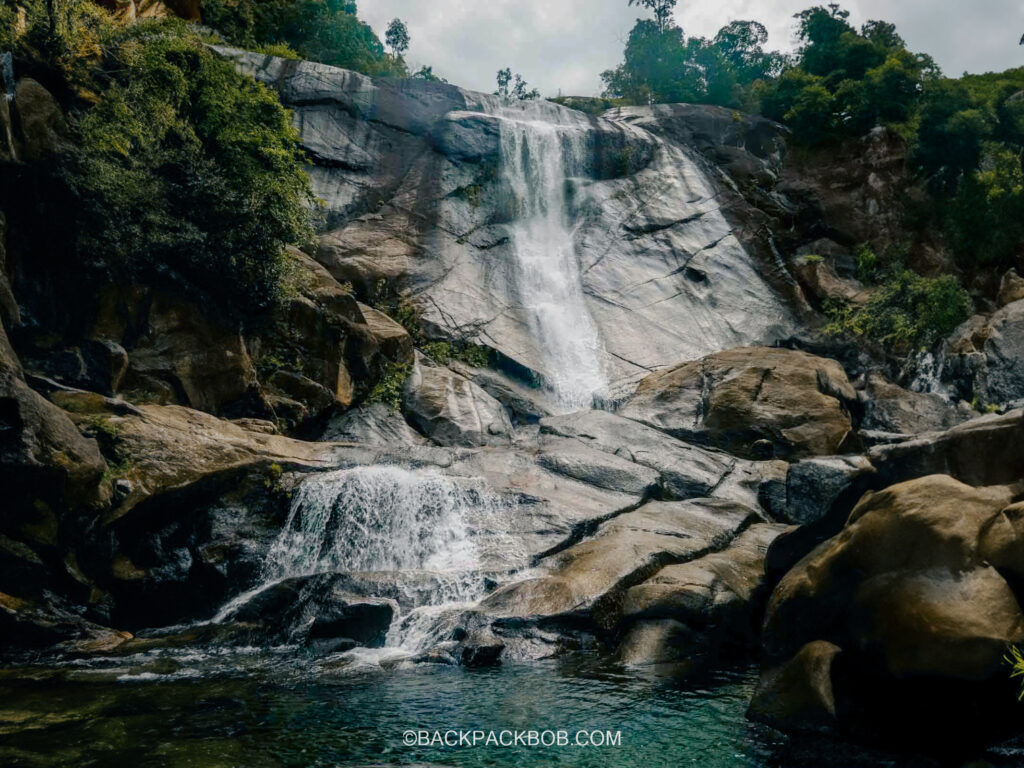 The Seven Wells Waterfalls are free to enter, there are many other waterfalls in Langkawi too, and here are the 4 most popular ones. But we chose to visit this waterfall for two reasons; firstly, it looked the prettiest. Secondly, it was the most convenient location. It's a few minutes away from the Langkawi Skybridge so we could easily combine both activities into one trip. Google Maps Link.
Kuah Eagle Statue
Eagle Statue photo wanted: Please DM me or comment if you have a RAW photo from Langkawi. I would love to use it on my site and credit you.
If you've been researching Langkawi, you may have seen the famous eagle statue. The island is home to a colony of red eagles, which can be seen on a mangrove tour. The name "Langkawi" is believed to come from the Malay word "helang," which means "eagle." However, there is some debate about the origin of the name.
The Langkawi Eagle Statue is a popular landmark that is often seen by visitors arriving on the ferry. However, I was unable to take a photo of it myself. Why? Because I snuck onto a cargo boat to get to Langkawi and arrived at a different port. Then, when we left, I overslept, arrived late at the pier and almost missed the boat! Google Maps Link.
Langawi Mangrove Tour
We booked a mangrove tour in the Kilim Geo Forest Park for our second day in Langkawi. The tour lasted for 4 hours in the morning. We rode our rented scooters to the start point. The tour took us speeding down the river to see the famous Red Eagles of Langkawi, which were incredible. We also visited the bat cave, ate lunch in a floating village at 'the fish farm' and saw a hidden cove, accessed by entering the "crocodile" cave. I've published a full guide for the Mangrove tour, here.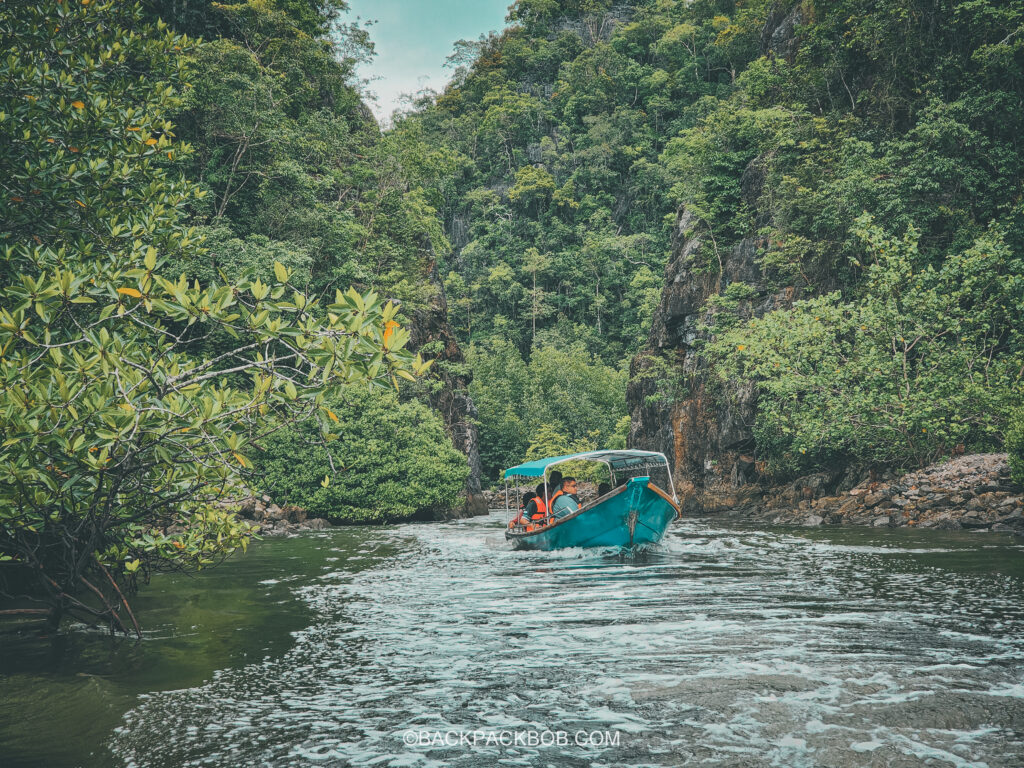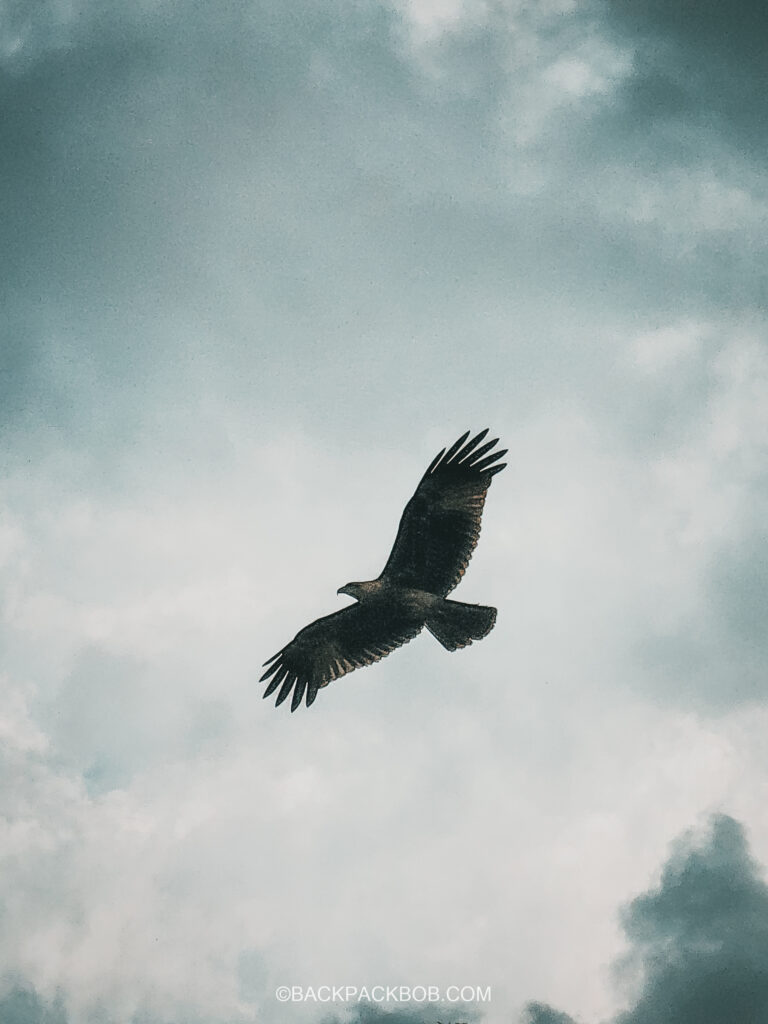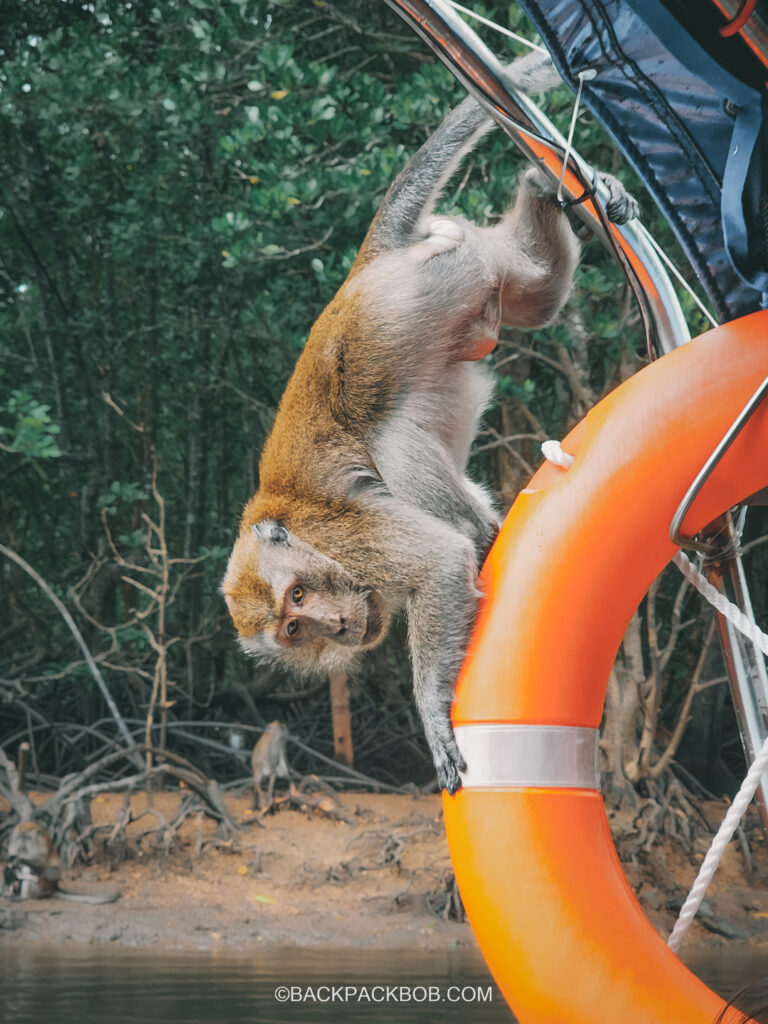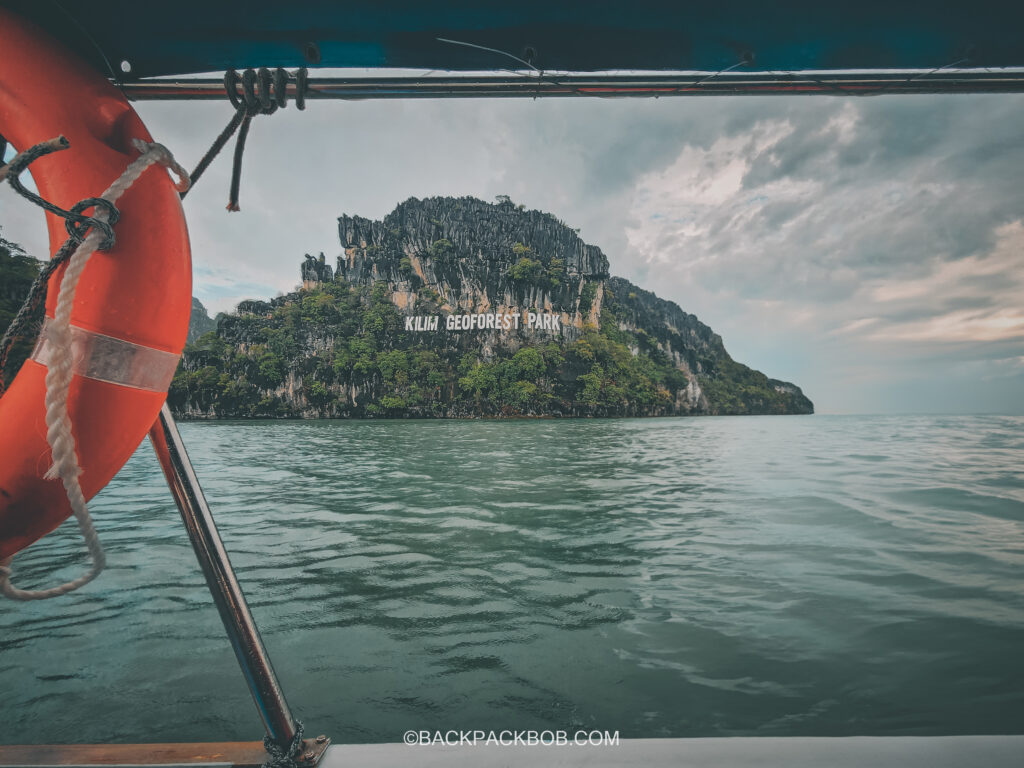 There are many mangrove tours to choose from in Langkawi, with prices ranging from 100 MYR to 450 MYR. We booked a shared boat tour with Klook for 100 MYR per person. This was a great option for us as it was affordable and we didn't feel overcrowded. If you want a private tour, you can book an entire boat. Book a tour online with Klook here, or book Private tours can also be booked directly with the captains at the Tanjung Rhu Mangrove Jetty. The official rates are 250 MYR per hour, 350 MYR for two hours, or 450 MYR for three hours. Shared tours need to be booked in advance. Google Maps Link.
Plane Spotting
Ok so this thing to do in Langkawi, admittedly, is a little bit geeky. But, Pantai Cenang Beach in Langkawi is a great place for plane spotting.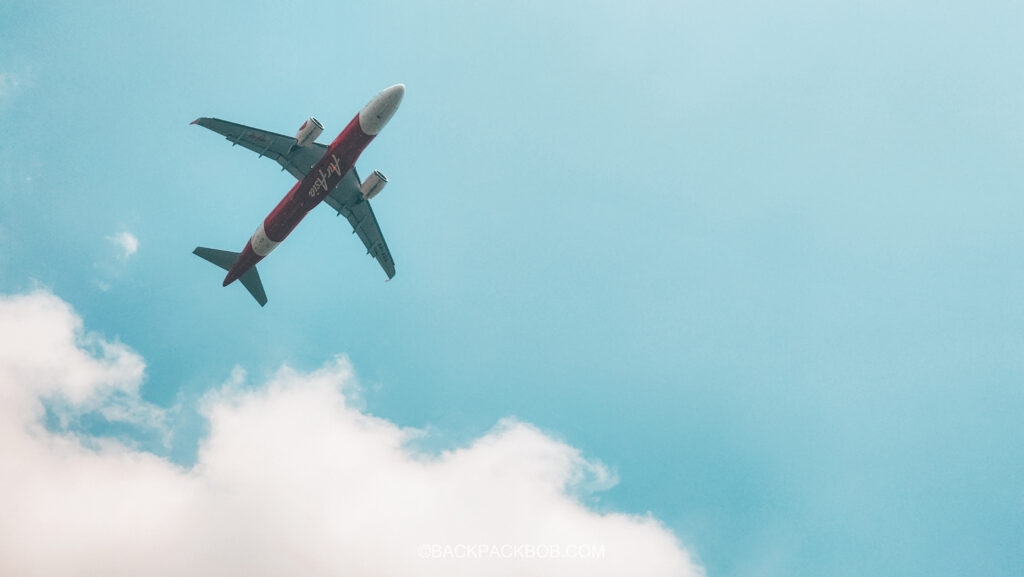 The beach offers a prime vantage point to witness the flight path of planes taking off and landing, as the end of the runway is visible from there. It's a fantastic spot for capturing impressive photographs. Google Maps Link.
Relax at The Beach
Langkawi is renowned for its stunning beaches, which are some of the best in Malaysia. This is no surprise, given the island's proximity to Thailand's famous beach region. Some of the most popular beaches in Langkawi include:
Pantai Cenang: A Vibrant Oasis
Pantai Cenang is a central and busy beach with many hotels, restaurants, and water activities. The beach itself is beautiful with soft sand and is a great place for watersports and nightlife. Google Maps Link.
Pantai Tengah: Serene Tranquility:
Pantai Tengah is a quiet beach just a few hundred meters from Pantai Cenang. It is a great place to relax and enjoy the sunset. There are a few hotels and beach resorts on the beach, but it is mostly empty. Be sure to look out for, and explore the beautiful section of the beach hidden behind a large rock in the far corner. Google Maps Link.
Pantai Kok: Western Oasis of Serenity:
Pantai Kok is near to the Seven Pool Waterfall and the Langkawi Cable Car. It has two beaches: an eastern beach and a western beach. The western beach can only be reached on foot from the eastern beach during low tide. It is a beautiful beach with stunning views of the rocky seabed and the green mountains of Langkawi. Google Maps Link.
Tanjung Rhu: Langkawi's Exquisite Gem:
Tanjung Rhu is a quiet beach in the northeast of Langkawi with stunning views of several green islands and Thailand. It's located near the endpoint for the Mangroves tour and can be combine together. Monkeys play in the trees and may try to steal your food. You can buy fresh coconuts from a small stand and there are some cute restaurants nearby. Google Maps Link.
Pantai Pasi Tengkorak: Tales of Adventure:
Datai Bay is also close to Pantai Pasi Tengkorak Beach, but it is only accessible to guests of the exclusive Datai Resort.
Pantai Pasir Tengkorak, also known as Skulls Beach, is a beach in Langkawi with a dark history. It is located in front of Ko Tarutao, a Thai island that was once home to a prison. Rumour has it that the bones of perished, escapees would wash ashore here. Today, the beach is a popular spot for local families. While it is not the most beautiful beach, the accompanying story and view of other islands make it an interesting place to visit. Google Maps Link.
Sunset Boat Tour
Sunset boat tours are a popular way to experience the beauty of Langkawi. You can cruise along the coast, taking in the stunning views of the islands and the Andaman Sea. As the sun sets, the sky is ablaze with colour, creating a truly magical spectacle. Many tours also include a stop at a secluded beach or island, where you can relax and enjoy the peace and quiet. Here is a good guide for more information. Or reserve a spot on the top-rated Langkawi Sunset Boat Tour, here.
More Things To Do In Langkawi
Other things to do in Langkawi include taking an Island Hopping Boat, Dev's Adventures is a great company to use and you can book the most popular tour here(40 MYR). Or you can do a private Island Hopping tour instead(350 MYR). Visiting the Temurun Waterfall which is nearby to Skybrige and can be combined into one trip. Kayaking through the mangroves, trekking through the jungles with a local tour guide, and Scuba Diving (350 MYR) at Paula Payar Marine Park (Coral Garden) are some other popular activities. As is relaxing on the white sand beaches at Pantai Kok and exploring the mysterious 'Skull Beach'. To maximise your time, book a private tour of Langkawi, where you'll spend the entire day with a local guide and get to see the best parts of the island.
How To Get to Langkawi
Unexpectedly, getting to Langkawi was a challenge. If you've been to Asia, you've probably heard the saying 'The boats are never full.' In Thailand, there is always more space, and always more tickets to be sold. I've taken bus journeys in Vietnam with people sleeping in the aisles. I've ridden in the back of trucks in Thailand- with two people to a seat! But in Malaysia, I experienced something different. The boats were all sold out! (You should book a ticket in advance).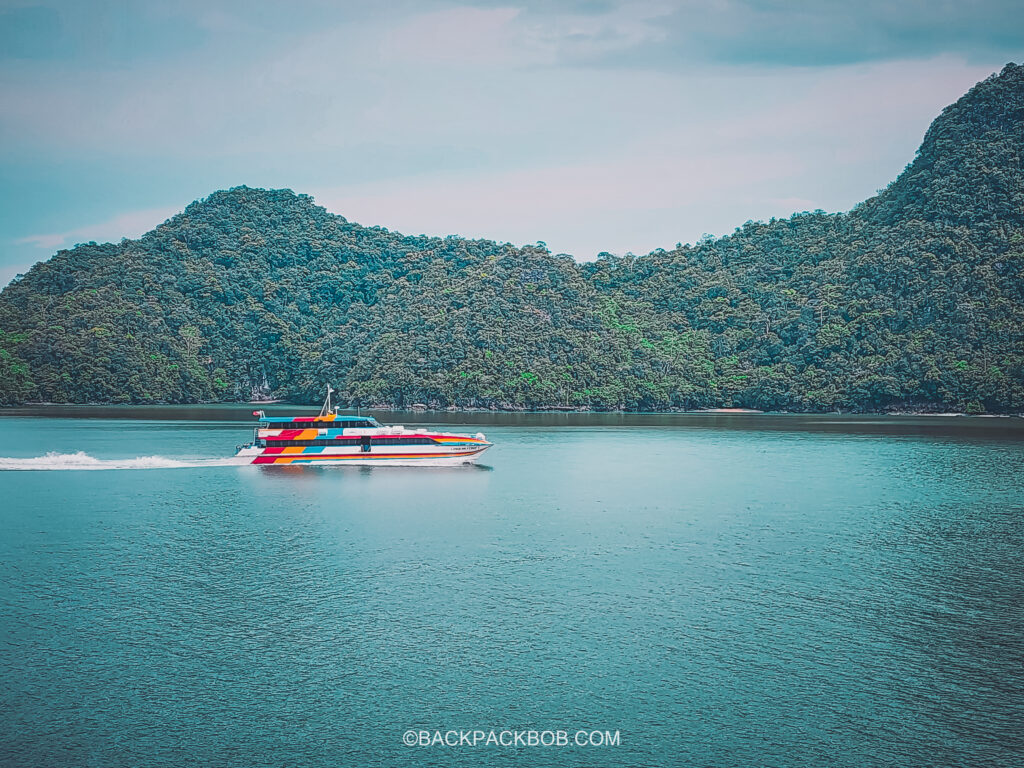 We arrived at the pier, cash in hand ready to buy a ticket and board a boat to Langkawi. Every single boat operator we spoke to said they were fully booked. We tried and failed to buy tickets, from six different boat companies. Not wanting to spend the night at the dock, on with non-refundable hotels booked in Langkawi. We took the next logical step and became stowaways. Yes, we snuck onto a ship- whoops.
Want to know how we got to Langkawi? Full post here.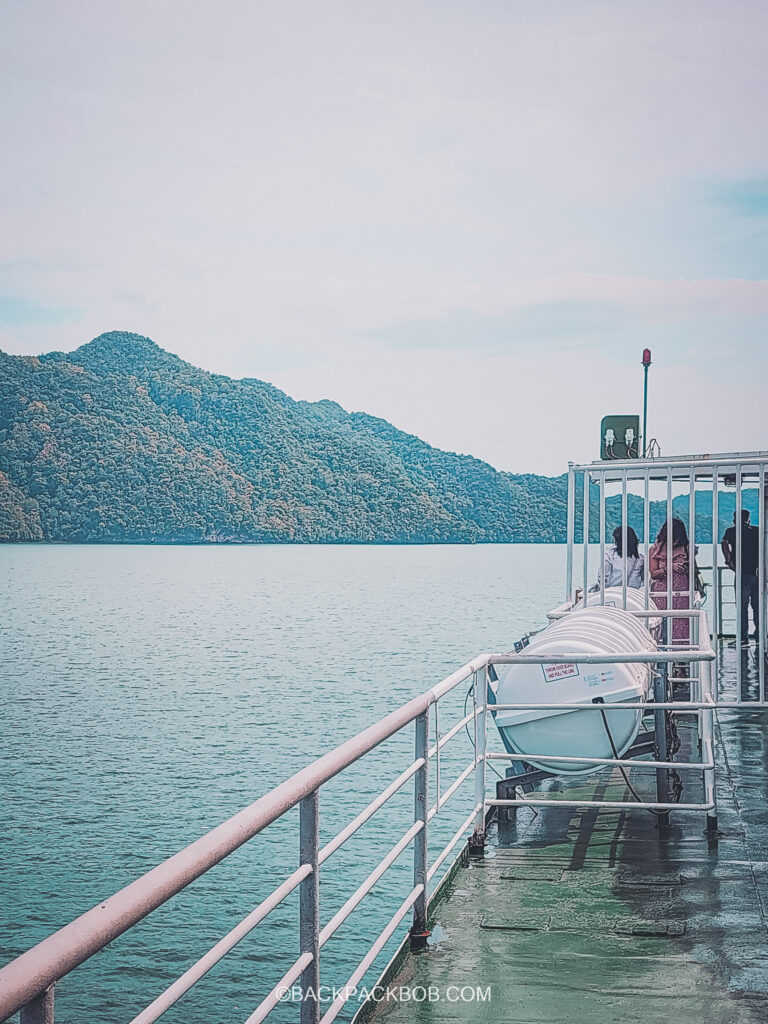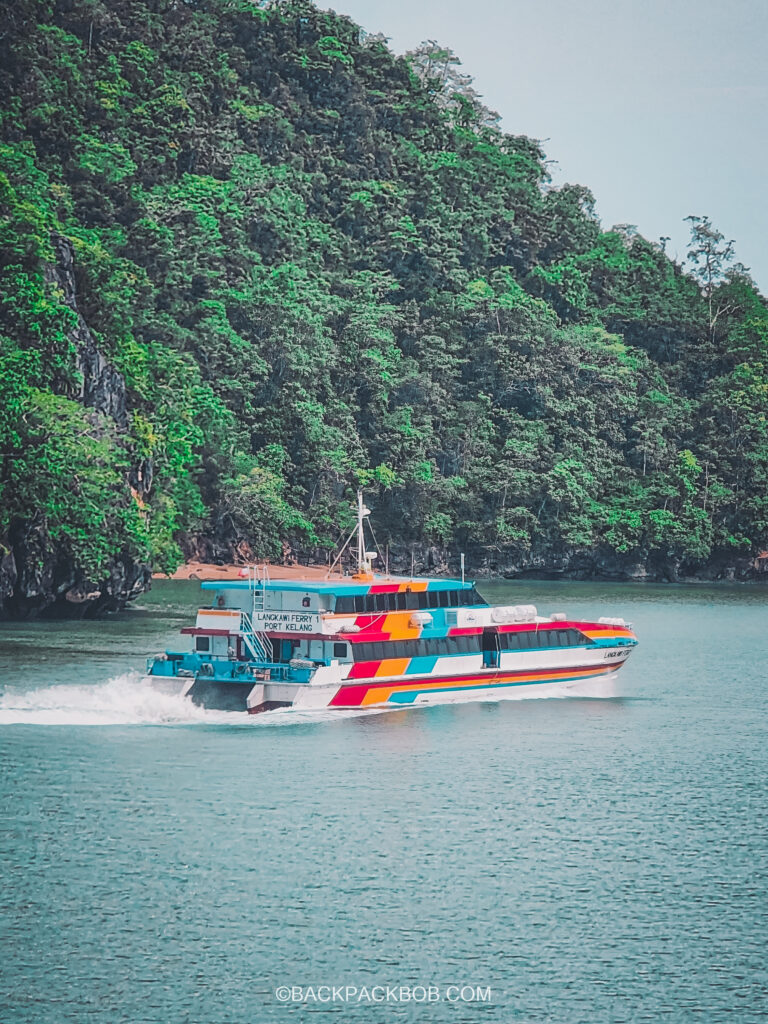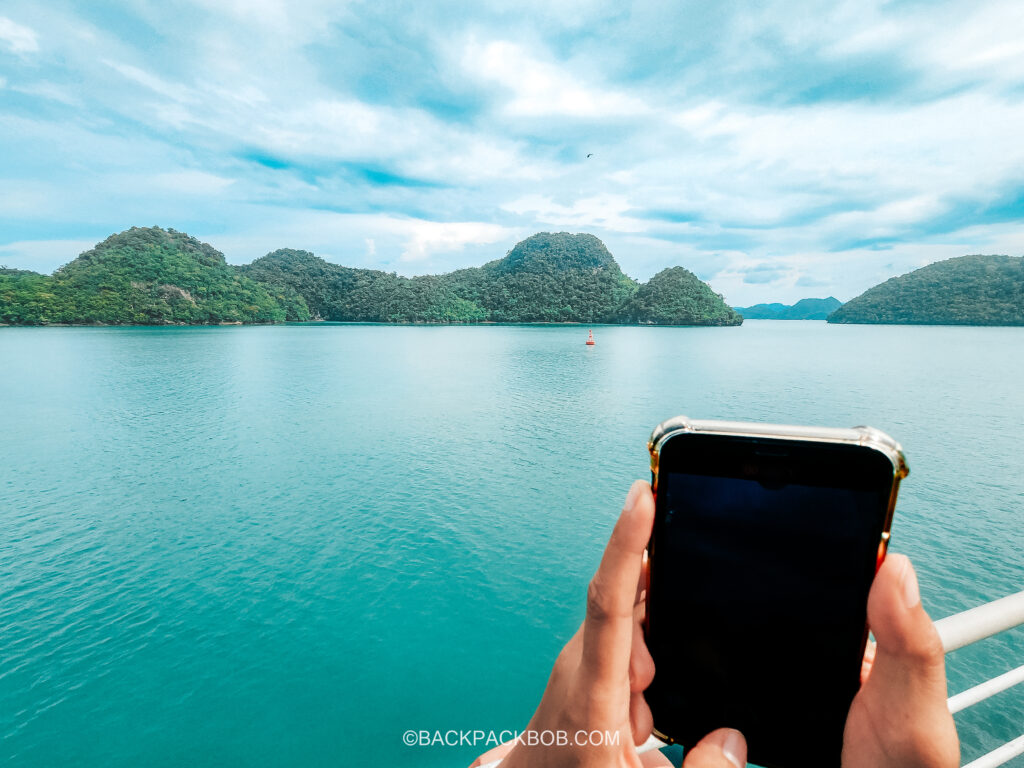 Here are the important details for getting to Langawi:
Book your boat ticket to Langkawi in advance. We found that all the boats were full when we tried to book on the day of travel.
Boat tickets can only be purchased from the official website, Cuti Cuti. The price is between 35 and 60 Malaysian Ringgit (£5 to £10).
Boats depart from Kuala Perlis Pier. There is a coach station 50 meters from the harbour, and the nearest train station is in Arau.
Langkawi has an airport. Most flights to Langkawi depart from Kuala Lumpur Airport.
The ferry from George Town has stopped operations since the corona shutdown.
If you are travelling from Thailand, there is a speedboat from Koh Lipe to Langkawi (Nov – Mar).
Boats usually arrive at Kuah Pier. From there, take a Grab to your hotel. The ride to Pantai Cenang takes around 30 minutes and costs between 14 and 35 Ringgit.
For more information on getting to Langkawi, please read my full travel guide.
How Much Time Should You Spend in Langkawi
We wanted to take our time on this trip, so we planned one day for the Langkawi Sky Bridge and one day for the Langkawi Mangroves Tour. Even though these are both half-day activities, we wanted to relax and enjoy the island. We woke up late and spent the afternoons on the beach. We felt that two days and three nights were enough time for us, but you might want to stay longer if you want to do more activities, such as island hopping or jungle trekking.
When is The Best Time to Visit Langkawi
The best time to visit Langkawi in Malaysia is generally from November to March. During these months, Langkawi experiences dry and sunny weather with less rainfall, making it ideal for outdoor activities and beach exploration. The temperatures are also pleasant, ranging from the mid-20s to the low 30s degrees Celsius, providing a comfortable environment.
During the months of July, August, September and October. Langkawi will be in the rainy season, sometimes called the Monsoon Season. Don't let that put you off from visiting but do keep in mind you'll need to pack a raincoat! Some attractions such as the Langawi Cable Car and Langkawi Sky Bridge also have a seasonal closure for around one month per year.
How To Get Around in Langkawi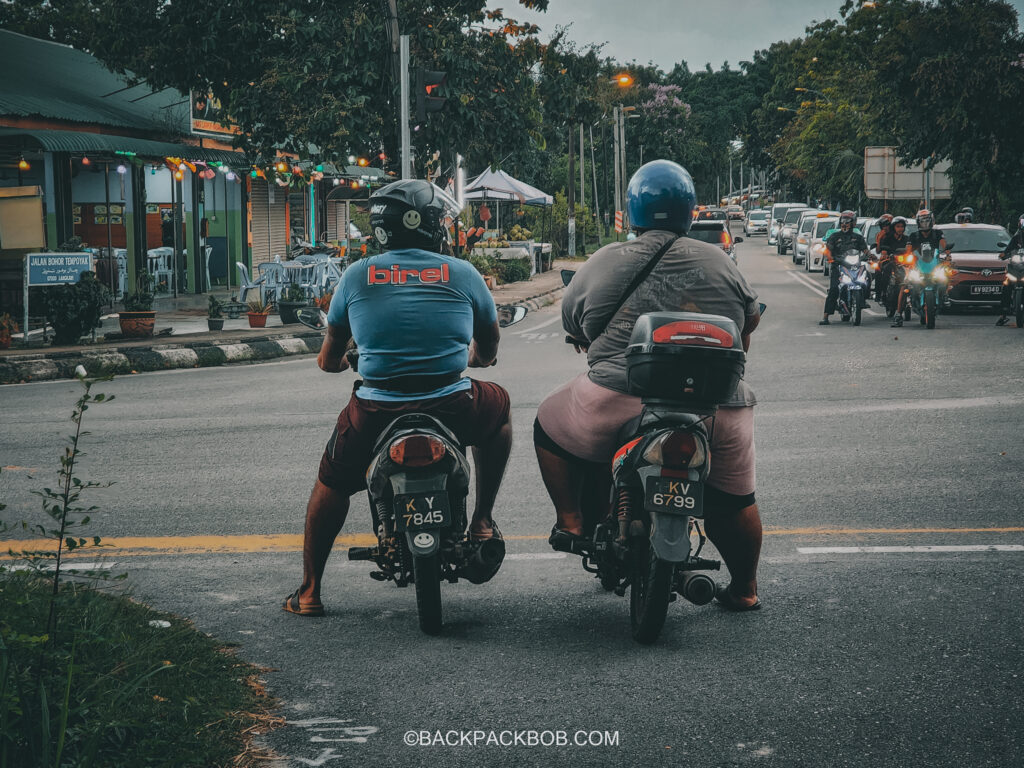 There is no public transportation in Langkawi, so you'll need to use e-hailing services or rent a scooter to get around. E-hailing is a great option because it's affordable and convenient. There are two e-hailing companies in Langkawi: Grab and Maxim. I recommend downloading both apps and comparing prices before you book a ride.
If you're looking for a more affordable option, you can rent a scooter. There are countless shops in the Pantai Cenang area of the island that rent scooters. The price is usually around 30 Ringgit per day, and you'll need to leave a 50 Ringgit deposit.
Best Areas To Stay In Langkawi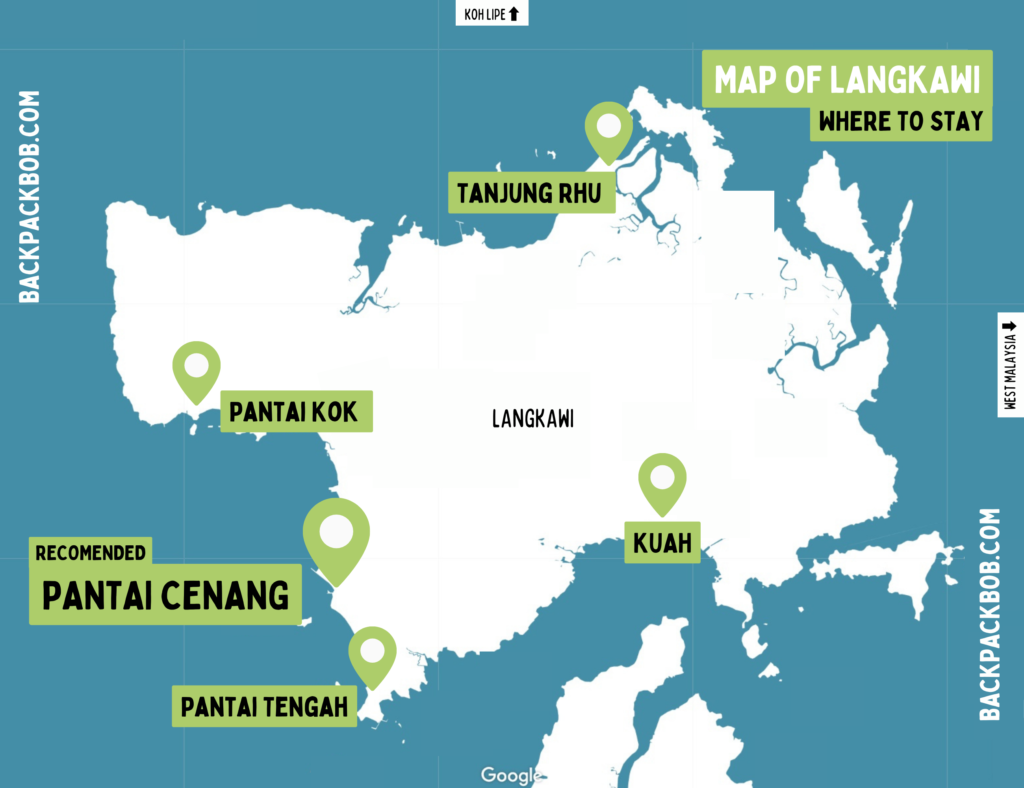 Choosing the right area to stay is one of the important things to consider. It can make or break a trip, as we learned in the Cameron Highlands. Thankfully we got it right in Langkawi.
There are five main areas to choose from in Langkawi
Pantai Cenang: A popular tourist beach town with a wide range of accommodations, restaurants, and activities.
Pantai Tengah: A quieter beach town than Pantai Cenang, with cheaper accommodation and a more relaxed atmosphere.
Kuah: The main town of Langkawi, with a ferry terminal, a variety of shops and restaurants, and a number of historical sights.
Tanjung Rhu: A secluded beach with luxury resorts and private beaches.
Pantai Kok: A beautiful beach with high-end resorts, a yachting marina, and a nearby jungle.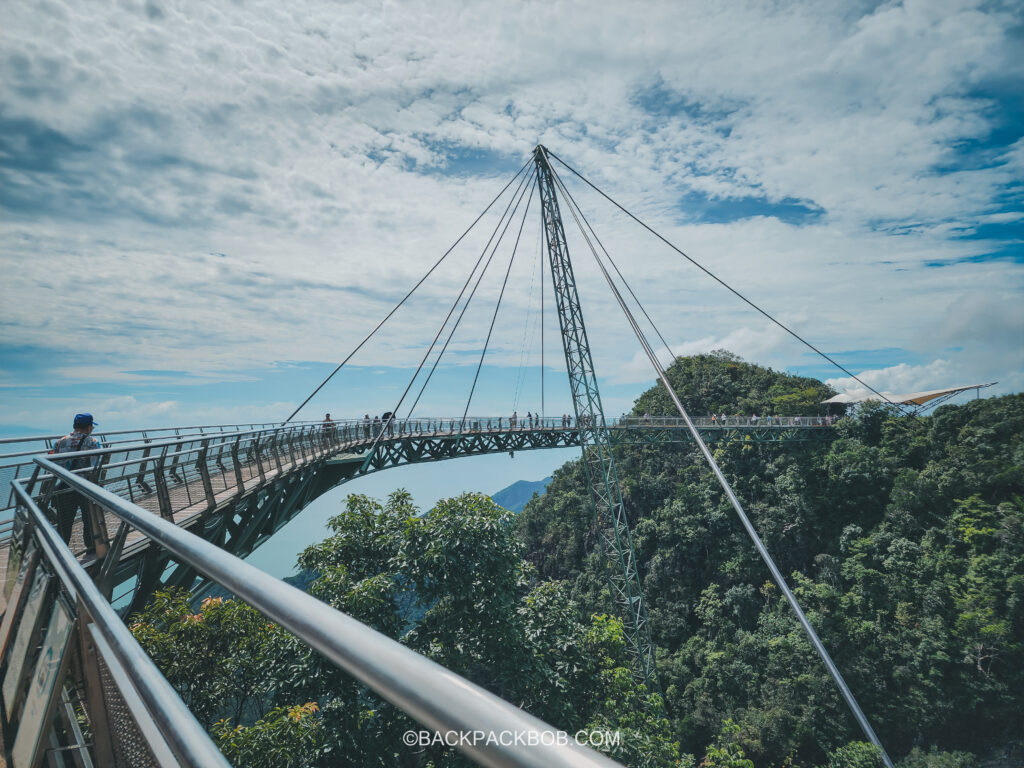 We stayed in the Pantai Cenang region, which was a great choice. The area is affordable and has everything you need, making it a great base for exploring Langkawi. It has a laid-back beach town vibe, similar to those in Greece or Spain, with a long strip of beachfront lined with restaurants, shops, and bars. You can easily rent a scooter from here to explore the rest of the island.
Choosing A Hotel: Where to Stay in Langkawi
After choosing the best area to stay in Langkawi, you'll need to find a place to stay that suits your needs. You can search for hotels in Langkawi here. But we stayed at the Tubotel in Pantai Cenang, which was a novel experience. We enjoyed the first night, waking up to the sight of the ocean. However, the novelty soon wore off. We hadn't considered how difficult it would be to get dressed in such a small space, or how inconvenient it would be to have to trek to the toilet block to take a shower.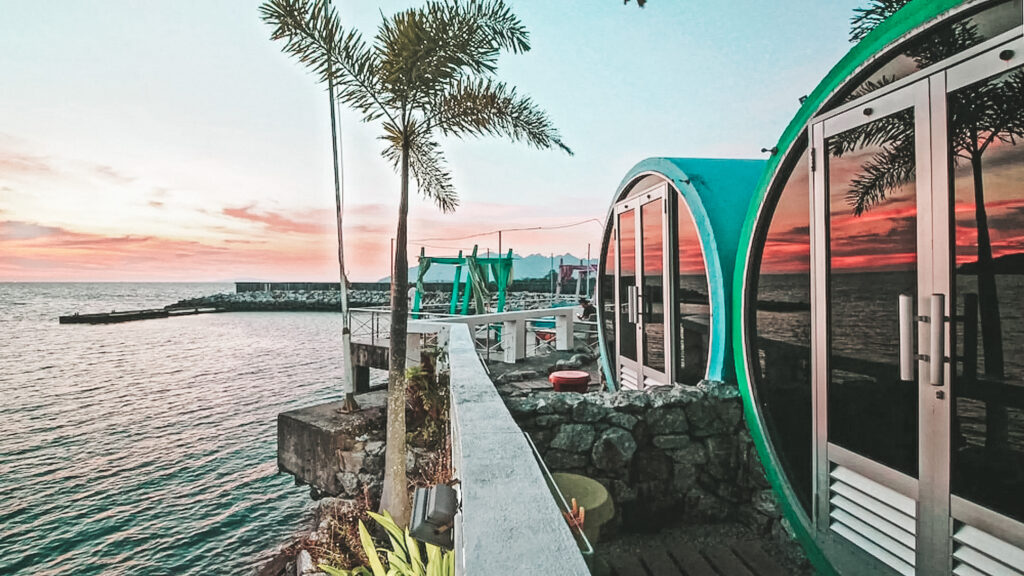 The location of the Tubotel was slightly inconvenient. Although we could see Cenang Beach a few meters away, the direct route was blocked by the river. This meant that we had to walk around the river, which added an extra 2 kilometres to the journey.
If you do decide to book the Tubotel in Langkawi, be prepared to rent a scooter from outside in order to get there. I would also recommend not booking more than one night upfront. This way, you can see what you think of the hotel first and then decide if you want to stay longer.
The hotel costs 80 Ringgit for a capsule without a sea view, or 120 Ringgit for a capsule with an ocean view. You can also see more photos and videos on Instagram.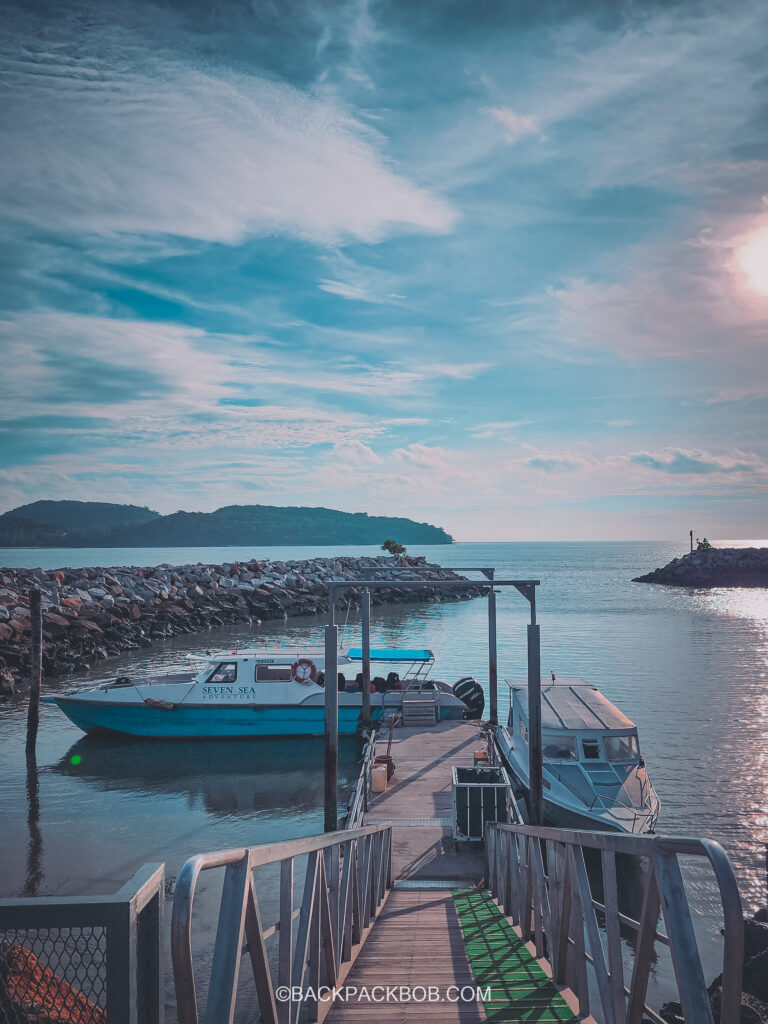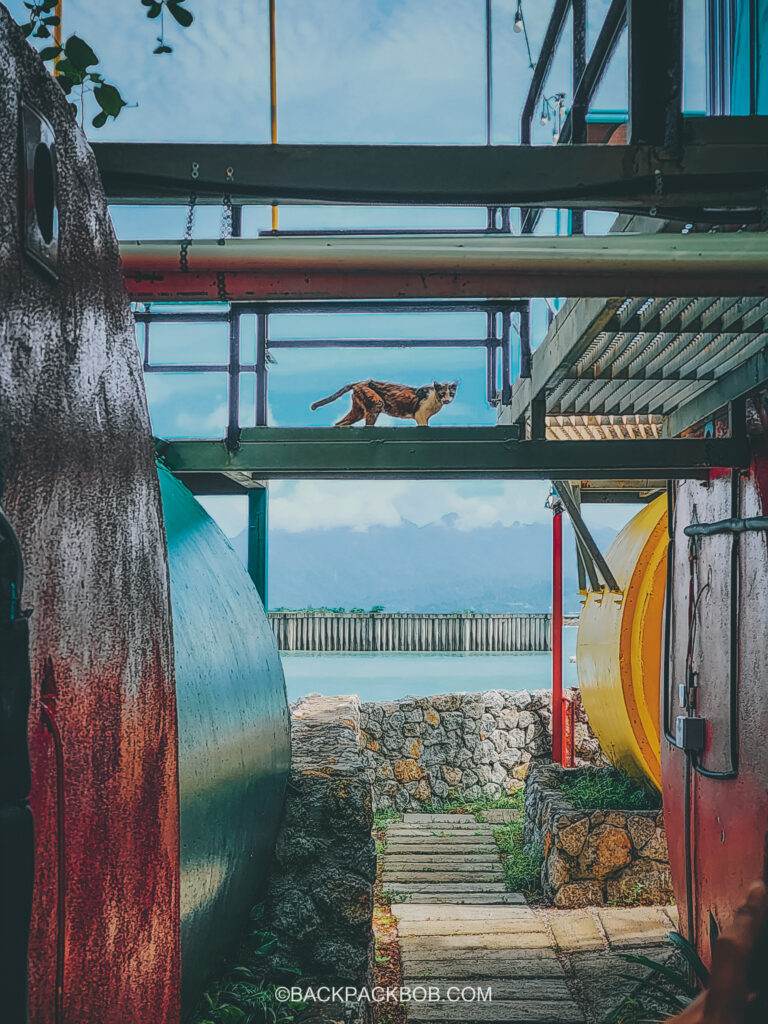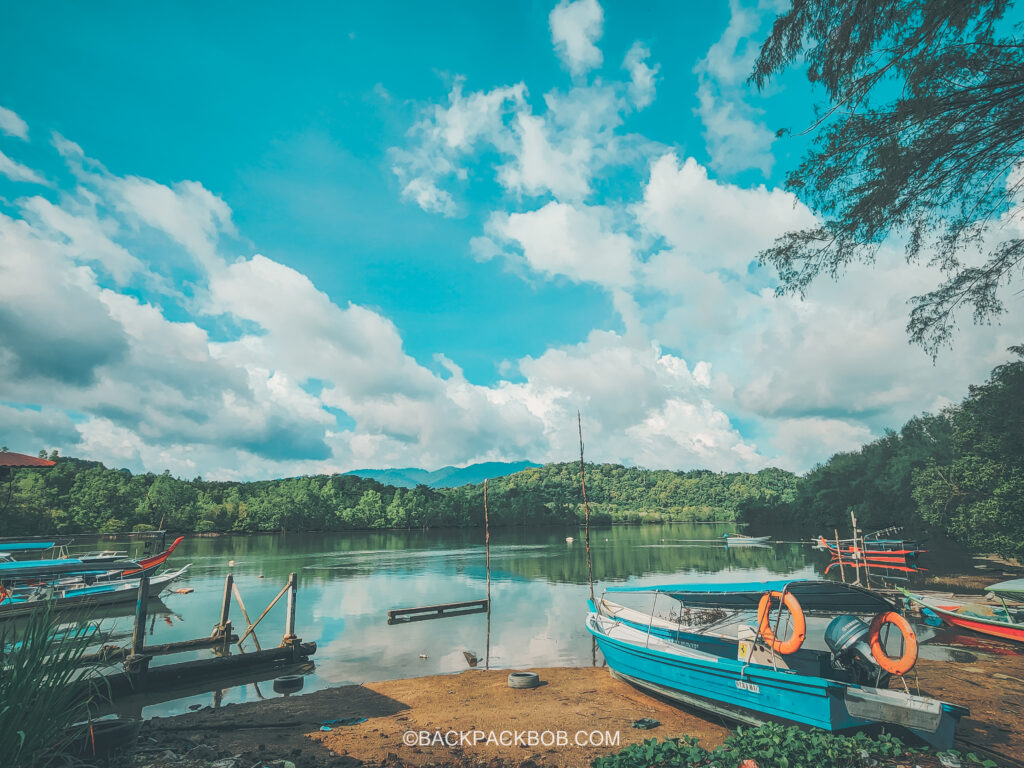 The view from the Tubotel is amazing, but there were too many downsides to make it an enjoyable experience. The location was inconvenient, the owner was rude, and the facilities were basic. There are plenty of other hotels in Langkawi in the same price range that offers a better overall experience.
After we checked out of the Tubotel, we checked into the Senari Bay Resort, which is just 50 meters down the road. Although the location was still not ideal, we now had scooters! The Senari Bay Resort had the same cost per night but it also had a private beach, friendly staff and comfortable, clean rooms. You can book a room here.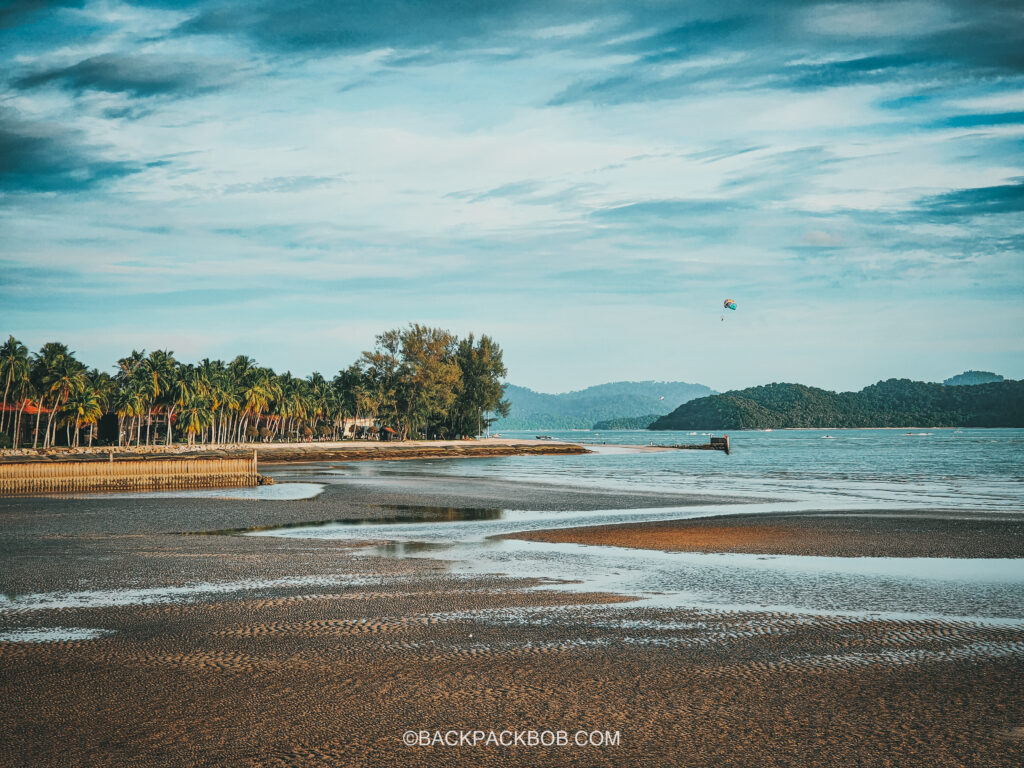 Love waking up next to the sea? Check out this guide, from our camping trip at Koh Rok Island.
Best Places to Eat in Langkawi
Malaysian cuisine is a delicious fusion of flavours from India, China, the West, and Thailand. I loved the unique blend of spices and ingredients and couldn't get enough of the food. Langkawi is a great place to experience Malaysian cuisine, as it is situated close to Thailand and has a strong Thai influence.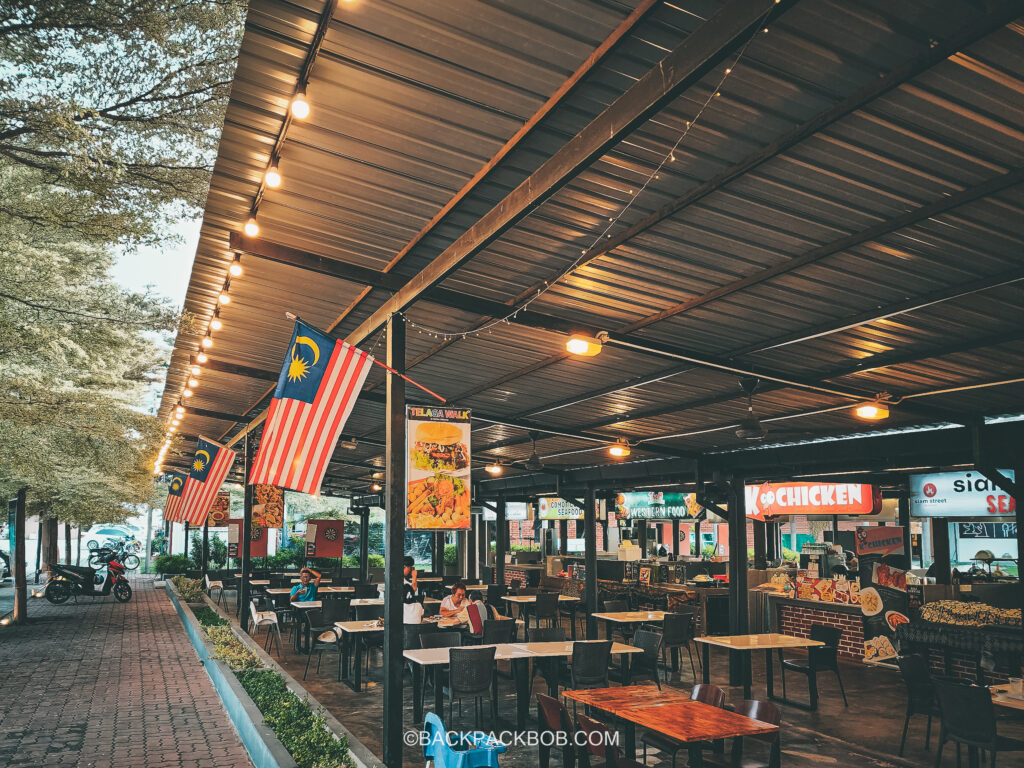 We ate at small, local restaurants for all our meals. We tried Bakso Meat-Ball Soup, Satay Skewers, and other Malaysian dishes. I prefer these smaller venues to large restaurants. I recommend Telaga Walk in Langkawi for delicious, local food in Langkawi.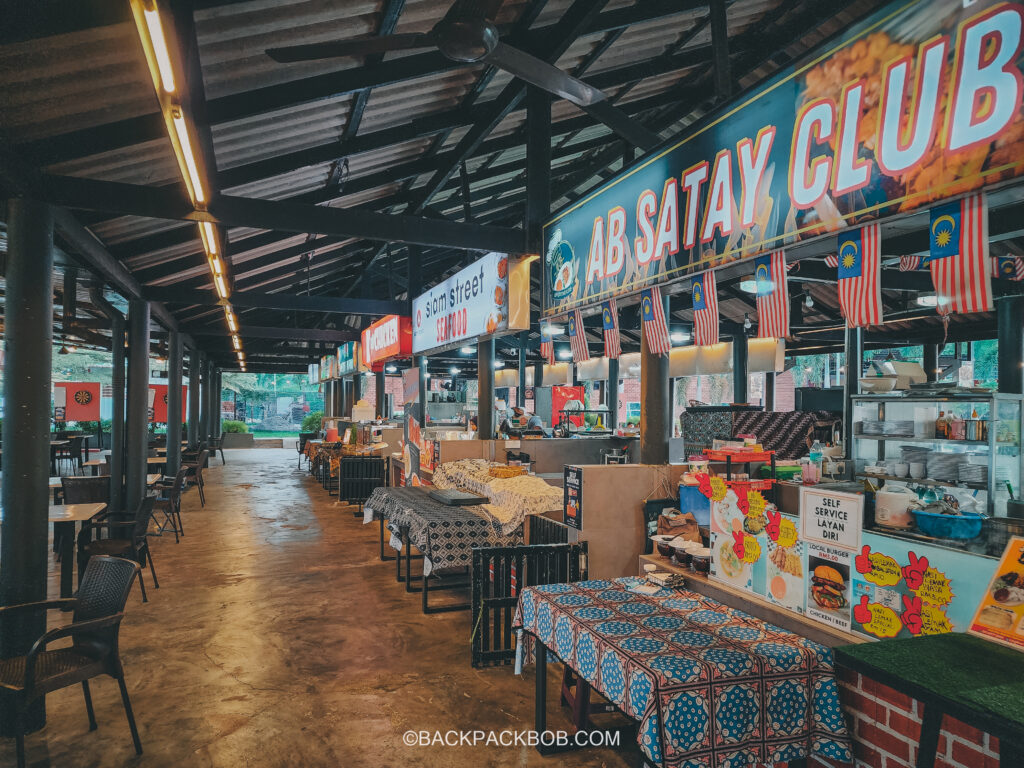 Telaga Walk is a short walk from Pantai Cenang Beach. It is an outdoor food market with about 10 open-air kitchens. Each vendor has a unique dish, and I had the best meal of my two-week trip there. I kept looking for the same meal and the same delicious lemon soda, but I never found anything that could compare. My taste buds are still tingling just thinking about it!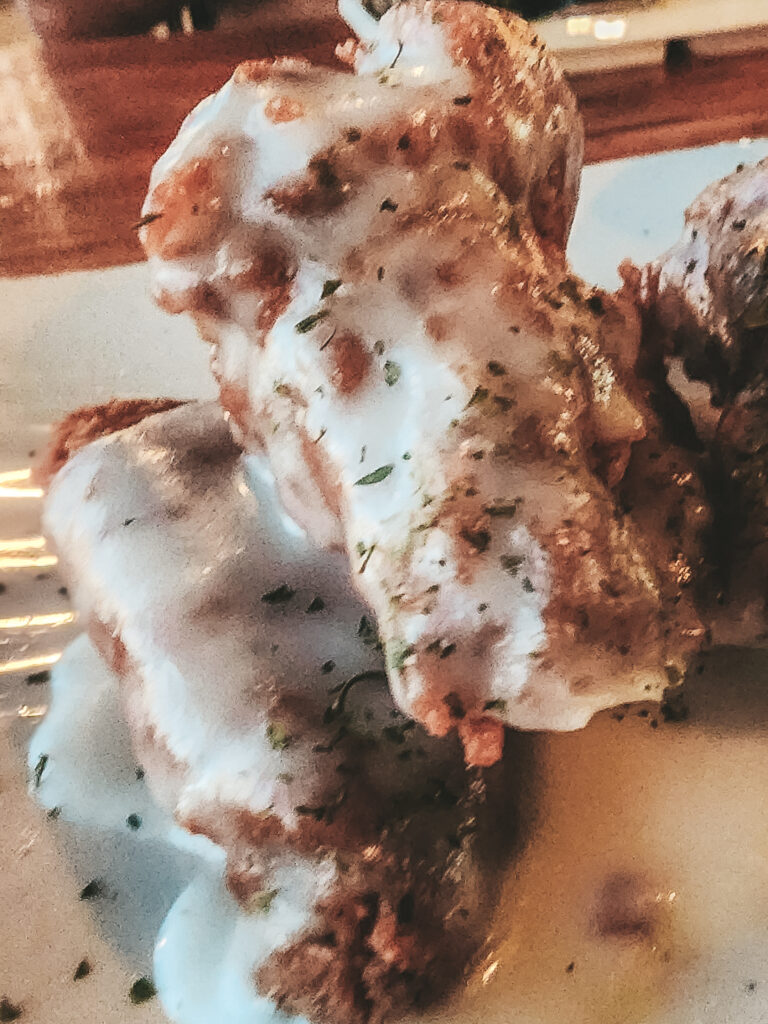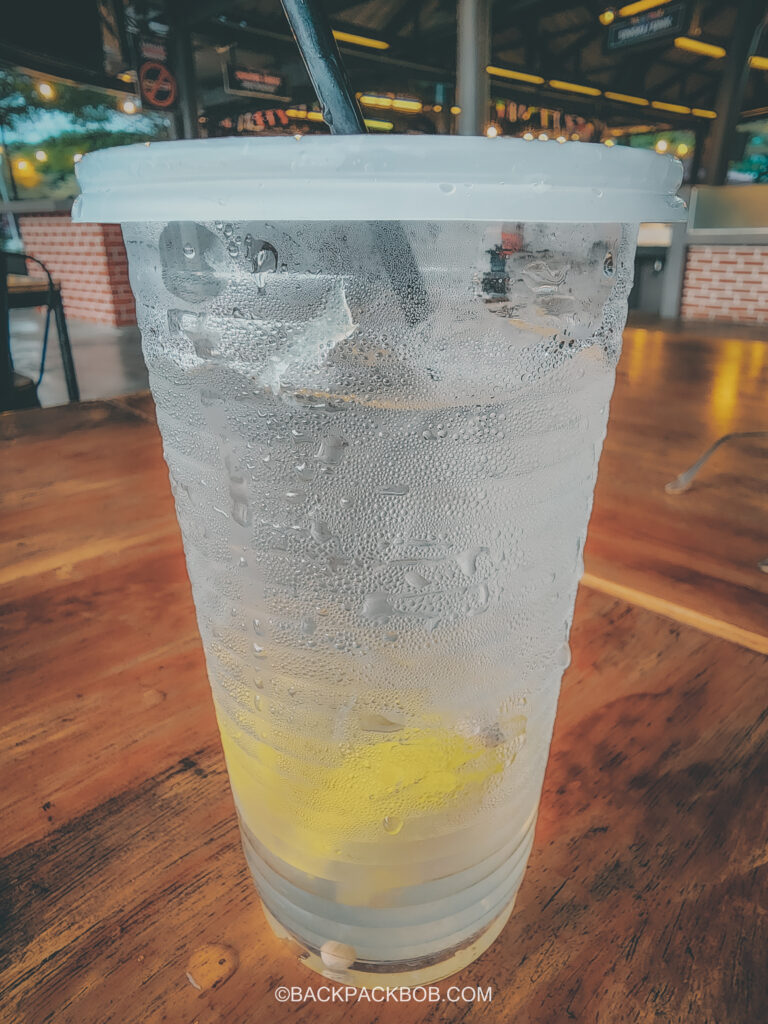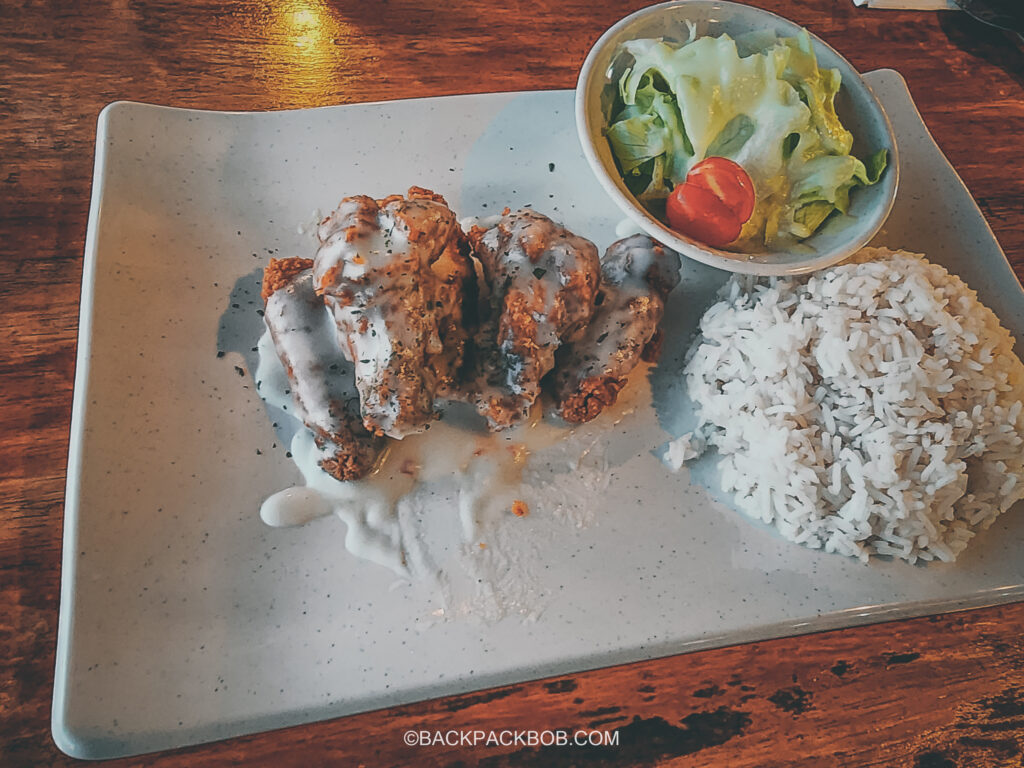 Things to Know About Langawi
I spent three nights in Langkawi, Malaysia, and I was surprised at how much I enjoyed the island. From its beautiful beaches to its lush forests, Langkawi has left me wanting to return. Here are some things I learnt about the island, that you should know.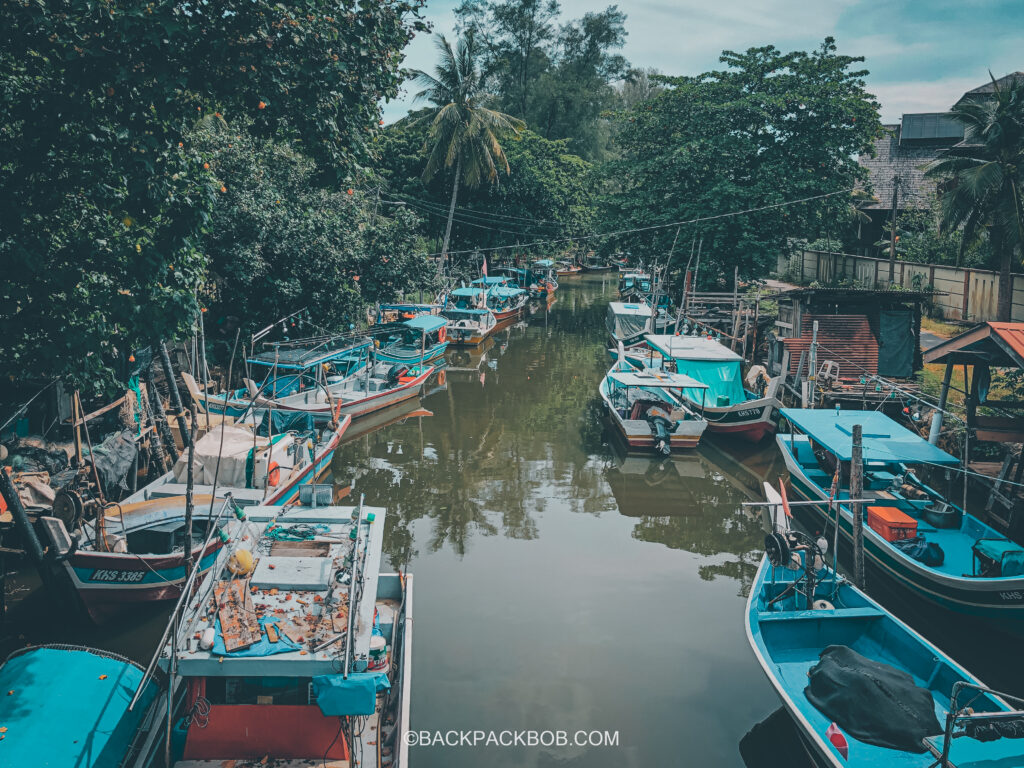 There are a few things about Langkawi which stood out to me- things that are good to know before you visit. For starters, Langkawi was much bigger than I expected, and did you know the entire island and the booze supply is tax-free– Yeah Baby!
Langawi is a Big Island
I had assumed that Langawi would be small or similar sized to the nearby Thai Islands, like Koh Lipe, Koh Libong or Koh Mook. It's way bigger. The island is sometimes compared to Phuket or Bali. Although- all three of these islands are completely different from one another. You'll ideally need to rent a motorbike to get around- but Grab cars, or taxis are inexpensive.
Duty-Free
Langkawi Island is a tax-free paradise! Booze, smokes, chocolates? electronics—you name it, all tax-free! I couldn't get a clear answer as to why but it seems to be due to a government scheme to boost domestic tourism, although I can't help but think using cheap booze to achieve that is a bit ironic, since most of the population is Muslim- but, the island is popular, so the scheme seems to be working.
Having just arrived in Langkawi from Thailand, I was unaware that the island was tax-free. I was also unfamiliar with the local currency, the Ringgit, and had not yet had a chance to learn about the prices in Malaysia. I just assumed the beers were reasonably priced in Malaysia. Wrong- you can imagine my surprise when we went to George Town after, and the price of a beer tripled! Prices jumped from 5 Ringgit to 15! However, when it comes to leaving Langkawi there is a limit of one litre of alcohol per person, which can be taken off the island.
Mobile Phone Signal
Langawi is really close to Thailand. So close, in fact, that some of the Thai islands can be seen from the beaches and you can often see Thai Longtail Boats whizzing around in the distance. So what has that got to do with cell service? Think back to when you switch your aeroplane mode after a flight and the first notification you receive is something along the lines of "'Welcome Abroad'- calls and data now cost a million dollars per minute."
There were occasions when mobile operators couldn't figure out whether we were in Malaysia or Thailand with signals often bouncing between the two. It wasn't a huge deal for us, because we use international pre-paid travel ESIM cards. However, if you are using a data plan specific to Malaysia- make sure you don't get charged a higher rate by accidentally connecting to a Thai cell tower!
Monkeys
A vast percentage of Langkawi is covered with Jungle. This is home to many monkeys. You'll see a lot of them in Langkawi, sitting by the sides of the roads, on the Mangrove Tour and even in the towns. They are often scavenging for food and will usually leave people alone, (unless you show the Monkey you have food).
Don't try to approach or feed the Monkeys, keep food hidden and keep as much distance as possible, and you will be fine.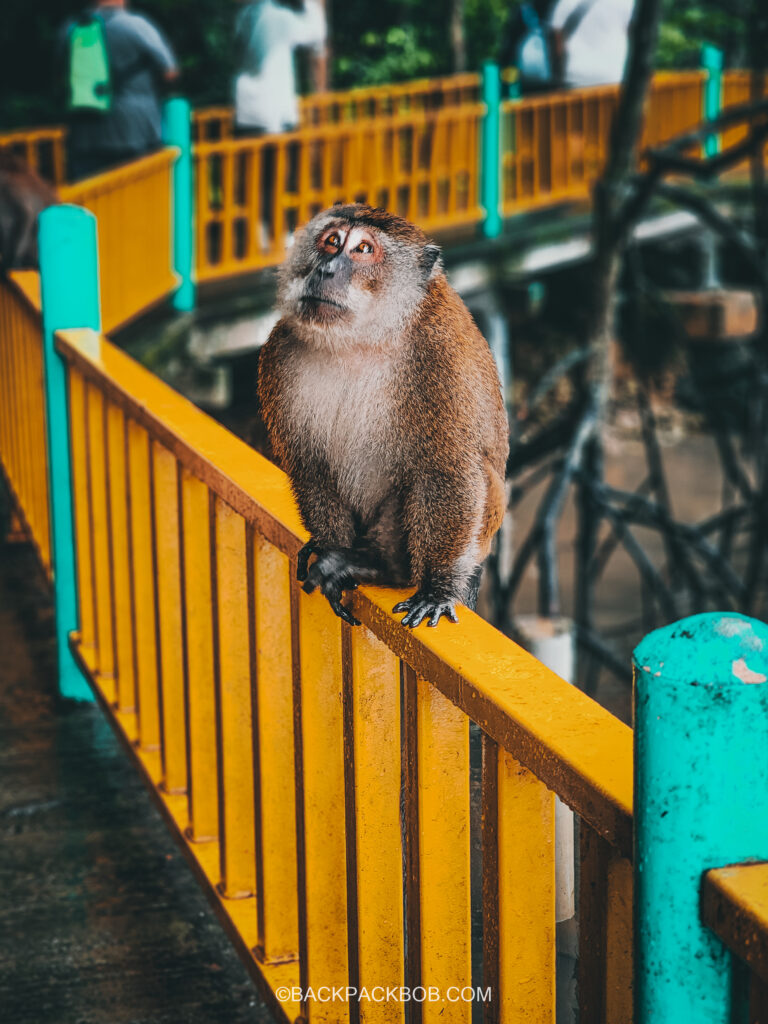 ATM (Machines)
I was a little worried that there wouldn't be many ATMs in Langkawi, but I was wrong. There are a few ATMs scattered around the island, but they are mostly concentrated in tourist areas like Pantai Cenang and Kuah Town. I also had my Wise app set up, which allowed me to use my Wise card to pay in most places using the local currency.
Langkawi. TL;DR.
My experience in Langkawi was fantastic! I love the island and wish I had visited it earlier. I can't wait to go back. Remember to book your boat ticket in advance because they often sell out. To get around, download Grab and Maxim. Don't miss trying the food at Telaga Walk. If it's your first visit, stay in the Patani Cenang Beach area. The Mangrove Forest Park Tour is highly recommended, and you shouldn't miss the Langkawi Cable Car, which is a popular excursion.
If you've been to Langkawi and have any recommendations for activities, areas, hotels, or places to eat that I haven't mentioned in this guide, I would love to hear your thoughts. Or if you have a photo of the Langkawi Eagle I can share, please leave a comment below!