The BTS Skytrain is a modern monorail system in the heart of Bangkok, and it's a great way to get around the city. It's affordable, efficient, and it will save you from the chock-a-block traffic on the streets below. The Skytrain has 61 stations on two lines, the (Green) Silom Line and the (Green) Sukhumvit Line. The stations are spaced about 1 kilometre apart, and the lines intersect at Siam Central Station, making it easy to transfer anywhere on the network. The BTS Skytrain has stations near many tourist destinations, including the Grand Palace, Wat Arun, Mahakanon Tower, and Chatuchak Weekend Market.
I've spent far more time in Bangkok over the years than I would like to admit. I know the hidden gems and the best places to eat, shop, and hang-out. I even know which side of the train the doors are going to open on at each station; Yeah. I've definitely spent too much time in Bangkok! Strange, because I always considered myself an island person and never a city person. Anyway, getting around the city has become second nature to me and I'll share my knowledge with you in this guide, including the best attractions in the city, with Skytrain Stations nearby.
Bangkok BTS Skytrain Map
Inside the BTS Skytrain stations, and on the trains themselves, there are easy-to-read maps which light up to indicate the current location and direction of travel, in both Thai and English. But if you want to navigate the system like a pro, you'll want to download a full-resolution map to your phone.
The official BTS train map is available here, but if you're looking for something a little more user-friendly, with all of Bangkok's train lines, then you have to check out this custom metro map created by BKKTransit. The design is widely considered to be more informative and easier to navigate than the official maps, and it has been used by many residents and visitors in Bangkok, including myself.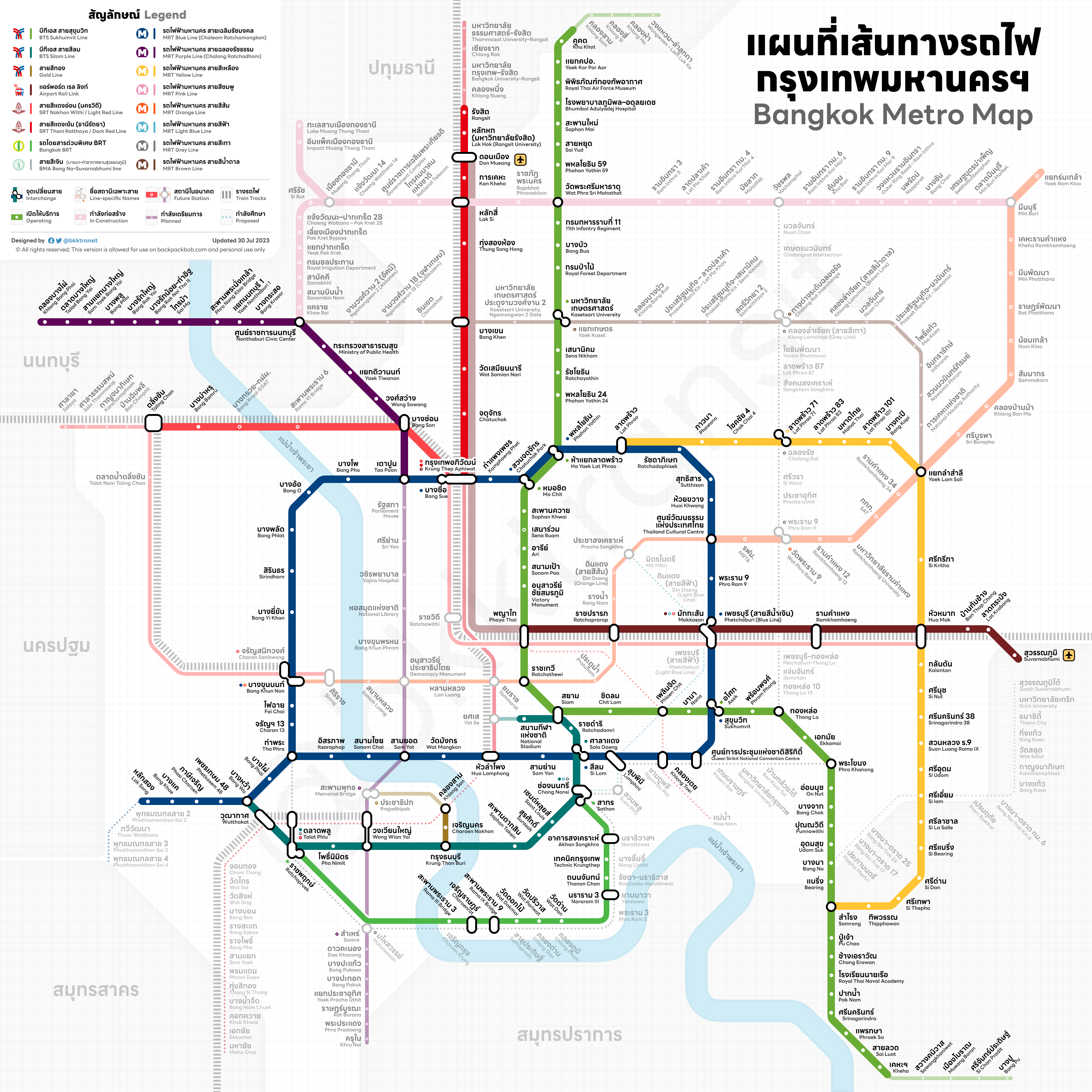 Kyuu, the creator of BKKTransit, created the custom Bangkok Train Map in their spare time, after becoming fed up with the official signage. They've been updating the map regularly ever since.
You can check the BKKTransit Twitter page for the latest map version, and I'll try to keep the latest update of the metro map updated here too.
Useful Stations:
Take the BTS to Bang Sue Grand Central Station to take an SRT Thai Train to these destinations:
Understanding the BTS Skytrain Map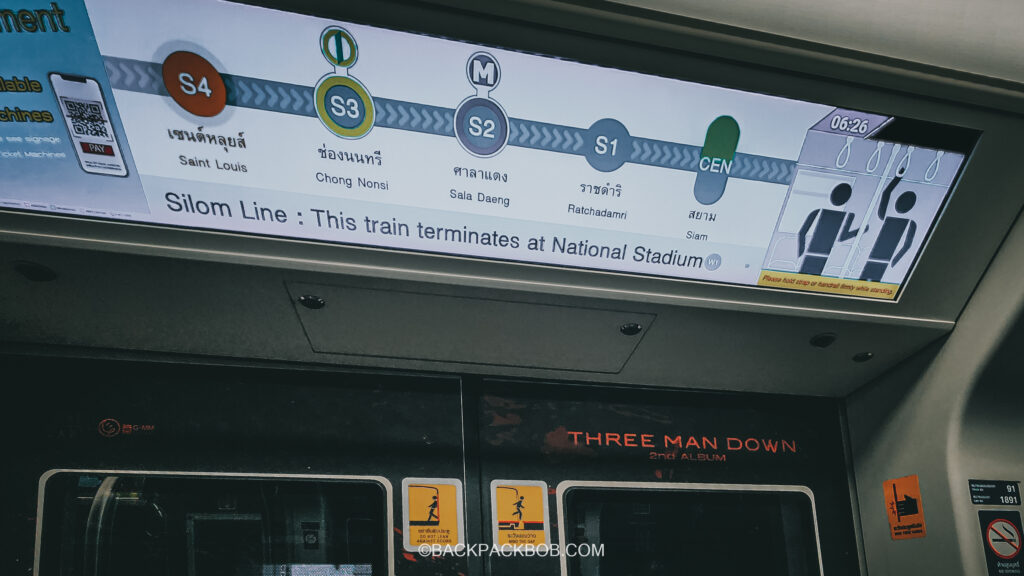 Each BTS station has a name, along with a coordinate and a number. For example, Chit Lom is E1, which means it is one station from Siam Central on the eastern part of the line. This information can be used to make navigating the train system much easier.
The Sukhumvit Line operates trains to the north and east of Bangkok. Northern stations on the Sukhumvit Line are numbered N1 to N24, and eastern stations are numbered E1 to E23. Siam Central Station is located at "station zero" between N1 and E1 stations. The two train lines connect with each other at Siam Station. The Silom Line operates trains to the west and south. The stations on the Silom Line are numbered S1 to S12, and there is only one station on the west line: W1, National Stadium.
How To Use The BTS Skytrain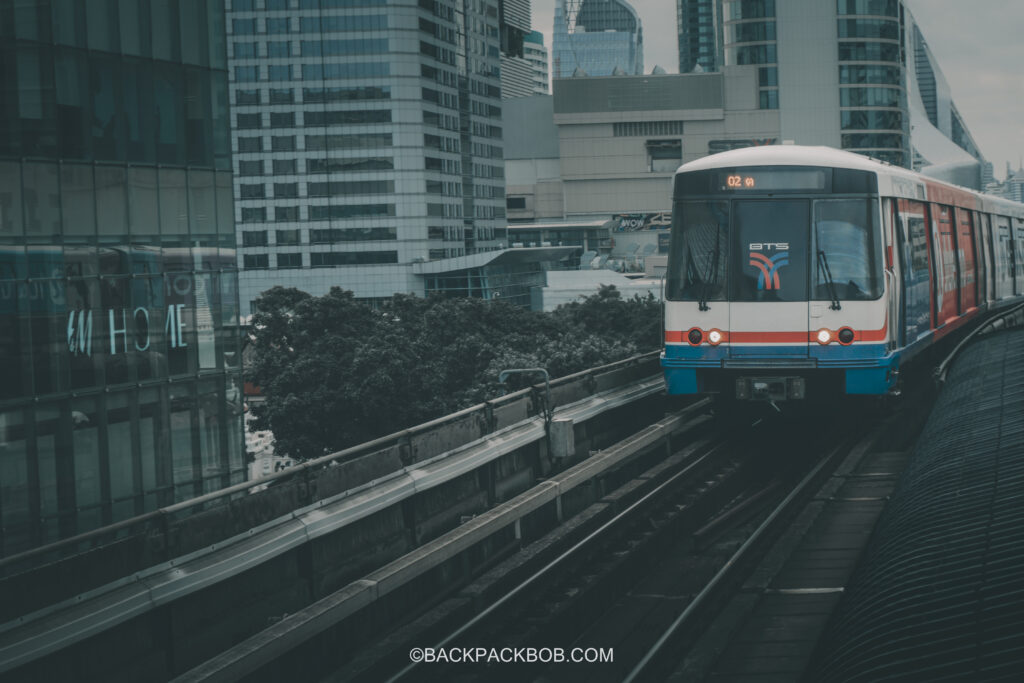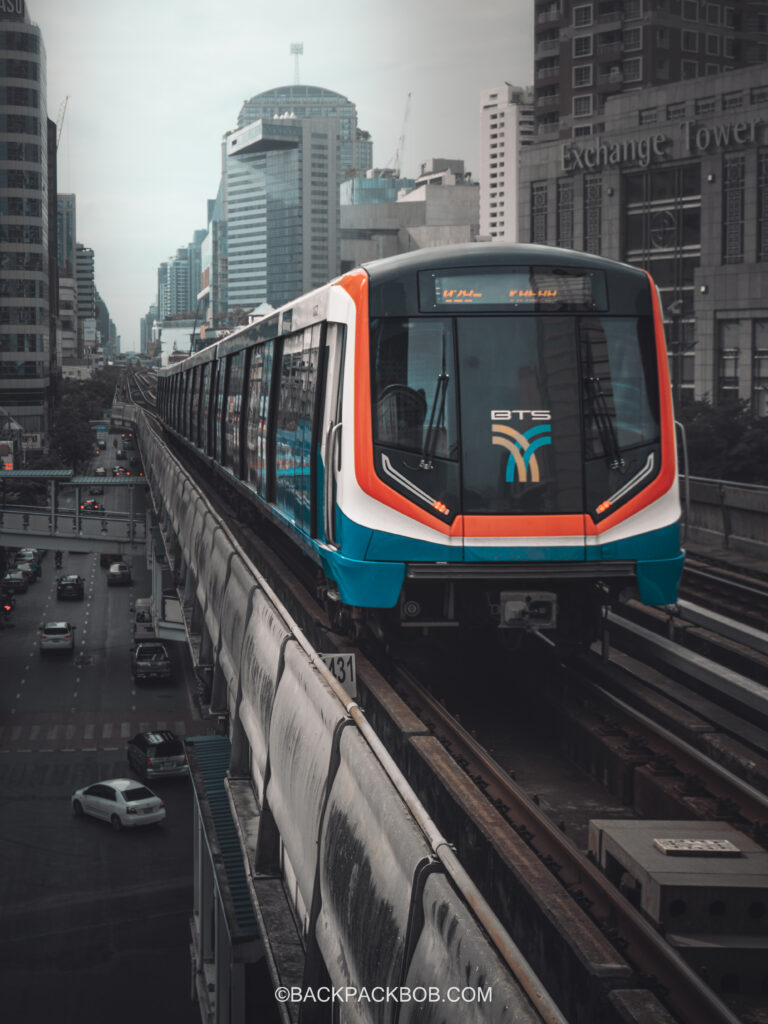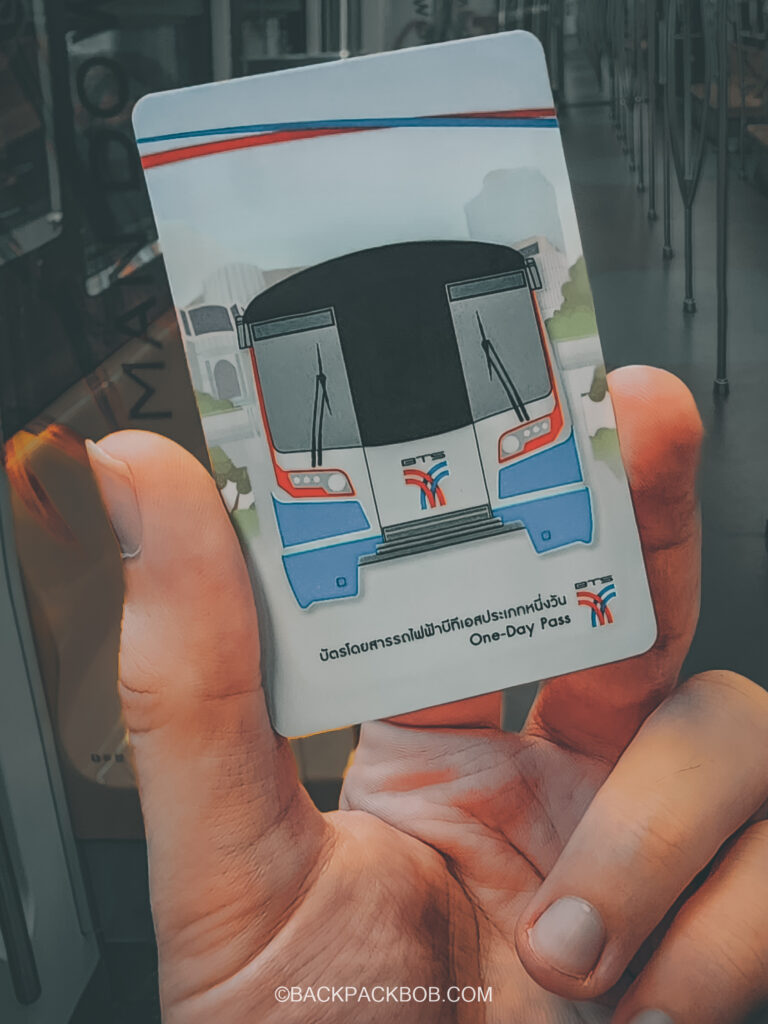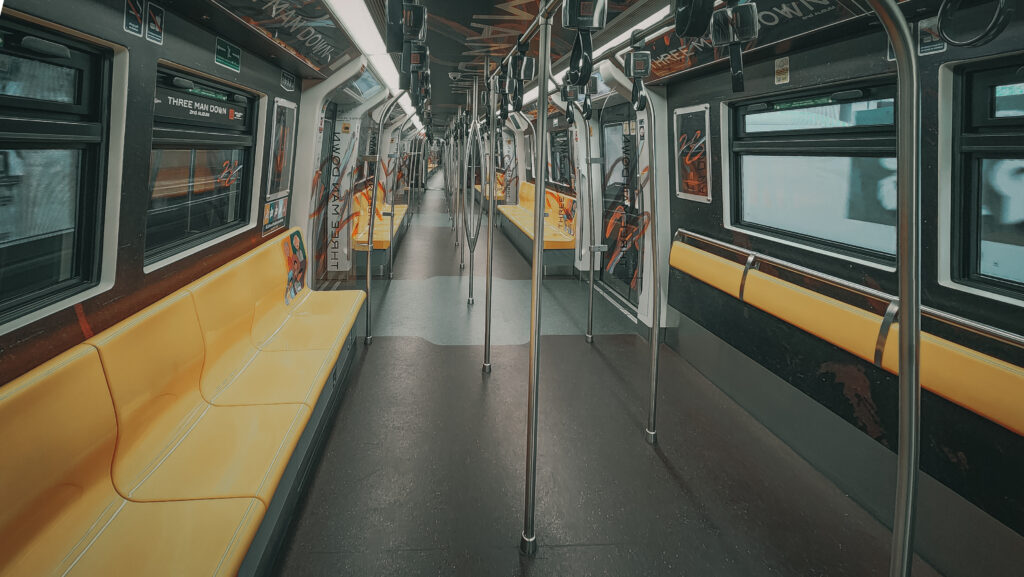 The Bangkok BTS Skytrain really isn't much different than any other metropolitan train system. It is easy to use, even if you are not familiar with the city, and because there are only two lines, you'll never have more than one connection.
Once you've figured out your route you'll want to buy yourself a ticket, enter the station and board a train. So let's look at how much the BTS tickets cost, where to buy one and how to use it.
If you have a short time in Bangkok and don't want to waste any time learning to navigate the city, I highly recommend having a look at this tour package: https://getyourguide.tp.st/tH17ylPF. It's a private guide tour for 450 Baht a person, up to six. You'll spend the day with a local guide visiting the best sights in the city. The itinerary is customer for you and you'll use a mix of the Skytrain and the Bangkok river boats to get around.
How Much Does A BTS Skytrain Ticket Cost?
Train fares and ticket prices. The BTS Skytrain is not expensive. It's a cheap way to get around in Bangkok. Tourists can take advance of the BTS One Day Travel Card for unlimited trips on the network.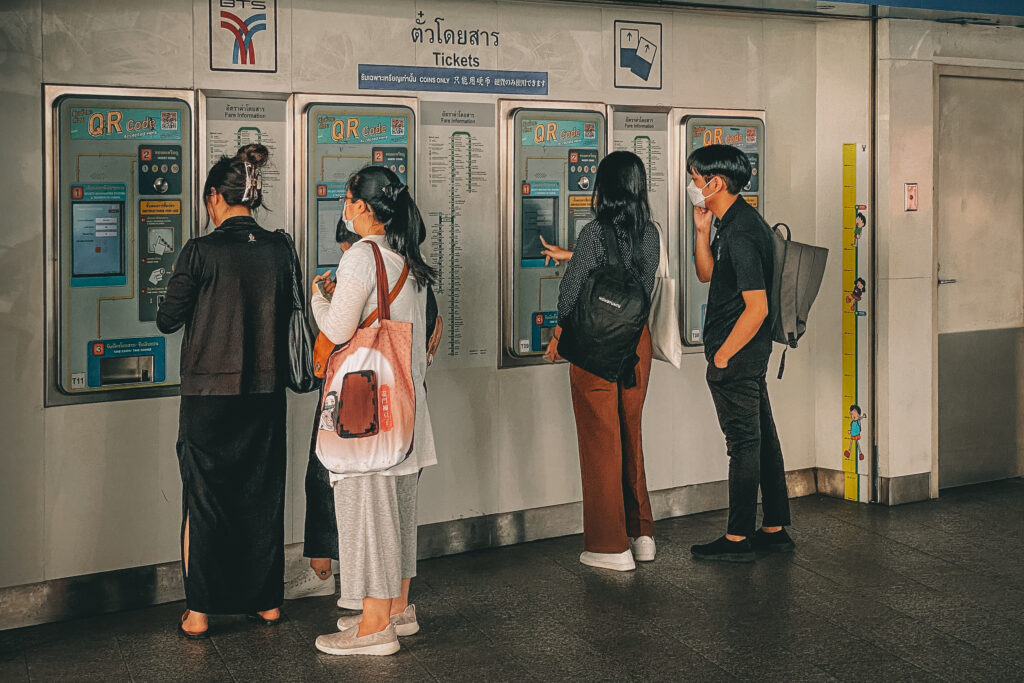 Or you can pay based on which station you want to travel to. Taxis are also cheap in Bangkok and sometimes cost the same as taking the train. But the BTS is always the quickest option.
How are BTS Skytrain Fares Fares Calculated
A standard BTS Train Ticket currently costs between 17 – 47 Baht, depending on the distance travelled. 
BTS Skytrain fares are calculated based on the number of stations you travel through to reach your destination. The lowest fare is 17 Baht to travel one station, and the fare is capped at a maximum of 47 Baht to travel a distance of eight or more stations. Travelling two stations costs 25 Baht, three stations is 28 Baht, four is 32 Baht, five- 35, six-40, and seven costs 45 Baht. There is a 50% discount for Thai and foreign seniors and students (with a Rabbit Card). 
Tourists can take advantage of the One-Day Pass and make unlimited trips: https://klook.tp.st/htSxUlaG.
Note: BTS Tickets cannot be used on the MRT or any other public transport systems in Bangkok.
Where Does The BTS Skytrain Go
Where are the must-visit places in Bangkok? There are a lot of attractions in Bangkok that you can get to on the BTS Skytrain.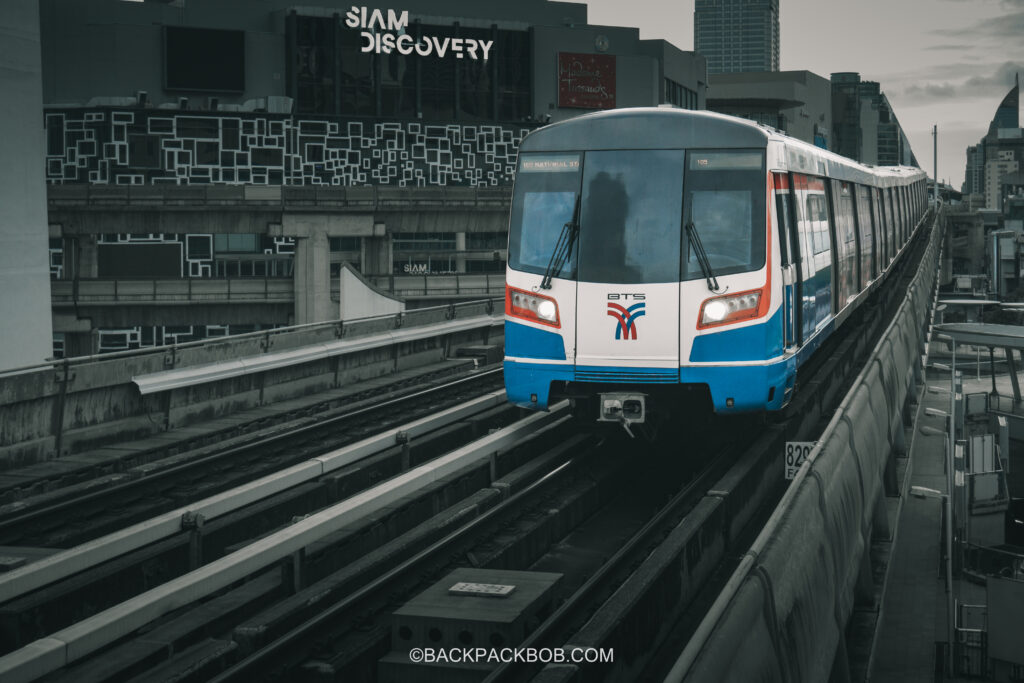 Must Visit Places in Bangkok That Are Near a BTS Train Station.
Ⓜ MRT Metro Connections
There are three central stations on the Bangkok Skytrain which connect to the MRT. These Stations are Sala Daeng/Silom, Asok/Sukhumvit, and Mo Chit/Chatucha Park.
Krung Thon Buri: Silom Line (S7)
From Station S7: Krung Thon Buri you can easily get to Icon Siam Shopping Mall. Icon Siam has its own dedicated train line. The Gold BTS Line starts at Krung Thon Buri and takes you directly to the Icon Siam entrance after one station.
Personally, I dislike that Icon Siam is treated as a tourist destination. It's a shopping mall, it's nothing special, and nothing you can't find in any other city on Earth. If you are a tourist in Bangkok, there is a lot more to do and see than hang out in malls. 
Saphan Taksin: Silom Line (S6)
Saphan Taksin is the holy grail of Skytrain Stations for activities nearby. Saphan Taksin Station is on the Chao Phraya River Bank, a few metres from Taksin Pier. 
Read My Guide to Bangkok's Best Temples
Find out more about Asiatique Market
Read My Bangkok River Cruise Guide 
Book a Room at Lebua State Tower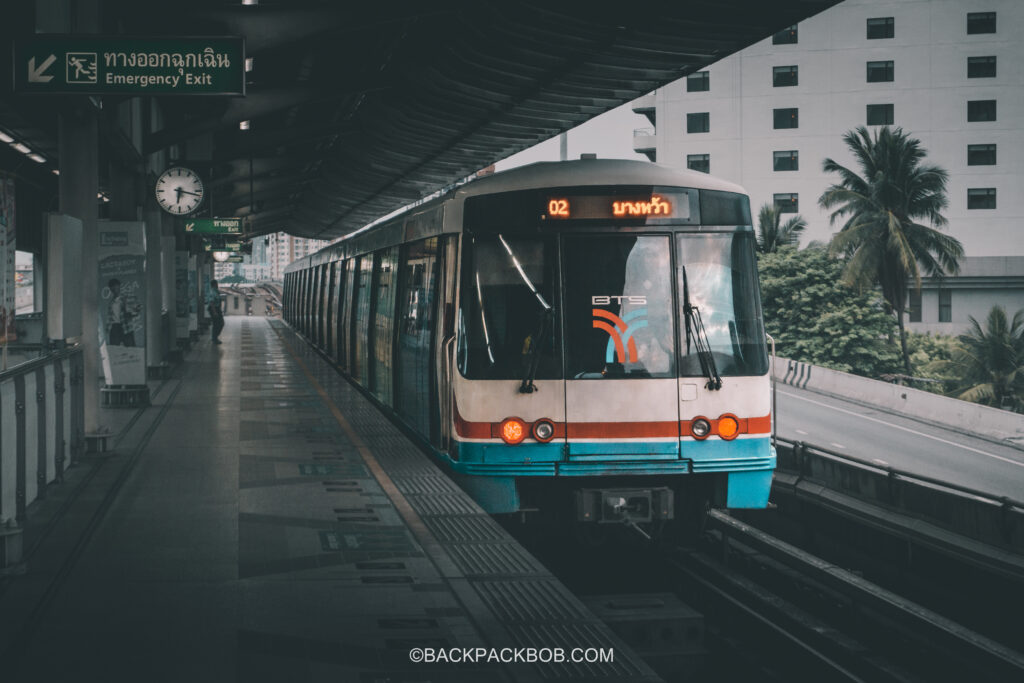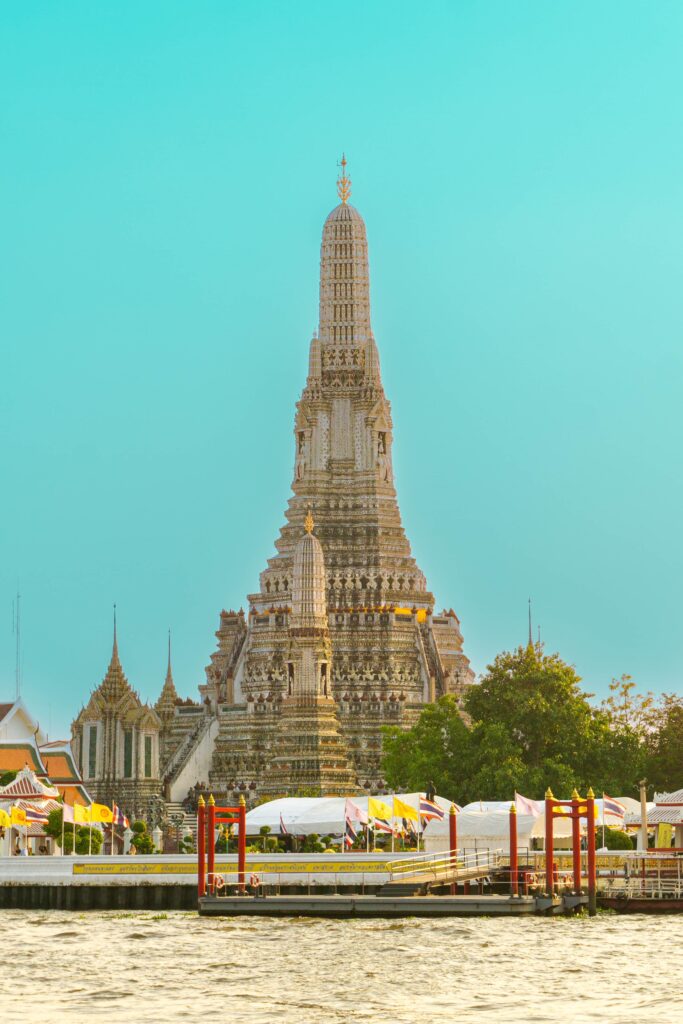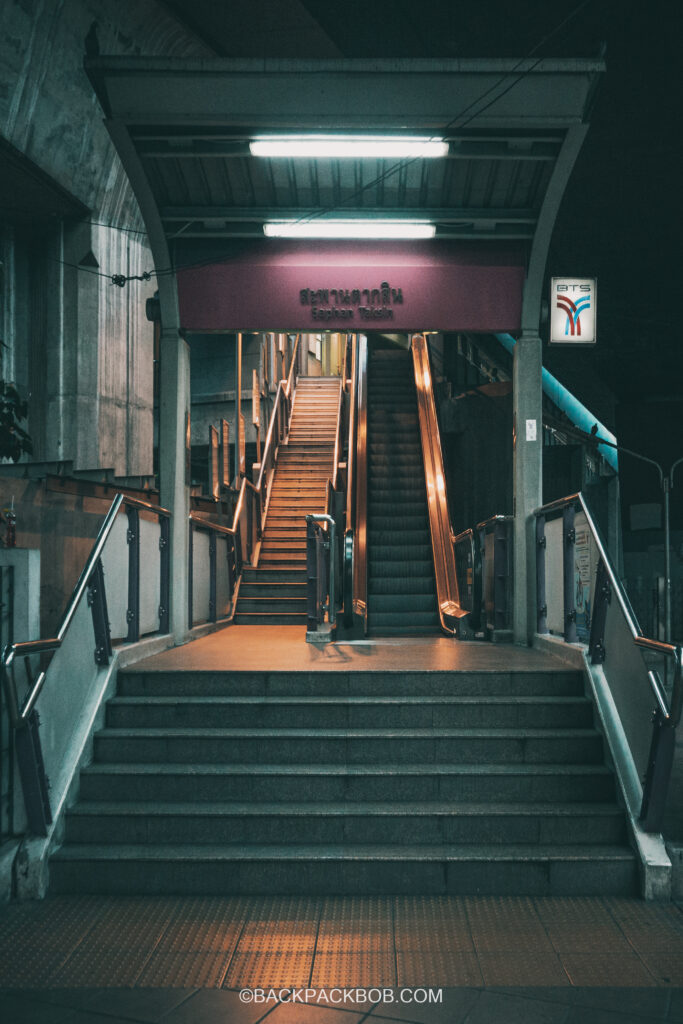 From the pier, you can catch the Bangkok River Ferry which makes stops at The Grand Palace, Wat Arun and Wat Pho Temples. Asiatique Nightmarket is a few minutes to walk, or there is a free shuttle boat, and the Lebua State Tower is a few minutes to walk, the rooftop bar where the Hangover Movies were filmed.
Chong Nosi: Silom Line (S3)
Read My Full Guide on the Bankgkok Skywalk (Mahakanon Tower)
Buy Entrance Tickets For the Bangkok Glass Tray Skywalk
Station S3 Chong Nosi is the station for the Bangkok Skywalk. The Skywalk is on the 80th floor of the Mahakanon Tower and the station connects to the building directly.
Sala Daeng: Silom Line (S2)
Book a Food Tasting Tour in China Town
Read My Full Guide on How to Visit Lumpini Park for Free
Station S2, Sala-Daeng is a key location for tourists to be aware of. There is plenty to do nearby including the Patpong walking street. However, Lumpini Park is no more than a few minutes to walk from the station and there is a subway tunnel that leads out into the park.
Sala-Daeng is also an important station because it connects the BTS Skytrain and the MRT Metro. Silom is the name of the Metro Station, which is a few minutes walk from Sala-Daeng. You can ride three stations on the MRT to Wat Mangorn where you'll find yourself in the centre of China Town.
Siam: Central Intersection
Formally called 'Siam Square' and sometimes just called 'Central'. Siam is the busiest station on the BTS network.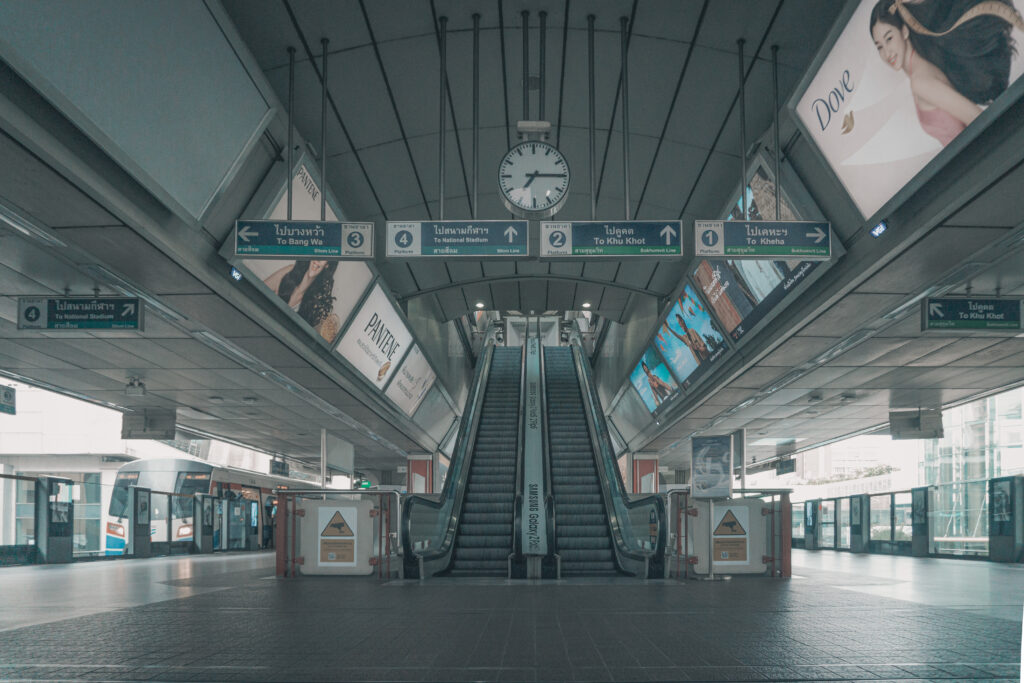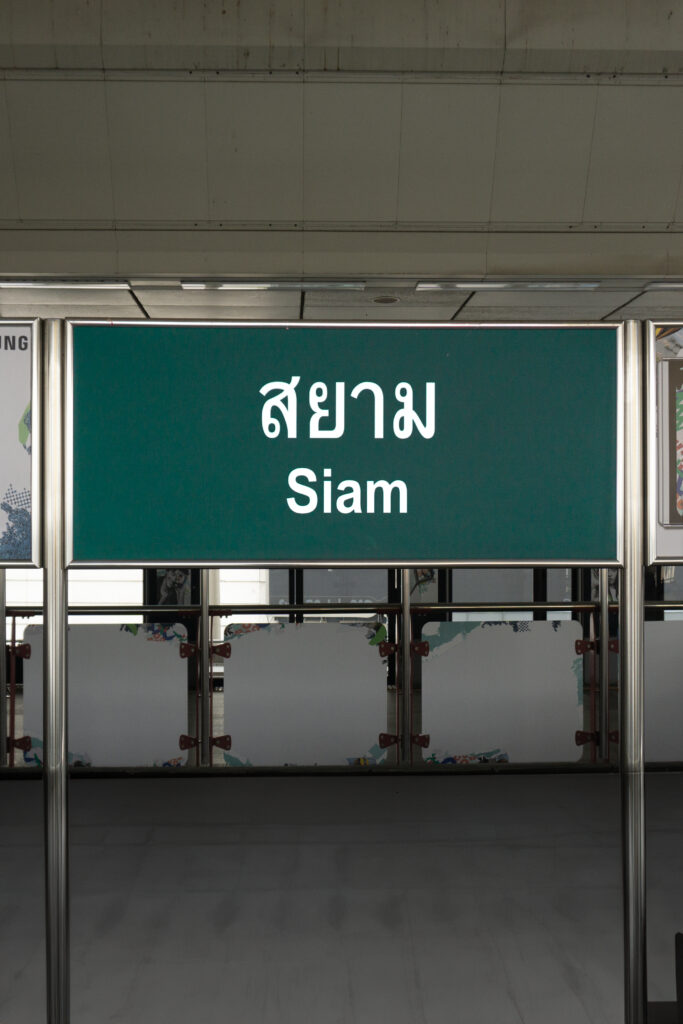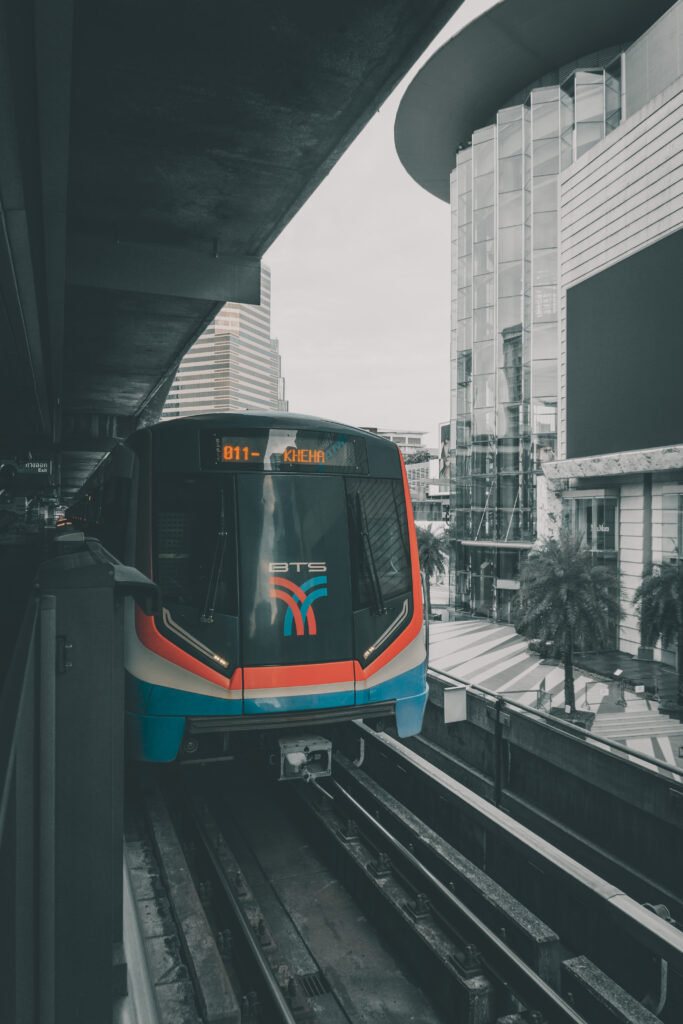 Book Tickets For Sea Life in Bangkok
There are multiple high-end shopping malls here including Siam Paragon and Siam CenterPoint, and the popular sea world attraction is inside the Siam Paragon. But most importantly Siam is an intersection, it's the only BTS Station where you can transfer between the Silom Line and the Sukhumvit Line.
National Stadium: Silom Line (W1)
Read my Full Guide about MBK Mall in Bangkok
Book a tour of Jim Thompsons House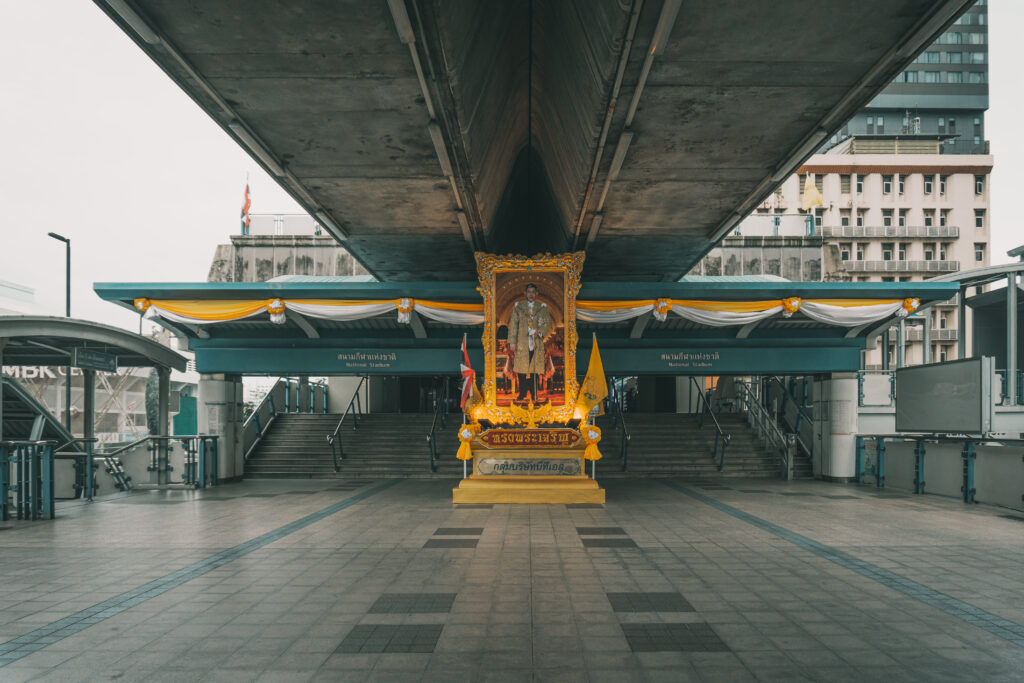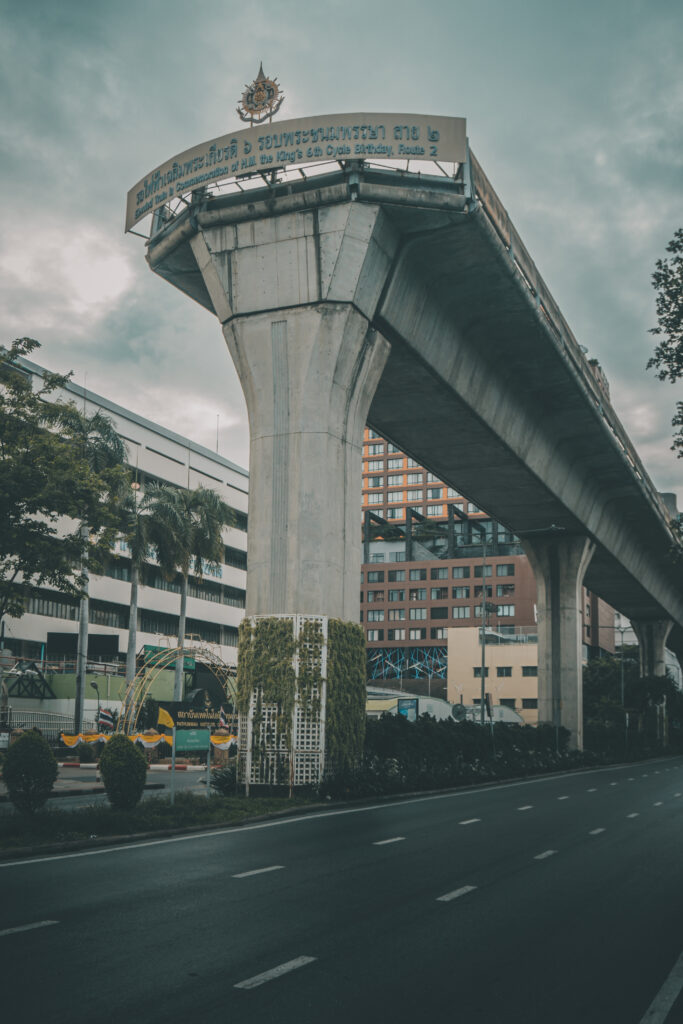 National Stadium is the only station on the west Silom Line from Siam. The train station is outside the MBK Shopping Center, a treasure trove of knock-off goods and low-cost electronics and clothes. It takes around 5 minutes to walk from National Stadium BTS Station to Jim Thompsons House Museum.
Chit Lom: Sukhumvit Line (E1)
Central World is another popular spot in the city which tourists like to visit. Again, it's literally just a shopping mall. But to get there take the BTS to E1 Station, Chit Lom. There is a skybridge connecting the station and the mall.
Asok: Sukhumvit Line (E4)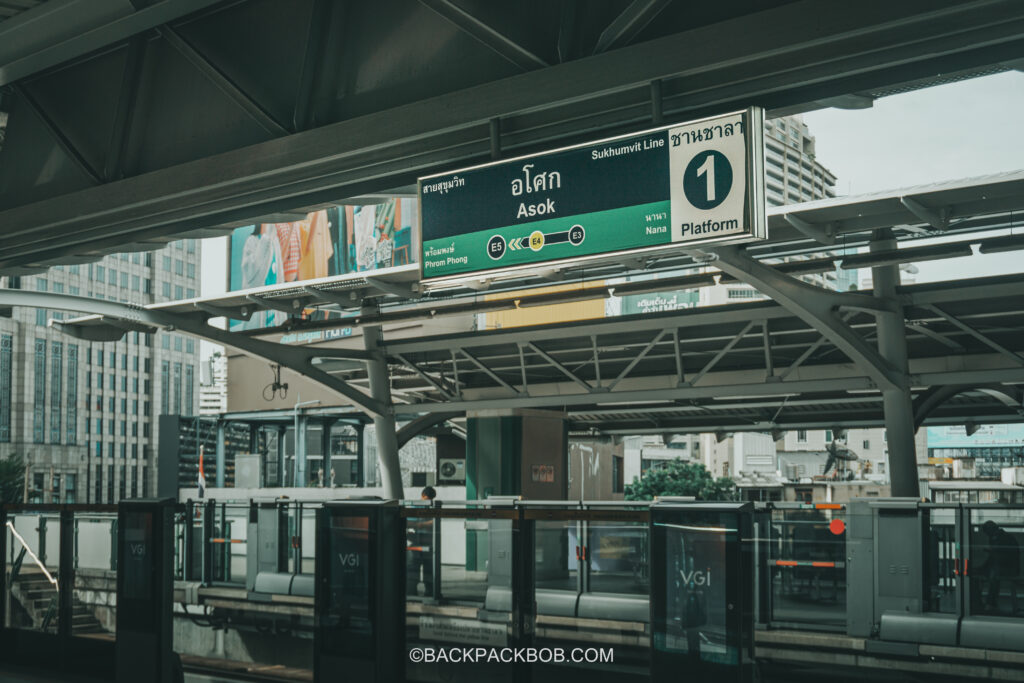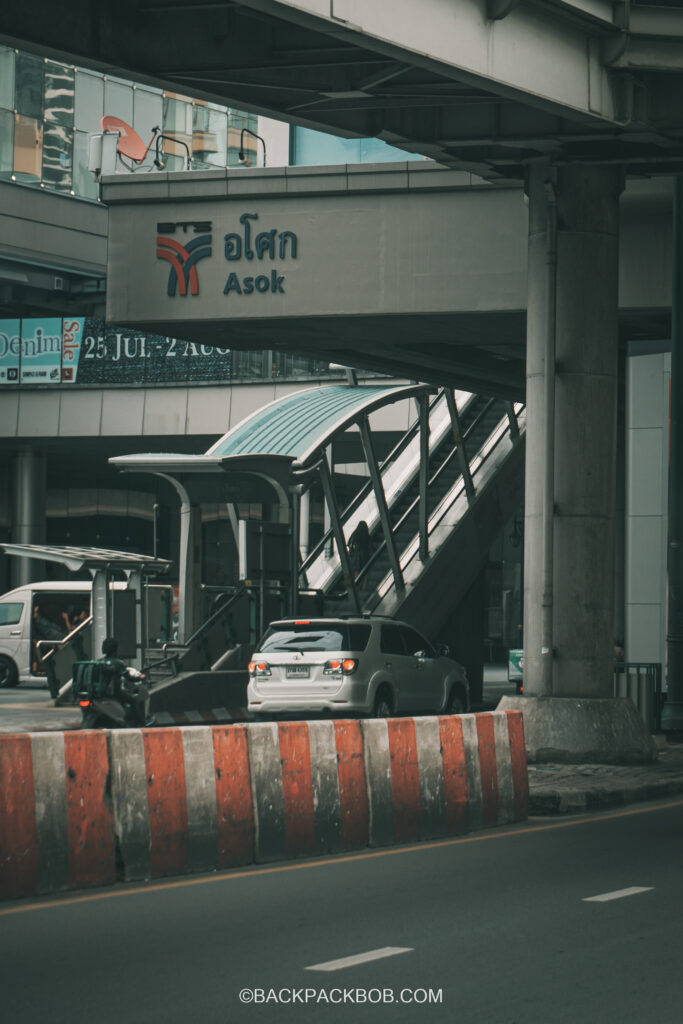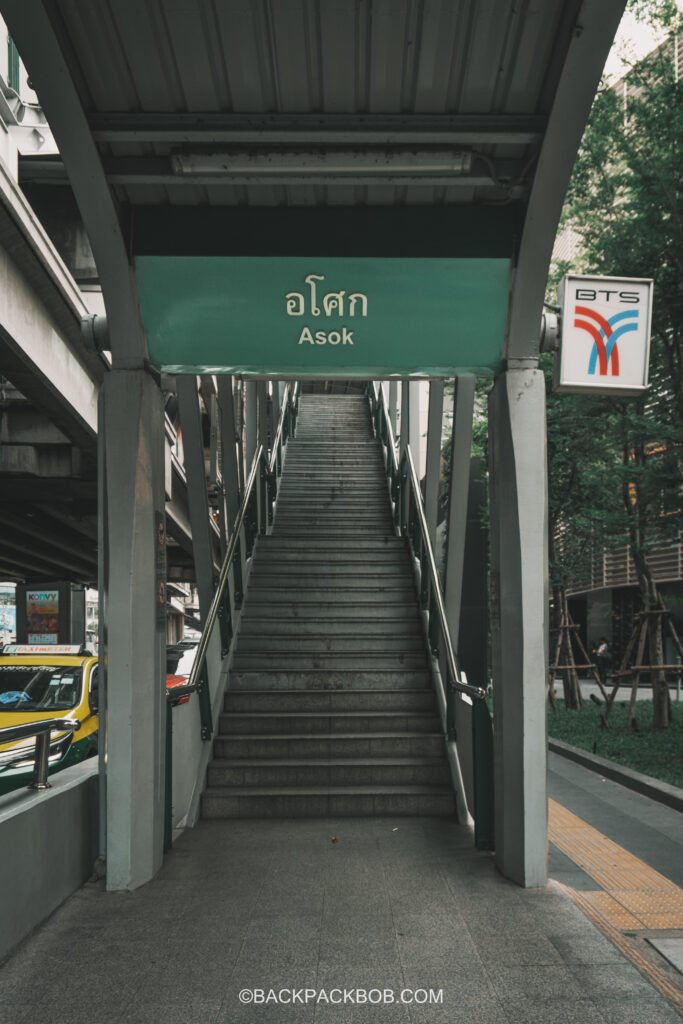 Asok is a popular station on the BTS Skytrain Network. You can connect to the underground Metro (MRT) at this station. Jodds Fair is a popular night market in Bangkok. To get there change to the MRT at Asok Station and ride two stops to Phra Ram 9.
Terminal 21 Shopping Mall has a direct connection to Asok Station, the food court on the top floor is a cheap place to eat, and for nightlife; Soi Cowboy is a few meters away.
Ratchathewi: Sukhumvit Line (N1)
Check out the best hotels on Khao San Road
Ratchatewi Station is the closest train station to Khao San Road, although you'll still need to take a quick canal boat ride to get there. A few meters from Ratchatewi BTS Station you will find Sapan Hua Chang Pier, taking the boat from here to Khaosan Road takes about 5-10 minutes and tickets cost 19 Baht.
Khao San is in an area of Bangkok called Rattanakosin Island. (Yes it's technically an 'island'). This island is where Bangkok's most famous temples are located, including Wat Pho and the Grand Palace. There are laws that the Grand Palace must be the tallest building in the area, and because of that it is forbidden to extend the Skytrain to Khao San. There are plans to open a nearby underground MRT Station in 2024.
Paya Thai: Sukhumvit Line (N2)
Buy an Airport Rail link Pass from Klook
Phaya Thai is the station of the Suvarnabhumi Airport Link. You can catch a train from here directly to the airport which takes around 30 minutes.
Note: There are two major airports in Bangkok, for flights from Don Muang take the Red Line from Bang Sue, via Mo Chit BTS.
Mo Chit: Sukhumvit Line (N8)
There are two reasons you might want to ride the BTS Skytrain to Mo Chit. The first is the Chatuchak weekend market. The Market is the biggest in Asia and is located a few minutes from Mo Chit Station.
The second reason to come here is to connect to Krung Thep Apiwat Station. It's the main railway station in Bangkok, (sometimes called Bang Sue Grand Station). You can get to just about anywhere from here, especially if you want to do day tours outside of the city. Some popular places to catch the train to are the Bangkok Train Market, the Bangkok Floating Market, Kanchanaburi, Ayutthaya, Lopburi and even Pattaya.
Read My Guide to the Bangkok Train Market
Read My Guide to The Bangkok Floating Market
Book a Floating Market and Railway Market Tour
Long-distance train from Bangkok to Kuala Lumpur (Guide)
Long Distance Train from Bangkok to Vientiane (Laos) (Guide)
Note: The largest bus terminal in Bangkok is also located near Mo Chit BTS Station, you can get just about anywhere from here; including from Bangkok to Krabi. You can also connect to the Don Muang Airport Train from Mo Chit, via Bang Sue.
Where To Buy Bangkok BTS Skytrain Tickets From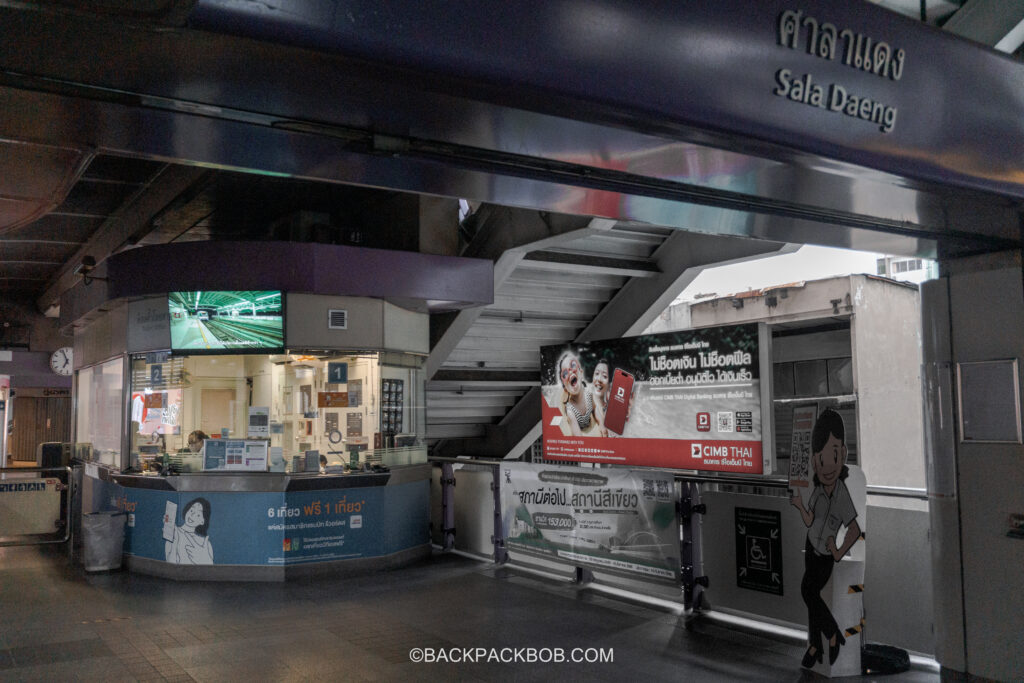 You can buy BTS Train Tickets in the station, or online. 
Tickets cost the same online and in person unless you buy two or more, then there is a 10% discount on Klook, (still not worth it, in my opinion). My preference is to buy tickets at the stations because you will otherwise need to collect tickets brought online in person; at the airport or at the Central World, Chit Lom.
How to Buy Bangkok BTS Train Tickets Online:
Klook is the only official merchant to sell BTS Skytrain tickets online, BTS does not sell tickets online themselves. It's often easier to buy tickets in person, but you can buy the online here: https://klook.tp.st/htSxUlaG, for collection in Bangkok.
How to Buy Bangkok BTS Train Tickets at The Station:
| | | | | | |
| --- | --- | --- | --- | --- | --- |
| | Coins | Notes | QR Scan | Credit Card | Day Ticket |
| Ticket Kiosk | ✅ | ✅ | ❌ | ✅ | ✅ |
| Coin Machine | ✅ | ❌ | ✅ | ❌ | ❌ |
| Note Machine | ✅ | ✅ | ❌ | ❌ | ❌ |
There are three choices where can buy a Skytrain Ticket from at the station. You can go to the ticket kiosk, there is one in every station. Or you can use a vending machine, of which, there are two types. The most common type only accepts coins, but the other (larger) type accepts both notes and coins. Make sure you have coins, before queuing for a machine! If not, go to the kiosk.
Buying a Ticket at The Ticket Kisosk: There is a staffed ticket and service kiosk at every BTS Skytrain Station. This is the only place in the station where you can buy a one-day travel pass or a Rabbit Card. You can also exchange large notes for smaller ones to use in the machines. Or buy tickets using a credit card, (minimum CC charge is 300 Baht). If you only need a standard ticket it is easier to use the machines. Pronunciation of Thai place names can be challenging, but the machines have a clear map to select your destination from in English and Thai.
Buying a Ticket at The Coin Machine: These machines are slowly being phased out, but if you've accumulated any coins in Thailand, this is the place to unload it all. The coin machines are easily recognisable. They are the most common, smaller machines, built into the wall with a vertical display. These machines only vend standard tickets. You can use any coin including 2 Baht, those with a Thai Bank account can pay using a QR scan.
Buying a Ticket a The Note Machine: There are usually longer queues for these machines, and there are fewer of them in the stations. These machines are easy to spot because they stand alone, are much larger, and have a horizontal screen. You can use 20 Baht, 50 Baht and 100 Baht notes in these machines. But be warned. Receiving change from this machine is like hitting the jackpot on a pub quiz machine. Yep, you'll be given your change entirely in coins! These machines can also be used to top-up or check a balance on a Rabbit Card.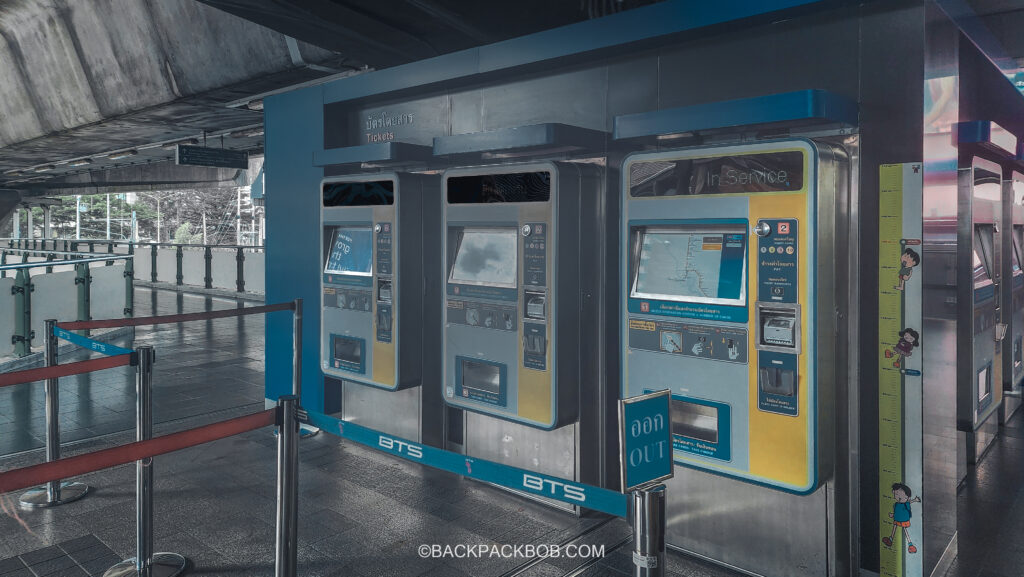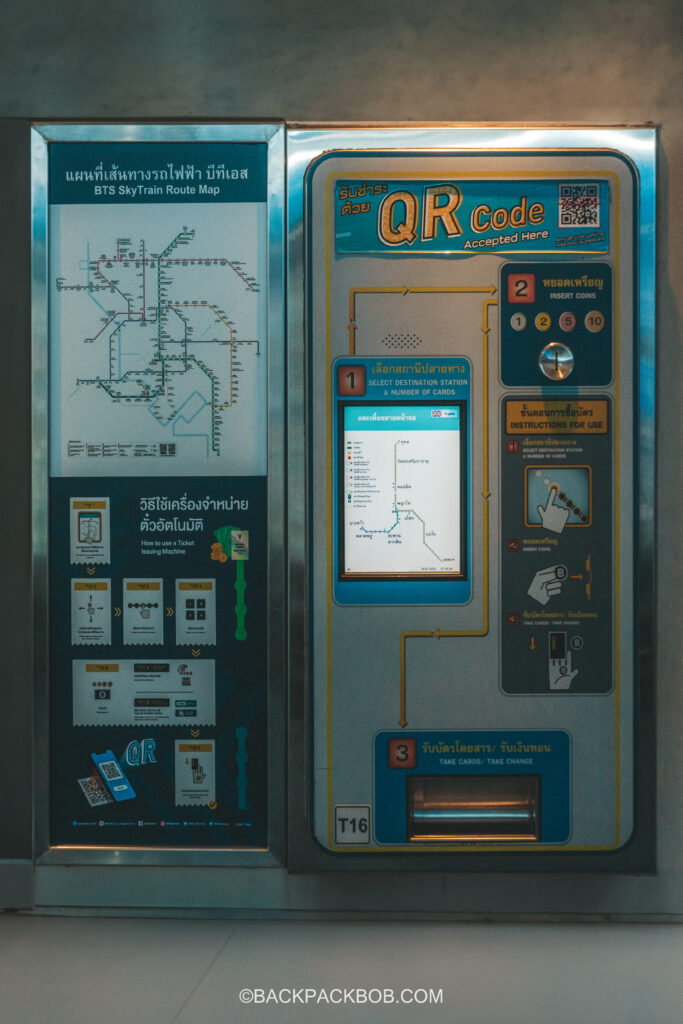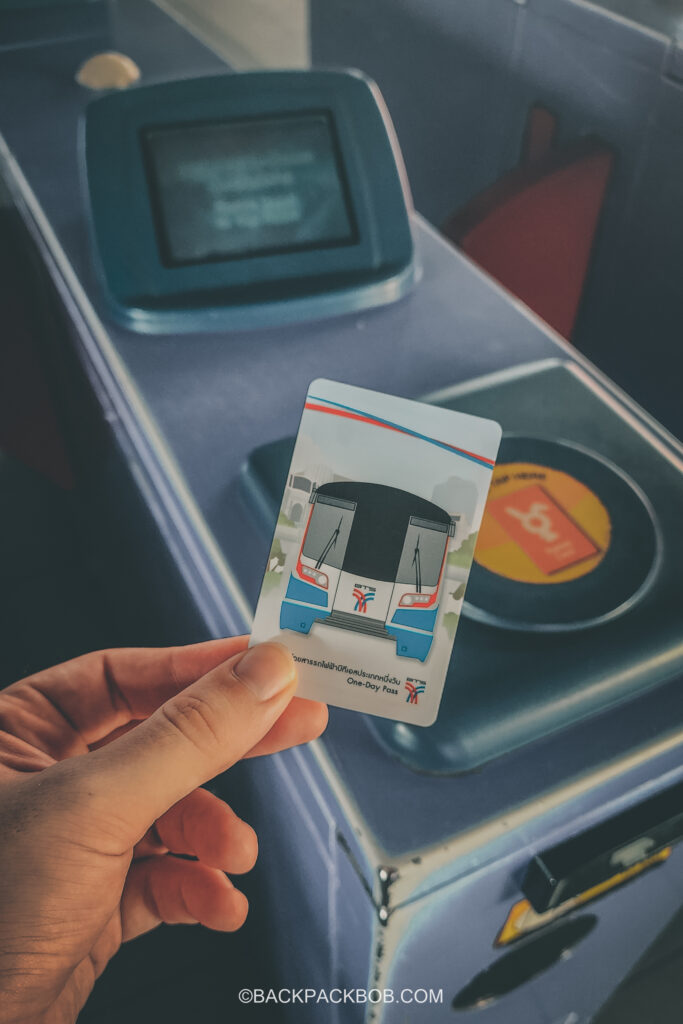 What Types of Tickets are Available For The BTS Skytrain
All BTS Train Tickets use the same form factor, Rabbit Cards, One Day Passes, and standard tickets are reusable plastic cards, the same shape and size as a regular credit card. The are no digital, mobile or QR tickets.
You can buy a standard 'single journey' ticket, a one-day pass, or a Rabbit Card. Let's look at the different tickets available for the BTS Skytrain, and how much each one costs.
BTS One Day Travel Pass: The BTS One Day Pass is the best value for money if you want to visit a few places in one day. A day pass costs 150 Baht at the station, or 135 Baht online. You can use it to enter and exit the Skytrain network for an unlimited number of rides, until midnight on the date it's purchased. Once purchased you do not need to queue up for each ride, you can tap the ticket to enter the station.
Standard BTS Ticket: A Standard ticket, or a 'single journey ticket' is the normal ticket type sold in the station. The fare is a minimum of 17 Baht and a maximum of 47 Baht. The rate is based on how far you will travel. There are no return tickets and you need to buy a new ticket for each trip.
BTS Rabbit Card: It costs 100 Baht to buy the card which can be topped up with cash which gets deducted each time you use the Skytrain. The BTS fare is reduced by 1 Baht with Rabbit Card. You can also use the Rabbit Card in places like Starbucks. The Rabbit Cards are sold in all the stations and online (for local pickup). But you need to show your passport, or a photo of your passport to register a new Rabbit Card. A Rabbit Card is less convenient for tourists, who are better off using the one-day pass instead.
Note: There are no weekly or monthly passes available for the BTS Skytrain.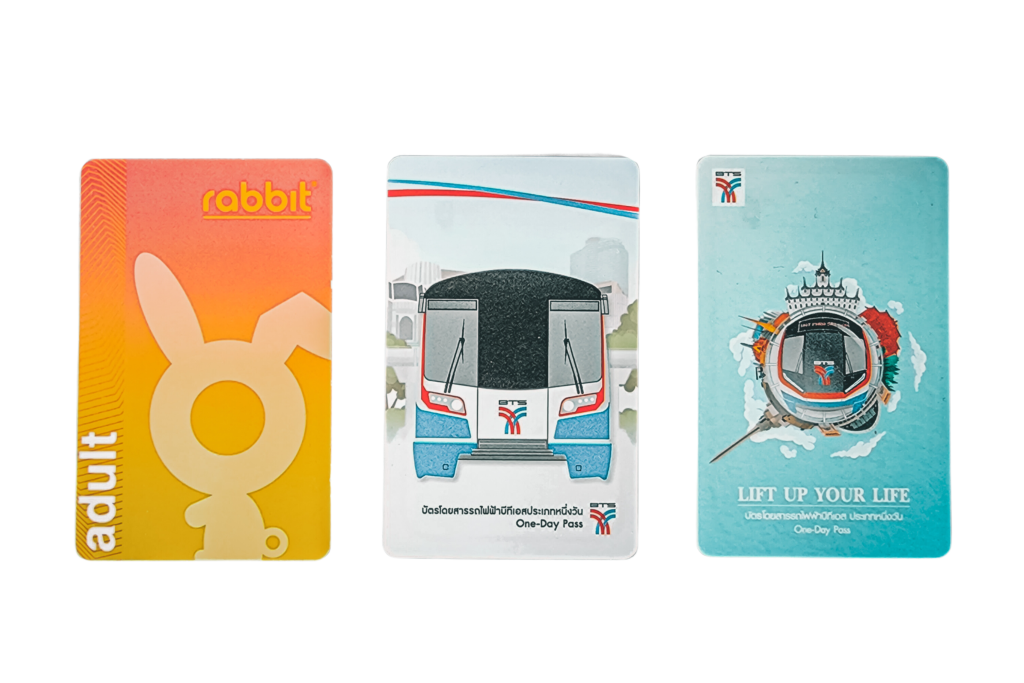 Once you've brought your ticket for the BTS either at the station or online. You'll need to tap it on the touchpad, at the ticket barriers, in order to enter the station and access the platforms.
When you leave the station you insert the ticket into the slot at the barriers, for them to open. The ticket will be collected, recycled and used again. If you use a Rabbit Card or a One Day Pass you can tap it, instead, to exit.
Bangkok BTS Train Times (Operating Hours)
The standard operating hours for the BTS Skytrain are 05:30 until Midnight. The hours can vary depending on the station. BTS Trains run frequently all day long, so there is no need to plan what time you'll catch the train. Arrive at the station, buy and ticket, and go. Monday – Friday, and weekend schedules are the same. 
When Is The First and Last Bangkok BTS Train
The last BTS Train departing Siam to all stations is at midnight, daily.
The BTS Train runs pretty much all day long but does not have a 24 Hours Service. On the Sukhumvit Line, the first train departs between 05:15 and 05:30 am, depending on which station you start from. And on the Silom Line, the first train departs between 05:30 and 05:54 am, depending on which station you start from.
The last train on the Sukhumvit Line is between 23:15 and 00:30 am, depending on the station. And the last train scheduled on the Silom Line leaves between 23:37 and 00:02 am, depending on the station.
Here is the official BTS Skytrain schedule so you can see the first and last train times from every station:

How Regularly Do BTS Trains Run
The BTS Skytrain has regular and frequent departures from all stations. At peak times the trains leave every two to three minutes. And at less busy times the frequency is reduced so the train leaves every 5 to 6 minutes on average. You'll never need to wait too long for a train to arrive at any BTS Skytrain Station.
This is the official train frequency schedule translated into English. You can check the exact departure times here: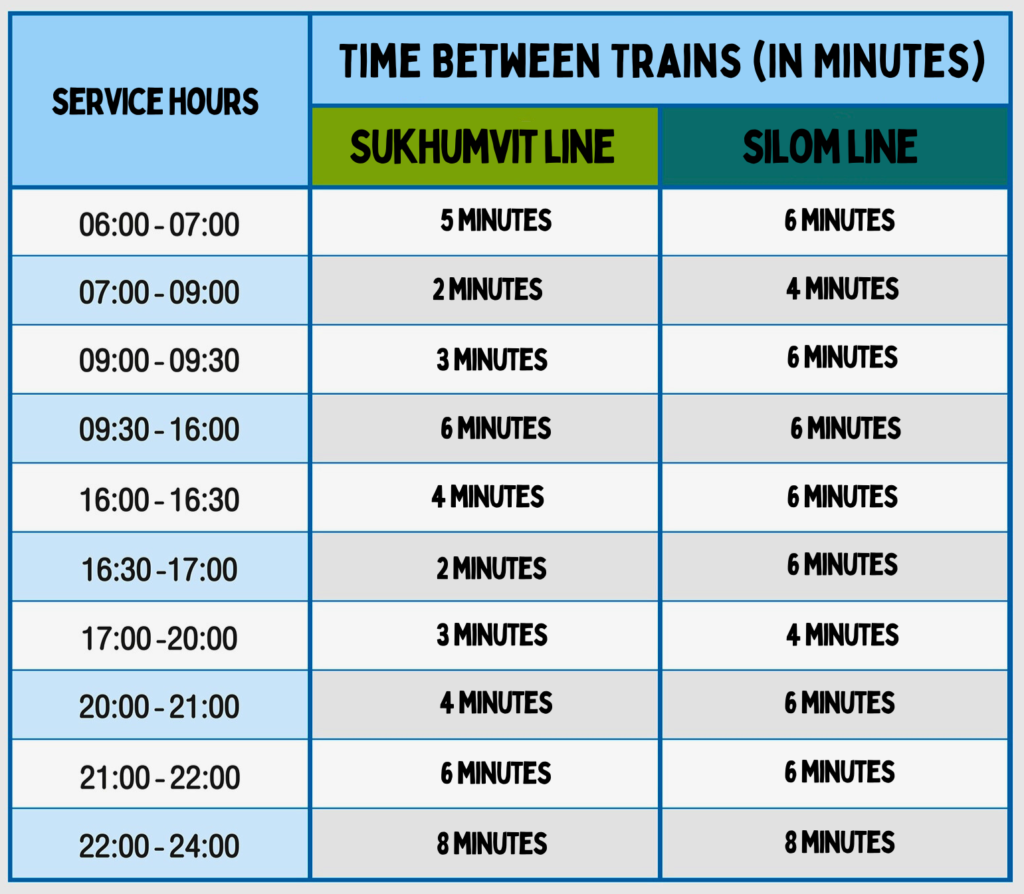 Things You Should Know About The Bangkok BTS Skytrain
The BTS Skytrain is a Public Traded Company: You can become a part owner of the Skytrain for less than 10 Baht. Trading stocks can be risky but it can also provide financial freedom many travellers use the markets to make money online and fund their travels! If you want to get started Trading 212 is a good platform.
OOPS. I got off at the wrong station: Don't worry, so did I. There are ticket offices inside the stations, staff can check your ticket and you can pay the difference to exit if the fare you paid doesn't cover the trip to the station you got off at.
What Does 'BTS' Stand For: Curios about what does BTS stand for in regards to the Bangkok train? So was I. Well, it stands for the 'Bangkok Transit System'. 
Tourist Tickets for the Bangkok Skytrain: Locals and tourists are charged equally. One of the rare examples in Thailand, where everyone pays the same price for BTS Bangkok tickets, there is no 'tourist ticket'. 
How Does Buying a BTS Ticket With a QR Scan Work: You might have noticed ads in the BTS Stations claiming you can pay for tickets by scanning a QR code. And while this is convenient for locals it's not something tourists can take advantage of. You'll need to have access to a Thai Bank account and have the bank's mobile app installed on your phone. Wise is expected to launch a service for foreigners soon.
Are There Bathrooms or Toilets on the BTS: There are no public bathrooms inside BTS Stations or on the trains. There are bathrooms in most MRT Stations.
Is there Air-Con on the Bangkok BTS Skytrain: All of the BTS Sky Trains are air-conditioned. However, the platforms and stations are not. At some of the busier stations fans are installed but it can still be uncomfortable at times.
Travelling on the BTS Skytrain With Luggage: The BTS Skytrain connects to Suvarnabhumi Airport at Paya Thai Station. So yes you can travel on the train with luggage. However, if you're travelling at peak times you should keep in mind that the network gets extremely crowded. I pack a lightweight bag for Thailand so it's not a concern for me, but if I had large suitcases or a lot of luggage I would avoid the train at peak times and taxi a taxi instead.
Food and Drink on the BTS Skytrain: Eating and drinking are prohibited in the stations and on the water, but it is ok to carry food with you. Drinking water is acceptable too.
Don't Cross The Yellow Line: You know that yellow line, painted on almost every train station in the world. Signalling the safe area to stand. Well, it's taken seriously at Bangkok's BTS stations. The second as much as a toe slips over the line you'll be met by a militant security guard blowing a deafening whistle blown in your face. I learned the hard way.
Non- Thai Speakers: All the signage and announcements on the BTS train network are in both Thai and English. Station staff often speak basic English.
BTS Skytrain Video Guide
How to Use the BTS Skytrain | Bangkok, Thailand Travel: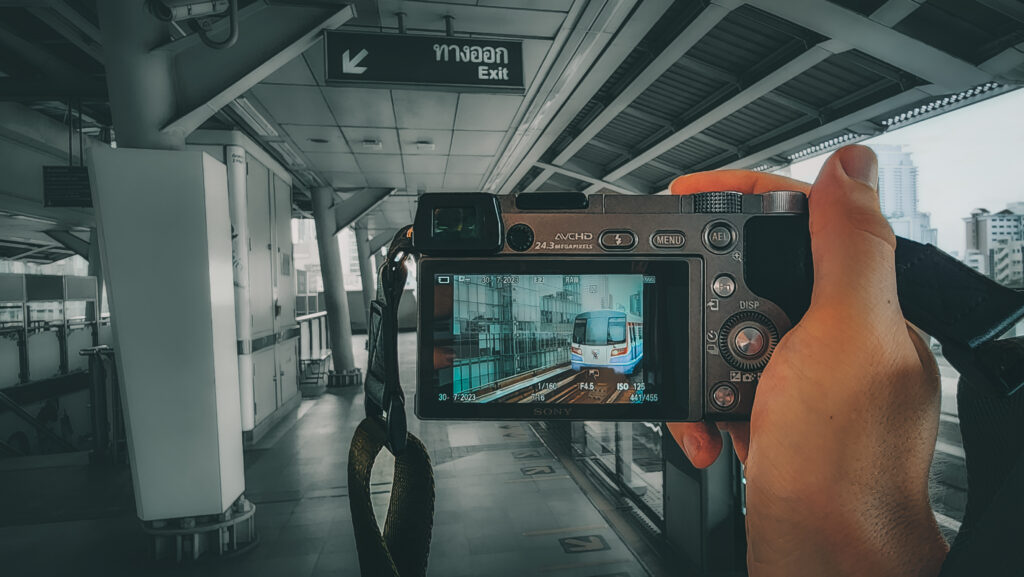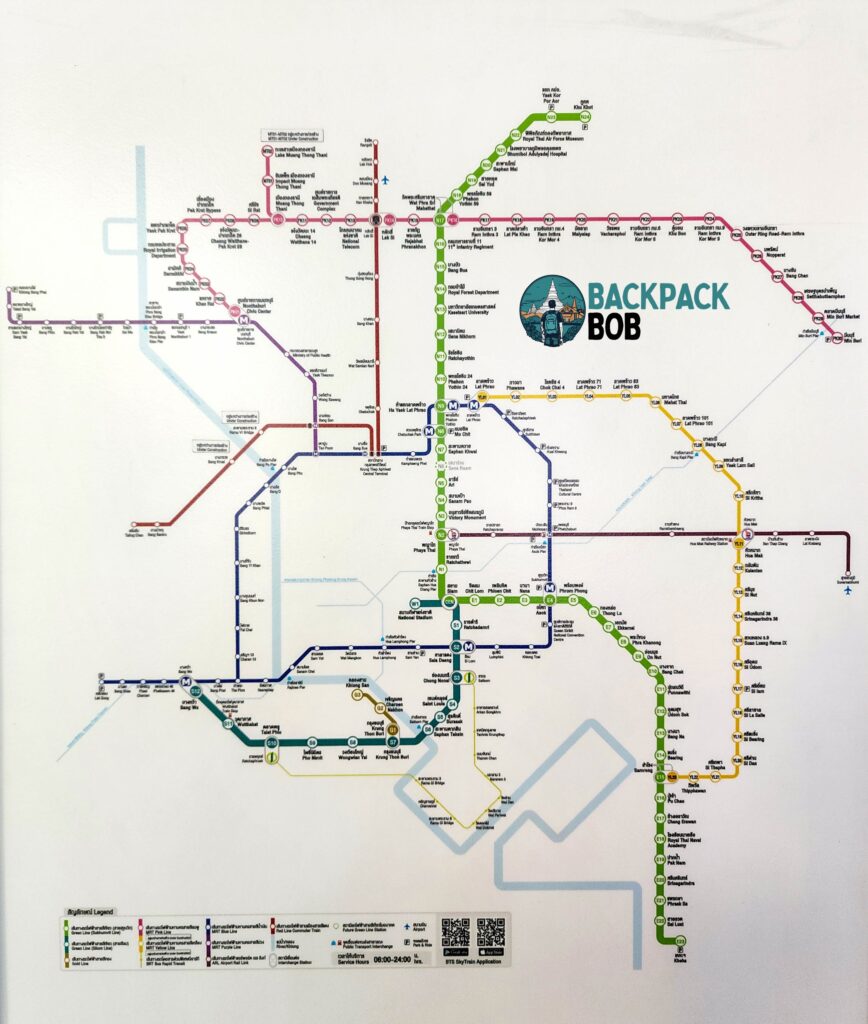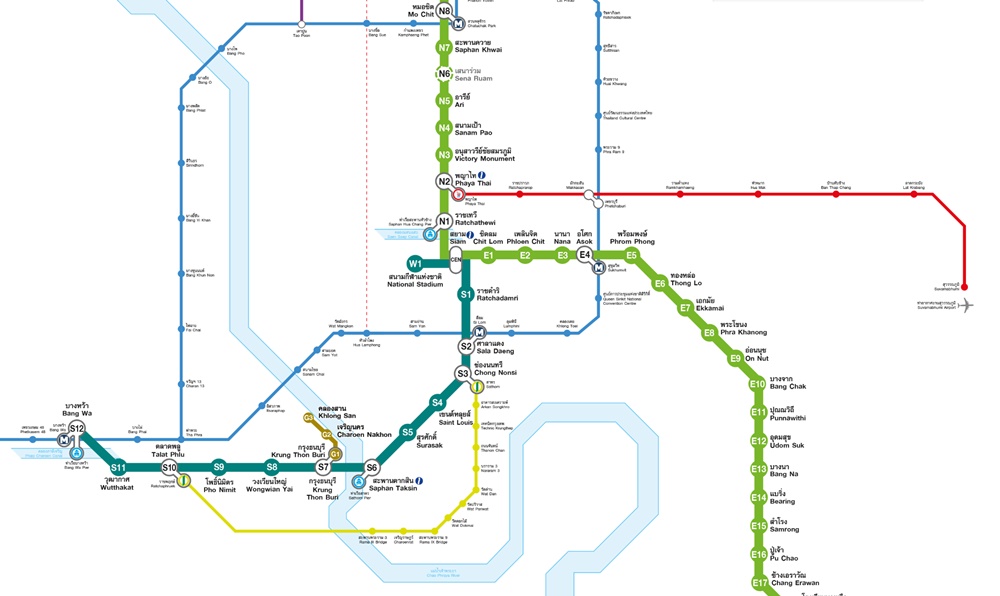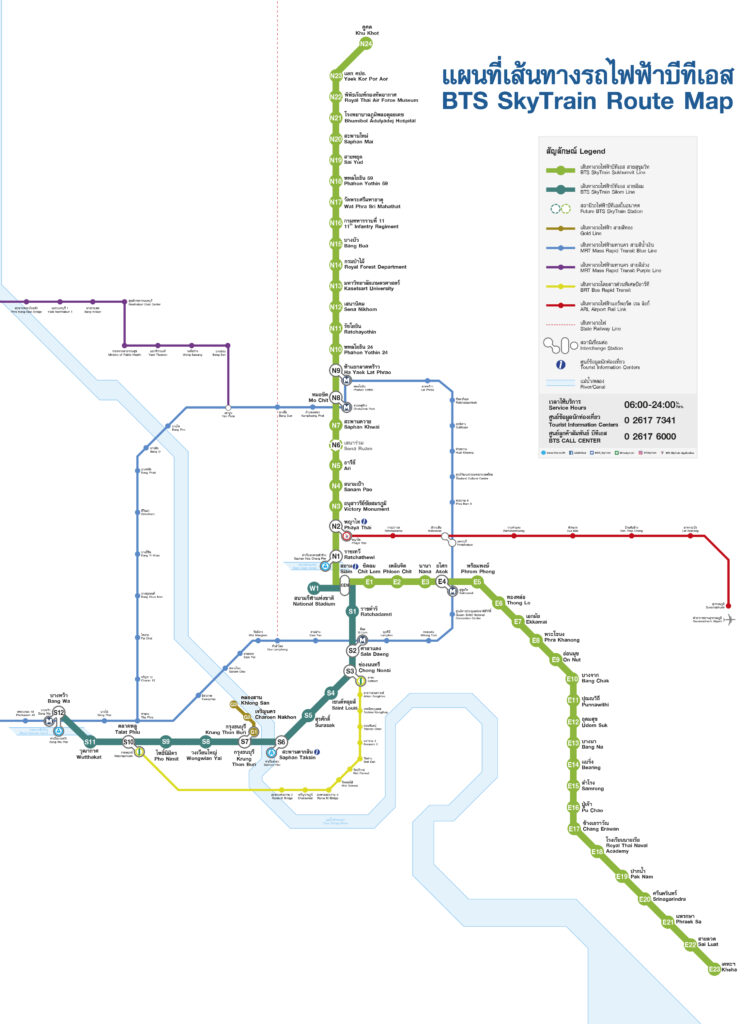 Bangkok BTS Skytrain: TL;DR
The Skytrain is very simple to use and very accommodating towards foreigners and tourists. There are a few things to learn the first time you ride, such as which tickets are the best value (usually a one-day pass) and where to buy them. But once you know the basics, the Skytrain is a great way to get around Bangkok's metropolitan area, without relying on taxis or tuk-tuks.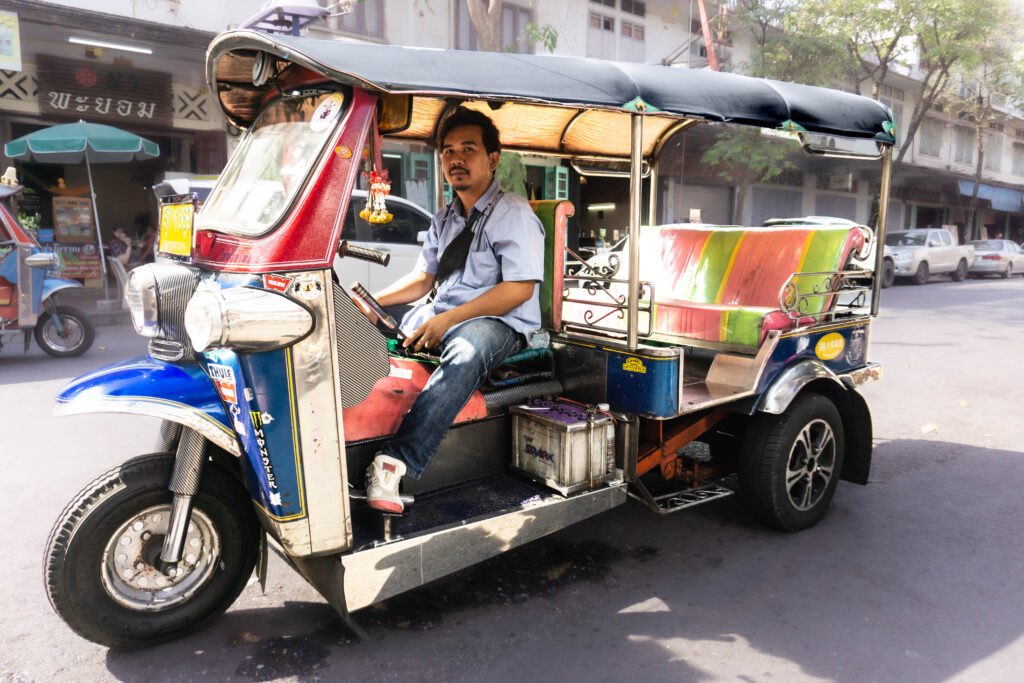 Useful Travel Links
My Most Popular Travel Guides
My Favourite Countries, I Have Written About
Book Your Accommodation
The best place to book accommodation in South-East Asia is Hostelworld. Hosteworld consistently has low prices and in recent years they have grown to include private rooms too. It's still the most sociable accommodation booking app. Booking.com and Agoda are good choices too. These sites have the largest inventory of rooms.
Don't Forget Your Travel Insurance
Never travel overseas, without travel insurance. I've seen first hand the consequences of travel without it. Don't be, that guy. These are my go-to companies for insurance.
Other Recommendations
Check out my resource page to discover new and useful travel apps, businesses and websites. These are sites you need to know about to save money, spend like a local, avoid visa hassles, book rooms, find flight deals, and more.