Bangkok to Krabi Travel Info
Bangkok and Krabi are two of Thailand's most popular destinations for tourists to visit and no trip to Thailand is complete without visiting both of these provinces. City life in Bangkok and Island life in Krabi, both destinations have something unique to offer. Find the 3 best ways how to get from Bangkok to Krabi in this post.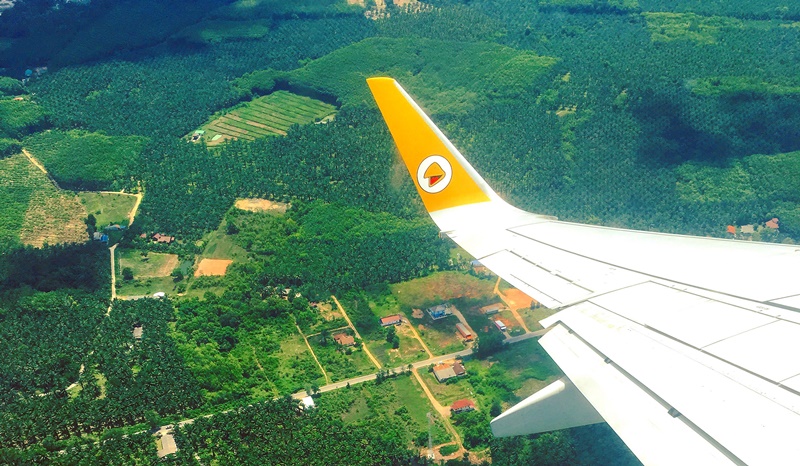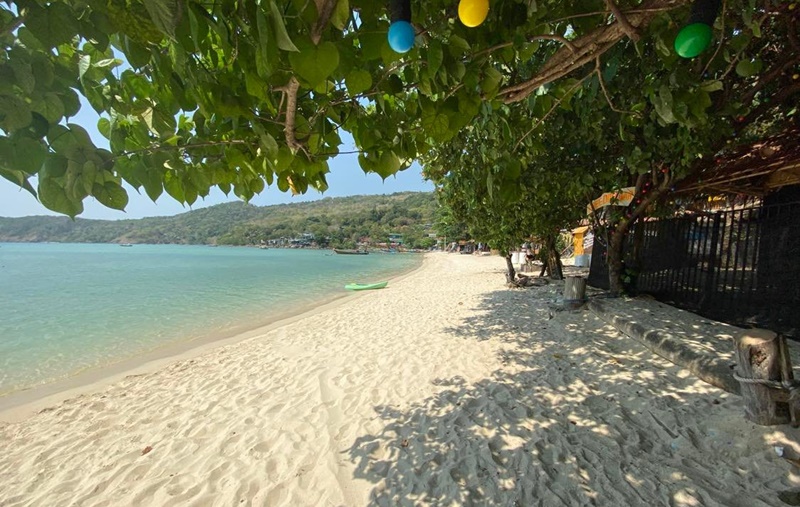 The bus from Bangkok to Krabi takes 15 hours overnight. The Bangkok to Krabi flight takes 1 Hour and 20 Minutes. Despite what others might suggest, there is no train station in Krabi.
Check out private Phi Phi Island Boat Tours Leaving From Krabi. 💛
I spent over a year working in Krabi and living in Bangkok. I've lost count of how many times I've had to travel from Bangkok to Krabi and visa-versa. Travelling from Bangkok to Krabi could not be any easier. There are more than fifteen direct flights every day, from more than 5 different airlines. And there are also four buses running from two different operators. So when going from Bangkok to Krabi, you'll be spoiled for choice.
Many companies operating routes between Bangkok and Krabi became bankrupt during the coronavirus pandemic, most schedules changed after that. In this post, all the schedules, companies, prices and times mentioned have been updated to reflect the travel options available from Bangkok to Krabi after the pandemic shutdowns.
How To Get From Bangkok to Krabi
The distance between Bangkok to Krabi is around 800 km.
How do I get from Bangkok to Krabi?
👉 The travel options available between Bangkok and Krabi is either a flight or the bus.
The Bus takes around 12 to 15 hours, flights take around an hour and 30 minutes.
The route from Bangkok to Krabi is under high demand so there is a lot of competition between airlines pushing the costs down. I personally recommend to take a flight from Bangkok to Krabi if you value your sanity because the cost is not much more than the bus.
The average price I pay from flights from Bangkok to Krabi is around 1,000 THB. The lowest I have paid is 350 THB (although that was before covid, when the prices where cheaper).
I found that Trip.com (a company owned by Sky Scanner) consistently has the lowest flight prices for the Bangkok to Krabi route.
Compare Bangkok to Krabi flight prices
Compare Bangkok to Krabi bus prices
If you are on a budget then bus tickets cost around 700 Baht. In my option its worth paying the extra few Baht to avoid the long and tedious bus ride.
Bangkok to Krabi Flights
The flight time from Bangkok to Krabi is just over one hour. Prices range from 600 Thai Baht to 1,400 Baht. Early morning flights and the last flights of the day are often the cheapest. Bangkok to Krabi flight prices peak during the mid-day.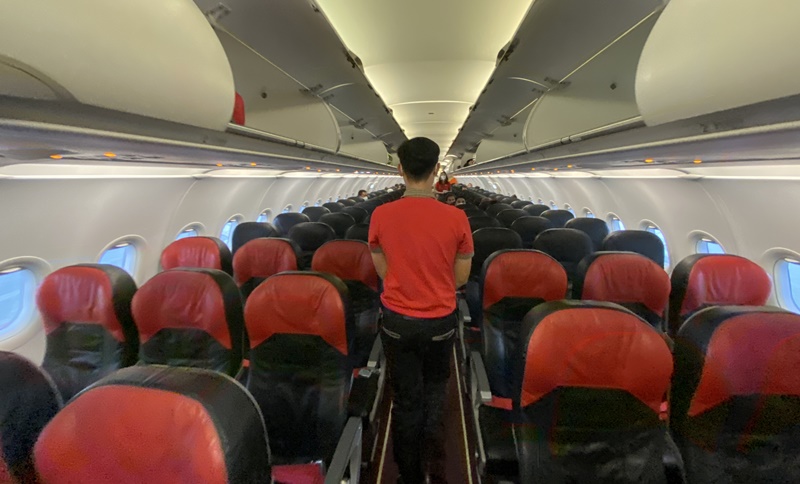 There are two airports in Bangkok. BKK (Suvarnabhumi) and Don Muang (DMK). It is cheaper to get to BKK airport using the BTS Skytrain. You'll need to take a costly taxi to reach DMK airport.
Krabi airport is located in a convenient location around 20 minutes from the downtown area and 40 minutes from Ao Nang Beach Road. Shuttle busses leaving the airport often and cost 60 Baht per person, taking you directly to any hotel.
Can I fly from Bangkok to Krabi? These Airlines all fly between Bangkok and Krabi on a daily basis:
AirAsia
Thai VietJet (usually cheapest)
Thai Lion Air
Bangkok Airways
Thai Smile
Thai Airways
The quickest and most convenient choice of travel from Bangkok to Krabi is taking a flight. And honestly, the flight tickets are not much more expensive than the bus. It's not uncommon to find Bangkok to Krabi flights being sold for a lower cost than the bus tickets. Even if you are on a budget, don't rule out flying as an option before checking the prices.
Bangkok To Krabi Flight Timetable and Costs
How much do flights cost from Bangkok to Krabi. This timetable shows the current flight schedule (Post-Pandemic) with the average ticket cost.
Bangkok to Krabi Daily Direct Flight Timetable: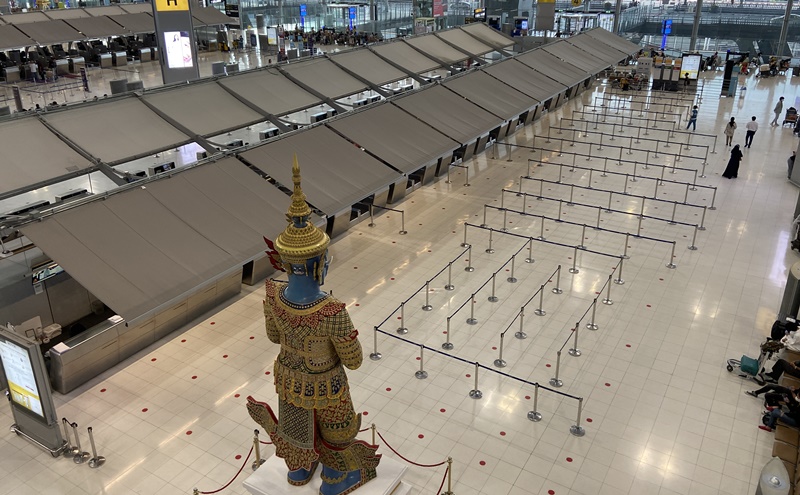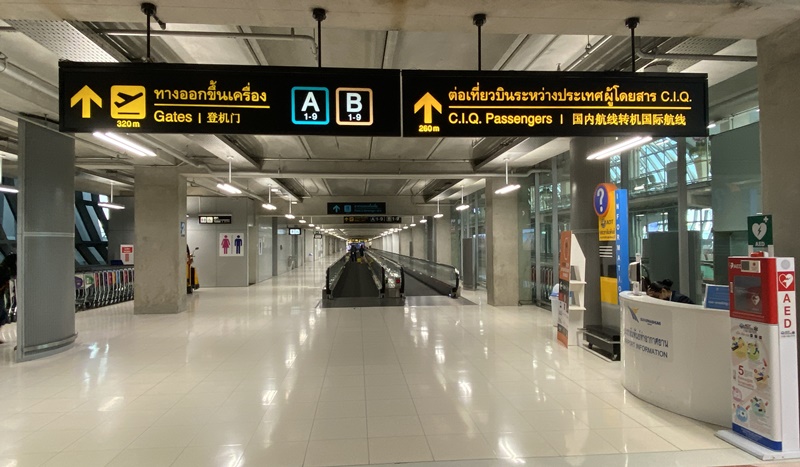 Bus From Bangkok to Krabi
Is there a bus from Bangkok to Krabi?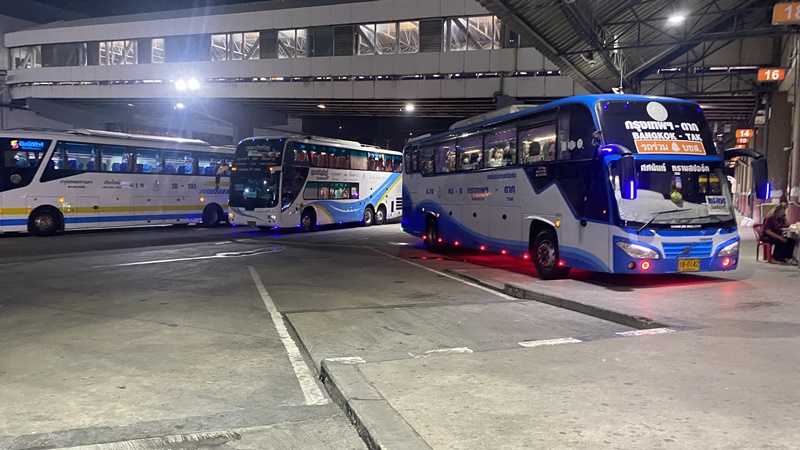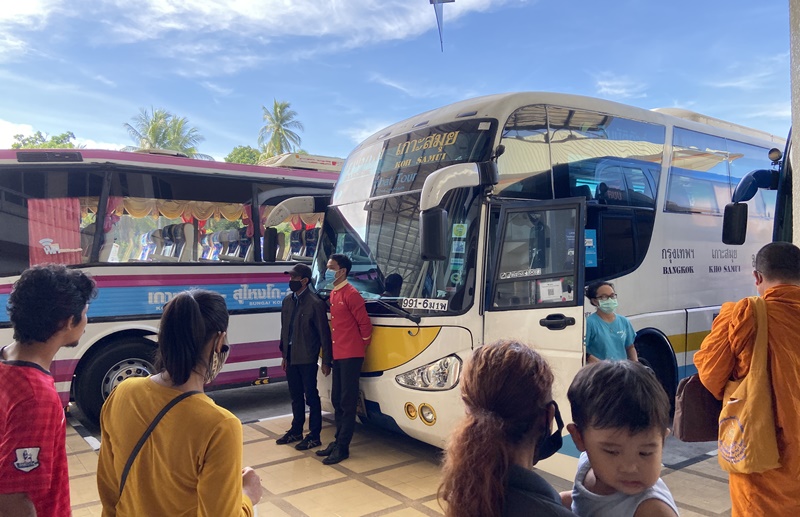 I vowed never to take the bus from Bangkok to Krabi. But if you are looking to get from Bangkok to Krabi for the lowest price, then the bus can be cheaper than flying. Although that is not always the case, make sure to check both the flight prices and the bus prices before booking anything.
The bus from Bangkok to Krabi is overnight, there are no daytime services after COVID. Ticket prices range from 700 – 950 Baht, around 21USD on average.
TIP: Tourists often get overcharged for the bus from Krabi to Bangkok. The bus which leaves from Khaosan Road is targeted at tourists and is the most expensive bus to take. If you book the Bangkok to Krabi bus ticket and a hotel or agency you'll pay extra as the seller will earn a commission, usually around 200 Baht on top of the actual ticket price.
The bus from Bangkok to Krabi leaves from Mo Chit Bus Station. You can get to Mo Chit on the Bangkok BTS Train. You can book tickets in person at Mo Chit station. Tickets to Krabi are sold on the ground floor (Southern Departure Area) and the bus is rarely booked, you can usually buy a ticket an hour or so before departure.
Try to book a seat downstairs if possible as these seats are the most spacious and recline further. Its much easier to sleep on the lower deck, tickets downstairs can cost around 100 Baht extra.
The bus will stop during in Chumphon (ชุมพร) 24 hour services on the journey, at around midnight. Restaurants here are open 24hours and you'll be able to get a hot meal for dinner. All the buses on the Bangkok to Krabi route have bathrooms on board.
You can also book tickets online if you are worried about the bus being fully booked. Book bus tickets from Bangkok to Krabi here.
These bus companies have services from Bangkok to Krabi daily:
Transport Co Ltd (999)
Lignite Tour
There is no notable difference between the two bus companies operating the Bangkok to Krabi route. ADV Tour (Songserm) also operates the Khaosan Road to Krabi bus, be careful of booking this bus through a hotel or agent because tickets cost almost double the local price. Montanatip no longer runs buses on this route.
Buses from Bangkok to Krabi arrive at Krabi bus station number 2. There are connections to Koh Lanta and Ao Nang by minibus from this bus station. And the shuttle into Krabi Town costs 50 Baht.
Daily Bus Timetable From Bangkok (Mo Chit) to Krabi (Bus Station 2):
Updated when buses began running again after the coronavirus pandemic.
| | | | | |
| --- | --- | --- | --- | --- |
| Company | Depart | Arrive | Price | Book |
| Transport 999 | 5:30PM | 07:30AM | 750THB/22USD | Price Check |
| Transport 999 | 5:45PM | 07:45AM | 750THB/22USD | Price Check |
| Lignite Tour | 6:40PM | 05:40AM | 800THB/24USD | Price Check |
| Lignite Tour | 7:30PM | 06:30AM | 950THB/29USD | Price Check |
Location of Krabi Bus Terminal on Google Maps: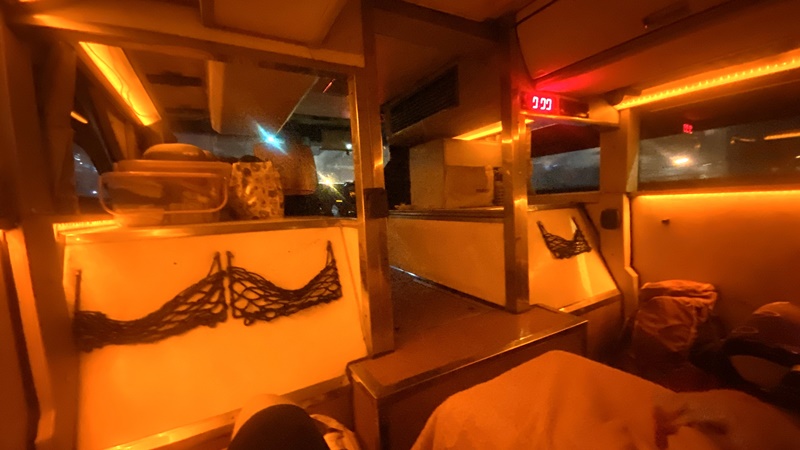 Bangkok To Krabi Train
There are no direct trains from Krabi to Bangkok, the closest station to Krabi is Suratthanni.
If you want to travel from Bangkok to Krabi by train you'll need to catch the 43 or 39 train from Hua Lampung to Suratthanni. You then need to complete the (150 km) journey (Suratthanni to Krabi) on the bus. It's not worth taking this route because it will cost twice as much, take twice as long and you'll end up on the bus regardless.
Tips For Travelling From Krabi To Bangkok
The bus from Bangkok to Krabi is not always the cheapest. Make sure to research the cost for both transport options before choosing to take the bus.
Book Bus tickets directly at Mo Chit Bus Station or on 12GO.asia for the lowest price. Tickets sold in guesthouses or at shops on Khaosan Road are the most expensive.
If you choose to travel by bus it's worth upgrading to a seat on the lower deck because the seat reclines much further and there is a lot more legroom.
If flying from Bangkok to Krabi try to choose a flight leaving BKK, it's cheaper to get to BKK Airport than DMK.
The first and last flight of the day from Bangkok to Krabi is usually the cheapest. Book flights around 24 hours in advance to get the lowest fare.
Check flight prices on TRIP.COM, as this site consistently offers the lowest fares.
Where To Stay in Krabi
After arriving you'll most likely need a place to stay. The most popular areas are Krabi Town, Ao Nang, Railay Beach and Phi Phi Island. Krabi is a popular destination for tourism so there is an enormous selection of hotels to choose from. Here are a few of my favorites:
Krabi Town: The Krabi Riverside Hotel is in a convenient location right within the town. The hotel is situated next to the night market and opposite the 'Krabi Crab' statue. This hotel is budget friendly with rooms often going for a little a $9 USD. You can get to the Riverside Hotel from Krabi Bus Station in around 20 minutes.
Ao Nang Beach: The Holiday Inn Ao Nang Beach Resort is in the perfect location, with a tropical setting a few meters from the beach. The huge swimming pool are balcony nest seating is what makes this hotel attractive for me.
Phi Phi Island: The Saii Phi Phi Island Resort is the most gorgeous hotel I have ever stayed in. A 5-Star resort with its own private beach on the eastern coast of Phi Phi Don Island. The secluded location makes it a perfect getaway location in Krabi.