Phi Phi Islands are a gem in the south of Thailand. A short ferry ride away from Phuket, you'll find a group of six beautiful, charming limestone islands. This is Koh Phi Phi. Paradise in every sense of the word. Chilled out during the daytime and coming to life at night.
My first vacation here was back in 2009. I was bitten by the travel bug and left lusting for more. Over the past decade, while living and working in Bangkok, I have visited the Phi Phi Islands more times than I can count. The islands have always fascinated me, and they have always ranked high on the list of my favourite places in Thailand.
But Phi Phi Islands aren't without their share of drama. And I think it would be fair to say that no-one 'just likes' Phi Phi Islands. Most travellers, myself included absolutely love Koh Phi Phi. But there are a few that don't share this opinion. Some travellers can't stand the islands. Some, f***ing hate the island. Sorry, Matt, I don't agree.
Phi Phi Islands are the most epic of Thailand's Islands. There is a perfect balance between culture, nature and fun. You'll find remote hiking trails leading out to white-sand beaches, clear blue waters at every beach, and limestone cliffs dominating wherever you turn. And in the evening, Phi Phi Island comes alive, transforming into a world of its own.
Now, there is no denying it. It's a fact that Phi Phi is a 'party island'. And that is never going to be everyone's cup of tea. That's ok, if it's not for you. But there is a lot more to Phi Phi than nightlife, and if you pick the most suitable area for you to stay, then there is no reason to not have an amazing time in Phi Phi Islands.
Travellers aspiring to visit Phi Phi Islands to experience the nature, snorkelling, hiking and undeniable natural beauty will be much better suited to accommodation on Long Beach, Nice Beach or Laem Tong Beach, which are much more chilled areas.
Young backpackers will probably prefer to stay on Loh Dalum beach, as close to the nightlife as possible.
My number one tip for any traveller visiting Phi Phi Islands for the first time is to choose an area to stay on the island that will be best suited to you.
The main town on Phi Phi Island is small, so small in fact, there is no transport around the town asides from walking. No cars, no bikes, no pollution. Paradise. Koh Phi Phi has some of the cleanest air in Thailand. This and being so close to the ocean at all times gives you a real sense of bliss, you'll smell the ocean breeze wherever you are on the island. Speaking from experience, Phi Phi is a place that you'll find yourself never wanting to leave.
I want to share with you, my knowledge about the Phi Phi Islands, the information I have learned and some of my personal experiences. To help you travel smarter and to help you get the most from a getaway on this perfect tropical island.
Whether you consider yourself a traveller, a tourist, a backpacker an ex-pat or a holidaymaker. I'll help you find the best places to stay in Phi Phi Islands; which can make or break a trip here. I'll cover the nightlife in Phi Phi Islands, snorkelling, day trips, scuba-diving and all the other fun things to do here. There are some money-saving tips in this Phi Phi Island Guide, and a lot of first-hand, inside information. So read on and make sure your vacation is as fun-filled and enjoyable as it can possibly be.
Phi Phi Island or Koh Phi Phi
You might have noticed Phi Phi Island is sometimes called 'Koh Phi Phi' or vice-versa. In fact, you might have even noticed that I have referred to the islands as both the Phi Phi Islands and Koh Phi Phi already. So which one is correct?
Well, neither are wrong, so go ahead and use whichever term you're most comfortable with. Koh Phi Phi is simply translated phonetically from Thai to The English language. The word 'Koh' is a transliteration for the Thai word meaning island. And 'Phi Phi' well it's the name of the island, with no real meaning. So Koh Phi Phi is correct, Phi Phi Island is correct. But Koh Phi Phi Island is not.
What does Phi Phi mean? Phi Phi Islands get their name from the Malaysian language rather than Thai. The word 'Api Api' which loosely translates to 'the sun-kissed island'.
How do you pronounce Phi Phi? For native English speakers, you'd naturally want to read the 'Ph' as an 'F' sound. But that will get you some confused looks in Thailand, you'll likely be misunderstood if you ask to buy tickets to 'Fee Fee Island'. It's pronounced 'Pee Pee', so stick with that and you'll get by just fine.
Where Is Phi Phi Island
Phi Phi is a small cluster of six islands in the Andaman Sea. The islands are in the south of Thailand, not far from the Malaysian border. Phi Phi Islands are about 45 kilometres off Phuket's east coast and about 35 Kilometres west of Krabi Province.
The nearest point in mainland Thailand to the Phi Phi Islands is Krabi. It takes about an hour, thirty to cross between Krabi and Phi Phi Island on the ferry. (You'll find more information on how to get to Phi Phi Islands at the end of this guide).
But isn't Phi Phi Island in Phuket? Actually no, contrary to the popular belief Phi Phi Islands are actually in Krabi Province. But the number of arrivals to the island from Phuket is much higher than Krabi. Which can often lead to some confusion about where Phi Phi islands are actually located.
Phi Phi is part of the National Marine Park which includes a total of six islands. Some of the other islands are Bamboo Island, Mosquito Island, Bida Nok, Bida Nai and Phi Phi Leh. These islands can be easily visited on a boat trip from the main island; Koh Phi Phi Don.
Phi Phi Island Map: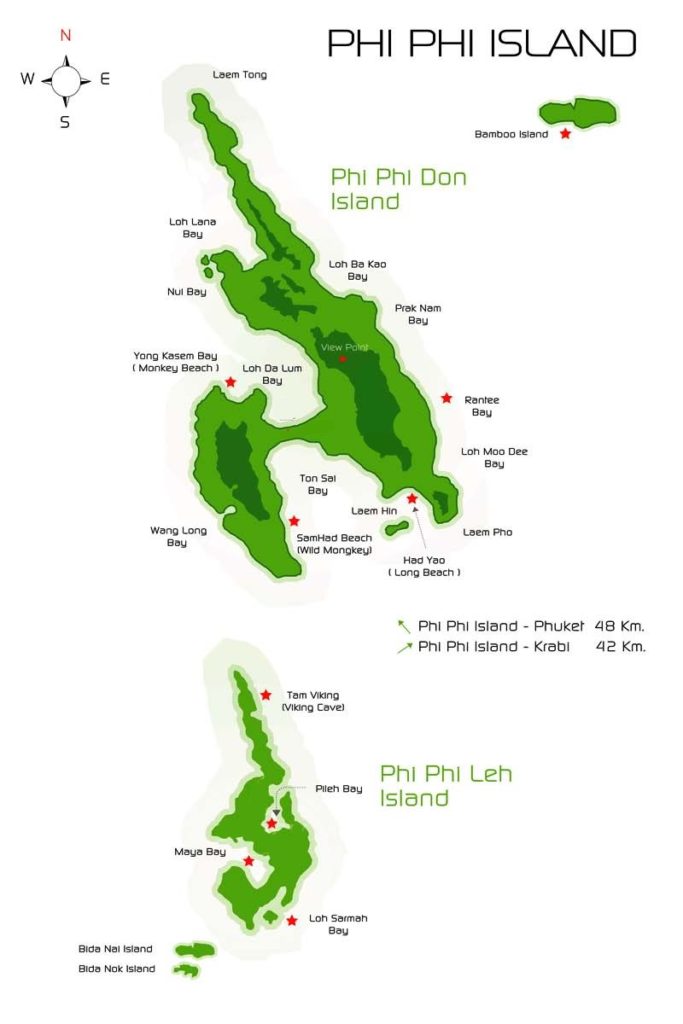 Is Phi Phi Island Closed
No, but I wanted to add in this section for my 2020 update to my Phi Phi Islands guide and touch on a topic that has created some misunderstandings and confusion in recent years.
A lot of people seem to be under the impression that Phi Phi Islands are closed, and it's one of the top searches on Google at the moment. But no, Phi Phi islands are not closed.
The confusion comes from the closure of one of the beaches in Koh Phi Phi, Maya Bay. Maya Bay was closed as part of a rehabilitation project which began in 2016. The island which Maya Bay is on, Koh Phi Phi Leh, is open. In fact, the bay is not actually closed. It is only access to the beach which has been restricted. The rest of Phi Phi Islands and all the other 20 + beaches remain open and it's business as usual.
Things To Do In Phi Phi Island
Despite the small size of Phi Phi Island, there is always something going on that can keep you occupied. There are plenty of things to do and see here. Some of the more popular activities include visiting "The Beach" at Maya Bay. Hiking the Phi Phi Island Viewpoint, Scuba Diving, Snorkelling or spending the day relaxing on the remote and tropical Bamboo Island.
There are over one hundred different activities and things that you can do in Phi Phi Islands, and I have put all 101 actives into a separate guide, you can read my things to do guide here: 101 Things To Do In Phi Phi Island: The Complete Bucket List. But here are the five of the best things to do on Phi Phi Island.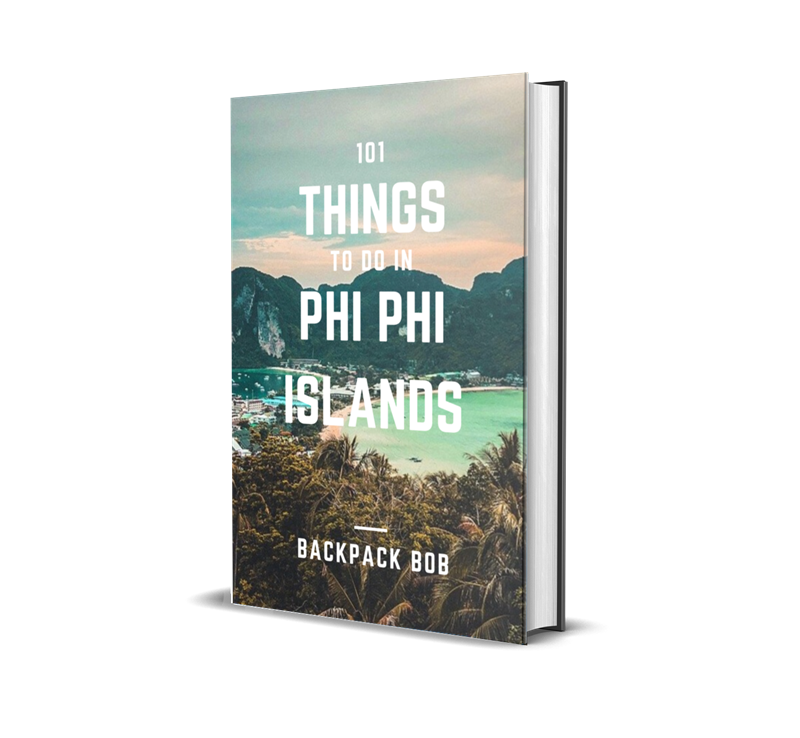 1) Enjoy The Nightlife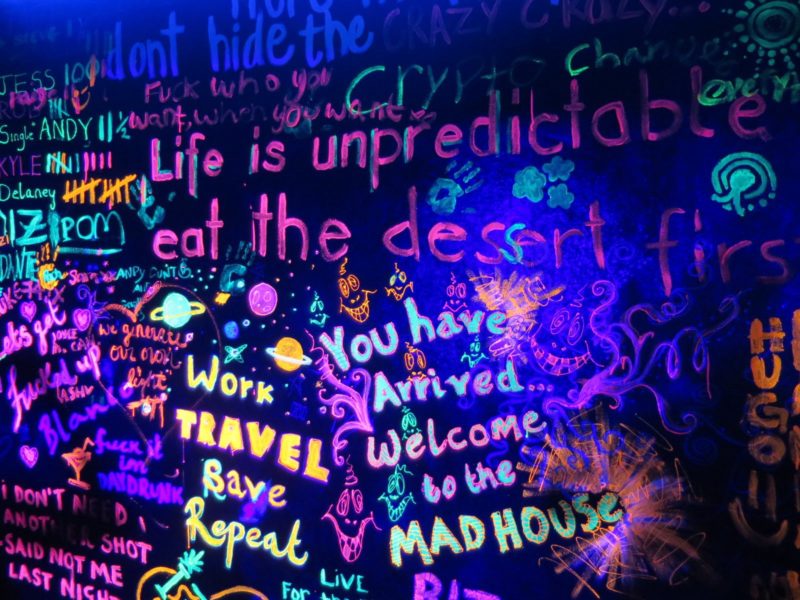 Nightlife on Phi Phi Island is crazy. There are parties thrown every night of the week at open-air clubs along the beach-front. Fire shows and drunken boxing matches are a regular occurrence. And alcoholic drinks are sold by the bucket, which can go for as cheap as 200 Baht ($4 USD)! A bucket contains somewhere around 7 double US measures! So it's cheap to drink in Phi Phi Island. For live music head to the Klongsiam Bar, head to Stolkholm Syndrome for a game of beer-pong or to the Only Bar for a 'magic shake' and a great view. You can read my full guide to the nightlife on Phi Phi Island here: Phi Phi Island Nightlife: 15 Most Legendary Bars On The Island.
2) Visit The Viewpoint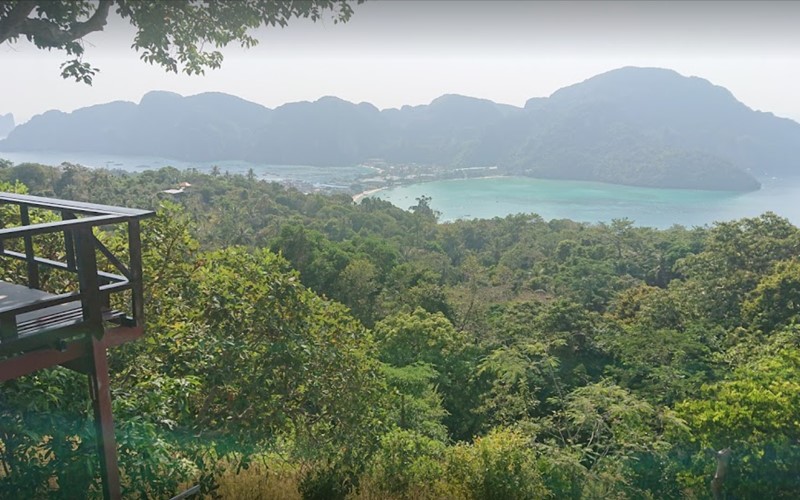 The Phi Phi Island viewpoint is a must-do. The town (seen pictured) is built on a thin strip of sand between two incredible limestone rock formations. From the top of the viewpoint, you can look down into the town of Phi Phi Island from a vantage point high above sea level. You'll have scenic views over the entire town and views of both Phi Phi Islands main beaches. There are 3 viewpoints on the island which you can hike in succession. You can read my full guide to hiking the Phi Phi viewpoints here.
3) Scuba Dive The King Cruiser Wreck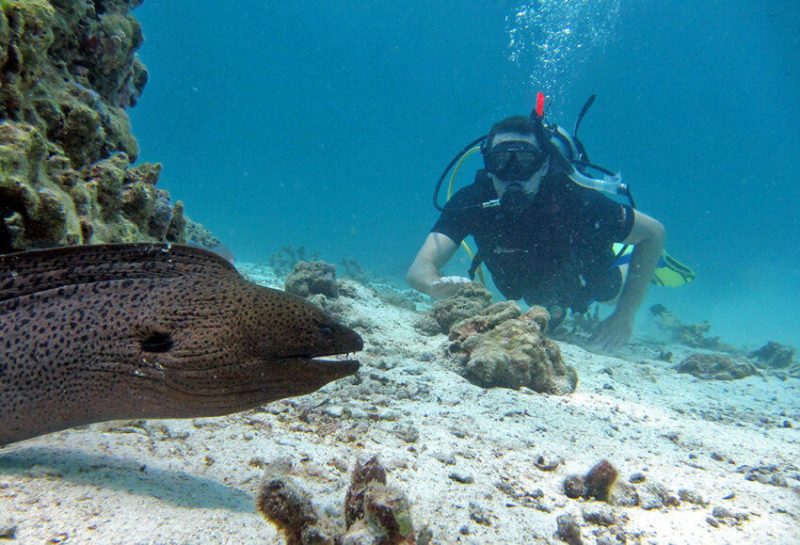 Scuba diving in southern Thailand is a popular activity, and it's not difficult to see why. Thailands oceans are paradise for scuba divers. Koh Tao and Phi Phi Islands are the two most popular diving destinations in the country and while Koh Tao is arguably cheaper for scuba diving. Koh Phi Phi is far more beautiful.
One of Phi Phi Islands most unique dive sites is the King Cruiser Wreck. The passenger ship sank in 1997 on a crossing from Phuket to Phi Phi Island. The ship struck a reef which was known about to the captain of the ship. Local rumours claim the ferry company was paid off by dive schools to sink the ship and create an artificial reef.
But for whatever reason the ship came to rest on the ocean floor, one thing is for sure. It's a fantastic dive site today. Sea anemones cling to the rusting artificial reef, Tuna, Barracuda, squid and even clownfish can be seen. And if you're lucky enough you might even spot Reef Sharks, Hawksbill Turtles or Leopard Sharks.
Don't worry if you've never scuba dived before, now is the time to try something new. Most diving schools in Phi Phi Island offer a try dive, so you can get a taste for the sport without holding a PADI licence. It can be tough to choose a dive school on Phi Phi but I've had great experiences using The Adventure Club I would recommend them to others, and to you.
4) Kayak To The Monkey Beach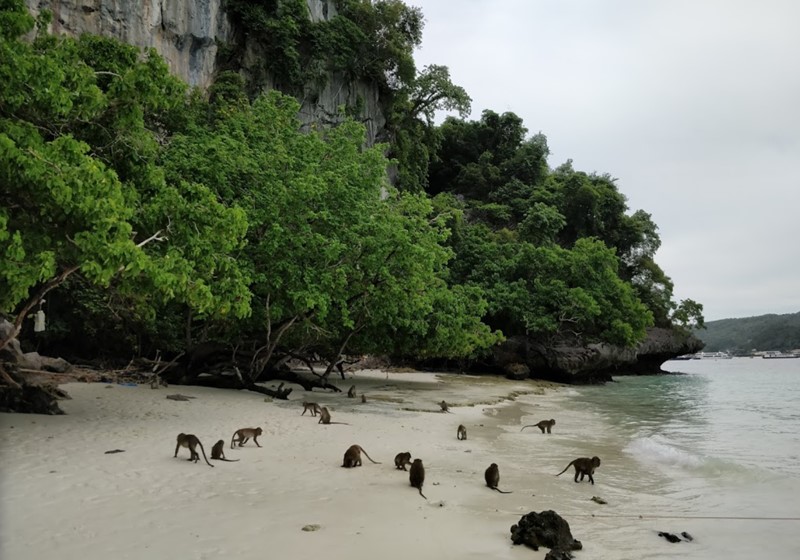 Yes, there are real monkeys here. For travellers from Asian countries, you're probably used to monkeys roaming free. But for European, American or Australian travellers. This might come as a bit of a shock at first.
It's a really cool place to hang out and with powder white sands the beach itself is absolutely gorgeous. You have a good chance of seeing the monkeys, sometimes you'll find them laying on the beaches and sunbathing, swimming in the ocean or swinging above in the cliffs and trees. You absolutely have to visit this beach, on a trip to Phi Phi Island.
You can't walk to the monkey beach in Phi Phi Island, you can incorporate it into a boat trip from the main island. Or you can rent a kayak at Loh Dalum Beach. It takes about 10 – 15 minutes to kayak to monkey beach which is just outside the bay.
5) Take A Snorkelling Tour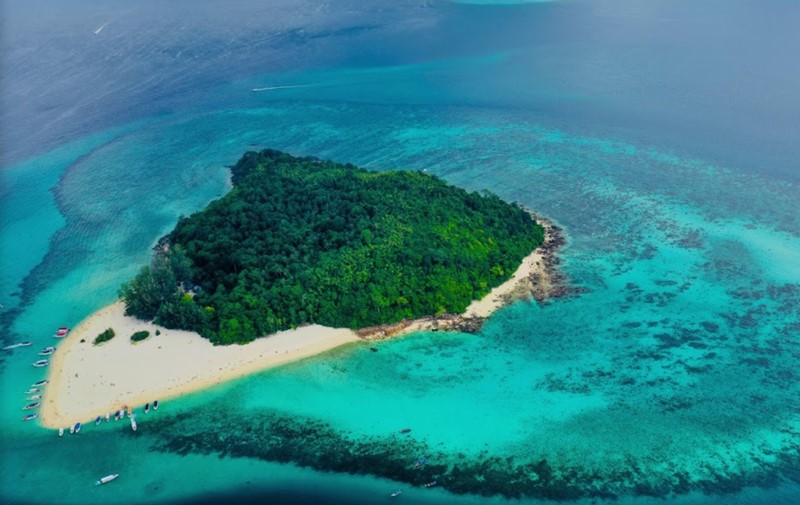 I mentioned earlier, Koh Phi Phi is a cluster of six islands. That means there is plenty to go and see away from the main island. The main island (Phi Phi Don) is the only island which is inhabited. The other five of the Phi Phi islands are protected National Parks so no people are allowed to live there.
Asides from Monkey beach. Maya Bay and Bamboo island are two popular destinations to visit. Maya Bay is on Phi Phi Leh Island and was voted the Forbes most beautiful beach 20 years in a row, after rising to fame in 1999. Bamboo Island (pictured) is in the north of the islands cluster. And is exactly what you'd think off when picturing a desert island. There is a white sand beach stretching the entire perimeter, coconut trees and unbelievable clear oceans.
Beaches On Phi Phi Island
There is one main beach on Phi Phi Island, Loh Dalum Beach. Loh Dalum borders onto the town, its where you'll find the best nightlife in Phi Phi Islands and it's within walking distance from almost any hotel on Phi Phi Island. If you've been to Phi Phi, you'll have been to this beach. Close proximity to hotels, shops and the islands main pier makes it the busiest beach on the island. Don't get me wrong it's a nice place to spend an afternoon sunbathing. But Phi Phi Island has so many more beaches that most people have never even heard of.
Four of the six Phi Phi Islands host beaches. Most of them are on the largest island, Phi Phi Don. But the most visited beaches are in the National Parks at Koh Phi Phi Leh and Bamboo Island. But did you know Phi Phi Don has over 20 beaches! All of them paradise, and most of them still, even in 2020. Remain free from tourism!
If you're prepared to venture further outside of the Tonsai Town you can experience a side to Phi Phi Island that most people will never even hear about. You can escape from the hustle and bustle and have a beach to yourself on Thailands most famous island. Walk or take a taxi boat, whatever your preference is, here are my five favourite beaches in the Phi Phi Islands.
1) Nui Beach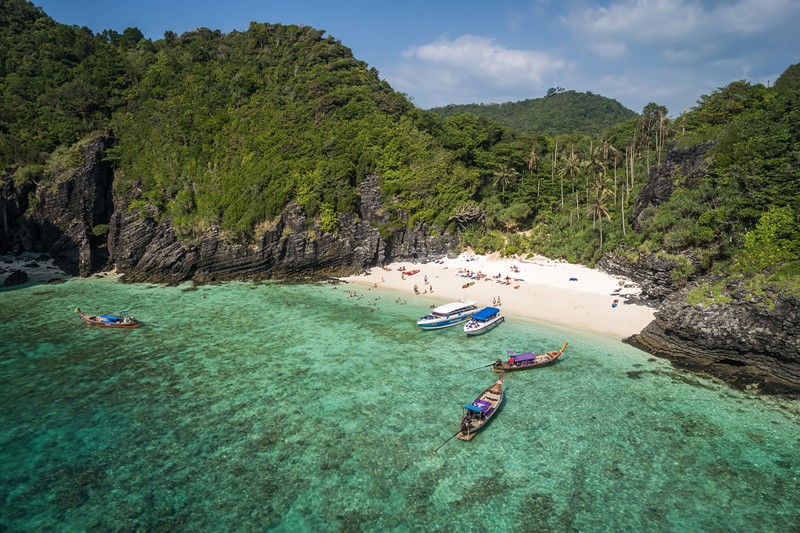 Nui Beach is on Phi Phi Don Islands northernmost tip. It's an undeveloped beach in an enclosed bay. There is a hidden entrance at the back of the beach leading into the jungle. It takes around two hours but you can hike from Nui beach to Tonsai town and vice-versa. But the most popular means of transport here is to hire a long-tail boat. Boat captains will charge around 1,500 Baht for 3 three hours so you can visit the beach. Personally I think this is the most beautiful beach on Phi Phi Islands but few people actually visit here.
2) Maya Bay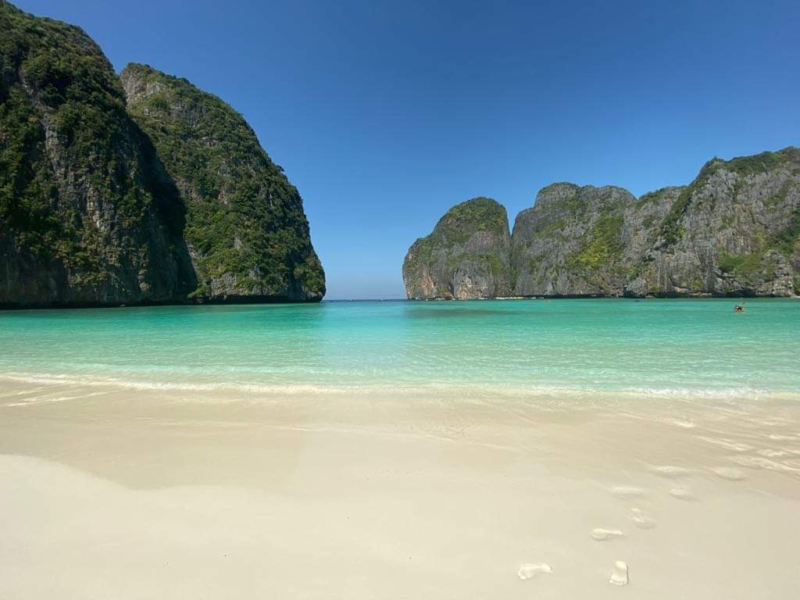 There is no denying that Maya Bay is one of the most beautiful beaches in the world. Being used as a film set for the Hollywood blockbuster; "The Beach". The beauty of this bay has been its own demise. Tourists flocked here on speedboats from Phuket, Krabi, Lanta and many other Andaman Islands. The numbers of tourists visiting here on a daily basis wasn't sustainable so the Thai DNP made the call to close off the beach with conservation a priority.
I was lucky enough to visit Maya Bay with the National Parks team, around a year after the beach had closed. Notice there is only one set of footprints in the photo? That's a story for another post!
What I can tell you is the correct call was made to shut the bay. Within a year the place is unrecognisable. Species of Reef Shark are showing up again, teams of scuba divers and marine biologists have been working hard to plant corals and nature is taking over and reclaiming the beach.
3) Long Beach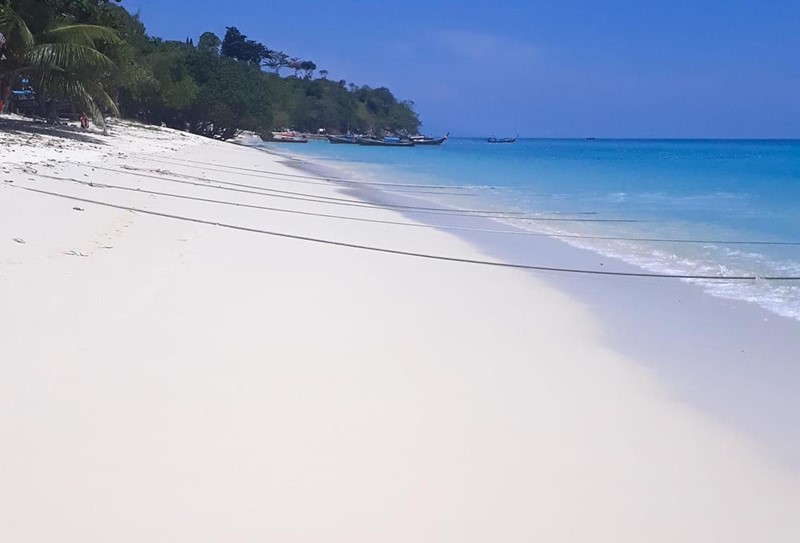 As the name suggests, this beach is long. It's about 850 meters in length and has some of the softest sand on the island. You'll find yourself sinking as you walk along the shore. Long Beach is about 30 minutes outside of the town and is therefore much quieter. If you don't feel like hiking then you can pay a taxi boat captain 200 Baht to bring you here from the town.
It's the perfect beach in Phi Phi Islands if you are looking for somewhere to hang out for an afternoon, sunbathe and get lost in a book. The clear waters here also make it an amazing spot for snorkelling. You can buy or rent a mask and snorkel set from most of the shops on the beach front.
4) Runtee Beach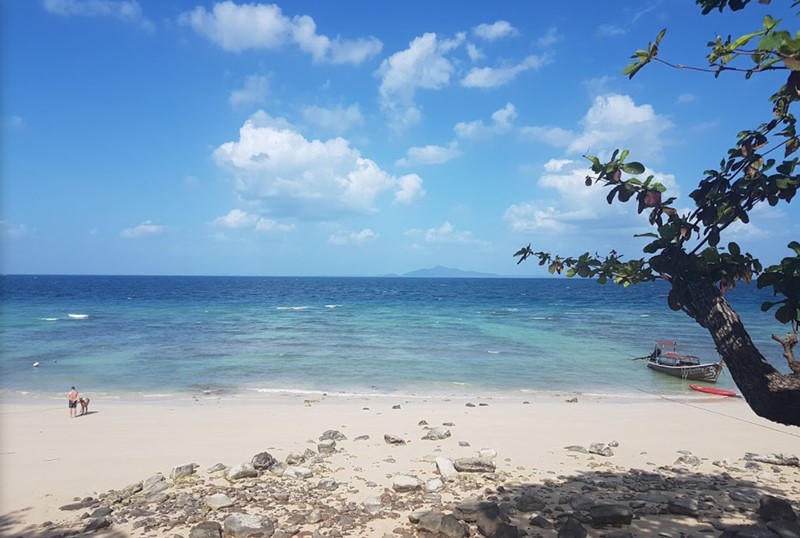 Runtee Beach is one of Phi Phi Islands best kept secrets. It takes about one hour to hike here but I can guarantee you'll have the beach to yourself. There is no accommodation, shops or anything else on the beach. So if you want to escape the hustle and bustle of Tonsai town this is the place for you. Make sure to bring your own supplies of water and snacks!
5) Laem Tong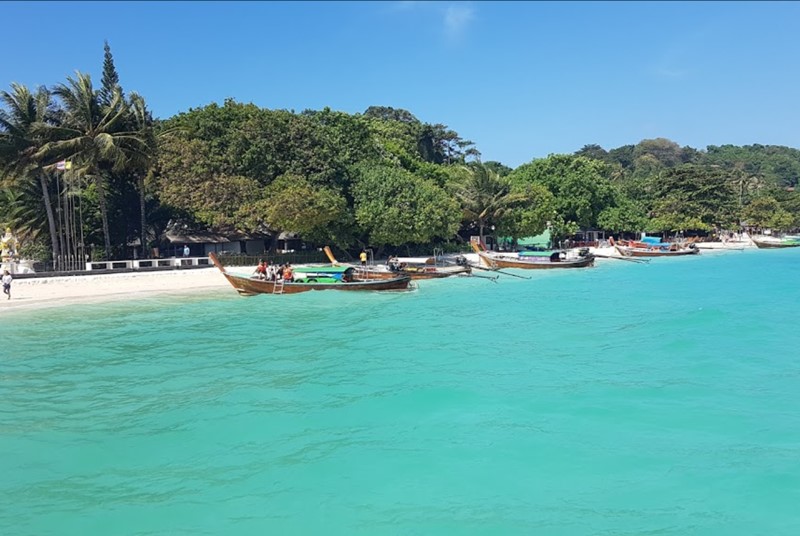 Laem Tong Beach is in the most up-market area on Phi Phi Islands and the islands most expensive and luxurious hotels can be found lining the shores here. Despite the higher costs, it's one of the most relaxed and quiet beaches you'll find on the island. The sea is a perfect shade of blue and the sand is powder white.
There are a few restaurants along the beach, one restaurant usually has a barbecue or a hog roast. And at another, you'll find some of the best seafood in Thailand. If that's not your thing you'll also find a pizza parlour with a traditional wood-fired oven.
Laem Tong Beach is the furthest beach from the town, but getting here is much cheaper than to other beaches. To get to most beaches on the island without walking you'll need to hire a long-tail boat captain. But Laem Tong has its own pier. There are ferries hopping between Tonsai pier and Laemtong Pier two to three times per day. Tickets cost 200 Baht.
Phi Phi Island Travel Costs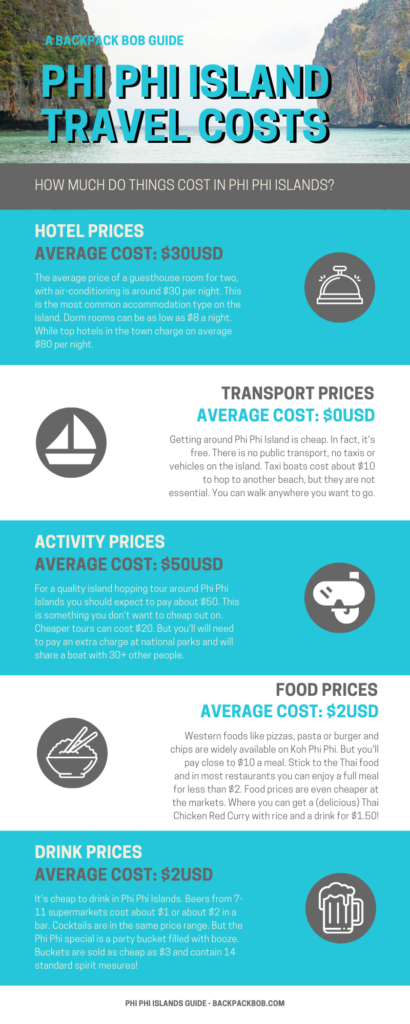 TO DOWNLOAD HIGH QUALITY VERSION OF PHI PHI ISLAND TRAVEL COSTS (FREE) CLICK HERE
Phi Phi Accommodation Costs
Accommodation Costs – Accommodation on Phi Phi Island is a little more expensive than in other destinations in Thailand. The higher prices are mainly due to the islands small size and popularity. With limited land to go around and high demand for properties. Landlords know they can charge top whack for lease.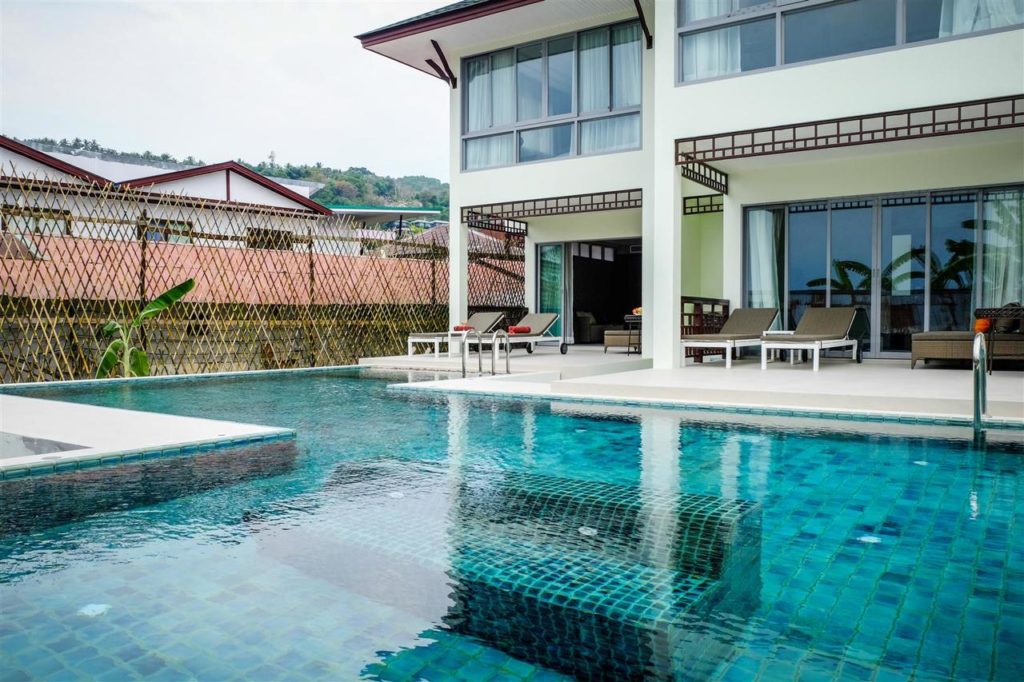 While Koh Phi Phi might be a little more expensive, you're paying for the location. And in that sense, Phi Phi Island cannot be beaten.
Tourism in Phi Phi Island is seasonal and prices change considerably when the demand is higher or lower. The prices listed in this guide are typical prices for travelling during the peak season. But if you happen to be travelling in the out of season months, then you'll find prices, (especially accommodation) much cheaper.
Dorm Rooms: For backpackers on a tight budget, solo travellers, and extroverts keen to meet new people. You're most likely going to want to find a hostel to stay in. And you're in luck, there are lots of backpackers hostels on Phi Phi Island and prices start at 250 Baht a night. Probably the best hostel on Phi Phi Island that falls into this price range is the Chao Koh Dorm Room, conveniently located near Tonsai Pier.
Guesthouses: Mid-range accommodation options on Phi Phi Island will cost, on average, 600 Baht a night in a fan room or 900 Baht a night in an air-conditioned room. Most places will have free wi-fi and that's the cost for two people, so if you're travelling as a couple or a group then opting for a guesthouse over a hostel can save you some money. There are a lot of choices on the island, but I've personally had a good experience staying at The Garden Home Bungalows. This guesthouse is set in a quiet area of the town but not too far to walk to the nightlife hubs. Rooms are air-conditioned with hammocks on the porch and a tropical garden view.
Hotels: Hotels on Phi Phi Island don't come cheap and you should expect to pay anywhere between $75 to $200 per night. On the flip side, you'll find some of the worlds most beautiful hotels on Phi Phi Island. And most upscale hotel rooms will have private swimming pools. The Phi Phi Cliff Beach is a beautiful hotel on a private beach near to the town but in a very quiet area. Rooms start at around $175 per night and there is an infinity pool on the roof, overlooking the ocean. Or for $300 per night you can book yourself a stay at the Phi Phi Princess Resort which boasts luxurious villas with full-sized private swimming pools. On the beachfront.
Transport Costs On Phi Phi Island
Transportation Costs – How much does it cost to get around Phi Phi Island. You'll save big on travel costs in Phi Phi Island. In fact, you won't spend anything at all when you travel around the island. Koh Phi Phi is so small and the streets are so small and narrow that there aren't any vehicles here. No cars, no bikes, even bicycles are prohibited on Phi Phi Island!
Anywhere you want to go, you'll have to walk, which will great for your wallet. Some hotels have a bell boy service so if you're travelling with a lot of luggage, first of all, you probably want to change that and stick to one bag. But if it's too late for that, you should contact your guesthouse or hotel in advance and they will arrange to meet you at the pier and cart your bags over your room. Usually free of charge.
There are also taxi boats which you can make use of if you want to get to another of Phi Phi Islands beaches. Prices are typically about 500 Baht an hour for two people. Or a taxi ride from the town to the long beach is 150 Baht a person.
Activities Costs On Phi Phi Island
Activity Costs – There are plenty of free things to do on Phi Phi Islands like hiking to Nui Beach. Hiking to the Phi Phi Viewpoint is another popular activity and costs just 30 Baht for admission. Some activities will warrant a bigger budget, like scuba diving. The price to scuba dive on Phi Phi Islands depends greatly on which course you'll be taking. But for a beginner fun dive, you should budget for 2,500 Baht.
A mid-range and popular activity on Phi Phi Island is too take a snorkelling and boat trip around the islands. Budget tours can be booked for as low as 600 Baht for a full day tour, with lunch. But the drawback is you'll be sharing a boat with 30+ other people. You can book a private long-tail boat tour for around 5,000 Baht for a full day and split the cost between 2 or 3 people, which will usually work out at much better value for money.
Another popular tour on Phi Phi Islands is the Phi Phi Pirate Boat, tickets on this cruise cost 800 Baht, plus 400 baht for the national park entrance.
National park admission is 400 Baht a person and you'll need to pay at Koh Phi Phi Leh and Bamboo Islands. Make sure to check with your tour operator in advance if the fee is included in the tour cost or not.
Food & Drink Costs On Phi Phi Island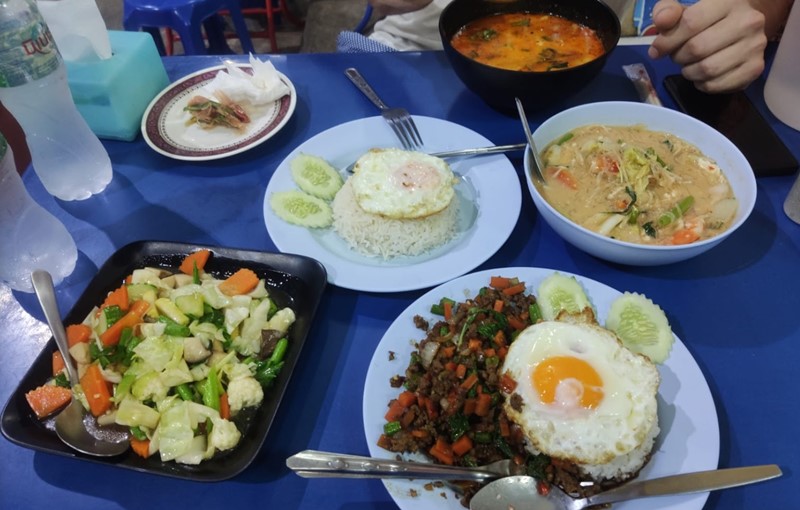 Food and Drink Costs – My number one tip when it comes to eating out in Phi Phi Island, or Thailand, in general, is to avoid western food. Thai people aren't accustomed to cooking these dishes and ingredients are more costly. So you can end up paying much more for a mediocre meal.
Thai food is cheap in the Phi Phi Islands. And the local market is one of the best places to grab a bite to eat. At Khun Niyoms restaurant in the market, all Thai Dishes are 80 Baht, served with a bowl of rice. The food is one of the greatest things about Thailand, so make sure to try as many local dishes as possible.
Another low-cost restaurant is the Garlic Restaurant 1992, located in the middle of town this shack is typical of a Thai restaurant, with open-air seating and white plastic garden furniture, you'll taste some of the greatest flavours imaginable. A typical Thai meal here will cost 60 – 100 Baht. In comparison, a western meal, say, a burger and chips will cost you somewhere closer to 300 baht. And trust me, it won't taste anywhere near as good as it would back home.
Drinking at bars in Phi Phi Islands can be surprisingly cheap, you can get a 'big beer' for 60 – 80 Baht ($2 USD) or a cocktail in the same price range. But the speciality of Phi Phi Island is the 'party bucket', drinking a bucket is the cheapest way to get drunk on Koh Phi Phi. A bucket costs 300 Baht in a bar ($7 USD) and contains an entire bottle of spirit. You can save money by buying drinks outside of bars and heading down to the beaches. A beer from the 7-11 will cost about 20 Baht less. Or a vodka bucket from the 'Bucket Lady' street shack will cost just 150 Baht ($4 USD)!
Phi Phi Island Suggested Budgets
Here is how much I would suggest budgeting in Phi Phi Islands. But remember that you probably won't be taking an island tour every single day and might not be drinking every single night. So, in reality, things will often be much cheaper than this. A backpacker can get by eating, drinking and doing free activities on close to $15 per day.
| | | | |
| --- | --- | --- | --- |
| | Backpackers | Mid Range | High End |
| Accommodation | $8 | $25 | $300 |
| Getting Around | $0 | $0 | $20 |
| Eating Out | $6 | $15 | $60 |
| Drinking | $4 | $20 | $100 |
| Attractions | $20 | $55 | $200 |
| Average Daily Cost: | $38 | $115 | $680 |
On a backpackers budget, you'll spend $38 per day (1,200 Baht). This is assuming that you'll be taking a basic offshore excursion to some nearby islands, staying in a backpackers hostel, eating out twice a day at the local market and drinking a party bucket or picking up a few beers from the 7-11. In reality, you won't be taking a boat trip every day you stay in Phi Phi Islands. So the average cost for a backpacker will be somewhere between $15 – $20 per day.
On a mid-range budget, expect to be spending $100 per day (3,000 Baht). This budget will give you much more flexibility. You'll be staying in a private air-conditioned room in a guesthouse. Eating out at the local market twice a day with some pocket change left over for snacks, you must try Mango Sticky Rice. You have the budget to try out scuba diving or hire a long-tail boat for half a day. And you'll be able to enjoy a few drinks at a bar, perhaps while watching the sunset.
On a luxury budget, you'll be spending $680 per day (22,000 baht). For a budget on this scale, you'll be staying in the most luxurious pad going on Phi Phi Island. The Phi Phi Princess Villa, with a private swimming pool overlooking the beach. You can hire your own long-tail boat for the day, go deep-sea fishing, learn to scuba dive, join a booze cruise or any other excursion which takes your fancy. You'll have enough to eat out at a romantic beach restaurant and eat as much Thai food as you desire.
Phi Phi Island Money Saving Tips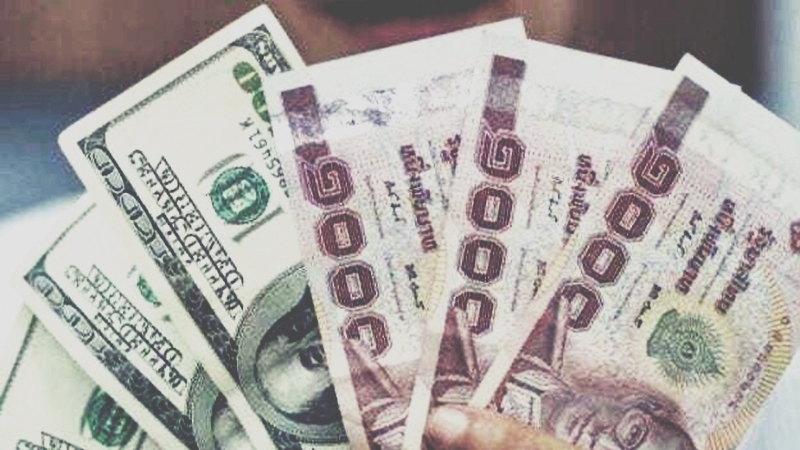 Phi Phi Island can be one of the more expensive places in Thailand, but if you travel smarter it doesn't have to cost any more than you'd spend in any other tourist town. Here are my top money-saving tips for visiting the Phi Phi Islands
1. Visit during the low season – Price in Phi Phi island fluctuate throughout the year, during the low season demand is low and hotels are typically at 30% capacity. In peak season months and around Christmas time or new years demand spiked and prices increase massively with most hotels hitting 100% capacity. If you have any flexibility on your travel dates, a trip to Phi Phi Island could be 50% cheaper out of season!
2. Don't waste money on western food – I've said it before, and I'll say it again. Western food in Thailand is not good. It's their interpretation of how the food should be. The Thai's don't eat it themselves and can't know if it's good or not. And despite the poor quality, the prices can be 5x the cost of an equivalent Thai meal. Which will be 100x tastier. If you really want to save big, then stick to local foods at local markets.
3. Buy alcohol outside the bars – Nightlife can be somewhat expensive in Phi Phi Island if you're spending your night buying rounds of drinks in bars and clubs. But that goes for just about anywhere in the world, right? Luckily in Phi Phi Island, the open-air beach clubs are just that, a party on the beach. You can buy your own alcohol and head on down to the beach to party. You can buy a vodka bucket from street vendors for as cheap as 150 Baht! One bucket is enough alcohol for the night, for most people.
4. Group together to hire a boat – Hiring a private long-tail boat or private speedboat is usually based on the cost of the boat itself. So if you've met some new friends why not pool your money together and split the cost of a boat charter between you. The cost as a whole might be more expensive, but individually you'll end up saving big.
5. Get paid, get laid – Here is not only a money-saving tip but a method that will see actually gaining money! Some of the pool parties and smaller bars and clubs will hire tourists to spend a few hours in the afternoons walking around the island and handing out flyers for them. You'll usually get a free drink or two as well. But be careful, while casual work is advertised in Phi Phi Island and easy to come by, it is illegal.
6. Drink for free at Slinky Bar or Reggae Bar – Two bars on Phi Phi Island will give you a free bucket, yes, you heard that right.. you can drink for free in Phi Phi Islands! So what's the catch? You'll be putting on a performance to draw in more punters, basically. At the Slinky's beach club showing off in your birthday suit and completing the fire limbo will get you a free bucket, (naked guys, topless girls). And if you're willing to get into the ring for a Muay Thai boxing match at the reggae bar you'll again be reward with a bucket. That's two buckets without spending a baht. Pay with your dignity instead!
7. Stock Up On Sun-Screen – There aren't many places on Phi Phi Island where you can buy sunscreen, aloe vera and tanning oils. And the few shops that sell these products have a high markup on the prices, more than double the typical price. In Phi Phi Island you'll no doubt want to spend some time relaxing on Thailands most beautiful beaches, and slapping on the sunscreen here is a must. So while you are in Bangkok or any of the bigger cities, stock up on the factor-30 and you'll save a ton of money compared to buying a bottle on Phi Phi Island.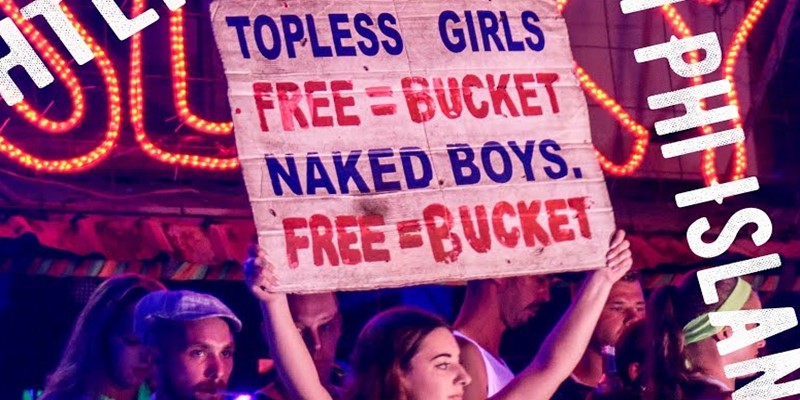 Phi Phi Island is one of the only places in Thailand where nudity is semi-tolerated. So while it might be rewarded at Slinky Bar, be careful elsewhere pulling the same stunts in say, Phuket, will see you in trouble with the law.
Phi Phi Island Tours
There are many beaches, lagoons and bays in Phi Phi Islands which are a must-visit. But as many of the most beautiful destinations are on the smaller islands and only accessible by boat, you'll need to book yourself onto a boat tour during a stay in the Phi Phi Islands. There are hundreds of tour operators on the island and you'll find the sales kiosks scattered over the island.
One thing to be careful of is that many booths are tour-resellers. Example; you book a tour with a re-seller, thinking they're a tour operator and you'll find yourself on the same boat as everyone else. The tour reseller will earn a commission on your ticket sale. The cost won't be any more expensive for you, but as the re-sellers don't run the tours themselves. The information they give you can be completely incorrect. You might be told that there will be ten people on the tour only to find out when it's too late that 30 others will be joining.
Here are the four most popular Phi Phi Island Tours:
Phi Phi Island Booze Cruise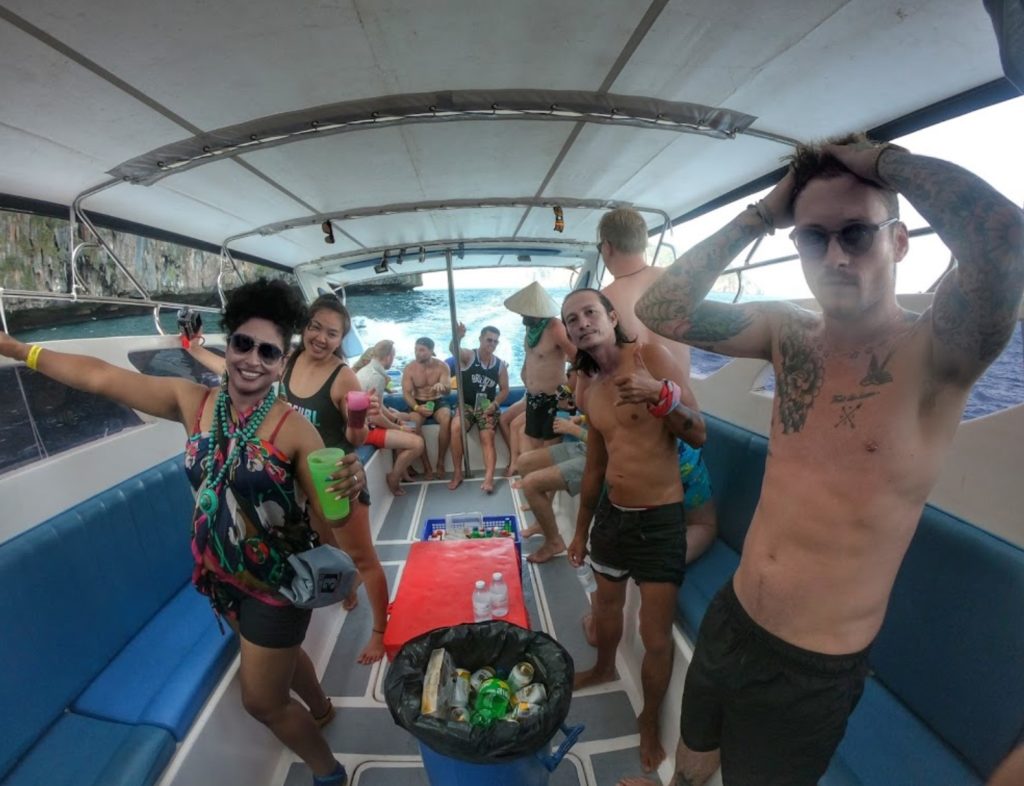 Booze cruises on Phi Phi Islands are becoming increasingly popular as more and more backpackers are visiting the islands. Most will include unlimited alcohol at an open bar on the boat. There are about four booze crises to choose from. I went on on the Phi Phi Pirate Boat on my last visit to the islands and loved every minute of it. It's also one of the most affordable cruises, which I'd highly recommend.
Phi Phi Island Snorkelling Tour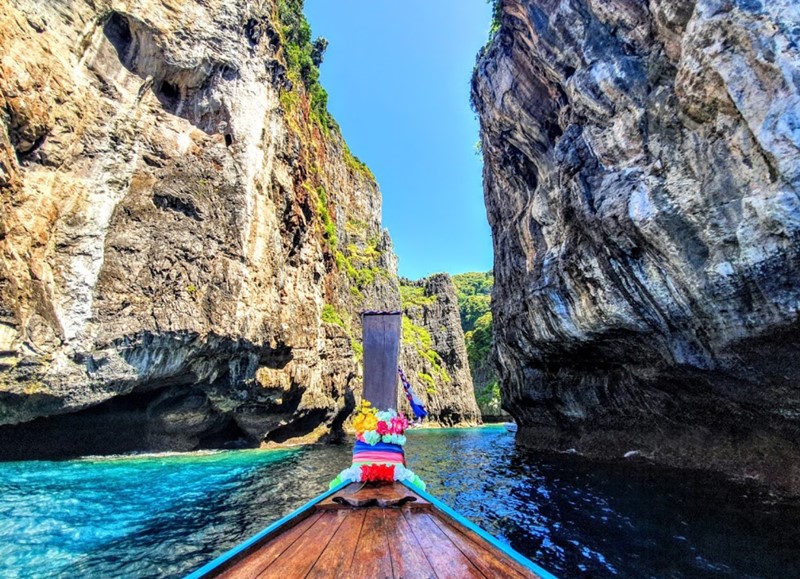 A trip to the Phi Phi Islands wouldn't be complete without taking the classic boat tour. You'll miss out on so much if you don't leave the main island. There are hundreds of choices when it comes to choosing a boat tour. Speedboat, long-tail boat, big boat? Half-day full day? Public tour, semi-private or private tour? What all the tours hold in common are the destinations you'll see. Phi Phi Islands are pretty small and on a typical tour, you'll have the chance to see everything.
To get the best value for money and the best experience, I would suggest taking a private long-tail boat tour. You have to experience the charm and authenticity of the traditional Thai boats for yourself.
Phi Phi Island Deep Sea Fishing Trip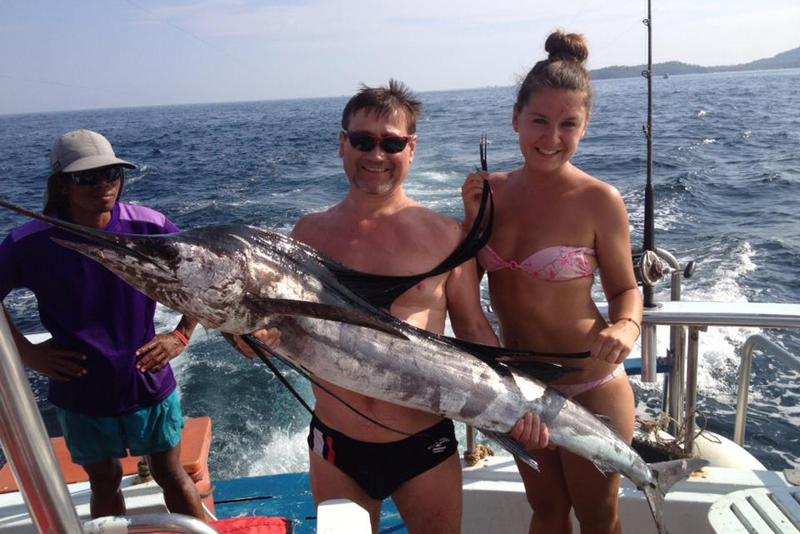 Back before tourism was rife in Phi Phi Islands. The only people living here were local fishermen, they'd make camp on Bamboo Island or Phi Phi Don and take to the seas in their long-tail boats to fish for barracuda or squid. Some boat captains still provide for themselves by fishing in the waters around Koh Phi Phi, and some captains will even offer to bring you along on such a trip. It's one of the most expensive activities in Phi Phi islands, but one of the most unique at the same time.
Phi Phi Island Scuba Diving Trip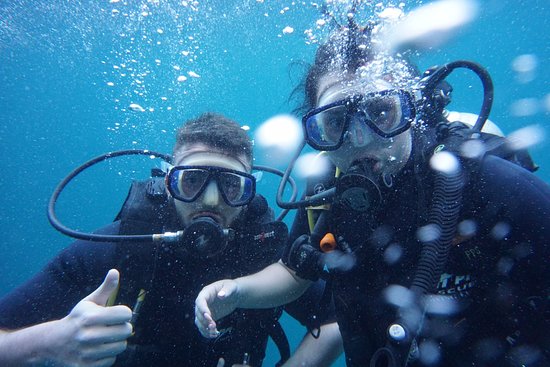 If you have never dived before, then Phi Phi Islands is a fantastic place to get started. There is an underwater paradise waiting to be explored. Many dive schools, like the adventure club, will run try dive programmes where non-licence divers can head out into shallow waters and get a feel for diving. Before committing to a longer programme.
Where To Eat In Phi Phi Island
As I mentioned before, eating the local food is one of the best ways to save money in Phi Phi Island. And you'll have the experience of trying new dishes. Which in my opinion are much tastier than the western alternatives. Don't get me wrong, I do enjoy the home comforts of a mac n' cheese or a pizza slice from time to time. But Thai food is far superior. There are hundreds of restaurants on Phi Phi Island, but here are my five favourite places to eat.
Garlic Restaurant 1992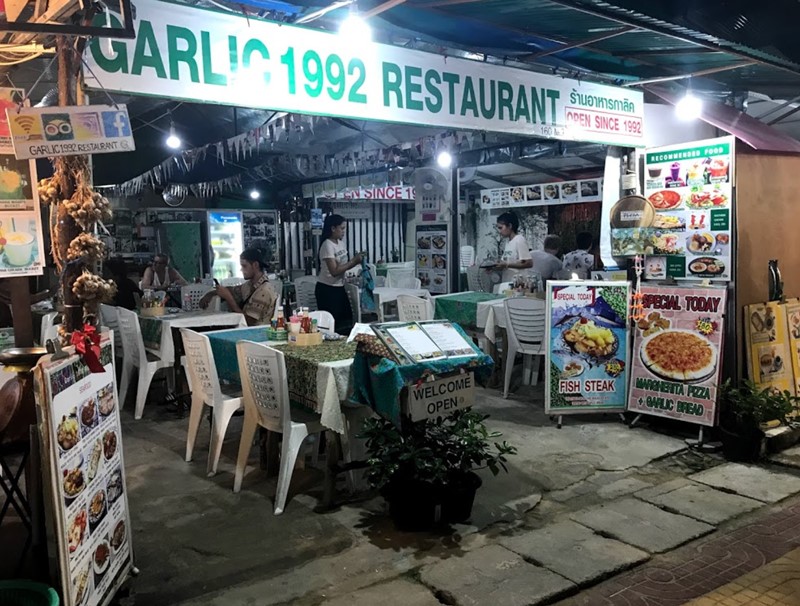 The Phi Phi Islands garlic Restaurant 1992, doesn't look like much from the outside, but looks can be deceiving. The restaurant has an extensive menu of traditional Thai cuisine, served in an open-air local style establishment in the centre of town. The staff are friendly and the prices are affordable, a local meal here will cost around 100 Baht. The seating is outdoors and the restaurant has a fantastic ambience.
Khun Niyoms Thai Food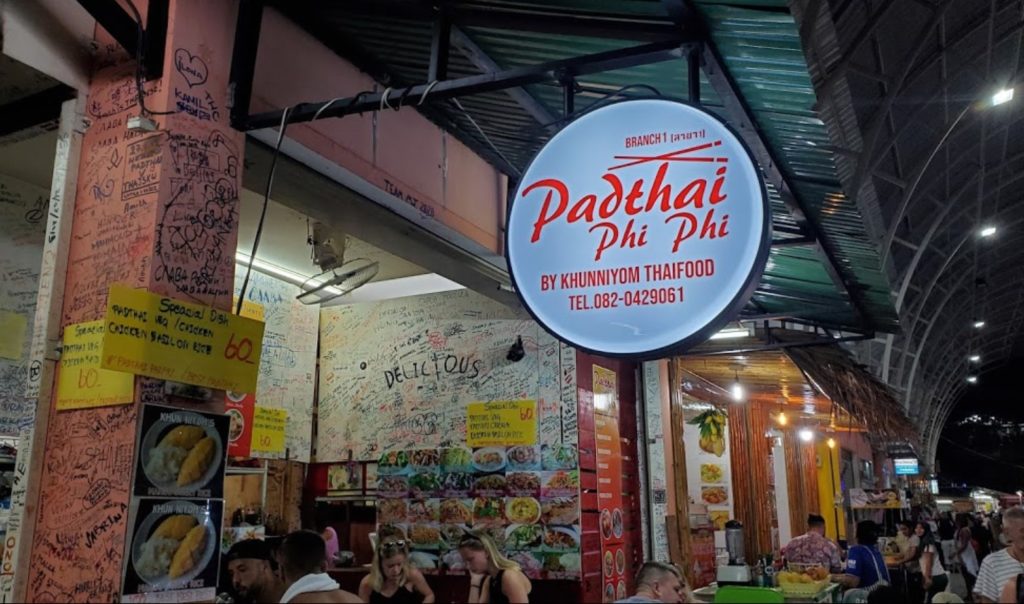 The top picks at Khun Niyom's Restaurant are the Mango Sticky Rice, The Green Curry and The Phad Thai. Niyom's restaurant is in the Phi Phi Island market which is open all day, all the food is cooked fresh in a wok in front of you. The popularity of the restaurant saw Niyom opening another three restaurants, all in the Phi Phi Market, with one stall serving only her most popular dish. Phad Thai.
Unnis Restaurant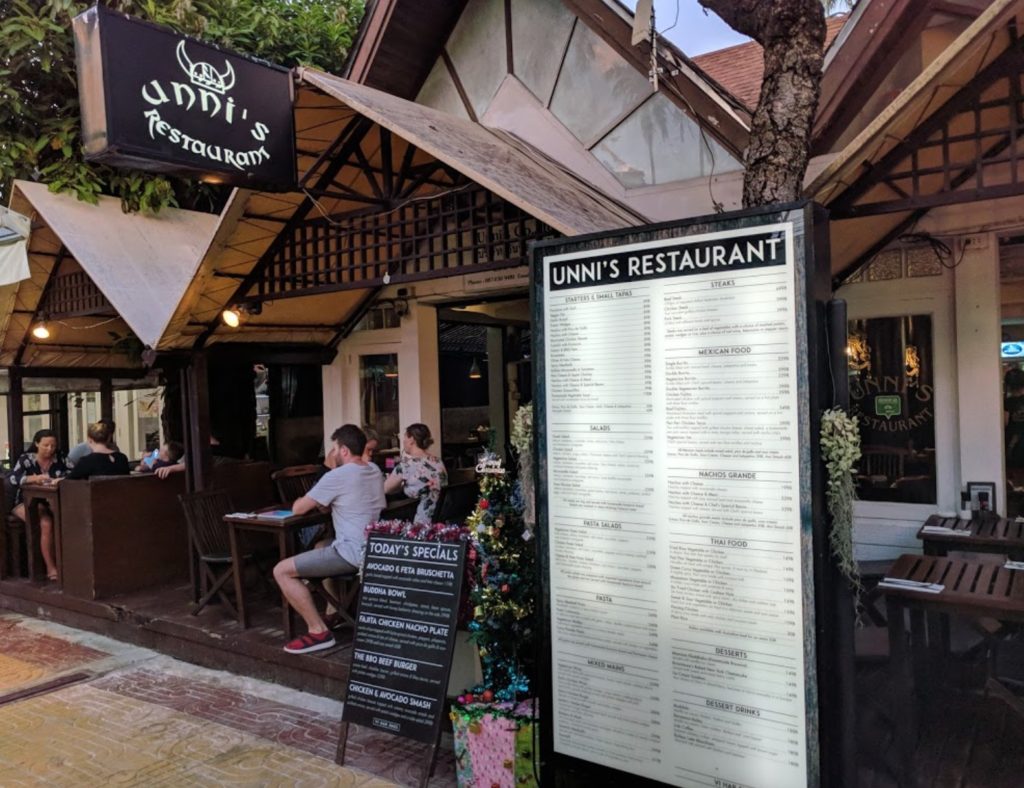 Unni's restaurant is the top spot in Phi Phi Islands for breakfast. There is plenty of vegan choices and healthy choices on their menu that deviate slightly from a traditional Thai breakfast. Buddha bowls and Acai bowls are popular here, bagels, eggs benedict and the banana milkshakes are a must. And if you're missing a classic full English, Unni's is one of the only places in Thailand that can settle that craving. They stock proper hash browns, British bacon and British pork sausages.
Cosmic Restaurant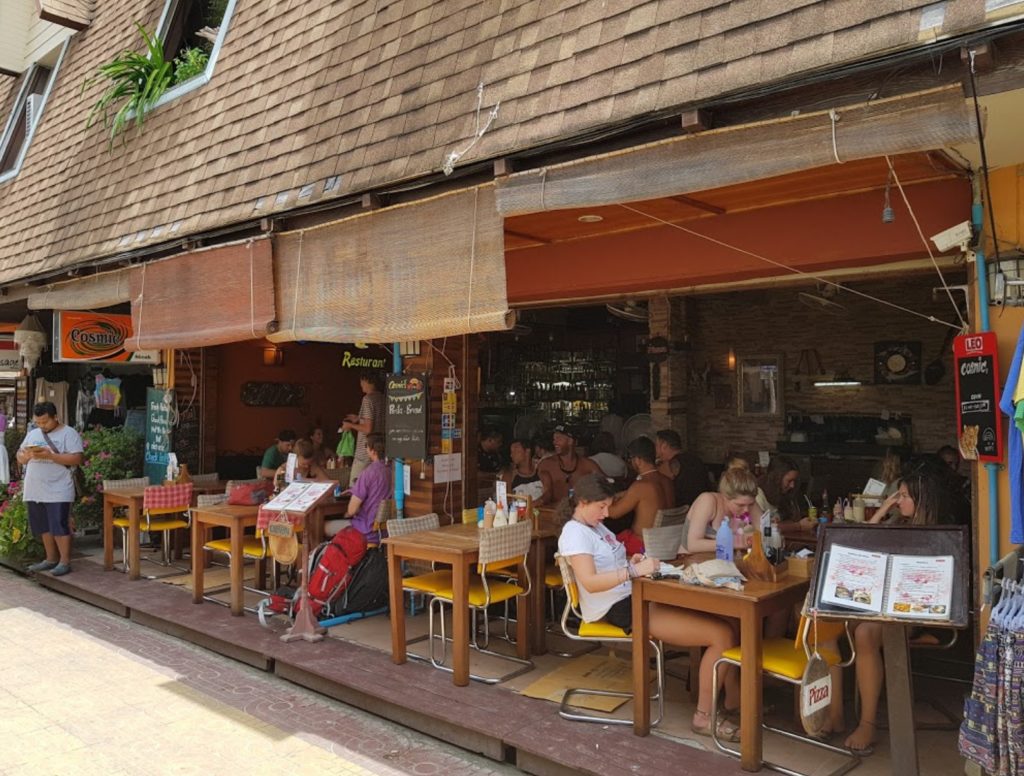 American, Thai, Italian and Indian cuisine all under one roof, sounds like a recipe for disaster. But somehow the chef's here manage to pull it off. It's a low-cost place for a bite too eat, with a good atmosphere, and even live music during dinner service.
Hello My Mom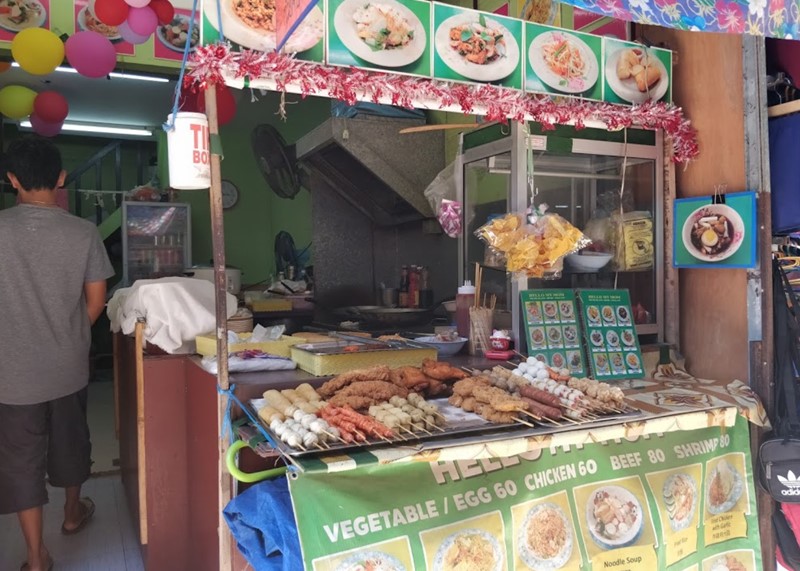 The owner and chef will take your order with a strong sense of 'you'll get what you're given'. But you're here for the food, which is delicious. Hello My Mom is a classic Thai food street stall. Everything on the menu is 60 Baht and is cooked up fresh before your eyes, you'll get a mean chicken fried rice at this stall. There is not much seating here so its best for takeaway. The stall is open late into the night so if you have a midnight craving for spring rolls or chicken and rice, this is where you'll want to visit.
Phi Phi Island Nightlife
Nightlife on Phi Phi Island is something unique, that can't be compared to anywhere else in Thailand. There are no 'girlie bars' or sleazy men going through a mid-life crisis here. The scene is youthful, carefree and fun. Boxing matches are held at one of the bars, other bars host rooftop cinemas. You can buy joints from behind the bars, or even magic shakes in certain spots. Open-air beach clubs and entertainment dominate Loh Dalum Beach and hold a euphoric atmosphere. The nightlife in the Phi Phi Islands is undoubtedly the greatest you'll find in Thailand.
I have put together a full guide on Phi Phi Islands craziest nightlife, which you can read here. But here are my top three must-visit bars on Koh Phi Phi.
Reggae Bar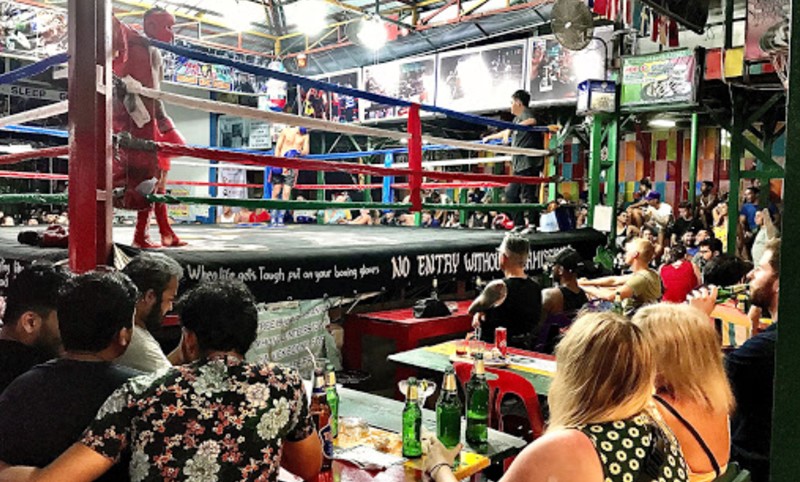 Where else in Thailand, or in the world, can you find a boxing ring in a bar, where you can jump in the ring to fight other punters for free buckets of alcohol? Sounds like I'm making this up? I'm not. Welcome to the Phi Phi Island Reggae Bar, where nightly Muay Thai fights are hosted between tourists. Asides from tourist fights, a few local matches are scheduled, if you are lucky, you might catch some high-stakes fights with Muay Thai pros. Live sports are also broadcast here, you can catch most high profile sporting events on the televisions in the bar.
Slinky Bar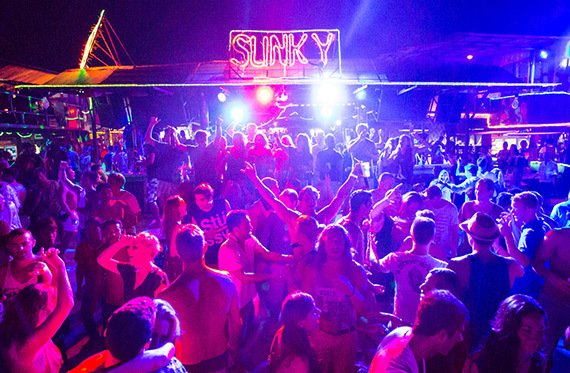 Massive beach parties dominate the beachfront almost every night of the week. And the biggest open-air beach club is Slinky's. It's the first bar you'll encounter when you walk onto the beach, starting the night with entertainment, fire shows and games, before DJ's up the volume and trance music plays into the early hours of the morning.
The Only Bar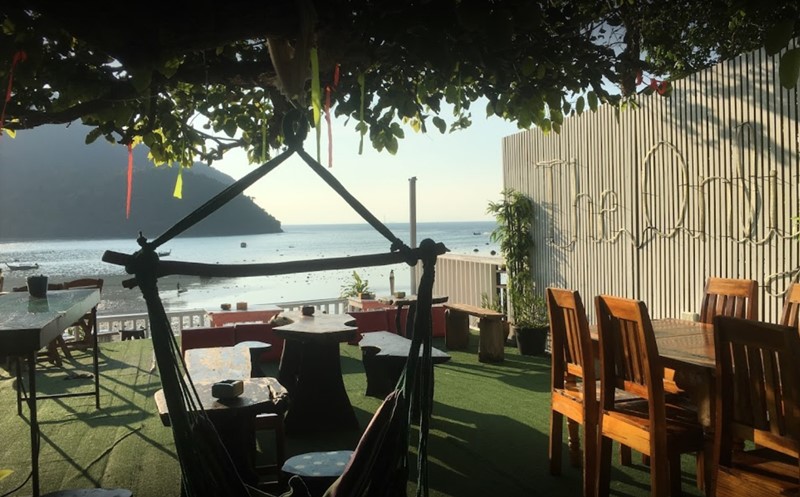 The Phi Phi Only bar is the best bar for a more relaxed evening. The key feature of this bar is the view out over the ocean. If you make it here for the sunset, you'll have one of the greatest views on the island. There is a very relaxed atmosphere at this bar, with bean bags to chill out on. If you want to experience the magic shakes that Phi Phi Island is so famous for, this is the place to do so.
How Safe Is Phi Phi Island
Phi Phi Islands are safe. The locals on the island are accustomed to meeting foreigners and travellers on a daily basis, these are the people that bring them an income and provide their way of life. Solo travellers shouldn't have any safety concerns in Phi Phi Island.
There is a small police station, and police regularly patrol the island. But the most commonly reported crime is petty theft. Missing wallets or phones etc. Most of these reports are logged so that travellers hold some evidence to submit to travel insurers. And it is more likely that these belongings have been lost, rather than snatched. But when travelling anywhere, and even more so when drinking, keep your wits about you and never let your belongings out of sight.
It can be easy to go over your limits on booze in Phi Phi Islands, most people don't completely understand exactly how much alcohol is actually in a bucket. And the cheap Thai whisky can leave you with a nasty hangover the next day.
Boat tours are one thing to watch out for when it comes to staying safe in Phi Phi Islands. Tour operators are notorious for packing travellers into boats. Overcrowding is not only less comfortable for you. But it can also be dangerous. If you feel like a tour operator is loading too many passengers into your boat, or if there are not enough life jackets on board for everybody to wear one. Get yourself off the boat. The same advice goes for speed boats, long-tail boats and even ferries to Phi Phi Island.
If you do run into trouble on Phi Phi Islands, you can contact the tourist police on 1699 from a Thai phone, or if you need medical assistance the World-Med hospital will be your go-to. Staff speak English well and you can call them on (+66) 095 424 0444.
When Is The Best Time To Visit Phi Phi Island
Southern Thailand has two main seasons which you should take into consideration when deciding on the best time for you to visit.
Rainy season from May to October. This is the 'low season' sometimes it can rain for hours on end, sometimes it will even last for days, but other times you'll have beautiful sunshine. There is really no telling how the weather in Phi Phi Island will be during these months. There are far fewer tourists around, some smaller bars and shops are closed, and hotels offer massive price reductions.
Dry season from November to April. This is the 'high season' the sun shines almost every day, with little rain and clear skies. There are more tourists and hotel prices are at their peak.
Phi Phi Islands are open all year round. I have visited Koh Phi Phi during both out-of-season and peak season months. But most of my trips have been made in September/October. I'd say that's the best time of year to visit. The weather is usually great, as it comes into the end of the rainy season, however, it can be a gamble. But having fewer tourists around makes the island feel a little more special. And reduced hotel rates are always a bonus.
Others might claim the best time to visit Phi Phi Islands is from November to March. Theses months the island is packed, which is preferable for some people. And there is almost no risk of having plans put on hold due to bad weather. It's sunshine every day.
The truth is, you'll have a great time whenever you visit. It's a tropical island, what's not to like. Whenever you visit, you'll find natural beauty and you won't ever find yourself running short of things to do.
How To Get Around Phi Phi Island
You won't be renting a bike on Phi Phi Islands, the islands are so small that there just isn't space to allow tourists to ride bikes. The police force have bikes and the hospitals have golf carts to use as ambulances, but that's as far as it goes. Even push bikes are prohibited due to the chaos the used to cause on the narrow streets.
So to get around Phi Phi Island, you'll have to walk. Luckily the town is so small that walking isn't an issue. From one side to the other takes no more than 10 – 15 minutes. Which is convenient for getting home after a night on the town!
When venturing farther outside of the town, there are other beaches which you can hike to. The hikes are scenic but can take hours or navigating dense jungle tracks. Alternatively, you can hire a taxi-boat. Which is exactly what is sounds like, a taxi, yet it's a boat. Captains on the island charge tourists a few hundred baht for a ride to one of Phi Phi Islands more remote beaches.
Where To Stay In Phi Phi Island
Phi Phi Island has hotels to suit all budgets.
In my opinion, the best hotels on Koh Phi Phi are the Phi Phi Island Village Resort, Phi Phi Princess, and Phu Ton Tor Seaside Bungalows. Or for a mid-range place to stay, the Don Chukkit Resort is one of the best. The problem is that they are quite often full, so try to book as early on as possible.
I use Booking.com for all my accommodation bookings in Thailand. I've found them to consistently offer the best rates, but more importantly the most flexibly, with the option to pay the hotel rate in cash at the property.
I have stayed in so many hotels on Phi Phi Island, so it's tough to pick the best ones, but here are my top picks for hotels in the luxurious, mid-range and budget categories.
Luxurious Phi Phi Island Accommodation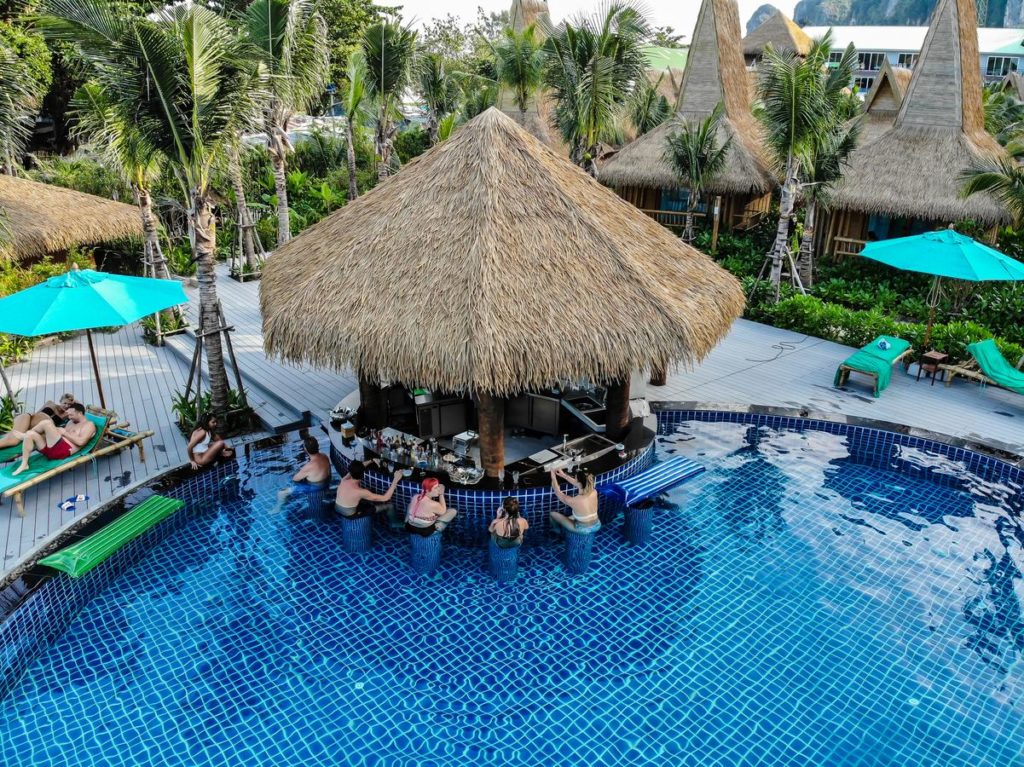 Phi Phi Island Village Resort
The location of the Phi Phi Island Village Resort is perfect, the hotel's location is outside of the town on a private beach to the east of Phi Phi Island. It's an ideal spot if you want your own private bungalow on the beach, there are great dining options within the resort and it's near enough to Phi Phi Islands main hiking trails. The main village is just a five-minute boat ride away.
Room rates are usually 3,000 Baht a night. You can check the current pricing on Booking.com here.
Phi Phi Princess Resort
This resort hosts luxurious hotel rooms at affordable prices, but the defining rooms here are the beachfront villas. These villas are in a prime location on the islands main beach and even have a full-sized private swimming pool. The villas are a stone's throw from the main party area on the island, which could be a positive or a negative thing depending on your intentions on the island.
There are only three villas and they're in hot demand. Secure your reservation and check the latest prices on Booking.com.
Mid-Range Phi Phi Island Accommodation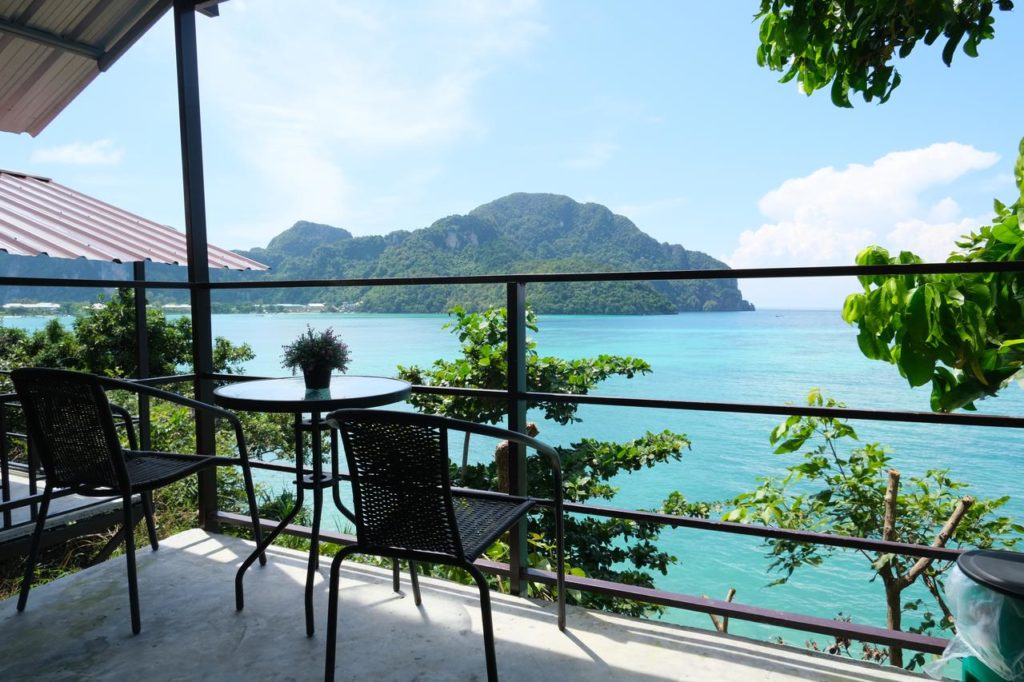 Phu Ton Tor Guesthouse
Phu Ton Tor is a mid-range private bungalow on Phi Phi Island. The rooms look out over the ocean and are in a quiet area of Phi Phi Island. The drawback to the solidarity which you'll have here is the distance it takes to walk from the town.
Room rates start at 800 baht a night, and you won't find a room with a better view for any less than this. Check the latest rates here.
Don Chukkit Guesthouse
Another mid-range hotel which is located in a quieter area of Phi Phi Island. This isn't the nicest hotel by any means, but the rooms are clean the staff are cheerful and you'll be able to get some sleep at night. The hotel is set between Phi Phi Islands main beach and the long-beach. They also have an infinity pool looking over the ocean, in their restaurant, which guests can use for free.
Budget Phi Phi Island Accommodation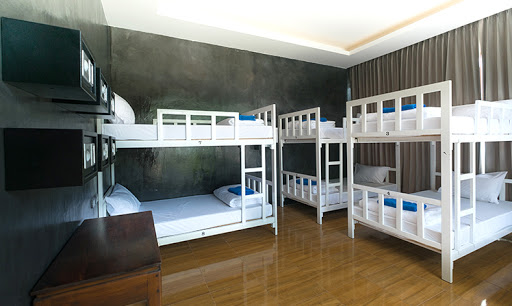 Blanco City Hostel
Blanco is a party hostel, so if you aren't visiting Phi Phi Island to party and meet new friends then this isn't the hostel for you. But if you are looking for good company and wild nights then you'll feel right at home at Blanco's. Blanco also operates a booze cruise for their guests during the day. Which is one of the top activities to do in Phi Phi.
Chao Koh Dorm Rooms
This is the best hostel on Phi Phi Island in my opinion. It's the first place I ever stayed in on my first trip to the island. And I had a great experience there. The staff are friendly and the location is great. It's on the quieter of the island's beaches so you can still get some sleep. Yet it's only a few minutes walk to the party. The cost per night here can be a low as 250 baht.
How To Get To Phi Phi Island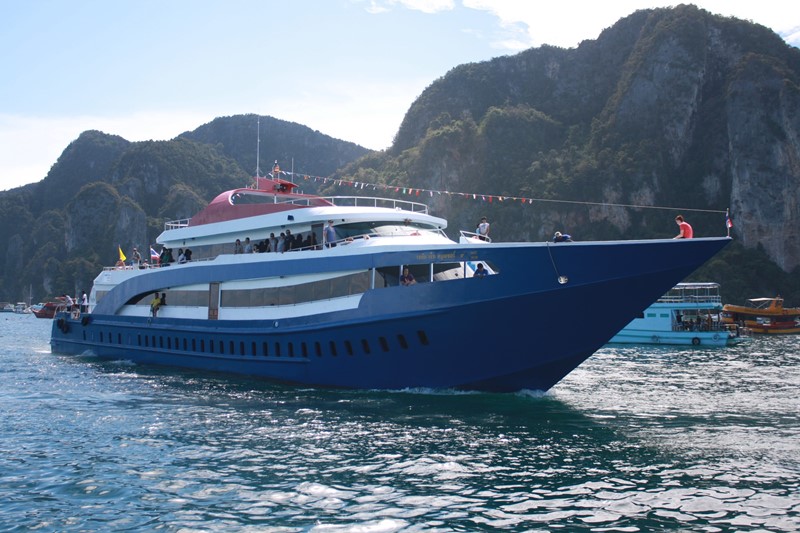 Boat.
You can only get to Phi Phi Islands by boat, there are no flights or airports, so you'll have to take to the seas. There are two main seaports in Thailand that run ferry connections to the island, (Phuket & Krabi) and speedboats operate from the other Andaman Islands to Koh Phi Phi during the peak season.
These Islands all have direct connections to Koh Phi Phi by speedboat- from the months of November – April:
Koh Yao Yai / Koh Yao Noi
Railay Beach
Koh Lipe
Koh Mook
Koh Libong
Koh Kradan
The schedules for speedboat routes change each year, so check with your front desk for the latest information.
Phuket To Phi Phi Island
There are at least four ferries per day sailing to Phi Phi Islands from Phuket. Boats leave from Rassada Pier in Phuket. To get into Phuket the most common route is to fly direct into the local Airport. From the airport to the pier it can take around 45 minutes to an hour in a taxi.
Unusually, the most expensive place to buy ferry tickets is at the port itself. The cost of a ticket here is 600 Baht, which isn't too expensive. But if you book online in advance- you can pay as little as 300 Baht! The reason why it's more expensive to buy tickets at the pier is that your taxi driver will earn a 300 Baht commission on the ticket sale! With the other 300 belonging to the ferry operator. Booking online cuts out the middle man. And don't think you'll get a cheaper ticket if you walk to the pier or ride your own bike there, the commission will end up in the sellers pocket instead.
The only drawback to booking in advance is less flexibility, you'll be limited to the ferry you booked. But to save yourself 50% isn't a bad deal.
You can book your ferry tickets from Phuket to Phi Phi Island with 12Go.asia, who are the official resellers.
Here is the ferry schedule from Phuket to Phi Phi Island. I have only included boats that operate all year round. But there are a few extra departure times added during peak season and a few speedboats operating too. The travel time once the ferry has departed is slightly over two hours. Don't expect the boats to leave on time either, chill out, does it really matter if the boat is 20 minutes late leaving port?
Phuket To Phi Phi Island Ferry Schedule
| | | |
| --- | --- | --- |
| Operator | Depart Time | Arrive Time |
| Andaman Wave | 8:30am | 11:00am |
| Chao Koh | 11:00am | 1:00pm |
| Andaman Wave | 12:00pm | 2:30pm |
| Andaman Wave | 1:30pm | 3:30pm |
| Chao Koh | 3:30pm | 5:30pm |
Krabi To Phi Phi Island
Krabi is a little closer to Phi Phi Island, with the travel time taking around one and a half hours. Boats leave from the KlongJilard pier, which is just 20 minutes from Krabi airport.
Booking your ticket online or buying your ticket once you arrive at the pier will not change the price too much. You should be paying 450 baht wherever you book. If you happen to be staying in Krabi or Ao Nang, check with the front desk of your guest house or hotel. Often times you can buy tickets there and you'll get free transport to the pier included.
Here are the ferry times from Krabi to Phi Phi Island, all of the sailings listed operate 365 day a year.
Krabi To Phi Phi Island Ferry Schedule
| | | |
| --- | --- | --- |
| Operator | Depart Time | Arrive Time |
| Andaman Wave | 09:00am | 10:30am |
| Chukkit Ferry | 10:30am | 12:00pm |
| Andaman Wave | 1:30pm | 3:00pm |
| Chukkit Ferry | 3:00pm | 4:30pm |
Tips To Protect The Environment
Do not step on the corals, don't carve your name into the coral or snap pieces off.
Don't take any shells, rocks, washed up coral, sand or anything that naturally belongs there from the beaches.
Don't feed the fish. Why? Coral reefs are a delicate ecosystem. The coral relies on sunlight to grow and the fish help by eating algae which forms on the coral, therefore, letting the corals absorb more sunlight. If you feed the fish, they will eat less algae from the corals. In turn, you're helping to kill off an entire coral reef.
Don't feed the monkeys. It is illegal and damages the natural balance, it causes monkeys to become aggressive to humans. Monkeys also tend to litter, if they take a plastic water bottle from you, they won't drop it in the trash once they're done. They'll drop in on the beach or in the ocean.
Clean up after yourselves, don't litter (that should be common sense and applies wherever you are).
Help protect the coral reefs and prevent bleaching by using a marine-friendly sunscreen.
More Phi Phi Island Travel Resources
Phi Phi Island Gallery