Koh Libong is a Fisherman's Island in Southern Thailand. It's near the Malaysian Border… You've probably never heard of it before. Tourists in Thailand are always looking for that place that is still untouched, still authentic. This is it.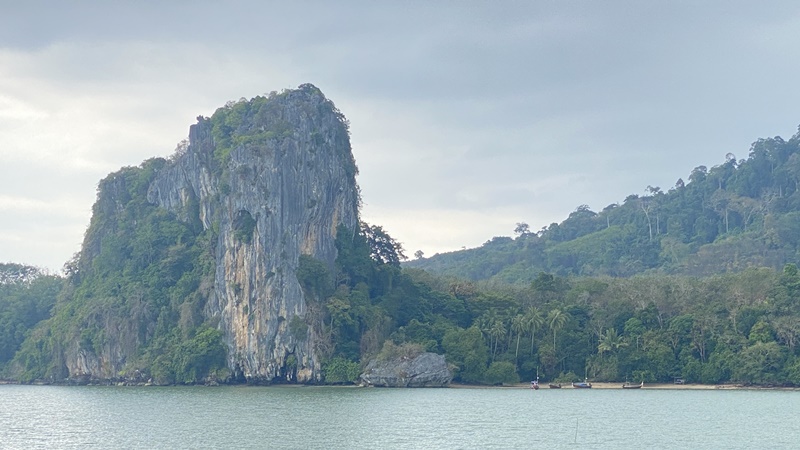 Tourists who are trying to get off the beaten track in Thailand often settle on Koh Lanta or Koh Jum. Those islands are quiet, yes, but they still cater to tourism at a certain degree.
Koh Libong literally has zero tourism. It's a step back in time and it's difficult to put into words what you'll experience on this island. It doesn't even feel like you're in Thailand anymore. You really need to see it for yourself.
During our three nights here we only ever met one other western tourist.
Children were stopping us in the street to shout hello, with huge smiles when they saw us.
There were none of those tacky tourist booths which you might find anywhere else in Thailand.
Humble villagers were happy to help and wanted to get to know you, rather than just trying to sell you something. And we stayed with a local woman who called herself 'Ma' who invited us into her home.
BTW; if you hadn't heard, Koh Libong is home to around a herd of one hundred Dugongs!- (Which is what led us to the Island in the first place).
Koh Libong Island: Thailand
Useful Booking Links For Koh Libong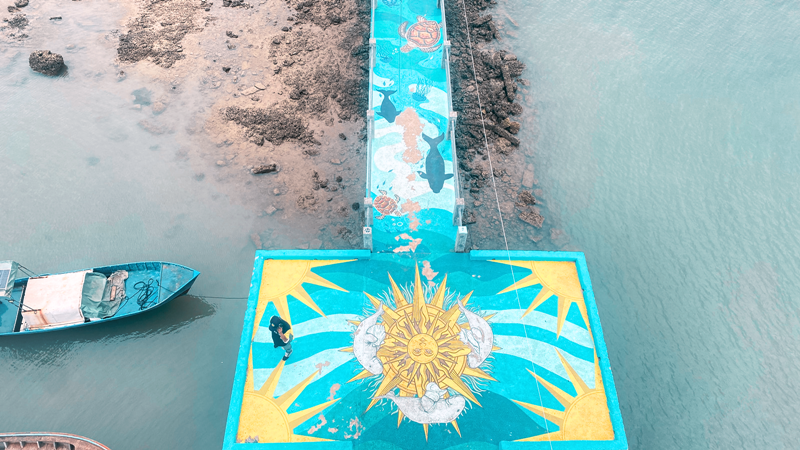 Most of Thailand's Andaman Islands rely on tourism as the primary source of income- this made the pandemic difficult for most. But Koh Libong is different. The main income source comes from the local fishermen.
All our fondest moments from our time in Koh Libong came from the local people we met.
Koh Libong Dugongs
We were in Koh Libong for one reason. To achieve a goal(that I set a week before), of meeting and swimming with the legendary Dugong.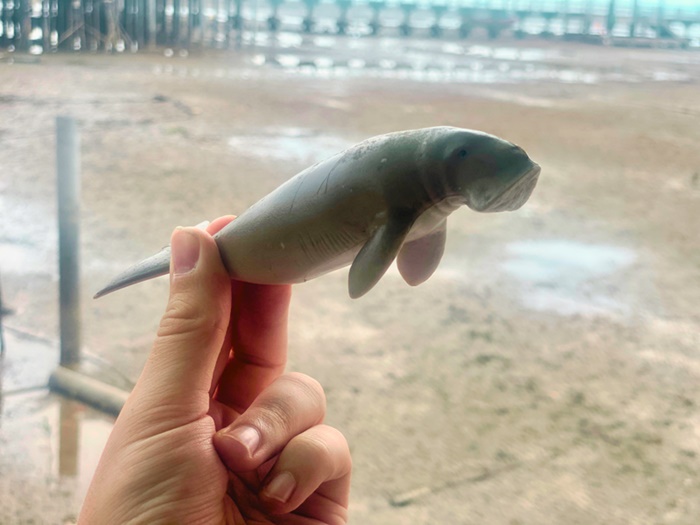 The Dugong (or Sea Cow) was the reason we were on Koh Libong in the first place. I had never heard of the Dugong before if I'm being completely honest.
But at the beginning of this year, I set myself a resolution to visit more National Parks in Thailand. To help achieve that goal I brought myself a Thai National Park Passport so I can collect stamps at each park. While flicking through the pages, I noticed a picture of the Dugong in the book. He looked like a pretty cool guy so with some free time on my hands. I set about trying to meet one.
I decided to do things the old-fashioned way. We flew south, from Bangkok to Krabi and started asking around local people for information about where to find the Dugongs.
Our journey took us through Krabi, Koh Lanta, Koh Rok, Trang and Had Chao Mai: looking for Dugong. Until eventually our journey led us to end up on Koh Libong.
In hindsight, we probably should have Googled it instead and we would have saved a lot of time. On the other hand, we would have missed out on some cool experiences like Camping on Koh Rok Island.
We knew we were in the correct place to see the Dugong as soon as we arrived at Koh Libong. This Sea Mammal is like the mascot of mascot. Literally, everywhere we went there were paintings, posters and statues of the Dugong.
The next step was figuring out how we were going to meet one.
Koh Libong Dugong Tour
On Koh Libong there are no organised tours. This is not an island that tourists often visit. Meaning there is no such thing as a 'Koh Libong Dugong Tour'. We needed to find an alternative option.
On our first day in Koh Libong, the weather was not great. Dugongs like to swim in shallow waters near the coast. Their diet is 100% seagrass. The best time to see them is at high tide on a warm day. When the water is clear Dugong can be seen from the surface feasting on their delicious seagrass. When the weather conditions are poor the Dugong tend to move to deeper waters- and it's more difficult to spot them.
With the weather not in our favour we decided to take our chances anyway and rode our scooters down to the pier in search of a boat captain. As luck would have it a Longtail fishing boat was pulling up at the pier at the same time we arrived.
We introduced ourselves to the captain of the boat. The captain was named Tony, and he had just returned from a squid fishing session. He offered to take us out on his boat for a couple of hours to look for the Dugong.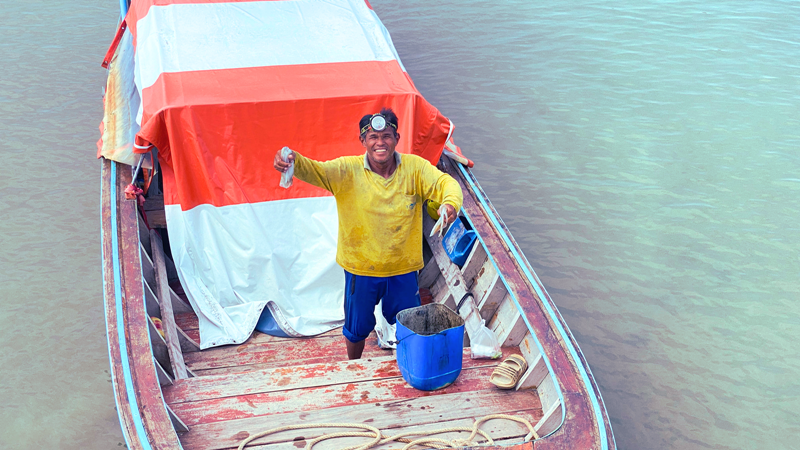 We had a budget of about 2000 Baht to charter a boat to look for Dugong. But Tony asked for just 600 Baht(incredible). He also warned us how unlikely it was that we'd be able to see the Dugong on that day.
I think I am incredibly lucky when it comes to meeting wildlife. On a recent trip to Phu Kradung National Park, I managed to have a rare encounter with one of the four elephants in the park. And in Koh Libong, on Tony's longtail boat- we spotted a Dugong feasting on the sea grass after less than five minutes on the water!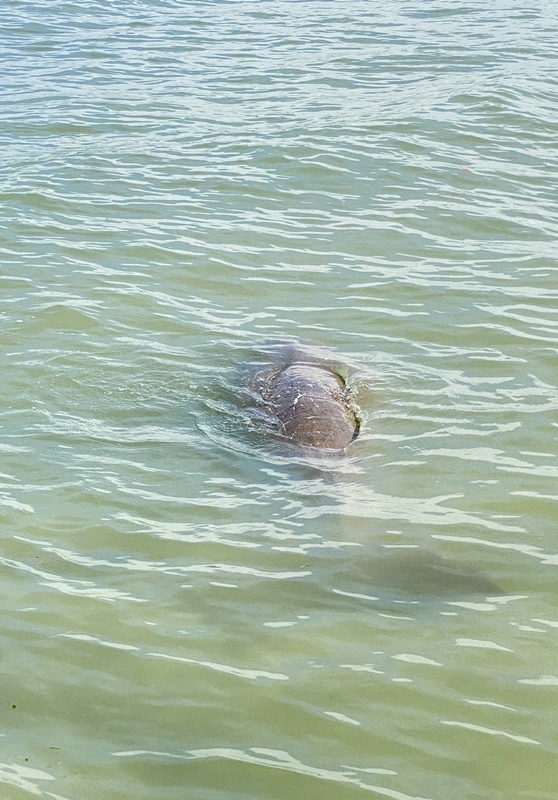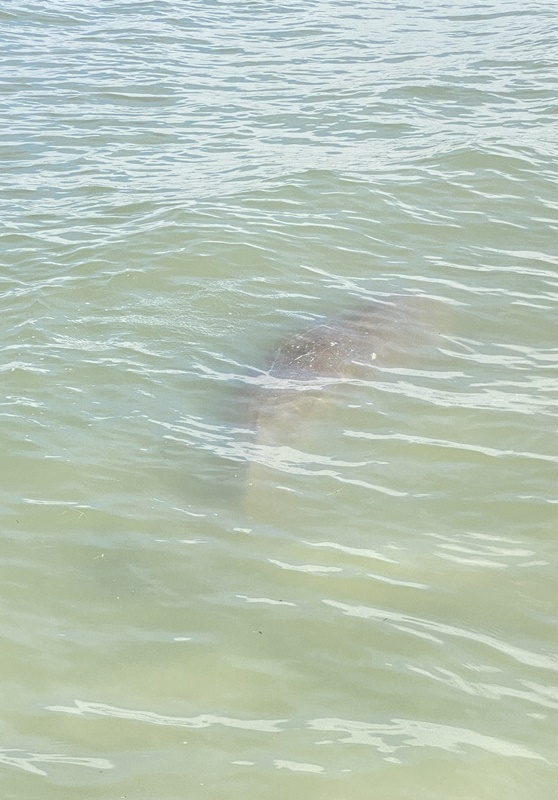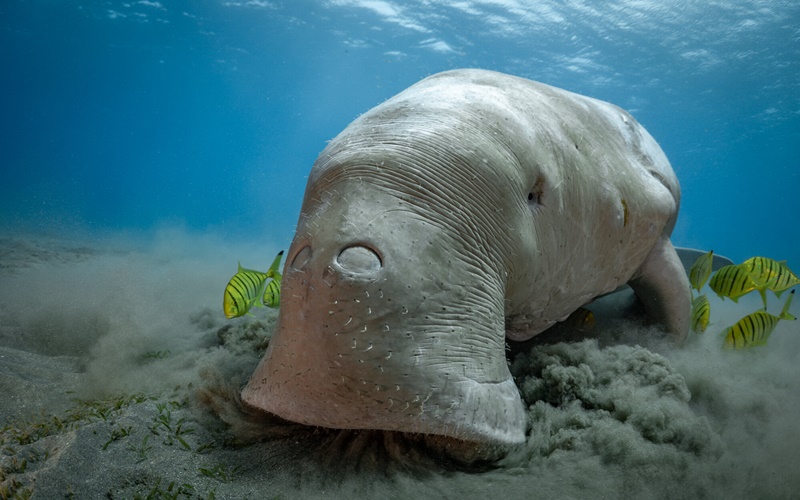 ▶ If you're visiting Koh Libong and want to go to see the Dugong with Tony, here is his(wife's) phone number: +66948048466.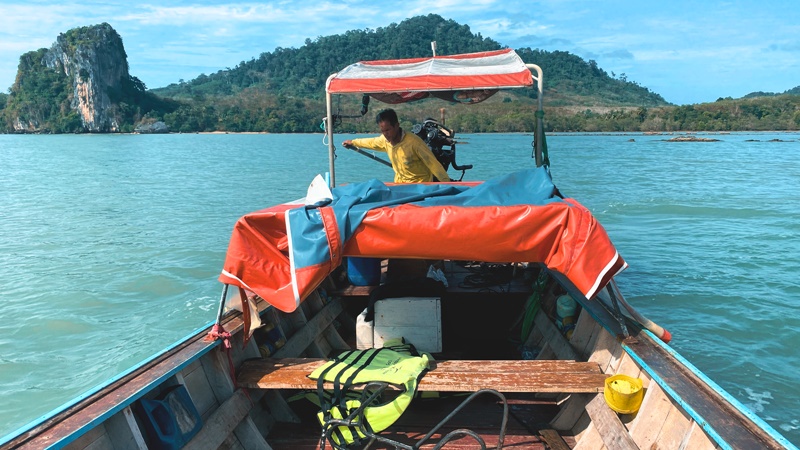 The water was waist deep and we could see him from the surface. Tony cut the boat's engine and started pushing the longtail around with a long wooden pole. So we could get up close with the Dugong. He(the Dugong) would occasionally stick his nose out of the water for a breath of fresh air. We were told that this particular Dugong was named 'Chompoo' (which means pink in the Thai Language) and he was known for approaching and befriending the people.
Point Dugong on Koh Libong
On Koh Libong you can also see the Dugongs from the land. There are two main vantage points. One is a lookout tower on the end of the fisherman's pier climb (which is also one of the best places to watch a sunset on Koh Libong). But if you want a better viewpoint to see the Dugongs then "Point Dugong" is the place to be.
Locals suggest there is a one in three chance of seeing the Dugong. However, the weather is a huge factor. Morning between 9 am – 10 am was suggested by National Park Rangers as the best time.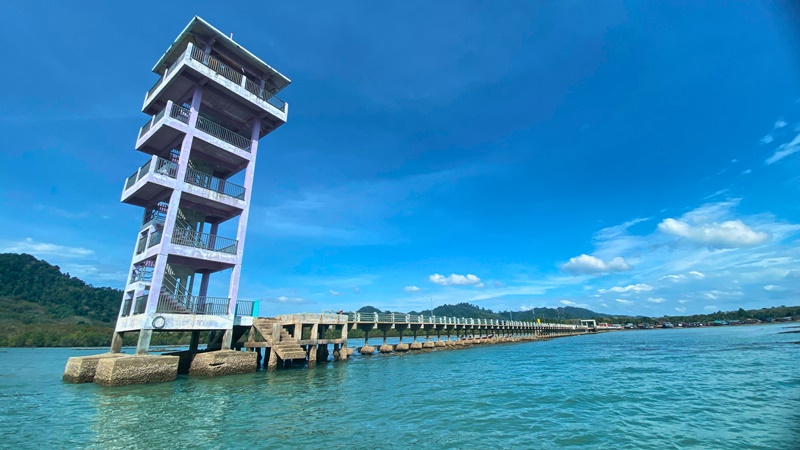 At Point Dugong there are two viewing decks built from natural resources. The lower lookout platform is really easy to get to. But there is a second viewing platform on the top of the mountain. There is a staircase and walkway trail which can be followed most of the way to the top.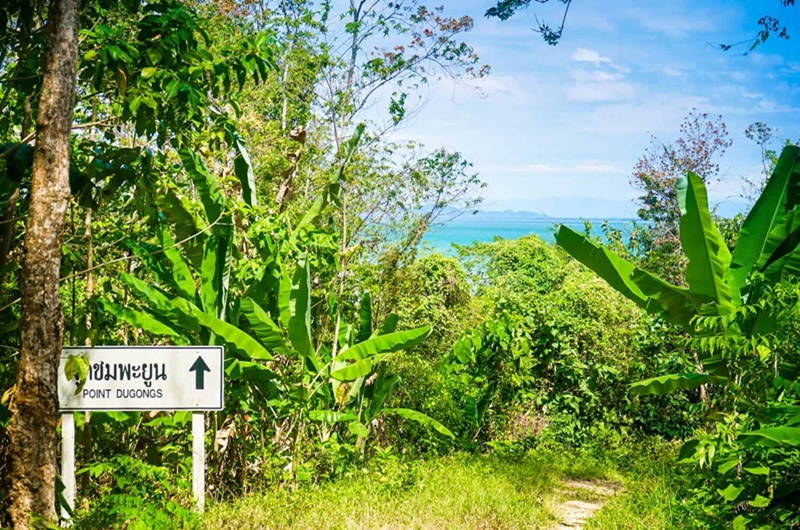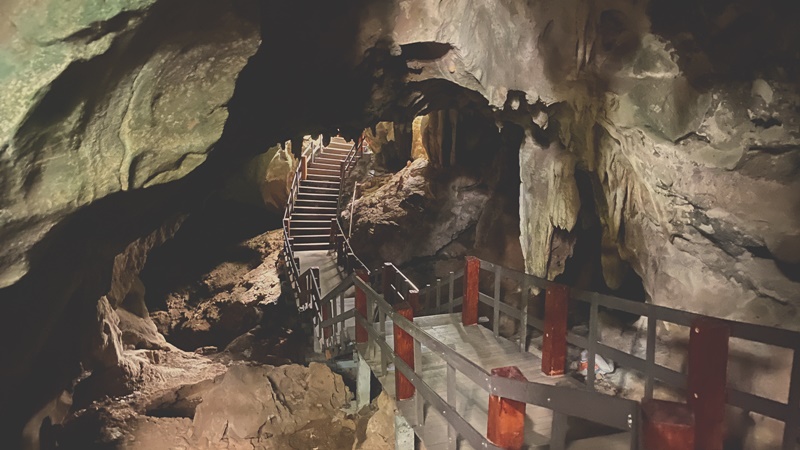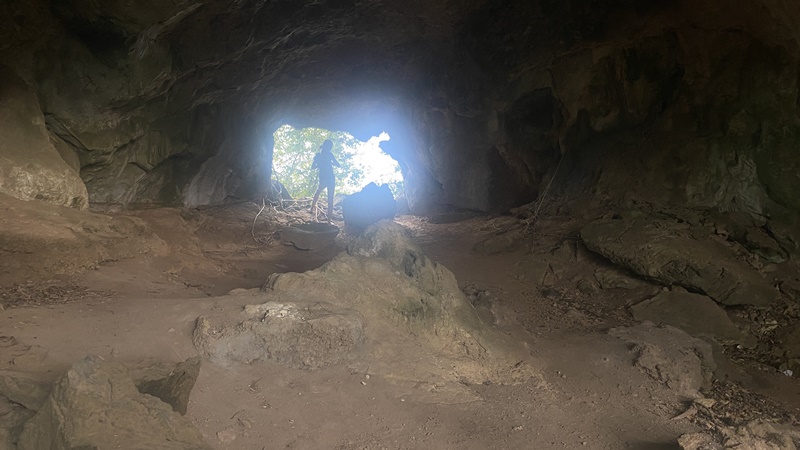 The footpath to the top of Point Dugong leads you through a stunning cave system. Some sections are steep but there are ropes tied up inside the caves to help. The caves are almost pitch black at some points so make sure to leave Point Dugong and get back through the cave before the sun sets.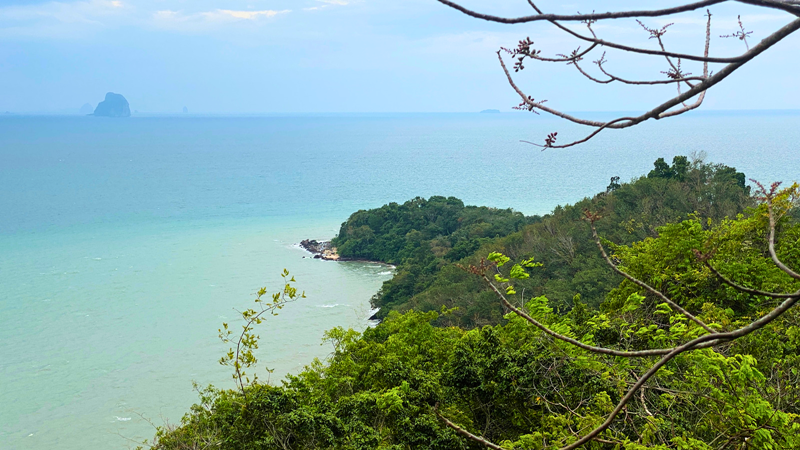 Koh Libong Things to Do
On our first full day on Koh Libong, we'd hiked through the cave system to Point Dugong, chartered a local boat and somehow met an awesome Dugong. So what other things are there to do on Koh Libong? Honestly, there are not a lot of things for tourists to do at Koh Libong. But here are my recommendations:
Rent a Scooter
We rented our scooters in Trang and rode to Koh Libong, taking them on the Longtail boat. But scooters can also be rented on Koh Libong island itself at the main pier. The cost is around 200 Baht per day and it's the best option for getting around on the island. We spent the best part of the day just riding around with our hammocks stored in our bikes- stopping at any place which looked nice to chill for a while.
Go Fishing
Koh Libong is a Fishing Island. So why not get yourself involved in the local culture and head out on a fishing trip? Fishing is done in the open waters from longtail boats. There are no fishing tours on the island so you'll need to meet a fisherman on the island who is willing to take you.
We were offered to spend a morning Squid Fishing for 1,200 Baht all in.
Captains typically leave early in the morning around 6.00 am and return late morning (with a bunch of squids). The best way to charter a boat is to head to the pier late morning when the captains are returning. You can negotiate a deal with a local captain to take you along the next morning. Or contact Tony on +66948048466.
The Stone Bridge and Waterfall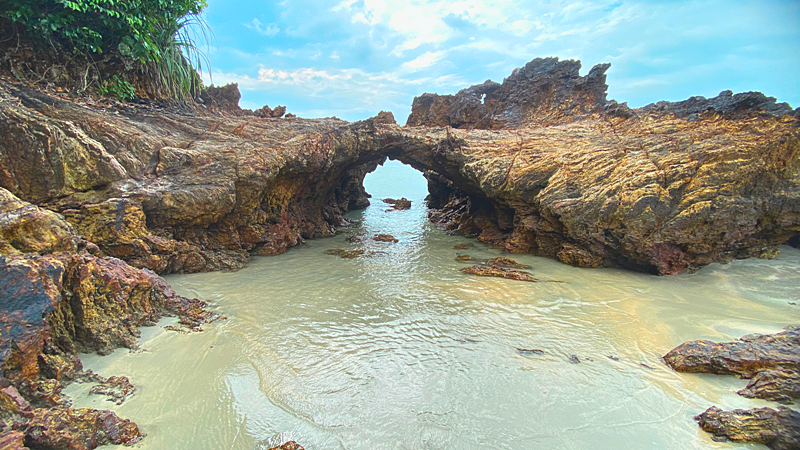 The Stone Bridge is Koh Libong's only tourist attraction. And calling it that is a stretch. It's an interesting place to visit but 20 minutes or so is enough time to spend there. The rocks have naturally formed into the shape of a bridge and there is a short tunnel from the beach into the sea. There is a waterfall a few meters behind the Stone Bridge.
The Stone Bridge is listed on Google Maps but finding your way there is tricky. There is a small unmarked track leading from the road to the beach. You can drive halfway and then there is a natural 'staircase' down to the beach.
Hang Out at The Beach
You can guarantee a beach to yourself on Koh Libong. The sand might not be white like the other islands nearby but you'll have complete peace if you want to spend a day chilling on the beach.
The best beaches on Koh Libong are:
Sea Cucumber Beach
Stone Beach (Tung Yaka Beach)
Juhoil Beach
Mariam's Beach (Panyang beach)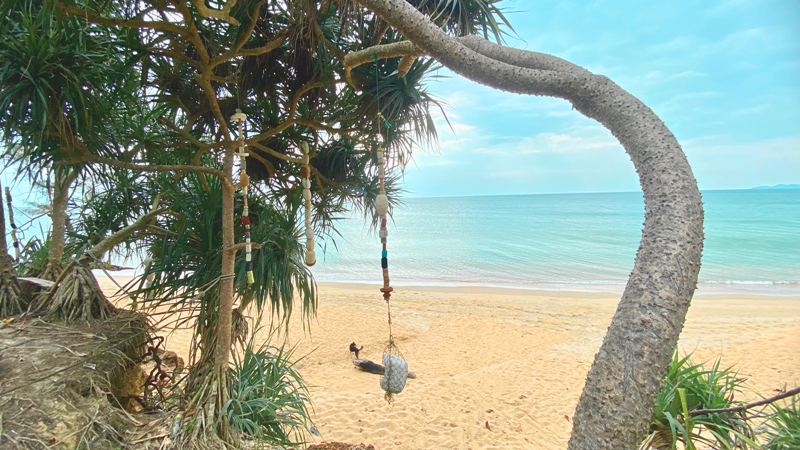 Day Tours From Koh Libong
Koh Libong is the largest island in Trang Province. But there are three other neighbouring islands too.
Koh Mook
Koh Kradan
Koh Ngai
These three small islands are where you'll find clear blue waters and perfect white sand beaches. There are some great snorkelling spots around these islands and Koh Mook is home to the 'Emerald Cave' which can be accessed at low tide. There are hotels on all three of these islands so I recommended visiting the other islands after leaving Koh Libong, and staying the night. But it's also possible to take a day tour there if you have limited time.
There are no arranged tours from Koh Libong so you'll have to go about things the old-fashioned way. By heading to the pier and negotiating with a local boat captain to take you out on his Longtail Boat.
How to Get to Koh Libong
Trang was the easiest point to connect at. There is a train station, bus station and an airport there. We took the bus from Krabi to Trang and rented scooters in Trang town centre, near the train station. We drove to the pier which was 45 Kilometers away.
There is also a local bus from Trang to Hadd Yao Pier (Koh Libong Pier). The bus leaves once per day and stops outside the 108 shop near the Trang Train Station. Tickets cost 80 Baht to the pier.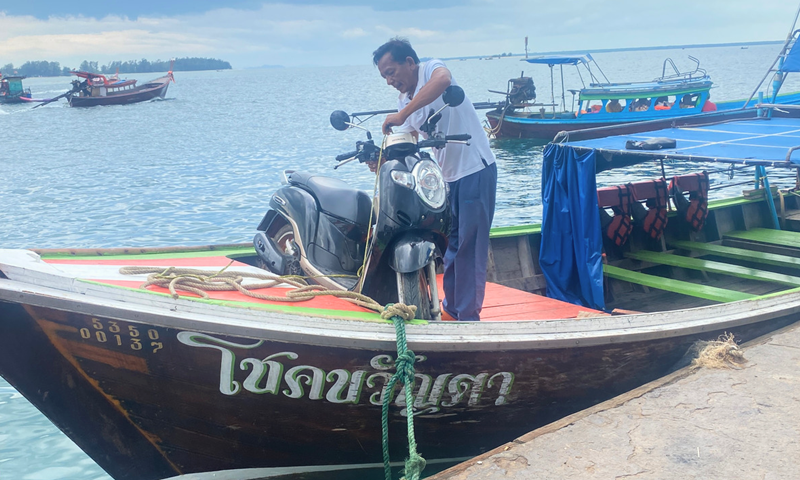 Longtail Boats run from Trang to Koh Libong throughout the day. There is no fixed schedule and the boats leave once they are full. If you don't want to wait you can pay somewhere in the region of 500 Baht for a private boat.
We were able to take our rented motorbikes on the boat to Koh Libong. However, I will admit that I was terrified I'd be paying the rental shop for the full cost of the bike. As I watched the two locals lift the bike by hand and shuffle it off the end of the pier onto the longtail boat I had visions of the thing dropping and sinking to the bottom of the ocean.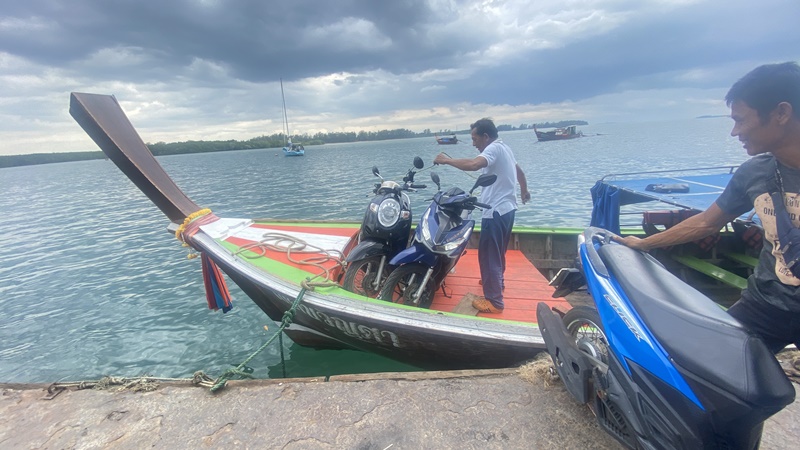 Boats leave from Trang mainland at the Haad Yao Pier it takes around one hour to drive from the town centre. There is no public transport aside from one daily bus. A taxi should cost 400 Baht and Grab Taxi works in the area.
The boat to Koh Libong Takes around 15 minutes. And the prices depend on your race:
Motorcycle – 60 THB
Foreigner – 100 THB
Thai Citizen – 50 THB
There is also a speedboat from Koh Lanta to Koh Libong (and other Andaman Islands), but tickets are expensive. The boat is operated by Tiger Line with a schedule from Phuket to Langkawi daily making stops at the Andaman Islands en route.
Getting Around Koh Libong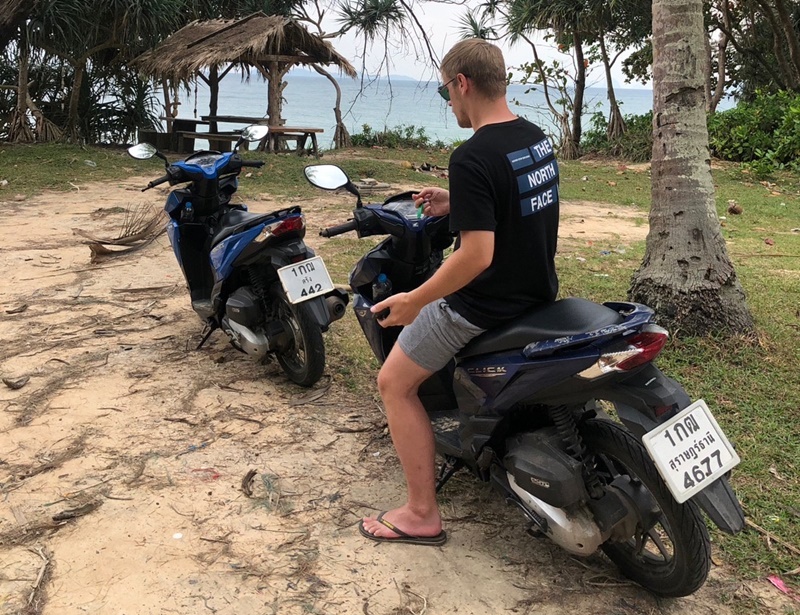 Our motorbikes arrived safely at Koh Libong.
Renting a Scooter is the local way to get around in Koh Libong; there aren't many other options. You'll have the freedom to explore the island at your own pace. You can rent a bike on the island. But we chose to rent the bike in Trang and take it over to Koh Libong on the Longtail Boat. Koh Libong is a good place to learn to ride a scooter.
Fuel can be purchased on the island in plastic bottles for about 40 Baht a litre, making it one of the cheapest ways to get around the island too.
If you want to rent a scooter with a sidecar and driver then Jadaat is a local on the island who can provide that service. You can contact her on +66920023725.
Where To Stay at Koh Libong (Koh Libong Hotels)
There are a ton of Homestay's on Koh Libong! But most are not listed online. Koh Libong is one of the few places in Thailand where you can just book somewhere to stay when you arrive.
Here are the top three accommodation choices for Koh Libong.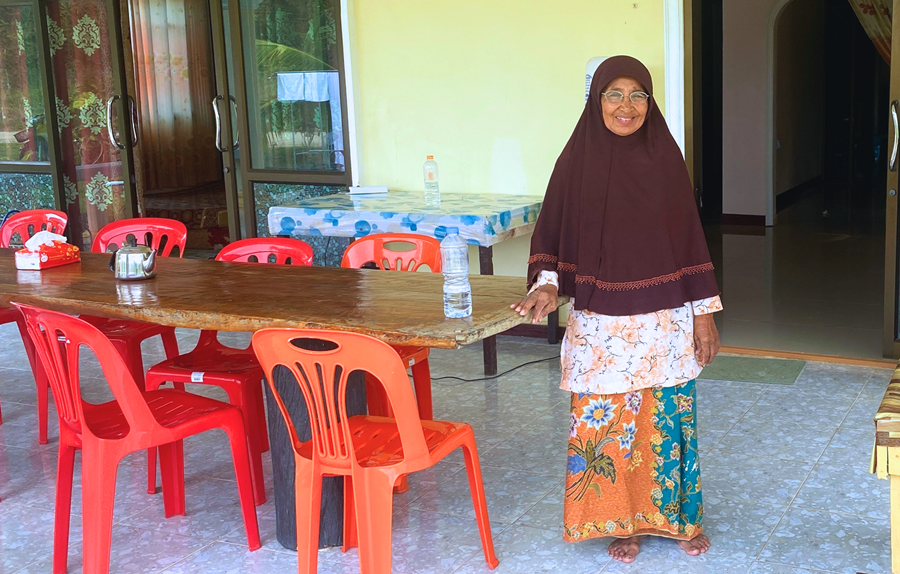 Sunrise Homestay Koh Libong
Sunrise Homestay Koh Libong – We stayed at the Sunrise Homestay and it was the best choice we could have made. Our host 'Ma' was the sweetest, most caring woman ever. She made our stay so memorable. I couldn't publish this post about Koh Libong without mentioning her. Every morning when we woke she'd jump onto her motorbike and race into the town to pick us up fresh doughnuts and coffee.
Ma was born on Koh Libong, her family have lived on the island for seven generations and she has spent a lifetime there. Her Daughter and Son-In-Law live on the island too and are well-known in the local community. But I got the impression she was quite lonely and opening her home to tourists gives her some company. You won't regret staying at Sunrise Homestay.
Her home is incredibly clean and has three air-conditioned guestrooms and her suite. You can call Ma on +66869967120 if you want to book a night at her homestay. The cost was around 600 Baht per night.
Update: Her home is now listed on Agoda and you can book it right here: https://www.agoda.com/koh-libong-sunrise-homestay/hotel/all/trang-th.html
Andalay Beach Resort Koh Libong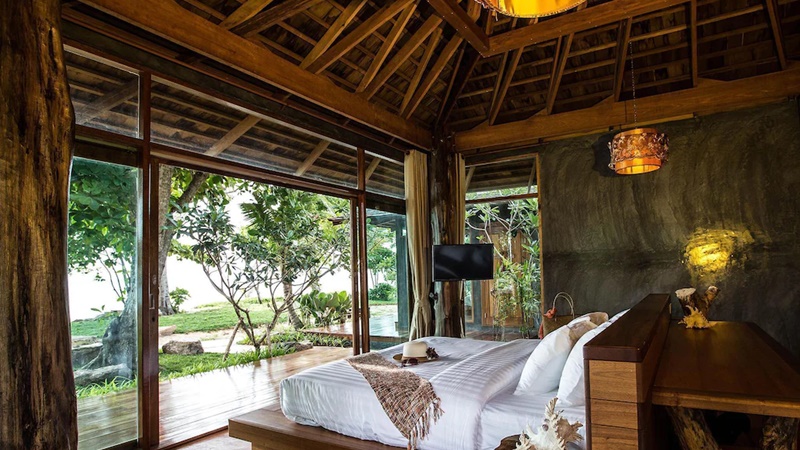 Andalay Beach Resort – There are two main resorts on Koh Libong island with Andalay Beach Resort ($$$) being the most popular. If you like your home comforts then this is the best place to stay in Koh Libong. You'll find peace with the seafront view from the rooms and access to the swimming pool too. The other alternative is the Koh Libong Dugong Resort ($$).
Laem Nai House (Koh Libong Glamping)
If camping is something you're into, consider staying at Laem Nai House. We stumbled across this place by accident while exploring Koh Libong on Scooters. The Tee-Pee-style tents are right on the seafront in a secluded area of Koh Libong. Highly Recommended. There is no online booking for these tents so you'll have to negotiate a price when you arrive.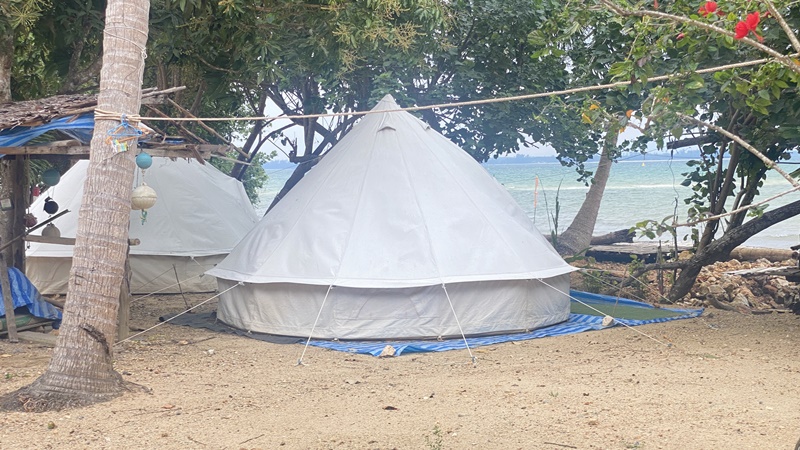 Eating and Drinking on Koh Libong
There are very few restaurants on Koh Libong, however, two places really stood out to us as 'Must Visit' spots on Koh Libong. There are also restaurants located at the end of the main pier and at the Andalay Beach Resort, (you don't need to be a guest).
Cool Coffee Cart
Coffee in Thailand can be hit and miss.
But a cup of coffee from the Cool Coffee Cart packs a punch. Honestly the best coffee I've ever drunk in Thailand. Proper Arabica Press coffee was the last thing I expected to find at Koh Libong.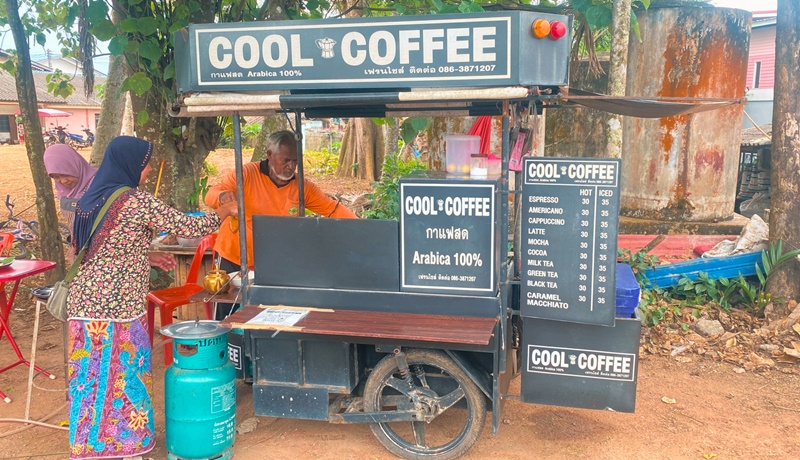 "You did it! Congratulations! World's best cup of coffee! Great job, everybody! It's great to be here."
You'll find the cart parked up next to the local market, in the mornings between 700am to 1100am.
You have to try their latte, and their hot green tea is amazing.
Ja-Nhai Seafood Restaurant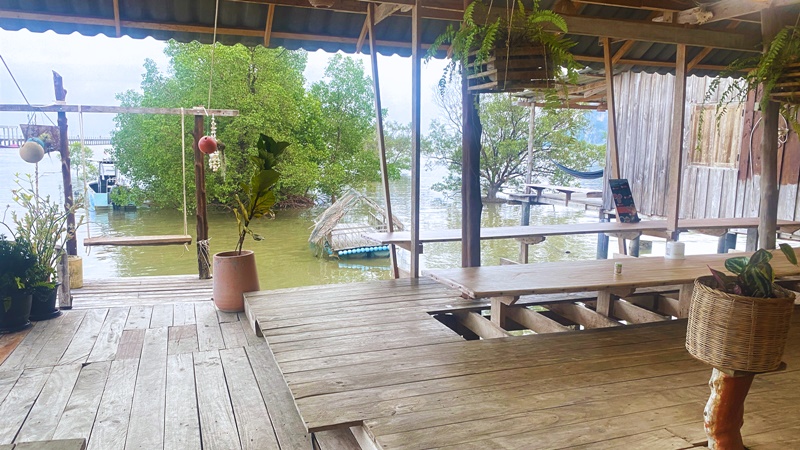 Asides from breakfast which Ma, our host brought for us every morning we ate most of our meals at the Ja-Nhai seafood restaurant. You'll find it located nearby the 'Dugong Pier' and the restaurant overhangs the ocean.
The menu is typical Thai food and the seafood is caught fresh on the island daily.
The views are what made this restaurant stand out so much. The restaurant is built from wood and bamboo. The seating is at floor level and your legs dangle from the end of the pier while you're eating your dinner. Listen to the ocean and see the fish swimming right below you.
How Long Should You Stay at Koh Libong
We didn't have a set time frame for how long we were going to stay on Koh Libong. The only goal was to meet a Dugong which we achieved (pretty quickly)😅 We ended up staying for three nights in the end which was the perfect amount of time to explore the island.
Koh Libong Tips and FAQs
ATM: There ARE ATMs on Koh Libong near the main pier there are two 'Pink' ATMs (Government Savings Bank) where you can withdraw cash the same as you would anywhere else in Thailand.
Phone Signal: AIS is the only Thai Network which has a signal on Koh Libong. Make sure to buy a Thai SIM Card in advance. DTAC and TRUE do not have reception on Koh Libong.
Alcohol: Koh Libong's population is Muslim, so it is difficult to find alcohol on the island. But not impossible. There is one small shop where you can buy bottled Chang and Leo Beer. It's fine to drink a beer or two in the evening here- but Koh Libong is not a place to party.
Libong means 'Palm Tree' in Malaysia.
Koh Libong Contacts
Jadaat – Local Taxi Driver: +66920023725
English and Thai Speaking.
Tony – Longtail Boat Captain (Dugong Tours, Island Tours and Fishing): +66948048466
His wife should answer the call, Thai Speaking with Little English.
'Ma' – Local Homestay Owner on Koh Libong: +66869967120
Does not speak any English.
Map of Koh Libong Island