The cheapest and fastest Thailand SIM card for tourists is the AIS 12Call. The network offers super-fast speeds on islands and in cities. Prices for this SIM card are 20USD per month which includes unlimited data usage anywhere at 25Mbps and can be used as a hotspot anywhere in Thailand.
In this post I'm going to share with you exactly how, using the AIS network, you can get an Unlimited Data Plan, that can be used as a mobile host-spot, for $20.
What Is The Best Thailand SIM Card For Tourists
First of all, avoid the branded 'Tourist SIM's' or 'Traveller SIM's as they are now re-branding as. These cost way more than you should be paying and offer no benefit to you. The best Thailand Tourist SIM. Is the same SIM that locals and residents would use.
Travel has changes in the past few years, where more and more tourists are jumping from the Lonely Planet guidebooks to information found online. When travelling in 2020 we reply heavily on the internet. To make hotel reservations, book activities, stay in touch with friends and family, find information about a new place or use virtual maps to navigate a new part of the world.
Wi-Fi is common in Thailand and you'll be able to pick up a connection at most hotels, bars and restaurants. But you won't always have W-Fi is you're outside, travelling around the cities or in more rural areas.
That is why getting yourself a Thai SIM card and staying connected is so important.
Buying a Thai tourist SIM card is a simple and inexpensive purchase to make that will save you time, money and hassle on your vacation.
Thailand Tourist SIM card packages that have been prepared and well marketed by mobile networks as a'Tourist SIM' are to be avoided. I'd even go as far as to call these packages a scam. They often cost up to ten times as much, and have very limited data allowances! Let's face it, data is all that we're after anyway.
So if you've found yourself asking "Which SIM card is the best to purchase for a foreigner visiting Thailand?" then keep on reading. I'll share with you how you can save money and get yourself a truly unlimited data connection at maximum speeds for around $20 USD a month. For digital nomads and entrepreneurs, or even those that just want to binge on Netflix. You can use the SIM as a mobile hotspot to power up your laptop with an internet connection or stream as much Netflix as you desire.
How To Get This Incredible Deal As A Tourist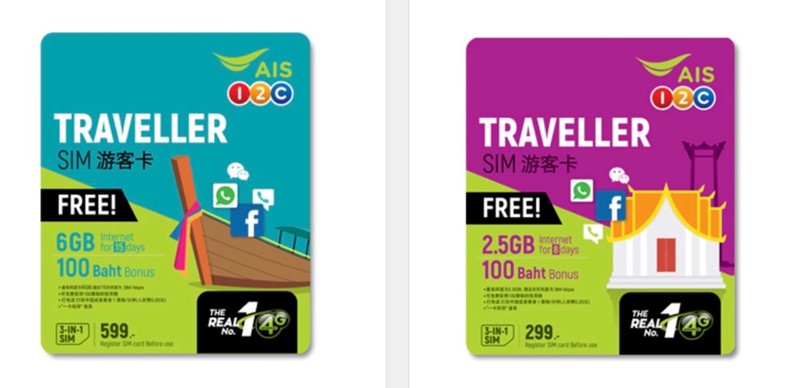 1) Get Yourself An AIS Thai SIM Card
You can buy SIM cards from small electronic shops and phone shops in Thailand. Often market sellers and travel agents will also stock Thai SIM cards. But to get yourself set up as quickly and easily as possible, there is no reason not to buy your Thailand SIM card at the airport.
When you buy a SIM card in the airport they'll try to upsell a data package alongside it. They'll tell you it's compulsory etc, etc. It's not. You just need to buy the most basic pay as you go SIM card. This alone should cost 49 Baht.
DO NOT buy the data packages offered in the airport! I was offered 3GB of data (which would expire after a week, if I somehow hadn't used that up before leaving the airport) for 549 Baht!
Bring Your Passport – A requirement to buying a SIM card in Thailand is that you must show you passport, this is registered to your new Thai number and it's a requirement for both Thai citizens and tourists. The retailer will register and activate your SIM for you and they will take a photo of your passport and a head-shot of you that is registered in the Thai government database.
2) Connect To Wi-Fi
To get this deal and buy an internet package you'll need to first do a couple of things. You'll need to download the myAIS application, and top up your phone. So connect to the airport's free Wi-Fi, download the app and enter your new phone number to sign in. Using the app, you can navigate the menus to the 'Add a new package' option where you can select an unlimited data plan. But first, you'll need to top-up.
You can set the language of the APP from Thai to English in the top menu.
3) Topping Up Your Phone
You can top up directly from the application itself, paying with your debit card. Or at an ATM you can even top up using cash! Using an ATM just navigate the options on-screen, enter your phone number and drop the amount of cash you want to top up into the slot. The funds will be credited to your account instantly.
4) Buy Yourself An Unlimited Data Package
Once you've loaded your phone with $20 credit and set up the networks application (myAIS). Open the app, hit the package button, and then the 'Apply Internet On Top'. Click on the 'Internet non-stop tab' which is where you'll find all the unlimited data plans. And yes, these plans are actually unlimited! Use it as a hot-spot, or for streaming and never worry about your data getting used up.
You have a selection of internet plans based on connection speed and the length of the package. In my opinion, the 4mbps package on a 30-day plan is the best value for money at 650 Baht ($20), but if you need higher internet speeds or a longer plan there are options for you! If you are staying in Thailand longer than a month then for 1,800 Baht ($55) you can get six-months of unlimited, max-speed internet. Now that's a good deal!
Here are all the unlimited data plans and prices you can choose between.
| | | | |
| --- | --- | --- | --- |
| | One Week | One Month | Six Months |
| 1 Mbps | 120 Baht | 350 Baht | 1,200 Baht |
| 4 Mbps | 220 Baht | *650 Baht | 1,400 Baht |
| 6 Mbps | 270 Baht | 850 Baht | *1,800 Baht |
| 10 Mbps | 330 Baht | 1,100 Baht | — |
Remember these deals will NEVER be offered to you in person, you'll have to buy a basic SIM card, top-up yourself and buy a data package using your app. If you're buying a SIM card pre-loaded with data, you'll find yourself paying close to 100 Baht per 2.5 GB! These plans will never run out of data.
*The prices listed here and in the app do not include Thailand's 7% V.A.T. So when you top up make sure you take into account this 7% unlisted cost. So for example the 650 baht package will actually cost you 695 Baht, still a great deal, although a little miss-leading.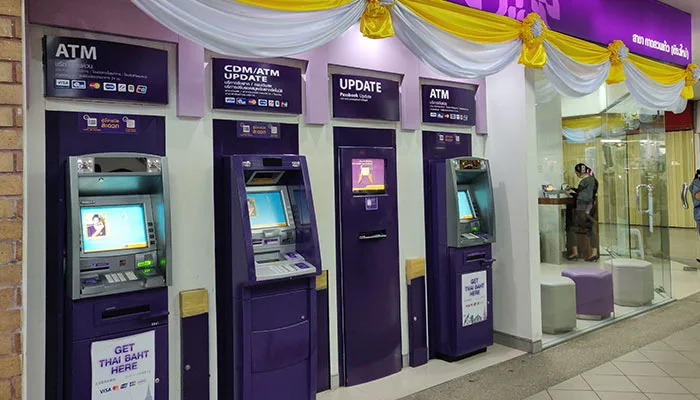 Using A Thai Tourist SIM As A Mobile Hot-Spot
The great thing about the Unlimited data offered by the AIS SIM Card is that you can use your unlimited data to power up other devices. I travelling with my laptop, and it is the single most important piece of kit which I travel with.
I spend a lot of time working on my online businesses and writing my travel blogs, so it's essential for me, that I have strong internet on all my devices, wherever I am.
Between my blogging, video calls and watching the office again on Amazon Prime, for the 23rd time I can often burn through 10 – 15 GB of data per day!
So unlimited is vital. And at the low prices, AIS is offering, you'd be crazy to take any other deal.
Thai Tourist SIM Cards Speeds and Coverage
Here is a speedtest, which I have ran personaly. Using AIS as a hot-spot on the 4Mbps plan, download speeds were over 25Mbps! Which is incredible.

I have never had a connection issue in cities, rural areas or islands. I've travelled all over Thailand and found AIS to have super coverage. TravelTom has shared a coverage map of AIS in Thailand, and as you'll see below, the entire country has a 4G signal and some cities are beginning to roll out 5G.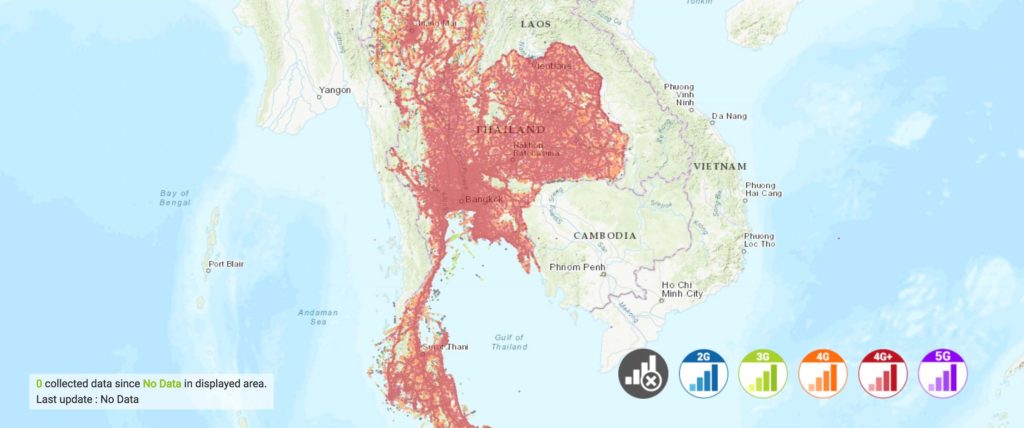 Most retailers will be happy to swap out your new Thai SIM card free of charge, make sure to keep your original SIM card same. I like to keep it in the packaging of the new SIM for safekeeping. If the retailer isn't able to or unwilling to swap the SIM for you. Here is a guide on how to swap the SIM for iPhone users, and for Android users.
Other Data Networks In Thailand
1) AIS
AIS is the network I'd recommend, partially because they have great coverage in the Thai islands, partial because the prices are inexpensive and network speeds fast. But the most important reason for me is to have a no-catch unlimited data plan. AIS is the only network to no cap their unlimited plans.
2) DTAC
DTAC is one of AIS's biggest competitors. Some people say they have the best coverage across Thailand, honestly I've had such a great experience with AIS that I've never had a reason to switch.
3) TRUE
This is the network most tourists will end up using, and it's the network with the worst coverage, highest costs and most restrictive data packages. But they have an exclusive brand deal with 7-11's. Whatever you do, don't buy a SIM card from 7-11.
—
Got any questions about getting a prepaid SIM card in Thailand as a tourist? Ask me in the comment section below and I'll be happy to help out!
And here are some of my top Thailand travel articles to get you exited for your trip!
If you're flying into Bangkok, you can pre-order a SIM card for collection here. Or, if You want to find out more about other Thailand Tourist SIM networks, TooManyAdapters have put together a great article on the topic. But you will end up paying more, for less!