When it comes to buying a SIM Card in Thailand there are a ridiculous amount of options. In a world where an internet connection is a vital part of travel, choosing a SIM card is often one of the first things you want to take care of, upon arriving in Thailand. With the arrival of the Thailand ESIM, you can now set up a data connection before you land! Find out how in this post! 🔽 Or download a Thailand E-SIM Here: https://backpackbob.com/thailand-15-day-unlimited-esim
Sifting through all the choices to find the best deal can feel like a daunting task. 
Personally, I have a 12-month unlimited data plan on my Thailand SIM Card. On average, it hits a 50 Megabit download speed and costs just 160 Baht(4.75USD) a month and… I can use it as a mobile hotspot too!
Avoid being overcharged. Read this guide. I'll walk you through step-by-step, the best choices for buying a SIM Card as a tourist in Thailand. Travel Thailand like a pro. You'll have an unlimited data connection set up in no time for less than 20 USD.
How Much Does a SIM Card Cost in Thailand
I mention a few different choices in the post for the best Thailand SIM Card for tourists. Here is a short list of the best options.
Tips For Buying a SIM Card in Thailand as a Tourist
Which is The Best Thailand SIM Card For a Tourists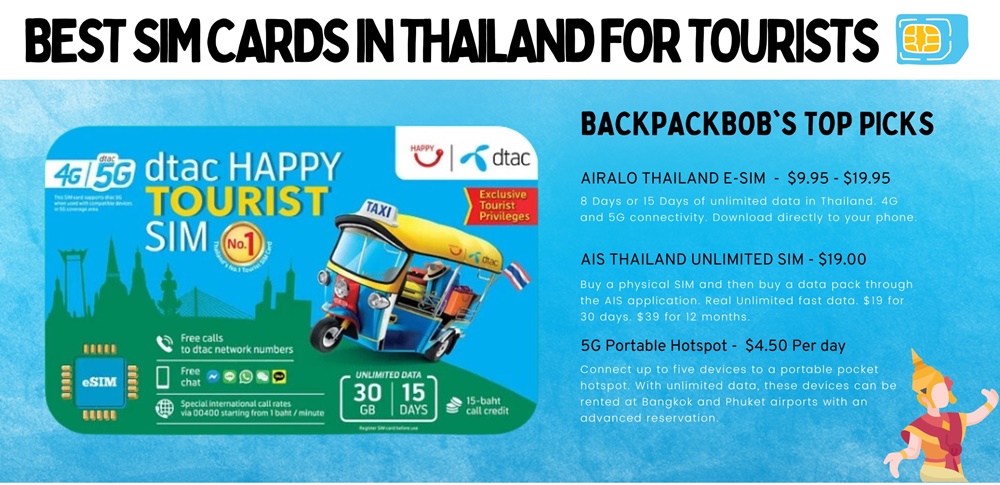 It's actually a pretty simple question "Which SIM Card is best for tourists in Thailand" and it comes down to one thing. How long you'll be staying in Thailand?
For trips lasting 30 days or less, the best Thailand SIM Card is going to be the Airlo Unlitimed Data Thailand E-SIM.
For longer trips which last longer than 30 days, you're best to pick up a physical AIS Thailand SIM Card(49THB). Unlimited data packages can be purchased using the AIS Mobile App.
Can I Buy a SIM Card in Thailand
Foreigners can buy SIM cards in Thailand. But the seller will need to register it to your passport. They'll take a photo of your passport and a photo of your face too. It might seem odd, but it's perfectly normal.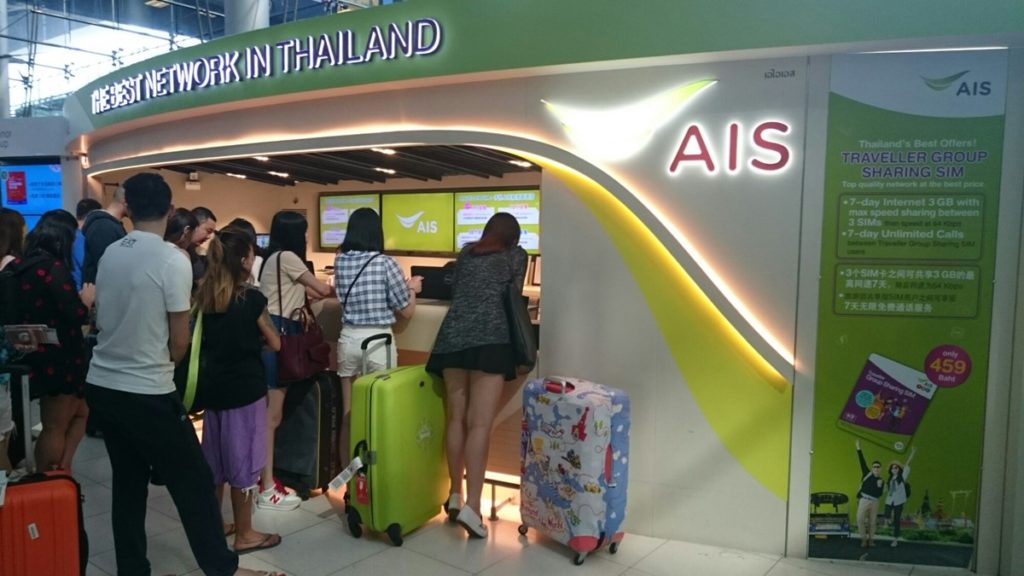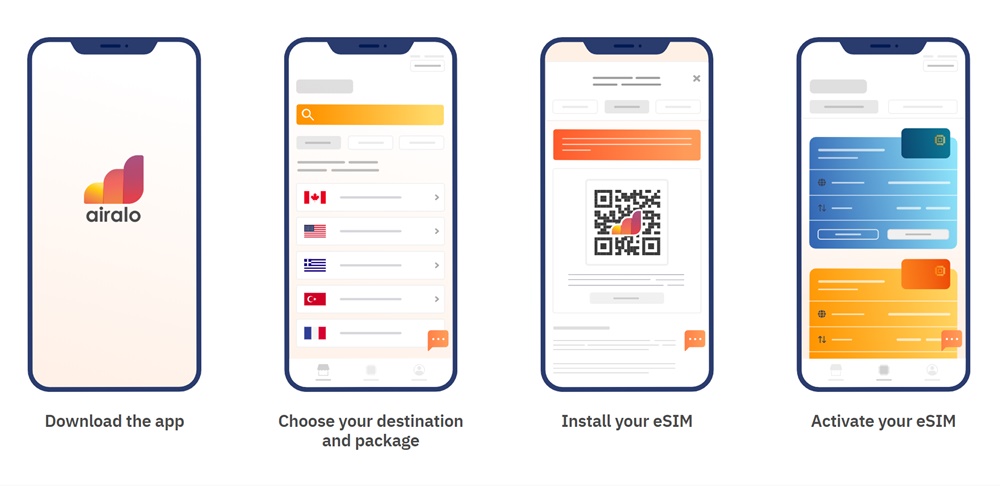 Thailand SIM Card With Unlimited Data
Thailand's E-SIM Card packages all (technically) offer unlimited data. But be sure to check the small print- usually, the unlimited data will be at max speed until you hit a data cap (around 30-60 GB) the speeds will often be reduced after using the first 60GB.
The only option to have a genuine unlimed data plan in Thailand is to use the AIS network. Picking up a physical AIS SIM card within Thailand is necessary.
An ESIM is ideal for shorter trips when convenience is key. But an Unlimited AIS SIM is best for anyone who consumes a lot of data- streaming, for example, is staying long-term in Thailand, or working online.
Thailand E-SIM or Physical SIM Card – How To Choose
It's 2023 and the days of the Physical SIM card are numbered. It's now easier than ever to download a new SIM Card right to your phone. A Thailand E-SIM is a fantastic choice if your phone is compatible. It's even possible to get set up before arriving in Thailand. Meaning there's no messing around when you touch down. Switch-Off Airplane mode and you'll have data instantly.
Reasons to Choose an ESIM in Thailand:
Choose Thailand ESIM Card if you're staying in Thailand for fewer than 30 days.
Choose a Thai ESIM if want to save yourself the hassle of arranging a Thai SIM Card on Arrival.
Choose an E-SIM Card if your trip is going to include other countries in South East Asia.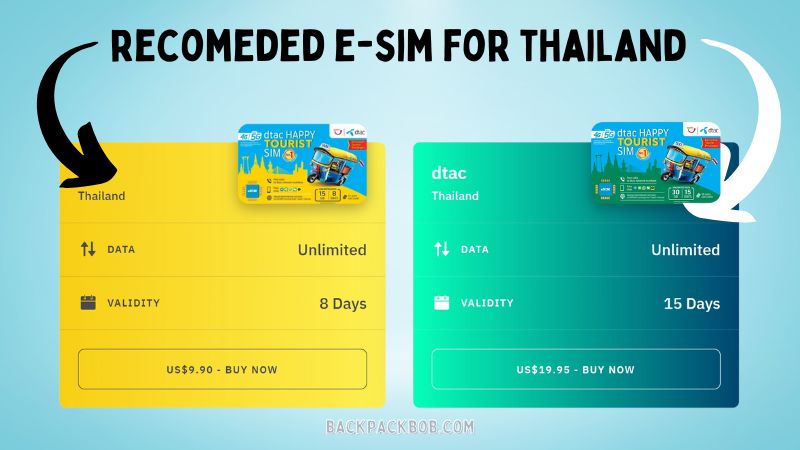 Reasons to Choose a Physical SIM in Thailand:
Choose a Physical SIM if you're staying over a month in Thailand
Choose a physical SIM if you want to have a lower price.
Choosing a Physical Thai SIM Card to have an unlimited data plan.
Choose a Physical SIM if your trip is only to one country.
Choose a Physical (AIS) SIM if you're visiting remote areas or remote National Parks.
iPhone models including the iPhone 11 onwards are all compatible with Thailand E-SIM Cards. Samsung Galaxy Phones from the S20 onwards are compatible with the Thailand E-SIM.
Check the list of all ESIM-supported devices in Thailand here.
Choosing The Best Thailand Tourist ESIM
Downloading the SIM right to your phone in a few minutes makes it easier than ever to get online.
I've tried and tested a whole bunch of Thai ESIM Cards and International ESIM Cards. Settling on two companies as my favourites. These are DRIMSIM and AIRALO.
AIRALO UNLIMITED DATA THAI ESIM CARD (RECOMMENDED FOR SHORT TRIPS)
This unlimited data Thailand E-SIM costs 20 USD to download and is valid for two weeks. There is a one-week plan for 10 USD. Both the 4G and 5G networks can be used. Note: This SIM is marketed as unlimed however there is an initial 30GB of data at max speed and the speeds are reduced once the first 30GB has been used.
AIRALO AISALINK 50 GB ESIM CARD (RECOMMENDED FOR MULTI-COUNTRY TRIPS)
The Aisalink is another SIM option offered by Airalo. It's a little more expensive costing 100 USD for 50 GB of data or 185 USD for 100GB of data. But the SIM card can be used in Thailand and also any other southeast Asian county it is a good choice for multi-country trips. (Download it here)
The Best Network in Thailand for a Tourist to Buy a SIM Card
There are three networks in Thailand to choose from, these are AIS, DTAC and TRUE. AIS has the fastest network speeds, the lowest prices and the best coverage in touristic areas.
Thailand's National Parks have an exclusive deal with AIS to install cell towers in rural locations. Using an AIS Thai SIM Card I've picked up a signal on the top of a mountain, and on remote uninhabited islands. My girlfriend who uses DTAC often relies on using my hotspot when in rural areas.
AIS
AIS have the best download speeds and widest coverage for both 4G and 5G including remote areas and islands. AIS is also the cheapest service provider to buy a Thai SIM Card from. But the most important reason for me is to have a no-catch unlimited data plan. AIS is the only network to offer a full 'no-catch' unlimited Thai SIM Card plan.
DTAC
DTAC is the biggest competitor for AIS. And if you are in the cities and built-up areas DTAC works fine. But DTAC has limited service on the islands in the south of Thailand and in National Parks. This means DTAC is not an ideal choice for tourists moving around Thailand.
TRUE(MOVE)
True has an exclusive deal with 7-11 where they heavily market their 'Tourist SIM Cards'. Never buy a SIM Card from TRUE or from 7-11 in Thailand. This network has poor 5G connectivity, and poor coverage. The cost to buy a Thai Tourist SIM in 7-11 is crazy expensive. Buying 3GB of data from 7-11 costs double what AIS charge for 30 days of unlimited Thai data. Unfortunately, the Truemove Tourist SIM is the network most tourists will end up using.
What If You Phone is Network Locked
If your phone is SIM locked to a carrier in your home country then buying a SIM Card in Thailand is not going to be an option. You can try contacting your network and request the handset to be unlocked but in most cases, they will require the contract to be paid in full to do this.
Another choice is to buy a second cheap phone for your Thai SIM Card and you can use this phone as a mobile hotspot device to bring data to your main phone.
Pocket Hotspots are another option if your phone is network locked. Pocket Hotspots devices can be rented at Bangkok or Phiket Airport for 200 THB per day the price included unlimited data up to five devices can connect at once.
Using A Thai Tourist SIM As A Mobile Hot-Spot
The great thing about the data plans offered in Thailand is that you can use your unlimited data to power up other devices. I travel with my laptop, spending a lot of time working on my online businesses and writing my travel blogs, so it's essential for me, that I have strong internet on all my devices, wherever I am.
Thai Tourist SIM Cards Speeds And Coverage
Here is a speed test, which I have run personally. Using AIS as a hot spot on the 4Mbps plan, download speeds were over 25Mbps! Which is incredible.

Choosing The Best Physical Thailand SIM Card
Listen up because I'm about to share with you the ultimate data deal for a Thai SIM Card. Thai Networks do not want tourists to know about this deal! And (unless you are Thai) you will not find this information anywhere else. To get the best deal you'll want to buy an AIS Thai SIM Card and then buy the data yourself.
This deal is not as convenient as using an ESIM. But by following this guide you can have fast and unlimited data in Thailand for as little as 20 USD, well worth it.
Here Are The Prices For Unlimited Data Using a Physical AIS SIM Card:
| | | | | |
| --- | --- | --- | --- | --- |
| AIS 5G UNLIMITED PLANS | One Week | One Month | Six Months | One Year |
| 1 Mbps | 120 Baht | 350 Baht | 1,200 Baht | – |
| 4 Mbps | 220 Baht | *650 Baht | 1,400 Baht | – |
| 6 Mbps | 270 Baht | 850 Baht | *1,800 Baht | – |
| 10 Mbps | 330 Baht | 1,100 Baht | – | *1,900 Baht |
Unlimited Data Costs Using a Thai SIM Card (AIS)
Remember these deals will NEVER be offered to you in person, you'll have to buy a basic SIM card, top-up yourself and buy a data package using the app. If you're buying a SIM card pre-loaded with data, you'll be charged the tourist price, paying about 100 Baht per GB!
*The prices listed and in the app do not include Thailand's 7% V.A.T. So when you top up make sure you take into account this 7% unlisted cost. So for example the 650 baht package will actually cost you 695 Baht, still, a great deal, although a little misleading.
How To Buy and Set up a Thailand SIM Card The Local Way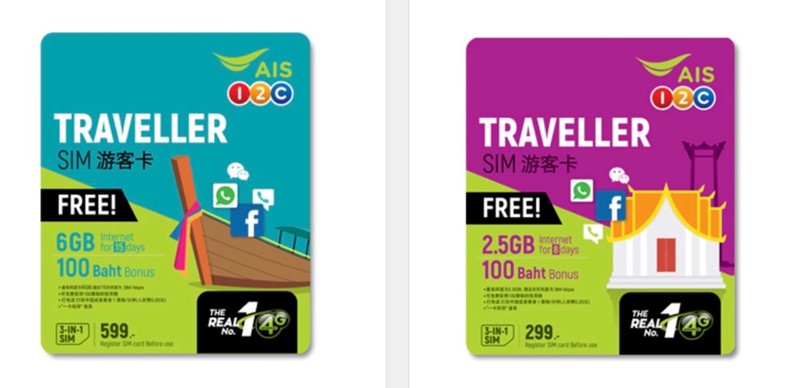 1) Get Yourself An AIS Thai SIM Card
Buy an AIS SIM card. They are sold in independent stores all over Thailand. Phone Case Merchants and Phone Repair Shops will sell AIS SIM Cards. Malls such as MBK in Bangkok too and sometimes travel agents.
Do not buy the SIM cards branded with 'Thailand tourist SIM'. Do not buy a data package from the seller.
You need to buy a basic SIM Card and nothing more. Standard AIS SIM Cards cost 49 THB.
2) Connect To Wi-Fi
Your AIS SIM Card should be inside the phone now. But without a data package, you can't do much, yet.
To buy a data package, you'll need to download the myAIS application and top up your new SIM. Wi-Fi is easy to come by in Thailand find a connection at a hotel or restaurant and download the AIS application. To register all you need is your phone number. Once the app is downloaded navigate to the menus and click on the 'Add a new package' option where you can select an unlimited data plan. But first, you'll need to top up.
*You can set the language of the APP from Thai to English in the top menu.
3) Top Up Your AIS SIM
You can top up directly from the application itself, paying with your debit card. Or at an ATM you can even top up using cash! select the 'Mobile Top Up' option on the ATM menu and choose AIS 1-2-Call then key in your phone number and insert the amount of cash you want to top up into the slot when it opens. The funds will be credited to your account and reflected in the ASI app instantly.
4) Buy Yourself An Unlimited Data Package
Once you've loaded your phone with $20 credit (1,000THB) and set up the network application (myAIS), open the app, hit the package button, and then the 'Apply Internet On Top'. Click on the 'Internet non-stop tab' which is where you'll find all the unlimited data plans. And yes, these plans are actually unlimited! Use it as a hot spot, or for streaming and never worry about your data getting used up.
You have a selection of internet plans based on connection speed and the length of the package. In my opinion, the 4mbps package on a 30-day plan is the best value for money at 650 Baht ($20), but if you need higher internet speeds or a longer plan there are options for you! If you are staying in Thailand longer than a month then for 1,800 Baht ($55) you can get six months of unlimited, max-speed internet. Now that's a good deal!
NEW ONE-YEAR SIM DEAL 2023
AIS has launched a new deal which is the best value for money you can find in Thailand. This Deal can only be purchased in an AIS store in Thailand (not at an AIS Kiosk or Airport Kiosk).
The AIS Super Premium Gold SIM includes a V.I.P. phone number and gives 100GB of data every month for one year. The data rolls over and the download speeds are not capped. This package has an insanely low price, a one-off payment of 1,900 Baht (55US) lasting 12 months! You'll have a whopping 1.2TB of data to use over the year.
So that's everything you could ever need to know about buying a SIM Card in Thailand as a tourist. With a ton of choices, you can avoid being ripped off with a Thailand Tourists SIM Package.
With your Thailand ESIM, all set up you'll have plenty of data to browse through the rest of my blog 😛 There's so much useful content about Visiting Thailand right here. But here are some of my favourite Thailand travel articles to get you excited about your trip!
If you're flying into Bangkok, you can pre-order a SIM card for collection here. Or, if ya' Got any questions about getting a SIM card in Thailand as a tourist? Ask me in the comment section below and I'll be happy to help!