Malaysia is a way bigger country than I first imagined. It's divided into two regions: West Malaysia, which borders Thailand, and East Malaysia, which occupies about half of Borneo Island. I spent over 40 hours planning this two-week itinerary which includes all the must-visit places, for a first-timer- such as Kuala Lumpur, George Town, Langkawi, and Borneo, to see Orangutans in the wild. Planning an itinerary for Malaysia was way more difficult than I expected and over 40 hours of research and planning went into this route. I'm sharing it with you, right here. For free.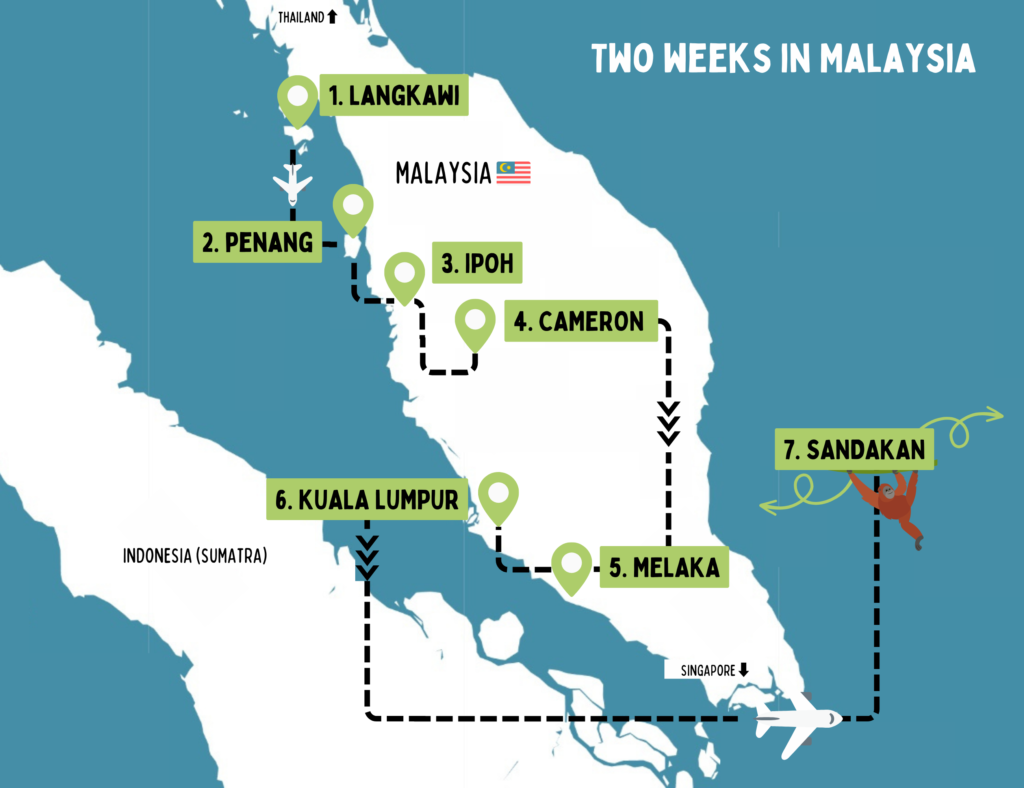 Two Weeks in Malaysia: Itinerary Expectations
In this Malaysia travel Itinerary. Travel cross-country from the north to the south of Malaysia. This two-week itinerary starts on Langkawi, a dreamy island, where you can ride the cable car, cruise through the mangroves, and relax on the beach. Then head south to George Town, Penang, to marvel at the street art, before leaving the islands for mainland Malaysia. Ipoh is the next stop, where you can taste all the famous flavours. From Ipoh, take a bus to the Cameron Highlands, where you can enjoy a day of hiking in the cool climate.
Then ride the bus south to Kuala Lumpur, where you can rent an apartment with a rooftop pool and visit the Batu Caves and Petronas Towers. Next, to Melaka for the famous Jonkers Street Night Market, see the historic sights, and taste all the food. Finally, take a budget flight to Sandakan, Borneo, to see orangutans at the Sepilok Center and take a wildlife boat ride along the Kinabatangan River. This two-week itinerary finishes at Kuala Lumpur International Airport, where you can catch a flight to your next destination.
There are seven overnight destinations on this trip. You need a minimum of two weeks to complete this itinerary, but a little bit longer would be ideal. It took us 17 nights to see everything comfortably. Which was two weeks in West Malaysian + three nights in Borneo. The itinerary can be tweaked to your needs by adding or removing places dependent on how much time you have. In Malaysia, it's easy to move around quickly on the bus or train network. Because places are near to each other travel time doesn't eat into the trip too much.
My two-week Thailand itinerary is available here. The best part is that you can easily combine it with this two-week Malaysia itinerary. The two itineraries start and end in the same place, so you can seamlessly transition from one adventure to the next.
Best Places to Visit in Malaysia
I've taken countless trips to Malaysia, over the years (ok, I counted, it's nine times). But all these trips had been for work, I'd never ventured further than Kuala Lumpur, or Penang. I decide to visit Malaysia again, on my own terms. This time I would create an itinerary to see as much as was reasonably possible.
I began this itinerary by handpicking and researching 12 destinations in Malaysia that captured my interest. I've listed my original shortlist below, which can serve as an excellent starting point for creating your own itinerary.
Most of these places are located in Mainland Malaysia, while a few are in Bornean Malaysia(*). Now, let's be real – two weeks was never going to be enough time to see everything. So I had to make some tough choices and trim down the list to just six destinations.
The Original Shortlist:
Langkawi Island
Penang (George Town)
Cameron Highlands
Ipoh
Malaka
Sandakan (and Sepilok)*
Genting Highlands
Perhentian Islands
Kota Kinabalu (Mount Kinabalu)*
Selingan (Turtle) Islands*
Taman Negara
Kuala Lumpur
There were six places which made the final itinerary and six which I decided to skip. I plan to revisit Malaysia on another trip to climb Mount Kinabalu and visit the nearby Turtle Islands. I skipped Penang, as I had been there before, and the Perhetian Islands due to the distance. The Genting Highlands were included as a day trip from Kuala Lumpur.
Places we Visited
(anked for best to worst)
Places we Skipped:
Genting Highlands – Day Trip
Penang – Skipped (had been before)
Perhentian Isles – Skipped (too far)
Mount Kinabalu – Skipped (this time)
Turtle Islands – Skipped (expensive)
Taman Negara – Skipped
Malaysia Two Weeks Itinerary: The Short Version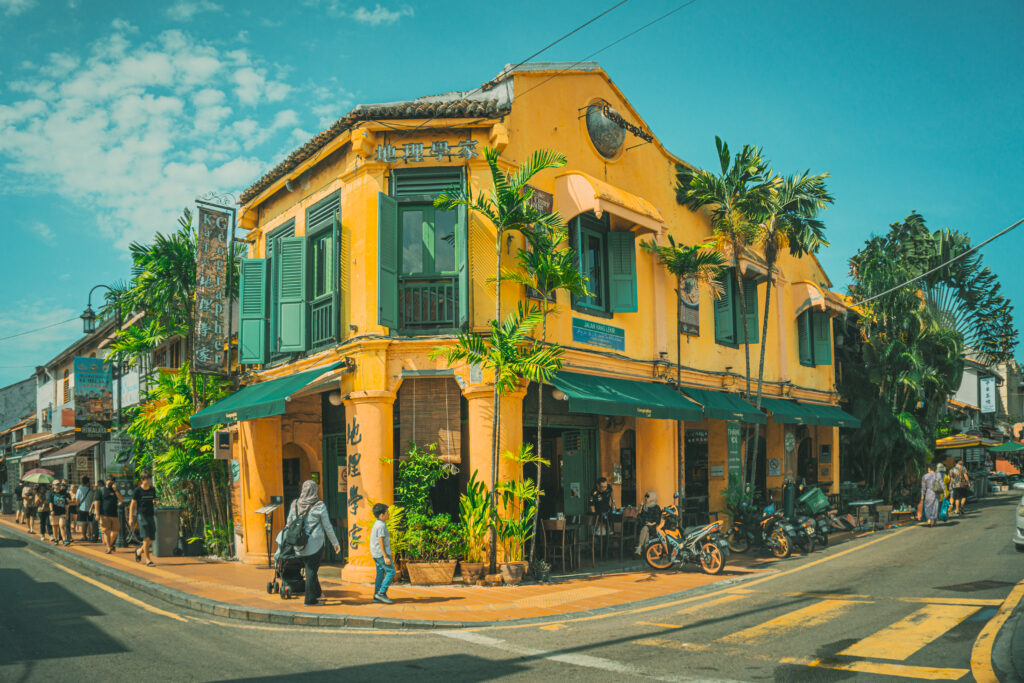 Note: I included George Town, Penang on my original itinerary but decide to skip the island during the trip; because I had visited before. But it can be included on this itinerary between Langkawi and Ipoh.
Night 1 – Langkawi: Arrive in Langkawi
Night 2 – Langkawi: Explore Langkawi, Rent Scooters, Ride the Cable Car, the Skybridge
Night 3 – Langkawi: Take the Langkawi Safari Cruise
Night 4 – Ipoh: Visit Tambun Hot Springs
Night 5 – Ipoh: Ipoh Heritage Train and Food
Night 6 – Ipoh: Mirror Lake, Kellies Castle, and Sam Pong Temple
Night 7 – Cameron Highlands: Eat a Steamboat Dinner
Night 8 – Cameron Highlands: Hike in Tanah Rata, see the Tea Plantations.
Night 9 – Melaka: Jonkers Stree Market
Night 10 – Melaka: Heritage Trail and Red Square
Night 11 – Melaka: Melaka River Cruise and the Straits Mosque
Night 12 – Kuala Lumpur: The Batu Caves, Petronas Towers and Jalan Alor
Night 13 – Kuala Lumpur: KLCC Park, Bukit Bintang, Petaling Street, Chicken Clay Pot
Night 14 – Kuala Lumpur: Day Trip to the Genting Highlands
Night 15 – Sandakan: Sandakan Memorial Park and Heritage Trail
Night 16 – Sandakan: Kinabatangan River Cruise
Night 17 – Sandakan: Sepilok Orangutan Center
Day 18 – Fly Home: via Kuala Lumpur (eat Nandos at the airport)
Langkawi Island is the first stop, and it's where we started our itinerary in Malaysia. In the full guide, I'll lay out how we spent the next two weeks, (17 days), travelling south across Malaysia. We started in the north, at Padang Besar. We stopped at islands, historic towns and even caught a flight to Borneo along the way. Before finally reaching Kuala Lumpur as the last stop.
💵 How Much Does Malaysia Cost For Two Weeks
How much does this itinerary cost? We travelled this route in 2023, and this is how much we spent.
Our costs averaged out at around 240 MYR per day, which is around $50 US, or £40 UK.
We spent 4,100 MYR in total for our trip to Malaysia, which is around $700 US or £550 UK. This was the total amount we spend for two people to complete everything listed in this itinerary. It includes our travel insurance, all our transport around Malaysia and return flights to Borneo, all our tours, all our food, and all our accommodations and hotels. We visited seven different locations.
This amount does not include flights to and from Malaysia, because that cost will be different for everyone, depending on where you start from. We started our trip from Thailand and arrived on the train.
Our budget per night for accommodation was set at 100 MYR. Although some rooms were cheaper, and our apartment in Kuala Lumpur was more expensive. Food costs are around 20 MYR for a meal in a local restaurant. An average bus ticket would cost about 10 – 40 MYR. You could spend less than this if you went ultra-budget. Staying in hostels and eating 100% local could bring the cost down to about 3,000 MYR.
Malaysia Two Weeks Itinerary: The Full Version
0️⃣ Day Zero – Travel to Malaysia. After two weeks of exploring the south of Thailand, we crossed the border to start our next adventure. We took the sleeper train from Bangkok to Padang Besar, a small town on the Thai/Malaysian border. From there, we entered Malaysia and travelled a few kilometres to Arau, where we caught a boat to Langkawi.
If you want to follow our itinerary, you'll need to start your trip in Langkawi. It's easy to get to Langkawi from Thailand, either by train or speedboat. If you're coming from anywhere else, you'll need to fly into Kuala Lumpur Airport and then take a connecting flight to Langkawi. Flights from Kuala Lumpur to Langkawi typically cost around 150 MYR, (£25).
🇲🇾 Start Here 🇲🇾
📍 Langkawi – 3 Nights (First Destination)
Langkawi was one of my favourite destinations in Malaysia, it's somewhere I can defiantly see myself returning. There is a lot to do in Langkawi and it's an island which is set up to cater to tourists. Sometimes it's nice to visit a more holiday-orientated place and chill out.
Langkawi is a pretty island too, located no more than a few Kilometers from Thailand's Andaman Islands means there are plenty of stunning beaches to hang out on. There is a massive choice of different boat tours you can do, to other islands and around Langkawi at sunset. Plus the cable car ride and the sky bridge are considered must-do activities in Malaysia.
Did I mention the entire island has a duty-free status? Alcohol prices are cheap on the island and places like Pantai Cenang Beach are a haven for nightlife.
Accommodation: Pantai Cenang is the best area to stay, at Langkawi.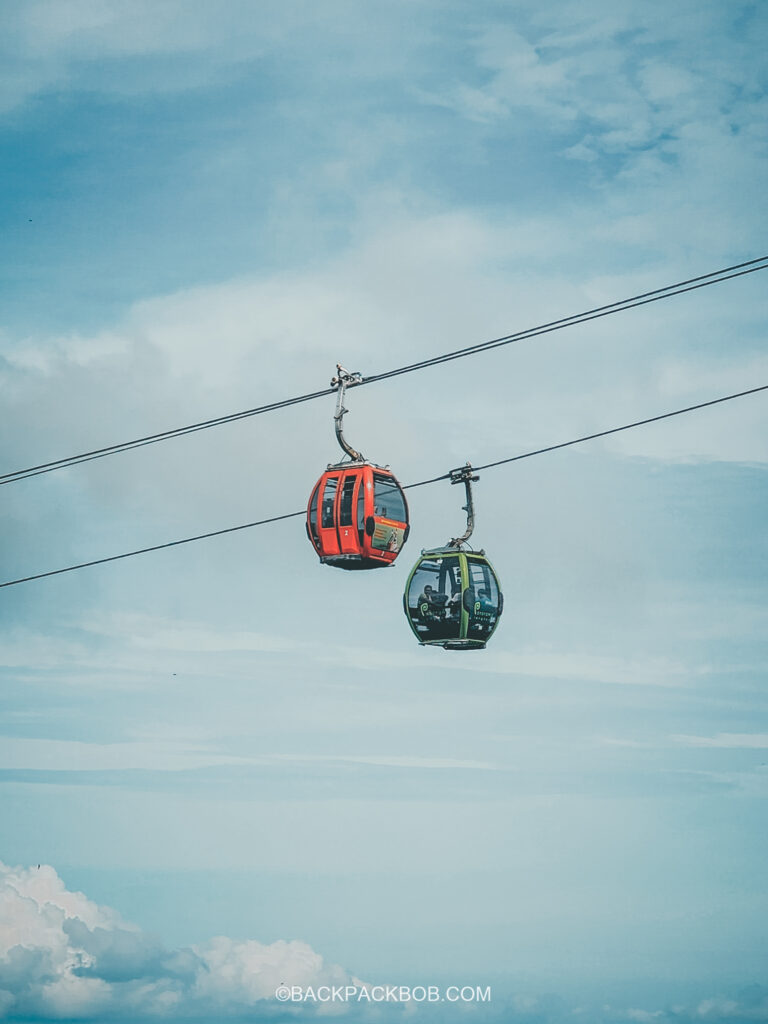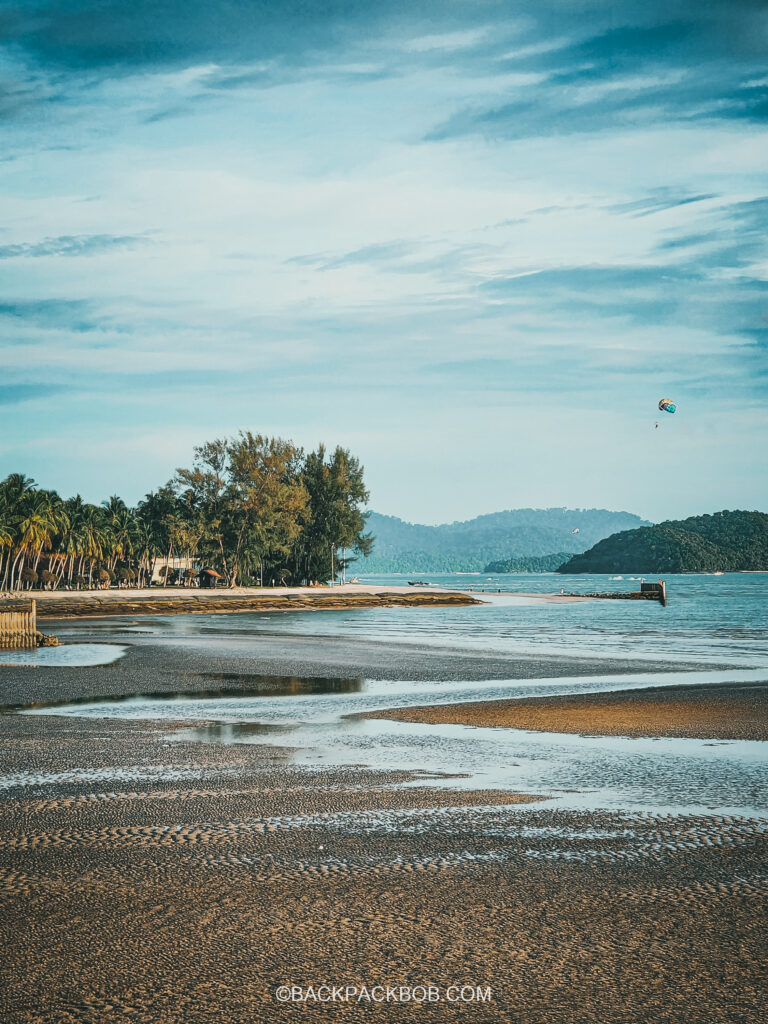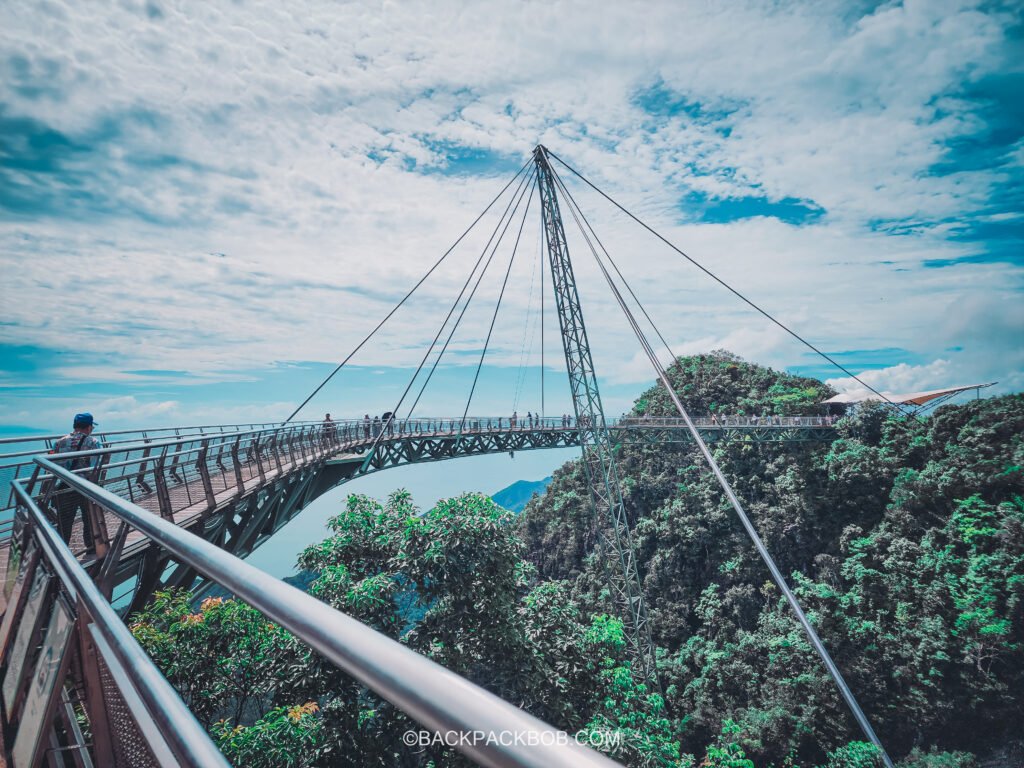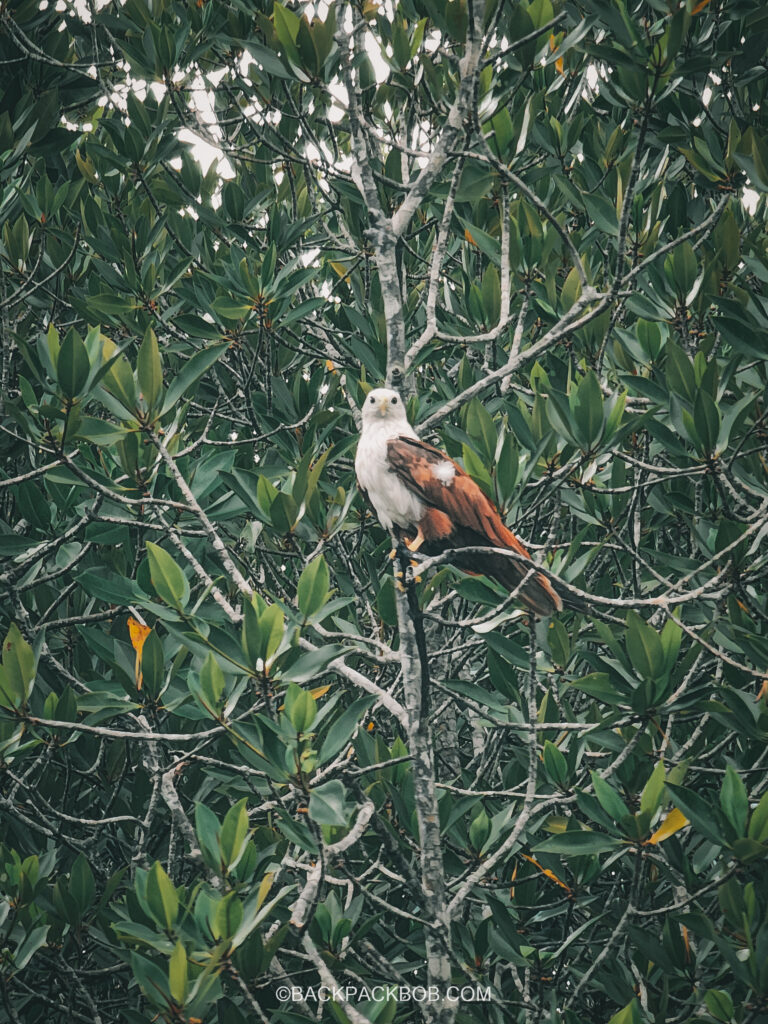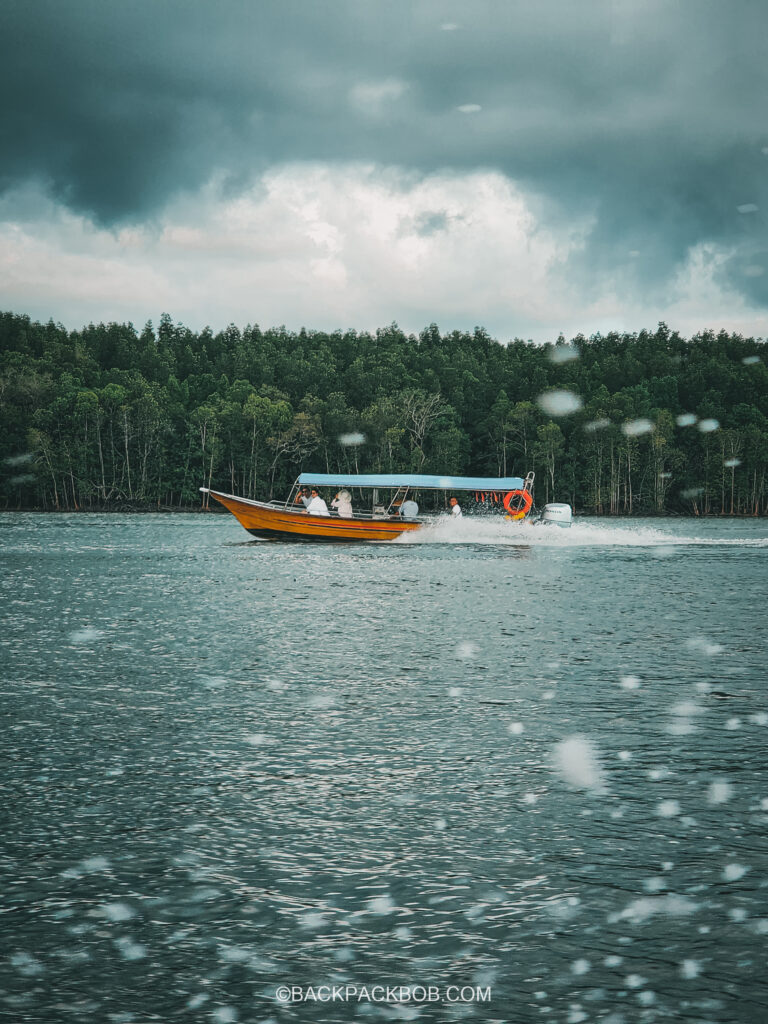 Langkawi was a much bigger island than I had anticipated and there are tons of things to do here. We spent three nights in Langkawi as the first stop on our trip to Malaysia. It was enough time, but an extra day in Langkawi would have been nice. We rented scooters to ride around and see all the different attractions and beaches, which cost us 30 MYR for 24 hours.
Read my full guide for things to do in Langkawi here ➡
🕺 Best Things To Do:
1️⃣ Day One – Arrive in Langkawi: Night 1 of 3
After a short taxi ride to arriving just before sunset.
Having travelled from Thailand, we crossed the border at Padang Besar, caught the train to Arua, and then after taking a short taxi to Kuala Perlis Harbour, we snuck onto a ship to Langkawi. We arrive at sunset and there wasn't much time left to do much more than check into our hotel, eat dinner and sink a few beers on the beach.
2️⃣ Day Two – Langkawi: Night 2 of 3
We woke up in Langkawi, Malaysia, feeling refreshed and ready to start our itinerary. We had a great view of the sea from our hotel room at Pantai Cenang Beach.
We were excited to visit the Langkawi Sky Bridge, one of the island's most iconic landmarks. After a short walk into town, we rented scooters for 30 MYR per day and drove 30 minutes or so, to the cable car station. Combo tickets for the Langkawi cable car and skybridge cost 60 MYR per person. The views from both the cable car and the skybridge were simply breathtaking.
3️⃣ Day Three – Langkawi: Night 3 of 3
We chose to do the Langkawi Mangrove Boat Tour, on our second full day. It was one of the most fun tours we did on our entire trip to Malaysia. There are a lot of other boat tours in Langkawi to choose from, such as the island hopping tour, or a sunset cruise. The tour was a half-day package in the morning. So we were able to spend the afternoon hanging out at the beach.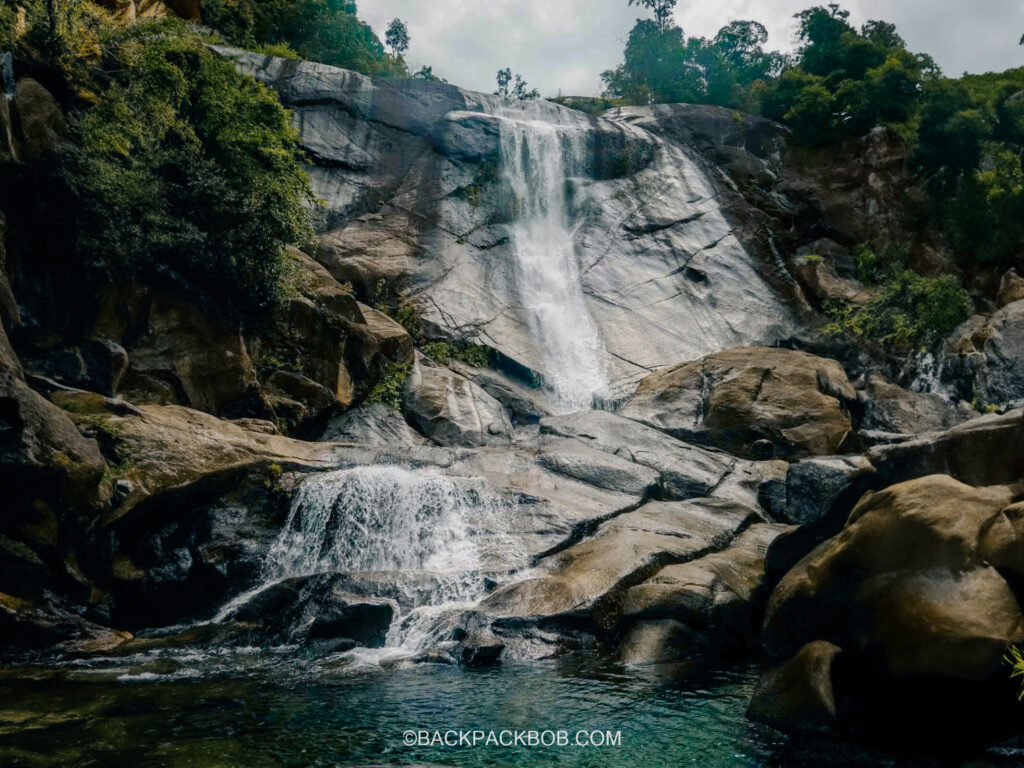 🏨 Where to Stay in Langkawi
Pantai Cenang is the best area to stay in Langkawi. There are many affordable hotels, a long, sandy beach with clear waters, as well as a wide range of restaurants, bars, and shops, catering to tourists. Pantai Cenang is near the airport and around 30 minutes from the main town of Kuah.
📍 Penang – [Skipped]
Penang and Georgetown are popular places in Malaysia. Initially, I included it on my itinerary but later decided to skip the island because I had been there before, for business trips, in the past. But if you wanted to include Penang on your Malaysia Itinerary then you can slot it in between Langkawi and Ipoh.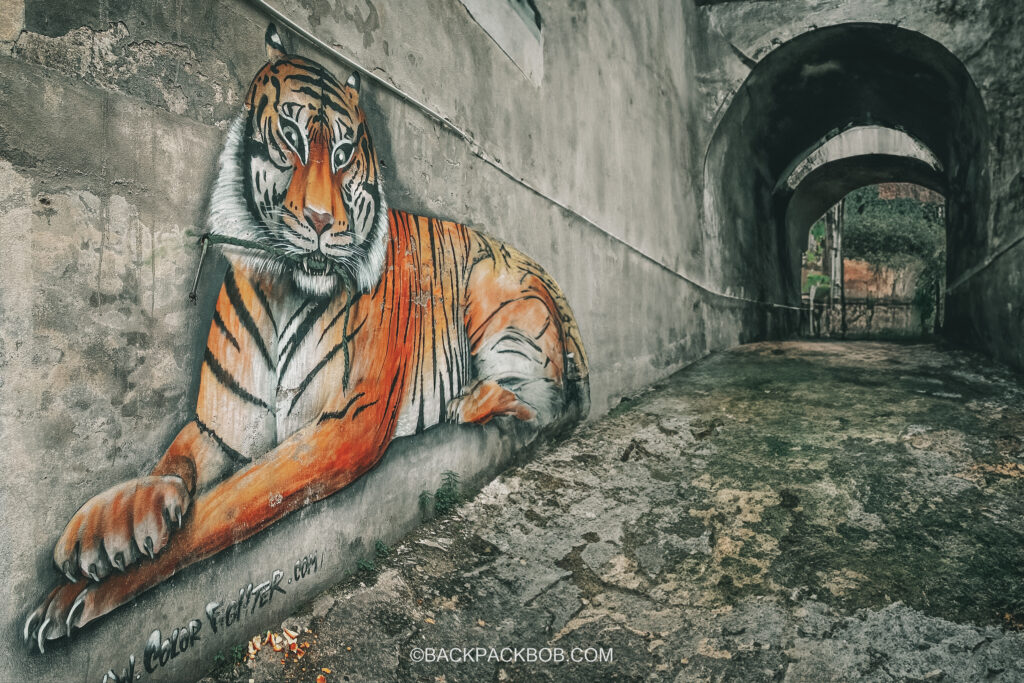 There used to be a ferry operating from Langkawi to Penang, but the route was suspended during the 2020 shutdowns and never reopened. You can take a flight from Langkawi to Penang instead. There are 17 daily departures with a flight time of 40 minutes. Tickets cost around 30-100 MYR, but if you want to save money, take the boat from Langkawi to Kuala Perlis, then take the bus to Butterworth and the passenger boat to Penang.
📍 Ipoh – 3 Nights (Second Destination)
Ipoh is a charming city in Malaysia, it's often overlooked by tourists despite the town's reputation for its delicious food, historical landmarks, and vibrant street art. The old town is the best area to stay in Ipoh, as many of the city's most popular attractions are within walking distance, such as the Ipoh Railway Station, Concubine Lane, and the Birch Memorial Clock Tower.
Visitors to Ipoh should enjoy the wide variety of local cuisines, including Ipoh white coffee, chicken bean sprouts, and salted chicken. The people of Ipoh are friendly and the town feels so inviting towards visitors. Some of the best things to do in Ipoh include visiting Kellie's Castle, exploring the Gua Tempurung caves, and stopping by the Mirror Lakes to take some Instagram Photos.
Accommodation: Ipoh Old Town is the best area to stay, in Ipoh.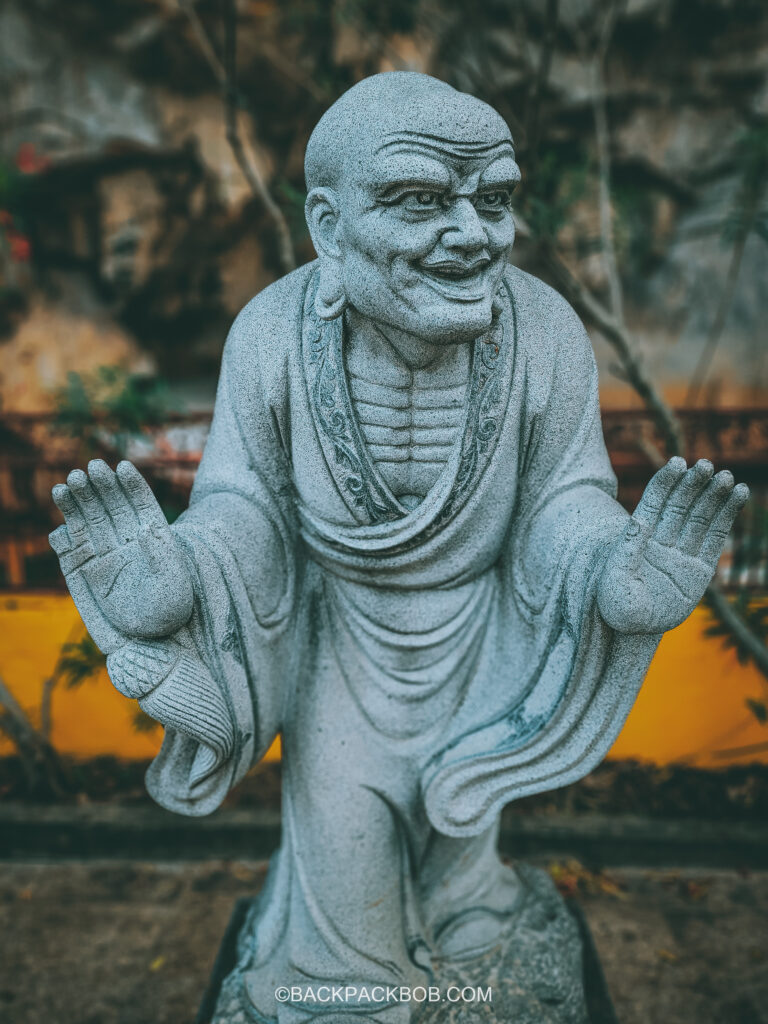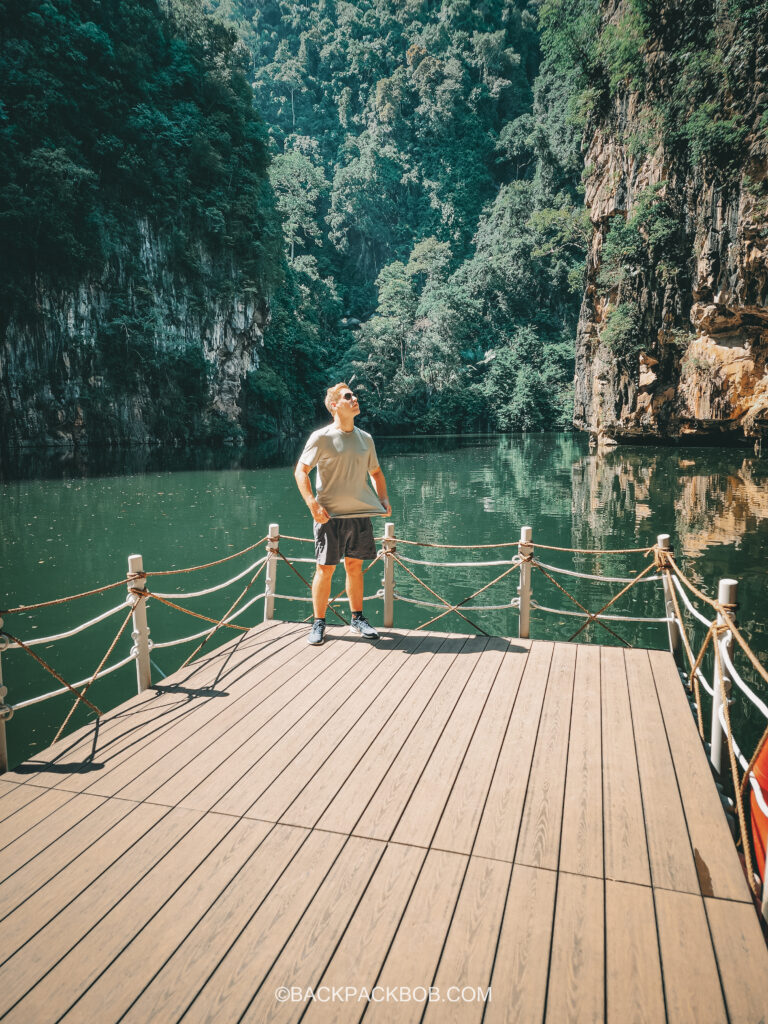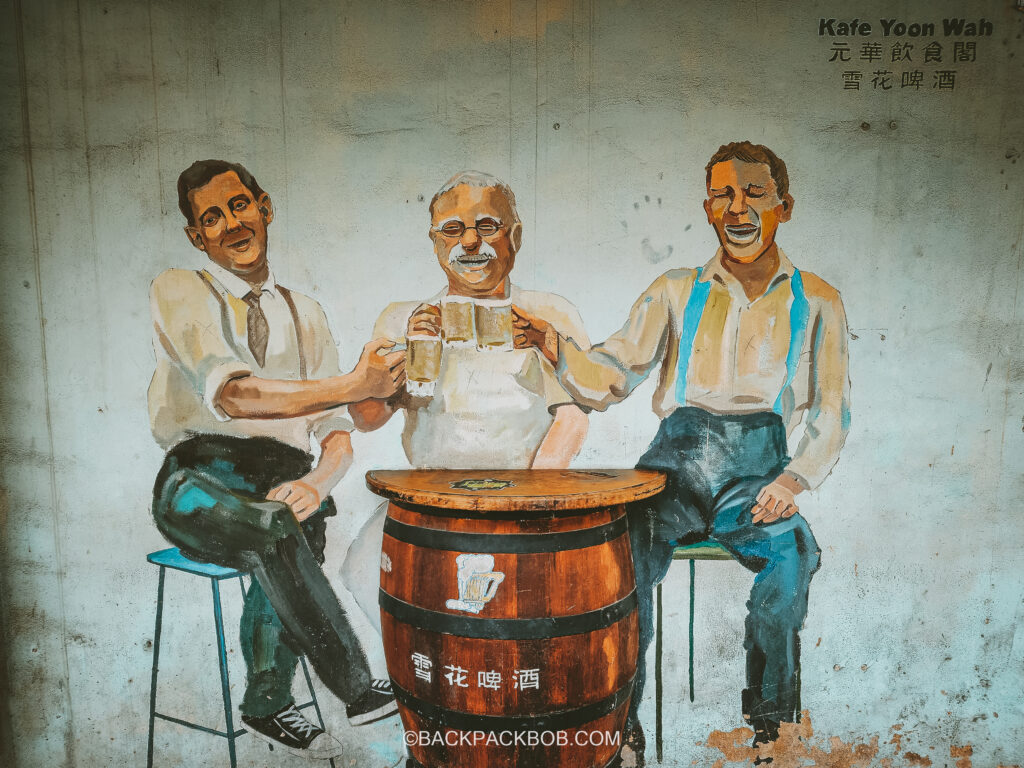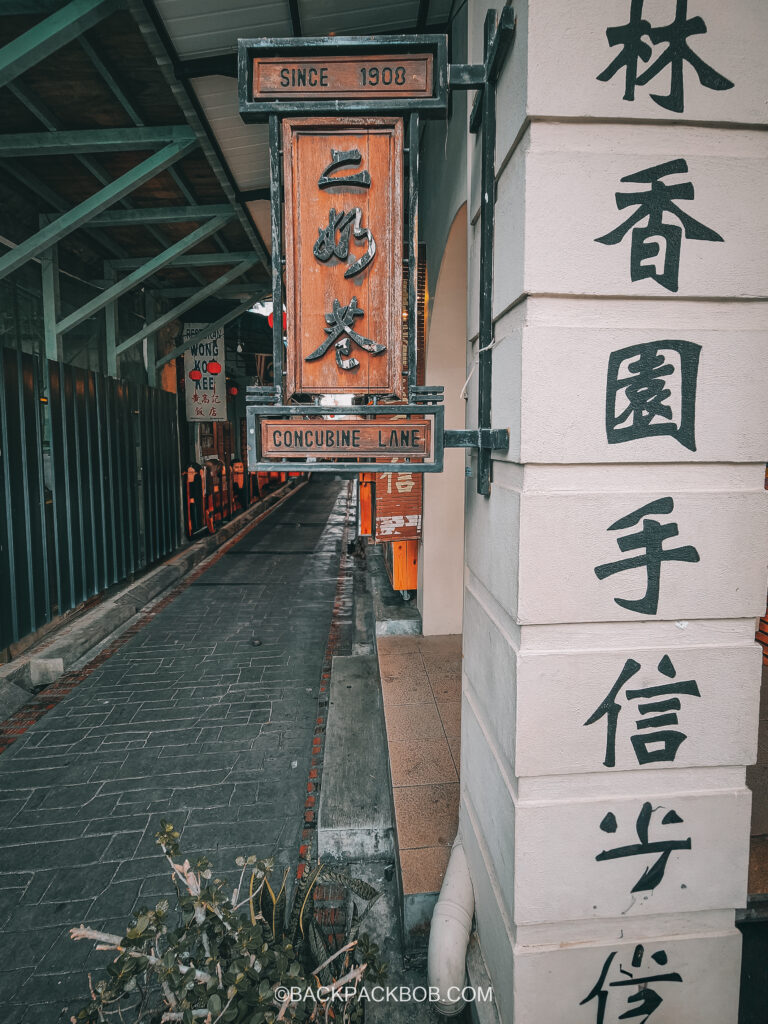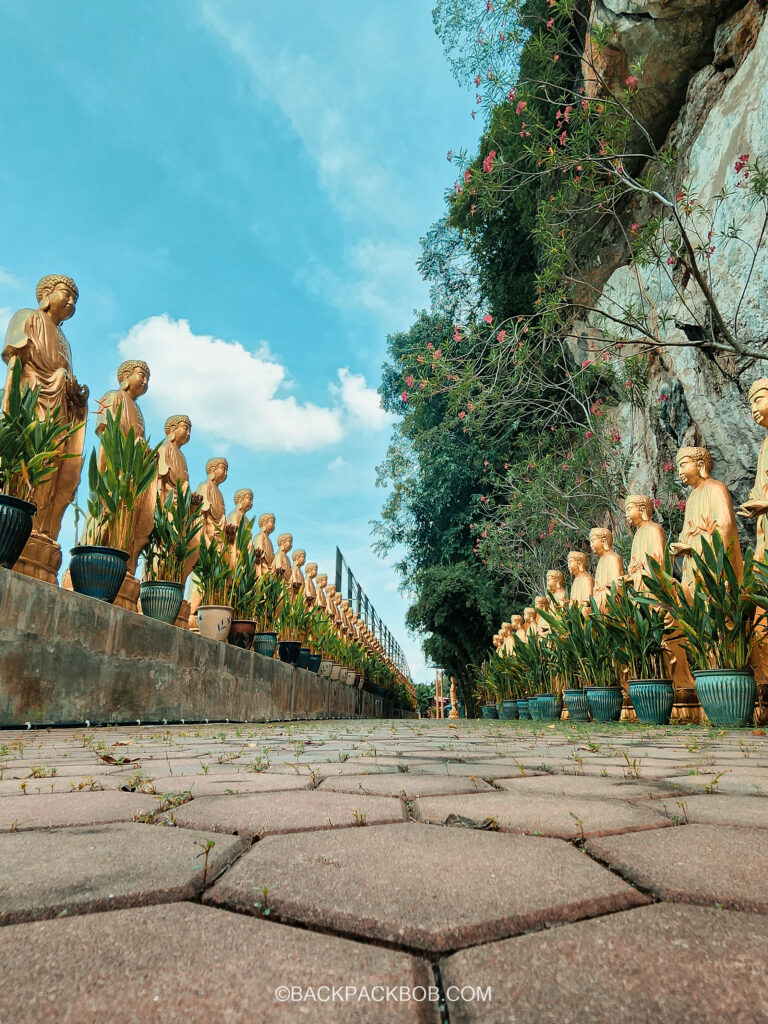 ✈ How to get from Langkawi to Ipoh
Boats leave Langkawi from Kuah Pier and arrive at Kuala Perlis in mainland Malaysia. From Kuala Perlis Pier, you can take a bus direct to Ipoh. The bus station is a few minutes walk from the pier and the bus takes around 3 hours. Boat tickets cost 27 MYR and bus tickets cost 16 MYR.
Read my full guide for things to do in Ipoh here ➡
🕺 Best Things To Do
Ipoh Heritage Trail (includes, Concubine Street)
Mirror Lakes (Tasik Cermin)
Eat all the food in Ipoh
Visit Sam Poh Tong and the other Chinese Temples
4️⃣ Day Four – Ipoh: Night 1 of 3
I arrived in Ipoh late in the afternoon, so there wasn't much time to explore on the first day. However, we had heard about the Ipoh Hot Springs, which are open late into the night, at a local theme park called the Lost World of Tambun.
Brilliant. It sounded perfect after a long day travelling. So we e-hailed a Grab and arrived about 30 minutes later. It was a little expensive, with tickets costing 90 MYR, but it was worth it. There are 12 naturally heated hot-sping pools at Tambun and you can access them all with one ticket.
5️⃣ Day Five – Ipoh: Night 2 of 3
We had two full days in Ipoh and decided to split our time. We'd spend one day exploring all the spots we could walk to in the Old Town and the next day we'd venture to all the places further out.
The town itself is charming as we found out while we walked the Heritage Trail, which leads you around the most iconic landmarks in Ipoh, taking 4 hours to complete. The trail is signposted and includes the train station, the Birch Clock Tower, Concubine Street and more.
We also learned why Ipoh has such a reputation for the best food, after sitting down in the evening to try the famous Ipoh Salted Duck. Yum.
6️⃣ Day Six – Ipoh: Night 3 of 3
Saving the best for last, on our final full day in Ipoh and we ventured further outside of the town. There were three main places on our hit list. These were Kellies Castle, the Mirror Lakes (otherwise known as Tasik Cermin), and the Sam Pong Chinese Temple.
The Sampong Temple and Mirror Lakes are nearby, it's only a 5-minute drive from one to the other.
We had considered renting scooters to get around. But as Grab was so cheap and reliable in Ipoh that there was no need. We just hailed a ride whenever we wanted to get from one place to the next and never had to wait more than a few minutes.
Dinner was an Indian Buffet, and again, Ipoh kept its reputation for the best food in Malaysia.
🏨 Where to Stay in Ipoh
The Old Town is the best area to stay in Ipoh it's the heart of the city, and it's where you'll find the popular landmarks and attractions, most of which are walkable. Look for hotels near or around Memory Lane, which is central.
There are a lot of really cheap hotels in Ipoh, which are also really nice. But the catch is that the cheaper hotels are outside the old town. It is worth paying extra to have a hotel in the centre of the old town.
The Hotel We Stayed At – Pi Hotel [80 MYR]
Recommended: It was alright. I'm still not sure if it's pronounced as 'pie Hotel' or 'p-i Hotel'. Either way, it was in a great location. Despite the place being a little run down, it was affordable and bearable for a few nights.
Recommended Hostel – The Brownstone Hostel & Space [60 MYR]
A former laundry house converted into an upscale hostel in the centre of Ipoh. The Brownstone has multiple common areas and is the most social hostel in Ipoh if you want to meet other travellers.
Recommended Hotel – Abby by The River Hotel [85 MYR]
This was our second choice for a hotel in Ipoh, and I regretted not staying here. It's centrally located in the old town and right next to the river. The rooms look more modern.
Cameron Highlands is a popular tourist spot in Malaysia. It's known for having a cool climate, lush tea plantations, stunning views and vibrant strawberry farms. Sadly the Cameron Highlands didn't meet those glamorous expectations and it was actually the dirtiest place we went to. Trash lined the streets and pilled up in the forests. There are constant construction works which as a result have killed the natural beauty, and there is a clear problem with over-tourism, which no one wants to address. It might have become apparent that I didn't like the Cameron Highlands much.
And that's before I have even started on how expensive things are, and how difficult it is to get around. Taxi fares are monopolised, drivers charge rates which are more than ten times higher than in Kuala Lumpur, there is no Grab, and scooter rentals can only be arranged from the taxi firm, (for an extortionate hourly rate).
However, I did enjoy some things about the Cameron Highlands, the cool climate was a pleasant change, (just make sure to bring something warm to wear). The hiking trails are free (if you can get there; many trails have been blocked due to construction work). But the best thing about Cameron is the popular Malaysian cuisine called 'steamboat' which is served everywhere. It's a delicious cuisine where you cook meats, soup and veg in a hot pot at your table.
Accommodation: (IMPORTANT) To avoid a 90 MYR Taxi Fare. Make sure to find accommodation in Cameron Highlands within walking distance of the Tanah Rata Bus Terminal.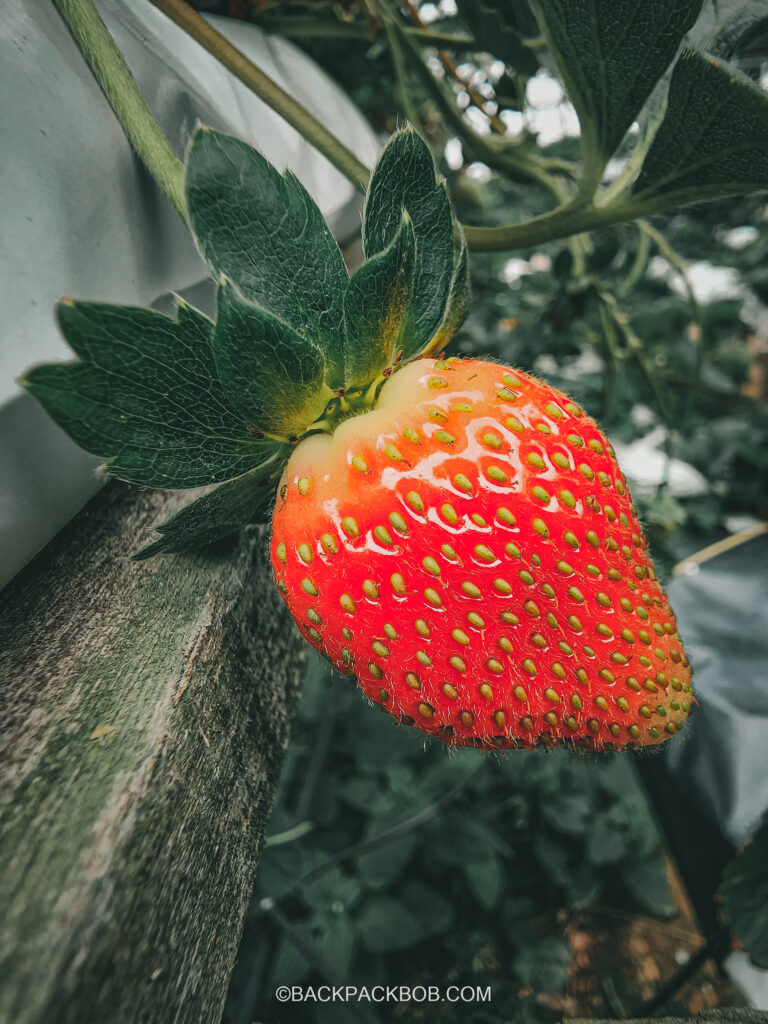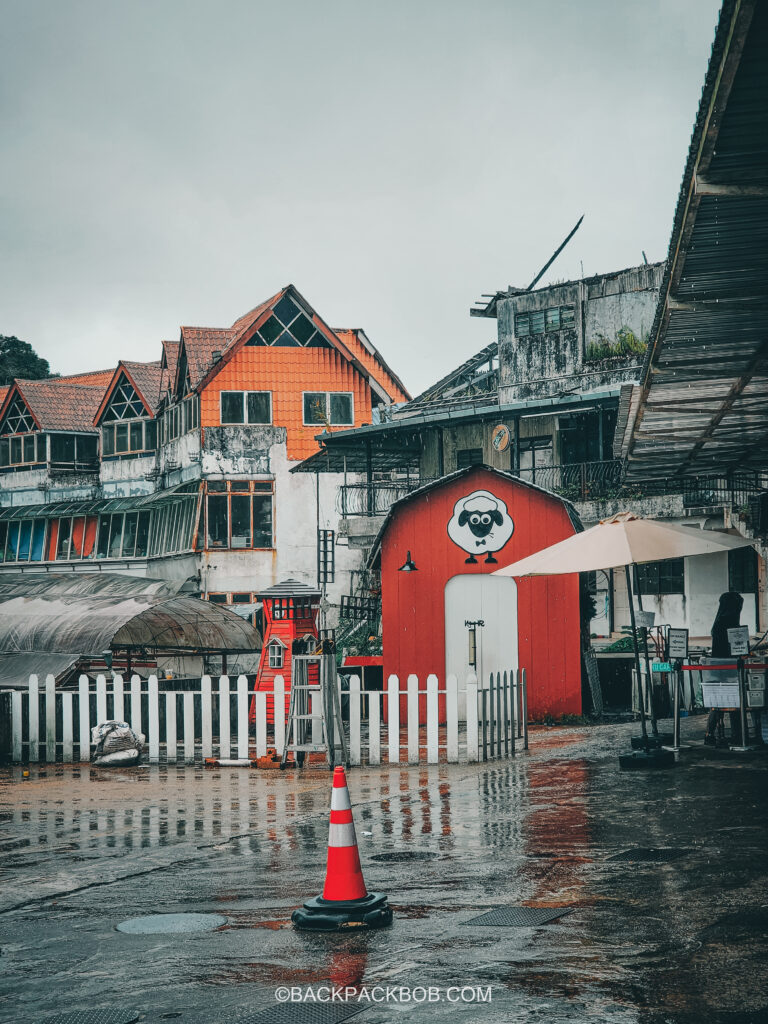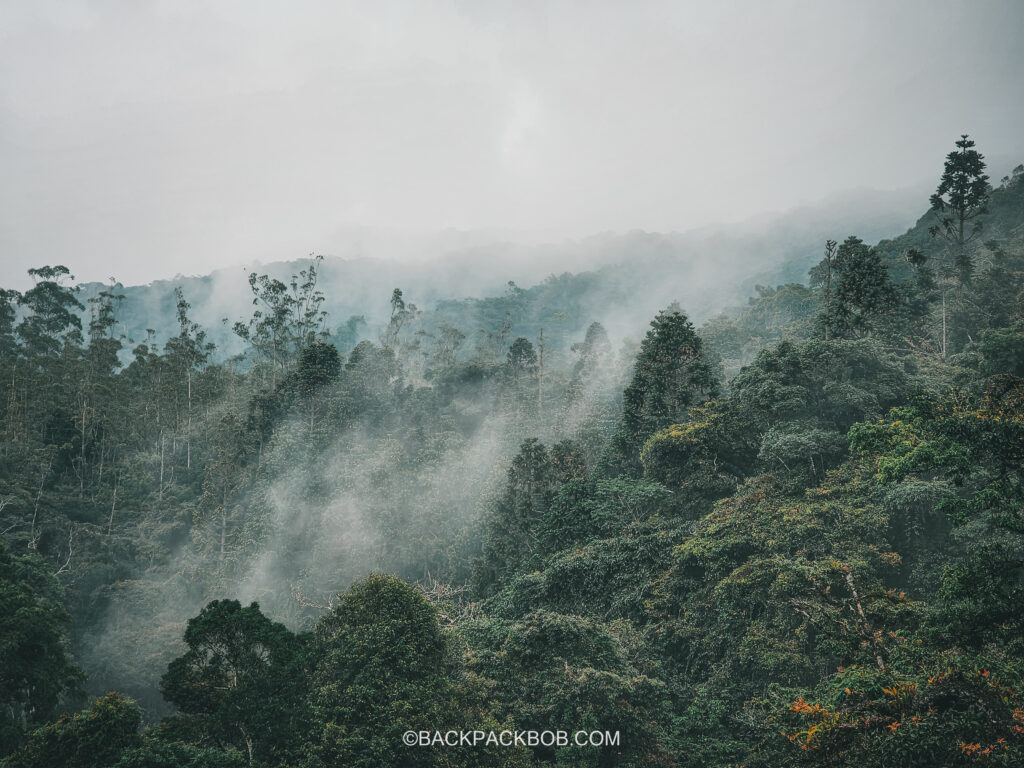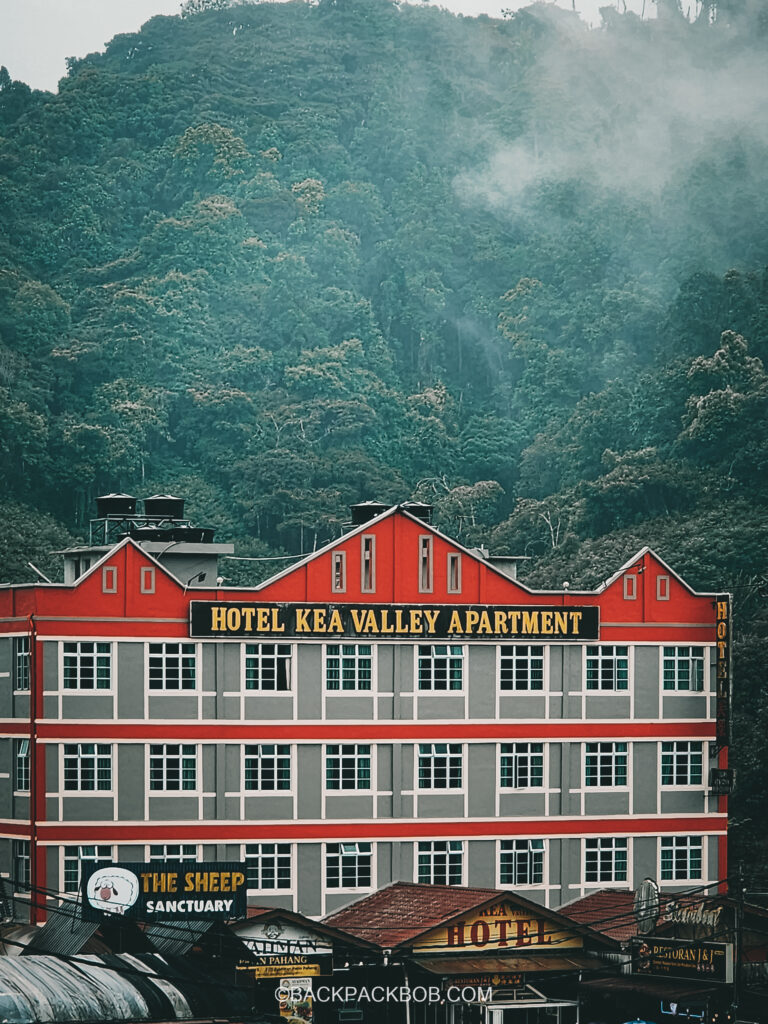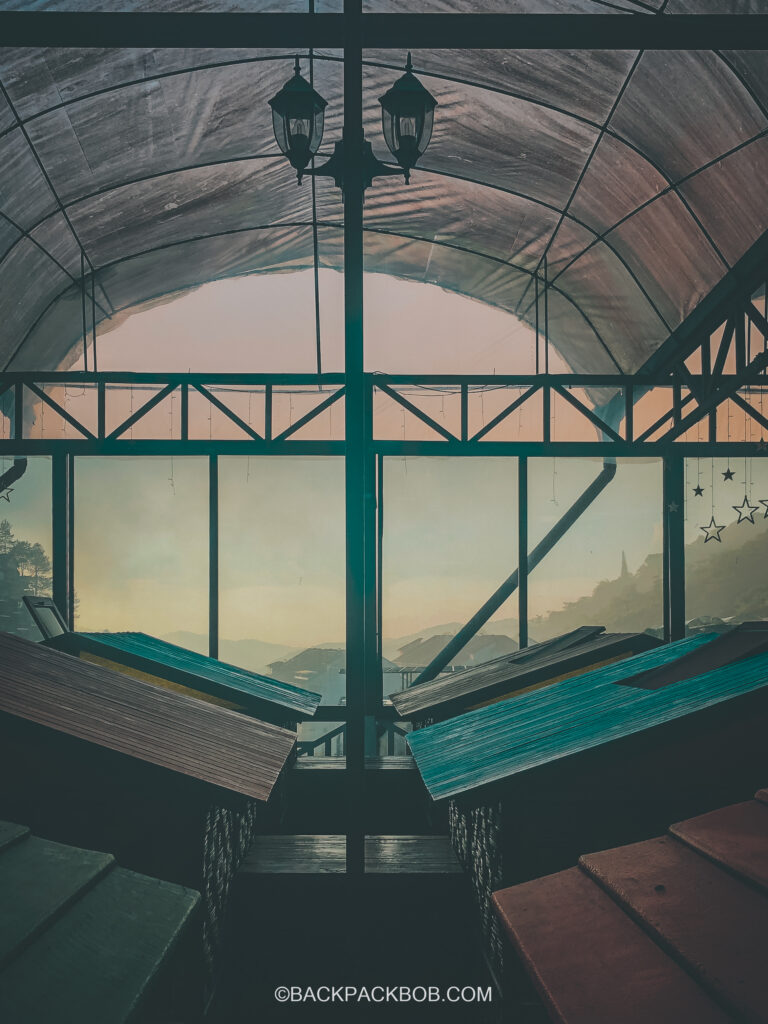 Read my full guide for the Cameron Highlands here ➡
✈ How to get from Ipoh to Cameron Highlands
From Ipoh, you can catch a bus from the Armanjaya Bus Terminal to the Tanah Rata Bus Terminal in the Cameron Highlands. There are multiple companies that operate the route and there are 5 – 10 buses each day. The journey takes 90 minutes and a ticket should cost 10 – 20 MYR. You can book tickets here.
A better choice is to rent a car in Ipoh and drive the 90 minutes to Cameron Highlands yourself. Having your own car makes it much easier to get around and there are many rental companies in Ipoh.
🕺 Best Things To Do
Hiking in the Highlands (Trail 10, and Trail 6)
Visit the Mossy Forest
Brinchang Night Market
Cameron Highlands Tea Plantations
Eat a 'Steamboat' Dinner
7️⃣ Day Seven – Cameron Highlands: Night 1 of 2
There was some debate on whether to include the Cameron Highlands in my Malaysia Itinerary or not. In hindsight, we should have skipped it, but as it's such a popular place and because it was near Ipoh, we settled on making a quick 2-night pitstop.
On the first day we arrived, we found our accommodation, checked-in, in the afternoon and had a walk around the town and the local markets. The cactus market is massive. I would have loved to have brought one, but I'm not sure about the rules about taking cacti on an aeroplane.
In the evening we found a local steamboat restaurant and ate an unlimited buffet for 25 MYR. Which was delicious. Over dinner, we formed our hiking plans for the following day, downloaded offline maps on all-trails, and planned out our hiking route before catching some zeez.
8️⃣ Day Eight – Cameron Highlands: Night 2 of 2
Hiking in the Cameron Highlands. It's the best way to avoid the tourist circus and experience the beauty of this luscious region. There are 12 official trails, ranging from easy to challenging, although some are poorly maintained and no longer accessible. A recommended beginner/semi-moderate hike is Trail 10 and Trail 6.
Trail 10 starts in Tanah Rata and winds its way up to the summit of Gunung Jasar, the second-highest mountain in the Cameron Highlands. The hike is about 4 kilometres long and takes about 2 hours to complete. The trail is well-maintained and easy to follow.
Trail 6 connects with Trail 10 at the trailhead, and can be used as a path back to the town. The hike is about 2 kilometres long and takes about 1 hour to complete. It is still easy to follow. And ends up at the iconic Boh Tea Plantations.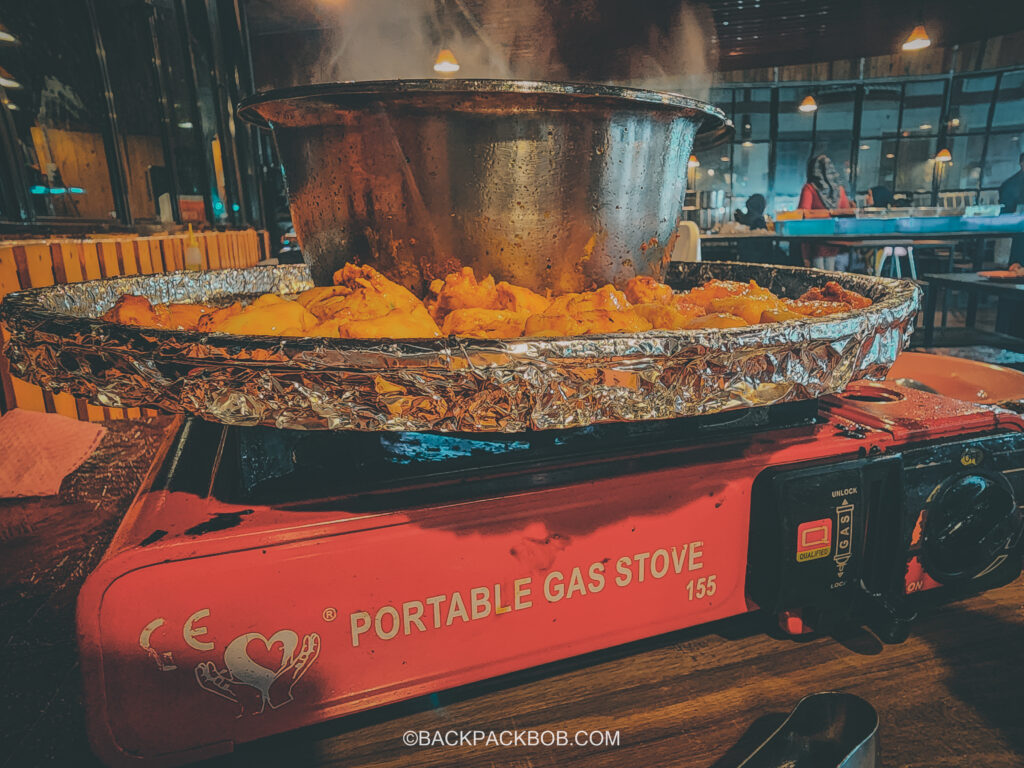 🏨 Where to Stay in the Cameron Highlands
Tanah Rata is the best area to stay in Cameron Highlands. It's the main town, where most hiking trails start, the bus station is located, and it's where most attractions are. If you want to avoid expensive taxis, it's a good idea to book a hotel within walking distance of the bus station. Taxis in Cameron Highlands have a minimum fare of 90 MYR and rates are set by the hour rather than distance. There is no Grab, or buses in Cameron Highlands either.
The Hotel We Stayed At – Kew Valley [90 MYR]
Recommended: No. We had a 'mini-challet' with a beautiful view, a nice idea in theory, and a good price. However, the hotel is too far from the town and is very noisy with kids running and screaming until late.
Recommended Hostel – Travel Bunker [45 MYR]
This is the most sociable hostel in the Cameron Highlands and the location is perfect, in the centre of Tanah Rata Village.
Recommended Hotel – Zenith Cameron [350 MYR]
This beautiful hotel is where we should have stayed, and I regret it. The prices are a little higher, but the location is great. You'd spend more on taxi fares if you're more than walking distance from the town.
📍 Melaka – 3 Nights (Fourth Destination)
Melaka is a charming town in Malaysia, with a quirky and upbeat atmosphere. It was the place I liked most in Malaysia. And I'll definitely visit again. The people are friendly and welcoming, and there is always something to do. Melaka quickly became one of my favourite places in Malaysia. The city was once a major trading port, and its diverse influences are reflected in its architecture, food, and people. Melaka is now a UNESCO World Heritage site which has a friendly and relaxed atmosphere.
The best time to visit Melaka is on a weekend when the Jonker Street Night Market is in full swing. Other popular attractions in Melaka include the Dutch Red Square, which is home to many historical buildings, including the Stadthuys and the Melak Christ Church.
You can also take a Melaka River Cruise to see the city from a different perspective. Or visit the beautiful floating Mellaca Straits Mosque which is lit up at sunset. And if you're looking for a place to relax and enjoy a drink, head to one of the charming riverside bars, where I found almost-British fish and chips, and drank cheap beer.
Accommodation: Melaka Town is the best area to stay, in Melaka. Look for accommodation near the Dutch Square.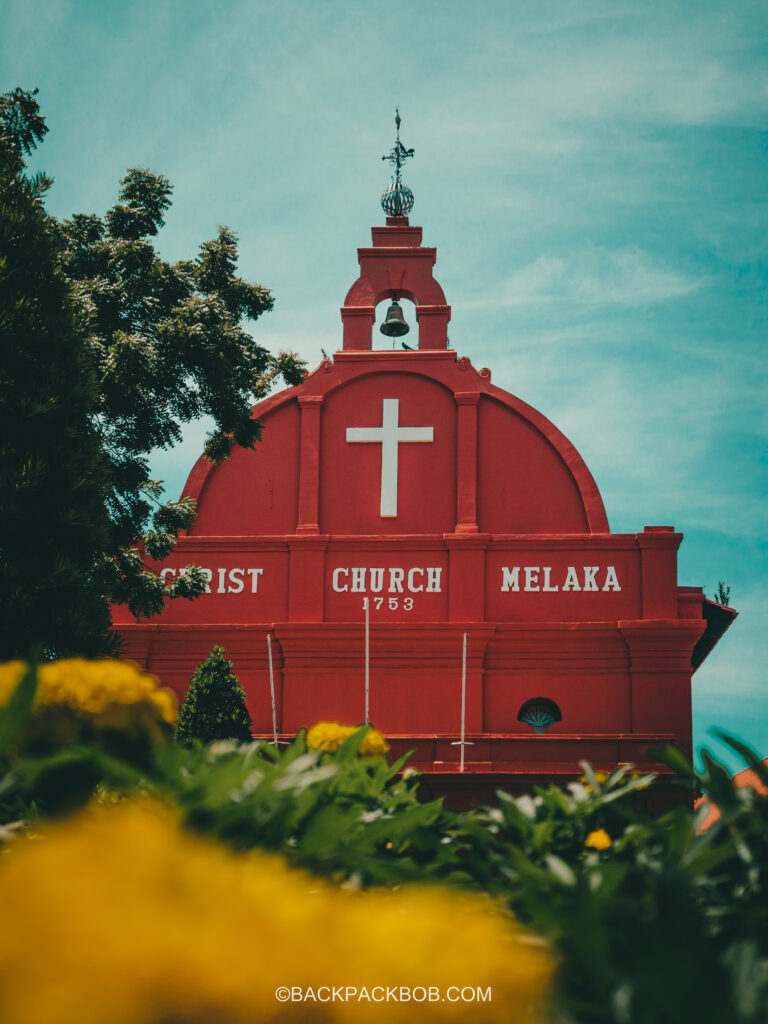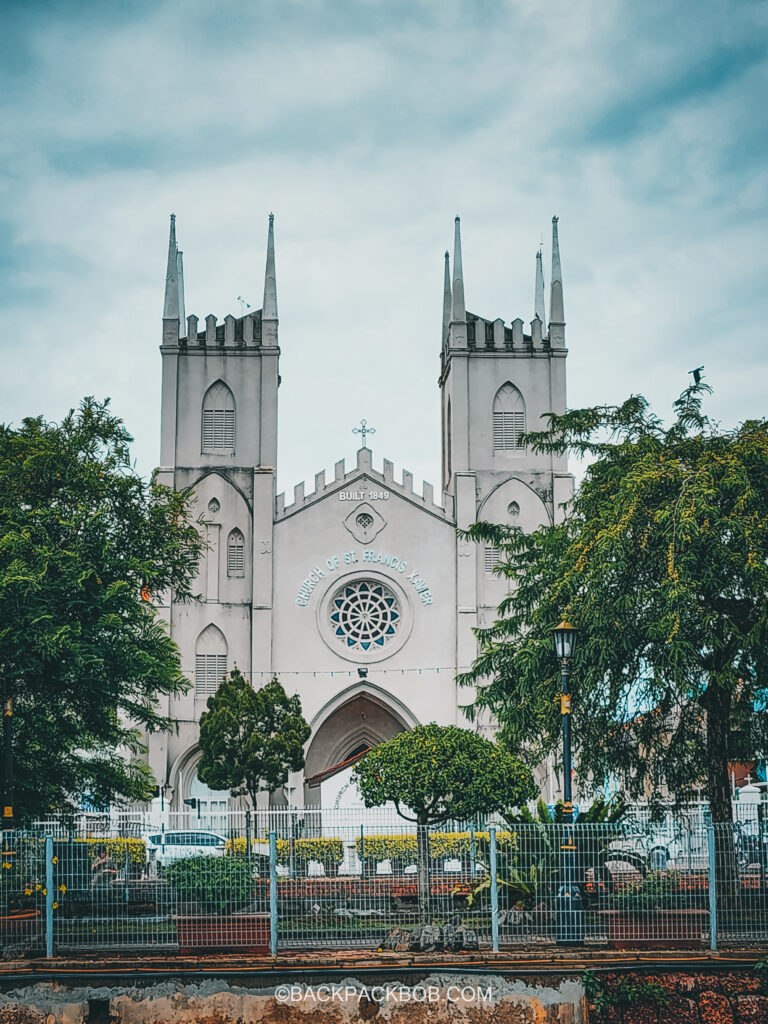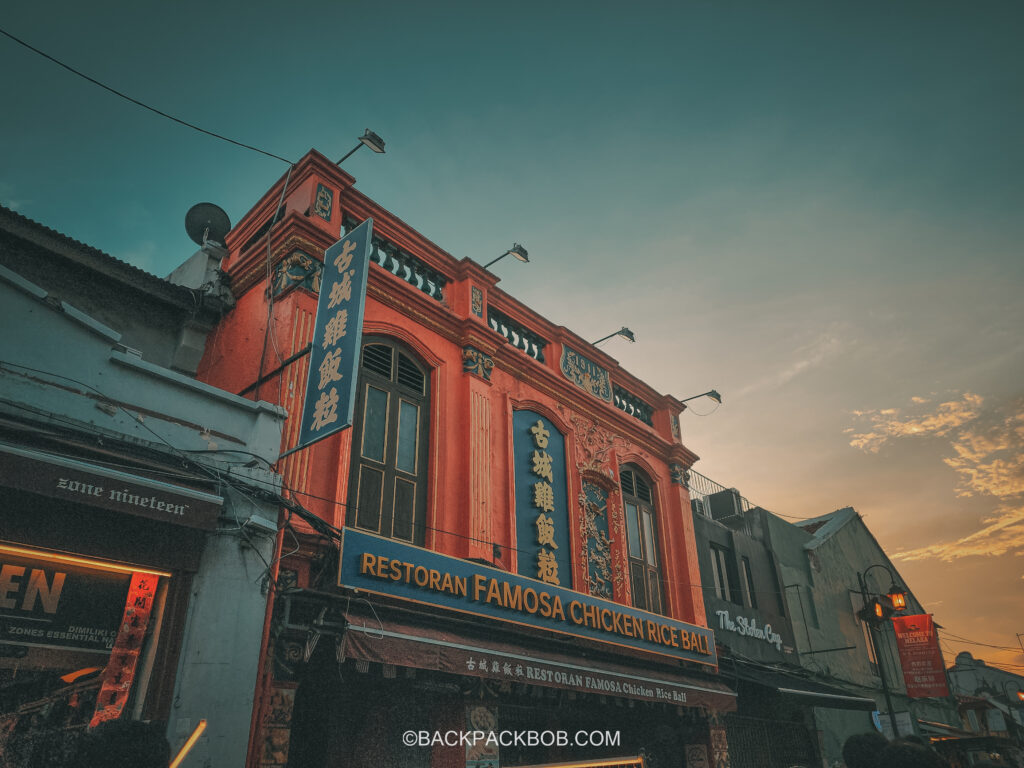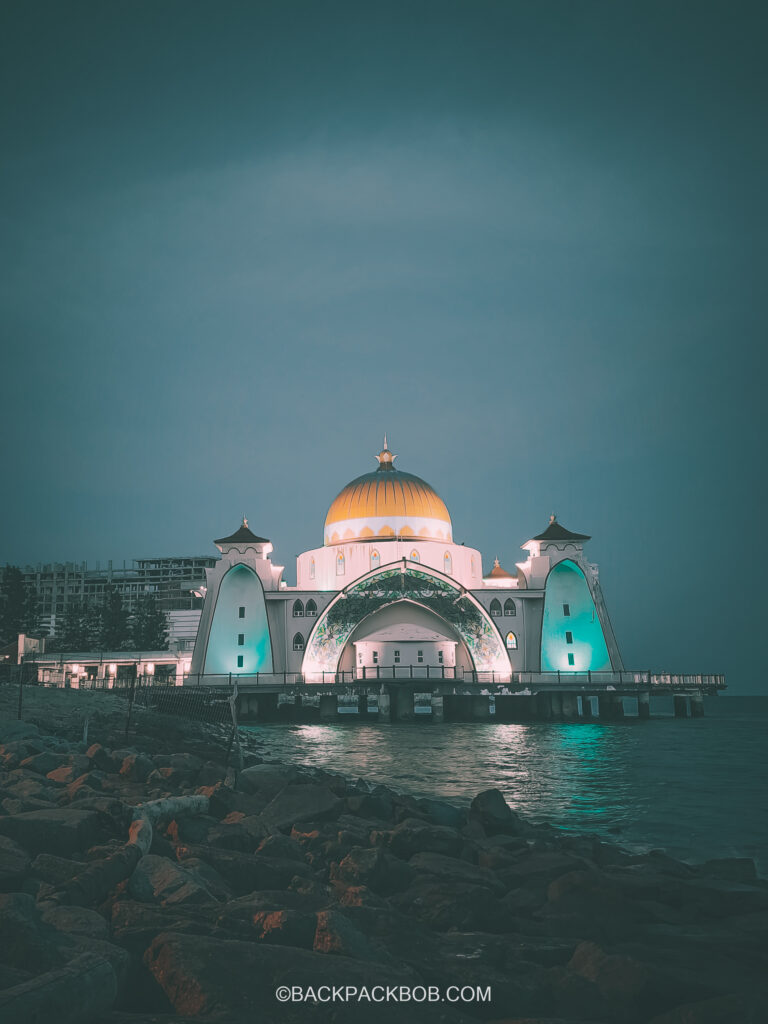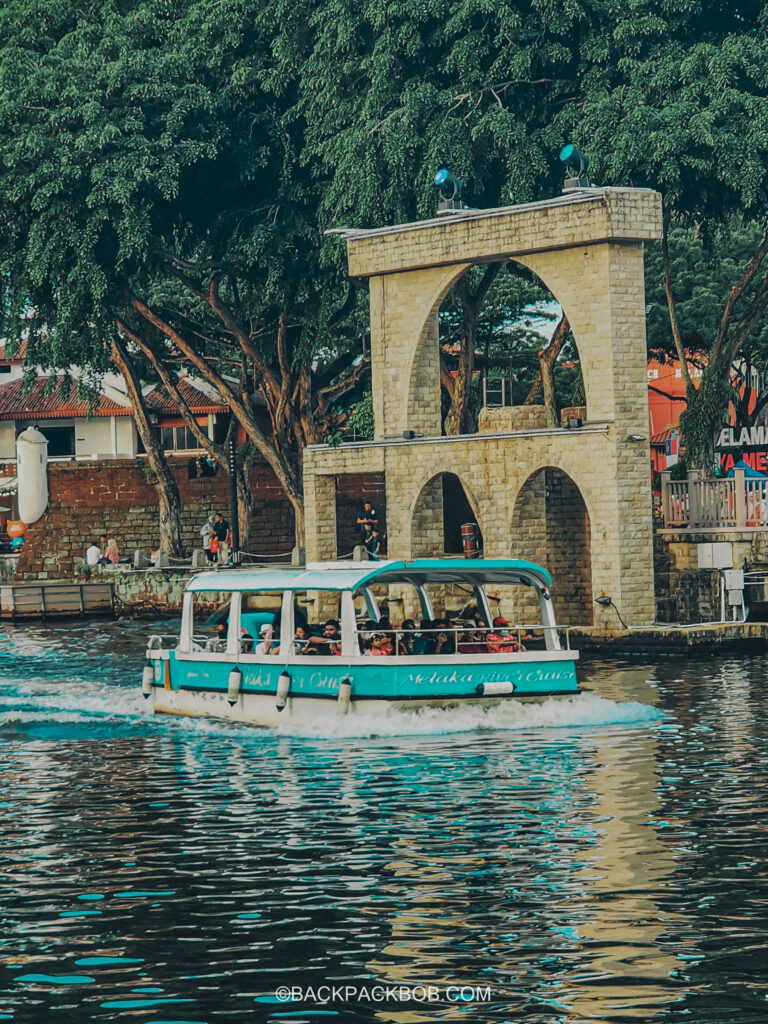 Read my full guide for things to do in Melaka here ➡
✈ How to get from Cameron Highlands to Melaka
To travel from Cameron Highlands to Melaka, you need to take two buses. The first bus will take you to the TBS Bus Terminal in Kuala Lumpur, and the second bus will take you to Melaka Sentral. The bus fare to Kuala Lumpur is 22 MYR and the fare to Melaka is 12. The entire journey took me approximately 6 hours.
🕺 Best Things To Do
Melaka is a UNESCO World Heritage Site, and its old town is home to a wealth of historical buildings, including the Stadthuys, St. Paul's Church, and the A Famosa Fort. The local cuisine is also very diverse, with everything from traditional Malay dishes to Chinese and Indian food.
Malacca Straights Mosque
The Dutch Square
Eat 'Banana Leaf' Curry
9️⃣ Day Nine – Melaka: Night 1 of 3
It took us more than six hours to get to Melaka, the longest journey we had taken in Malaysia, and I had planned our arrival to perfection. We were just in time for the Jonkers Street Market.
The Market only opens on weekends and we arrived on a Friday evening just as the traders were setting up their stalls. Jonkers Market was one of the best in Asia, it's massive and there are so many different snacks to buy and taste.
🔟 Day Ten – Melaka: Night 2 of 3
One of the most unique foods, (or should I say experiences), in Melaka, is to eat a traditional 'Banana Leaf Meal'. There are many around to choose from it's a type of restaurant where there is no cutlery and no plates. Instead, your food is served to you on a Banana Tree Leaf and you eat with your hands. A meal costs 10 – 15 MYR.
After eating curry for breakfast, we took on the Melaka Heritage Trail. A walk around the town which took about 4 hours to complete. The walking route passes the most iconic landmarks like A Famosa, Christ Church, and the Stadthuys. Along with some of the museums.
In the evening we returned to Jonkers Market for dinner, before finding a quiet bar to sit at, next to the river. There's a nice atmosphere in the evenings, in Melaka. The beers are cheap enough, and there is a nice view of the river to watch the boats going past.
1️⃣1️⃣ Day Eleven – Melaka: Night 3 of 3
Having already spent two nights in Melaka we still hadn't taken on two of the 'must-do' attractions.
The Melaka Straits Mosque and the Melaka River Cruise.
The Floating Mosque sits on a platform over the sea. It's located about 20 minutes from town, and it's free to visit. The Melaka River Cruise is another popular activity, and it's a great way to see the city from a different perspective. The cruise takes about 30 minutes and there is an audio commentary about the history of Melaka. The boats run all day and night, but it's better to do the cruise in the evening when the river is illuminated.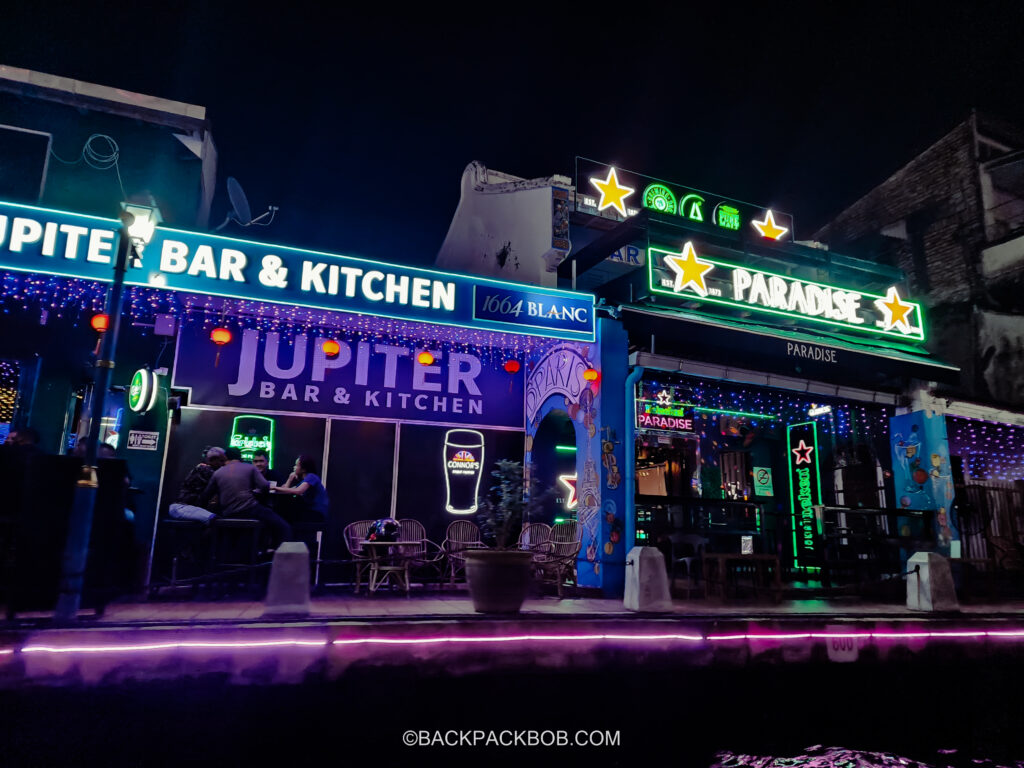 🏨 Where to Stay in Melaka
Melaka is a town where most of the attractions and landmarks are within walking distance of one another. So it's best to base yourself centrally. Use Dutch Square as a reference point and look for hotels around that area.
Note: Because Melaka gets a lot of weekend tourists from Kuala Lumpur, visiting the Jonkers Market hotels ofet have different rates for weekends and weeknights.
The Hotel We Stayed At – Melaka Cozy Riverside [90 MYR]
This hotel was perfect. Rooms were affordable and cost us 90 MYR on the weekend. But the location was more important, right next to the river and just a few minutes walk to the town centre.
Recommended Hostel – Sleep Here Hostel Melaka [50 MYR]
There aren't a lot of Hostels in Melaka, but the Sleep Here Hostel is the most sociable spot. Rooms are modern, with capsule-type beds and the location is a five-minute walk to get to the town centre.
Recommended Hotel – JonkeRED Heritage Hotel [200 MYR]
You can't get any more central than this beautiful boutique hotel. Just a stone's throw from the Dutch Square, behind the Melaka Christ Church. This hotel is styled in the same red design that Melaka is famous for. It was our first pick, and we would have loved to stay here. But it was sadly fully booked when we visited.
📍 Kuala Lumpur – 4 Nights (Fifth Destination)
Kuala Lumpur is the multi-cultural capital of Malaysia. It's a massive travel hub, and pretty much everyone who visits Malaysia will stop by at some point.
There are plenty of free things to see and do in Kuala Lumpur, from the iconic Petronas Twin Towers to the Batu Caves.
Foodies will be in heaven in Kuala Lumpur, with a wide variety of cuisines to choose from, including traditional Malaysian, Indian, Chinese, Western, and more. The Chicken Clay Pot is a must-try dish, and Jalan Alor Street Food is the best place to sample the city's vibrant street food scene.
Accommodation in Kuala Lumpur is also great value, luxury apartments with rooftop infinity pools can be found for as little as £8 per night. And with its excellent public transportation system, you can easily get around the city no matter where you stay.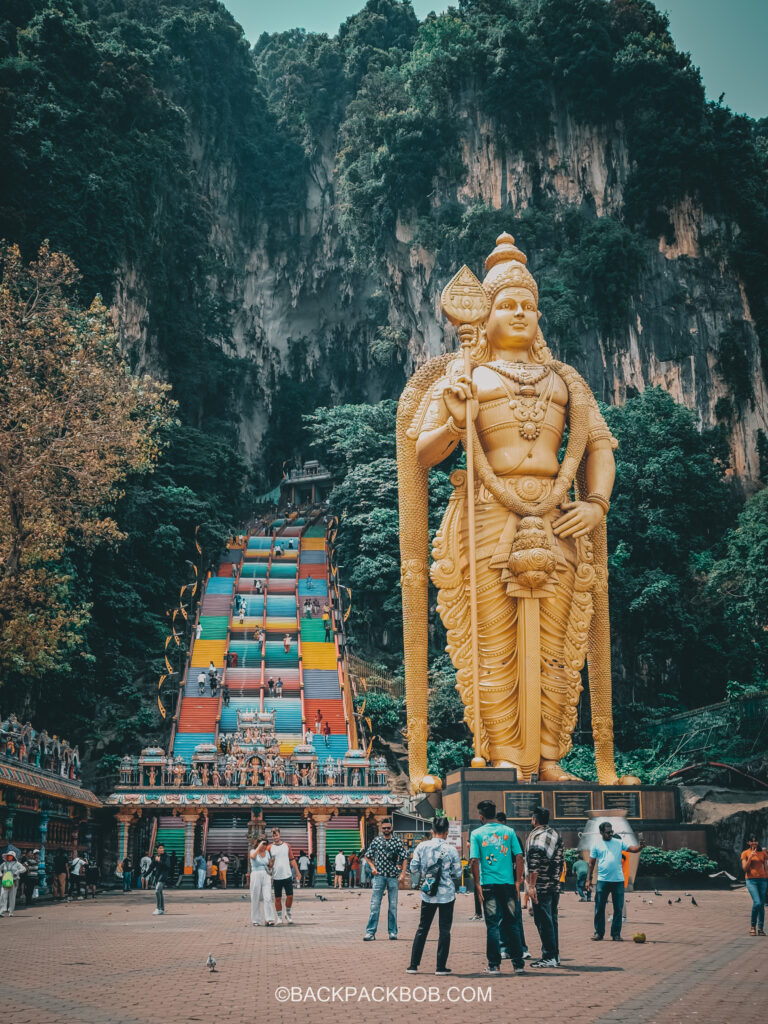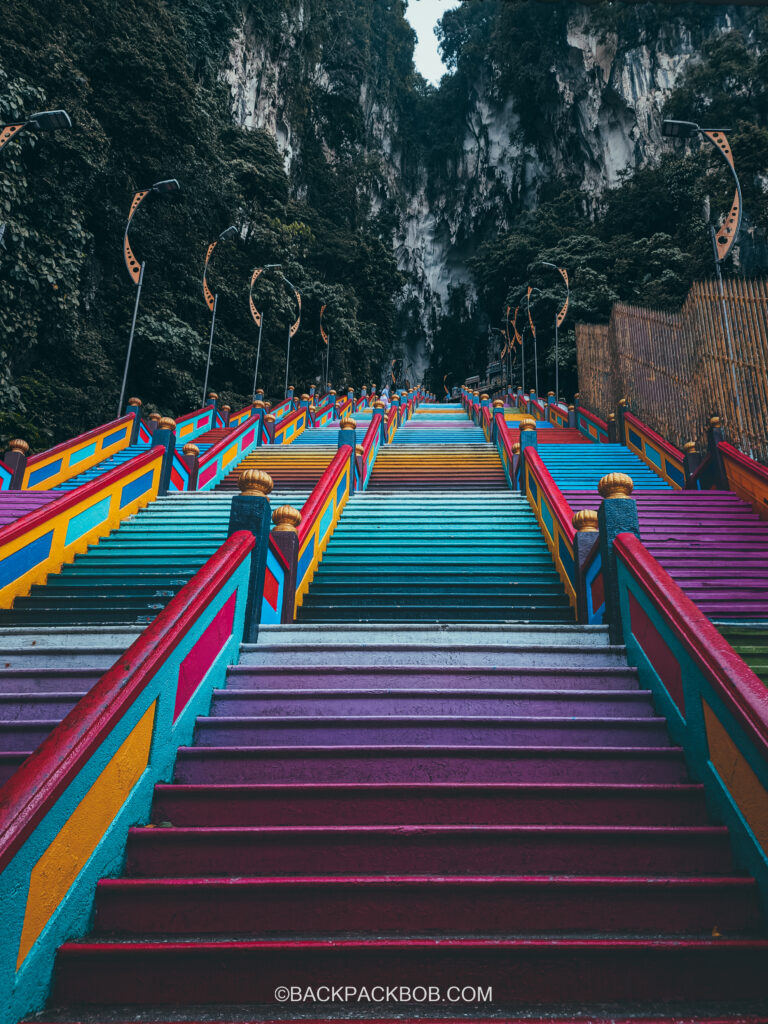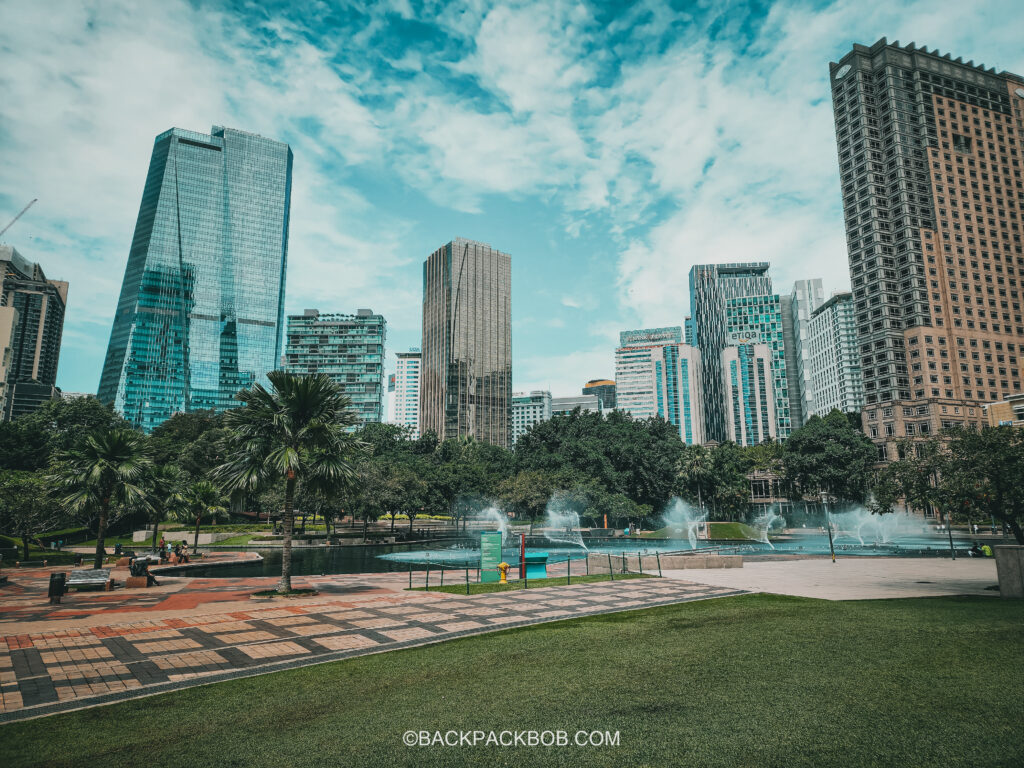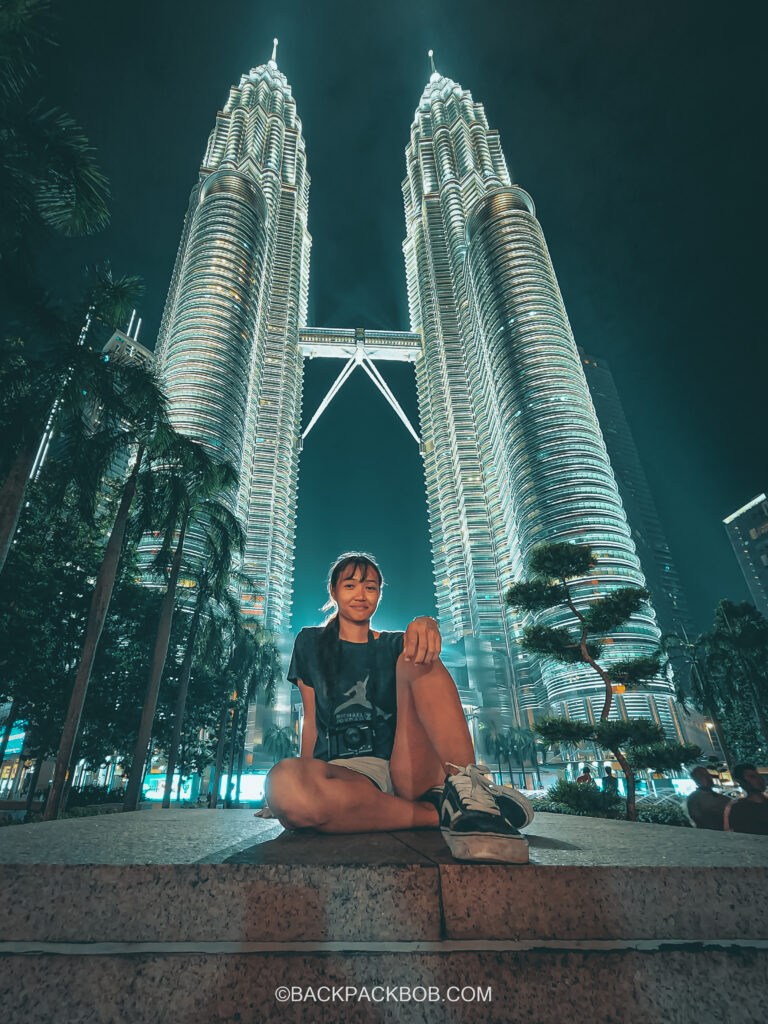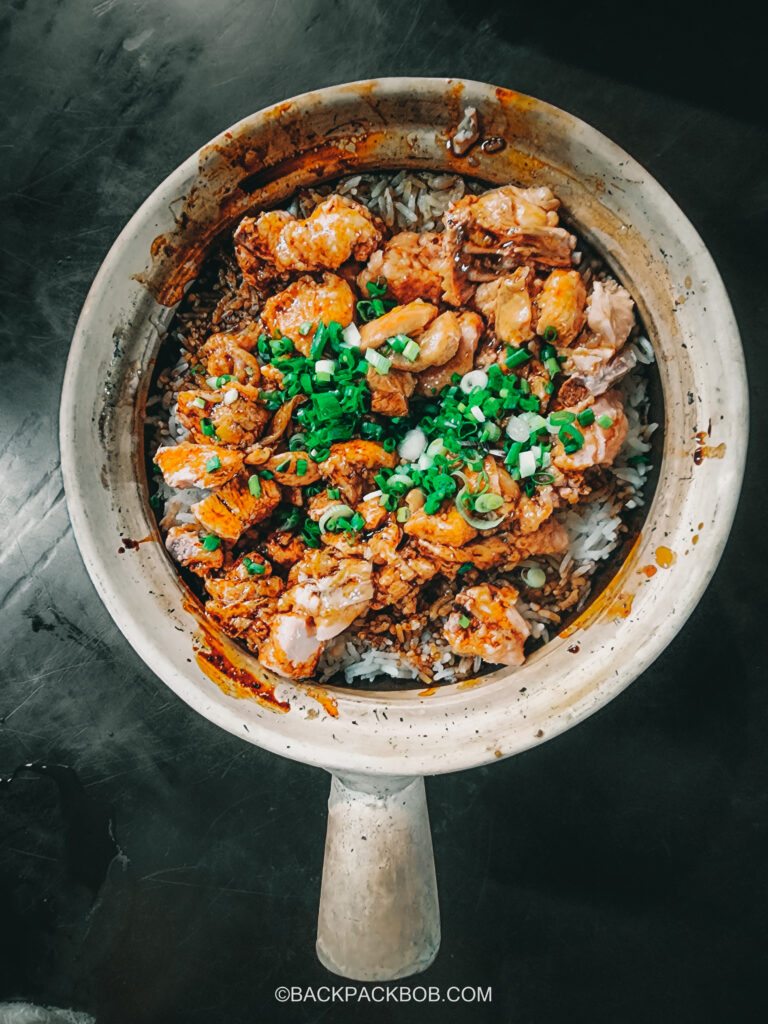 Read my full guide on the best things to do in Kuala Lumpur here ➡
✈ How to get from Melaka to Kuala Lumpur
You can catch a direct bus from Melaka to Kuala Lumpur. Buses depart every hour from Melaka Sentral Bus Terminal and arrive at Kuala Lumpur TBS Terminal in about two hours. Tickets cost 12 MYR and can be purchased at the station, although it is advisable to book in advance, especially during peak travel times.
🕺 Best Things To Do
Eat Clay Pot Chicken
Jalan Alor Street Food
KLCC Park
Swim in a Rooftop Pool
Genting Highlands (£34)
1️⃣2️⃣ – 1️⃣3️⃣ Day Twelve and Thirteen: Kuala Lumpur: Nights 1/2/3 of 4
Kuala Lumpur was my least favourite place on this itinerary. The city doesn't feel as welcoming as other parts of Malaysia, and it can feel a bit unsafe. However, there is so much to see and do in Kuala Lumpur that no Malaysian itinerary would be complete without including it.
We spent four nights in Kuala Lumpur, longer than anywhere else in Malaysia. We chose an epic base, a condo with a rooftop pool. Over the days we spent in the city, we visited all the major attractions, including two of the nation's most iconic landmarks, the Batu Caves and the Petronas Towers.
We also visited KLCC Park, the Botanical Gardens, the Symphony Fountain Show, and Merdeka Square. Along with a few museums. Some attractions in Kuala Lumpur have admission costs, but most are free.
The food in Kuala Lumpur is incredible. Jalan Alor Market is a must-visit market for its amazing Thai food. Or for something more traditional, I recommend trying the chicken clay pot. We found a great street vendor serving clay pot in Chinatown, called the 'Hong Kee'.
1️⃣4️⃣ Day Fourteen – Kuala Lumpur: Night 4 of 4
On our last day in Kuala Lumpur, we decided to do a day trip to the Genting Highlands, which is basically a casino disguised as a family-friendly resort. It is the only place where gambling is legal in Malaysia. It's a unique place to visit with nice views and a cool cable car ride, but aside from risking a few ringgit at the roulette wheel, there isn't much else to do there.
Getting to Genting Highlands is easy. Dedicated Genting Resort World buses depart from KL Sentral Station every 30 minutes. The trip takes 50 minutes and costs 5.40 MYR. Once you arrive, you can take the Cable Car to the top for 9.60 MYR. You can also book a tour package for around the same cost.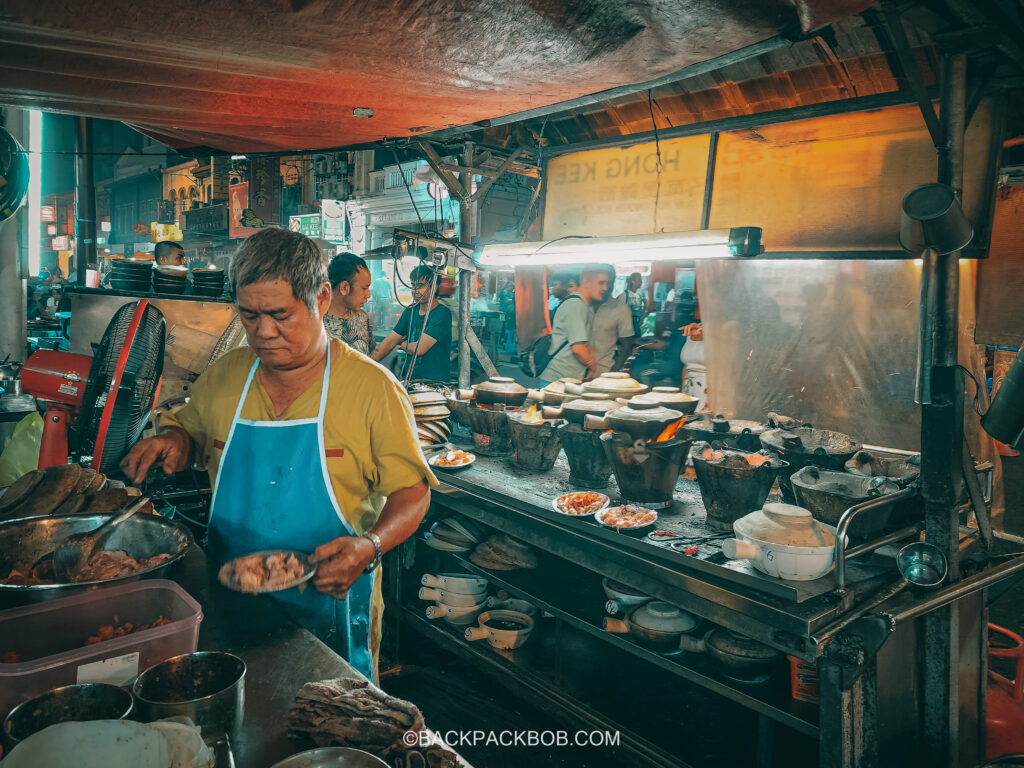 🏨 Where to Stay in Kuala Lumpur
Don't worry too much about the area to stay, in Kuala Lumpur. The city has a great train network, so as long as you are near a station you can connect to pretty much anywhere. That being said, KLCC, KL Sentral, Bukit Bintang and Chinatown are good areas to consider. KLCC is the best area if your budget allows for it.
The Apartment We Stayed At – Expressionz Suites [150 MYR]
This spot was perfect, with a luxurious rooftop swimming pool, close to Jalan Alor Street food and a train station within walking distance.
Recommended Hostel – The Penthouse On 34th [70 MYR]
This hostel is modern and luxurious. With capsule beds and rooms that sleep eight people. Located inside a converted apartment, there is a rooftop garden and an infinity swimming pool.
Recommended Private Apartment – Tropicana The Residence KLCC [300 MYR]
You won't get much better value for money than the Tropicana, the building is located in the heart of KLCC city centre, and you can walk to the Petronas Towers or KLCC park in a few minutes. KLCC train station is 400 meters away. The rooms are luxurious and there is a stunning pool on the roof.
📍 Sandakan – 3 Nights (Sixth Destination)
Sandakan is a small fishing town on the east coast of Borneo Island in Malaysia. There are many daily markets where you'll find incredible food. I absolutely loved Sandakan. The town is home to some of the happiest people in Malaysia, who have a relaxed attitude and a positive outlook on life.
Sandakan is just a 30-minute drive from Sepilok, which is home to many famous wildlife sanctuaries. The Sepilok Orangutan Rehabilitation Centre is a must-visit for anyone interested in these amazing creatures. Nearby, you can also see proboscis monkeys, sun bears, and other rainforest animals at the Labuk Bay Proboscis Monkey Sanctuary, the Rainforest Discovery Centre, and the Bornean Sun Bear Conservation Centre.
In addition to its natural beauty, Sandakan also has an interesting history. During World War II, the town was used as a Japanese base. You can learn more about this history by walking the Sandakan Heritage Trail and visiting the Sandakan Memorial Park.
Accommodation: Sandakan Town, on the coast, is the best area to stay in Sandakan. If you have a higher budget the Rainforest Lodge in Sepilok is in the heart of the wildlife.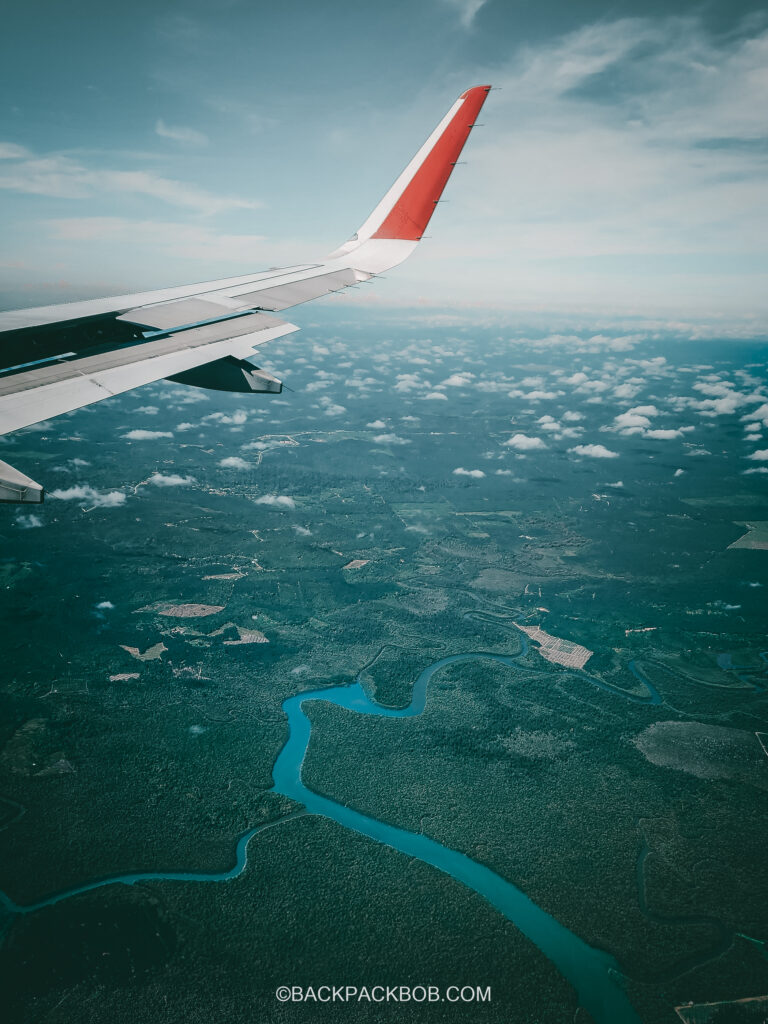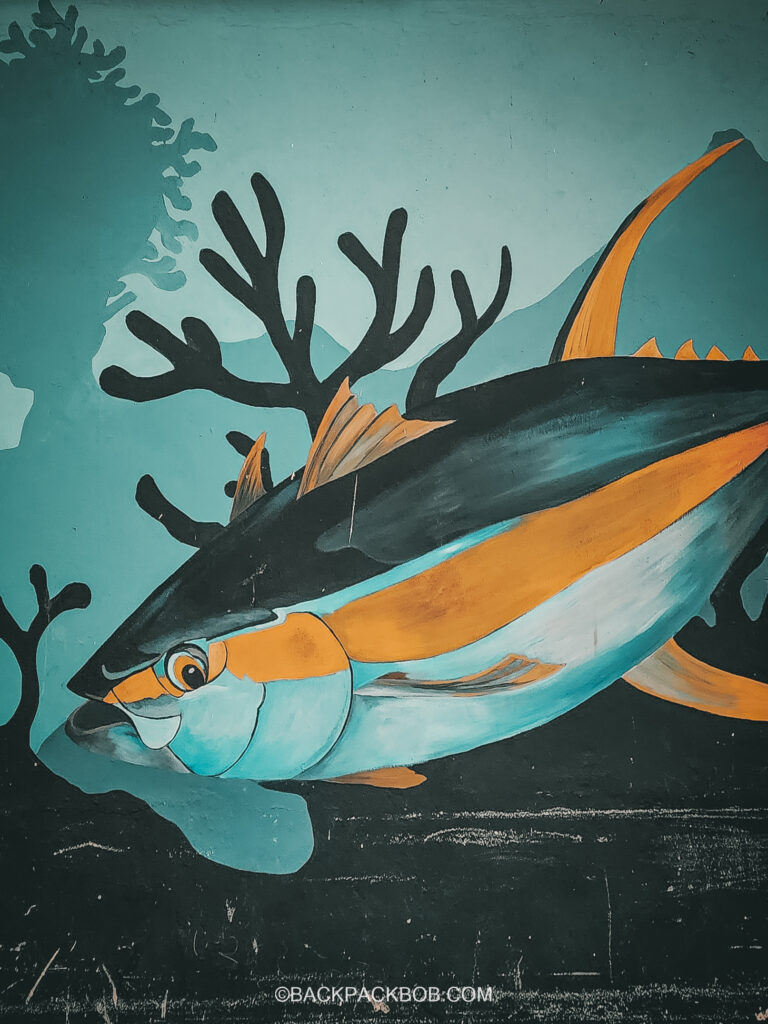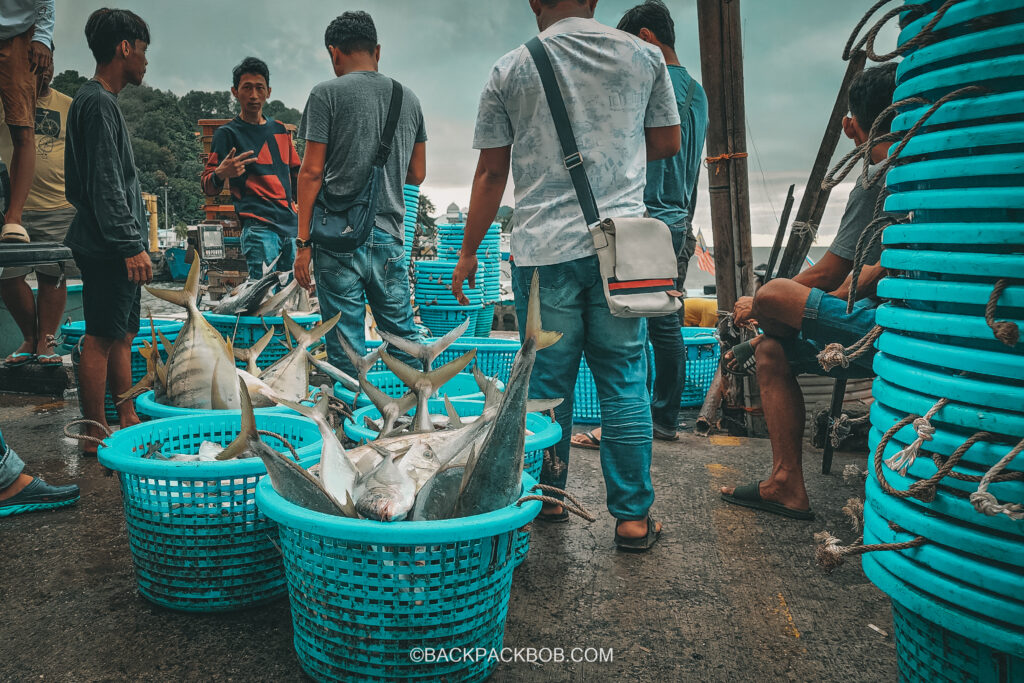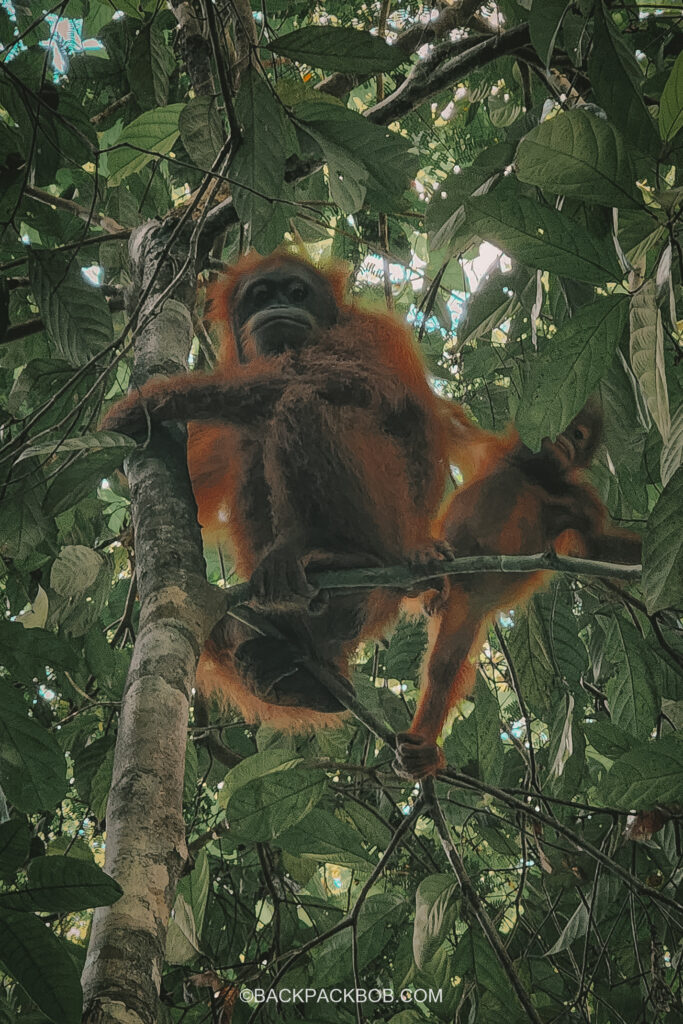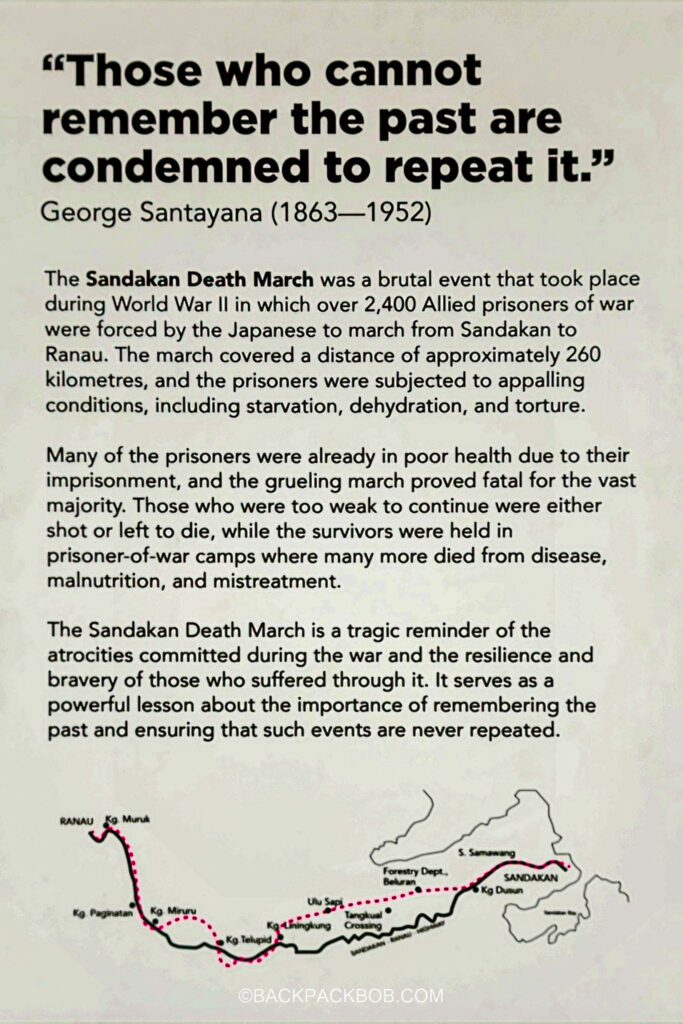 Read my full guide for things to do in Sandakan here ➡
✈ How to get from Kuala Lumpur to Sandakan
The only way to get to Sandakan is by flying. Sandakan is located on the eastern coast of Borneo Island, which is part of Malaysia. The flight from Kuala Lumpur takes just under three hours. AirAsia operates regular flights to Sandakan, and return tickets cost around 300 MYR per person.
🕺 Best Things To Do
Sun Bear Conservation Centre
Sandakan Memorial Park
Sandakan Heritage Trail
1️⃣5️⃣ Day Fifteen – Sandakan: Night 1 of 3
I wasn't going to come all the way to Malaysia, spend two weeks here, and not see Orangutans. The are only two places in the world where Orangutans are found in the wild and Malaysian Borneo is one of them. Since I was already in Malaysia, we headed to Kuala Lumpur Airport and boarded a flight.
The flight from Kuala Lumpur to Sandakan takes about four hours. We left in the late morning, so it was almost sunset by the time we arrived. We still had enough time to visit the Sandakan Memorial Park, which was an eye-opening experience and a sobering reminder of the horrific events committed in Sandakan during World War II.
1️⃣6️⃣ Day Sixteen – Sandakan: Night 2 of 3
We booked a half-day tour package for the Kinabatangan River Cruise. The more popular option is a two-day and one-night package, but we wanted to see as much as we could in a short amount of time.
The tour included the bus ride from Sandakan to the Kinabatangan River, which takes about three hours. We left Sandakan at midday and the boat cruise started at 4 pm, and we spent two hours on a small boat cruising along the river in search of wildlife.
We spotted quite a lot of Proboscis Monkeys. But sadly we weren't lucky enough to spot any Orangutans or Elephants, and (thankfully) no Crocs. Dinner was included and we ate a meal at the Kinabatangan Lodge before returning to Sandakan Town.
Book a Kinabatangan River Cruise >>
1️⃣7️⃣ Day Seventeen – Sandakan: Night 3 of 3
We saved the best until last, the moment that I was looking forward to for the entire trip. The thing which symbolizes Malaysia, for me. The Orangutans. As we had failed to see any in the wild on a river cruise, we visited the Sepilok Orangutan Sanctuary.
This centre is dedicated to rehabilitating orphaned orangutans and reintroducing them to the wild. The sanctuary is located in the rainforest, and the orangutans have free reign to roam wherever they please. We felt very lucky to spot an orangutan on the boardwalk, just a few meters away for us.
These huge animals are usually safe around humans, and it was an unforgettable experience to see them up close.
1️⃣8️⃣ Day Eighteen – Sandakan: Return Home
Wrapping it up in Sandakan on the last day of the trip. I knew this moment was coming but couldn't help from feeling a little sad about it. Luckily as I'm now based in Thailand, it's not a long flight home, 555!
We flew back from Sandakan to Kuala Lumpur with an 8-hour layover at KLIA before heading back to Thailand. Enough time for a quick nap on the floor, an overpriced beer, and a plate of Nando's Chicken. A perfect ending to this two-week Malaysia Itinerary.
🏨 Where to Stay in Sandakan
The best place to stay is Sandakan town, it's on the coast and you can catch a local bus to Sepilok, about 30 minutes away. Sandakan town has more to offer in terms of things to do, while Sepilok is more secluded. If you have the budget, you can book a nature lodge in Sepilok, where you may even be able to see orangutans from your hotel!
The Hotel We Stayed At – Marine Bay Hotel [80 MYR]
Marine Bay was perfect for our needs. An affordable room with an ocean view in a good location. It was a good base to get to Kinabatangan and Sepilok.
Reccomended Hostel – Sandakan Backpackers Hostel [35 MYR]
There is only one hostel in Sandakan, called 'The Sandakan Backpackers Hostel'. It's in the centre of town and the rooms sleep six. The rooftop common area has an ocean view.
The Dream Hotel – Sepilok Forest Edge Resort [500 MYR]
It's expensive and in high demand. And I can see why. I would have loved to have stayed here, but it was a little bit out of my budget at the time (guess it's an excuse to return)! The rustic wooden lodges are nestled in the Bornean Rainforest a few hundred meters from the Sepilok Orangutan Center. And yes, some visitors have reported seeing Orangutans in and around the resort.
Fin. Salamat Tinggal dan Jumpa Lagi, Malay. 🙋‍♂️
Would You Change The Itinerary
Given what I know now, would I make any changes to this itinerary?
Yes. The itinerary which I have written about in this guide is the exact route we took through Malaysia. However, it is totally different from the original route I planned out to begin with!
And, if I was to do it again then I would make even more changes. The biggest change I would make would be to skip the Cameron Highlands, which are overrated. And instead, favour an extra night or two in either Borneo or the Historic Town of Melaka. I would also spend less time in Kuala Lumpur.
Overall Malaysia is a pretty easy country to travel in. It's a good idea to start with a basic itinerary with places you want to see, but it is equally as important to keep your plans as open as possible. I consider my itinerary to be a pretty solid route for a first-timer visiting Malaysia, although it does squeeze a lot in, to a relatively short amount of time.
The Original Plan
I spent a long time planning a solid itinerary for my trip to Malaysia. However, once I arrived in the country, I ended up going off track and changing a lot of my plans. I have included my original itinerary here (PDF), but you will notice, if you compare it to the itinerary I have written about, that I made a lot of changes along the way. The only travel I booked in advance was a train into Malaysia, a flight out, and a return flight to Borneo. I kept everything else flexible so that I could be spontaneous and explore the country at my own pace. I have included it, however, so it can be useful when creating your own itinerary for Malaysia.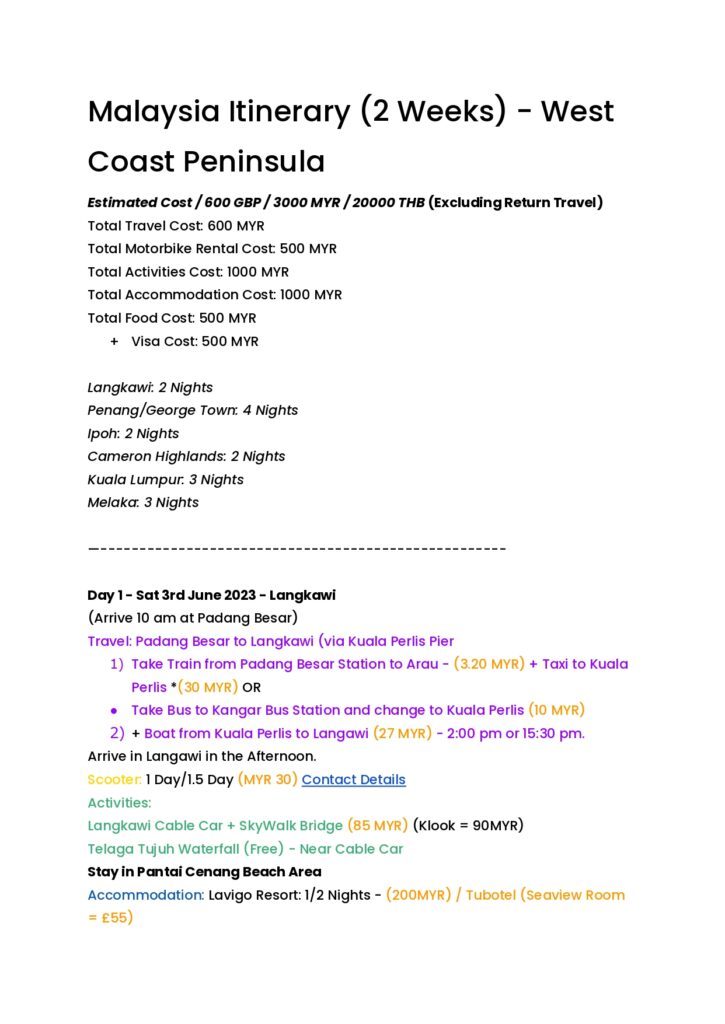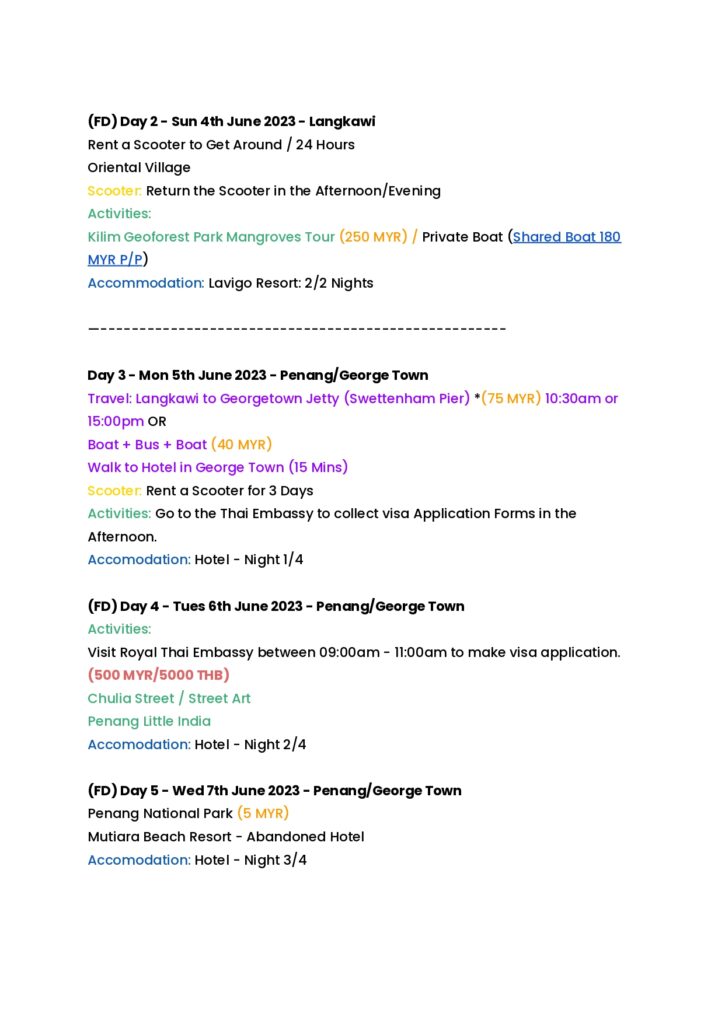 How Far In Advance to Book: Hotels, Travel and Tours
There is a fine line to balance between keeping your plans flexible and making hotels and travel arrangements before tickets and rooms get snapped up by others. Here are some tips on when to book your travel arrangements in Malaysia:
Accommodation: Usually, we booked our accommodation the day before, which worked most of the time. But on some occasions, the hotels we wanted to stay in were full. Which is the trade-off between flexibility and stability. This was especially true on weekends when prices are higher and places are more likely to be booked up.
Travel Tickets: Travel tickets in Malaysia can also sell out quickly. You are usually ok to book travel tickets the day before but don't wait until the last minute. For example, we tried to buy ferry tickets to Langkawi in person, but they were all sold out. We also noticed that long-distance trains (from Padang Besar to Kuala Lumpur) were fully booked when we arrived.
Flights: We took flights between West and East Malaysia, which we booked around one month before. We also took a flight home from Kuala Lumpur Airport, which was booked at the same time. It was nice knowing the flight were booked ahead of time, although when we check the last-minute prices were almost the same, if not a little lower.
Is Two Weeks Enough Time in Malaysia
This 2-week itinerary focuses on taking you to some of the most popular spots in Malaysia. The places are relatively close to each other, so you can easily see them all in 2 weeks.
However, I spent 17 nights in Malaysia because I wanted to add a trip to Borneo, at the end, to see Orangutans.
There is a lot to do and see in Malaysia. If you want to get off the beaten track in Peninsula Malaysia and incorporate activities like climbing Mount Kinabalu or spending the night on Turtle Island, you would want to spend longer than 2 weeks or prioritize your desired destinations. There are also many islands around Malaysia that take longer to visit.
So, while 2 weeks is enough to see the highlights of Malaysia, consider it an introduction. While you're there, you'll inevitably hear about other places you'd like to return to and visit.
How To Travel From One Place to Another in Malaysia
Penang Sentral Station in Butterworth and TBS Bus and Train Station in Kuala Lumpur are two of the most useful transport hubs in Malaysia. You can get to anywhere in the country from either of these places.
There is a train line that runs the entire length of the country, along the west coast. I had originally planned to use the train to get around, but once we were in Malaysia, I realized that the bus network was cheaper and more convenient.
Here are the travel companies that I used to book tickets to get around Malaysia. You can find a full list of travel companies on my resources page.
🚕 Book a Ride: Malaysia has two taxi apps. Grab has the most reliable service, Maxim often has lower fares.
🚢 Book Boats: There are few boat routes in Malaysia, tickets to Langkawi can be booked with Cuti Cuti, from Kuala Perlis or with Klook, from Thailand.
🚌 Book Bus Tickets: These are the cheapest websites to book bus tickets in Malaysia.
🚂 Book Train Tickets: All domestic train tickets are sold on the official KTM Website. The airport train is sold on Klook.
✈ Book Flights: AirAsia operates most flights in Malaysia. Check Skyscanner or Kiwi to find the lowest fares. 12Go is the cheapest for the Penang Langkawi Route.
Get Prepared For Two Weeks in Malaysia
Makes sure you are prepared for a trip to Malaysia, with travel insurance, a Wise card to withdraw cash for free and an E-SIM so you can connect as soon as you arrive.
Malaysia Travel Itinerary: TL; DR.
Malaysia is a pleasant country to travel to, and two weeks is a good amount of time to cover the higlights. Prices are low and we spent around 50 dollars a day including food, travel, and accommodation for two people. There is a commonly followed travel route through West Malaysia between Melaka and Langkawi. Stopping at Kuala Lumpur, Camron Highlands, Ipoh and George Town, on the way.
Useful Travel Links
My Most Popular Travel Guides
My Favourite Countries, I Have Written About
Book Your Accommodation
The best place to book accommodation in South-East Asia is Hostelworld. Hosteworld consistently has low prices and in recent years they have grown to include private rooms too. It's still the most sociable accommodation booking app. Booking.com and Agoda are good choices too. These sites have the largest inventory of rooms.
Don't Forget Your Travel Insurance
Never travel overseas, without travel insurance. I've seen first hand the consequences of travel without it. Don't be, that guy. These are my go-to companies for insurance.
Other Recommendations
Check out my resource page to discover new and useful travel apps, businesses and websites. These are sites you need to know about to save money, spend like a local, avoid visa hassles, book rooms, find flight deals, and more.