The Langkawi Mangrove Tour is one of the best things to do in Langkawi. It's an affordable tour that takes you to some of the most unique places around the island. Our guide was inviting, and the places we saw were stunning. On a Langkawi Mangrove Tour, you'll cruise through Kilim Geoforest Park, where you'll see monkeys, a bat cave, a crocodile cave (without crocodiles), and a fish farm. Our guide pointed out rock formations that looked like other things, and the highlight of the tour was seeing the famous red eagles of Langkawi.
I had never seen Eagles up close before, at least not that I'd known of. There were swarms of them in the Langkawi Mangroves a beautiful sight to behold. Seeing them was a real highlight of the Kilim Geoforest Tour, and possibly even Langkawi.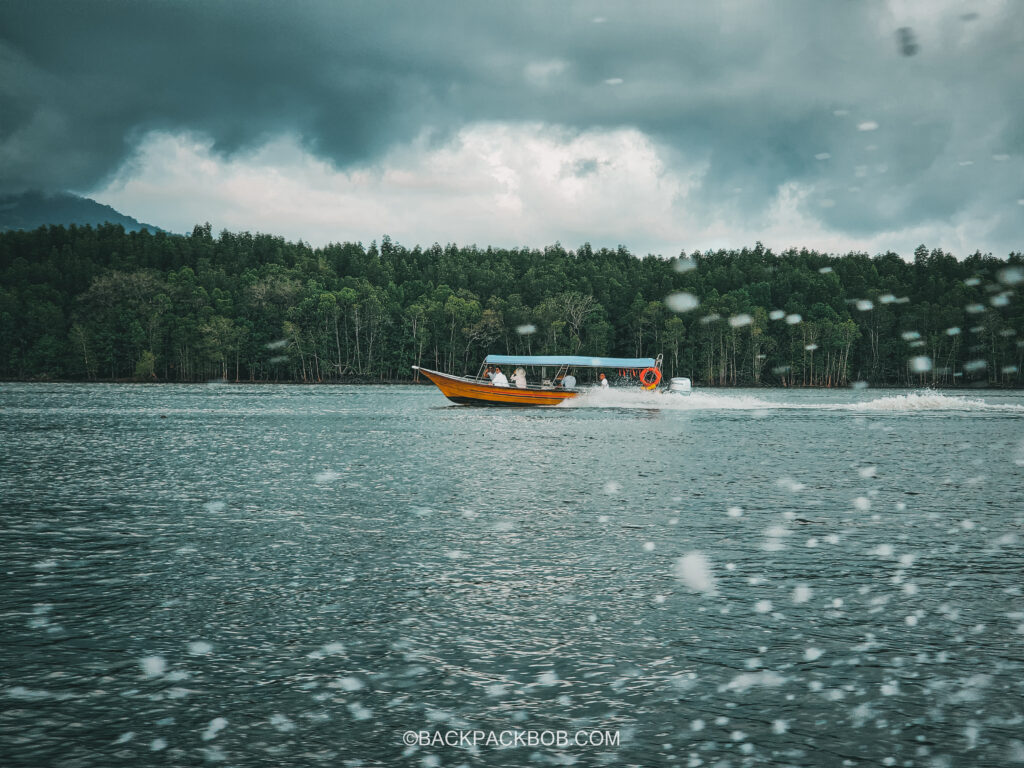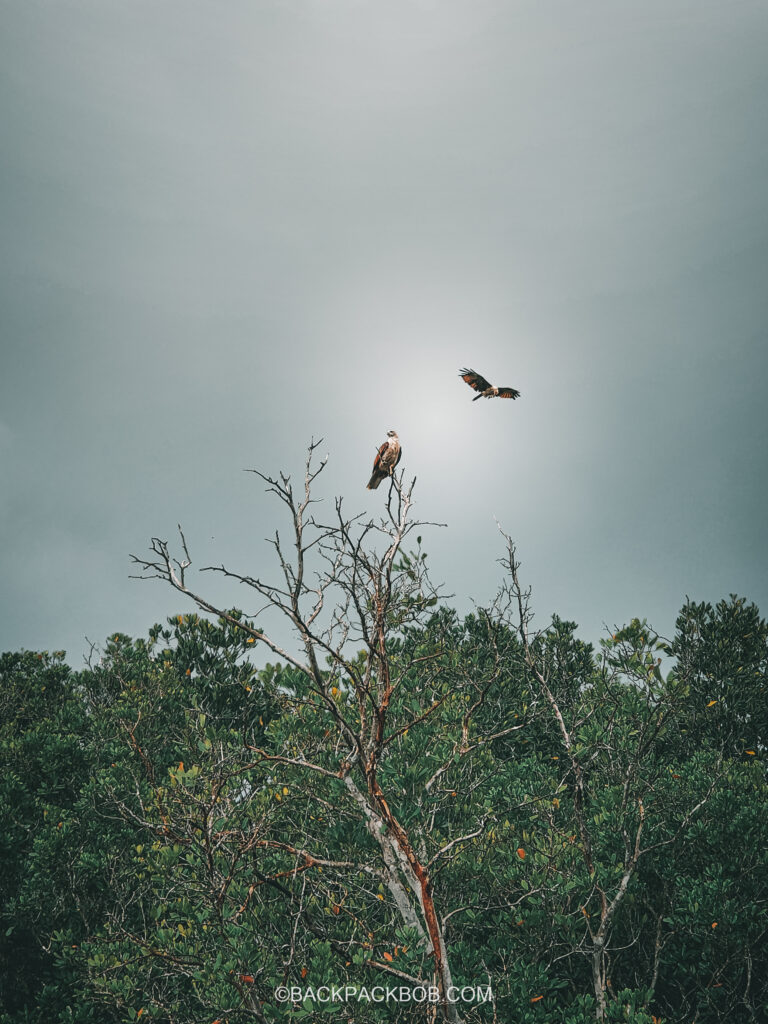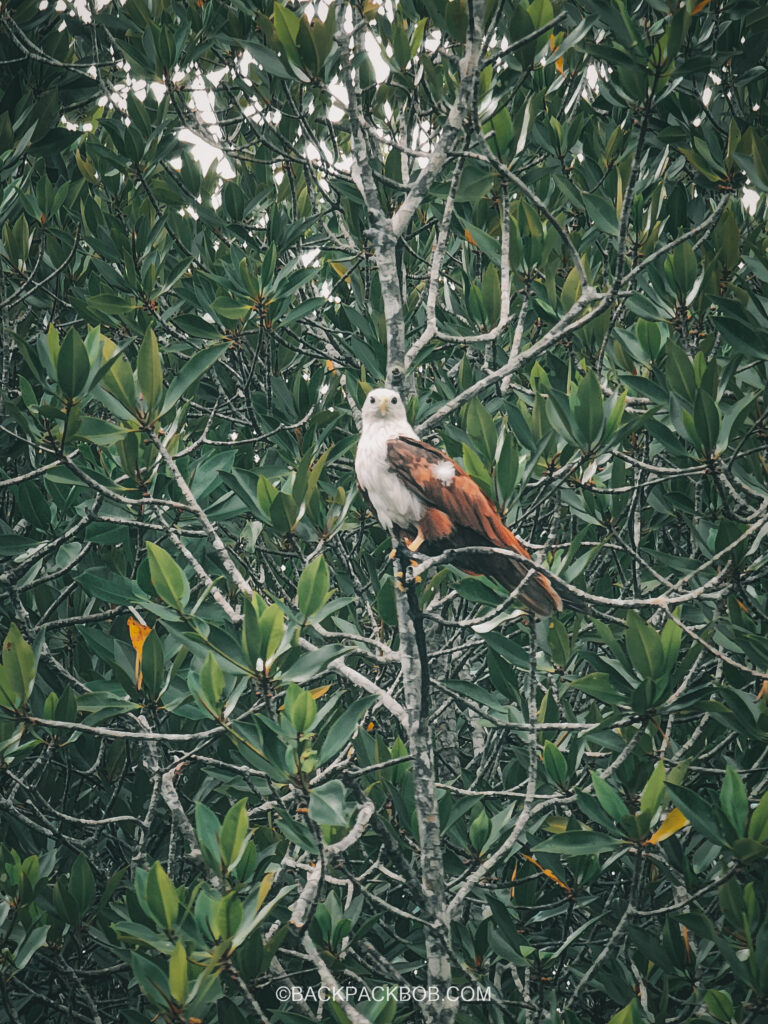 The Langkawi Mangrove Tour, officially called the Kilim Geoforest Tour, takes you on a loop through tight and narrow rivers. Lined with mangrove forests, you'll pass through shallow and swampy waters before emerging in the open sea and circling back around the coast of Langkawi to reach the finishing point. There are tons of things to see along the way. In this guide, I'll share all the detail of the best spots we visited.
Choosing The Best Langkawi Mangrove Tour
When booking a Mangrove Tour, you first need to decide whether you want to do a private tour or join a group tour. Group tours cost around 100 MYR per person, while private tours cost around 100 MYR per boat per hour.
We were overwhelmed by the number of Mangrove Tours to choose from, so we decided to focus on finding the cheapest one. Not something I usually do, but it worked well for this trip. We ended up booking a tour package with Get Your Guide, which was a great decision. The boat wasn't crowded, the crew were cheerful, and the package we booked was great value for money at 100 MYR (16 GBP).
This is the tour we booked, really recommend it: Langkawi Mangrove Safari Boat Tour.
You can book a private tour of the Mangrove Geopark, but it will cost more. If you have a group to split the cost with, it can be a good option. I recommend booking directly with a boat captain at the Tanjung Rhu Mangrove Jetty if you want to book a private tour. The prices seem lower than what I found online.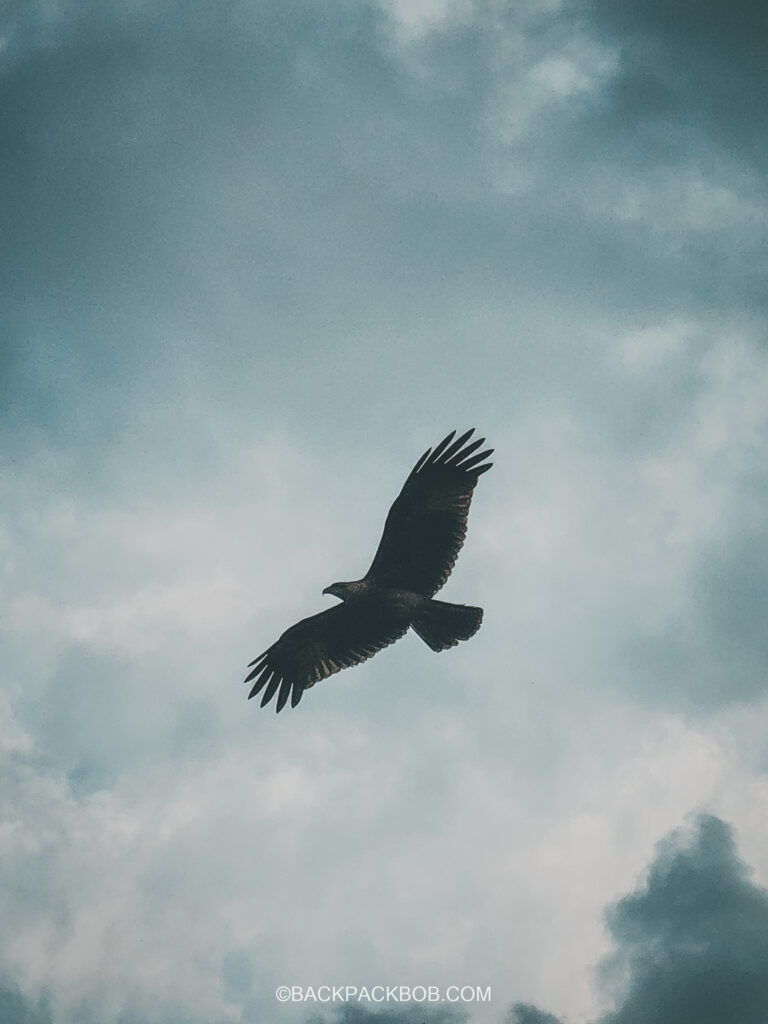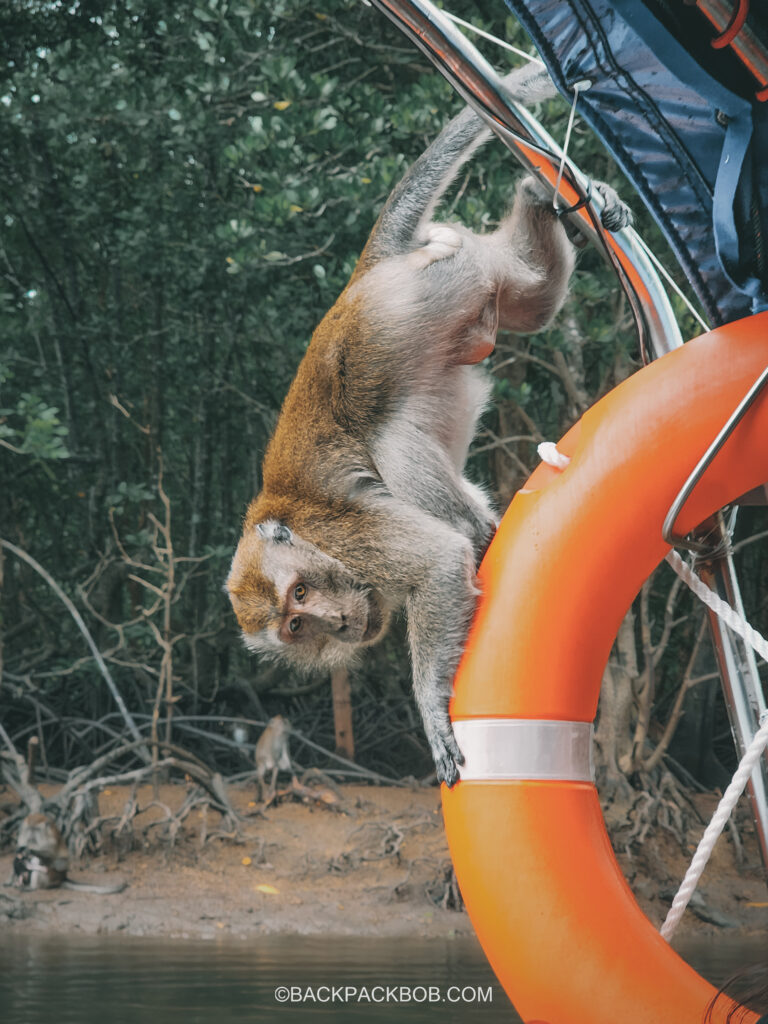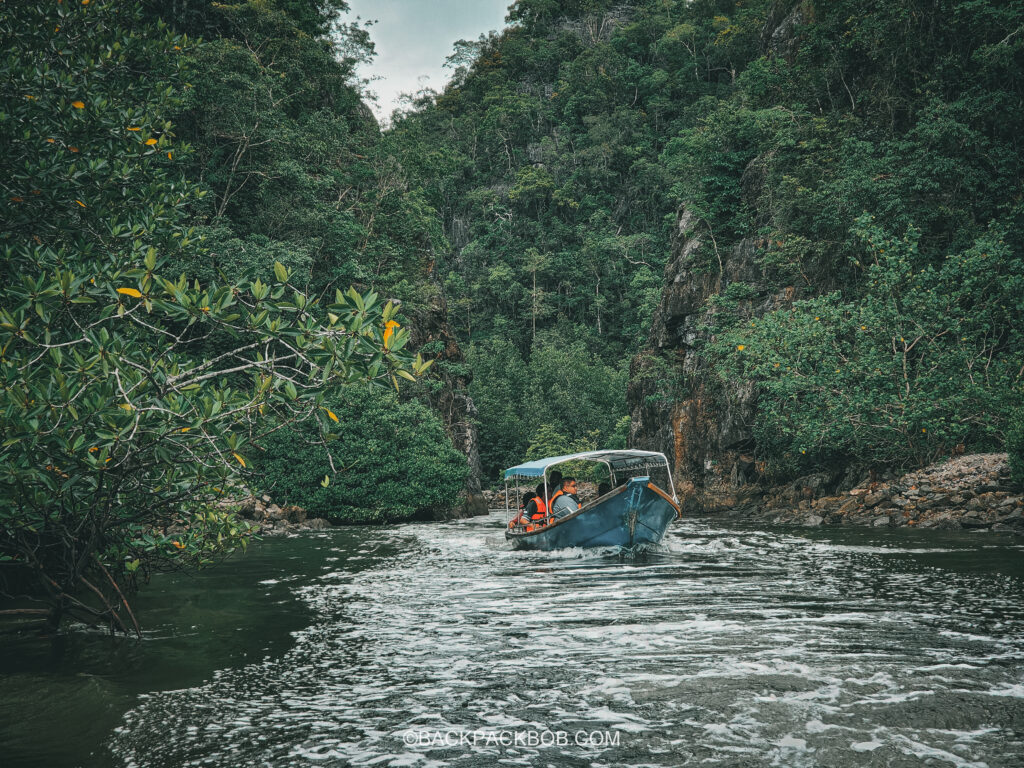 How Much Does a Langkawi Mangrove Tour Cost
We booked a shared boat tour, with Get Your Guide, which cost us 100 MYR per person. This price did not include hotel collection, so we rode to the start point ourselves on rented scooters.
| | |
| --- | --- |
| | Price |
| Shared Tour | 100 MYR Per Person |
| Private Boat One Hour | 250 MYR Per Boat |
| Private Boat Two Hours | 350 MYR Per Boat |
| Private Boat Three Hours | 450 MYR Per Boat |
Riding to the start point ourselves, allowed us to save money and book a cheaper tour. Choosing a tour which included hotel pickup included would have cost around 50 MRY more, per person. The mangrove tours all start at Tanjung Rhu Jetty (Google Maps Link), which is around a 30-minute drive from Cenang Beach, where we were staying.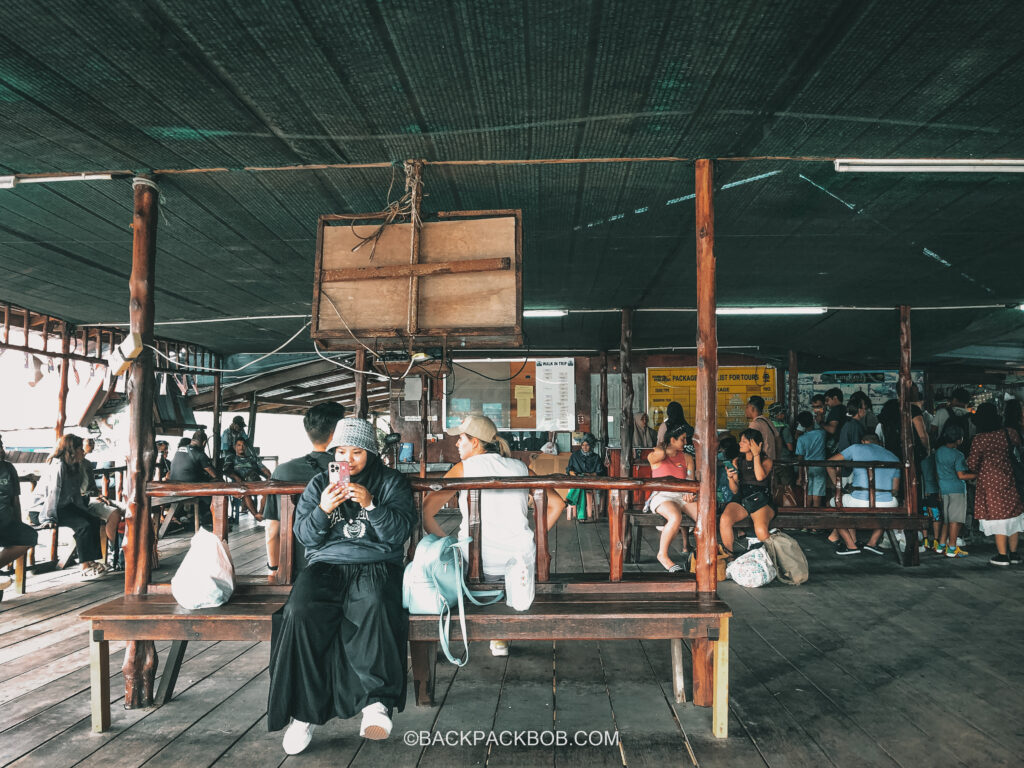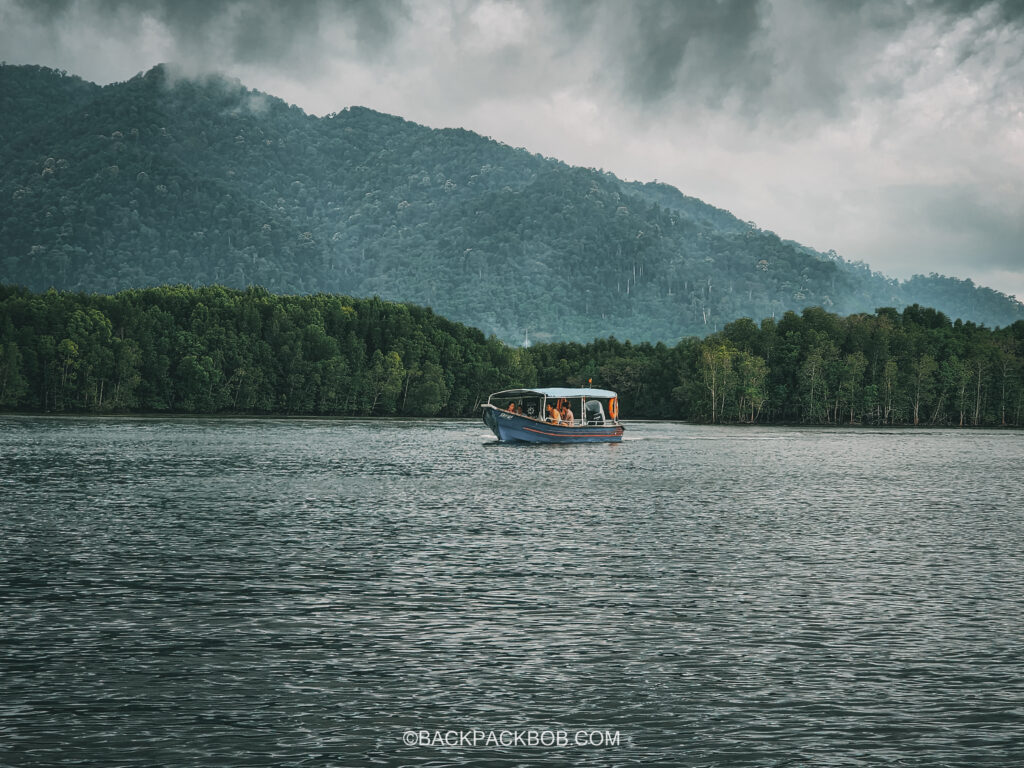 What to Expect on a Mangrove Tour
I loved the Langkawi Mangrove Tour, the places we visited for all unique and interesting. But what made this tour so special was our boat captain and guide. I've taken many tours around the Thai Islands which are a few kilometres from Langkawi and the hospitality was a word apart.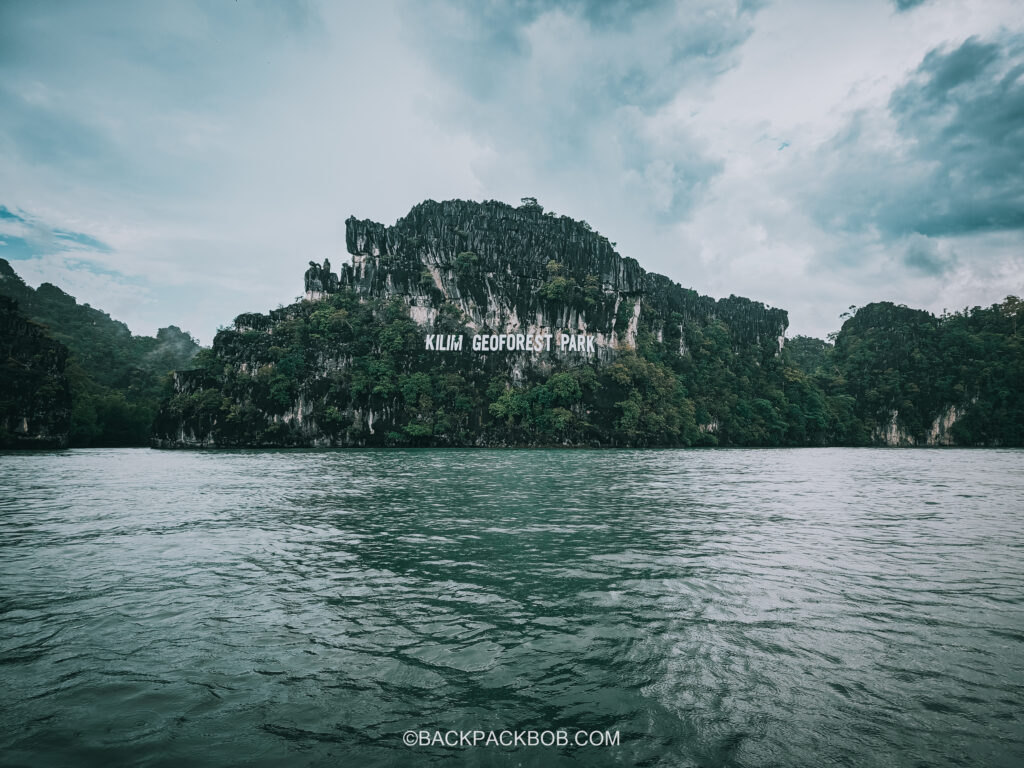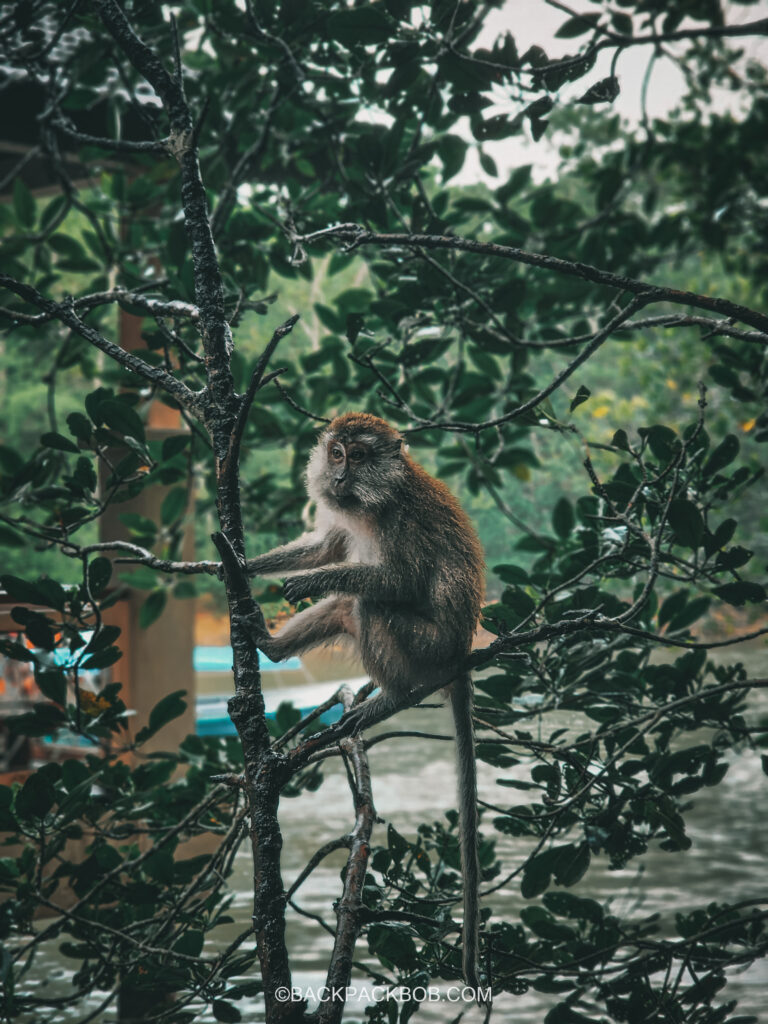 Our captain was fun, and memorable, and cracked jokes throughout the entire tour. I got the feeling the majority of guides here had somewhat similar, likeable personalities.
Our guide gave us a load of info about the places we were visiting. I'm not sure how much I believed him when he said that the monkeys were involved in an ongoing civil war with each other, but it was a good story. It was interesting to learn about the importance of the Mangroves and how they provide natural protection to the island, to corals and to marine life. And did you know, that this area of Langkawi is a protected UNESCO world heritage site?
How Long is The Langkawi Mangrove Tour
Tours of the Langkawi Mangrove Geoforest Park last between one to four hours. We booked a four-hour tour, which felt like the right amount of time. This included a one-hour lunch break, at the floating restaurant. If you are doing a private tour, you could choose a three-hour tour and have lunch when you return. Some private tours are advertised as lasting just one or two hours, which I think would not be enough time to see everything.
How to Prepare For a Langkawi Mangrove Tour
What should you bring with you on the Langkawi Mangrove Tour?
The Langkawi Mangrove Tour does not involve swimming, but you should still bring a hat, sunscreen, and sunglasses. The boat captains manoeuvre the boats quickly and at high speed, the boat ride is thrilling, but we were warned to remove any hats because they will blow off into the water. There are no toilets on the tour, except at the floating restaurant/fish farm where you have lunch. There are also no bathrooms at the bat cave or the crocodile cave. You should bring your own water, as it is not provided on the tour. There are a few market stalls at the jetty before you board the boat where you can buy water and snacks. We brought along a two-litre water bottle and quickly regretted that when we found there were no bathrooms!
There are 8 Places to See on The Langkawi Mangrove Tour
The four main attractions are the Bat Cave, the Crocodile Cave, the Fish Farm and seeing the wildlife; the Monkeys, and the Red Eagles. The eight places you can see on the Langkawi Mangroves tour are:
Gorilla Mountain: A Rock formation in the shape of a Gorilla.
Langkawi Eagles: The Red Eagles are famous on Langkawi Island.
Langkawi Monkeys: You'll spot the Monkeys at most spots on the tour!
The Crocodile Cave: There are no crocodiles here, just a cool cave.
The Bat Cave: A dark cave, with Bats.
The Fish Farm: Tasty lunch at a floating restaurant.
Kilim Geoforest Park Icon: An iconic symbol on the Mangrove Tour.
Tanjung Rhu Beach: Nice beach for swimming, it can be visited separately from the tour, for free.
Gorilla Mountain
This was the first spot we went to see on the Kilim Geoforest Park Mangrove Tour. I didn't fully understand what we were supposed to be looking at, at first. Our guide pointing in the direction of some mountains kept repeating it was 'King Kong' and there was a Gorilla. Whatever. I took a picture and we moved on.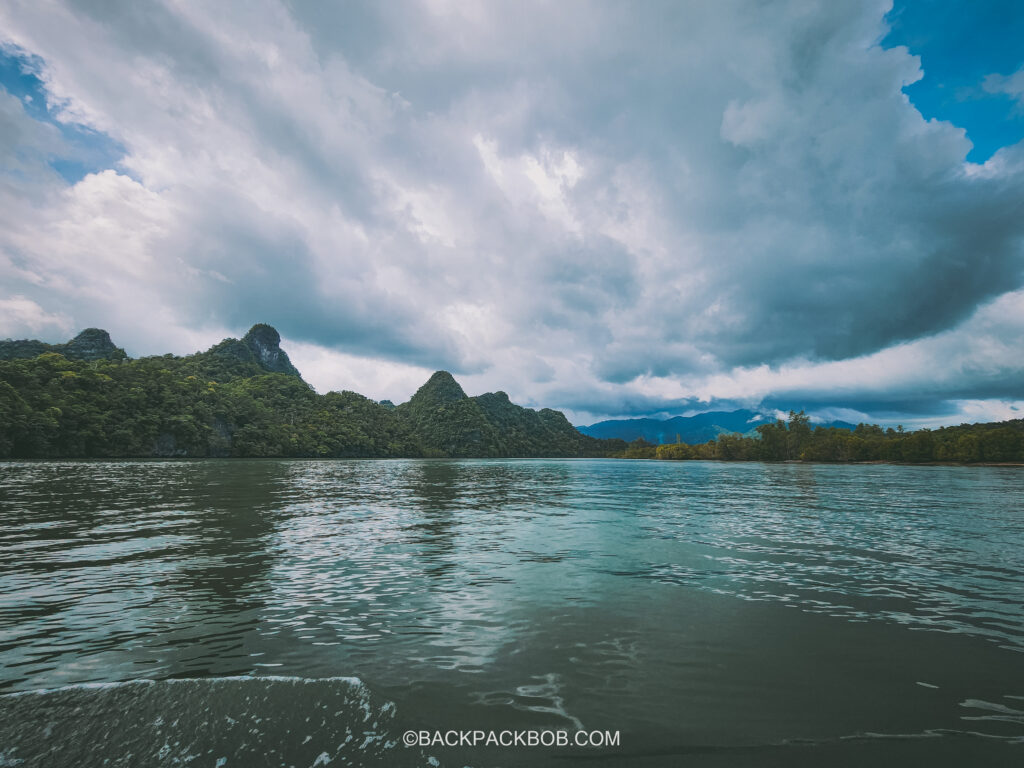 It wasn't until weeks later when I was looking back at the photos that I realised. The shape of the mountain looks like a Gorilla! Ok, I see that now– better late than never I guess. I've added the photo above, can you see it? Does it look like a Gorilla to you?
Red Eagles (and Monkeys)
Seeing the Langkawi Red Eagles was the highlight of this trip. There are two species of Eagle found in Langkawi, the Brahminy Kite and the White-Bellied Sea Eagle. There were so many of them, perched in the trees and soaring overhead. we were easily able to spot them. The largest Eagles in Langkawi have wingspans which can reach over 1.8 meters!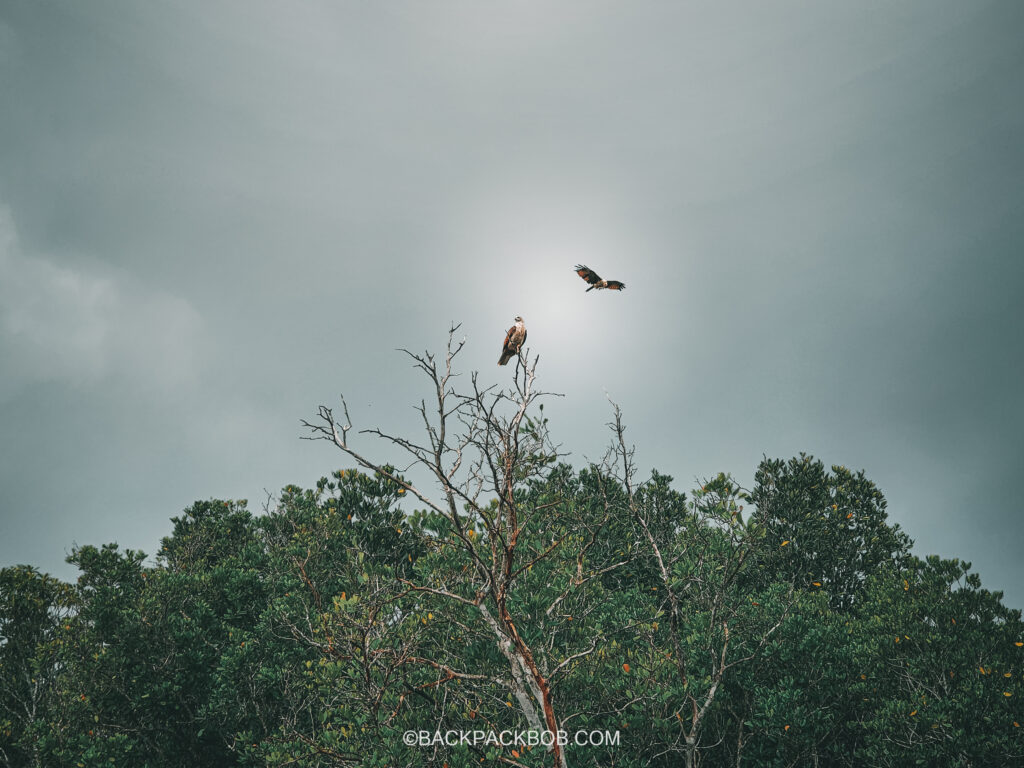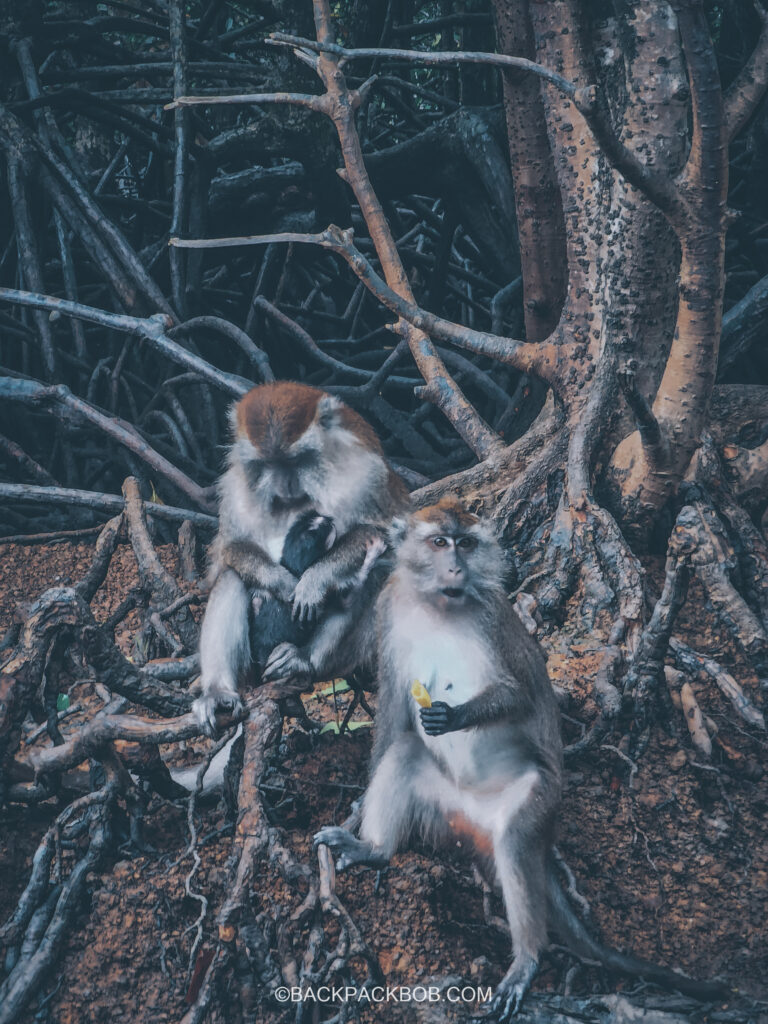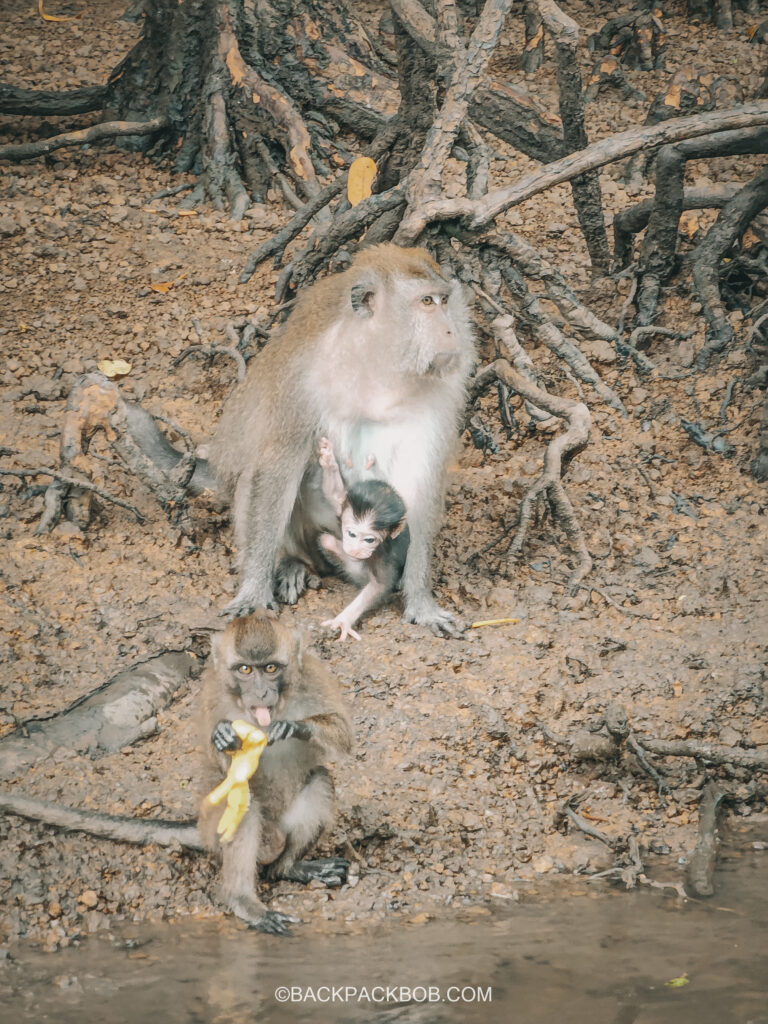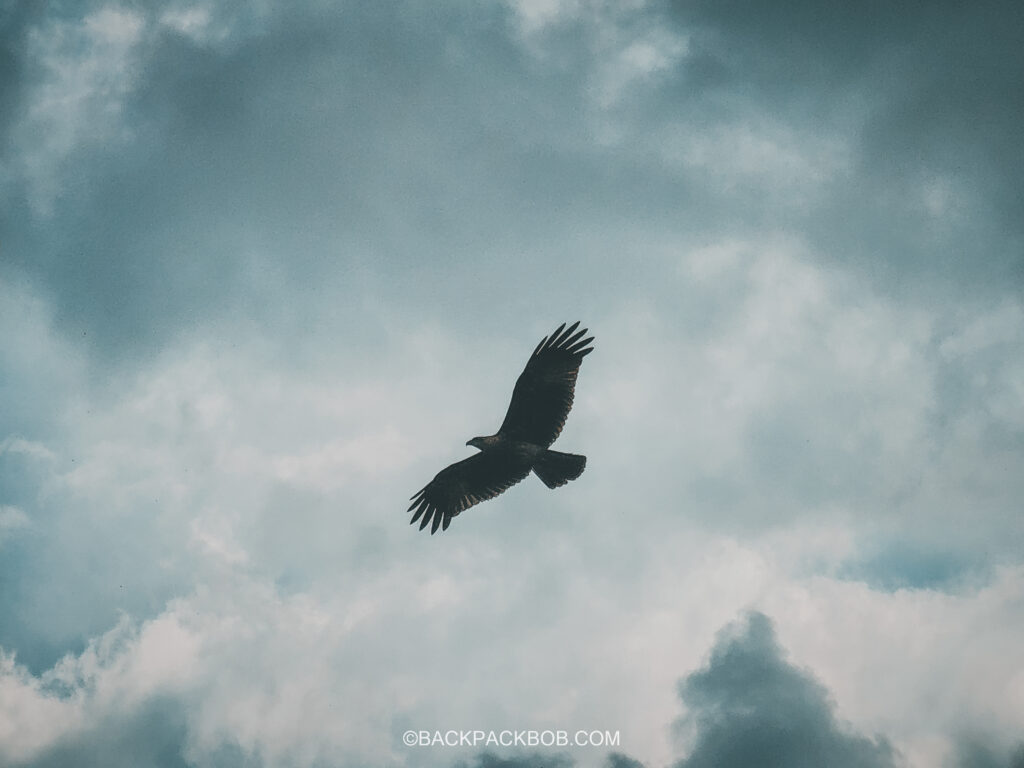 Some tours encourage feeding the eagles and we saw some boats throwing chicken skins into the sea to watch the eagles swoop down to the water. While it was interesting to watch, it's not ethical and thankfully wasn't encouraged on our boat. Feeding any wild animals often causes an imbalance in the ecosystem. A topic which is too complex to dive into in this post, but I encourage you to research it.
Crocodile Cave (Gua Buaya)
Are there crocodiles in the crocodile cave, Langkawi? Admittedly I was a little scared about visiting the crocodile cave. I didn't know if there were crocodiles in the cave and frankly, I was too embarrassed to ask.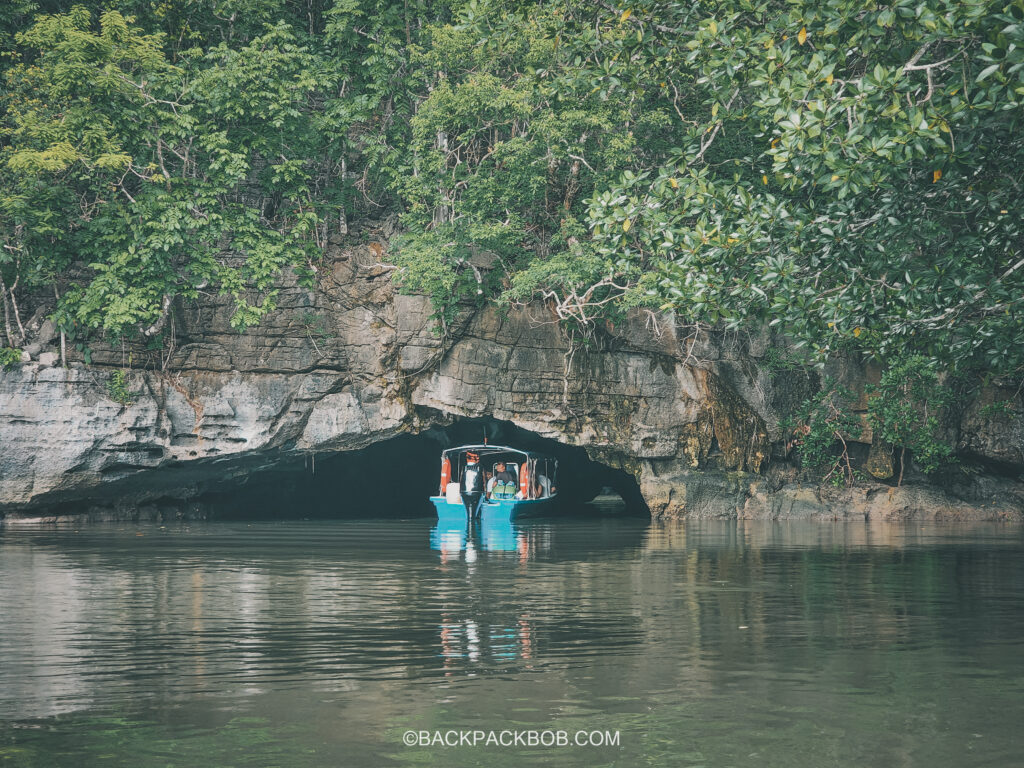 In the most British way possible I accepted my fate and stayed quiet. If there were crocodiles, then I guess I'll just be eaten. It's too late to get off the boat now, and I don't want to ask about it.
Thankfully, I wasn't eaten. And, there are no crocodiles in the crocodile cave.
The cave is named after its crocodile-shaped entrance, although I didn't see the resemblance myself. Our guide said that there used to be crocodiles in Langkawi, but I'm not sure if I believe him.
There isn't much to see in the crocodile cave, it was a little disappointing. It's essentially a narrow tunnel which passes through the limestone rock. Our boat was too big to fit inside at high tide, although we saw a smaller boat passing through. There is a picture of the so-called, crocodile cave above, does it look like a crocodile to you?
The Bat Cave (Gua Kelawar)
There is an entrance fee of 1 MYR per person at the Langkawi Bat Cave- you can also rent a torch for 5 MYR. We rented one and didn't use it. There is a wooden floor path which leads the way through the cave. If you look up you'll see hundreds of fruit bats hanging from the ceiling. Spooky. Of course, in true Langkawi fashion, there are also hundreds of Maqaue Monkeys here too.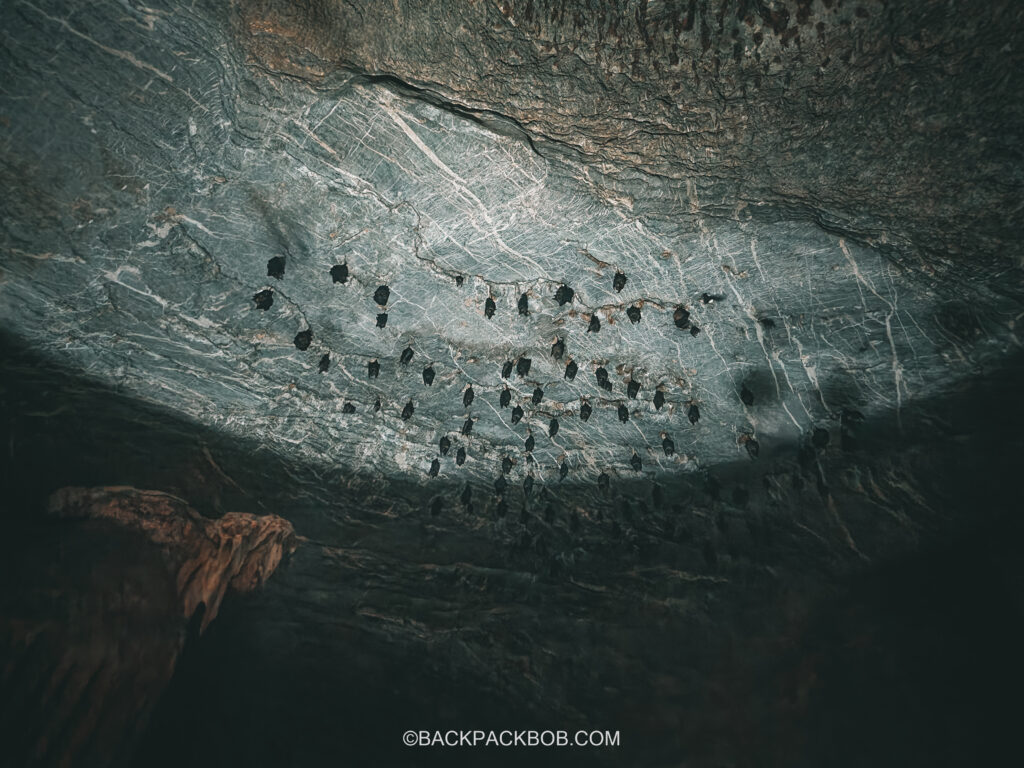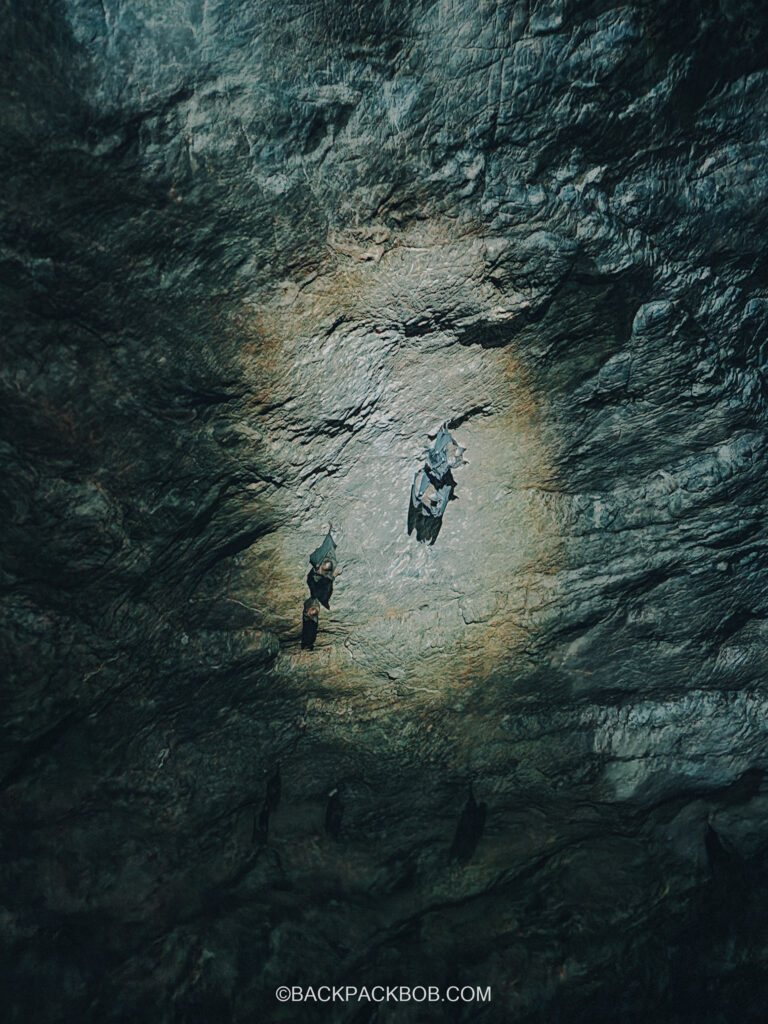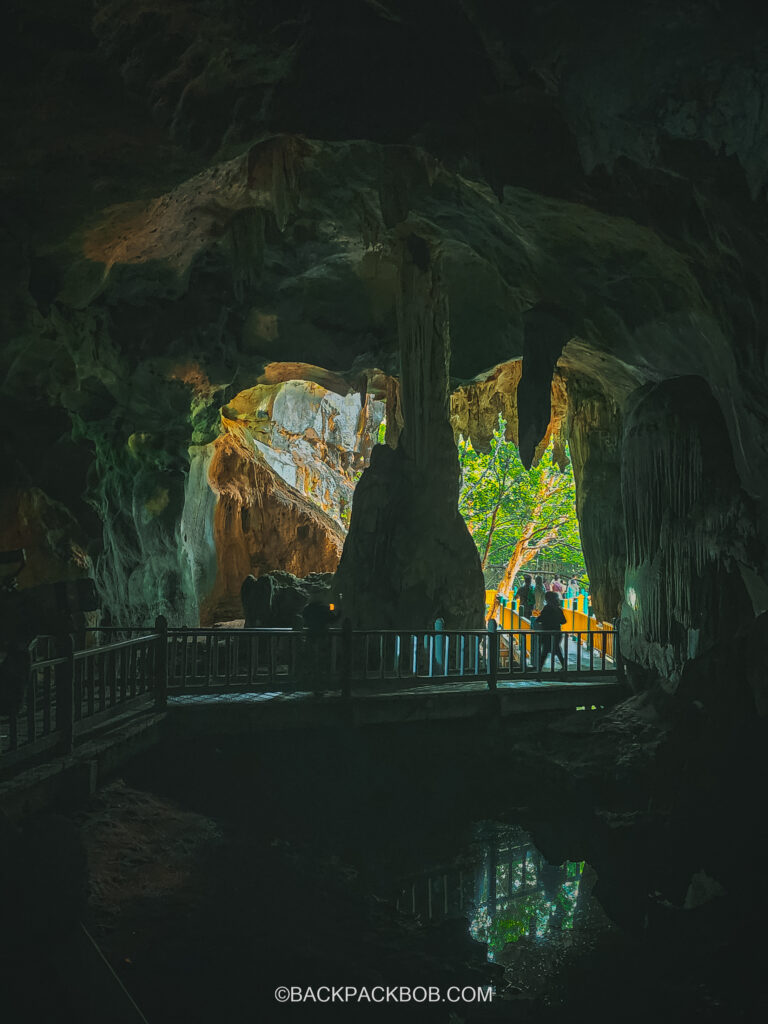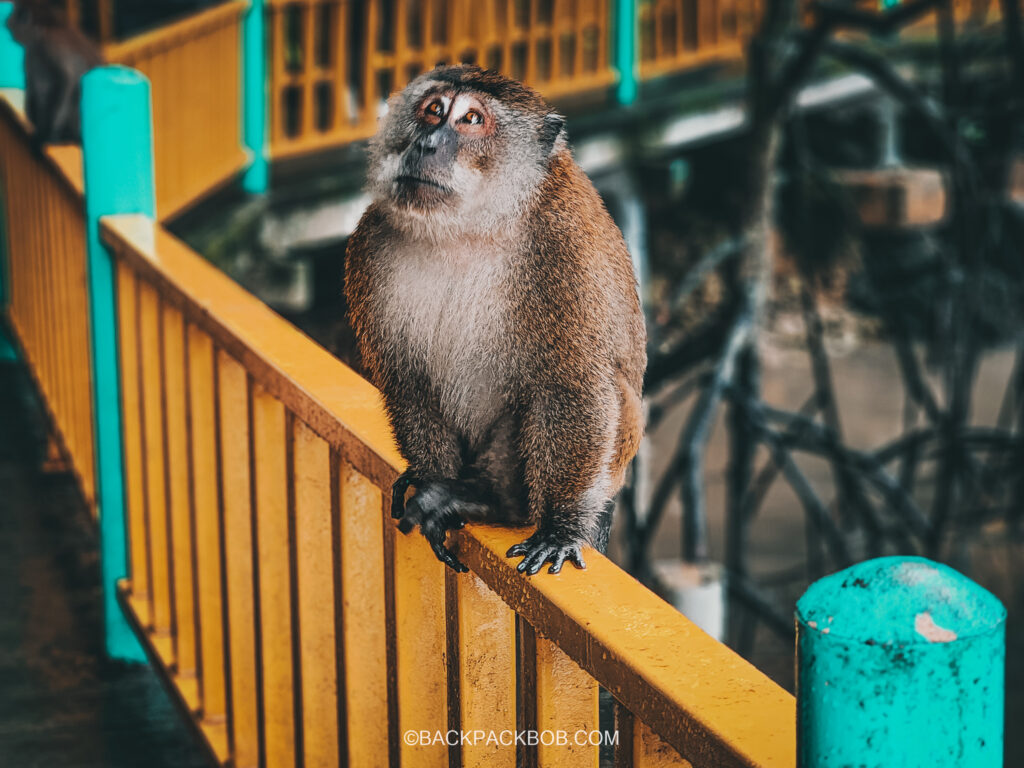 Kilim Geoforest Park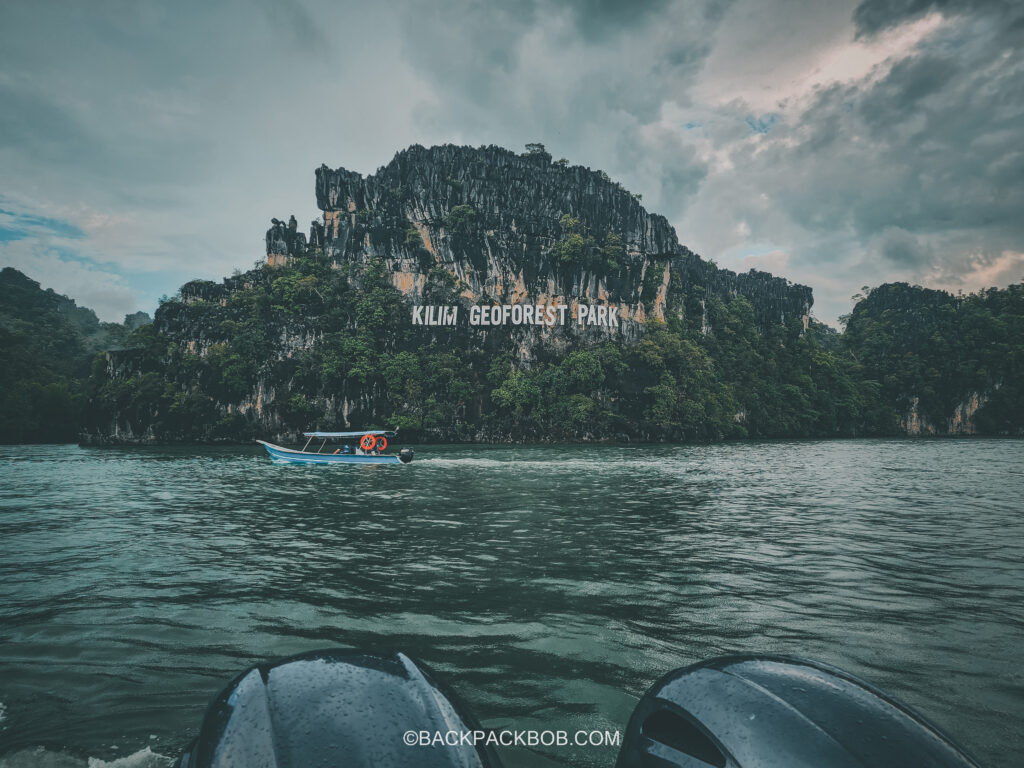 This is the most iconic spot on the tour, although it's mostly just a photo spot and not much else going on here. It's still a must-visit and will be included with most Mangrove Tours. Some of my favourite pictures were taken here. The Sign reads 'Kilim Geoforest Park' which is nestled in the hillside.
Langkawi Fish Farm (and Floating Restaurant)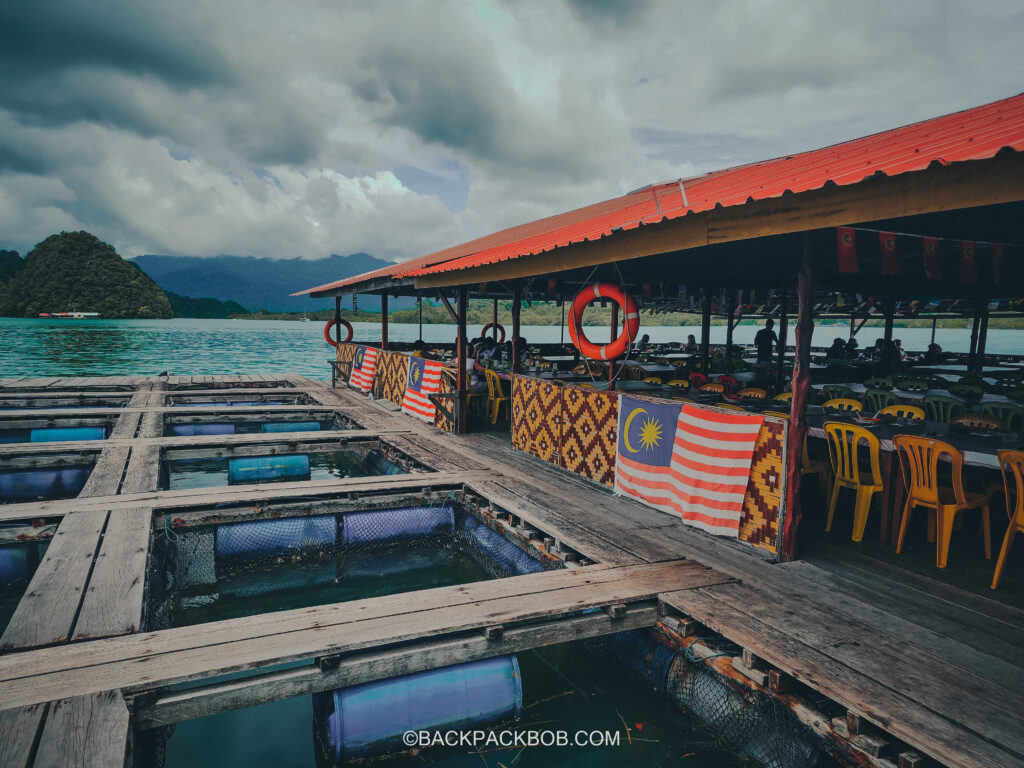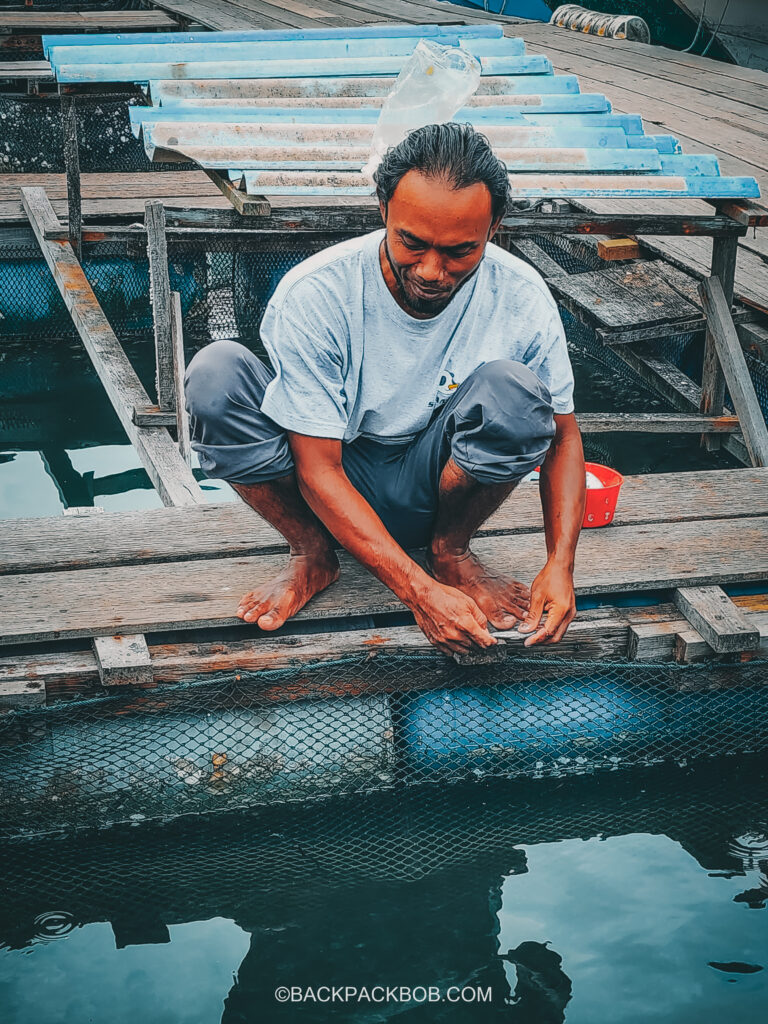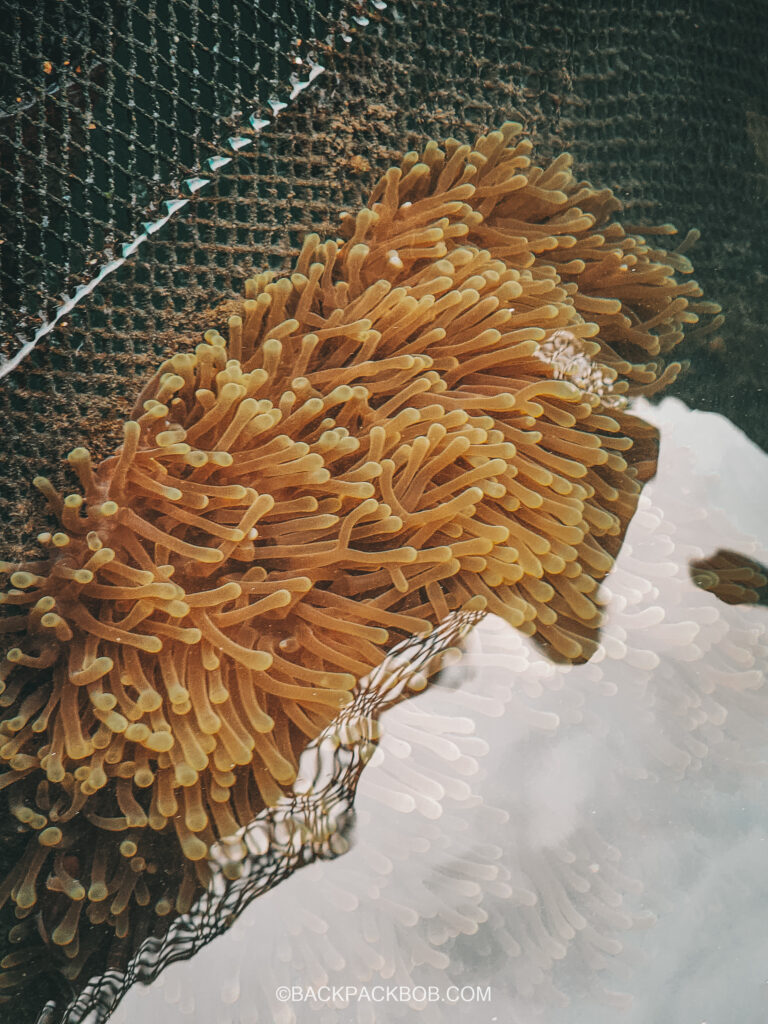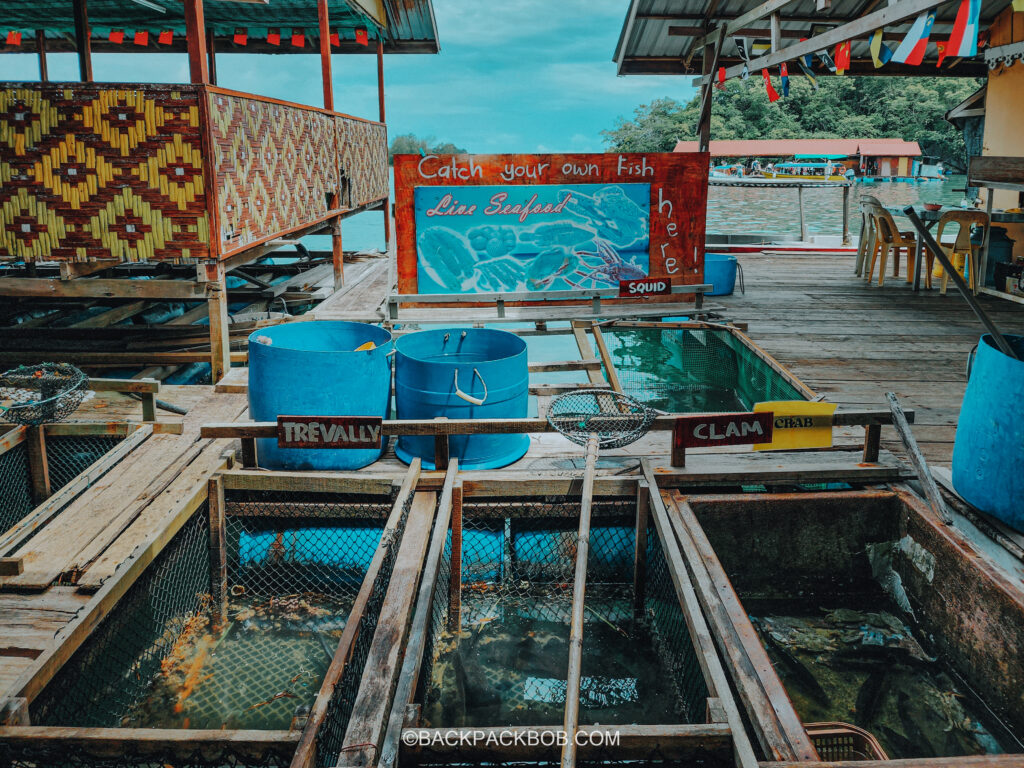 Our tour included lunch at a floating fish farm, which I was initially sceptical about. I've been to plenty of these places in Asia, and they're often tacky and outdated. But this one was surprisingly alright.
The entire restaurant is literally floating on the sea, and the family who runs it catches and serves fresh fish. They also have some pools with netting under the surface, where they keep their biggest catch. I saw a 180-pound grouper! That thing was massive! It was cool to see, but I couldn't help feeling a little bit cruel keeping such a big fish in a small pond.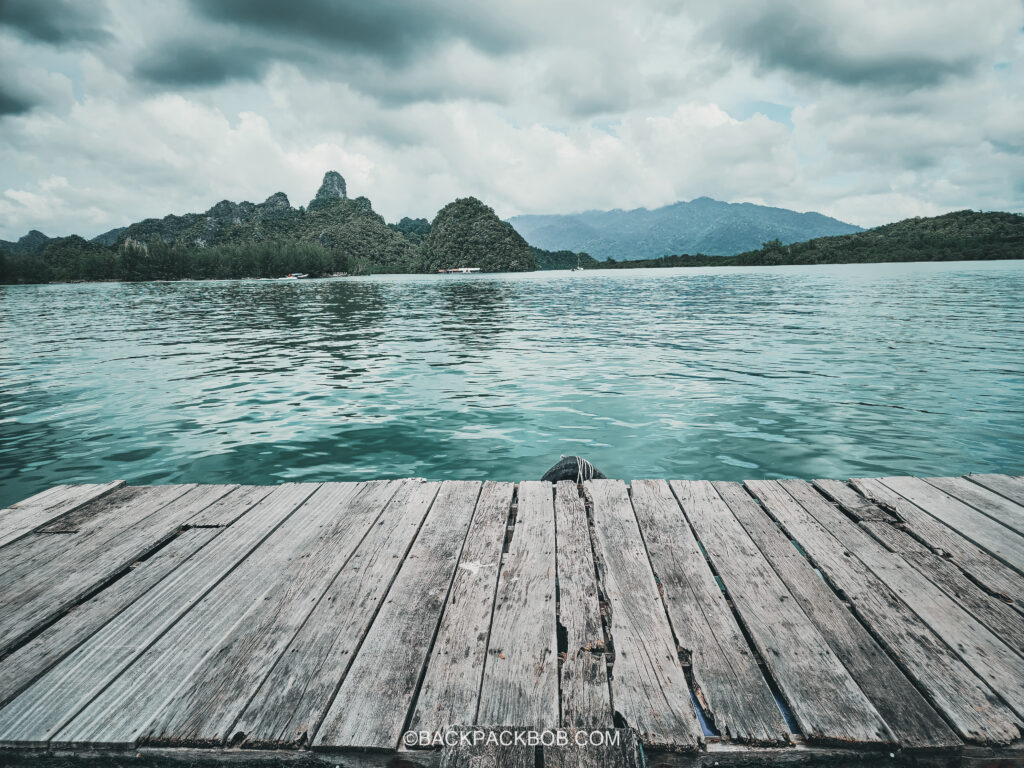 But it wasn't all doom and gloom. The family has also created artificial reefs and is regrowing coral reefs in one of the pools. It was really nice to see, and the family was very passionate about their projects. They gave one of the most engaging tours I've had in Malaysia. It's worth checking out.
Tanjung Rhu Beach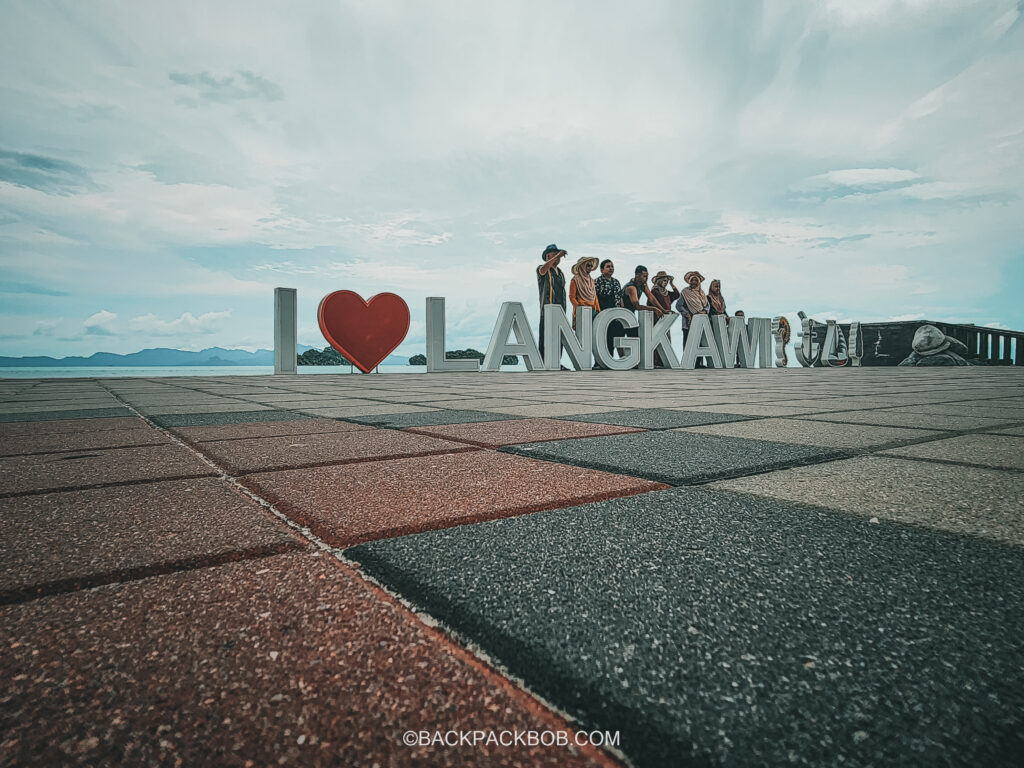 Tanjung Beach is right next to the starting point for the Mangrove tour. Some tours stop here so you can swim and relax on the beach, but it's not worth eating into your tour time when you can easily visit on your own time after the tour for free. That's what we did. We made a pit stop on the way back from the tour. There are some small restaurants and water sports like jet skiing available. Don't forget your swimwear!
Langkawi Mangrove Tour. TL; DR.
The Kalim Geopark Forest Tour / Langkawi Mangrove tour… whatever you want to call it was great fun. If you are not sure if it's worth the money or not, I say to go for it. It's a great way to spend an afternoon learning about Langkawi and no trip to the island would be complete without seeing the famous red eagles up close.
Useful Travel Links
My Most Popular Travel Guides
My Favourite Countries, I Have Written About
Book Your Accommodation
The best place to book accommodation in South-East Asia is Hostelworld. Hosteworld consistently has low prices and in recent years they have grown to include private rooms too. It's still the most sociable accommodation booking app. Booking.com and Agoda are good choices too. These sites have the largest inventory of rooms.
Don't Forget Your Travel Insurance
Never travel overseas, without travel insurance. I've seen first hand the consequences of travel without it. Don't be, that guy. These are my go-to companies for insurance.
Other Recommendations
Check out my resource page to discover new and useful travel apps, businesses and websites. These are sites you need to know about to save money, spend like a local, avoid visa hassles, book rooms, find flight deals, and more.
More Photos of Langkawi Mangrove Tour
I still had some photos of the Langkawi Mangroves Tour, which I loved, but couldn't fit them into this guide, so here they are.