Thailand and Malaysia are neighbours, so it's easy to travel between the two countries. I took the overnight train from Bangkok to Malaysia, which is the best way to go if you're not in a hurry. The sleeper train takes 20 hours, but you'll get to see some amazing views along the way. Other options for getting from Thailand to Malaysia include flying into Kuala Lumpur Airport, taking a speedboat to Langkawi Island, or driving straight to George Town. I'll share all the details you need to know about each option in this guide.
It's a Visa Run! Ding, Ding, Ding!
Another two months, another visa run post. One of the joys of living in Thailand, immigration rules make it either difficult, or expensive, for younger foreigners to stay long-term, and essentially force me to take a holiday four times per year. It was something I loathed before, the dreaded visa run. Spending a day or two days on cross-border buses, leaving Thailand for an hour, and returning again immediately.
Now the visa run is something I have come to embrace. I now use my mandatory vacation time to travel further afield, exploring another country for a few weeks or a month, before returning to Thailand to plan the next trip.
I'm now a "full-time" tourist. I decided to spend, two weeks in Malaysia. To meet the requirements for my Thai visa. It's a bit of a nomadic lifestyle, but I'm enjoying it. As Malaysia connects with Thailand, in the south, I was able to take the overnight sleeper train all the way from Bangkok to the Border. This is the route I recommend for travelling from Thailand to Malaysia.
But it's also possible to travel by boat, on the bus, or by taking a flight. Let's have a look at all the options I could have chosen to get from Thailand to Malaysia.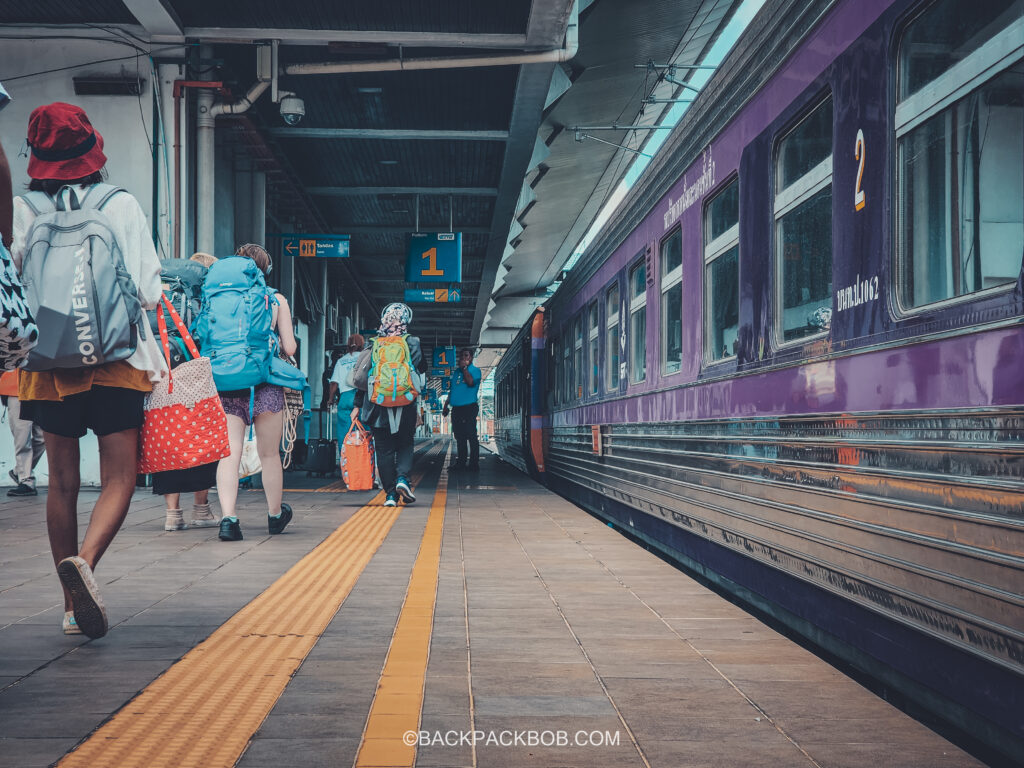 Tips For Travel From Thailand to Malaysia
The departure point for all Bangkok Trains was moved from Hua Hin to Bang Sue Grand Station in 2023.
The ferry between Thailand and Malaysia has not resumed service since the 2020 shutdown. The speedboat still goes.
If you travel by road and cross into Malaysia at the Sadao Border, corruption is rife. Make sure to slip 200 Baht (or 20 MYR) into your passport before handing it to the immigration officer. (You do not need to put a cash bribe in your passport if you are crossing at Padang Besar).
If you want to travel north on the train from Bangkok to Laos, read this guide instead.
When using the official train booking website to search for train tickets departing Bangkok, you must use 'Krung Thep Apiwat' as the departure station name. If you use 'Bangkok', this is the old name and you cannot find or book tickets.
If you take the overnight train, make sure to pack an eye mask because the cabin lights are left on all night.
Thailand's Sleeper Trains are still growing in popularity and book up well in advance. Try to book tickets as early as possible – trains (sleeping carriages) are often sold out weeks in advance, especially on weekends and public holidays.
Thailand and Malaysia operate in two different time zones. Malaysia (GMT+8), is one hour ahead of Thailand (GMT+7).
Change a small amount of cash before you set off, it's good to have both Thai Baht and Malaysian Ringgit for the trip.
1️⃣ Thailand to Malaysia: On the Train
I took the overnight train from Bangkok, Thailand to Padang Besar, Malaysia. So this is the travel method I'll focus on most in this guide.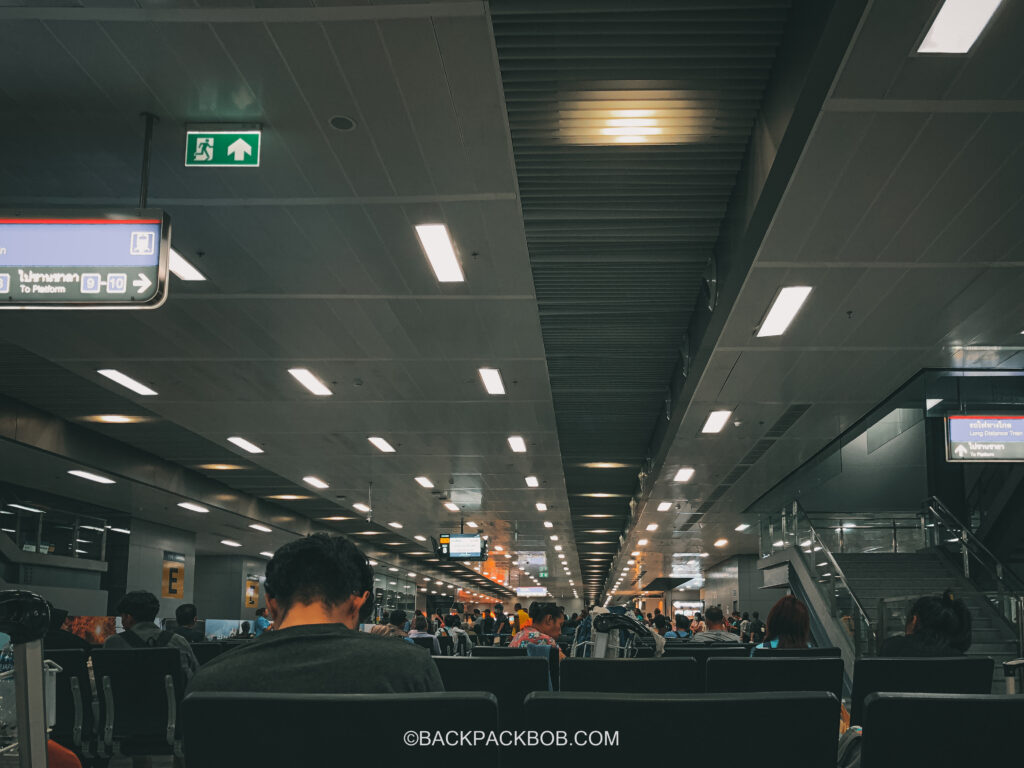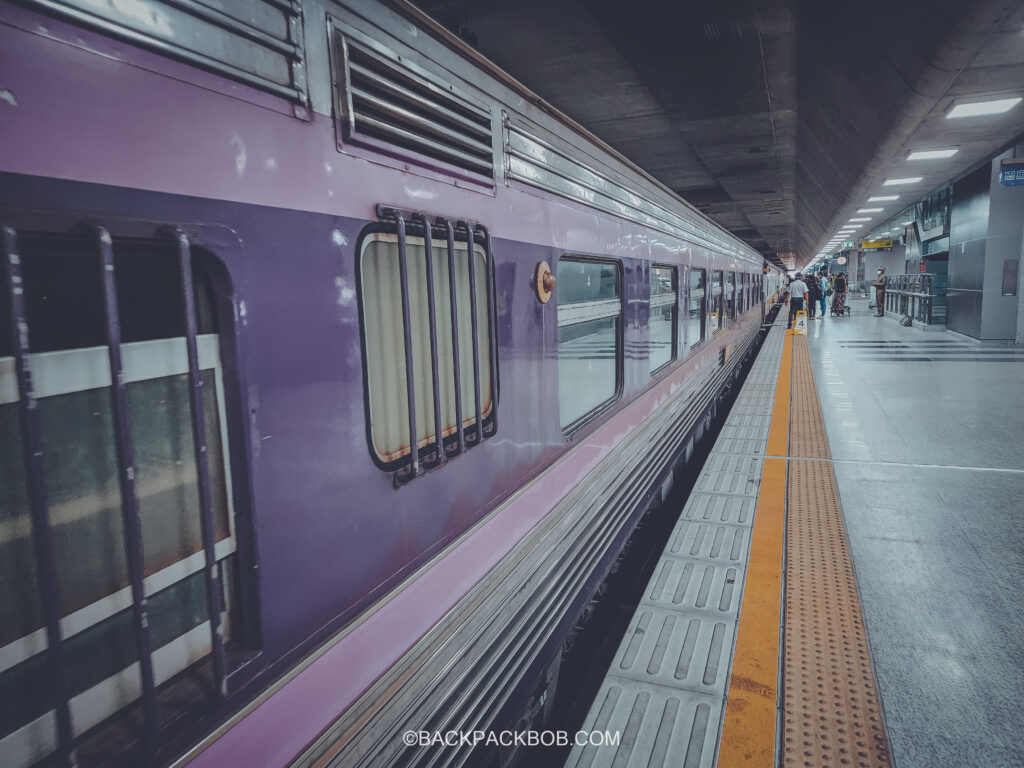 The train is the best choice, in my opinion. You have scenic views, eliminating the need to book a hotel for one night, therefore saving money, it's comfortable, cheap and an enjoyable experience. I would consider a bus or a boat if I was based closer to Malaysia. But from Bangkok, the only options I would consider are the train, or taking a flight.
Trains to Malaysia from Thailand leave from the following destinations:
Bangkok
Hua Hin
Chumpon
Suratthani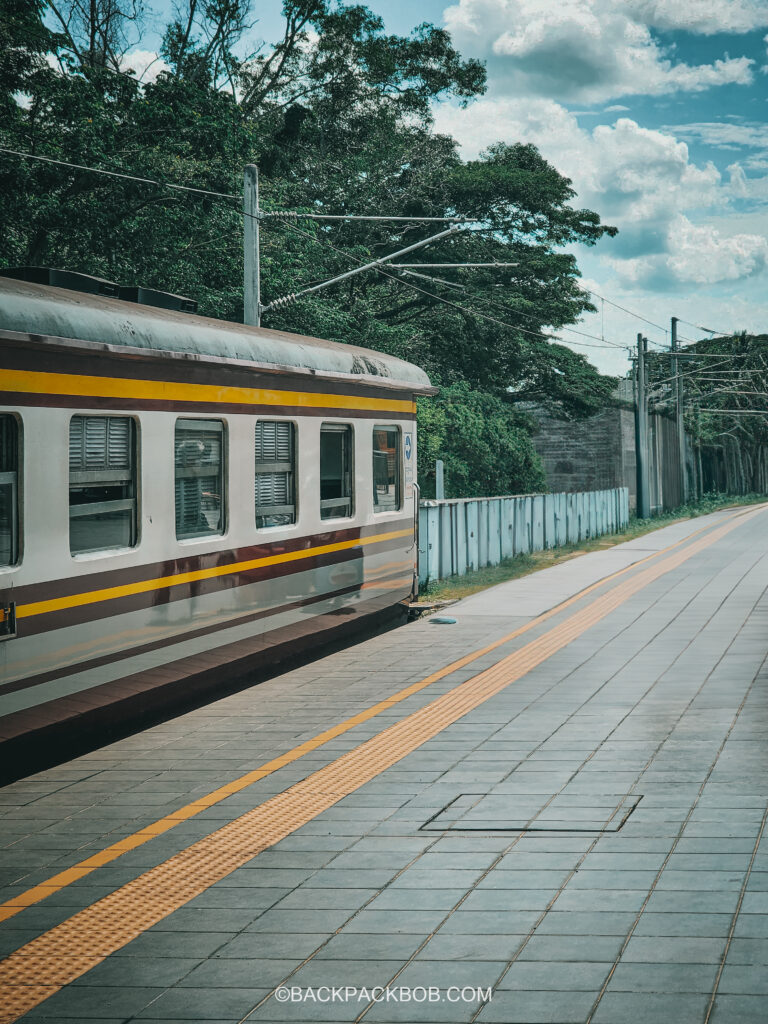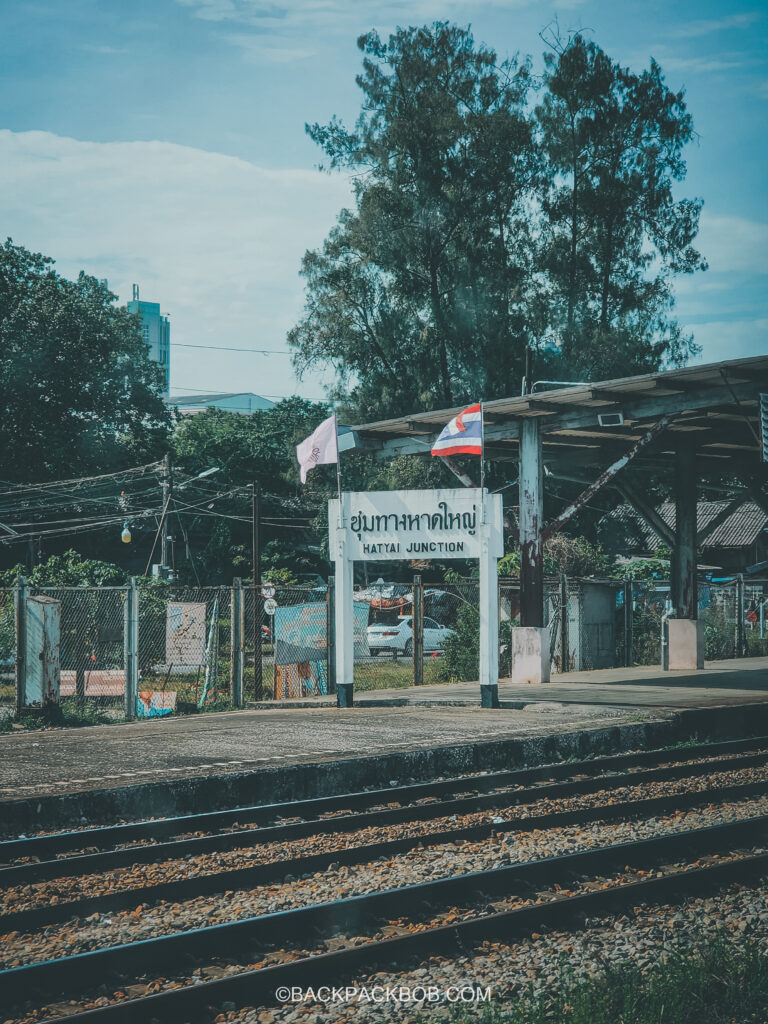 The train runs along the entire length of Thailand's southern Train Line. The route starts in Bangkok, at Bang Sue Station (Krung Thep Station), and ends at Padang Besar Station, on the Thai/Malaysian Border. There are many other stops along the route including Hua Hin, Chumpon and Surat Thani. Which makes it really easy to connect with the Gulf Island, Koh Tao, Phangan and Samui.
Thailand to Malaysia Train Schedule
Train 45 is currently the only train per day in operation from Thailand to Malaysia.
Bangkok to Padang Besar: Special Express – Train Number 45
Starting in Bangkok, the route takes 20 hours to travel south to the Malaysian border, making stops at a number of other stations along the way. There are two second-class sleeping carriages, with a total of 80 beds, 40 beds in each car.
The train departs Bangkok at 15:35 daily, with a scheduled arrival time of 9.50 AM. However, this train is notorious for arriving late. We arrived two hours late and had some trouble with our onward travel, getting to Langkawi because of that.
The train arrives at the Malaysia/Thai border but you'll need to disembark the train and cross to the Malaysia side on foot, therefore the arrival time is advertised in Thailand time (GMT+7). The time switches to GMT+8 once you cross the border.
| | |
| --- | --- |
| Depart From | |
| Bangkok | 15:35 PM |
| Hua Hin | 19:55 PM |
| Chumpon | 00:20 AM |
| Surratthani | 03:50 AM |
| Arrive at Padang Besar: | 09:50 to 11:50 AM |
The train from Bangkok to Malaysia first arrives at Hat Yai station. The locomotive is changed to continue the one-hour journey from Hat Yai to Padang Besar. Passengers do not need to disembark the train during the change.
Ticket Prices and Where to Book
Tickets for the entire route from Bangkok (Krung Thep) to Padang Besar cost 918 Thai Baht (£20) for a lower bed, or 848 Thai Baht (£18) for an upper bed. The cost is lower when departing from later stations.
Thailand to Malaysia Train Ticket Prices
| | | |
| --- | --- | --- |
| Start Location | Lower Bed (THB) | Upper Bed (THB) |
| Bangkok | 918 | 848 |
| Hua Hin | 100 | 400 |
| Chumpon | 200 | 300 |
| Suratthani | 682 | 612 |
The official way to book train tickets to Malaysia is through the State Railway of Thailand (SRT). You can buy tickets on their website, DTicket Booking Platform, but you'll need to register an account with your passport. In order to check prices, schedule or book.
Here's the link: https://www.dticket.railway.co.th/
You can also buy tickets through a travel agent, which is often easier and no more expensive. I like to use 12GO, which has a good reputation for service in Thailand and Southeast Asia.
Here's the link: https://backpackbob.com/search-bangkok-to-malaysia-tickets
If you show up at the station without a ticket, it's very unlikely that you'll be able to get one for the sleeper car. However, it's usually possible to get a last-minute ticket for the seating carriages if you are desperate.
What are Thai Sleeper Trains Like
I love taking long-distance trains in Thailand. It's a relaxing way to travel and you get to see some amazing scenery.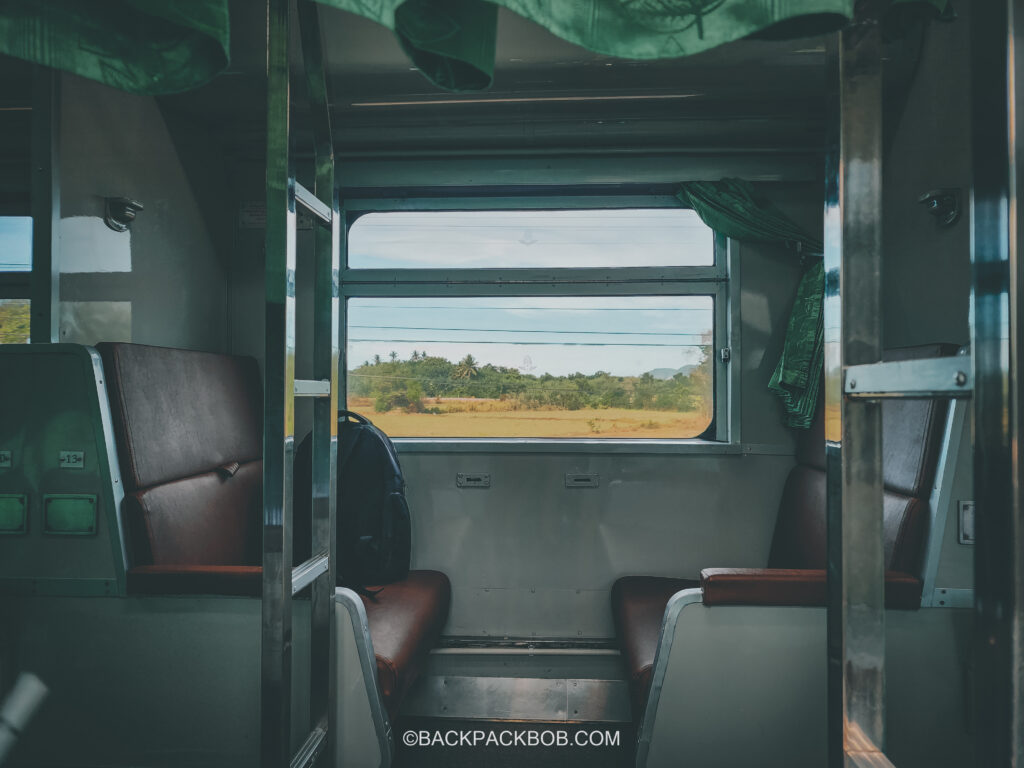 I always book a second-class lower berth bed. The upper berths don't have a window and the bright cabin light is right next to your face, which is left on all night. Tickets for a lower berth are only about 100 Baht extra, so it's totally worth it.
The beds themselves are comfortable and spacious, enough. You can get a decent few hours of sleep, which would be impossible on the bus. If you're really trying to save money, the aircon seating carriages are doable.
Some trains have power outlets, but not all of them. I haven't figured out how to find this information in advance, but we were lucky enough to have sockets on our train. This meant I could keep my laptop charged and work on a new blog post for Backpack Bob.
Some trains have restaurant carriages, but ours didn't. However, there's no shortage of food on board. Vendors board the train at most stations and sell Thai food, rice boxes, fried chicken, coffee, and more. If you're vegetarian, it's probably best to bring your own food.
Hat Yai to Padang Besar Train
All trains to Malaysia from Thailand travel via Hat Yai station. There is a dedicated Hat Yai to Padang Besar train service and this final leg of the trip takes around one hour.
Arriving at Padang Besar
There are two stations named Padang Besar, one is simply called Padang Besar, and the other is called Padang Besar Thai.
Padang Besar is the main station to cross into Malaysia. It's the last station on the line, and it's where you'll go through customs and immigration. Padang Besar Thai is the second to last station. It's a small station that's mostly used by locals.
When you leave the train at Padang Besar, you'll be directed into the immigration hall. It's a good idea to get off the train quickly, as the hall fills up quickly with train passengers. It took us over an hour to pass immigration, so don't dawdle!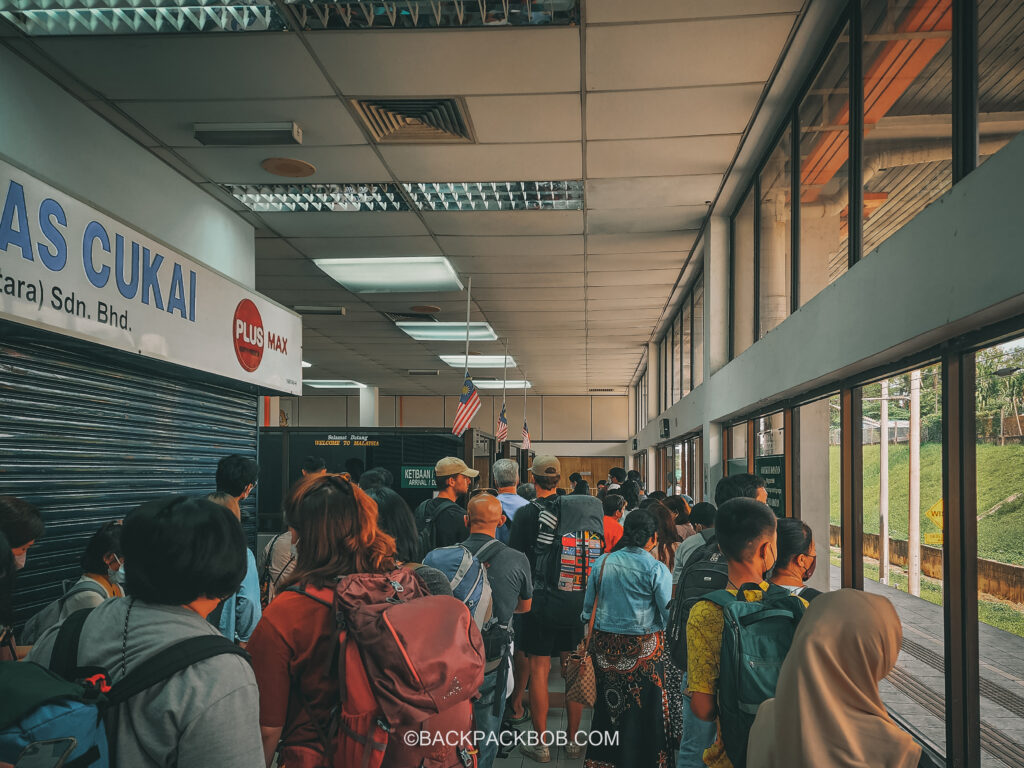 Thai and Malaysian immigration are in the same building at Padang Besar, so it's pretty straightforward to cross the border. First, you go to Thai immigration to stamp out of Thailand. Then, you join the queue to stamp into Malaysia. There are no forms to fill out, but I always pack a pen just in case. All coronavirus and Monkey Pox travel restrictions have been revoked.
Once you've crossed the border into Malaysia, you can access the main part of the train station. The Kt Komutor Train departs from here to destinations like Arau, which connects to Langkawi (3.20 MYR), Butterworth, which connects to Penang (9.60 MYR), and Kuala Lumpur (72 MYR).
Train Schedules for Trains Leaving Padang Besar Station in Malaysia: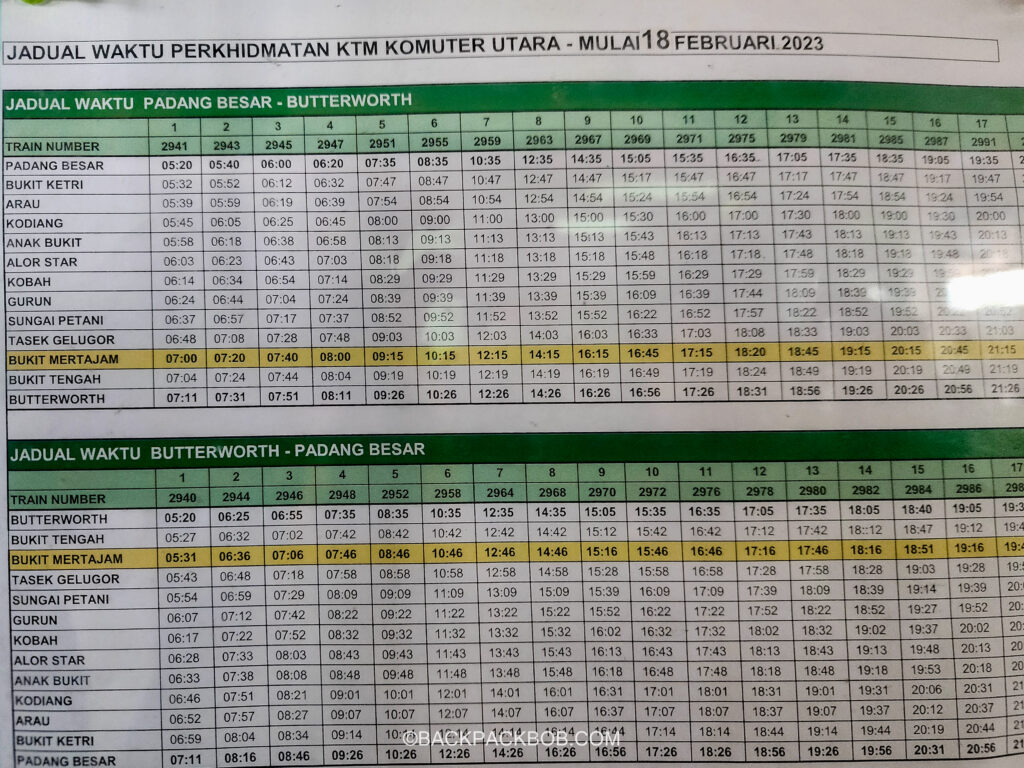 There are some small kiosks and carts inside the station where you can buy travel adaptors for 5 MYR, and Malaysia SIM Cards (at extortionate prices). You could instead, set-up an ESIM while you are on the train before you arrive.
To travel onward to most destinations you can buy tickets when you arrive, at the ticket kiosk or from the vending machines (which accept contactless card payments). However, we saw signs in the window of the ticket kiosks that said that trains were fully booked to Kuala Lumpur. So if you plan to connect to KL, it's best to buy a ticket in advance.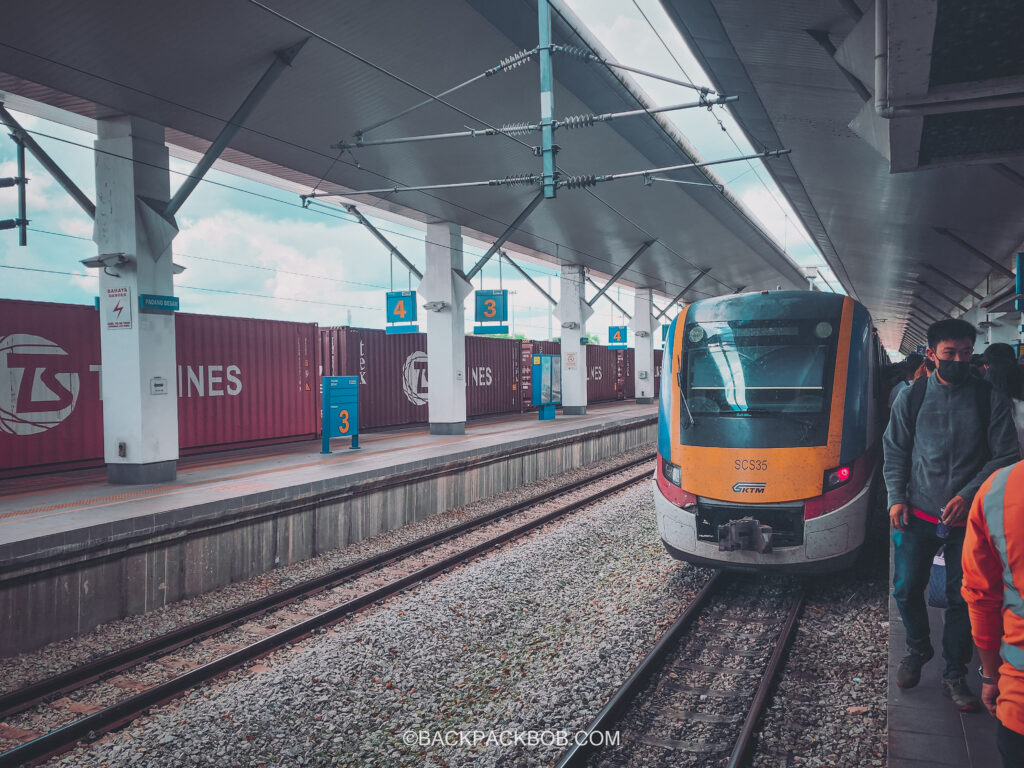 Onward tickets from Padang Besar to the rest of Malaysia can be booked on the KL Komutor website. [Link]:
2️⃣ Thailand to Malaysia: Travel By Sea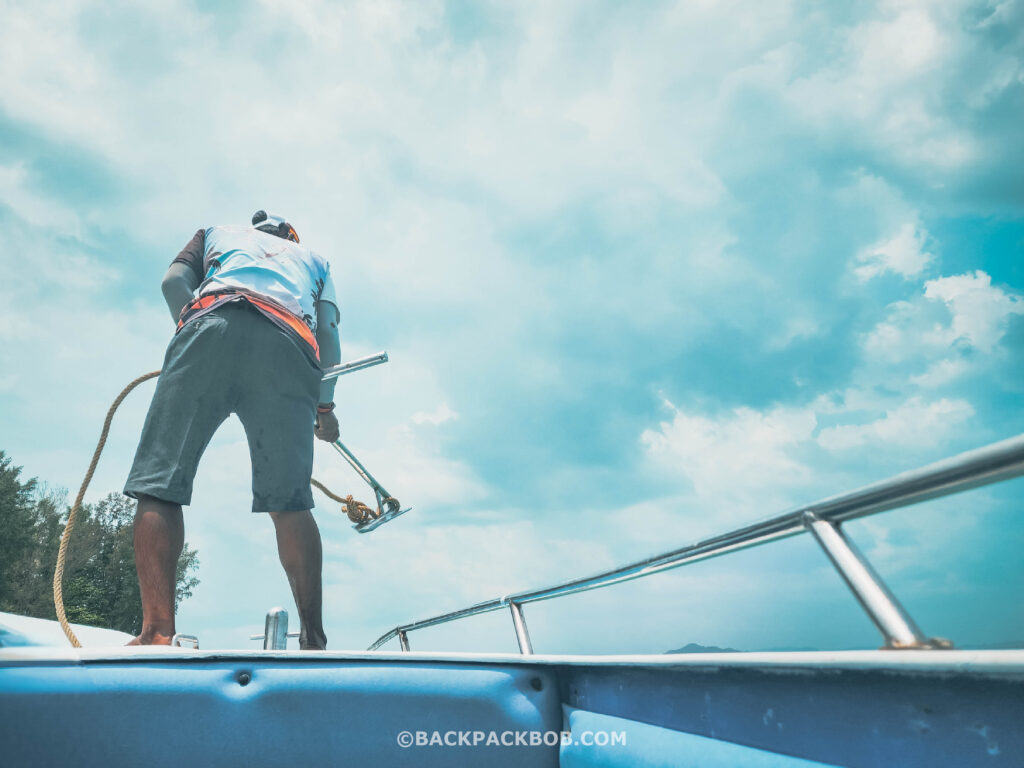 Prior to the coronavirus pandemic, there was a ferry route operated by a company called Tigerline who ran a boat from Phuket all the way down to Langkawi, (and visa-versa) stopping at many islands along the way. Including Koh Yao, Phi Phi, Lanta, Koh Libong and Koh Lipe before heading to Langkawi. It was an entire day trip- taking 7 to 8 hours to complete the entire route. This service never resumed after Corvid.
Now if you want to travel from Thailand to Langkawi by boat, you'll need to travel via Koh Lipe. There are speedboats from Koh Lipe Island to Langkawi all year round. Tickets cost 1,400 Baht, but you can save 20% by booking in advance, on this website.
Boats to Malaysia from Thailand leave from:
To get to Koh Lipe Island you can take a speedboat from any other Andaman Island. You can check ticket prices and schedules here by entering your start location and choosing Koh Lipe and the arrival destination. Phuket is the most expensive destination to start from, with tickets to Lipe costing 3000 Baht +. It's 2,600 Baht from Phi Phi, 2,200 from Lanta and prices get lower the closer your starting point is, to Koh Lipe.
There are two companies that operate this route, the names are Budhaya and Satun Parkbara Speedboat Club.
Koh Lipe to Langkawi
I've written an entire guide about how to get to Langkawi here. Which will talk you through booking tickets, scheduling, prices and how to pass through immigration at the beach checkpoint.
3️⃣ Thailand to Malaysia: Travel By Road
If you are driving your own vehicle from Thailand to Malaysia, or using a pre-arranged visa-run service, such as this one. The most common border crossing to use is the Sadao Border Crossing.
There is blatant corruption at this crossing point and all travellers, including Thai and Malay passport holders, are required to 'tip' immigration officers 200 THB or 20 MYR to cross. The money is to be slipped into your passport before handing it to the immigration officer. They will check for the cash first, throw it into their literal bucket of cash which is openly displayed and then you'll get stamped in/out.
There were a couple of guys on our bus who decided they didn't want to pay the 200 Baht. Anyway, two hours later after they were released from detention- and having paid 2,000 each instead. We were ready to continue.
If You are Traveling by Bus
To travel from Thailand to Malaysia on the bus the most common route is to take the bus via Had Yai.
Busses from Thailand to Malaysia leave from:
To travel from Thailand to Malaysia on the bus you should book a bus ticket to Hat Yai. Hat Yai is a town in the deep south of Thailand. From there, you can board the shuttle train which goes from Hat Yai to Padang Besar Station. Then you can cross the border and take the train to you your final destination in Malaysia. There are four shuttle trains each day and tickets cost 50 THB or 10 MYR.
Companies in Thailand have been making major updates to their bus services post-covid and there are now many operators who offer sleeper buses which have lie-flat seats, movies and other entertainment systems. Try to book a luxury bus over the standard service.
Booking Bus Tickets From Thailand to Malaysia
There are two websites to book bus tickets online, these are Easybus and 12Go.
Baolau: https://backpackbob.com/bangkok-to-hat-yai
12Go: https://12go.asia/en/travel/bangkok/hat-yai
When you arrive at Padang Besar you would follow the same process as outlined above to enter Malaysia, and you can board a KTM Komutor Train to continue to your final destination in Malaysia.
Note: You cannot drive across the border in a rental car. Vehicles must be registered to the driver.
4️⃣ Thailand to Malaysia: Travel By Air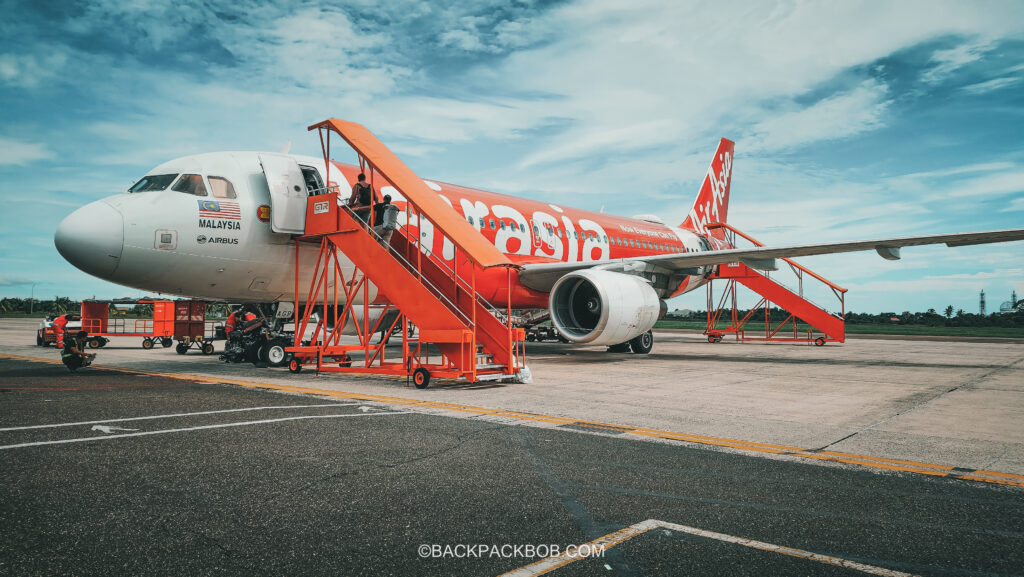 There are over 30 scheduled flights from Thailand to Malaysia each day. All flights from Thailand arrive at Kuala Lumpur (KLIA2), and you can connect to other destinations there. Flights to Malaysia from Thailand leave from the following airports:
Chiang Mai (CNX)
Bangkok Don Muang (DMK)
Bangkok Suvarnabhumi (BKK)
Phuket (HTK)
Krabi (KBV)
AirAsia and Thai Vietjet are two of the most popular low-cost airline to operate this route. As AirAsia is a Malaysian company with a huge fleet of aircraft, this is often the cheapest airline. Bangkok Airways and Thai Airways operate flights from Thailand to Malaysia less frequently and costs are often higher. Thai Lion Air operates flight from Bangkok DMK to Malaysia, and are the only budget airline to include a free 20 Kilogram baggage allowance.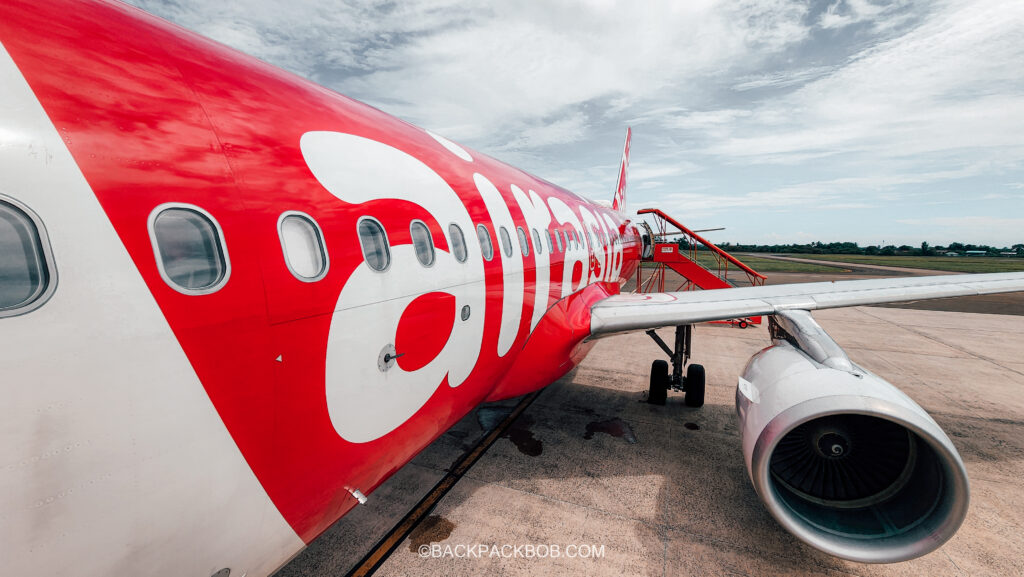 Almost 100% of flights from Thailand to Malaysia will arrive at Kuala Lumpur International Airport (KLIA). From KL Airport there are onward connections to other destinations in Malaysia, such as Langkawi, Penang and Kota Kinabalu.
To find the cheapest deals you can use this link, which will take you to Skyscanner to find the cheapest flights, from Thailand to Malaysia.
Thailand to Malaysia, on the Train. TL; DR.
There are four options to travel from Thailand to Malaysia; fly, boat, bus, or train. If you are in the Thai Islands, the boat is easiest, from Bangkok, you can take the train or a bus, overnight. If you are in the north, flying is the best choice.
Useful Travel Links
My Most Popular Travel Guides
My Favourite Countries, I Have Written About
Book Your Accommodation
The best place to book accommodation in South-East Asia is Hostelworld. Hosteworld consistently has low prices and in recent years they have grown to include private rooms too. It's still the most sociable accommodation booking app. Booking.com and Agoda are good choices too. These sites have the largest inventory of rooms.
Don't Forget Your Travel Insurance
Never travel overseas, without travel insurance. I've seen first hand the consequences of travel without it. Don't be, that guy. These are my go-to companies for insurance.
Other Recommendations
Check out my resource page to discover new and useful travel apps, businesses and websites. These are sites you need to know about to save money, spend like a local, avoid visa hassles, book rooms, find flight deals, and more.