Kuala Lumpur, the capital of Malaysia, is a must-visit for any traveller to the country. I spent four nights there, on my most recent trip. During that time, I compiled a list of the best free things to do in the city. Two of Malaysia's most iconic attractions are located in Kuala Lumpur: the Batu Caves and the Petronas Towers. I'll share details about how to visit these places for free, along with nine other free things to do in Kuala Lumpur. There are also some recommendations for delicious, and low-cost street food that you won't want to miss.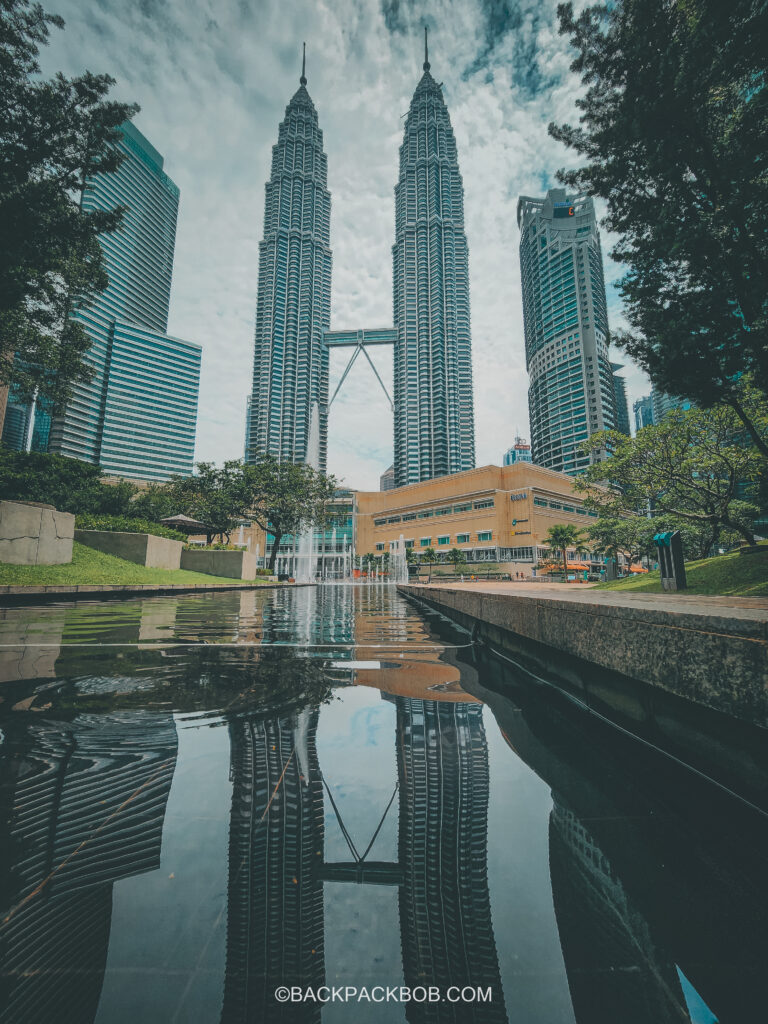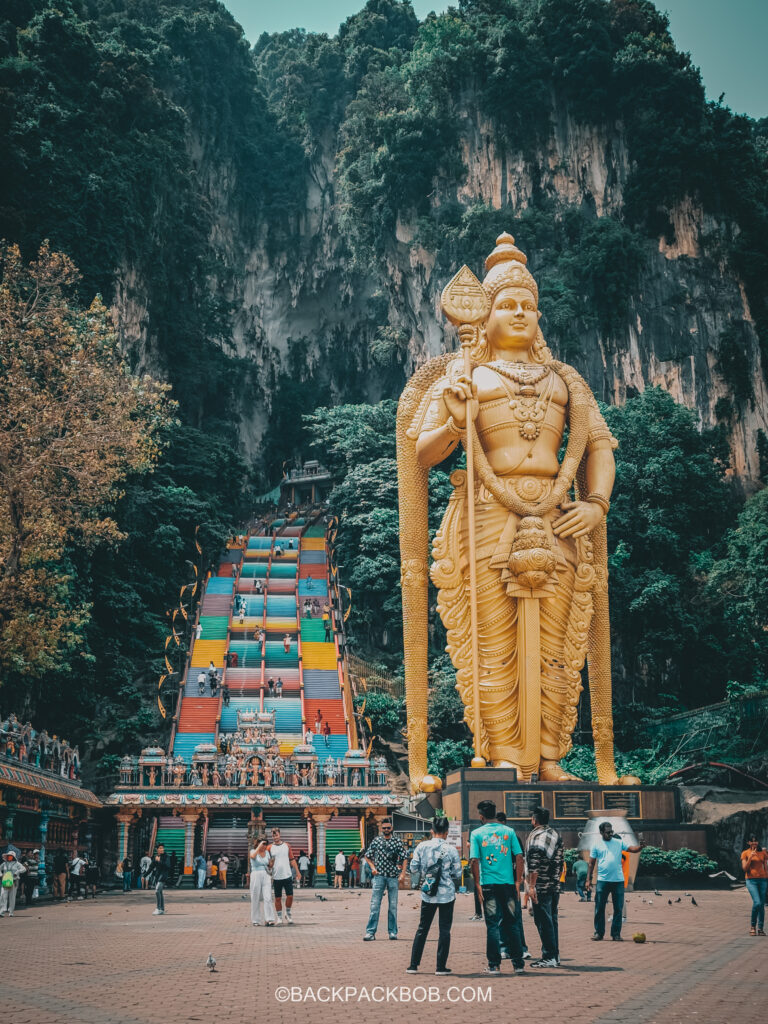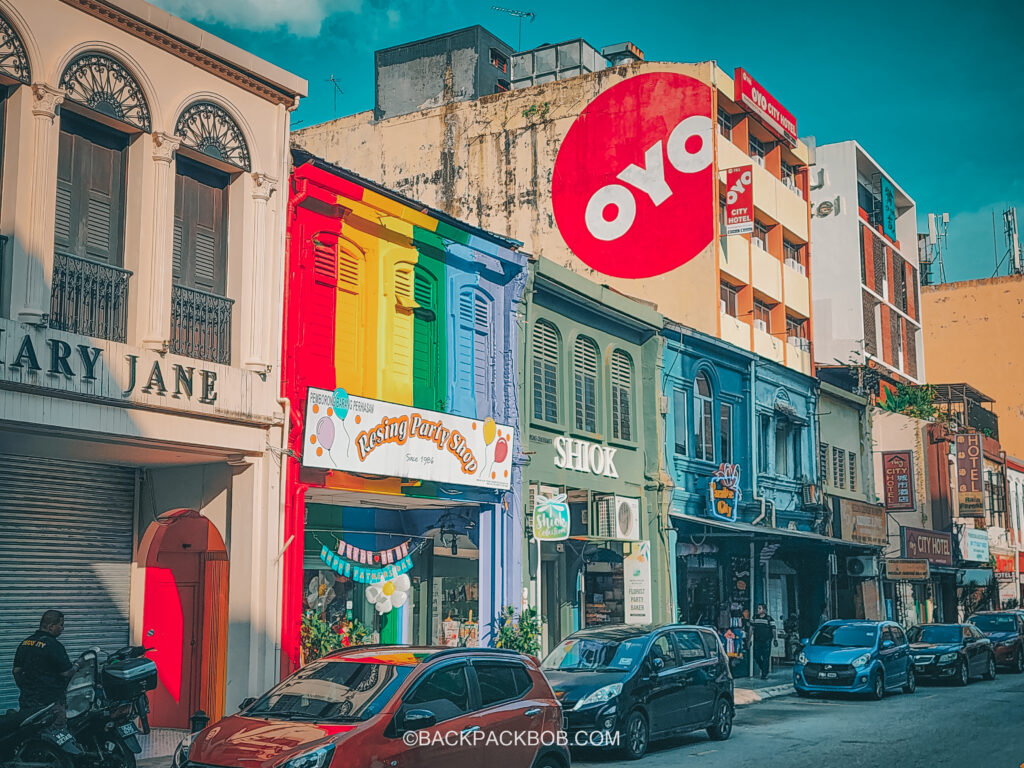 Before I get into the best things to do in Kuala Lumpur. I want to share a quick note to say that Kuala Lumpur was my least favourite place in Malaysia. There are some cool attractions that make Kuala Lumpur worth the visit. But overall the city feels very hostile and unwelcoming, especially at night, when it feels much more dangerous.
We witnessed a few incidents at night. It's clear the city has some problems to resolve. However, I don't want to let my negative experiences overshadow the amazing things to do in Kuala Lumpur.
Introduction to Kuala Lumpur
Kuala Lumpur is the capital of Malaysia, a bustling metropolis home to almost 2 million people. The city is affordable for tourists and we averaged a spend of £25 per person, per day. For tourists, there are many things to do in Kuala Lumpur, from tasting the vibrant flavours of street food to visiting landmarks, which are both historical and modern.
There are a lot of free things to do in Kuala Lumpur, too. Making the city even more affordable for tourists. Some of the most popular attractions in Kuala Lumpur are (surprisingly) still free to visit, including the Batu Caves, and the Petronas Towers. There are also some must-try street foods in Kuala Lumpur, Jalan Alor is the biggest food market, where you can fill your stomach, for no more than a few dollars.
Kuala Lumpur acts as a massive transport hub for the rest of Malaysia. KLIA Airport offers affordable domestic flights as well as low-cost international routes. The modern, train network makes it simple to get around the city, and long-distance trains regularly operate from KL Sentral Station to other destinations around the country. The bus terminal is well connected too.
Kuala Lumpur is a great place to experience Malaysia's diverse culture, showcased through its food, architecture, and festivals. Whether you're a budget or luxury traveler, interested in history, shopping, photography, or cultural exploration, Kuala Lumpur will be a memorable experience.
Dual Pricing in Kuala Lumpur
In this guide, I focus mostly on free things to do in Kuala Lumpur. However, some of the attractions on this list, such as the KL Bird Park (which is located in the free-to-visit Botanical Gardens), do have entrance fees. In Malaysia, it is legal and common for foreigners to be charged a higher price than citizens. This is known as Dual Pricing. Foreigners are expected to pay around 200%-400% more than Malaysians for entrance fees. It is also ok to boycott places where you feel the admission fees have become exploitative. Food and drink prices should be the same for all races.
How Much Time to Spend In Kuala Lumpur
Kuala Lumpur is a large and diverse city, there can be a lot to take in. If you're a first-time visitor, I recommend spending 3-4 days in the city. This will give you enough time to see the major attractions, taste the best street food, and have time to explore the city's different neighbourhoods, such as Chinatown, Little India, and Bukit Bintang.
Some people even base themselves in Kuala Lumpur for longer, and take day trips from the city to places like the Genting Highlands, or Melaka.
If you're short on time, you could still get a good sense of the city in 2 days. But if you have more time, I would recommend spending at least 3-4 days in Kuala Lumpur.
➡ Things To Do In Kuala Lumpur
Here's a list of the ten best things to do in Kuala Lumpur, for free. Further on in this guide, I also include lists of the most affordable day tours from Kuala Lumpur, the best 'budget-luxury' places to stay, in Kuala Lumpur, and, the must-eat street foods in Kuala Lumpur.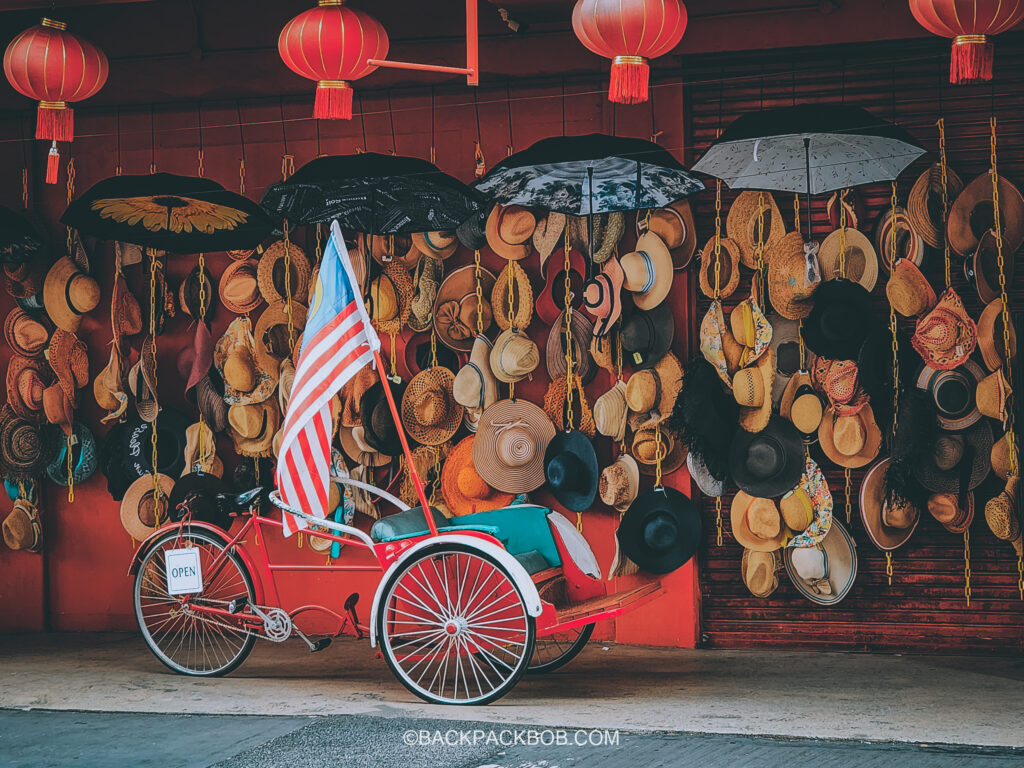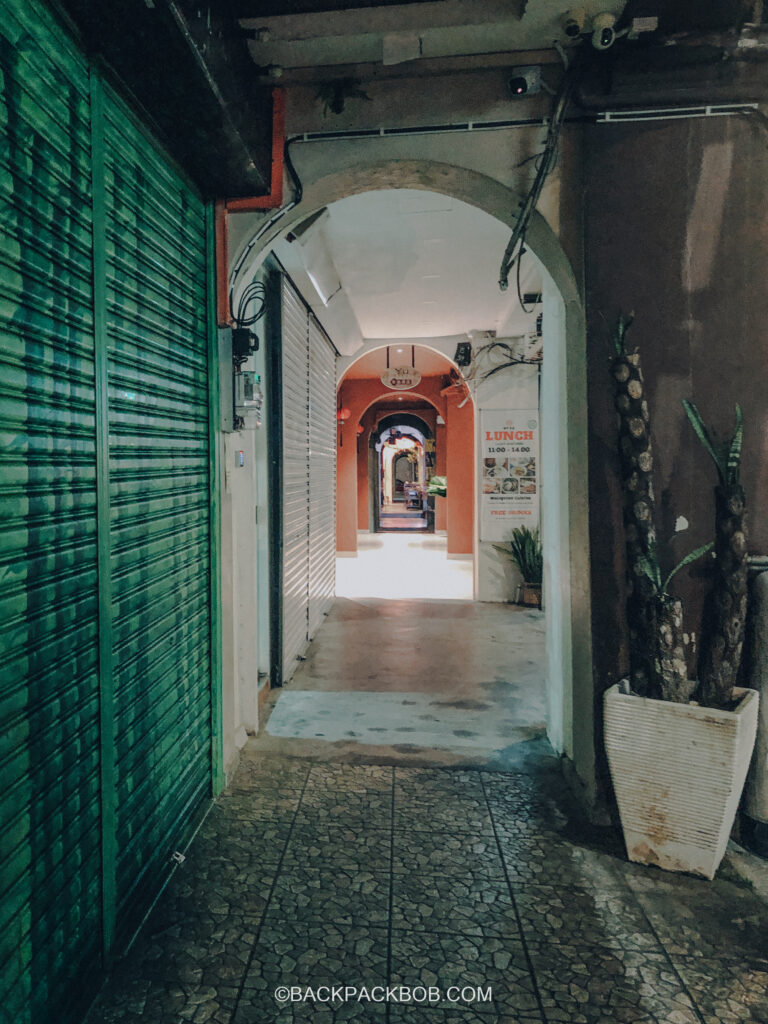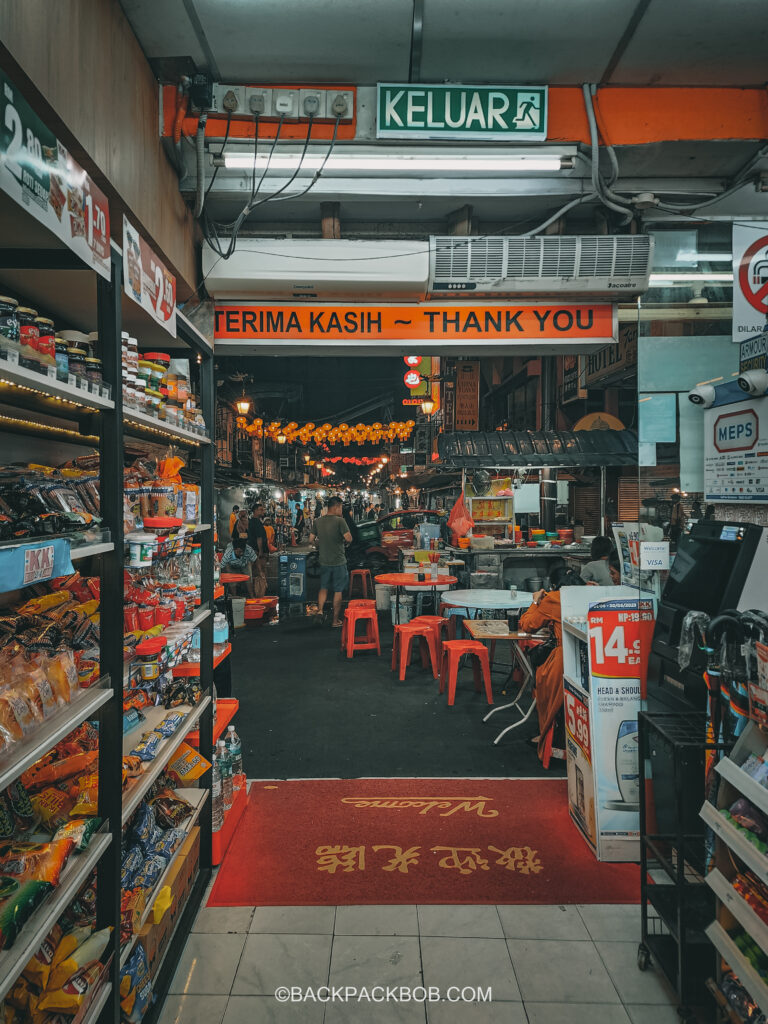 You will find many things to do in Kuala Lumpur, there is enough to keep you occupied for two, three, or even more days. Here are the ten free things to do in Kuala Lumpur, which I will explain in this guide.
Petronas Towers – Free
Batu Caves – Free
Petaling Street Market – Free
Swim in a rooftop pool – Free, (with accommodation)
Clay-pot dinner – Free (excluding food)
Merdeka Square – Free
Kuala Lumpur City Gallery – Free
Perdana Botanical Gardens – Free
Jalan Alor Street Food Market – Free (excluding food)
Water Display at KLCC Park – Free
KL Eco Forest Park – Free 60 MYR
This place used to be free, but not anymore.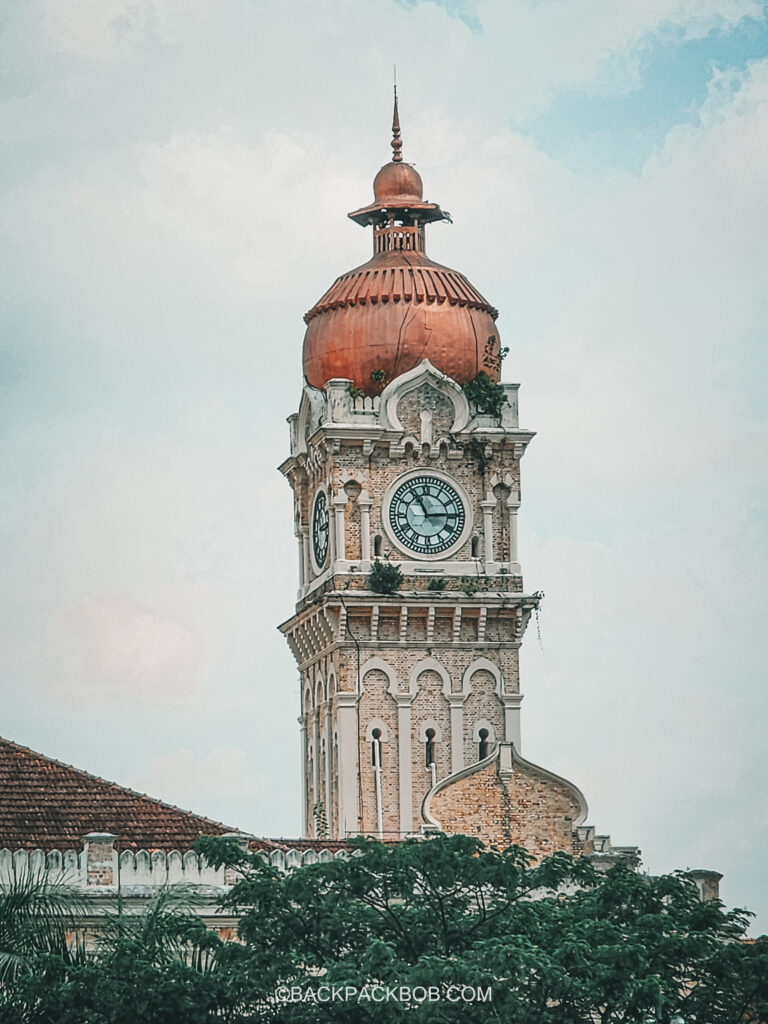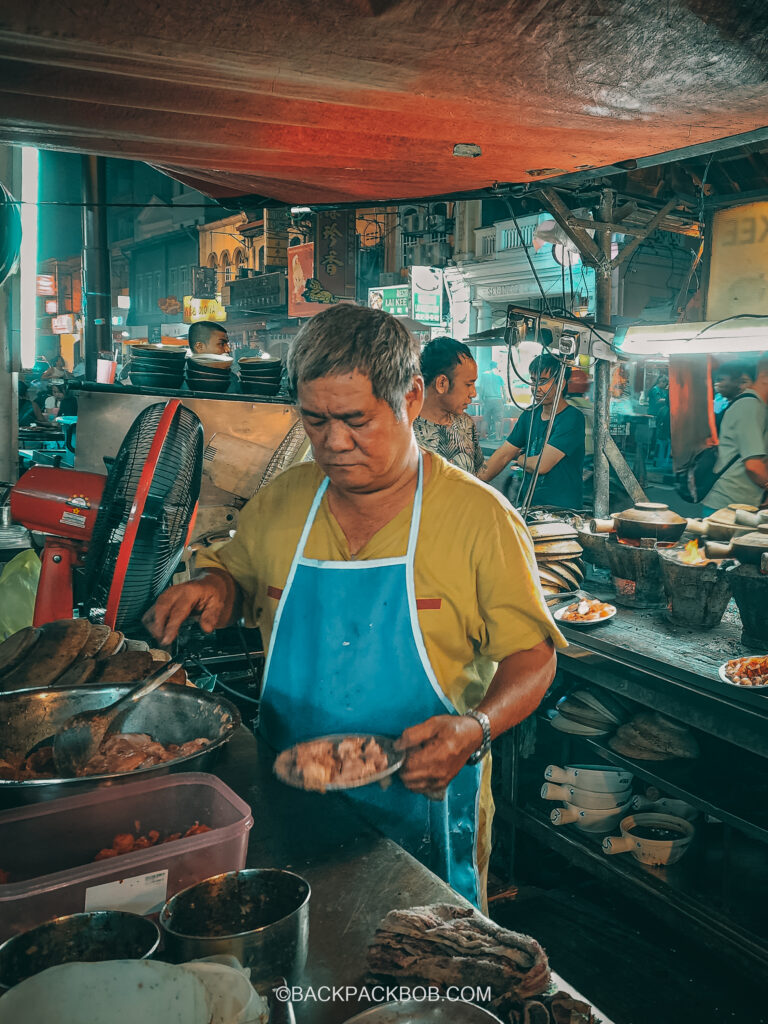 Other free things to do in Kuala Lumpur include visiting the Saloma Link Bridge, the Sri Maha Mariamman Temple, Jamek Mosque, the Bank Negara Malaysia Museum and Art Gallery, or window shopping in one of the many malls like; Suria KLCC Mall; which is located underneath the Petronas Towers, or Pavilion KL Mall. And don't forget to try all the delicious street foods, which cost far less than going to a restaurant.
KL Eco Forest Park 🌳
It is no longer free to visit the KL Forest Eco Park. The Forest Park is a preserved section of the original rainforest which once covered the land, now occupied by Kuala Lumpur City. The park has been in existence for over 100 years and the most popular attraction is the suspension bridge. The park had always been free to visit, until 2022, when the park began to charge tourists 40 MYR to enter, however, the fee applies only to foreign tourists and does not apply to Malaysians. The KL Forest Park should not be confused with the KL City Center Park (KLCC), which is still free to visit.
1️⃣ KLCC PARK (Free)
Kuala Lumpur City Center Park, (KLCC), is a 50-acre urban green space in the heart of the city. It is a great place to escape the hustle and bustle of the city and enjoy some peace and quiet. The park is free to enter and stroll around, and there is plenty of shade to sit and relax.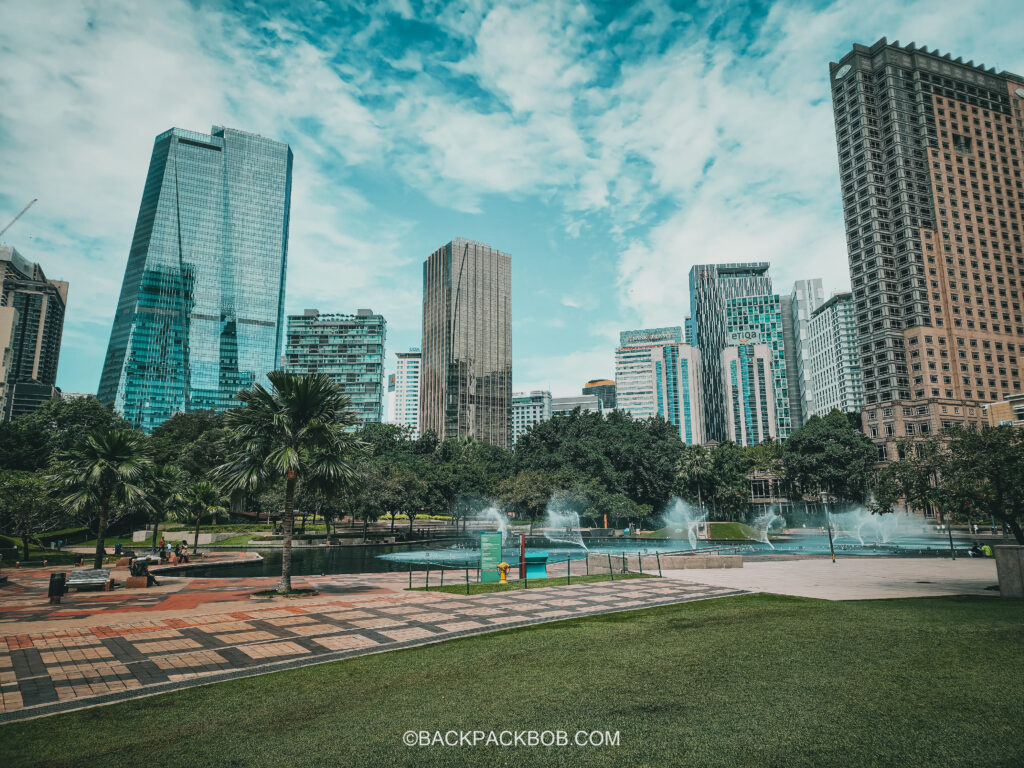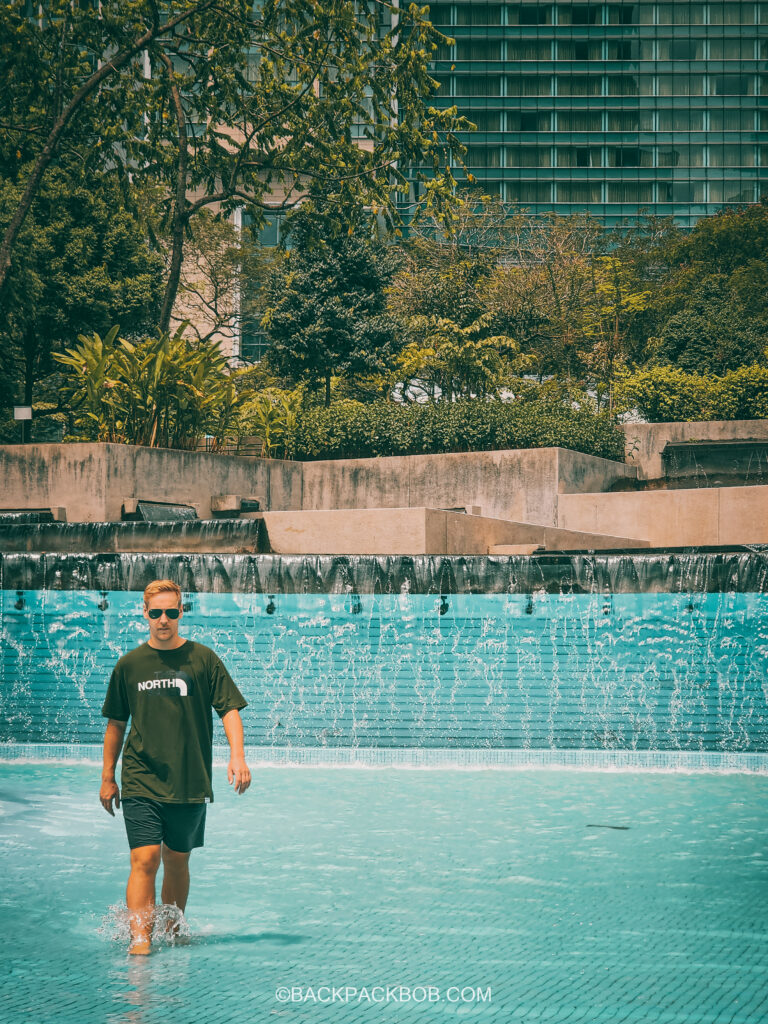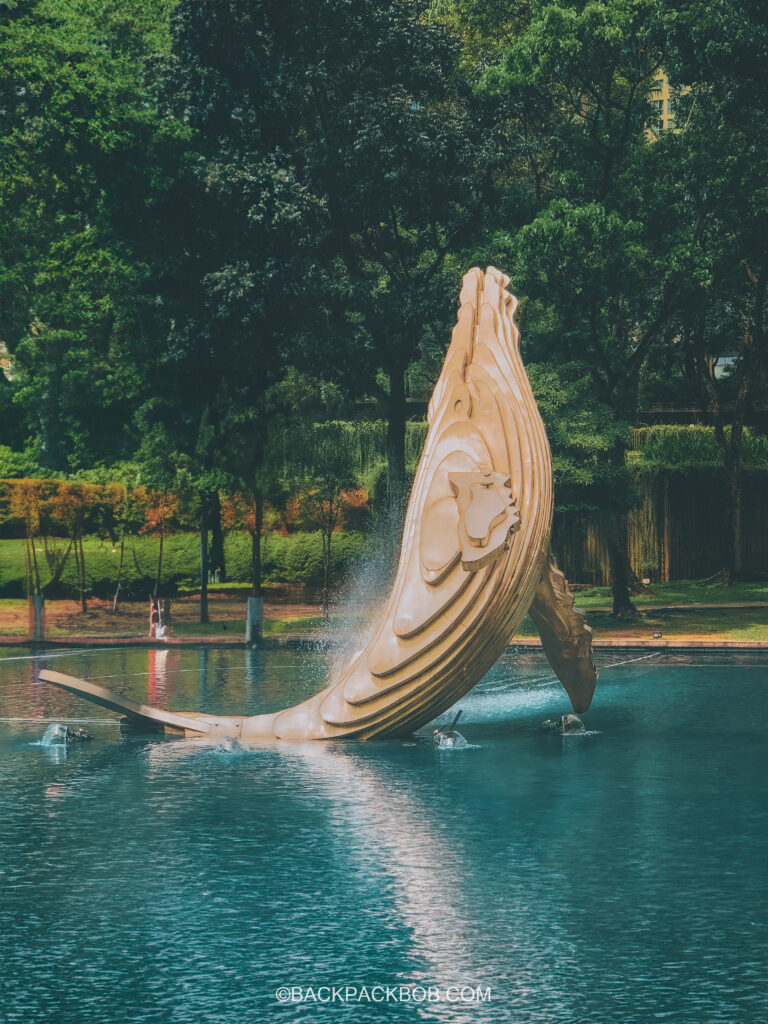 There are a variety of other free attractions in the park, including a lake, a wading pool, a water fountain, a glass whale statue, and a symphonic light and water show. The park is also close to the Petronas Towers, so you can get some great views of the city from the park.
The Symphony Fountain Show is held at 7:30 PM, 8:30 PM, and 9:30 PM. The show is free to watch, but you do need to be in the park at the right time. There are also other shows with the fountain throughout the day, but they do not have music or lights.
To get to KLCC Park, you can take the LRT Train (Red Line) to KLCC Station. The park is a short walk from the station. You can spend as little as an hour here if you just want to look around, or you could spend longer if you find a shaded spot to sit for a while.
Batu Caves is a must-visit Hindu temple complex in Kuala Lumpur. There are four cave temples, and the main cave is free to enter, a return train ticket from KL Sentral costs 16 MYR (£3). The Batu Caves are one of the most popular things to do in Kuala Lumpur and an iconic landmark.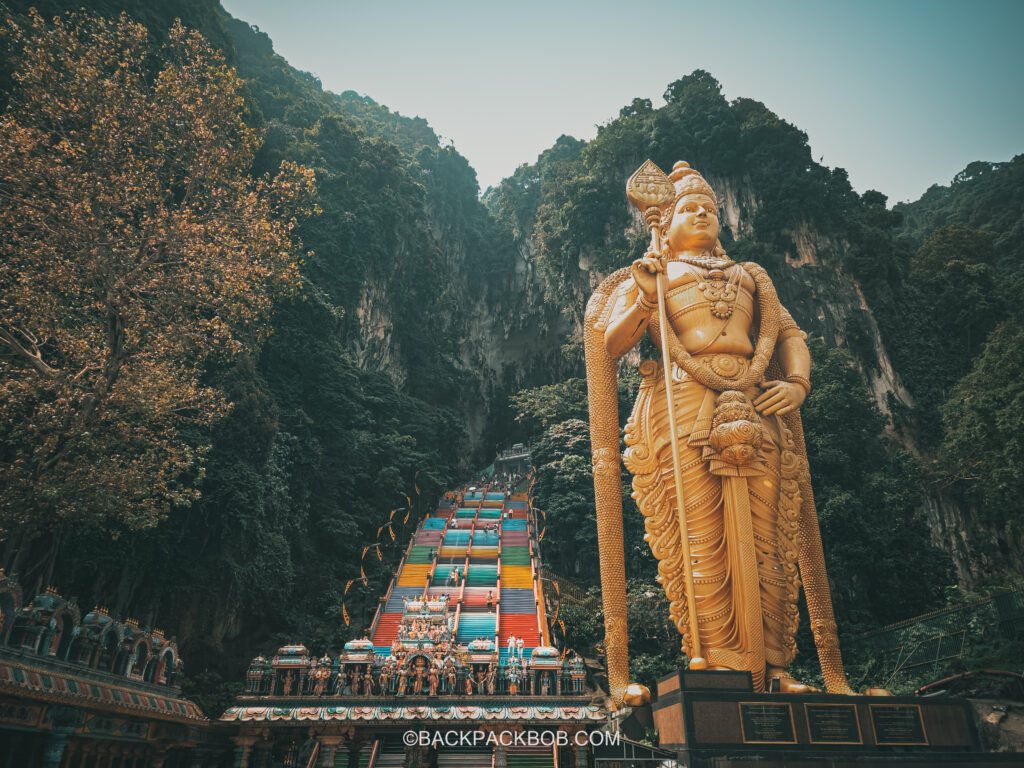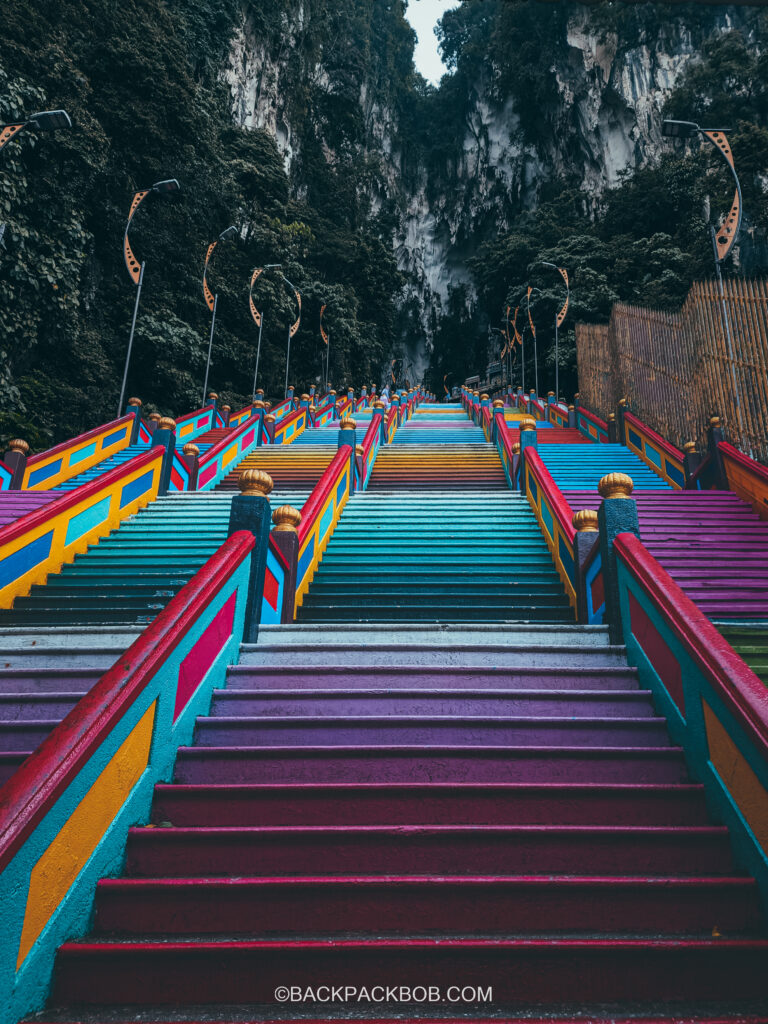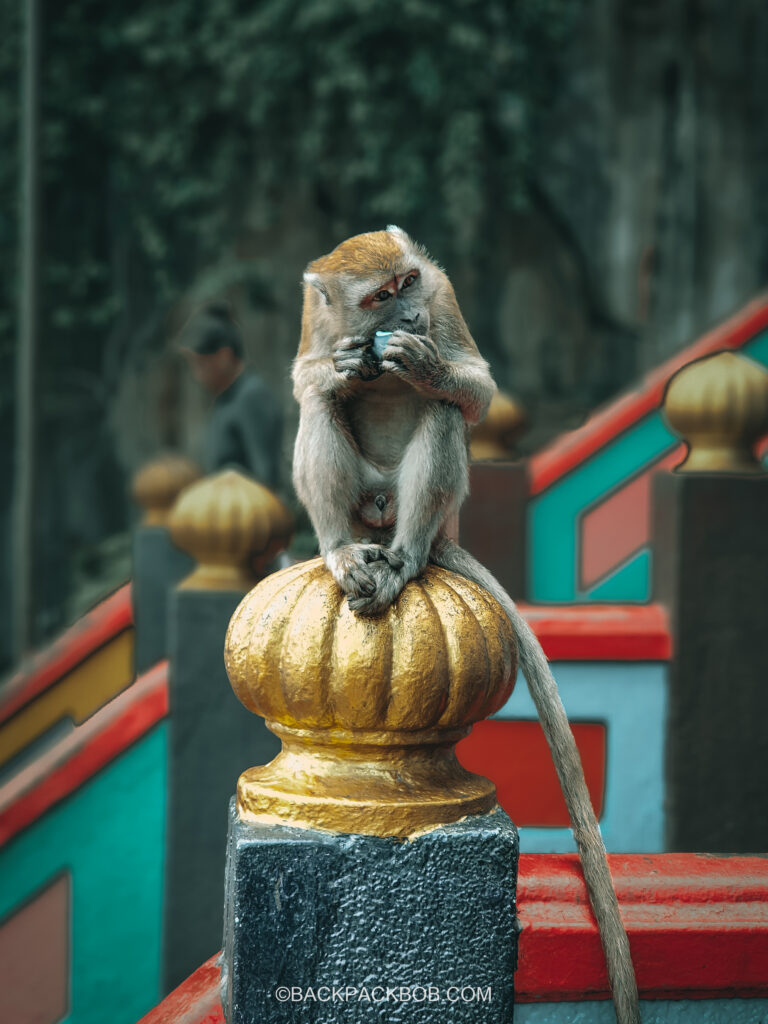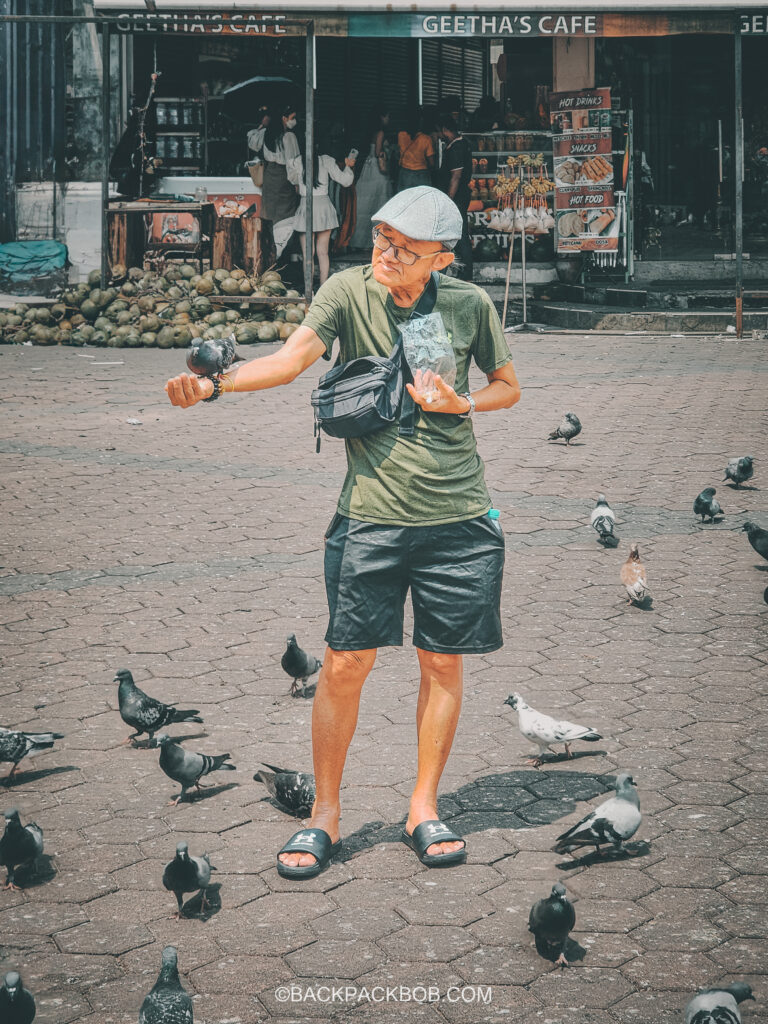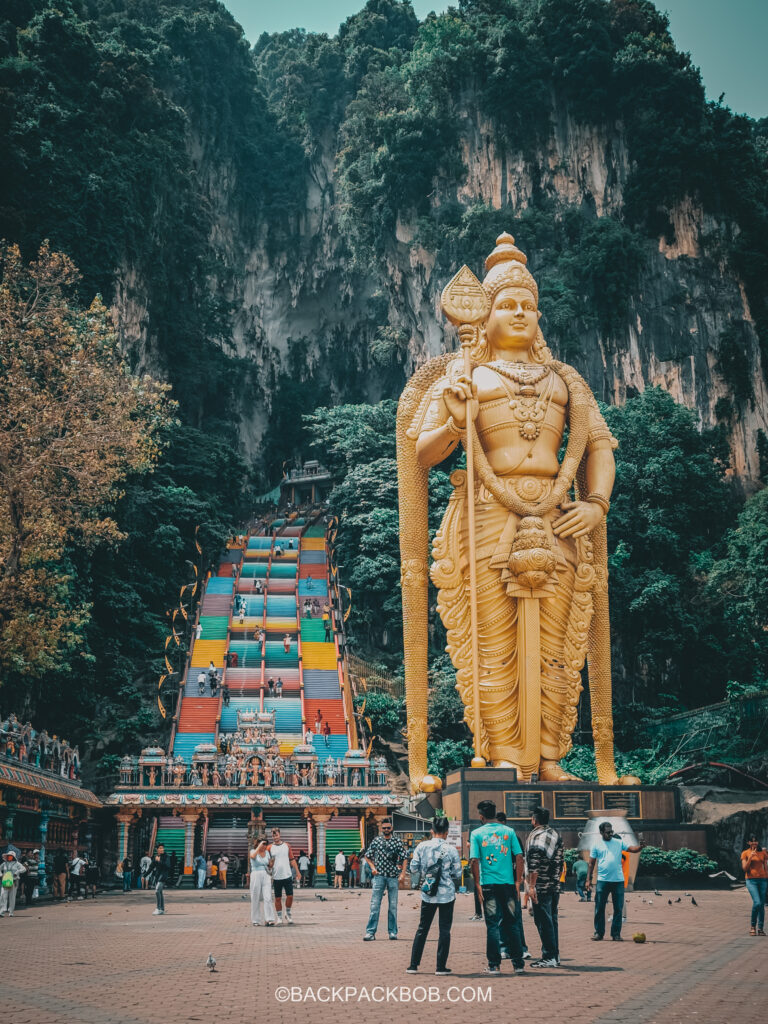 To reach the cave entrance, you must climb 340 rainbow steps, that are painted in bright blocks of colour. At the bottom of the staircase stands a 100-foot-tall statue of the Hindu God of Knowledge; Lord Murugan. It is said to have taken over 150 litres of paint to cover him.
I would recommend allocating about one hour to visit the Batu Caves. You can find more information about the caves, including train schedules, how to dress, and how to deal with the monkeys, in my guide here.
Batu Caves is a 35-minute train ride from KL Sentral for RM16 (£3). Take the KTM Komuter Blue Line, The train station is located right at the entrance to the caves, so it is very convenient.
A few tips for visiting the Batu Caves:
Batu Caves is an actual Hindu Temple, so you'll need to dress appropriately.
Be aware of the monkeys and don't show them food, as they can be aggressive.
There are four caves at the complex, the main one is free, others have admission fees.
I wrote a full guide about visiting Batu Caves.
3️⃣ Rooftop Swimming Pool (Free)
There are a ton of luxury blocks in Kuala Lumpur, where apartments have been turned into hotel rooms, and even hostel rooms in a lot of buildings. All of these buildings have infinity pools on the rooftop, which are free for guests to use. You can book a private room in a condo block for as little as 110 MYR a night, and a hostel bed can cost as little as 50 MYR.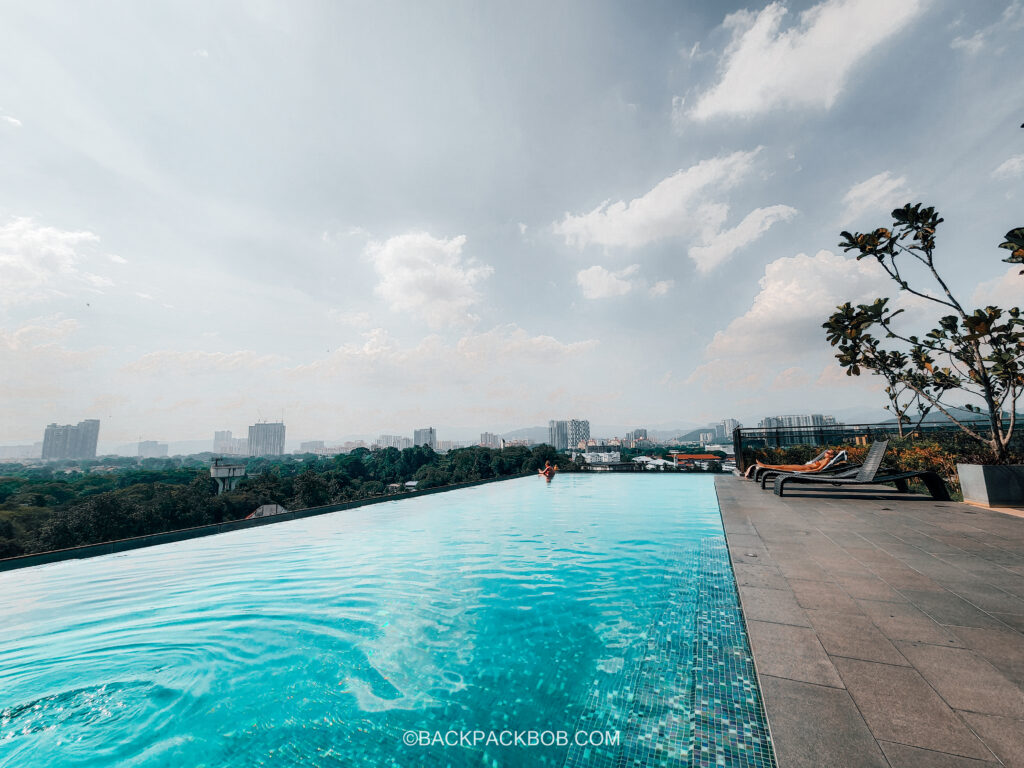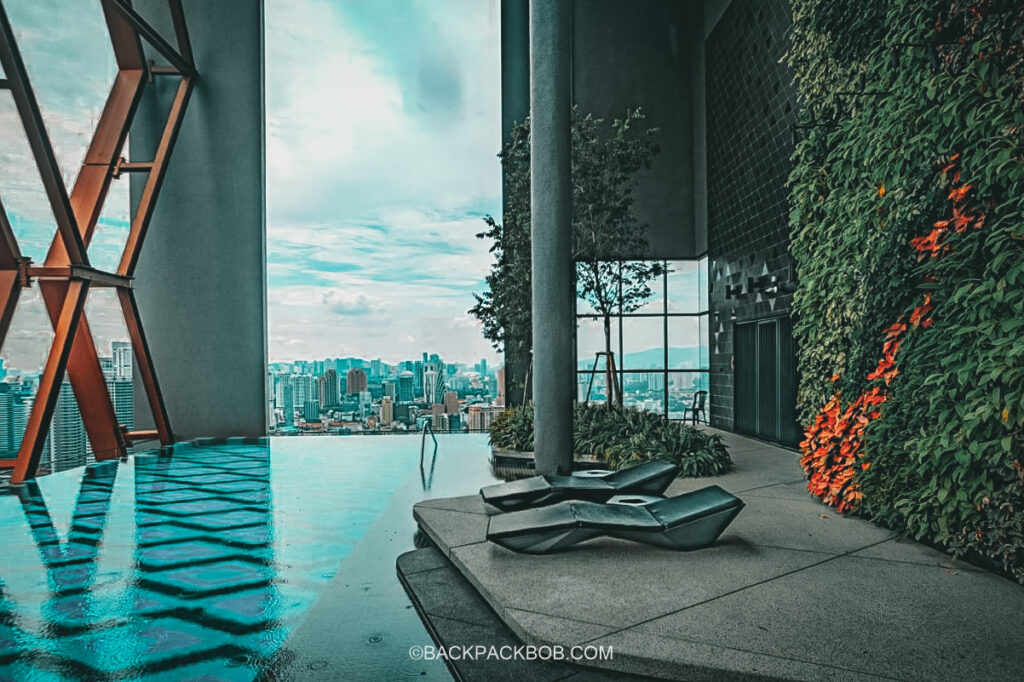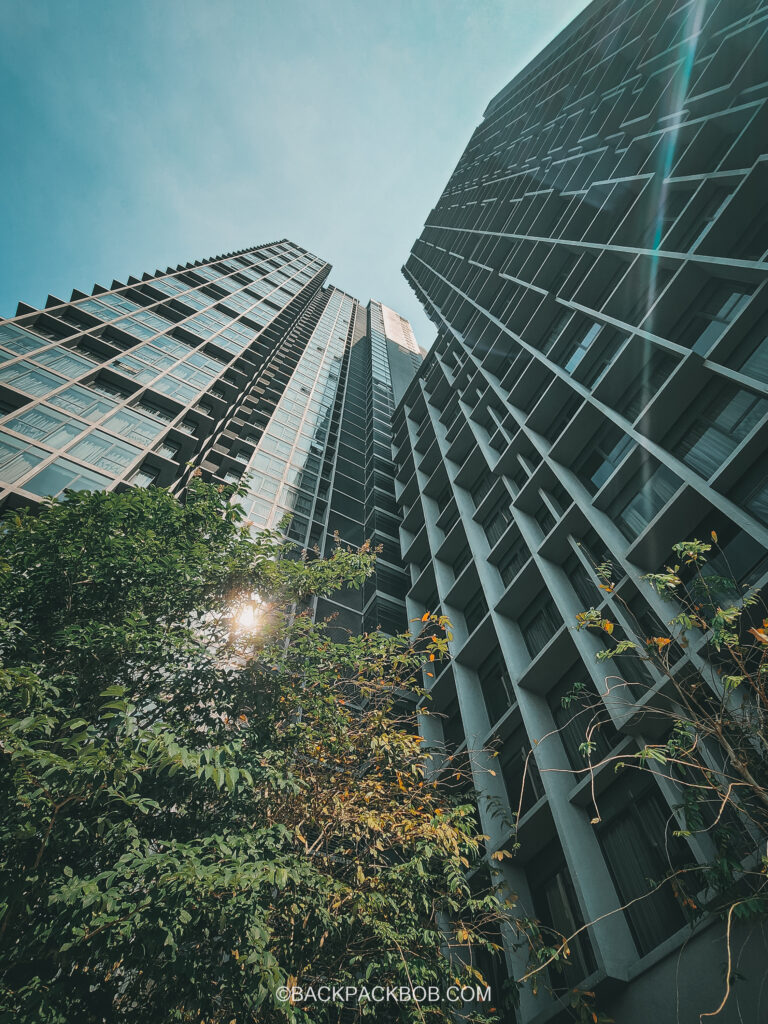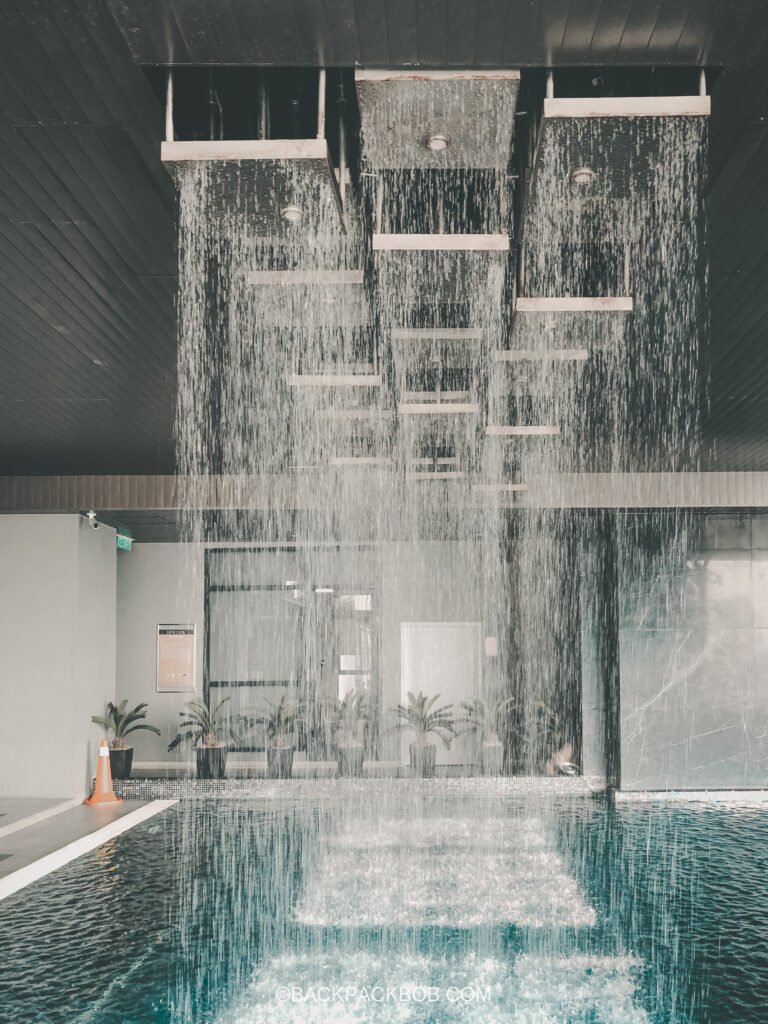 The humidity in Kuala Lumpur can be unbearable. Finding a hotel with a rooftop pool is easy and affordable. We paid RM110 (£27) per night for a penthouse apartment with city views and a rooftop pool. Having a rooftop pool to cool off in after a long day of exploring was one of my favourite things about staying in Kuala Lumpur. It was the perfect way to relax and escape the heat.
Finding a hotel with a rooftop pool in Kuala Lumpur is not difficult, or expensive. Many apartments and condo buildings in Kuala Lumpur rent out rooms on a short-term basis. There are even some hostels located in these condo buildings where you can experience a rooftop pool for as little as 50 MYR (£8) per night.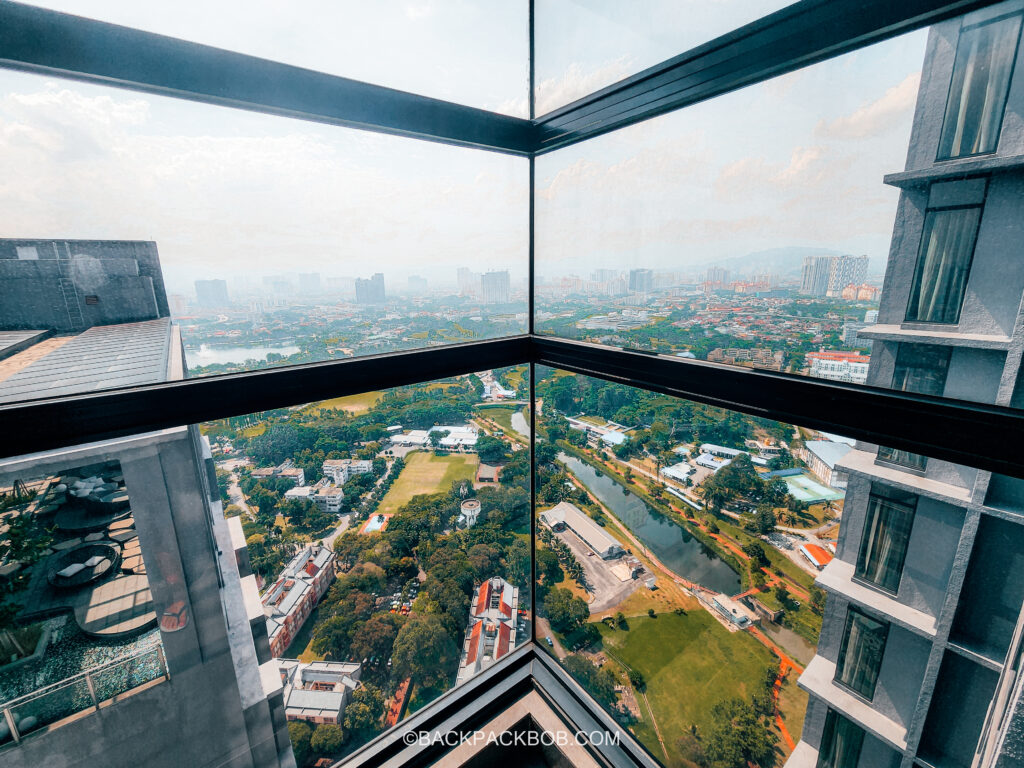 VRBO is a good platform to find entire apartments to rent in Kuala Lumpur. Hostelword is a great platform to find cheaper shared rooms, with a rooftop pool. Here are some of the cheapest rooms with a rooftop pool in Kuala Lumpur, that I would recommend.
🏨1️⃣ Expressionz Professional Suites – Cost: RM110 / £16
This is the building in which we stayed, and the photos in this guide were taken there. It's budget-friendly without having to compromise on quality. The location is near Bukit Bintang and Jalan Alor Market. The train to the city centre takes 20 minutes. We paid 110 MYR per night, the infinity pool is on the 49th floor.
🏨2️⃣ Penthouse on 34 – Cost: RM70 / £11
This hostel has a rooftop garden, a co-living space, and an infinity pool on the 37th floor. The rooms are modern and sleep eight people.
🏨3️⃣ SkyBed Regalia – Cost: RM50 / £8
One of the cheapest rooftop pools in Kuala Lumpur, on the 37th floor. Rooms sleep twelve, but the location is a little far from the city centre. A train station is nearby.
🏨4️⃣ The Tropicana KLCC By Sky Pool – Cost: RM250 / £39
One of the most luxurious apartment buildings in Kuala Lumpur. Located in the heart of the city just 400 meters from the Petronas Towers and KLCC Park with the most gorgeous rooftop pool. This type of accommodation would cost 4 figures in the heart of any Europen city.
🏨5️⃣ Scarletz Mana-Mana Suites KLCC – Cost: RM170 / £27
Private rooms with a luxurious rooftop swimming pool. The location is on the outskirts of KLCC, around 1 kilometre from the city centre. The distance is walkable, or there is a metro station 50 meters away.
4️⃣ Petaling Street Market (Free)
Petaling Street is an old Chinese Market in Kuala Lumpur, it is free to visit and the nearest metro Station; Masid Jemak. Is less than 50 meters away. Food and drinks are inexpensive, we brought fruit shakes for 5 MYR, (banana and Oreo is the best). However, souvenirs and clothing are often overpriced here.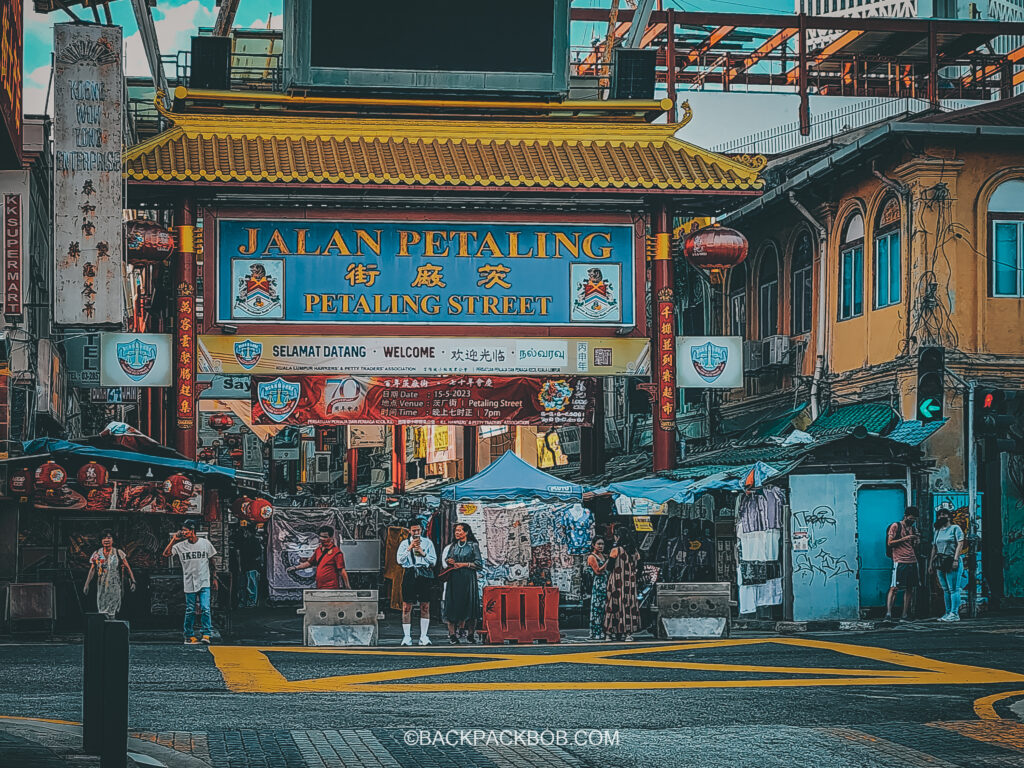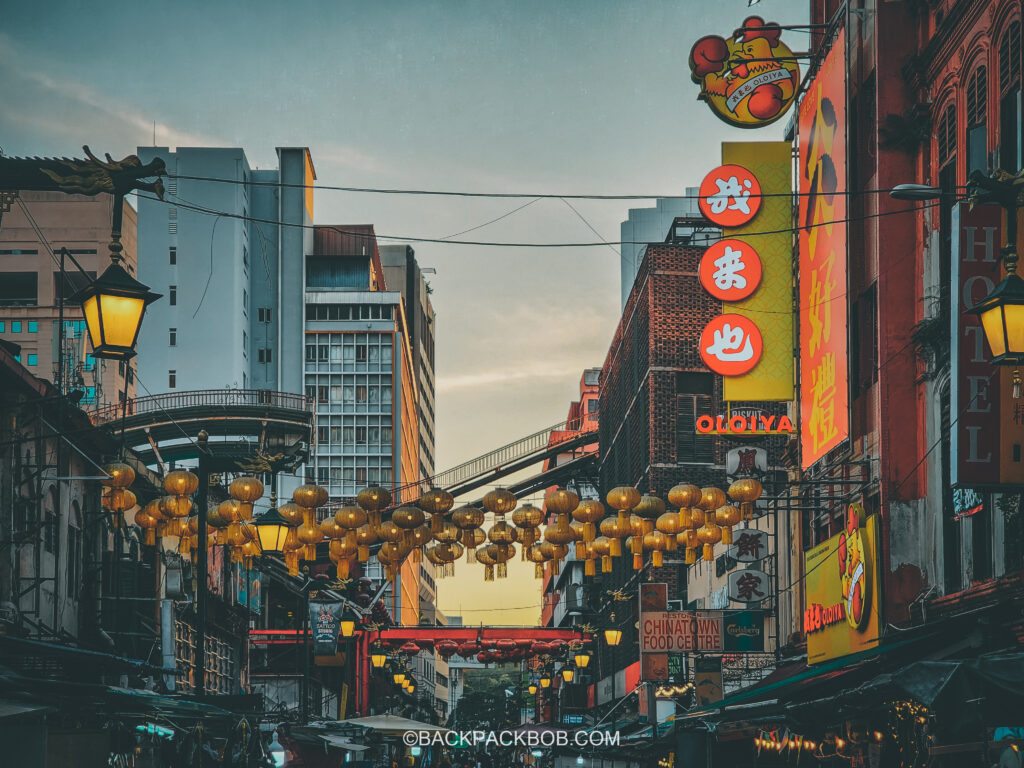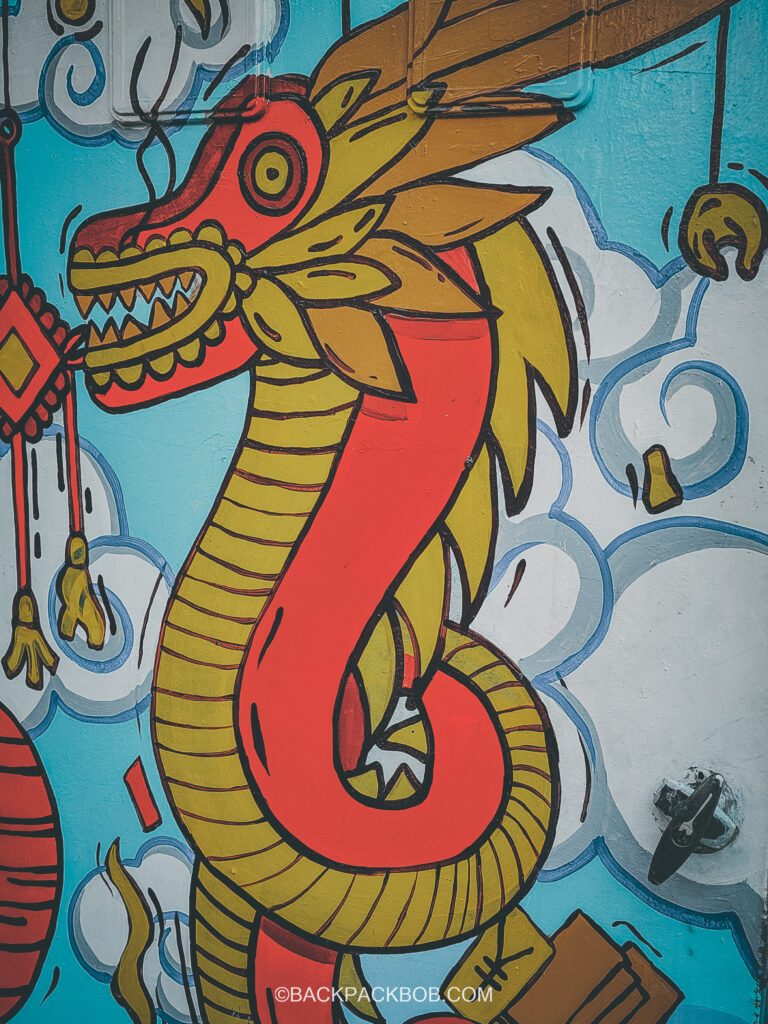 Petaling Street Market is open all day long, but the best time to visit is late afternoon/early evening. Situated in KL China Town, here you can find snacks, cool drinks and fake goods. Some sellers will describe their merchandise as 'original… copies'. Others will try to convince you it's genuine. Don't overpay for goods here, and know that it's all fake, every single item sold here, don't let the sellers convince you otherwise.
Prices will be inflated in this market, and haggling is expected. You should start haggling at 50% or lower than the seller's first price. For snacks, you don't need to haggle and I would recommend the Sticky Rice Balls, they are famous from the market, although you only find them sold in the mornings.
The closest train station to Petaling Street Market is Pasar Seni, which is on the LRT (Red Line), and just two stops from KL Sentral Station. The Rainforest Hotel is a nice budget-friendly hotel, less than one minute from the market.
5️⃣ Eat Chicken Clay Pot (20 MYR)
The Chicken Clay Pot is a famous street food in Kuala Lumpur. Inexpensive, but delicious. There are a few dotted around the city, but we ate at the Hong Kee Stall, which is opposite the Petaling Street Market. It's open from 3 pm until 11 pm. A Chicken Clay Pot costs 13 MYR for a small, 23 MYR for a medium or 30 MYR for a large.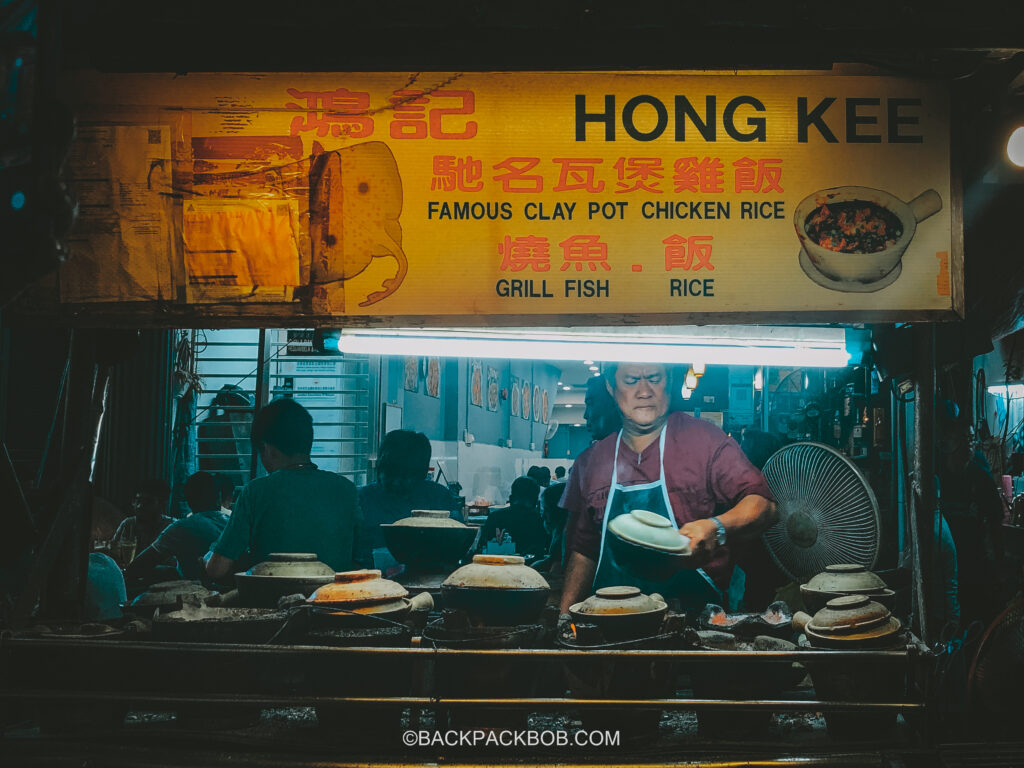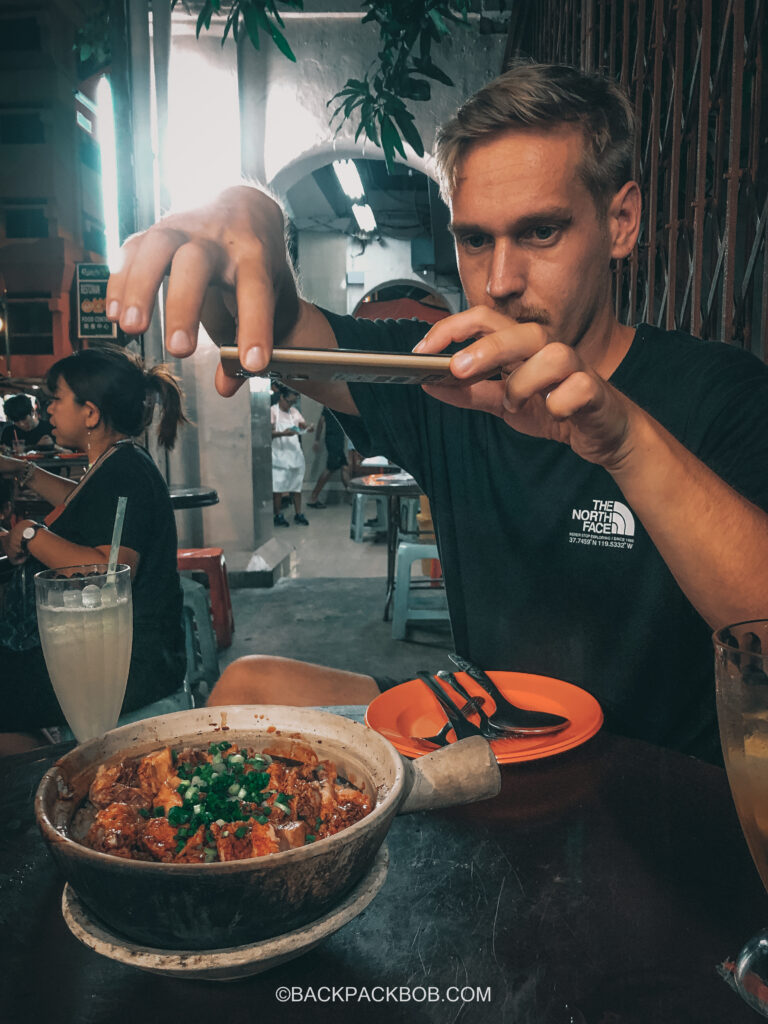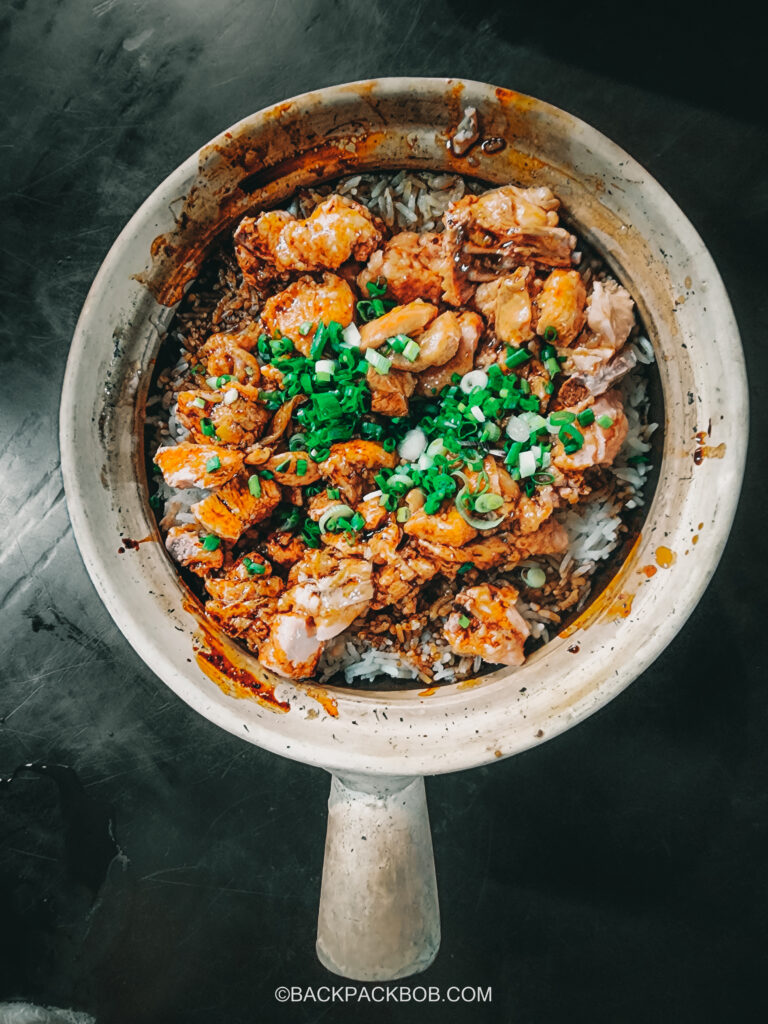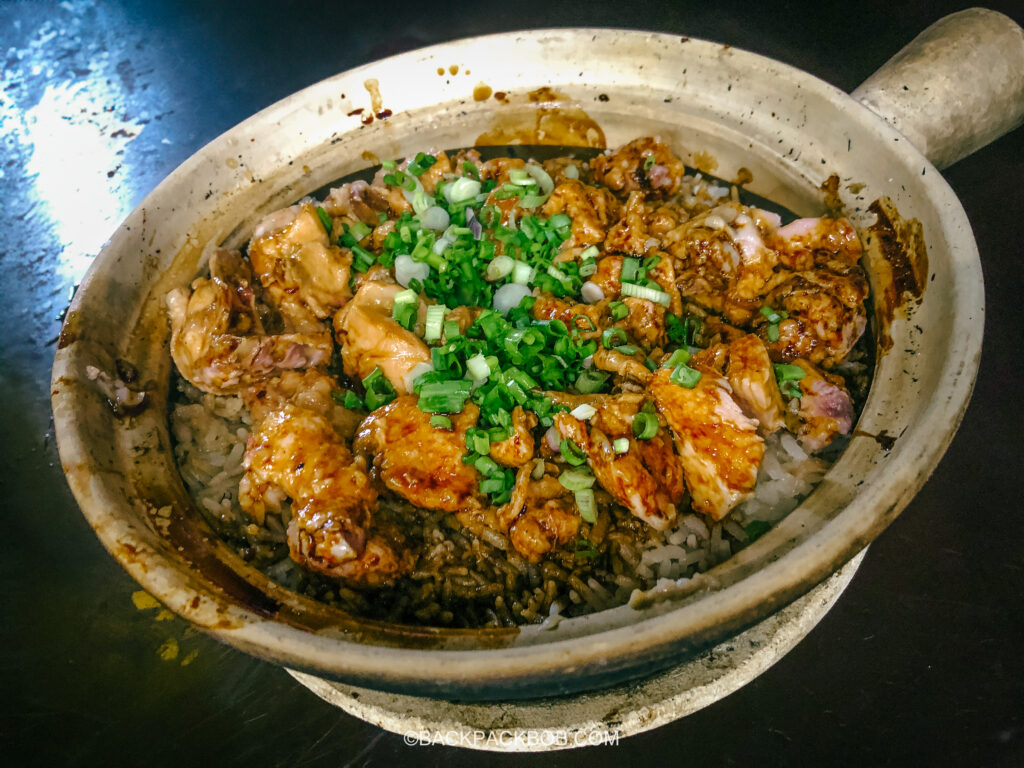 I highly recommend trying Chicken Clay Pot. It's a must-try for any foodie visiting the city.
A chicken clay pot is a delicious and popular Malaysian dish made with chicken thighs, rice, vegetables, and spices. The chicken is typically marinated in a soy sauce and ginger mixture, then flame cooked in a clay pot over high heat. The result is a flavorful and juicy chicken that is cooked to perfection.
Clay pot restaurants in Kuala Lumpur occupy entire sections of the sidewalk and are only open in the evenings, they often have queues to get a seat. Some of the most popular clay pot restaurants include Wei Ji Claypot Chicken Rice, 168 Claypot Chicken Rice, and Hong Kee Chicken Rice.
We shared a medium-sized clay pot between two people, which was enough for us to both feel full. The meal cost 43 MYR (£6.50) in total, including a bottle of beer.
A small (RM13) is enough for one person, a medium (RM23) for, two, and a large (RM30), is enough to feed three. Beers cost 20 MYR for an Xtra-Large bottle.
6️⃣ Jalan Alor Street Food Market (Free)
Jalan Alor is one of Asia's most impressive food markets, offering a wide variety of Malaysian and Thai cuisine. You can either sit down for a meal or wander around and sample the different snacks, as we did. The market is free to enter, but I recommend having a budget of around 30 MYR per person to try a mix of foods.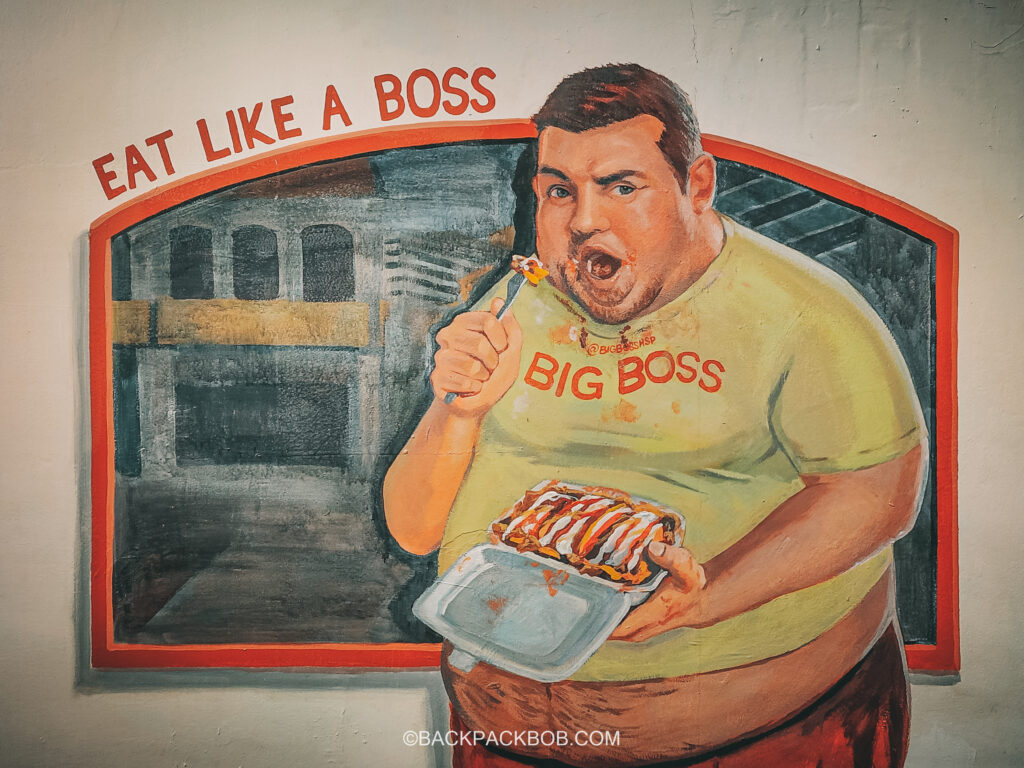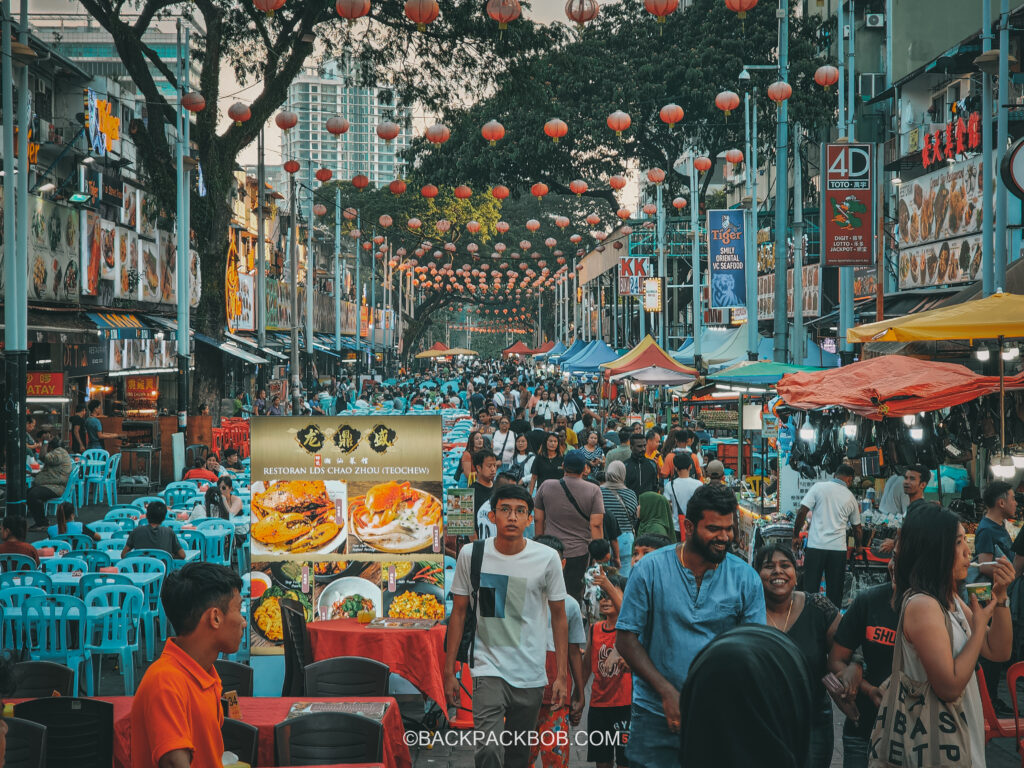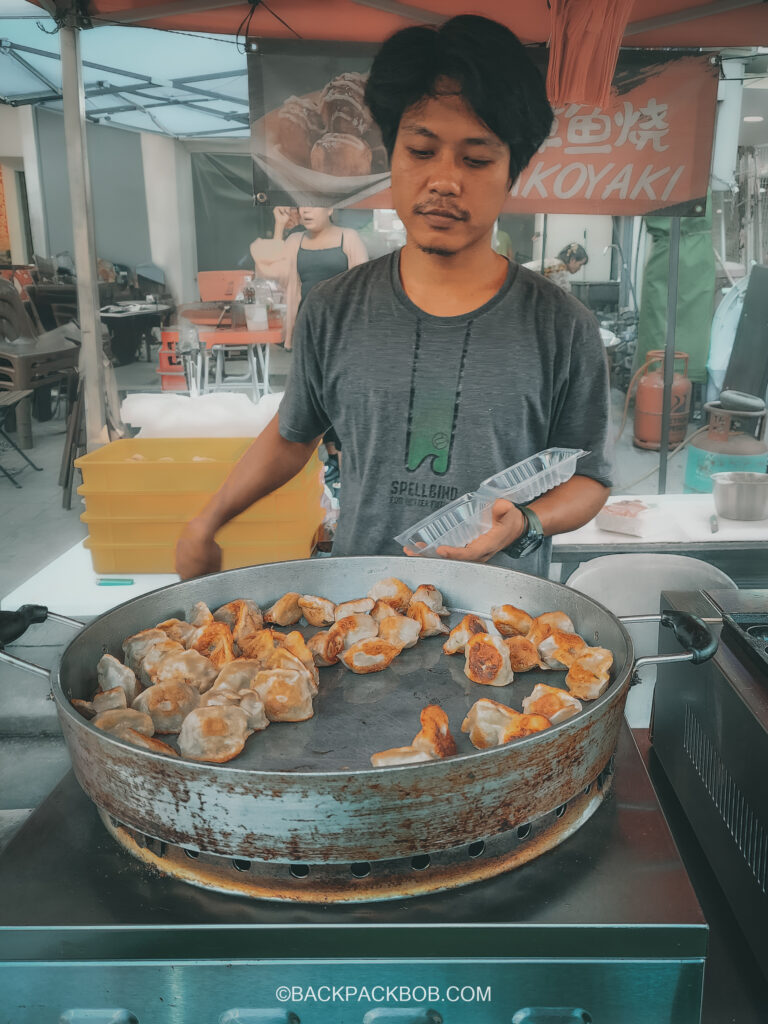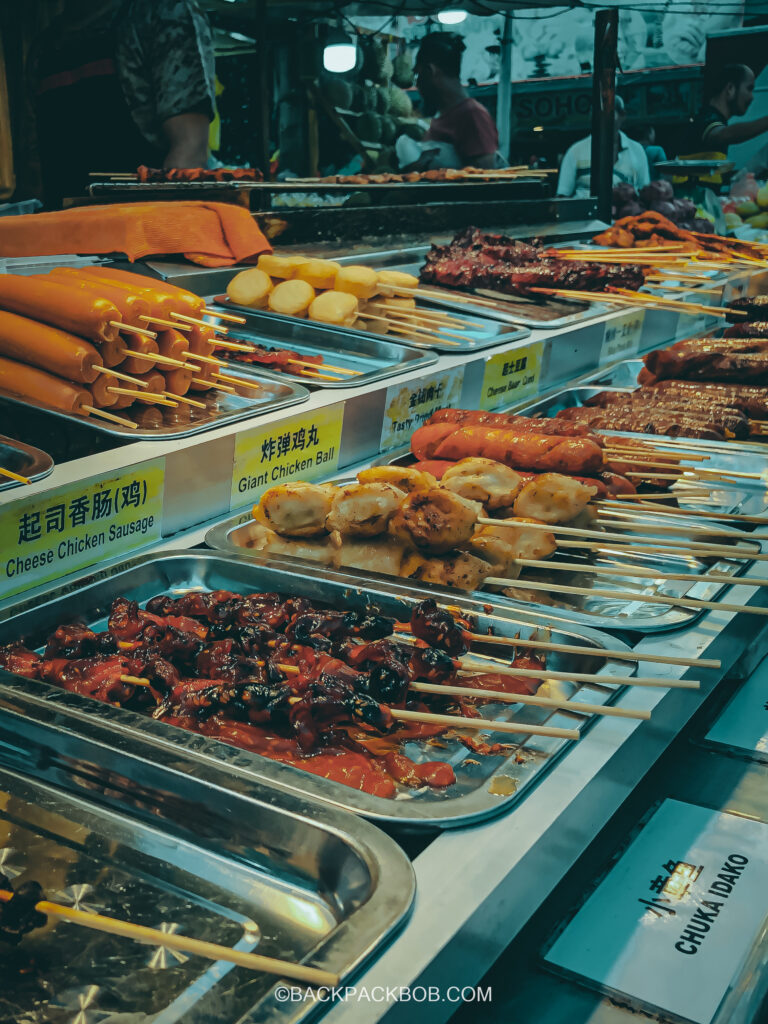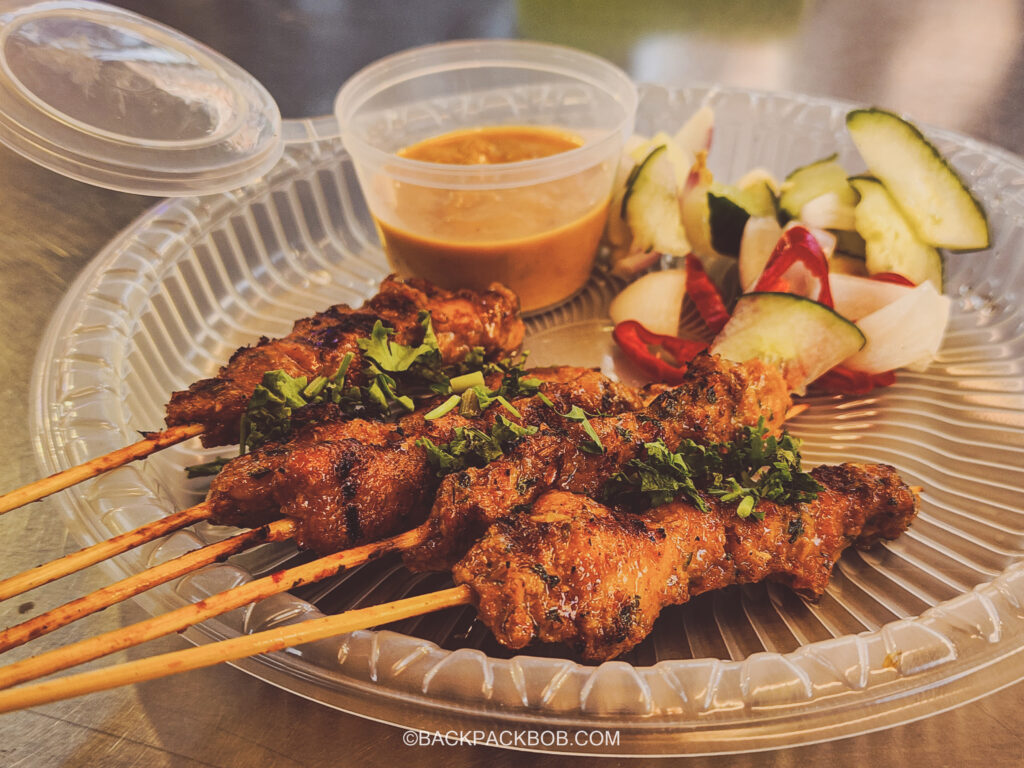 This market is the perfect place to dive into the diverse culinary scene of Kuala Lumpur.
Jalan Alor was so much more than I was expecting. The Street Market is huge! It's a bustling street lined with restaurants and food stalls. There is a resemblance to Khaosan Road, in Bangkok or the Ibiza Strip. However, the focus here is on the food, instead of the bars.
There's a huge Thai expat community in Kuala Lumpur, so you'll find a lot of Thai food at Jalan Alor. The quality is excellent, so it's a great place to find good Thai food in Malaysia, a welcomed surprise.
To get to Jalan Alor, take the MRT (Green Line) train to Bukit Bintang Station. There's a station entrance that leads directly up and out, onto the street. You can find a place to sit for a meal and drink a pint of Malaysian beer, or you can pick up more snacky items as you walk around. I highly recommend the chicken satay!
You can take a tour of the Petronas Towers, but I don't think it's worth the money (97 MYR). It's totally free to visit the towers in the evening to take photos. And you'll get the best views from outside. You'll find a lot of other tourists congregated here, and it's pretty fun. Read the full Petronas Towers Guide, here.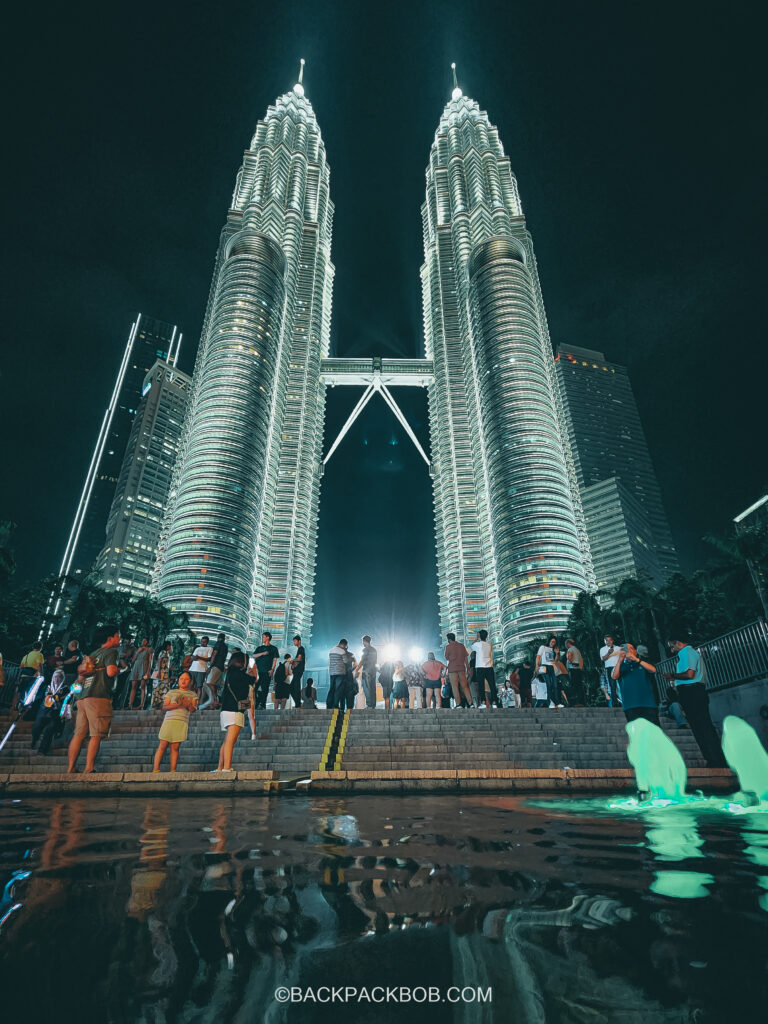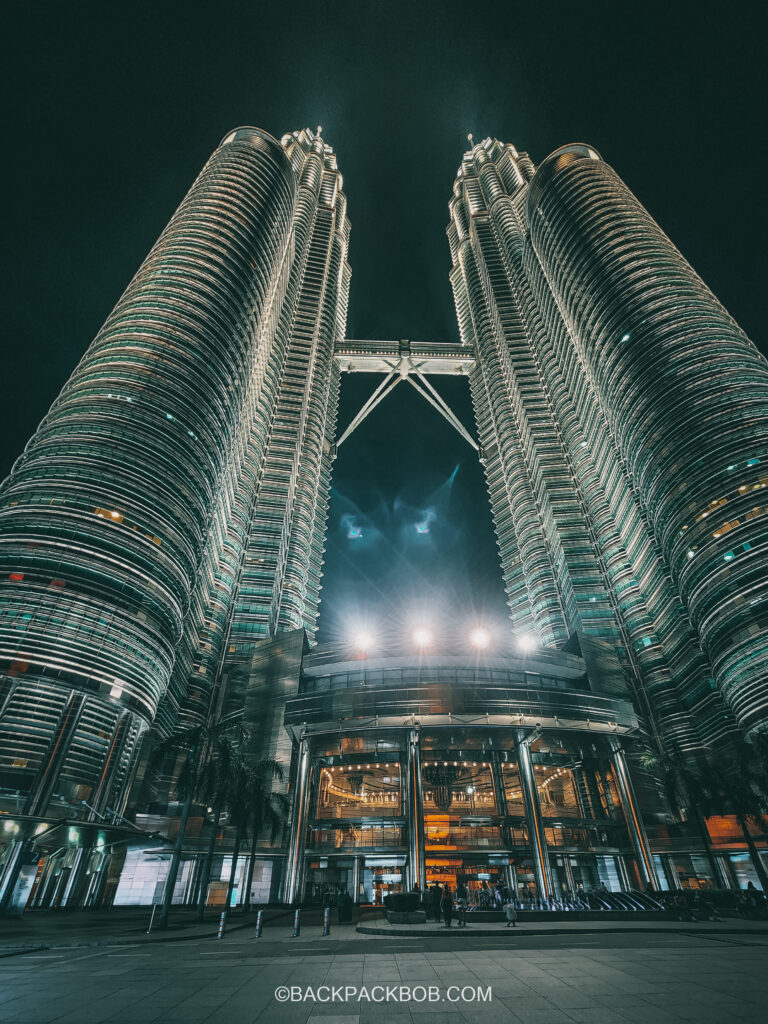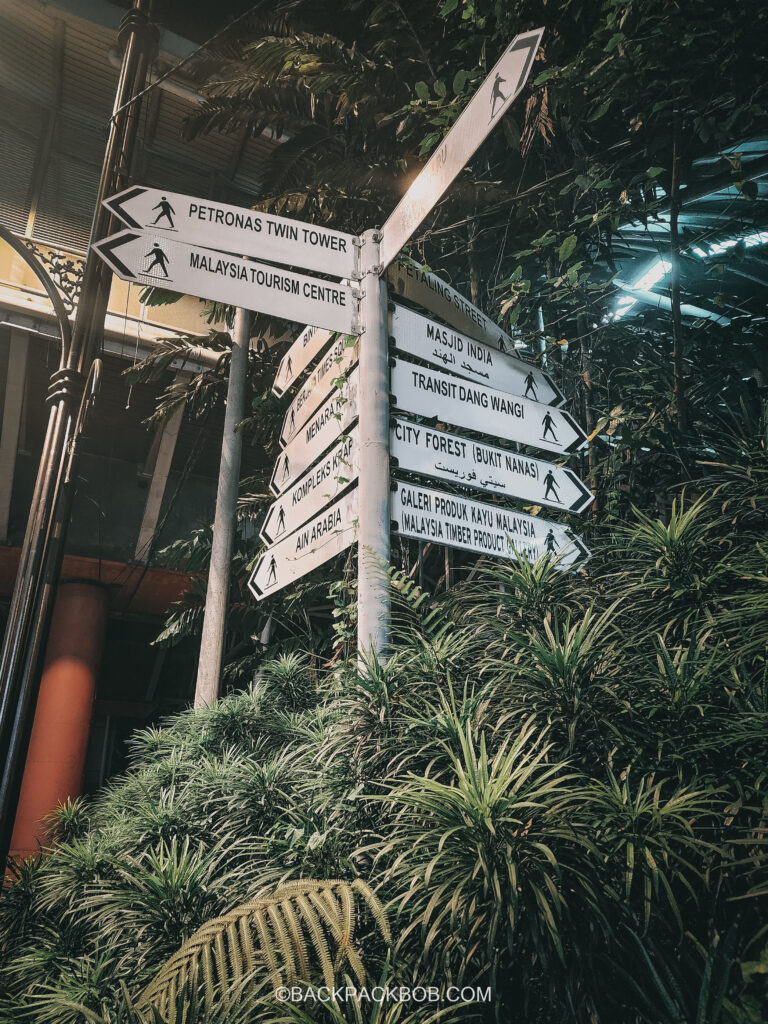 The Petronas Towers are one of the most iconic free-to-visit landmarks in Kuala Lumpur, and they're a must-see for any visitor to the city. The towers were once the tallest buildings in the world, and they're still an impressive sight to behold.
I didn't have high expectations for visiting the Petronas Towers, but I was pleasantly surprised. It was a lot of fun to take pictures of the towers from different angles, and the views when the towers are illuminated are simply stunning.
You can take a tour of the towers for 98 MYR, which is not worth it, in my opinion. But it's completely free to visit them from the outside and take pictures. There are professional photographers around if you want to pay for a unique souvenir(RM10), but most people take their own pictures, for free.
If you did take the tour, you can also get some great views of the city from the observation deck on the 80th floor. However, if you're on a budget, or if you're not interested in taking the tour, you can still enjoy the Petronas Towers for free. The Suria KLCC Mall is located at the bottom of the towers, too.
The Petronas Towers are easy to get to by taking the Red Line Train (LRT) to KLCC and walking about 100 meters.
Don't forget to read the full tourist guide to visiting the Petronas Towers, in Kuala Lumpur.
8️⃣ Perdana Botanical Garden (Free)
The Perdana Botanical Gardens are open daily from 7 am to 6 pm. Admission is free. The gardens are located in the heart of Kuala Lumpur, just a short walk from Muzium Negara MRT station. They are home to a wide variety of plants and flowers, including orchids, hibiscus, and cacti.
In addition to the beautiful gardens, the Perdana Botanical Gardens also offer a variety of other attractions, including a planetarium, an Islamic Arts Museum, a National Museum, and a National Mosque. Visitors can also take a boat ride on the lake, go for a walk or bike ride along the tree-lined paths, or visit the Orchid Garden, which houses over 600 species of orchids, or the Hibiscus Garden, which is home to over 1,000 varieties of hibiscus.
The KL Bird Park and the KL Butterfly Park, are also located within the Botanical Gardens, although both of these attractions have entrance fees of 60 MYR, for foreigners.
9️⃣ Merdeka Square (Free)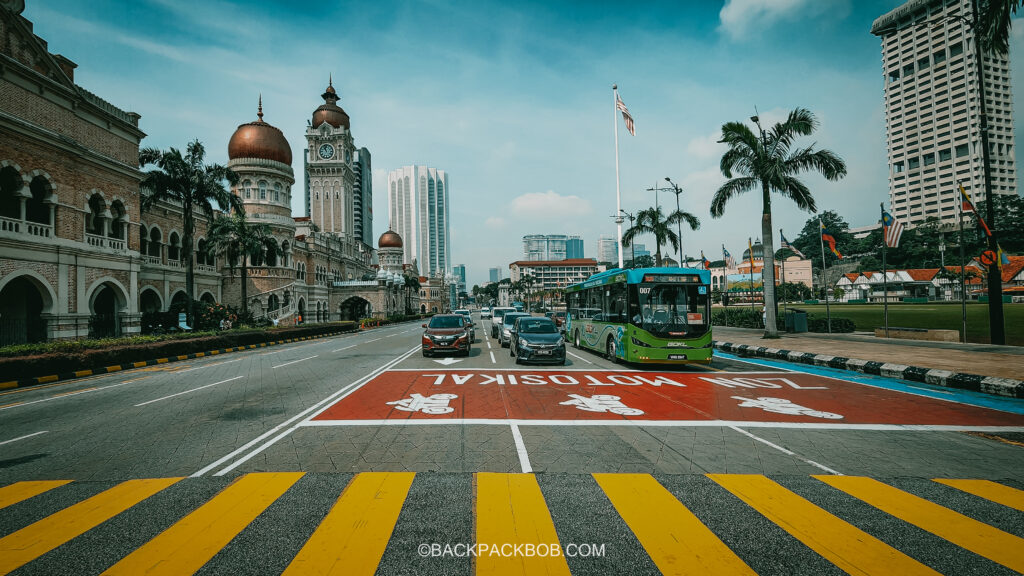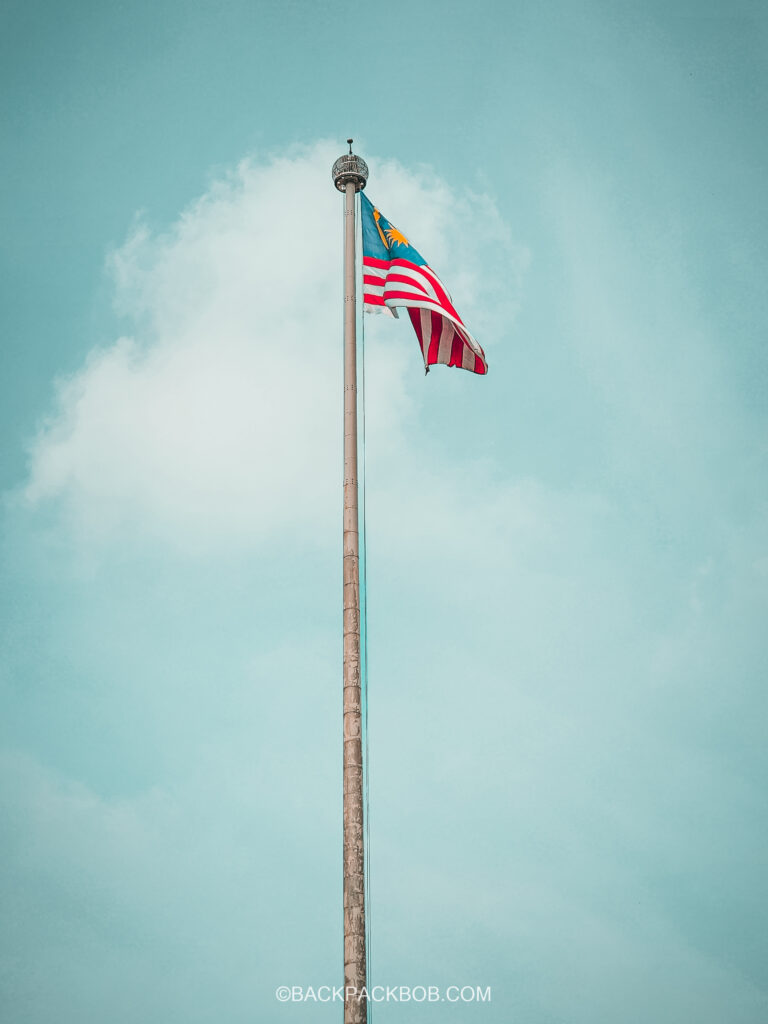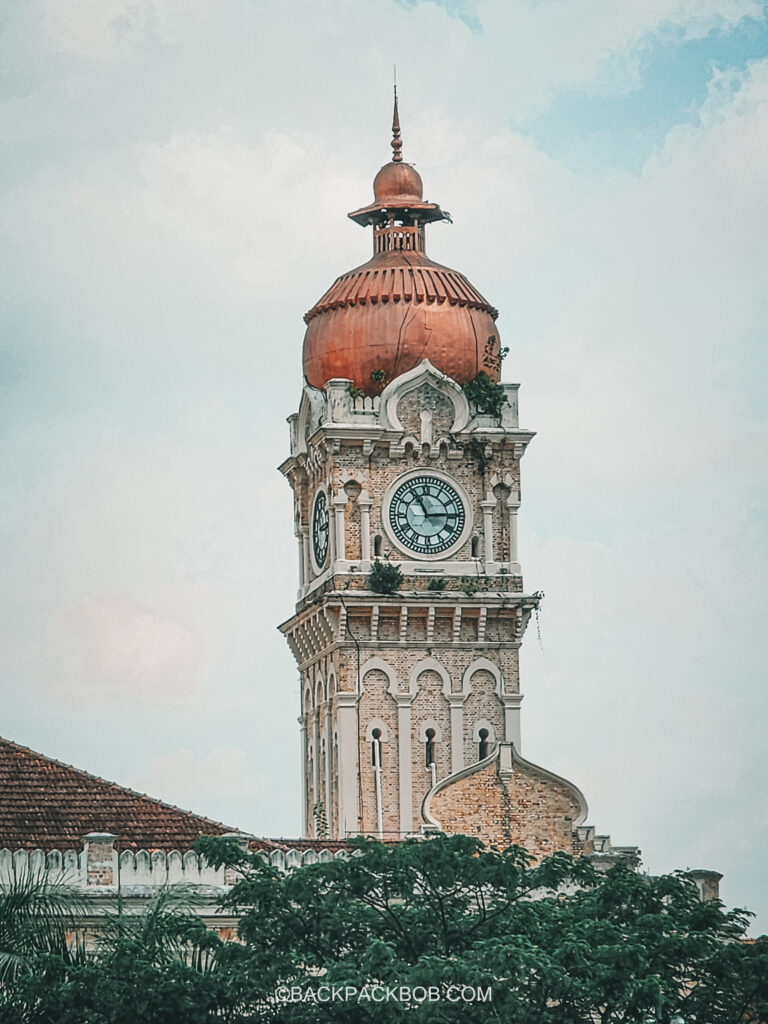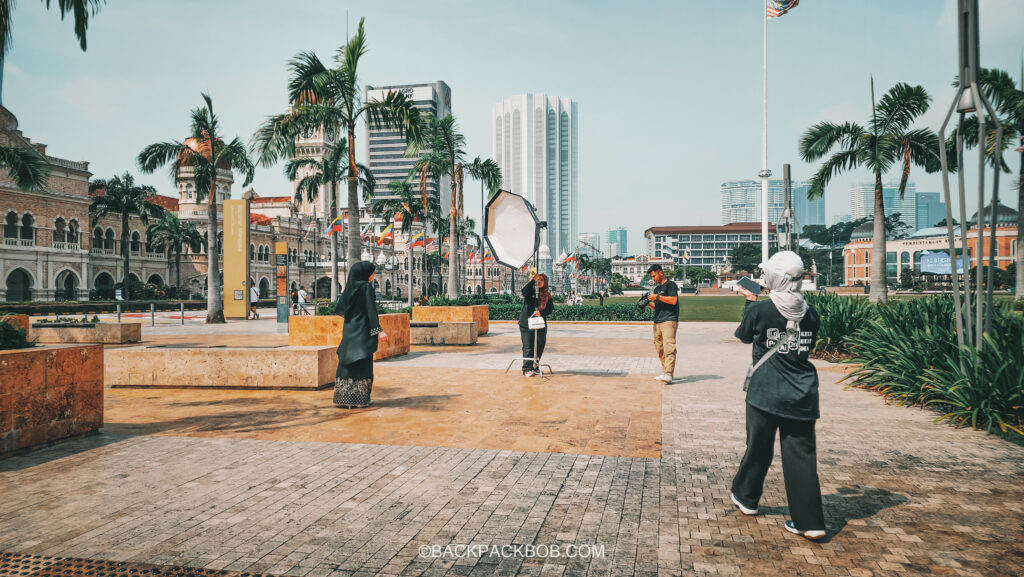 Merdeka Square is a historical square in Kuala Lumpur, Malaysia. It is the site where the Union Flag was lowered and the Malayan flag was raised for the first time at midnight on 31 August 1957, marking the independence of Malaya from British rule.
Admission is free and the square is open for 24 hours. Merdeka Square is located centrally in Kuala Lumpur. To get to Merdeka Square, you can take the LRT to the Masjid Jamek station. From there, it is a short walk to the square. The KL City Gallery is a few minutes away and also free.
🔟 KL City Gallery and Other Museums (Free)
The KL City Gallery is one of many famous museums in the city, and it is a free thing to do in Kuala Lumpur. The Gallery is located a few minutes walk from Merdeka Square and the exhibits provide a great insight into the significance of Merdeka Square. Outside the gallery is where the famous 'I Heart Kuala Lumpur' sign is located, which is also free.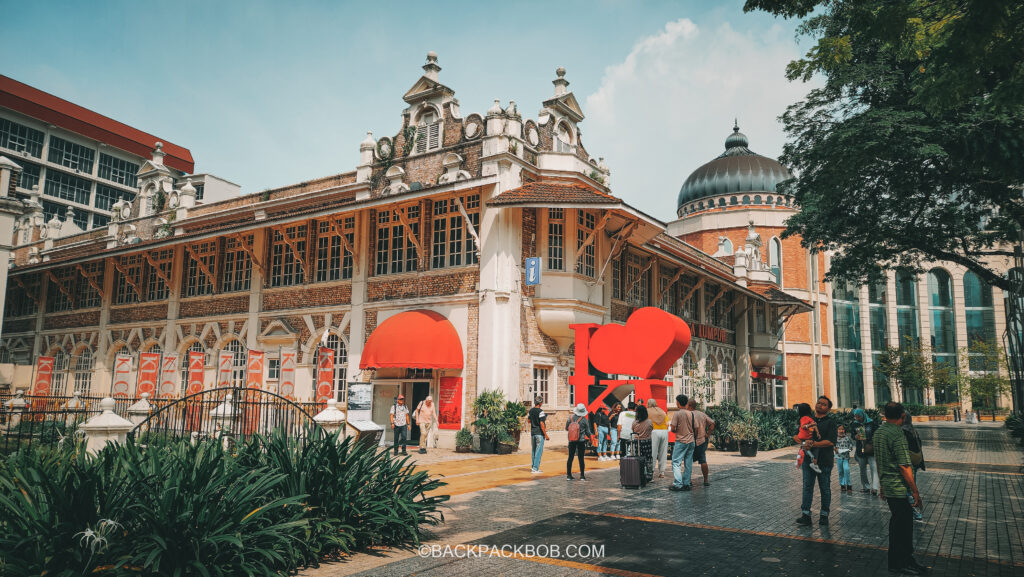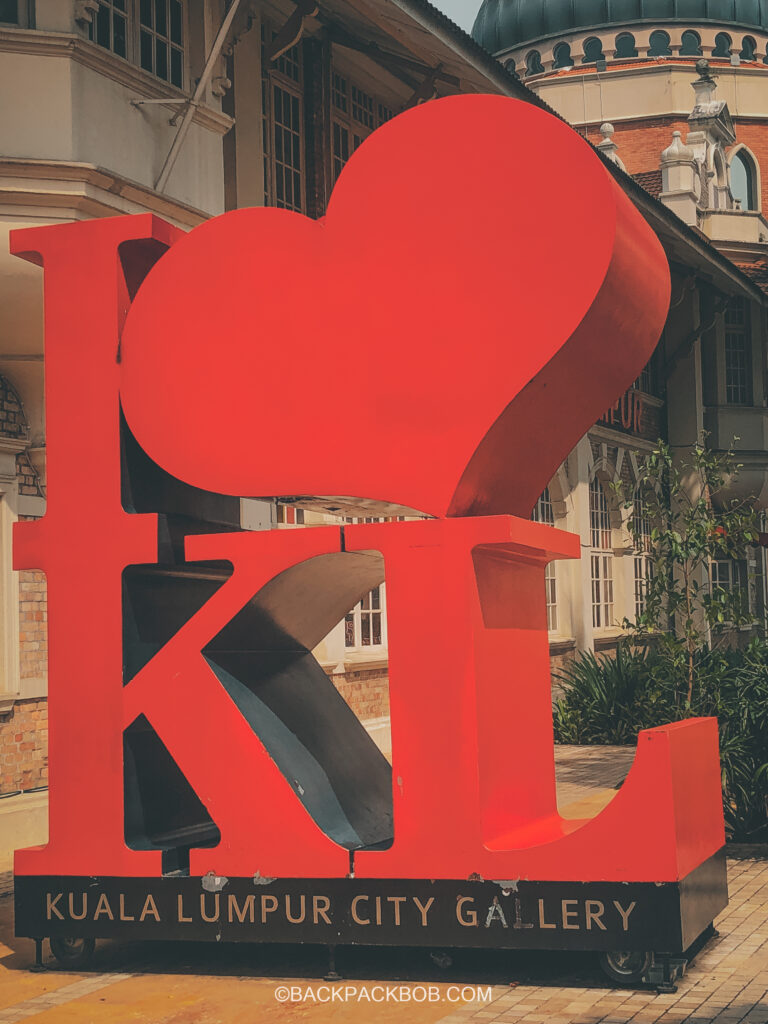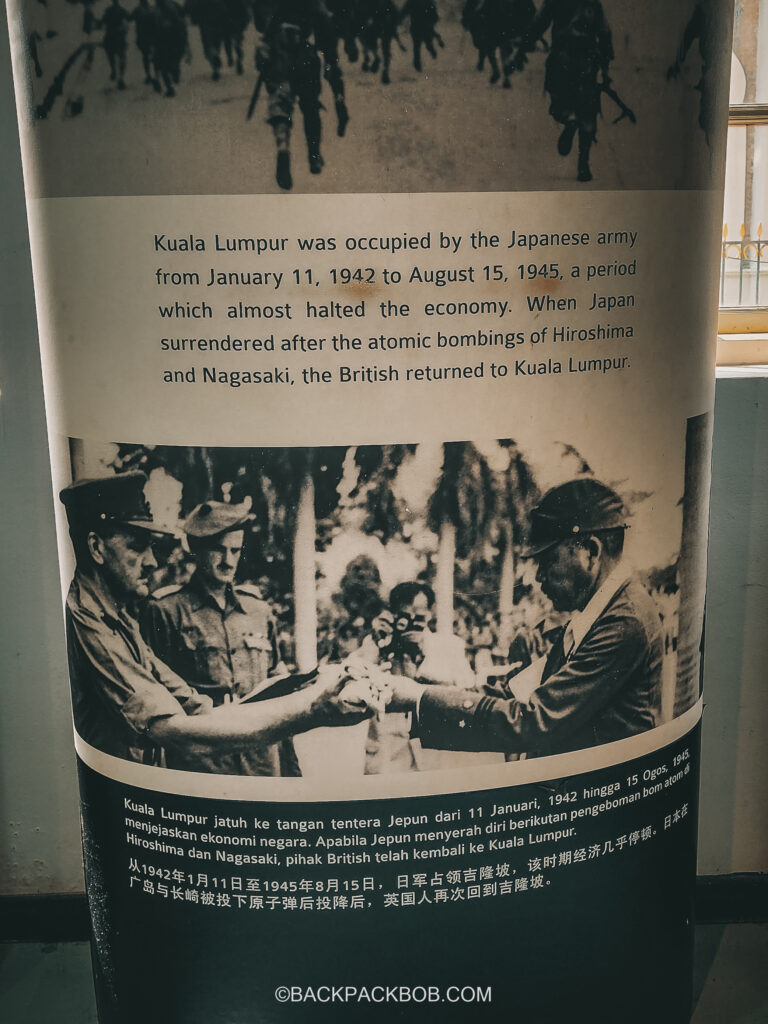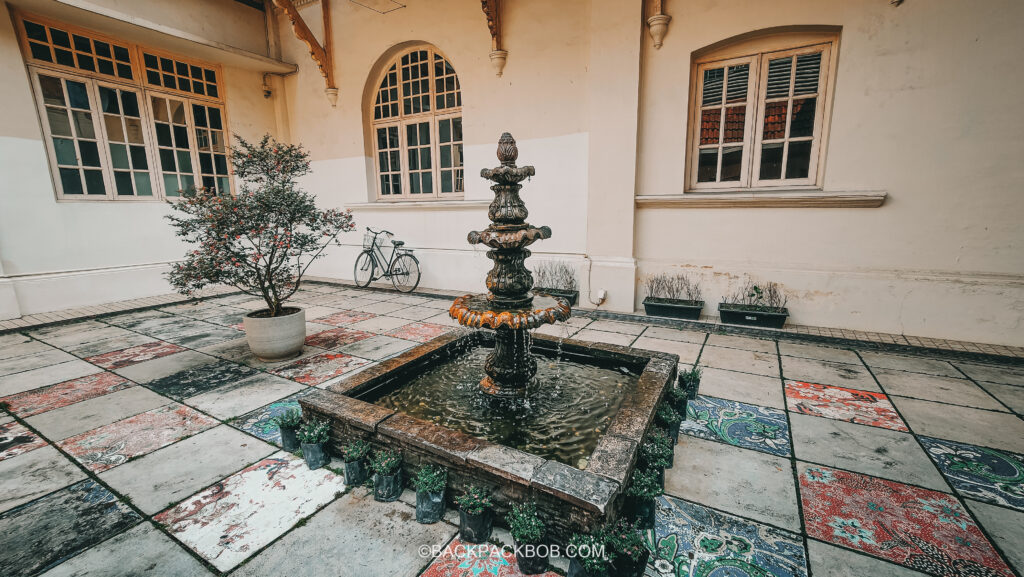 There are a lot of free museums in Kuala Lumpur, (here's a list to start) some of the most popular ones are the Bank Negara Malaysia Museum and Art Gallery, the Islamic Arts Museum Malaysia and The National Textiles Museum. We ended up visiting the Kuala Lumpur City Gallery, which is nearby Merdeka Square.
The gallery itself had some interesting information about the history of Malaysia, the colonizations and modern-day independence. Although it is rather small and occupies a single room. You don't need more than 20 or 30 minutes here, but it's worth a visit if you are near.
The Cheapest Day Tours From Kuala Lumpur
Kuala Lumpur is a great base for day trips to nearby destinations, which is why many people stay longer in the city. Book a tour package, or take the bus over to the next town, for the day. When you're ready to leave KLIA Airport has low-cost flights all over Malaysia.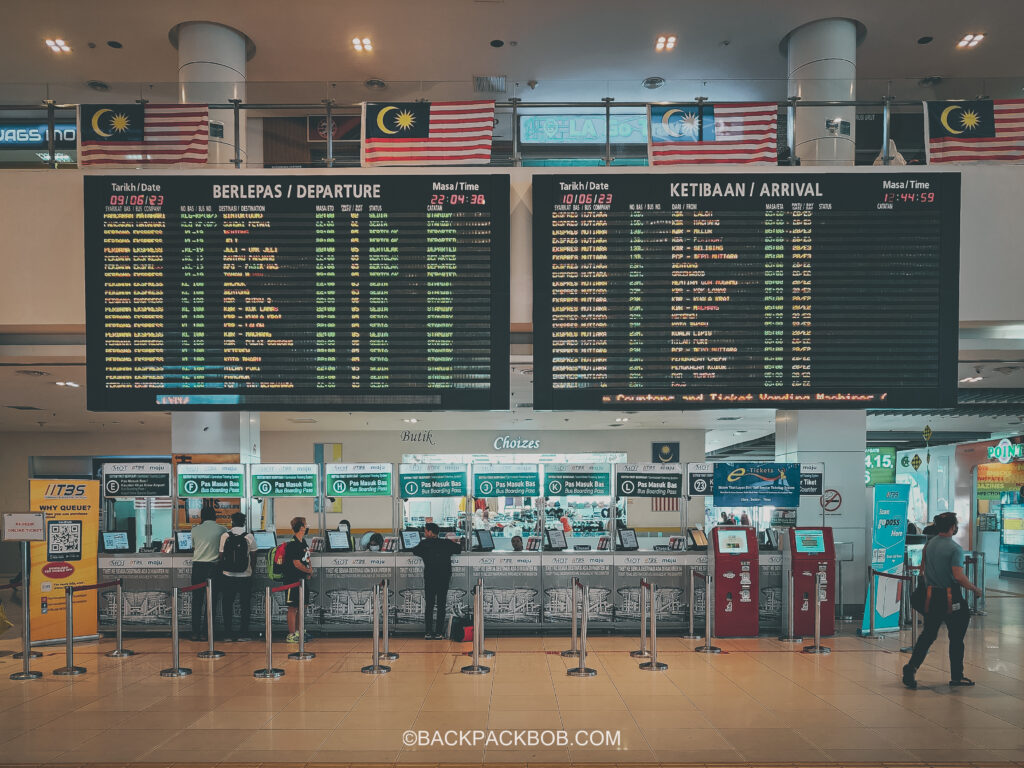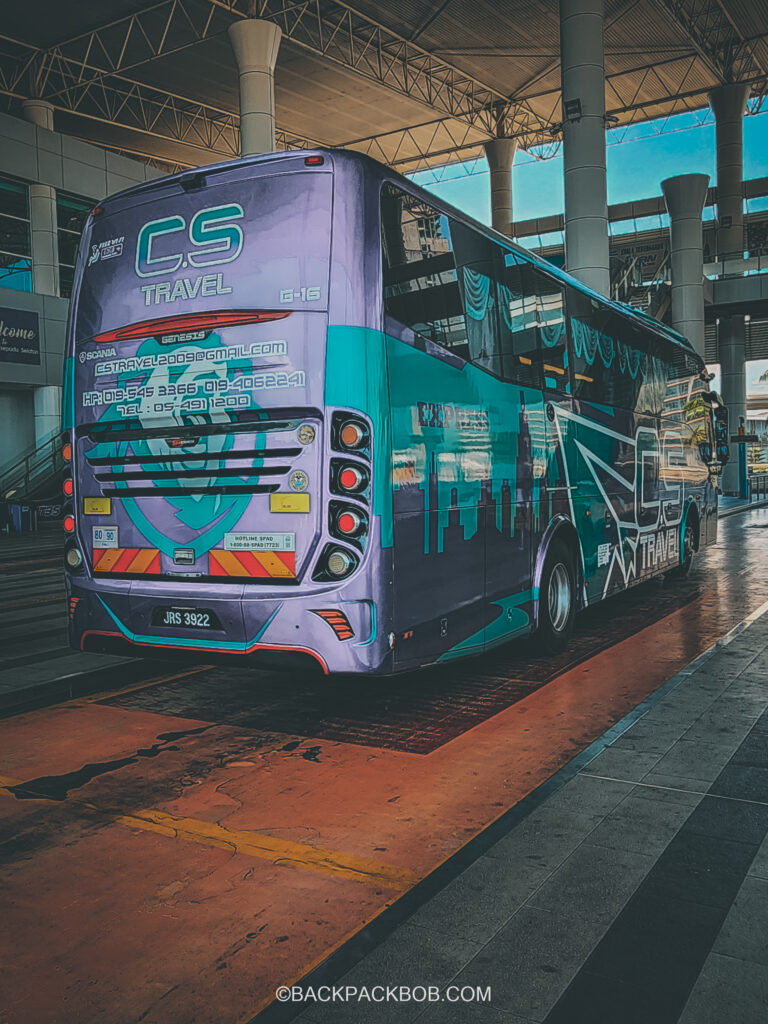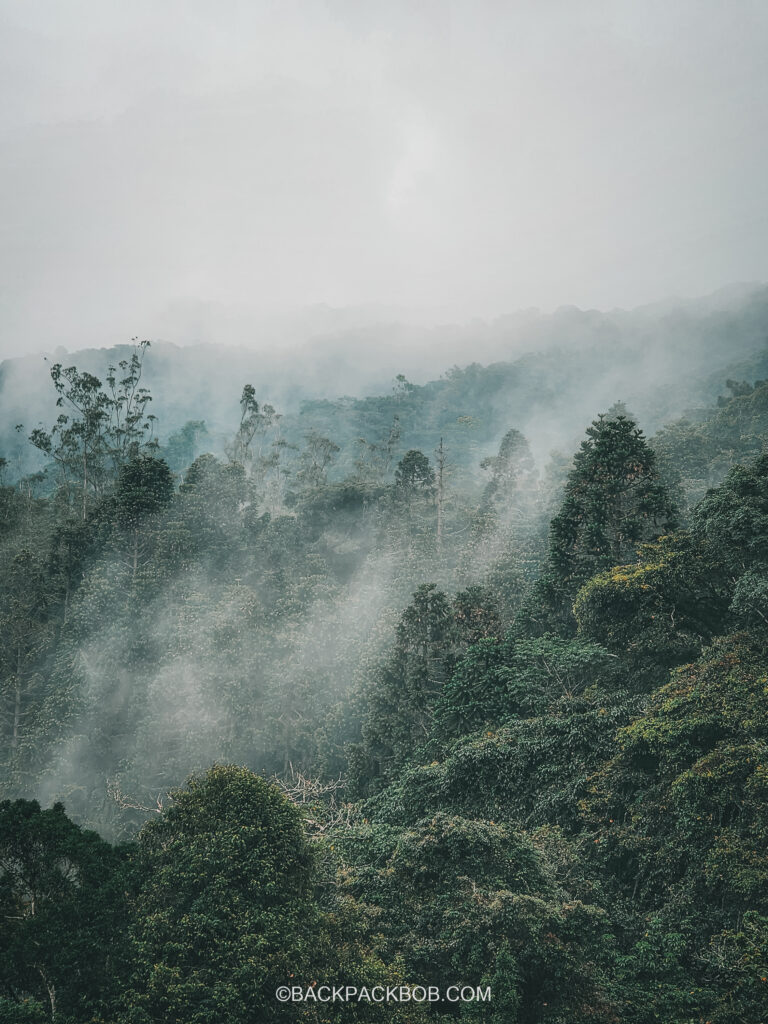 Three of the most popular day trips from Kuala Lumpur are the Genting Highlands, the historic town of Melaka, and the Taman Negara National Park. The Genting Highlands are home to a number of theme parks and casinos, while Melaka is a UNESCO World Heritage Site known for its rich history and culture.
If you are short on time, booking day trips is a great way to see more of Malaysia. However, I recommend staying overnight when possible, especially in Melaka, so that you can visit the famous Jonkers Street Market. You can also book day trips from Kuala Lumpur to other places, such as the Cameron Highlands and Ipoh. In my opinion, both of these places are too far to enjoy on a one-day trip.
Where To Book Kuala Lumpur Day Tours
There are three companies I used to book tours in Kuala Lumpur, these are Viator, Get Your Guide, and Klook. Once I have an idea of the tour I want to do, I will search all three sites and compare the options, and prices.
Genting Highlands: (153.70 MYR)
A day tour to the Genting Highlands costs around 150 MYR. You can save money by taking the bus there instead.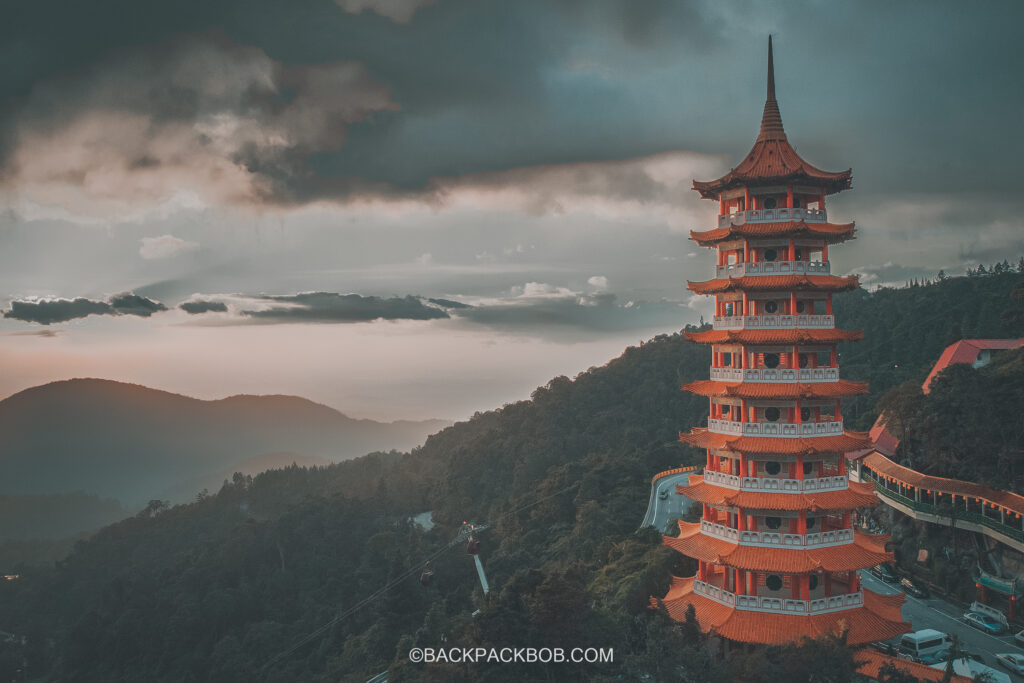 The Genting Highlands are the most popular day trip from Kuala Lumpur, located just one hour away. The highlands are home to a famous casino and resort, and you can reach the top by riding the Cable Car.
A tour package for the Genting Highlands. generally includes all your transport both ways, meals and a guide. Alternatively, you can self-guide your trip. A bus from Kuala Lumpur should cost 40 MYR each way, and the cable car costs 10 MYR. Don't forget to budget some extra cash for the casino games! You'll (inevitably) lose it, but it's good fun and there's a slim chance of leaving with more money than you came with.
Top Kuala Lumpur – Genting Highlands One-Day Tours
Booking an arranged tour from Kuala Lumpur to Melaka should cost around 180 MYR, although you can save money by taking the bus there instead.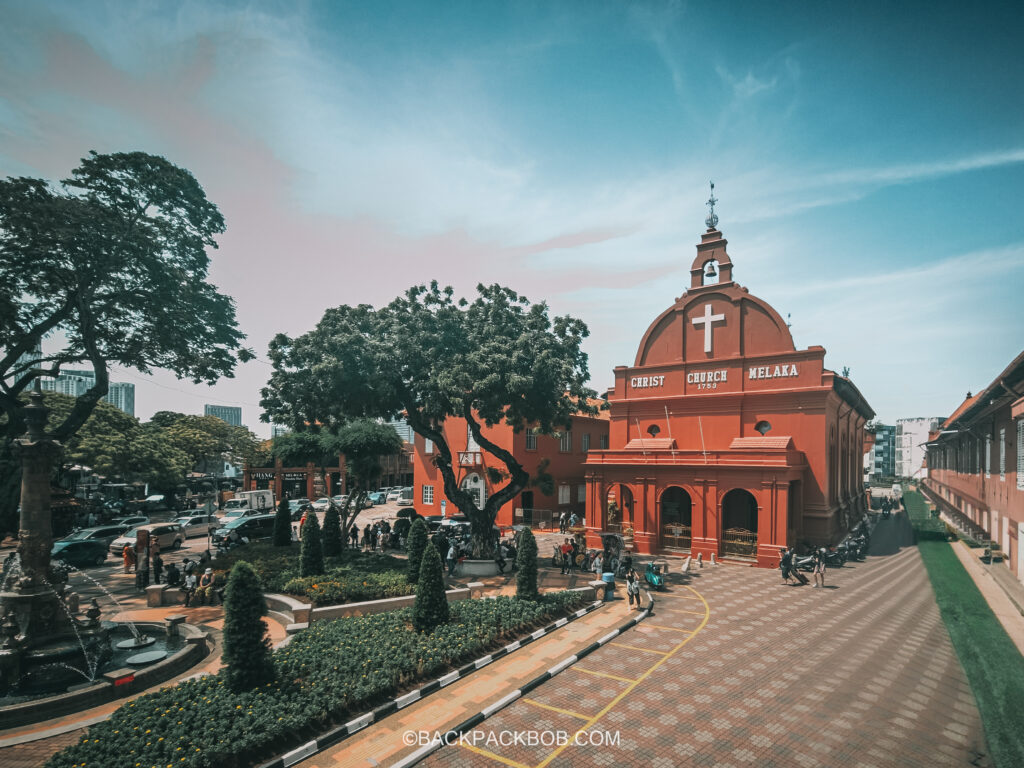 Melaka is just a 2-hour bus ride from Kuala Lumpur. You can book an arranged tour package or go it alone. There are frequent bus services from KL Sentral and TBS Bus Terminal, and tickets cost 12 MYR. You can find more information about how to get to Melaka here. If you don't want to arrange your own travel, there are many day tours available which include all your transport arrangements.
Top Kuala Lumpur – Melaka One-Day Tours
Getting Around Kuala Lumpur On a Budget
Kuala Lumpur has three main transport hubs to get to other places in Malaysia. There are tons of flights, busses, and train services to and from Kuala Lumpur, all of which are low-cost. The biggest bus terminal is TBS, the main rail station is KL Sentral, which is a train and bus combo station, and KLIA is the main airport, with cheap flights.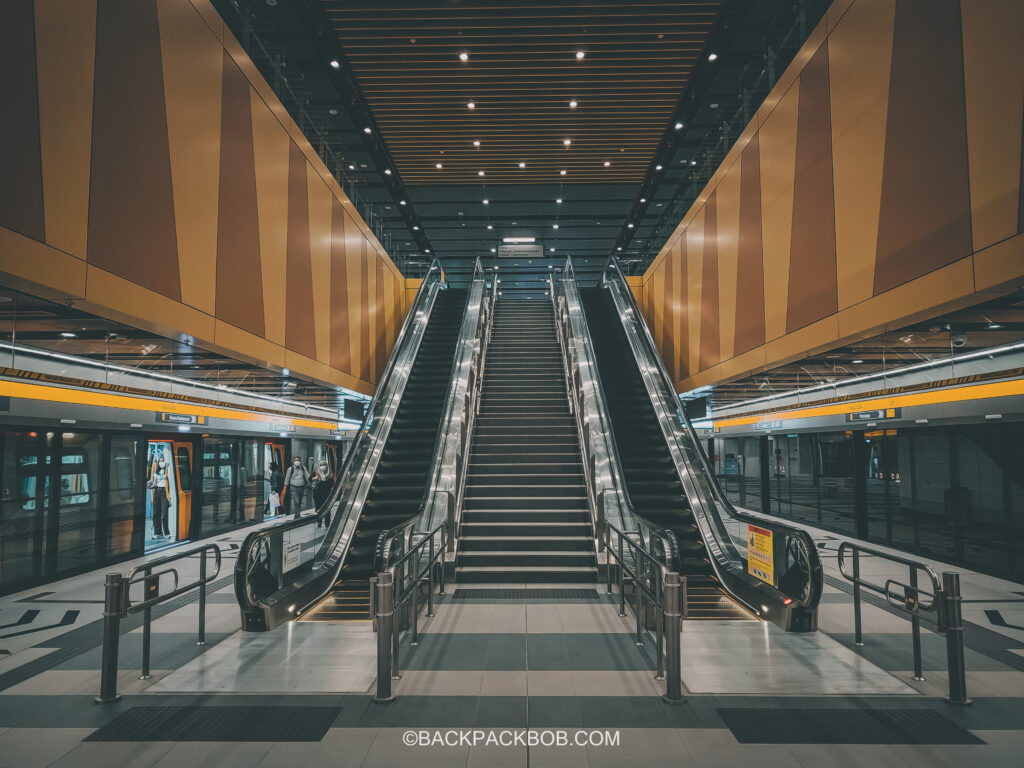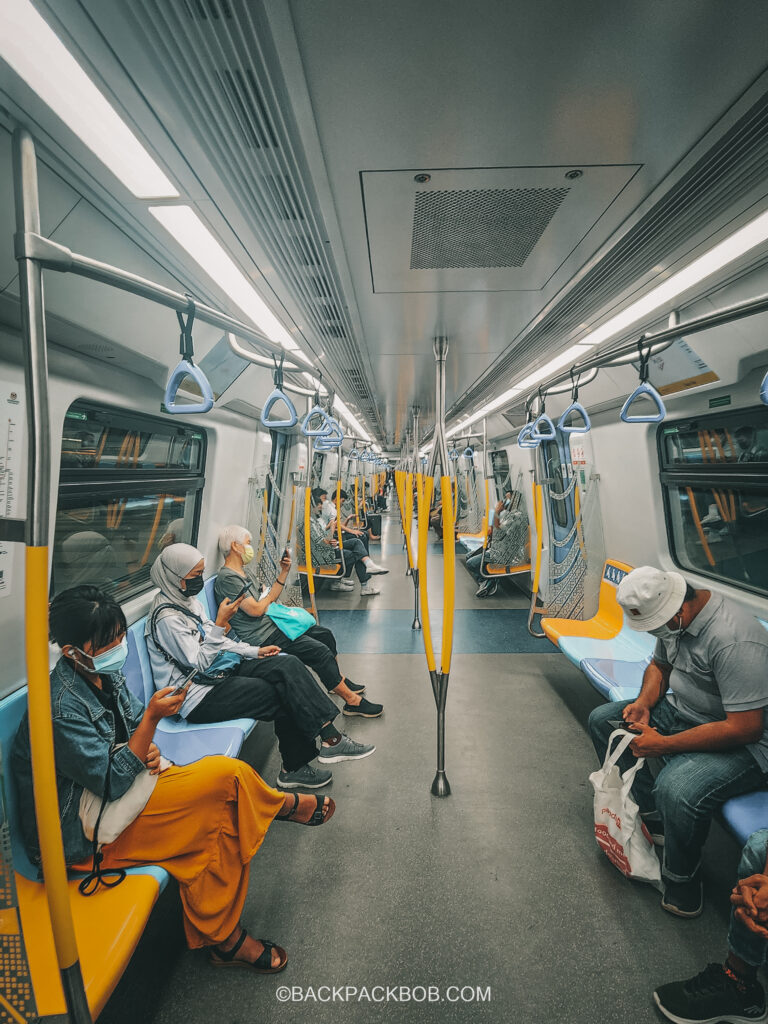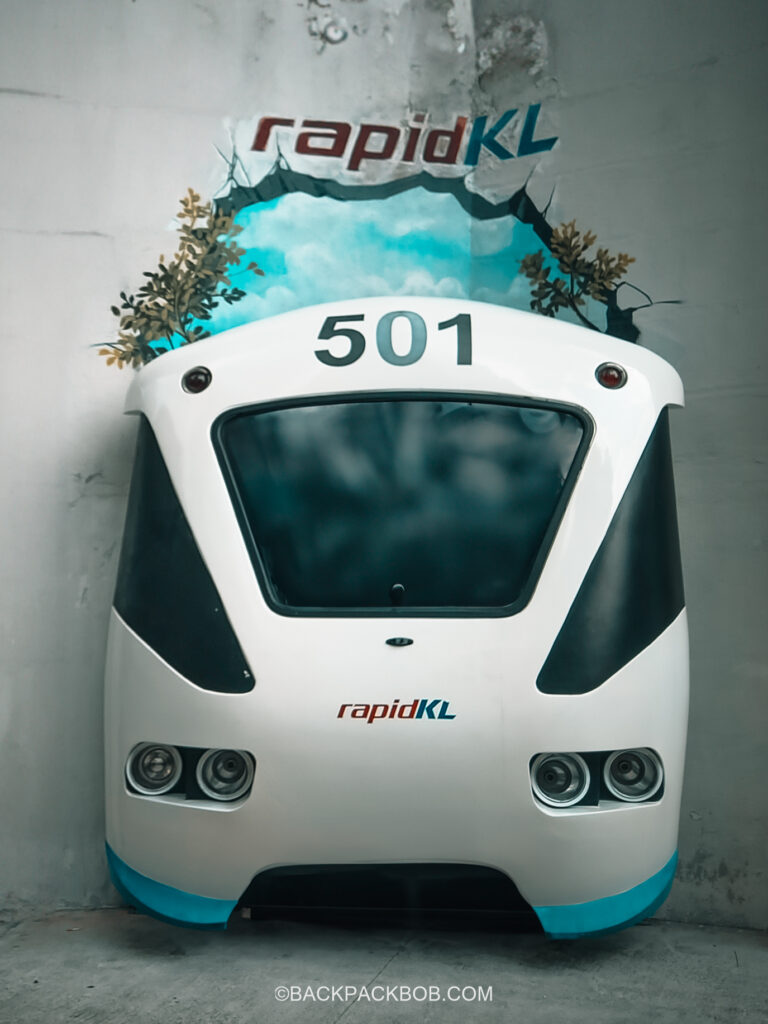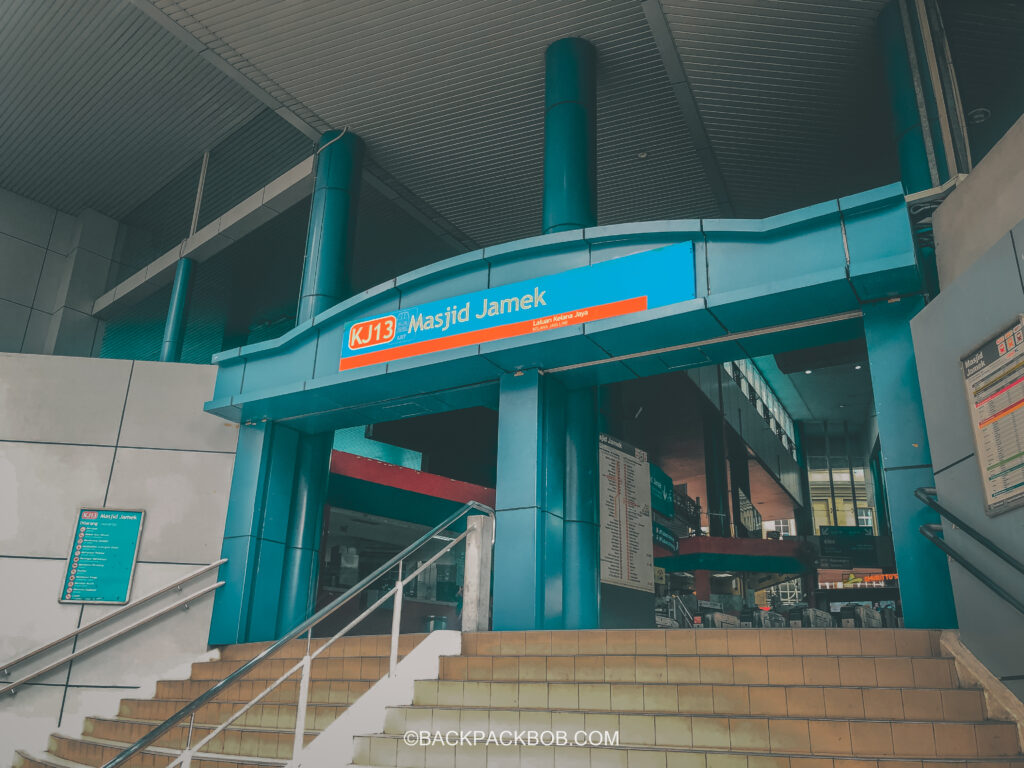 Getting around Kuala Lumpur is easy. Use the city's fantastic train network, which is affordable and convenient. There are more than 300 train stations in Kuala Lumpur so you can connect almost anywhere, (use the MyRapid Touch 'n Go card to pay for your train fares. This card will give you a 20% discount).
To make it easier to get around Kuala Lumpur, I recommend finding accommodation near a rail station. This will give you quick access to the trains and allow you to explore Kuala Lumpur effortlessly. You can get a free train map to help you plan your adventures.
If your destination is not within walking distance of a train station, Grab is the go-to e-hailing taxi service in Kuala Lumpur. Download the app and set up an account before your trip to avoid any last-minute hiccups. Grab is reliable in Kuala Lumpur, with fares averaging around 20 MYR, for a 30-minute ride. Another popular e-hailing taxi service in Kuala Lumpur is Maxim. It's worth checking out, as it often offers competitive fares.
Note: The Airport in Kuala Lumpur is 40 Kilometers outside of the city. The express train costs 55 MYR, but I have published a detailed guide, here, explaining how to save money and take the train for 16 MYR instead.
Budget-Friendly Places to Stay In Kuala Lumpur
Choosing a good location is often more important than choosing a good hotel. If you're visiting Kuala Lumpur for the first time, there are a few different areas to consider: KLCC, KL Sentral or Bukit Bintang are the best areas for tourists. Each area has its own unique advantages and disadvantages.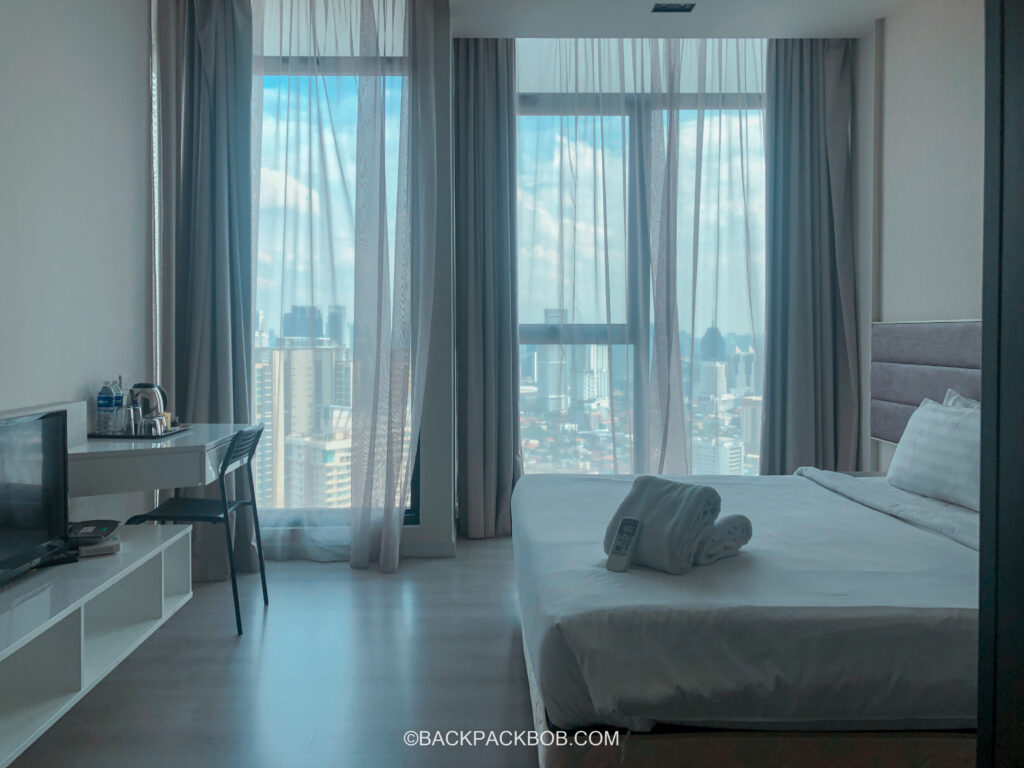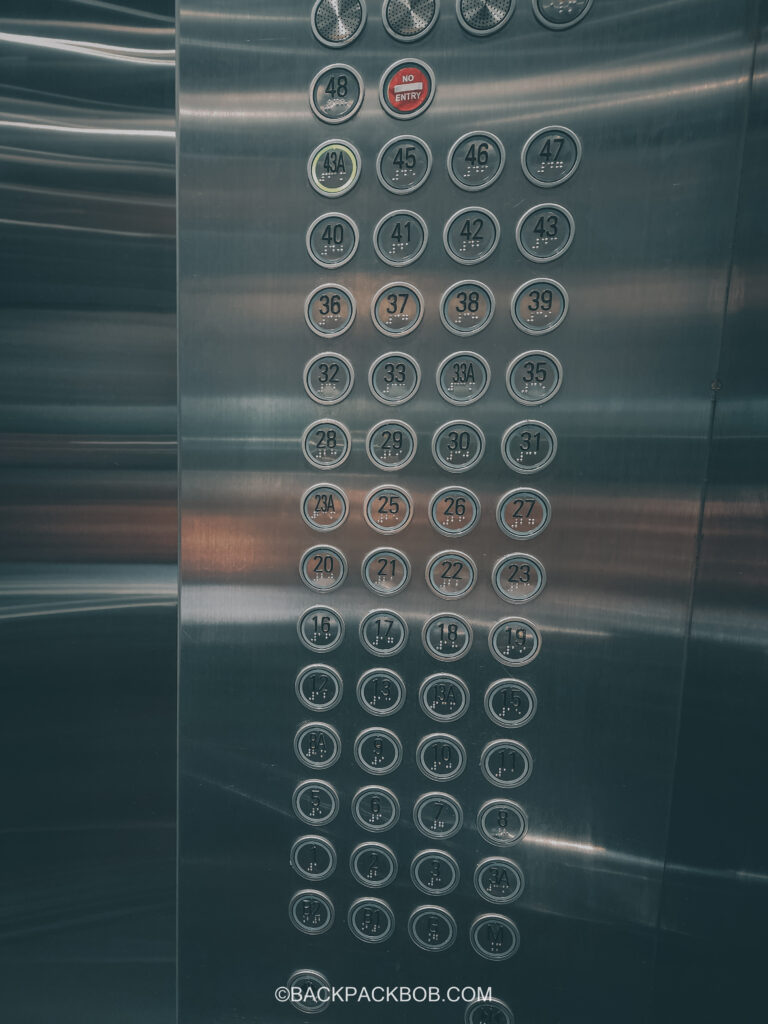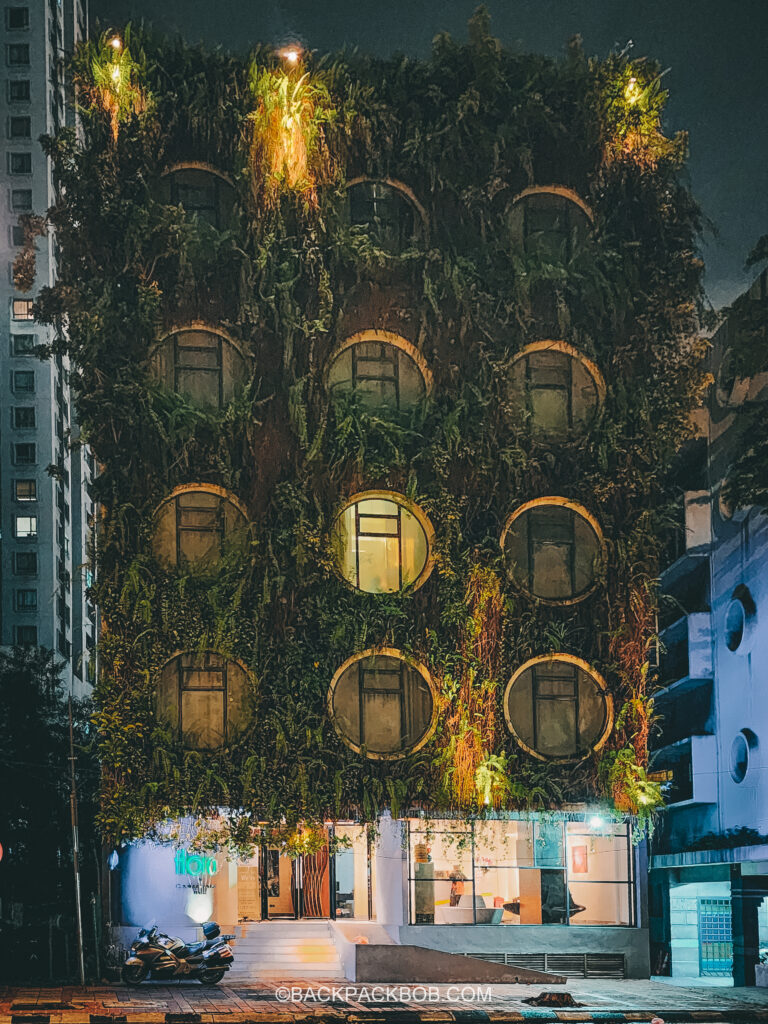 KL Sentral (Recommended hotel: No recomende hotel, I didn't stay in this area)
Is a great choice for travellers who want to be close to public transportation. It's near KL Sentral train station, which is a major transportation hub for the city. The KL Sentral area is also home to a number of budget-friendly hotels.
KLCC is the best place for first-time visitors. It's the heart of Kuala Lumpur and is home to some of the city's most iconic attractions, such as the Petronas Twin Towers and KLCC Park. KLCC is the most expensive area to stay, in Kuala Lumpur. But by international standards, the prices are very cheap.
Tropicana KLCC has a rooftop pool, gym and incredible views of the city. The location is only 400 metres from KLCC Train Station. It costs around £50 per night to stay here, expensive by Malaysian Standards; but the equivalent room in London, would cost *checks notes booking.com* around £1,200.
Bukit Bintang is the city's entertainment and shopping district. This area is home to a number of nightclubs, bars, restaurants, and shopping malls. Expressions is located on the outskirts of Bukit Bintang, a 30-minute train ride from the city centre (although you still have views of the Petronas Towers from the infinity pool). Rooms here cost as little as £20-30 per night.
Chinatown is home to many Chinese restaurants, shops, and temples. It's also a great place to find budget-friendly accommodation. The Rainforest is a great option for budget travellers. It's located close to a metro station and the Petaling Street Market. Rooms are private, clean, and affordable, starting at £6-£11 per night. Hostels can also be booked for a similar price.
Unmissable Foods and Tastes in Kuala Lumpur
Ipoh, holds the crown in the eyes of many as having the best food in Malaysia. But it's in Kuala Lumpur where you'll find the best variety of foods. Here are some of the 'must-taste' foods in Kuala Lumpur.
Sticky Rice Balls: In the mornings, you can find sticky rice balls sold in the Petaling Street Market. The sticky rice is rolled and covered in flavorful toppings. There are six flavors to choose from.
Chicken Clay Pot: Chicken clay pot is a must-try street food in Kuala Lumpur. Rice and chicken are grilled and steamed in a clay pot.
Roti Canai Telor: Roti canai telor is made with eggs cooked inside roti (flat bread). It is often served with a selection of Indian sauces and curries.
Nasi Lemak: Nasi lemak is the official, unofficial dish of Malaysia. You can find some of the best nasi lemak in Kuala Lumpur on the streets.
Hainanese Chicken Rice: Hainanese chicken rice is a dish with boiled chicken served over rice. It is commonly found in Kuala Lumpur.
Fried Chicken: The fried chicken from Kuala Lumpur street vendors is delicious. It hits differently than fried chicken from other places.
Nandos. When are you going to open a Bangkok branch of Nandos? I'm deprived of Peri-Peri. I always make time for a pit-stop here.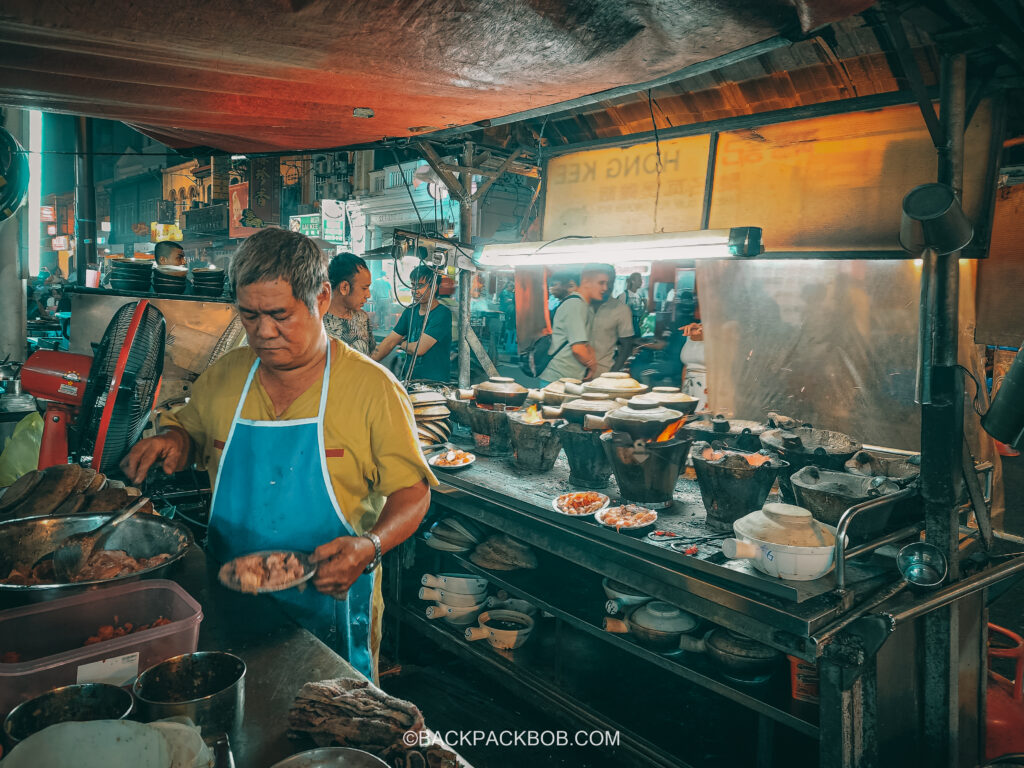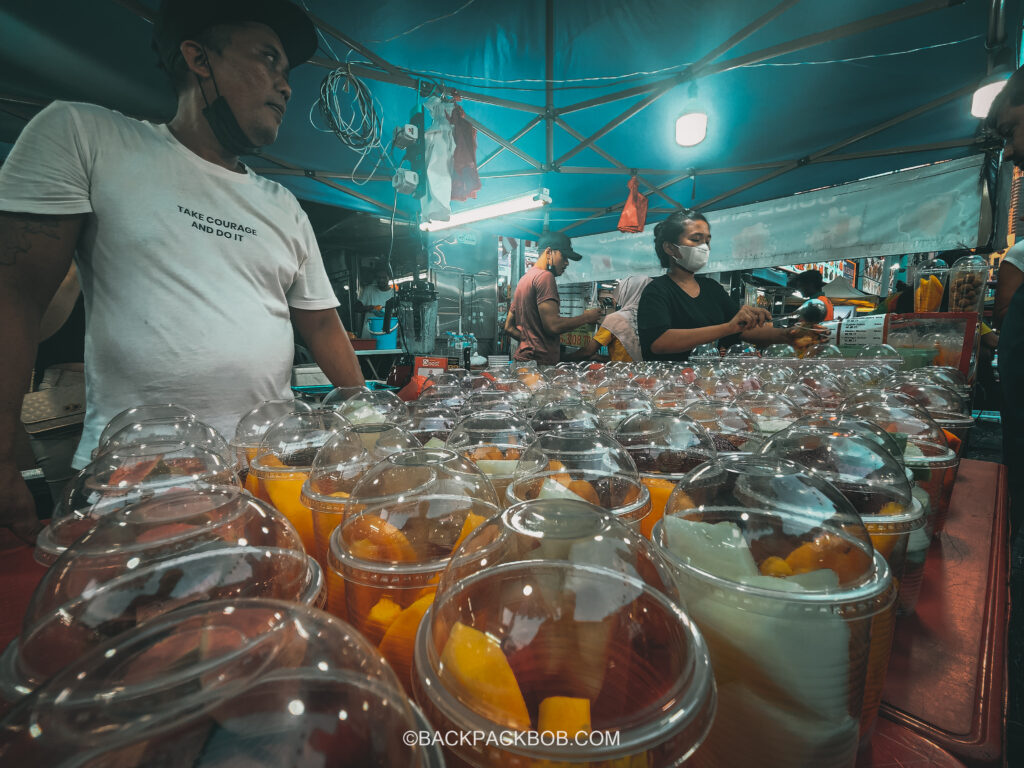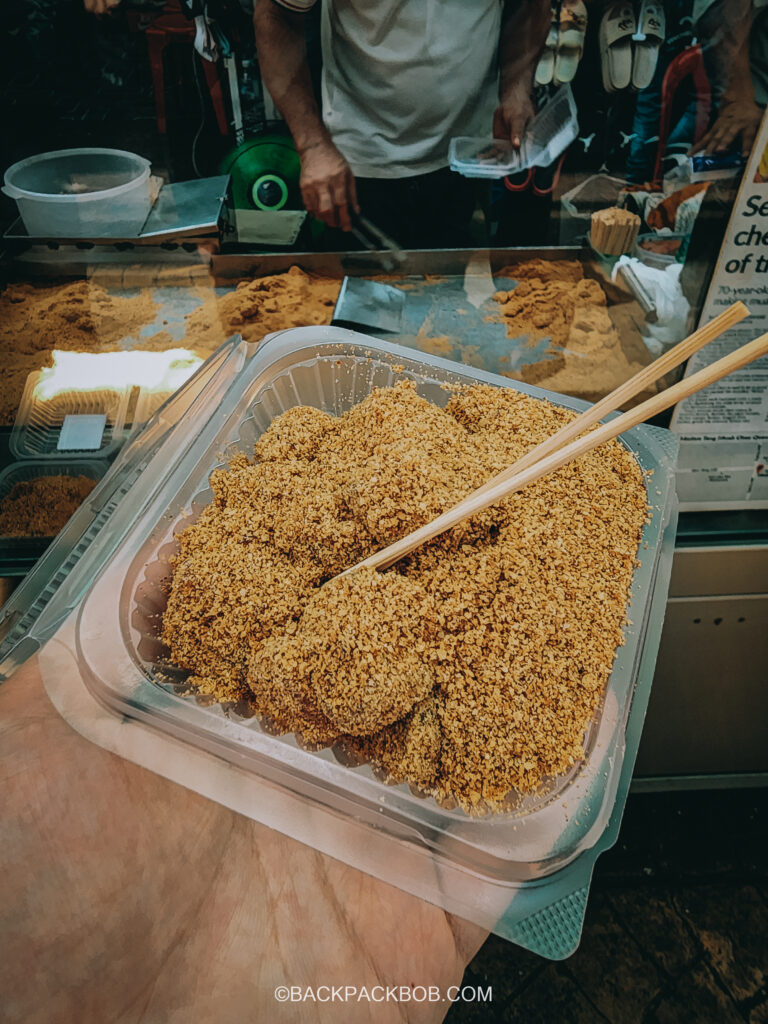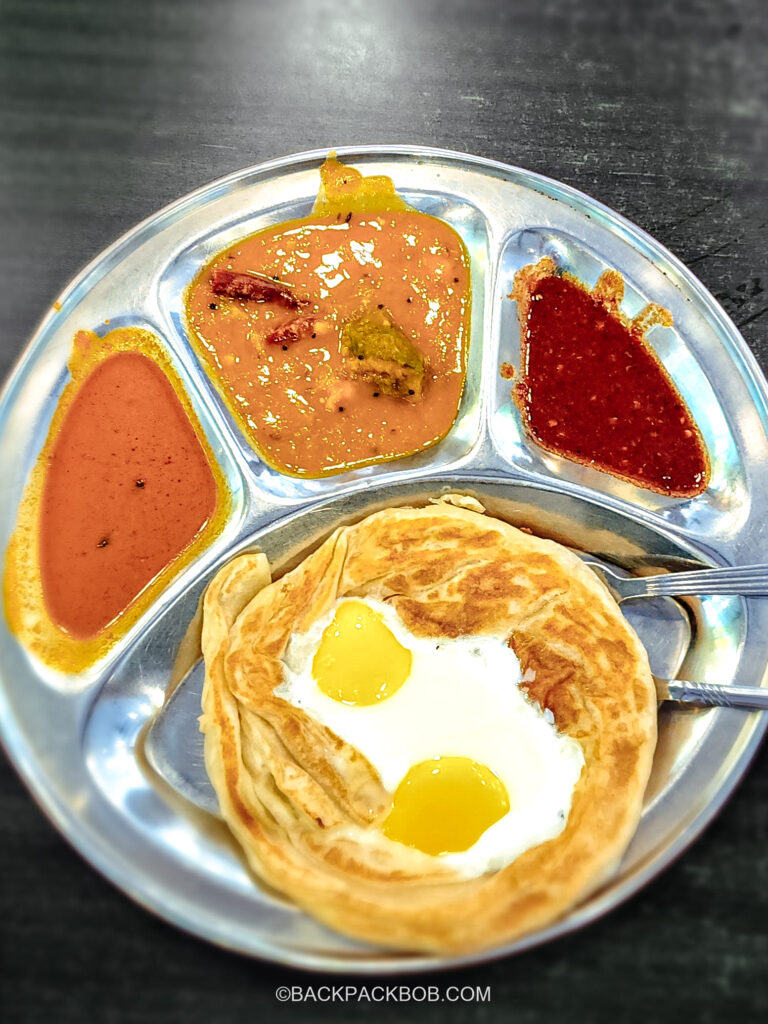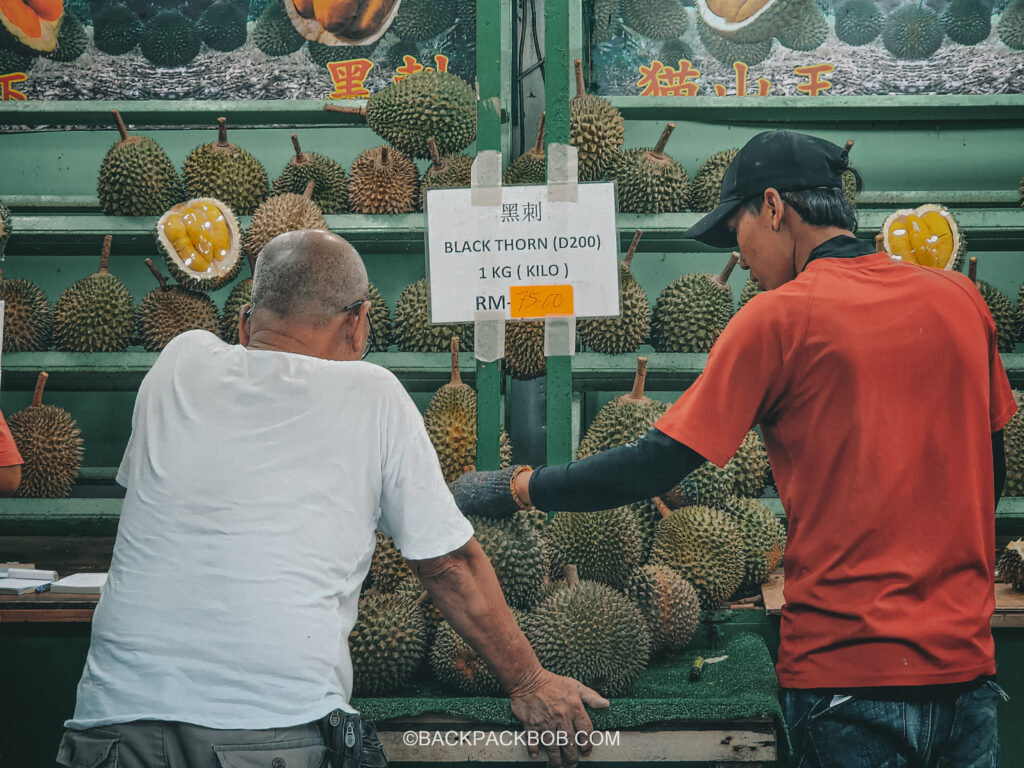 Is Kuala Lumpur Safe
Yes, kind of. Even though I know Kuala Lumpur is 'safe'. I still couldn't shake that uneasy feeling.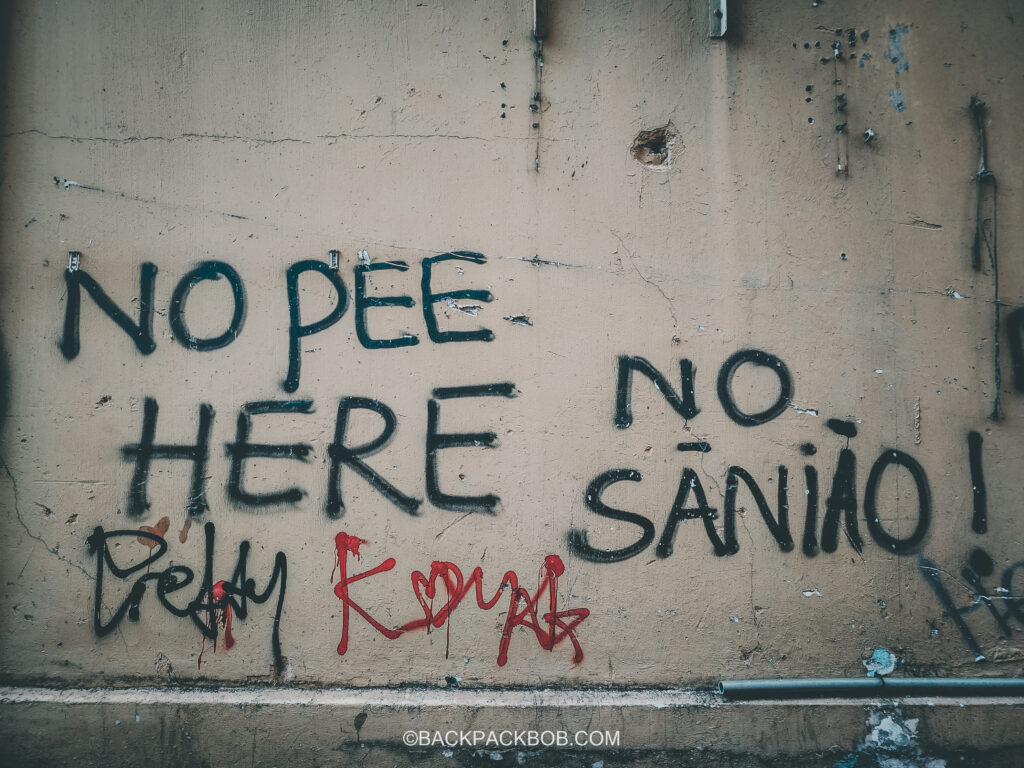 When compared with other cities around the world, Kuala Lumpur is safe. But compared to the standards set in Asia- in Singapore, Bangkok, or Hanoi, for example. Kuala Lumpur feels different. Less welcoming, and I always felt on edge.
I guess it was a result of our first night. From the laundrette, we were sitting in (note to self: never visit a launderette at night in Kuala Lumpur), we witnessed more than our fair share of incidents. I don't know why the crazies tend to congregate near laundrettes, but in the hour we were there, we witness two fistfights and a drunk man attempting to grope a woman, (which led to another fistfight and the culprit knocked out on the floor of the laundrette).
After that night, I think I began to pay more attention to the problems Kuala Lumpur faces, in terms of safety.
Alcoholism seems to be a big problem in Kuala Lumpur. This issue isn't something that's specific to Kuala Lumpur, it troubles many other cities around the world. But in KL the drunks seem more intimidating. Louder, more agressive and more brasien. We'd often be shouted out by drunks on the streets and in the train stations.
It was common to see people urinating in the streets. On one occasion, we literally had to jump out of the way, as without warning a guy dropped his pants in the middle of the sidewalk and began to urinate, without so much as even looking around him first. He couldn't even walk a few meters to the nearest bush, or even go against a wall.
Some steps are being taken to improve safety for females on the train network. Some lines and stations have women-only cars and platforms.
Kuala Lumpur. TL; DR.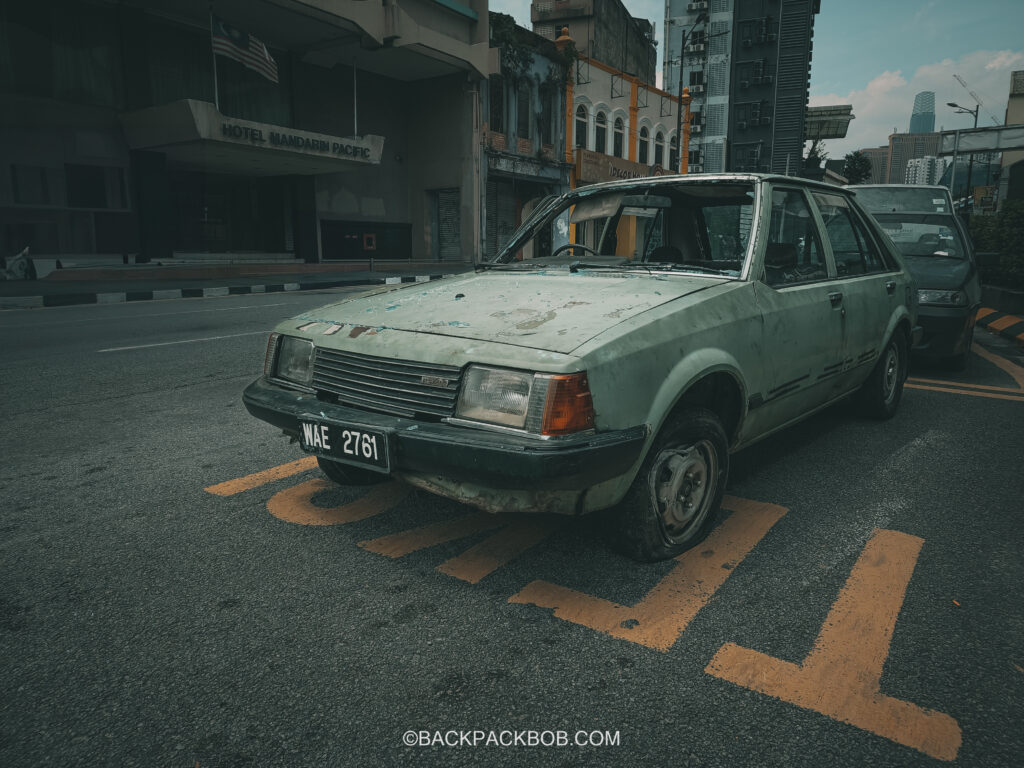 That is about everything you need to know about visiting Kuala Lumpur on a backpacker's budget. There are more than ten free attractions and things to do in Kuala Lumpur. Two of the most iconic attractions are the Batu Caves and Petronas Towers which are free to visit.
Getting around Kuala Lumpur is very easy, the train network is cheap, well-connected, and simple to use. You have to eat the Chicken Clay Pot at least once in Kuala Lumpur, and Jalan Alor is heaven for cheap street food.
You can spend as little as two days in Kuala Lumpur to cover all the free things to do, or you can stay for even longer if you want to do day tours from the city. My number one recommendation is to find a hotel with a rooftop pool. The city is so humid so it is something you'll get a lot of use from. There are many apartments in Kuala Lumpur, which are low-cost and have infinity pools on the roof.
More Photos
I have a lot of photos from Kuala Lumpur, more than I could fit in this guide. Here are a few of my favourites which I didn't have space for.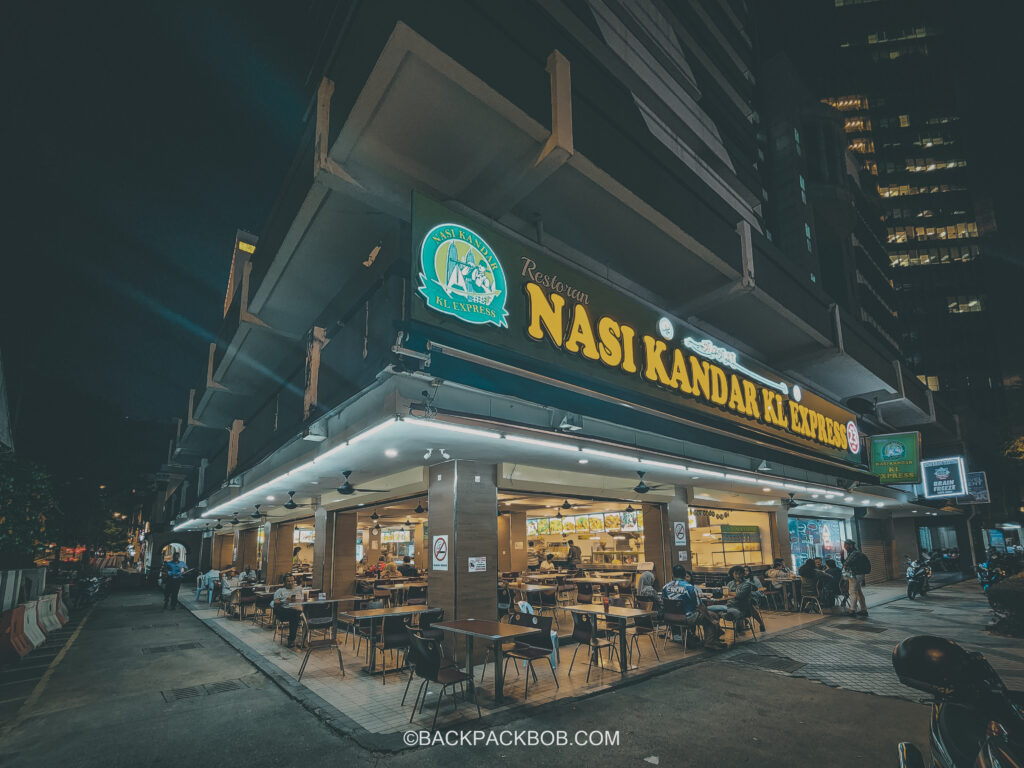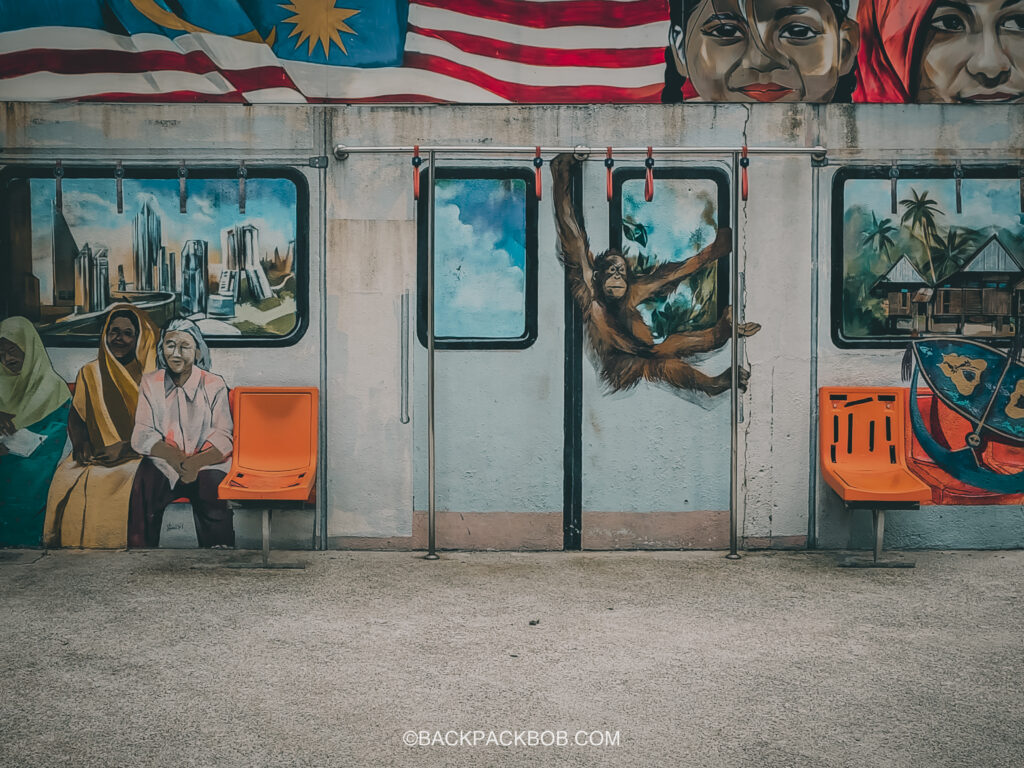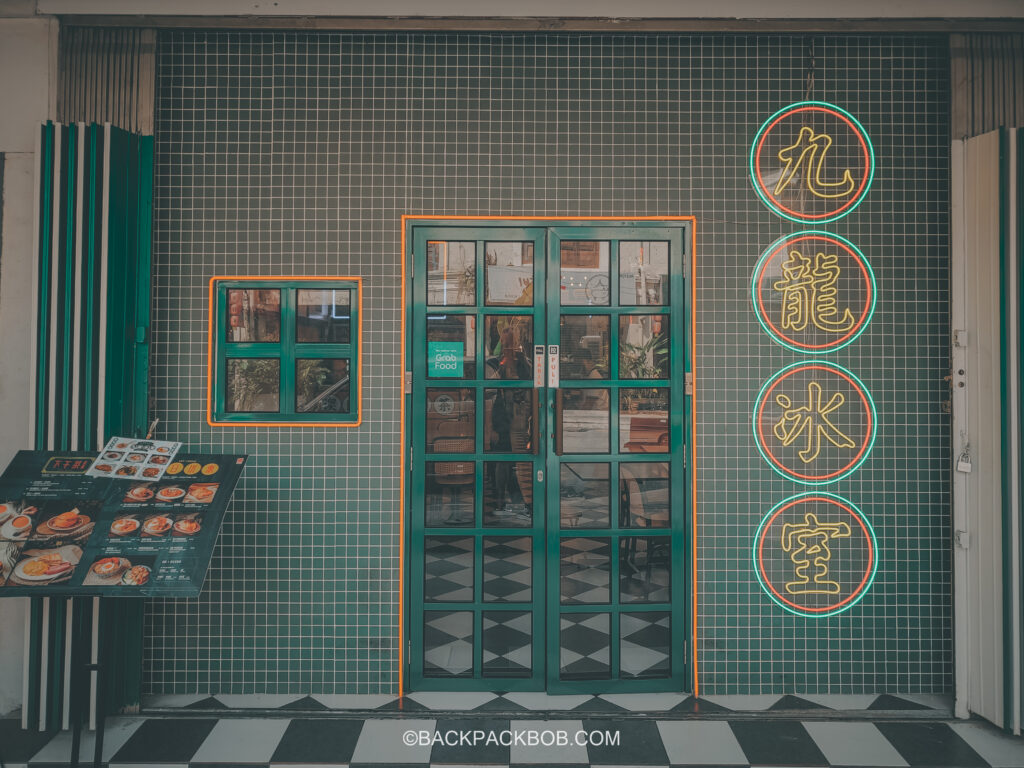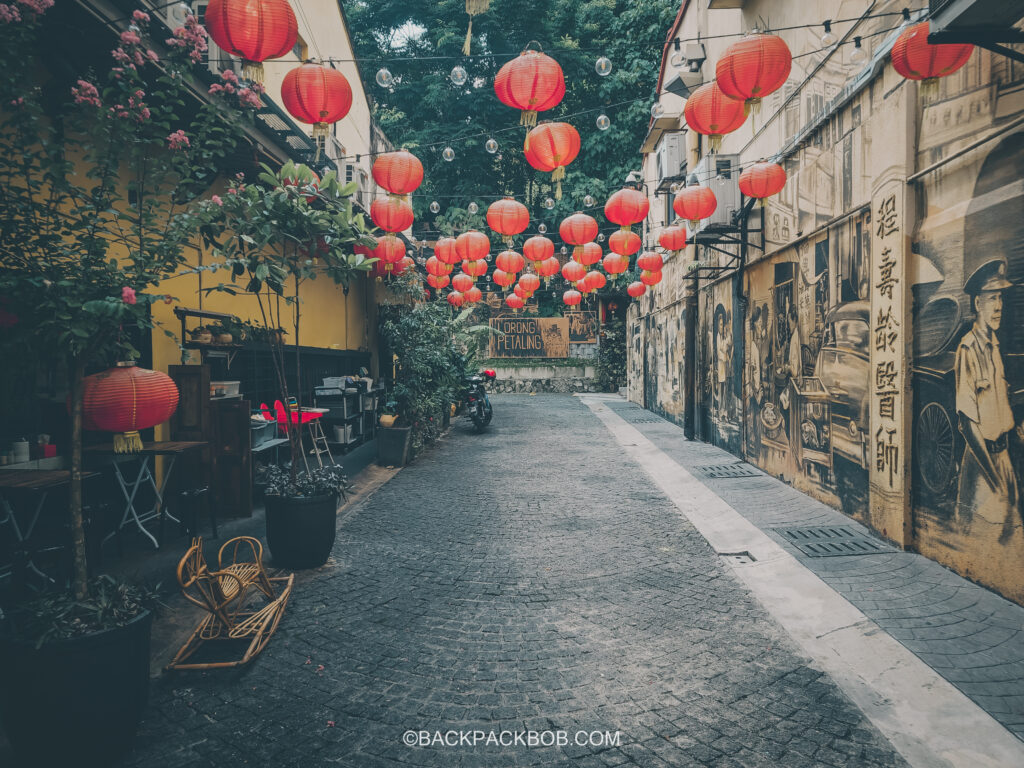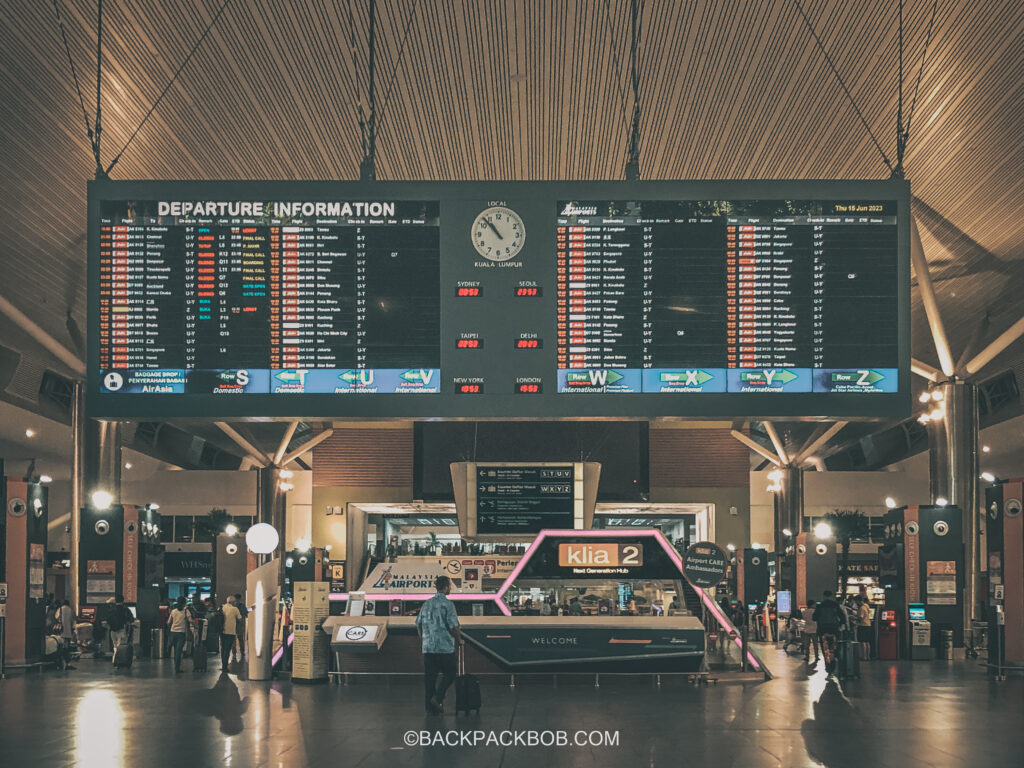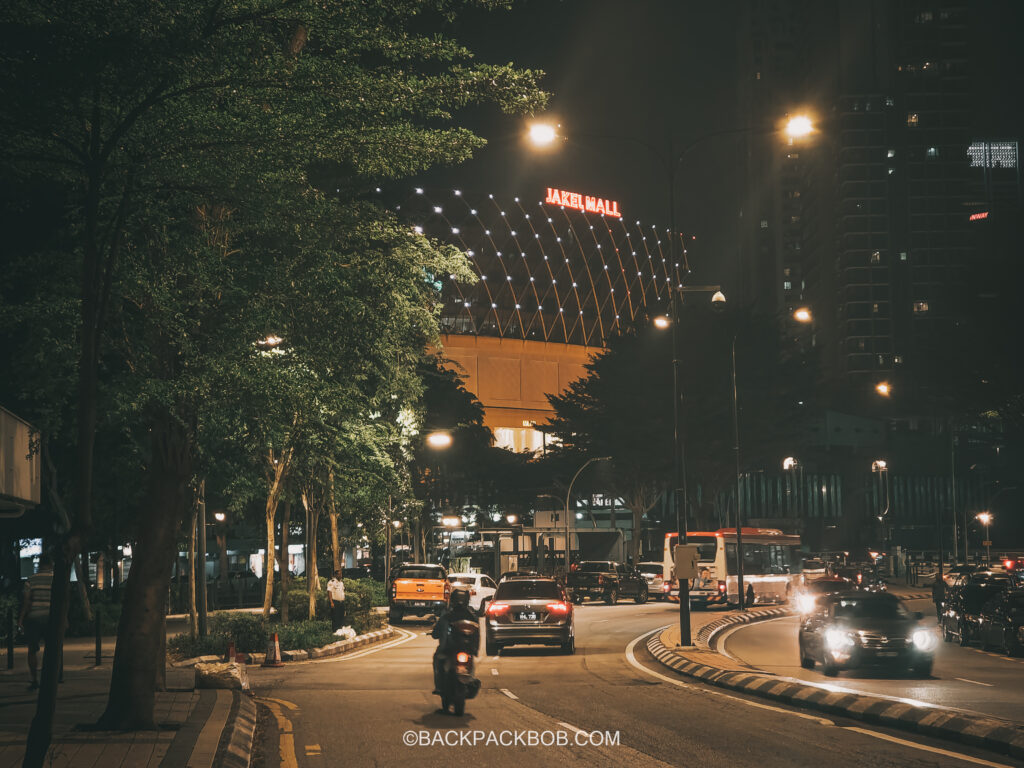 Useful Travel Links
My Most Popular Travel Guides
My Favourite Countries, I Have Written About
Book Your Accommodation
The best place to book accommodation in South-East Asia is Hostelworld. Hosteworld consistently has low prices and in recent years they have grown to include private rooms too. It's still the most sociable accommodation booking app. Booking.com and Agoda are good choices too. These sites have the largest inventory of rooms.
Don't Forget Your Travel Insurance
Never travel overseas, without travel insurance. I've seen first hand the consequences of travel without it. Don't be, that guy. These are my go-to companies for insurance.
Other Recommendations
Check out my resource page to discover new and useful travel apps, businesses and websites. These are sites you need to know about to save money, spend like a local, avoid visa hassles, book rooms, find flight deals, and more.