It costs 55 MYR, per person (10GBP) to take the express train from Kuala Lumpur Sentral Station, in the city centre, the Kuala Lumpur Airport, often shortened to KLIA or KLIA2. It might not sound like a lot, but what if I told you that you can take the airport train from an alternative station, where the ticket cost is 16 MYR (2.35 GBP), 70% cheaper. You'd choose the cheaper option, right? In this guide I'll share the cheapest ways to get to KL Airport, using a new train route, or the bus network.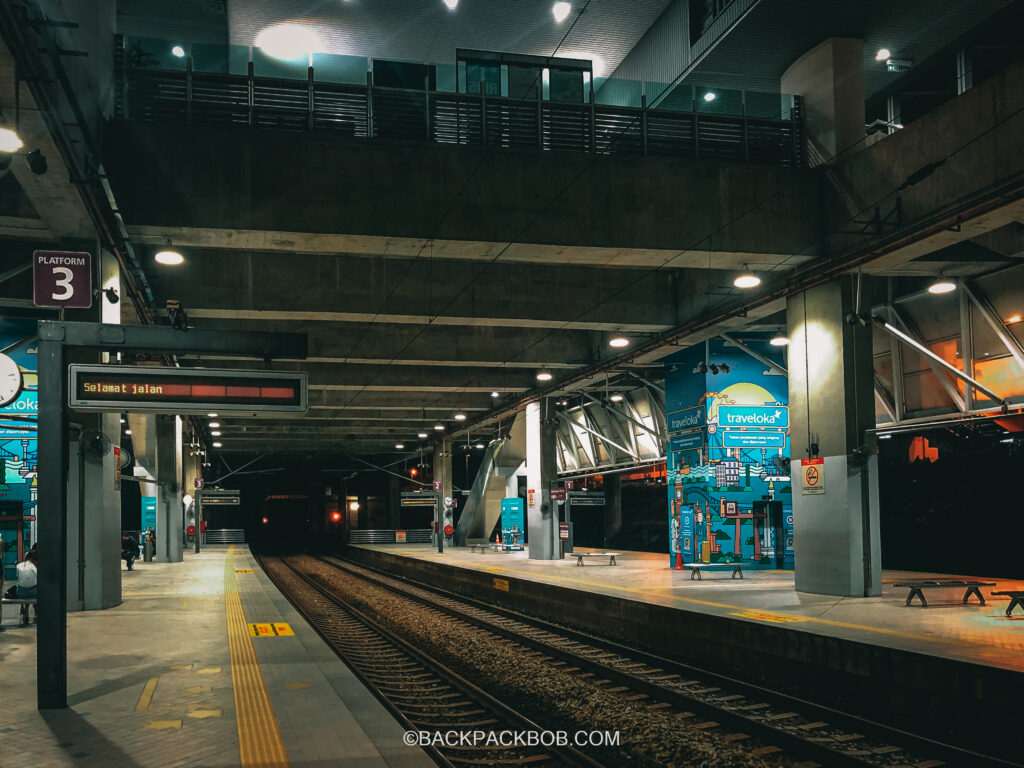 While I will focus on how to get to the airport in this guide, the same information can be applied in reverse. For example, if you have arrived at Kuala Lumpur Airport and want to travel into the city, you can follow the same steps in reverse order.
Note: Trains in Kuala Lumpur operate between 5.00 am and 12.00 am. If you need to get to the airport in the early hours, you can book a cab (75-130 MYR), or a bus from KL Sentral, busses run to the airport 24 hours a day and tickets cost 15 MYR. You can check the bus schedules here.
There are Now Four Travel Choices to Get to KLIA Airport
We expected to just take the train from KL Sentral, but were surprised at the high cost; 55 MYR. I'm glad we checked the prices ahead of time because we soon figured that for the two of us, it would actually be far cheaper to take a private taxi.
Kuala Lumpur Airport is 40 kilometres from the city centre. There are two separate train routes, or you can take the bus or hail a taxi(Grab). Here is a breakdown of all the different travel options, times are approximate.
| | | | |
| --- | --- | --- | --- |
| | | Time | Price |
| 1️⃣ KL Sentral to KLIA (Putrajaya MRT) | 🚇 Convenience and Value | 52 Mins | 16 MYR |
| 2️⃣ KL Sentral to KLIA (Xpress Train) | 🚄 Fastest (Expensive) | 30 Minutes | 55 MYR |
| 3️⃣ Grab (or) Taxi | 🚖 Most Convenient | 1 Hour | 65 – 90 MYR |
| 4️⃣ KL Sentral to KLIA Direct Bus | 🚍 Cheapest (Bus) | 1 Hour | 15 MYR |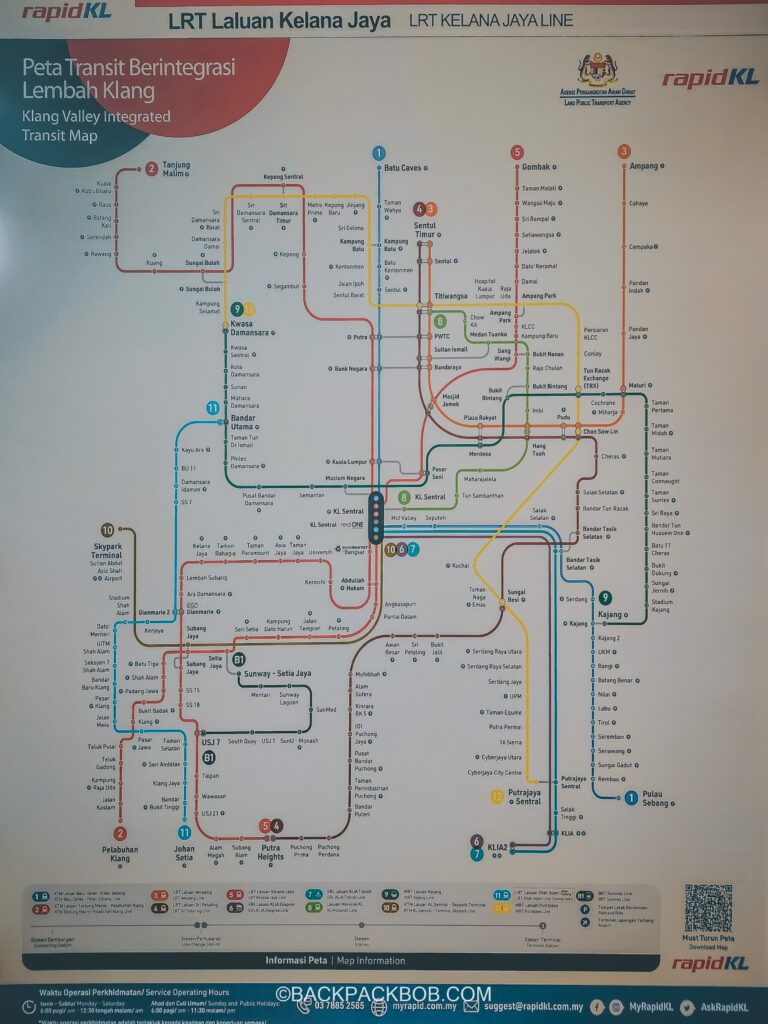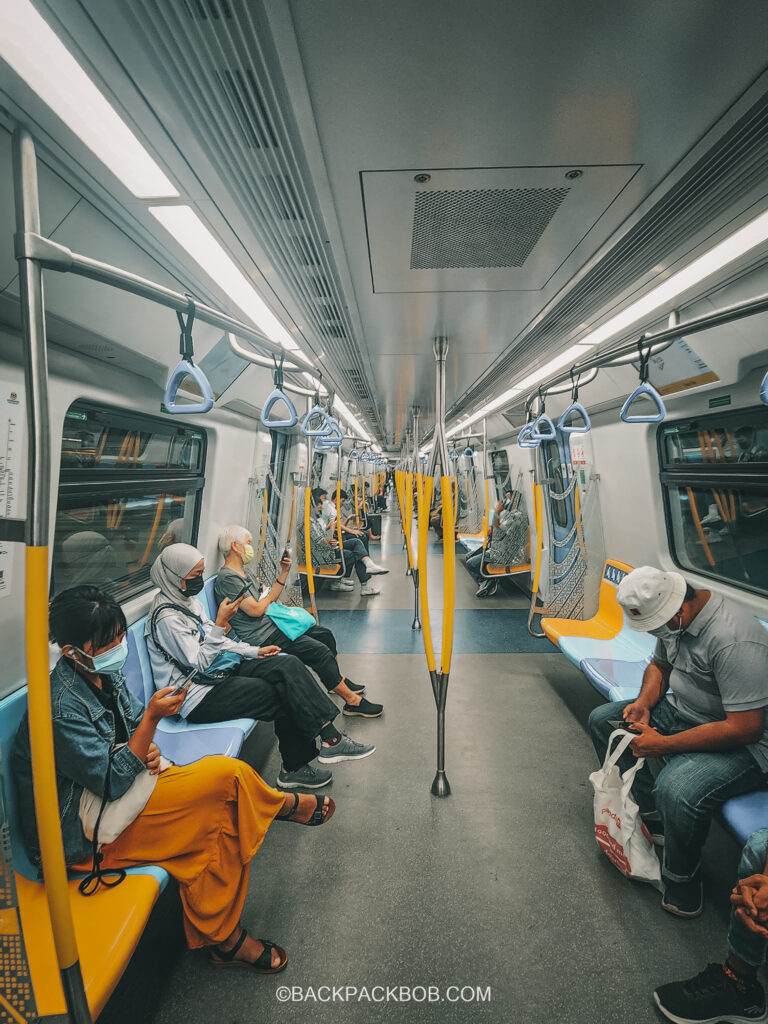 Quick Answers: How Do You Get to Kuala Lumpur Airport
Yellow Line: From KLCC Station take the train to Putrajaya, via Ampang Park. From Putrajaya, the train to the airport costs 13.80 MYR. This is the cheapest travel method but can take over one hour.
From KL Sentral Station the Express Train goes directly to the airport, departures are every 15 minutes, and it takes 28 minutes to get to KLIA airport. But the tickets cost 55 MYR.
Taking a Grab or a Taxi is cheaper than the Express Train if you are travelling as a couple. The average fare is 65 – 90 MYR.
Buses to Kuala Lumpur Airport leave from KL Sentral Station. The service is 24 hours, but you need to book a ticket before. It's the cheapest travel choice and tickets for the one-hour ride cost 12 MYR.
There are no train services between midnight and 5.00 am, but buses have a 24-hour schedule.
1️⃣ [14 MYR] Train to KLIA: Yellow Line MRT (Recommended)
If you're looking for the best way to get to Kuala Lumpur Airport by train, I highly recommend taking the Yellow MRT Line.
You can travel from KLCC to Putrajaya Station on the train, via Ampang Park Station. When you arrive at Putrajaya Sentral, you can change to the airport train, which takes 16 minutes.
The entire trip takes around 52 minutes(from KLCC). And the total cost of the tickets is 13.80 MYR. From Ampang Park to Putrajaya the ticket costs 4.40 MYR, and from Putrajaya to the airport the cost is 9.40 MYR.
Of course, the KLIA Express is a faster option, but it's not worth the extra cost if you have the time. The Yellow MRT Line is a comfortable and efficient way to get to the airport, and you'll save some money in the process.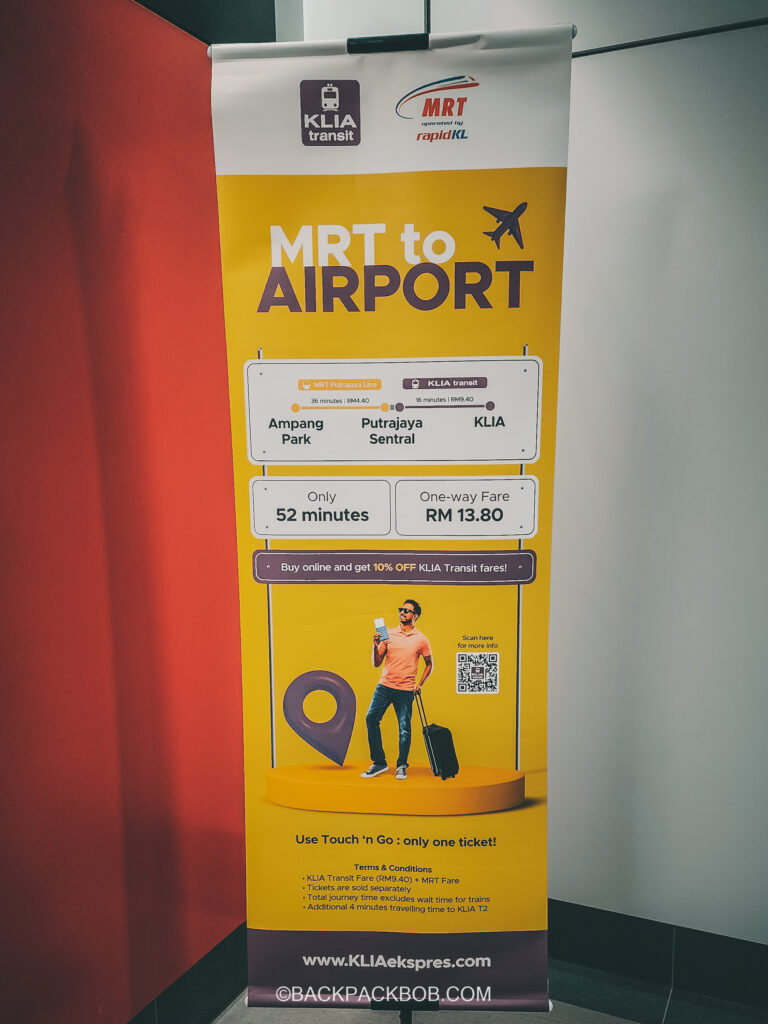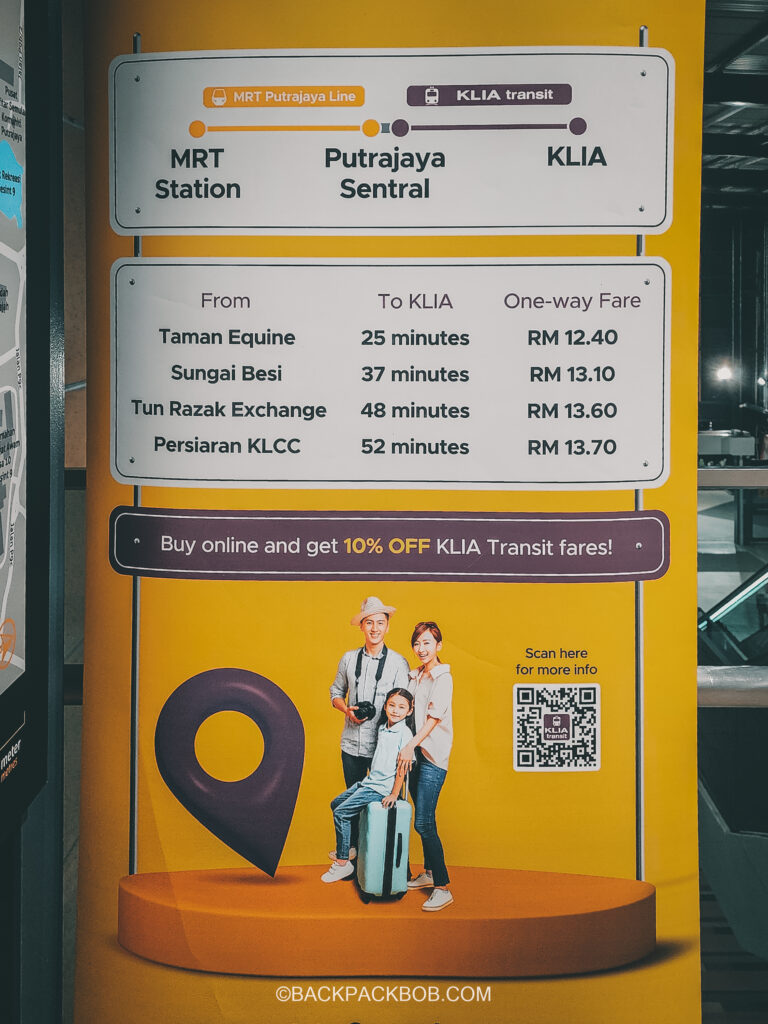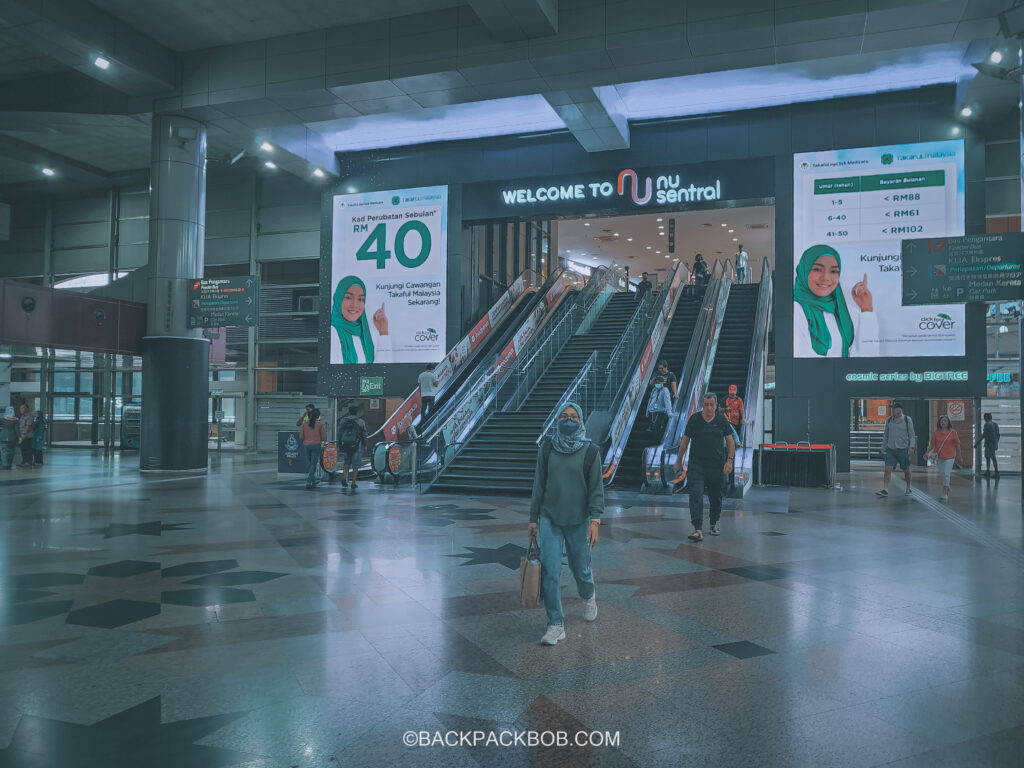 There are two connections you need to make to have the cheapest journey from KLCC to KLIA Airport.
KLCC to Ampang Park Red Line LRT: (One Station) 3 Minutes – 1.10 MYR
Ampang Park to Putrajaya Sentral: (16 Stations) Yellow Line MRT 36 Minutes – 4.40 MYR
Putrajaya Sentral to KLIA Airport: (Direct) 16 Minutes – 9.40 MYR
This trip can cost even less if you are prepared to book tickets online, in advance. But don't worry if not because you can also buy tickets in person with cash or credit card for all these trains. And you don't need a reservation.
There is a 10% discount to book online, this is the official website: https://kilaexspres.com.
2️⃣ [55 MYR] Train to KLIA: KLIA Ekspres Purple Line
The KLIA Expres train is the fastest choice to travel to the Airport however it comes at a cost. Tickets for this train cost 55 MYR.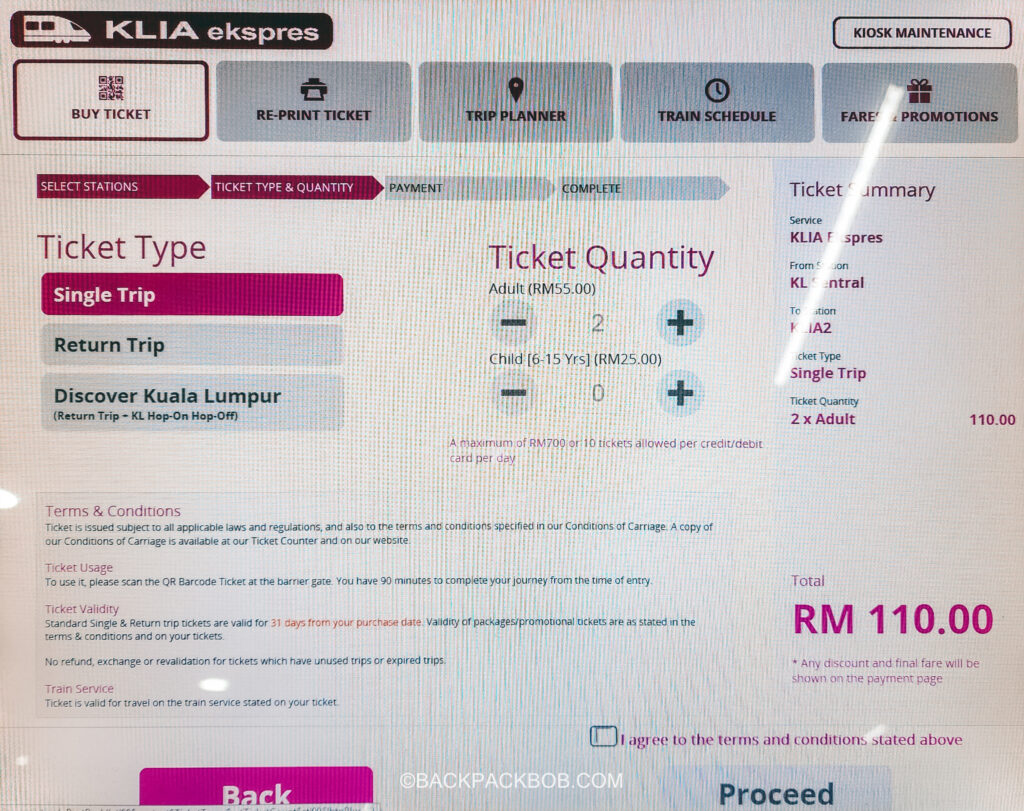 The KLIA Express train is the most convenient and quickest way to get to Kuala Lumpur Airport. It departs every 15 to 20 minutes from KL Sentral Station, with the first train leaving at 5:00 AM and the last train leaving at midnight. There are no train services outside these hours, so the train is no good for those 6:00 AM flights.
The KLIA Express runs direct to Kuala Lumpur Airport, with no stops on the route. It arrives first at KLIA, Terminal One, before continuing to KLIA Terminal Two.
The journey time from KL Sentral to KLIA T1 is 28 minutes, and the journey time to KLIA T2 is 33 minutes. The ticket price is the same for both terminals.
You can buy tickets for the KLIA Express train in person at KL Sentral Station or online. You can pay for your tickets with cash or a credit card. Make sure to book your tickets in advance, especially if you are travelling during peak hours.
Note: If you book the KLIA express train online, you can save 6 MYR per ticket. You can book online here: https://klook.tp.st/qZXw57An
3️⃣ [65-90 MYR] Taxi to KLIA: Grab
Taking a Grab Taxi is the easiest way to get to Kuala Lumpur Airport. It usually takes around one hour to drive there, but traffic can add extra time during peak hours.
The average Grab fare from Kuala Lumpur to the Airport is around 80 Malaysian ringgit (MYR). The cheapest fare we saw was 60 MYR, and the most expensive was 92 MYR. If you are travelling as a couple, then a Grab, even at the highest rate, is more cost-effective than buying two tickets for the express train, which would cost 110 MYR.
Grab drivers are usually available in Kuala Lumpur 24 hours a day, but I would not rely on it personally. If you have an early morning flight, it is a good idea to book a taxi in advance.
A pre-booked taxi will cost around 130 MYR, so you can have peace of mind you'll get to the airport on time, knowing a driver will arrive to pick you up on time. To book a taxi before you can use this website: https://12go.tp.st/1ojgpYrj
4️⃣ [15 MYR] Bus to KLIA: 24-Hour Service From KL Sentral
Taking the bus is the cheapest way to get from KL Sentral to KLIA. Buses run 24 hours a day, and the ride takes about an hour. Tickets cost 10-15 MYR and you do need to reserve a ticket in advance.
Buses are the only reliable way to get to the airport between midnight and 5:00 AM, other than a pre booked taxi. But it is not guaranteed you'll always find a driver at this time.
To book a bus ticket in advance, you can use this website: https://www.redbus.my/.
Buses to KLIA Airport leave from KL Sentral Train Station. To find the bus departures, walk to the end of the departure hall. You will see the twin escalators. Do not go up the escalators. Instead, walk around them and behind the back. You will find another escalator that leads to the basement, where the bus terminal is located.
Links to Book Bus Tickets
These are a few more booking websites, you can use to reserve a bus ticket. You can also use 12Go to pre-book a private car.
Kuala Lumpur Train Map
Train maps, times and schedules. To help you navigate the public transport system to get to Kuala Lumpur Airport.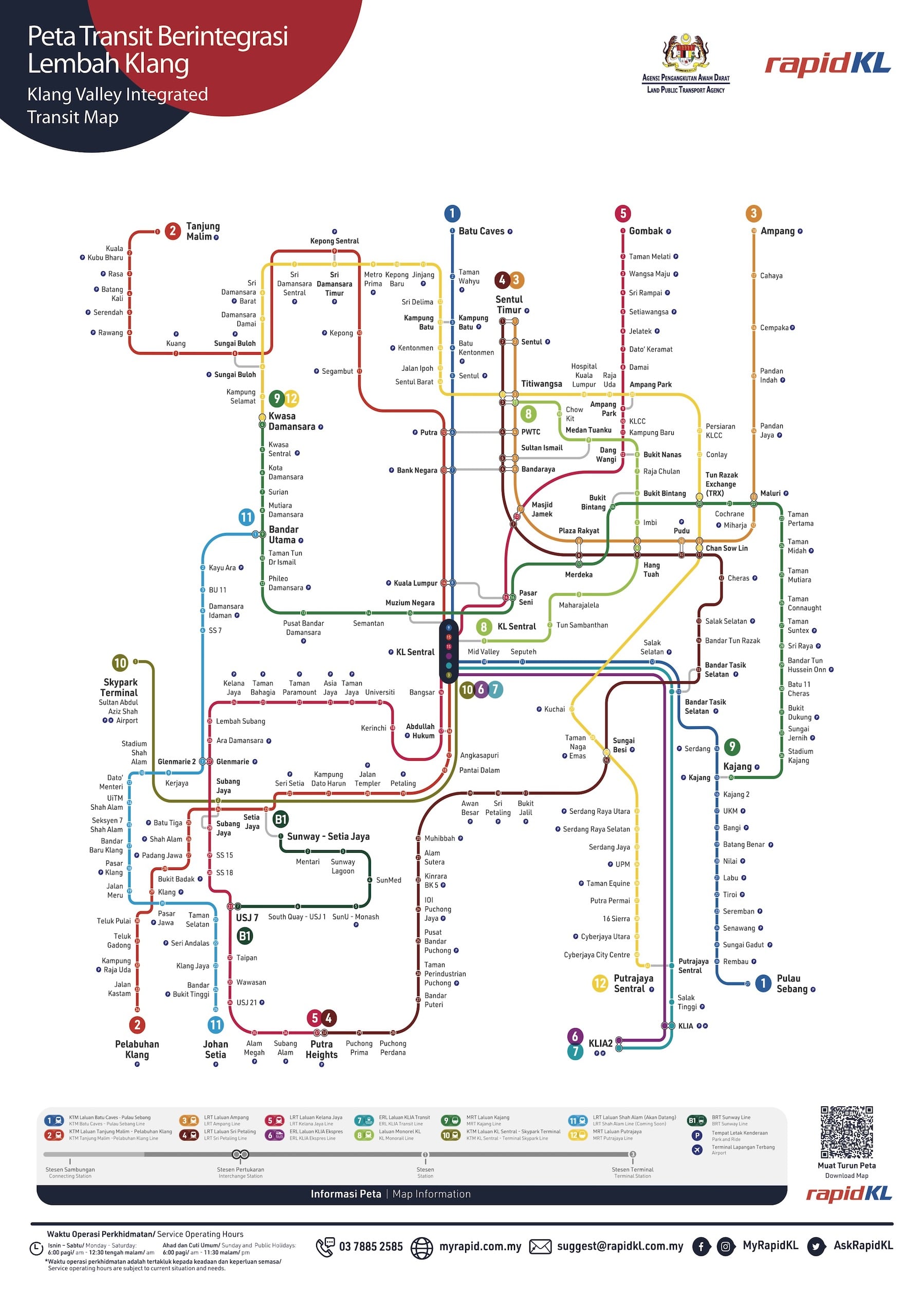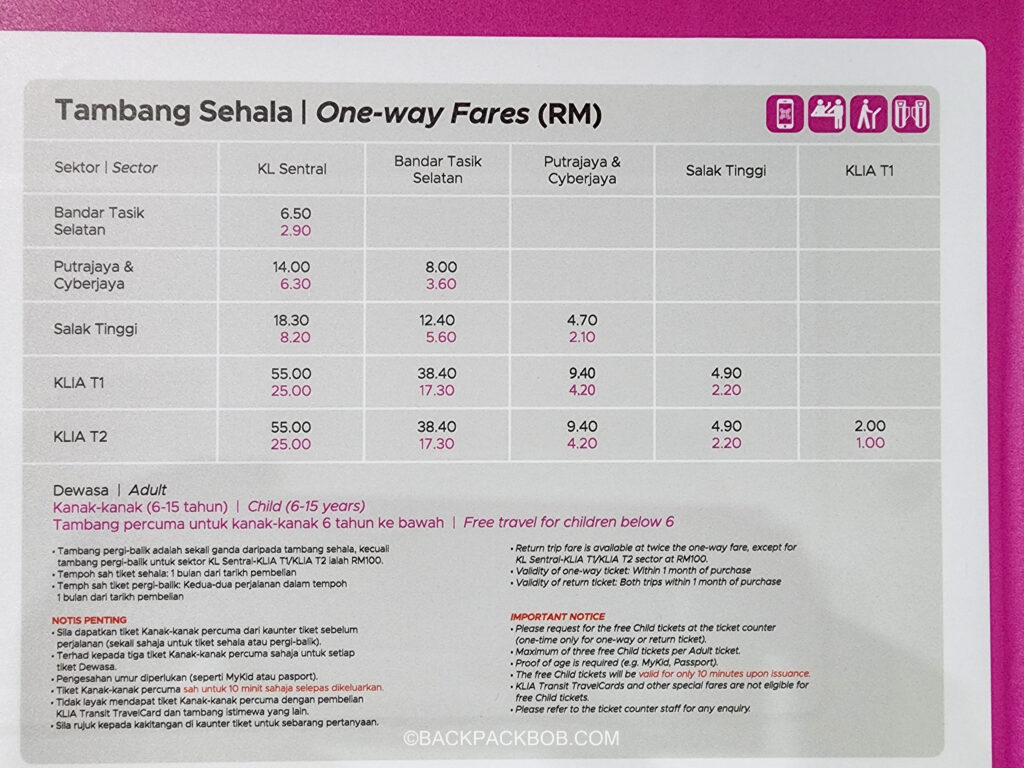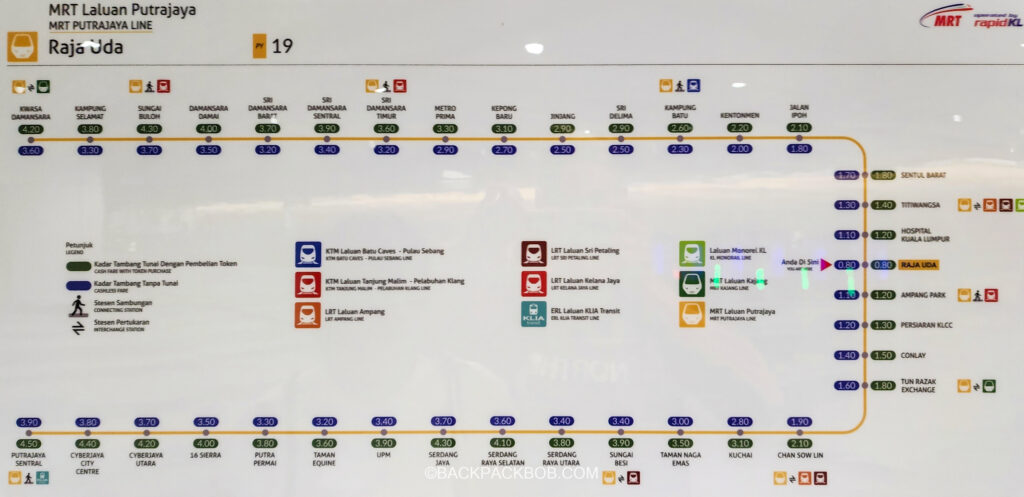 TL; DR. The Best Way to Get to KL Airport
The most common, and well-known option is to travel between KL City and KL Airport on the Express train. But this train is expensive (55 MYR), more than the cost of a cab if there are two passengers. To save money when going to the airport, you can take the Yellow Metro Train, to Putaraya, and switch to the airport link at this station, the total trip will cost 20 MYR. Or you can take a bus from KL Sentral Station, direct to the airport, for 15 MYR per person.