Hanoi is awesome—the capital city of Vietnam. I don't know why it's taken me this long to visit! After spending the past decade living and working in Thailand, it's just a short and cheap flight away. But better late than never.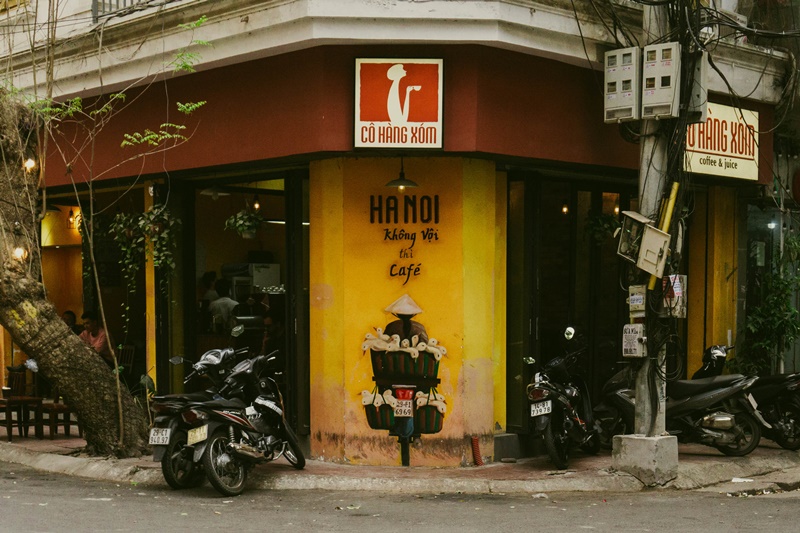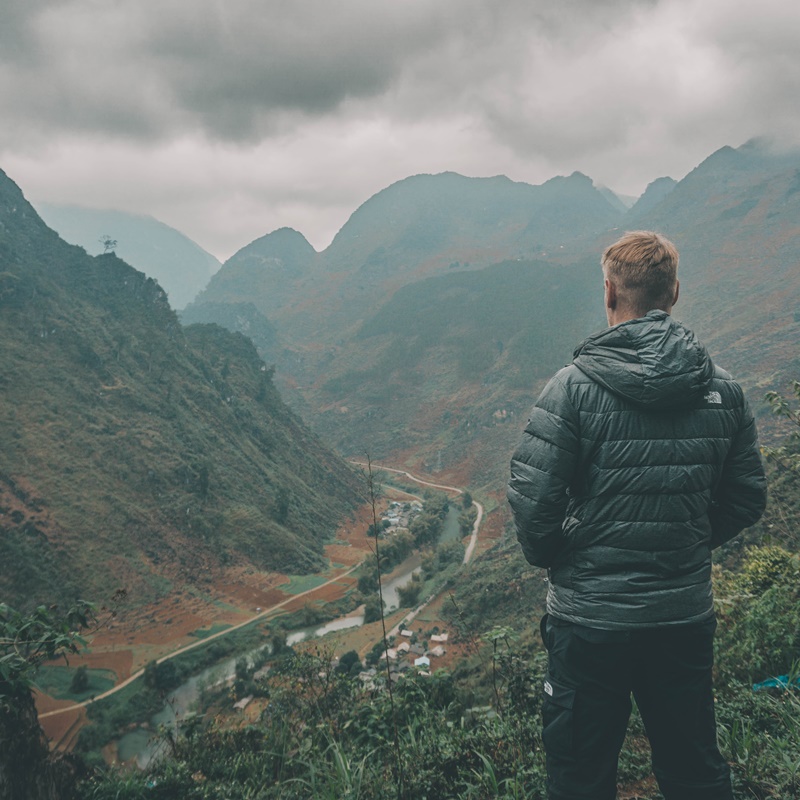 Hi! I'm Robb.
Welcome & thank you for reading our blog. 🙂 We love what we do and put a lot of work in our free articles. So if you find them helpful, please
My first impressions of Hanoi are great, the people are charming, friendly and welcoming and the atmosphere is something incredible, that I've never experienced before.
But as lovable as Hanoi is, it's also chaotic! It's a place you can really expect the unexpected. The entire city feels like one giant market! Motorcycles are everywhere and fill the streets. It took a while to get used to basic things in Hanoi, like walking around and crossing the road. The traffic is relentless and constant, you need to be fearless and on the lookout non-stop in Hanoi. The sidewalks are often unusable, instead being used to park motorcycles or as seating areas.
The chairs are tiny in Hanoi too! It's strange but cool at the same time, to see people sitting so low to the ground, on what is essentially children's furniture- something that I, strangely, loved about Hanoi.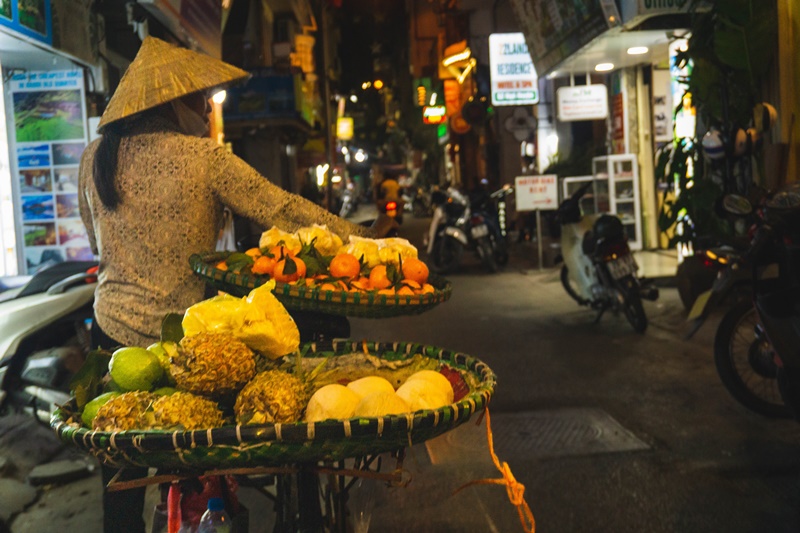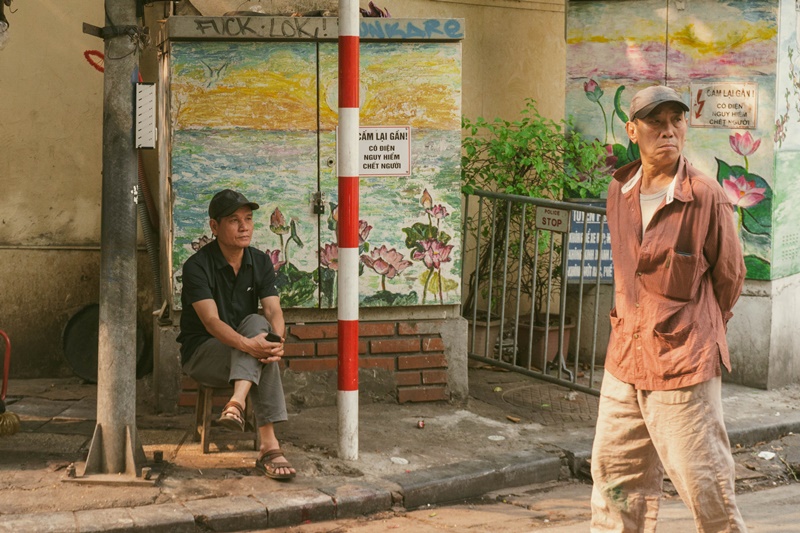 I've spent three days in Hanoi and in this post I will share everything you should know when planning a visit, how to get here, the best areas to stay in Hanoi, the best places to eat, the sights to see, the places to visit and most importantly the best things to do in Hanoi.
Top Tips About Hanoi (That I Wish I Knew Sooner)
Hanoi is Cold – Ok, it's not freezing, but the temperature in Hanoi is cooler than I was expecting, after arriving from Thailand- you can sleep comfortably without A/C in Hanoi. I only had shorts and t-shirts while locals were wearing coats! It was bearable but I did wish I'd packed a pair of jeans or something a little warmer.
Hanoi is Busy – I didn't book a hotel in Hanoi. I expected that I'd be able to find somewhere to stay when I arrived. This was not the case. Scanning Booking and Agoda on arrival showed everywhere was fully booked. I was turned away from five hostels and hotels until I finally found a place to stay.
How Many Days to Spend in Hanoi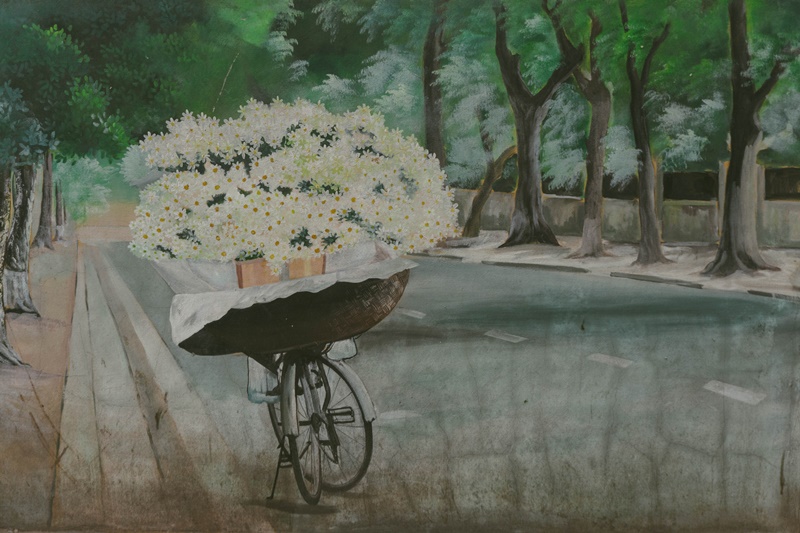 As much as I love this place and how incredible the city is- if I'm being honest, there are not a whole lot of things to do in Hanoi. Once you've explored the town on foot, checked out the lake, explored the markets, sampled the local food and had a night out on Beer Street there isn't much left to do. But I've listed all the best things to do further down in this Hanoi blog!
So for that reason, I recommend staying in Hanoi for somewhere between 2 – 4 nights. 3 Nights is ideal- and if those nights fall over a weekend- even better!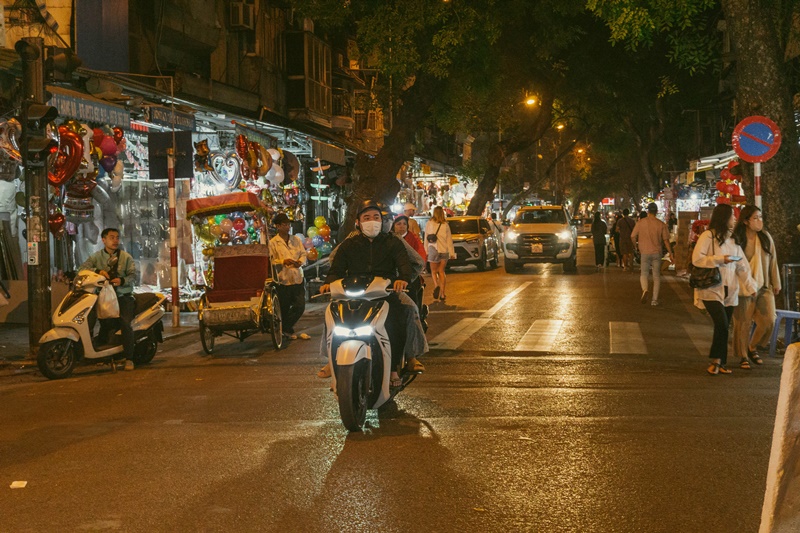 How To Get From Hanoi Airport to Hanoi City
I really need to start researching things like this in advance, but I've always been a last-minute time of person- although it often ends up costing me more in the end- I get a kick out of going into the unknown. Plus I like the flexibility. So in true form, I touched down at Hanoi Airport with no idea where I'd be staying and no idea how to get from the Airport to Downtown.
My first thought was to take a taxi into the centre- after a quick search online I found the cost should be around £12.00(350,000₫). But on the walk to the taxi rank, I was lucky enough to spot a bus heading into downtown Hanoi from the airport. The ticket costs £1.50, (45,000 Dong). I'm not sure about the bus schedule but services seem to be frequent. Look out for bus number 86. it's bright orange- you can't miss it! The ride took around 45 minutes and stopped at the Old Quarters.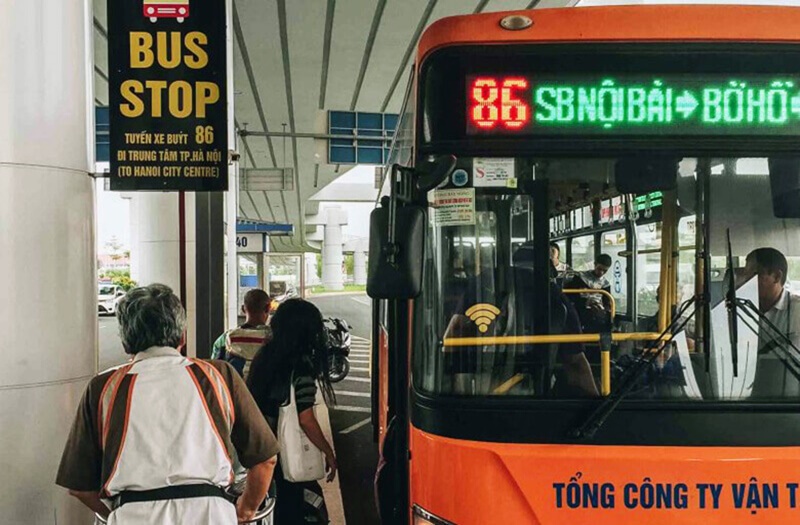 How To Get Around in Hanoi
When it comes to getting around in Hanoi there is no shortage of choices. The local way is to ride a motorcycle, although I don't recommend renting a bike in Hanoi unless you have prior experience- the traffic is insane. Taxis are relatively inexpensive, although the taxis do look like European Police Cars. Another choice is to ride in one of the rickshaw bicycle taxis- if the distance is not too far. Rickshaw drivers can be found all around the city and is a unique way to get around Hanoi.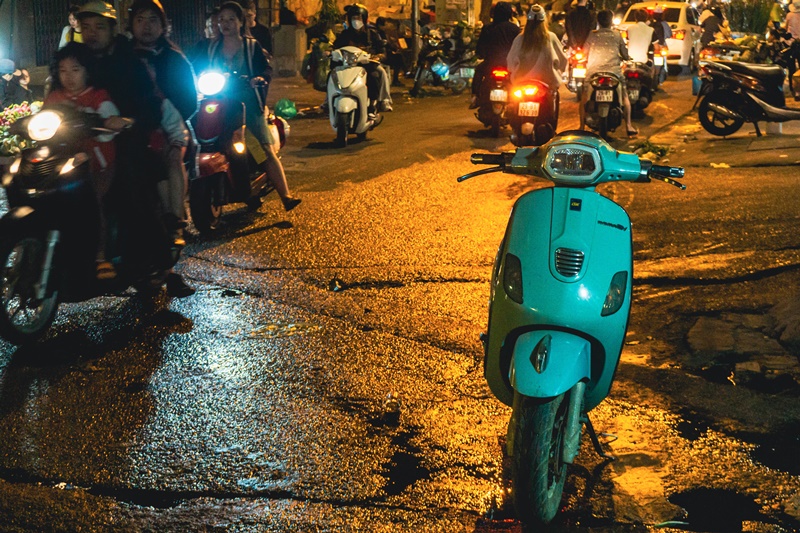 But if like me, you decided to stay in the Old Quater area of Hanoi– you'll be pleased to know that the area is totally walkable. The streets all look alike, so make sure to have a cellular data plan and plenty of charge in your phone, because you'll need a map to find your way around here. But because everything in the Hanoi Old Quater is packed in so close together the furthest you'll find yourself walking is a few kilometres.
Which is The Best Area to Stay in Hanoi
Choosing the right area to stay in Hanoi is important. Even more so that the hotel. I'd rather stay in an ok hotel in a good area, than a good hotel in an ok area.
So without a doubt, the best area to stay in Hanoi is the Old Quarters.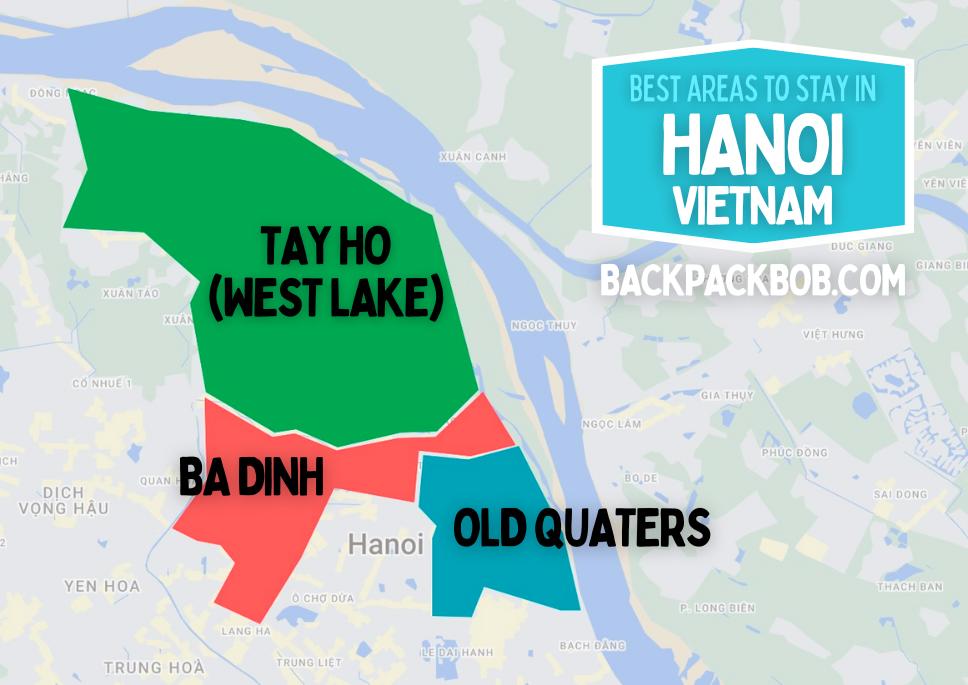 The Hanoi Old Quaters, sometimes known as the 'French Quaters' or 'Hoam Kiem', is the bustling heart of Hanoi. Home to several notable attractions like the National Museum of Vietnamese History, Hanoi Opera House, and Ngoc Son Temple, all conveniently within walking distance. Additionally, the picturesque Hoan Kiem Lake offers beautiful scenery for a leisurely stroll. There are tons of places to eat, incredible nightlife and the biggest markets all within the Old Quarters.
Within the Hanoi Old Quarters, there are a dozen or so Backpacker Hostels I stayed at the Hanoi Backpackersuite Hostel which was clean and in a great location- I paid 200,000k VND (£7.00) to stay here. There are also plenty of guesthouses, homestays and hotels in the area too.
Things to do in Hanoi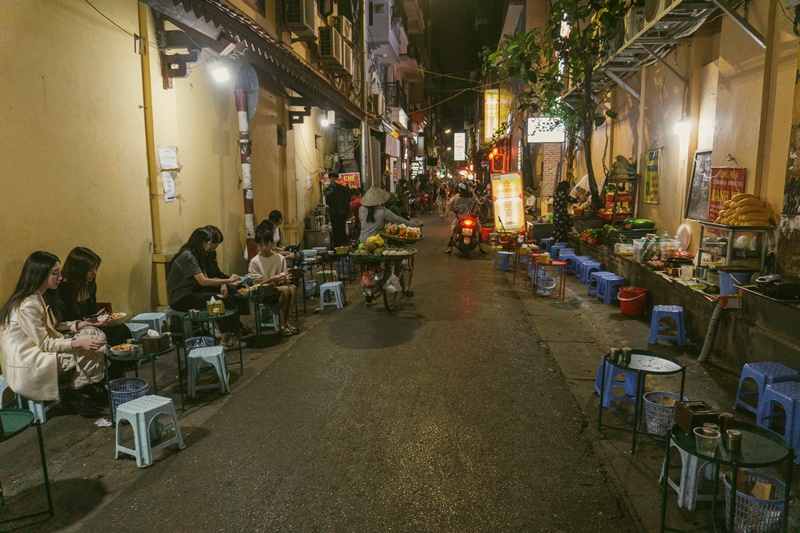 Being the capital city of Vietnam, surprisingly there is not a huge amount of 'touristy' things to do in Hanoi. The most popular thing to do is to wander around and get yourself lost in the maze of streets that is the Hanoi Old Quarter. But despite the lack of activities to do in Hanoi, there is still enough going on that you'll want to stay in the city for a few nights at least. Here are my top things to do in Hanoi.
Get Lost in Hanoi Old Quarters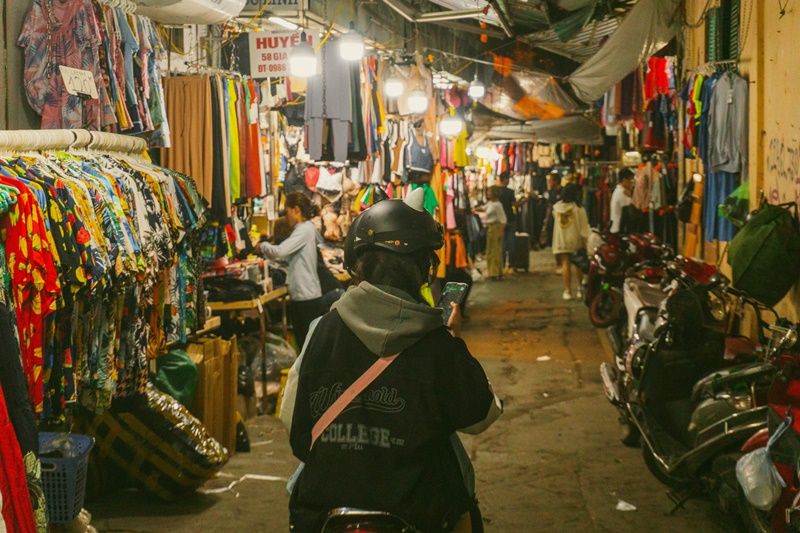 There were originally 36 famous streets in the Hanoi Old Quarters, although this dates back more than 200 years and there are many more streets than that now. But each of these famous Hanoi streets is named after the product sold there.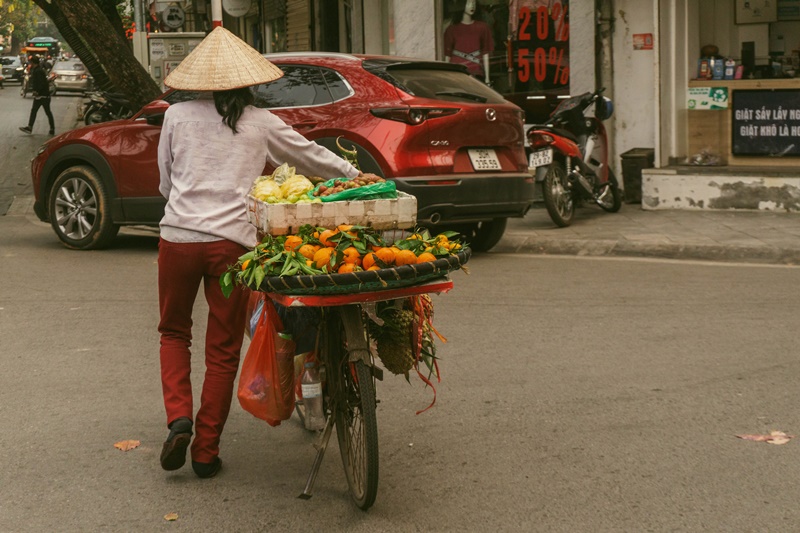 For example, Hang Duong the 'Street Of Sugar' is where you'll find some delicious sugary Vietnamese sweets and snacks. Or Hang Gai Street (Street Of Hemp) is the spot to visit to pick up clothing, and backpacks.
You can easily spend a full day exploring this area. There is a full list of these 36 streets over at Vietnam Online.
Eat Traditional Vietnamese Food in Hanoi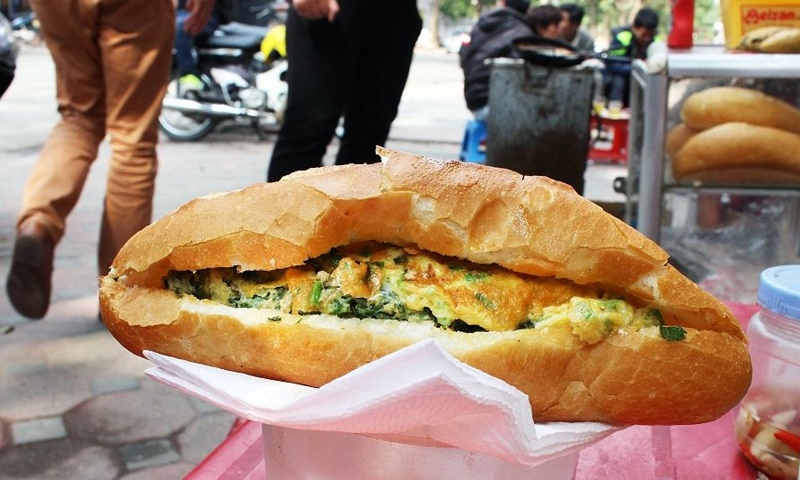 Eat, Eat, Eat. Hanoi has some incredible-tasting food that you shouldn't miss out on trying. And if you're a fussy eater, don't worry because the food that Hanoi is most famous for is the Bánh mì- or the 'Vietnam Sandwich'! Bánh Mỳ is exactly as it sounds- it's a soft french stick baguette loaded with meat (usually chicken breast), and salad and then doused in sweet sauce. You can find Bánh mì being sold all over Hanoi. These rolls cost around 25,000k – 60,000k Vietnamese Dong- £0.80 – £2.00.
Another must-try in Hanoi is the Phở. A Steaming bowl of noodle soup with spices and a choice of meats- this is Vietnam's most famous dish but arguably the best Phở Noodles can be found on the streets of Hanoi. Here are the best places to eat Pho Noodles in Hanoi.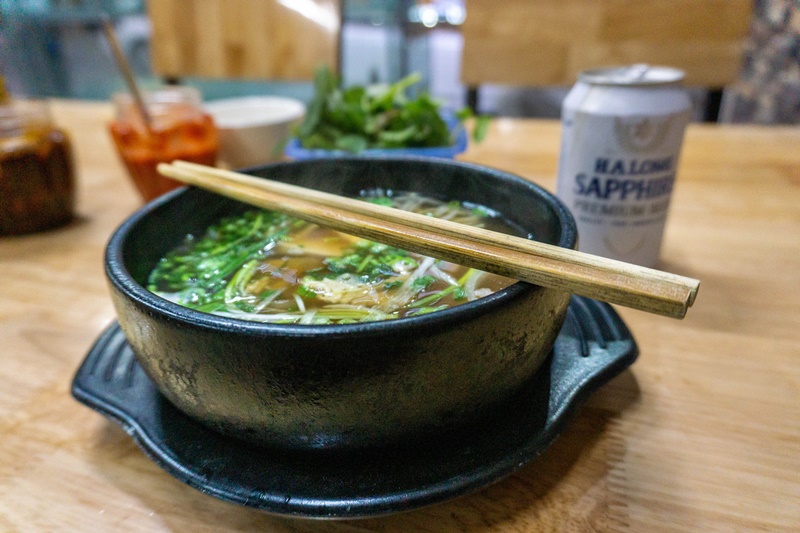 Visit Hồ Tây Lake (West Lake)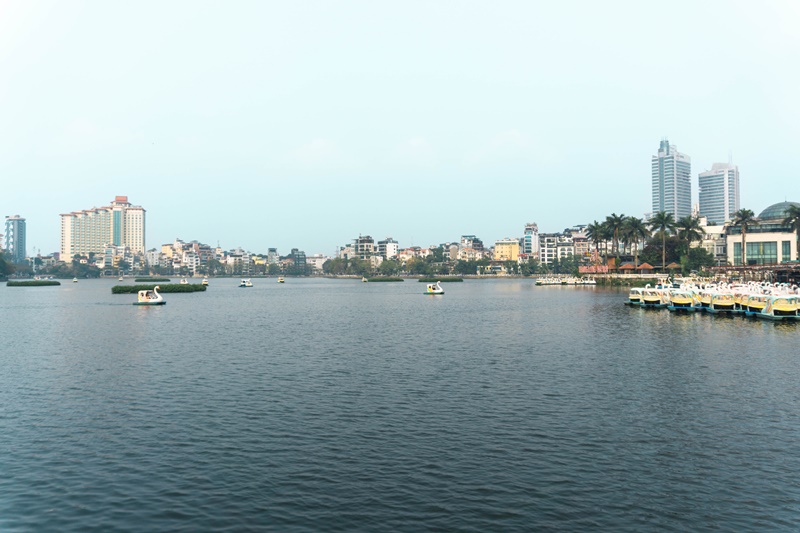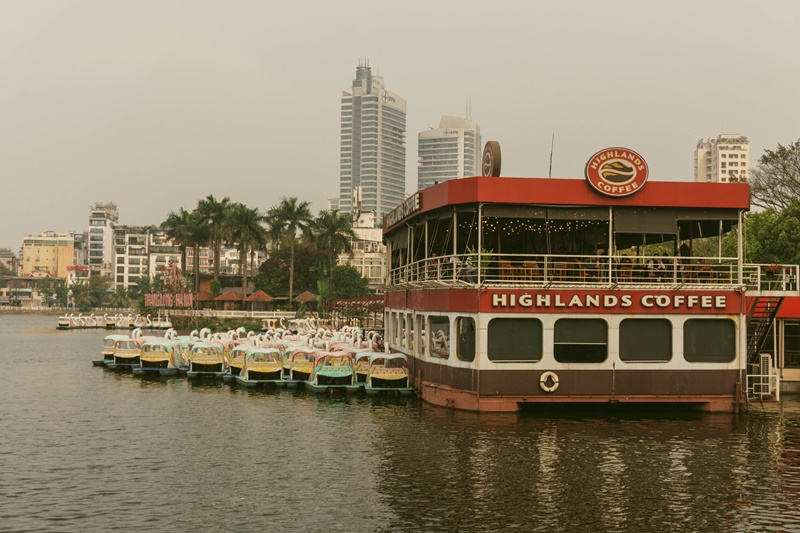 This Lake is absolutely massive- the biggest is Hanoi. You can barely see across the other side! The lake is separated into two sections with a bridge crossing over. The smaller section takes around an hour to walk the perimeter. There are a few cafe's on the banks of the lake so you can stop for a coffee or Vietnamese milkshake.
If you're more adventurous you can hire a motorboat and go out onto the water. Or for something more romantic, 'Swan Boat' pedalos are available to rent too, for £1.50 per hour.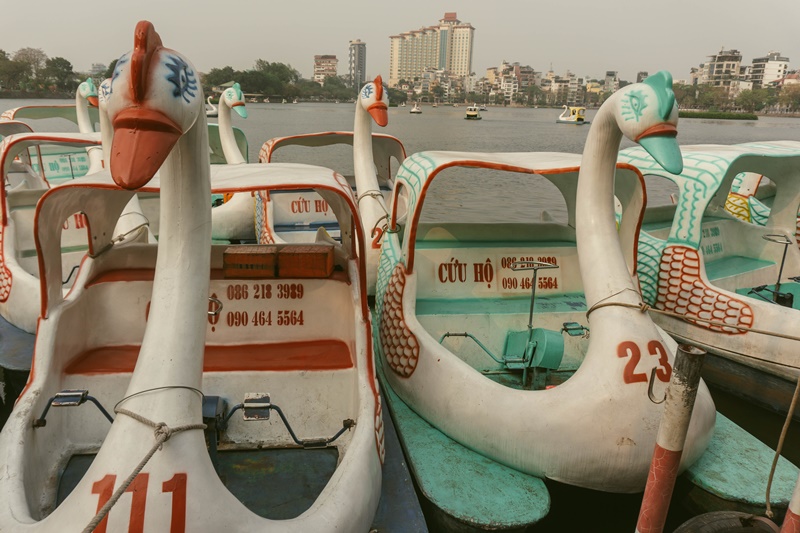 There are benches dotted all around this Hanoi Lake making it a good spot for people-watching. You'll probably see some local Vietnamese fishermen catching here too.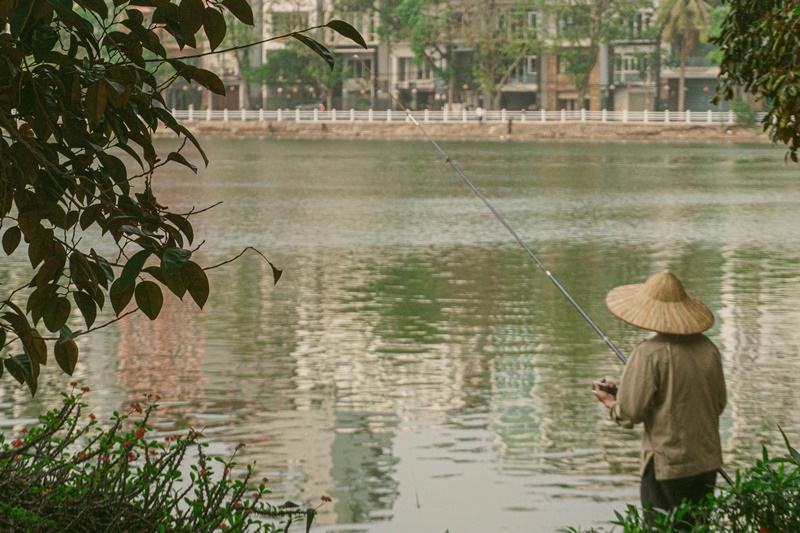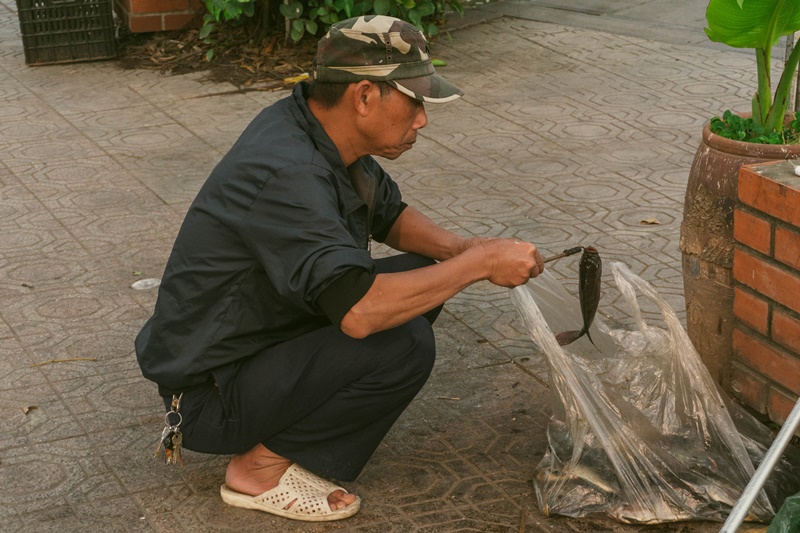 Shop at The Hanoi Night Market
The Hanoi Night Market is a must-visit spot. The market is open Friday, Saturday and Sunday nights from 6:00 PM until midnight. Saturdays are the best day to visit the market; if you happen to be in Hanoi then. There are more stalls, more people and more atmosphere. The market stretches over three kilometres! You can find all sorts being sold here.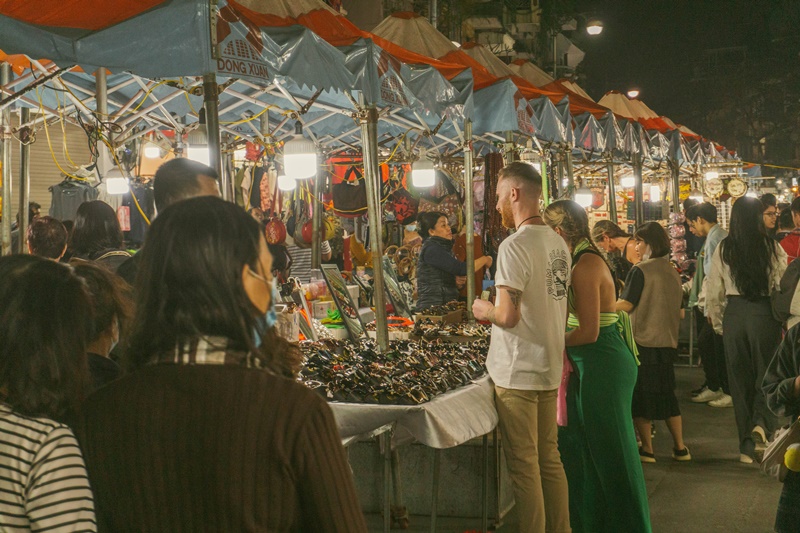 I travel as lightly as possible carrying the bare minimum- so instead of buying souvenirs, I collect banknotes which are easier to store in my backpack. I found a seller with old Vietnamese notes and even notes from old French Indochina for sale! I also brought a t-shirt to replace a worn-out one. North Face for £4.00, (100k VND) is not bad.
There are brick-and-mortar shops along the street and market stalls erected down the centre of the street. Thankfully the police pedestrianise the area and (mostly) close off the road from motorcycles while the Hanoi Night Market is open! You can also find a few food sellers here too.
The Hanoi Night Market starts at the Hoàn Kiếm Lake roundabout and stretches almost all the way to Hồ Tây West Lake!
Cross the Red Bridge at Hoàn Kiếm Lake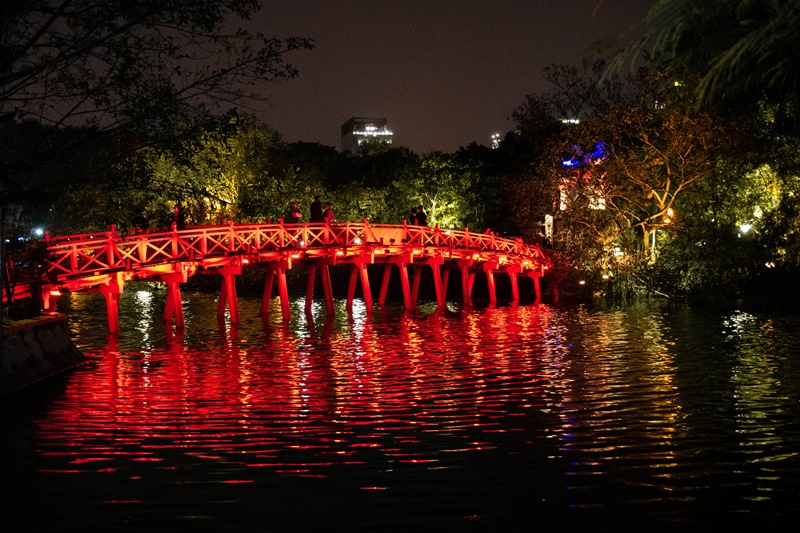 Hoàn Kiếm is a smaller lake located in the Old Quarters of Hanoi. While it is smaller than West Lake, it's still a pretty big lake! It's a romantic spot too where couples come to hang out in the evenings. On weekends you'll often find street performances here and there is usually peaceful music played by local buskers.
There are a number of 'pop-up' carts around this lake, something which is common in Hanoi- there are small plastic seats set up at the edge where you can buy a beer and sit for a while.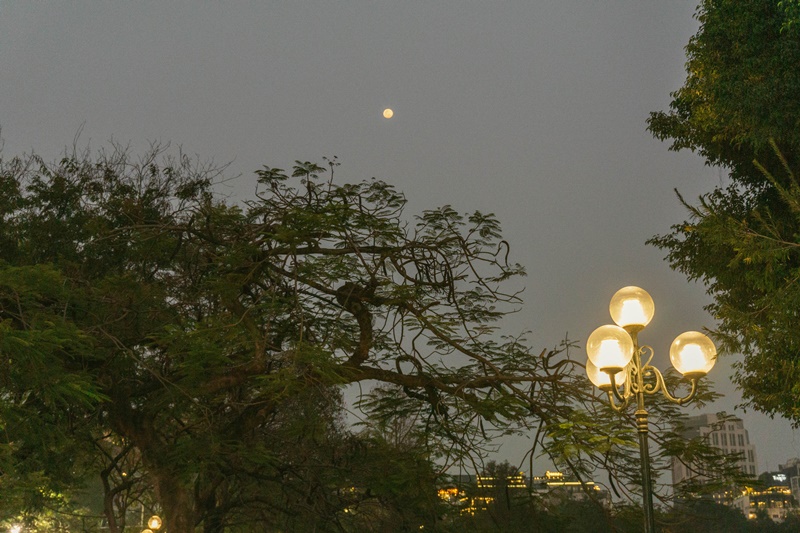 But the most striking thing about the Hanoi Hoan Kiem lake is the small island in the centre. On the island, there is a small Buddhist Temple called Ngoc Son Temple, (better known as The Temple of Jade Mountain). There is a beautifully constructed Red Bridge(The Huc Bridge) crossing the lake- to the Temple. And the bridge stands out even more when it is illuminated at night. It costs £1 to enter the island, (30,000 VND).
Drink The Vietnamese Coffee
Vietnam is one of the world's largest coffee exporters, second only to Brazil. And it goes to show! You'll come across countless coffee shops in Hanoi and plenty of local sellers where you can pick up some Vietnamese Coffee beans to take home too. You will also find some coffee flavours unique to Hanoi, such as 'Weasel Coffee'- which is made from coffee cherries that have been partially digested by Asian palm civets(Weasels)!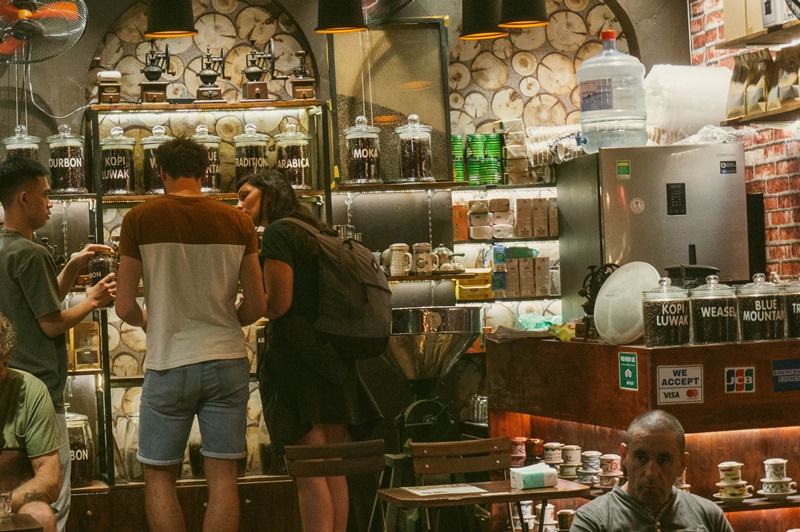 The Egg Coffee in Hanoi is also a must-try. It might sound like a strange combination at first but the Egg yolk coffee, or ca phe trung is delicious. Although there are numerous recipe variations, the fundamental ingredients of Vietnamese Egg Coffee consist of coffee (usually espresso), sugar, condensed milk, and egg yolks that are blended together! Here are the best spots to get an Egg Coffee in Hanoi.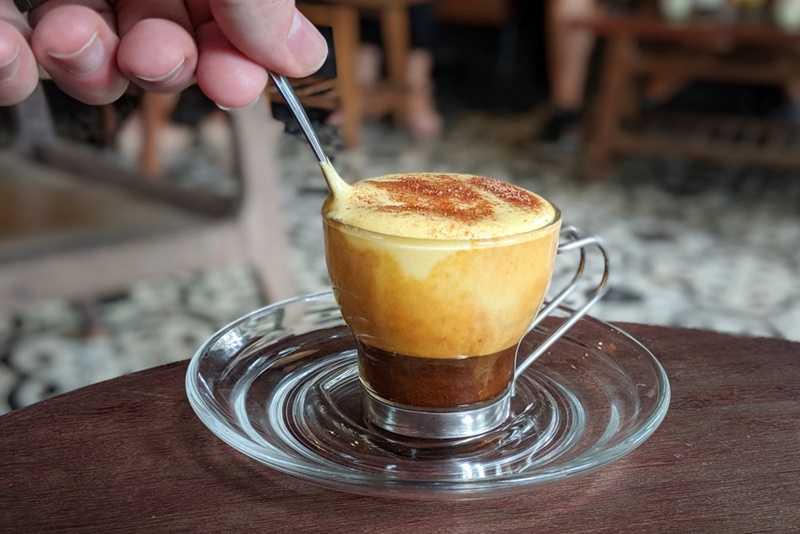 Watch a Water Puppet Show
Did I watch a water puppet show in Hanoi? No. Do I feel like I missed out? No. If I'm being honest it's just not my thing. But I felt it should be included in this post because the Water Puppet show seemed to be the number one thing to do here in Hanoi. Literally, every blog post of Things to do in Hanoi had it listed! But if you wanted to check it out then the Thang Long Water Puppet Theater is next to the Hoan Kiem Lake. Tickets cost between 100,000 – 200,000 Dong depending on the seats and can be booked here, or with Klook here.
Visit The Hanoi Train Street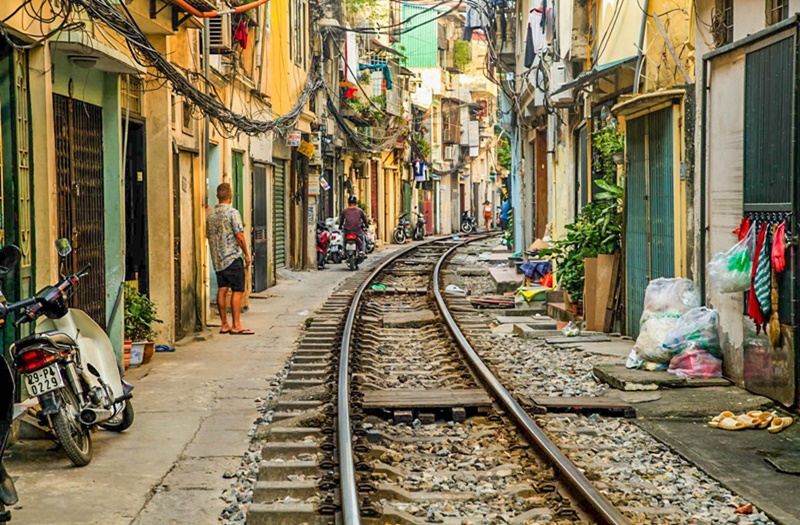 In a similar fashion to the Meaklong Railway market in Thailand this street in Hanoi, which is lined with coffee shops has a live train track running slap-bang through the centre. A few times each day a full-size train passes through this street. I stumbled across this street by chance, after seeing a small crowd gather- without realising it was one of the top things to do in Hanoi.
Hanoi Train Street Timetable (Updated 2023)
Weekends
Weekdays
No trains during the day
Many trains during the day
05:10am | 06:00am,
06:10am | 7:10pm,
9:10pm | 9:35pm
08:46 am | 09:17am,
11:25am | 15:20pm,
17:20pm | 18:15 pm,
18:30 pm | 19:10 pm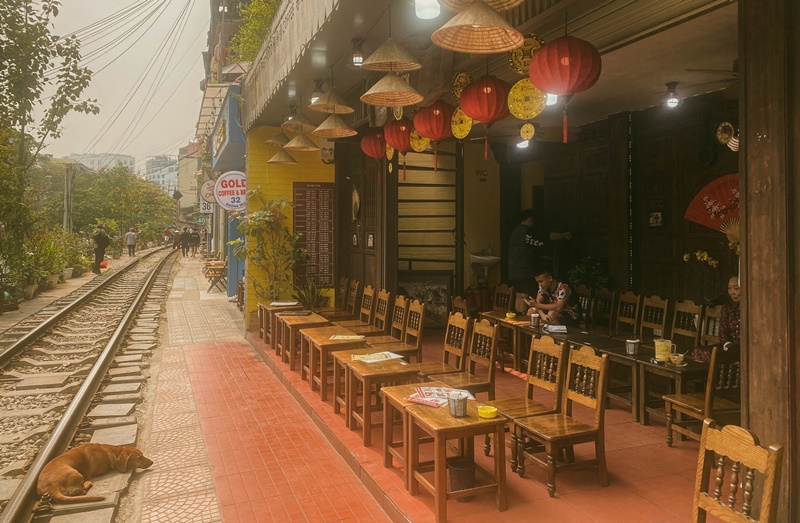 When I Googled the Hanoi Train Street after I found a lot of information saying the street was permanently closed to tourists after the Covid Pandemic- which isn't true. There is a police presence at the entrances, but after pointing to the Coffee Shops and saying Coffee a few times- I was allowed to enter. It's nuts to watch as the vendors hurriedly through their stools and tables off the street and back inside- moments before the train passes.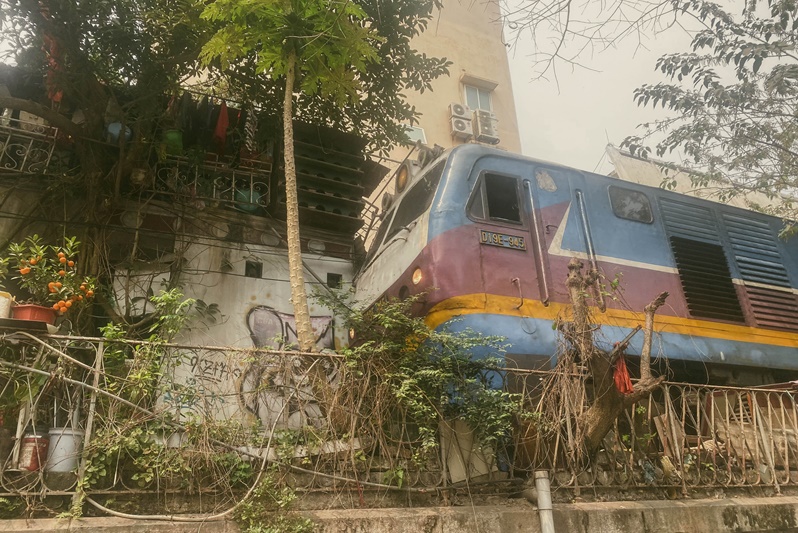 Get a Vietnamese Massage in Hanoi
The massages in Hanoi might not be on par with those in Thailand but it's still a fantastic thing to do if you want to chill out for a while. There are plenty of massage shops throughout Hanoi city centre and the cost ranges from 100,000k to 250,000k. But to make sure you choose an 'above board' massage shop, I recommend checking out this list of the best spots to get a massage in Hanoi- or take your chances on the street!
Night Life in Hanoi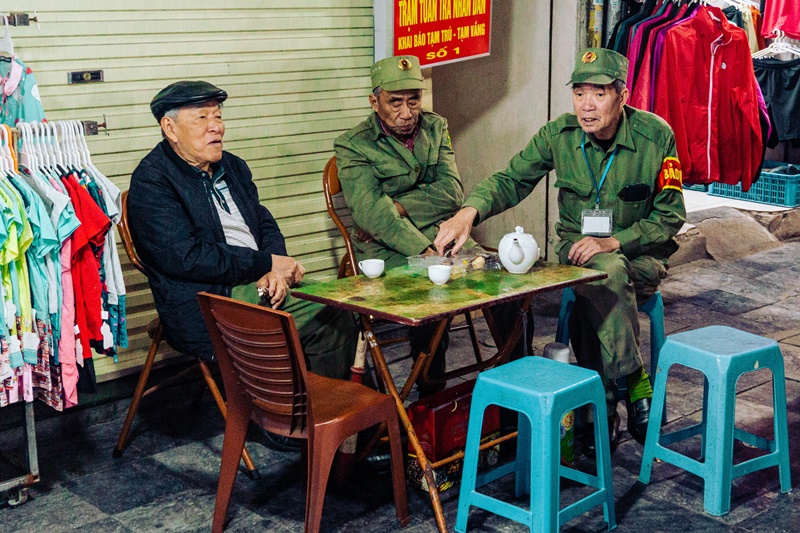 The nightlife in Hanoi is not what I was expecting at all. The first night I arrived in Hanoi I had a 'chilled one', I arrived pretty late and spend a good chunk of time trying to find a place to stay(should have booked in advance)! So my night consisted of finding a place to eat then, chilling by the lake sitting on the world's smallest plastic chair and drinking a couple of beers. Little did I know about the madness going on at the Hanoi Beer Street less than a kilometre away!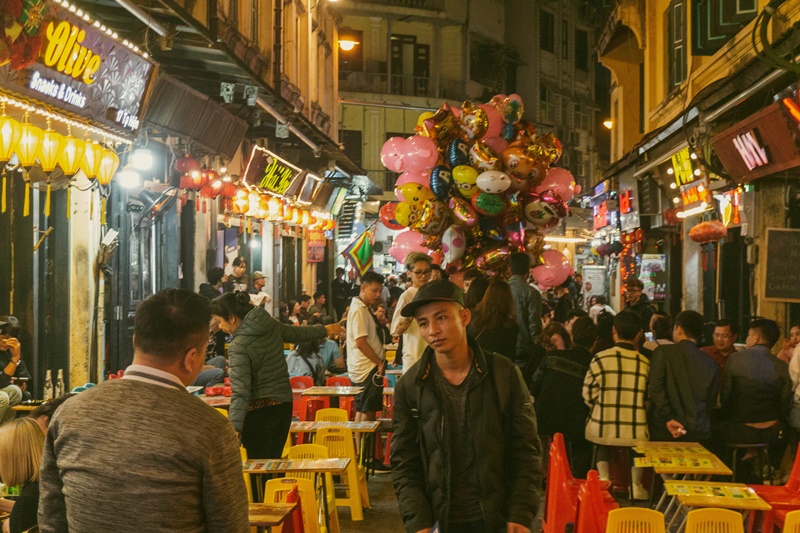 Hanoi Beer Street
Hanoi Beer Street is insane. I wasn't expecting to find anything like it here it's the tourist hotspot of Hanoi and the nightlife is buzzing. Even though this street is not often advertised, tourists will naturally find themselves there during a trip to Hanoi- and after experiencing it for myself I'd even go as far as to say that a trip to Hanoi is complete without visiting 'Ta Hien Corner'- Beer Street!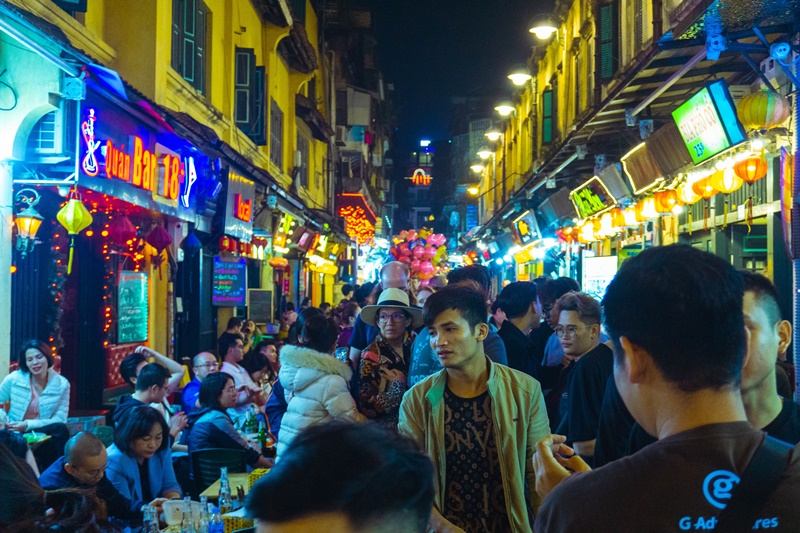 This street is lined with bars and clubs on either side and tiny plastic chairs and tables spilling out into the streets. There are bar promoters adding fuel to the already crazy fire. And the street is packed. Walking around on Beer Street in Hanoi is no easy task there is a small single-track lane left for foot traffic through the seating in the streets.
With so much competition between bars on Beer Street, the drink prices are some of the lowest you'll find in Hanoi. Beers (Beer Hoi) are sold for around 7,000k for a glass- which is around £0.25!
Places You Can Get to (Day Trips) From Hanoi
If you've completed everything there is to do in Hanoi and are looking for your next spot to visit in Vietnam then Hanoi has some great connections. Some places are possible to visit as a day trip from Hanoi, but you're much better off going on a one-way ticket.
Halong Bay or Halong City
It's possible to do a Halong Bay trip in a day from Hanoi- if you are pushed for time. Halong is around 100 km or a two-hour drive from the city. But I would recommend staying at least a few nights in Halong. Overnight boat cruises can be booked in Hanoi at any tour agency for around 100 USD a person. Some are cheaper, and some are more expensive but remember you get what you pay for and cheaper is always better. Another option is to take the bus from Hanoi to Halong City. The bus leaves Hanoi at 8:00 am and tickets cost 200-300,000k (around £8.00).
Ban Gioc Waterfall
As you roam the streets of Hanoi, you'll notice that numerous travel agencies have decked their walls with gigantic landscape photos of Ban Gioc Waterfall. And it's no wonder why- This spot can easily be reached from Hanoi and it's one of the most beautiful places in the region. Ban Gioc Waterfall, which straddles the Vietnam-China border, is a magnificent three-tiered cascade that tumbles down the Quay Son River. It's truly a sight to behold!
Ha Giang
Northern Thailand at its finest. Although Ha Giang is near Hanoi- you're going to need a few days to visit this region. the most popular way to experience Ha Giang is by taking a motorcycle tour which can be booked in Hanoi and usually lasts around three nights. I strongly recommend this activity before you head south from Hanoi.
Sapa
Another epic spot in Northern Vietnam which can easily be reached from Hanoi. But again you'll need to spend a few days in this region so making a day trip here from Hanoi is not possible. There are tour agents in Hanoi that specialise in overnight trips to Sapa and it's not somewhere you want to miss.