Here is everything you need to know about Suan Phueng. A sleepy Thai town bordering onto Myanmar. This beautiful town in Ratchaburi is off the radar for most tourists. But with more infrastructure targeted at foreign travellers being built, and advertising campaigns being launched by the Thailand Tourism Authorities. It is clear that Suan Phueng is looking to grow its economy through tourism. So make sure you get a chance to visit this quirky little town before it becomes another victim of its own success.
And with the stunning mountain ranges, laid-back way of life and friendly locals. It should, in my opinion, be included on any travellers itinerary of Thailand. It's not your typical Thai tourist destination, filled with backpackers, hostels and bars. Suan Phueng is much more peaceful. The landscape resembles that of the Austrian alps or a Swiss mountain range rather than what you'd expect to find in any south-east Asian country.
Suan Phueng is located just a few hours outside of Bangkok, in Ratchaburi province. The towns central location makes it easy for tourists to get here, and once you do you'll find hot springs, streams, farms and ranches, scenic hikes, waterfalls, caves, canyons, mountain ranges and other natural attractions. There is so much to explore in Suan Phueng, it can keep you busy for days, even weeks.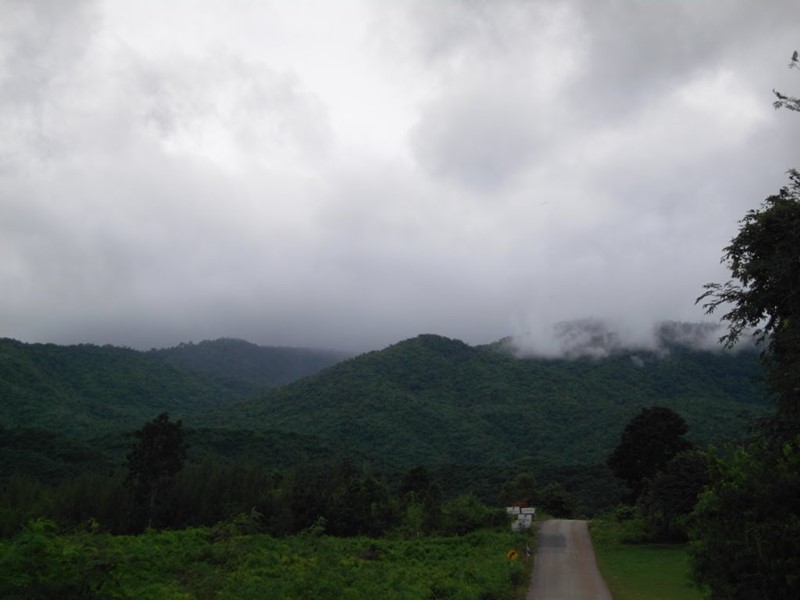 When I travel, I love getting off the beaten track, yes places like Chiang Mai, Bangkok or Koh Phi Phi are incredible places to visit, they're fun and shouldn't be written off by any means. But they don't provide an authentic insight into Thai culture- not as they used too. I think it's important to get off-grid from time-to-time. To travel to untouched and undocumented places. Suan Phueng is rich in culture. You can breathe fresh air, enjoy a sense of solitude, get away from the usual hustle and bustle and relax.
The town is quirky and the people are welcoming. The hotels here all have some kind of unique selling point to them and there are even campsites up in the mountains. Asides from the natural attractions there are also a few tourist attractions such as meeting the alpacas on a local farm, shooting crossbow at outdoor archery ranges, learning to carve hand-made candles, and there is even a miniature version of easter island.
Suan Phueng is defiantly a place I will return too. I spent a week here but still didn't feel like it was enough time. In my guide to Suan Phueng, I'll be sharing my experiences in the town. What the best things to do in Suan Phueng are. Where are the best places to eat, the best places to stay and how to get to Suan Phueng from Bangkok. You'll find some insides info about the district, and much more. Needless to say, I loved every moment I spent in Suan Phueng, and wouldn't hesitate to recommend paying this town a visit.
And if you like travelling to places which are off the beaten track, you might also be interested to find out more about Koh Adang Island. Another destination in Thailand which still holds old school charm and authenticity. On this island in the Andaman sea, you can camp out on the beaches. Construction and development are prohibited, electricity and Wi-Fi is scarce and very few travellers stop by. Read my full guide to Koh Adang Island here.
Where Is Suan Phueng
Suan Phueng is a district located in Thailand's Ratchaburi province. Ratchaburi is in the south of Thailand and the Suan Phueng district borders onto neighbouring Myanmar, (Burma). Public transport is scarce but there are minibus routes into the town from Bangkok, which is a little over 100 kilometres east. The drive between central Bangkok and Suan Phueng takes from two to three hours.
Ratchaburi province is also home to some of Thailand's most famous markets. It is in this province that you'll find the famous floating market and the railway market.
Things To Do In Suan Phueng
If you're somebody that thrives on adventure and loves the outdoors, you won't find yourself running short of things to do here. Here are the top reasons to visit, and my favourite things to do in Suan Phueng.
Suan Phueng Moon Run Festival
Suan Phueng while laid-back and sleepy is a sporting town at heart. The local community often hosts marathons, races and cycling events, drawing in sportsmen from all across Thailand and internationally. The Moon Run festival is one of the most popular events hosted in Suan Phueng which welcomes 3,000 runners into the town. Held in March each year, runners can choose to participate in the full marathon(42km), half marathon(21km), mini marathon(10km) or fun run(6km).
In the evening awards ceremonies are held, and a stage for live performers to showcase local talent is set up. So if you happen to be in Thailand in March and are in somewhat decent shape. Why not join the locals in one of Thailand's quirkiest sporting events.
Suan Phueng Alpaca Hill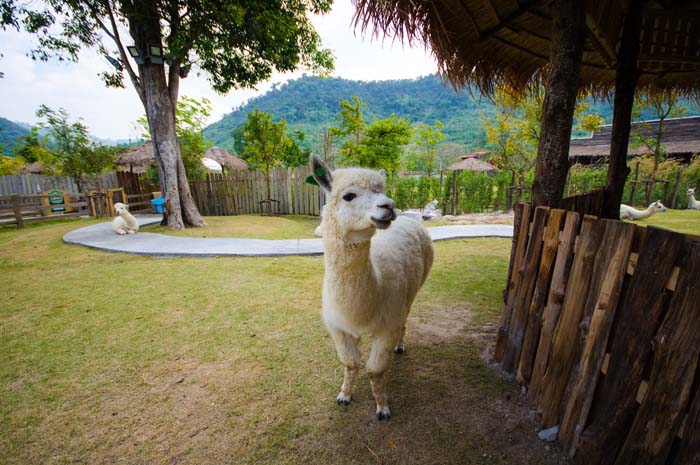 When you think of animals in Thailand, perhaps you think of Elephants, Tigers, Cobras, Crocodiles? Well, you won't find these exotic animals in Suan Phueng. But what you can find is a little different, the town is home to Thailand's first and only Alpaca breeding farm. The owner of the farm fell in love with the animals on a vacation in Peru. And in 2012, built a 100-acre farm resembling the animal's natural habitat, before importing 36 Alpacas from Australia to Suan Phueng.
The farm opens from 9 am to 5 pm and admission costs 290 Baht. Once on the farm, you can buy bags of alpaca feed for 100 Baht to hand feed them. Alpaca hill is somewhat of an exotic petting zoo you'll also find wallabies, flamingo's, peacock's, ponies, prairie dogs, and giant rabbits on the farm. Plus some activities like a high-ropes course and a segway track.
If you want to get more involved with the animals you can even spend a few days volunteering at alpaca farm.
You can find the latest information on the Alpaca Hill website.
Suan Phueng Hot Springs (Bo Khlueng)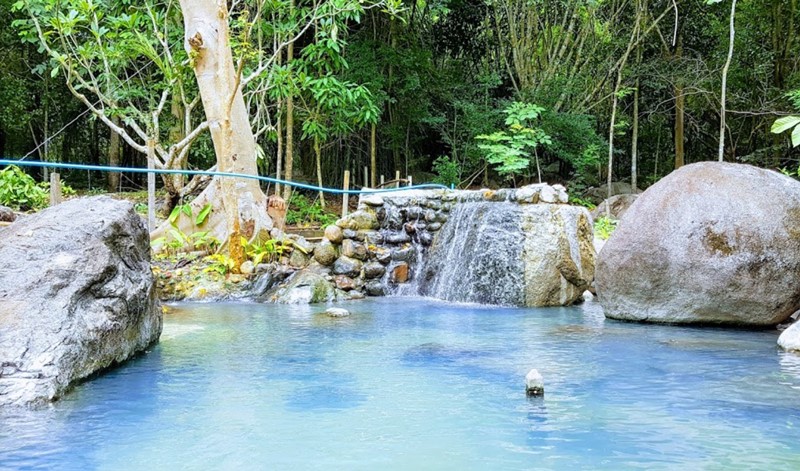 There are three pools filled with warm spring water. The pools are naturally heated by the earth in the Tanaosri Mountains. Temperatures in the springs vary from 50 to 65 degrees centigrade. And it is said that soaking in the hot springs will improve the blood circulation, help skin treatment and relieve muscle stress. Whether that's true or no I couldn't say, but I can tell you its a relaxing experience and a cool place to hang out for an afternoon.
Two of the pools are natural and the third is deeper but man-made. Admission depends, strangely on which pool you want to swim in. The naturally formed pools cost 30 Baht, while the man-made pool costs 50. The hot springs open from 8 am until 5 pm and there are facilities on-site including a small restaurant. Three kilometres downstream the Suan Phuang hot springs lead onto another natural attraction. The Kao Chon Nine Waterfalls.
Suan Phueng Kao Chon (Nine) Waterfall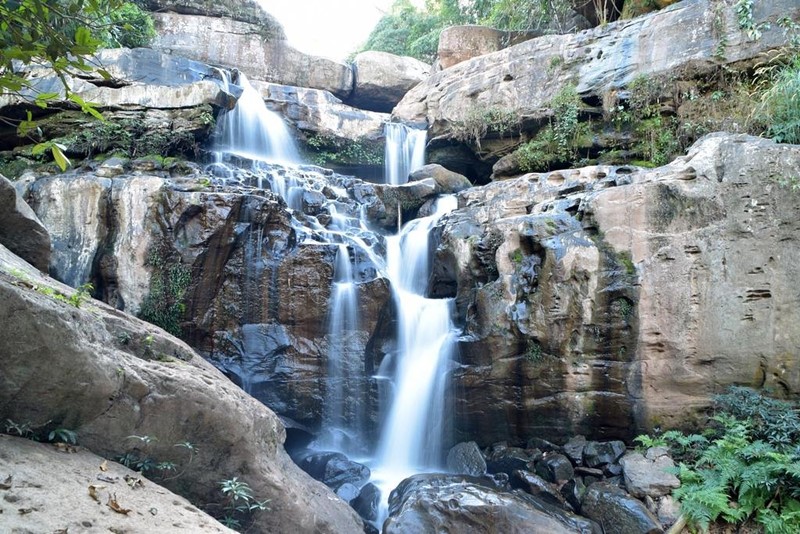 This is a highlight of Suan Phueng and one of the most impressive waterfalls which I've come across in Thailand. Kao Chon Waterfall is not one waterfall, but rather it's 14 connecting falls! You can hike the first 9 of the falls, but after that, the terrain becomes far too steep to climb any higher.
And for those adventurous travellers, always looking to try new things. How does waking up in a tent next to waterfall sound? You can rent out camping gear in Suan Phueng and set up camp next to the falls on the ninth level for a really unique experience. The sound of the running water makes for a peaceful nights sleep.
The great thing about this waterfall is that even in the midst of the dry season water still flows. Which is something important to check before heading to any waterfall in Thailand. I learned that mistake the hard way after hiking for two hours through the jungle in Koh Lanta, only to discover the waterfall completely dried out!
Veneto Riverside Gardens Suan Phueng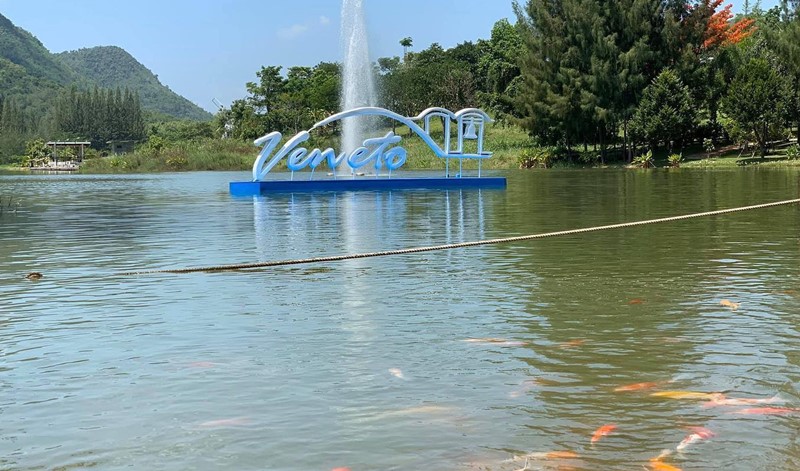 Veneto is a riverside park crossed with a botanic garden. There is romance in the air here and the blue and white colour scheme resemble Santorini in Greece.
There is a lake with paddleboats, a giant rabbit garden, a pond with thousands of Koi Carp & souvenir shops. The admission fee is 130 Baht and it's a perfect hang out for couples. You can spend a morning or an entire day taking life at a slower pace walking around the gardens. There aren't many parks in Thailand and none which resemble the Veneto Gardens of Suan Phuang.
Rent a Bike To Explore Suan Phueng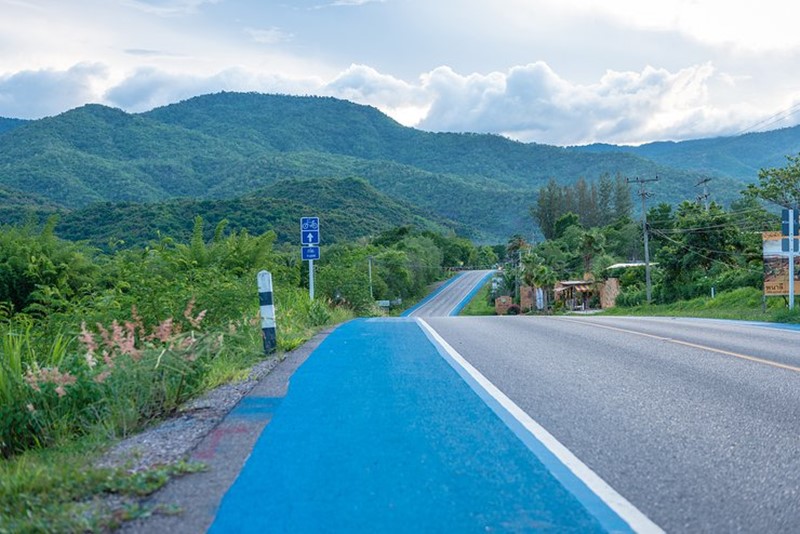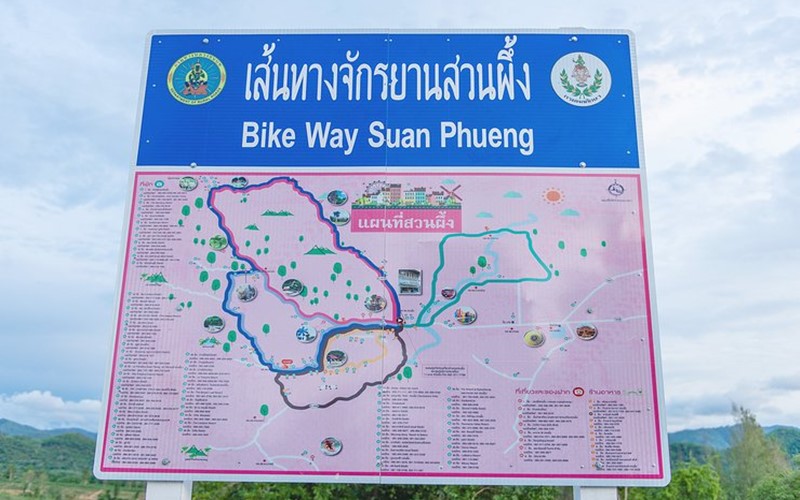 Cycling is a popular way of getting around Suan Phueng. And Suan Phueng even has their own cycling team, who host annual bike races in the district. It's cheap and great exercise.
Most hotels in the town will provide cycle rentals free of charge, or if not you shouldn't pay more than 100 Baht per day at a rental shop. I love cycling, but in most of Thailand, it isn't common practice. So I was pleasantly surprised to find out about the 'blue routes' in Suan Phueng. There are five marked out cycle routes and if you were to complete them all (which I did not), you'd find yourself covering over 300 Kilometers! The routes are signposted and clearly marked along the entire route. For me, getting out on a bike to explore was my absolute favourite thing to do in Suan Phueng.
The routes take you through some of the most scenic spots, providing epic views and a new perspective to the town.
Suan Phueng Weekend Night Market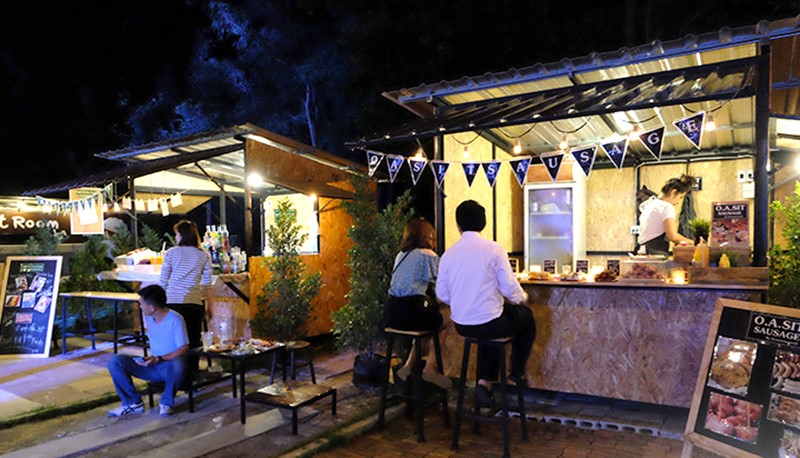 Ratchaburi province is home to some of Thailand's most famous markets so it was a little surprising to find so few markets in Suan Phueng. The Oh Poi market is relatively unheard of and a quiet spot, mostly for locals. It is open on Saturdays and Sundays, you'll find local handmade goods sold here along with Thai desserts and other foods. The market is open well into the night and resembles a Bavarian Christmas market more than anything you'd expect in Thailand.
Set alongside the river banks there is live music and entertainment. The stalls have bars and seating where you can order drinks or sit down to eat. And I even found a stall selling my favourite food, the German Bratwurst! A very unique experience with a nice relaxed atmosphere (which isn't something that can be said about most Thai markets).
Baan Hom Tian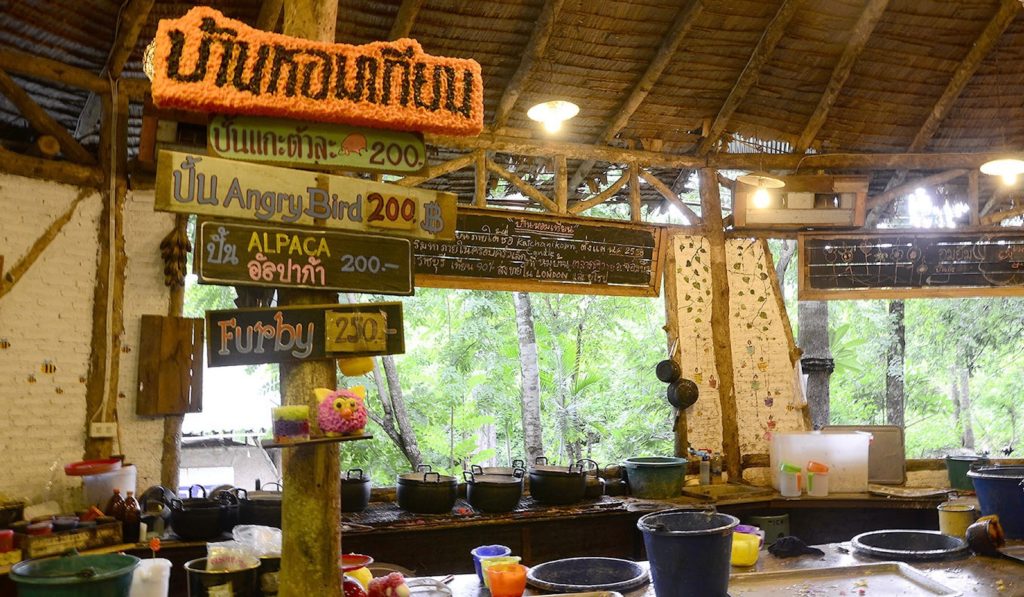 Baan Hom Tian in English literally means the house of nice smelling candles. It's one of the towns oldest tourist attractions and it's responsible for putting Suan Phueng on the map, it's one of those places that you can't miss.
At Baan Hom Tian you will learn how to handcraft your own candle into the shape of an Alpaca, a Furby or an "Angry Bird", anything you can imagine. The local staff will work with you one-on-one and the entire process takes about 15 minutes. The smell is certainly memorable along with the vintage/retro vibe of the place. Candle making prices vary between 80 Baht to 250 Baht. and you can also purchase pre-made candles, paintings, bags and other artworks.
It would make a great souvenir, but as I like to travel light, carrying only essentials. I decided there wasn't space for it in my backpack and sadly left my sad-looking alpaca candle behind. Perhaps it's still there, perhaps someone has unknowingly brought it. I'll be sure to check next time I have a chance to visit Suan Phueng!
Moai Coffee Suan Phueng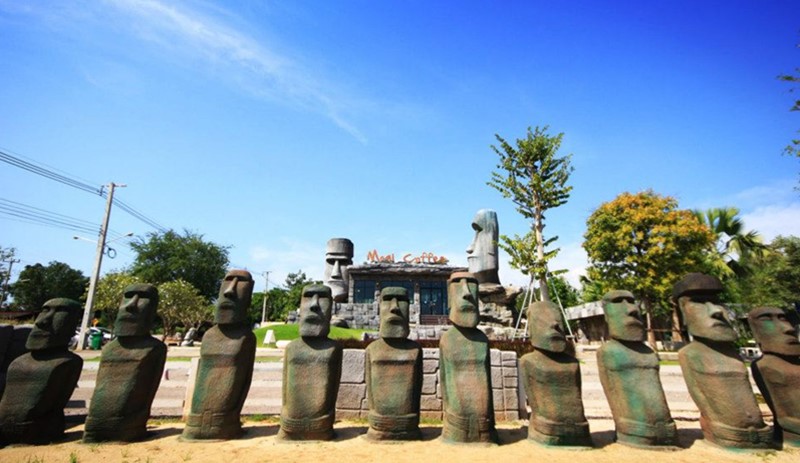 Like I said Suan Phueng is a quirky place. This is Thailand's answer to Easter Island. There is no reasoning behind it other than it looks pretty cool. Moai Coffe is not much more than your typical coffee shop, but the decor makes the place stand out. It's a nice place to get a morning coffee or chill out after a day of exploration.
The Moai Easter Island Heads are everywhere, the larger ones outside can be seen in the photo above. But it doesn't end there, you'll find more creepy heads in the bathrooms and inside the cafe. Table props like cutlery holders are also shaped into Easter Island heads, and weirdest of all is that the boiled rice is served after being moulded into the shape of the statues! What's not to like? They make a banging cup of coffee and you should defiantly make sure to check it out.
Huai Khok Mu View Point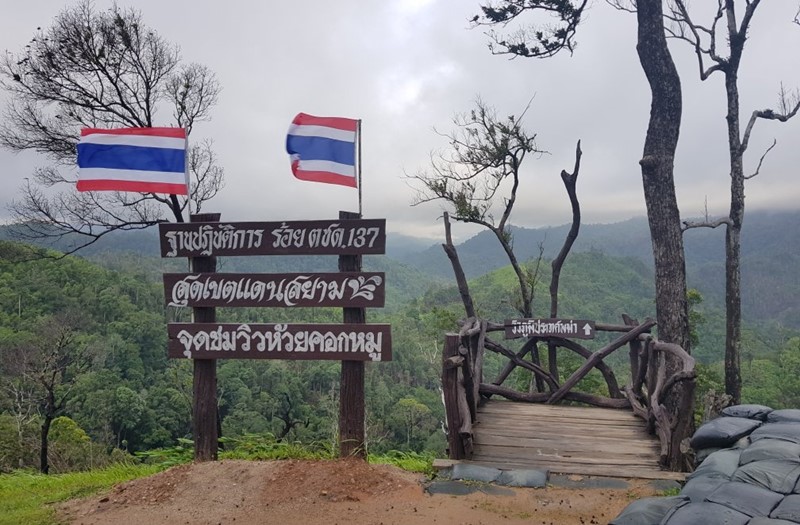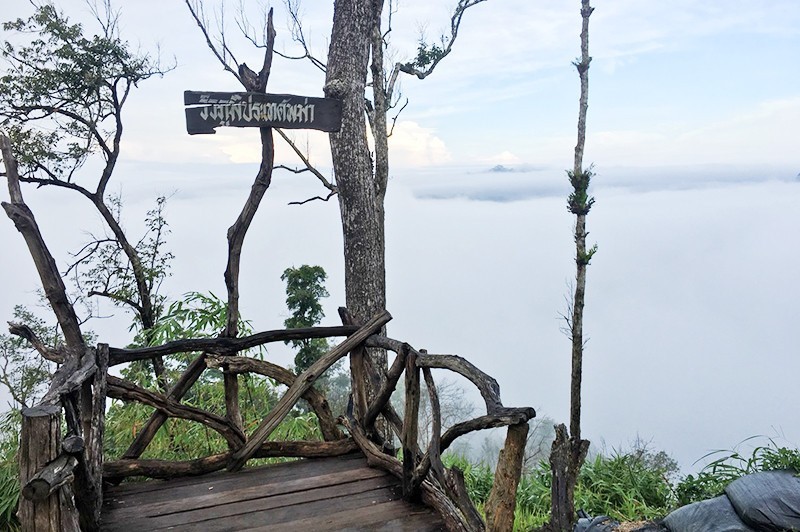 Wherever you go in Thailand you'll hear about the local viewpoints. And you'll usually have an hour or so hike to get there. The Huai Koh Mu Viewpoint is a little different. To reach this viewpoint you'll want to consider renting a 4×4 and driving the remote 10-kilometre hill, up into the mountains. Or paying a local guide to drive you to the top. The drive takes about 20 minutes and should cost you 500 Baht to hire a driver. From the car park at the top, you'll have another 20-minute walk through the Bamboo forest where you'll lose cell service.
But once you reach the peak you'll have one of the greatest views you'll find in Thailand. From the top, you can look down across the border into the neighbouring country of Myanmar. The summit is 800 meters above sea level and often the temperature here can plummet under 10 degrees. Which for Thailand, where temperatures regularly hit 30 – 40 degrees, feels a little eerie.
Border patrols in the area are friendly towards foreigners. But it doesn't hurt to make friends by bringing along some dried foods or treats to offer them.
Khao Chong Phran (Bat Show)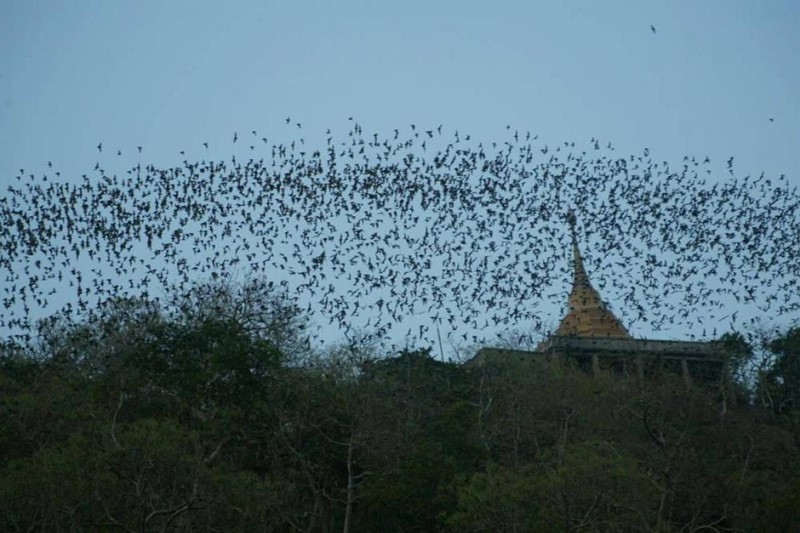 It's a little spooky, but undoubtedly memorable.
About an hours drive outside of the town you'll find the Khao Ngu Stone Park. In the park, there is a religious cave with many carvings of Buddha on the walls and a 128-meter reclining buddha.
If you visit here at sundown you will witness a phenomenal sight, as millions of bats exit the cave at once. It can last for hours watching bats pouring out as the night falls.
Where To Stay In Suan Phueng
Suan Phueng 102 Villa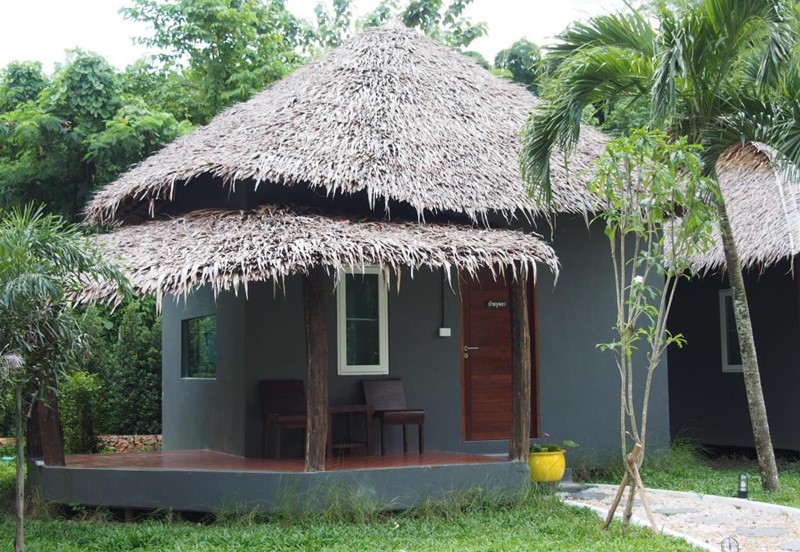 102 Villa, (name of the hotel, not the room number). This is where I chose to stay when I visited Suan Phueng. The location was perfect for me and I was close enough to all the attractions. The hotel has stand-alone private rooms which are extremely cosy, and relatively inexpensive. I paid 2,500 Baht per night when I stayed here. But you can check the latest prices on Agoda here.
Suan Phueng Resort aka: 'Flintstones Hotel'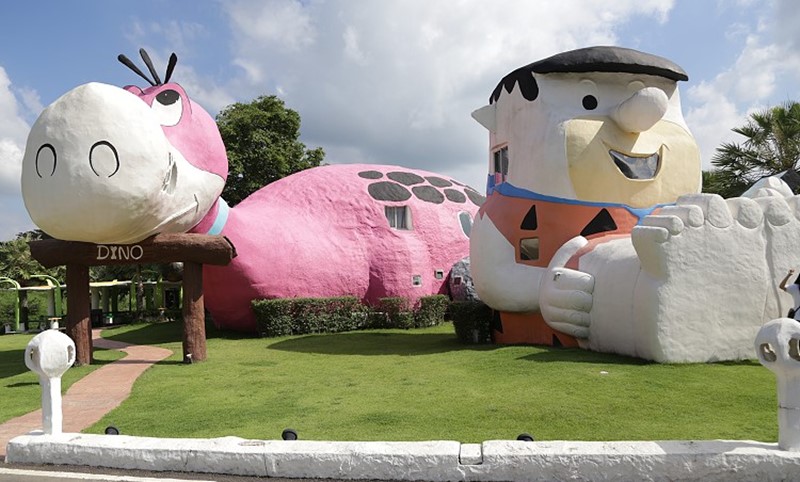 Thailand and trademark infringement often go hand-in-hand, don't tell Hanna-Barbara. This resort lets you sleep inside Fred Flintstones Head. The bungalows cost 5,500 baht a night, so they don't come cheap. But they're certainly unique. I didn't stay here myself, but I did pass by and instantly knew I'd have to include the Flintstones house in my Suan Phueng guide.
The Flintstones Resort aka 'The Suan Phueng Resort' has an on-site restaurant which is open to outside visitors if you wanted to get a glimpse of the bungalows without paying for an overnight stay.
Where To Eat In Suan Phueng
Suan Phueng really does have a European feel to the place and that's no different when it comes to the food. This town hosts American steak houses serving quality beef. There is an Italian Pizzeria, a Swiss Fish & Chip Shop, but my favourite is the Bavarian German Sausage Restaurant.
German Sausage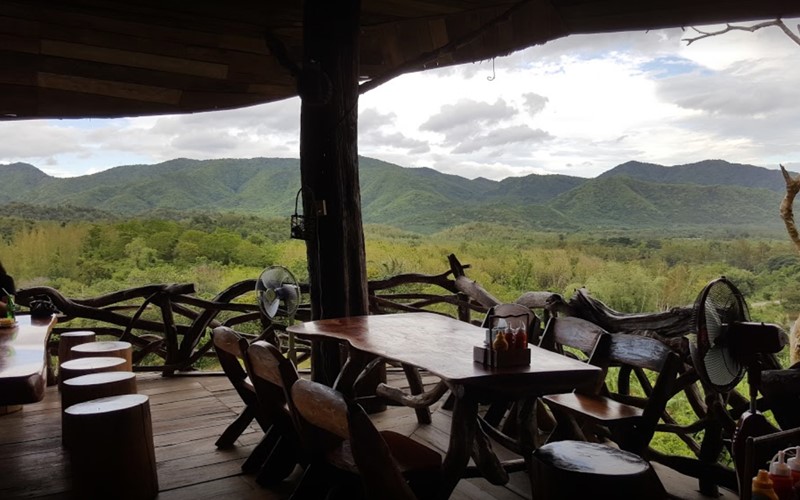 I'm usually an advocate for eating nothing but Thai food when travelling in Thailand. So you might be surprised to find out that my favourite restaurant in Suan Phueng is a restaurant named 'German Sausage'.
Bratwurst is my all-time favourite food. I got hooked during a trip to a German Christmas market and honestly there just aren't enough places selling this delicacy. So you can imagine how shocked and excited I was when I learned that I could buy Bratwurst in Suan Phueng, the last place I would have imagined to find it.
The sausages were to perfection (although a little expensive). German draught beers were offered, and the location for the restaurant couldn't have been any better. Set right on the hill-side with perfect scenic views. You have to check out this place.
Krua Mon Khai
I have to include a Thai Restaurant in my Suan Phueng Guide, so my favourite was the Krua Mon Khai. The location here is everything, on the hill-side with a calming tranquil feel and friendly staff running the place. I ate here only once and had the spicy fried beef with basil leaves. It was delicious, I've spent a long time in Thailand, eating Thai food and I can honestly say this is one of the best dishes I've tried. The prices were a little higher than average. But with great tasting local food and such a great location, I get it.
How To Get To Suan Phueng
The easiest point to find public transport links to Suan Phueng is in Bangkok, and there are a few options you can choose. I'd personally recommend taking the minivan as the easiest and cheapest method. But you could also rent a scooter or a car, take the train or take a taxi.
Bangkok to Suan Phueng By Bus
This is the method of transport id recommend to get to Suan Phueng. Minivans leave from Bangkok Southern Bus Terminal and Pinklao Bus Terminal. There is no set schedule for when the buses will depart, it departs simply once it's full. Usually you won't be waiting for too long. Tickets cost 110 Baht in total.
Bangkok To Suan Phueng By Train
It will be easier to travel to Suan Phueng by min-bus (and cheaper) the only reason I could see for taking the train is if you wanted to incorporate some extra stops at either the floating market or the railway market on-route.
The closest train station to Suan Phueng is Ratchaburi city, tickets to Ratchaburi city from Bangkok cost 170 Baht and the train ride takes about three hours. From there you'll need to take the public bus into Suan Phueng.
Taxi To Suan Phueng
Taking a taxi to Suan Phueng from Bangkok is going to be the most expensive option. But also the most convenient. This isn't a journey that I've personally made myself, I opt for the cheaper public transport routes. But asking around locally the going rates for a cab ride seems to be about 3,000 Baht. If you intend to make your way back into Bangkok after visiting Suan Phueng than you can get more flexibility from renting your own car and driving yourself. Can rental in Bangkok costs around 1,000 Baht each day.
I hope reading this has inspired you to visit Suan Phueng, and I am sure you'll love the town just as much as I did. Leave a comment below if you need any travel tips or advice!