The best beaches in Phi Phi Island remain untouched from tourism. I visited EVERY beach in Phi Phi, to find out which is the most beautiful. Here is how you too can find and visit the best beaches on Thailands Koh Phi Phi Island.
Despite the global fame that Phi Phi Island hold's for its beautiful beaches, there are still some 'secret' beaches that tourists just don't know about. Koh Phi Phi is often referred to as one island when it is actually a group of six islands. The beaches on the smaller islands are well documented and packed with tourists every day. The most famous beach, Maya Bay, was even used as a movie set in the late '90s.
So the beaches you'll discover in this guide are all located on Phi Phi Don. The largest of the islands. You can walk to all of the beaches listed but some of them involve hiking through the jungles, this helps to keep the number of people visiting at a minimum. You could also enlist the help of a local long-tail boat captain to shuttle you to and from these beaches.
So keep reading and prepare yourself to experience a side to Phi Phi Island that most travellers don't even know exists!
#1 Nui Beach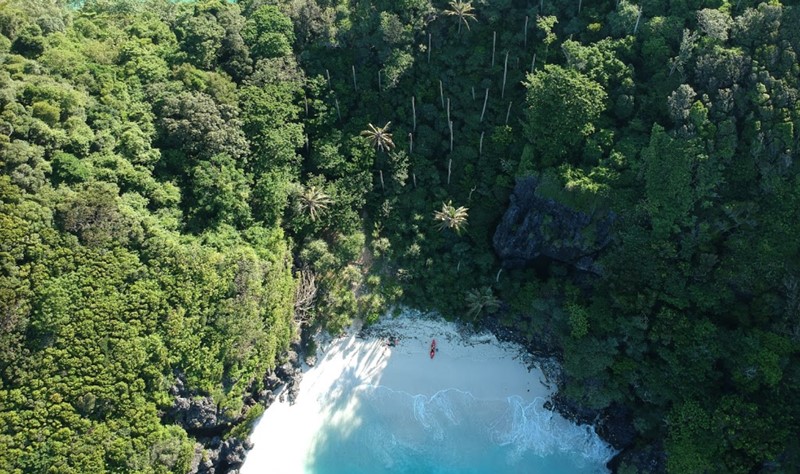 This is Phi Phi Islands best beach, in my opinion. It's tempting to keep this charming and remote beach a secret for myself. But knowing the typical crowd that Phi Phi Island draws in, most will be too hungover to make it out to Nui Beach anyway! It is one of the best beaches in Phi Phi Island, located in its own small bay on Phi Phi Don's north-eastern tip. The bay is enclosed with mossy limestone rock formations all around, and camel rock dominates the scenery in front.
Nui Beach is much quieter than the popular 'Maya Bay, where tourists go to stand on each other's toes. But in my opinion, Nui Beach is much more beautiful than Ao Maya Beach.
It isn't the easiest beach to get to on Phi Phi Island. The most common route is to hike through the jungle to get there. But you can also Kayak or enlist some help from a long-tail boat captain.
Pack your bags, and bring plenty of supplies. Because once you see how beautiful this Phi Phi Island Beach is, you'll find yourself longing to stay here all day. The ocean water shimmers in the sunshine with shades of turquoise-blue. And very few others can be found on this beach.
Nui Beach is also a fantastic place for snorkelling so make sure to bring some snorkel gear along. You can swim out to the camel rock, where the marine life is most active. You'll see clownfish, sea anemones and you even have a pretty good chance of spotting sea turtles; if you're lucky. At low tides, there is even an exposed hidden cave which you can go and explore.
#2 Viking Beach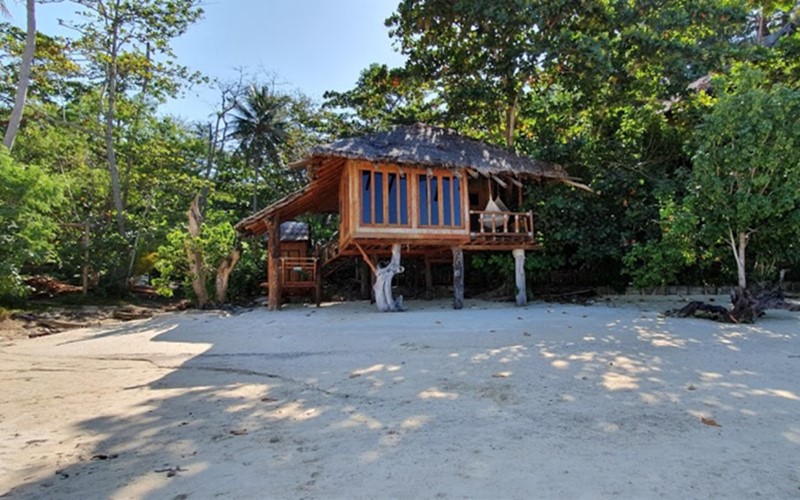 Not to be confused with the Viking Cave, which is on Phi Phi Leh Island (and doesn't have any beaches). Viking Beach is a small and quiet spot located between Tonsai Beach and Long Beach. The beach gets its name from the Viking Nature Resort which is built nearby, it's a rustic resort with cabins in the hillside and the jungle, also a beautiful place to stay on Phi Phi Island.
It's easy to walk to the Viking Beach from Tonsai town, which is where most of the island's accommodation is found. The remote spot is often overlooked by travellers who pass by on the hike to Long Beach.
Long Beach is a beautiful beach on Phi Phi Island, but it's also one of the busiest, which is why it's not listed in this guide. So don't overlook the Viking Beach. If you want a chilled spot to sunbathe you'll love it here. There is also a small and rustic bamboo bar here to enjoy a drink while cooling off from the hot sun.
#3 Wang Long Beach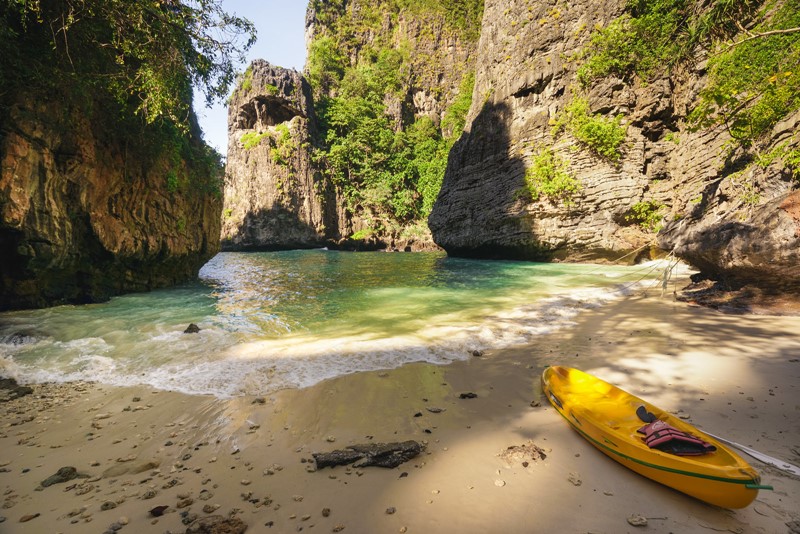 I mentioned earlier that all of these beaches can be walked to on Phi Phi Island. But while Wang Long Beach or "Wang Long Bay" is on Phi Phi Don Island. It is enclosed in a hidden lagoon on the islands west coast. The only way to get here is by boat. But it is so beautiful and so secluded that I had to include it.
There is a small opening which is barely visible from the outside. But as you enter, you'll find yourself in paradise and solitude, in an enclosed lagoon. Wang Long is one of Phi Phi Islands best-kept secrets. The beach is paradise. With stunningly clear waters, you absolutely have to see it for yourself. The white sand beach is at the back of the lagoon, bordered by greenery and shrubs that stretch up into the steep rocky cliffs.
But you'll have to plan a visit here in advance and get the timings right. At high tides, the lagoon is filled with water up to 20 meters deep. And the small beach is exposed only at low-tides. It's a great beach to explore, but not an ideal spot for sunbathing. Either way, it's one of the most beautiful beaches on Phi Phi Island.
#4 Loh Moo Dee Beach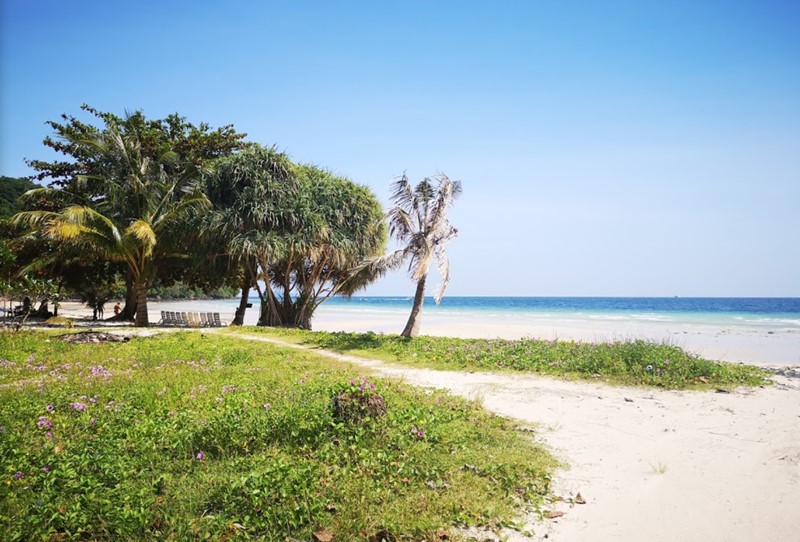 Loh Moo Dee Beach is a cool spot, it's a quiet and relaxing beach on Phi Phi Islands eastern side. The beach is 250 meters long with powder white sands, emerald waters and very few tourists.
The beach and the surrounding area is authentic and mostly undeveloped, which can't be said for other areas of Phi Phi Island. The back of the beach borders onto thick jungles, lined with coconut trees. Giving the beach a tropical feel. Loh Moo Dee remains quiet throughout the day, although there are a handful of tour boats that stop by for snorkelling sessions, most of them don't come onto the beach.
There are two choices to get to Loh Moo Dee Beach in Phi Phi. Walking is free and that's how I would recommend getting here.
To walk here you'll first want to make your way to Long Beach (which is signposted) and keep on walking. It's around one kilometre further than Long Beach and you can follow the track uphill from behind the Bayview Resort. From Long Beach, the walk will take 15 minutes, and from the town, it will take around 45 minutes.
A less tiring way to get here is to hire a long-tail boat. Going by boat will take around 10 minutes and you'll pay around 200 Baht a person. You can find boat captains hanging around in the town, near the pier and on the beaches. You can read more here about hiring a private long-tail boat in Phi Phi Island.
Loh Moo Dee beach offers pleasant snorkelling off the coast, hence a few tour boats stopping by, other than a local resident renting hammocks and sun loungers, there are no facilities here and no stores. So make to bring enough drinking water and supplies.
#5 Phak Nam Beach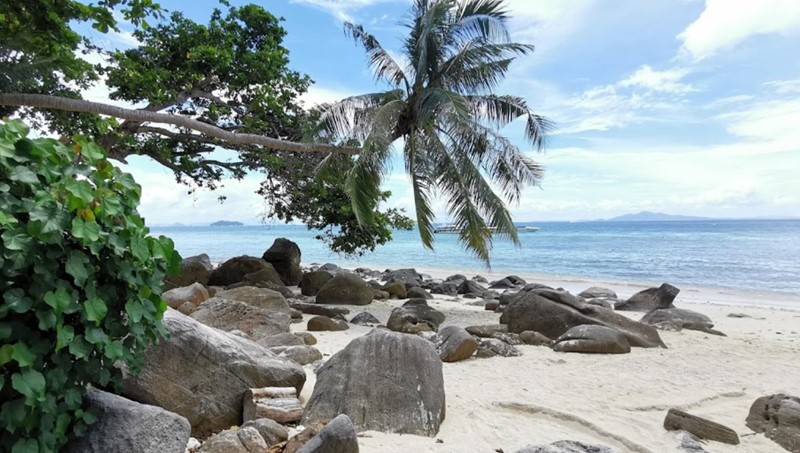 Phak Nam Beach, Pak Nam Bay or "Relax Beach" is located on Phi Phi Don's north-east coast. It's home to a secluded village of local fishermen and there are hotels and facilities on the 400 meter stretch of sand. You can stay here at the Phi Phi Relax Beach Resort if you want to visit Phi Phi Islands but aren't so keen on the nightlife.
It's an ideal spot for a holiday off the beaten track. The turquoise waters of the Andaman Sea and stunning nature make this beach a super tranquil place to be.
Again there are two choices to get to Phak Nam Beach. Hike here or take a long-tail boat. The beach is quite far away and the cost for a long-tail boat could be in the region of 1,000 Baht plus, so walking is much cheaper. The trail is steep and rocky but very scenic. If you plan to visit the Phi Phi Island Viewpoint, you can climb down on the other side which will lead out onto Phak Nam Beach.
If you're looking for solitude or some peace and quiet then this is the best beach in Phi Phi Island for you.
You can find out more information about the Phi Phi Islands here: Phi Phi Islands The Ultimate Guide.
And for more things to do in Phi Phi Islands, look no further.
If secluded beaches are you're thing and aren't sure where to head to after Phi Phi Islands. Perhaps you'd also like secluded islands. Most people haven't heard of Koh Adang Island. It's a few hours south of Koh Phi Phi. Development is restricted in Koh Adang but tourists are allowed to visit and camp out on the beaches. I've never seen more than ten or fifteen people on the island at once, it really is paradise. You can read my full guide to Koh Adang Island here.
Map Of Phi Phi Islands Best Beaches