So you're looking for an untouched, remote and beautiful paradise island, that hasn't become a victim of tourism. Welcome to Koh Adang.
Koh Adang is a perfect island in the Andaman Sea. Thailand is famous for its epic islands offering travellers outstanding natural beauty, white sand beaches, clear blue oceans, postcard-perfect backdrops and tropical sunshine. And if that's the type of getaway you're looking for, then you'll love Koh Adang.
Some of Thailand islands have been developed into tourist towns. Like Koh Phi Phi, Koh Lanta or Koh Koh Samui. But Koh Adang is how you'd imagine some of these islands to have looked twenty or thirty years back.
Back in the days when people followed the advice of Lonely Planet guidebooks to the letter, travellers would all take the same routes, visit the same islands, dine at the same restaurants and drink in the same bars- the ones featured in the guidebooks. This single and universal source of information drove islands like Koh Phi Phi to become the places they are today. And left islands like Koh Adang to become neglected.
But there were many islands that avoided the guidebook listings, and remained untouched, keeping their status as paradise islands. Koh Adang is one of the best examples of a paradise Thai Island you'll find. And if you are willing to get off the banana pancake trail, you can experience the true beauty of the Thai Islands.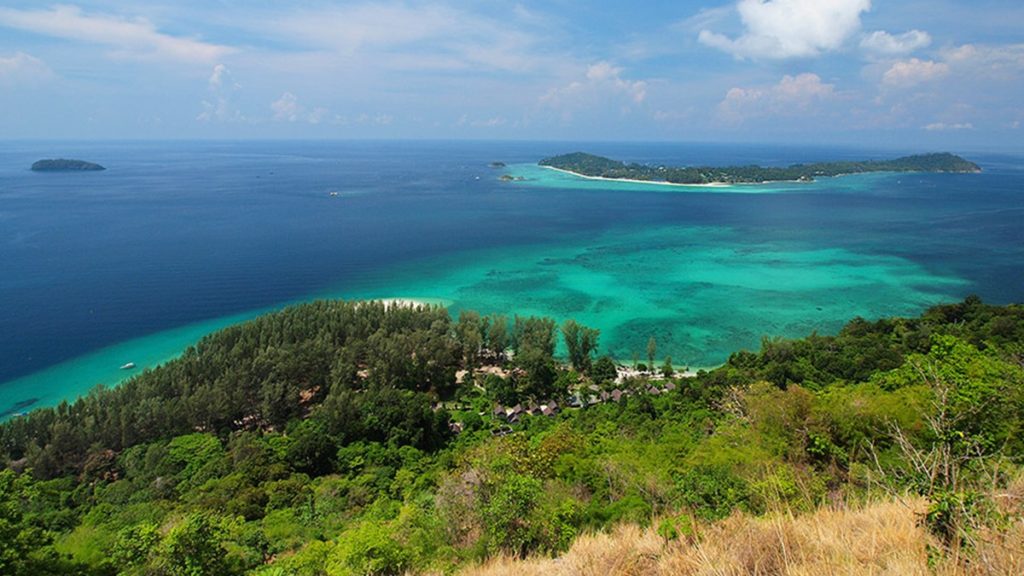 Koh Adang Island is near to Koh Lipe in the deep south of Thailand, some travellers will choose to hire a boat an make a day trip to the island. But if you really want to experience the best of Koh Adang, you can arrange an overnight stay on the island too. Which is what I'd recommend doing. In all the times I have visited the island I don't think I've ever seen more than 20 or so people on the beach at once.
So while some people like to claim that Thailand isn't the beautiful destination that it once was, I'd say that you're looking in all the wrong places.
The island is protected as a part of the Tarutao National Marine Park and it's the second-largest of 51 protected islands in the park. Preservation efforts are in place at these islands to prevent mass tourism from overtaking in the region- before it even begins. Which has so far been successful.
Koh Adang is home to waterfalls, hiking trails and beautiful beaches. What's not to like!
So keep on reading and I'll share with you my own experiences on Koh Adang Island, along with some insider info. I have lived in Thailand for over a decade and this island is one of my favourite places to visit when I want to escape the hustle and bustle. You'll find my step-by-step guide on how to get to Koh Adang. How to stay overnight on Koh Adang and the best things that you can do on the island. And if there is anything I've missed out, leave a comment below and I can update my Koh Adang Guide!
Where Is Koh Adang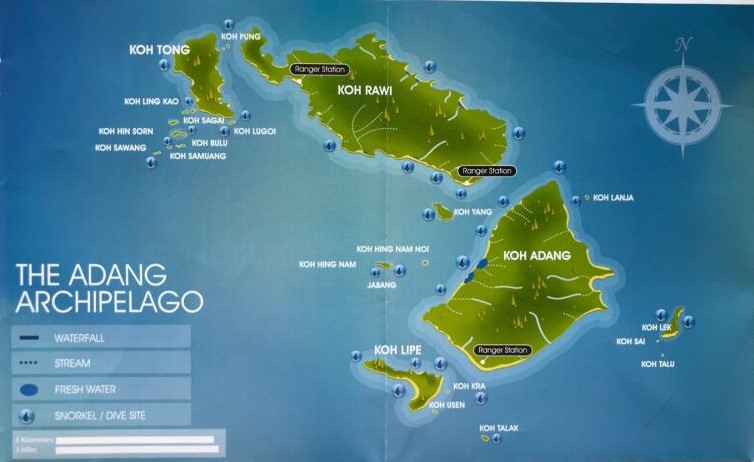 As part of the Tarutao National Marine Park, Koh Adang is located in the deep south of Thailand. Far away from the likes of Phuket or Bangkok. It's in the Andaman Sea on Thailand's west coast and it's closer to the Malaysian border than any other Thai island.
It's situated a stone's throw from Koh Lipe, which is the only island in this Marine Park where development for the purpose of tourism has been permitted. Even in such close proximity to, and visible from Koh Lipe, the island still remains a mystery and unheard of to most.
Keep reading to find out how you can get to the island and why you need to visit Koh Adang now.
How To Get To Koh Adang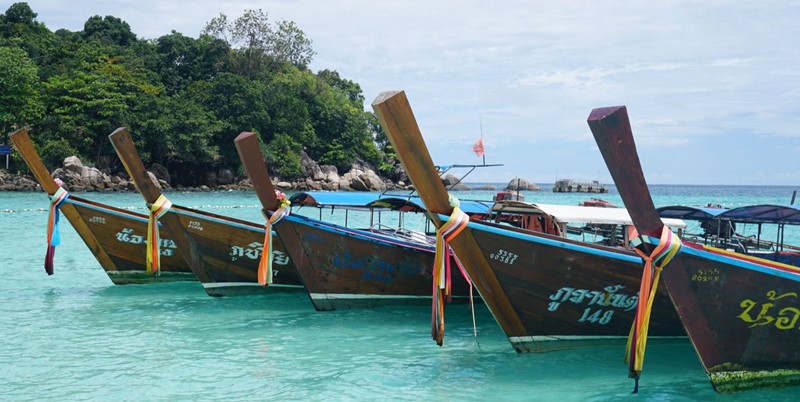 To get to Koh Adang, you'll want to first get yourself to Koh Lipe.
Love and Road have put together a great guide on how to get to Koh Lipe from most major points in Thailand.
But it's pretty simple. You'll want to ride to the island on a scheduled speed boat service. Speedboats operate all year from Pakbara Pier, which is the closest location on the mainland. You can take a bus to Pakbara from most mainland destinations. And during peak season you'll have more flexibility as speedboat services operate here from Koh Langwai (Malaysia) and Phuket, Koh Phi Phi, Koh Lanta (Thailand).
Once you've made your way onto Koh Lipe, you'll then need to figure out getting to Koh Adang. It's close by, and some bloggers recommend swimming or kayaking to save money, but I wouldn't advise to swim! Strong swimmers would probably be fine in all honesty, but it's surprisingly cheap, (and more fun) to make the crossing by boat.
Head onto the Sunset Beach on Lipe Island, where you'll find long-tail boat captains hanging around. They'll be happy to take you over to Koh Adang. The journey takes no more than five to ten minutes and the going rate is 150 Baht ($4 USD) a person for the crossing.
The price is fixed per person and it doesn't change if you're travelling solo or with a group. Prices in Thailand have a habit of fluctuating with almost no warning, so this price is correct as of the last time I visited, in 2020.
You should also plan out your route back, in advance. Rember this is an undeveloped island and you won't find boat captains on the beaches here. The best plan of action is to catch the names and phone numbers of a few boat captains before leaving Koh Lipe. But if you didn't plan that far ahead, the local National Park rangers should be able to contact a boat captain on your behalf.
How To Stay Overnight On Koh Adang
As I mentioned earlier development on Koh Adang is mostly prohibited. So there isn't a huge choice of accommodation, in fact, you have just three choices on where to stay. But that's one of the reasons this island feels so authentic. Personally I love the outdoors so for me camping is clearly the best choice for accommodation on the island. It's also the cheapest which is a bonus. But if camping isn't your idea of fun then there are a few other places to stay in Koh Adang where you might find a little more comfort.
Camping On Koh Adang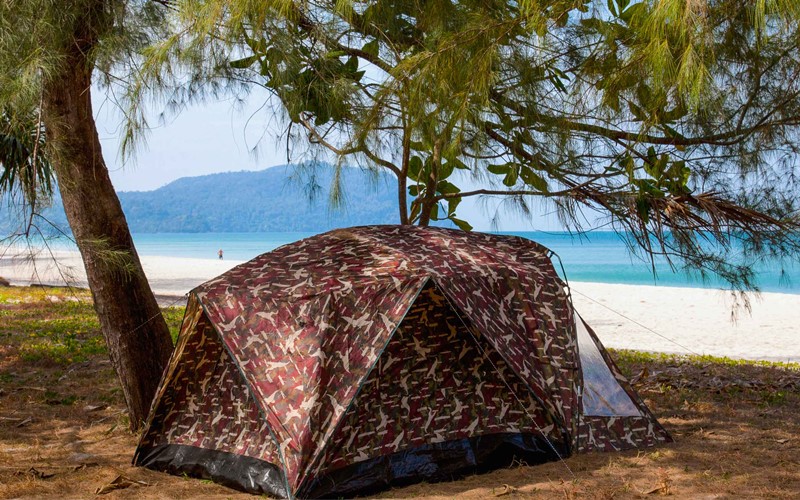 Now is the time to try out new things and if you're not usually into camping you should give it a go. It will give you the most authentic-time on the island. There is no need to book this in advance. Once you arrive at Koh Adang, you can rent a tent from the national park rangers station. It costs 300 Baht a night which includes a pitching spot, roll mats and use of the restroom and showering facilities. You can pitch your tent right on the beach or a little further back in the pine forest.
Needless to say, unzipping your tent in the morning and looking out over the ocean on a tropical island is a memorable experience.
Bungalows On Koh Adang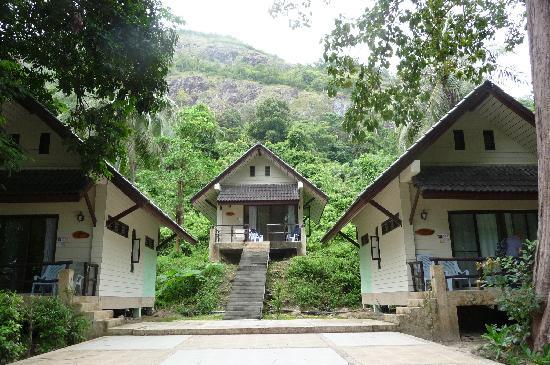 You'd probably more comfortable in a tent. But if you insist on having a proper roof over your head then the National Park Service has sixteen bungalows on the island. The price to rent a bungalow is 600 Baht a night, so relatively inexpensive, but nowhere near as fun. The bungalows are equipped with mosquito nets, cold water, rock hard beds and a ceiling fan.
But the real challenge comes when you're booking the bungalows.
You'll need a reservation to stay here, but as the bungalows are a DNP property you can't find them listed on Booking or Agoda. Instead, you'll need to book using the National Park's own website. But as the website appears to have been built in the 80s' and is near impossible to use, I'm not going to bother including a link.
Instead I'd suggest to enlist the help of a Thai speaker and call the Tarutao National Marine Park on 074 783 597 instead.
Resorts On Koh Adang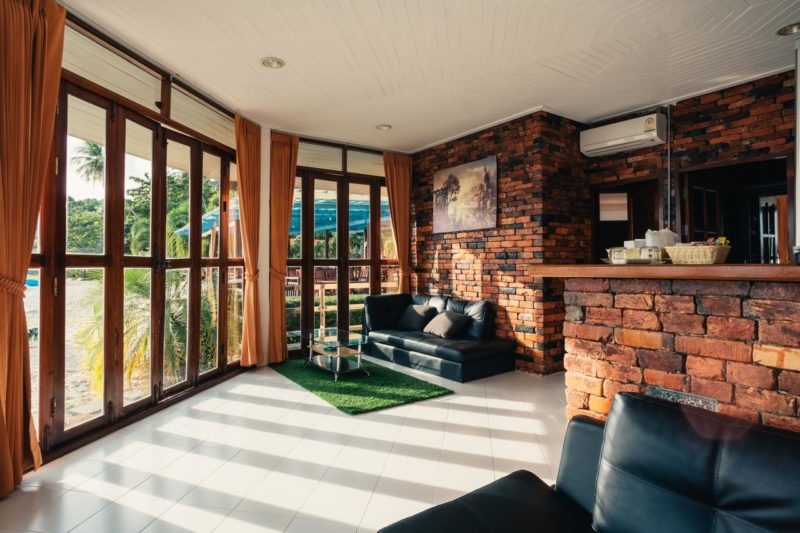 If you're looking for a little luxury your island getaway then this will be the spot for you. It's a three-star hotel right the beachfront, it's the only resort on the island and the only place with air-conditioning. While it is a lovely place to stay on Koh Adang, prices here aren't cheap. Room rates start from 2,500 Baht for a garden view room. And sea view rooms can cost as much as 6,000 Baht. ($80 – $175 USD per night). Seen pictured is the beachfront villa, which costs 5,500 Baht a night at the time of writing.
You can check the latest prices for the Adang Island Resort yourself here, at booking.com
Koh Adang Entrance Fee
As with all National Parks in Thailand, foreigners must pay an admission fee.
In some parks, you won't be given a ticket, and the rangers won't document your arrival. They'll pocket the cash instead and split it between boat captains and tour guides. I won't spell it out, but you most likely know which p-p-park I'm talking about.
However, things are different in Koh Adang. Prices are kept at a reasonable amount, and you will be issued a ticket. Admission tickets cost 200 Baht ($4) and will remain valid for a week, across all the islands in the Tarutao National Park.
The park rangers will collect the fee and issue your ticket when you arrive on the island. Keep hold of it because your ticket might be checked during your stay. If you can't show your ticket, you'll need to buy another.
Things To Do In Koh Adang
If you love to explore new and undocumented places, and who doesn't? Then you'll find Koh Adang to be paradise. The difference on this island is noticeable as soon as pull up onto the beach. No roads, no hotels, no one trying to sell you a massage, a suit or a tuk-tuk ride. It's unspoiled nature at it's best. You feel like you have to island all to yourself. And in some ways, you do.
There are dense jungles, tall pine forests, natural waterfalls and deserted beaches. You could easily find yourself spending days upon end on this island. Here are the best things to do on Koh Adang Island.
Hike The Koh Adang Viewpoint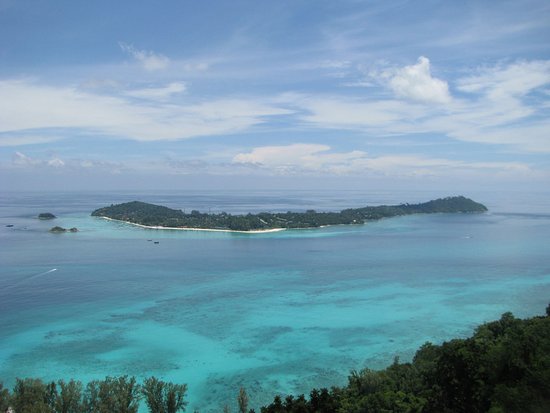 Hiking the viewpoint on Koh Adang will give you best views over the marine park, you'll even have a view of Koh Lipe Island form 700 meters above sea-level, (seen pictured). There are three viewpoint's which can be hiked to in succession, but ultimately you're hiking to reach viewpoint #3. Being the untouched island that Koh Adang is, don't expect to find the trails easily, and don't expect clear signage.
Make sure to pick up a map from the rangers station and ask for some general directions before setting off. Google Maps won't help you here.
To reach the top of the viewpoint, the hike should take around 45 minutes to an hour. Much of the trail is rocky, uneven and unpaved. If you're visiting out of season like I did, and it has rained recently, you might also encounter some muddy and slippery sections. So proper footwear is a must. Keep your eyes peeled for path markers on the climb, they are far and few, but enough to give you a rough guide of which direction to head.
Don't forget to bring plenty of water as you won't find any shops around here!
The Pirate Waterfall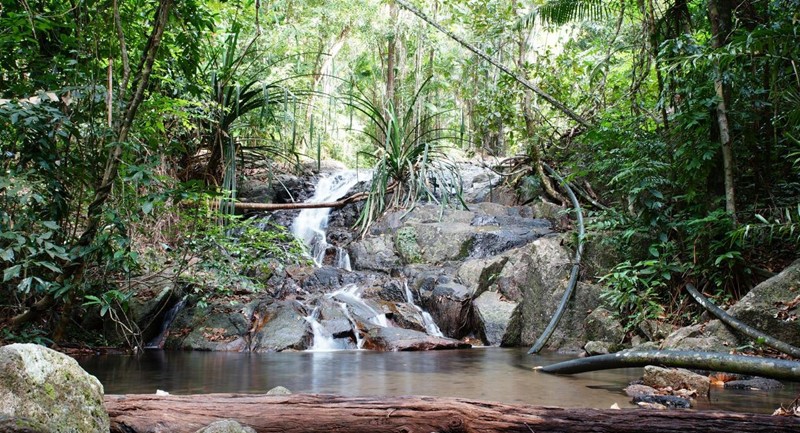 The Pirate Waterfall is one of the highlights on this island. It's a pretty intense hike through dense forestation. Again, this island really is untouched. And again, get your self some directions from the park rangers before setting off. The waterfall is not easy to find.
Luckily the waterfall has been tapped and is a water source for the park rangers at sea level. Because of this, there are plastic pipes running from the start of the trail right up to the waterfall. If you follow the piping, then you know you're on the right track.
The waterfall hike is much more challenging than the viewpoint hike, and you'll be hot and sweaty by the time you arrive. But the reward is so much greater than a scenic view. You can cool off in the clear spring at the bottom of the waterfall. With no one else around.
Snorkel In Koh Adang
Snorkelling is one of my favourite things to do in Thailand. On a hot day, you can cool off in the ocean and get lost in the underwater paradise. Koh Adang is no different in that sense, but the corals and marine life are perfect.
You might want to prepare for this one in advance before you leave from Koh Lipe. I would suggest buying yourself a mask and snorkel set from one of the local stores. You could also rent gear at the restaurant on Koh Adang, but the gear, to me, looked a little warn out.
Relax On The Beaches
It's shocking how few other tourists you'll see on Koh Adang's beaches. But I'm not complaining about it either!
Beaches on the south side of the island are the easiest to get to, this is where all the islands facilities are located and where you'll be staying. The south beach is a few kilometres in length and gets more remote and secluded the further you walk. The beach has gorgeous soft powder white sand. It's also an awesome place to catch the sunrise from.
Koh Adang Black Sand Beach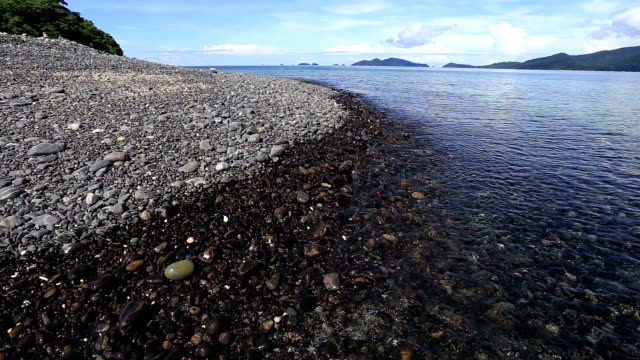 Thailand is world-famous for its white-sand beaches, but did you know that you'll also find legendary black sand beaches here? Most travellers haven't heard of them in Thailand. But you'll find one on Koh Adang, the unique beach is located on the northern side of the island. It isn't possible to walk there, (at least I was told by park staff it wasn't), so you'll want to look into liaising with a boat captain to take you there. You should expect to pay about 500 Baht for an hour or two.
Where To Eat In Koh Adang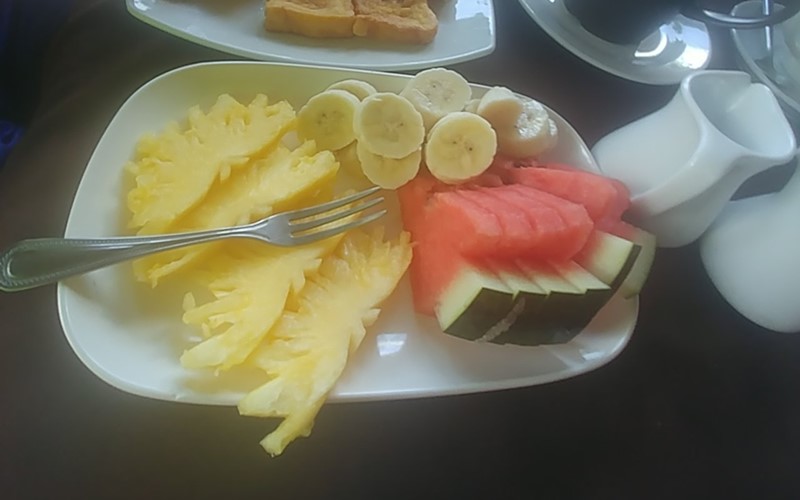 Have you ever been anywhere in Thailand without a 7-11? Well, you'll have to kiss those ham-and-cheese toasties goodbye for the time being. There is only one place to eat on Koh Adang, (asides from the restaurant in the Koh Adang Resort, which is for guests only).
The islands only restaurant is operated by the marine park rangers where you'll find western variations of local Thai dishes on the menu. All the Thai meals cost 100 Baht and you can choose from curries, noodles, fried rice etc. Everything you'd expect from a Thai kitchen. And for fussy eaters, there's even an option for you. So don't worry, even on Thailands most rustic island, you can still get a portion of french fries.
Breakfast at the restaurant consists of fried eggs, toast, chicken sausages, ham and sliced fruits. Or if you want to get familiar with Thai cuisine, the local alternative is rice soup.
The restaurant is open from 6 am to 2 pm and re-opens again for dinner from 5.30 pm to 9 pm.
You can even pick up some beers here, which is unusual and alcohol is normally prohibited in national parks. But no complaints from me. Small cans of Leo go for around 60 Baht so a little more expensive than usual. But you've got to take into account the island tax.
Electricity, Cell Service, Lockers, Wi-Fi and ATM's On Koh Adang
Is There Electricity On Koh Adang
Koh Adang does have an electricity supply, with undersea cabling from Koh Lipe. But the power is switched on for just twelve hours each day. From sundown to sunrise the island has power (6 pm – 6 am) and during the daytime the powers out. It doesn't make too much of a difference as you'll find yourself most of the time hanging out on the beaches or in the jungles. And besides, if you're camping you don't have A/C or a fan anyway!
I'd advise carrying a charged up power-bank from Koh Lipe. Personally I carry the Anker PowerCore 20100 with me, which hold enough juice to charge my iPhone from flat, 4 times over.
For campers, you can leave your cell phones to charge overnight with the park rangers in their cabin, free of charge.
Cell Service On Koh Adang
I use AIS in Thailand. After trying all three major networks I have found AIS to be the cheapest, fastest and hold the strongest coverage on the Thai Islands. You can read my guide here to find out how I get a whopping 750GB of data for just $20 USD, (and you can too)!
I didn't have any troubles picking up a cell service in Koh Adang. The island is pretty close to Koh Lipe which has infrastructure and cell towers.
Is There Wi-Fi On Koh Adang
Nope, none of the good stuff here. Koh Adang is probably one of the last places on earth without a Wi-Fi connection. And if you've got a SIM card with unlimited data, you don't really need a connection.
Are There Lockers And Storage On Koh Adang
I travel as light as possible, the largest backpack I own is 30 litres and that's still too much for most trips. But if you're like me, and travelling with a laptop, or expensive camera gear then you might not feel comfortable leaving your electronics in a tent. Koh Adang is a safe place and with so few people visiting you don't really have much to worry about. But you should always take precautions. So the park rangers will happily store any valuables at their base for you.
Are There ATM's On Koh Adang
With no internet connection and no power most of the day, I'm sure you've probably guessed it already. But there are no ATM's on Koh Adang Island. Nor will you be able to pay for anything using a credit card. It's old school. Cash is king on Koh Adang. So make sure to bring enough with you. There are ATM's on Koh Lipe.
Make sure to draw out enough cash to get a boat back from Koh Adang to Koh Lipe, enough to pay for your accommodation during your stay, and enough to buy meals at the restaurant, bottled waters and perhaps a little extra if you're planning to buy a few beers.
Hopefully, you feel somewhat inspired to go and check out this epic little island, there are some more photos below, and if you need more information about visiting the island, leave a comment underneath or check out the info on the Thai Department Of National Parks website.
Koh Adang Photos