Bangkok, Thailand. And the Damnoen Saduak Floating Market. Bangkok is home to a maze of waterways crisscrossing over the entire city. The canal networks play a vital roll in how local people get around the city and transport goods.
Years ago commerce in Bangkok was conducted mostly on the waterways, as this is how products were transported into the city. In more recent years things have changed and most of these river markets have faded away. But a few still remain in 2020. And you too can visit one of the last remaining floating markets in Thailand.
In this post, I will share my experiences with you about the Damnoen Saduak Floating Market, and how you can experience this crazy side of Thailand day-to-day life. I'll share with you how you can get to the Damnoen Saduak Floating Market for the cheapest price, the easiest routes and everything you'll need to know to take on the market like a pro.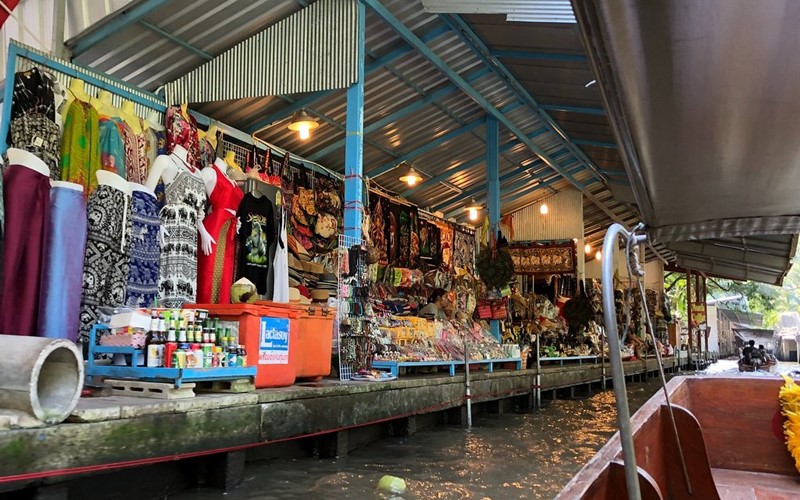 The canal which the market is held on was construed under a royal initiative from King Rama IV, with a mission to connect the Maeklong river to the local people in Ratchaburi, supporting local trade in the process. The canal was dug over a two year period and stretches over 30 kilometres in length. There are over 200 vendors earning a living from selling produce at the Damnoen Saduak Floating Market.
The market is colourful, vibrant and has a laid-back atmosphere. Vendors sell fresh produce and locally grown fruits as they paddle down the river. You'll be able to buy yourself some delicious snacks and Thai desserts. If you get a chance to try one, the banana and Oreo milkshakes are out of this world. You can even have a cooked meal served to you from a boat, hooked on the end of a fishing rod! What's not to like!
As with almost any Thai market, you'll find a selection of crappy souvenirs. The fridge magnets, the beer bottle 'chillers', the penis-shaped wooden bottle openers and those wooden frogs that croak as you run a stick along their back. I'm sure these things are mass-produced and sold on as local made stuff. But anyway, if that's what you're into, you'll find it here.
You'll also find lots of foods, as you will almost anywhere you go in Thailand. Deep-fried banana chips were one of the tastiest snacks I found at the Damnoen Saduak Market. But any foodie would agree this market is a food paradise.
If you're visiting the Damnoen Saduak Market on a backpackers budget. Don't think taking a boat ride is compulsory, you can save a significant amount of money by not actually taking a boat ride in the market. On both sides of the canal are footpaths with even more vendors on the land. Although it's not the full experience you'll still have opportunities to capture great shots from the river banks.
The Damnoen Saduak Floating Market is also within 15 minutes from another of Thailand's famous markets, the Maeklong Railway Market. You can even visit them both in one day! Find out more about visiting the market built on a live train track here.
Is The Damnoen Saduak Floating Market Worth It?
Today the market has become a popular attraction for tourists to visit on a day trip from Bangkok, but just because it's popular with tourists, don't let that put you off from visiting. It's one of the most iconic markets in the world. Pictures of the market have been shared in guidebooks and media across the globe. It really is a 'must-do' activity in Thailand.
It's also an attraction suited to travellers on a low budget, using local transport to get around and navigate the cities will keep you busy for the day without hurting your wallet. So yes, in my opinion, the Damnoen Saduak Floating Market is 100% worth visiting.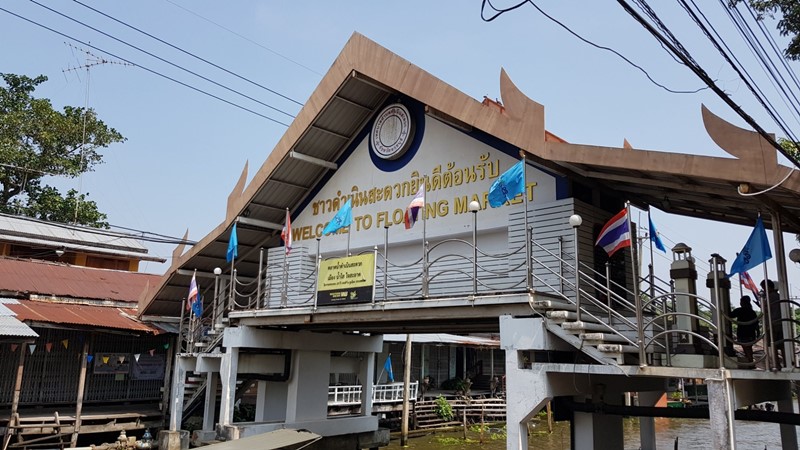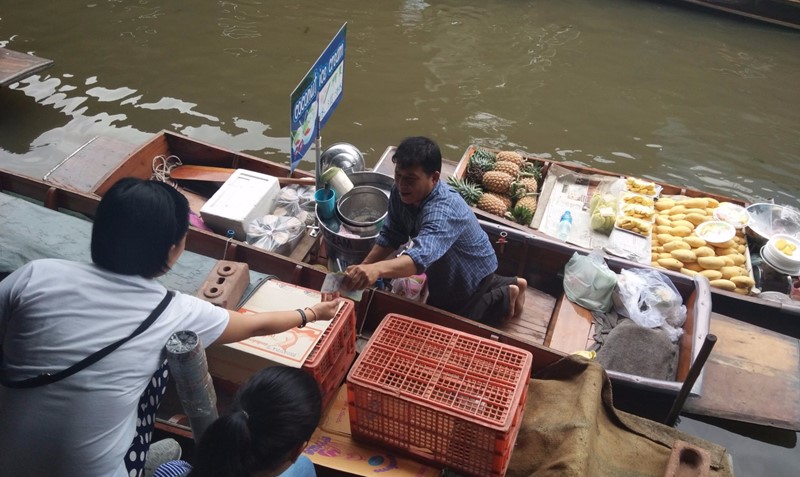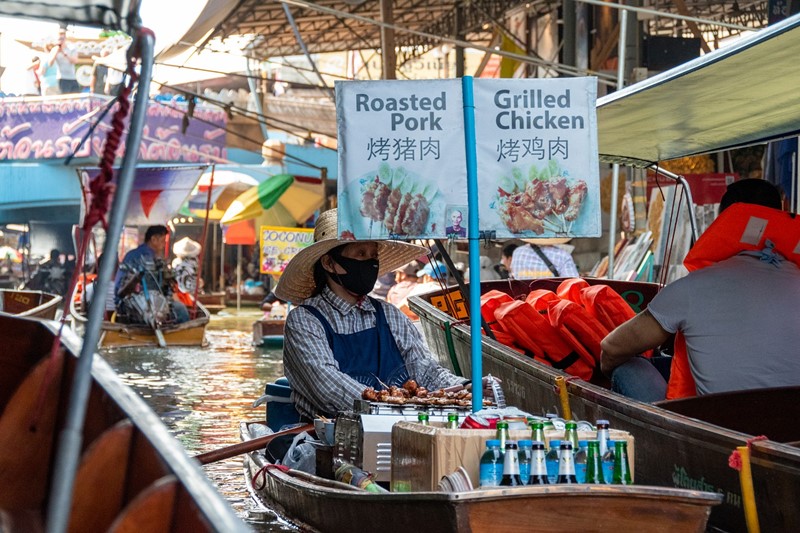 Damnoen Saduak Floating Market Or Amphawa?
Both of these floating Markets are nearby to each other, and there is no reason that you shouldn't do both. Damnoen Saduak is the biggest of the floating markets and has a little more of a 'touristic' feel to the place. Whereas the Amphawa market is a little smaller and a little more authentic. Both are great spots to visit and unique experiences. If you plan to see both markets in one day then I'd advise to start the morning here at Damnoen Saduak and ride over to Amphawa later on in the morning. And don't forget to squeeze in a visit to the Maeklong Railway Market while you in the area!
How To Get To The Damnoen Saduak Floating Market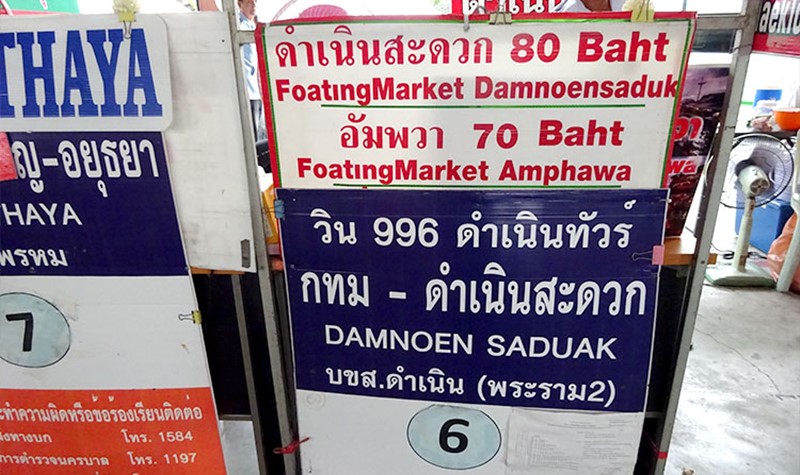 Where is the Damnoen Saduak Floating Market? Well, it is located in Ratchaburi, which is part of Samut Songkhram province. The market is a little out of central Bangkok, about 80 kilometres or a two-hour drive. But with many tourists staying in Bangkok and wanting to visit the floating market, there are plenty of choices when it comes to getting to the floating market, on a budget.
The most common way to get there from Bangkok, or to get there from Khaosan Road is to do it on your own, using a combination of public transport routes including the BTS and a mini-van ride from the city. Others might prefer to spend a little extra for the simplicity and ease of taking a taxi or opting for a group tour with a guide. When choosing to take a tour you'll get some additional local knowledge about the places you'll visit.
Below, I'll share with you the three best ways that you can choose to get to the floating market.
Damnoen Saduak Floating Market On The BTS & Public Transport
Public transport is the best way to get familiar with a new city. And it's the method of transport id recommend to get to the Damnoen Saduak Floating Market. Not only will you see a new side to Bangkok and Ratchaburi, but you'll also save big. So here's how to get to Damnoen Saduak Floating Market by bus, or by minivan.
(Learn About How You Can Take The Train To The Ratchaburi Markets Here)
Getting from Bangkok to the Damnoen Saduak Floating Market on your own is surprisingly easy. Minivans operate to route all day starting at 6:00 am. The ticket price is 80 Baht per person with the total ride time around two hours, (you might want to bring a book to keep you entertained)!
Mini busses leave from Bangkok's Southern Bus Terminal. The minivans will drop you directly at the market, making this the cheapest way to get here. There is no set schedule for departure, vans will leave once they're filled. You can sometimes be waiting up to an hour, but often it's much less. To make the return journey you can buy a ticket from the kiosk at the floating market when you're ready to head back into Bangkok.
The closest BTS station to the Southern Bus Terminal is Mo Chit BTS Station. If you're staying in Khaosan road it's easiest to straight to the Bus Terminal, a taxi there should cost 50ish Baht, avoid the Tuk-Tuks.
Taxi Fare To Damnoen Saduak Floating Market
Taking a taxi to the market is the most convenient option and you'll be able to find a driver on Khaosan Road or summon a cab using the Grab Taxi application. You'll want to agree upon a day rate with your taxi driver, rather than using the meter. This will let you drive to the Floating Market, and your driver will wait for you. You'll also be able to visit the Meaklong Railway Market at the same cost and have the return journey back into Bangkok.
But this convenience doesn't come cheap. And taking a taxi is one of the most expensive methods you can choose. I haven't taken a taxi myself, but when getting quotes from drivers on Khaosan Road prices were coming back in the region of 2,500 Baht. So I guess splitting that between two or three people isn't so bad. But for me, half the fun is in getting there and navigating the city of Bangkok.
Damnoen Saduak Floating Market Tour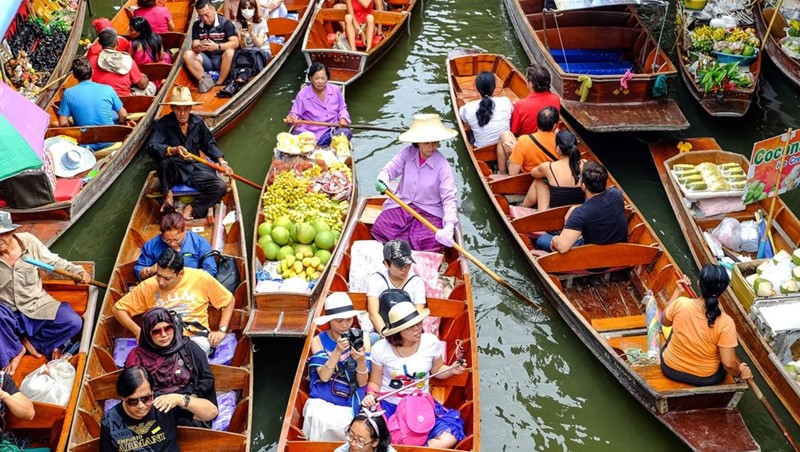 Taking a tour is least adventurous way you can go about visiting the Floating Market. But there are some positives, you'll be collected right from your hotel or guesthouse and you won't have to worry about lost on the way to the market. You'll spend the day with a local guide, so you'll be getting some insider information about the market that you might usually miss out on.
You'll typically have lunch included, as is tradition on any tour of Thailand- although you might want to pass on the lunch with all the snacks you'll be eating at the market. And one of the biggest reasons to choose a tour package is that you won't have to pay any extra to ride on the boat when you arrive. It's all rolled into the tour cost.
I don't have any personal experience with taking a tour package to the Damnoen Saduak Floating Market, as I opted for the public transport method. But I do know some travellers that have booked tours using GetYourGuide and have given some good feedback. I have used them for other tours in Thailand and always had a good experience. So if you think taking a tour will be best for you have a look at the Damnoen Saduak Floating Market Tour Package on GetYourGuide.com, (700 Baht).
Plan Your Visit To The Damnoen Saduak Floating Market
Damnoen Saduak Floating Market Entrance Fee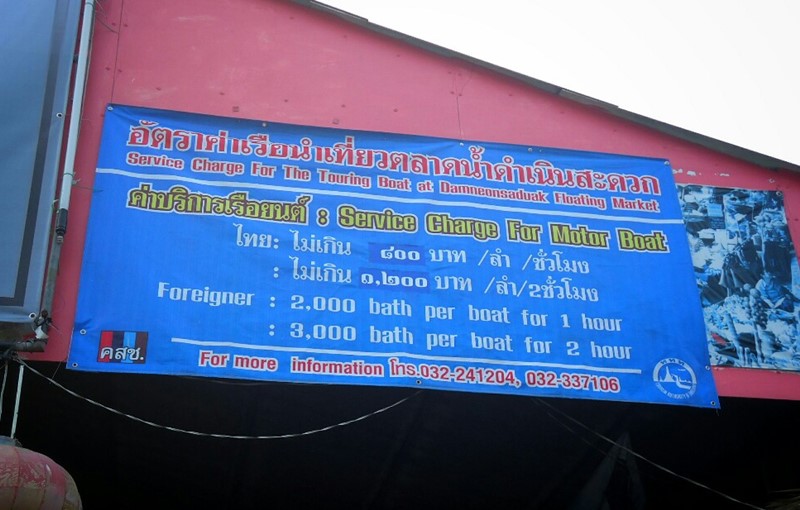 The market itself is free to enter, but you'll need to pay extra if you want to take a boat ride along the canal and through the stalls. It's not essential and you can walk along the banks while still having a great time. But I'd recommend spending the extra money and getting some time on the river.
Here's that catch, and what I don't like about the Damnoen Saduak Floating Market Boat Ride Price, and that's the dual pricing. I have lived in Thailand long enough to know and understand it happens. And most of the time I can accept that and understand why it's happening. But I have never seen this much of a price gap anywhere else.
Now I can read and speak Thai, which as a young white guy often shocks locals. And after seeing the official boat price list, hung at the market I already felt cheated. The sign is pictured above, and for those that cannot read Thai, the sign reads that Thai people can pay 800 Baht for an hour on the water, while foreigners or 'farang' should pay 2,000 Baht! More than double the local rate.
Paying 400 Baht in a national park compared to the local 40 Baht hurts. But a 1,200 price difference is a real kick in the teeth. Speaking the language tends to earn you a pass on the 'Thai Price' so I paid 800 Baht for an hour. And even if you can't speak the lingo I wouldn't recommend paying any more than 800 baht.
To put this ridiculous pricing into perspective, I've spent less than 2,000 Baht to taking a three-hour private boat ride around Thailand's most expensive island, Koh Phi Phi! Which in all honestly is a better experience than the floating market, and much more beautiful.
Damnoen Saduak Floating Market Opening Hours
The market is prominently a morning market. Opening up at 7:00 am, 7 days a week. It's best to leave Bangkok as early as possible to get the best experience here. At around 9:00 most tourists begin to arrive as it starts to get busy at the market.
The market will stay open until about 4:00 pm – but some stalls will start closing earlier than this at around midday. So make the floating market your first stop and head to the train market in the afternoon.
Best Day To Go To The Damnoen Saduak Floating Market
No day is better than any other to visit the market. It's a popular attraction so be prepared to deal with crowds all day. It is best to get to the market as early as possible. Most tourists and travellers arrive using public transport around 9:00 am. Taking a Taxi, leaving at 5:00 am- to arrive at 7:00 am would give you an advantage over others and a chance to get some photos with the morning lighting, and before too many people arrive.
Places To Visit Near The Damnoen Saduak Floating Market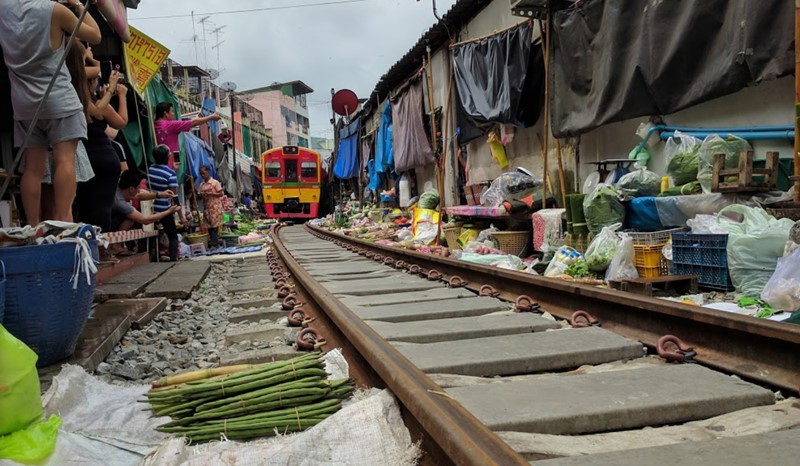 A day trip to Damnoen Saduak can be combined with other floating markets in Ratchaburi, the Amphawa Floating Market is close by and worth checking out. And the Bangkok Train Market is a must-do if you're in the area. Just 15 minutes away, it's one of the most unique markets, not only in Thailand. But in the world.
Damnoen Saduak Floating Market Map
Read More About The Damnoen Saduak Floating Market
Damnoen Saduak Floating Market Gallery
Do you have any question about visiting the floating market which I didn't answer in this blog? Leave a comment underneath and I can help out! If you're looking for more inspiration you'll find a list of my favourite things to do in Thailand here.