The Maeklong Railway Market or the Bangkok train market is built on an active train track! The original Maeklong market opened in 1905, and when the new train line was planned a few years later, vendors refused to move from the location.
Thailand is packed full with markets scattered all of the country, and it's no secret markets are where you'll find the best Thai food and local Thai produce. But the Maeklong Railway Market has something that makes it unique compared to anywhere else.
This market is built on an active railway line with trains running right through!
One minute stalls are set up covering the tracks as both locals and tourists go about shopping. And the next minute a warning bell sounds and a train approaches. The market rapidly packs away allowing the train to pass by at a touching distance. Then mere seconds after the train has passed, the Maeklong market springs right back into action on the railway as if nothing has happened. There isn't anywhere else in the world like it!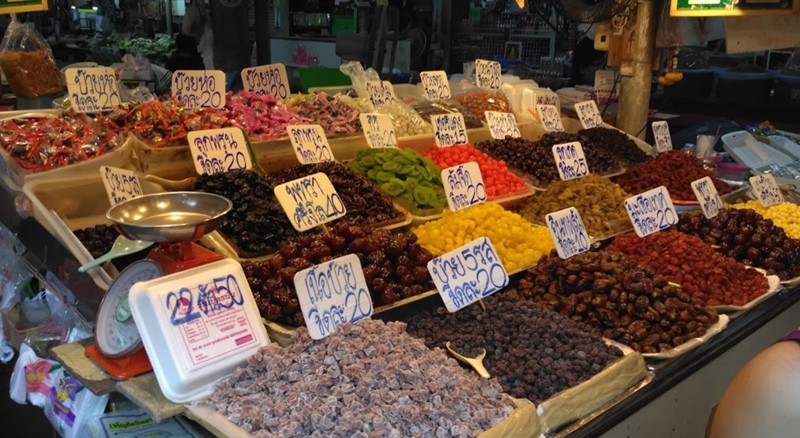 The market is home to everything you'd expect to find in a Thai market. Colourful stalls selling fresh fruits, veggies and fruit shakes. Meats, snacks, souvenirs, Thai sweets, desserts, ice-cream and clothing. With so many fishermen living nearby, you'll find the freshest and most delicious seafood at the Maeklong Market.
I loved visiting the Maeklong Railway Market and if you too want to visit this unique destination in Bangkok then keep on reading. I'll be sharing with you, all my tips, knowledge and insider secrets. You'll find everything you'd need to know about visiting and getting to the Maeklong Railway Market.
Another of my favourite markets in Thailand is the Krabi Night Market. So if you plan to make your way down south after your time in Bangkok; you can read my full review here: Krabi Night Market: Mouth-Watering Thai Food.
View From The Driver Cab As The Train Passes Through The Maeklong Market:
Where is the Maeklong Railway Market
The Maeklong Railway Market (known locally as the Rom Hoop Market) is in Samut Songkhram Province, next to Ratchaburi, which is a one hour drive (80 kilometres) from central Bangkok. Bangkok is the most convenient location to be staying when visiting the market and there are plenty of travel options to get there.
There are canals running nearby the market from where the Mae Klong River flows into the Gulf of Thailand. On one of these canals, another unique market is held. The Amphowa Floating Market. You can visit both of these markets in one day on a tour from Bangkok.
The area is surrounded by small canals and the Mae Klong River which flows out to the ocean in the Gulf of Thailand.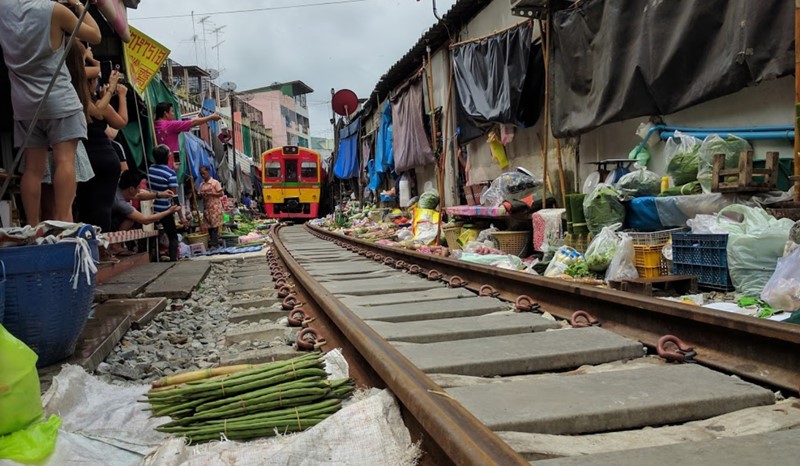 How To Get To The Maeklong Railway Market
Rent a Scooter – A popular method of transport in Thailand is to rent a scooter. If you're on a backpackers budget and you're comfortable riding a bike then this method of transport is the cheapest. Scooters are a little more expensive to rent in Bangkok that some other towns in Thailand. Expect to pay 350 Baht per day for a scooter rental. Make sure to have a data plan on your phone or download the local maps in advance. Find out how you can get unlimited 4G data in Thailand for 10 Baht per day here!
Public Transport – Choosing to take public transport in a new city is one of the quest ways to get familiar with a place. It gives you a greater insight into how to locals live and travel. The most convenient and cheapest route is to take the BTS Skytrain to the Mo Chit BTS Station, and then head to the Bangkok Southern Bus Terminal. Mo Chit is the closest station, but it's a 20-minute walk or a 50 Baht cab ride there. From the Bangkok Southern Bus Terminal, you can take the minibus direct to the Maeklong railway station. The Skytrain costs 20 baht and the minibus 70 Baht. There are no set times for the minibus schedule, they'll leave once they're full. It's about a one hour drive from the Southern Bus Terminal to the Maeklong Railway Station. From the Maeklong station, it's only a few minutes to walk to the market. Do not go to Victory Monument Station as the culture trip recommends doing. Minivans no longer leave from there.
Take a Taxi – I would recommend opting for public transport or a guided tour over taking a taxi. Partially because the journey there on public transport is part of the fun. But also because of the cost of a taxi ride there and back isn't cheap. I checked with a few drivers on Khao San road who quoted prices in the region of 3,500 Baht.
Join a Market Tour – If you want ease and simplicity then taking a market tour is the best choice. You'll usually visit a few markets on a tour. Visiting both the Maeklong Train Market and the Damnoe Saduk Floating Market. You can choose between a private or a guided tour and you'll have lunch and hotel collection included. You can book a private Maeklong Market tour here. Or a group tour is a little cheaper at 900 Baht per person.
Travel To The Thailand Train Market On The Maeklong Train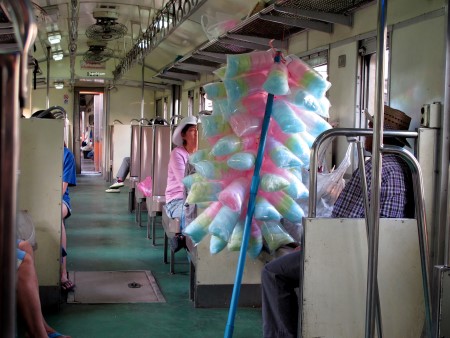 You're heading to a train station, right? So why not just ride the train there? Well, it's inconvenient and takes about three hours. But it's also cheap and a little more of a unique experience. To put a different spin on the train market, you too can become a passenger on the train. And here's how to do it from Bangkok.
1) You'll first want to get yourself to Wongwian Yai Station which is 8 kilometres from Khao San Road. Taking a taxi is usually the best method, and you can summon a driver by using Grab. Thailand's answer to Uber. The fare should be around 50 Baht.
2) Wongwian Yai Station to Mahachai Station. The train ride takes about one hour and runs once per hour. But the cost is low. You can snag yourself a ticket on this route for 25 Baht.
3) Mahachai Station to Tha Chalom Pier. Walk from Mahachai Station to Mahachai Pier and jump on the shuttle running across the river. The shuttle runs all day long non-stop. It costs 3 Baht.
4) Tha Chalom Pier to Ban Laem Station. Walk from the Tha Chalom Pier to Ban Laem Station, it's a five minute walk.
5) Ban Laem Station to Mae Klong Station. The final journey, take the train from Ban Laem direct to Maeklong. The train will see you passing through the market before pulling into the Maeklong station a few minutes later. The ticket costs 10 Baht.
So for a grand total of 38 Baht, which is less than one dollar you can get to the Thailand Train Market, on a train! And even pass through the market itself. After you disembark the train it will pass back through the market thirty minutes later. So you'll be able to see the market from both points of view.
If you take the first train from Wongwian Yai Station to Mahachai Station at 6:45 am, you'll set yourself up to catch the train from Ban Laem Station to Mae Klong Station departing at 8:05 am. But do check for the latest schedules before you travel. Check the train times on the State Railway Of Thailand Website. Or get more info about the route at train36.com.
Getting The Most From Your Maeklong Market Visit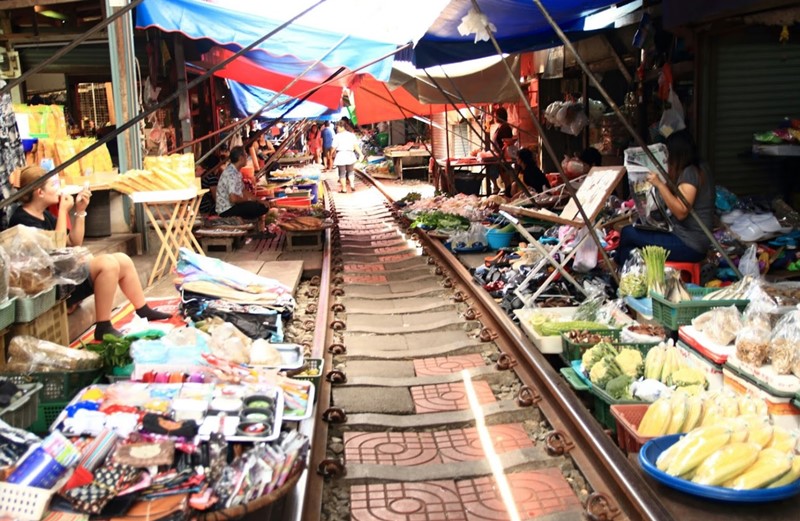 A visit to the Maeklong Train Market is a once-in-a-lifetime trip for most, so to make sure you get the best experience. Here are my tips for visiting this unique market.
Preparation Tips
Arrive Early – Being outdoors in Bangkok gets hot and sweaty quickly. It's best to visit the market in the morning when temperatures are a little cooler and the market is a little less busy.
Visit The Other Markets – Two other unique markets are close by to the Maeklong market. Both the Amphawa Floating Market and the Damnoen Sudauk Floating Market are nearby. These markets are held on the canals where you can shop as you float past on a wooden barge.
Stay Safe – This should go without saying, but this market is potentially dangerous. Health and Saftey is a little lax in Thailand, there is no way such an attraction would be allowed to operate in Europe or America. The train passes through the market at a very slow speed, but stay back from the tracks to avoid getting smashed in an accident.
Maeklong Railway Market 2020 Train Schedule
Schedules in Thailand are often a little loose. So make sure to be at the market at least ten or fifteen minutes either side of the scheduled times. Trains arrive and depart from the station and the market is open 7 days a week. The train schedule below is up to date as of 2020 but make sure to double-check these times with a tour operator or the State Railway of Thailand. As schedules have a habit of being changed without much-given notice.
| | |
| --- | --- |
| Trains Arriving At Maeklong | Trains Departing Maeklong |
| 8:00 am | 6:20 am |
| 11:00 am | 9:00 am |
| 2:30 pm | 11:30 am |
| 5:40 pm | 3:30 pm |
Meaklong Railway Market Opening Hours
Seven days a week the market is open. Vendors set up shop at 6:00 am just before the first train of the day departs and the market closes after the last train has passed through shortly after 5:40 pm.
Map Of The Maeklong Railway Market
Is The Maeklong Market Closed In 2020?
The Maeklong Railway market was briefly closed for track maintenance from February the 28th 2016 until April 1st 2016 when vendors soon returned to the market to begin trading once more. In 2020 the market is open daily and is NOT closed.
What To Expect At The Maeklong Railway Market