Krabi Night Market on Walking Street is the most popular shopping event in Krabi. Covering 2,000sqm, the market is centred around a stage where local artists and talented school children perform. Food vendors gather here 3 nights a week, offering a mix of authentic Thai tastes and mouth-watering flavours. Krabi Night Market is one of the cheapest street Markets in all of Thailand. Keep reading this Krabi Night Market Blog to find out everything you need to know in preparation to visit.
> You can book return hotel transfers to and from the Krabi Night market here. As a special offer, return transfers cost just 199 Baht! From Krabi or Ao Nang!
Night Markets In Krabi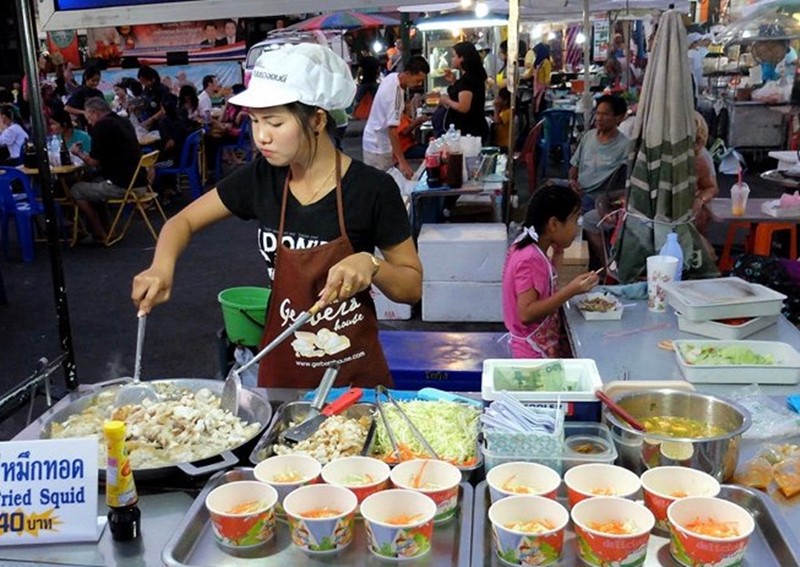 Every province in Thailand has its own share of markets, and Krabi is no different. For local people, the markets are a way of life. Providing an income for some and for others, providing a spot to eat dinner at an affordable cost. For backpackers, markets are much more of a tourist attraction but everyone is welcome. Some of the best Thai foods are found cooked up fresh in markets up and down the country., so make sure to try out as many new foods as you can, while you can.
Night markets are not only a great destination for dinner. You'll find souvenir stalls and clothing stalls in the Krabi Night Market. There are four popular night markets in Krabi, so whatever night of the week you are here you can find a market to explore. But in this post, we're going to be taking a look at the biggest and the best Krabi Night Market. The Krabi Walking Street Weekend Market. Which is open on Friday, Saturday and Sunday nights.
How Much Does Krabi Night Market Cost
The Krabi night market is free to enter, you'll only spend money when you want to buy something from a vendor. And prices here are as low as things get in Thailand. Bartering and haggling is widely accepted in Thailand and throughout Asia. But here prices are already crazy cheap, you'd feel like an arse if you tried to haggle!
You could visit the market with a 100 Baht note in your pocket eat two full meals, a snack and a fruit shake. And still have change left to spare. But to give you a better idea of costs, here are a few examples.
Souvenirs and Electronics:
| | |
| --- | --- |
| Item | Cost |
| iPhone Case | 80 Baht |
| Beats By 'Ray' Headphones | 300 Baht |
| Phone Chargers | 30 Baht |
| Handmade Bags | 50 Baht |
| 'Nike' T-Shirts | 100 Baht |
Food and Drinks:
| | |
| --- | --- |
| Item | Cost |
| Chicken Fried Rice | 50 Baht |
| Can Of Coke | 18 Baht |
| Fruit Smoothies | 25 Baht |
| Spring Rolls | 10 Baht |
| Beef Stir Fry | 60 Baht |
| Chicken Satay | 10 Baht |
| Chicken Fried Yellow Noodles | 40 Baht |
| Grilled Squid | 25 Baht |
| Coconut Ice Cream | 30 Baht |
| Tom Yum Soup | 40 Baht |
| Roti Thai Pancake | 25 Baht |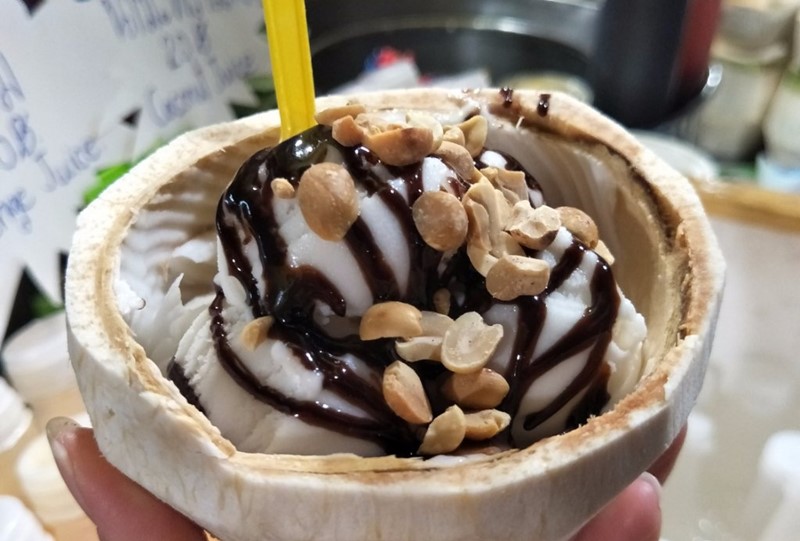 So as you can see the Krabi weekend market is one of the cheapest around. Make sure to arrive here on an empty stomach, because with such incredible smells in the air you'll be eating all night.
Where Is The Krabi Town Night Market
The market is central in Krabi Town and close to the river bank. If your accommodation is in Krabi Town itself you might find that the market is within walking distance from your hotel. The market is located between Soi 8 to Soi 10, right behind to the Vogue Department Store, which you can't miss.
If you're using maps or any navigation app, you can just tap in 'Krabi Town Night Market' to find the location on Google Maps.
How To Get To Krabi Night Market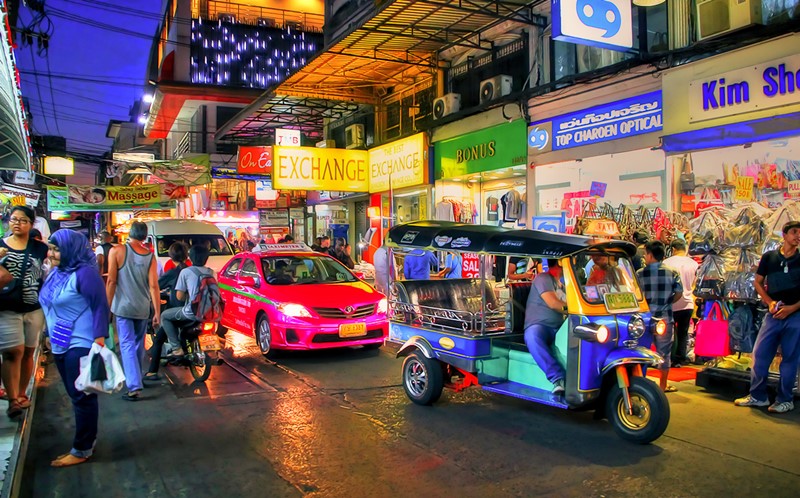 There are a few ways to get around Krabi. And you can get to the walking street market from Krabi itself, or you can even come here from Ao Nang Beach, which is just a few kilometres away. There is no useful public transport in Krabi so to get here you're best off choosing one of these options.
Walking: The most popular hotels and guest-houses in Krabi Town are close by to the river bank. The market is also close by to the river bank. So there is a high chance that you'll be able to walk there. Make sure to check the distance on maps before you decide to order a cab.
Scooter: Scooter hire is cheap in south-east Asia and it gives you the most flexibility to explore new towns and cities. Krabi is no different. You can rent a scooter for around 200 Baht per day and drive yourself to the night market for dinner.
Shuttle Bus: The Krabi night market is so popular that many hotels and guesthouses now run their own shuttle busses to and from the market, check with your hotel's front desk to see if this could be an option for you, before splashing out on a taxi.
Taxi: This is going to be your best choice if you are looking for Ao Nang to Krabi Town night market transport. The journey from Ao Nang takes somewhere around 20 minutes and will cost about 300 Baht, (don't expect the meter to be used, and agree on a price upfront). You won't find Tuk Tuk's in Krabi but you have a choice to take a traditional taxi or if you want to cut some costs, choosing a motorbike taxi is a much cheaper option. Motorbike taxies are unique to Asia but you'll only find yourself spending about 50 Baht for the trip from Ao Nang. The walking street market is the biggest night market in Krabi so you're driver will know exactly where you want to go.
Songthaew: If you're lucky enough you might be able to catch a songthaew along the main street in Ao Nang. it costs 50baht per person during day time and when going back to Ao Nang, catch the songthaew in front of 7-Eleven. At night the price increases to 60 Baht per person.
Krabi Night Market Shopping: What To Buy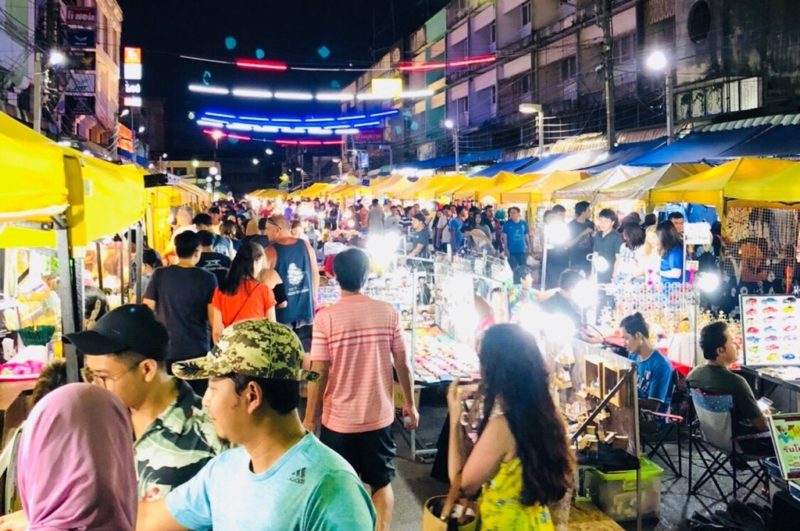 Krabi Night Market Food Stalls: There are over 70 food tents here, and they all look as good as each other. Deciding what you'll be having to eat can be a challenging decision. But food is why most people come here and some of the nicest foods you'll find at the Krabi night market are the coconut ice-cream & Thai fried chicken with sweet chilli sauce. Sometimes the trick to finding the best food in Krabi night market is to follow the locals. If you see a lot of Thai customers at a stall, chances are there's good food going. You'll find Halal food at the night market & vegetarian food. So don't let your dietary requirements put you off visiting. And while it's not what I'd call a Thai dish, you can buy 'tornado potatoes' with BBQ, chilli or paprika seasoning- here which are an absolute must.
Krabi Night Market Clothing Stalls: Copyright laws in Thailand are a little relaxed so it can be a great place to pick up some cheap 'branded' clothing. You can save yourself a ton of money and the quality is great. So go ahead and get yourself some of that Calvin Klunk underwear or a nice Dolce & Banana t-shirt. You'll also find t-shirt printing stalls where you can choose a design from the book or use one of your own photographs.
Other Stalls At Krabi Night Market: With food stalls being the most popular and clothing stalls second. You will also find a mix of trinket stalls where you can find hand-made goods and accessories like leather belts or wallets. Handcarved soaps, magnets or postcards. 'I Love Krabi' bags, jewellery and also any other souvenir that you could think of. You can buy a watercolour painting of Krabi, or musical instruments. Whatever your heart desires, (and as long as there is space in your backpack)!
Alcohol At The Krabi Night Market: Alcohol isn't commonly sold at Thai Markets, but the Krabi night market has adapted to tourism over the past few years and it is now becoming more common. At some markets, you'll find alcohol banned completely but here you'll find a few vendors putting their unique spin on alcoholic drinks. One vendor serves cocktails in clay pots, while another serves drinks in handmade Bamboo cups.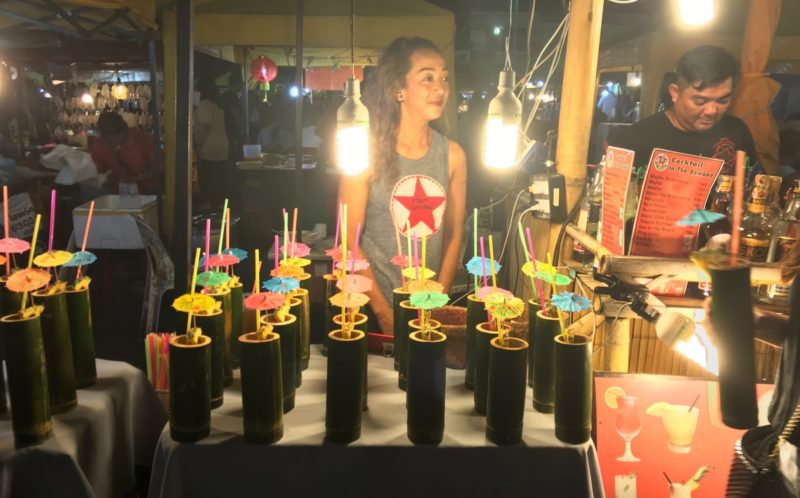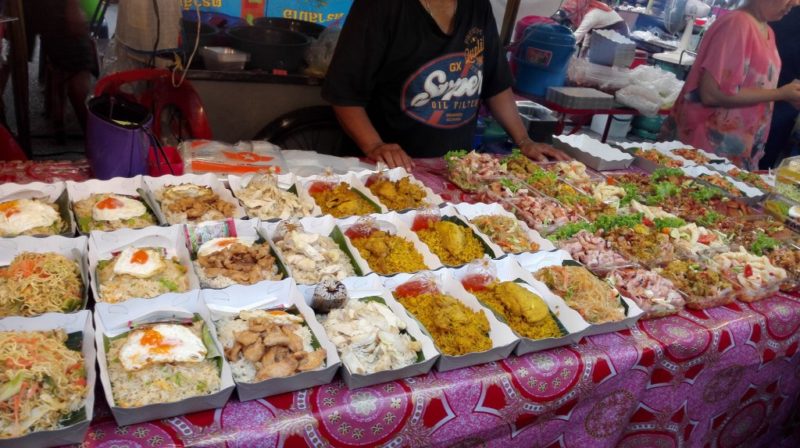 Other Krabi Night Markets
Chao Fah Krabi Night Market: The Chao Fah is a small night market in Krabi town. It's open every night so if you happen to be passing through Krabi during the week it makes a great alternative to walking street.
Maharaj Krabi Morning Market: The Maharaj opens at 7 o'clock in the morning. The focus of this market is fresh produce, so while you won't find too many food stalls you can get some fresh fruit for your breakfast, a coffee or some rice soup.
Krabi City Night Market: Opposite the Krabi City Hotel this is another market open every day. Although some traders take days off on their own schedule. It's open from 2 pm until 9 pm so it's good for a late lunch or if you want a less busy alternative.
Ao Nang Wednesday Night Market: Ao Nang hosts the biggest night market in Krabi, with the stalls as permanent fixtures. Thai boxing displays and fire shows. It's heavily targeted towards tourists and the prices match that demographic.
Black Crab Night Market: This is a pop-up market along the riverbank, prices are reasonable and the is a great variety of delicious local produce. You can get a banging fruit smoothie here and sit along the riverbank for a good view. The market is located next to the 'Black Crab, Krabi Statue'.
Entertainment At Krabi Night Market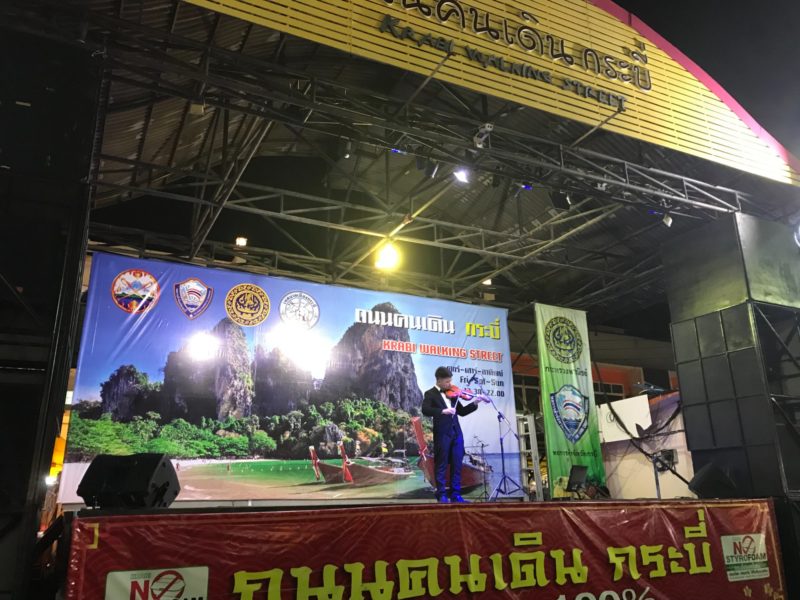 The entertainment sets Krabi night market apart from other night markets in Thailand. The market is structured around a stage as a centrepiece with seating and tables in front. You can buy some foods from one of the stalls and sit down to eat while catching a show for free.
Local performers take to the stage, along with charity, fundraisers and school community projects. You're likely to find Thai singers, traditional Thai dancers or jazz musicians performing. This gives the market a great vibe and the stage showcases the best talents of the local Krabi people. If you like one of the artists and are able to do so, you can leave a tip for them, since they do not earn any other incomes from the night market.
Tours Of Krabi Night Market
OK, so I'm not sure why someone would decide that booking a tour would be the best option to visit the Krabi night market. But after reading reviews on some of the tour operators websites, like Klook it seemed it was a popular thing to do.
I didn't understand why. So, I booked onto a Krabi Town Night Market Tour! And here's what happened.
I wasn't really sure what to expect. Would I be guided around the market stalls? Would I be part of a huge tour group paraded around the stalls, following a guide with a flag and pressured into buying crap I didn't want?
No, and no. I was collected from my hotel in Krabi at 6 pm in a mini-van. we spent the next 30 minutes cruising around Krabi Town collecting other guests and headed to the market.
Our guide was no more than a glorified taxi driver, (but a really nice guy). He dropped us off and gave us a designated meeting time of 9 pm and a meeting point for the ride home. I ended up jumping on the back on a bike taxi to get back to the hotel after an hour or so and grabbing a bite to eat.
So if you want to book your own Krabi Night Market Tour, it costs 700 Baht and you can book with Klook here: https://www.klook.com/activity/25243-krabi-night-market-trip/
Pros Of The Tour: It's really a taxi service, but it can be cost-effective if you're travelling solo or if you're staying a bit far out of town.
Cons Of The Tour: You'll enjoy a free evening city tour of Krabi's hotels as you drive around collecting other passengers. And you don't have the freedom of leaving when you want to do so. You must wait for the rest of your tour group.
Krabi Night Market Times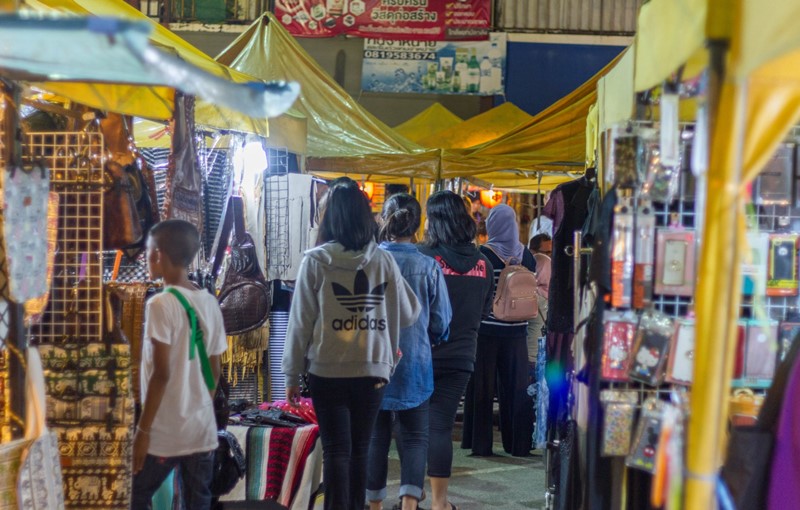 Krabi night market is a weekend market, so this means the market is open on Friday, Saturday and Sunday evenings. No other days of the week. Vendors arrive to set up stall around 5 pm and the first buyers are allowed to enter at 5:30 pm.
It's a popular market and it can get really busy around 7 o'clock so if you want to get a head start against the crowds you should aim to get here as early in the evening as possible. The market closes up about 10 pm as things start to wind down.
Krabi Night Market vs Ao Nang Night Market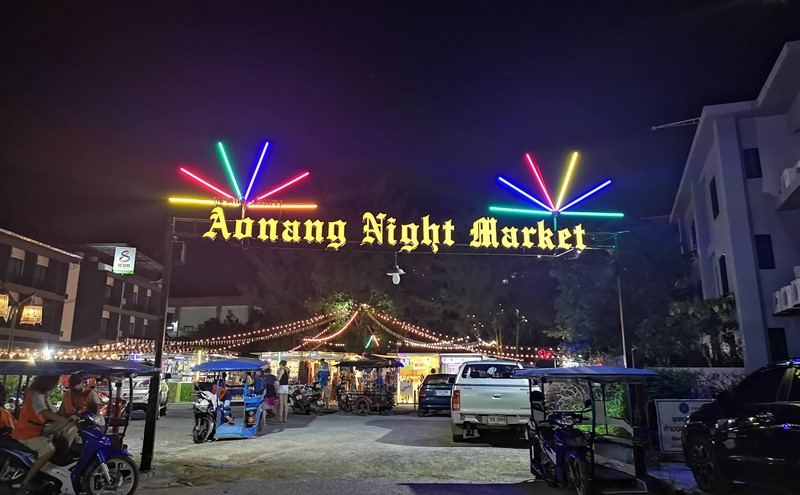 Krabi night market or Ao Nang market? Which is best, and which one would I recommend to visit. It is a tough call and there is no reason why you can't hit up both. Ao Nang market is once a week on Wednesdays and then you can hit the Weekend market on the Friday.
But if I had to choose only one of these markets to visit, it would be the Krabi Night Market without a doubt. At the Krabi night market, you get a much more authentic experience and a better atmosphere. It's a real Thai market, and one of the best in my opinion.
Ao Nang Wednesday Night Market, on the other hand, is designed to cater to the western world, not to the local people. Thai's do visit the market still of course, but the experiences aren't quite the same.
It's probably more preferable for a lot of tourists. The entertainment is on a bigger scale with Muay Thai boxing demonstrations and fire performers hosting the entertainment. There are more 'foreigner-friendly' dishes on the menus with less spice and less variety. And prices a hiked to match the higher operating costs and spending demographic of a tourist attraction. All of this takes away from the charm that you would expect from a Thailand market.
So while both the Ao Nang Wednesday Night Market and The Krabi Walking Street Night Market are both worth a visit. I personally think you have a better time at the latter.
Hotels Near Krabi Night Market
Krabi has accommodation to suit every traveller's needs. From backpackers dorms to luxury resorts you'll find something close by to the night market.
When I'm travelling solo in Krabi I like to stay in the Hogwartz hostel, its a low cost and clean place to stay in Krabi. Nearby the night market, (within walking distance). And if you're a harry potter fan, it's worth visiting Krabi just to spend the night here.
Here are some other places to stay that you could consider in Krabi Town:
Budget accommodation in Krabi
Riverside Hotel – (I have stayed here a few times, room rates go for between 400 – 600 Baht. It's a very nice hotel at a low-cost).
The Tara River

Mid-range places to stay in Krabi
The Sleep Whale Hotel
Andaman Legacy Guesthouse
Luxury accommodation in Krabi
Maritime Park & Spa Resort
The Apex Private Villa
Other Things To Do Near Krabi Night Market
Visiting the Krabi Night Market is one of the best things I have done here, it's what Krabi is all about. But there are some other awesome things you can do in Krabi that I want to share with you.
The Phi Phi Islands
Phi Phi Islands are some of Thailand's most beautiful islands and they are only a one-hour boat ride west of Krabi. You can book day tours to the islands from Krabi or from Ao Nang that will get you back in time to enjoy dinner in the night market. But what I would recommend is to stay overnight in Koh Phi Phi to give yourself the best experience.
If you decide to head on over to Koh Phi Phi, here are some useful resources for you:
Or if you don't have enough time for an overnight stay, I'd, first of all, recommend tweaking your itinerary. But if it's still not an option for you, you can book a tour of the islands from Krabi Town here.
Krabi Night Market Tips
Some of the younger market traders have begun to catch up with the times and accept card payments. But at most stalls it's cash only. So make sure you bring some. There are ATM's at the nearby 7-11 supermarket.
Weather in can Krabi prove unpredictable so if you're travelling in the raining season you might want to bring an umbrella.
Krabi is a very safe place, but in any busy location, you should keep your wits about you and keep valuables in a zipped pocket or bag.
If you are heading to the market from Ao Nang or you are travelling solo, then it can make financial sense to book a 'tour' to the market.
Krabi Night Market F.A.Q's
Should I Book A Tour Of Krabi Night Market?
Is The Krabi Night Market Open Everyday?
Nope, the Krabi Night Market is a weekend market. To give it the full name; The Krabi Walking Street Night Market'. The market is open on Friday, Saturday and Sunday evenings from 5:30 until 10 pm. There are other night markets in Krabi open all week. Read more here…
Krabi Night Market vs Ao Nang Night Market?
Krabi night market is a much more authentic experience with lower prices, while Ao Nang Market is a more expensive tourist-oriented market. Both are good to visit and you can read all the pros and cons of both markets in this article.
Where Is The Krabi Night Market?
Krabi town, baby! The home of Thailands markets. Krabi Town is a sleepy area in southern Thailand, not as heavily focused on tourism as some other destinations are. Ao Nang is 20 minutes down the road for something more lively.
Whats The Best Food In Krabi Night Market?
Thai food, it has to be the kickass red curries you'll find here. Order it extras spicy for the full Thai flavour! The coconut ice cream is Delicious. But the greatest food has to be a western dish. My personal favourites are the potato tornadoes with paprika, chilli powder and BBQ powder.
Conclusion TL;DR
Overall Krabi is one of Thailand's most photogenic and stunning provinces. The landscape and nature make it worth spending some time here. And when you're staying in Krabi you'd be a fool to miss out on the epic night markets. Night markets are at the heart of Krabi's culture and a massive part of what makes the town unique. Besides, who doesn't like delicious Thai food at cheap prices? For me personally, its heaven, the smells and aromas make me want to keep on eating. So if you find yourself lucky enough to spend any time in Krabi or happen to be reading this in Krabi. Get yourself over to the night market, and have a Tornado Potato for me!
Krabi Night Market Gallery