Is An Overnight Stay on Phi Phi Island Possible
Phi Phi is a group of six islands in the Andaman Sea. Five of the Phi Phi Islands are part of the projected National Marine Park. You cannot stay at the National Park islands overnight, but you can visit on a day tour from Phuket or Krabi.
The largest of the Phi Phi islands, Phi Phi Don. Is populated with hotels, restaurants and beach bars. It's possible to stay overnight on this island.
Phi Phi Islands You Can Stay Overnight:
Phi Phi Islands You Cannot Stay Overnight (National Park Islands)
Phi Phi Leh
Bamboo Island (Koh Mai Pai)
Mosquito Island (Koh Yung) – Closed
Bida Nai Island
Bida Nok Island
Staying overnight on Phi Phi Island is an incredible experience. If you don't stay overnight you'll miss out on watching the sunset and the unique nightlife. You're time will be limited to a few hours on a day tour. There are hundreds of hotel to choose from for an overnight stay, but these are my top picks:
I try to visit Phi Phi Islands at least once a year and I always stay overnight. In this post you'll find my suggested itinerary. This is how I would spend two days and one night on Phi Phi Island. Which hotels I'd stay in and how I'd get to and from the island.
SHOULD I STAY OVERNIGHT ON KOH PHI PHI
There are two choices when it comes to the Phi Phi Islands you can either book onto a day tour or stay overnight.
If your goal is to get out snorkeling and see Islands, choose a day trip from the mainland. Here are my favoirotes: 
If you have the time to do so then I would recommend staying overnight on Phi Phi Island. Staying overnight allows you more time to explore the town and the markets plus you'll have time to hike to the Phi Phi Viewpoint, watch a sunset over the Andaman Sea, and of course, check out Phi Phi Islands unique nightlife and fire performances. You won't have time to do any of this without an overnight stay.
Most people think the islands are close by to Phuket, not realizing how remote, secluded and far from the mainland Ko Phi Phi actually is! If you try to do it in a day you can end up spending 4 – 5 hours commuting to and from the island, two hour each way on the ferry. You'll spend more time getting to the island than you would be able to spend there.
Where To Stay Overnight on Phi Phi Don Island
Phi Phi Don is the only island where you can stay overnight at Phi Phi. But there are so many hotels here it can be hard to choose the best one. Prices are ore expensive when compared to other destinations in Thailand, but are still affordable.
2 Days In Koh Phi Phi Overnight Itinerary
What To Do On A Koh Phi Phi Overnight Stay?
First, get to Koh Phi Phi on a ferry or speed boat from Phuket.
Get a decent brunch and find a place to stay.
Rent a private long-tail boat and explore the islands.
Watch a fire show and head to a beach party.
Hike the Koh Phi Phi Viewpoint.
Relax with an authentic Thai massage.
Hit the beach and rent a sea kayak.
Take the last speed boat home to Phuket 🙁
2 Days in Koh Phi Phi –Day One
Located in the Andaman Sea, between the bustling holiday destinations of Krabi & Phuket- Koh Phi Phi is a must-visit destination on any travellers first trip to Thailand. The island has grown increasingly popular in recent years because of its incredible scenery and diverse nature, legendary beach parties, pool parties and nightlife, it's laid back vibe, and of course, the island is home to the world-famous Maya Bay making it the perfect island for a boat trip.
Is it worth staying in Phi Phi? It's absolutely worth it to stay in Koh Phi Phi for a few days! What is there to do in Phi Phi island for 3 days? What is there to do in Koh Phi Phi for 2 days? Read on and find out to get the most out of your Koh Phi Phi overnight stay!
How many days should you stay in Phi Phi? Spending two days in Koh Phi Phi gives you the opportunities to explore the majority of the islands must-see sights and the top attractions without feeling too pushed for time. Despite the small size of Koh Phi Phi- there are no vehicles here, but there are plenty of activities and things to do on an overnight stay to keep you busy. From Phi Phi Island boat tours to beach parties and scenic hikes, here's our guide to spending 2 days, 1 night in Koh Phi Phi.
Getting To Koh Phi Phi –Day One
Getting to Koh Phi Phi is easy if you're travelling from Phuket, take a taxi to Rassada Pier and buy yourself a boat ticket.
If you've only got two days, one night for your overnight stay on Koh Phi Phi then you'll want to arrive on the island as early as possible. From Phuket to Koh Phi Phi ferries and speed boats run all through the day. With the first ferry setting sail at half-past eight in the morning and arriving at 10:30 am- two hours later.
Buying yourself a ferry ticket at Rassada Pier is usually the easiest and most flexible option, ferry tickets to Koh Phi Phi cost 600 baht.
Taxi drivers will earn themselves 200 Baht in commissions from each ferry ticket, this isn't something ticket sellers or driver are open about, and the drivers will be paid out of sight. But letting your taxi driver know that you plan on buying tickets at the pier will often get you a  cheaper ride!
If you're lucky enough to be travelling during the Koh Phi Phi peak season, you can buy a ticket on the Phuket to Phi Phi Island Speedboat. Speedboat tickets are more costly than the ferry, but you'll benefit from free collection from your hotel in the shared minivan and you'll arrive at Koh Phi Phi in under an hour!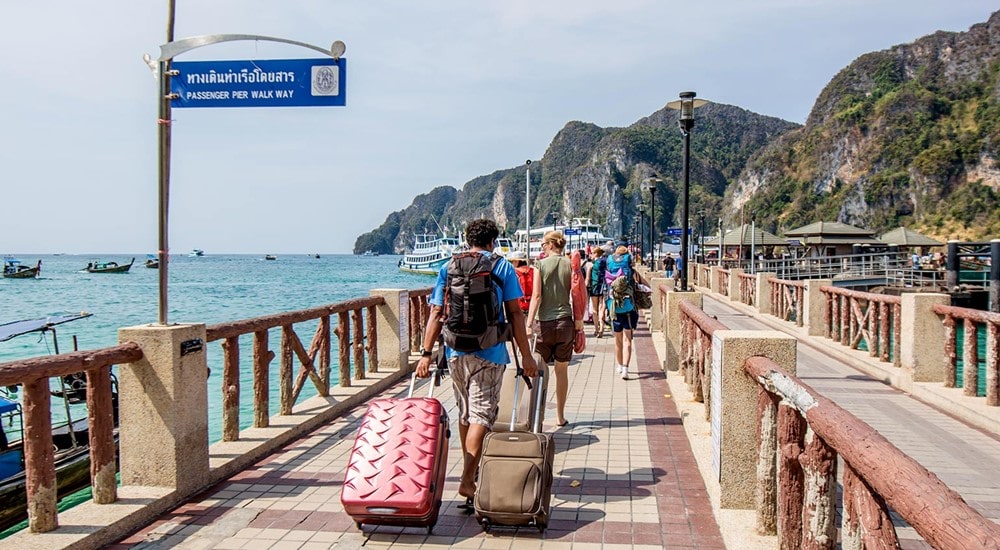 Start The Day Right –Day One
Phi Phi Island 2 Days 1 Night. Grab a bite to eat and get checked into your hotel. You don't want to waste any time trying to find your hotel once you arrive, so it's best to book accommodation in advance and booking somewhere near to Tonsai Pier will save even more time. The Koh Phi Phi Chao Koh Resort is close to the pier and has rooms to suit all budgets. Deluxe Suites and Ocean View Villa's are available, while budget travelers and backpackers can find a bed in the dorm for as little as 5USD.
With just 48 hours to see and do as much as possible after checking in to your accommodation, you'll want to eat a decent brunch to power you through all the activities in store. And luckily there is no shortage of restaurants and places to eat in Koh Phi Phi.
As you exit Tonsai Pier you'll find a mix of local Thai restaurants and western chains, if you want something quick and easy, stop by the Coffee Club; where you'll find a selection of light snacks and pastries or a tasty Thai meal. The Mon Cafe is an alternative if you want something more local, more authentic. Specializing in baked delicacies, their sandwiches and filling and their Roti Thai pancakes will give you a quick sugar boost and keep you moving.
Private Island Tour –Day One
What to Do in Phi Phi in 2 Days?
Most destinations on Koh Phi Phi are only reachable by boat, making Koh Phi Phi the perfect destination to get on a Phi Phi Island Boat Tour, get in the tropical clear, warm water and go snorkelling!
The best way to get out and explore the islands is to charter a private longtail boat, these boats are designed to navigate the shallow waters and tight passages of the islands. No trip to Koh Phi Phi would be complete without taking a ride on the Thai longtail.
After a filling brunch, you want to find yourself a boat captain and negotiate a price. Boat captains can often be found hanging out down by the pier on quieter days. But if you'd prefer to have a vetted captain, quality boat, lunch include in your tour and hotel collection free of charge. Then booking a boat online in advance is recommended. Longtail boats cost 500 Baht (15USD) per hour.
BOOK PRIVATE LONGTAIL BOAT TOURS OF PHI PHI ISLAND
There are a lot of places to cover on a Koh Phi Phi tour, so it's best to hire a boat for around six hours. The places that are worth seeing are the Pilleh Lagoon and Monkey Beach. Pilleh Lagoon is an incredible bay surround with limestone cliffs and clear waters. A popular place for travellers to come and snorkel.
If you're lucky enough you might even spot sharks- there are sharks in the waters around Koh Phi Phi, although fortunately, the black-tip reef sharks are a harmless and noninvasive species of reef dwellers. In other words, they're completely harmless but beautiful to see whilst snorkelling.
And don't forget to make a stop at the famous Monkey beach on the tour, as you'd expect the beach is crawling with monkeys. The playful creatures love nothing more than swimming in the sea, hanging out on the beaches, and searching tourists for food. The wild monkeys get up close and personal looking for ham sandwiches and chicken fried rice- so if you're not a fan of our furry friends you might want to skip this one out.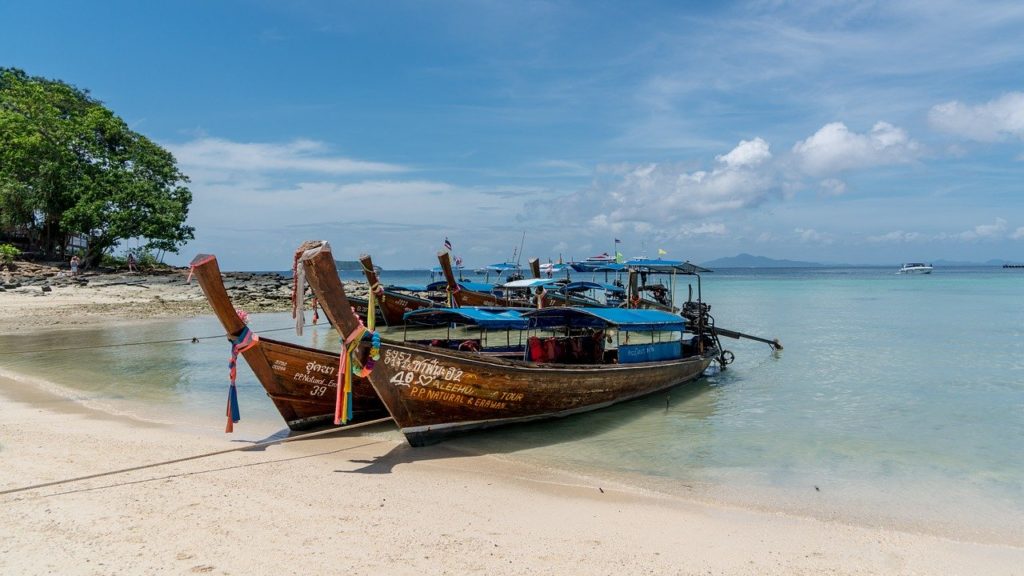 LEARN MORE ABOUT RENTING PRIVATE BOATS IN KOH PHI PHI
Koh Phi Phi Beach Party & Fire Show –Day One
No Phi Phi overnight stay would be complete without heading to the beach to experience the unique, wild nightlife of Koh Phi Phi. The party scene in Koh Phi Phi is like no other in Thailand, bars and clubs line the beaches with trance music playing until the small hours of the morning and alcohol is sold by the bucket for as little as 100 Baht!
If you're into louder music and crazy party scenes sticking to bars like the Slinkys Beach Bar, Ibiza or Blancos Club, you'll feel right at home. If you prefer a somewhat quieter scene walking a few hundred meters up the beach will bring you to the Sunflower Bar or The Only Bar. These locations have perfect ocean views and while they are a little more relaxed, still infused with party vibes but are somewhat toned down in comparison to the major bars and beach clubs.
Wherever you end up, in Koh Phi Phi it's tradition to start your night off by watching one of the fire shows on the beach. The best fire shows are at Carlitos Bar on Tonsai beach or Slinkys Bar on Loh Dalum Bay. But don't drink too much! On a Phi Phi overnight stay, you're pushed for time to fit in all the incredible activities the island offers, you don't want to spend day 2 of your 2 days 1 night in phi phi nursing a hangover!
Hike The Koh Phi Phi Viewpoint –Day two
Waking up early on your second day in Koh Phi Phi is a must in order to make the most of you overnight stay. You'll want to get eat a decent breakfast so you have plenty of energy to hike to the Koh Phi Phi Viewpoint. Most hotels provide some sort of breakfast, but if your hotel doesn't- head over to the Phi Phi Princess Resort, where for 200 Baht you can join the all-you-can-eat buffet breakfast. You'll find Thai Classics and all the essentials of a full English Breakfast, (minus the black pudding)!
You will also be thrown out of your hotel at 11:00 am, most hotels will be happy to store your luggage for the day but if not you'll find luggage storage on Koh Phi Phi at the Tonsai Pier for 50Baht.
You'll have plenty of time to climb the Koh Phi Phi viewpoint on a Phi Phi overnight stay. Koh Phi Phi has a viewpoint on the eastern side of the island that boasts gorgeous views of both the bays and the entirety of Koh Phi Phi.
The best time to visit is at sunrise, its a charming spot early on in the morning. Without many other travellers around, you'll get the best seat in the house. The hike is not too challenging and there is a staircase leading directly to the first of the three viewpoints. The climb can be completed in under a half-hour and one there you'll have wonderful views over Koh Phi Phi as a reward.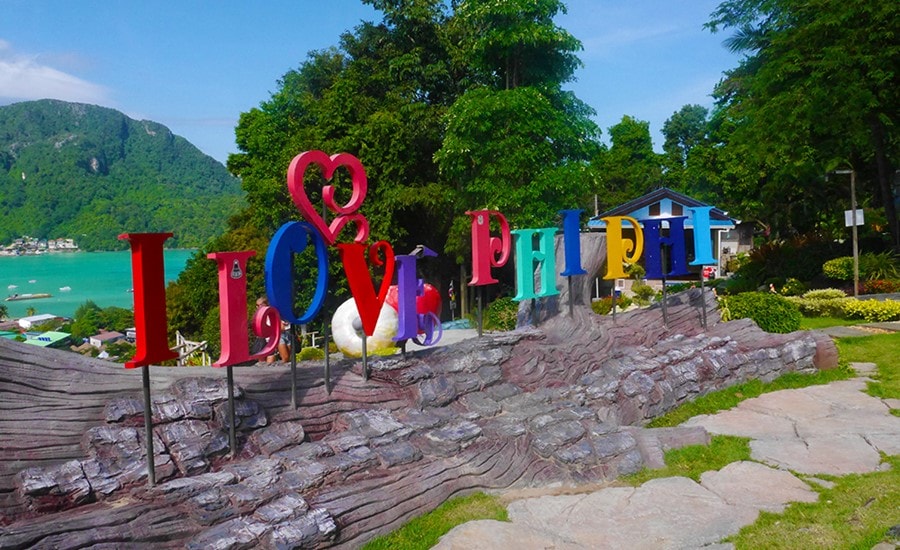 Relax With a Thai Massage –Day two
When in Rome. Thailand, the massage capital of the world. Wherever you turn, you'll be met with the cries and screams of the masseuses shrieking at you "Massageeeee… Ok?" And after a physical morning hiking the viewpoint, once you've completed your exercise- it's fair to say you deserve to treat yourself to a well-earned massage on your overnight stay.
There are tons of massage shops lining the streets in the centre of the island and in the town. You won't have to walk far before being dragged from the street and pulled into a massage parlour.
Hit The Beach or Rent a Kayak –Day two
Today is all about the mainland. Phi Phi itself is home to several beautiful beaches.
The more popular beaches around Koh Phi Phi are unfortunately swarmed with tourists, armed with their selfie sticks. These are beaches like Maya Bay or Loh Dalum Beach. The famous ones. Not to worry though, luckily enough on a Phi Phi overnight stay you'll have plenty of time to visit some of Koh Phi Phi's some awesome and untouched beaches which are within walking distance from the town, beaches which have far fewer tourists visiting. Long Beach is a short walk from the town- and its take about 20 minutes to get to Long Beach, you'll find soft white sand and clear blue water- a perfect spot to hang out on your last day. Or Loh Moo Dee Beach, around a 30-minute hike from the town, with its emerald-green sea and fine sand, it's all you'd expect from a Thai beach and is relatively peaceful.
If you're feeling adventurous and still have some energy left after climbing to the Koh Phi Phi Viewpoint you can explore further by renting a Sea Kayak on the beach. Head over to Loh Dalum where you'll find groups of locals renting their kayaks to travellers. It costs around 200 baht per hour to hire a Kayak in Koh Phi Phi- but the final price depends on your negotiation skills! You'll be ae to kayak to the Monkey Beach without too much effort or if you want to explore further you can follow the limestone cliffs around the island and Kayak to Nui Beach.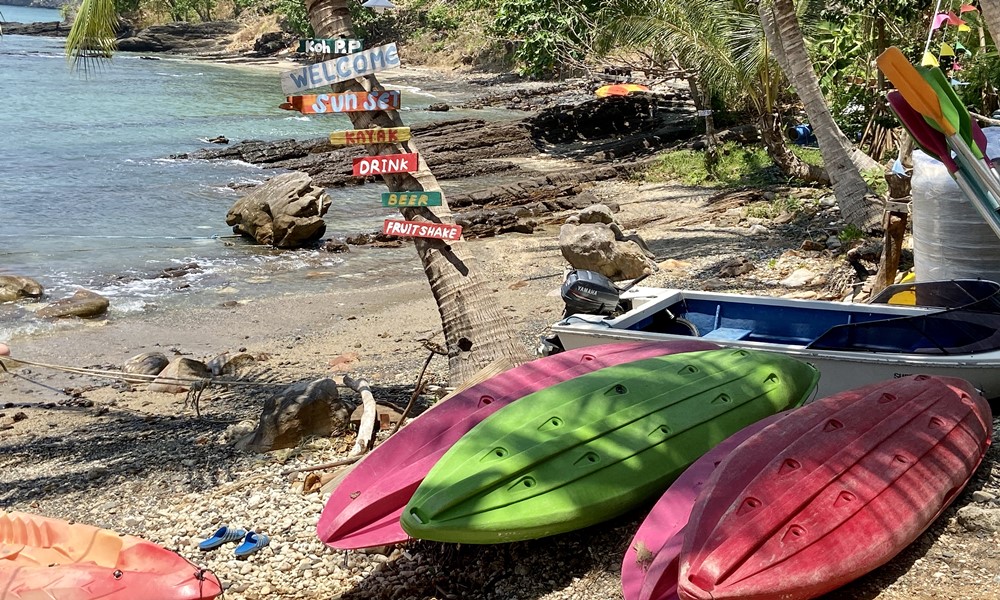 Leave Koh Phi Phi, Back To Phuket –Day two
It's never too late to extend you Phi Phi overnight stay, another night (or two) can't hurt? And although 2 Days in Koh Phi Phi is enough to see the most popular sights; there are are plenty of other things to do on the island if you decided to extend your overnight stay!
But if you're cut for time, flights are booked and plans have been made; you can leave Koh Phi Phi knowing you've seen the very best of what the island has to offer.
So how can you get back to Phuket from Koh Phi Phi while spending as much time as possible in Koh Phi Phi? What time is the last boat back from Koh Phi Phi to Phuket? The last boat depends on the time of year you're travelling. The last ferry from Koh Phi Phi to Phuket leaves at 2:30 PM all year round with the journey taking two hours. But for those lucky travellers who happened to be visiting from November until April, you'll find speed boats shuttling passengers between Phuket and Koh Phi Phi into the early evening.
The last speedboats leaving are at 5:00 pm & 5:30 pm. You'll need to book a ticket in advance and we'd recommend booking the 5:00 pm speed boat, if you miss the last boat you'll have no choice but to extended your stay and spend one more night in paradise! Or charter yourself a private speedboat– which won't come cheap!
Phi Phi Island Overnight stay or day trip
Ideally, a Phi Phi overnight stay is a better choice than taking a day trip. You'll get to see some incredible sights in 1 day but you just won't have enough time to see everything the beautiful island offers. There is so much to do and see in Koh Phi Phi, it's not hard to see why it's so popular and why so many tourists from all around the world travel to see the epic little island- Koh Phi Phi.
Final thought and tips
Koh Phi Phi is an awesome island and with so much to do and see 2 days in Koh Phi is cutting it tight. But it's doable, it helps to have an idea of where you'll be going and what you'll be doing so that you don't waste any time planning out activities once you arrive.
Booking you accommodation in advance and checking how far your hotel is to walk to from Tonsai Pier will help save time. And booking your boat tour or private boat charter will save time and help you to relax more on your hard-earned vacation. When you book online your boat captain will collect you directly from your hotel meaning you won't get lost trying to find a check-in station on the maze which is Koh Phi Phi.
Make sure to carry cash when you visit the Phi Phi Viewpoint there is a 30 baht entrance fee and it's a long walk down if you forget your purse!
Try to rent a kayak when the tide is going out when the tide goes out on Koh Phi Phi.. it goes out. In doing so you'll use less energy and the tide will carry you to the monkey beach. If you time it right you can use the incoming tide to bring you in later on.
Book the return ticket to Phuket as soon as you arrive on the island. The speed boats are often full and usually book up a day or so in advance. Buying a ticket in advance is the only way to guarantee your place. As you'll only spend 48 hours in Koh Phi Phi on an overnight stay- it's advisable to book as early as possible. Speed boat tickets can be purchased in person or online for around 800 Baht a person.
PHI PHI OVERNIGHT STAY
Phi Phi Overnight Stay Questions and Answers
Is It Worth Staying In Phi Phi?
It's absolutely worth it to stay in Koh Phi Phi for a few days! What is there to do in Phi Phi island for 3 days? What is there to do in Koh Phi Phi for 2 days? Read on and find out to get the most out of your Koh Phi Phi overnight stay!
How Long Should I Stay In Phi Phi Island?
48 Hours in Phi Phi Island is enough to experience the best experiences, the nightlife, the beaches and the hiking trails.
Can I Stay On Phi Phi Island?
You can, and you should. The largest of the Phi Phi Islands is the only inhabited island and it's here where you'll be able to stay overnight. Other smaller islands are national parks with no accommodation, but can be visited on a day trip.