Review of the Ibiza House Phi Phi Island. All views are my own and this post is not sponsored by the Phi Phi Ibiza House. To learn more about other hotels in Phi Phi Island, I have put together a guide to the Koh Phi Phi's best hotels.
I first visited the Phi Phi Islands back in 2011, and the first place I stayed at on the islands, the Phi Phi Ibiza House. Back then it was nothing more than a run down backpackers dorm, it was the cheapest place to stay on the island and if I remember correctly, I paid 150 Baht a night for a bed here. And for a prime beachfront location, you couldn't really ask for much more.
I visited the Phi Phi Islands again in 2023 and decided to check out the Phi Phi Ibiza House to write this review, and see how things have changed. And boy, had things changed!
Ibiza House is no longer a rundown, budget dorm for backpackers to stay. It's now the most expensive dorm on the island! It's true when the say Koh Phi Phi is overdeveloped, the Ibiza House is a prime example. The is no trace of how the rooms used to look. There is an entire resort, two luxury dorm rooms overlooking the beach, two swimming pools, a pool party, a beach club and countless mini marts.
So it's clear that the Ibiza House House Phi Phi is doing something right. But is it still a good place to stay on Phi Phi Island? In this review of the Phi Phi Ibiza House I'll be looking at the pro's and con's of staying here- and ultimately is it worth the money?
Ibiza House Phi Phi Location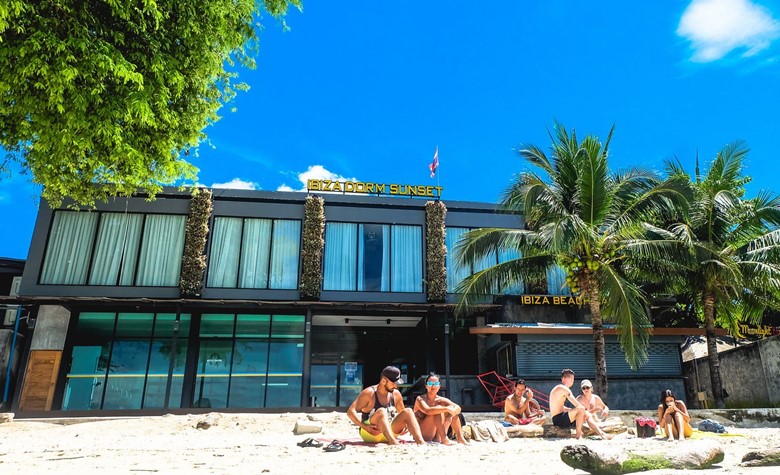 Location, location, location. This is what the Phi Phi Ibiza House has going for it. I doubt the place would be as popular as it is if it were to be located in the town. But it's not. It's in a prime location right on the beachfront on Phi Phi Islands most popular beach– Loh Dalum Beach.
You're meter away from the beach when you stay at the Phi Phi Ibiza House, and many of the room, including both backpacker dorms have ocean views which is more than you'll get in any other hostel.
If you're in Phi Phi Island for the nightlife then the open-air beach clubs are right on the doorstep. You'll have no trouble finding your way back home after a skin full!
And if you want to explore further afield from the Ibiza House, it's not too far to get to the Phi Phi Viewpoint and the Long Beach is just 2.5 kilometres away.
How To Get To Phi Phi Ibiza House
If you weren't already aware the are no vehicles on Phi Phi Island, so you'll have to walk to the Ibiza House. But the same goes for any hotel on Phi Phi Island. The hotel is on the opposite side of the bay to where the ferry docks, its a brief 10-minute walk through the islands twisting streets.
But you won't be left alone! Staff from the Phi Phi Ibiza House will be waiting on the pier to greet you and load you luggage into their carts. It's a complimentary service and can save you lugging your suitcases across the island. And if you're travelling with a backpack and just feeling lazy after a ferry ride, they'll be happy to take you backpack for you!
Getting To Ibiza House From Phuket
Let's clear up a massive misconception about Phi Phi Island and Phuket. No there is no transport provided to get to the Ibiza House from Phuket.
Phi Phi Island and Phuket are separate provinces and it takes over two hours to ride over to Koh Phi Phi on the ferry.
If you're booking accommodation on Phi Phi Island, at the Ibiza House or any other resort, hotel or guesthouse. You should figure out your own arrangements to get to the island.
The Phi Phi Holiday Inn is the only resort on the island that provides transport from Phuket.
The last boat of the day to get to Phi Phi Islands leaves Phuket at 3:00 PM. If you can't catch this ferry, it is best to postpone your stay in Phi Phi for the following day. Don't expect to get your reservation refunded if can't make it to Phi Phi Islands. That's on you.
Is Ibiza House Phi Phi A Party Hostel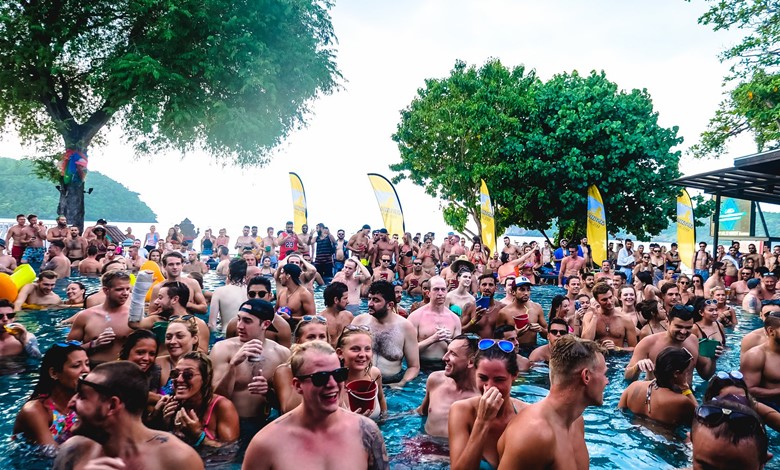 Is the pope catholic? I want to be as honest as possible in this Ibiza House Phi Phi Review. Some people might try to dress it up and deny it's a party hostel.
But here are the facts; Thailand's biggest pool party is right outside the dorm room, open-air beach clubs are meters away from the front desk and Ibiza itself hosts one of the islands biggest beach parties.
So without putting a label on it, its pretty tough to deny that the Ibiza House Phi Phi is a party hostel.
There isn't much in terms of sound proofing here, the beach parties can be seen from the windows of the dorm- and they can be heard too.
The pool party kicks off at 1:00 PM, once the pool party closes up around 8:00 PM the beach bars are quick to open up blasting techno beats and house music well into the night. To put it blunt, it's loud at almost all hours. You have no chance of getting any sleep until the beach closes up at 2:00 AM.
But if you can't beat them, join them. Head down to the beach and get involved with the Phi Phi Island Nightlife. Let's be real, if you're staying at the Ibiza House Phi Phi, you're on the island to party. And if not you're in the wrong place!
If you want a quieter place to stay on Phi Phi Island, take a look at my reviews of the 15 best hotels and hostel on the island.
Ibiza House Phi Phi Pool Party
Love it or loath it. The Pool Party at the Ibiza House Phi Phi is one of the top reasons to stay here. There are two pools at the resort, one is open only for hotel guests, tucked away in the resort. The other is the famous pool. A huge infinity pool open to the public and overlooking the beachfront- home to Thailand's biggest pool party.
If you want to attend the pool party, but perhaps don't want to put up with your hotel shaking to the beat. Don't be fooled, you don't need to stay at the Ibiza House to join a pool party. The beach pool is, in fact, open to anyone on the island, and it's free to enter. Although drinks are sold at a markup.
One of the dorm rooms overlooks the pool, and the other is right next door. There are plenty of bad Ibiza House reviews out there. But the one thing they all have in common is "It was too loud".
But honestly what can you expect, if you chose to stay next door to a pool party, yeah, it's going to be loud.
Room Types At The Phi Phi Ibiza House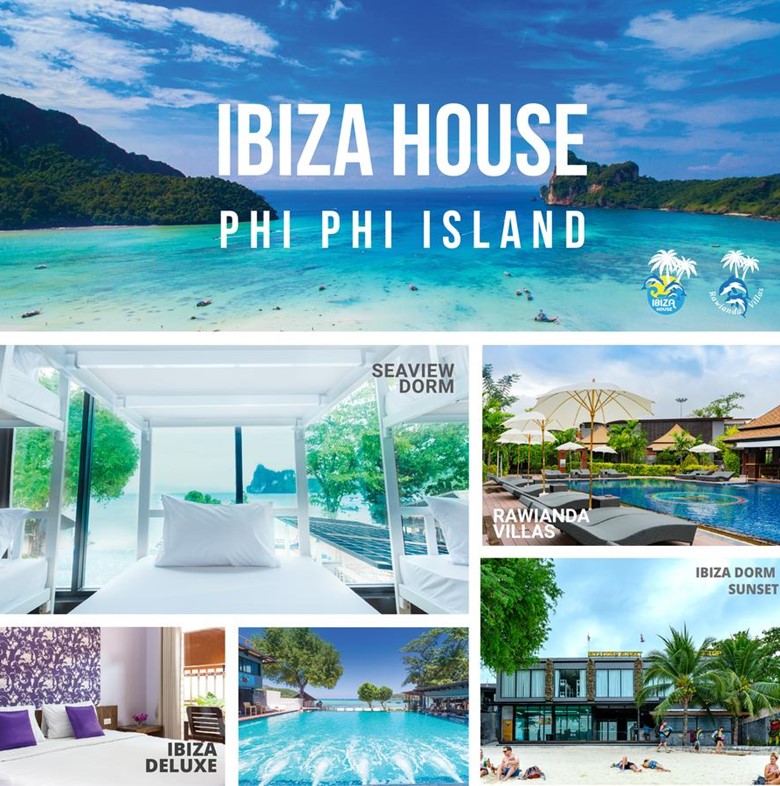 I've mentioned the dorm rooms a lot in this Ibiza House review, mostly because that is where I chose to stay. It is what the resort is most well known for and it's the most popular room type at the Ibiza House.
There are a handful of dorm rooms at the Ibiza House, all of them have air-conditioning, but something I don't like is the aircon hours are limited, guests cannot control the temperature or switch the aircon on or off.
There are no female only dorm rooms here either, but there are dorm rooms of different sizes depending on how much you're willing to spend. There are dorm rooms with 4 beds, 6 beds, 8 beds or 10 beds.
Personally I'd opt for the 10-bed dorm as the cheapest option, and let's be real. No one is sleeping here until the early hours of the morning anyway. It' doesn't really make much of a difference.
But if you're willing to splash out a little extra you can get yourself a poolside villa or a private room. And don't worry there is a separate pool for the villas, you won't be next to the pool party if you choose to stay in a villa, (but you will hear it). For the amount of money that Ibiza House is asking for their private rooms- you can find much better and cheaper accommodation options on the island.
Is Phi Phi Ibiza House Worth The Money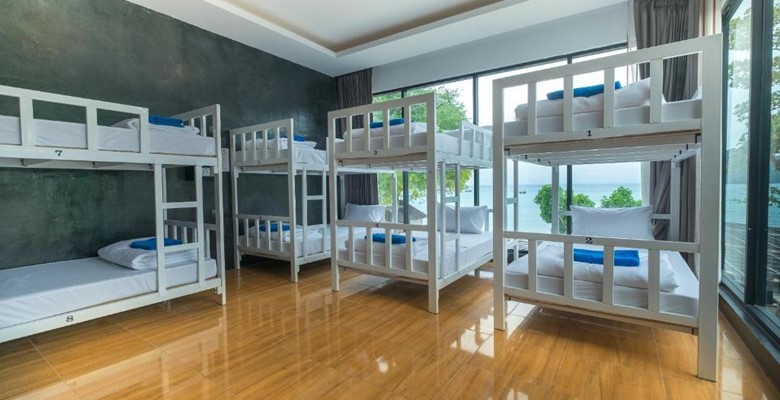 The going rate on Phi Phi Island for a dorm room is more expensive that anywhere else in Thailand. And the Ibiza House is the most expensive you'll find on Koh Phi Phi. So it isn't cheap. The average rate is $30 a night, but that depends on which room you choose and what time of year you're travelling. So it can be cheaper, but it can also be more expensive.
To put that into perspective the usual, average cost for a dorm bed in Thailand is around $8 per night. And a room at the pool-side villas can set you back over $175 per night.
So Ibiza House Phi Phi is not cheap. But it is worth the money?
I don't think the inflated rates are justified. But the rooms are unlike anything else you'll find on the island, they're modern and they're clean. The location is perfect, there isn't any other dorm room this close to the beach and you're getting the best of the island's nightlife right on your doorstep.
So to sum up this Ibiza House Review, I don't think it is worth the money. But i don think you need to suck up the steep price and stay here. There are more pro's than con's and it is a bit of a novelty place to stay. It's a sociable environment and a great place to meet new people.
But you probably don't want to stay here for too long, any more than one or two nights, and it might start to get a bit much!
It's true, Koh Phi Phi is a party island, but there is so much else to do an see on the island. To help you get the most out of a stay in this tropical paradise I have put together a guide to 101 awesome activities you can do in Koh Phi Phi, you can also check out the full travel guide to Koh Phi Phi here, which is packed with tips and tricks to make the most out of a visit to the Phi Phi Islands. Or if you're still trying to figure out where to stay and want a few options other than the Ibiza House Phi Phi- perhaps you'd be interested to learn about the 15 greatest places to stay on Phi Phi Island.
Read more traveller reviews on TripAdvisor, Booking.com, Agoda, Hostel World, Facebook.