I have spent a lot of time travelling around Thailand over the years and there is so much I love about the country. The tourism industry in Thailand is huge. Thailand is the most visited country in south-east Asia and international arrivals and tourist visa approvals are growing year on year.
While tourism has massive benefits in creating jobs for native people and contributing to the growth of the economy. There is a darker side to tourism which is not often spoken about.
Awareness has been growing over the years which is a great thing, but to put it bluntly, like it or not, if you're a tourist in Thailand. You are contributing to the problems, and yes, that includes me.
But there are some steps that you can take to reduce your carbon footprint, protect the environment and lessen your impact.
Reduce Plastic Waste (And Help Clean Up)
For years Thailand has had an issue with plastic waste and it is estimated that from Thailand's 23 coastal provinces, over one million tons end up in the oceans each year, a statistic which is frankly sickening.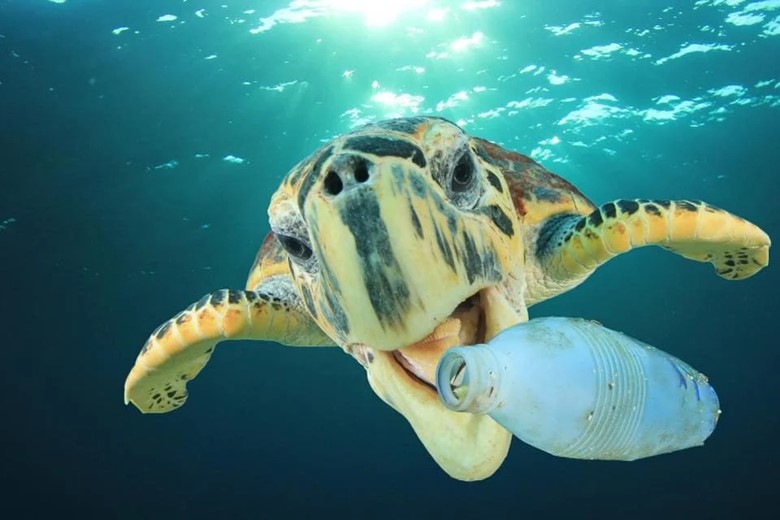 I believe the root cause of the issue lies with the lack of education. Head into a 7-11 to buy a bottle of water and you'll leave with a plastic bottle, lid, and security seal. It will be put into a plastic bag and you'll get a plastic straw or two thrown in, wrapped in a plastic wrapper.
Something which is unavoidable for most of us.
At some point, we will have to buy a bottle of water from a 7-11. And it can be difficult to explain to the staff you don't need a bag- often tourists who can't speak the lingo find it easier to accept what they're given and dump the plastic in the bins right outside.
In order to fix the issue it is not only tourists who should be educated, but also locals. Even if you don't speak the language, and don't know how to turn down the plastic bag and straws. An easy way to get the message across is to hand the bag and the straws back. If everyone was to do this the message would be passed across pretty quickly.
But it's not all doom and gloom, things might not be perfect. But they are heading in the right direction. Over the years I have lived in Thailand I have seen first-hand education taking effect through the form of social media campaigns, billboards and in other forms of media.
And it is important to note that Thailand is taking bold steps in the right direction. A campaign in 2018 helped advocate against the use of Styrofoam food boxes and educate food vendors about alternatives. In 2019 all single-use plastic was banned from National Parks. And in 2020 plastic bags were banned altogether.
Now, this is Thailand, and the plastic bag ban lasted maybe a month before things began to slip back to 'normal'. But the bold move trended online creating a new craze where Thai's used everyday items including, wheelbarrows, fishing nets, and even a washing line to haul their groceries home in.
It didn't solve the problem, but what it did was create awareness and educate the masses. Taking a vital step in the right direction.
Thailand started 2020 with a major plastic bag ban so now Thais have made it a trend to put their shoppings in random things & i'm living for it LMFAO pic.twitter.com/7QtkMD1oax

— siam (@sihamese) January 4, 2020
Here are some useful tips that you can follow to reduce the amount of plastic waste you create when travelling in Thailand.
Say No To Plastic Bags
Lets be honest, most of the time you don't need a plastic bag. If you're buying a few items from the 7-11 you'll probably be fine without. Buying a take away meal, you probably don't need a plastic bag.
If you're a woman: "mai dorng sai tung ka" = No plastic bag, please.
If you're a man: "mai dorng sai tung krap" = No plastic bag, please.
But in the few situations where you do need a bag, perhaps you're stocking up on a few groceries or buying more beers than you can comfertably carry then bring your own reusable bag. Even if you don't have a 'dedicated' reusable bag for shopping, most of us travel with some sort of day pack which can double up as a shopping bag.
And were not all perfect, there will be some situation where we need a bag and plastic is the only choice. So if you can, try to recycle. I'll admit recycling isn't always easy in Thailand, in some tourist destination you will find recycling bins.
But you can think outside the box if there aren't any recycle bins around. Next time you drop off your laundry, use the plastic bag and get a second use out of it.
Say No Plastic Straws
I can't stand reusable straws. They're difficult to clean, unhygienic and unnecessary. It is much easier to go without using a straw at all. Most of the time you don't need one. But in some cases (cold drinks, sensitive teeth) a straw can be nice.
And in Thailand there is a new option, you don't have to use plastic and you don't have to use reusable. More and more bars, even-more so in the southern regions are adapting and adopting the Bamboo Straw. Bamboo grows naturally all over the country and is an incredibly useful plant. The smaller cuts are hollow and mother natures straws.
The best part is when you're done, they are bio-degradable. But a word of warning with the bamboo straws! They are grown, not manufactured. No straw is the exact same diameter. A thinner straw is what we are probably used to, but if you end up with a girthy bamboo straw, you might find your drinks going down quicker than you'd anticipated!
Say No Styrofoam Food Boxes
100 years, is how long it takes for a foam food container to degrade. Sixty-one million pieces of foam were used in 2018, EACH DAY. The good news is that figure is dropping. There was once a time where you'd have no choice. Any time you brought take out food in Thailand and that includes snacks you'd buy in the markets, yep, it would be served in a styrofoam box.
However, most food vendors are getting on board and switching to biodegradable food packaging and it's bamboo to the rescue once again. A private founded biodegradable food packaging company has taken the nation by storm. In 2020 it is estimated that 78% of food vendors have made the switch to bamboo-based packaging.
The new take out containers are usually lined with a banana leaf. And in landfill can degrade within six weeks. Much better than 100 years.
Here's how you can help the situation improve. Boycott any food vendors who are still using Styrofoam. In 2020 there is no excuse not to make the switch. Biodegradable food packaging has reached costs which are on-par with Styrofoam.
Enquire about the food packaging before you order, chances are once the remaining few vendors notice that there sales are taking a hit because of their Styrofoam food containers- that will be enough encouragement for them to also switch.
Say No To Plastic Water Bottles
It is easier said than done. Tap water is not safe to drink in Thailand and bottled water seems like the only the answer. Local people have drinking water delivered to them in reusable barrels. Once the barrel is empty it's taken back to be refilled. But tourists don't have this luxury. So how can you avoid using plastic water bottles in Thailand?
I'll be honest it is a tough one to pull off in Thailand and there will be times where you don't have a choice. But getting a reusable water bottle is a great start, and that's the easy part. The difficult part is finding sources of safe drinking water to fill up. In cities stopping by tourist orientated business, bars, travel agents etc. The staff here will usually be happy to fill your bottle, and might charge 10 Baht or so.
But it is much easier in places like Phi Phi Island or Koh Lipe Island where designated bottle refill stations are scattered around the islands. The stations are paid for the charity Trash Hero, and local business support the charity by keeping a machine on their premises and providing free, clean drinking water.
Learn more about Trash Hero, and how you can help here.