So you're planning a trip to Thailand, or maybe you're already here. Perhaps you're laying in a hammock in Koh Yao Yai's Santhiya Resort, scratching your head, trying to figure out exactly how you're going to get to Phi Phi Islands!
Travel planning is no fun when you could instead be spending your vacation time on the beach or hanging out beside the pool.
Well, luckily making this journey is not as difficult as you might have first imagined. The Phi Phi Islands and the Koh Yao Islands (Koh Yao Yai & Koh Yao Noi) are not too far apart from each other. But at the same time, there isn't much demand from tourists to travel from one to another.
There are no ferries in operation between the islands, and because of that most people assume you need to pass through Phuket. Which would have been true, until back in 2015 regular speedboats began to make the crossing.
All year round there is a daily speedboat leaving Koh Yao Islands in the morning, heading to Phi Phi Island and then returning back to Koh Yao in the afternoon.
During the peak season, there are an additional two boats making the journey, and these peak season services also make stops at other locations such as Railay Beach, Ao Nang and Koh Lanta.
So if you want to travel between Koh Yao Islands & Phi Phi Islands. In the quickest time, for the lowest price. So please, do yourself a favour and stop wasting your time with outdated information. Here's the truth.
How To Get From Koh Yao To Phi Phi Island
It is clear that jumping on the speedboat stands out as the best choice for most travellers. You get free hotel collection, it's easy, it's quick and it's affordable. You shouldn't need to consider any other options.
If you are on a tight budget, you can shave off a few Baht by travelling through Phuket, but in doing so you'll turn a 90-minute trip into a full day travelling. And for the amount you'd save, in my opinion, giving up the convenience of a direct route is not worth it.
Alternate Route From Koh Yao To Phi Phi
Passing through Phuket is a more inconvenient route, but if that's how you want to travel, this is what you need to know.
Koh Yao To Bang Rong Pier – There are speedboats running through out the day the Phuket's Bang Rong Pier. Tickets cost around 400 Baht, the journey takes 30 minutes.
Bangrong Pier to Rassada Pier – You'll need to get from Phukets northern pier to the south pier. There is no public transport in Phuket so you'll need to hand over 1,000 Baht or more for the ride which takes an hour.
Rassada Pier To Phi Phi Islands – A ferry ticket to Phi Phi Islands costs 600 Baht and it will take two ours to cross on the ferry.
If you time all the connections perfectly, you'll spend a minimum of 4 hours travelling and for two people it will cost 3,000 Baht. The speedboat takes 90 minutes and for two people costs 2,400 Baht. Not only is it more convenient. But it is much cheaper.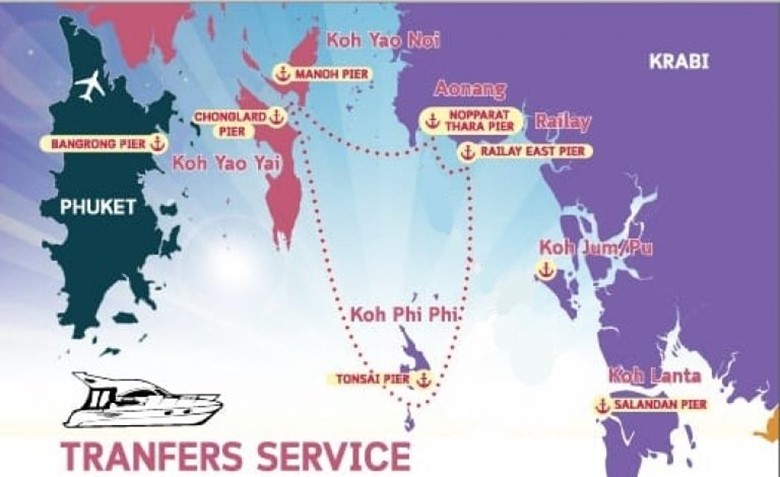 What Times Does The Speedboat Leave (And Where From)
It doesn't matter if you're staying on Koh Yao Yai or Koh Yao Noi Island. The speedboat docks at both of these islands before heading to Koh Phi Phi.
You don't need to worry too much about where the boat leaves from because for those staying in Koh Yao that have booked the boat in advance benefit from free hotel collection. But if you're curios, the boat leaves from Chonglard Pier in Koh Yao Yai and Manor Pier in Koh Yao Noi.
If you're travelling the opposite direction and staying on Phi Phi Island, there is no hotel collection- the boat leaves from Tonsai Pier, which is the main pier on the island.
There are three departures during the peak season, and one departure all year round. The departures in bold leave all year round. Thailand's peak season start in the begging of November, ending on the last day of April.
Koh Yao To Koh Phi Phi Timetable
| | | | |
| --- | --- | --- | --- |
| Koh Yao Yai | Koh Yao Noi | Phi Phi Islands | Operating |
| 09:00 AM | 09:15 AM | 10:30 AM | Nov – Apr |
| 11:00 AM | 11:15 AM | 12:30 PM | All Year |
| 01:00 PM | 01:15 PM | 02:30 PM | Nov – Apr |
Phi Phi Islands To Koh Yao Timetable
| | | | |
| --- | --- | --- | --- |
| Phi Phi Islands | Koh Yao Noi | Koh Yao Yai | Operating |
| 11:00 AM | 12:15 PM | 02:30 PM | NOV – APR |
| 01:00 PM | 01:15 PM | 02:30 PM | All Year |
| 03:30 PM | 03:45 PM | 5:00 PM | NOV – APR |
How Much Does A Speedboat Ticket Cost
Surprisingly it is cheaper than you might imagine. Buying a speedboat ticket to travel between Koh Yao and Koh Phi Phi, costs 1,200 Baht ($35) and that includes collection from your hotel if you're staying in Koh Yao. There are no roads in Phi Phi Island, so you'll need to walk over to the pier yourself.
How Long Does It Take To Get From Koh Yao To Phi Phi
The islands are roughly 44 kilometres apart from each other, separated by the Andaman Sea. It takes around 45 minutes to travel directly on the speedboat. But on some routes it can take 90 minutes, to account for additional stops at Ao Nang Beach and Railay Beach. Much quicker than travelling via Phuket or Krabi.
And if you are taking advantage of the free hotel collection service then you'll need to add on an extra hour or so to account for travel time to the pier- but this obviously depends on where you're staying.
Where Can I Book Tickets For Koh Yao To Phi Phi
There are three choices that you have to book tickets, you can book online or in person- but wherever you book the cost is the same, there is no surcharge for booking online. Here are three places where you can buy tickets from.
Book Direct
The best way to secure your spot on the speedboat is to book a ticket direct. You can book tickets with Five Star Thailand Tour for 1,200 Baht. Online bookings close at midnight and you'll be sent an instant confirmation. It is best to book a spot as far in advance as possible, as the speedboat is the only direct route between the islands it is full almost every day.
Book With A Travel Agent
12Go.asia are the biggest travel agents in south-east Asia. You can book travel from A to B to almost anywhere you could imagine. But if you plans change, you less flexibility with a bigger company.
Book In Person
You won't struggle to find a travel and tour tour in Phi Phi Island or in Koh Yao Island. The touts all sell the same tickets on behalf of the same operator. But booking in person can often be hit and miss. Prices are usually jacked up a little to cover the sellers commissions and if you leave it too late you might find the boat is already full.