Melaka quickly became my favourite place in Malaysia. In this travel guide, I will share everything you should know about the town. Including attractions and points of interest, the most unique restaurants and places to eat, the best areas, and hotels to sleep in. How much you should budget for a trip to Melaka, and, how you can get there. Most importantly I'll list the 9 best things to do in Melaka. I've broken this guide down into two sections, the first 50% of this guide will cover the best things to do in Melaka, while the second half will provide you with everything else you need to know about the city. Questions are welcome in the comment section, and yes, as I'll prove in this guide, it is possible to write about Melak, without using the term 'Melting Pot'.
Introduction To Melaka
Melaka is a unique city in Malaysia with a rich mix of cultures and religions. It was the only place, where we changed our itinerary to extend our stay. It has a fascinating history and had been ruled by the Portuguese, the French, the Dutch and the British over the past five centuries.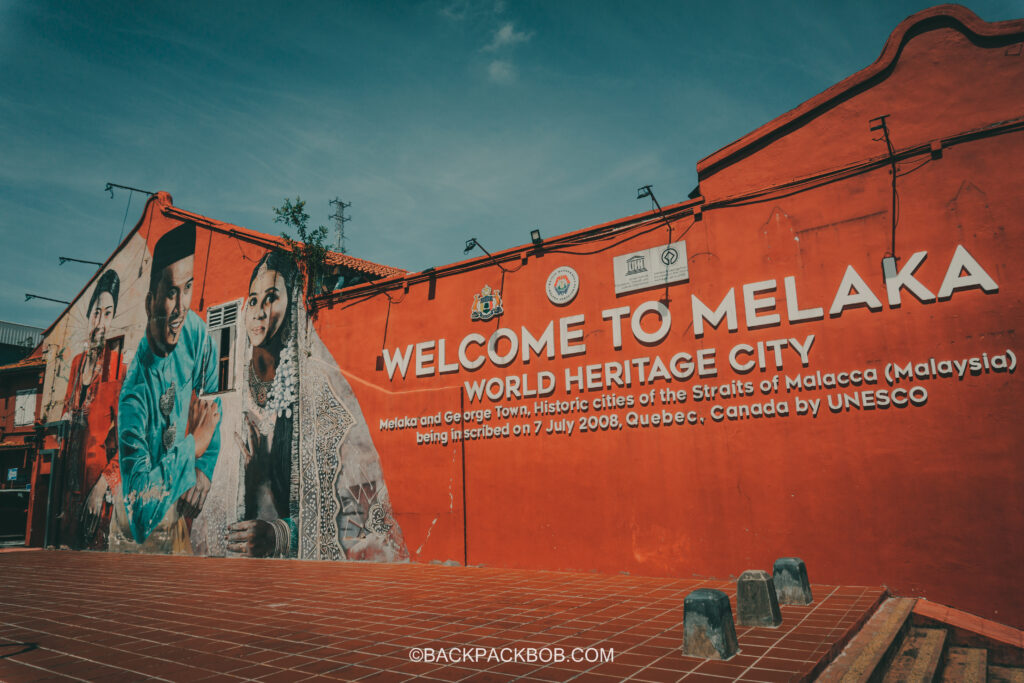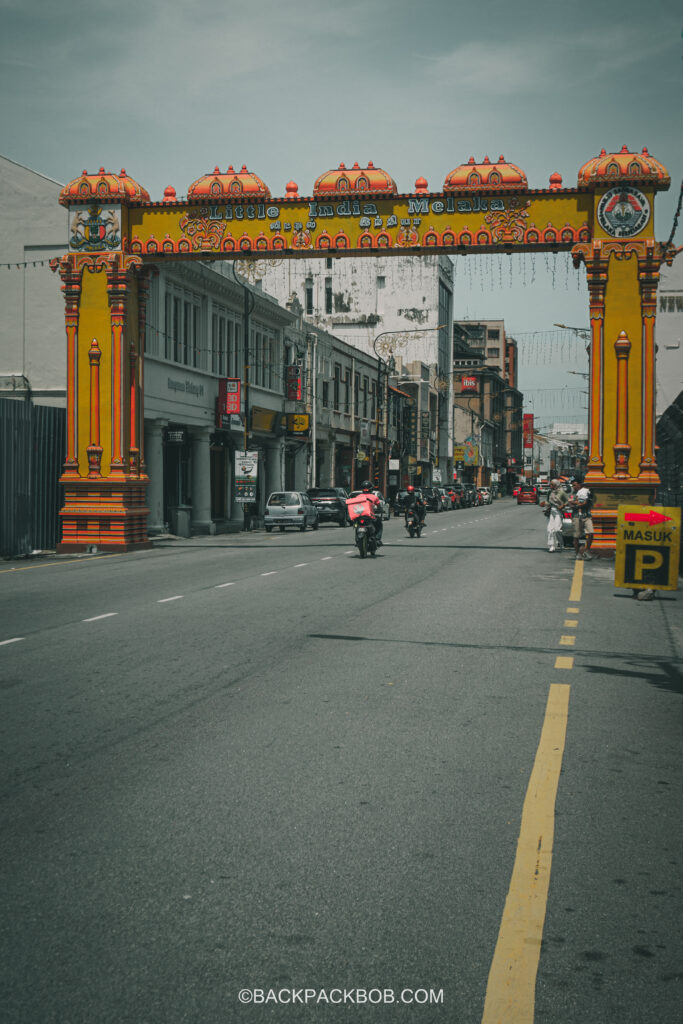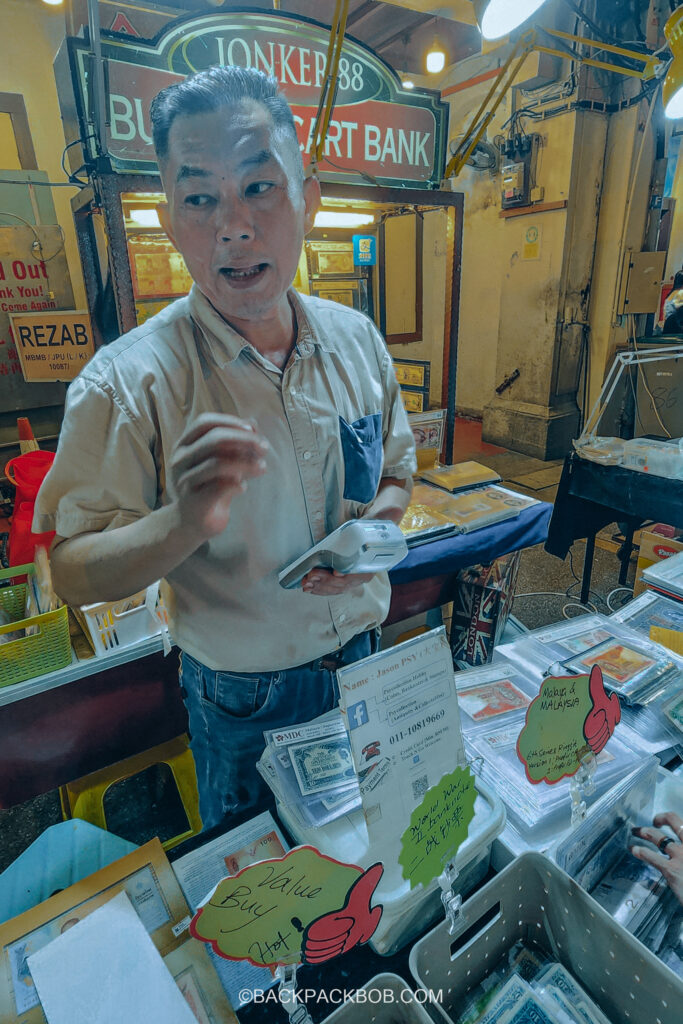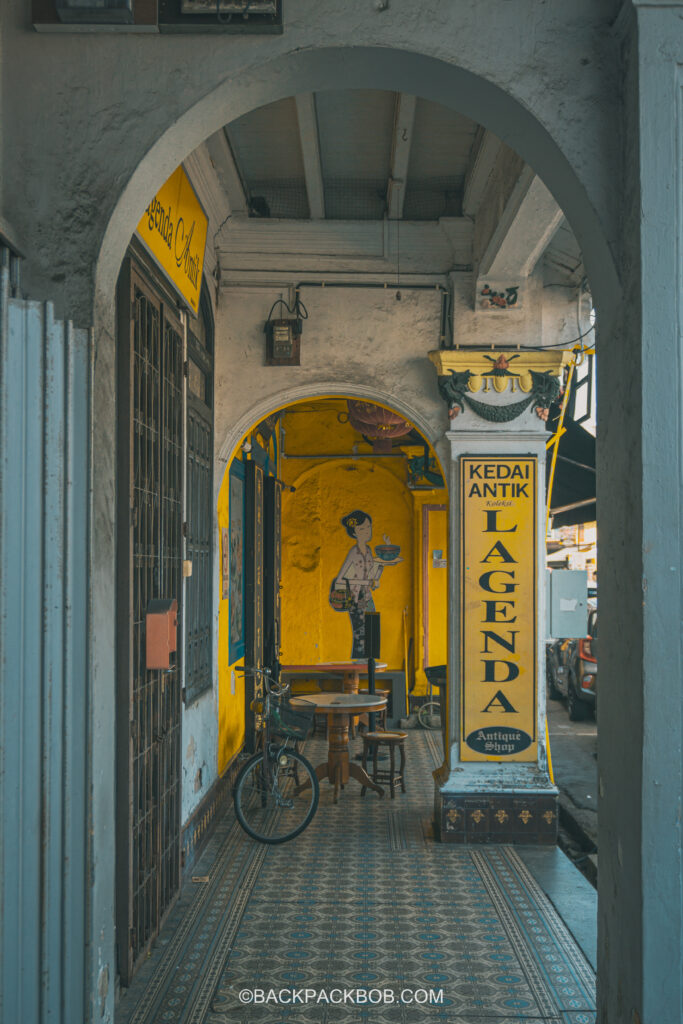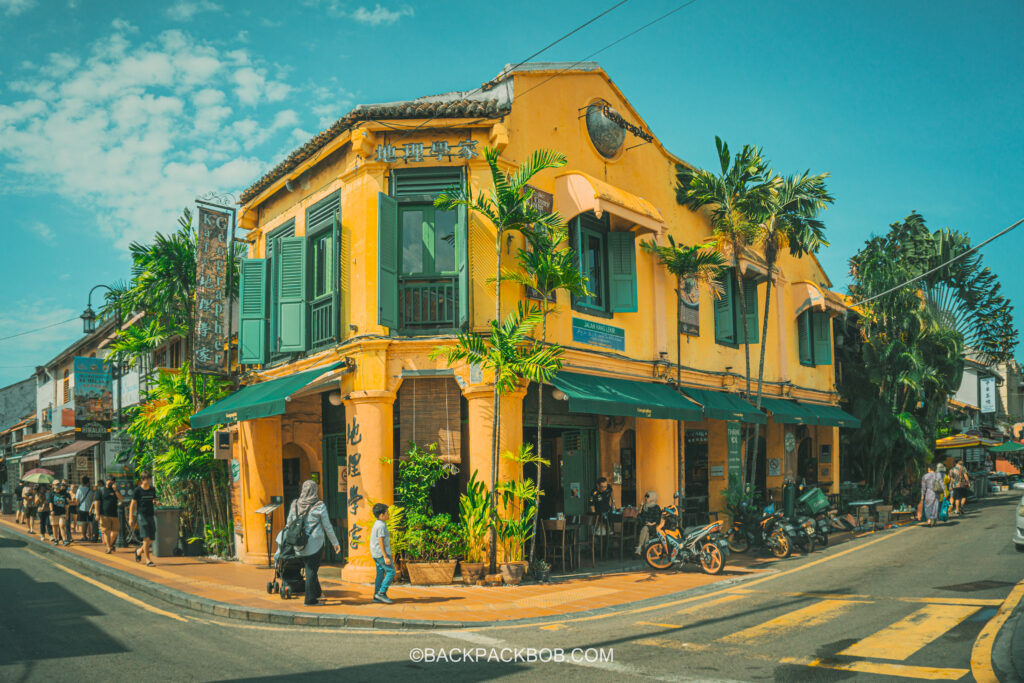 You'll find an impressive Church, Temple and Mosque all in the same town. The town is vibrant and colourful, buildings are painted with bright and inviting colours. It's also one of the cleanest places I visited in Malaysia, we often saw local tour companies cleaning the river (on what I assumed is a voluntary basis). The opposite of my experience in other areas of Malaysia.
Weekends, and evenings in Melaka are especially special, as the town comes alive with energy. The river and streets are illuminated, and there is a pleasant and safe atmosphere.
There are also a whole bunch of things to do in Melaka like eating the Banana Leaf Curry, taking a nighttime boat cruise, and, of course, visiting the world-famous Jonker Street Market. If you have the chance to visit Melaka, I urge you to do so. It was my favourite place in Malaysia, and it is only a two-hour bus ride from Kuala Lumpur.
Melaka is a place where you can easily walk around, on foot. Download this map, which lists all the tourist attractions in the town.
Malacca or Melaka
Melaka or Malacca? The town so nice, they named it twice! But which is correct?
Well, technically both are correct. The town of Melaka has two names, or rather, two spelling variations. The Malaysian spelling is Melaka, while the British spelling is Malacca. Both spellings are correct, but the Malaysian spelling is now the most commonly used. This was confusing for me, when travelling, especially when searching for buses and travel guides online. So now you know.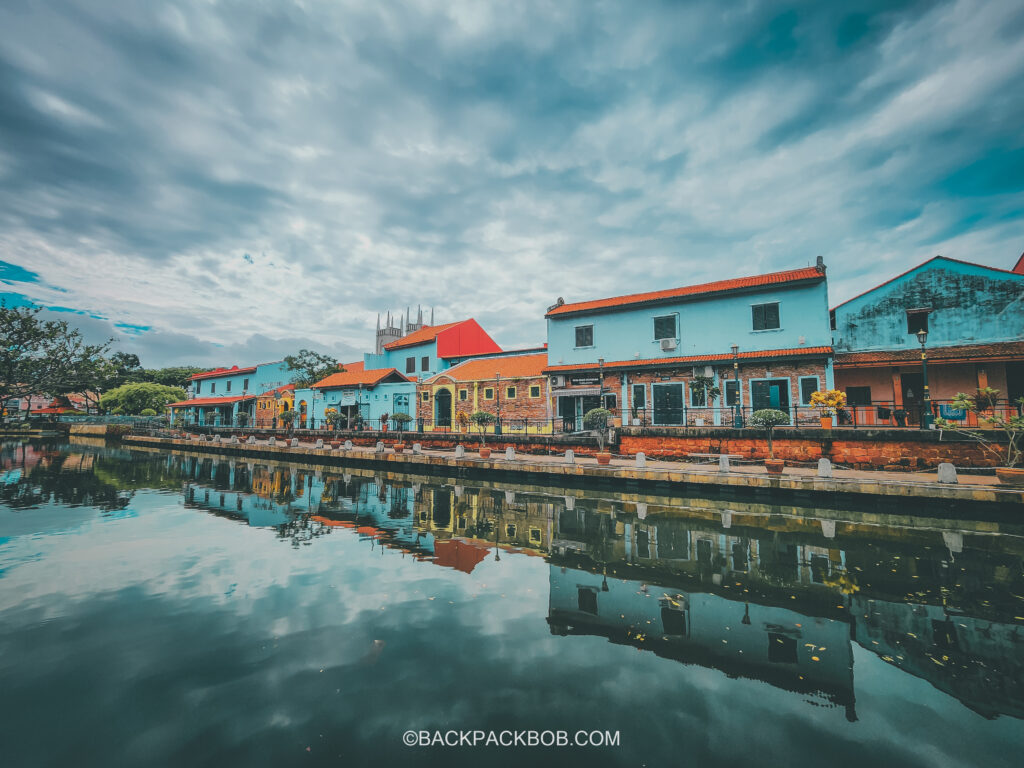 The Malaysian government has since standardized the spelling of the town as Melaka.
Things To Do In Melaka
I had overlooked Melaka at first. It was a last-minute addition to our itinerary, and I didn't think there would be much to do there. However, I was completely wrong. Melaka is a fascinating town and there are so many things to see and do. We even ended up extending our stay because we didn't want to leave! These are the 11, best things to do in Melaka.
1️⃣ Jonkers Street Night Market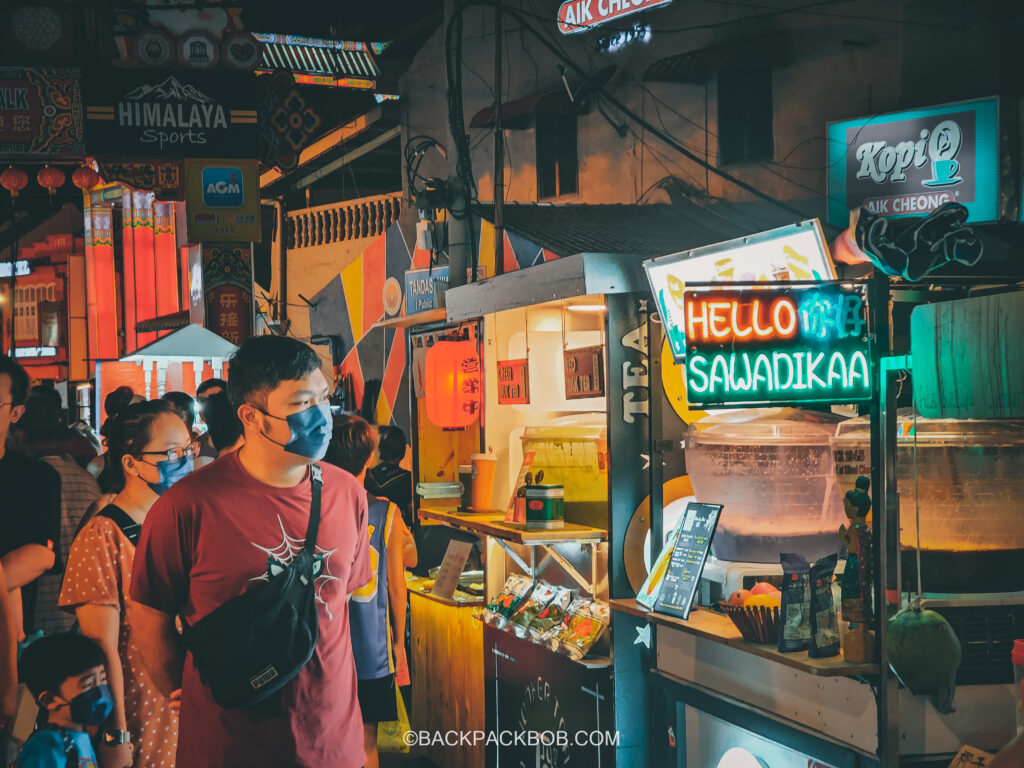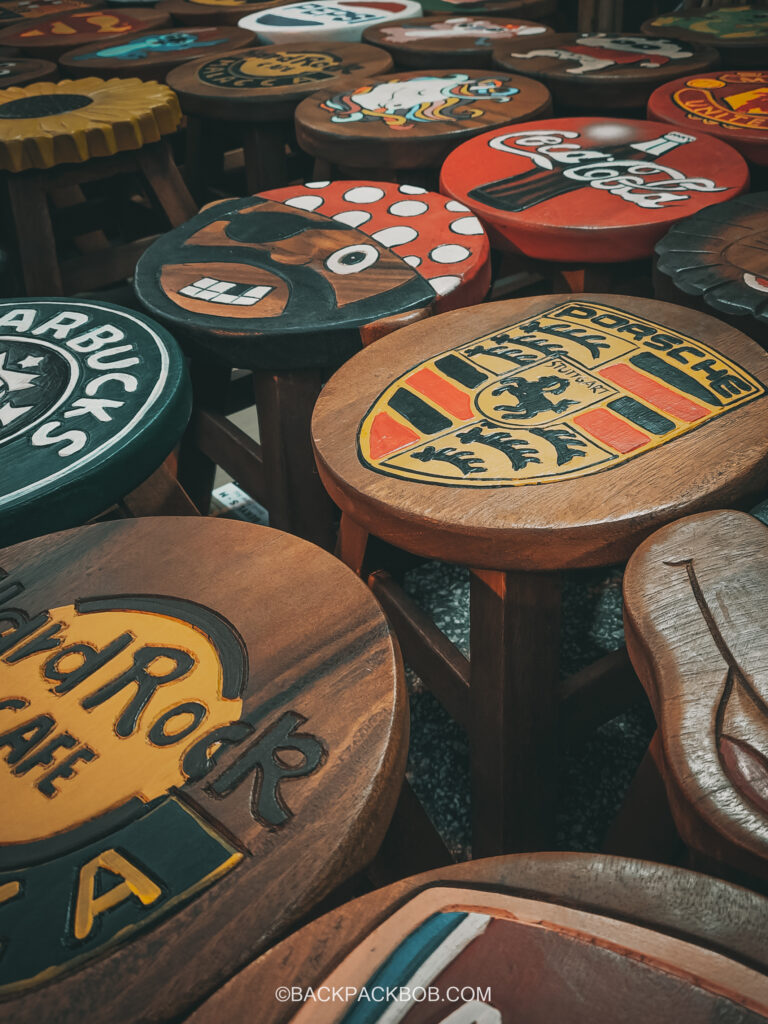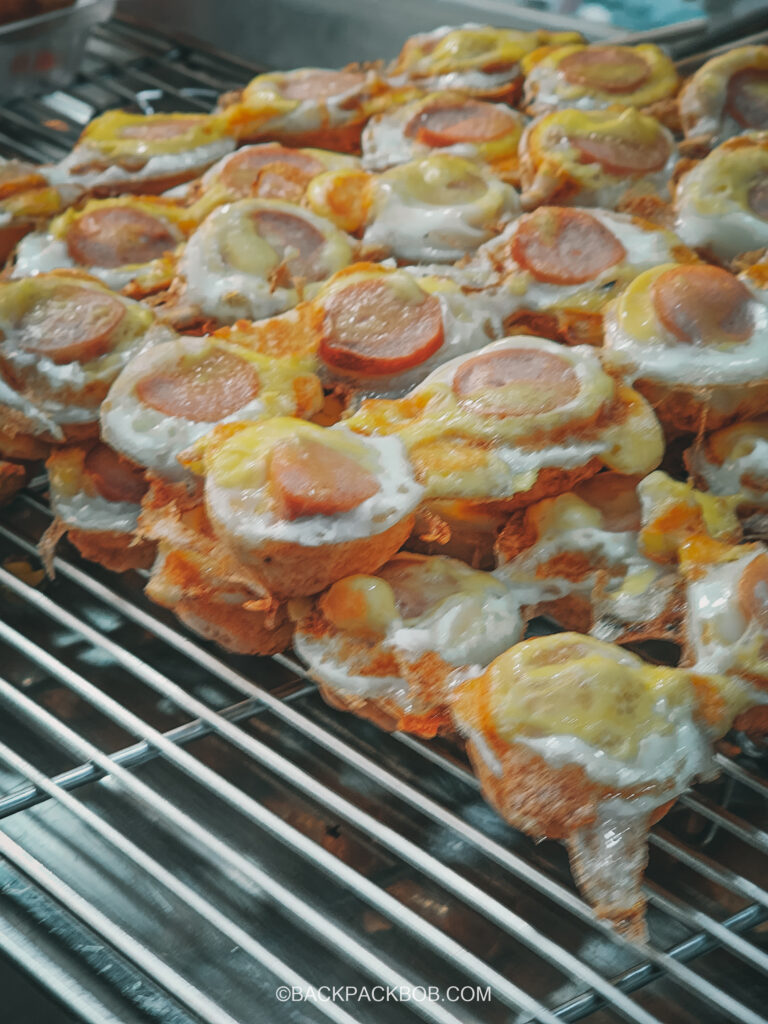 The reason we were in Melaka, in the first place was because we had come to see the world-famous Jonkers Street Weekend Market. The market only opens from Friday to Sunday, so if you can, try to visit Melaka over the weekend. The street closes off around 6 PM, and sellers stay until around midnight.
There were fewer food stalls than I was expecting to find, but I did buy some unique (geeky and historic) souvenirs. I loved the market so much that I even published a full guide about it, which you can read here: Jonkers Street Weekend Market Guide.
If you aren't able to visit Melaka over a weekend then it is still worth visiting Jonkers Street, you'll see the beautiful architecture and you'll still be able to find delicious food.
2️⃣ Little India, Melaka
Little India in Melaka is a must-visit area, located just a short walk from Dutch Square. While there aren't many things to do here, there are some notable food options that make it worth the visit.
Eat a Banana Leaf Curry
If you thought the curries here are made from Banana Leaves(like I did). Then you'd be wrong. The dishes don't contain bananas, but rather, the curries are served on the banana leaf!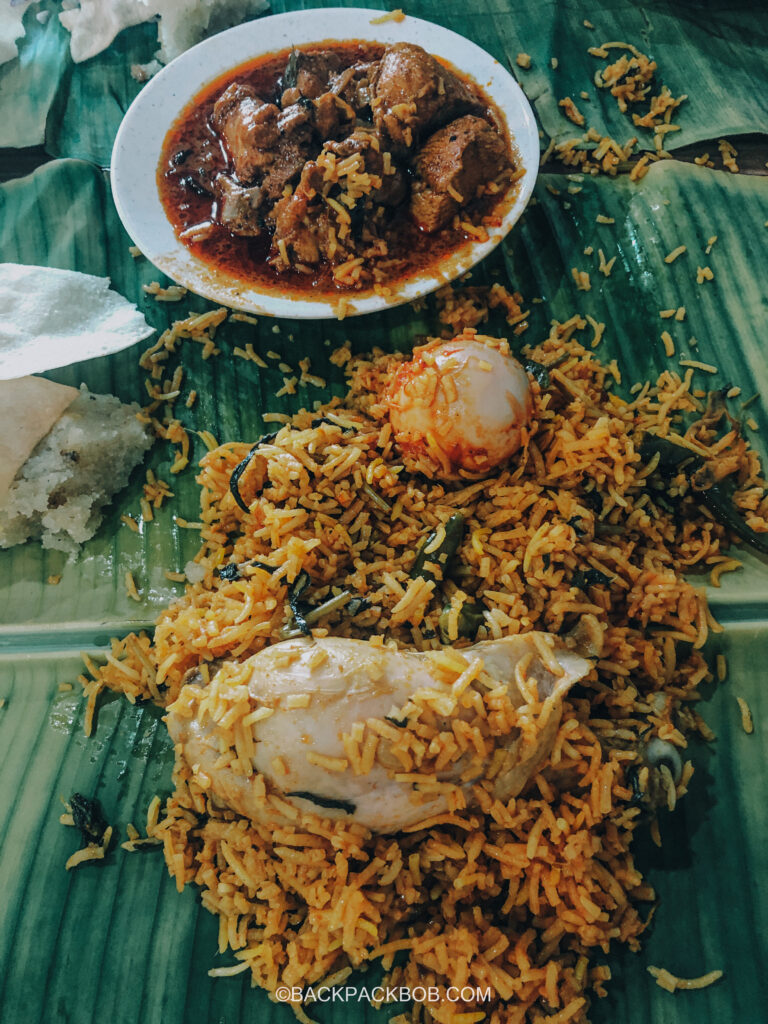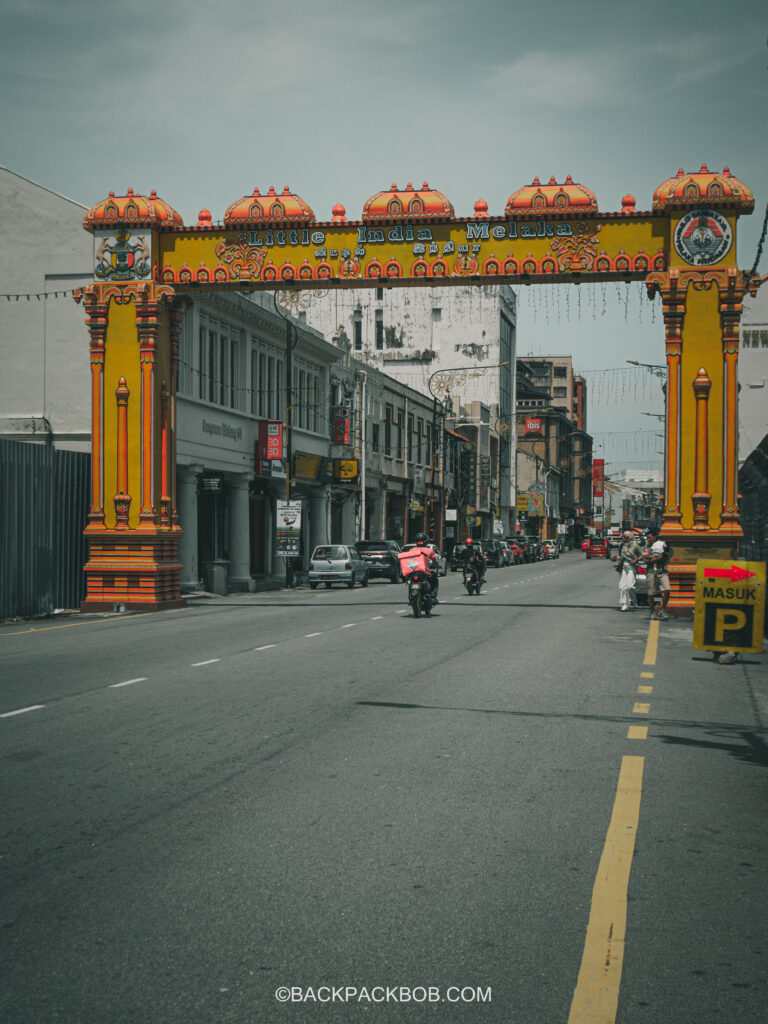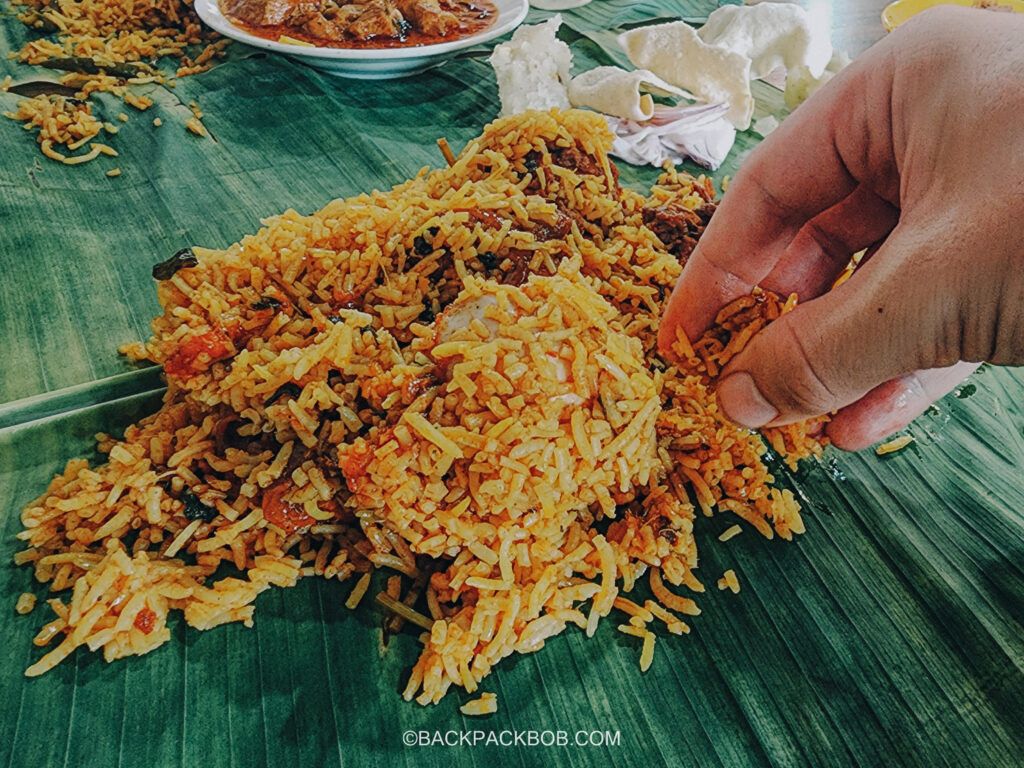 Banana leaf restaurants are popular in Little India, Melaka. We ate at a place, called Tiga Ros, and loved it. But there are many around to choose from.
The experience goes something like this. When you take a seat, a staff member lays a banana leaf in front of you. They'll serve a few sides on the leaf, such as pickled onions, prawn crackers, and zucchini. Then, the staff walk around the restaurant with trays of curry, rice, chicken, biryani, and other delicious foods. If you see something you like, flag down the server and they'll add a dollop of it onto your banana leaf.
There is no cutlery at banana leaf restaurants either, so you will need to eat with your hands, as is tradition.
Don't be afraid to eat with your hands. At first, I felt strange eating a curry with my hands, in a restaurant. I would have been kicked out of anywhere else for doing this! However, I quickly got used to it and it was actually quite enjoyable.
Eating at a banana leaf restaurant is a unique experience. Plus, it is also a great way to try a variety of local Indian dishes.
Little India (Abandoned) Theater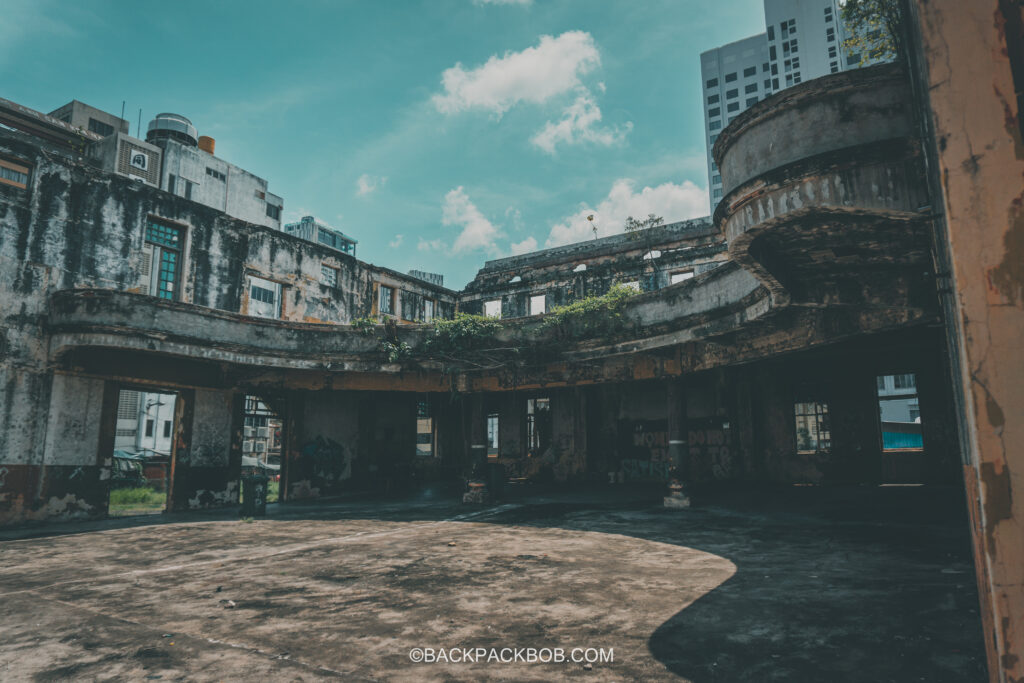 Another cool place we found in Little India was the abandoned Theatre. It's not so much of a tourist attraction, but it was a cool place to explore. You can even climb up the staircase to what would have historically been the viewing gallery. (Google Maps Link).
3️⃣ Dutch Square and Christ Church of Melaka
Christ Church(Google Maps) is the most prominent piece of architecture in Melaka. It is located in the Dutch Square, along with the iconic water fountain and clock tower. The church is said to be the only original remaining structure built by the Dutch in Melaka. It is a beautiful sight to behold, with its bright red paint and well-maintained exterior.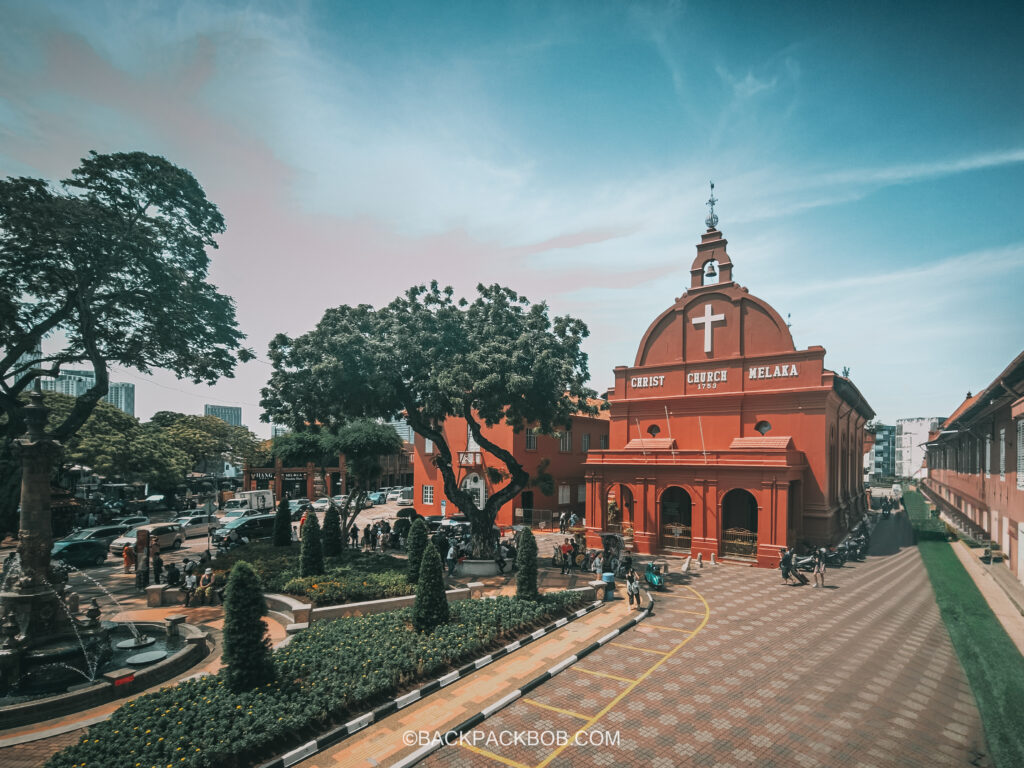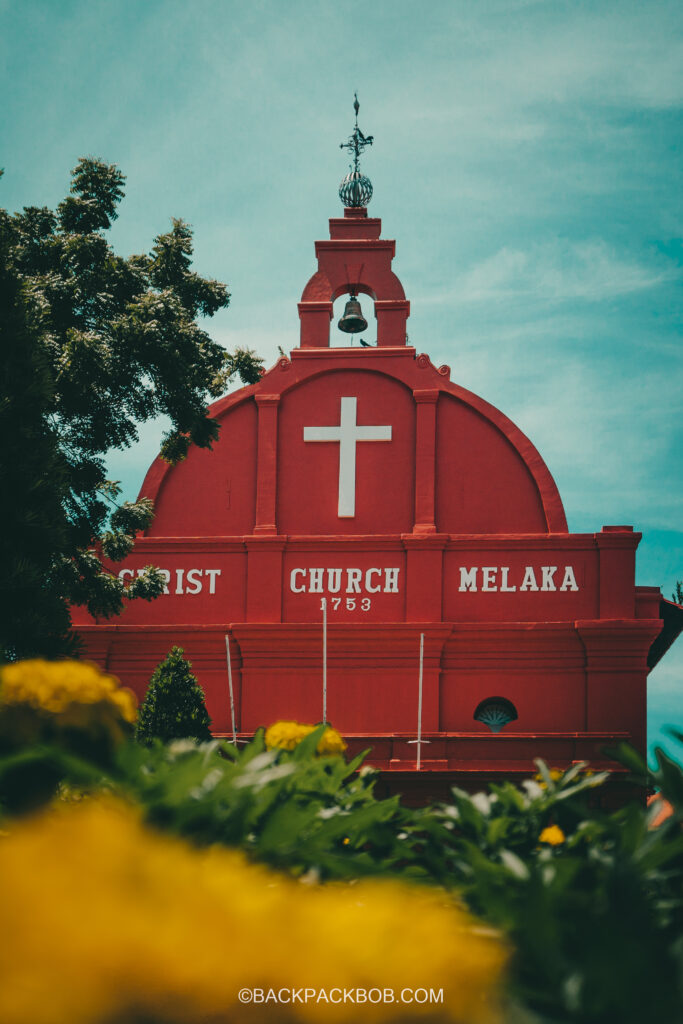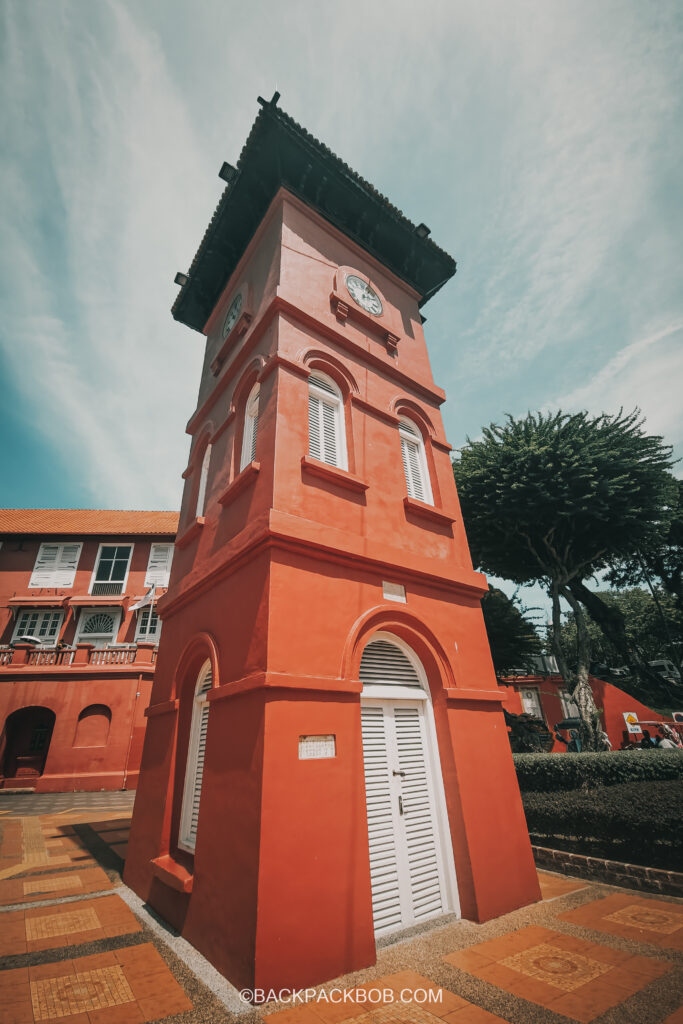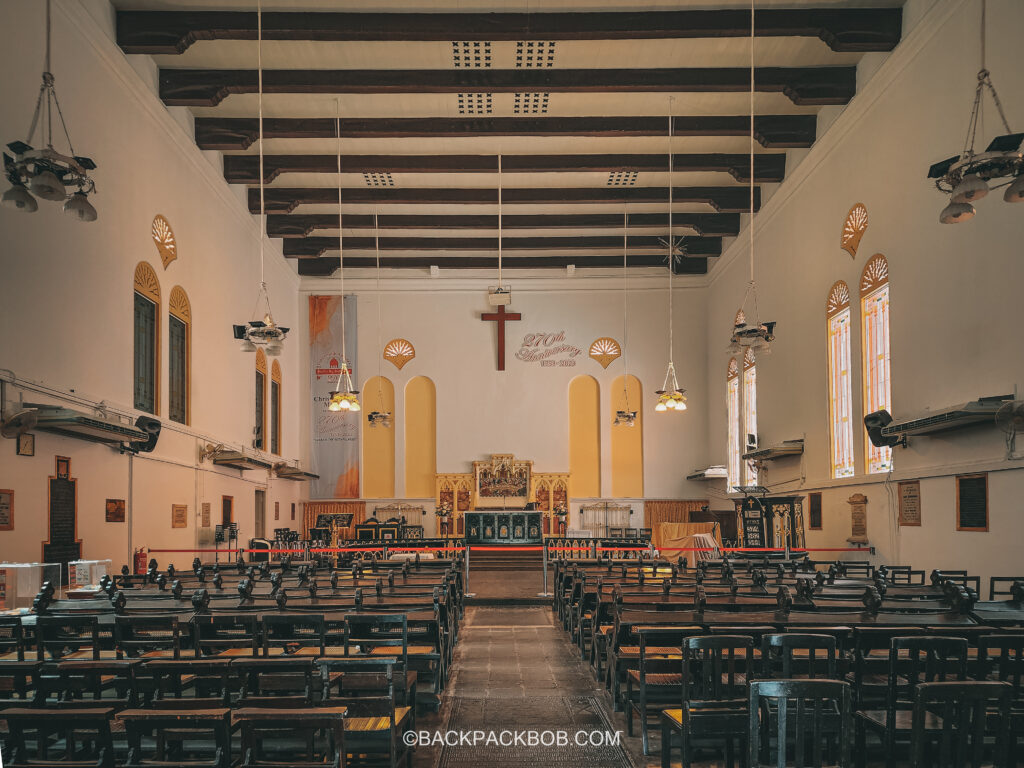 Melaka Christ Church is an active and working church. Visitors are welcome to enter and look around for free. There is also a Sunday service held at 8:30 am in English and 10 am, in Chinese. The service is also free to attend. Although the church is free to enter, there is a donation box where visitors can leave a small amount of cash to help with the upkeep of the church.
Next to the church is a museum called 'Studthys' and there is a small food market next to the river. You can stop here for some shade and a 'blended watermelon'!
5️⃣ Temples, Cathedrals and the Melaka Mosque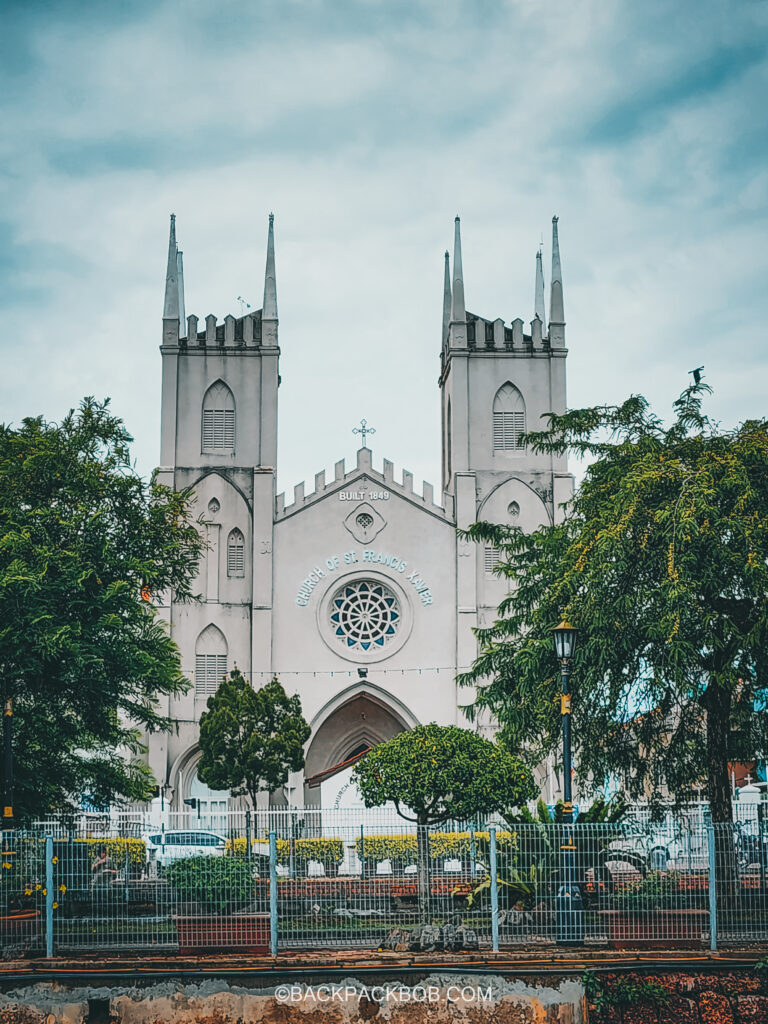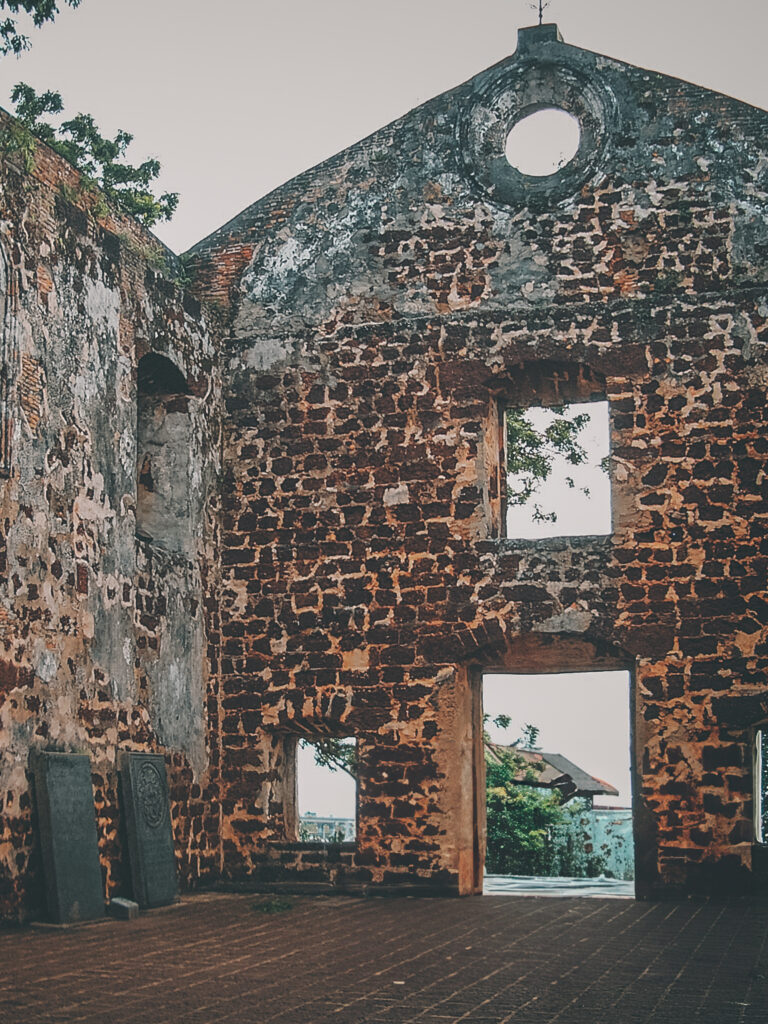 Melaka is home to a number of notable religious sites, in addition to Christ Church. These include the Cheng Hoon Teng Temple, St. Paul's Church, and the Melaka Straits Mosque. All of these sites are worth visiting, especially if you are interested in learning more about the different cultures that have influenced the city of Melaka.
Cheng Hoon Teng Temple
I don't often include temples on my list of 'must-see' tourist attractions. Having lived in Thailand, I've seen enough temples to last a lifetime. However, because the Cheng Hoon Teng Temple is just a short walk from Dutch Square; It is worth checking out. The temple is located on Tokong Street, which is an attraction in itself.
The temple is the oldest Chinese temple in Malaysia and a UNESCO World Heritage Site. It's a beautiful example of Chinese architecture, with intricate carvings and colourful decorations. It is easily reachable on foot. Admission is free, and the temple is open from 7 am to 6 pm daily.
St Pauls Cathedral
St. Paul's Church is a 16th-century Portuguese church in Malacca. It was originally built on the ruins of a 15th-century mosque. It is now a UNESCO World Heritage Site and is located less than 400 meters from the Dutch Square(Melaka Church). You can easily walk between the two places in a few minutes. St Paul's Cathedral is a ruin, and the roof has long-ago collapsed. But the walls and bell tower are still standing, and tourists can enter the remains of the building, for free, to look around. St. Paul's is open from 7 am to 6 pm daily and is free to visit.
6️⃣ Mellaca Straights Mosque, Melaka
The Melaka Straits Mosque is open from 8 am to 10 pm. But the last admission is at 6 pm, so you must enter before then if you want to see or photograph the mosque after dark. The sun sets around 7:30 pm, so you'll need to wait inside the complex, for an hour, or so.
It is easy to take a Grab taxi from Melaka Town to the mosque, the cost is around 11-17 MYR each way.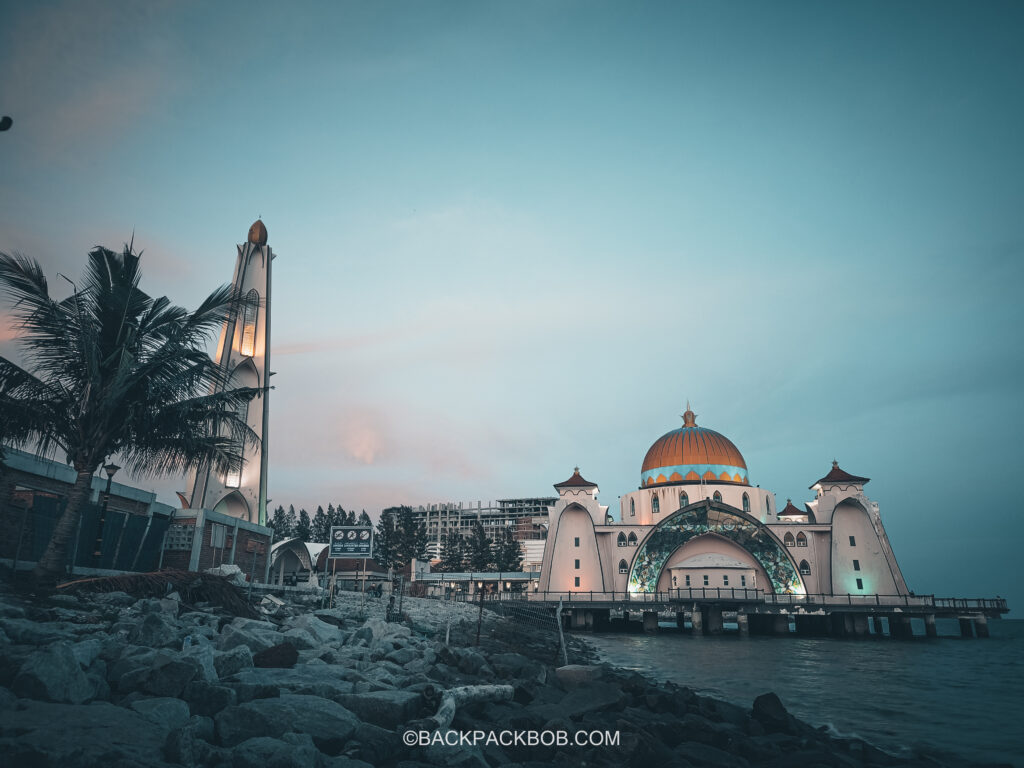 The Melaka Straits Mosque is a beautiful building constructed on a platform that reaches out into the sea. Which is where the nickname 'the floating mosque' comes from. There is a small beach exposed at low tide, but the real beauty is at night when the mosque is illuminated in beautiful shades of green, pink, and red.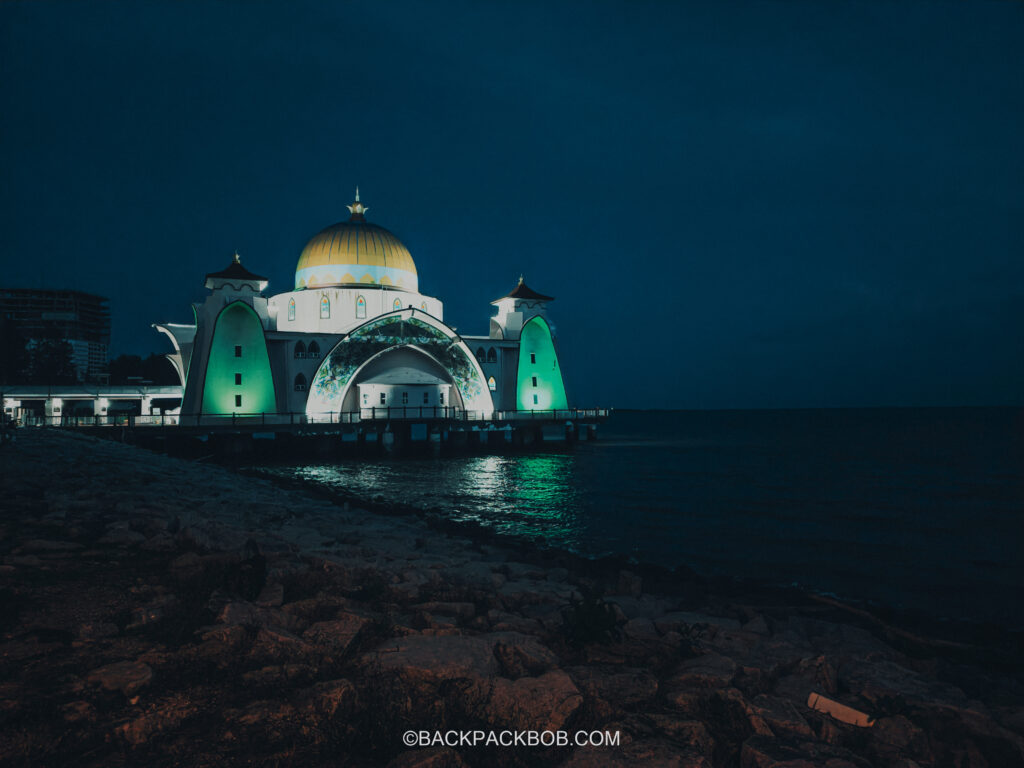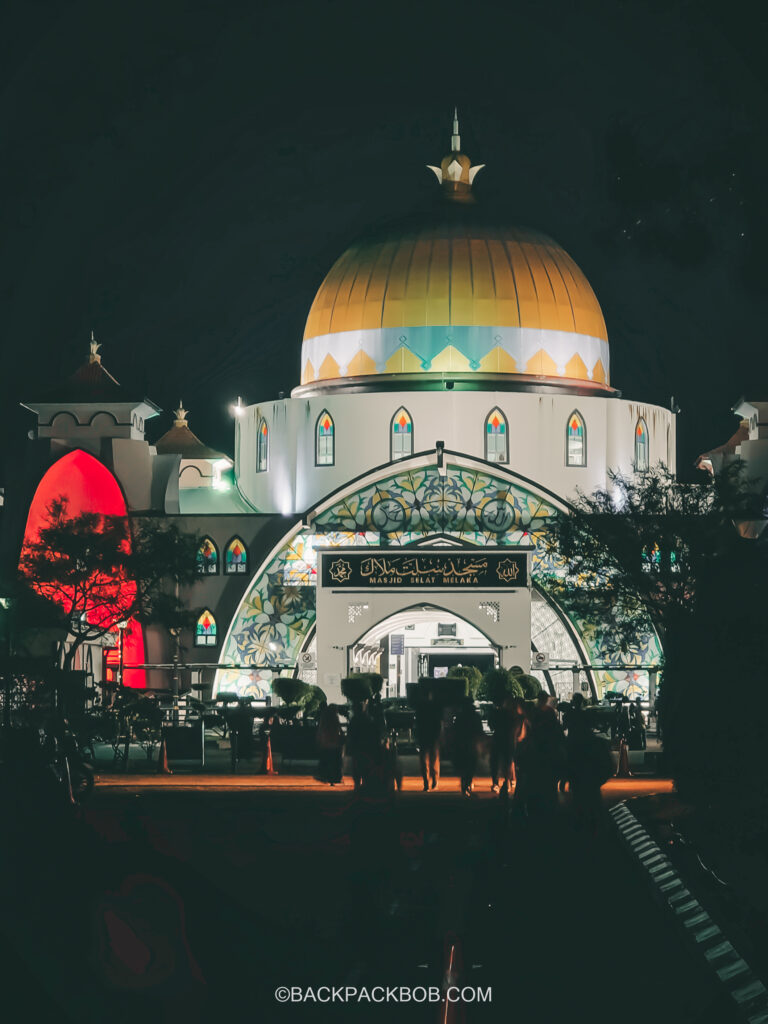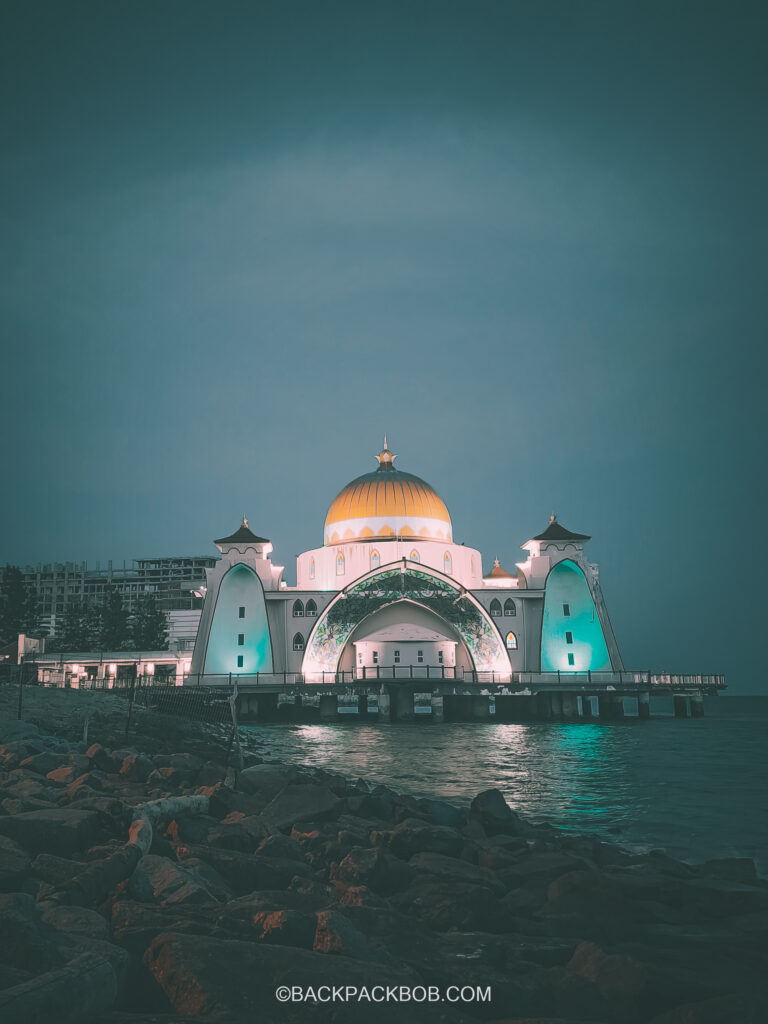 We arrived too late to go inside the mosque because we didn't know about the 6 pm cut-off time. But not ones to be easily deterred, we hatched a plan to convince a local fisherman to take us closer. Using our smooth-taking Malaysian language skills, ha, and some cold hard cash, we successfully hitched a ride around the island and onto the beach. From there, we were able to take some nice pictures of the mosque and exit from the main gate.
We saw a lot of other people who had also arrived after closing time and tried to access the beach by climbing the fence. Many people, successfully made it over the barbed wire, but we witnessed a lot of accidents as a result of people slipping on the rocks. I advise you not to climb the fence to get inside the mosque.
If you arrive before 6, you can enter the mosque. Non-Muslim tourists are welcome, however, the prayer hall is restricted to Muslims only. Women are expected to wear full Muslim attire, including covering their hair and heads. Men need to cover their knees. The mosque is free to enter, and head scarves for women can be rented for free.
7️⃣ Melaka Heritage Trail
You can follow the Heritage Trail for a walk around Melaka and you'll visit most of the popular attractions on this route. The heritage trail is signposted around the town but you can also get a copy of the map on your phone. The heritage trail is a totally free thing to do in Melak, and you don't need a guide.
The trail is a looped walk which starts and finishes at the Melaka tourist information centre (next to the Hard Rock Cafe). Along the trail, you walk down the famous Jonkers Street and you will see some of the best things in the city, including; A Famosa, Hang Li Poh's Well, Villa Sentosa, and the Kampung Kling Mosque.
8️⃣ Melaka River Front Bars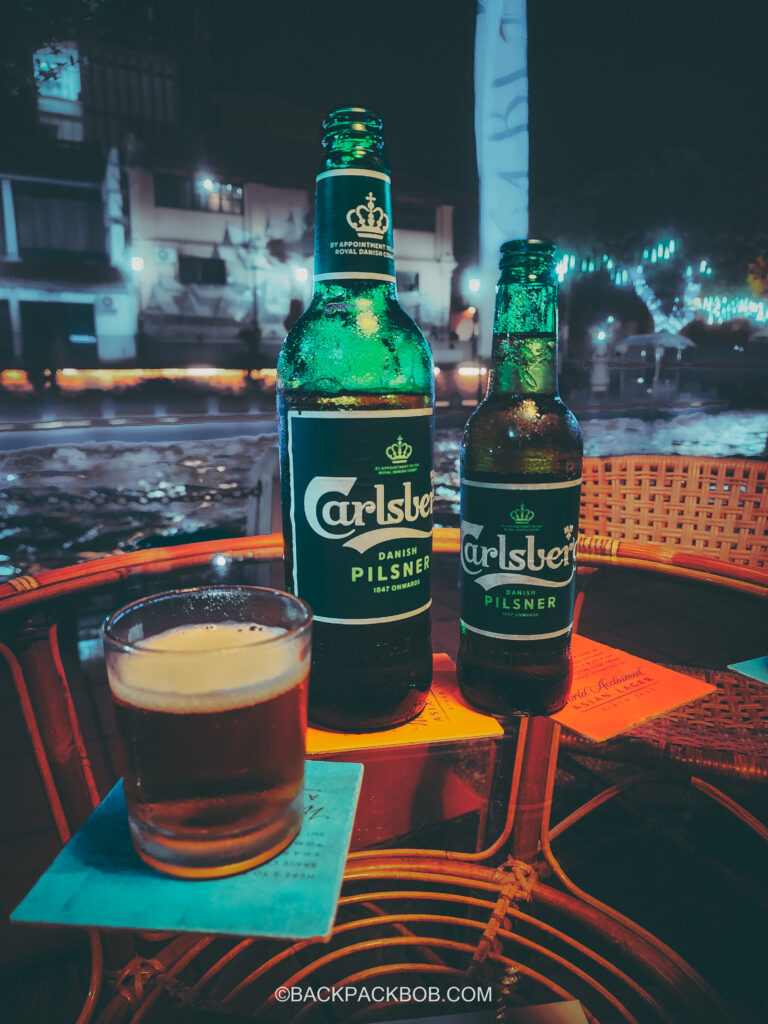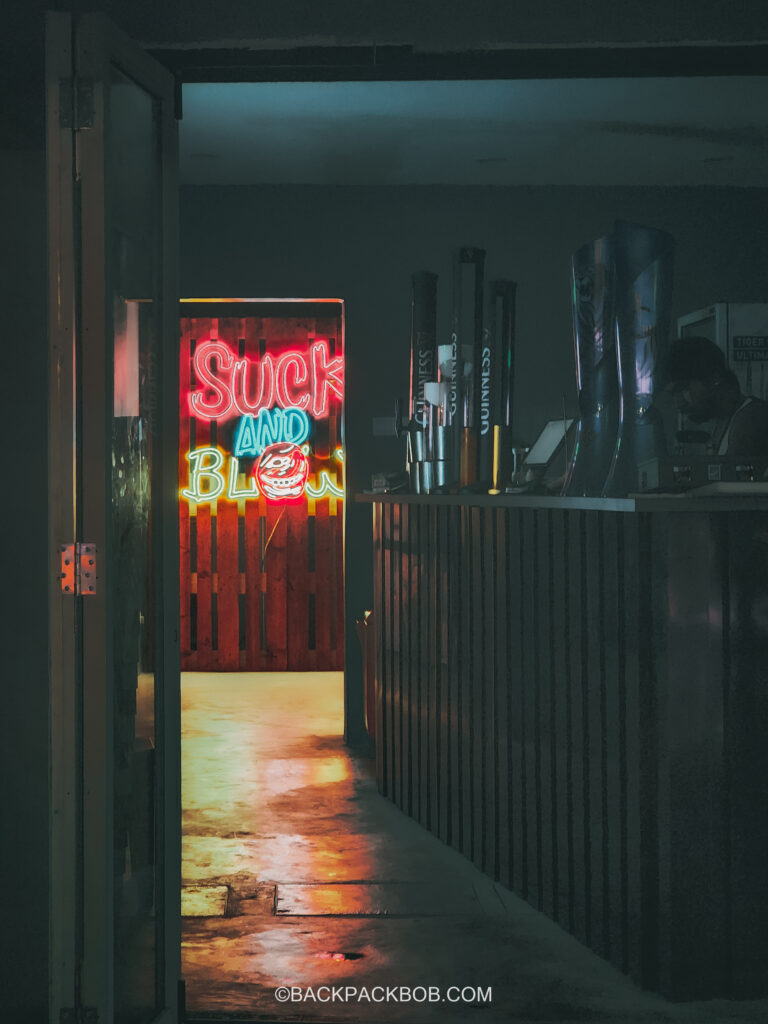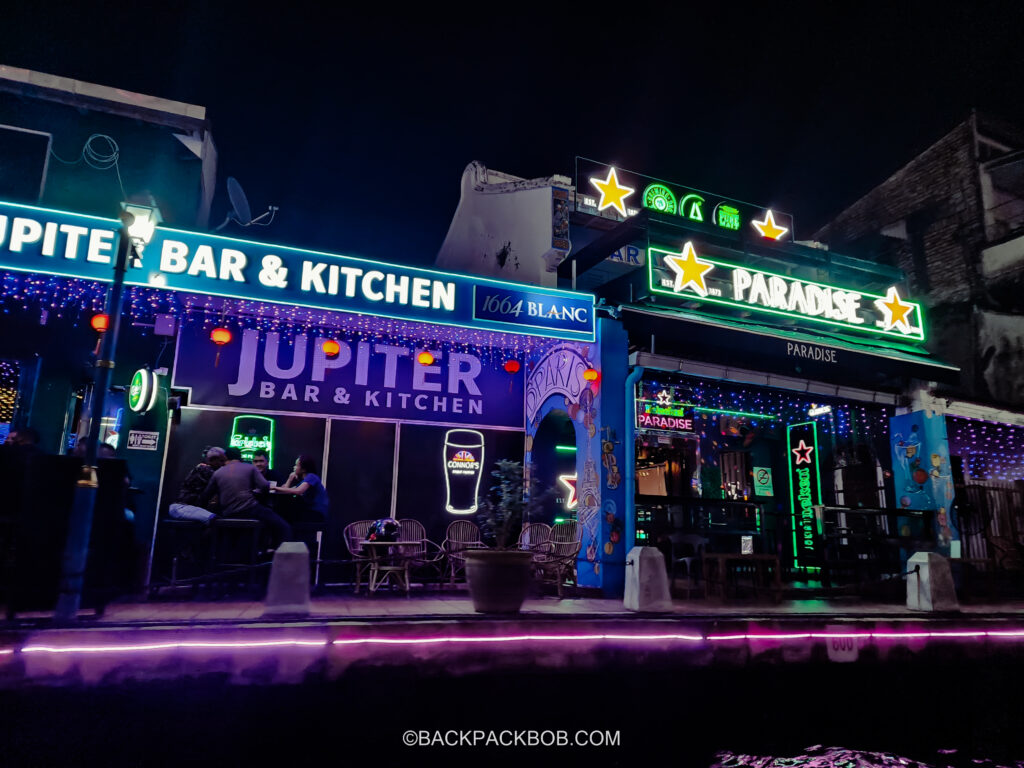 Nightlife in Melaka is a beautiful thing to experience. The people are friendly and the atmosphere is relaxed. It's a peaceful place that reminds me of sitting by a canal in the UK, or a beach town in Greece, without the 18-30 British and Australian tourists causing havoc. The town feels civilized, and remote, giving a fresh take to nightlife.
One of my favourite things to do in Melaka was to sit and relax, next to the waterfront. You can watch the world go by, and you'll see the boat tours cruising up and down the river. Beers are reasonably priced (by Malaysian standards), and we even found a bar that served fish and chips. It wasn't exactly British style, but it was close enough and a thousand times better than what you'd get in Thailand. There are also plenty of food stalls dotted around, and the town is safe and well lit.
9️⃣ Melaka River Cruise
Taking a boat cruise along the river is the most popular activity in Melaka. There is one company that operates the boat tours, from midday until 11 pm, I recommend taking the cruise in the evening when the river is illuminated. Read the full guide here.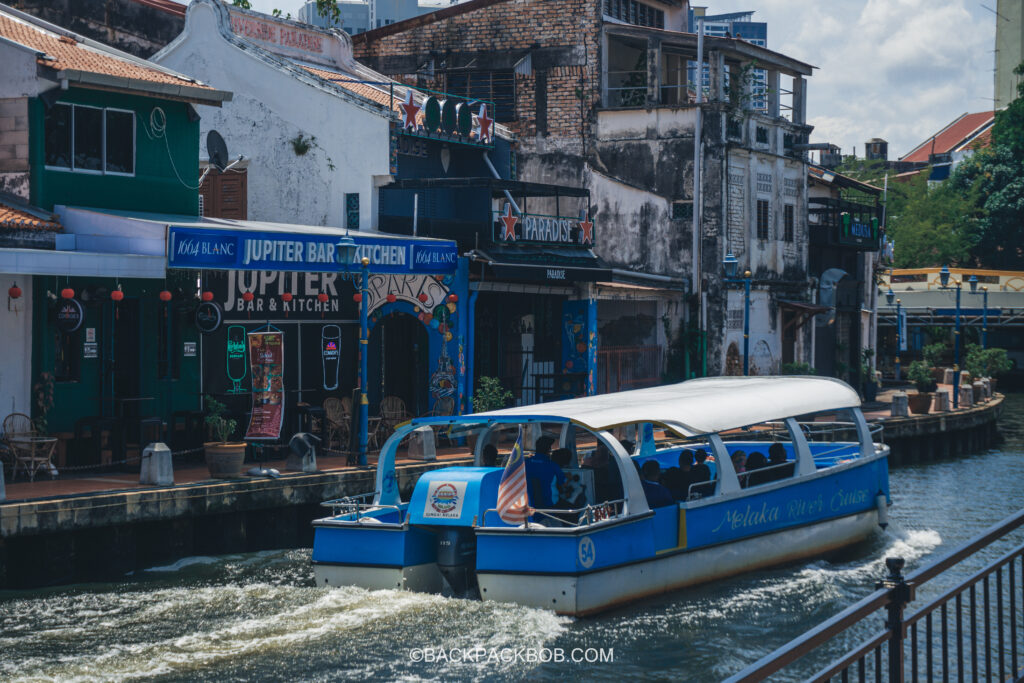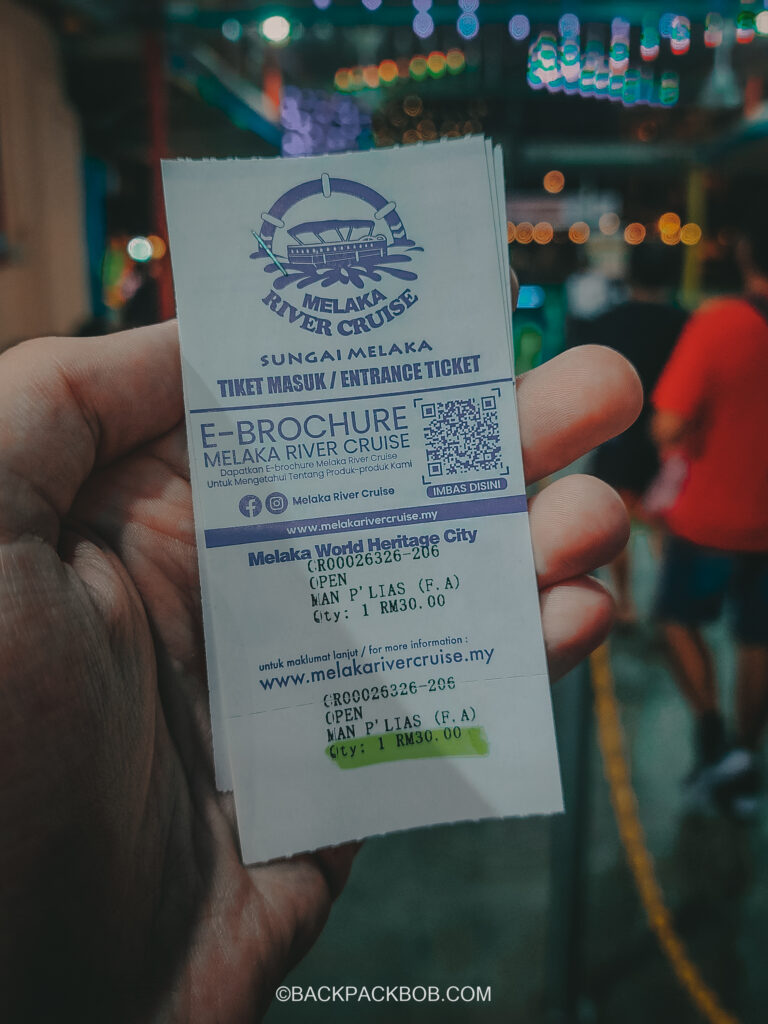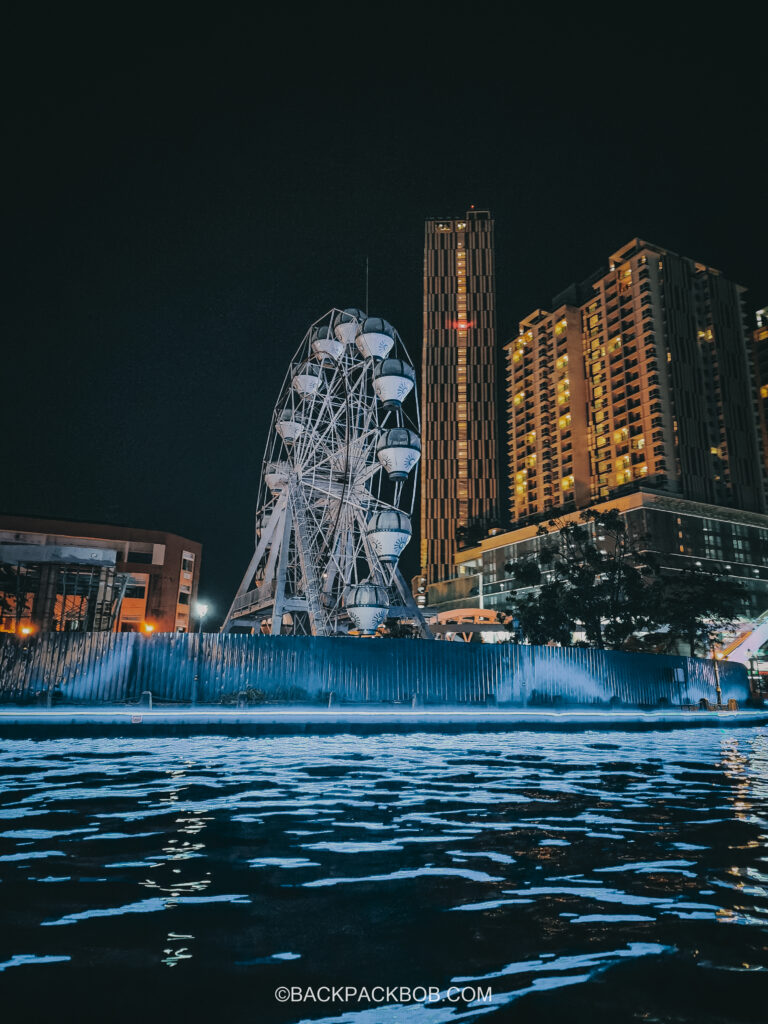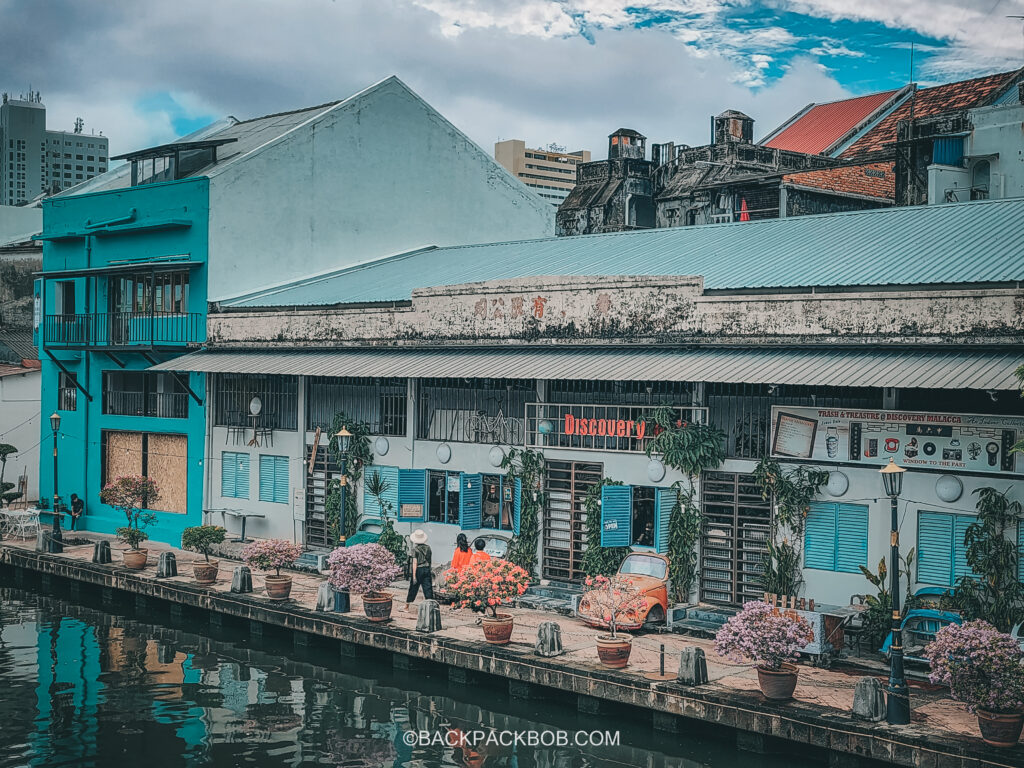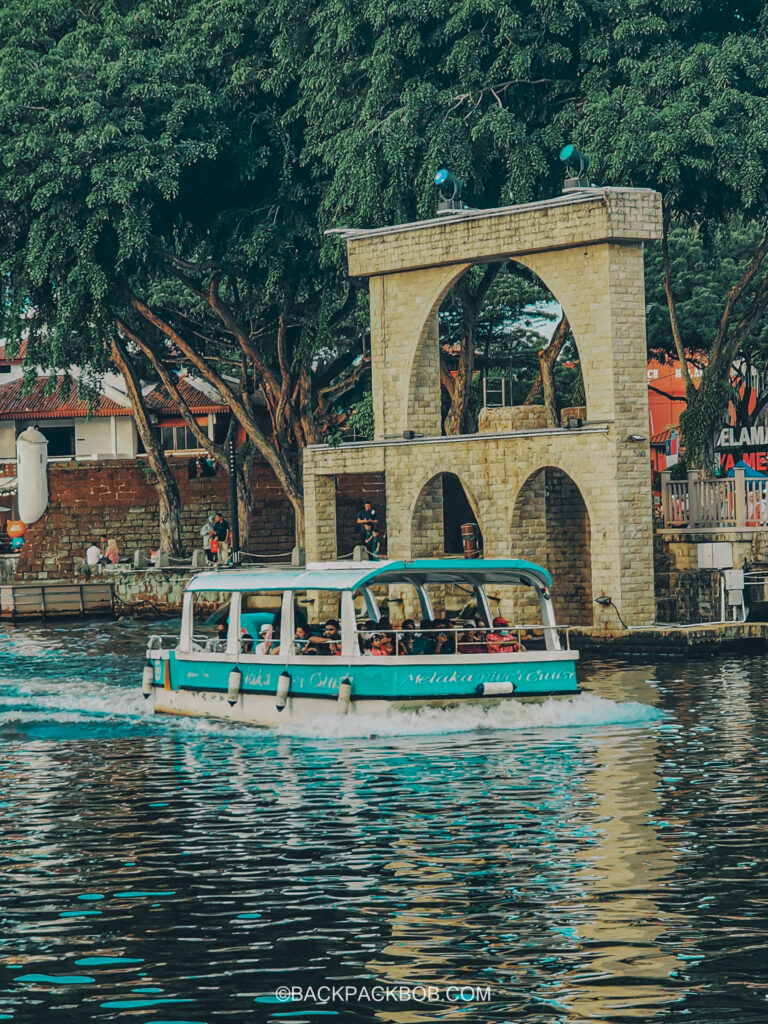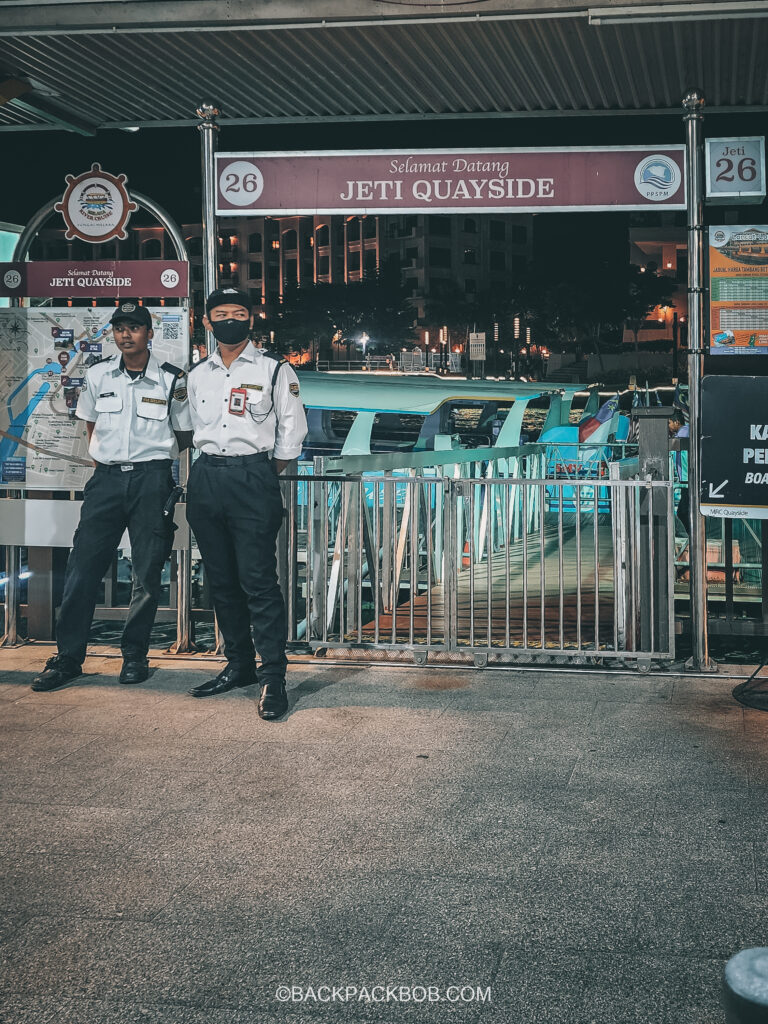 The boat cruise itself is short, lasting around 30 minutes. There is audio commentary in three languages(Chinese, English and Bahasa), but the speakers are so quiet that you can't hear much over the engine noise. You don't need to book the Melaka River Cruise in advance, most people buy tickets at the kiosk when they arrive. The ticket booth is across the street from the Dutch Square Church and tickets cost 30 MYR per person.
Some people say that the cruise is overpriced, and I agree. However, it is still a pleasant experience, and the company invests some money into cleaning the river. In the early morning, you can see the boat crews out with nets, scooping leaves and debris from the night before.
🔟 Klebang Beach (Melaka Sand Dunes)
Melaka is right on the coast of Penisula Malaysia, (it was a famous trading port, after all). So there are a lot of beaches here.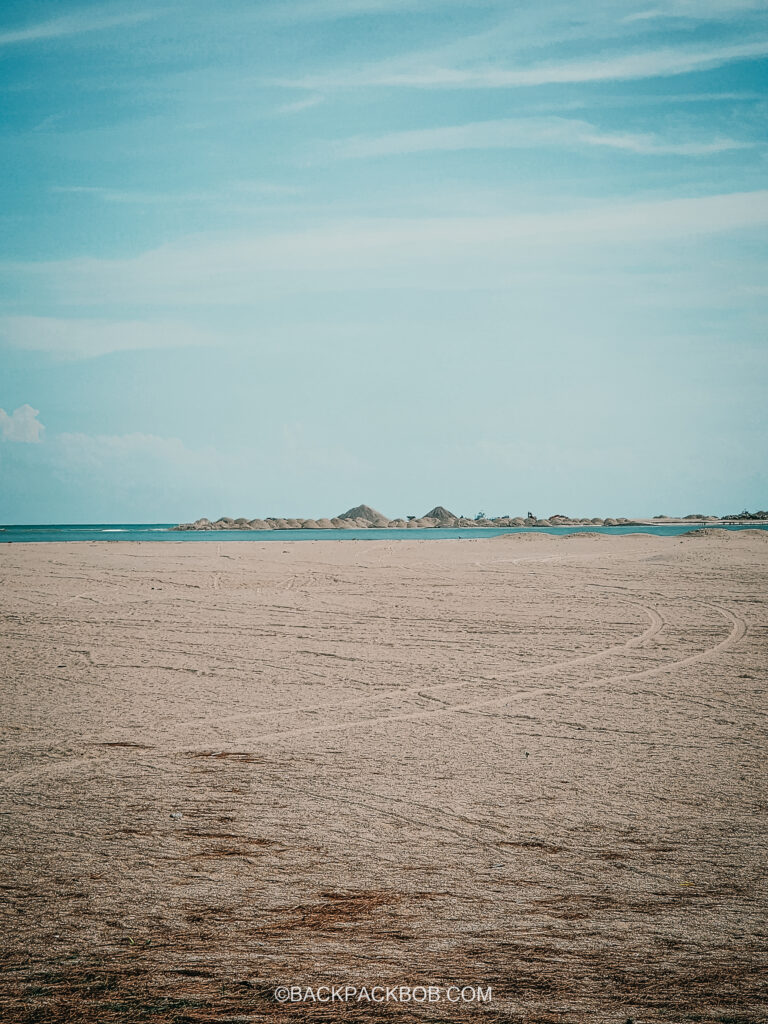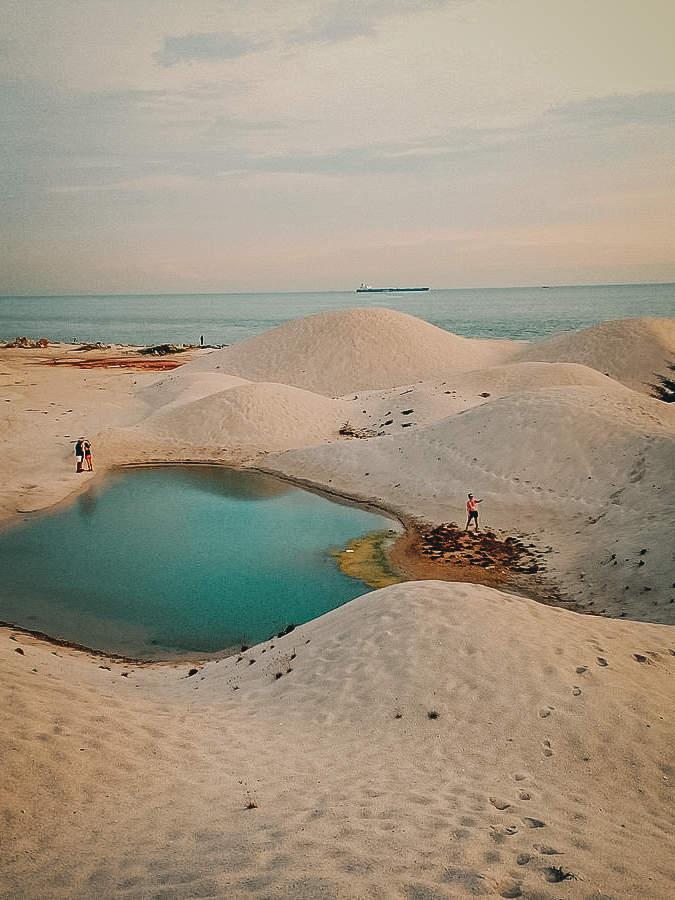 Just because there are beaches, it doesn't mean you'll want to sunbathe. The beaches in Melaka are not pretty, you'd need to go further north, to Langkawi, or Koh Libong for nice beaches.
But there is one beach in Melaka which is worth visiting, the beach is called Pantai Klebang, otherwise known as the 'Sand Dunes Beach'. It's a cool spot to explore and take photos, but it's a little far from town. You'll need a Grab Taxi. Try to visit in the early morning or the evening, because there is no sun protection here.
🔢 Museums of Melaka
There are a ton of Museums in Melaka, which should not come as a surprise based on the rich history of this place! The most popular is the Sultanate Palace Museum, which was built in 1986 and houses many historical artefacts.
Another popular Museum in Melaka is the Flor de la Mar or 'the maritime museum'. This museum is inside a 68-meter replica Dutch Flor de la Mar Ship. And the exhibits paint a picture of Melaka during the time of the Dutch colonisation. The Maritime Museum costs 10 MYR (£1.60) to enter and is open daily from 9 am to 5.30 pm.
Other popular museums in Melaka include; The Stadthuys, The Baba & Nyonya Heritage Museum, The Muzium TLDM Melaka, The Architecture Museum, the Stamp Museum and the Islamic Museum of Malacca. Here is a list of 33 more museums in Melaka!
➕ Even More Things To Do In Melaka
In addition to the tourist attractions I have listed, there are many other things to do in Melaka. For example, you can ride the Taming Sari Tower, an activity which we decided to skip because I am terrified of heights. This attraction lifts you up in the air and gives you a 360-degree view of Melaka. You can also visit the Shore Sky Tower, (another terrifying glass bottom attraction), climb 'Bukit China', visit the upside-down house, admire the street art all around town; including the 'Melaka' mural, or visit the Orangutan House, (which is actually a quirky art gallery). And if you're somehow, still stuck for ideas on things to do in Melaka, then head to the streets and sample the delicious street food. It's plentiful, affordable, and can be found all over the city.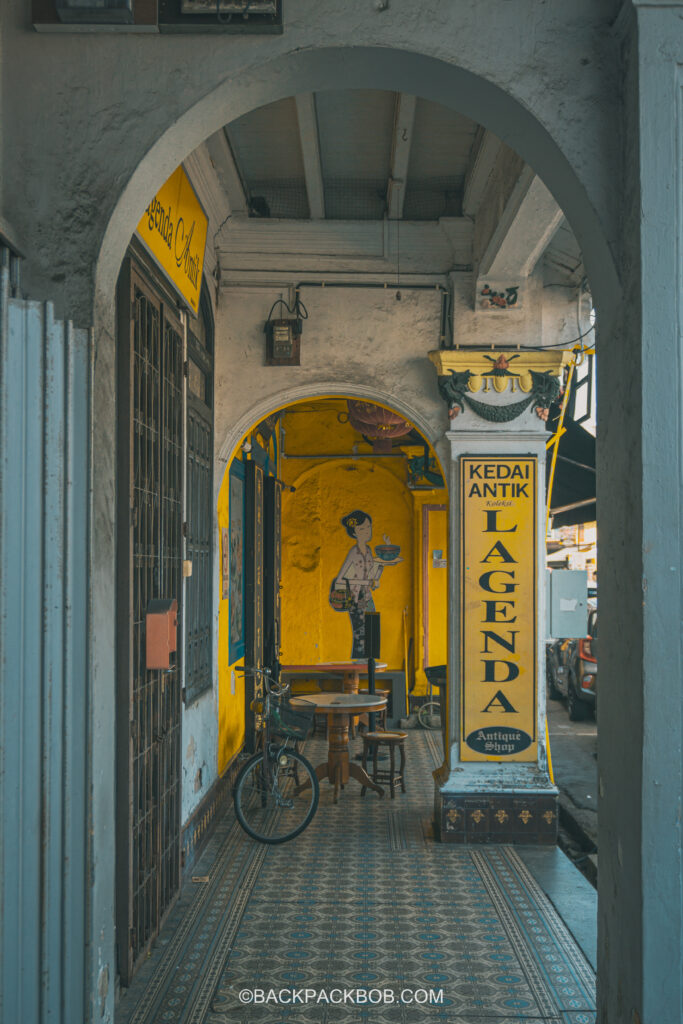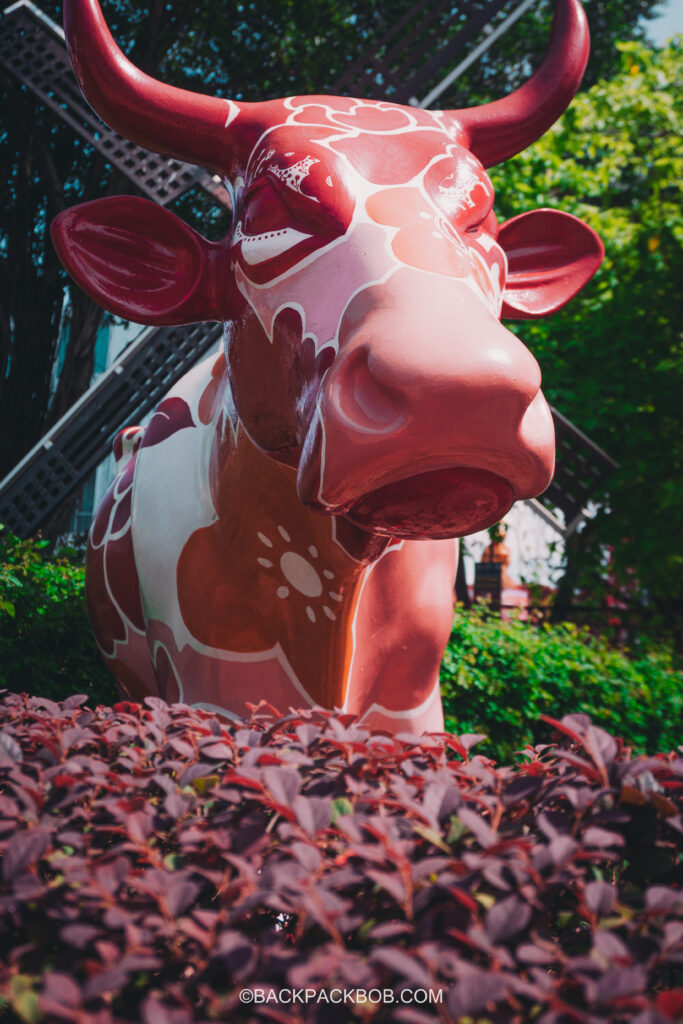 History of Melaka
Melaka is a city with a rich history. It was founded in the 15th century by Parameswara, a former prince from Sumatra. Melaka quickly became a prosperous trading port, attracting merchants from all over the world.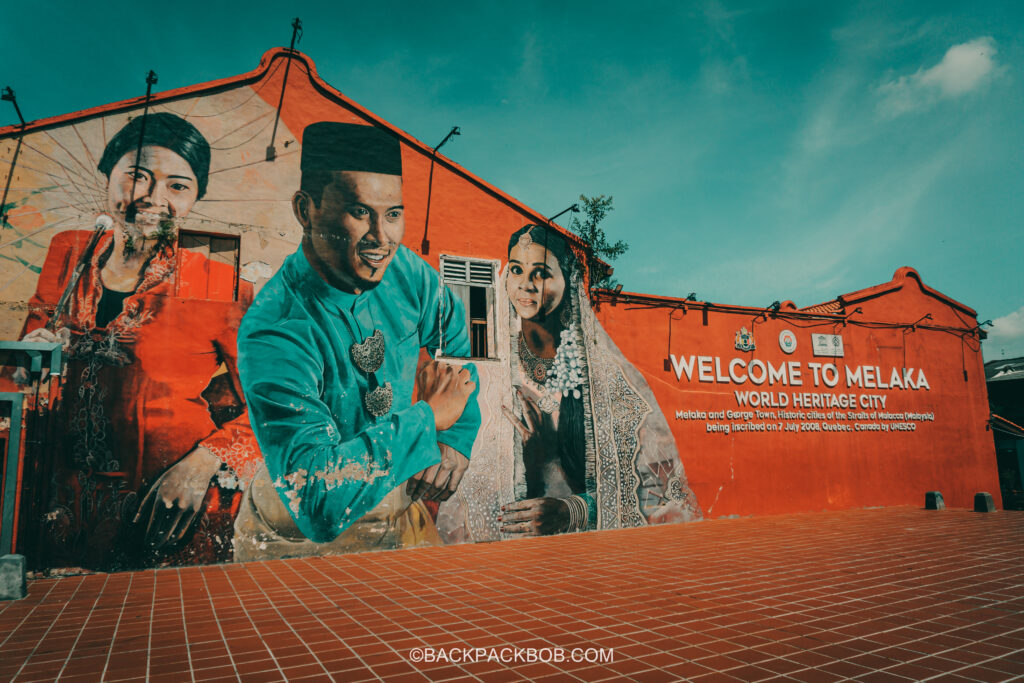 Melaka was conquered by the Portuguese in 1511, and then by the Dutch in 1641. The British took control of Melaka in 1824. Before Malaysia gained independence in 1957. Today, Melaka is a UNESCO World Heritage Site, a status the town has held since 2008. It is one of two historic cities in the Malacca Straits, along with George Town in Penang.
Melaka is home to many historical landmarks, such as the Sultanate Palace, the Cheng Hoon Teng Temple, and the Christ Church. These historical monuments form the basis of the UNESCO site in Melaka. Relics from all the former colonists are visible in present-day Melaka, most notably in the architecture of the buildings.
Melaka has now become a popular tourist destination, (or I guess, since the 16th century, it always has been)! visitors often come to Melaka from Asia and Europe, to explore the city's rich history and culture.
How To Get to Melaka
Read the full guide here: How to Get to Melaka.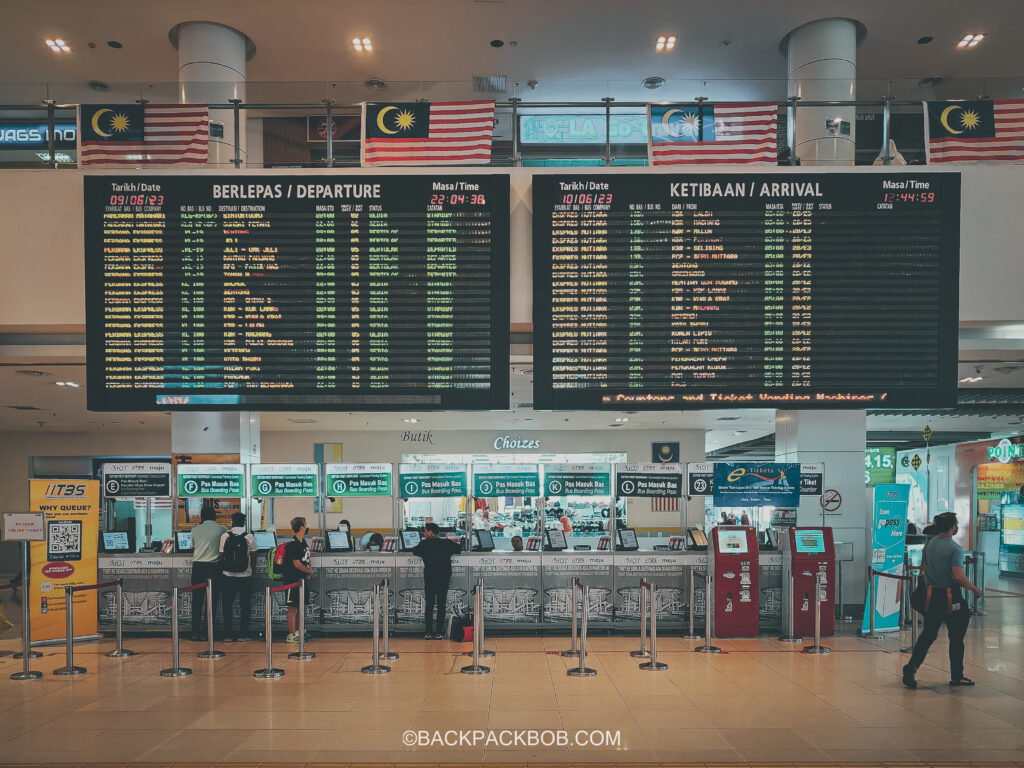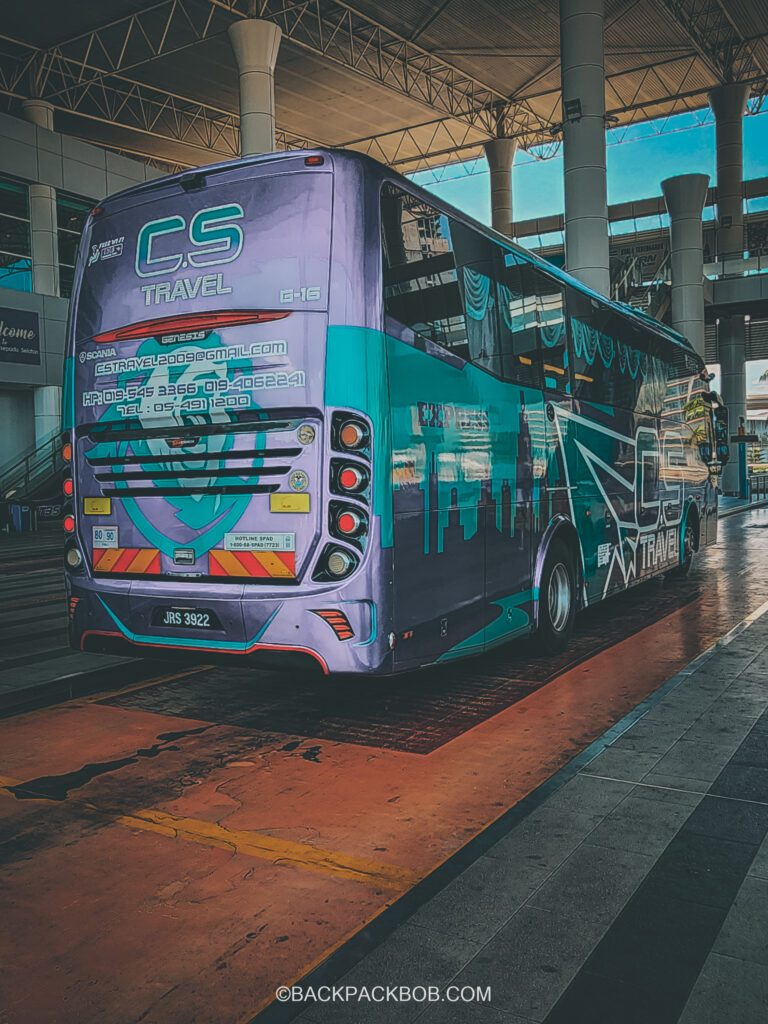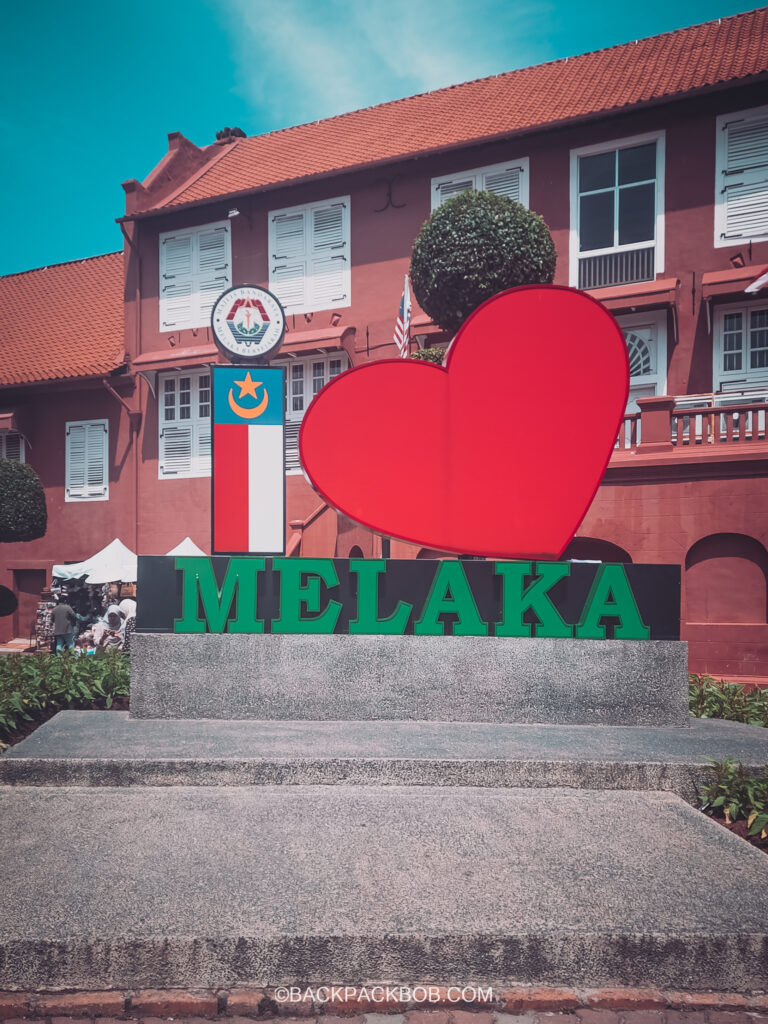 Melaka has an airport, but there are no scheduled flights. There is also no train station in Melaka. The best way to get to Melaka is by bus. There are 10-15 buses that leave Kuala Lumpur every day. Buses depart from the TBS Bus Terminal and tickets cost between 9 MYR and 17 MYR. You can buy tickets at the bus station or book online. The journey from Kuala Lumpur to Melaka takes 2 hours.
Buses also operate between Singapore and Melaka (4 hours) and Johor and Melaka (1 hour). All buses arrive at Melaka Sentral Bus Station, which is a 20-minute drive from the city centre. You can easily arrange a Grab to the city for around 15 MYR.
Note: Local taxi drivers at the bus station are hostile towards Grab drivers and users. It is best to walk a short distance from the bus terminal and find a more suitable spot to order a Grab from.
Self-Driving to Melaka
Another way to get to Melaka is to rent a car and drive yourself. Although it is not necessary because you shouldn't need a car much to get around when you are in Melaka. The town is very walkable. However, if you prefer to self-drive, the route from Kuala Lumpur to Melaka is straightforward. There is one major highway connecting the two cities.
I recommend renting a car from this company. They have a good selection of cars to choose from, and their prices are reasonable. The drive from Kuala Lumpur to Melaka takes about 2 hours.
Making a Day Trip to Melaka
There are many companies in Kuala Lumpur that offer day tours to Melaka. These tours are a great option if you are short on time, as they allow you to see the city's highlights in a single day.
Tour prices typically cost 70 – 90 MYR for a shared tour or 450 MYR for a private tour. The downside of taking a tour is that you will miss spending time in Melaka in the evenings, and you'll miss the Jonkers Street Market, which is the best time to experience the city's vibrant atmosphere.
However, if you only have time for a day trip, then it is better to book a tour and see as much as you can in the day than to not see Melaka at all.
Best Hotels and Where to Stay In Melaka
Melaka has three districts: Alor Gajah (North), Jasin (South), and Melaka Tengah (Central).
Tourists should base themselves in Melaka Tengah (Central Melaka), which is where the town of Melaka is located.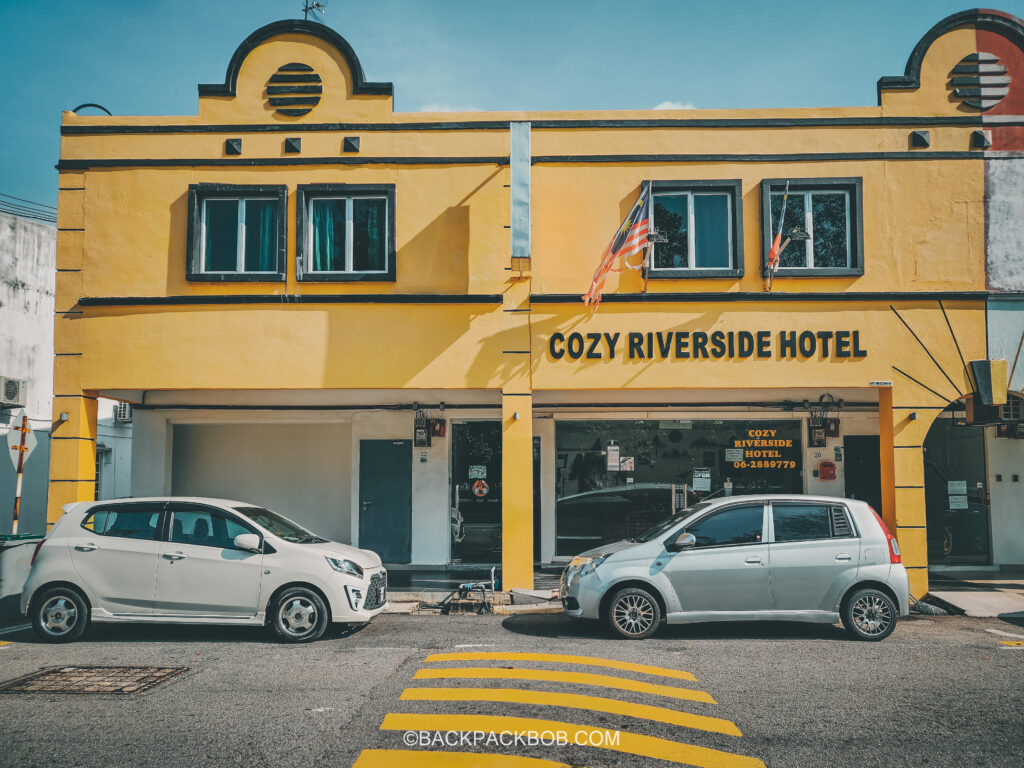 Melaka is a small town and most places of interest are within walking distance of one another. However, the city does expand out, so it's best to stay near the town centre. The Dutch Square/Red Square is a good reference point, search for hotels on a map, and you will find there are many hotels within 1-2 kilometres of that area.
We stayed in a small guesthouse by the river, called the Cozy Riverside Hotel. It was the nicest budget hotel we stayed in Malaysia, and I highly recommend it. You can book the hotel here. There are many other hostels and guesthouses in this area, and they are all very affordable. The more upmarket hotels are located further outside of town.
The cost of our hotel was 45 MYR per night on the weekend, but it is 35 MYR per night during the week.
Here are some tips for choosing a hotel in Melaka:
How To Get Around in Melaka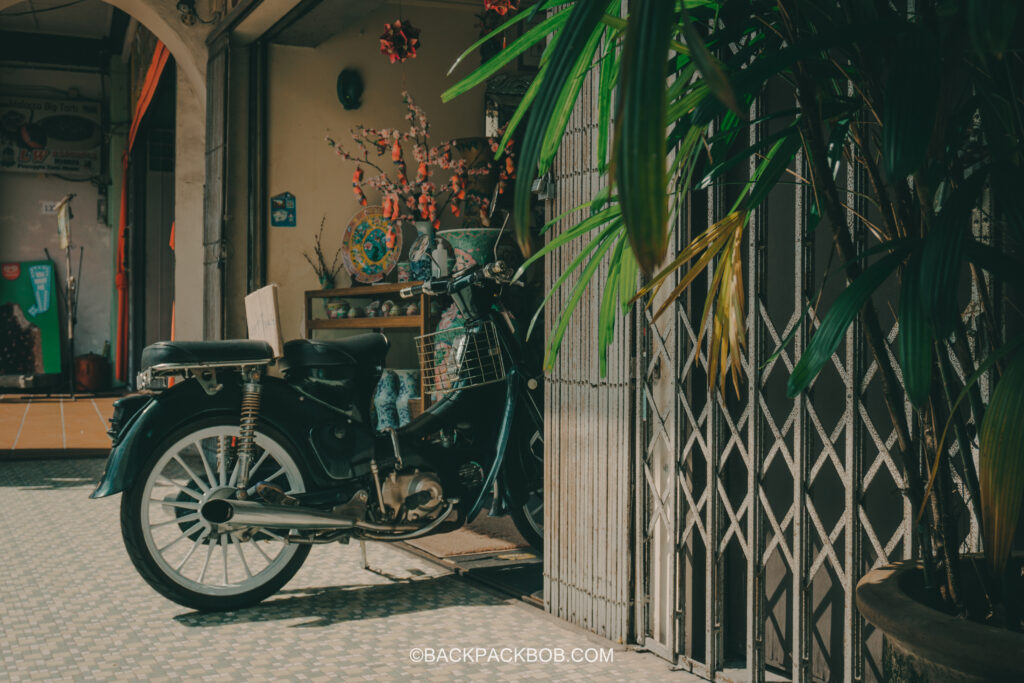 Melaka is a very walkable city. If you stay in a central location, like the Cozy Riverside Hotel, you will be able to walk to all of the major attractions. The Dutch Square, the museums, the bars, the river, the boat cruise, the temples, the cathedrals, Little India, Tokong Street, and Jonkers Street are all within walking distance.
There are also some places where you can rent a bicycle. The cost is around 10 MYR per day and can be a great way to explore the city at your own pace.
Taxis and Grab in Melaka
If you want to explore attractions further from the city centre, such as the Melaka Straits Mosque, you will need to take a taxi.
Yes, there is Grab in Melaka
Taxis are easy to hail in Melaka, and there are many drivers using the Grab application. Rides are also reasonably priced, with an average fare of 10 MYR for a 20-30 minute ride. Maxim is often a cheaper alternative.
Rickshaws in Melaka
Rickshaws are a novel way to get around Melaka. You can find these three-wheeled pedal-powered vehicles all over the city, but they are especially popular in the evenings in the Jonkers Street area. The rickshaws are illuminated in a sea of LED lights and music is pumping from the onboard sound systems.
It could also be considered a thing to do in Melaka because a lot of rickshaw drivers offer tours of the town centre. The rides are fixed at 40 MYR per hour, so even if you only want a short ride, you will have to pay the full-hour rate.
How Much Do Things Cost in Melaka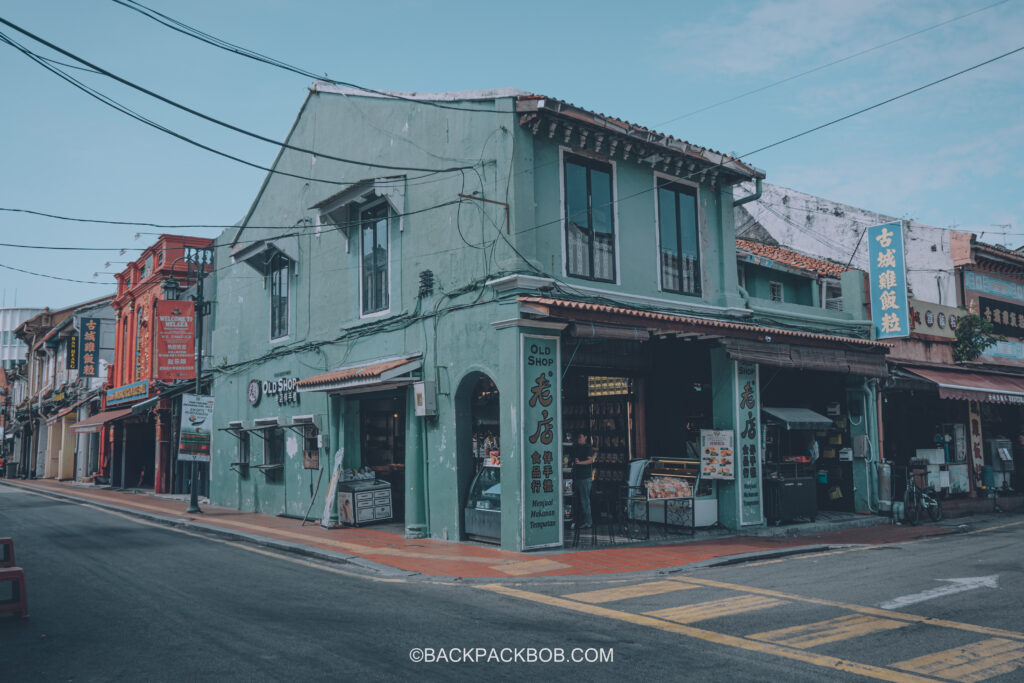 Melaka is an affordable city to visit, even on a backpacker's budget.
Some activities, such as boat cruises, are overpriced. However, you can get a similar experience by walking along the riverside footpath instead.
Some restaurants, such as the famous Geographer Cafe, are more expensive because of their fame. However, you can save money by eating at lesser-known restaurants on the same street that offer similar quality food.
Here are some average costs of things in Melaka:
Of course, these are just average costs. You can spend more or less, depending on your budget and your travel style.
How Much Time Should You Alocate For Melaka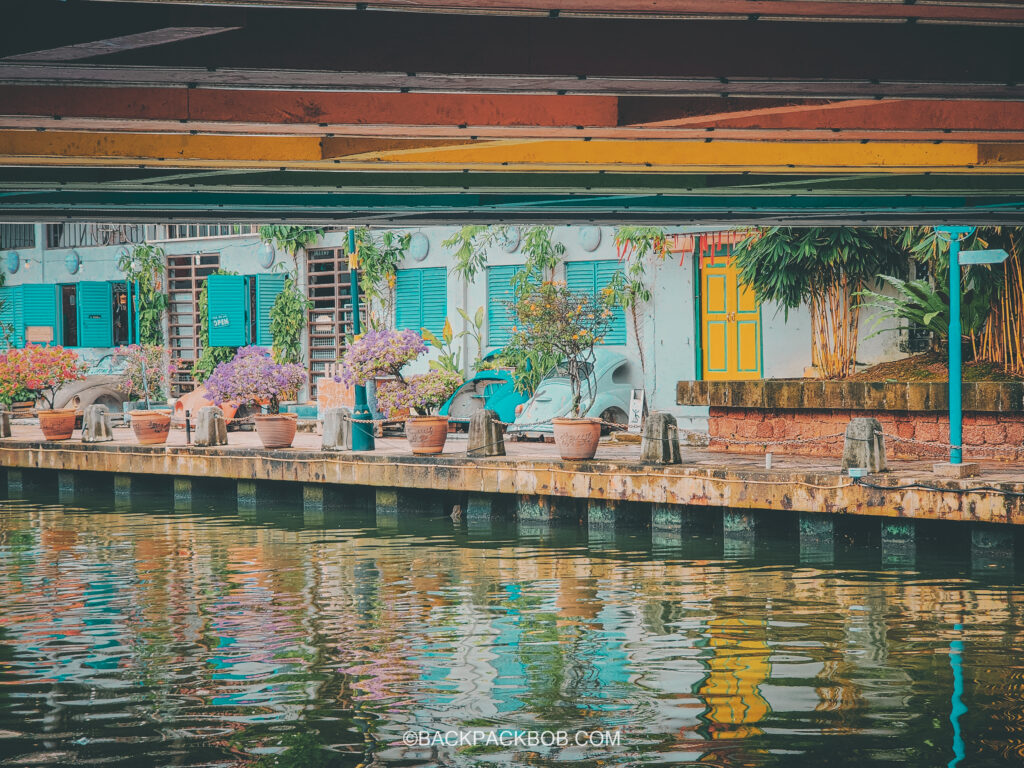 How many days is enough for Melaka? We initially planned to spend 2 days in Melaka, on our Malaysia Itinerary. but we ended up staying for 3 nights. We fell in love with the town and wished we could have stayed longer. We would have if it wasn't for our booked flights (to Borneo)! booked.
If you are short on time, 2 days are enough to see the main attractions in Melaka, most attractions are close to each other and walkable. However, if you have the time, or are lucky enough to visit on a weekend then I recommend staying for 3 nights. This will give you time to experience the famous Jonkers Street Market, take a river cruise, and enjoy the nightlife in Melaka. A good rule to follow is that you should spend more time in Melaka, than in Kuala Lumpur.
When is The Best Time to Visit Melaka
Melaka is a great place to visit on weekends.
Some places in Malaysia become overcrowded on weekends, such as Langkawi and the Cameron Highlands. However, Melaka is different. The weekends are the best time to visit, which is when the whole town comes to life.
Locals make the two-hour drive from Kuala Lumpur to escape the capital city for the weekend and it creates a real buzz in the air. There are more events and activities happening on weekends, including street performances and live music. The real highlight is the Jonkers Street Market, which is only open on Friday, Saturday, and Sunday evenings.
If your itinerary allows for it, I highly recommend visiting Melaka on the weekend. Just remember to book a hotel in advance, as the city gets quite popular on weekends.
Best Places to Eat in Melaka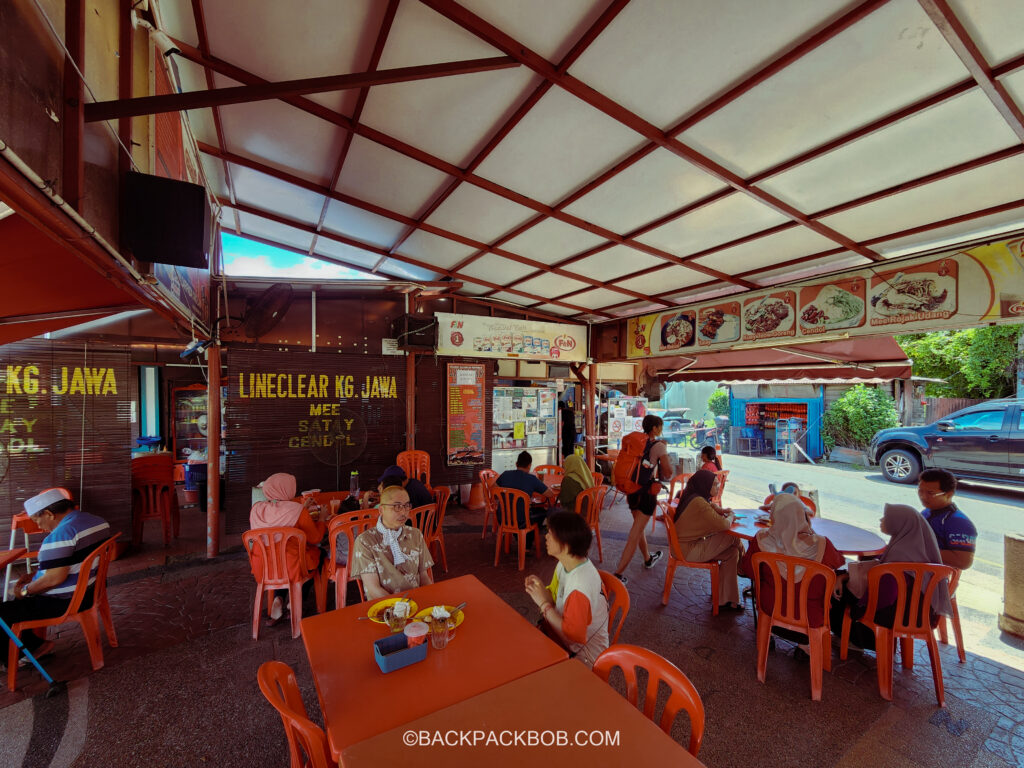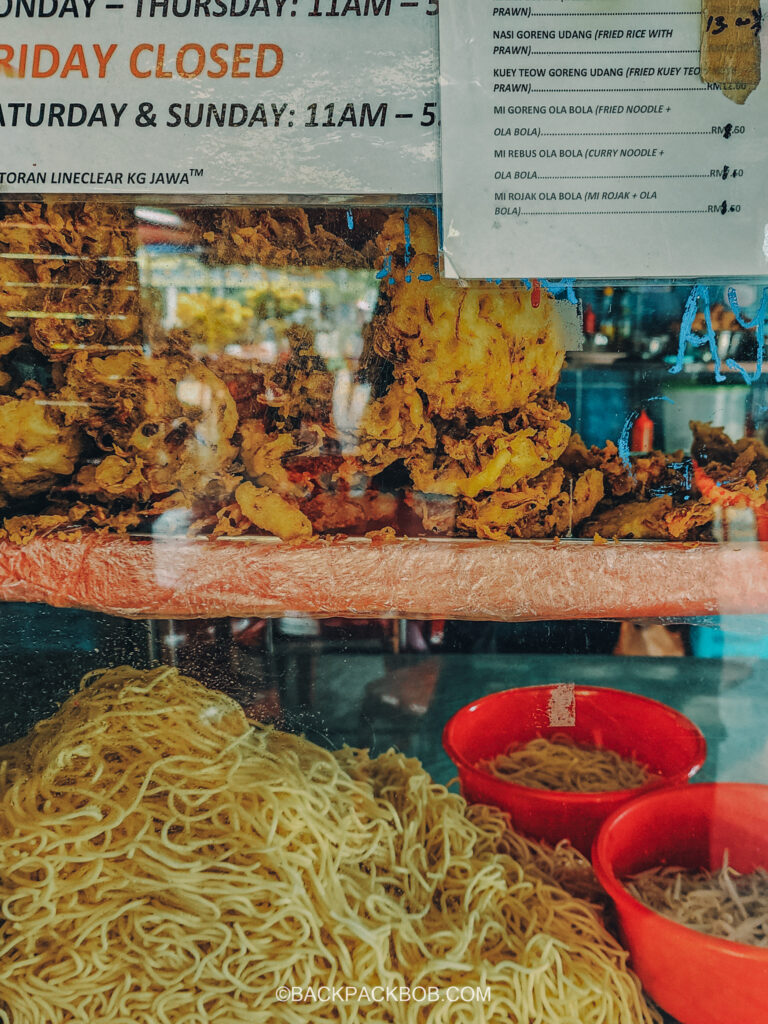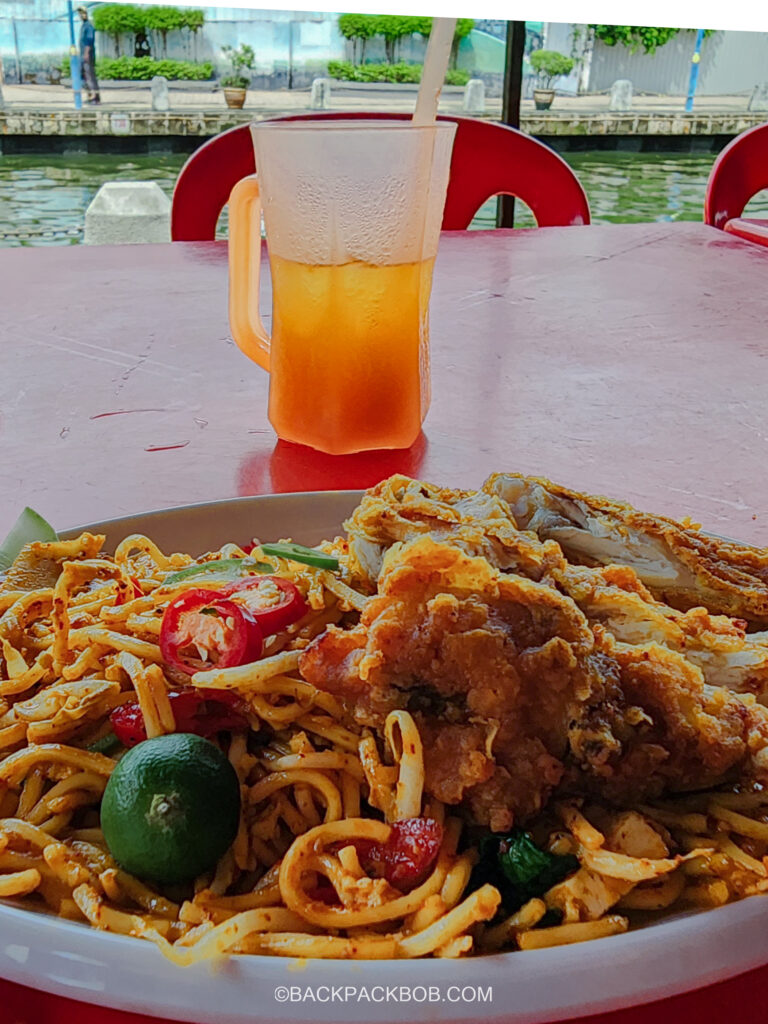 In Malaysia, Ipoh is often said to have the best food. But I disagree. There is incredible food all over Malaysia, including in Melaka. Melaka has an impressive mix of different cuisines, including Peranakan cuisine, which is an exotic fusion of Chinese and Malay foods. You'll also find flavours inspired by India, China, local Malayan, and Indonesian cuisine. One of the most unique foods to try in Malaysia is 'banana leaf', where you eat curry with your hands. You can even find good Western food in Melaka. I was ecstatic to find a place serving British fish and chips that was almost as good as what I would get in the UK!
Most of Malaysia is Muslim, so pork is usually off the menu. But Melaka is different. You can have a real Pork Night here. With its diverse cultures and religions, you'll find plenty of places serving pork in Melaka. So if you're craving a bacon sandwich after a few weeks in Malaysia, Melaka is the place to go. Additionally, I recommend trying some local Melakan dishes such as bak kut teh and char kway teow, which are traditionally served with pork.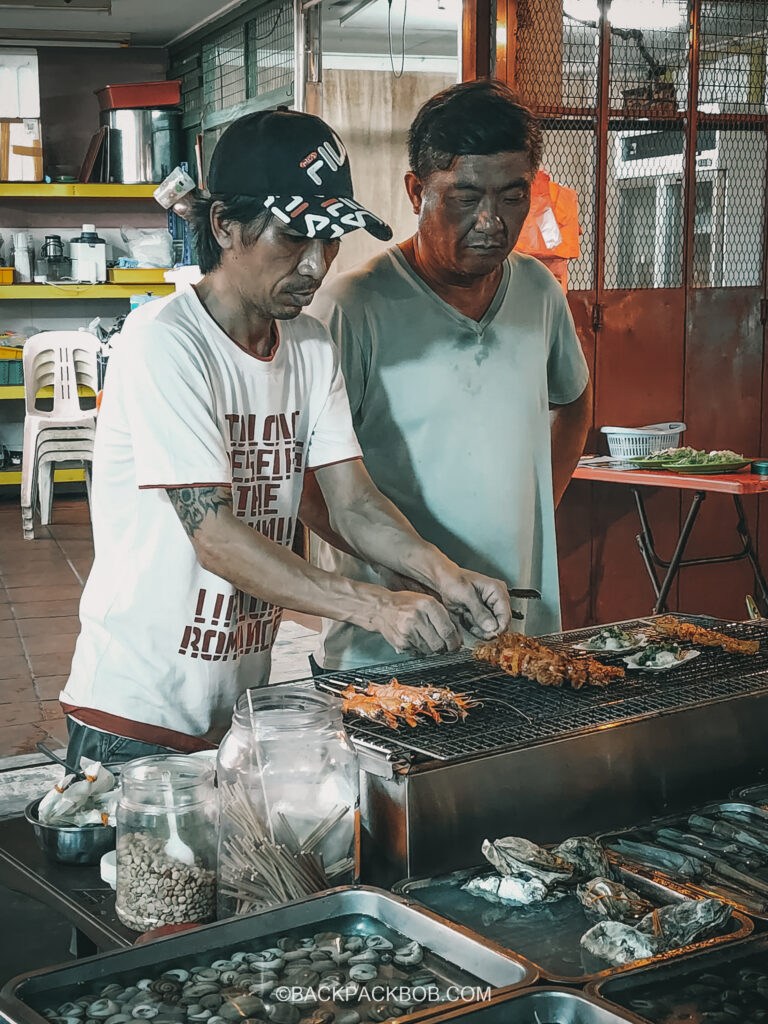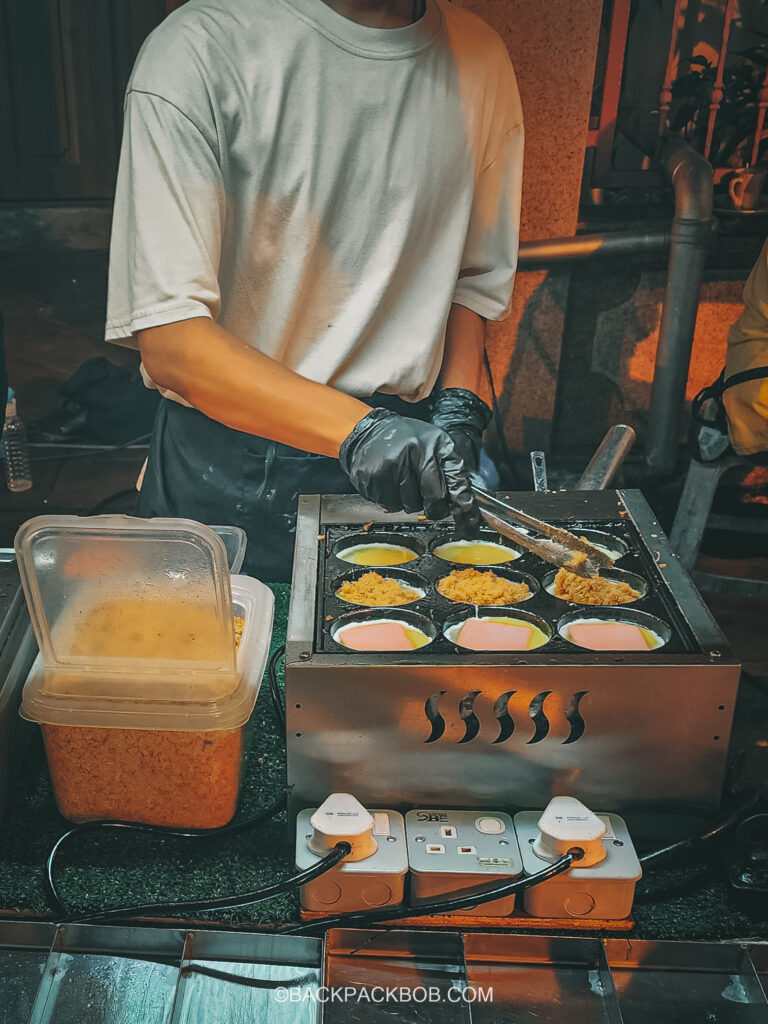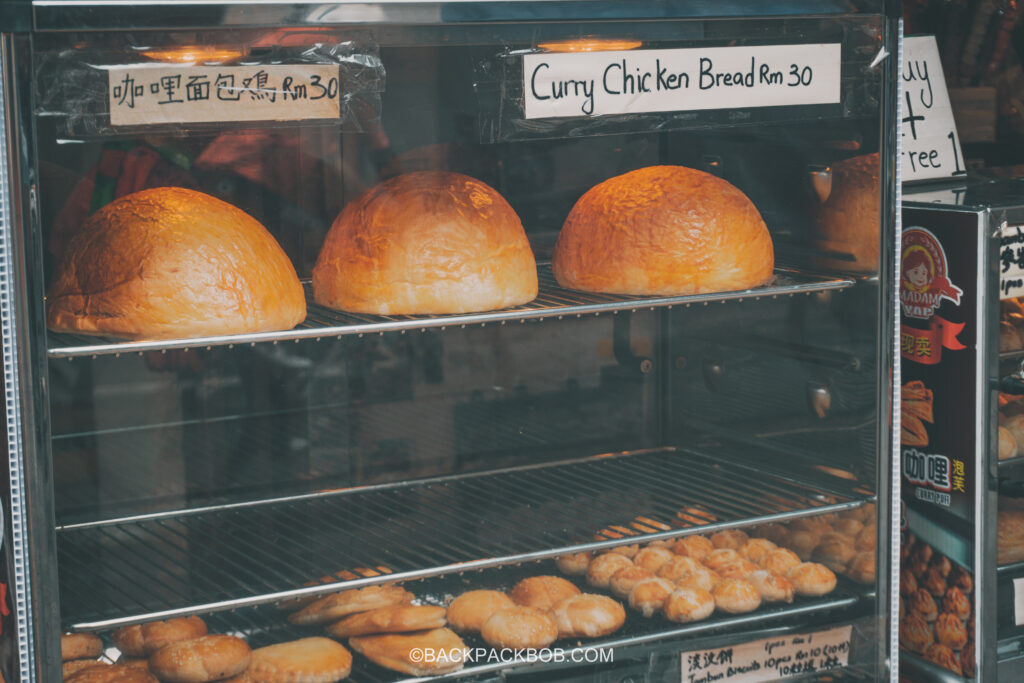 I was very keen to buy one of these huge 30 Ringgit Chhicke Curry Breads'. I took some solid advice and decided eating the entire loaf was not a great idea. ✌
Here are Some of the Best Places to Eat in Melaka
If you are looking for more inspiration for places to eat in Melaka, let me refer you to these Melaka food and restaurant guides:
Things I Learned About Melaka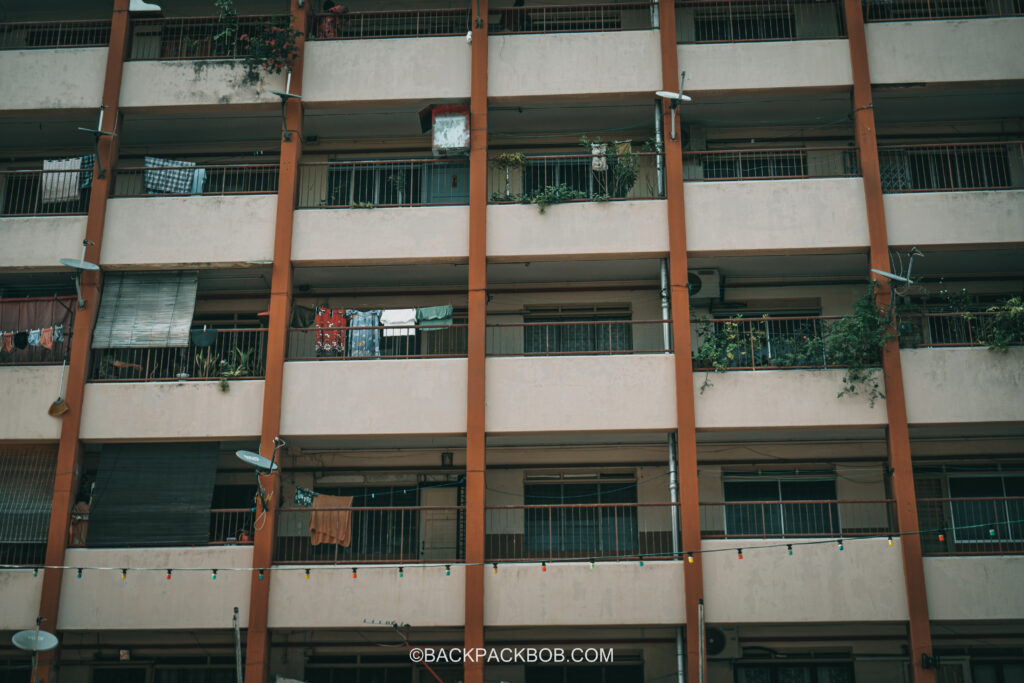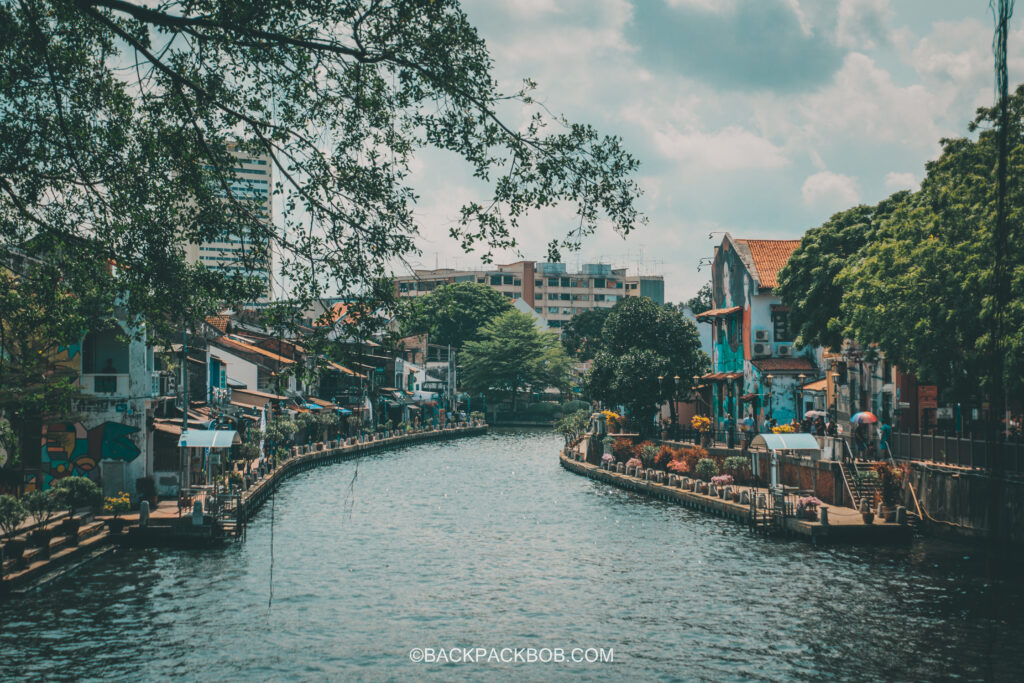 Melaka. TL;DR.
Melaka is one of the nicest places you can visit in Malaysia. The people are friendly and welcoming, and there is a vibrant atmosphere which is full of life and many facilities for tourists. If you can, visit on a weekend to see the Jonkers Street Market. The easiest way to get to Melaka is by bus from Kuala Lumpur, which costs 14 MYR. In the evening, take the river cruise in the evening, but don't have high expectations. Visit the Melaka Church, the Straits Mosque, and St. Paul's Cathedral. See the street art all around, eat a banana leaf curry with your hands, stop for a beer at Jupiter's Riverside Bar, and try the curry puffs at Jonker Walk. Stay in a hotel in a central location, such as the Cozy River Side Hotel, which I think is great for budget travellers. And, if you're confused about the two spellings of the name, "Melaka" is the Malaysian spelling and "Malacca" is the British spelling. So there you go, that is everything you need to know in preparation for a trip to Melaka, enjoy!