Riding the Mae Hong Son Loop will give you an authentic experience of Nothern Thailand. Here is my full guide and itinerary. Where to stop, where to stay, what to see and where to rent a motorcycle. + Download my free Mae Hong Son Loop Map.
What is the Mae Hong Son Loop
Starting in, and finishing in Chiang Mai the Mae Hong Son Loop is a 650 Kilometer road trip through rural, northern Thailand. Mae Hong Son is Thailand's most North Western Province which shares a provincial border with Chiang Mai.
The route passes through both provinces but mainly covers Mae Hong Son. There are plenty of off-the-beaten-track rural places to visit, and also some popular tourist areas such as the town of Pai. We stayed one night in each town, with the exception of Pai where we spent two nights.
Mae Hong Son Loop Free Map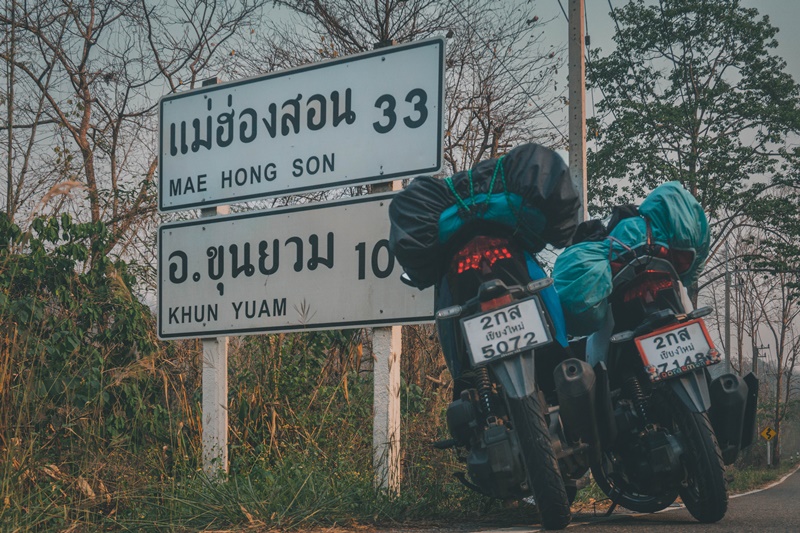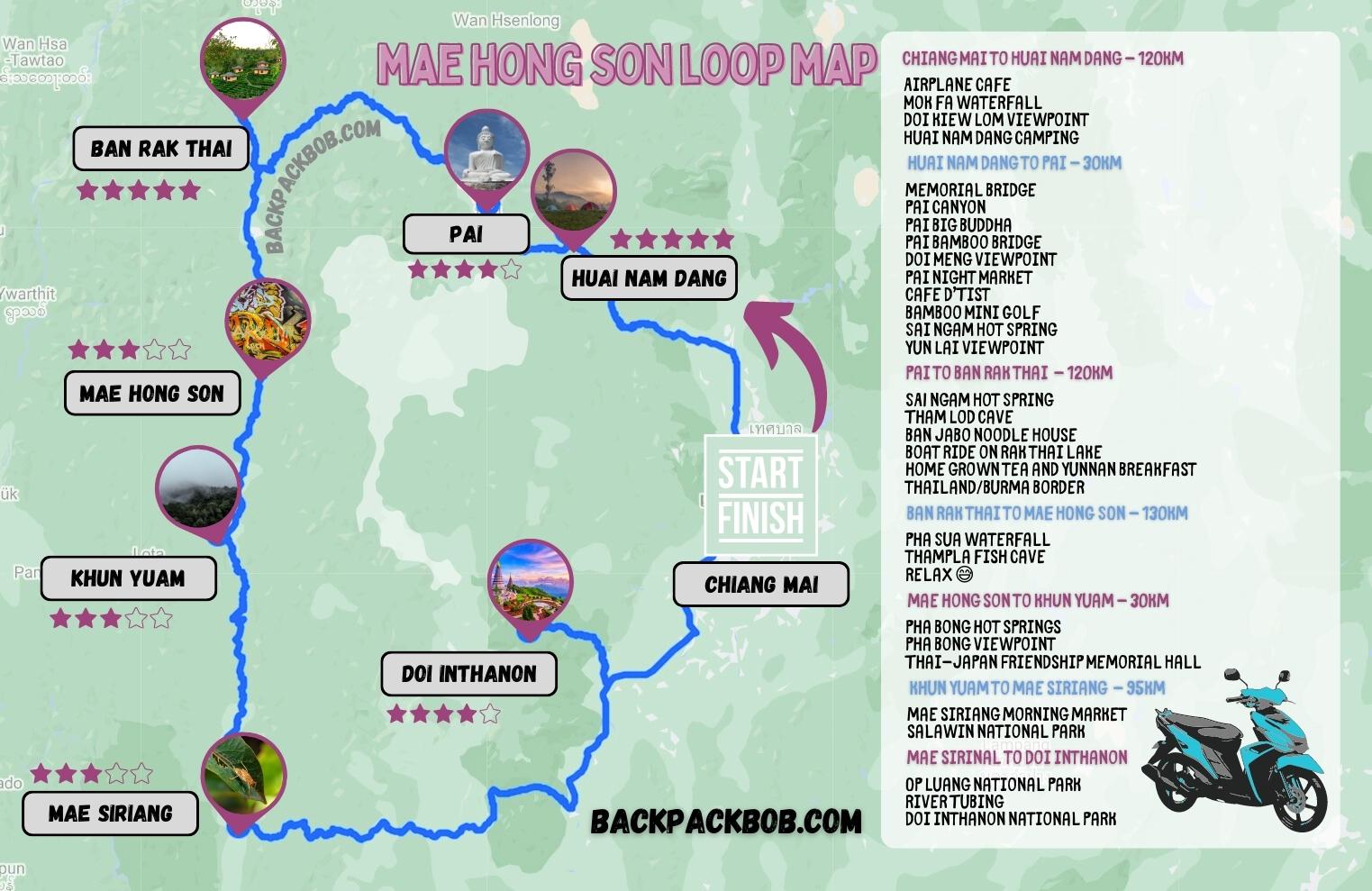 Save this free map of our Mae Hong Son Travel Route to help when planning your itinerary. 🔝
Which Month is Best for the Mae Hong Son Loop
When is the best time to do the Mae Hong Son Loop? Some months are better than others and if possible you'll want to avoid the rainy season and the 'Burning Season'.
The best time to ride the Mae Hong Son Loop is in October, November or December. This is after the rainy season, so plenty of waterfalls still flowing, and, before the burning season begins.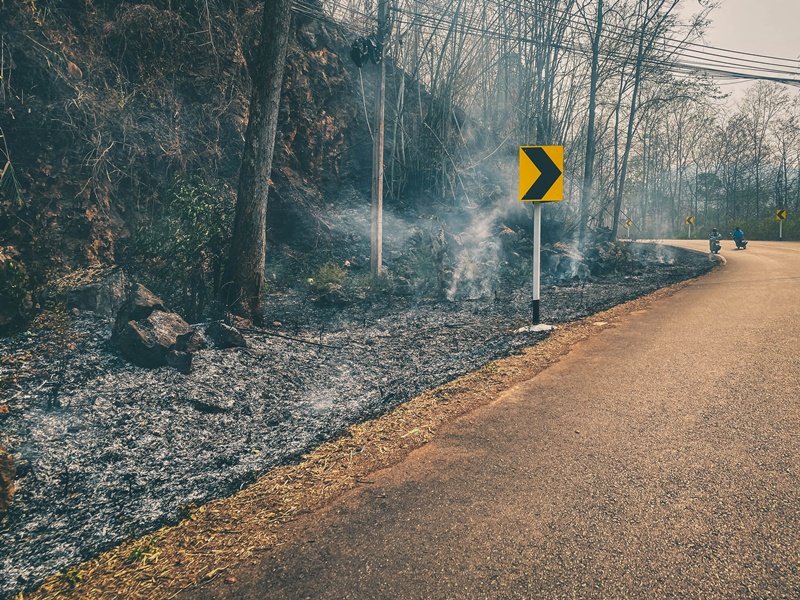 The rainy season runs from May until the being of October. Burning Season runs from late January until the start of May. Don't be put off from riding the loop out of season- we went during the burning season and still had a great time.
Preparation for the Mae Hong Son Loop
The Mae Hong Son Loop doesn't require a ton of preparation. Pack light, rent a bike in Chiang Mai and plan a basic route. We had a rough outline of places to visit and places to stay before leaving but ultimately booked our accommodation day-by-day to give ourselves the most flexibility.
Renting a Bike for the Mae Hong Son Loop
You're going to need a bike for the Mae Hong Son Loop. I would recommend choosing a geared or semi-automatic bike as it will be safer on the steep inclines and declines you'll encounter. Plus they are much more fun to ride. Semi Automatic bikes like the Honda Wave or Dream are really easy to get used to if you've only ever ridden a scooter before.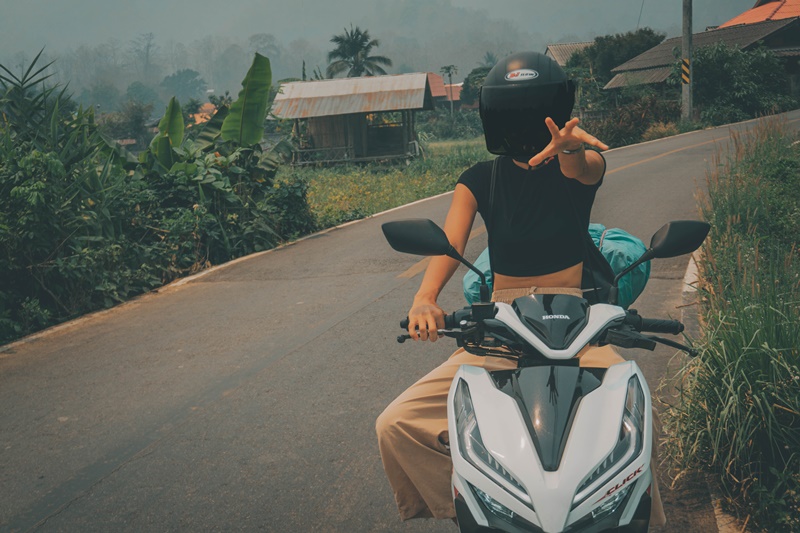 However, we rode the Mae Hong Son Loop on automatic scooters, and we were absolutely fine. This was because the shop we were renting from had an awesome deal on scooter rentals and was out of stock for semi-auto bikes.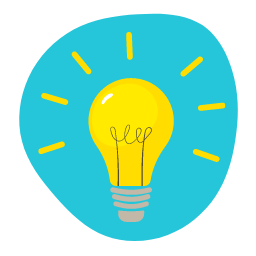 Tip
We were stopped at Police Checkpoints in Chiang Mai where we had to show our international driver's licences.
Where to Rent a Bike From for Mae Hong Son
We rented our bike from Ked's Motorcycle Rental in Chiang Mai and would 100% recommend renting from her if you are embarking on the Mae Hong Son Loop. We found her on Facebook initially. The cost was 1,000 Baht (£23) for a week! And we didn't need to leave any deposit. Ked took a photocopy of our passports and we were on our way. She even arranged luggage straps to be included for us too.
Extending our rental agreement over Whatsapp was easy, and Ked even re-embursed us for a tyre we had to replace while riding the loop. Solid 10/10.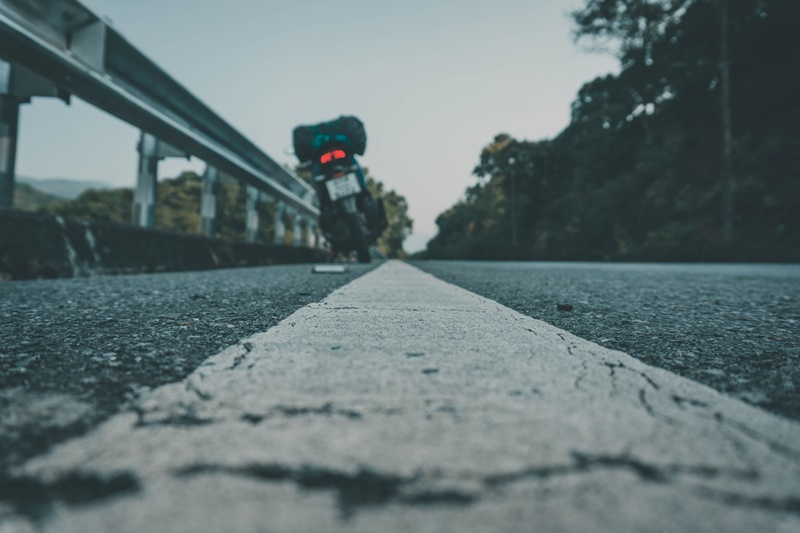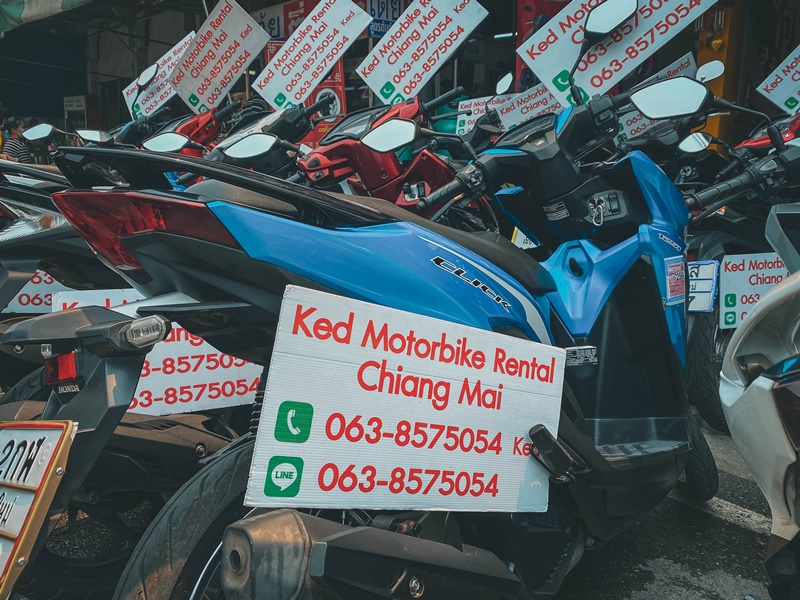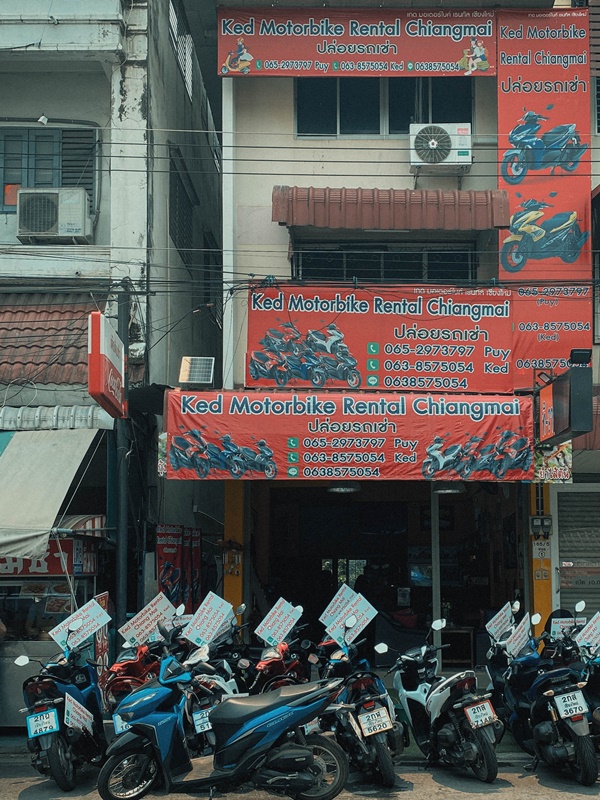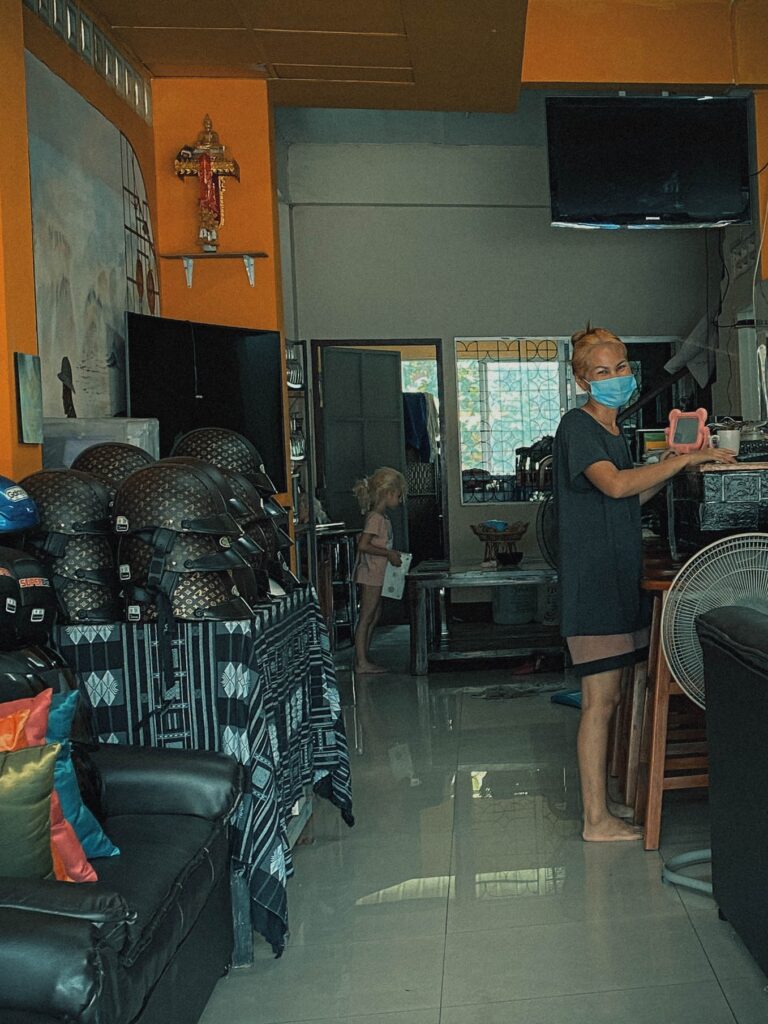 Ked Motorbike Rental (Facebook/Website): +66638575054 🏍
There is a helmet shop on the same street, I recommend buying a proper helmet rather than using the included rental helmets. A quality helmet costs around 400 Baht (£10).
What Are The Roads Like on Mae Hong Son Loop
The roads on the Mae Hong Son Loop were much better than expected, a dream to drive on. Comparable to Western standards the loop was paved all the way.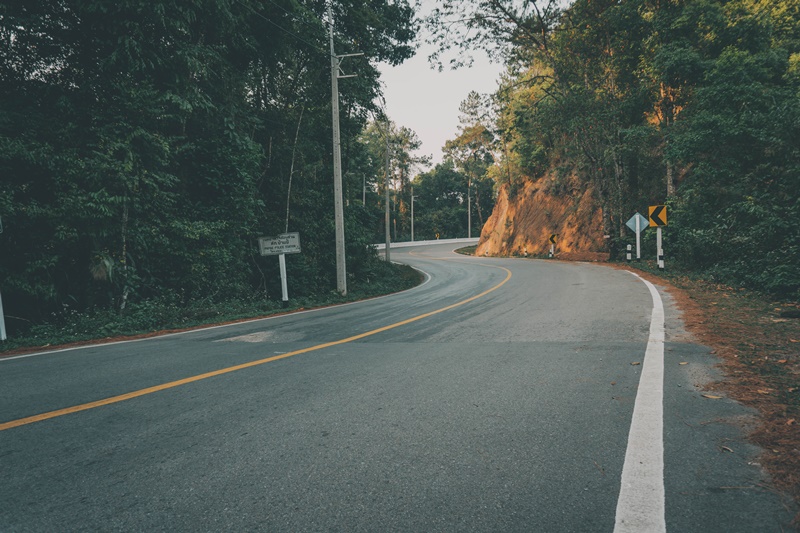 You won't encounter any off-road sections here as you might find on the Ha Giang Loop in Vietnam.
Tips For The Mae Hong Son Loop
Tie Your Luggage Down – Pick up a set of bungee cords and strap your luggage to the back of your bike. Trust me, it makes the whole experience more enjoyable. We saw so many other travellers wearing huge backpacks while riding the loop and found others stuffing everything into their seats. Don't do this.
Download Offline Maps – The Mae Hong Son Loop passes multiple areas which have no phone signal. If travelling as a couple try to pick up Thai SIM cards from different networks. You can download Google Maps to your phone too and use it without a signal. Open the Google Maps app > Settings > Offline Maps and select the area to download for offline use.
Thin Long Sleeves – When spending hours each day riding a Motorbike you will catch the sun. Drink buckets of water, use plenty of sun cream and wear loose-fitting long-sleeved clothing and pants to keep the sun off.
Mae Hong Son Loop Itinerary
Mae Hong Son Province is packed with Waterfalls, Caves, Hot Springs and National Parks. There is so much to do and see.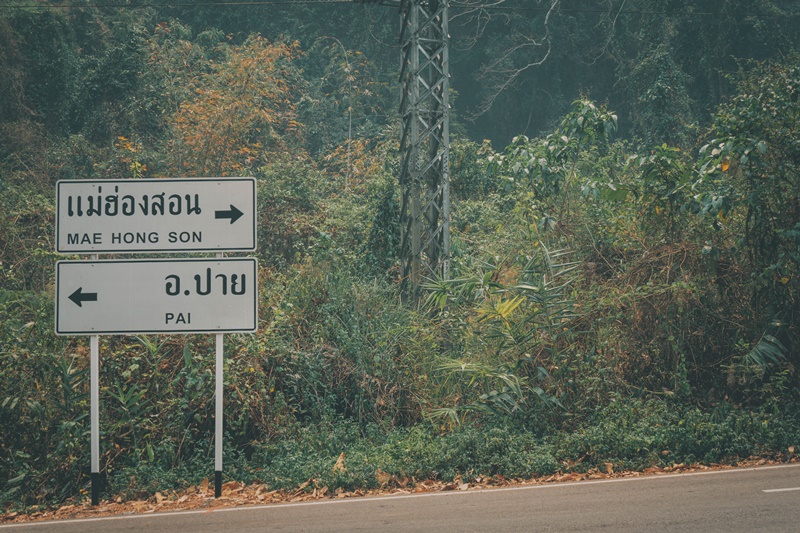 We weren't sure how long the loop would take to ride. Initially, we planned for one week, but later extended our trip for an extra two days. In total, we spent 8 days and 9 nights on the Mae Hong Son Loop. Here is our complete itinerary, choosing to ride east to west, making Pai (almost) our first stop
1️⃣ Day One: Chiang Mai to Huai Nam Dang (120km)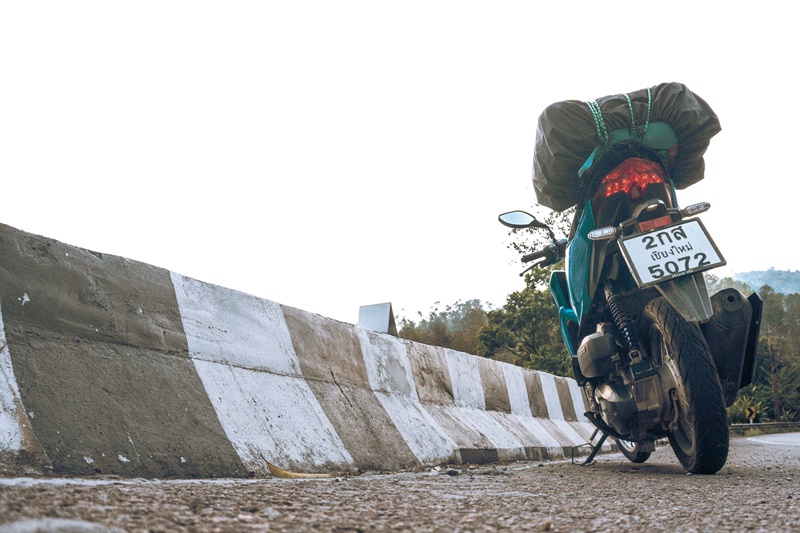 Leaving Chiang Mai early in the morning, we rode the Mae Hong Son Loop counter-clockwise because we wanted to visit Pai early on. Knowing we would spend at least a few nights there because there is so much to do, plus visiting here first made it easier to budget our time for other towns. Huai Nam Dang is one of the prettiest National Parks in Mae Hong Son, but there is a 300 Baht entrance fee for foreigners.
The Airplane Cafe (On Route)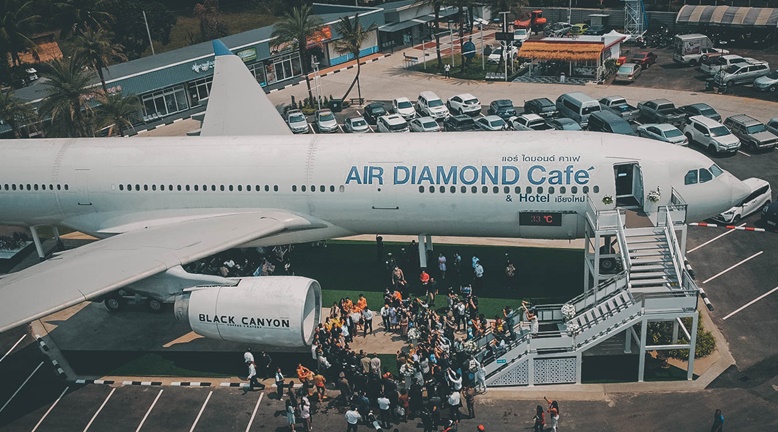 Air Diamond is a cafe which has been constructed in a decommissioned Airbus A330. It's impossible to miss this place it's situated at the start of Route 1059, also known as the bendy road to Pai. No reservation is needed and prices are not expensive. A unique place to grab a coffee before starting to ride the loop.
Mok Fa Waterfall (On Route)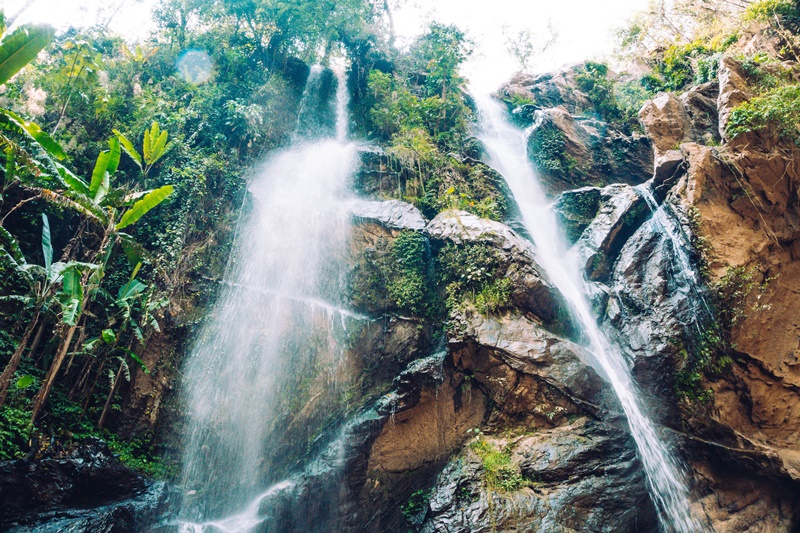 Mok Fa waterfall is part of Doi Suthep National Park and there is a 100 Baht entrance fee for foreigners. There are two waterfalls at the end of a short 500-meter track. It's possible to swim in the pool at the bottom.
Doi Kiew Lom Viewpoint (In Huai Nam Dang)
This viewpoint is the highlight of the National Park. The viewpoint overlooks a valley which fills with mist. It makes you feel like you are above the clouds.
Accommodation in Huai Nam Dang
Camping is permitted within every single National Park in Thailand. Having also camped in Phu Kradung and Koh Rok National Parks, I can safely say that the Huai Nam Dang campsite is one of the most beautiful.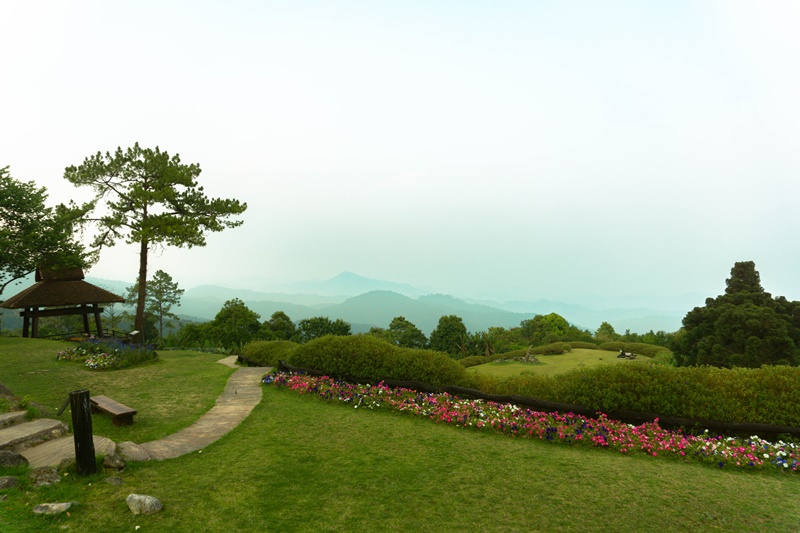 Tents can be rented out at the campsite for 250 Baht a night. There is no need to book in advance but if you wanted to you'd need to call the Huai Nam Dang national park to pre-book.
2️⃣ Day Two: Huai Nam Dan to Pai (30km)
This is the shortest day for riding on my itinerary. A short 30k ride from Huai Nam Dang into the town of Pai. Set off early because there are a ton of things to do in and around Pai. We stayed here for two nights. There are so many things to do in Pai that I had to write an entirely separate guide for this information. Here is what we ended up doing en route, and when we arrived.
Memorial Bridge (On Route)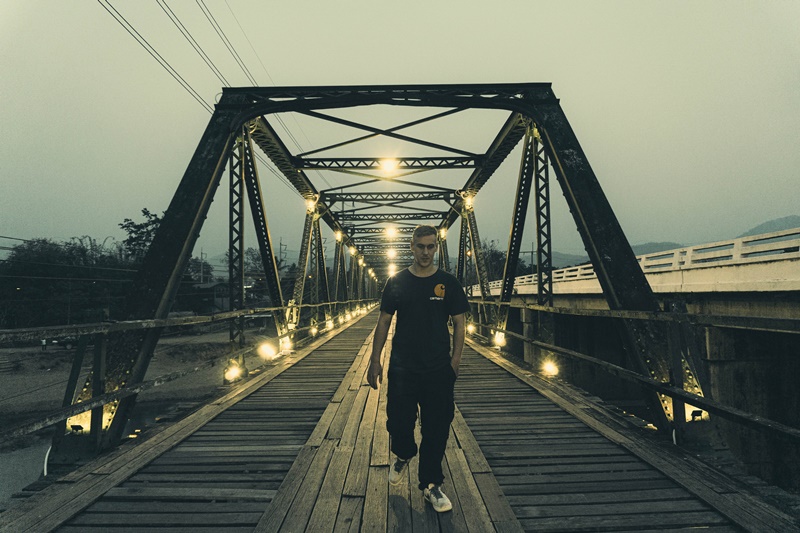 This historic monument is located around 9 kilometres outside of Pai. It is impossible to miss as it is along the main route into Pai. The bridge is no longer used to cross the river and a new modern bridge has been built next to it.
Pai Canyon (On Route)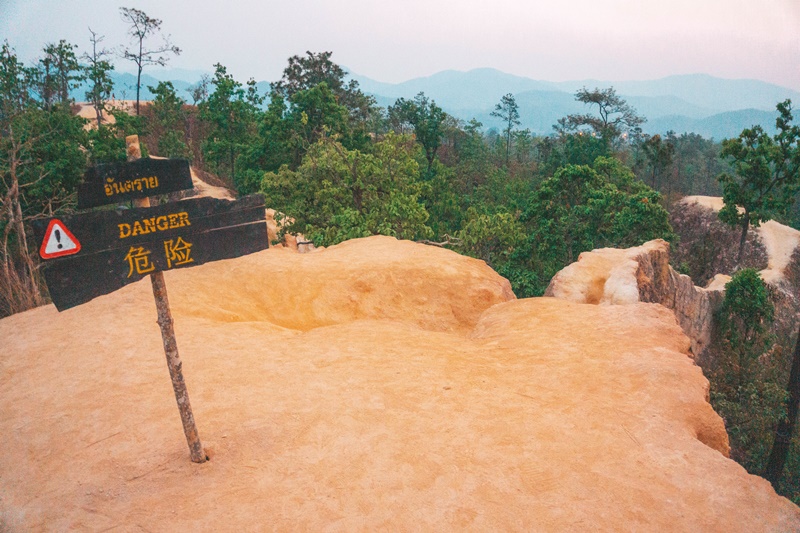 The next attraction you'll pass is the Pai Canyon. It's around a kilometre from the town so worth stopping at when you pass. And best of all it's free to enter. We ended up returning to the Pai Canyon the following evening to watch the sunset.
Pai Big Buddha (In Pai)
You'll see the enormous and impressive Buddhist Shrine from the town it's nearby and you can ride there in a few minutes. Free to enter, with a donation box at the top. Read more about the Pai Big Buddha.
Pam Bok Waterfall (In Pai)
A cool waterfall nearby some of Pai's other attractions. Entrance is 300 Baht but the same ticket can be used at other attractions in Pai like the Lod Cave.
Pai Bamboo Bridge (In Pai)
This is a really unique place to visit on the Mae Hong Son Loop. It's a network of Bamboo Bridges spanning across Buffalo fields. It's 30 Baht to enter and there are some cafes around the maze of bridges where you can get a fruit shake or an iced coffee.
Doi Meng Viewpoint (In Pai)
A super peaceful viewpoint with a huge Bamboo balcony hanging from the mountaintop. It's a really steep ride to this viewpoint and the mountain pass is around 15 kilometres. But the views at the top are epic.
The Night Market (In Pai)
One of my favourite night markets in all of Thailand. You'll find all world cuisines sold here at low prices, Guzola, Indian Curries, Falafell, we found so many unique foods at this market. I settled on a 'Capsuleon' something I'd never tried before (or even heard of, to be honest), but it was delicious. Plus the upbeat vendor had 'tasting french fries' for us to snack on while we waited.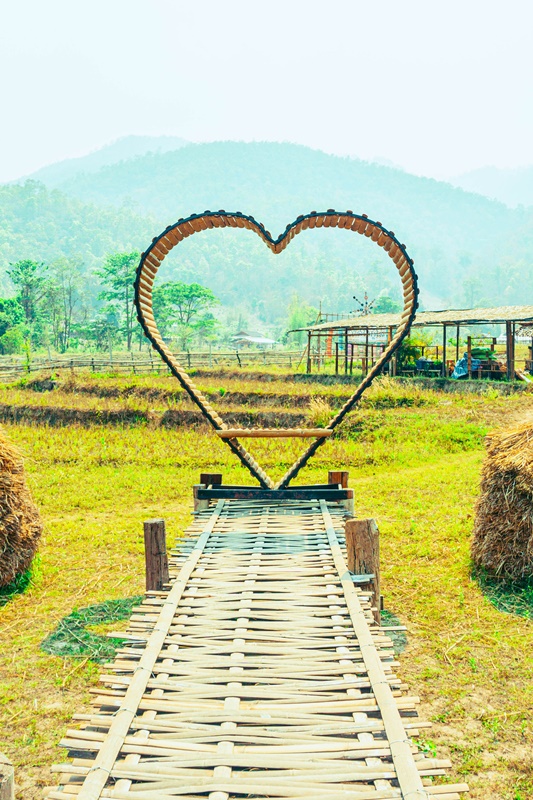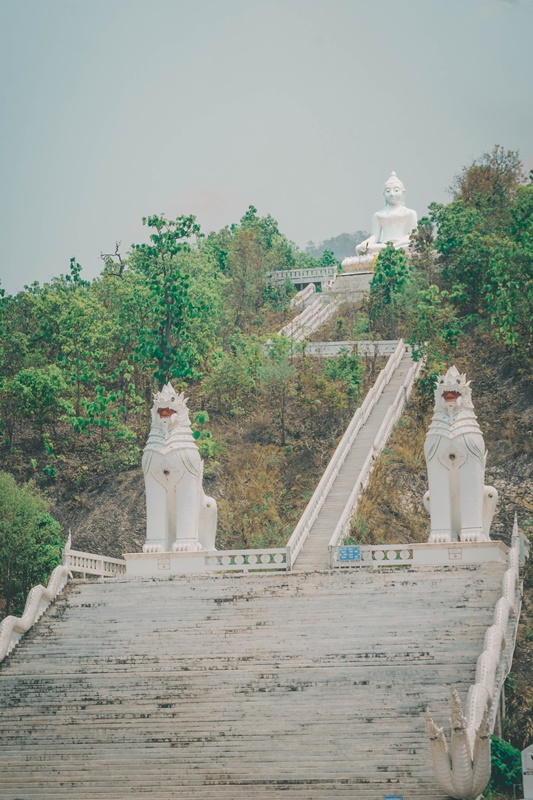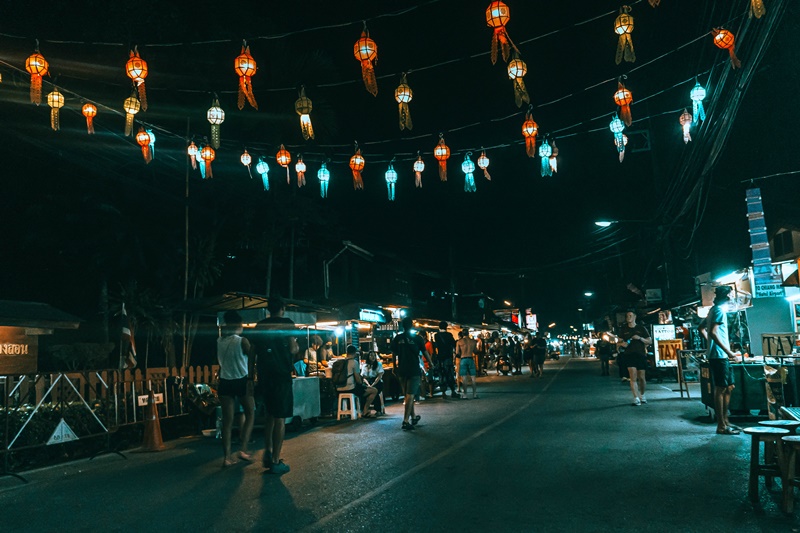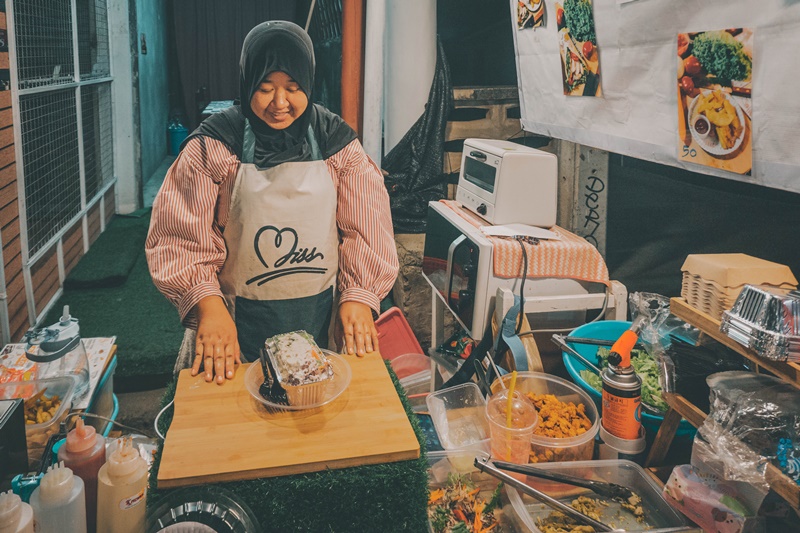 Accommodation in Pai
Pai is a really popular town for tourists from Chiang Mai so there are plenty of hotels around. Having access to motorbikes meant we could be more flexible as the location was less important. We stayed on the outskirts of town in the creepiest hotel imaginable- the Baan Kung Kang De Pai. Each room is styled with a theme such as 'Candy Land'. To make up for the horror movie vibes this hotel has the biggest swimming pool in Pai, seriously this thing is massive. Frustratingly the pool was drained for maintenance during our stay… 😢
3️⃣ Day Three: Pai (0km)
Pai was the only town we stayed in for two nights, in each other town we stayed for one night. So here is what we did on our second day in Pai, and the third day on the Mae Hong Son loop.
Breakfast at Cafe D'Tist (In Pai)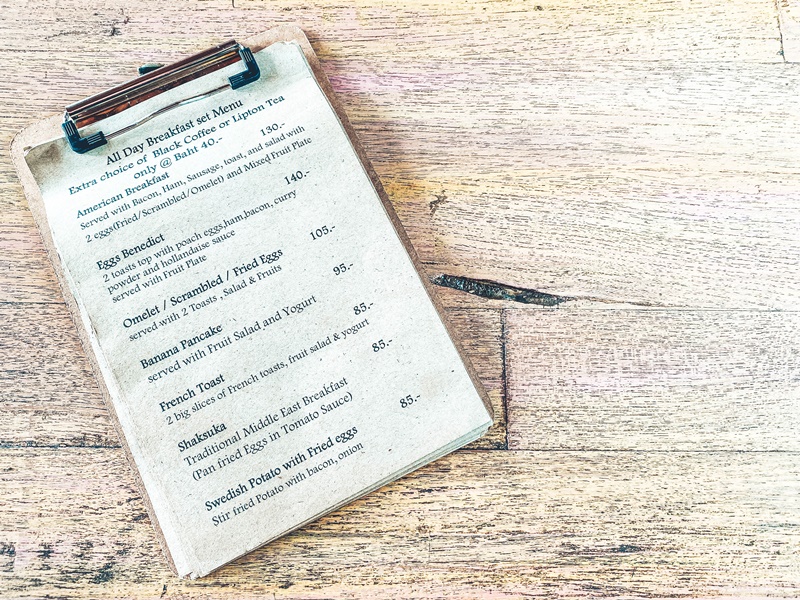 This chilled Balinese-style cafe quickly became my favourite spot to eat breakfast in Pai. With comfortable floor-level seating, proper coffee and a proper Western breakfast menu- with Thai prices.
Bamboo Mini Golf (In Pai)
After breakfast, we had time for a round of Pai Mini Golf. Seemingly in someone's backyard, it cost 150 Baht a person. The golf clubs are made from Bamboo and tennis balls are used in place of actual golf balls.
Sai Ngam Hot Spring (In Pai)
A three-tiered hot spring with crystal clear waters for swimming.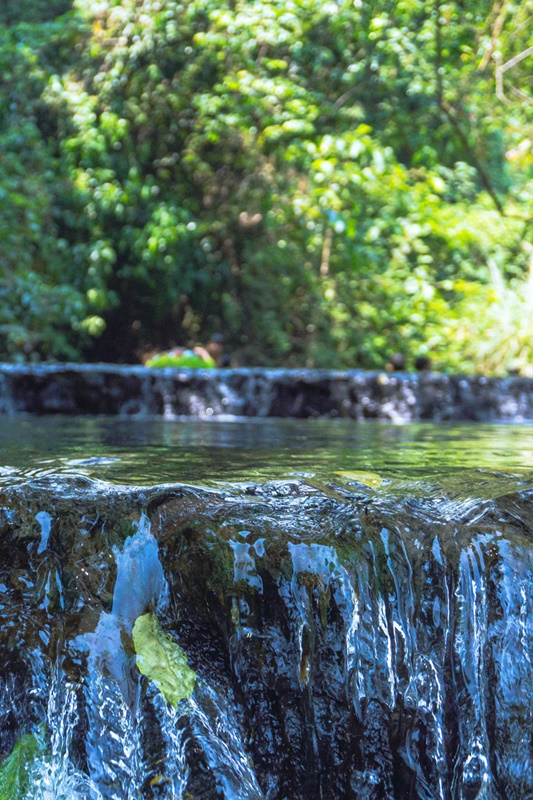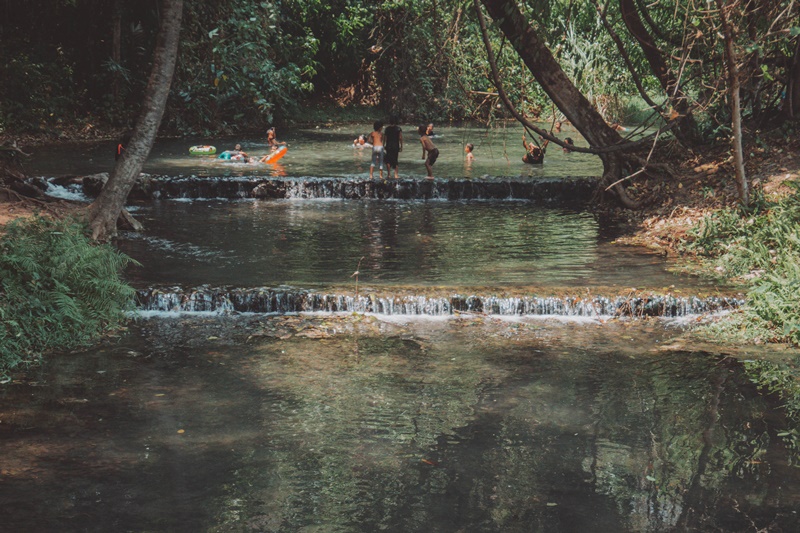 As beautiful as this place is the entrance fee is 450 Baht for foreigners or 30 Baht for Thai. Which, in my opinion, is not worth paying.
Yun Lai Viewpoint (In Pai)
This Chinese-style viewpoint is a relaxed place to hang out and enjoy an iced tea, which is served at the top.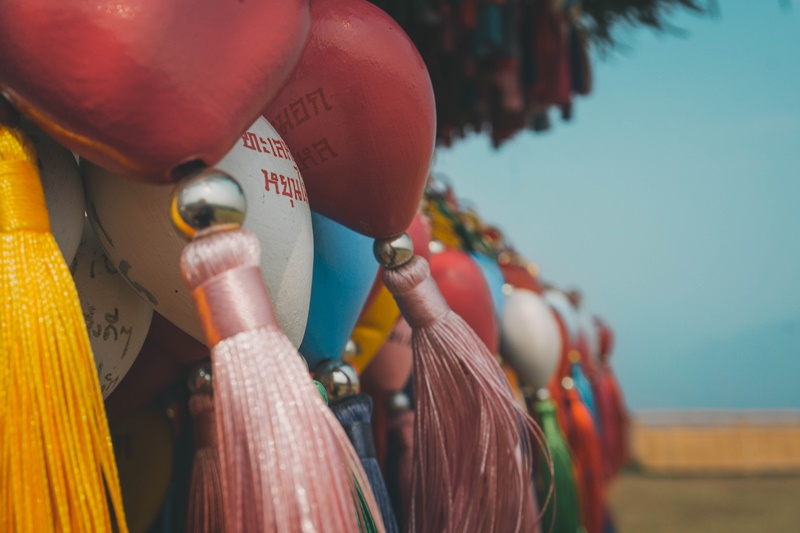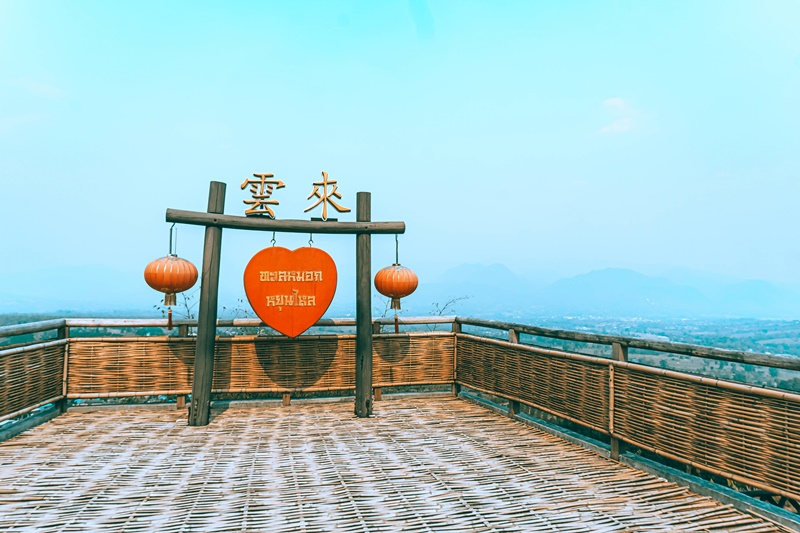 There is a tree in the middle where you can buy a traditional pendant, write a message on it and attach it to the tree. The road to this viewpoint is extremely steep and not ideal for automatic scooters.
Back to Pai Nightmarket (In Pai)
We ate dinner at the Pai Night Market again on our second night here. This time it was a Massaman Curry, Grilled JellyFish and local homemade samosas. The variety of foods at this market is not comparable to anywhere else in Thailand.
4️⃣ Day Four: Pai to Ban Rak Thai (120km)
The road is windy steep and packed with tight turns. But it's also one of the most scenic roads you'll ride on in Mae Hong Son. It's a 120km ride from Pai to Ban Rak Thai, not including a detour to Ban Jabo. Ban Rak town was my absolute favourite place from the entire Mae Hong Son Loop. Read my full Ban Rak Thai Travel Guide here.
Lod Cave Tour (On Route)
Mae Hong Son has countless amount of caves, most of which are off the beaten track and free to enter and explore. But Tham Lod is the most famous you can rent a guide, raft and a lantern for 200 Baht and the tour takes around one hour.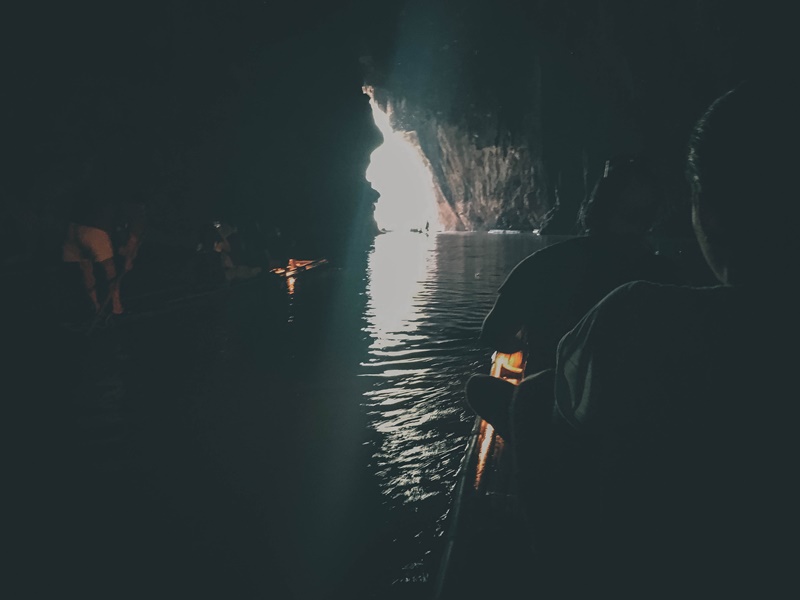 The admission cost for Tham Lod Cave is 450 Baht, but you can use the same ticket from the Hot Spring if you paid to enter. You'll need to take a detour of about 20 Kilometers to get to the cave so make sure to leave early in the morning.
Ban Jabo Noodles in The Sky (On Route)
Baan Jabo is a must-see, a short detour on the road from Pai to Ban Rak Thai. We went during the 'burning season' so the view wasn't as impressive as usual. But if you get here early enough you'll see the valley filled with the morning mist.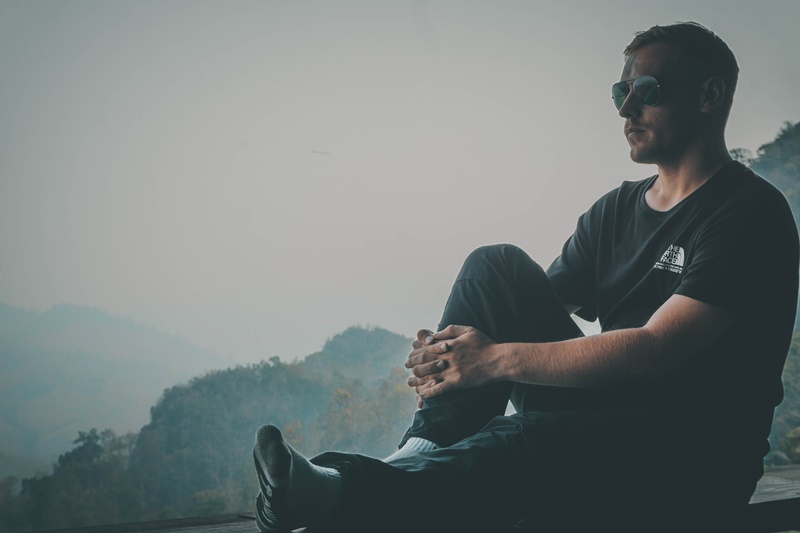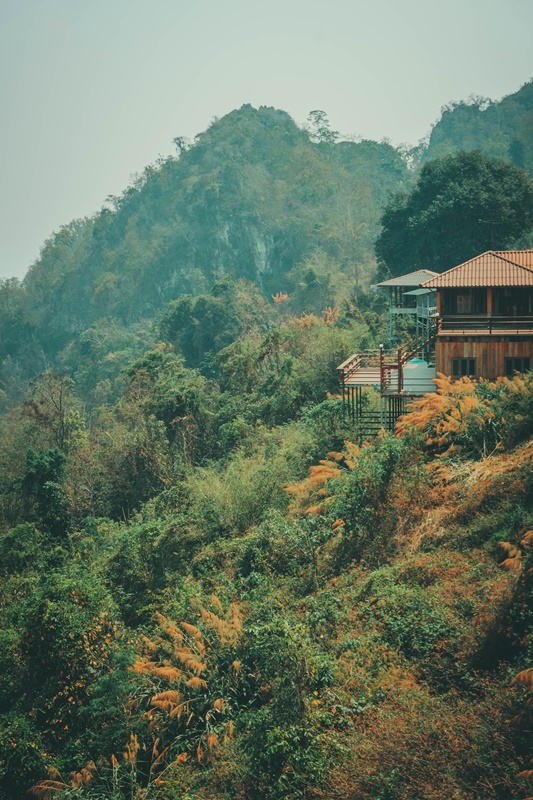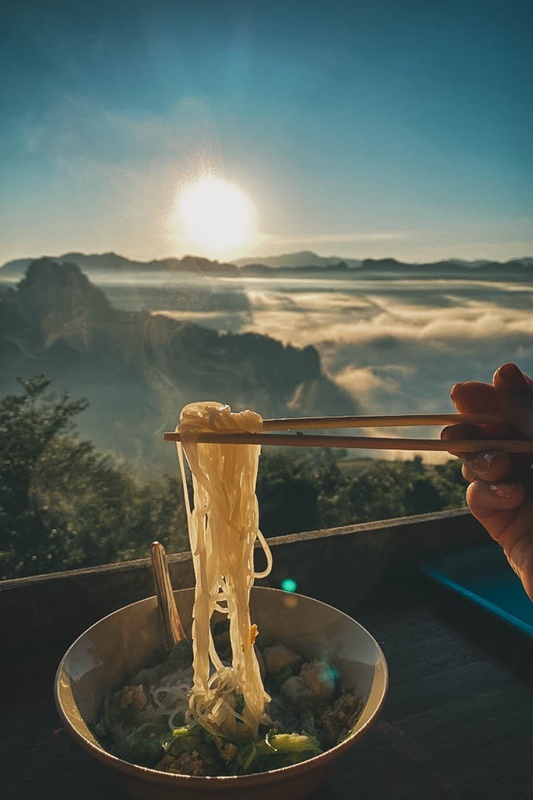 Ban Jabo is where we stopped for lunch. It's about halfway along the ride from Pai to Ban Rak Thai and has a few cafes overhanging in the valley. But the most famous spot in Ban Jabo is the Ban Jabo noodle House, you can eat a bowl of noodles here for less than £1. The view is epic with your legs hanging way above the clouds.
Things to do in Ban Rak Thai
1. Take a Boat Ride on The Lake
2. Visit The Thai/Burmese Border Point
3. Eat a Traditional Yuanan Meal
4. Enjoy the Loacl Grown Chinese Tea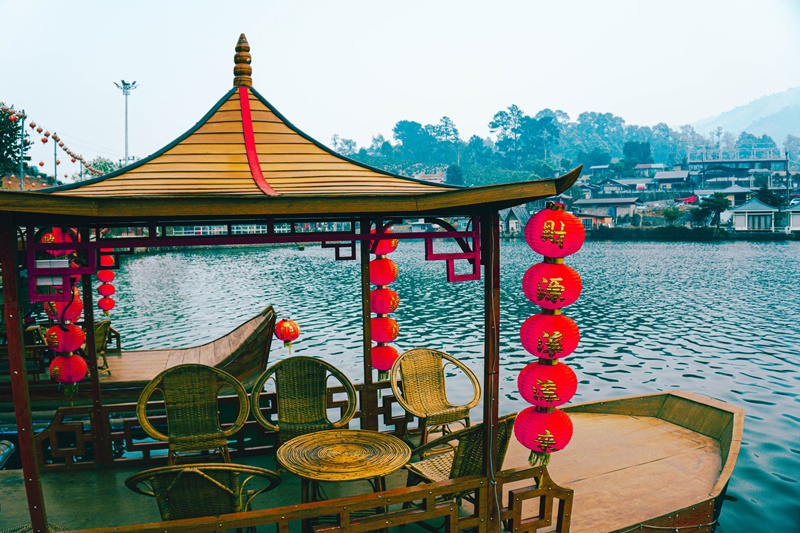 Ban Rak Thai is easily my favourite place on the entire Mae Hong Son Loop. This village is right on the Burmese Border and was founded less than 100 years ago by Yuanan Chinese Immigrants. It's such a peaceful and charming village. The locals grow their own tea and you'll be offered a pot of hot tea everywhere you go.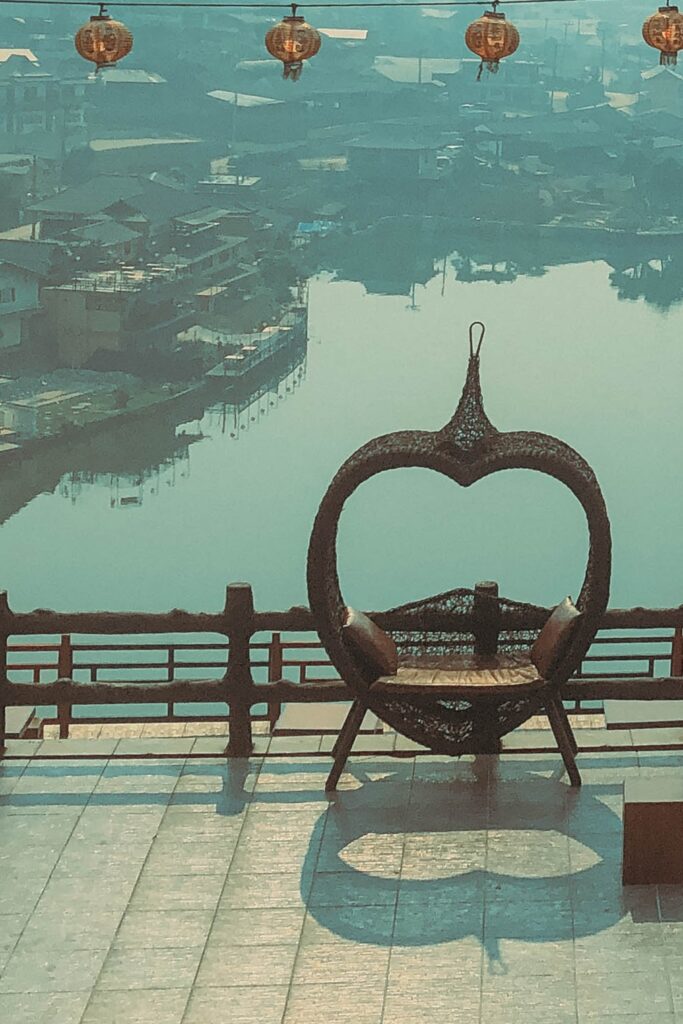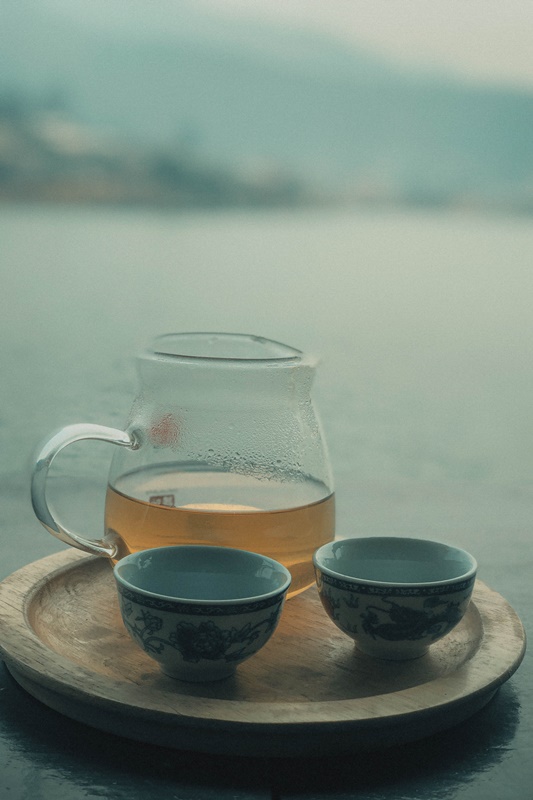 I loved this town so much that I've put together an entire guide for Ban Rak Thai.
Accommodation in Ban Rak Thai
You can book luxury accommodation in this village for the same price as a standard room anywhere else in Thailand. I recommend the Lee Wine Rak Resort. Each Chinese Style Villa has a view of the Tea Gardens and Resevwaior Lake. There is a bathtub in each bedroom and these rooms are some of the cleanest in Thailand. The room rates are less than 2,000 Baht- £35 a night.
5️⃣ Day Five: Ban Rak Thai to Mae Hong Son (130km)
Mae Hong Son town. The ride from Ban Rak Thai to Mae Hong Son is mostly uneventful be careful riding out from Ban Rak Thai because of how steep the road is downhill. This is where a semi-automatic bike becomes useful.
Pha Sua Waterfall (On Route)
You'll come across the Pha Sua Waterfall on the road out from Ban Rak Thai. It's not the most impressive waterfall but it's worth a visit. Plus the admission ticket for the Pha Sua Waterfall (100THB) also grants entrance to the Tham Pla Fish Caves a few kilometres away.
Tham Pla Fish Cave National Park (On Route)
A National Park filled with lakes rivers- and fish. You can buy a bucket of fish food at the entrance, it's 20 Baht for one bucket or 50 Baht for three. There is a 500-meter walk to reach the Fish Caves with a bridge crossing in the middle you can throw the food into the water where you quickly be surrounded by hungry fish.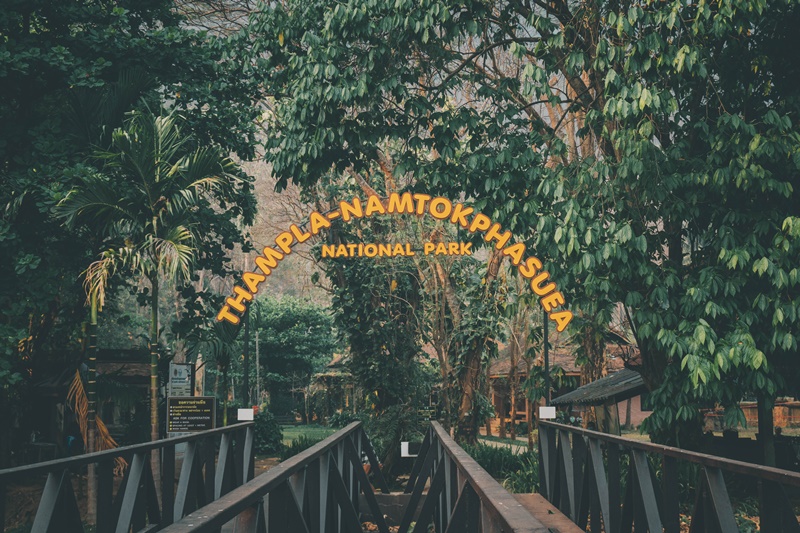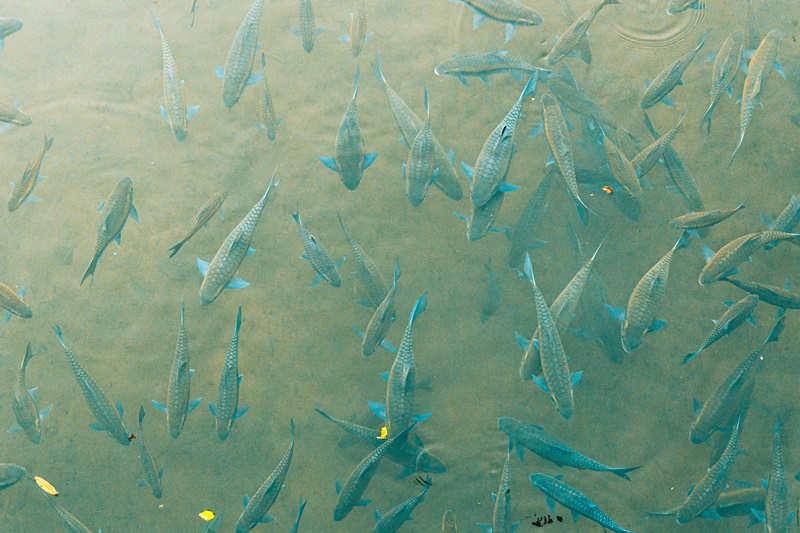 There is also a block of small food vendors located near the entrance making it a good place to get some lunch for yourself too.
Things to do in Mae Hong Son
Despite the loop being named after this town, other than a few temples there isn't much to do in Mae Hong Son itself. It's a small local town in Northern Thailand with very little going on. As we were now halfway around the Mae Hong Son loop and it was hot- we decided to take a day to rest and do nothing. We found a local shop to get our laundry done and checked into a hotel with a pool and spent most of the afternoon swimming and sitting by the swimming pool, catching up with some work online.
Accommodation in Mae Hong Son
We stayed at the B2 Resort in Mae Hong Son which is a chain of modern budget hotels in Thailand. The rooms were spacious and clean but we were there for the swimming pool.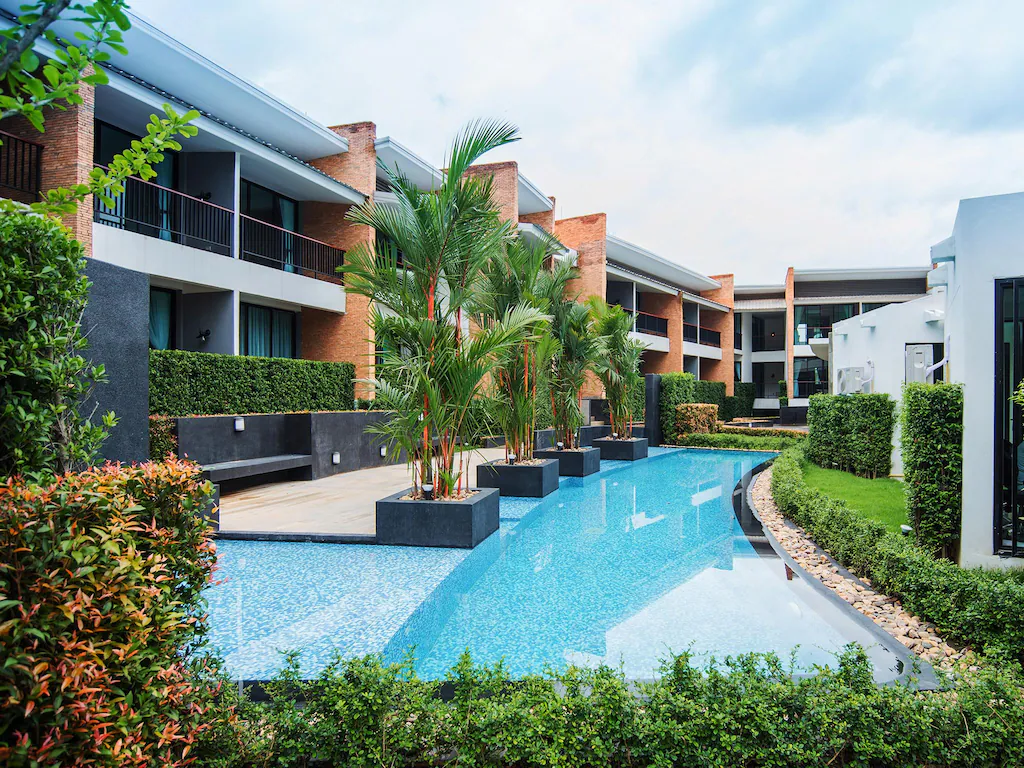 6️⃣ Day Six: Mae Hong Son to Khun Yuam (70km)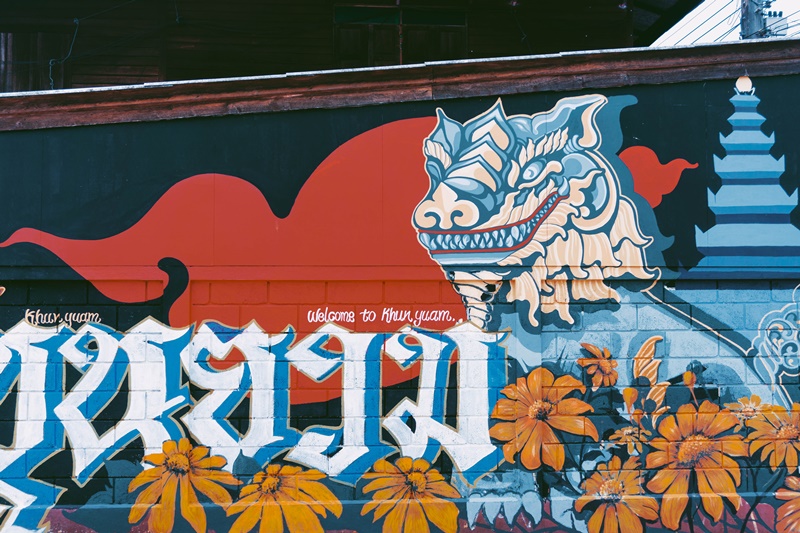 Mae Hong Son to Khun Yuam was one of the shortest riding days for us at just 70 Kilometers. It took us a few hours hour to ride here including stopping off at a couple of locations and making some photos on the route.
Pha Bong Hot Springs (On Route)
The Pha Bong hotspring is free to enter, 20 Baht to dip your feet in or 50 Baht to enter the main pool. There are also towels for rent. The saltwater is naturally heated and flows into a full-sized swimming pool.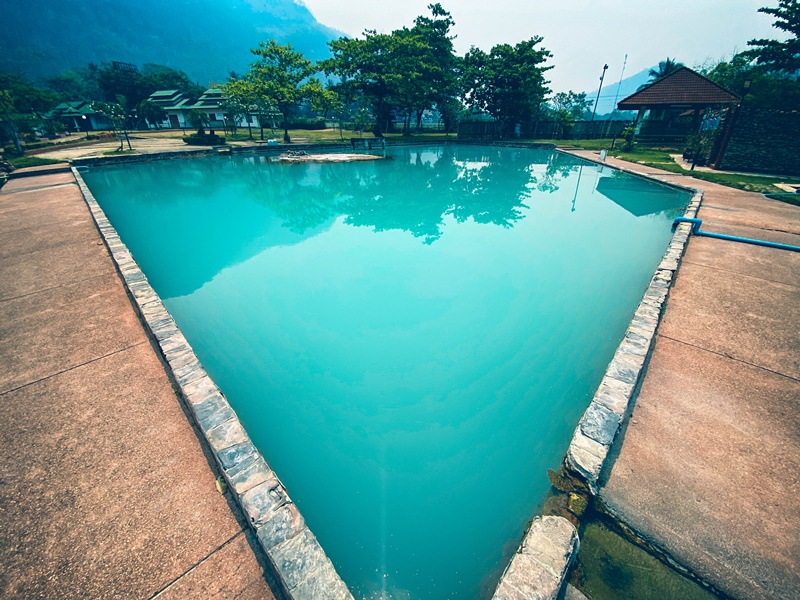 The water was 57°C when we visited! I tried to dip my feet in the small pool but quickly pulled them back out after a few seconds due to the scorching heat.
Pha Bong Viewpoint (On Route)
Just a few kilometres from the Pha Bong Hotspring is where you'll find the Pha Bong Viewpoint. There are a ton of viewpoints along the Mae Hong Son Loop but this is one of the prettiest.
Thai-Japan Friendship Memorial Hall (In Khumyuam)
Khun Yuam acted as a Japanese Base during the second world war. This small museum is free to visit and is filled with memorabilia from this time period.
Accommodation in Khan Yuam
We Stayed at the Yoont Hotel in Khun Yuam which was nothing special but fairly cheap and nice enough. The location was central with amenities and a small night market nearby.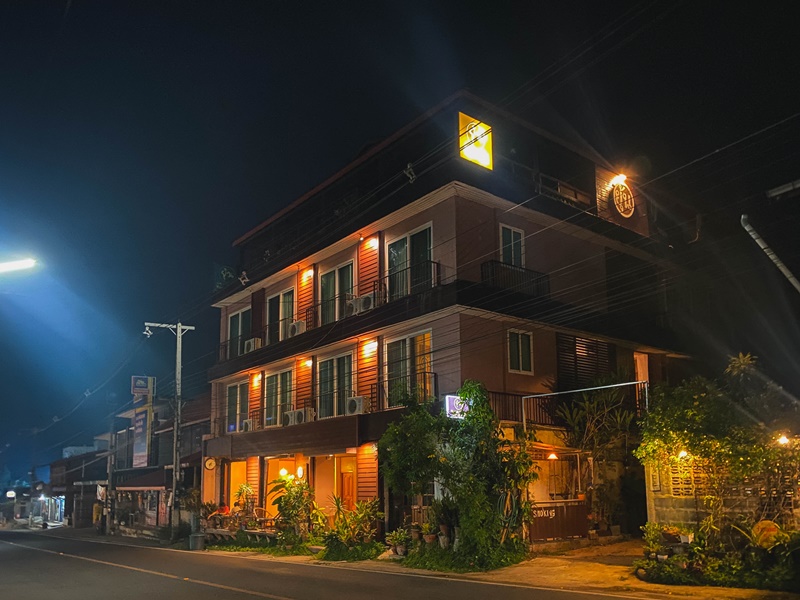 7️⃣ Day Seven: Khun Yuam to Mae Siriang (95km)
We felt like this ride was completed fairly quickly however Mae Siriang was the next town with accommodation on the Mae Hong Son Loop, and it would have been too far to go all the way to Doi Inthanon in one day from Khun Yuam.
Salawin National Park (On Route)
The Salawin River originates in Tibet and forms the land border between Thailand and Myanmar. There is a nature trail, waterfalls and a huge lake where you can float around on a Bamboo Raft.
Morning Market (In Mae Siriang)
There isn't much that you can't find in the Mae Siriang Morning Market but you'll need to be up early to catch this one. The market opens between 5:30 am and 8:00 am. More Information about the Morning Market.
Accommodation in Mae Siriang
Our hotel reservation was cancelled by our hotel (Chill House) hours before we arrived so we ended up scrambling to book another hotel at the last minute. Luckily things worked out well and we had a nice room with a balcony overlooking the river.
8️⃣ Day Eight: Mae Siriang to Doi Inthanon (160km)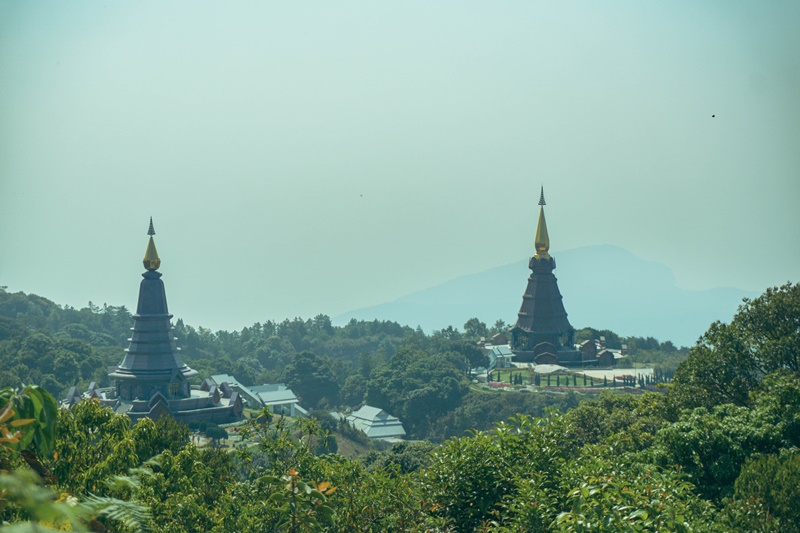 The longest day riding on the Mae Hong Son Loop. It's 160 kilometres to the summit of Doi Inthanon then another 30k back down to the campsite! Leave plenty of time to arrive here and leave as early as possible.
OP Luang National Park (On Route)
OP Luang National Park is around halfway from Mae Siriang to Doi Inthanon. The famous 'Kissing Mountaians' are in this park and it's only a short hike to get there. There is an inexpensive local restaurant with tasty food at the park entrance.
River Tubing (On Route)
This activity wasn't planned but we stumbled on it by chance. The river was packed with Thai families we didn't see any other tourists there at all.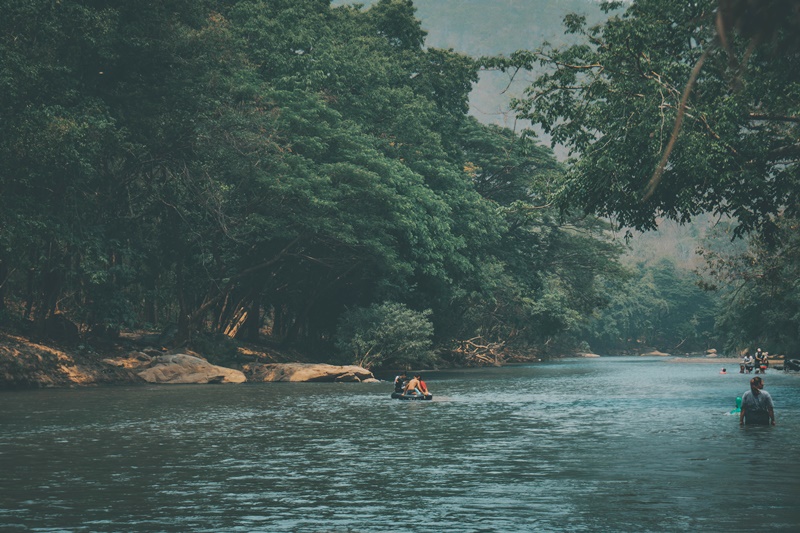 You can rent a bamboo hut next to the river bank for a few hours or the afternoon and there is a BBQ there too to get something to eat. You can rent a tyre innertube and float around on the water to cool off!
Things to do in Doi Inthanon
Doi Inthanon is Thailand's tallest mountain and there is quite a bit to do there I've dedicated an entire guide to Doi Inthanon.
1. Doi Inathon Summit
2. Doi Inthanon Nature Trail
3. Doi Inthanon Royal Pagodas
Accommodation in Doi Inathon
We stayed in Dome tents at the bottom of Doi Inthanon Mountian. It was pretty chilly here but a unique place to spend a night. it cost 1,000 THB (£25) for a night here which included a cooked breakfast and the domes had private bathrooms attached. Book Bubble Dome Tents at Doi Inthanon National Park here.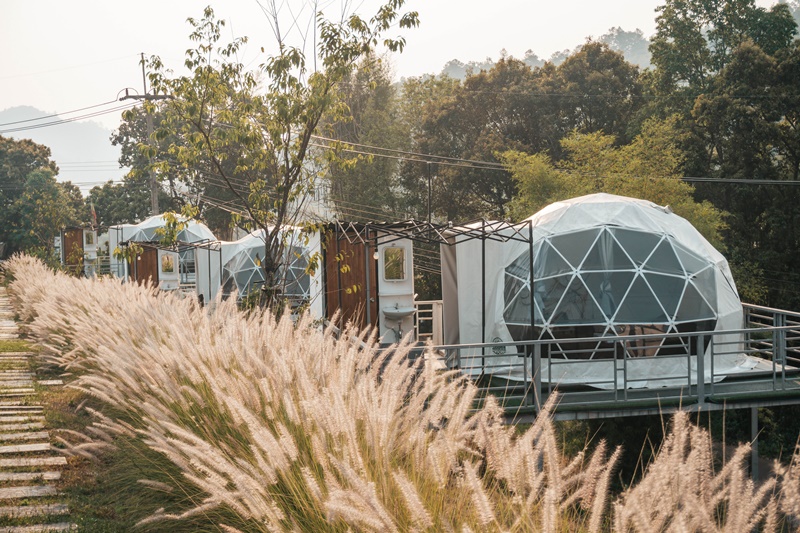 The alternative option is the National Park Doi Inthanon Campsite, there is no simple way to book a tent here online but you'll have no trouble going in person. It costs 300 Baht to rent a tent for the National Park.
9️⃣ Day Nine: Doi Inthanon Back to Chiang Mai
Leaving Doi Inthanon back to Chiang Mai is around 2 hours of driving and you'll notice the roads start to change here. As you leave the winding rural roads of Mae Hong Son behind you'll come back to reality and join the bustling city life once more. The roads start to get busier and congested the closer you get to the city of Chiang Mai.
Gasoline, Toilets, Bike Repairs and Amenities
Including detours we road a total of 1,118 Kilometers on the Mae Hong Son Loop. We used three full tanks of gasoline on each bike (125cc)- it cost us on average 150 THB to fill the tank (£4). There are fuel stations in each town you visit and even fuel stations along the route. You're never more than 20km from a pump.
Public toilets are common around the loop too; viewpoints, rest areas and national parks all have toilets publicly available. There are toilets in every PT and PTT gas station (which there are tons of) and of course at your accommodation.
ATM Machines are readily available around the loop, again every gas station has an ATM and you'll find machines in the towns too.
We got along fine with our bikes, mechanically. I should have checked the condition a little more carefully before we set off. Noticing the front tyre was low on tread I decided to have it replaced as a safety precaution. There are loads of small mechanic shops on the loop and it took less than 20 minutes to find a shop and have a new tyre fitted. It cost 420 Baht (£9) which I was prepared to pay. However, the money was kindly reimbursed when I returned the bike.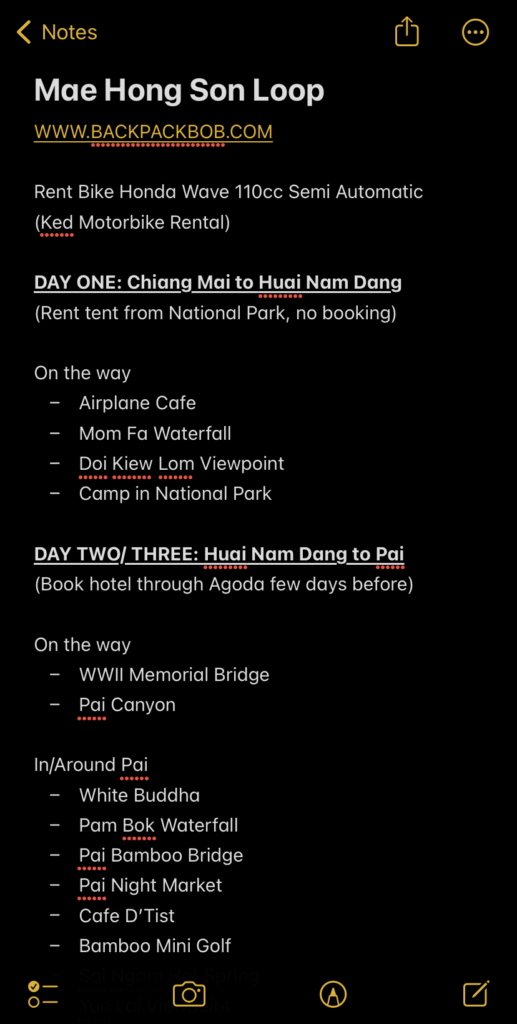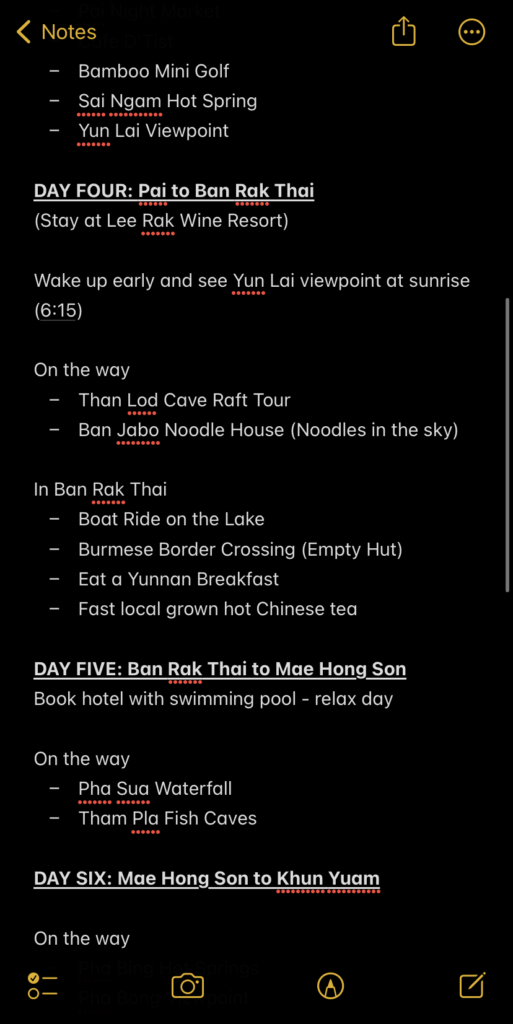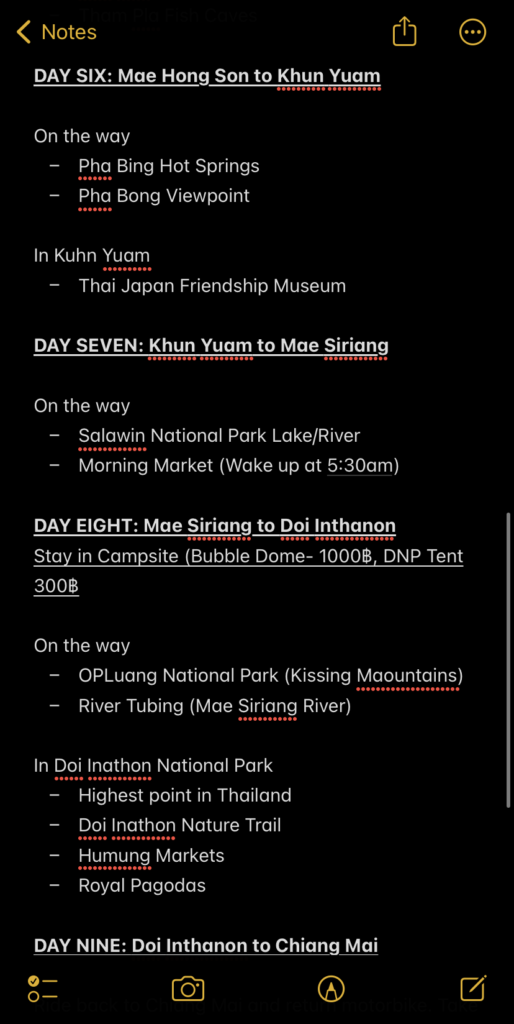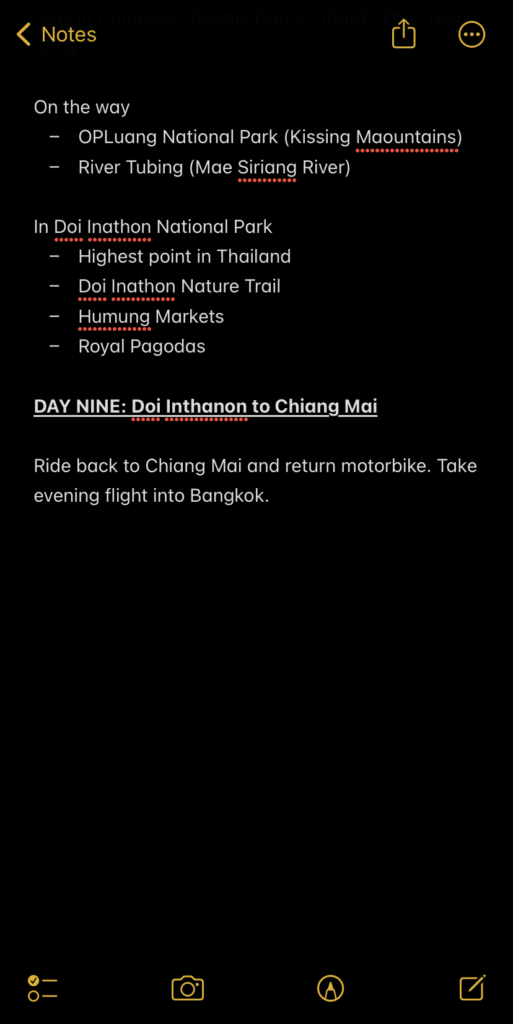 Conclusion and Final Thoughts
It was right after driving the Ha Giang Motorcycle Loop that I rode the Mae Hong Son Loop. In my mind I was expecting the loop to be somewhat similar to the one in Vietnam- however, it was totally the opposite. The views in Mae Hong Son are beautiful but it is nothing better than you'd find in other rural parts of Thailand.
The highlights of the Mae Hong Son Loop are the attractions and spots to visit and explore. There are a lot of opportunities to get off the main track and there are still hidden spots yet to be discovered. There is so much to do and see on this loop and that is the beauty of Mae Hong Son.