Things to do in Chiang Mai. If you're planning an upcoming trip to Chiang Mai, Thailand and want to know what the best things to do in the city are, then please keep on reading.
Chiang Mai is one of the most laid back cities in the world. Rich in culture, nature and scenery and low in price. It's a backpackers paradise.
The ancient city of Chiang Mai offers something for everyone with a rare combination of nature, culture, arts, unique foods and endless adventures and activities- this combination is blended together in such a way that makes Chiang Mai one of my favourites places in Thailand.
Like many other nomads, I have spend a lot of time in time in the city, even calling Chiang Mai home for a short while so after spending over a year living and working in the city, I guess you could say I know the place fairly well.
Chiang Mai is the hub of northern Thailand and a gateway to picturesque destinations such as Pai or Chiang Rai. Immersed by luscious mountain ranges and scattered with historic Buddhist temples.
There are so many things to do in Chiang Mai from exploring the night markets, hiking in the dense tropical jungles, meeting the long neck tribes, training in the art of Muay Thai, volunteering at an ethical elephant sanctuary or cooling off in a waterfall- to name a few. It's safe to say you won't find yourself running short of things to do in this beautiful and diverse city.
So if you have found yourself hanging out in northern Thailand, wondering what there is to do in Chiang Mai, then look no further. I've rounded off a list of my favourite things to do in Chiang Mai. Including some top-rated tourist attractions and most importantly some activities that will take you off the beaten track, activities which can't be found in the guidebooks.
In my guide, you'll find insider tips and travel secrets, you'll get to know Chiang Mai and what to do here better than most ex-pats. Learn all about the best things to in Chaing Mai and travel the city like a pro!
What does Chiang Mai mean? In English, the name Chiang Mai translates to 'the new city'. With Chiang meaning a place to live (เชียง) and Mai or (ใหม่) meaning new.
Check Out My Full Post Of The Best Things To Do In Thailand!
Eat Khao Soi in Chiang Mai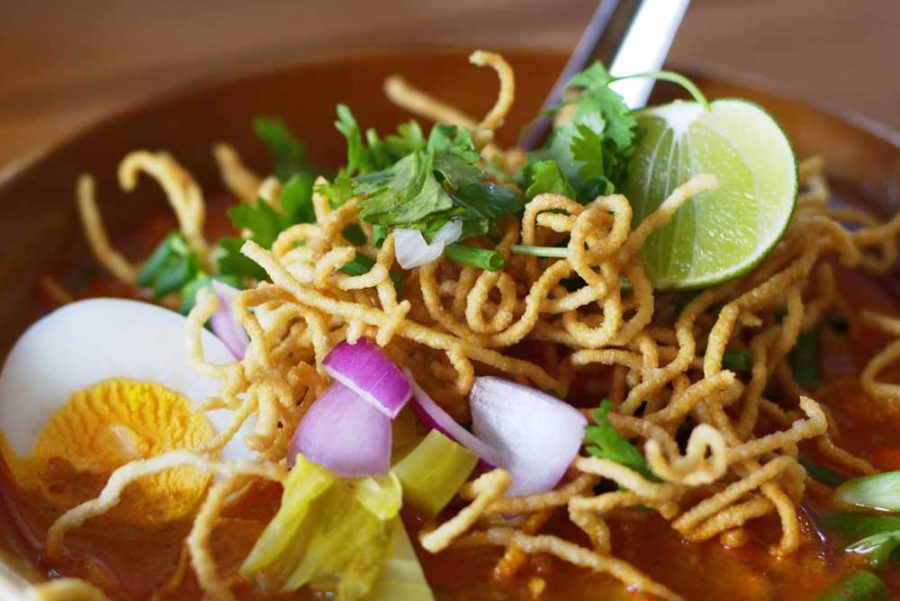 Ironically, the number one thing to do on my list of things to do in Chain Mai is not actually something to do, but rather something to eat. Khao Soi.
Northern Thailand is great for many things, but this delicious street dish is one of the best. Khao Soi is by far my favourite thing in the entire world which is why it has taken the top spot on my guide to Chiang Mai.
Unlike Red Curries, Chicken Fried Rice or Phad Thai. Khao Soi is unheard outside of northern Thailand which is a shame as it is honestly one of the greatest dishes put on this planet. Even in Bangkok or Phuket, you'll struggle to find this dish and even if you manage it- it doesn't quite taste the same as it does in Chiang Mai.
Khao Soi is a thin coconut-based soup, honestly, what goes into the soup I am unsure of. But whatever spices or seasonings are used, it tastes damn good. The soup is served with yellow egg noodles and meat, (usually a tender chicken drumstick) on the bone. The dish is topped with crispy fried egg noodles giving a variety of textures. And you'll usually have a side of spring onions, red onions, mustard and lime to add. And the best part is the price. A bowl of Khao Soi in Thailand usually costs less than 1 USD! (30 Thai Baht)
Even if Thai food isn't you're thing, if you don't like spicy food, or prefer home comforts of pizzerias and chain restaurants. Khao Soi is the one dish you shouldn't pass up on. If there is no other local foods you eat while in Chiang Mai, you just cannot leave without tasting Khao Soi, it's absolutely delicious.
Chiang Mai is well known for its unique flavours and delicious foods. You can check out the Roaming Irishman's guide to the best foods in Chiang Mai to make sure you're not missing out.
BOOK A TOUR: LEARN MORE ABOUT THE CHIANG MAI FOOD TOUR
Catch The Chiang Mai 'Ladyboy' Cabaret Show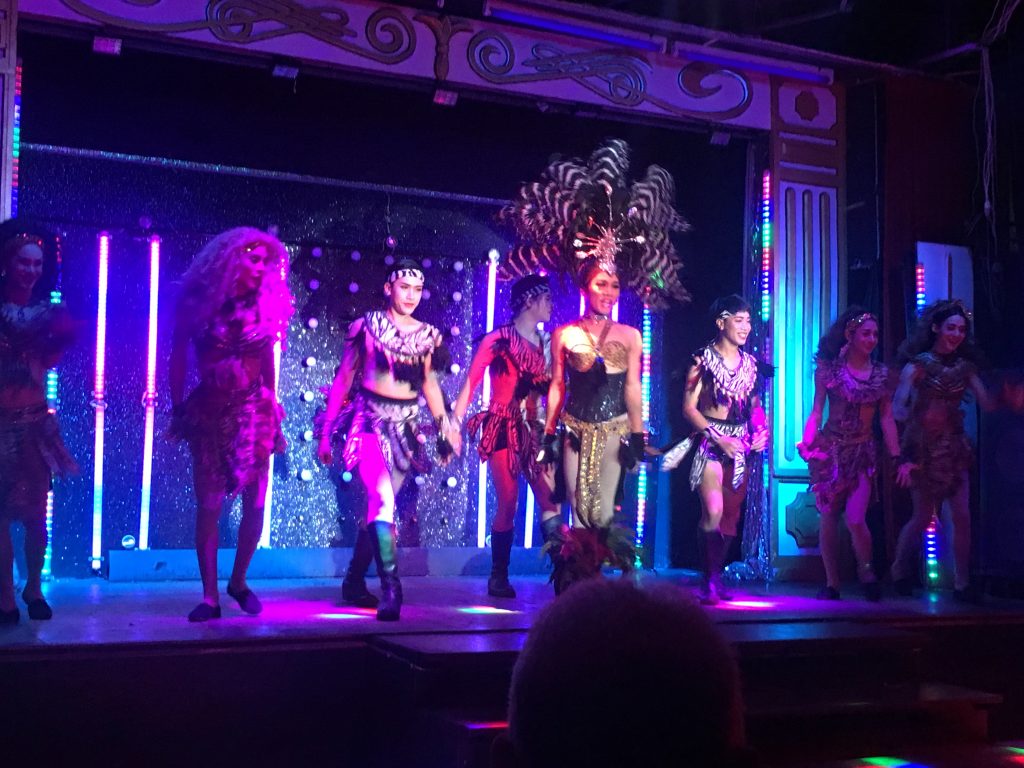 Nightlife in Chiang Mai is something special. The city is filled with talented singers, performers and entertainers and you'll find all of that rolled into one at the Chiang Mai Cabaret Show. Which is surprisingly one of the most popular things to do in Chiang Mai.
So if you're looking for a night of fun, comedy, sequins and sparkles head on down to the Anusarn Market Night Bazaar and you won't be disappointed.
The performers are super talented and know how to keep the crown entertained.
The show starts at 10 pm every night and lasts for a little over an hour. The small venue fill up quickly during the peak season months, and with a capacity of just 200 seats, you'll be up close and personal with the performers.
It's best to buy tickets in advance and you can do so at the venue. Head to market in the late afternoon where you can choose your seat and buy your tickets. Tickets are around 300 Thai Baht each which includes a free Chang Beer.
And be careful if you're choosing seats at the front, during the performance an unsuspecting member of the audience will be selected as the gringo and humiliated on stage!
Spend A Day Exploring Doi Suthep
Doi Suthep is the most famous attraction in Chiang Mai. There is a Thai saying that "if you haven't visited Doi Suthep and eaten Khao Soi, you haven't experienced Chiang Mai." It's like the Eiffel Tower is to Paris.
It's a tiring hike to the top of the mountain at over 1,600 meters and over 300 steps. But at the peak of Doi Suthep you'll have the best views over the city.
There are waterfalls, shop and restaurants and even a small zoo at this Thai National Park, but the reason most visitors come is to see the Wat Phra Temple on the hillside. A 13th-century temple with a large white elephant shrine and a replica of the Emerald Buddha.
Climb The Sticky Falls (Bua Tong Waterfall)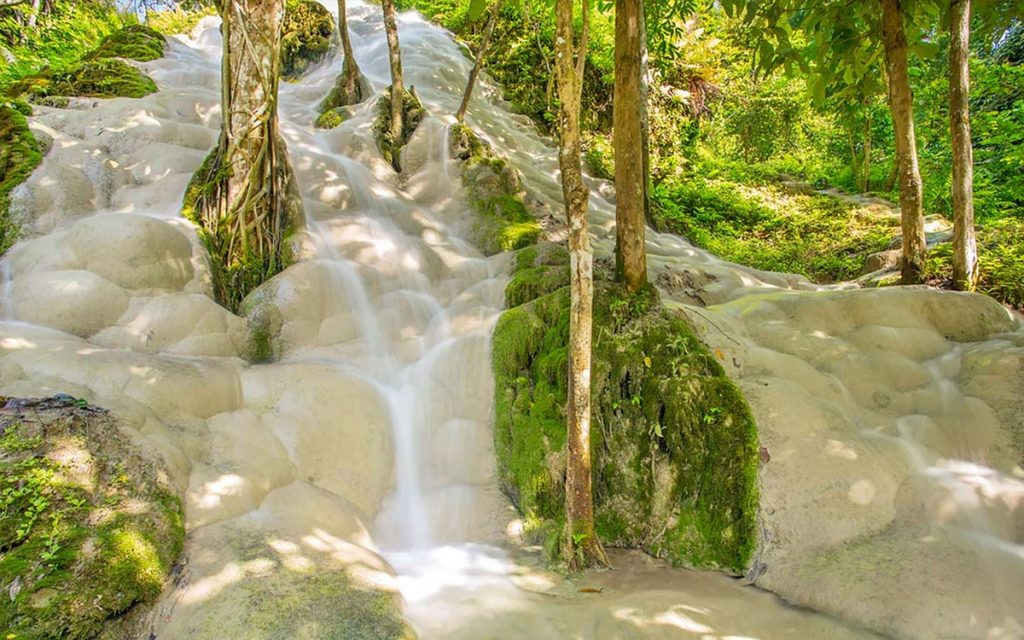 There are countless waterfalls scattered around Chiang Mai province. Visiting the falls is a fun thing to do to get in touch with the nature. The Huay Keaw waterfall is hidden deep in Chiang Mai's jungle and is well off the beaten track but for a truly unique experience the 'sticky falls' is where you want to head.
The sticky falls, or Bua Tong Waterfall to give it it's official name is found around an hour outside the walls of the old city. Because of the remote location, the falls remains somewhat off the tourist radar. To get here you'll need to hire a bike or share a Songthaew with a group.
Chinag Mai's sticky falls are unique, and you might be wondering where the name originates. Well if you've spent any time in Asia it's likely you've visited a waterfall or two- and waterfalls are usually slippery. Not the Sticky Falls.
The spring which is feeding the falls is rich with minerals, preventing moss from building up on the rocks. Head into the falls barefoot, and you'll stick to rocks. You can literally walk up a near-vertical ascent while you're feet grip to the rocks like velcro!
The most challenging section is a 30-foot climb from the second tier to the top tier. There are ropes overhanging to help pull yourself to the top. It can be quite a workout climbing the sticky falls, so to make the most of this thing to do you might want to hang around and grab a bite to eat.
Bringing along a picnic is what most Thai tourists prefer to do, but as the site is a national park, alcohol is prohibited. Or there is a small outdoor restaurant near the entrance serving Thai foods and rotisserie chickens.
The Chiang Mai Grand Canyon Waterpark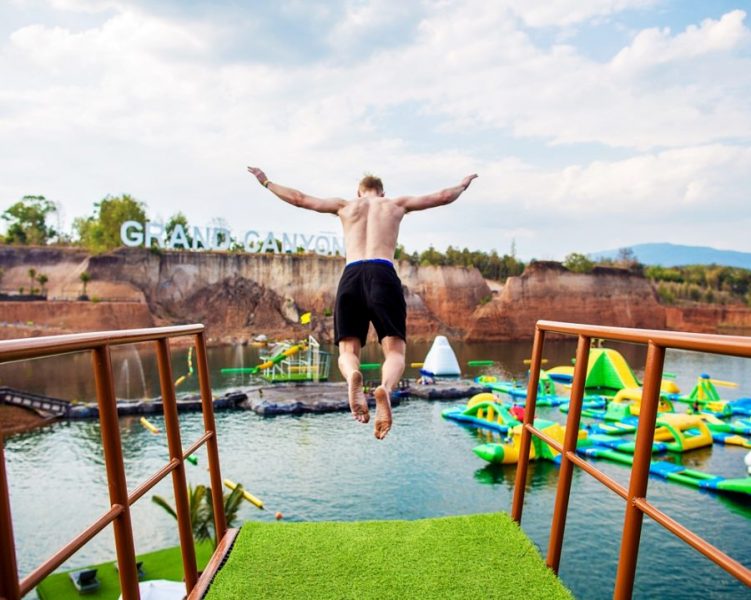 The Chiang Mai Canyon used to be off the beaten track, a haven for backpackers seeking a cheap and adventurous day. There were no inflatables, no entrance fees. No more than a disused quarry.
Today things have changed, after locals saw the quarry become increasing popular they were quick to but up the land and convert the quarry into a water park. There are now so many activities to do here including scrambling around on the inflatables, wake-boarding, the giant slides, floating trampolines, zip-lines and a 'blob launcher'.
The entrance fee now stands at 650 Thai Baht per person including zip-lining (2020).
Life guards are on site at the grand canyon, but if you're not a strong swimmer this activity might not be for you. The quarry is estimated to be over 40 feet deep- and there have have been reports of deaths at the quarry over the years.
Shop At The Weekend Market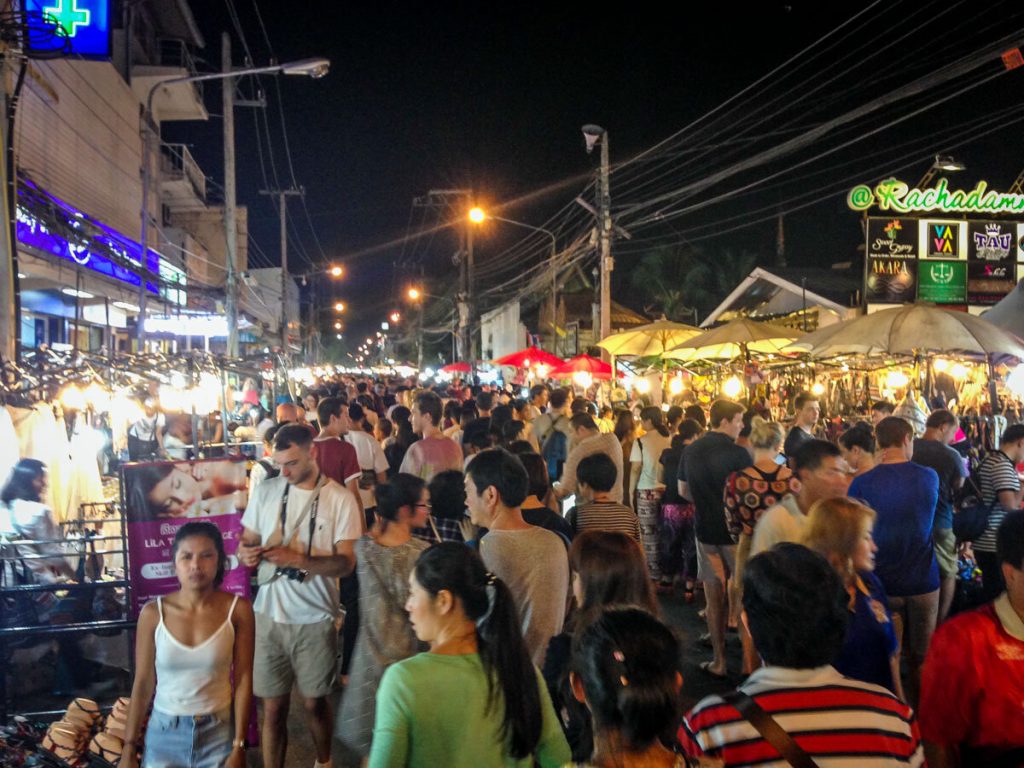 The weekend market in Chiang Mai is the perfect thing to do for those on there way back to their home country. You'll can buy unique souvenirs that will be sure to weigh down you backpack, but are totally worth it. And if you don't have any space in your bag for souvenirs it's still worth a visit.
The weekend market is one of the biggest in Thailand, stretching the entire 5 kilometres of Soi Wua Lai Street, beginning at the Chiang Mai Gate and branching out down side streets of the old town.
There are food courts off from the main street where you'll find almost anything imaginable. You can try crocodile, ostrich and other exotic meats but you'll also find some of the best Khao Soi in Chiang Mai here. Make sure to pay a visit to the waffle stall at the Chiang Mai gate entrance, you'll smell it a mile off and while high in calories, it's distinctly delicious.
The night market gets exceedingly busy and packed with locals and tourists. Prepare to be cramped and know it will take a while to walk through the entire market. Don't be shocked if everyone suddenly comes to a grinding halt either. At 6 pm, the national anthem is played- you are expected to stand still while it plays.
Chat With A Monk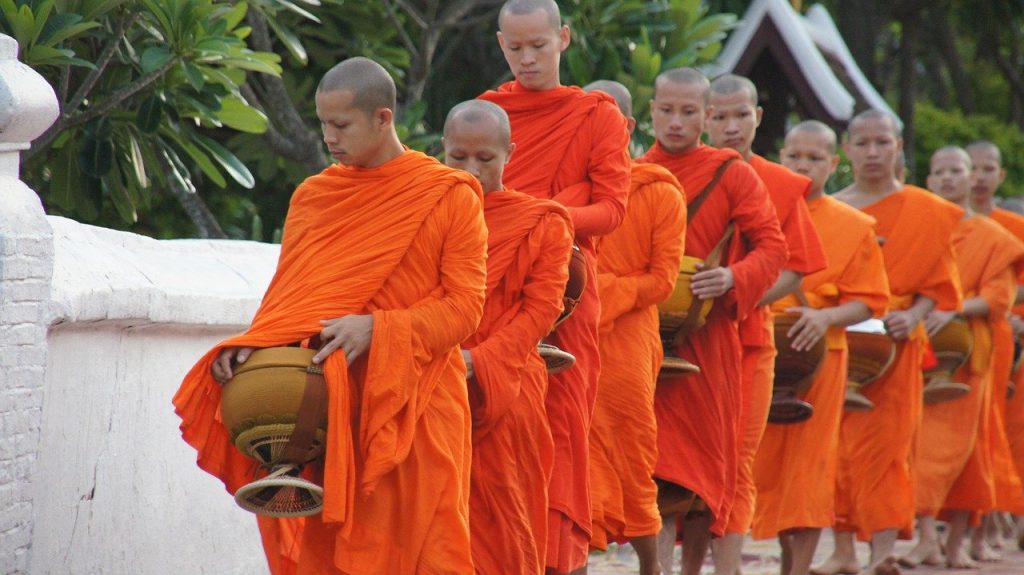 Monk Chat is a programme run by the Chaing Mai University. The programme encourages western tourists to meet with and 'chat' informally with Chiang Mai's Monks. Providing an insight into their lives- you can find out about their lifestyle, culture and traditions, as well as anything else you'd want to chat about or ask.
Monk Chat sessions are free but it is good etiquette to make a donation to the temple.
What do the Monk's gain from these sessions? Monk Chats are usually with younger Monks, and sitting down one-on-one with native English speakers is a great way for them to improve their English language skills. Which proves to be an interest and a hobby for most novice Monks.
Monk chat sessions are held regularly throughout Chiang Mai at temples and university. Different timings, different locations and some busier than others. Information changes regularly and is more often than not, not updated online. It is best to speak with your guesthouse owner or other locals to find out about the nearest session to you, in Chiang Mai.
Take A Boat Tour On The Mae Ping River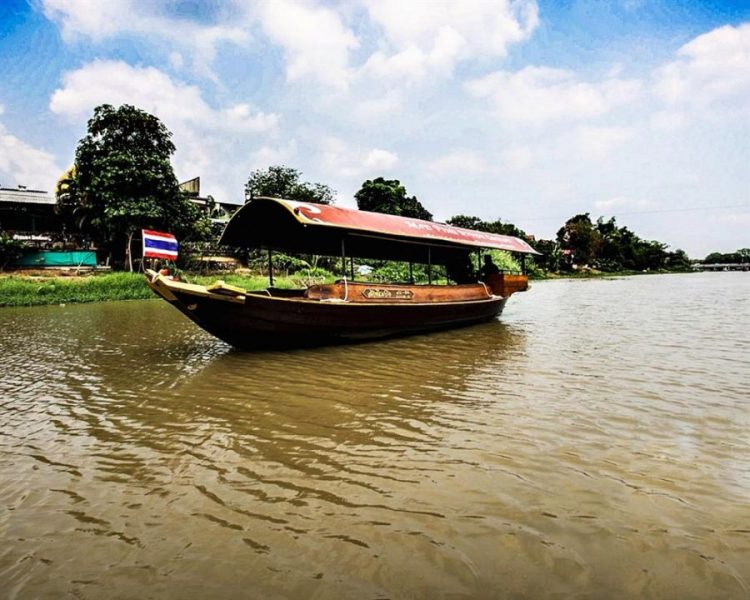 An activity like no other, take to Chiang Mai's waterways for a boat cruise along the rural Mae Ping River. Getaway from the city for an afternoon and take a slow cruise enjoying the ever-changing scenery.
A cruise on the river usually lasts around two hours and you'll be taken past some pleasant scenery at a relaxed pace.
Beautiful traditional teak houses line the river banks as well as the so-called 'farmers house'- where jasmine rice along with 11 secret herbs and spices are grown. You can book a tour of the river online or you can show up at the river bank off Charoenprathet Road and buy a ticket in person.
Most tours will pad out the afternoon with a stop at the farmers house for a quick tour, it's not that interesting. But you will be given a bowl of Khao Soi to make up for that.
Cruises on average cost around 450 THB.
MORE ACTIVITIES: BOOK A STAND UP PADDLE BOARD EXPERIENCE ON THE MAE PING RIVER
Get Lost Inside The Old City Walls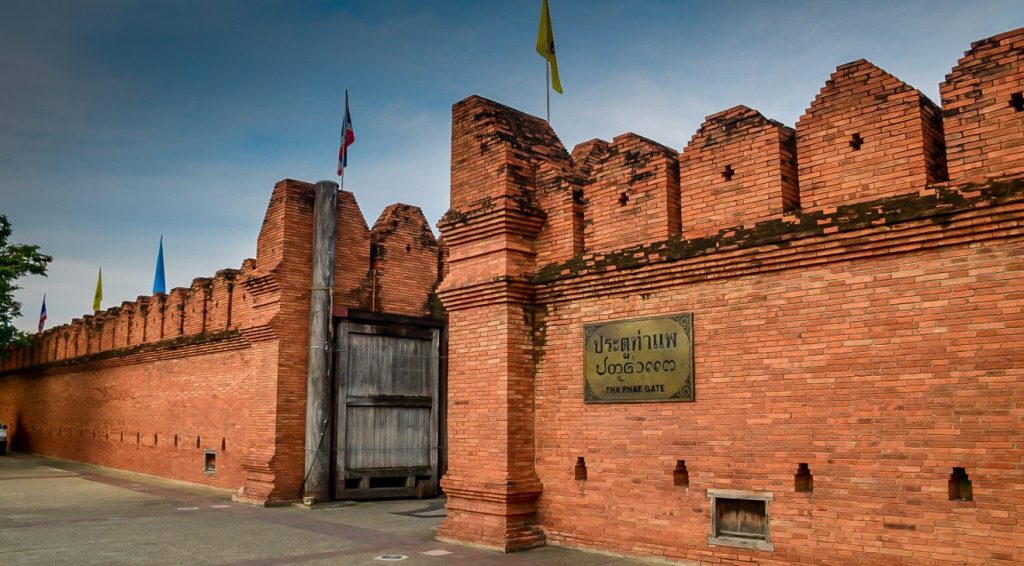 Chiang Mai has so much charm to it it can often be hard to leave. There are so man things to do within the city walls. The ancient town of Chiang Mai was once protected with a moat and wall surrounding the city and these monuments are a huge part of the city's culture and heritage. In recent times the walls have shown signs of their age and have began to crumble away- though sections of the wall had been rebuilt throughout the 1980s'.
For first-time traveller to Chiang Mai will want to base themselves near or inside the walled city, this is where the centre of the action is and where you'll find most things to do in Chiang Mai. Some activities will require travelling further afield such as the waterfalls or the Canyon. But there are an abundance of temples, restaurants, massage parlours, street art and street vendors within the walls.
Spending a day getting familiar with the city by walking the perimeter and exploring the maze-like city is one of the best free things to do in Chiang Mai. You'll easily find yourself lost down the narrow alleyways never knowing just what you might find around the next corner.
Float Down River On a Bamboo Raft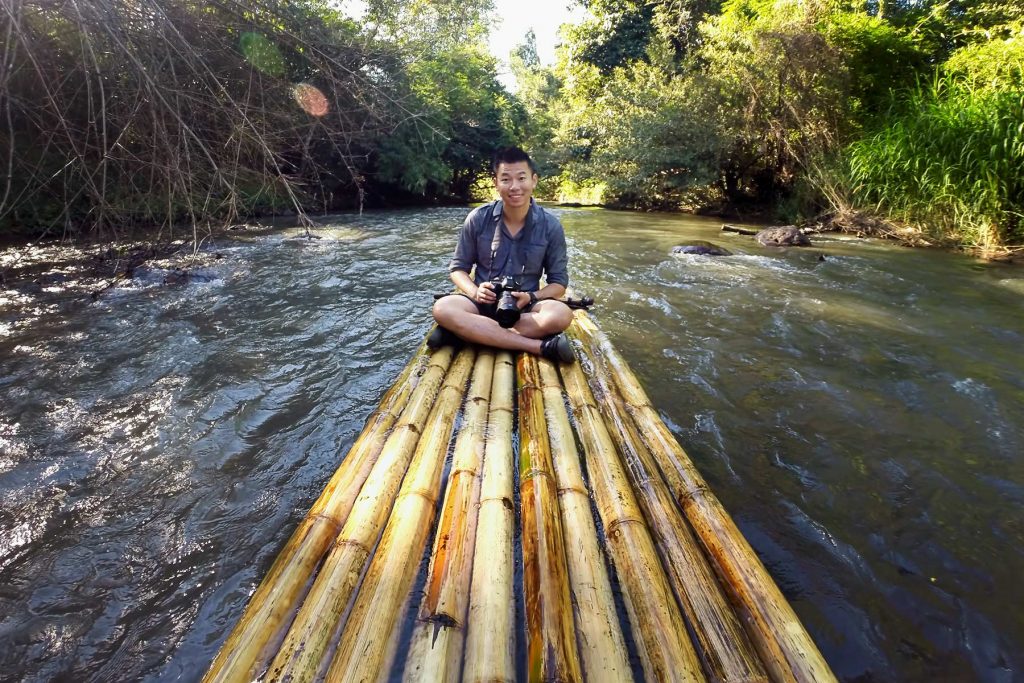 Bamboo rafting is one of my personal favourite things to do in Chiang Mai and a perfect way to cool off on a hot day. The river passes through a section of the Chiang Mai jungle where wildlife is rife.
I was luck enough to see a herd of 5 or 6 wild elephants walking down the river while relaxing on the raft, parked up on the side of the river.
You'll have a choice to take your own raft out for around 300 Thai Baht or you can hire a guide for another 300 Baht. The job of the guide is purely to steer the raft, (which is much more difficult than it looks). You'll be heavily advised by staff to only go with a guide, but if you're feeling more adventurous, I'd recommended the opposite it's much more enjoyable going it alone.
Going it alone you'll have complete control, bring along a pack of beers and some smoke. On your own you can spend as much time as you'd like on the river 1 hour or 6 hours its up to you. Pull over and wedge the raft on the river bank while you enjoy a cool Thai beer.
Travelling with a guide? We'll you'll find yourself at the bottom of the river withing 10 – 15 minutes. And after travelling 45 minutes out of town to get to the river, there's not much fun in that.
Watch a Muay Thai Boxing Match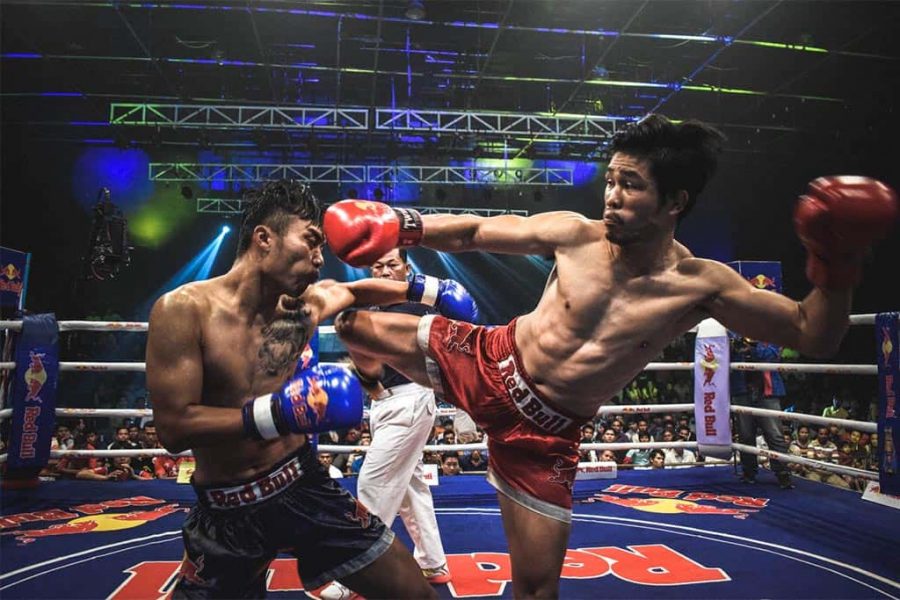 Chiang Mai is the home of Thailand national sport, Muay Thai fighting, or Thai Boxing. If you've got some time on your hands Chiang Mai is one of the cheapest places in the country to train in this martial art. For around 6,000 Thai Baht per month including accommodation you too can become a Muay Thai fighter.
You can also spectate at the arena. You'll see the trucks cruising around the city blaring promotions for the Muay Thai fights, it's impossible to miss! There are 5 or so popular arena's close by to Chiang Mai's city centre with fights held almost every night.
You'll have no trouble showing up and buying a ticket at the door unless you're after V.I.P seating in which case you'll want to buy tickets in advance. Tickets cost on average 500 Thai Baht or 700 for a V.I.P seat. Thai beers can be consumed and purchased in the area for a slight markup on usual prices. In most cases, standard seating is just fine and you'll get a great view. V.I.P seating tends to be ring-side seats.
Visit Doi Inthanon National Park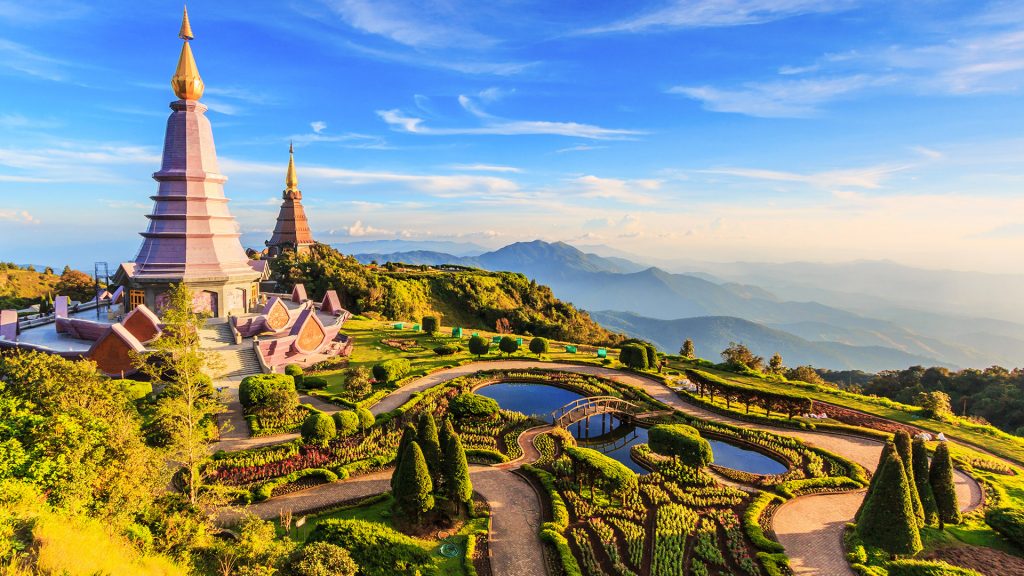 Doi Inthanon is a little way out from the city, but it's one of the greatest things to do in Chiang Mai and well worth visiting. It takes around 2 hours to drive here but you'll be rewarded with solitude and fresh mountain air. Standing at over 8,400 feet above sea level it is also Thailand's highest mountain!
Renting a red car along with a driver for the day is going to be the most comfortable choice but at around 1,800 Thai Baht it will also be the most expensive. Unless you a travelling in a group where you can split costs between you. Otherwise renting a scooter is the next best option.
Doi Inthanon is a Thai National Park, one of the original 14 parks and easily one of the most beautiful. With all National Parks in Thailand, foreigners must pay an admission fee to visit and at Doi Inthanon, the price is 300 Thai Baht.
There are so many activities and things to do in Doi Inthanon National Park but my favourites are the waterfalls, the twin pagodas and the Kew Mae Pan nature trail.
Waterfalls In Doi Inthanon: There are so many waterfalls located inside the park it's tough to pick a favourite. See as many as you can! But if you're pushed for time make sure to see the Mae Ye Fall which is just south of the park.
The Twin Pagodas: The twin Pagodas or the Naphamethinidon and Naphaphonphumisiri Pagodas are the selling point of Doi Inthanon, dedicated to the late great King Rama IX and the Queen of Thailand they are a must-see in the park and are one of the main reasons for visiting. Seen pictured above the Pagodas are no too far from the summit.
Kew Mae Pan Nature Trail: The trail is relatively easy going if you're in somewhat decent shape, (and haven't had a night drinking Chang Beer the evening before)! It's not the steepest, but it does provide stunning views of Thailand from the skyline.
The hike lasts for around 2 hours and you're required to hire a local guide, you can show up and find a guide once you arrive there is no need to reserve anything in advance. The cost to hire a guide is 200 Thai Baht, excluding gratitudes.
See Elephants in Chiang Mai At An Ethical Sanctuary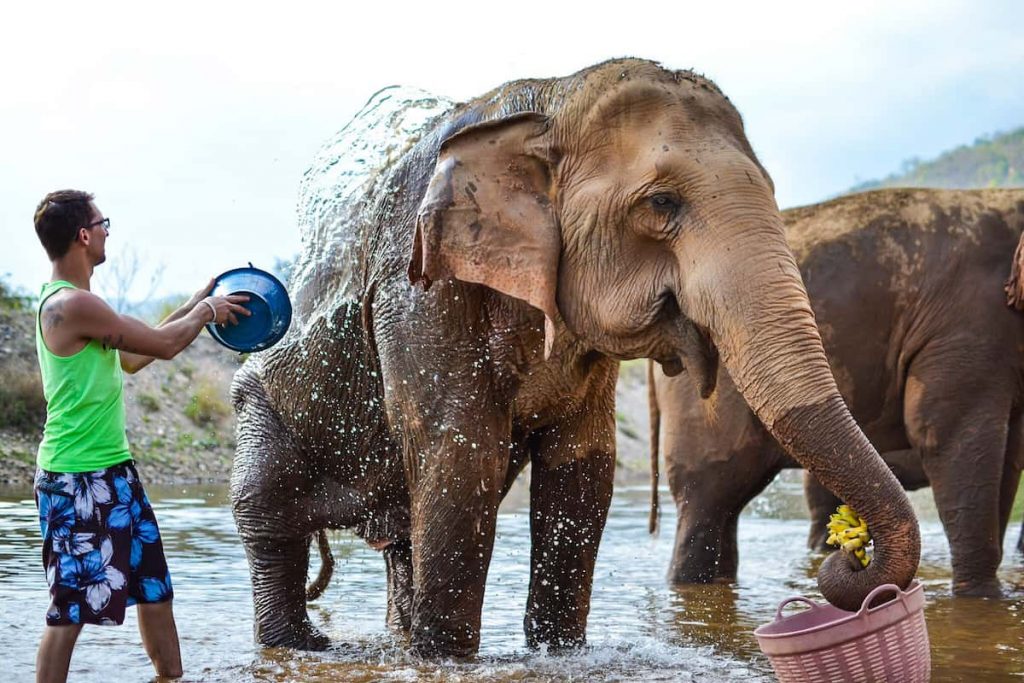 Meeting Asian Elephants up close is f***ing awesome and should be on ever travellers Thailand bucket list.
But Elephant Sanctuaries can be a touchy subject, things are changing quicker than ever and travellers are educating themselves on ethical travel more than ever before.
Thailand has a problem with animal rights in the tourism industry. To put it bluntly, some of the so-called sanctuaries beat the elephants and the animals are abused and mistreated. Most travellers by now are already aware but elephant riding is also cruel for the animals. Even with their sheer size, their back cannot support the weight of humans. You should boycott any sanctuary offering or promoting elephant riding.
Do some research and ask the locals, (staff in you guesthouse) for information about the sanctuaries before committing to booking anything. If you choose a reputable sanctuary you can sleep well, knowing that the money you spend is going back to giving these magnificent animals a better way of life.
I would recommend a visit to volunteer with the elephants at Chiang Mai's Elephant Nature Park, but do you're own research and choose the place you feel most comfortable with.
Ride in a Songthaew (Red Truck or Reddie)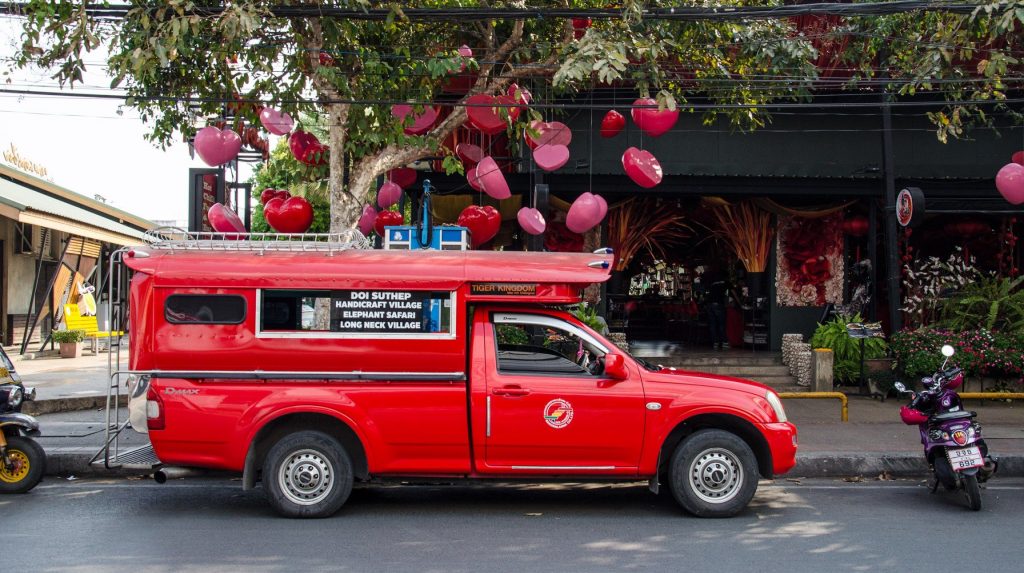 Riding a Songthaew around Chiang Mai is an experience in itself, this is something you'll only have the opportunity to do while in Chiang Mai. The red cars or 'reddies' are the most affordable way to get around the city.
The cars will drive past in packs non-stop at day long, you won't have any trouble flagging a driver down. You can ride to anywhere in the city for 30 Thai Baht. The cost has risen from 20 Baht in recent years.
For journey outside of the city you'll want to negotiate the price with the driver before getting in. And remember the prices quoted are per person.
For longer trips, you might want to consider downloading the Grab taxi application. Grab is South-East Asia's answer to Uber or Lyft where prices for taxis are surprisingly affordable and Songthaews can be hailed at an extortionate rate. Keep your eyes peeled for discount codes plastered around malls and ironically on the side of the red-cars.
Meet The Long Neck Tribes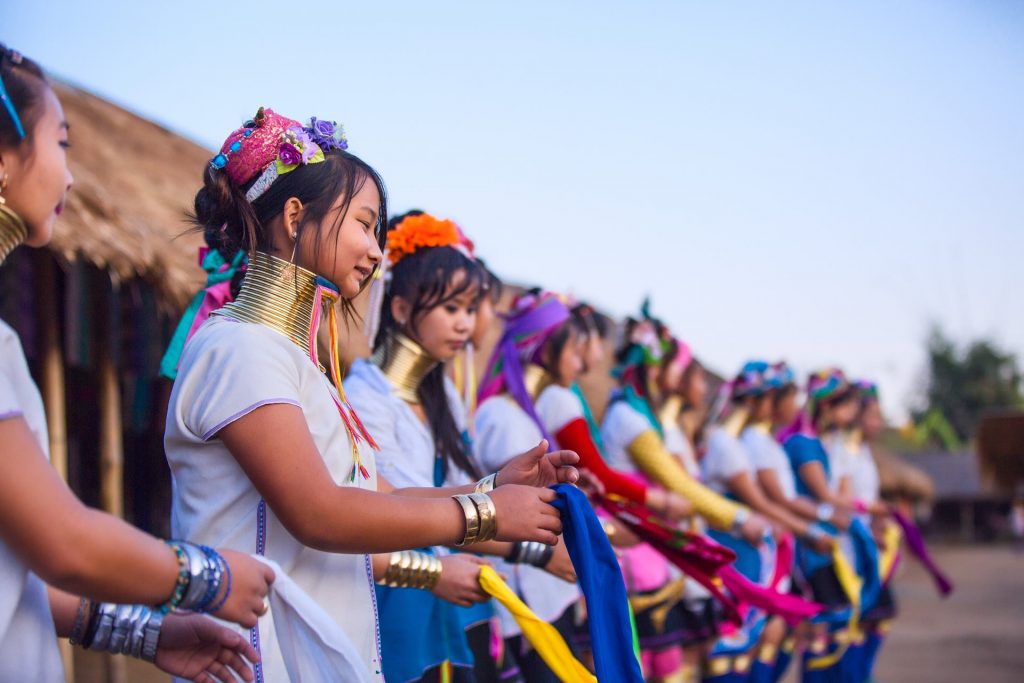 The Karen tribe, or the 'Long Neck tribe'. Crossed the border and relocated to Thailand from Burma (Myanmar) in the early 1980s' to escape political unrest, war and violence in their country.
The tribes are world-famous and have become a symbol of northern Thailand. The women of the tribe wear golden rings around their necks, giving the illusion of a "long neck". A new ring is added to their collection each year on their birthday, from the ages of 5 years old up until their 21st birthdays.
In the eyes of the Karen tribespeople, the longer the neck the more beautiful the woman.
The Karen tribe now live in a small village in rural northern Thailand, in Mae Rim on the outskirts of Chiang Mai. The tribes now rely on tourism to sustain themselves and sell souvenirs along with charging an entrance fee to visit in order to earn a living.
It is best to visit the tribes with a tour guide so upon meeting the women you will be able to communicate with the tribes and ask them questions while you're there. You can also incorporate a visit to a village with a Chiang Mai tour: Hill Tribe Countryside Villages Tour.
Go Temple Hopping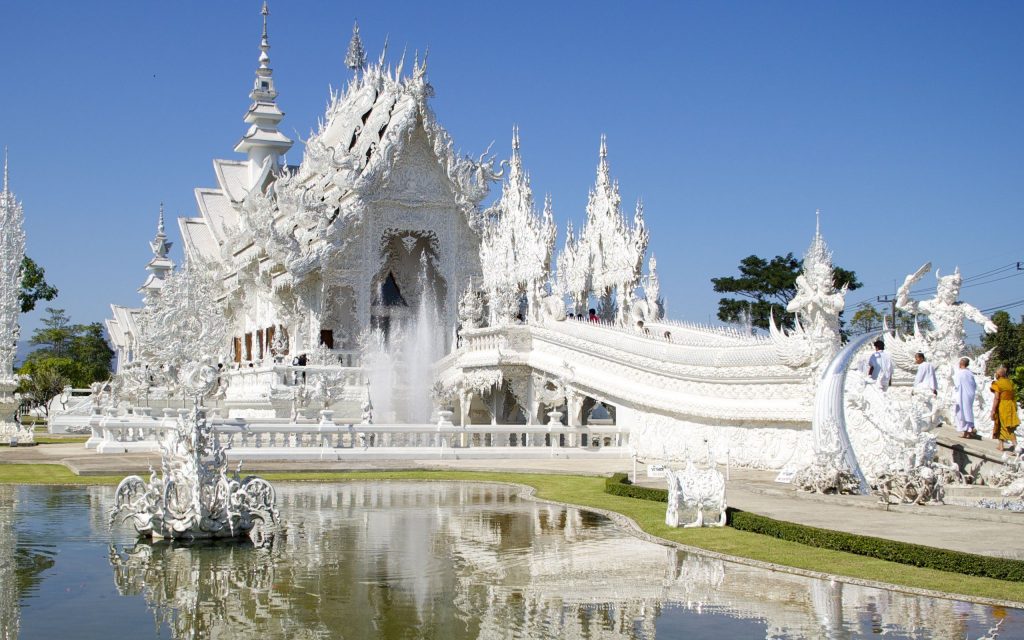 The majority of the Thai population hold strong Buddist beliefs, which is why the country is home to many incredible temples and shrines devoted to Buddha- such as the Big Buddha Temple in Phuket. But its in Chiang Mai, where you find the most impressive temples.
Some people say "once you've seen one temple, you've seen them all". That doesn't apply in Chiang Mai, where every temple is unique and somehow different to the last.
The White Temple or Wat Rong Khun, to give it it's full name is one of the most impressive structures in the region. It's a must-see, and one of the greatest things to do in Chiang Mai. While most temples are decorated in golden trim, the White Temple, on the other hand, is the complete opposite, it's completely colourless. And this is purposely done to represent the purity of Buddha.
It isn't difficult to arrange a tour of the white temple, you can hire scooters and head there yourselves or you can tag along on a pre-organised city tour. The temple is open every day from sunrise to sunset, and you'll want to set aside at least an hour here to check out the many other buildings that make up the complex and explore the vast grounds.
Golden Triangle Day Trip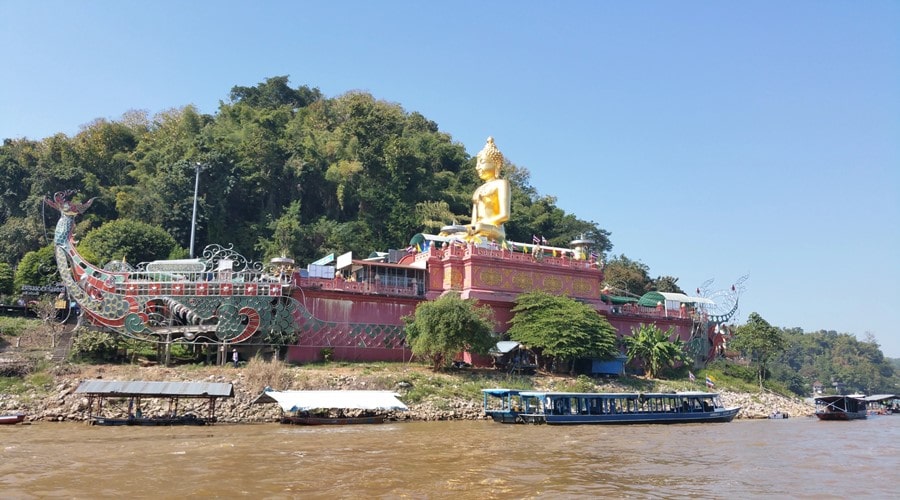 Around 45 minutes north of Chiang Mai you'll find the world famous 'Golden Triangle' this is where the Mekong river creates natural borders, separating Thailand from is neighbours; Laos and Cambodia.
The region was once home to a major opium production, however recently the crop has been eradicated. All that remains is a museum named: the Hall of Opium. The musem was commisioned by the Thai royal family in a bid to educate the local people in the region and open thier eyes to the devestating effect the crop causes for opium users.
It is one of the most interesting museums in Thailand, and a top thing to do in Chiang Mai. The museum houses film clips of production in the area before it was closed down, several exhibits and is extremely informative.
The museum is open Tuesday through Sunday. Admission is 300 THB per person. Don't forget to stop by and have some lunch or a bite to eat along the main road, most of the restaurants have riverside seating and views. You can still enjoy a cool beer, but sadly, there we'll be no opium offered with your pint.
Party At Zoe In Yellow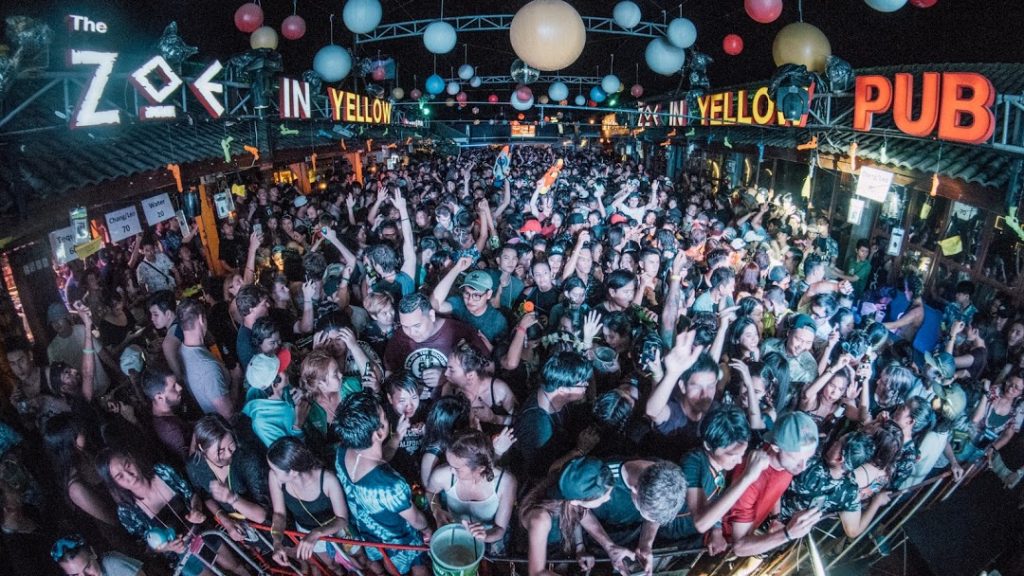 Zoe in Yellow is a long time social hub for backpackers, located conveniently close to the Tapae Gate in Chiang Mai's old town, and sitting alongside a dozen or so other bars.
Most hostels and tourist attractions are situated close by, so after a day of cultural exploration hitting up Zoe' makes perfect sense. Drinks are cheap and strong and the crowds are mainly western tourists, however, there are still a lot of young Thai's who like to head here to blow off some steam.
Chiang Mai isn't well known for its nightlife if you're looking to party, you'll still have fun, but ultimately you're probably in the wrong place. There are much bigger party destinations in the like of Koh Phi Phi, Phuket or Koh Phanggan.
Regulations in Chiang Mai are strictly enforced and order all entertainment venues to close at midnight. There are however a few places making 'generous donations to the local police forces' in order keep the party going behind closed doors, with the most popular being Spicy Nightclub, an infamous spot where crowds often move onto after things wind down at Zoe In Yellow.
Cool Off In The AC at one of Chiang Mai's Luxurious Malls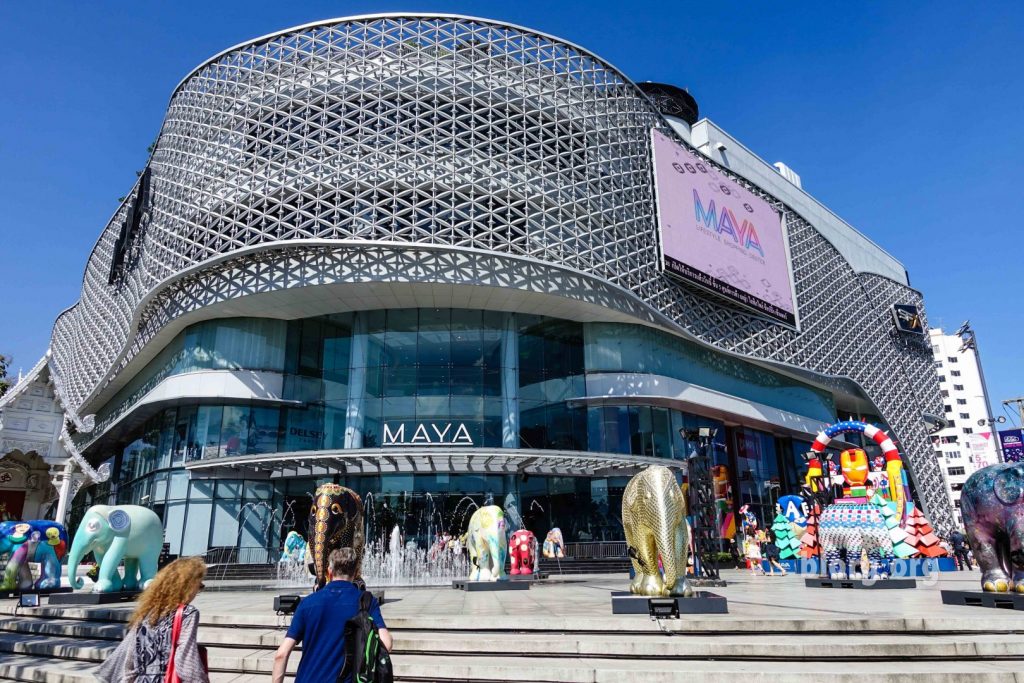 Chiang Mai is home to a handful of upmarket luxury shopping malls, such as the Maya Mall, (pictured). While you could argue that visiting a shopping mall shouldn't be on a list of things to do in Chiang Mai- and you'd have a valid point. You can visit shopping malls all across the world.
But in the middle of the day when the sun is at it's peak, it's get hot. And there's no better feeling than cooling off in an air-conditioned shopping centre. Grab a bite to eat in the food court, where you'll find hawkers with local dishes to sample.
Once it's cooled off, you'dd find yourself stepping out upon Soi Ninnman, one of the hottest destinations in Chiang Mai at night, while a little more pricey and upmarket, it's the perfect spot to grab a drink as the sun cools off.
Best Things To Do In Chiang Mai In Pictures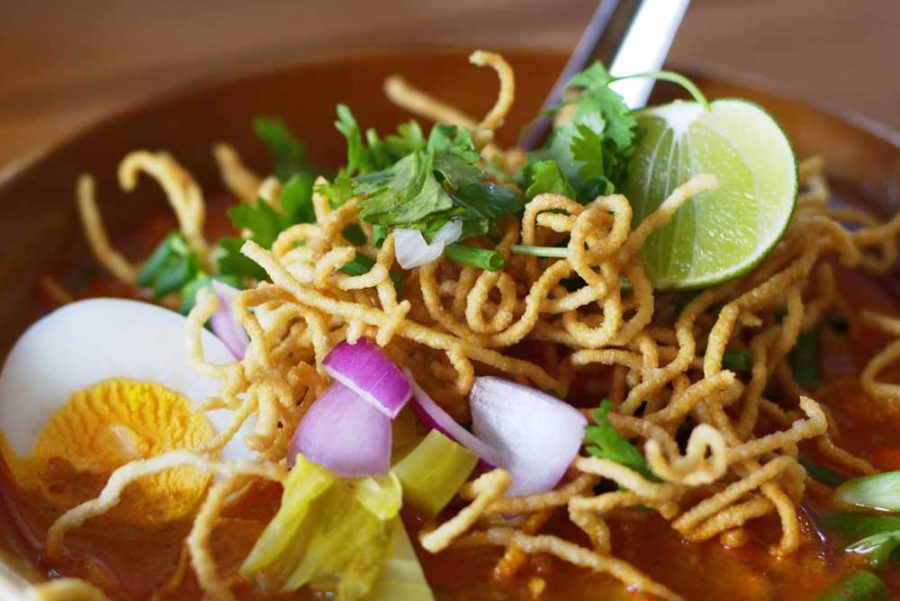 Further Reading
Learn More About Chiang Mai – Wikipedia
Official Chiang Mai Tourists Information & Updates – Tourism Thailand – Chinag Mai
The Highlights Of Chiang Mai – Lonely Planet
Everything You Need To Know About Chiang Mai – From Hotels.com
The Ultimate Chiang Mia Travel Guide – Nomadic Matt
25 Best Things To Do In Chiang Mai – The Crazy Tourist
Bucket List Of 18 Things To Do in Chiang Mai – Bucket List Journey
The 12 Most Popular Things To Do In Chiang Mai – Geeky Explorer