"I just feel like everyone tries to do something different, but you always wind up doing the same damn thing." – Leonardo Dicaprio – Richard. The Beach.
Koh Jum, Koh Jum, Koh Jum. Step back in time and experience Thailand as (I imagine) it was like in 70's and 80's. Before the country began adapting to tourism. A place where you'll never hear the cries of vendors shouting at you for a taxi ride, a suit or a massage. Here you can sleep in a bamboo bungalow along the sea front and recharge your mind. Locals here treat you like a human, as opposed to a 'walking ATM'. It's beautiful.
Koh Jum, in my opinion, is the best island in Thailand if you're seeking authenticity, peacefulness or trying to find your way off the 'backpacking trail'.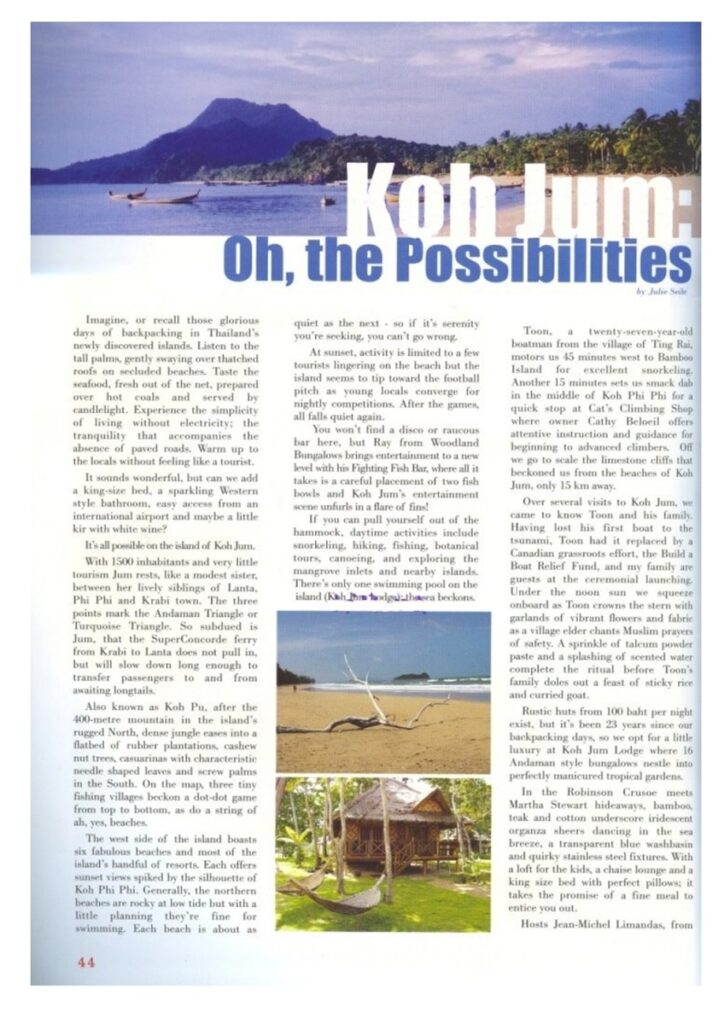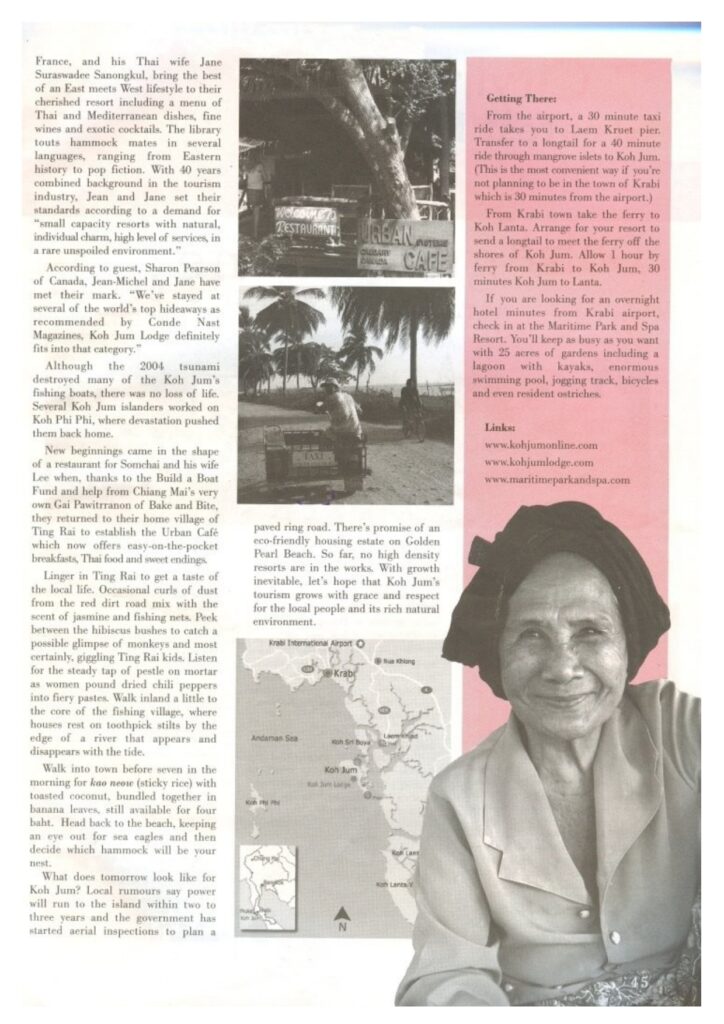 ⬆ Download Full Size ▶ Koh Jum: Oh the Possibilities.
Koh Jum allows an out from the standard trail, it's not standard for travels to include the island on their itinerary . Koh Jum is merely an hour from Phi Phi Island and a little further from Phuket. But even though the distance is close. The atmosphere is a world apart from the neighboring islands.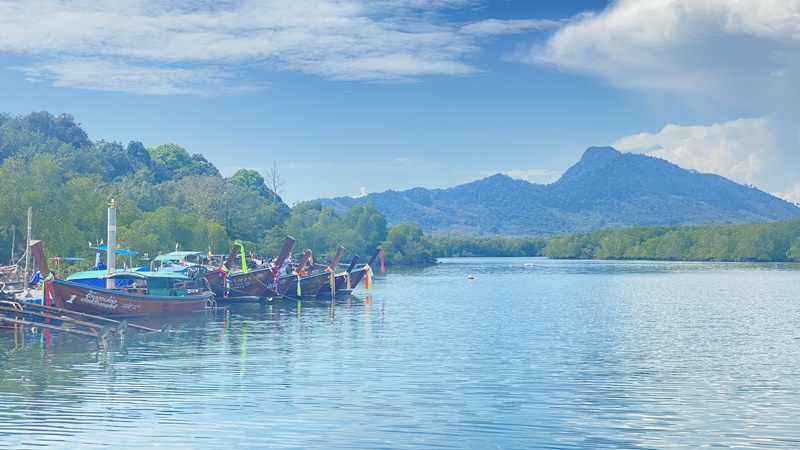 Locals embrace the island life here and everything happens at a slow relaxing pace.
To put things into perspective in terms of how few people go to Koh Jum. There are no ATMs on the island. There is no supermarket or 7-11 convenience store. This island is seriously untouched.
Most people skip this paradise island in favour of the more well known Thai islands. Which is good. Because if everyone came the island would quickly lose its charm.
Koh Jum is a place where you can break away from society for a short period of time.
It is somewhere where you can totally switch off and forget, for a brief moment. I guarantee that once you experience the authentic style of the Thai islands; it will hold a place in your heart forever.
Useful Tips For Visiting Koh Jum
ATM: There are no ATMs on Koh Jum island! Make sure to bring cash with you. Most hotels will accept credit cards but small businesses (bars, tour agents, restaurants) will not. There is now a travel agent located on 'Koh Jum' pier that does cash back- i.e. they will charge your card and give you cash in return. But the maximum is around 10,000 Baht and there is a percentage charged to use the service.
Electricity: Koh Jum has had electricity since 2008. The electricity has been on 24 hours a day since 2012.
Phone Signal: There is cellular coverage on Koh Jum. AIS is the best network to use with strong signals. True or Dtac have poor signals. Wi-fi strength is good, even hitting 300 mbps download speeds! (Faster than Bangkok)!
Supermarkets / 7-11's: There are no 7-11's on Koh Jum. Which if you've spent any time in Thailand, you'll know is a rare occurrence and really goes to show how quiet Koh Jum is.
Animals: Be careful of the wild Macaque Monkeys on Koh Jum. They roam the island in packs looking for food. They might look cute but a bite from one can be pretty nasty. Try to keep your distance. Dogs are far and few due to the Muslim culture, but the few dogs you'll meet are usually friendly.
Scooters: You'll need to rent and drive a scooter to get around Koh Jum. The island, although small, is too big to walk. There is no public transport and no taxis other than hotel shuttle services. Bicycle is the other option.
Alcohol: The majority of Koh Jum's residents are Muslim. However alcohol is easily found in bars, restaurants, and even at local mini-marts.
Weather: The weather is best during the high season which is from November until March.
Interesting: While researching Koh Jum I stumbled across this brochure from 20 years ago, speculating the future of the island. (view)
What are The Best Things to do on Koh Jum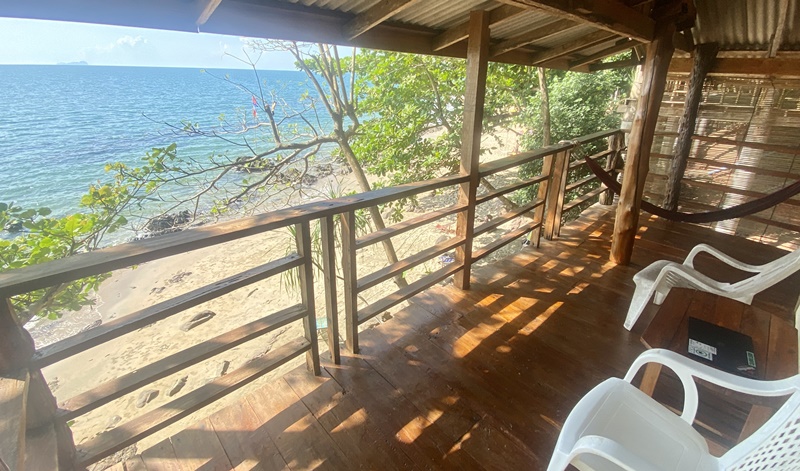 Visiting the beach, chilling in a hammock, smoking a joint, and swimming in the sea are the most popular activities in Koh Jum. While the most popular things to do are basically to 'chill out'. There are other activities too. Scooters can be hired to explore top to bottom. There is a mountain on the northern side of the island(Koh Pu), a hiking trail leads to the top and views of the Andaman Islands can be seen. See: Hiking Koh Jum Mountain. And you can even learn to Scuba-Dive on Koh Jum island.
But my favorite activity at Koh Jum was fishing. It's possible to charter a Long Boat and head out to sea with the chance of catching big fish, Mackerel and Mahi-Mahi. The cost is 1,500 Baht for the day, not bad. But we found it so relaxing to just hang out and fish from the dock. There is a café named 'Mr.Boy's'. Which is owned and run by, you guessed it; Mr.Boy.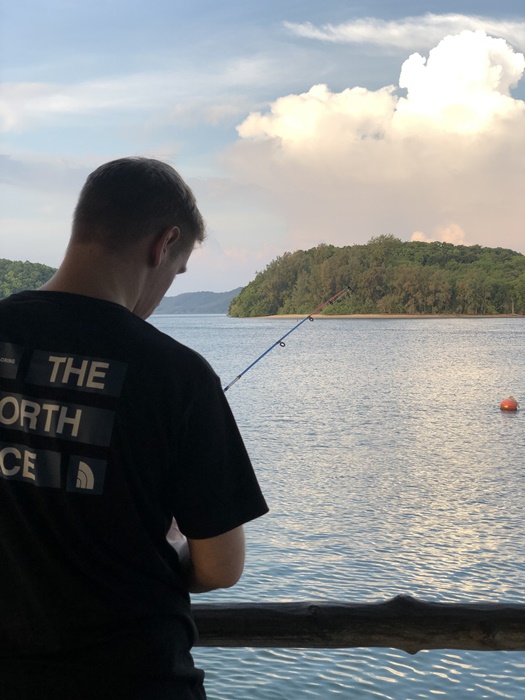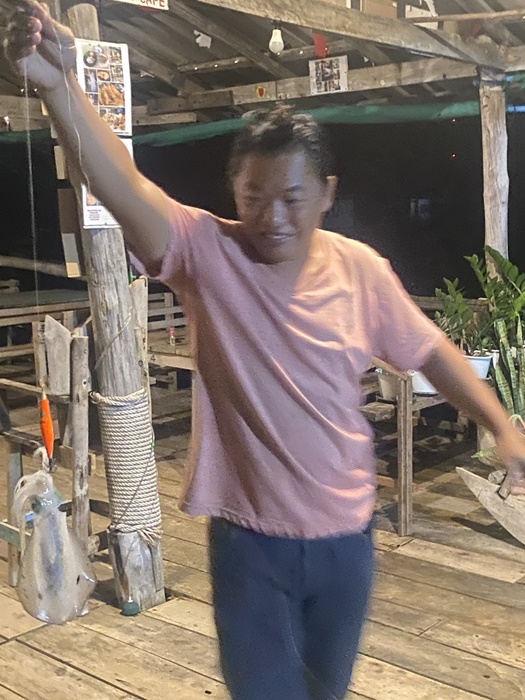 Fishing rods and bait can be rented at his café and you can fish from his dock for 250 Baht a day. Fishing is available up until 7pm, and in the night time you can change to 'Squidding' or squid fishing instead. Anything you catch, Mr.Boy will cook it fresh!
There are still a ton more things to do on Koh Jum and there will be a full post of things to do coming soon.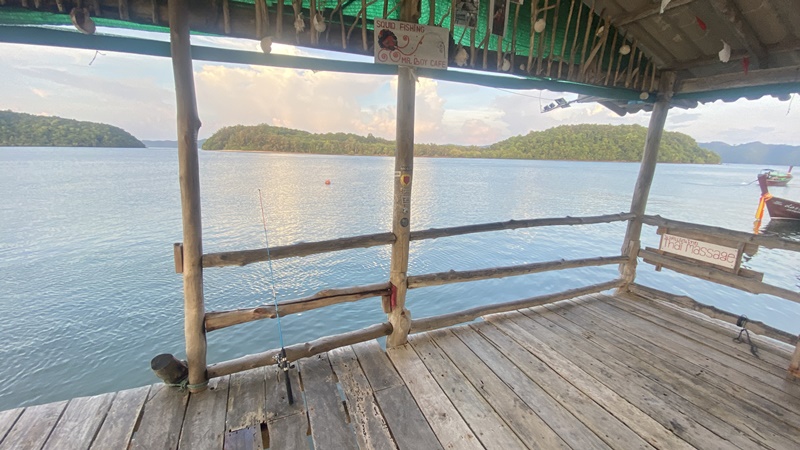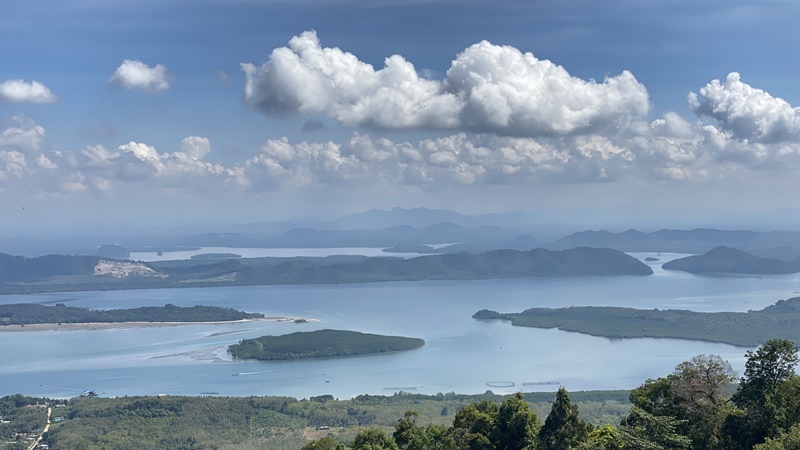 What To Expect at Koh Jum Island
There is not much happening at Koh Jum, which is kind of the point of visiting the island. The vibe is authentic, as I imagine all of the islands would have felt 30 or so years back before tourism took over.
Expect to find paradise within the people and the atmosphere on the island. Koh Jum is a place to recharge, and that's about all.
Where to Stay
The accommodation on Koh Jum is what makes the island so special. In Koh Jum most of the 'hotels' are wooden bungalows or huts. They are hand built from bamboo. Some have air-conditioning, most do not. More hotels are opening at a rate quicker than ever.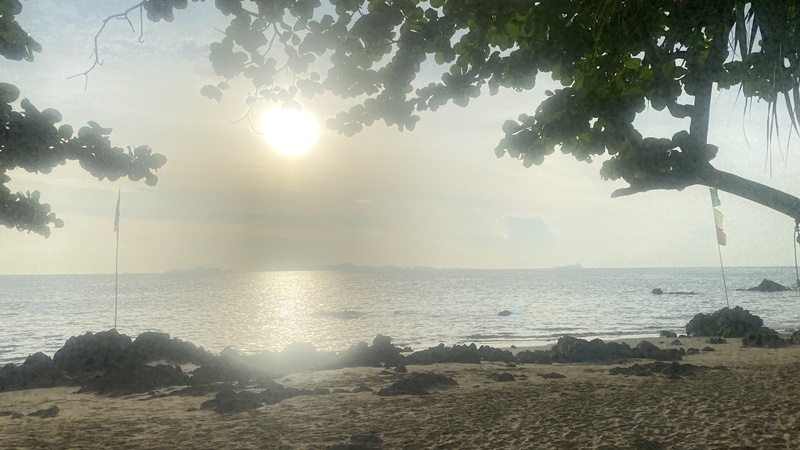 Pick your accommodation on Koh Jum wisely. Beach bungalows in Koh Jum are not expensive. You can find a hut on the beach for about 500 to 1,000 Thai Baht on average.
You might also be interested in reading this post about the best Koh Jum Beach Villas.
The Best Accommodation Choice in Koh Jum:
Where are the Best Places to Eat at Koh Jum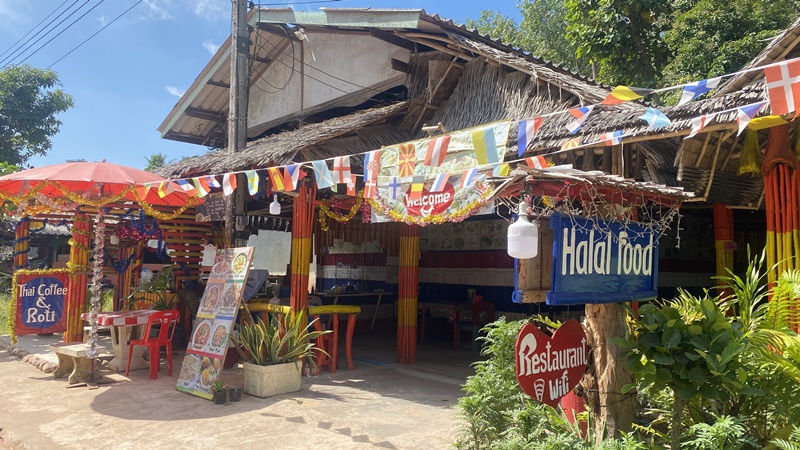 Despite the low volumes of tourists who visit Koh Jum there are still enough restaurants to choose from.
Koh Jum has an Italian Pizza Restaurant, an Indian Curry House, a Seafood place and a handful of local Thai places too. You will need to ride a scooter to get to any of these restaurants. But the best we found was the 'Halal restaurant'. You can't miss the place, it's a medium sized restaurant built from Bamboo on the main street. And the owners have painted the restaurant bright blue and yellow, it stands out. The prices here are really affordable and the food served was some of the best Thai food we'd tasted. You can tell the owners are still passionate about their restaurant.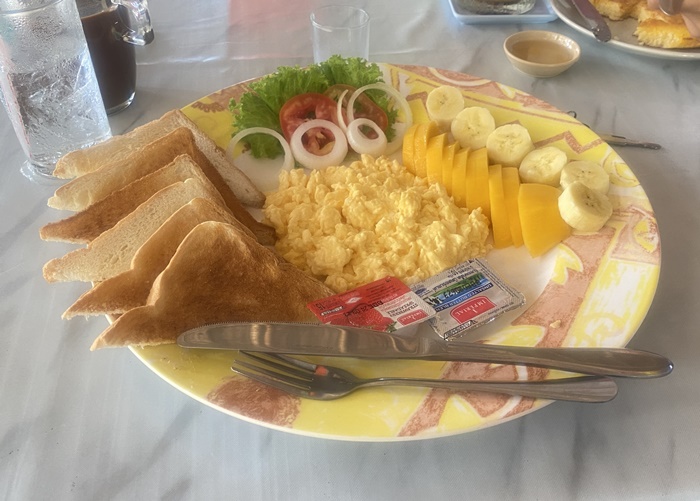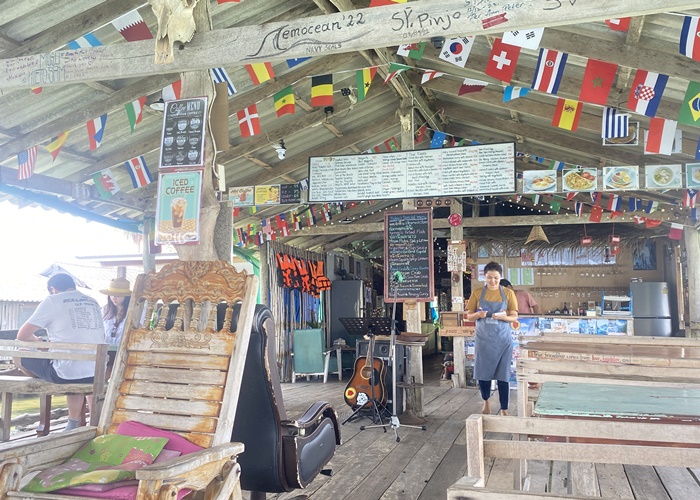 The restaurants on Koh Jum all close relatively early (around 9PMish). After this time it will be tough to find anywhere still open. Almost every accommodation offering has food onsite too, most include breakfast in the room rate.
Day Tours and Excursions from Koh Jum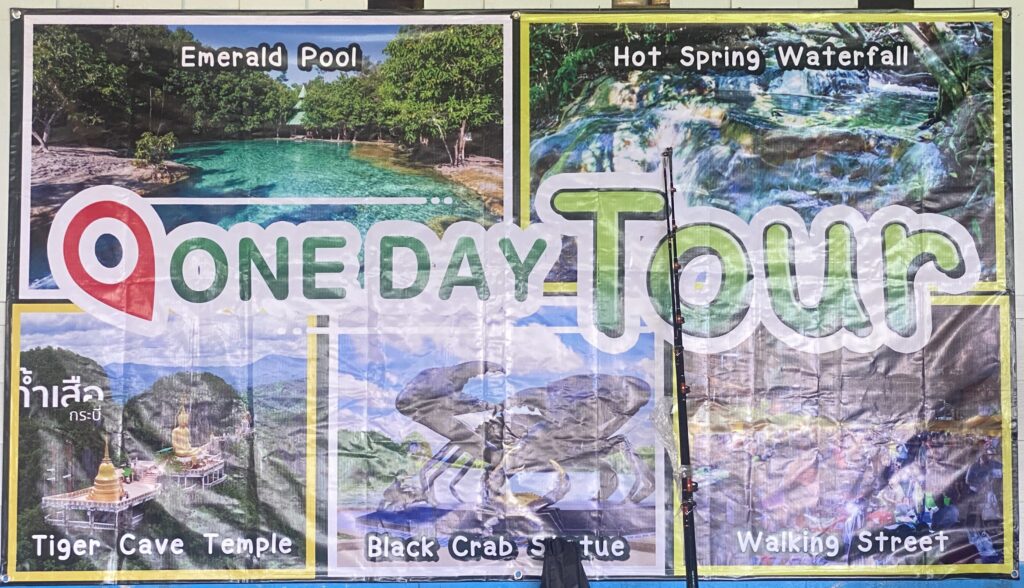 From Koh Jum there are tours offered which visit mainland Krabi including to spots like the Tiger Temple, and the Black Crab statue etc. There's another possibility of booking onto snorkelling tours visiting the Krabi 'Four Islands' or the Phi Phi Islands. You can book these excursions on a private or shared basis. My recommendation is to give these tours a miss, I wouldn't recommend any of them. Embrace what Koh Jum has to offer and appreciate the peacefulness while you can. The destinations that the tours visit are the complete opposite of Koh Jum. These locations are packed with hoards of tourists. The same tours can be booked from Krabi instead.
Evenings and Nightlife on Koh Jum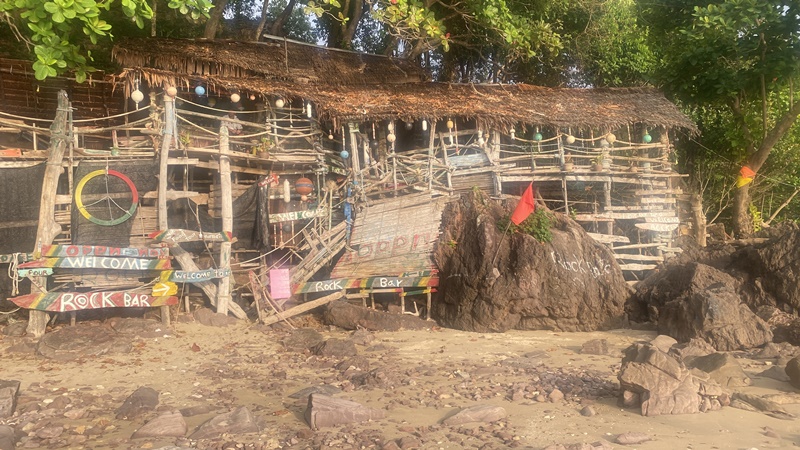 The nightlife on Koh Jum is unique, if you can even call it nightlife. The Island has a half-dozen or so 'Reggae' Bars dotted along the beaches. These bars are owned by some of the most chilled out people in the world. All of them are hand-built with natural resources found on the island and materials that have washed up on the beaches.
Now it's no secret that weed has been sold in Thailand at Reggae Bars for generations. Weed has recently been legalized in Thailand so you can hang out at the Reggae Bar and 'smoke the reefa', completely legally, (if that's your thing).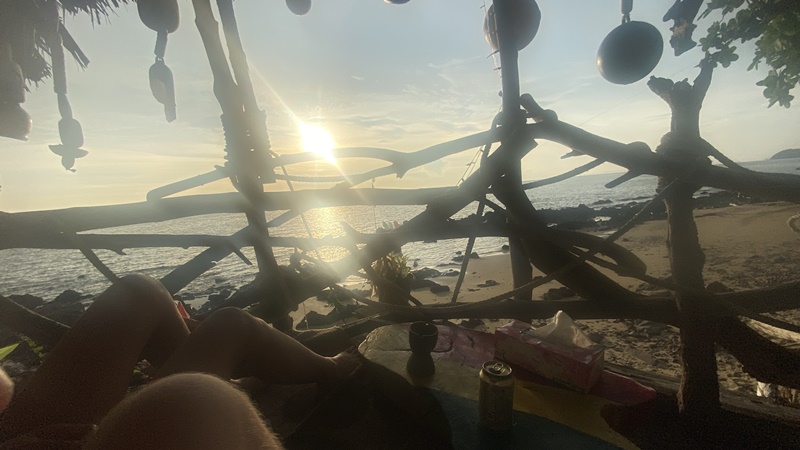 But you don't have to smoke to enjoy the bars on Koh Jum's beaches. Enjoy a cool beer, a cocktail or even a fruit shake instead. And it's a perfect place to watch the sunset from in Koh Jum.
The best bar on Koh Jum has to be the Rock Bar. The owners are so welcoming and the views are beautiful too. Happy hour is between 5-7PM (at sunset) , during happy hour cocktails are 100 Baht and beers are 40 Baht. Joints can also be bought for 200 Baht.
Beaches on Koh Jum
The beaches at Koh Jum are great to spend a day sunbathing without too many others around. The beaches are not the 'Instagram' white-sand beaches you might find on other nearby islands. But don't go thinking that's a bad thing because it's not. There are less 'undesirables' around, the sun still shines, the sea is clean and the atmosphere is 1000x times better than you'll find anywhere else.
There are nine different beaches on Koh Jum. Essentially it's one long strip of sand along the west coast of the island broken down into nine sections. In favour of fishing from the dock and chilling in my hammock, I didn't spend a whole lot of time on the beaches. So if you want to know more about them there's loads of information about Koh Jum Beach's on 'Plenty of Juma'.
Getting Around on Koh Jum
Koh Jum has just one main road which runs from top to bottom. There are no taxi's on Koh Jum and no public transport either. Koh Jum is not a massive island, but the size is still big enough to make walking impractical. Which leaves renting a scooter as the best choice.
Scooters can be rented on Koh Jum for 200-300 Baht a day and gasoline is sold at the roadside for 40 Baht a litre.
Koh Jum is probably the best place to learn to drive a scooter because there are very few hills, and there isn't much traffic.
How To Get There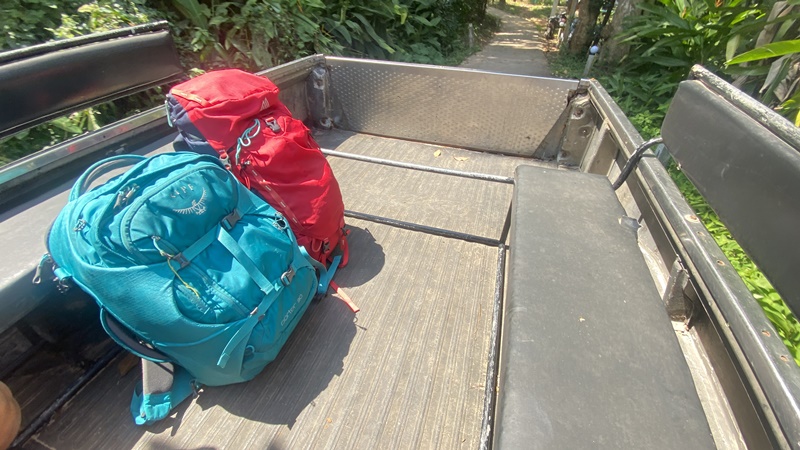 When it comes to getting around in Thailand, tourists have it easy. Tour companies operate in Thailand which are dedicated to shuttling tourists from one tourist destination to the next. With Koh Jum having so little demand for tourism no such service exists so you'll have to go the local way (but most of the information is in Thai)!
Getting to the island is not actually too difficult. It's the lack of information in English Language that makes it challenging. In fact it's just a case of getting to the correct pier and boarding one of the regular shuttle boats which operate between Krabi and Koh Jum.
But I've written a full guide on how to get Koh Jum, which you can read here. It included the names of all the piers, the boat timetable, prices and everything else you'd want to know about getting to Koh Jum.
Koh Jum or Koh Pu
What is the difference between Koh Jum and Koh Pu? You might find it confusing that the island has two names. Well both names are used although Koh Jum generally refers to the south of the Island while Koh Pu refers to the northern side.
The original name is Koh Jum or 'เกาะจำ', which literally means 'Island to remember'. Koh Pu or 'เกาะปู' translates as 'Crab Island'. The two names stem from a dispute between locals who settled on different sides of the island who were never able to formally agree on one name, thus the island that's so nice- they named it twice.
How Long to Stay at Koh Jum
I usually stay for two or three nights on Koh Jum. It's enough time for me. But then again, I usually visit the island once a year. depending on how long you need to unwind, anywhere from 2 to 5 nights is going to be the sweet spot.
Conclusion
If the intention is to party, avoid Koh Jum. But if the intention is to chill- do not miss Koh Jum. It's the most chilled place on earth. I don't think the island will be this way forever. It's drawing more attention year-on-year and the cat is out the bag about Koh Jum. It's probably the last island in Thailand that is yet to succumb to tourism, the prices are still reasonable and locals are still passionate. See it while you can. And keep the secret to yourself!