This trail is off the radar for most people. A mountain hike through the jungle with scenic views of the Andaman Sea all around.
More Information:
For reference Koh Pu and Koh Jum are the same island.
However the mountain is on the Koh Pu side, hence the name Koh Pu mountain.
Let me take it back a few years.
It was January 2020, I had 'discovered' Koh Pu for the first time. I was a heavy smoker and I could barely get up a flight of stairs let alone a mountain. I was more interested in getting drunk on the beach and any physical activity did not appeal.
But I saw Koh Pu Mountain from the hammock outside my beach hut and I set myself a goal.
Within one year I'd have knocked the smoking habit on the head, changed the way I travel and then return to Koh Jum to hike to the mountaintop.
I wasn't expecting a virus outbreak to shut down the world just a month later. But, exactly 3 years to the date, I made it back to Koh Jum, as a non-smoker, and was able to hike to the mountain top. Koh Pu Mountain
Climbing Koh Pu Mountain
If you are thinking about climbing Koh Pu mountain, you should do it. The hike is worth the views you'll get from the top and it's easily one of the best things to do in Koh Pu. The mountain is relatively small with a height of just 400 metres above sea level. But the trail to the top winds Koh Pu mountain and the hiking distance is around 3 Kilometres.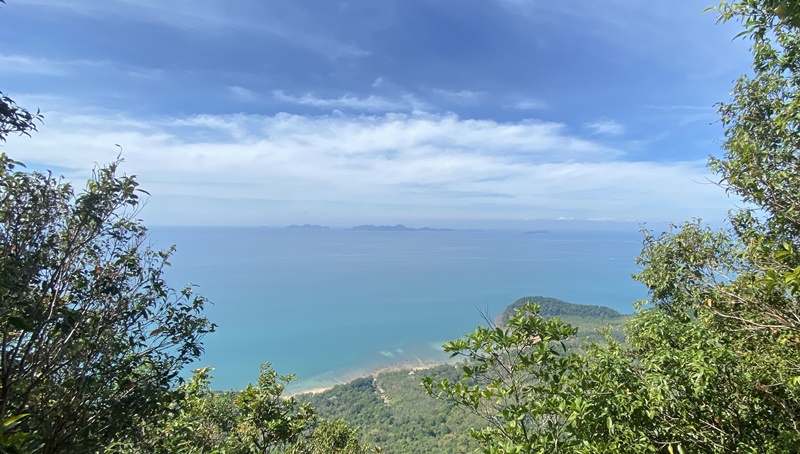 There are very few people who have hiked up Koh Pu Mountain. We did not see anyone else at the mountain during our hike.
The trail starts on Koh Pu side of the island the start of the trail is in a rubber tree plantation with a small uphill incline. The entrance is clearly marked and easy to find. You'll need to hire a scooter to get there and the trail entrance is on the main and only road on the island.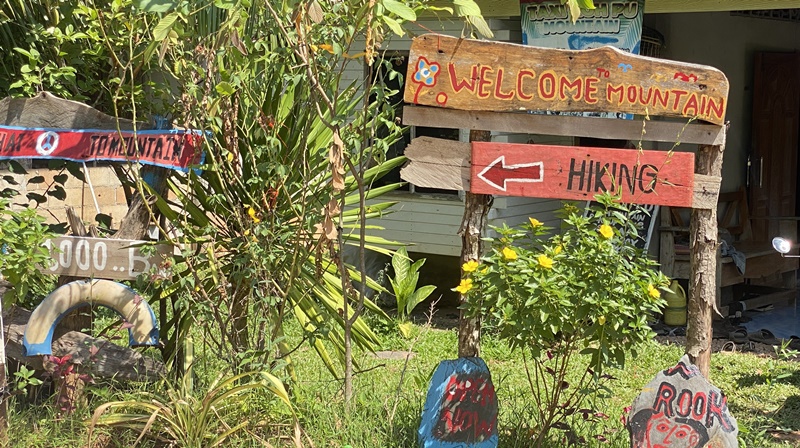 But be careful about going on this hike alone. Once you enter the rubber plantation there are no other signs, markings or other signals along the trail. The trail is really overgrown and difficult to follow.
We chose to hire a local guide to take us up. The price for a guide was expensive, especially as I usually like to do things by myself. So there was a lot of debate as to whether a guide was actually needed or not. But I'm so glad we choose to do a guided hike up Mount Pu rather than trying it on our own. There is absolutely no way that we would have found the trail without some local input. There are no markers and because so few people hike this route the trails are all overgrow and impossible to follow.
It took us about one hour to hike to the top of the mountain. The hike was steep in some sections, so be sure to wear something suitable on your feet. And bring plenty of Mosquito Repellant, or even better, wear long pants. There are huge mosquitos in this Jungle even during the daytime. Once you reach the top of Koh Pu mountain you can relax in peace though, there were no mosquitos at the top.
Koh Pu island is in the Andaman Sea, opposite the Phi Phi Islands. So as you climb higher and higher you'll see and hear the ocean from all around. The views are stunning.
The heat in Krabi is unbearable at times so make sure to bring the essentials, a hat, sunscreen and water. Our guide also brought along some extra supplies such as fruits and a flask of coffee. Perfect to enjoy while at the summit. Sunrise is probably the best time to start as its cooler then, although much of the trail is covered from the sun thanks to the dense tree cover in the Thai Jungle.
Another reason I wanted to hire a guide to hike Koh Pu mountain was because of the wild Monkey. I really didn't want to meet them on the mountain. I know they live there. So if I was going to meet them I'd rather be with someone who knows how to handle them.
I don't recommend hiking the trail solo, but if you want to give it a go then there are some tips here, on TripAdvisor. But the information there has become a little outdated and did not match 100% of what we found.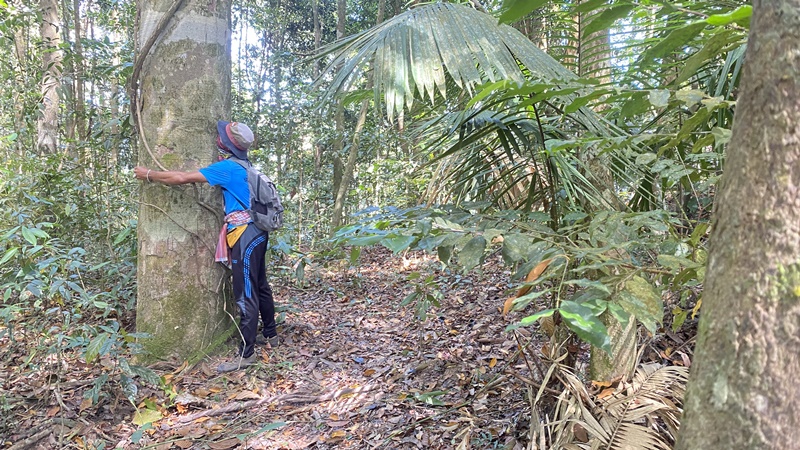 If you want to hire a guide to hike with you the rate is around 1,000 Baht a person.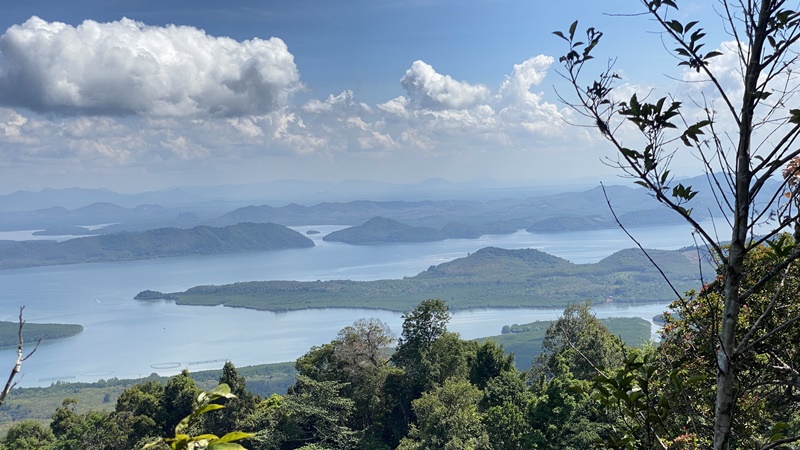 Our guide was really honestly, the nicest guy you can imagine and I'd love to have included a recommendation for him. But our guide had dual prices, something I've started to loathe about Thailand. We hiked the Koh Pu mountain as a couple. But we were each charged a different rate based on our race. 1,000 Baht for foreigners and 800 Baht for Thai's. So the trip cost us 1,800 Baht.
You won't have any trouble fining a guide when you are the island and your guesthouse should be able to put you in touch with a guide if need be.
Read More About Hiking in Thailand: