Finding out how to get to Koh Jum can sometimes be difficult because so few tourists are visiting here.
You can get to Koh Jum on the ferry from Krabi- or there are speedboats shuttling between the Andaman Islands which stop at Koh Jum. The nearest airport is Krabi, around 30 kilometres from the pier. There are no bridges to Koh Jum the island can only be reached by boat.
Want to know more about Koh Jum- Read my Full (Free) Guide to Koh Jum Right Here!
Find More of my Posts about Koh Jum
There are direct connections to Koh Jum leaving from the following places
Krabi
Ao Nang
Phi Phi Island
Koh Lanta
There are also speedboats from other islands nearby like Phuket.
You can book travel tickets to Koh Jum with 12Go Asia
Where Is Koh Jum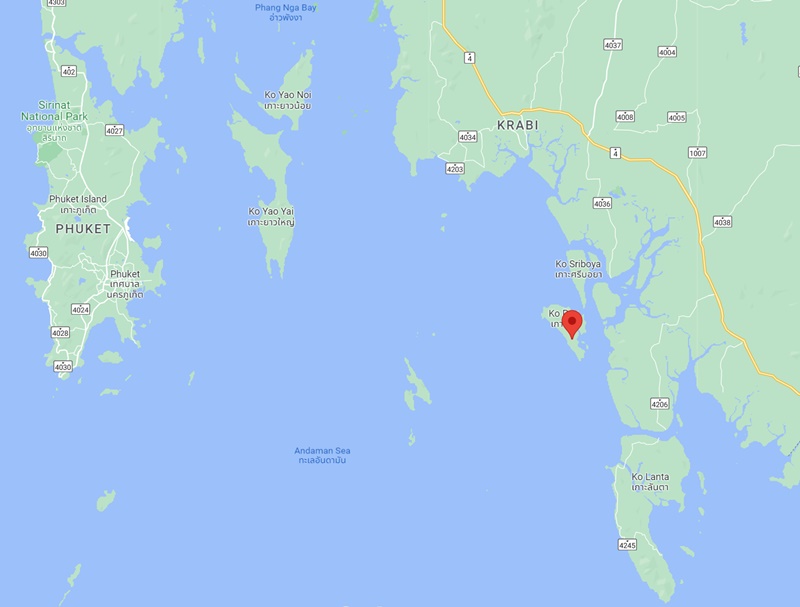 Koh Jum is an island sitting in the Andaman Sea. It is included in Thailand's Krabi Province and is near both Krabi Town and Koh Lanta island. The Phi Phi Islands are not far away and can be seen from the west coast of Koh Jum.
Want to know more about Koh Jum- Read my Full (Free) Guide to Koh Jum Right Here!
How To Get To Koh Jum
Koh Jum is an island so the only way to get here is by boat. There is no pier at the island big enough for a ferry to dock at and thus, there is no 'ferry' to Koh Jum. However the Longtail Boat service runs regularly and serves the same purpose as a ferry. There are two choices of boat, the first (and the boat I recommend) is the Longtail Boat, the other choice is to travel to Koh Jum by speedboat.
Get To Koh Jum By Speedboat
The speedboat to Koh Jum is operated by a company called Tiger Line (Sri Lanta) and ticket costs range from 1,200 to 1,500 Thai Baht depending on where you start from. The timetable for the speedboat to Koh Jum changes on what seems to be a weekly basis. Tigerline doesn't sell tickets directly to tourists so you'll need to book through a hotel or tour agent, but be aware you'll also be paying a commission to the seller. Hotel collection is usually included.
The speedboat runs from Koh Phi Phi, Koh Lanta, Krabi, Ao Nang, Koh Sriboya, Koh Libong and also from other smaller Andaman Islands south of Koh Jum. The speedboat to Koh Jum only operates for part of the year, from November until March.
Getting To Koh Jum By Longtail Boat (Recommended)
The Longtail Boat to get to Koh Jum leaves from Krabi on a regular basis. The pier it leaves from is called Laem Kruat. The boat runs all year round (weather permitting). Tickets cannot be booked in advance or online, cash is given directly to the captain on the boat at departure. The boat is rarely full and there is always another boat on standby if the first one becomes full.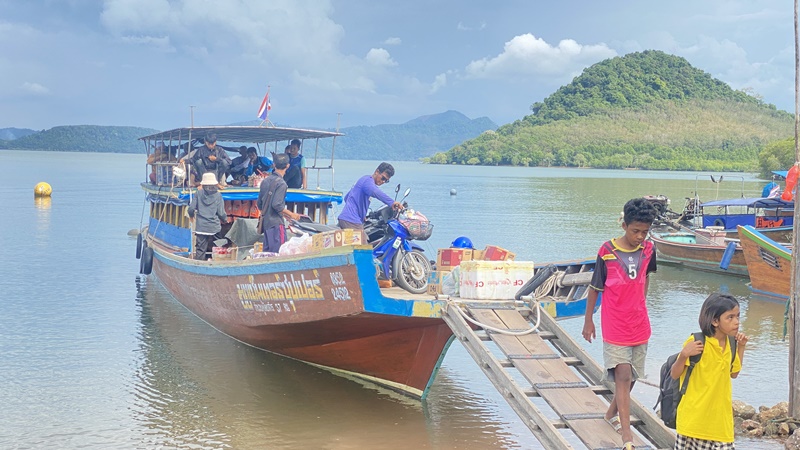 Tickets for the Longtail Boat 'ferry' to Koh Jum cost 140 Baht per person. The price increases by around 10 – 20 baht each year. There is no need to book in advance.
The Longtail Ferry leaves from Laem Kruat Pier in Krabi and arrives at Mutu Pier on Koh Jum Island. There are 8 boats each day between 09.00 am and 18.00 pm. And the travel time is 30 minutes. The route is scenic and pleasant, traveling through the mangrove lined waters to reach Koh Jum. Here is the departure time table, boats run every day, all year round.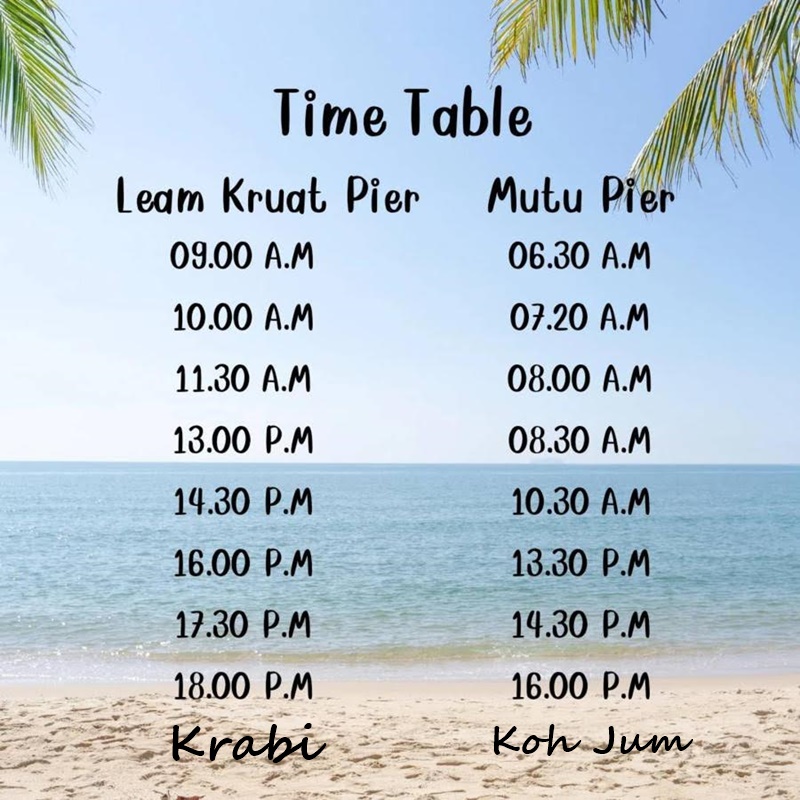 To get to Laem Kruat Pier you'll need to go by road. You can go by taxi but the prices are expensive. You'll be quoted around 1000 Baht to Laem Kruat Pier from Ao Nang or around 700 Baht from Krabi town. If you are starting your trip to Koh Jum from any other location such as Koh Lanta or Koh Phi Phi the speedboat is the better choice.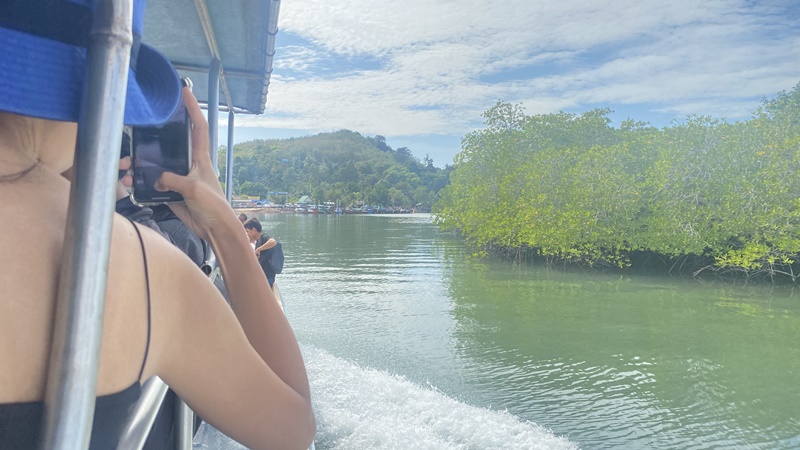 You can also get to Laem Kruat Pier using the local bus service. The 'Songthaew' bus service runs from Krabi Town to Laem Kruat Pier. The bus runs every hour (roughly) there is no fixed timetable. There are only a few buses which drive this route each day. You need to look out for the bus painted blue; top and Bottom. The blue bus is the only public service to Laem Kruat. Red, white and silver buses do not go to Laem Kruat.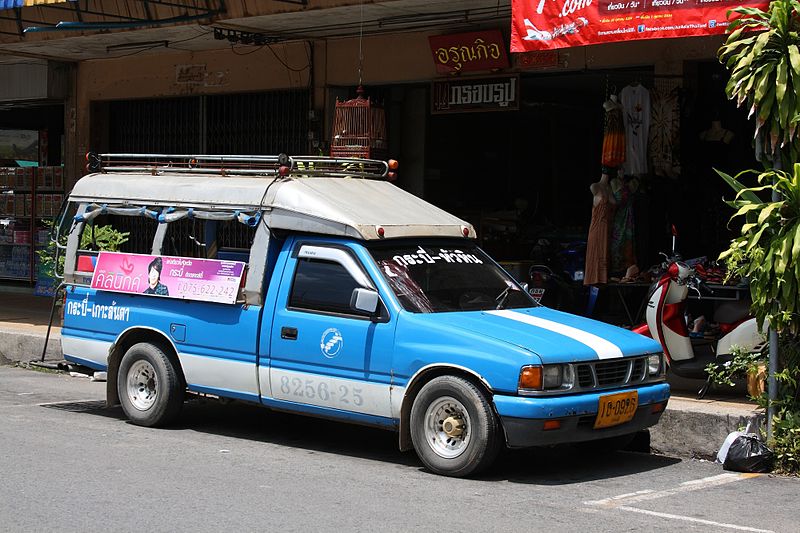 The Krabi to Leam Kruat local bus leaves from the bus stop outside the Riverview Hotel. The journey cost is 120 Baht per person and takes around one hour, traveling via Krabi Airport.
If you are starting your journey in Ao Nang you need to take the white Songthaew Bus from Ao Nang to Krabi (40 Baht per person) this will connect at the Riverside Bus Stop where you can change to the blue bus.
Want to know more about Koh Jum- Read my Full (Free) Guide to Koh Jum Right Here!
Private Transport to Get to Koh Jum
It is not too expensive to travel to Koh Jum with a private boat service. So if you don't want to mess around trying to find the right bus (which I'll admit does take some patience) and want to simplify your travel to Koh Jum then the price is still affordable, ranging from 2,500 Baht to 3,000 Baht, (for two people).
The private service includes a taxi from any hotel in Krabi/Ao Nang direct to Laem Kruat Pier and from there it's a private longtail boat to Mutu Pier on Koh Jum. Depending on your hotel location and the tide times, some private boats will be able to drop you off on the beach outside the hotel.
You'll need to book it in advance. If traveling to Koh Jum privately is your preferred choice, you can check the prices and book here: https://backpackbob.com/travel-to-koh-jum-times
CHECK PRICES AND BOOK PRIVATE TRANSFERS TO KOH JUM
Koh Jum Pier to Your Hotel
When you arrive at Koh Jum pier its really easy to get to any hotel. You'll have no trouble finding a taxi service at the pier and the cost is 50-60 Baht a person to get to any hotel on Koh Jum (its a small island).
Where To Book Tickets To Get To Koh Jum
You can book private boats with hotel collection to Koh Jum using this link. Book the speedboat to Koh Jum (from Phi Phi, Koh Lanta and other Andaman Islands) at your guesthouse, hotel or at a travel agent in person. But if you are traveling the local way on the blue bus and Longtail Boat Ferry there is no need to book in advance at all.
Phuket To Koh Jum Travel Options
Phuket to Koh Jum is possible but it's a long/complex journey. There are three options to get from Phuket to Koh Jum. There are no direct services other than taking a private speedboat.
(Recommended) Boat + Boat – Take the speedboat to Phi Phi Island at 8.30am, spend the morning in Phi Phi, nice to get some breakfast before connecting with the Phi Phi to Koh Jum speedboat which leaves around 12.00/13.00 PM(ish).
(Cheapest) Bus + Boat – Take the bus or minivan from Phuket to Krabi the journey takes around 3 hours and head to Leam Kruat Pier to take the Longtail Boat to Koh Jum
Private Speedboat – For the convenient and most expensive way to travel from Phuket to Koh Jum a speedboat can be charted to travel direct. It takes about 2 hours on the speedboat. But expect to pay anywhere from 30,000 – 40,000 Baht or around 1,000USD for a speedboat charter. (Request to book here).