Chiang Mai is one of the most beautiful cities in Thailand, a country renowned for its beauty and diverse nature. Watching a sunset is the best free thing you can do, a peaceful and often romantic experience.
So where are the best places to watch a sunset in Chiang Mai? You might have been inspired by other pictures you've seen of the Chiang Mai Sunset and are desperate to capture these photos yourself. But in order to capture the perfect sunset shot, you first need to find the right vantage point.
Luckily Chiang Mai has plenty of places to watch a sunset from. I have lived in Chiang Mai for over two years on-and-off and I've been lucky enough to visit all these places for myself. I want to share these epic locations and my favourite spots with you. So you too will know where the best places are to watch the sunset in Chiang Mai.
When Does The Sun Set In Chiang Mai
To catch the perfect sunset, timing is important. It's no good heading to a rooftop bar to watch the sunset, if it is already dark by the time you arrive there. The sun sets in Chiang Mai at sometime between 5:30 pm to 7:00 pm. But it depends on the time of year that you are visiting the city.
You can use this useful tool to find out the exact time the sun will set in Chiang Mai on any given day. Or to get a quick idea just refer to the table below.
Sunset Times In Chiang Mai
| | |
| --- | --- |
| Month | Sunset Time |
| January | 6:10 PM |
| February | 6:20 PM |
| March | 6:30 PM |
| April | 6:40 PM |
| May | 6:50 PM |
| June | 7:00 PM |
| July | 7:05 PM |
| August | 6:50 PM |
| September | 6:30 PM |
| October | 6:00 PM |
| November | 5:45 PM |
| December | 5:55 PM |
After you know what time the sun will set, based on the month which you are visiting in, you'll next to to find the perfect spot to watch from, here are my favourite places to watch the sunset in Chiang Mai.
Some of them are more popular than others, but all as breathtaking as each other. You'll want to get there as early as possible and bag yourself a decent seat before things get too busy.
Maya Shopping Mall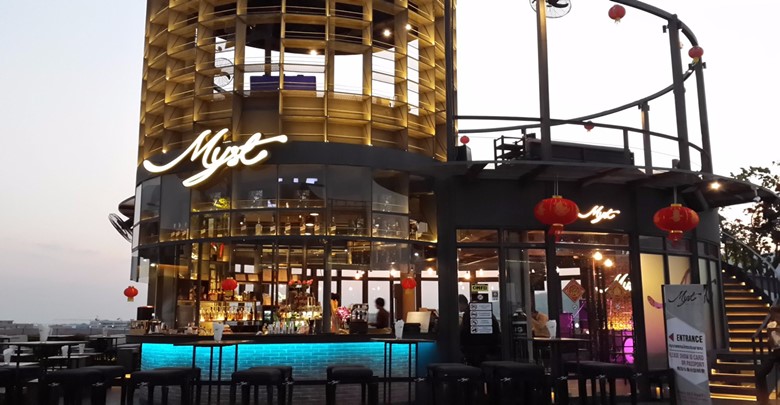 This is my personal favourite sunset spot in Chiang Mai and if I had to choose just one place, this would be it. It's conveniently located in the Nimman district of Chiang Mai. A shopping mall might sound a bit urban, and not a great place to catch a sunset from, but here it's the opposite.
On the roof of the Maya Mall, there are 6 bars with views over Doi Pui mountain, the vantage point here is best you'll get without venturing too far from the city.
There are 6 bars to choose from on the roof of the Maya Shopping Mall, but one of the most popular is the Myst Bar. This trendy bar opens just before sunset and you'll be able to buy yourself a beer or a cocktail to sip while you take in the view. Prices in rooftop bars are often inflated, especially in Bangkok. But here prices are reasonable so you can get a beer without breaking the bank.
You can check the Myst Bar's website here, it doesn't look like it has been updated in some time. But there is a map, some photos and a menu.
Chiang Mai Canyon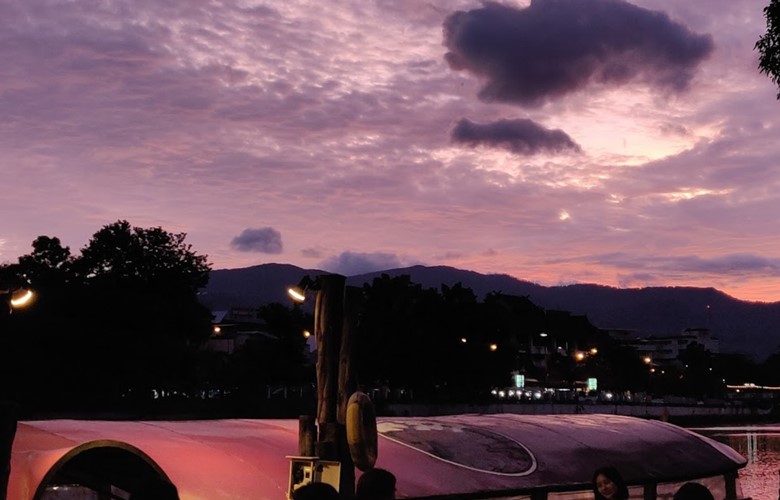 Visiting the Canyon is a must-do in Chiang Mai and even holds a spot on my list of the best things to do in Chiang Mai. It used to be a secretive spot in a disused quarry, where backpackers would hang out and swim. But over the past few years, the quarry has been converted to a full blow waterpark with inflatables, zip-lining and other activities.
Most people tend to think of the canyon as a day time activity but have you considered it can be an awesome place to watch a sunset over Chiang Mai?
Well, right next door to the canyon is the Tuang Thong Canyon View Restaurant. Here they serve up a BBQ around sunset time and you can grab a cool beer at sundown.
Doi Pui Viewpoint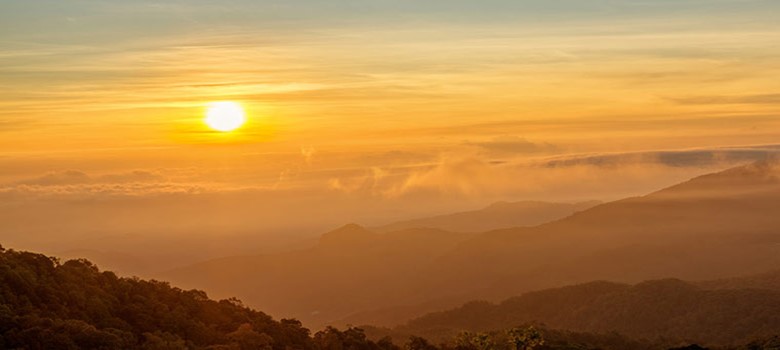 Doi Pui is one of Chiang Mai's most well-known mountains, and the viewpoint here is an incredible place to watch a Chiang Mai Sunset from.
Being at such a height will give you views of the other mountains, Doi Suthep and Doi Inathon. Along with views looking down over the Chiang Mai old town.
There are a few different methods of getting to this viewpoint and don't worry, you don't have to hike there, (although you can). If you're comfortable riding a scooter, then Chiang Mai is one of the cheapest places in Thailand to rent one. You can rent a scooter here for under $3 a per day and ride to the viewpoint yourself.
If you don't have access to a scooter you can enlist the help of a red truck driver (songthaew) or take a taxi.
This location might be a little bit out the way and not as convenient to get to. But once you arrive at the top, you'll soon see it was worth making the trip for.
Furama Roof Top Hotel
The Furama is a 17 story hotel in the heart of Chiang Mai with on an open-air rooftop bar and restaurant on the 17th floor. It is easy to get to, not far outside of Chiang Mai's Ninnman district and boasts views over the Chiang Mai.
The bar is open to the public and you don't need to be a guest at the hotel to head on up, there is no admission fee, you'll just need to buy a drink in the bar.
It is one of the more quiet spots to catch a sunset from, and one of the best views you could hope for.
The Roof At Sala Lana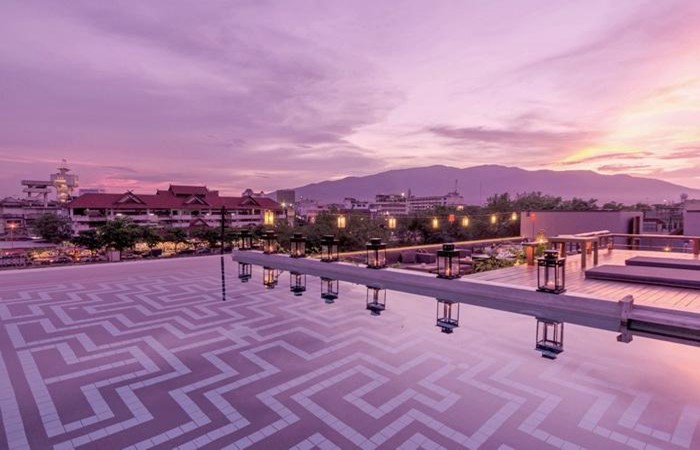 The roof at Sala Lana is one of the hottest places right now to watch a sunset from in Chiang Mai. It's a hip hotel which opened recently in 2022. The roof bar is open to the public between 6 pm – 7:30 pm and boasts incredible views over Chiang Mai's mountain ranges. From this epic vantage point, you can see Doi Inathon and Doi Suthep, and even make out the Doi Suthep Temple on the mountain.
On the other side, you'll have panoramic views of the Ping River. It's undoubtedly one of the greatest places to watch a Chiang Mai sunset from. And being so close to the river gives this spot a cool and refreshing breeze.
Where To Next
So these are my favourite places to catch the sunset from in Chiang Mai, and if you have five nights in the city you need to check them all out. But where will you be heading after Chiang Mai? Well for some travellers this will be the last stop in Thailand and they'll be heading into Laos.
If Laos is your next stop you can read my guide on taking a slow boat from Chiang Mai to Laos. Or if you're heading into Pai, you can check out the 23 best things to do in Pai or for those sticking around in Chiang Mai a little longer you might find my list of things to do in Chiang Mai useful.
Or perhaps you want to hear about even more places to watch a sunset in Chaing Mai, five wasn't enough?! While these are my favourite spots, but if you want to hear about other places to catch a Chiang Mai Sunset head over to the GoBackPackGo travel blog to find another 5 ideas.
And if you want to know about the best sunset in all of Thailand, you'd need to learn about the Viewpoint look out on the tropical island of Koh Phi Phi.