For every backpacker in Thailand, eventually the time will come when your tourist visa is set to expire and you need to decide on your next plan. Some will extend their visa's, others will decide a month was enough time in Thailand and it's time to spread their wings and find out what the rest of south-east Asia has to offer. Vietnam is a popular choice, but for backpackers cheapest is usually best. And getting to Vietnam means taking an expensive flight. Laos (pronounced louse) on the other hand borders on to Thailand in the north- making it a popular destination.
The slow boat ride from Thailand to Laos is an experience in itself and should be standard on any backpacking itinerary. The slow boat is a two-day journey down the Mekong River. You'll cross from Thailand into Laos at the Huay Xai land border, and board the slow boat in Laos. On the first day, you cruise to the halfway point, from Huay Xai, Laos to make an overnight stop in a small village called Pakbeng. On the second day, you'll travel from Pakbeng to your final destination Luang Prabang, Laos. Another choice is to take a bus, which is cheaper but nowhere near as fun. A ticket on the slow boat typically costs anywhere from 1,500 Baht to 2,000 Baht.
In this post I'll be going over my experiences on the slow boat from Chiang Mai into Laos, I'll answer your questions and leave you with some tips I learned along the way to make your experience as smooth as possible.
Let's have a look at some of the questions I'll answer in the post:
What Is A Slow Boat
How Much Does The Slow Boat To Laos Take
How Much Does The Slow Boat To Laos Cost
Is The Slow Boat Worth It
Where Can I Buy Slow Boat Tickets In Chiang Mai
What Should I Bring On The Slow Boat
Where Can I Catch The Slow Boat From
And many other questions you might have. I travelled on the slow boat from Huay Xai to Luang Prabang in 2023, initially leaving from Chiang Mai in Thailand. So the information in the post will be about travel from Thailand to Laos on the slow boat. But the information can be reversed to apply for travel in the opposite direction.
If you're spending some in Chiang Mai you might be interested to find out the best things to do there in my guide to the 19 best things to do in Chiang Mai.
Getting From Thailand To Laos On The Slow Boat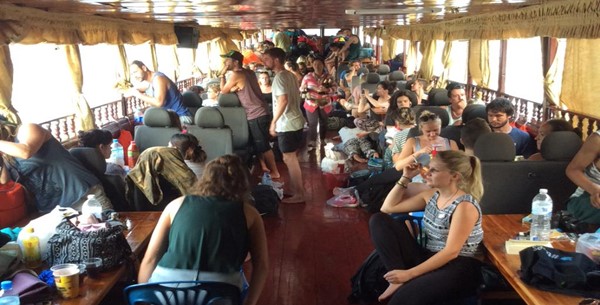 The easiest way to go about travelling on the slow boat from Thailand to Laos is booking the entire journey as a package with a tour agency, it isn't the cheapest way to do things but it is the most efficient. You'll probably pay around $5 -$10 more than if you were to pay for each leg separately. But the extra that you'd pay with a tour agency makes the trip flow so much smoother and is worth an extra couple of dollars.
When you book the journey as a package you'll typically have all the transport included which is:
Minivan ride from Chiang Mai / Pai / Chiang Rai across the Thailand/Laos border at Huay Xai
Slow Boat from Huay Xai to Pakbeng
Slow Boat ride from Pakbeng to Luang Prabang
You will need to pay extra for a room in Pakbeng, so make sure to bring enough cash for a bed, dinner, breakfast and a coffee at the minimum. 100,000 kip should be enough to cover those expenses ($15).
How Long Does The Slow Boat To Huay Xai Take
It's not called the slow boat for without good reason. The journey between Huay Xai and Luang Prabang is split across two days, with an overnight stop in Pakbeng. Huay Xai to Pakbeng takes 7 hours, while Pakbeng to Luang Prabang takes 9 hours. So excluding the time it take to travel to and cross the Thailand/Laos border. The total travel time is 16 hours spread over two days.
How Much Does The Slow Boat To Huay Xai Cost
I would recommend and I'm sure most backpackers would agree with me that booking the entire trip, (so both boats and a bus ride into Laos) with an agency is the best way to go. There are many tour agents in Chiang Mai, Chiang Rai and Pai. You won't have to look far. I ended up booking the package at the hostel I was staying in at the time (Spicy Thai) where I paid 2,00 Baht. I found out later others had paid a little less, about 1,800 Baht. But honestly, I wasn't that fussed. I liked the hostel staff, didn't haggle on the price and knew they'd get a worthwhile commission.
The slow boat as a package should cost anywhere from 1,500 Baht – 2,200 Baht but that will depend on where you're being collected from.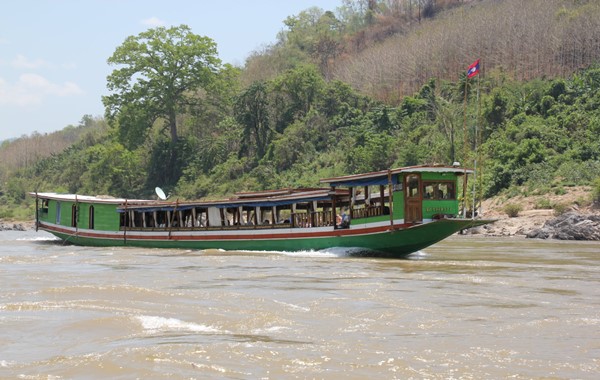 Slow Boat From Chiang Mai To Luang Prabang
I paid 2,200 Baht for a ticket leaving from Chiang Mai but I did find out others on the boat had paid less than I did. If you really want to haggle you can likely push the price down to 1,800 Baht. I would say 2,000 is an average price which is fair for both you and the ticket seller.
From Chiang Mai, the bus ride to the Chiang Khlong/Huay or Xai Thailand/Laos border takes 4 hours. You'll cross the border on land before boarding the first slow boat.
Slow Boat From Chiang Rai To Luang Prabang
Chiang Rai is a little closer to the border so it takes about two hours to drive there. Tickets from Chiang Rai are also a little bit cheaper. The average ticket price from what others told me on the boat was about 1,700 Baht.
Slow Boat From Pai To Luang Prabang
You can book a package from Pai but the drive to the border alone takes at least 7 hours. The minibuses leave at 2 PM and you'll spend three days travelling. You'll need to spend the first night in the border town of Chiang Khlong, before crossing into Laos the following day. Accommodation won't be included in the ticket price. Tickets from Pai to Luang Prabang are the most expensive and will cost over 2,000 Baht.
My advice, travel from Pai to Chiang Mai yourself and book the the slow boat package once you're there.
Where To Book Tickets For The Slow Boat To Laos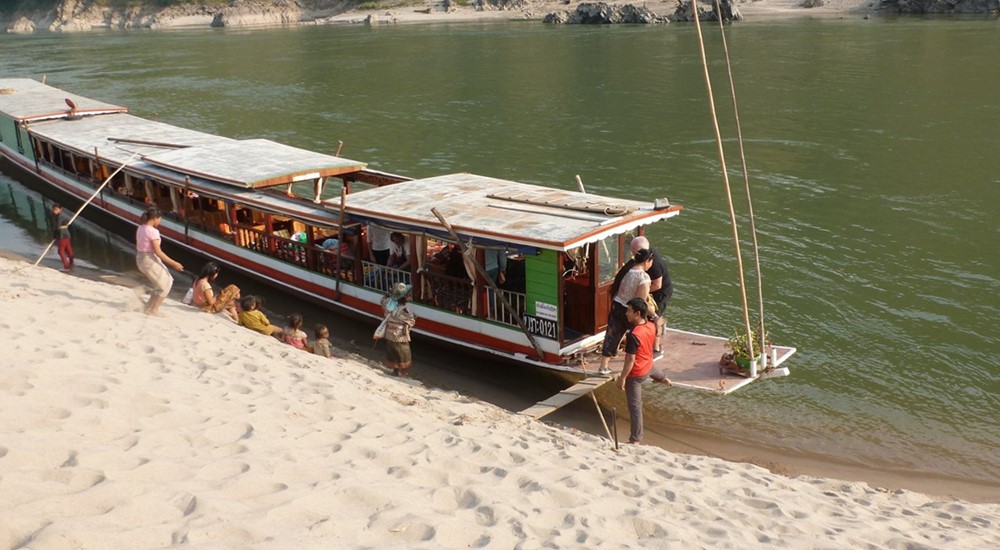 It is best to book tickets for the Chiang Mai to Luang Prabang slow-boat in person. There are travel and tour shops scattered all over Chiang Mai, Chiang Rai & Pai. You'll have no difficulty finding one. You can also book at the front desk of most hostels, hotels and guest houses. Make sure to book at least a day in advance as the boats are usually filled in the peak season.
Getting A Laos Visa For The Slow Boat
There is nothing out of the ordinary about getting a visa at the Laos border, its a simple process of filling out a visa application form along with an arrival card. Handing over your passport and $30 USD. It shouldn't take longer than 30 minutes to have a visa issued.
If you're heading the other direction, into Thailand. You can read my full guide to Thailand Tours Visa's for beginners here.
There is an exchange booth just before you cross the border on the Thai side, so if you have any Baht leftover you can convert it into Laos Kip or USD.
Day One: Huay Xai To Pakbeng
On the first day you're collected from your hostel or hotel in Chiang Mai at about 7:00 am, driven four hours out to the border, exit Thailand, enter Laos and head down the Mekong river.
The staff will give you a ticket for the boat the boats are numbered, and that number will be on your ticket. So it is easy enough to find your boat. You'll have a seat number on your ticket as well. But it is a bit of a free for all once you're on board. And most people ignore the seat numbers and sit where they like. So take advantage as sit near the front of the boat where is is quieter and more comfortable. If you're lucky enough you might even be able to snag a booth with a table.
You'll leave Huay Xai on the Meaklong river at around 11:00 am with the village of Pakbeng as your destination. The half way mark. The ride takes 6 hours, so you'll pull into Pakbeng just before sundown.
Pakbeng What To Do & Where To Stay
When you arrive into Pakbeng you'll be surrounded by local hotel promoters, it's chaotic and I don't think anyone really understands whats happening. But at some point you'll end up following a local away from the rive to the mystery room you'll be spending the night in. Rooms aren't too bad here, but defiantly no luxurious. You'll need to pay for a room in cash and it will cost about 50,000 Kip ($6).
You won't have much time in Pakbeng and asides from taking a boat cruise on the river there isn't much to do. Although after spending 6 hours on a boat that's probably the last thing you'd want to do. There are a few bars along the side of the river, which are cheap and a nice spot to hang out, and there is a local market where you can buy yourself some dinner.
If you want to find more things to do in Pakbeng you can check out this post from the crazy tourist. But don't get to exited, the suggestions are basically walk around, eat and drink.
Day Two Pakbeng To Luang Prabang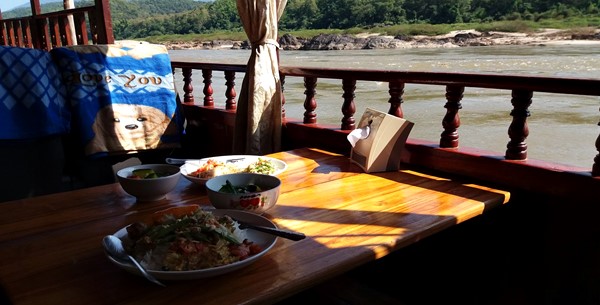 If you are lucky enough, and you wake up early enough you'll have a chance to see elephants bathing in the Maeklong river. which is an incredible experience. For me, that alone made taking the slow boat worth it. The boat leaves at 9:00 am, so you'll have time to grab a coffee (or two) before leaving. And make sure to buy some lunch before you leave, you might not be hungry but on the boat, you can't buy food (not anything substantial at least). You can pick up a box of chicken fried rice to eat later on in the day.
The second day is much longer than than the first and the slow boat from Pakbeng to the final destination; Luang Prabang takes an insane 9 hours. So again, you'll spend an entire day travelling and arrive to Luang Prabang around sunset.
Once you arrive to Luang Prabang on the river, you'll have one final leg of the journey to complete. You need to get from the river bank to the town. That means a quick 10 minute Tuk Tuk ride, costing 20,000 Kip per person ($2).
Don't worry too much about booking accommodation in advance, you won't have any trouble finding a place to crash when you arrive.
Is The Slow Boat To Luang Prabang Worth It?
There are two choices when it comes to travelling from Chiang Mai to Luang Prabang, you can take the bus or you can take the boat. Now I'll let you in a little secret, the bus is much cheaper that the slow boat, $15 compared to $50. And it's much quicker, it's not quick, but it's a one day trip which takes 12 hours.
So why would anyone choose to take the slow boat over the bus, is the slow boat worth it?
For me it's about the experience. Part of the fun when travelling is getting there, it is all a journey. I've ridden countless busses all across south-east Asia. The novelty wares off pretty quickly. But riding on a boat along the meaklong river is such a unique experience in itself. You'd have to be crazy to even consider the bus as an alternative.
Tips For Taking The Slow Boat To Laos
Shoes
Make sure to wear shoes which you can slip on and off easily, comfortable flips flops are ideal. When you get onto the slow boat you'll be given a plastic bag and you'll need to take off your shoes and store them for the journey.
Food and Drinks
You're going to get hungry on the ride, and there aren't many choices when it comes to food and drinks on the slow boat unless you bring your own. You can buy beers and snacks on the boat, but the section is limited and there isn't anything substantial or filling for sale.
Where To Sit
You might not get a choice on where to sit, sometimes seats will be assigned to you and other times you'll have an open choice. If you get a choice on where to sit find a seat as far from the engine room as possible. You won't realise while the boat is loading, but as soon as the engine is fired up and the boat pulls away- you'll realise just how loud it is. Bring along some headphones to help you through the journey.
Money
The local currency in Laos is Kip so it helps to change your Thai Baht before you leave. You'll also need to pay for your Laos visa with dollars (confusing, i know) so change some cash to USD and make sure to carry at least $30 for your visa payment.
Elephants
If you wake up early enough in the morning on the overnight stay in Pakbeng, you'll have a chance to see elephants bathing in the Mekong river.