If you're staying in Phuket and are desperate to visit the Phi Phi Islands for a day trip. Then you'll first, you'll need to weigh up your options between taking a pre-arranged tour or doing it on your own- without a tour. A third choice is to stay overnight on the islands, but if you don't have enough time for that a day trip is just as good. Find out in this post, step-by-step how you can visit the Phi Phi Islands without a tour and what other options you have.
Can I Visit Phi Phi Islands Without A Tour
To get the full experience of Phi Phi Islands then you'll want to stay overnight for one or two days. But sometimes, when you have a schedule to stick to and already made hotel arrangments, that isn't an option. A day trip is the next best thing. On a day trip to Phi Phi, you can see the stunning islands for yourself, get in some snorkelling and visit some popular spots like Monkey Beach & Pilleh Lagoon.
But do you really need to join a tour to see the Phi Phi Islands?
The simple answer is no, it isn't necessary to join a tour. There are some benefits of taking a tour and there are also some benefits of visiting Phi Phi Islands without a tour. You'll need to decide which is going to be the best choice for you.
In this post, I'll share my experiences with you on the benefits and disadvantages of both options. And I'll share with you my rundown on how you can visit the Phi Phi Islands without a tour, for the cheapest price.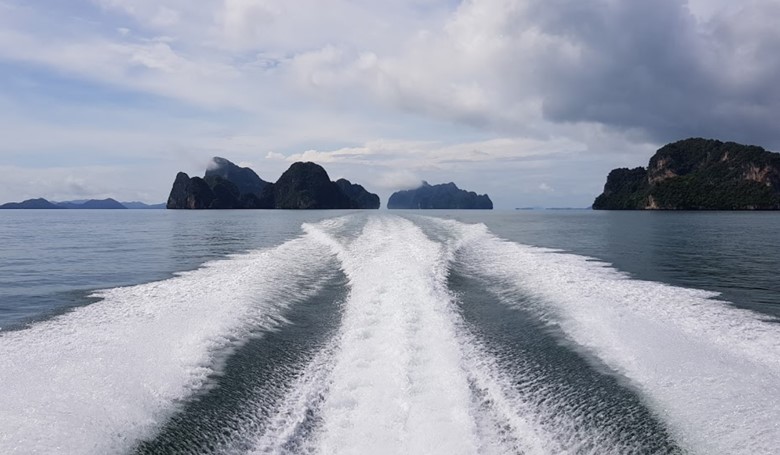 Benefits Of Taking A Phi Phi Island Tour
If you're staying in Phuket there are a lot of tour operators all offering similar tour packages. A typical tour costs between 2,000 Baht to 4,000 Baht depending on the quality and how many others will be on the boat.
One of the biggest perks on booking onto a tour is that you'll have all the planning done on your behalf. The tour company will collect you at your hotel in the morning, they'll transfer you to the pier and then onto Phi Phi Islands. You won't have any extra costs popping up during the day and the tour operators can maximise the route so that you can visit the best spots at the best times and squeeze as much as possible into the trip.
Because of this and because of the local knowledge tour operators have. You'll typically get to spend more time exploring the islands than if you were to visit without a tour.
You won't be reliant on ferry schedules as you'd be riding on a speedboat from Phuket dedicated to your tour, which again means you get more time on the water, as it takes less time to get to and from the islands on a speedboat.
Another benefit is that you'll have a tour guide with you, some people like the idea of that, others prefer to be left to their own devices. But by travelling with a guide to show you around the best spots, you will get to find out information about the places you might not have known if you visit Phi Phi without a tour.
A major downside of joining a group tour package is that you'll usually share a boat with 20 other people. That is a deal-breaker for me and takes a bit of the enjoyment from the trip.
But you can arrange private tours if you want the 'without a tour' experience, but also want the planning and arrangements handed over to someone who knows the islands well.
Benefits of Visiting Phi Phi Islands Without A Tour
Doing things on your own back can feel liberating and just getting to Phi Phi Islands can be an experience in itself. You have much more flexibility over the activities which you partake in, and it can be much cheaper than taking a tour.
But if you want to see and do everything that you would on a tour itinerary, you might end up spending more than you anticipate.
If your goal is to visit Phi Phi as cheap as possible and hang out on a nice beach for the day then without a tour can be cheap. You'll only need to pay for return ferry tickets. But once you start to add in some activities, prices can soon add up.
You'll be reliant on ferries to get to and from the island so you might have a little less time to explore and you will need to hire your own boat when you arrive if you want to explore the best spots.
But you will also have chances that you wouldn't get on a tour. You'll get to visit the main town, where there are restaurants and coffee shops. Or you could even hike to the Phi Phi viewpoint. If you were to take a tour, you would usually miss out the main island and focus on the small islands with beaches and snorkelling spots.
So if you want to know how to visit Phi Phi Islands without a tour, keep on reading and I'll show you how.
Getting To Phi Phi Islands Without A Tour
The first step to visit Phi Phi Islands without a tour is to get yourself a ferry ticket.
If you plan to return back to Phuket on the same day then you should maximise your time on the islands and take the first ferry of the day. The first ferry to leave from Phuket to Phi Phi Islands leaves at 8:30 in the morning and arrives at 10:30 am.
As a little bonus, the first ferry of the day makes a slow cruise around the Phi Phi Leh National Park before docking on the main island. So make sure to get yourself an outdoor seat with a good view when you get closer to the islands, and have your camera ready.
Where to buy ferry tickets to get to Phi Phi without a tour?
Most people visiting Phi Phi without a tour would assume that buying ferry tickets directly on the pier is going to be the cheapest option. But it is actually much more expensive as the ticket sellers earn a 200 Baht commission from the sale and the taxi driver earns 100 Baht in commision. I don't know why things are structured this way. But because of this, it makes buying tickets from the operator direct the most expensive place to buy from.
Tickets sold at Rassada Pier cost 600 Baht (300 for the ticket and 300 in commissions) and a taxi to the pier costs 800 Baht from the popular areas in Phuket (Patong, Karon, Kata).
So it would cost 2,000 Baht for two people to get to the islands doing it this way.
Here is a cheaper option.
Scattered around Phuket you'll find travel and tour agents, some have their own shops and others rent booths outside of 7-11 stores. These sellers have deals to sell tickets on behalf of the ferry companies with reduced rates and transport to the pier is included for free! You can buy a ticket from a tour counter for 500 Baht per person, saving yourself 50%!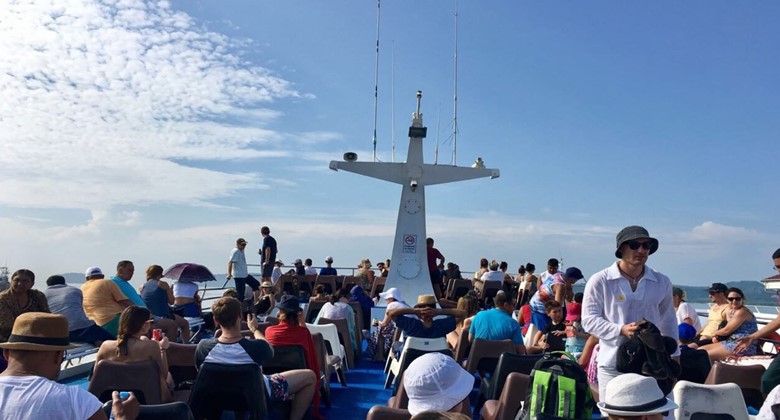 What To Do In Phi Phi Islands Without A Tour
If you take a tour then you'll have all the planning and the itinerary taken care of. But if you're visiting without a tour then you'll need to do the planning yourself and arrange your own activities.
To start your day in Phi Phi the ferry will drop you off at Tonsai Pier on the main island, Koh Phi Phi Don. (You could also stay on the boat until the second stop if you wanted to explore the north of the island instead).
The main island is where hotels, bars restaurants and shops are found. You can spend some time exploring the island, checking out some beaches or grabbing a bite to eat and a coffee.
But here's the catch to visiting without a tour. The Phi Phi Islands are a group of 6 individual islands, and the most beautiful places; the beaches you see on the postcards, the monkey beach, the blue lagoon and everything else you imagine when it comes to Phi Phi. These places are all located offshore on the smaller islands.
And to get there you'll need to enlist the help of a local long-tail boat captain, which can push up costs. You can make a reservation in advance to save time or when arrive or you can head into a travel agent on the island to rent a boat. It costs around 1,000 Baht per hour to hire a boat in Phi Phi.
There is a lot to do and see on the islands, and most places can be rolled into one boat trip, but if you'd rather spend more time on the main island or want to save yourself some money, then take a look at my list of 101 awesome things you can do in Phi Phi Islands, and you won't run short of inspiration for activities.
Phi Phi Island Without A Tour Ittenarry
Here are my suggestions for a trip to Phi Phi Islands without a tour, you don't have to follow this itinerary. But it should give you an idea of what you can achieve by visiting without a tour.
7:30 am – Taxi or transfer to Rassada Pier to catch the ferry. If you book your ticket at a tour counter the transfer is free.
8:30 am – Take the ferry to Phi Phi Islands. The ferry is a journey in itself as you pass by hundreds of small islands in the Andaman Sea. And when you get closer to Phi Phi the captain will give a brief commentated tour of the National Park.
10:30 am – When you arrive at the main island (Phi Phi Don) you'll probably want to get some breakfast. The Coffee Club is only a couple of minutes from the pier and easy to find. You can get a coffee and a quick breakfast here before you start exploring.
11:00 am – Head to the Phi Phi Viewpoint one of the advantages to visiting Phi Phi without a tour is that you have more time and freedom to explore the main island and hiking to the viewpoint is one of the best activities on this island.
12:00 pm – Take a boat trip. You have to get off the main island to get the full experience and to do that you'll need a long-tail boat. 3 hours is enough time to explore Phi Phi Leh National Park. On this island, you can find the Monkey Beach, The Viking Cave, The Blue Lagoon, Loh Samah Bay and the famous Maya Bay. You can also arrange to incorporate a stop at a beach restaurant for lunch on tour.
3:00 pm – Back to land, and back to Phuket. The last ferry back to Phuket leaves at 3:30 in the afternoon. To get the cheapest price you will want to wait until you're on Phi Phi Island to buy your return ticket. And it is even cheaper to get back.
Ferry Back To Phuket
After a day of exploring the Phi Phi Islands, the last step is to get back to Phuket.
But a perk of visiting without a tour is you can change your plans last minute, check into a hotel and stay overnight on Phi Phi Island. If you stay overnight you'll see the island transform and come to life. You'll get an opportunity to experience the unique Phi Phi Island Nightlife where beaches are lined with fire shows and performers and alcohol is sold by the bucket!
Check out which are the best hotels on Phi Phi Island Here
If you are heading back to Phuket you'll need to buy yourself a ferry ticket.
To get the cheapest price on your ferry ticket back to Phuket. You should wait to buy the ticket until you get to Phi Phi Islands. Don't buy a return ticket in Phuket, you will be told in that it is cheaper to buy a return, but it isn't.
Instead, you can swing by a tour booth on Phi Phi Island, ferry tickets there cost 350 Baht, and you can add on a transfer back to your hotel for an extra 100 Baht. It doesn't get much cheaper than that.
Head on over to the pier and show your ticket at the booth. You'll be directed to the ferry where you make yourself comfortable for the ride back.
If you're travelling in the peak season, so from November to April. There is a later boat off the island. The speedboat leaves at 5:00 pm and you can even watch the sunset on the ride back. Speedboat tickets often cost more than 1,000 Baht, but you will get a couple of extra hours on the island.
And if you are planning on taking the speedboat back, double-check it is running, or you'll end up stuck on the island!
Where To Next
If you want to know more about the Phi Phi Islands you're in luck. I have a full guide to the islands which is packed with useful information you might not know. Or you might be interested in these posts: