Pilleh Lagoon (or Pileh Lagoon) is one of the most beautiful natural attraction you can find in the Phi Phi Islands. Located close to the famous Maya Bay Beach, the towering cliffs and stunning clear waters make it one of the most stunning places to visit in Thailand.
The Lagoon is a short boat ride away from the most hotels on Phi Phi Island and you can include a stop at the lagoon on a private boat tour.
If you're undecided about visiting Pilleh Lagoon, hopefully, this post will sway you. It's not the cheapest thing you can do in Thailand, but it is one of the best. Even if you're travelling on a backpackers budget, there are money-saving tips in this post that can make a trip to Pilleh Lagoon even more affordable.
So keep on reading and in this post you can find out everything you need to know about visiting the lagoon.
Where Is Pilleh Lagoon
Pileh Lagoon is located in a small inlet on Phi Phi Islands second largest island, Koh Phi Phi Leh. The island is an uninhabited national park which makes it even more beautiful. The only way to reach the island is to ride there on a boat.
Pileh Lagoon Snorkeling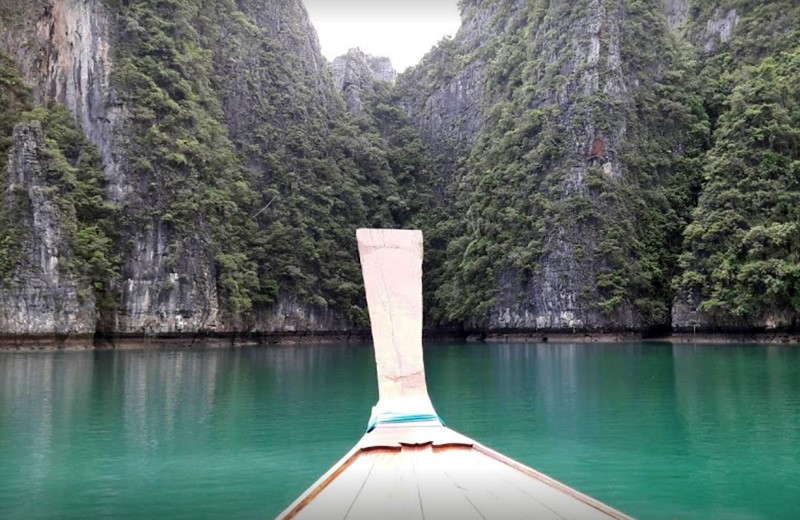 You will love snorkelling at Pileh Lagoon, in the south of Thailand is one of the best things you can do.
The clear water and colourful marine life at Pilleh Lagoon can't be compared to anything you will have seen before and the cliffs shelter you from the rest of the island, making it such a peaceful spot. At Pilleh Lagoon you'll feel in another world.
The Lagoon is often overlooked by travellers who are focused on getting a glimpse of Maya Bay. But in my opinion the lagoon is much more beautiful.
To get to Pilleh lagoon you'll need to take a boat, riding on the Thai long-tail boats is an experience in itself. It is best to travel here from the main island, Koh Phi Phi Don. But you could also choose a tour from Krabi or Phuket.
You can dive into the clear waters with a snorkel and lose yourself at how beautiful this underwater eco-system really is. The bright coloured fish will come right up close. And if you're lucky enough Sea Turtles has even been spotted at Pileh Lagoon.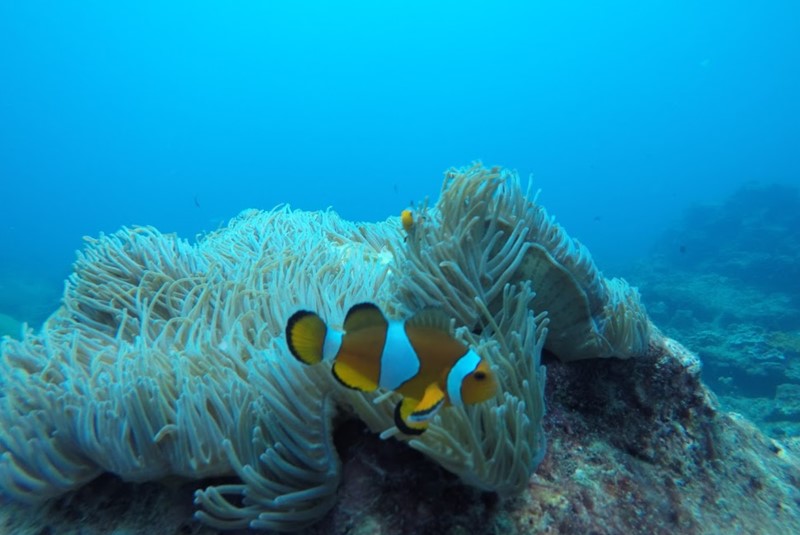 How Much Will it Cost To Get To Pilleh Lagoon
If you only want to see Pileh Lagoon you'll need to charter a private long-tail boat, but there are some other natural attraction nearby like the Viking Cave, Maya Bay and the Monkey Beach which you could incorporate into one trip.
If you hire a private boat you should expect to pay around 3,000 Baht ($90) for three hours which should be enough time to explore the lagoon and get in some snorkelling. If you want to save some money, making friends with other travellers and splitting the cost is the best way to go.
And for backpackers or budget-savvy travellers you can book yourself onto a public tour of the islands that includes a stop at the Lagoon. A public boat tour should cost around 1,000 Baht (if you're staying on Phi Phi Island) but you might find yourself sharing a long-boat with up to 20 other people.
Pilleh Lagoon Tour
Pilleh Lagoon Tour From Phi Phi Don
You'll get the cheapest price for a Pileh Lagoon Tour is you are already staying on the island, and you'll be able to ride there in an authentic Thai Long-Boat instead of a speedboat. Tours leaving from Phi Phi will usually include stop offs at other natural attractions and you'll have a choice of a full day tour, or a half day tour.
For a half day tour you should be paying around 600 Baht ($20 USD), and a full tour should cost you about 1,000 Baht ($35 USD). You should check with your tour operator in advance and find out if your Pilleh lagoon tour is also going to stopping at a national park. Ans if so is the park entry cost included.
Pilleh Lagoon Tour From Phuket
Pilleh lagoon tours from Phuket will cost 3,000 Baht ($90 USD) and as the islands are about 90 minutes away, you'll be riding on a speedboat. While the speedboats can be fun, they are not as memorable as a classic long boat.
Tours from Phuket will usually have a buffet lunch include when you arrive to Phi Phi Island, and you should also have transfers to and from your hotel induced.
Pilleh Lagoon Tour From Krabi or Ao Nang
If you want to get to Pilleh Lagoon fro Krabi or Ao Nang then you'll need to join a speedboat tour. Speedboat tours are notorious for cramming people into boats, so check with the operator in advance how many others will be on the tour. A Pilleh lagoon Tour from Krabi d=should cost about 2,500 Baht ($80 USD).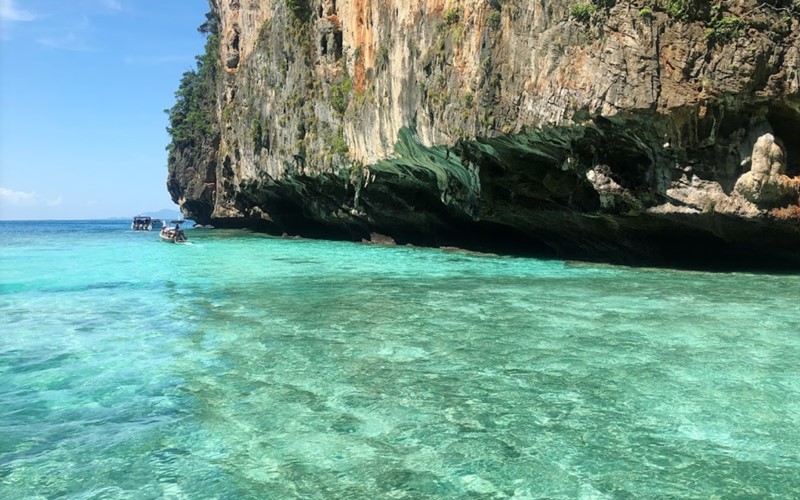 Is Pileh lagoon Closed
There has been some confusion in recent years about weather Phi Phi ISland are closed or if Pilleh Lagoon is closed. And the answer is no. In 2022 Pileh Lagoon is open, and you can visit.
The confusion stems from the closure of Maya Bay Beach, which is on the same island and next to Pilleh Lagoon. Read More About The Maya Bay Closure Here. But the closure of the beach has not affected Pileh Lagoon.
Mass tourist was taking is toll on Maya Bay which is why the beach was closed to the public. The bay however is still open and you can stop for a selfie as you pass by, with the beautiful beach in the background.
When Is The Best Time To Visit Pileh Lagoon
It's a popular spot to visit in the Phi Phi Islands and crowds tend to begin building up later on in the morning, as the day goes on and boat tours arrive from Phuket the lagoon will get busier and busier. That's why it is best to visit Pileh Lagoon on a boat tour from Phi Phi Island itself. You can beat the crowds from the mainland.
The best option is to hire a private longtail boat, that way you can leave early on in the morning. The earlier you leave the better. I visited Pileh Lagoon just after sunrise at about 7 am and has the place to myself, there weren't many any other boats. So I'd say the best time to visit Pileh lagoon is sunrise. You'll also have beautiful lighting for your photos.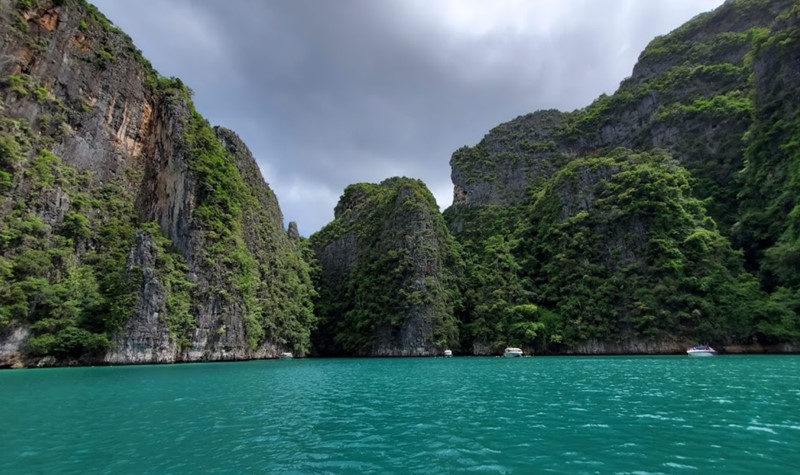 How To Get To Pileh Lagoon
Long Tail Boat – This is how I'd recommend getting to Pileh lagoon. Long-tail boats are small wooden local boats designed to tackle the shallow waters around Thailands islands. Riding on these boats is an experience in itself.
Speedboat – If you're visiting Pileh Lagoon from either Krabi or Phuket then the distance is too far for a longboat to be safe. You'll need to ride a speed boat instead. It takes the charm away a little bit, but it can still be fun.
Kayak – Can you kayak to Pilleh Lagoon? It is possible to kayak here but I would not recommend it. You'll need to cross between the two islands where the sea can get rough and it's also a bust lane with ferries and boat traffic. If you want to kayak at Pileh Lagoon you can join a boat tour that includes it as an activity.
Pilleh Lagoon FAQ'S
How Deep Is Pilleh Lagoon
Pileh Lagoon Depth, How deep is Pileh Lagoon? Tides at Pileh Lagoon will determine how deep the lagoon is. At low tide, Pileh Lagoon is around 1 meter deep, but at high tide, the lagoon can become as deep as 5 meters. You'll see more marine life and have a better chance of seeing sea turtles at high tide. But at low tide, a small beach is exposed at the far end of the lagoon.