Pileh Lagoon Phi Phi Island, Thailand. Pilleh Lagoon or Pileh Bay is an insanely stunning inlet of clear water located near the popular Maya Bay beach within the stunning Phi Phi Leh Island National Park.
Having now visited Pileh Lagoon on three separate occasions. I highly recommend including it on your bucket list. 😎
Pileh lagoon is a part of the Phi Phi Islands. It is a small enclosed body of water which can be reached by boat. After passing through a small inlet of water on Phi Phi Leh Island. Is a must see destination with breathtaking natural beauty. As you enter Pileh Lagoon for the first time it feels surreal- the limestone cliff towering around- the sounds of the ocean gently hitting the rocks and the stunning clear waters which are perfect for snorkeling.
How Do You Get to Pileh Lagoon?
Pileh Lagoon is tucked inside one of the Phi Phi Islands. The island which houses Pileh Lagoon is called Phi Phi Leh. It is a protected National Park. You'll need a boat to get there, from either the main Phi Phi Island or from Phuket.
From Phuket you can arrange a day tour to Pileh Lagoon the tour will often stop in other places such as Maya Bay and Bamboo Island. To leave from the main Phi Phi Island (Phi Phi Don), you'll need to first take a ferry there- from either Phuket or Krabi and then a tour to get to Pileh Lagoon.
Both private tours and group tours can be arranged to Pileh Lagoon it is not possible to go without a tour. There are a ton of companies with tours to Pileh Lagoon, and after trying a lot of them- These are the tours I recommend.
Recommended Private Pileh Lagoon Tours:
Recommended Public Pileh Lagoon Tours:
For a cheaper option of getting to Pileh Lagoon a shared boat tour can be booked through GetYourGuide, or Klook.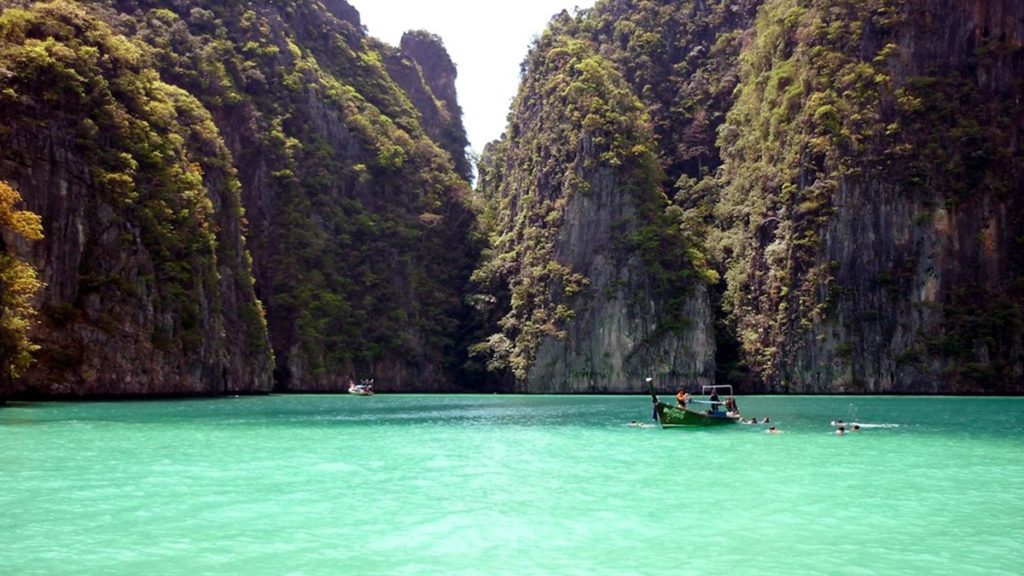 Pileh lagoon has recently reopened after being closed due to the COVID-19 lockdown, meaning visitors can once again enjoy all that this paradise has to offer. I originally wrote this post when I visited Pilleh Bay before the pandemic, but I've been back since and wanted to update this post to share my experience of Pilleh lagoon in 2023.
Pilleh Lagoon is one of the best spots for snorkeling at the Phi Phi Islands. But thanks to it's remote location and protected status as a national park it can only be reached by boat. And because the waters around Pilleh Lagoon are so shallow, (between 1 – 5 meters), speedboat or Thai Longtail Boat are the only options. Ferries are thankfully way to big to get any where near Pilleh Lagoon (and that's defiantly a good thing)!
So if you're planning a trip to Pilleh Lagoon then keep on reading. Because in this post you can find out everything you need to know in preparation for a visiting to Pileh Bay.
Where Is Pilleh Lagoon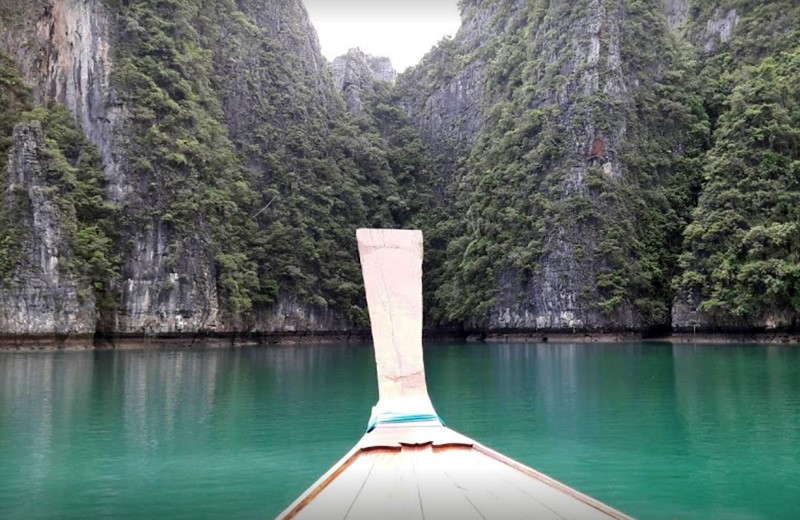 Most Phi Phi Island Tours will include a stop at Pilleh Bay but make sure to double-check this before booking. Chartering a Private Boat is another choice to get to Pileh Lagoon. But even though Pilleh is an incredible place to visit I recommend staying there for around one hour. You can combine Pilleh Lagoon with some other nearby spots, such as the Monkey Beach.
How Much Will it Cost To Get To Pilleh Lagoon
There are two costs to consider when going to Pileh Lagoon.
Transport to Pileh Lagoon (usually a tour) and the National Park Admission Cost.
Pileh Lagoon has a protected status as part of a Thai National Park.
Phi Phi Leh Island, where Pileh Lagoon is located is part of a cluster of islands in the 'Hat Nappharat Thara-Mu Ko Phi Phi National Park'. As such there is a (discriminative) admission cost of 400 Baht for non-Thai visitors or 40 Baht for Thai visitors. The National Park entrance cost is payed at Loh Samah Beach, in cash.
You'll also need to arrange how you're going to get to Pileh Lagoon. You can only reach the lagoon by boat. However boats do leave from a number of locations including Phuket, Krabi, Koh Lanta and Phuket; as well as from Phi Phi Don (the closest island with accommodation). You can choose a public boat tour or a private boat tour depending on your budget.
Public boat tours from Phi Phi Don can be as cheap as 1,000 Baht but you might find yourself packed in with a large group of up 20 or more travelers! From Phuket or Krabi tours will start at around 2,500 Baht.
Private boats can be chartered by the hour to Pileh Lagoon. And you'll need around 4 hours to do Pilleh Lagoon from Phi Phi. Full day private tour cost about 7,000 Baht from Phi Phi or closer to 14,000 from Phuket and Krabi but these tours include a lot more stops and lunch too.
Private tours to Phi Phi and Pileh Lagoon need to be booked in advance, and I would recommend Five Star Thailand Tours. Public group tours can usually be booked in person the day before.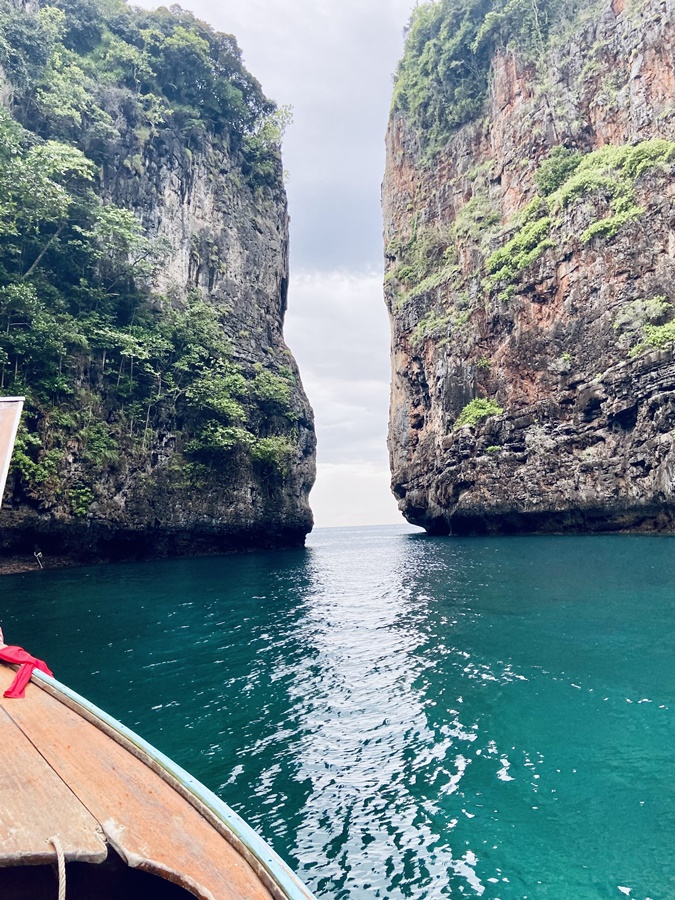 When Is The Best Time To Visit Pileh Lagoon
Try to visit Pileh Lagoon as early as possible to give yourself the best chance of beating the crowds. I arrived at Pileh Lagoon just after sunrise and has the place to myself, a rare opportunity.
The best times to visit Pileh Lagoon and beat the crowds are 6.30am – 9.00am and 4.00pm – 6.00pm.
But you'll need to charter a private Longtail to leave at 6.30am.
If you want to avoid crowds and visit Pileh Lagoon at the quietest times then you'll need to stay overnight on Phi Phi Don. This is because it take 30 minutes from Phi Phi Don to Pileh Lagoon. But from Phuket it takes over an hour. From Phi Phi boats can leave at any time, from Phuket, boats need to wait for the sun to rise completely. So starting from Phi Phi Don gives you an edge over other tours and lets you visit Pileh Lagoon without crowds.
You'll really notice the crowds start to build up after 9.00am as more and more tour boats arrive from Phuket and other spots on the mainland.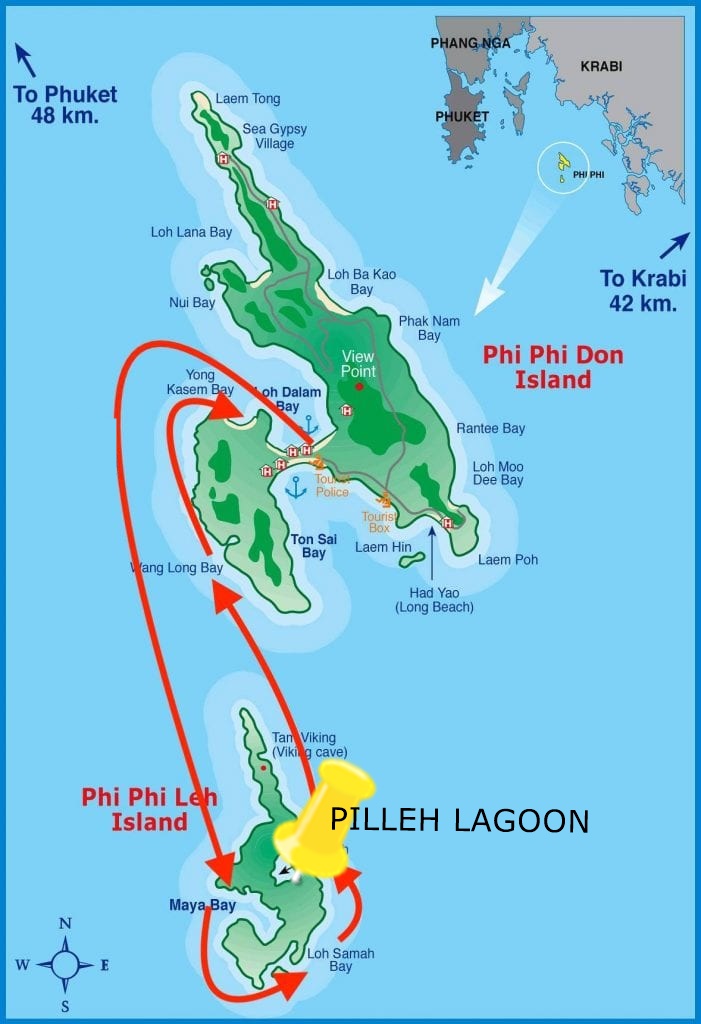 Get To Pileh Lagoon From Phi Phi Don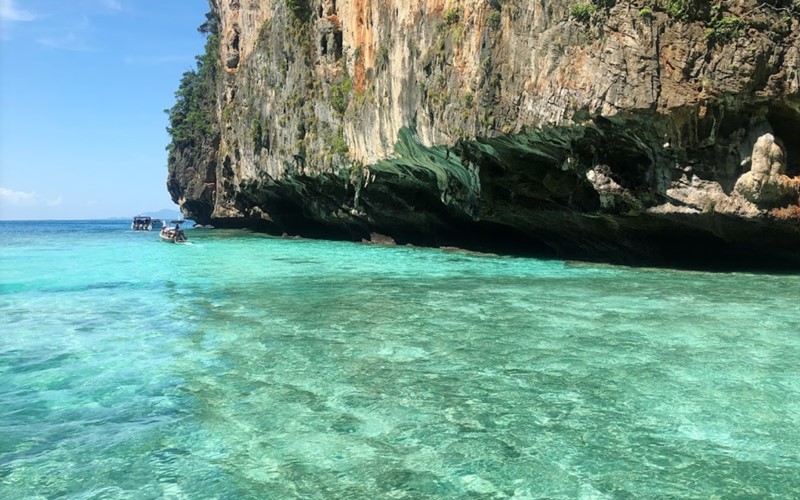 Phi Phi Don is the closest island to Pileh Lagoon so you find the lowest cost boat prices here.
There are countless operators running public boat tours to the Lagoon with full or half day packages. Or Five Star Thailand Tours have private boat services to Pileh Lagoon.
Get To Pileh Lagoon From Phuket
Phuket is much further away from Pilleh Lagoon and your need to find a Phi Phi Tours by speedboat. It takes around 90 minutes to get to Pileh Lagoon from Phuket and boats can only leave after the sun has risen.
A group tour or public tour usually costs around 2,500 – 3,000 Baht, while a private tour to Pilleh Lagoon from Phuket should cost around 14,000 Baht.
Get To Pileh Lagoon From Krabi or Ao Nang
Krabi and Ao Nang are the same place and there are also boats leaving from Krabi to go to Pileh Lagoon. The distance is a little closer than Phuket but no much. It will still take over an hour by speedboat to get to Pileh Lagoon from Krabi or Ao Nang. The prices are the same as from Phuket.
Pileh Lagoon Activities, Phi Phi Island
Pileh Lagoon is an area of natural beauty. You'll can take stunning photos here and while snorkeling and kayaking are the best activities to do in the Pileh Lagoon.
Snorkeling in Pileh Lagoon
Snorkeling in Pileh Lagoon, is one of the best things you can do at the Phi Phi Islands.
Most boat captains and tour companies provide you with a mask and snorkel set for free. But you can also buy a mask and snorkel from tourist shops on Phi Phi Island or in Phuket.
You'll feel in another world below the surface of Pileh Lagoon and the clear water is so stunning, it's almost impossible to describe. Photos of Pileh Lagoon really don't give it the justice it deserves.
Marine Life In Pileh Lagoon, Phi Phi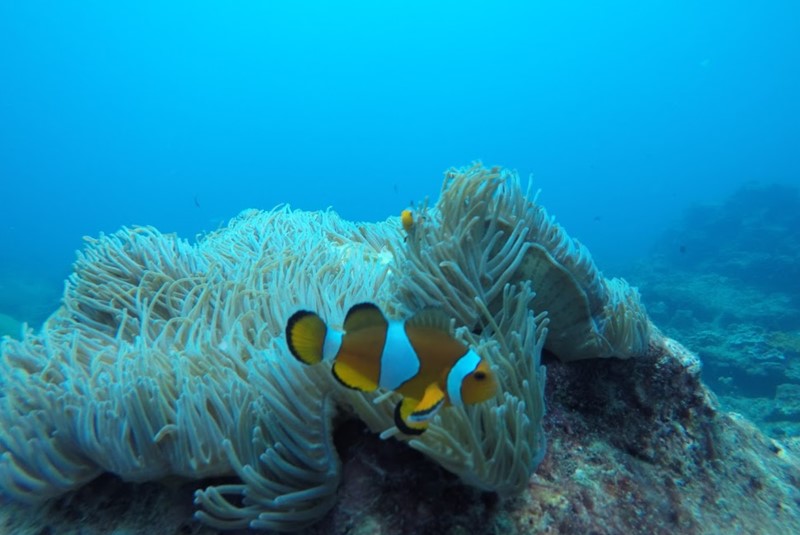 There are thousands of parrot fish that you're guaranteed to see under the waters surface in Pileh lagoon. But there are some other rare marine life species which can be spotted here. There have been regular sightings of Hawksbill Turtles and Black Tip reef sharks in Pileh Lagoon but you'll need to arrive first thing in the morning to have the best change of seeing them.
Very occasionally dolphins have also been spotted in the pileh lagoon too, but you'd have to be very lucky to see them. The national park repots sighting of dolphins here around once a year.
Kayaking in Pileh Lagoon
It's also possible to Kayak to Pileh Lagoon! If you're on a budget the kayaks can be rented on the beaches of Phi Phi Don for a few hundred Baht. However, I would not recommend it because you'll need to cross between the two islands and the sea here can get rough at times. If you want to kayak at Pileh Lagoon the best option is to take a tour which includes kayaking as an activity.
The Phi Phi Pirate Boat is a popular tour leaving from Phi Phi Don, it costs 1,500 Baht, and stops at Pileh Lagoon for about an hour (the National Park Fee is also included!) The Pirate Boat Tour includes some activities like kayaking in Pilleh Lagoon, Snorkeling in Pileh Lagoon and Stand Up Paddle Board in Pileh Lagoon.
Is Pileh lagoon Closed
Pilleh Lagoon is open to the public for all the enjoy. Pileh Lagoon is not closed.
Maya Bay has been a controversial topic over the recent years. And has been closed on-and-off for rehabilitation projects.
Because Pileh Lagoon shares the same island as Maya Bay there has been some confusion as to weather Pileh was closed too. But I can confirm Pileh is open in 2023 Pileh Lagoon is open, and you can visit.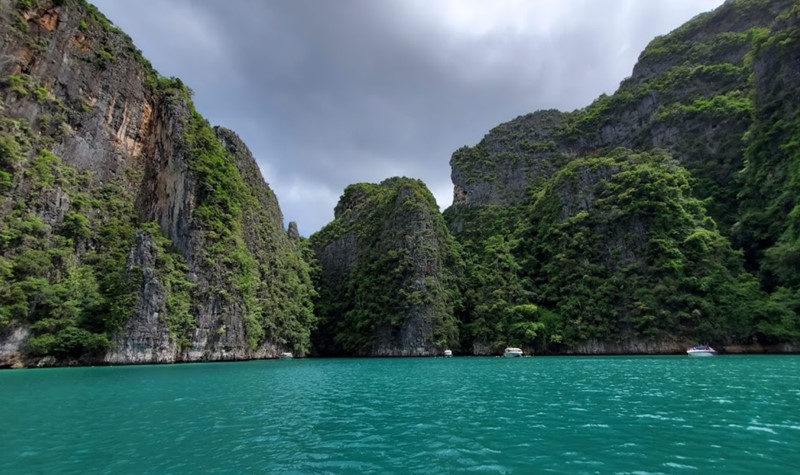 Pilleh Lagoon Tour
How Deep Is Pilleh Lagoon
Pileh Lagoon Depth, How deep is Pileh Lagoon? Tides at Pileh Lagoon will determine how deep the lagoon is. At low tide, Pileh Lagoon is around 1 meter deep, but at high tide, the lagoon can become as deep as 5 meters. You'll see more marine life and have a better chance of seeing sea turtles at high tide. But at low tide, a small beach is exposed at the far end of the lagoon.