Maya Bay, Thailand. It's been ranked as the world's most beautiful beach, it's been featured in movies and gained worldwide fame. Here's everything you need to know about Maya Bay in Thailand.
It's a beach which is lusted after by travellers and it's easy to see why.
The natural beauty at Maya Bay is undeniably gorgeous. The Beach is located on a remote island in the Andaman Sea, this island is uninhabited, asides from a few cabins where marine life protection officers reside.
Sheltered with 100-foot limestone cliffs all around; aside from a small opening at the mouth of the bay. The entire bay is one big coral reef with exotic marine life and a 200-meter picture-perfect, white-sand beach.
Maya Bay was used as a film set in the late 1990s' for the popular movie "The Beach" starring Leonardo DiCaprio. The release of this movie set the wheels into motion to where we find ourselves today. Learn more about where the beach was filmed.
As more people became aware of Maya Bay it became a victim of its own beauty. With fears growing that tourism was causing irreversible damage to the bay. Officials took the unprecedented decision to shut the bay indefinitely, back in 2018. A move that shook the world opening eyes to the devastating effects mass tourism can cause.
What are your thoughts on the closure of Maya Bay? Let me know in the comments below.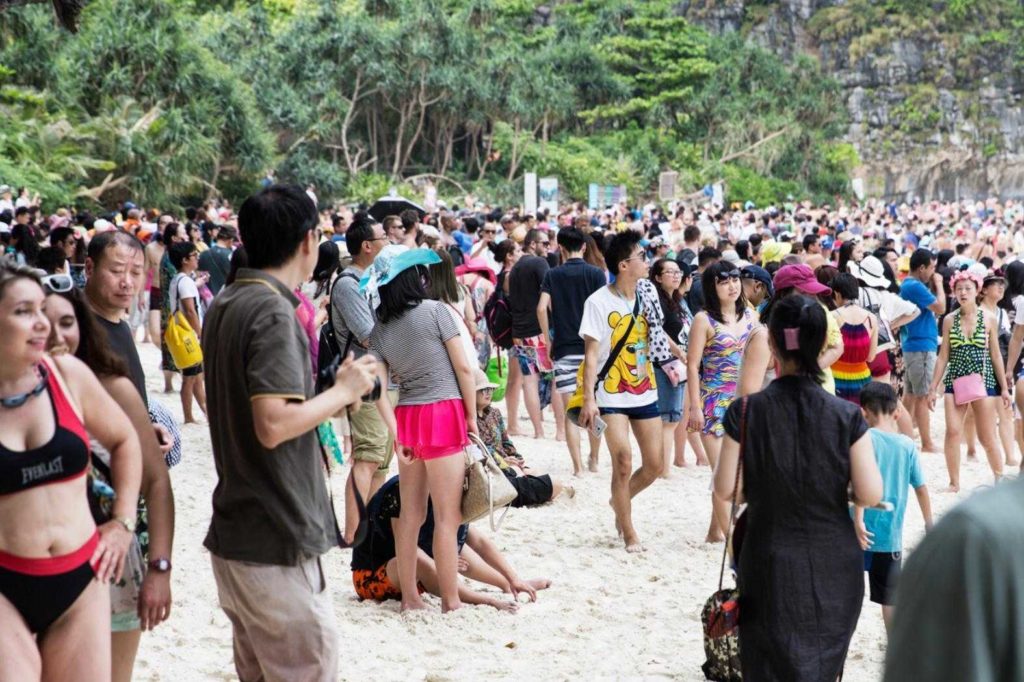 But now, we are two years on from the Maya Bay closure. So how is the beach recovering? Is rehabilitation working? Is Maya Bay still closed? And when will Maya Bay reopen? These are just a few questions I will answer in this post. So keep out reading to find out everything you need to know about Maya bay in Thailand.
Now I should say, I am not an expert marine biologist and I'm not going to delve into the politics surrounding the closure of Maya Bay. But I have been fortunate enough to have visited the beach a few times since the closure. So I'm going to share with you my first-hand experience of what I have seen.
And if you happen to be visiting Phi Phi Islands, you can read my full Phi Phi Islands Travel Guide here, (for free)!
Where Is Maya Bay
Maya Bay is in southern Thailand. The beach is located on a small uninhabited island named 'Koh Phi Phi Leh'. Koh Phi Phi Leh is a protected national park which is part of a small group of six islands, known as the Phi Phi Islands.
The Phi Phi Islands are 40 milometers out to sea, a two hour boat ride from Phuket, which is the nearest mainland location.
Why Is May Bay Famous
Maya Bay is famous for its uncanny natural beauty. It's one of the worlds most beautiful and famous beaches. The fame of Maya Bay was rapidly accelerated after being chosen as a film set for a 1999 movie called "The Beach".
The Beach wasn't the best movie, but it was an advertisement for Maya Bay. The lead role was played by Leonardo DiCaprio, and it was his first starring role after the success of the Titanic. Having the actors name tied to the production made the film successful at the box office and left many people asking if The Beach was real, and wanting to visit for themselves.
Is Maya Bay Closed
Is Maya Bay Closed in 2020?
Can You Still Visit Maya Bay?
Is Maya Bay Open To The Public?
Maya Bay is a National Park, and a decision was called to close the beach indefinitely, just weeks before Thailands peak season was expected to begin, in 2018. Until now Maya Bay still remains closed, however, there have been on-going talks discussing the reopening of Maya Bay, and how best to handle such a delicate situation.
So yes, Maya Bay is closed. And no you can't visit.
Actually, that's not entirely true. You can still visit Maya Bay. The bay itself never actually closed and it is still open to the public. It was only the beach which was closed. Boats are still permitted to enter the bay and travellers can get a glimpse of the beach from afar. You just can't set foot on the beach itself. So yes, you can visit Maya Bay, but you won't get the full experience.
There are two other beaches inside the bay which remain open to the public, these beaches, however, are nowhere near as beautiful as the main white-sand beach that the island is so famous for.
Here Is How May Bay Looks 18 Month After The Closure
These photos taken in 2020, two years after Maya Bay was closed show the amazing changes that the restoration project has had to the environment.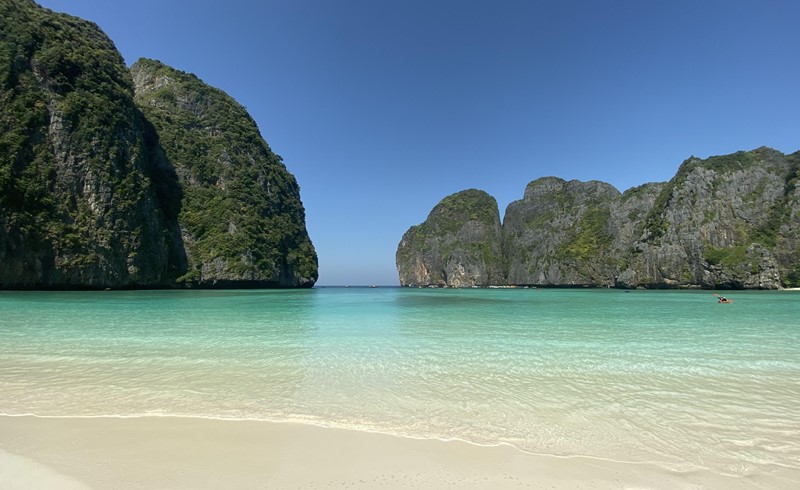 When Will Maya Bay Reopen
Maya Bay is expected to reopen in 2021, but this date is based on local speculation and has not been confirmed or denied by the Department For National Parks. One thing is for sure, however, and it's that plans are being proposed on how best to handle reopening Maya Bay.
According to reports published in the Telegraph, Maya Bay was scheduled for a late 2020 reopening, but with a new virus impacting tourism around the globe in early 2020 it appears that date has now been pushed back. All National Park in Thailand closed in 2020 due to the new virus, for the first time ever.
Park staff have been reporting that impressive changes are showing across the board, and plans are being developed to close all national parks in Thailand, for one month each year, from 2020 onwards.
Local authorities have devised a plan which will allow them to reopen Maya Bay in 2021, while rehabilitation continues, and without reversing any of the changes already made. The new plans will see a pier constructed at a nearby bay, which connects on to Maya Bay. This will eliminate the need for boats to enter the bay and park on the sand, thus further protecting the corals.
There will be a new walkway from this pier to the Maya Bay beach which travellers will be limited to. It is unclear at this point if travellers will be allowed onto the beach or if they will be restricted to the walkways and viewing platforms soon to be constructed.
Other changes will include a cap on visitors permitted to visit Maya Bay each day. Although an exact number has yet to be decided upon. It is also expected only a handful of tour operators will be permitted to bring travellers to the beach and in order to regulate the visitor number an advance online reservation will be needed, from an authorised tour operator.
Maya Bay Before And After
It is clear that closing Maya Bay has had dramatic and positive environmental effects. Teams of divers have been working hard to plant coral at Maya Bay, all of which has grown naturally around the Phi Phi Islands. And on land mother nature has reclaimed the beach and the jungle behind. Making Maya Bay almost unrecognisable.
Wildlife including sharks and turtles haves been spotted returning to the beach which has not been seen here for many years.
These before and after photos show the differences now showing at Maya Bay from 2018 to 2020.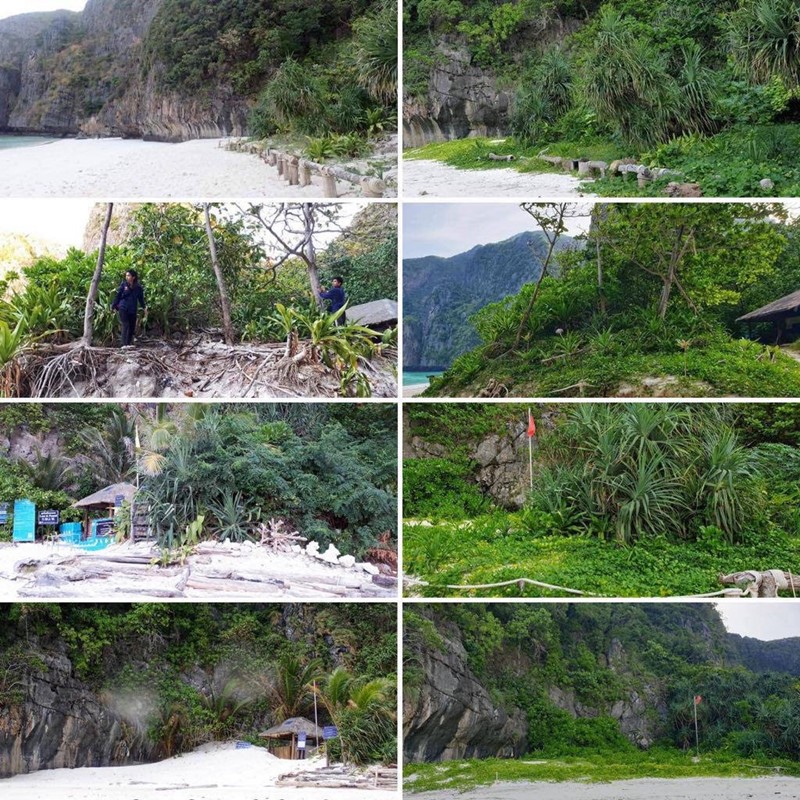 Are There Sharks At Maya Bay
Maya Bay, many years ago would have been a natural breeding ground for the Black Tip Reef Shark. These species of shark would have been protected in Maya Bay, with cliffs all around. But after the Beach rose to fame the number of tour boats, propellors and snorkelers, quickly turned Maya Bay into an unsuitable spot for the reef sharks.
After the closure of Maya Bay schools of Black Tip Reef Sharks are once again being spotted by National Parks Staff on a regular basis. Other notable marine life that has returned to Maya bay after the closure includes the legendary Hawksbill Turtles. So it is safe to say closing Maya Bay to tourists was the correct decision to make.
And for anyone visiting Phi Phi Islands, wondering how dangerous the sharks are, there is nothing to worry about there. The species are non-invasive and don't pose a threat to humans. You can snorkel in other spots around Phi Phi Don Island where you have a great chance to see the sharks, up close and personal.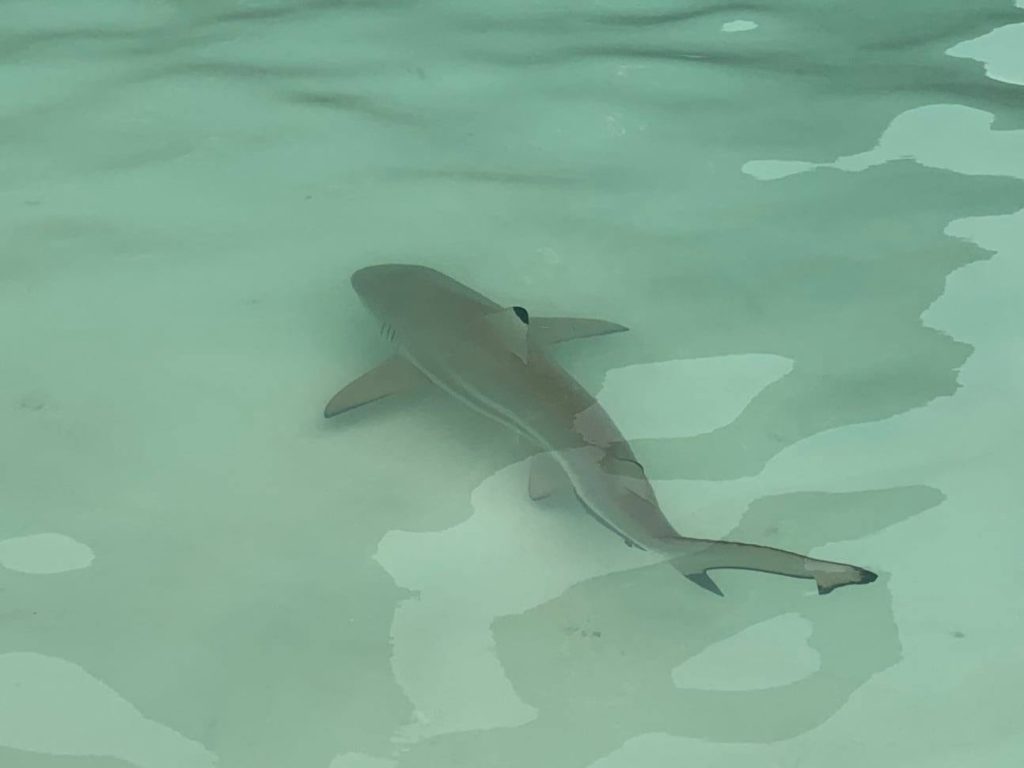 Maya Bay Sleep Aboard Tour
Authorities had been aware of the environmental effects that tourism was causing to Maya Bay, and had been implementing restriction to the bay for over fifteen years. In an attempt to curb mass tourism, which eventually became so big they had been left with no choice but to shut the Beach altogether.
Up until 2010 camping overnight at Maya Bay was one of the popular things to do on Phi Phi Island. But this was prohibited, and opening hours were imposed at the beach. Overnight, or from sunset to sunrise no visitors were allowed to visit the beach. This lead the Maya Bay Sleep Aboard Tour, on this boat tour tourists spend a night under the stars and sleep on an open-top deck in the Bay. Due to restrictions, travellers can't set up camp on the beach and the boat must be moored at the far end of the bay. Away from the beach.
But overall it is a cool experience and because the tour never actually stopped on Maya Bay Beach, it is still operating and hasn't been affected by the Maya Bay closure. If fact, it is a better experience now, with fewer other boats stopping by.