Pai is one of the most epic places in south-east Asia. A popular spot for backpackers, located in northern Thailand. The rural town combines incredible scenery with such a laid-back, easygoing lifestyle.
There are so many things to do in Pai. It's one of those places that you can easily find yourself getting 'stuck'. So many travellers book a two-night stay in Pai and find themselves still there, two weeks later.
There is a lot to love about Pai and it deserves a place on your Thailand itinerary. I was one of those travellers that found myself staying longer than I had anticipated in Pai. So I'm going to share with you my experiences on what I think are the best things to do in Pai.
From the waterfalls to the canyon to the hot springs to learning a new skill. You have to read this guide before going to Pai.
In this article, I will not only include my favourite things to do in Pai. But also some things to in Pai at night, some 'non-touristy' things to do in Pai, things to do when it's raining and most importantly; things to do in Pai without a scooter.
So if you've found yourself asking; "What can I do in Pai", then look no further. In this guide, you will find everything you can get up to in the sleepy, laid-back hillside town.
Things To Do In Pai
Learn To Ride A Scooter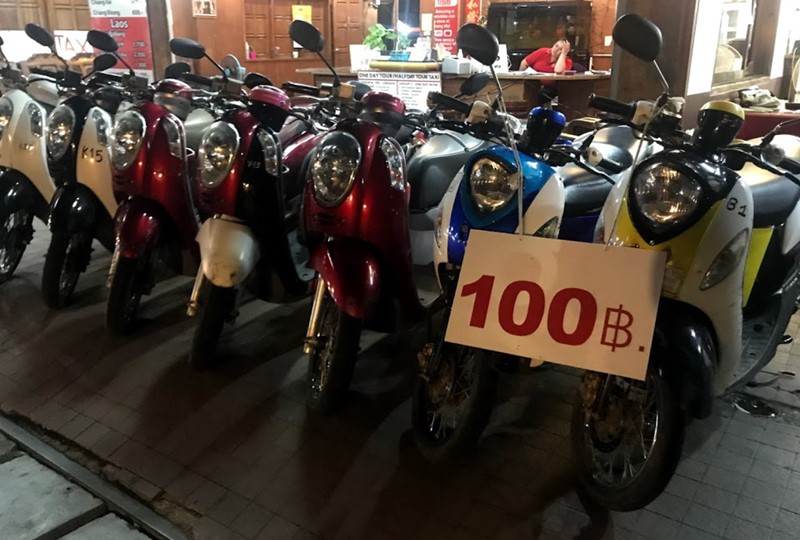 When you are in Pai, riding a scooter is the most common transport used to get around. There are plenty of things to do in Pai without a scooter, and you can arrange tours to visit most attractions. But it doesn't compare to the freedom you have riding your own scooter.
Scooter rental in Pai is cheap. You can rent your own bike here for less than 100 Baht ($2 USD) a day! And if you've never ridden a scooter before, Pai is a great place to learn. It's a rural and open area without too much traffic, a much better place to learn that in the cities of Thailand.
But be careful, if it's your first time riding a scooter, wear a helmet at the bare minimum, don't get carried away; and expect to fall off at least once. You'll see countless backpackers in Pai, walking around like mummies, bandaged up from scooter accidents which usually occur on the long winding drive from Chiang Mai.
But don't let that put you off! You can leave Pai having learned a new skill, which will give you more freedom, wherever you travel in the world. You can even rent a bike in Chiang Mai and drive to Pai yourself which is great fun. But if it's your first time riding, you might be better off taking the bus.
The Pai Canyon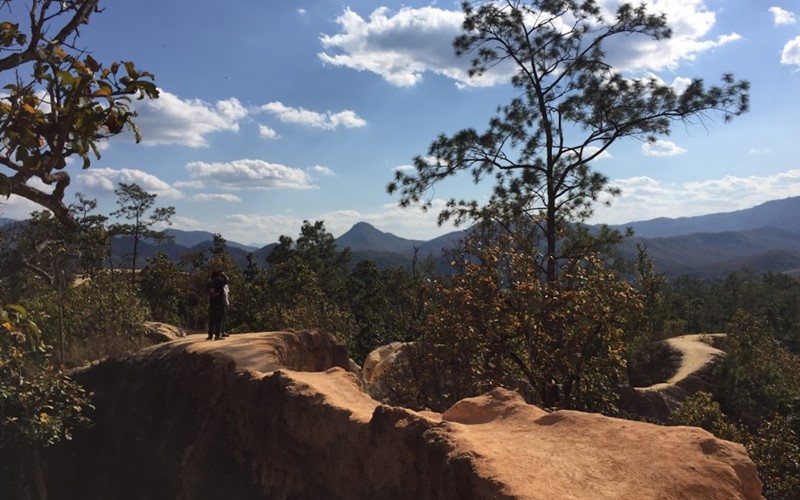 The Pai Canyon is one of the best things to do in Pai. It's a popular natural attraction which is nearby to the main village and an awesome spot to watch a sunset.
The Pai Canyon is a natural formed Canyon with hiking trails, perfect for exploring. But be careful here, some of the trails are thin and narrow with sheer drops on either side. Adventurous travellers will love exploring, and there is a viewing platform with easy access if you don't feel like scrambling through the dusty tracks.
You'll get some of the best views of Pai at the Canyon, surrounded by mountain ranges it's easy to loose yourself in though.
As the Canyon was one of my favourite things to do in Pai I have put together a complete guide to the Pai Canyon. You'll find everything you need to know before you go, how to get there, when is the best time to go and much more. Read more about this attraction here.
Mor Paeng Waterfall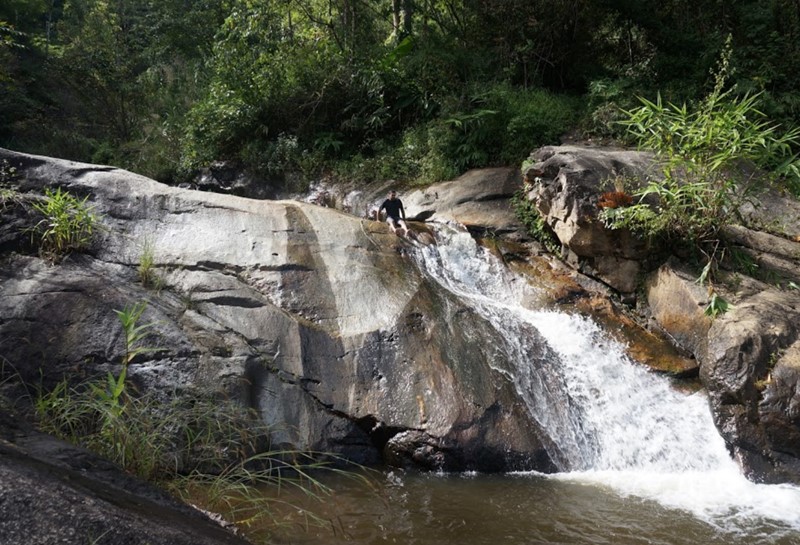 Pai is full of natural attractions and the Mor Paeng Waterfall is one of the best. I'll be honest, there are more non-touristy things to do in Pai that this. And when I visited the place was pretty busy with backpackers that all had the same idea. But despite that, it's a cool place to hang out for an afternoon.
Thailand is a hot county and in the afternoons it is nice to cool off in water. The falls have a natural pool at the bottom where you can relax. It's also a free thing to do in Pai, there is no admission cost, which is rare in Thailand and I'm surprised that none of the locals have taken advantage of the waterfall yet. So make the most of that while you can.
You can get to the falls on a scooter, or as part of a tour. I would recommend to ride here yourself and make a day out of it.
There are other waterfalls in Pai, but in my opinion the Mor Paeng Waterfall is the best one.
Sai Ngam Hot Springs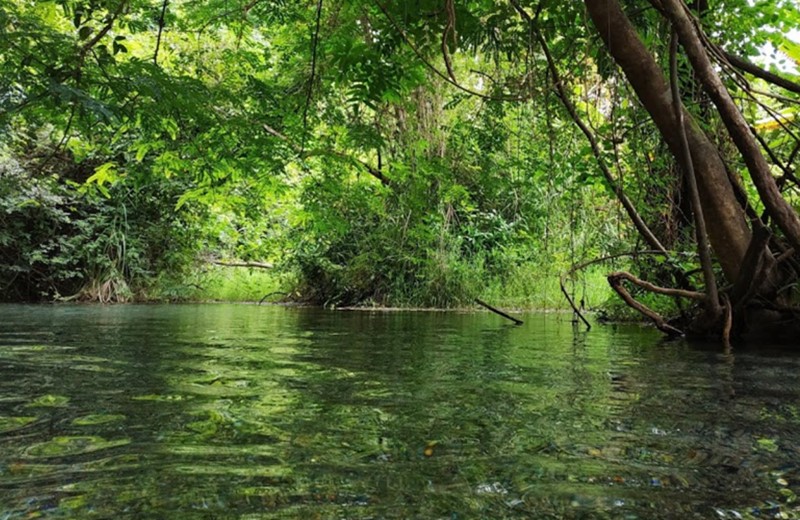 The Sai Ngam Hot Springs, or more commonly know as the Pai Hot springs are yet another natural attraction in Pai. The water flows gently through here. Naturally heated by the earth there are three tiers on the hillside where you can splash about in the spring water.
Visiting the Pai hot springs, however, doesn't come cheap. For starters, you'll need to pay 20 Baht to park your scooter across the street- and the admission to the springs is an eye-watering 300 Baht! Despite the high admission cost, there are still plenty of travellers that like to visit the springs and it is a really nice spot to chill. The water is warm, about 35 degrees and incredibly clear and refreshing.
If you want to save yourself some money when visiting the springs you can book yourself onto a tour of Pai. I found tours for as little as 500 Baht which include admission to the springs, transport there and you get to see a few other sights around Pai.
Lod Cave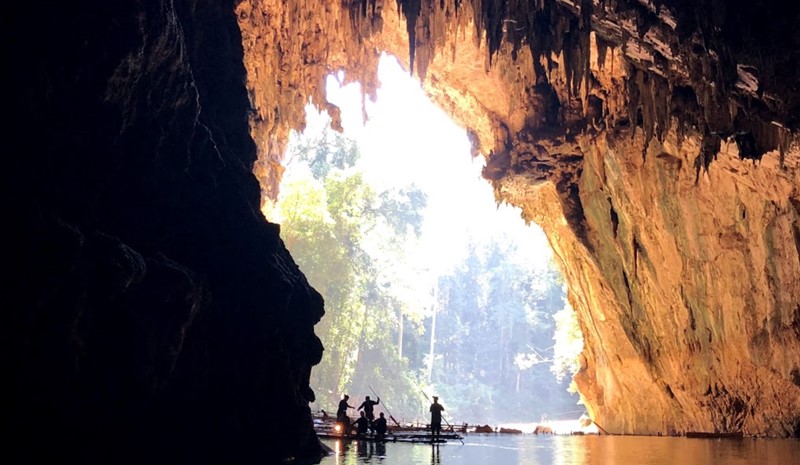 The Lod Cave, for me, was one of the highlights of Pai. The sheer size of the cave is incredible. There is a river flowing right the way through and the only way to get inside the cave is to board a bamboo raft with a local tour guide.
You don't need to book anything in advance and once you get there you can hire a guide who will give you all a lantern and paddle the raft into the cave. You will get wet on the raft so be sure to dress appropriately and don't wear your sneakers.
When you are inside the cave you'll make a few stops and there are some sections where you can leave the raft to explore. There are carvings, tombs and Buddhist shrines in the cave. And bats, f*** loads of bats.
It costs just 300 baht for a cave tour with a local guide and that's split between three people. So it's great value for money.
The White Buddha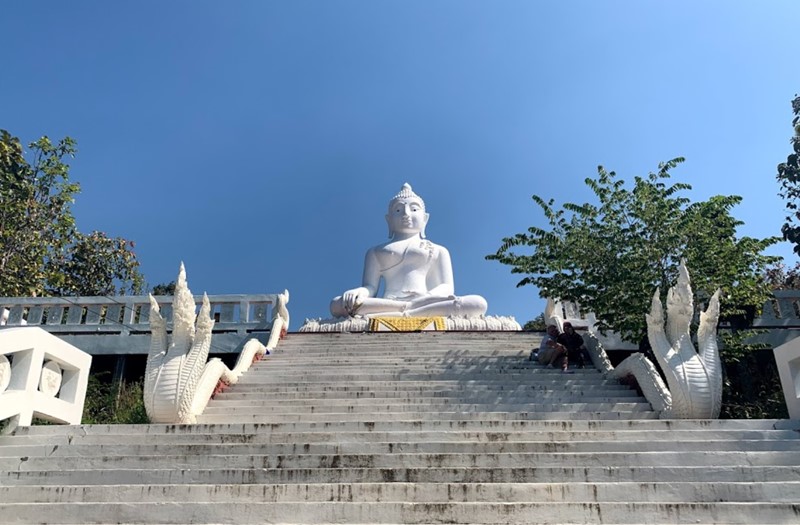 Thailand is a Buddhist country some shrines and statues are found wherever you are in Thailand. And some of these shrines are pretty damn impressive. Like Wat Phra That Mae Yen, or in English 'The White Buddha'.
The White Buddha is in the centre of the town and it's near impossible to miss.
You can ride here on a scooter and once you arrive there is a staircase to climb, to reach the top. There are over 350 steps to climb. But once you're there you'll be rewarded with epic 360 views over Pai, and beyond.
Remember it is a religious site so dress appropriately with shoulders covered.
Read more here about how to dress when you visit a Temple in Thailand.
Pai WWII Memorial Bridge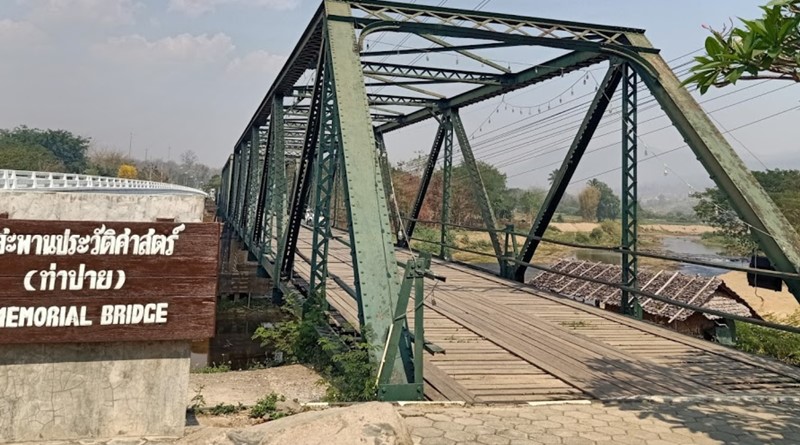 The Pai bridge was constructed during the second world war when Japanese troops wanted to create a route through Thailand from which they could use to invade Burma, now known as Myanmar. The bridge, while it has been reinforced is still in place today.
Granted there is not much to do here, but its a historical site and if you combine it with an another activity it's worth a visit. The memorial bridge is just a few kilometres past the Pai Canyon so you can see both attractions in one day.
Indulge In The Happy Shakes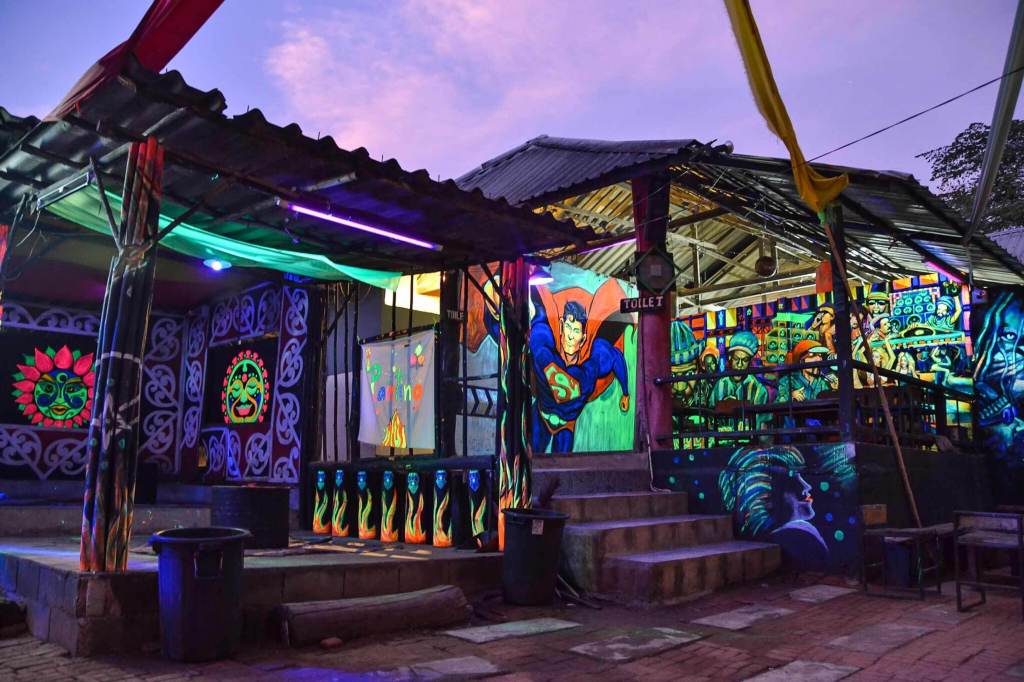 Pai is known as a hippie town, and there is no denying that. The town is located in the mountains of northern Thailand, it's a cool spot to indulge in some innocent hallucinogenics. And in Pai you won't have to look far to find them, in fact, you won't have to look at all. They will find you and they will be offered to you.
The ease of accessibility here is why I wanted to touch on this on my list of things to do in Pai. Because they will be offered to you. I have met a lot of people in Pai, who have no previous experiences with hallucinogenics and decide they're going to try them out, for the first time. I have read other guides about things to do in Pai where bloggers will blindly advise you to go out and eat a face full of mushrooms. Don't do that.
Now don't get wrong mushrooms are f****** amazing. But I meet a lot of backpackers, who are expecting the effects to be similar to alcohol, weed perhaps, or even cocaine.
It's nothing that can be compared. Mushrooms can open your mind, and you need to be mentally prepared to embrace the effects. You can find out things about yourself that you don't want to know. And the effects can be long-lasting. Days, weeks, years. Mushrooms can alter your mind for better and for worse.
And I'm not saying that you shouldn't try them. I don't want to put you off it, it is a safe drug. But there is a time and a place, and you need to make sure that it's right for you. Mushrooms can alter your mind for the better. They can improve you as a person and help you to grow. But don't dive straight into it, expecting to feel a bit giddy, sober up and repeat the next night.
If you feel completely comfortable in your surroundings and the people you are with. Then go for it. Make sure you know what dose you're taking, and if you're buying a shake, watch it being made. For your first trip, a gram should give you a good taste for it.
Take A Thai Cooking Class
Thai food is incredible, I'm hooked. In almost every tourist spot in Thailand, you'll find at least one Thai cooking class or school. But the difference in Pai is the food you'll learn to make. In Bangkok, Chiang Mai or Southern Thailand you can find yourself learning to cook the 'classics' the popular tourist dishes, Phad Thai and Chicken Fried Rice.
My favourite food in Thailand in Khao Soi, but this dish is hard to locate outside of northern Thailand and impossible outside the country. But I took a cooking class in Pai. Which is a souvenir I'll never lose, and one that doesn't take up space in my backpack.
Now even if I am miles away in the UK (provided I can find a Thai market, which there are a few around London) I can cook myself a dish of Khao Soi. So even if you've already taken a cooking class elsewhere in Thailand, you can add some new dishes to your recipe book with a class in Pai.
Practice Yoga & Meditation
For a long time, I was against Yoga or Mediation. I can't fully explain why. I just didn't see the point in it. Until I visited Pai, that is. Meditation and Yoga are popular here. Whichever hostel you find yourself staying in, I'd be willing to bet a decent chunk of cash that in the morning you'll find some kind of yoga session going on.
It was in Pai I was first introduced to meditation, properly, for the first time. Since then I start every most morning with 15 minutes mediation. The yoga didn't stick, that's not really my thing. But it's still a cool thing to do in Pai. And you won't have to look far.
Pai Walking Street & Night Market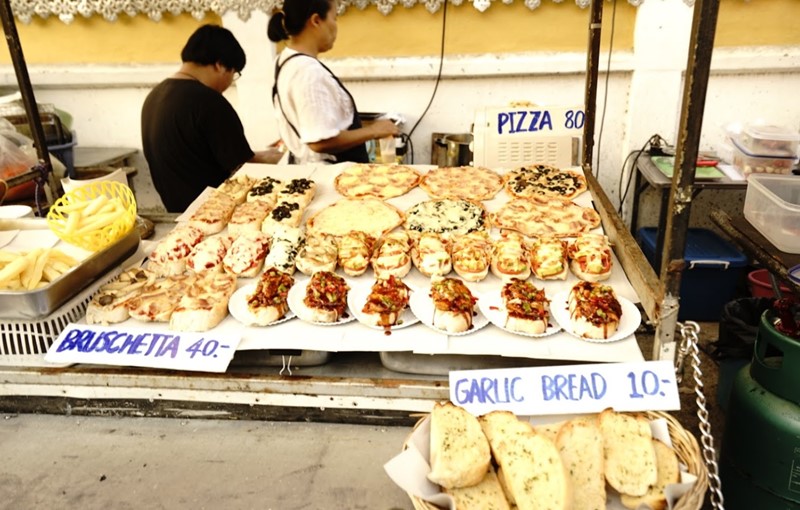 Ahh, the Pai Nightmarket, one of my favourite things to do in Pai at night is to browse the stalls of the local food vendors. The night market spans the entire walking street and can be smelt from miles away.
The food here is cheap, and I wanted to try it all. Most items, asides from full meals are about 10 Baht. I'd find myself walking amongst the stalls eating a skewer of delicious meat or grilled Mediterranean veg for each stall.
But my favourite food at the Pai night market, surprisingly, wasn't a Thai dish. But rather the blueberry 'cakes on a stick'. You've got to try one when you're in Pai.
Learn To Slackline
If you want to learn a new skill, Pai is the place for you. Almost every hostel here (at least the hostels I stayed in) seemed to have a slack-line strung between the trees. Pai is a mecca for 'hippies' so you won't need to look far to find someone that can teach you. Or if you just want to relax, you should find hammocks strung between other trees.
Explore The Rice Paddies & Bamboo Bridge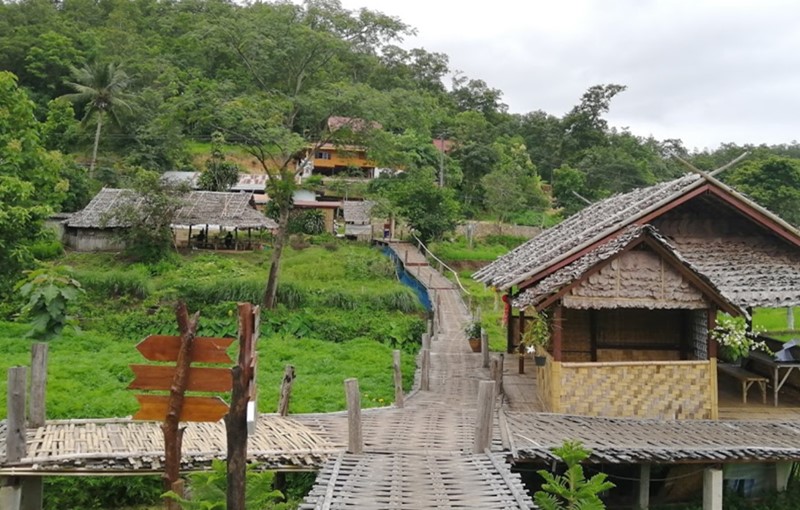 Pai is full of open landscapes and one of the popular things to do in Pai is to go and see the Bamboo Bridge. The 800-meter long bridge is iconic of Pai and you've likely seen a photo or two of this bridge without even realising.
The bridge winds through the mountains over the Pai rice paddies. It's free to visit and you'll be able to take some epic photos here.
Learn Muay Thai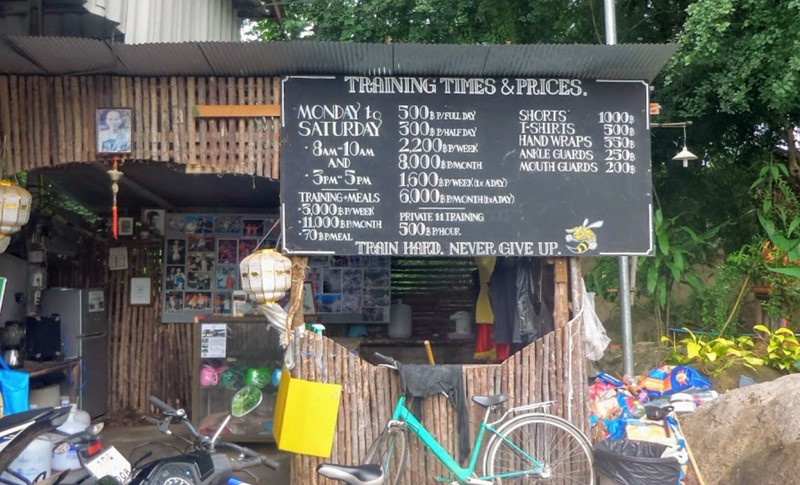 Muay Thai or Thai boxing is the national sport of Thailand. And this is another skill you can learn in Pai. I suspect you have started to realize just how easy it is to get 'stuck' in Pai longer than you'd planned for.
In other Thai provinces, you'll find mega Thai boxing stadiums which are great fun to visit and spend a night watching the professional fighters. But it's smaller and more authentic in Pai. There aren't so many events going on and the focus is more on the art and the training.
If you want to learn Muay Thai in Thailand then Pai is one of the best spots to do so. But you'll probably want to extend your visa because you'll need to stay for a couple of weeks at a minimum. Most people tend to stay for around a month. It's a great way to back into shape after spending countless nights knocking back Chang beers on the beaches in Phi Phi Island.
Muay Thai courses in Pai typically cost around 3,000 Baht a week which will also include budget accommodation
The Chinese Village
The Chinese village was established by refugees who fled from China during the 1960s' and all those years they remained living in Pai. But the Chinese Village here is not like any other 'China Town's' you find in almost every city on the planet. There are plenty of things to do here including Donkey Riding and even a human-powered Ferris wheel. Which is fun, but also a little sketchy.
But my favourite thing to do here was to get a pot of green tea and just chill out. Taking in the remarkable views.
Go Tubing Down The River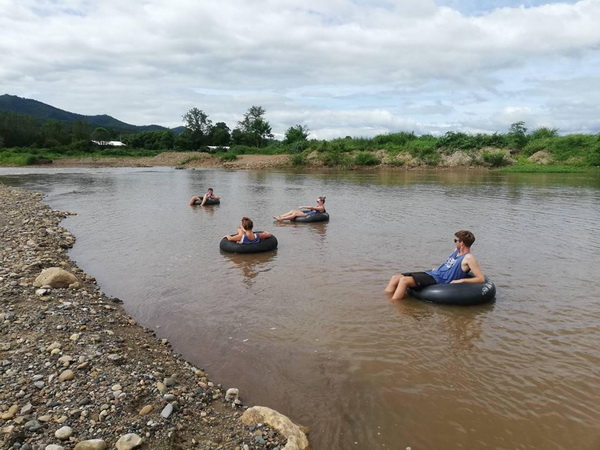 There are a few spots in Thailand where you can go tubing. A natural 'lazy river', the tubing in Khao Sok national park is epic, but it didn't quite compare to tubing in Pai. It's not the most popular thing to do in Pai which is a bonus. You don't have too many other travellers hanging around as you might find at the Pai Canyon or the Pai Hot Springs.
It's very relaxed and you can rent a tube (which is just a tractor inner tube) and float down the river. Bring along a few beers, but make sure you tie them onto the tube or, like me, you'll watch as your last beer floats away on its own down the river. Never to be seen again.
You can book tubing in most hostels and guesthouses. It typically costs about 300 baht to hire a tube and the driver will be waiting for you at the bottom of the river in a pick-up truck to drive back to the top. It takes about 30 minutes to get down the river- which is about four kilometres long.
Kiew Lom Viewpoint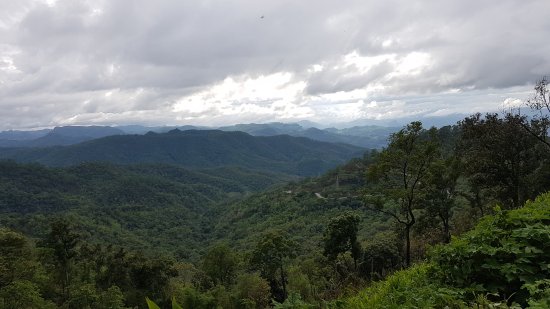 Pai is full of viewpoints. Which should come as no surprise, seeing as the town is located in the mountains, in one of the most beautiful places on earth.
One of the most popular viewpoints is Kiew Lom. And the view from the top is spectacular. But It's not one you can walk to. You'll need to rent a scooter to get here- or most tours of Pai will include a stop.
Pai Mud Spa
Phu Klon or the Pai mud spa is one of the most unique things to do in Pai. This is one of only three natural mud spa's in the world and the only one in Thailand. So don't miss out on it while you are in Pai. It might sound gross at first but the minerals in the mud are actually great for the skin and the circulation system.
Even if covering your face in mud doesn't sound like something you'd want to do in Pai then you can still relax in the hot springs. The springs here get much hotter than the more popular Sai Ngam springs, temperatures can reach over 90 degrees celsius. The springs get so hot that one of the novel things you can do here is to buy a poached egg, which you can watch being cooked in the spring.
Or you can even get a relaxing Thai massage at the side of the springs.
Either way it's defiantly worth a visit while you're in Pai.
Nam Hoo Temple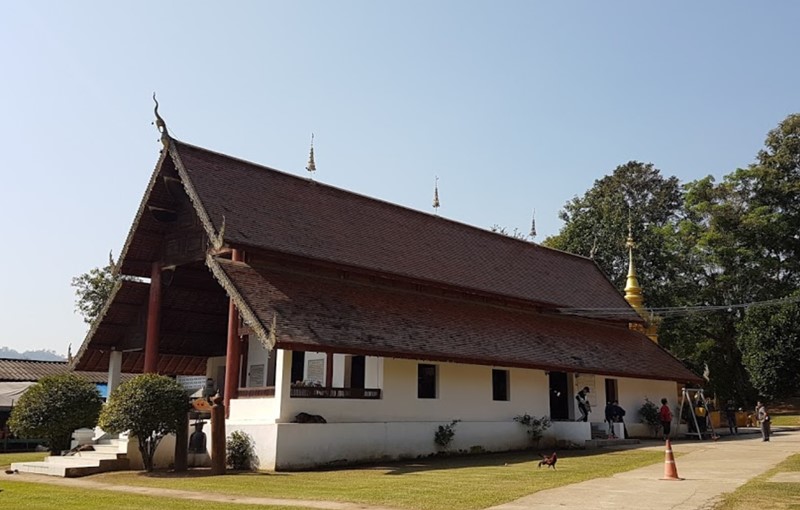 Being the Buddhist country it is, Thailand is packed full of beautiful and unique temples. Pai is no different.
But if you've spent any time in Bangkok or Chiang Mai, you'll know that visiting temples quickly becomes repetitive. But the Nam Hoo Temple is unique. The architecture of this temple resembles a local house, rather than the usual golden temple style you'd expect to see.
Inside, there is a beautifully carved Buddha statue which has become legendary in Pai. The statues head is hollow and becomes mysteriosly filled with what locals believe to be the holy water. The water is said to rid people from thier sickness and missfortue, bringing good luck to those who visit.
Pai Land Crack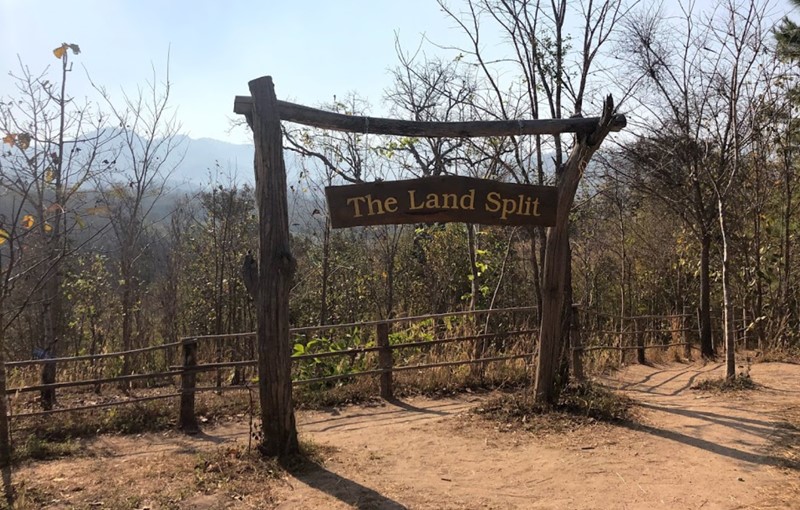 This is one of the more quirky things you can do in Pai. There is not a whole lot going on there, but it will kill an afternoon and is a pretty unique attraction. The Pai land crack or the land split is was in a farmers field.
After an earthquake hit Pai in 2008 it formed a canyon through the middle of what was previously a farm. Nowadays it's become a tourist attraction. There isn't any cost to visit here, but donations are encouraged and as the landowners have lost all their income from the farm, fair game.
There are much better things to do in Pai but it is a cool spot to take some photos, and it's less crowded than the Pai Canyon. The crack has been continuously widening since it was created in 2008.
You'll also find a few street vendors here cashing in on the popularity of the location. You can buy fresh fruits and nuts, fruit juices, dried snacks and fruit shakes. If you do make it to the Pai Land Crack, you have to taste the banana and oreo shake from the street vendors. That alone makes it worth paying a visit to.
Eat Khao Soi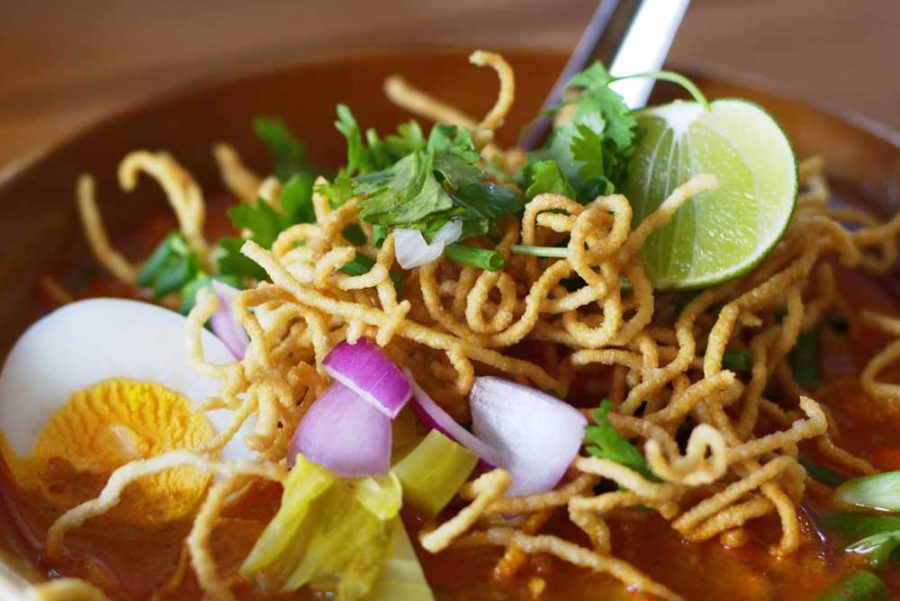 Khao Soi is my favourite food of all time and when I find myself in northern Thailand, which happens to be pretty often. I wind up eating this classic Thai meal almost daily. I know that after I leave Pai or Chiang Mai, Khao Soi is nowhere to be found. So I make the most of it while I can.
Khao Soi is a coconut-based noodle soup usually served with chicken on the bone and garnished with crispy egg fried noodles. If you've been to Pai without trying Khao Soi, you need to get yourself back there.
Learn New Circus Skills
The most popular hostel in Pai is the 'Famous Pai Circus hostel'. It's rife with backpackers from all walks of life and has incredible open grass areas looking over the Pai scenery. There is even an infinity pool at the hostel (which is open to the paying public).
The rooms here vary from a classic bamboo bungalow to a 'luxurious' dorm room. But accommodation aside, this is something you can do in Pai where you'll be leaving with a new skill.
The hostel runs daily circus classes where you can learn to slack-line, juggle, diablo and almost anything else imaginable.
I loved the circus classes in Pai. But I f****** hated the famous Pai circus hostel. If you're in Pai it's worth stopping by to see what all the fuss is about. But don't book a bed here.
I've travelled across Asia for over a decade and with no doubt, in my mind, I can say this is the worst hostel I've ever stayed in. Not due to the murky black pool water, dirty rooms beg bugs or anything else that would usually make a hostel 'bad'. But the atmosphere and the belittlement from the staff left a sour taste in my mouth.
If you value your freedom, don't enjoy being frisked and searched when you enter the room your renting. Or if you like to eat your own food from the market, rather than being forced to buy crap overpriced meals on site. Look for another place to stay. The Paic Circus hotel has got too big for it's boots. They care about their profits from food sales and cutting costs by restricting air-conditioning hours. They couldn't give a *** about thier guests.
Visit A Quirky Pai Cafe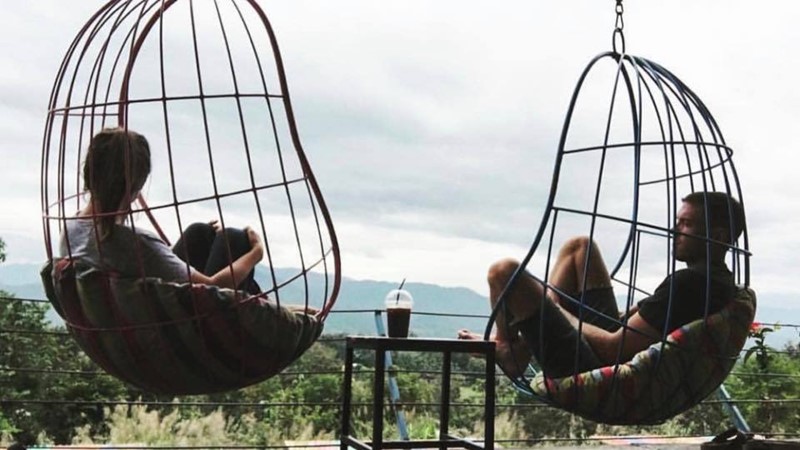 If you feel like you've been limited to unhealthy (but delicious) wok-fried meals and ham-cheese toasties in Thailand. You're probably right. So when you're in Pai you'll find that you finally have a chance to eat some healthier foods.
You'll find all sorts in Pai, whether you eat a vegan, raw or gluten free diet, You'll find a cafe in Pai catering to your needs.
Coffee, tea or fruit smoothies, there is somewhere for you. With the ride of the 'digital nomad' trend in both Chiang Mai and Pai more and more cafe's are opening their doors. And each one of them has something unique to offer, alongside high-speed internet connections, good food and good coffee.
Experience The Pai Nightlife
If you're in Pai specifically for he Nightlife, you're probably in the wrong place. There are much better things to do in Pai.
There is an enjoyable nightlife scene in Pai. But in comparison to other places in Thailand, places like Koh Phi Phi the nightlife is much more wild. Some spots in Thailand are all about the nightlife, Pai just isn't one of them.
You won't struggle to find a spot to grab a beer, just don't have your expectations set too high.
There are a handful of bars in Pai and most of them are in walking distance from the most popular hostels. The Yellow Bar, Sunset Bar, Why Not Bar and Hanuka Matatta' are some of my favourites.
Things To Do In Pai
So there you have it. That's my rundown of what I think are the best things to do in Pai. As I said, I ended up staying in Pai much longer than I had originally anticipated, so I had some time to try out these awesome activities. And still, I am dying to go back and revisit Pai.
Have you been to Pai? Let me know in the comments what your favourite thing to do was.
Or is there something incredible you've done in Pai, that I missed off the list and have to try out? Please, do let me know. I've been travelling over south-east Asia for over a decade and I'm always looking for reasons to head back to places that I loved so much, Like Pai.