Dress codes are enforced at all Temples in Thailand with rules imposed for both Men and Women. To visit a temple in Thailand you must be wearing clean and respectful clothing which completely covers your shoulders and your knees. Temples are a place of worship and wearing sleeveless shirts, short skirts or shorts or swimwear is offensive to Thai people and prohibited in Thailands Temples.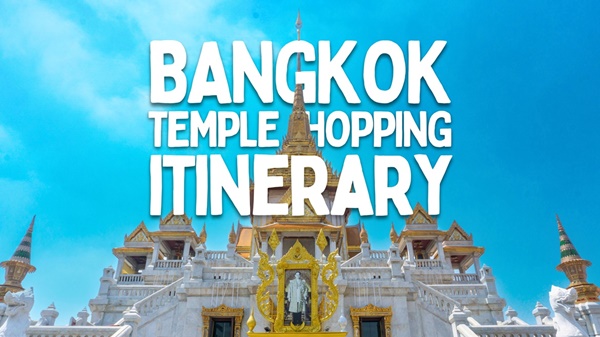 Men and women need to wear different attire at Thailand's Temples. Locals are helpful and polite to inform tourists about how to dress appropriately when visiting Temples.
Read on to find out exactly what clothing is and isn't acceptable to wear at a Thai Temple.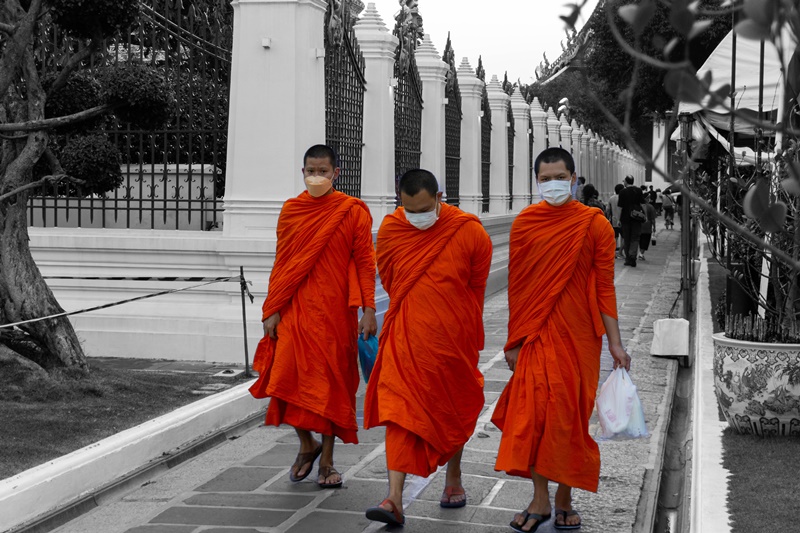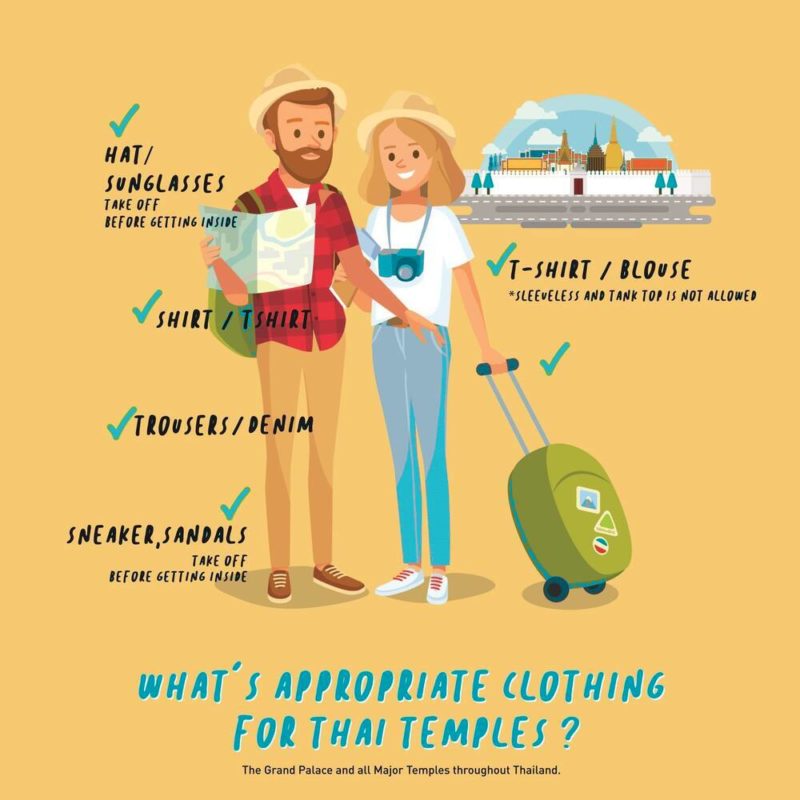 So you've found yourself in Bangkok, the city of Angels. And there is no better way to immerse yourself in Thailand's rich Buddhist culture and history than by visiting a few temples!
But before you do, you might be wondering how you should dress to visit a Temple in Thailand. You probably know that temples have a dress code. But you've found yourself asking, "What should I wear to visit temples in Thailand". You don't want to offend anyone, but you also don't want to be burning up from the heat in Bangkok.
So in this post, I'm going to dive in and walk you through what are the best clothing to wear to a Buddhist temple in Thailand.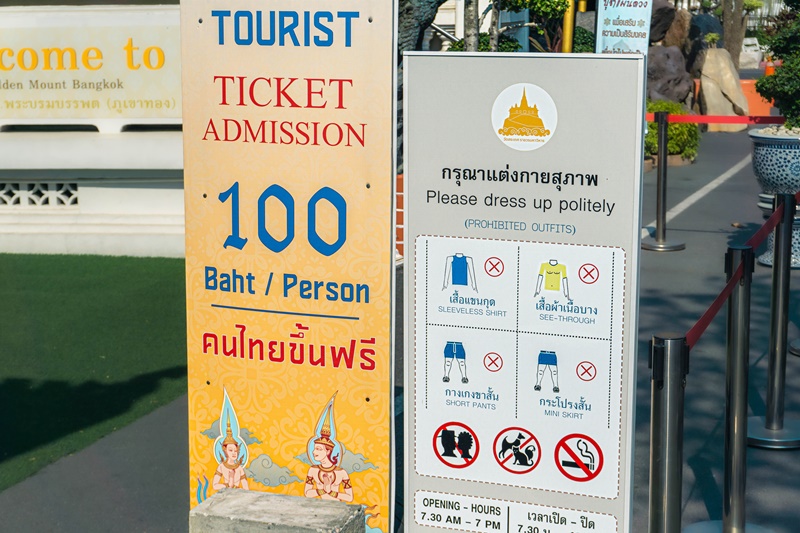 Tips For Dressing Appropriately To Visit Thai Temples
Rule one of appropriate dress at Thailand's Temples is to ensure your shoulders and chest are covered. Women also need to cover their knees too.
Every Temple will have signs outside with information and pictures on what is considered appropriate.
Suitable clothing can be brought or rented at most temples in Thailand if needed.
Shoes need to be removed in some areas of the temple. Try to wear sliders or flip-flops if possible. Only remove your shoes if you are instructed to do so.
Keep in mind that Thailand is a hot country! So wear lightweight loose and comfortable clothing made from linen or a linen/cotton blend.
Don't wear orange to Thai Temples, unless you are a Monk!
You can wear a hat and sunglasses while on the temple grounds, but in certain areas, you will need to remove them when instructed to.
Local people at Thailand's Temples are mostly understanding of tourists and will politely inform anyone who is not dressed appropriately.
But if you stick to these simple rules, you'll get by just fine. There are many other customs at Thai temples, which you'll become more familiar with after you've seen some temples for yourself. And if you are nervous about the expectations at Thai temples then you can always take a local tour guide to accompany you.
But the information below should clear up any questions you might have about what to wear to a Thai Temple. And if you have any questions that I have not answered in the post, leave a comment so I can help out.
What You Should Wear To A Thai Temple
The dress code for men and women at Thai Temples is slightly different. And is usually much stricter for women.
Dress Code at Thai Temples For Men
Headwear – Caps and hats are allowed on temple grounds (and recommended in the hot sun)! But they must be removed when entering the temples themselves.
Tops – Tanks tops and vests are prohibited. You need to wear a t-shirt with no offensive branding that covers your shoulders. Long sleeves are not required providing the shoulders are covered.
Bottoms – Rules for men are less strict for bottoms at Thai Temples. Shorts are allowed for men at Thai Temples. Your knees do not need to be covered. You can also wear long pants or jeans if preferred but most will be more comfortable in shorts due to the heat.
Footwear – You'll need to remove your shoes in most indoor areas at Thailand's temples. You can wear trainers if preferred but I recommend flip-flops or sliders.
Dress Code at Thai Temples for Women
Headwear – You'll probably want some type of hat to protect you from the hot sun. But you'll need to remove it when you enter the temples. Hats are allowed outdoors on the temple grounds.
Tops – Sholders need to be entirely covered and I recommend wearing a T-Shirt. But if you're more comfortable in a singlet then a cotton shawl or a scarf can be used over the top to cover your shoulders.
Bottoms – For women your knees need to be covered up in Thai Temples. Skirts, trousers, and dresses are all allowed providing they are long enough to cover the knees. Most women choose to buy a pair of 'Elephant Pants' to wear at Thai Temples. These loose-fitting cotton pants are respectable and comfortable.
Footwear – Wear something comfortable on your feet, there is a lot of walking involved when checking out a few temples. You'll need to remove your shoes indoors so I recommend sliders which are easy to take on and off.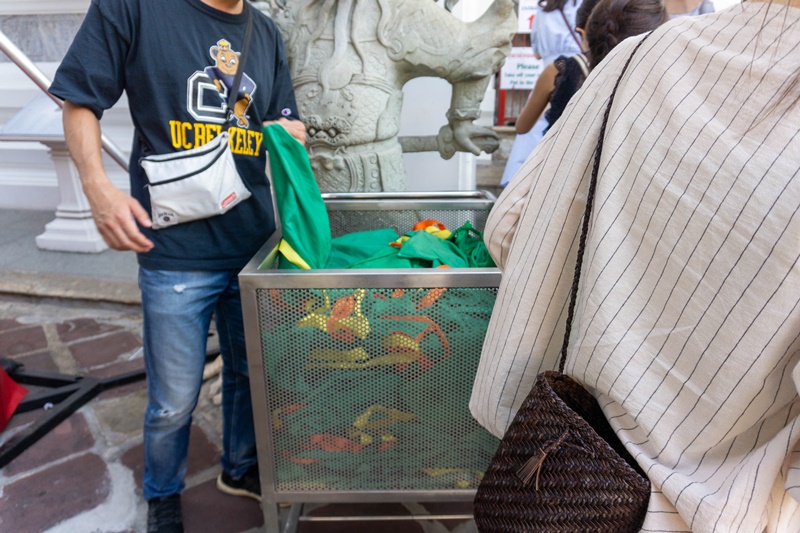 Choose From These Items to Wear at Thai Temples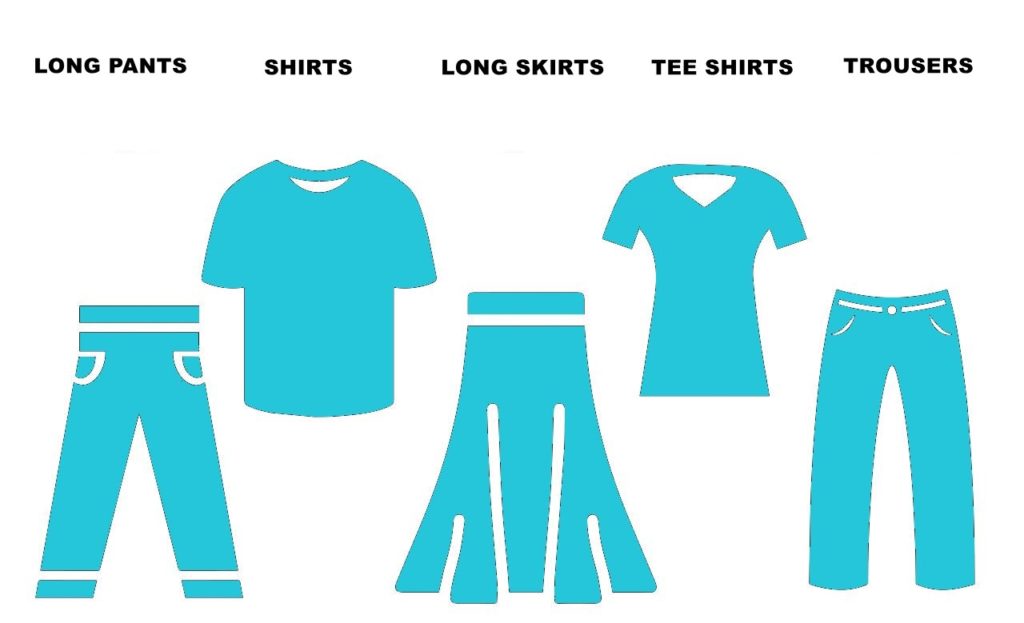 Long Pants (Including cotton 'Elephant Pants')
Long Sleeve or Short Sleeve Shirts and T-Shirts (Must cover Sholdres)
Long Skirts or long dresses (Must cover the Knees)
Trousers or Jeans (If You can stand the heat)!
If you are wearing anything other than what's listed above, chances are you won't be allowed into any temples. Stick to this dress code and you'll be just fine.
Avoid Wearing These Things to Thai Temples

These items of clothing will not be permitted to be worn inside a Thai Temple.
Shawl (Cotton scarves are permitted andencoraged to cover shoulders)
Short Dresses
Singlets (Unless accompanied with a scarf)
Leggings or 'Yoga' Pants
Shorts
Ripped or Torn Clothing
Tank Tops or Vests
3/4 Length Shorts
Any clothing that exposes cleavage
See-Through Clothing
Sleeveless Tops or Rolled Up Sleeves
Wearing any of these to visit a Thai Temple will see you turned away and not allowed to enter. It can also cause offence to the local and Buddhist people. You will be allowed to wear hats and sunglasses to the temples, but you must remove them before you enter.
Buying or Renting Clothing at Thai Temples
So you know what to wear to a Thai Temple, but perhaps you didn't pack any clothing that will meet the guidelines to enter a temple. We'll don't stress it too much, if you realise you've forgotten something, chances are you'll be able to buy suitable clothing at the temple itself.
At most temples in Thailand, you can buy and change into fishermen's pants/elephant pants on-site. They are sold for a few hundred baht a pair. Stalls and market traders can be found outside the temples, and some temples even have their own services to rent clothing like cotton scarves or long pants.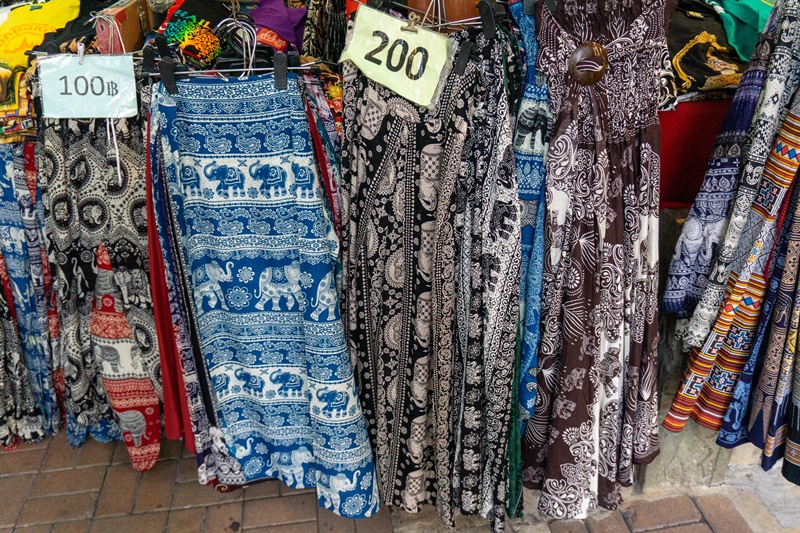 Some Temples Are Stricter Than Others
The Grand Palace in Bangkok is often most traveller's first experience in visiting temples. And this temple holds one of the strictest dress codes in Thailand. Dress codes are so strict at the Grand Palace because the grounds are still used to this day by the Thai Royal Family on ceremonial occasions.
At some temples, you will get away with wearing a sleeveless top or a vest and bringing a scarf to cover your shoulders. But that isn't going to be an option at a Royal Temple.
And although some temples will have more relaxed dress codes, they are still sacred places. Be mindful of where you are and you should always be respectful and follow the rules imposed by the temple.
What Footwear To Wear When Visiting Thai Temples
You must remove shoes before entering a Temple, so something which is easily removed will be the best. Sandals or flip-flops are perfect to slide on and off when you visit a Thai Temple.
Sneakers will be just fine, but it will be a little more hassle to lace them on and off. You don't need to remove your socks as well.
Now you know how what to wear to a Thai Temple, you'll want to find the best temples in the country to visit. Check out my guide to The Most Kickass Things To Do In Thailand, which showcases some of my favourite temples.
And if you are looking for more things to do in Bangkok here are my suggestions!
Or if you want to leave the big city behind: travel south from Bangkok to Krabi and check out these destinations!