Everything You Wanna Know About Lumpini Park Bangkok in 2023
Looking for a place to escape the madness of Bangkok? Look no further than Lumpini Park! Named after the birthplace of the Buddha and covering 142 acres This 'little' slice of heaven is the perfect place to chill, unwind, and soak up some sun.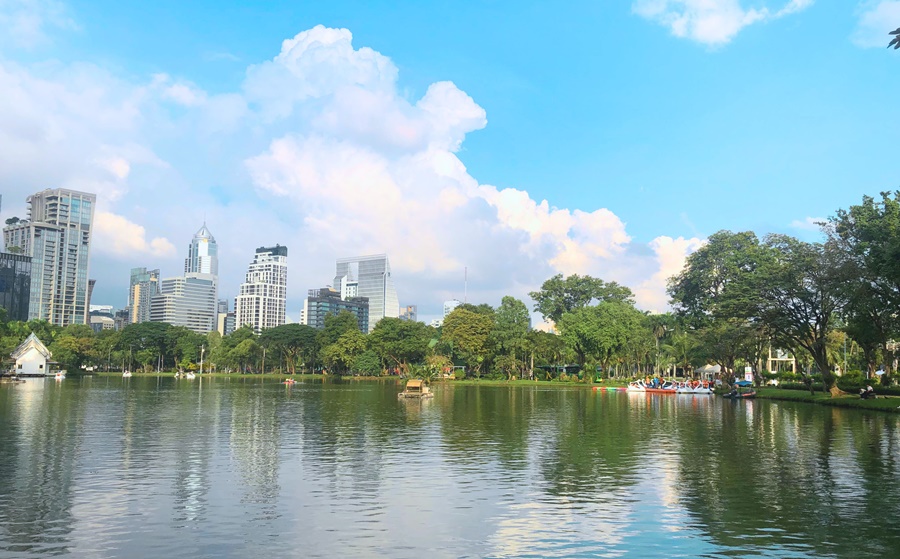 You'll see turtles and lizards within the park and trust me… after a few hours in Lumpini, you'll be feeling refreshed, recharged, and ready to take on the city once again.
When I need a break from the hustle and bustle of Bangkok, Lumpini Park is always top of the list. It's the ultimate oasis in the heart of the city. With its sprawling lawns, serene lakes, and endless pathways, it's the perfect place to relax, people-watch, and just enjoy life. I like to bring a picnic blanket, a good book, and my sunglasses, and just enjoy the scenery.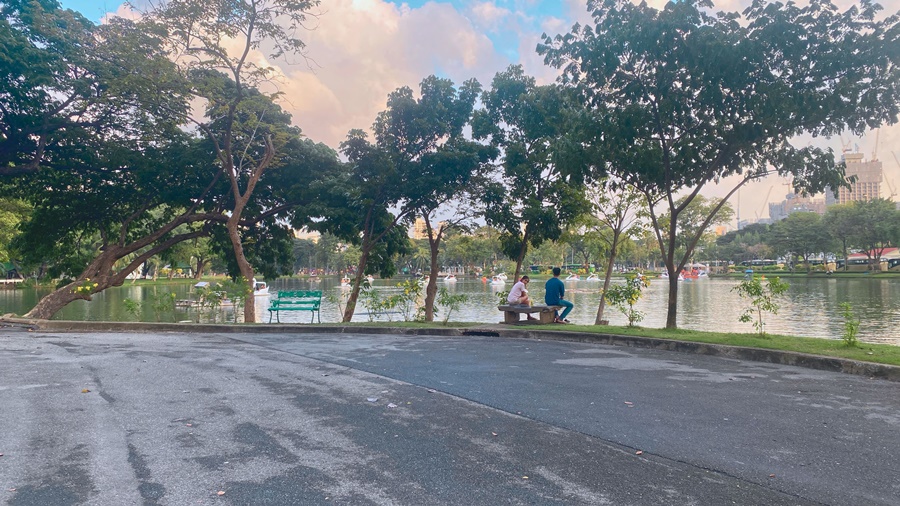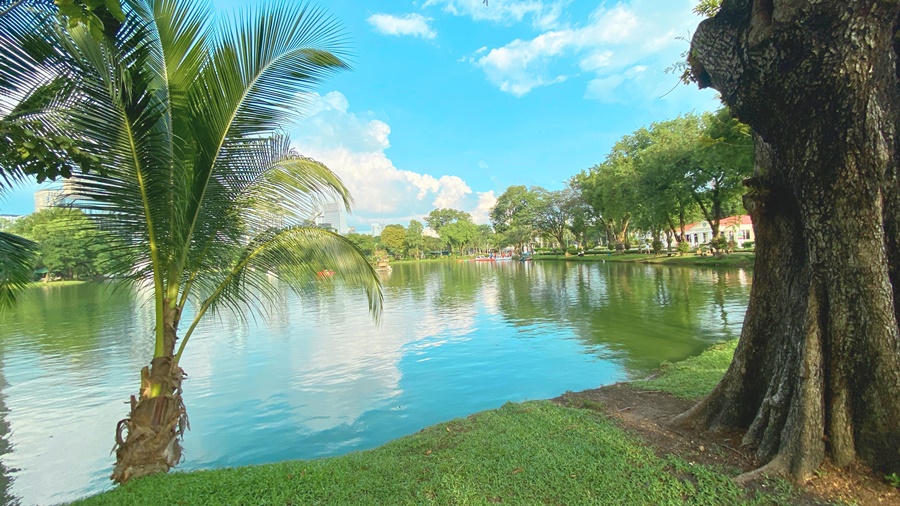 Lumpini Park Entrance Fee
You don't get much for free in Thailand But because Lumpini is a public park, the entrance is free of charge for everyone. That's right, there is no Lumpini park entrance fee! This means that you can enjoy all the park has to offer without breaking the bank.
| | |
| --- | --- |
| Lumpini Park General Admission Fee | |
| Thai Adults | Free |
| Thai Children | Free |
| Foreign Adults | Free |
| Foreign Children | Free |
When Is Lumpini Park Open
Is Lumpini Park Open? Is Lumpini Park open today?
Lumpini Park is the place to be for early birds. The gates open its gates at the crack of dawn, staying open till late.
The official hours are from 5.00 am until 9.00 pm every day. So well before the sunrise and well after sunset too!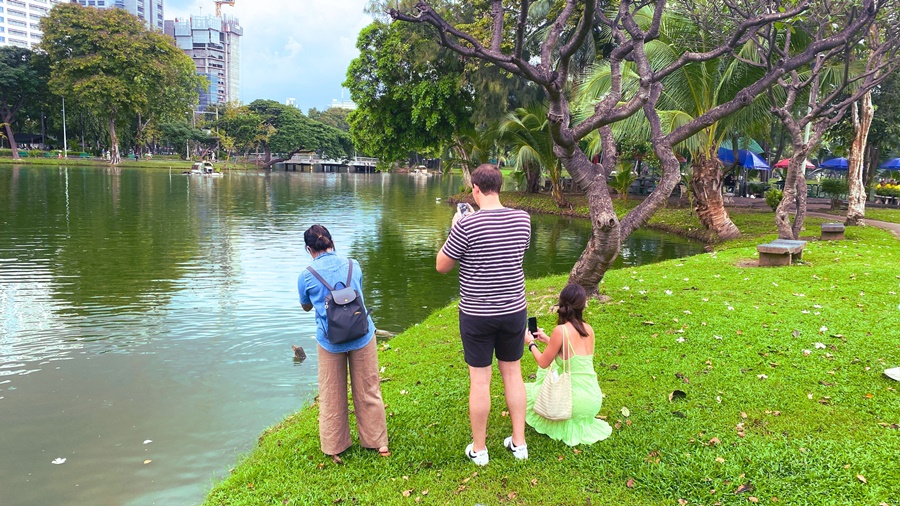 🔽 Things To Do In Lumpini Park
One of the things I love most about Lumpini Park is the variety of activities it offers. You can take a leisurely stroll around the lake, rent a swan boat and explore the lake, or join in one of the many fitness classes.
Although the heat of Bangkok puts me off, the park is also a popular spot for joggers, so if you're looking to get your heart pumping, you won't be disappointed. Whether you're an experienced athlete or just looking to get some fresh air, Lumpini Park is the perfect place to get active and stay fit. Here are the best things to do in Lumpini Park.
1️⃣ Meet The Lumpini Park Lizards
Lumpini Park is the one place in Bangkok where you are guaranteed to see monitor Lizards. These reptiles are a huge hit with tourists and they can be seen roaming free around Lumini Park. On a hot day, they can be seen basking in the sun at the side of Lumpini Park Lake.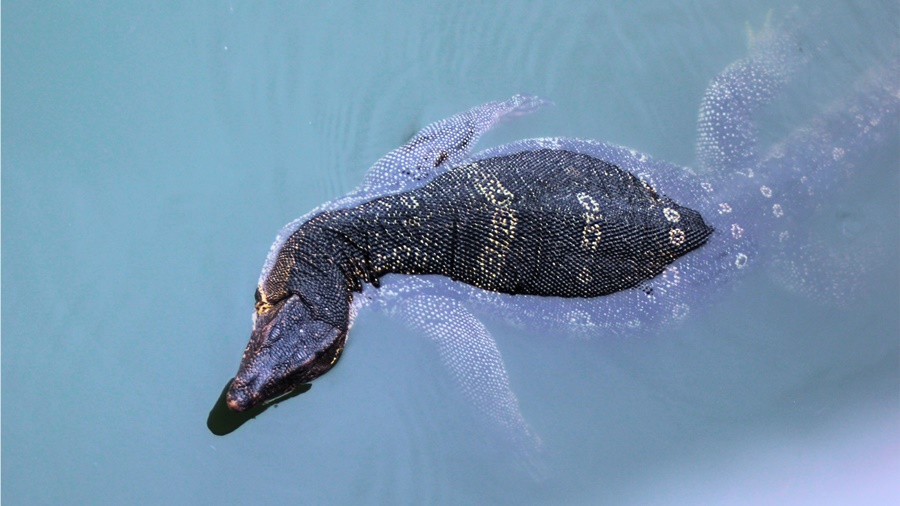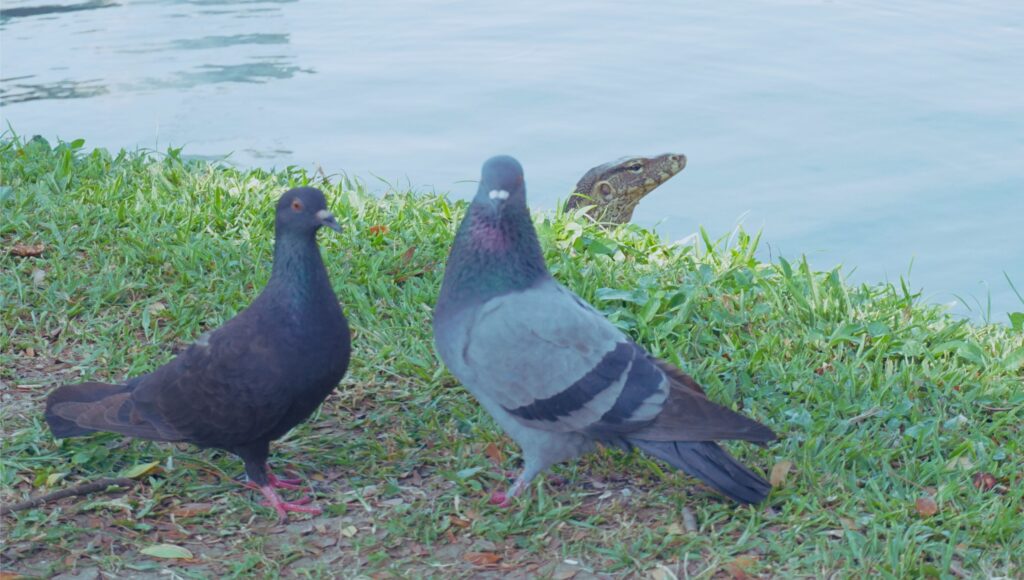 I'll admit seeing the Monitor Lizards in Lumpini for the first time was a massive culture shock and I was pretty scared of them, but I soon learned these guys are usually harmless to humans and totally ignore you. After calling Bangkok home for a few months I've started to grow a bit of a soft spot for the Lizards. They are kind of cute in their own right.
These lizards are big, I mean seriously big! Some of them can grow up to three meters long and are as round as a beach ball!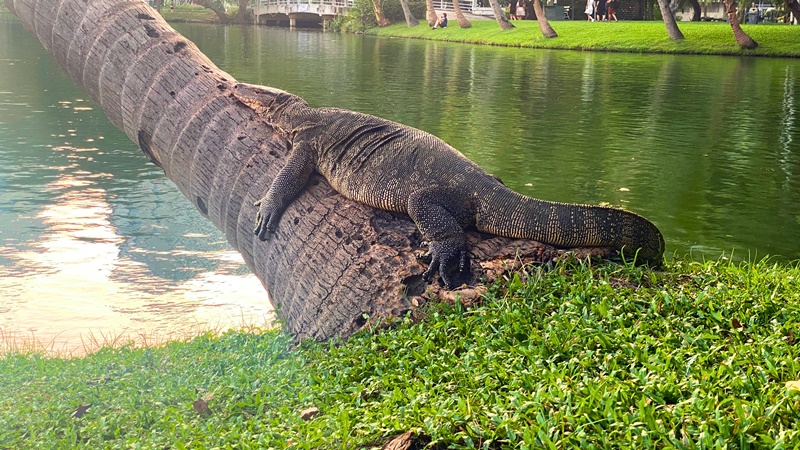 Their diet mainly consists of small birds and fish, and they can move with lightning speed to catch their prey. You might even catch a glimpse of a lizard snagging a fish if you're lucky.- I did a few times. There are no natural predators of the monitor Lizard in Lupini Park which means there are a LOT of them. So many in fact that a few years ago park officials were forced to round up more than two hundred Lizards and move them into captivity at the Khaozon Wildlife Breeding Center in Ratchaburi!
Lumpini Park Lizards Attack
The Lumpini Park Lizards are usually pretty chill creatures and there are few reported Lumpini Park Lizard Attacks. They are not known to attack people. It is, however, important to keep in mind that they are wild animals and will defend themselves when necessary.
While the lizards are capable of biting, scratching, and whipping with their tails, the only instance of an aggressive encounter I've seen was when a group of tourists surrounded one for photos. The poor lizard was completely encircled and began swinging its tail before making a break for it back to the lake.
Simply use a bit of common sense and respect their space. You'll find that these lizards are not only harmless chilled-out nice guys but fascinating and unique members of Lumpini Park's ecosystem.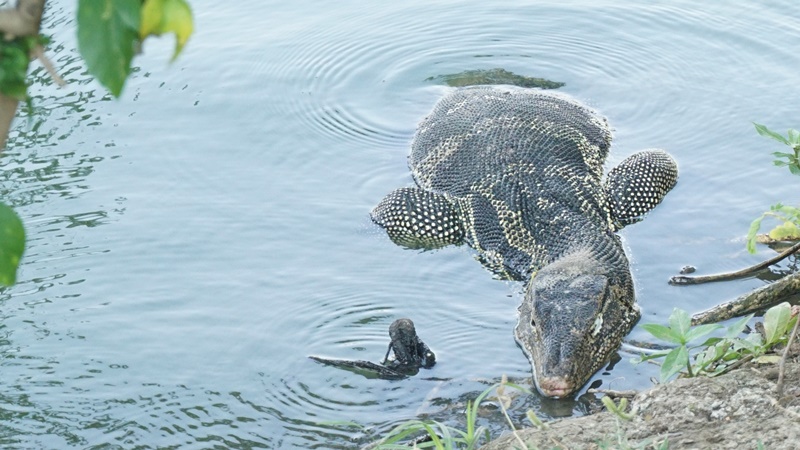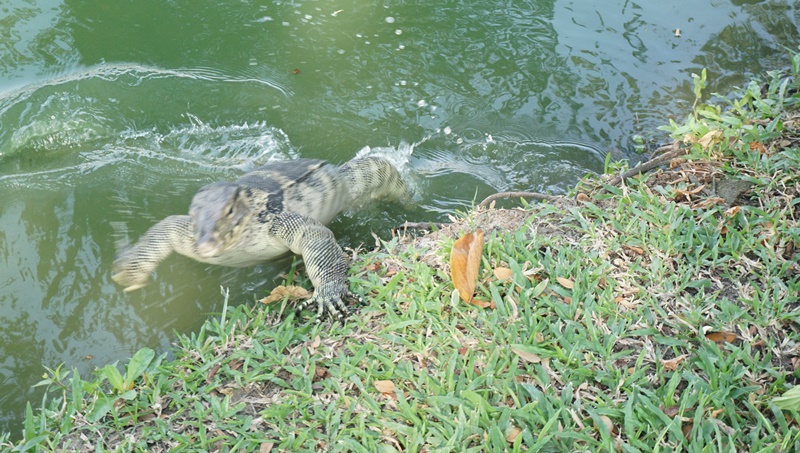 2️⃣ King Rama VI Monument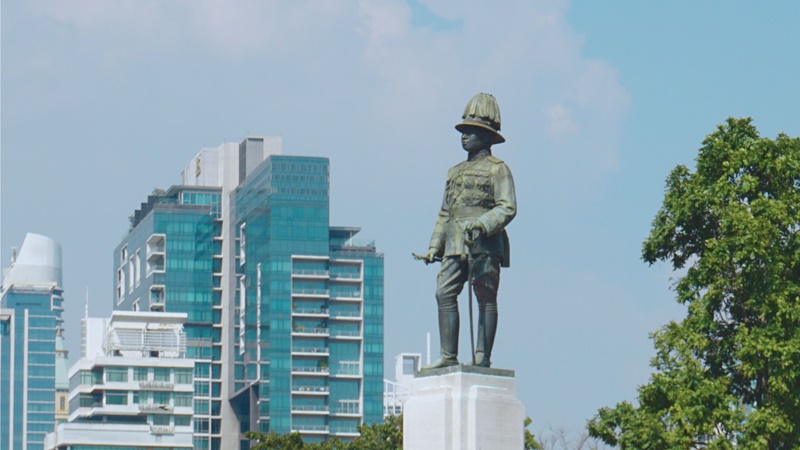 See the King Rama VI Monument on the southeastern side of Lumpini Park. You can't miss the towing statute right by the park entrance. A must-visit for history buffs. This statue is dedicated to King Rama VI the sixth monarch of Siam, who declared Lummpini Park a public area back in 1925.
3️⃣ Lumpini Park Lake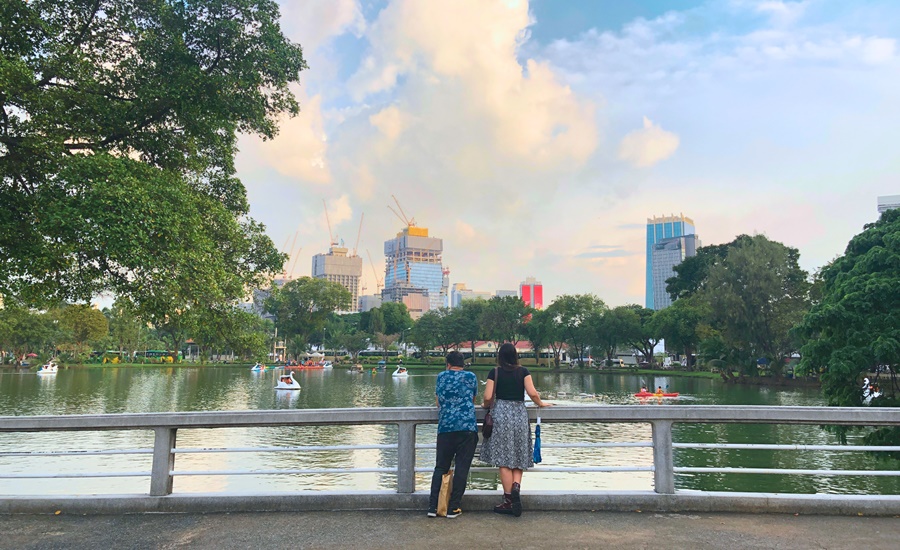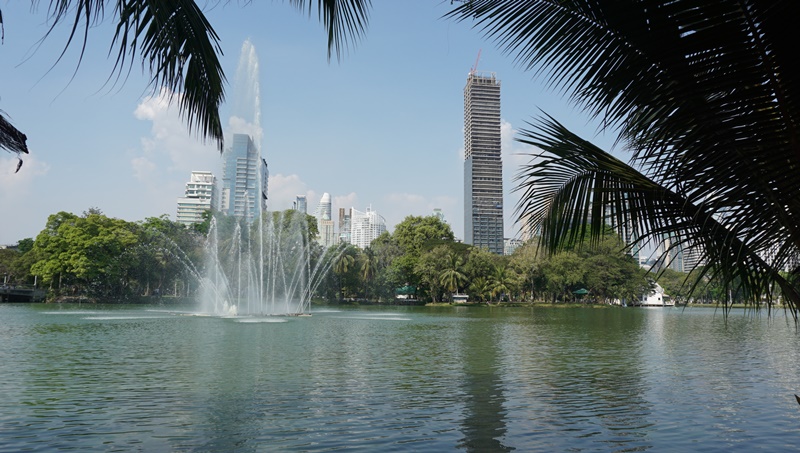 Lumpini Park has one massive man-made artificial lake(which is home to the lizards). The Lumpini Park Lake is technically a single body of water separated into three lakes, the lakes are all interconnected with river-like waterways. There are small wooded bridges dotted around the park to cross the rivers.
It's the lakes in Lumpini Park that set it apart from anywhere else in Bangkok and make Lumpini a place worth visiting. There are even activities which tourists can partake in on the lake including kayaking and renting a swan-paddle boat!
If you don't want to get out on the water instead bring a blanket and set it down on the grass. You can sit next to the lake in the shade or even take a stroll around the perimeter.
Ride A Swan Boat On Lumpini Lake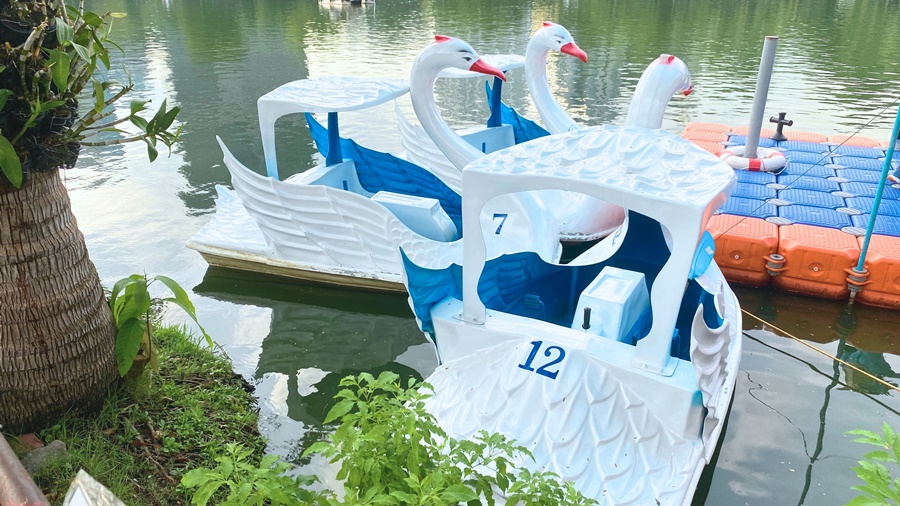 Ah, the swan boats in Lumpini Park! Paddling around Lumpini Lake on a swan boat is the most popular activity in Lumpini, for both tourists and locals too. There is usually a short queue for the swan boats.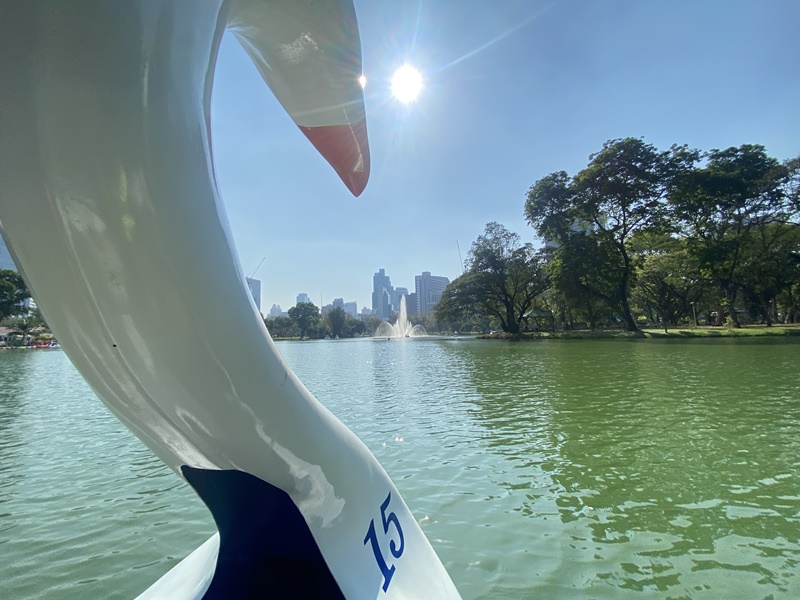 Swan Boats can be rented near the King Rama VI Monument. Two people can fit into one boat. And like everything else at Lumpini Park this activity is also free. It used to be chargeable. but not anymore. No deposit is required and no payment is taken to rent a swan boat- there is no time limitation either. Stay out on the lake as long as you, please.
Just be sure to keep your eyes peeled – you might just spot one of Lumpini Park's resident monitor lizards taking a swim. Don't be alarmed if you do, he'll just be on the hunt for a lunchtime fish.
Kayak Around Lumpini Lake
Rent a Kayak from the same dock near the King Rama VI Monument. There is a shorter wait for a kayak and the cost is a little cheaper at 50 THB per hour. Paddles and life jackets are provided and you can explore the waterways at your own pace.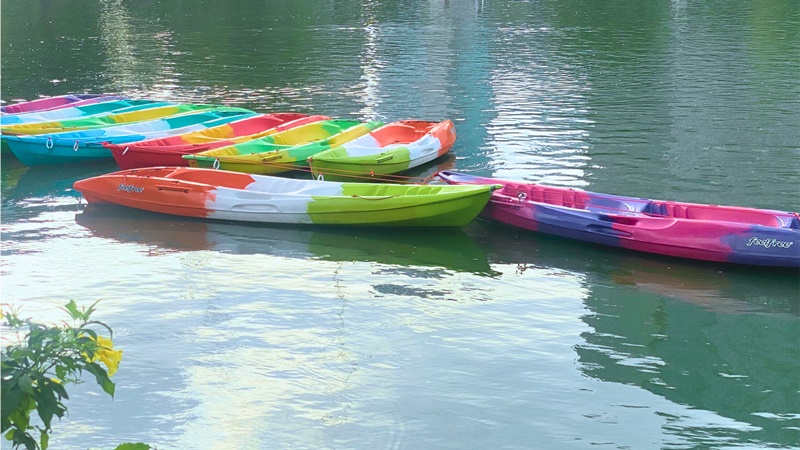 4️⃣ Chill Out in Lumpini Park
Yes, you are reading that right, one of the best things to do in Lumpini Park is… nothing!
Lumpini is filled with benches next to the lakes and seating areas which are covered from the sun. There are no shortages of places to sit at Lumpini Park. Here you can stop for a hot second and watch the world pass by. There are a lot of 'characters' in Lumpini Park so 'people watching' can be pretty interesting here. Personally, I like to find a shaded area, roll out my picnic blanket at sit next to the lake.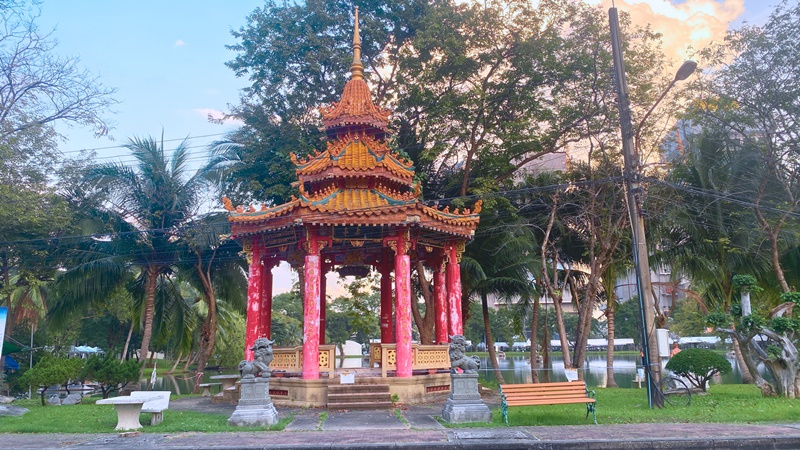 5️⃣ Lumpini Park Swimming Pool & Tennis Court
The Lumpini Youth Center is one of the cheapest gyms in Bangkok. Although you will need a membership if you want to use the facilities, it's only suitable if you're in Bangkok for at least one month. A membership costs 400 Baht.
6️⃣ Workout in Lumpini Park
There are a ton of workout options in Lumpini Park. Including Running, Swimming, Cycling, Tennis, Basketball, Exercise Classes and even multiple Gyms.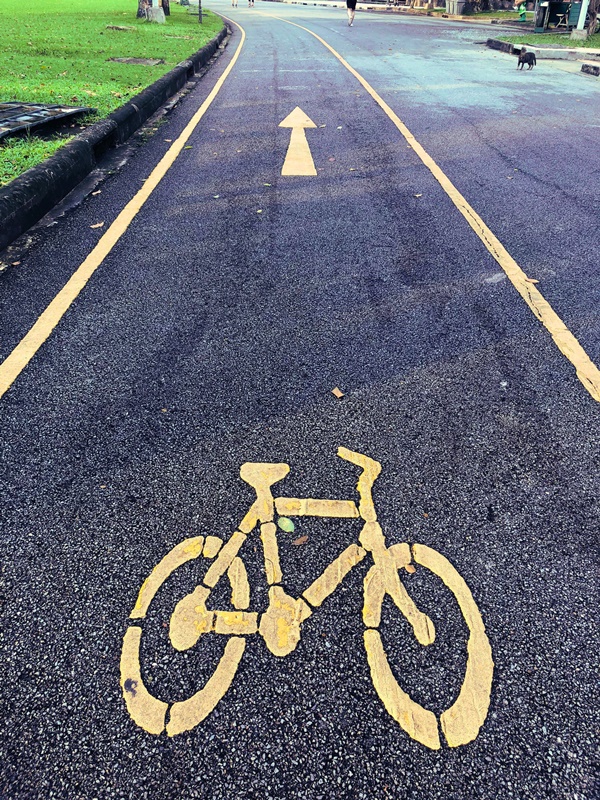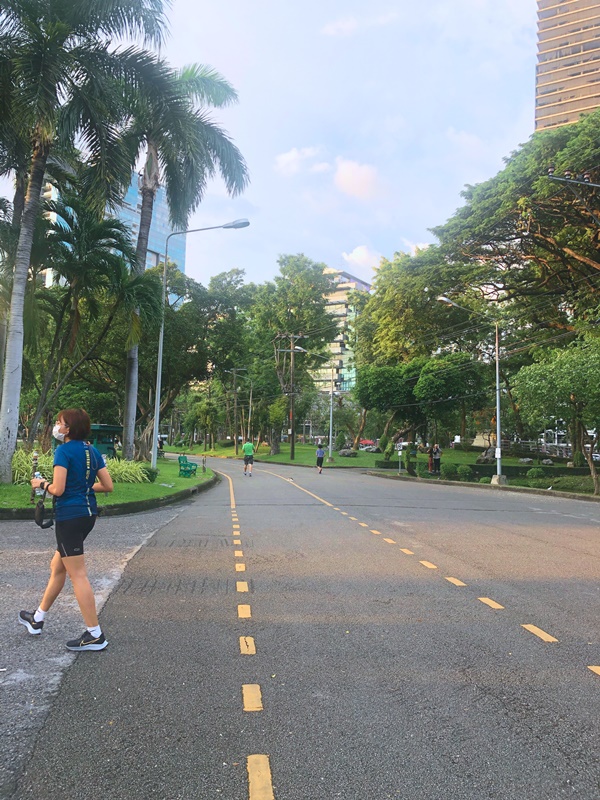 Running and Cycling in Lumpini Park
Lumpini Park is the home of running in Bangkok there are events held in and around the park all year round and whatever time or day of the week you visit Lumpini Park without a doubt you will see runners getting some exercise in. But it's not just locals who can jog around Lumpini Park, why not get your sportswear out and start the day with a run around Lumpini Park- it's completely free and will leave you feeling great for the rest of the day!
There is a Decathlon Store near BTS Saladeng station if you need to buy workout gear it's just a few minutes from Lumpini Park. Early Mornings and late afternoons are the best times for jogging in the park. Ideally, you'll want to avoid the heat that comes with the midday sun!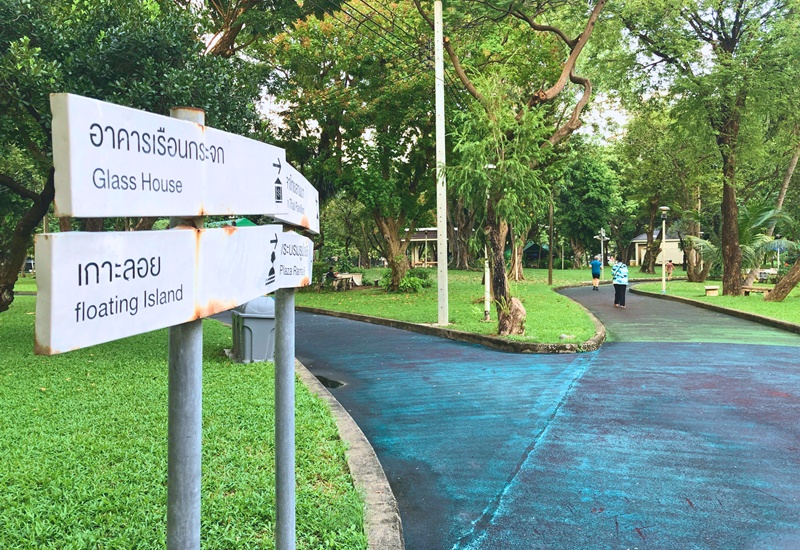 Can You Cycle In Lumpini Park? Cycling is allowed in Lumpini Park but only permitted during the hours of 10.00 am until 3.00 pm.
Lumpini Park Free Outdoor Gyms
Ah, the Lumpini outdoor gym. Jungle Gym, Ghetto gym, whatever you want to call it, it's free to use for all.
I personally loved the idea of working out there, surrounded by nature, with the sounds from the lake as my background. In reality, it was a pretty short workout. The heat made it unbearable, for me at least. Although I met a lot of others who had become climatised to it.
The gym is open-air and basic, but that's what makes it so unique. It's like a blast from the past, with old-school rusted gym equipment like pull-up bars and parallel bars, as well as some modern resistance bands and weight plates. You can get a full workout without ever leaving the park! (There's a full guide here)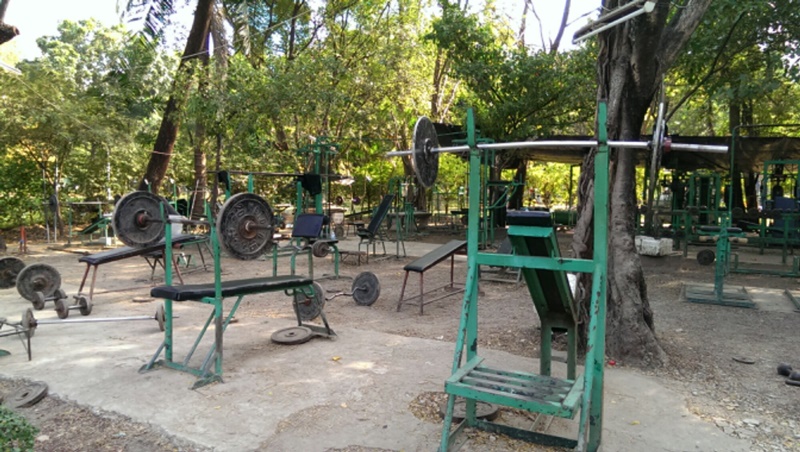 There are also group exercise classes held in Lumpini Park, you'll usually see groups in the evenings and most classes are free to join.
7️⃣ Lumpini Clock Tower
The Clock Tower in Lumpini Park is over 100 years old and was installed in the park the same year it opened to the public (1925). The clock tower has a unique Chinese style not often found in Thailand. While it's not the most exciting attraction in Lumpini it is definitely worth checking out while you're here.
8️⃣ Lumpini Park Library
If you are as bad at planning as I am and you've found yourself in Lumpini Park, wanting to chill out and read a book. But you've forgotten to bring a book! Don't worry from 9.00 am – 5.00 pm the Library is open to all and books can be borrowed for free! Most of the titles are in Thai, but there is also a small section of English books too.
Facilities At Lumpini Park
Bathrooms: There are plenty of public toilets (with showers too) dotted around Lumpini Park, and again- they are free to use.
Food and Drink: There are not many places where you can buy food and drink inside Lumpini Park and busking or selling any goods is strictly prohibited. However, there are a couple of official small kiosk-type shops near the entrances where water, ice cream and other snack are sold. You can eat in Lumpini Park and you are allowed to bring your own food into the park.
Lumpini Park Night Market: Is there a Night Market in Lumpini Park? Despite popular belief, there is no night market in Lumpini Park! There are however many night markets nearby, the closest is Jodds Fair which can be reached in 10 minutes. take the MRT from Lumpini(Silom) to Rama 9 Station.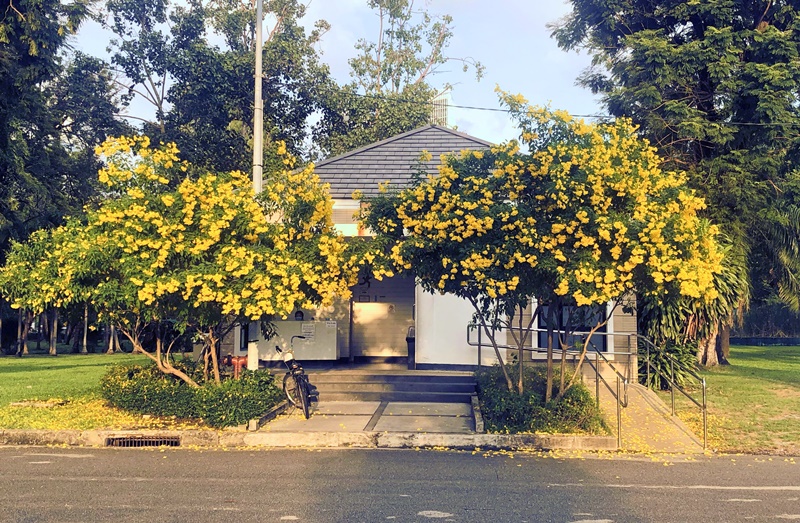 Lumpini Park Rules
To avoid any Faux Pas there are a few rules in place at Lumpini park that you should know about.
Alcohol is banned within the park at all times.
Smoking is prohibited in Lumpini Park which includes cannabis too there are no designated smoking areas and you'll have to go outside the gates to smoke a (ciguatera or a spliff). This rule is enforced.
Taking a nap(as I found out) is not allowed. Although I have been woken up by rangers in the past. The rule depends on who is enforcing it.
Bicycles are allowed in Lumpini Park but have to leave before 3.00 pm.
At 8.00 am and 6.00 pm, the national anthem is played through the park. it's expected that everyone stands still during the national anthem.
Drones are not allowed to be used inside Lumpini Park.
Feeding the pigeons is also on the ban list. feeding the fish, however, is fine. We are not sure of any rules about feeding the Monitor Lizards 😝
How To Get To Lumpini Park
Lumpini Park is located in the Silom business district so there are plenty of easy connections to the park. Get to Lumpini using the BTS Skytrain, the MRT Underground, the bus or by taking a cab.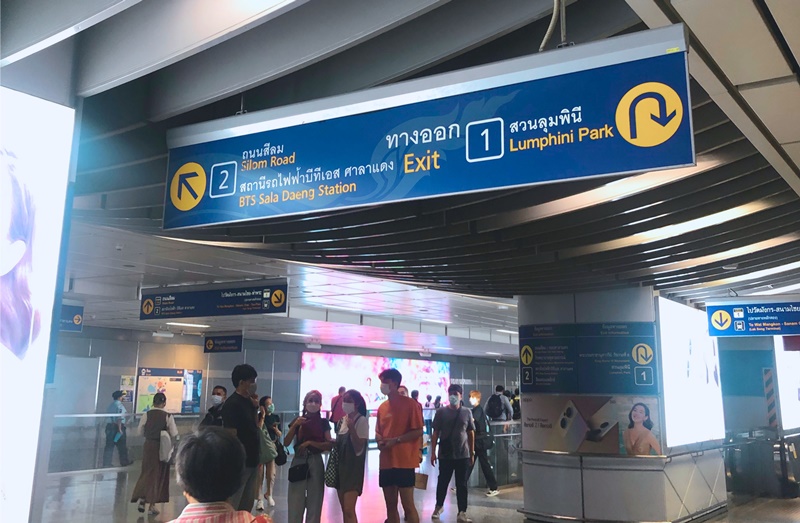 BTS Sky Train to Lumpini Park: The nearest BTS station to Lumpini Park is Sala Daeng. It's a short five-minute walk away with a sky bridge connecting the park and the station. There are food vendors along the bridge and in the street below.
MRT Underground Train to Lumpini: By far the easiest route to Lumpini Park is to travel on the MRT Train. There is a station entrance just meters from the park. You'll want to ride the MRT into Silom Station and then walk out exit one, straight into Lumpini. You can change from the BTS to MRT at Asok.
Taxi or Grab to Lumpini: Bangkok is the only place I know of Thailand with (mostly) honest cab drivers. Taxi rates in Bangkok are affordable with the rate being set at 2 Baht Per Kilometer + a 35 Baht window fee. Cabs parked up in tourist areas usually won't use the meter, hail a taxi from the street instead. The driver should have no trouble getting you to Lumpini. Another option is to call a car using the Grab application. Prices are a little higher, but your paying for convenience.
Taking the bus to Lumpini Park: The trains are way easier to navigate bus if you want the absolute cheapest option to get to Lumpini then take the bus. These bus routes all stop at Lumpini Park: A3, 4, 14, 17, 45, 46, 47, 50, 67, 74, 76, 109, 115, 141, 505, 507, 514.
—————————————————————————————————————————
Lumpini Park Map
Here is the best map I could find of Lumini Park showing how the canals and lakes are all interconnected and showing (most) of the running trails too. The main entrance can be seen in the bottom left corner of the Lumpini Park Map, it is here where the MRT station entrance and the King Rama VI Monument are located.
There is still a bit missing from this map so I'm working on designing my own map of Lumpini to mark out the best things to do in the park. let me know in the comments if that's something you want to see.
Where to Next
So that's everything you need to know before visiting Lumpini Park in Bangkok. But there is still a lot more to do in and around this unique city. Check out the famous Bangkok Floating Market or the Bangkok Railway Market! Or if you're seeking something a bit more unorthodox the Bangkok Airplane Graveyard might deserve a spot on your Bangkok Bucket List.
If you are leaving Bangkok for southern Thailand you'll want to read about how to get from Bangkok to Krabi, and the incredible places which you can get to from Krabi or if you are heading north you might be interested in reading my post about taking the train from Bangkok to Laos or camping in the Phu Kradung National Park.
Looking for some more inspiration about more things you can do in Thailand. Then these were my favourite posts to write, and my favourite activities to do in Thailand: Koh Rok Island, Koh Libong Island.