Update: Since I published this guide Thailand's famous Hua Lampung Train Station has permanently closed. The beautiful, and traditional station served its purpose for over 100 years. All the other information in this guide remains up-to-date and correct. Trains now depart from Thailand's newly built Bang Sue Rail Station. Train Times and Prices should be checked on the SRT website (State Railway Thailand). Krung Thep Apiwhat is the official station name when checking schedules.
Sitting on the train from Bangkok to Vientiane, Thailand to Laos I've got a lot of time to spare. Luckily I have my DrimSim working as a hotspot and my laptop is fully charged.
It's a long ride, but, sometimes, I prefer the long overland journeys. And I can't think of a better way to fill the time than typing up this post. Answering all the questions I struggled to find answers to before traveling from Bangkok to Vientiane on the train. And, if you are reading this, then I imagine you are considering making the same train journey to Vientiane from Bangkok.
Intro
Traveling from Bangkok to Vientiane via the Nongkhai border is often the cheapest and most convenient option to enter Laos from Thailand. But if you've got a bit more time on your hands or a feeling more adventurous, another choice is taking the slow boat across the Mekong river, from Thailand to Laos.
You'll need to board a train from Bangkok to Nong Khai, and you can change the train at Nong Khai station to get to Vientiane.
You can take the train overnight or during the daytime.
We chose to make the journey from Bangkok to Nong Khai during the daytime, because the views are better, the tickets are cheaper and we had no limitation on time.
Leaving Bangkok at 8:00am, we arrived in the northern province of Nong Khai at 6.00pm in the evening.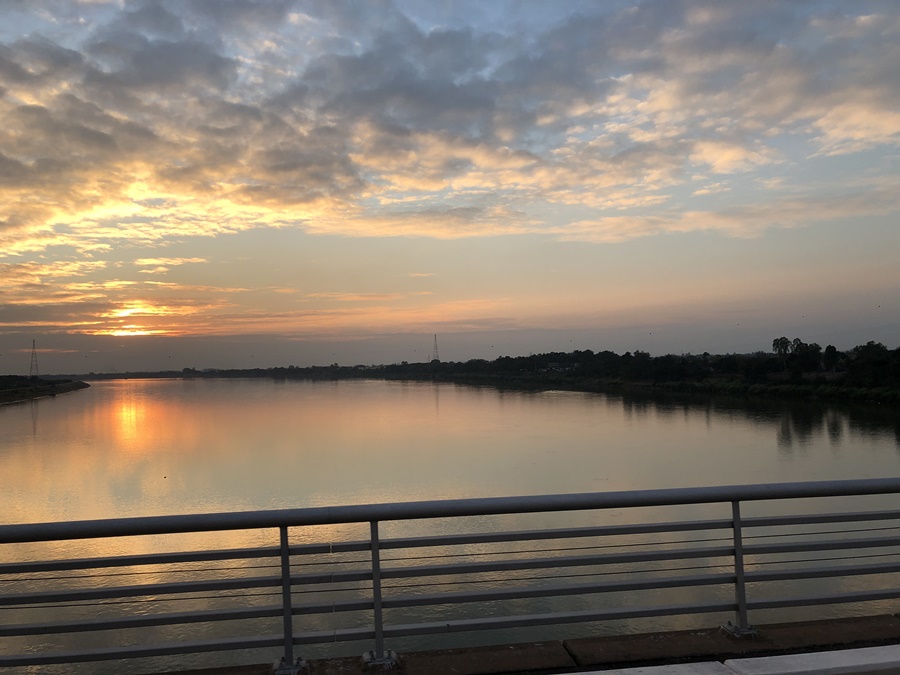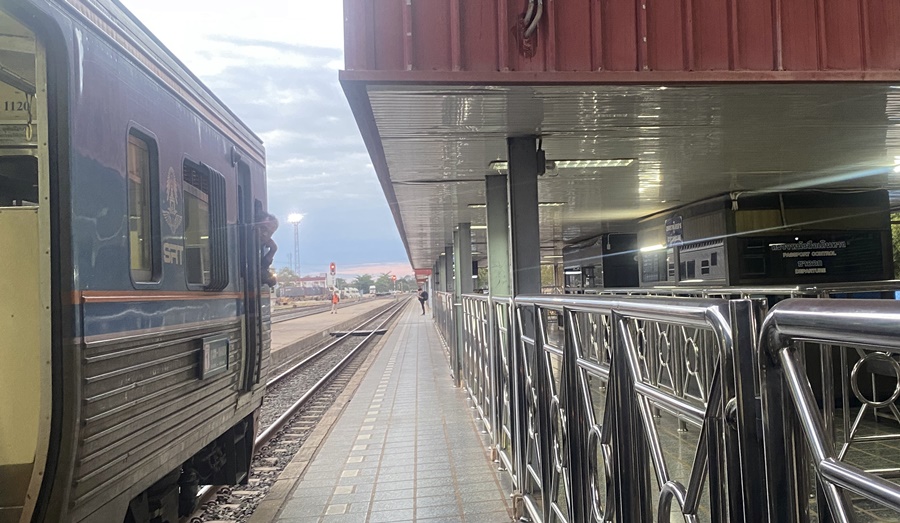 If you want to travel from Bangkok to Vientiane by train, well, the trip is really straightforward if I'm being honest. You'll need to travel to Nong Khai province in Thailand first. The Bangkok to Nong Khai leg takes around 10 Hours. Once you are in Nong Khai it is really easy to cross the border into Vientiane, Laos. From Nong Khai to Vientiane the train takes just 15 minutes and leaves Nong Khai Station twice a day at 07.30am and 2:45pm. The departure times are somewhat inconvenient so you can cross the border on the shuttle bus instead if you miss the connection. The shuttle bus runs every few minutes.
More: I traveled to Laos after the coronavirus shutdowns, and I can confirm that the Nong Khai Thai/Lao Border crossing is fully open again.
Before traveling from Bangkok to Vientiane I had a lot of questions about making the journey. I'll share the answers I found, to all the questions I had, in this post. 💙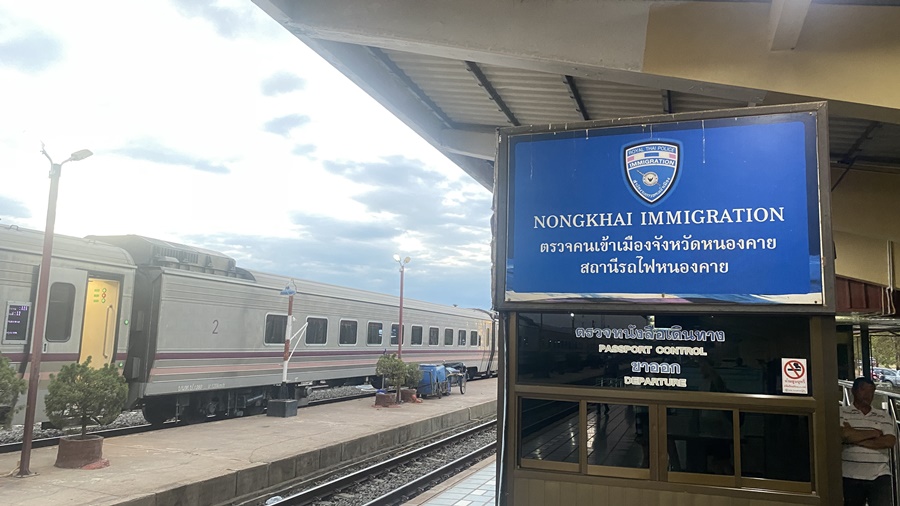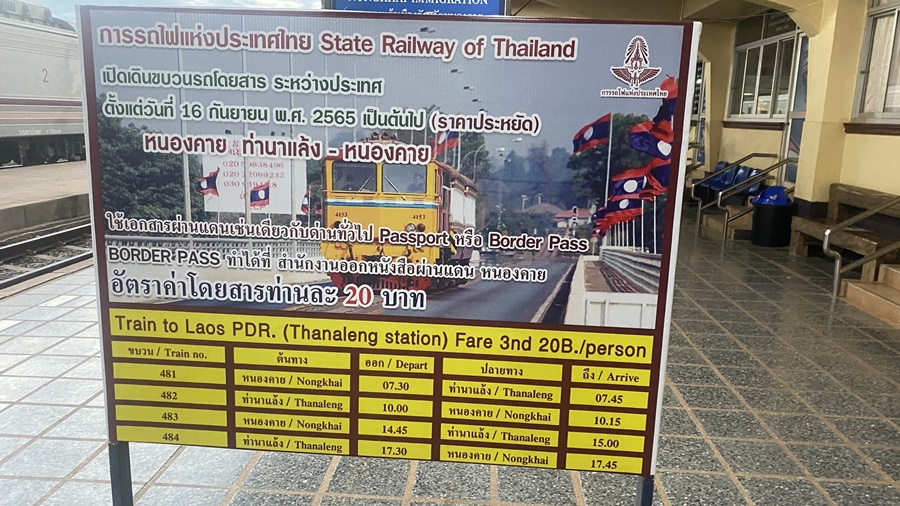 What Time Does The Train Leave: Bangkok to Vientiane
The train does not go directly to Vientiane, instead the train runs from Bangkok (Hua Lampung Station) to Nong Khai station. From Nong Khai you'll need to complete the journey into Laos by changing trains at the same station, or taking the shuttle bus across the bridge.
Here are the current Bangkok to Nong Khai train times. But double-checking the times on the official State Railway Thailand site is recommended.
Bangkok to Nongkhai Timetable:
| | | | |
| --- | --- | --- | --- |
| Train Number | Depart (Bangkok) | Arrive (Nong Khai) | Book |
| Express 75 | 08:20AM | 05:30 PM | Book |
| *Special Express 25 | 08:00 PM | 06:45 AM | Book |
| Rapid 133 | 08:45 PM | 07:55 AM | Book |
Train Time-Table For Trains leaving Bangkok Hua Lampung for Nong Khai
Nongkhai to Vientiane (Thanleng) Timetable:
| | | |
| --- | --- | --- |
| Train Number | Depart (Nong Khai) | Arrive (Vientiane) |
| *481 | 07:30AM | 07:45 AM |
| 483 | 02:45 PM | 3:45 AM |
Train Time-Table For Trains leaving Nong Khai going to Vientiane. Tickets for this train cost 20 Baht a person. Tickets can only be brought at the station with cash. The train is never full.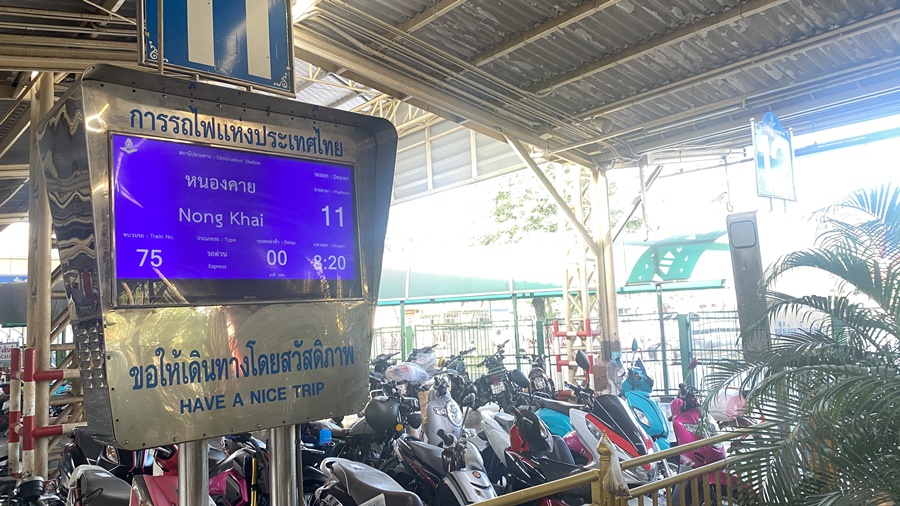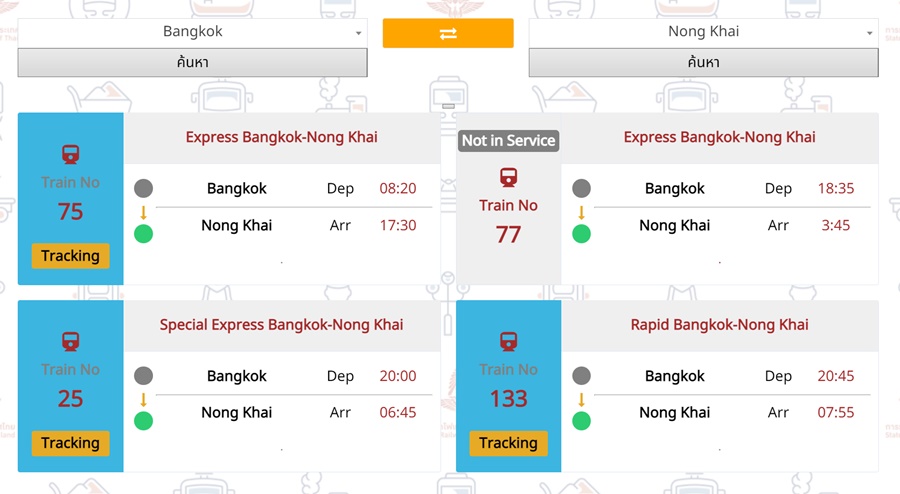 Where To Book Train Tickets Bangkok to Nong Khai
We were able to buy train tickets from Bangkok to Vientiane the day before, so don't worry about making reservations too far ahead. The train was busy, but far from being at full capacity.
There are a few choices you have when it comes to booking train tickets to Vientiane. You can either buy tickets directly from SRT (State Railway Thailand) either online or in person. Or you can use a travel agent to book tickets, which is what I recommend doing.
Booking Bangkok to Vientiane Tickets With an Agent
Thailand's official Train ticket booking site is really difficult to use. It has improved slightly since I first used the site, but it's still a headache to navigate and a nightmare to use on your phone.
The two cheapest websites I know of to book Bangkok to Vientiane train tickets are:
1) 12Go Asia – https://12go.asia/en/travel/bangkok/nong-khai
2) Baolau (Cheapest) – https://booking.baolau.com/en/results-origin=Bangkok&destination=Nong+Khai
Train tickets do not need to be printed out to travel as was the situation previously. Now conductors can now scan the QR code on the ticket sent to your phone instead.
Booking Bangkok to Vientiane Tickets With SRT
SRT or State Railway Thailand is the company operating the trains and tickets can be purchased directly from SRT. You can buy tickets on the SRT website (if you have the patience to figure it all out), or you can buy tickets in person at Hua Lampung Train Station. The tickets cost the same wherever you choose to book. Although if you decide to book in person there is always a small risk that tickets will be sold out, especially for the sleeper trains.
3) SRT Official Booking Site: https://www.dticket.railway.co.th/DTicketPublicWeb/home/Home
*The SRT site still suggests that tickets need to be printed out. We did not print ours and it was fine.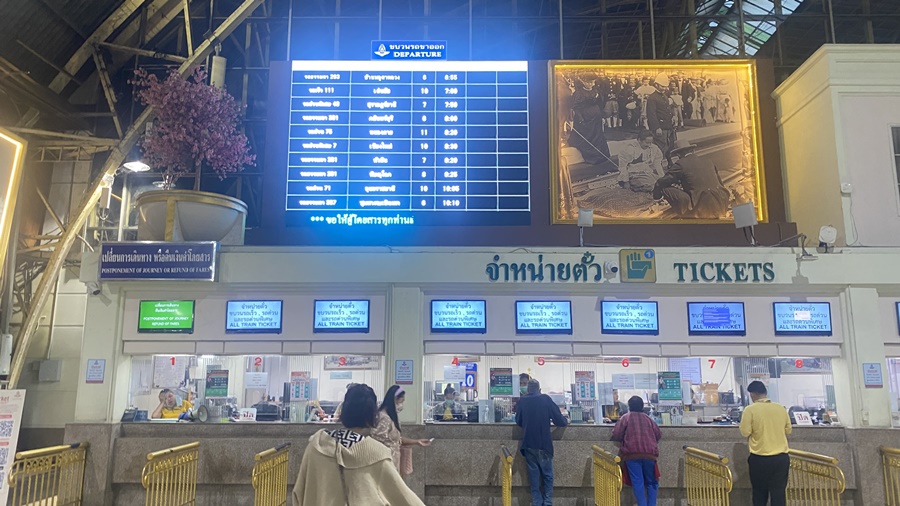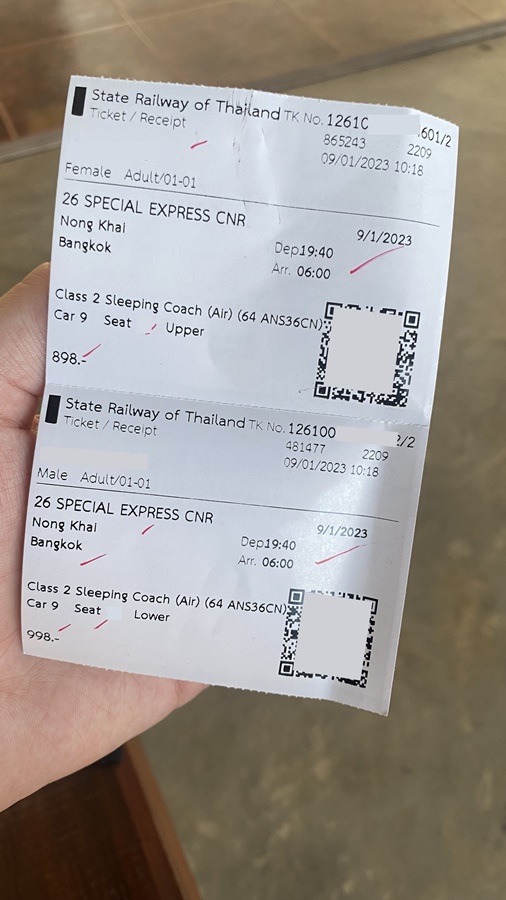 How Much Does The Train Cost: Bangkok to Vientiane (Nong Khai)
How much do the train tickets cost?
Prices from the train from Bangkok to Vientiane can range between 200 Baht and 1,500 Baht. Depending on the level of comfort you expect.
If you are travelling on a budget, take the train in the daytime. A sitting ticket is much cheaper than a sleeper ticket. Costing between 200 – 500 Baht. The downside is loosing an entire day traveling, the upside is the views you'll see from the train window.
Traveling overnight is also an option, the ticket cost is more expensive, but you'll have a bed to lie down on and you'll also be saving money as you won't need to book accommodation for that night.
| | | | |
| --- | --- | --- | --- |
| Ticket Type | Time | Price (THB) | |
| Standard Sitting | Daytime | 200 THB | |
| A/C Sitting | Daytime | 500 THB | |
| Sleeper Train | Nighttime | 900 – 1,500 THB | |
TIP: Choose the A/C seating over the standard seating if you travel in the daytime. Despite what the naming suggests, both carriages are kept cool. The main difference is the seating. Standard seating is packed in as tight as possible and you'll be sitting face-to-face with other passengers. In the A/C seating carriage the seats are all forward facing, much more spacious and far more comfortable for the long journey.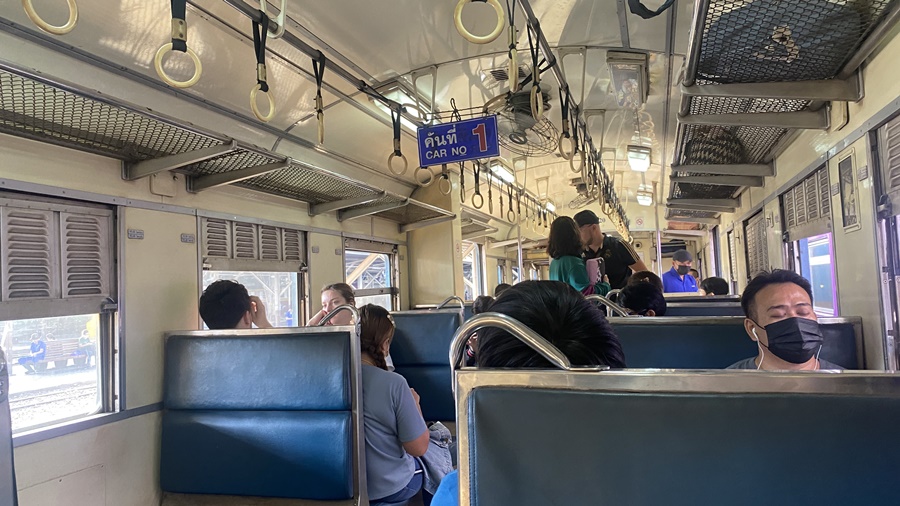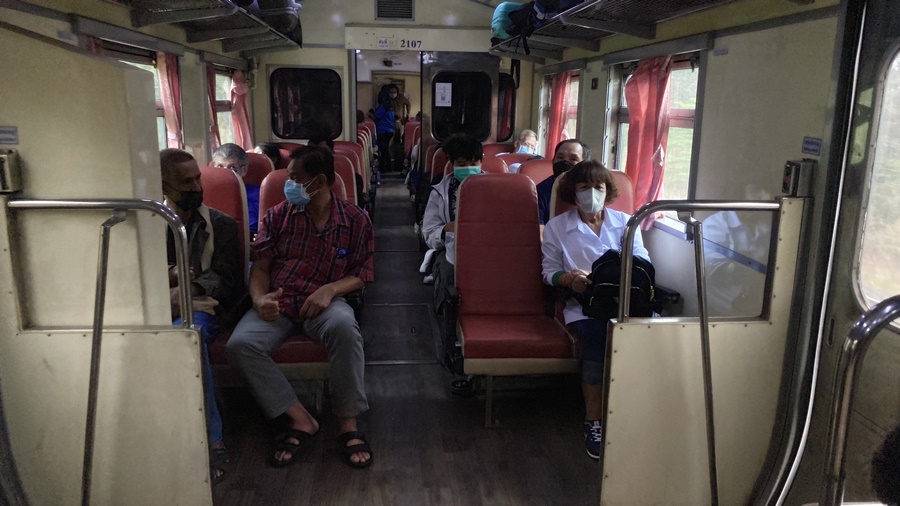 Bangkok to Vientiane by Train: Travel Time
How long does the train take to get from Bangkok to Vientiane?
The train journey from Bangkok to Vientiane covers around 650 Kilometres in total. 630 Kilometres to Nong Khai, and its then another 20 Kilometres or so across the border and into Vientiane, Laos.
The train from Bangkok to Nong Khai takes around 10 hours on average. It can then take another hour or two to pass through immigration into Vientiane, the capital of Laos. I decided to travel in the daytime and break the journey up by spending the night in Nong Khai before crossing the border to Laos in the morning on the following day.
Tips For Taking The Train From Bangkok to Vientiane
Book train tickets online in advance to guarantee your seat, especially if you plan to take the sleeper train.
When you arrive at the station you can get on the train without 'checking in'. Your tickets will be verified with a QR scan after leaving the station.
You need to change the train at Nong Khai station in northern Thailand. The only train leaving Bangkok which connects with the Nong Khai to Vientiane train is the Special Express 25 leaving Bangkok at 20.00PM. If you take any other train you'll need to stay the night in Nong Khai or cross the border on the bus instead.
Make sure to bring cash (in 3 currencies) THB, LAK and USD. There are countless small charges along the way, such as 20k Kip to depart Laos.
Prepare everything you need to apply for the Laos tourist visa in advance, including reading this post and carrying USD in cash with you. You can change cash at the land(road) border, but not at the train station border.
The sleeper trains on the Bangkok to Nong Khai route have a power outlet to charge devices such as a laptop, power bank or phone. The sitting trains do not. Make sure to charge your power bank in advance.
Food and drink are sold on the trains. The sleeper trains have a restaurant car in the middle. The daytime trains have sellers who will board at some stations and offer cooked foods.
Buy a local SIM card at the Laos border. SIM cards pre-loaded with 10GB of data are sold for 80 THB. Or if you really want to be prepared download an E-SIM with international data before you travel.
BOOK TRAIN TICKETS FROM BANGKOK TO VIENTIANE, VIA NONG KHAI HERE
More: I recommend taking the Train from Bangkok to Vientiane, but if you're on a tight budget the the bus can be more affordable. Check out Gecko Routes for more info on taking the bus from Bangkok to Vientiane.