The year is 2023, and the world is open once more. People are travelling once again and Covid lockdowns are (hopefully and thankfully) a thing of the past.
But figuring out the current Laos entry requirements is still confusing as hell.
Can I travel to Laos unvaccinated? Do I need a PCR test to travel to Laos, do you need a Covid test to travel to Laos? and are Laos land borders open? There are all question I struggled to find answers for, when planning my trip, and I will answer them all in this post.
So I wanted to to re-visit Laos. A place I'd travelled extensively before the pandemic hit. But is Laos even open for tourism right now? We'll yeah it is, but it difficult to find a clear answer about that. Oh and, there is no need to take a COVID PCR test anymore, despite what some sources would have you believe.
From my own personal experience, I can safely say, that all the Laos entry requirements have now been dropped.
If you're looking for travel options into Laos you can book flights right here, or on a budget, you can book train or bus tickets at the lowest rates with Baolau. But my recommendation, if you have the time, is to travel to Laos on the Slow Boat.
But let me tell you, I found a ton of misleading Laos travel updates out there while I was researching the travel restrictions and entry requirements.
So I'll try and help you out. Because I guess, if your reading this, then you are looking for answers to the same questions as I had. So I'll clear everything up in this post.
Laos is open right now and the borders have also reopened.
In this 'Laos travel update, I'll clarify the following:
Is Laos open again?
Can I travel to Lao right now?
Do I have to quarantine in Laos?
Do I Need a COVID test to travel to Laos?
Do I need PCR test to enter Laos?
Can I travel to Laos unvaccinated?
Laos entry requirements
Laos travel restrictions
Laos travel restrictions 2023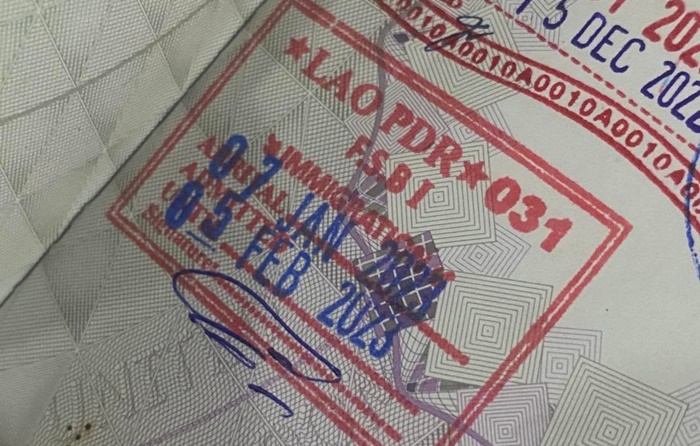 Laos is a country I love, and a place where I spent a lot of time, pre-pandemic. Crossing the Mekong River on the slow-boat was one of my favorite experiences. But when travelling now, things are different. Before the Coronavirus hit you would only really need to figure out flight plans and visa requirements to travel to a new country. Now you also need to figure out if you'll need a COVID test or vaccination, etc.,. etc..
All Laos Entry Requirements
Is Quarantine a Laos Entry Requirement
❌ No, there is no requirement to quarantine when travelling to Laos right now.
Is Having a Visa a Laos Entry Requirement
❓ Depending on your nationality it is likely that you would need a Visa to enter Laos. Visa on arrivals are being processed as normal, the same as pre-pandemic. The best way to check if you need a visa is on the embassy website of your passport country.
Is Proof of Vaccination a Laos Entry Requirement
❌ There is no travel restriction which states travelers a need to show proof of vaccination to travel to Laos.
Is a Negative COVID Test a Laos Entry Requirement
❌ No, when I travelled to Laos I was not asked to provide a negative PRC or coronavirus test. It is not an entry requirement anymore.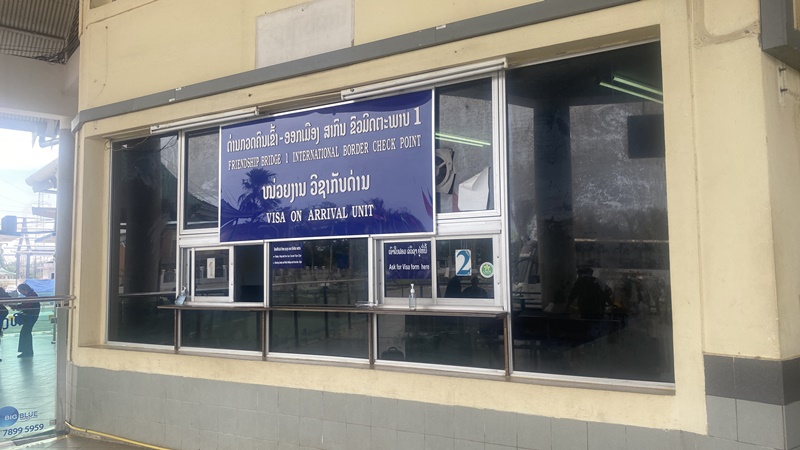 When Will Laos Reopen To Tourists
Top of the list when figuring our the current Laos entry requirements is figuring out if the country is even open. Is Laos open again?
Laos already opened to tourists! Good news for anyone planning to visit the country this year. Laos was actually one of the first country's to reopen in late 2021, but there was still a lot of entry requirements at that time.
Laos has now undergone a full reopening meaning all nationalities can enter Laos without proof of vaccination or a negative coronavirus test, I travelled there at the beginning of the year and can confirm this is still the current situation.
This report from the Laotian Times suggests the full reopening occurred at the end of 2022.
So if you trying to find out if you travel to Lao right now? or has Laos reopen then border. Then worry no more, because, yes you can travel to Laos and all the borders are open exactly as they where pre-pandemic! 😁
Book Cheap Train and Bus Tickets To Laos
Is Thai Laos border open?
Can I cross the border from Thailand to Laos?
Is the border between Laos and Thailand open?
Yes, The Thai Laos border is open for all travelers again, with no travel restrictions in place. I travelled to Laos across the Friendship Bridge Border (Nong Khai Thai – Laos Vientiane). The border is far quieter than I had ever seen it before and I was across in under 15 minutes or so (including making a visa-on-arrival application). The process is exactly the same as it was when travelling across the land border before the pandemic and the lockdowns.
Do I need PCR test to enter Laos?
Does Laos require PCR test? One of the most frustrating things about travelling to a different country right now is trying to figure out if you need a vaccination certificate, PCR test, COVID test, ATK Test or any other kind of documentation. 😵
Everyone tells you something different, and most will say something along the lines of "Hmmm, I'd probably take a test just incase".
And it's no less confusing when it comes down to figuring out the latest Laos travel restrictions.
Most websites, blogs, even government websites and the Lao Airways site, suggest that you must have proof of coronavirus vaccination or a PCR test in order to travel to Lao right now. But after travelling to Laos myself I can safely say that is not the case anymore.
You do not need a COVID test or vaccination proof to travel into Laos anymore.
I arrived at the border, half-expecting to be turned away, for not having taken a coronavirus test and lacking vaccination proof. But that did not happen. I crossed the border as if it was pre-pandemic. Very few people, including border agents were wearing facemasks. And there was no request made to provide a a PCR test in order to enter Laos.
Can I travel to Laos unvaccinated?
The same goes for proof of vaccination when travelling to Laos. There is no current travel restriction which states you need to show proof of vaccination.
Do I Need Health Insurance To Travel To Laos
Health insurance or travel insurance is not a Laos entry requirement. However, even just because it is not required it doesn't mean you should go without. I wouldn't even dream of traveling without insurance. World Nomads provide my insurance, and have done for the past 6 years now. Thankfully I've never had to claim for anything more than messed up travel connections, but the peace of mind is worth every single penny.
Conclusion
In 2023 anyone can now travel freely to Laos. You don't need to stress over what the current entry requirements are because all the Laos travel restrictions have been removed.
Take advantage of this unique time where the borders are fully open but few travelers are crossing.
Travel like the coronavirus pandemic never happened, enjoy yourself and claim back those precious years that were stolen from us all by the lockdowns.
Want to visit Laos yourself? You can book travel tickets to anywhere in Laos here: https://backpackbob.com/traveltolaos or read my other post about taking the train to Vientiane from Bangkok here.