Six months ago, back in March 2020. Due to the ongoing coronavirus pandemic, I found myself in a unique position, essentially I became "stuck" in Thailand. As one of the 'safer' places to be right now, I have stayed put ever since the coronavirus pandemic began to wreak havoc on the world, and international travel and tourism.
I have watch the situation develop from within Thailand, and few months back I published a post sharing my thoughts on when Thailand would open the borders to international tourism. Looking back its safe to say that, myself, along with so many others were feeling a little bit too optimistic international travel resuming.
As I am aware, countless people all around the world are eager to visit Thailand for one reason or another. Be it for a vacation, or the desire to be reunited with friends, families and loved ones. And the good news is that Thailand has already began to slowly and carefully open borders to tourists (kind of).
So here is how you can enter Thailand during the COVID pandemic, as a tourist.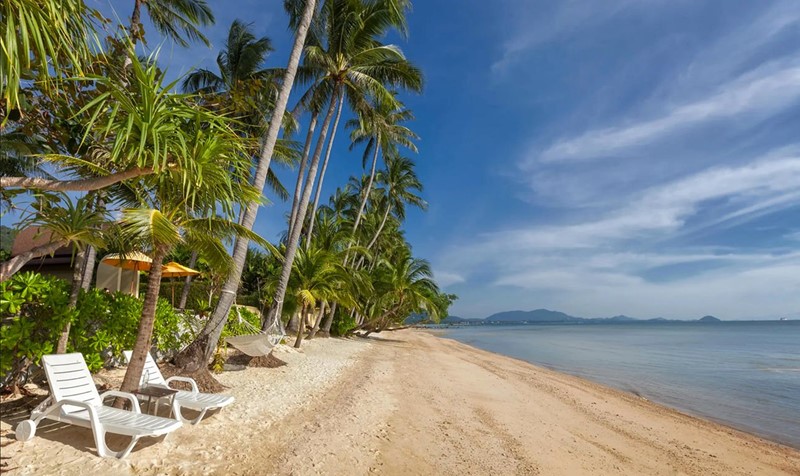 One of the most difficult things about Thailand's borders being closed and the ongoing coronavirus pandemic in general, is the complete uncertainty. There is no knowing when things will get back to 'normal'. It could be weeks, months, years or perhaps, never. There is no telling how or when the situation will progress or regress. And for those who have built their lives in a foreign land or on the road, there is little more that can be done asides from wait.
I am one of the few foreign tourists still remaining in Thailand, over the past six months, a something i feel extremely fortunate for. But, sadly I have watched first hand, Thailand's tourism sector crumble into disrepair and livelihoods of locals tarnished. I have also faced my own uncertainties with my tourism business being shut down amongst my own immigration struggles.
I will be sharing more information about Thailand has changed, and tourism devastated in a later post. But in this post, I want to share the information and knowledge I have learned on when, and how foreigners will be allowed to travel into Thailand once more.
In this post I will be sharing my information about
How to enter Thailand as a tourist
Options to visit Thailand from overseas
When will Thailand open borders to tourist and international travel
When will Thailand open borders
Can I travel to Thailand
How to travel to Thailand
Requirements to enter Thailand in 2020
Is Thailand going to open borders this year
Will Thailand open to tourists in 2021
Is Thailand Open For Tourists
Yes. As of October 2020, Thailand has started to re-open for international tourism. But not as you might remember it.
While it is fantastic news that the country is looking into options to allow foreign tourists to begin visiting Thailand once more, officials aren't going to make it easy, and the solutions currently available will be limited and not suitable for everyone.
There are countless hoops to jump through and it will require dedication and a decent chunk of cash. But with that being said it is now possible to legally enter Thailand as a tourist during the coronavirus pandemic and its a step in the right direction and a positive sign of things to come.
Who Is Eligible To Enter Thailand From Overseas
In my opinion, Thailand won't be fully opening their borders to international tourists anytime soon, and by this, I mean visa exemption stamps and visa on arrivals won't be issued. But…
The few 'tourists' that are able to travel into Thailand from outside the country are those who have had a visa approved overseas.
Holders of non-immigrant visa's and working visas are eligible to enter Thailand and have been since July. But a new class of visa has been recently announced which has been called the "Special" Tourists Visa.
Now the so-called special tourist's visa is not actually targeted towards tourists, but instead, it is a 'long-stay' type visa, dressed up as a tourist visa. In what I believe is an attempt to lure back some of those who would usually stay in Thailand long term, and contribute to the economy, but fled to their home countries in the early days of the pandemic.
The new special tourist visa, which was announced in September, six months after Thailand closed their borders due to the coronavirus, is a 90-day visa, which can be extended twice, to a total of 270 days. So, not really targeted towards a typical tourist. In fact, one of the confirmed criteria is you must have evidence of condo ownership or proof of an apartment rental or hotel reservation for at least 60 days, which in my experience is much longer than most tourists tend to stay in Thailand.
This new visa is perhaps suitable for those who work remotely, online or have family in Thailand.
Anyone is eligible to apply, although there is a limited number of these visa's set to be issued (rumoured to be just a few hundred per month).
Although the new tourism visa won't be suitable for everyone, it does shed some positivism towards tourism resuming in the not so distant future. It suggests that officials in Thailand want tourists to return, and options to bring tourism back in a risk-free manor are being figured out.
What Are The Requirements For A Special Tourist Visa And How To Apply
Advice On Making An Application
There is still some uncertainties in regards to the exact requirements needed to make an application for a special tourist visa and it could possibly vary depending on which embassy you make an application in.
There are a lot of people who have been desperate to visit or return to Thailand since the borders have been closed due to COVID. And as such countless 'visa agents' are popping up. Some are outright scams, and others charge extortionate fees, for something you can do yourself. If you think the special tourist visa is suitable for you, contact the Thai embassy in your country and bypass any 'agent'.
There is a little more information here, and here. The cost of the visa is 2,000 Thai Baht, around $60 dollars. You do NOT need to pay for any processing, agency or admin fees over this amount.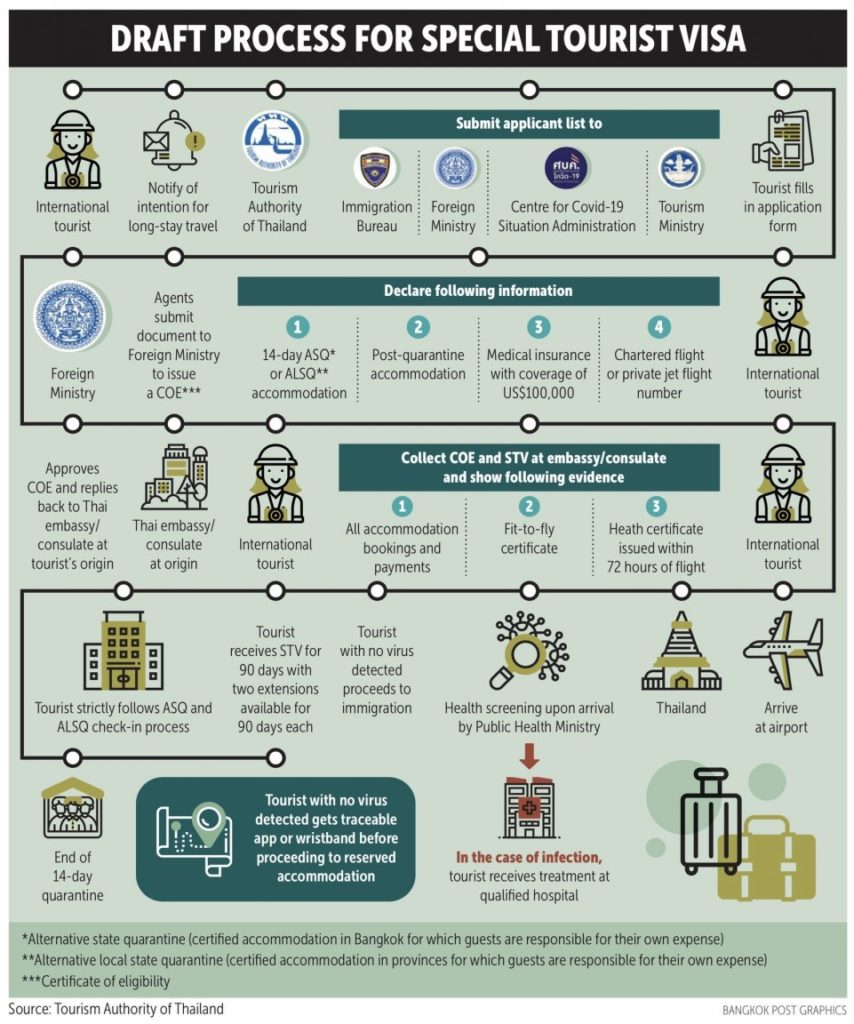 Requirements For Thailand's New Tourist Visa
As I had mentioned, the tourist visa isn't really for tourists, rather it's for those who want to visit long term and have been unable to travel into Thailand since the borders closed due to the coronavirus pandemic.
In order to apply for this visa and travel to Thailand while borders remain closed you'll need to provide evidence that you intend to stay in Thailand long term, this can be in the form of condominium ownership or evidence of an apartment rental for a minimum of two months.
Here is what you'll need to be eligible to travel to Thailand in 2020 while borders remain sealed due to coronavirus.
Proof of long stay accommodation
Travel insurance with coverage for coronavirus (at least $100,000 coverage)
Fit to fly certificate
Arrangements to quarentine for two weeks upon arrival to Thailand
Arranngments to travel into Thailand on a charter flight.
And of course, $100,000 is coronavirus insurance coverage and the 14-day quarantine is at your own expense, costing between 35,000 – 200,000 + Thai Baht.
World Nomads have always been my go to for travel insurance and is a company that i would strongly recommend considering.
As you are probably aware this visa is a means of bringing so long stay foreigners who have fled to their home countries in the early days of the coronavirus pandemic. It isn't a practical option for those who want a few weeks away, in the sun.
Here is a full list of ASQ (Alternate state quarantine hotels) in Thailand. I will be uploading a post in October with more information on the process of choosing and booking coronavirus quarantine in Thailand.
Which Nationalities Can Apply For To Enter Thailand From Overseas During COVID-19
There has been no official clarification given on which nationalities can apply for the new tourists visa, and if the eligibility depends on the travellers nationality on the location they intend to travel from.
In this recent tweet shared by Richard Barrow, a British national was informed by the Thai Embassy in London that applications can only be accepted from low risk countries, which seems to exclude the United Kingdom at this point.
The special tourist visa (STV), which is now being delayed again, is not an open invitation for all foreigners to come to #Thailand. They will only accept applicants who come from low risk countries. This Brit was told by the Thai Embassy in London that he couldn't apply. pic.twitter.com/FQvNnUt3Ea

— Richard Barrow in Thailand 🇹🇭🇬🇧 (@RichardBarrow) October 3, 2020
How To Travel To Thailand
If you have managed to snag yourself a visa which you grant you entry to Thailand, you'll next need to figure out logistics to travel across into Thailand's borders.
International flights are still operating to and from Thailand but on a very limited basis.
For most travelling into Thailand, it is easiest and cheapest to travel into the capital city, first, Bangkok. Making onwards plans for domestic travel to reach your final destination after the two week quarantine. (There are no restrictions on domestic travel in Thailand, flights, trains and busses are running as usual).
There are also a lot of airlines advertising and selling tickets for flights which they never intend to operate (Cough, Cough.. Air Asia). It can be a challenge to get your money refunded from an airline if your flight is cancelled, so it is important to book with a trustworthy airline.
I have found it to be useful to check flight history on flightradar24 to find out is the airline is flying. Checking the history of the flight number which you plan to book can let you know if an airline is actually flying or just selling fraudulent tickets to keep themselves afloat.
When it comes to paying for the flight, my recommendation would be to skip the price comparison sites, and agencies, for now, and instead book direct with the airline. You might find yourself paying a little more, but for the peace of mind, it is worthwhile. And of course if you have the option to pay on a credit card, you should do so.
The only airlines I'd recommended booking with to travel to (or from) Thailand while the borders remain closed are Thai Airways, Singapore Airlines or Emirates. I can say as a fact that from my own personal experience all three of these carriers are operating flights on a regular/weekly basis.
If you were to book a flight with any of the smaller or lesser-known airlines, there is a much greater chance of your flight being cancelled or non-existent.
When Will Thailand Open Internation Borders
When will Thailand open their borders for tourists to pass in and out freely, as was the case before the coronavirus. It is a real tough question to answer.
Things are defiantly moving in the direction of opening up. But Thailand is known for making decisions last minute. Although unlikely, it could happen in 2020, and there has been rumours of Thailand's borders fully opening before December. There has been rumours of the current two week quarantine time to be reduced by half, requiring travellers to quarantine on arrival for just on week (seven days).
What the future holds for tourism in Thailand is anyone's guess at the moment, but I would hold off booking a vacation for a while and I wouldn't expect tourism to begin again in to Thailand until early 2021 at the soonest. Even then it's going to be a slow process, which will happen in stages.
I will be keeping this site updated with the latest information as it develops, so check back for the latest updates. Want to know what lockdown in Thailand was like, read more here.
Image Credit: Bangkok Post, The Asean Post, The Thaiger