Post-Covid Update: I wrote this article in 2020 after living in Thailand, and backpacking during the 'coronavirus years'. I was debating removing it from this site because the information is now totally irrelevant. But I decided to add this message and leave it online instead — as a reminder of the absolutely insane event that the pandemic became. Can you imagine paying a mandatory 50,000 – 100,000 Baht to stay in an average Thai hotel. lol. Post-Covid you could book the most expensive hotel in Bangkok(!) for a little less. I was one of the few people who experienced what backpacking was like in Asia during the pandemic. And staying in a Thai Quarantine Hotel, was part of that. So if you are interested in finding out what it was like to enter Thailand 2020 — here are the answers 👊, and I'm so glad things are back to normal. Mostly.
The following information is no longer relevant and was written in 2020-21 during the thick of the pandemic.
So you want to visit Thailand? Thailand has begun the process of opening its borders to tourists, and entry into the county is now permitted for some types of visa holders. (Find out about Thailand's new special tourist visa).
But there is one requirement which applies to anyone who enters Thailand. Thai citizens or foreigners with visas valid for travel during the coronavirus pandemic are required to quarantine, for two weeks, in a government-approved facility, also known as 'Alternative State Quarantine' or 'ASQ'.
If you are looking for information about how to book your quarantine in Thailand, how much it costs and which hotels to choose from, you'll find all the answers here.
There are now 69 approved quarantine facilities in Bangkok, and another five outside of Bangkok. Use the links bellow to download the latest list of approved Thailand quarantine hotels, along with the current prices.
BANGKOK QUARANTINE HOTELS (1-40)
BANGKOK QUARANTINE HOTELS (41-69)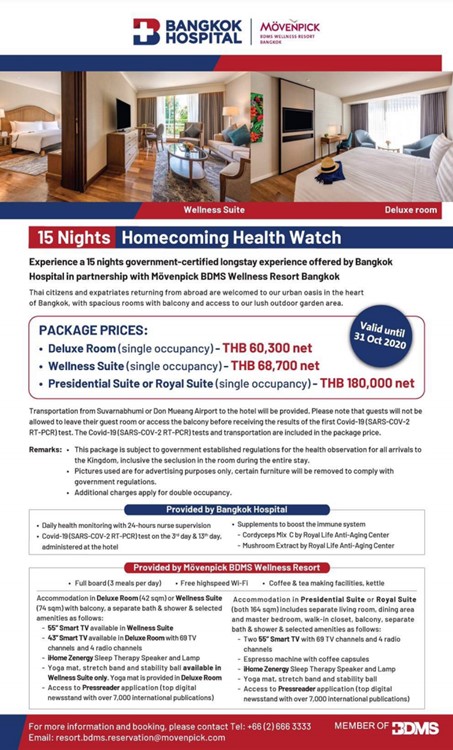 What Is ASQ (Alternative State Quarantine – Thailand)
Coronavirus has changed international travel as we knew it, and for a while, Thailand's borders were sealed. The entry restrictions on international travel are now being relaxed and some groups of international travellers are able to visit Thailand once more.
Thailand was given an early start to battle against the coronavirus outbreak, acting fast to contain the virus. Since March, there has been a relatively low number of coronavirus cases in Thailand, in comparison to other countries. And authorities intend to keep things that way.
One of the way Thailand is able to maintain low coronavirus numbers, and at the same time, allow overseas travellers to enter is by implementing a strict 14-day quarantine policy.
There have been a few limited exceptions, but generally speaking, for the most part- any person who enters Thailand, Thai or foreign citizen, is required to quarantine for a period of 14 days.
State quarantine is a free, mandatory quarantine, available only to Thai nationals.
ASQ, meaning alternative state quarantine. Is a quarantine option in addition to state quarantine, for foreign travellers who are willing to pay for their own quarantine.
Alternate state quarantine is Thailand's solution to keep the Kingdom safe from imported cases of coronavirus while permitting select overseas travellers to enter the county.
Thai nationals are also able to chose Alternate State Quarantine should they prefer.
What Is An ASQ Tourist
An Alternative State Quarantine Tourist is a non-Thai national who is entering Thailand for tourism purposes and intending to complete a 14 day stay in a designated quarantine hotel.
ASQ tourists are the first group of international tourists who will be permitted to travel into Thailand from overseas. Business travellers and those with families in Thailand are also amongst those who can now legally enter from abroad.
To enter Thailand as an ASQ Tourist you will need to make an application for a Special Tourist Visa, which can be done in person, at a Thai embassy overseas. Requirements surrounding this class of visa are often changing, so I would advise contacting the Thai embassy in your county for full information.
There are limited numbers of tourist visas which are being issued, and essentially the tourist visa scheme is still in a trial phase. But if the first few months prove a success then it's expected that limitations will begin to relax over time, in turn allowing more tourists to enter Thailand.
Do I Have To Quarantine In Thailand
Yes, quarantine for two weeks is compulsory upon entering Thailand. There are no exemptions to this rule. All international arrivals must quarantine and comply with coronavirus regulations, including Thai citizens.
For foreigners arriving into Thailand, quarantine is paid at your own expense. The cheapest quarantine hotels start in the region of 30,000 Thai Baht, with the most expensive resorts costing in excess of 250,000 Thai Baht. More information on quarantine hotel prices below.
DOWNLOAD THAILAND QUARANTINE HOTEL PRICE LIST
Where Are Thailands Quarantine Hotels
Bangkok – 69 Quarantine Hotels
Phuket – 3 Quarantine Hotels
Pattaya – 1 Quarantine Hotel
For those who are desperate to travel to Thailand, and don't mind paying a premium to stay in a quarantined hotel. You'll need to decide on the best location to stay.
Luckily there is a vast choice of quarantine options, however the most are located in Bangkok.
Which makes sense, for most quarantine hotels to be located in Bangkok, as this is where more than 95% of international flights are now arriving to. With such a limited number of flights into Thailand, even for those who intend to stay in other areas of Thailand. The best, (and cheapest) option, for most, is to fly into and quarantine in Bangkok, before then travelling onwards, domestically.
There are currently sixty-nine approved quarantine hotels in Bangkok, three in Phuket and a single Thai quarantine hotel in Pattaya.
What Is The Difference Between ASQ & ALSQ Quarantine Hotels
ASQ and ALSQ referrers to the physical location of the quarantine hotel within Thailand.
State Quarantine – Free government quarantine offered to Thai nationals.
Alternate State Quarantine – An alternative, paid for quarantine for non-Thai nationals or those willing to pay.
Alternate Location State Quarantine – A paid quarantine hotel, located outside of Bangkok.
Where Are Thailand's Quarantine Hotels
ASQ hotels (Alternative State Quarantine), are approved quarantine hotels located in Bangkok. While ALSQ hotels (Alternative Local State Quarantine), are properties outside of Bangkok, for example, resorts in Phuket.
Other than the properties locations, there is no difference. For travellers arriving in Thailand, you can choose either ASQ or ALSQ.
However, you cannot arrive at Bangkok airport and then transit to ALSQ quarantine or vice-a-versa. If you arrive in Bangkok, you must quarantine in a Bangkok hotel. And if you arrive at Phuket international airport, you must quarantine on Phuket.
How Much Does Quarantine in Thailand Cost
I can tell you, quarantine in Thailand is not cheap. For the majority of tourists travel to Thailand at the moment is not viable. But if you're willing to suck up the high costs of entering Thailand, here is how much money you can expect to part with.
You'll find download links at the top of this post, with the names and prices of every coronavirus quarantine hotel in Thailand, but let's look at how much you should expect to spend and what, exactly, you'll get for your money.
DOWNLOAD THAILAND QUARANTINE HOTEL PRICE LIST
Which Is The Cheapest Quarantine Hotel In Thailand
The lowest amount you can pay to quarantine in Thailand is 32,000 Thai Baht.
There are a total of 5 quarantine hotels where you can book a two week quarantine for ฿32,000. The hotels are:
Hotel Amber Sukhumvit 85 (Bangkok)
Miloft Sathorn Hotel (Bangkok)
There are many other quarantine resorts in Bangkok, with the average cost being around 55,000 Baht. And the most expensive resorts costing 125,000 Thai Baht.
If you don't like the city, and would prefer to spend your two weeks quarantine with an ocean view there are three resorts on the island of Phuket. But, quarantine outside of Bangkok is not cheap. In fact, the cheapest quarantine hotel in Phuket will set you back 100,000 Thai Baht (3,200 USD)!
With the most expensive being the Trisara, described as "Phuket's most luxurious beach resort." The seafront villa even has a full-sized private swimming pool on the terrace. Assuming you've got a spare 270,000 Thai Baht to spend on your quarantine hotel, that is.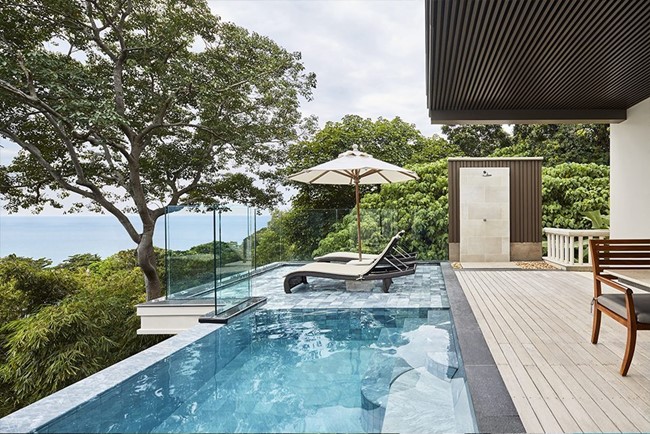 And don't forget, you'll also need travel insurance which covers coronavirus hospitalisation with a minimum coverage of $100,000 USD.
What Is It Like In A Thai Quarantine Hotel
From the outside of of a quarantine hotel, you wouldn't tell the difference compared to any other hotel in Thailand. Doors are locked, and staff wearing the full 'coronavirus outfit', masks and shields. But there is no red tape and no hazmat suits.
I should say, that because I had arrived into Thailand before coronavirus lockdowns began, I myself have not had any personal experience in a quarantine hotel. But I have spoken to those who have.
Life on the inside seems pretty basic, you are not able to leave your room, staff will bring you three meals and drinking water each day, and you'll have internet access to keep you occupied.
Unless you opt for the top-end quarantine villa, with private pool, that is.
What Is Included In The Cost Of A Thailand Quarantine Hotel
While the cost of quarantine in Thailand might not come cheap, you won't find yourself spending much money for two weeks. Mostly because, well, you can't leave your room. And also the cost of the quarantine includes everything you might need.
Quarantine hotels in Thailand include three meals each day, bottled drinking water, complimentary wi-fi and room cleaning services.
Some resorts will have different inclusions so make sure to check with the property before making a reservation.
Quarantine hotels should also include the cost of coronavirus testing (carried out on the 1st, 5th, 11th and last day). Transport from the airport (Suvarnabhumi) is included in the quarantine cost and is a compulsory requirement.
How To Travel From The Airport To A Quarantine Hotel
The quarantine hotels are being managed by some of the largest medical companies in Thailand, such as the Bangkok Hospital.
Transport from the airport to the quarantine facility is arranged on behalf of travellers and services are provided by the quarantine hotel. It is compulsory to use the arranged transport services and you cannot use any other method of transport (Hired car, public transport etc), to travel to the quarantine hotel.
After making a reservation at the hotel you have chosen, they will provide all the information to you about how to travel from the airport to quarantine.
How To Book Alternate State Quarantine In Thailand
Booking your stay in a Thailand quarantine is essential before you travel. The only option to book your stay is to contact the hotels directly. There is no need to use an agent to do this, and it is recommended not to use booking sites like Booking.com or Agoda.
Once you have chosen the resort that is best for your stay, contact the resort either by telephone or email to arrange payment. Most quarantine hotels will only accept a payment from a credit card, but some will also accept debit card transactions. The contact details for each quarantine hotel can be found on the downloadable posters at the top of this post.
Who Is Regulating Thailands Quarantine Hotels
The purpose of Thailand's quarantine is to ensure the Kingdom remains safe from coronavirus and to prevent new cases being imported. So to ensure this is possible, quarantine hotels each resort must be partnered with a known hospital.
Qualified staff representing the hospitals are on-site at quarantine hotels are responsible for carrying out coronavirus tests at intervals throughout your stay in quarantine. And are on hand for any other medical emergencies.
Most quarantine hotels are partnered with either Samitivej Hospital, Bangkok Hospital or the World Medical Hospital. All three of which are reputable hospitals. And if you have any preference of hospital, you can find a download link at the top of this post to show which hotels are partnered with which hospitals.
Source: https://backpackbob.com, http://www.hsscovid.com/