In short, life in Bali is f****** incredible. For tourists, that is. Easily one of the better places in the world to be right now.
Indonesia initially closed their borders and entered into lockdown in April 2020. But if you hadn't heard Bali, (and the rest of Indonesia), have quietly opened the borders to international travellers, (with a visa).
Although you'll need to get an (expensive), social visit visa approved before you travel, I can promise, that you won't regret it.
Having heard that travel was on the cards once again, and after being locked down in Thailand for far longer than I had originally anticipated, I decided to take the plunge and began researching what steps I would need to take, in order to get on the road once again, (read that story here).
In this post, I'll give you the latest Bali Coronavirus Updates, fill you in on what life is like on the island during the pandemic and is it safe to travel in Bali. With the latest updates on the current coronavirus situation in Bali.
Just Go Home Haven't You Heard About The Pandemic
Bali is a place I had always wanted to visit, and hearing there was a chance to travel there at such a unique time, well this was simply an opportunity that I was not going to miss out on. My options, in Thailand, were becoming limited. The government was in the process of booting foreigners out, and I was desperately trying to avoid being forced into returning to the UK, where coronavirus is an ongoing s*** show.
I've now spent a month living in Bali, since leaving Thailand. So I want to answer a few questions that my readers have been asking and share with you what I've found Bali to be like. Is it safe to travel to Bali, is Bali safe, what is life like in Bali right now, in 2020, how are locals coping with the ongoing pandemic, what is the local attitude towards the virus, and what are Bali's most popular tourists destinations like, without tourists around?
It's a really unique time to be in Bali as a tourist. And I feel thankful, that I'm one of the lucky few who has not yet been forced to return to their home nation. Many who live abroad or travel long-term fled at the beginning of the pandemic before borders were sealed. Others slowly started dropping off as time went on. I am fully aware, just how fortunate I am, to be in such an incredible place right now. I know that it's something others are dreaming of, but what is it really like in Bali? And is Bali safe?
Bali is one of the most iconic and popular tourist destinations in South East Asia, and now, for the first time in a generation, the island is without the usual hoards of tourists. Everything feels, almost private, prices have plummeted, making it even more affordable than before, and, of course, everything smells of hand sanitizer.
For both domestic tourists and international tourists it's a dream to experience Bali without the crowds, beaches are empty and the traffic jams are gone. Visiting Bali now is an eye-opener, an insight into how Bali might have looked in the past; before becoming such a hectic tourist destination.
The island is out of lockdown and people are allowed to roam free, as they please. Beaches are open, public spaces are open and tourists are even allowed to enter the island. Domestic tourists can enter with a negative coronavirus test, international tourists need the same plus a visa.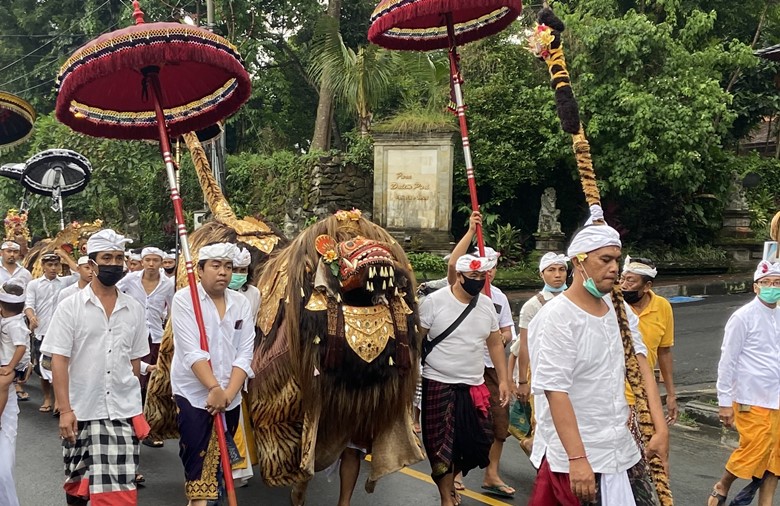 Almost all coronavirus restrictions on the island have now been revoked in Bali. In fact, Indonesians are so desperate to get their lives back to normal, that despite Indonesia having some of the highest numbers of coronavirus cases in the world, social distancing measures are even being eased, in the capital city of Jakarta.
A negative coronavirus test, however, is still needed to enter Bali from outside. But asides from the basics of wearing a mask in public and having temperatures checked when entering supermarkets, there are no other mandated precautions.
You are more than likely, already used to taking these basic precautions. Which are in place not only in Bali but all around the world.
Mask wearing is being taken 'somewhat' seriously in Bali, with the local police hot on handing out fines for not wearing one. In fact, there is even a new road traffic act meaning you need to wear a mask when driving a car or a scooter! Which is no fun on a scooter when it's raining and your mask gets soaked, or when you're alone in your own car with zero risks of spreading coronavirus.
There is rarely a legitimate reason not to wear a mask. But if you decide to flout the rules you'll be given an on the spot fine; usually costing 100,000 Rupiahs, equivalent to about 10 US dollars.
Are There Many Tourists In Bali Now
Bali's tourist attractions have all re-opened, yet for the most part, still remain deserted.
You'll often be able to visit with no other people around. I've visited some of the most well-known waterfalls on the island, for hours, without seeing another person. I have even had Kelingking Beach in Nusa Penida to myself, it's crazy how quiet the island has become.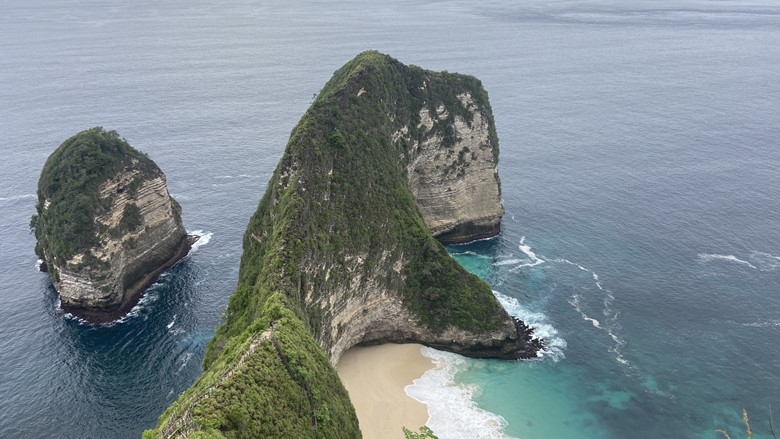 Attractions and destinations that are so heavily shared on social media usually correlate to places being cramped and packed with tourists; but for the first time, that isn't the case. It feels like you've found a new place, a secret, hidden, off the trail spot, that is being discovered for the first time.
Another positive side-effect of fewer tourists is that nature is finally being given a chance to bounce back. This is something being reported across the world, but its well needed in south-east Asia. Along with that, entry costs have been slashed, the cost of bike rental has become even more affordable than before, there is minimal traffic, and no traffic jams.
So for tourists, in my opinion, there hasn't been a better time for tourists to visit Bali.
But what is life like for the local people living in Bali, those who rely on tourism to earn an income?
Tourist destinations all around the world are hurting, and it's the people that work in these industries that are hurting the most. It's something I know all too well. Before the coronavirus, I spent the past five years of my life, building and growing my tourism business, catering to honeymooners, offering eco-friendly and unique tours around some of Asia's most beautiful islands. It's now slowly becoming a distant memory.
Within the blink of an eye, everything I had worked so hard for was gone. Now I was in a fortunate position, while I lost the business, I still had a small amount in savings which allowed me to survive.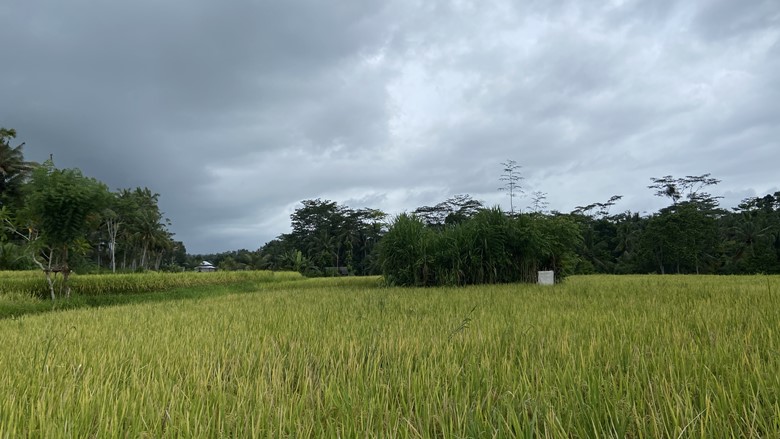 But it's the people I worked with that I feel most sorry for, the less fortunate ones. Those who operated our tours, most of these people relied on a daily income, with no investments and nothing to fall back on. Our sales staff, our caterers, our tour guides; suddenly had nothing. The fall back for these people was to return home, to the villages they are originally from, to live with their families with a much lower living cost.
But how have locals in Bali been dealing with the situation of not having an income? Now this is my first time travelling in Indonesia, so I can't make a comparison to how things were before, but it is clear a lot of people are hurting. It's clear that locals need tourism on the island to bounce back, and it's necessary to their livelihoods that borders are fully opened again.
Estimates state that somewhere between 60 to 75% of Bali's population depend on the millions of tourists arriving in Bali each year to earn their living. Working in the tourism industry, however, is extremely tough if there are no tourists. Many locals have been relying on handouts and food supplied by charities and more fortunate communities.
Although for some, it's evident they have nothing left. The number of beggars on the streets came as a shock to me. It's something I'm used to in Asia, as someone who isn't local, I'm seen as much more of a target to approach. But the sheer number in Bali is devastating.
Many locals have has to sell assets, vehicles that they would usually rent to tourists or use to conduct tours, are sold at a loss in order to survive. At the same time, making it more difficult to recover after the pandemic. Some have turned to freelance work for food delivery apps like GoJek, Uber and Grab, and others have shown their entrepreneurial side, and have begun looking for an income through alternative means.
For example, the owner of a sports centre, in Tabanan, has taken a unique approach to the situation. Deciding to fill the main pool with saltwater and release fish into the pool. Reports claim the man has plans to open a small restaurant at the poolside where guests can catch their own fish from the pool, before having the chefs prepare and serve it.
What Is The Attitude Of Balinese People Towards The Virus
For many locals in Bali, they never wanted any lockdowns or border closures. Many have been petitioning and campaigning to reopen Bali since as early as April, not long after borders were closed initially. Hotel owners, along with those working in the tourism industry have been making regular and ongoing pleas with officials, to allow all tourists to return back to Bali so that they can begin to salvage their livelihoods.
It's evident that Indonesian people want their lives to get back to normal, I think it's fair to say that most people around the feel the same. But the local attitude towards the situation is a little naïve.
Most locals do not feel threatened by the coronavirus, many hold the belief that coronavirus is not real. And many genuinely expect things will get back to normal anytime now as if nothing had ever happened, and the virus can be forgotten about.
For tourists, this could be considered great news, knowing that the Balinese people are ready to welcome us back, without being fearful of tourists spreading the virus. It's optimistic, but not realistic.
I remember having a conversation with a, (very friendly) taxi driver in Ubud. I spoke with him about the situation which coronavirus has caused and he shared with me some of the struggles he was facing due, to the lack of tourists. I asked what he planned to do if tourists didn't return to Bali, within the next six months, or within the next year. His answer; "That's impossible, tourists will never stop coming to Bali, we won't have to wait much longer until everything is back to normal".
There was no logic or reasoning in his thinking, just pure hope and optimism, but the sad reality is, if the local people are too late to accept the seriousness of the situation and don't make preparations for the long term, there might be nothing left when tourists do actually return.
In other countries I've visited during the on-going pandemic, the attitude towards foreigners has not always been welcoming. For example, getting into a cab in Bangkok; "where you from", the driver asked. "England". Before I had a chance to explain that I'd been in the country long before the virus was even known about, he decided I was too risky and I needed to find another cab.
Now the same cannot be said about Bali. The local attitude towards the coronavirus is entirely the opposite.
Recalling another conversation with a local worker at one of Bali's waterfalls. He asked where I was from, and how long had I been in Bali, when I told him my story; I expected to face some backlash or some hesitancy towards me, at least. But no; "Welcome to Bali, the coronavirus isn't real, it's Bul*****". He said, before reaching out for a hand-shake.
This same opinion seems to be shared between most locals who I have spoken with. If the decision was down to the Balinese people, I'd vision the airport would immediately open to international traffic, and airlines would be given the green-light to fly in from anywhere in the world with the only entry requirement being a temperature check on arrival, with one of those crappy, Chinese-imported, plastic temperature guns.
But as much as they'd like that to happen, the decision to allow tourists back, visa-free, fortunately, or unfortunately, depending on how you see the situation, and as much as they try; the decision cannot be made by the Balinese governors or authorities. The final decision needs to come from and be approved by officials in Jakarta.
What Do Locals Think About Having Tourists Back
It's pretty evident the Balinese are desperate to welcome tourists back to their island
Indonesian's, for those who I've spoken with all, seem to be overly optimistic that things will get back to normal sooner, rather than later. Countless hotels and resorts have already put out messages welcoming tourists back to the island and Bali's tourism board have even announced plans to drop 8 million US dollars on a new social media campaign, to bring back tourists!
No, that isn't a typo, 8,000,000 dollars, not rupiah. Eleven trillion IDR, roughly.
Perhaps someone should tell them, that most tourists can't visit right now!
Although with that being said, it technically is possible to enter Indonesia on a Social Visit Visa, right now. And hotels and business have begun to promote this method as a legitimate choice for tourists to return back to Bali.
Each month a new rumour is spread, about when all tourists will be given the green light to travel to Bali. And, even after being given false hope of things getting back to normal countless times, there is no convincing anyone otherwise, that these rumours might not actually be true…
It's clear that the Balinese people want tourists to return, and are adamant it will happen soon, seamlessly and instantaneously. But for me personally, I don't think the island will be fully opening for a long time to come. I would predict mid-2021 as a more realistic time for Bali to fully reopen. With a s*** ton of additional entry requirements, a PCR test at least, perhaps even a COVID vaccination, depending on if such a vaccination is available then.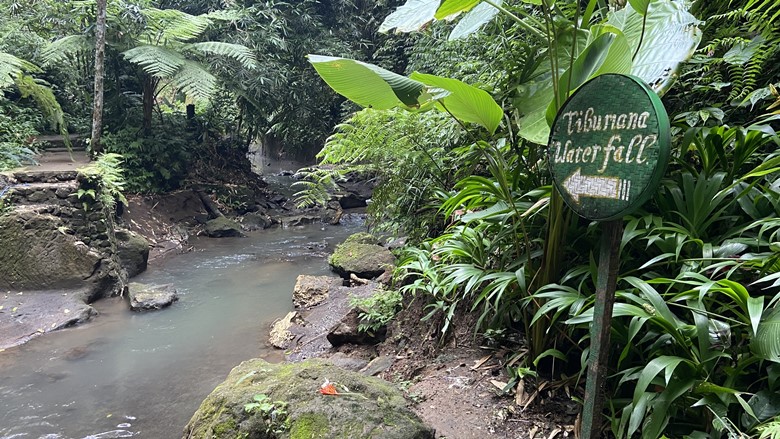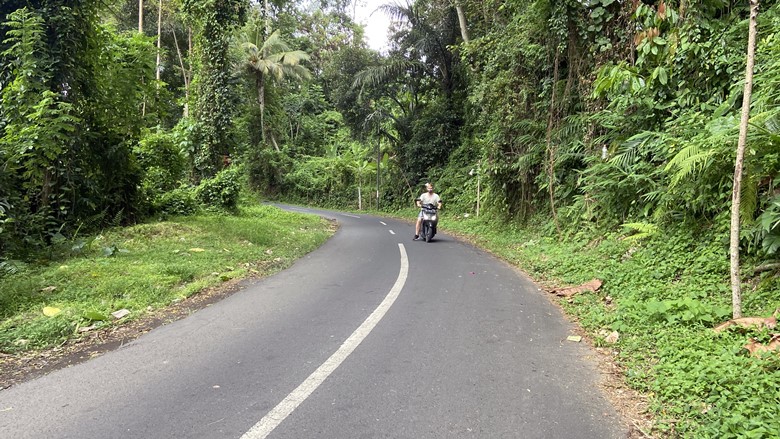 What Are Bali's Attractions And Amenities Like Now
Don't get me wrong; there are a LOT of places which are still closed in Bali, restaurants, bars, spa's, massage parlours. Simply because the demand is no longer there and they don't have customers.
But there are also lots of places in Bali which are still open or have now reopened. Including enough restaurants and bars, and but more importantly; all of the islands natural attractions, public spaces and beaches are open.
I have worked across south-east Asia, in the tourism industry for a number of years now. And the number one thing that tourists like to whinge and moan about is how crowded places are.
Most tourists travel with the false idea that what they see on Instagram is actually reality, they genuine expect to be able to rock up to some of the worlds most famous beaches and not find anyone else there, (idiots)! But the way that tourist destinations are promoted by influencers, it's easy to see where these beliefs and reasoning comes from.
Anyway, welcome to 2020. Crazily and for the first time in a lifetime, these tourist destinations, beaches, waterfalls, hot springs, temples etc, etc… are actually deserted!
Strangely, for the first time, these places do look somewhat similar in person, to how they look on Instagram. It really is a unique and peaceful time to be exploring Bali. It's like you have the entire island to yourself.
But, there is a downside to this too. One of the greatest things about travelling is meeting new people. A lot of times you'll easily make new friends on a day trip, sharing a common interest in visiting the same places. Without other tourists around, travel feels a little bit lonely. So while the idea of having these beautiful places to yourself might sound incredible on paper, and don't get me wrong, to begin with, it is. The novelty wears off pretty quickly.
I'd give anything to be able to experience travelling again; as it was before the coronavirus pandemic.
Living costs in Bali have been drastically slashed. The island's infrastructure is built to cater to hundreds of thousands of tourists. But with so few tourists travelling to Bali at the moment, it's left rental bikes filling up parking lots and streets, and many of the villas and resorts of the island have been left empty. With no demand from renters; the few that have kept their doors open are offering reduced, lucrative rates.
South-East Asia, generally speaking, is one of the cheapest parts of the world for travellers, especially Indonesia. Granted, in tourist places, like Bali, prices are often inflated, but still very much affordable in comparison to many other parts of the world.
It's a given that Bali is an affordable destination, but with the supply now outweighing the demand by a mile, prices have crashed to rock bottom.
For some things, prices have remained stable and unchanged. Admissions to tourist attractions, for example, mainly remain the same. But prices for other things had been lowered drastically.
Renting a scooter in Bali is one of the cheapest and most convenient ways to get around on the island. Before the pandemic sealed the borders and going by prices printed on brochures and posters; scooter rental would cost around a hundred thousand Indonesian Rupiah per day, or around $6 USD.
In 2020 however, that cost has been reduced to almost nothing. I was able to rent a scooter in Bali, and without even haggling on the price I was offered a Honda Scoopy for just 150,000 Rupiah, I should also mention that's the cost for a week! Before coronavirus 150,000 would have got you a rental for a day and a half.
Let's talk food and drink; there are far and few restaurants which have stayed open in Bali, especially in the more touristic areas, but you can guarantee every restaurant that is open now has a sign outside offering a discount, somewhere from ten to thirty per cent. Some smaller venues have gone even further to keep things ticking over. One of my favourite restaurants has even dropped the price of their entire menu to 15,000 IDR, or to put that into perspective one dollar. Oh, and that includes drinks, granted you're not getting top shelf for a dollar, but if you don't mind drinking the same as the locals drink, then you're going to love Arak.
But the category where you'll find yourself saving the most money is on accommodation.
Bali has thousands of beautiful and stunning villa's. Villa's which are usually rented out to tourists. So what happens, when there are so few tourists and demand crashes; well prices crash just as quickly. The average cost for a one-bedroom villa in Bali, with air-conditioning, kitchen and private swimming pool is usually somewhere around one million rupiahs a night.
Not anymore, these same luxurious villa's are now been advertised for around one million rupiahs, a week! If you thought Bali was cheap before, you'll be amazed at how cheap the cost of living has become now.
Is Bali Safe
Is it safe to travel in Bali? Well, is it safe to travel anywhere in the world, anymore; was it ever? If I'm being honest, that is a question a little above my pay grade. And I think the answer to is Bali safe will depend on who you ask. So ultimately with mixed and conflicting answers, it is a decision you'll need to make for yourself.
I don't think it has ever been 100% safe to travel, and travellers have needed to take precautions to stay safe even before the coronavirus. When you're travelling in south-east Asia, health and safety is much more relaxed than what you'd expect from the western world. Roads are notoriously dangerous, activities and tours are often unregulated and some can be risky to partake in, alcohol can sometimes be switched out with local produce; you have to keep our wits about you when travelling. What I'm getting at is there have always been precautions that we've needed to take in order to keep ourselves safe when we travel.
The coronavirus is more in your face than anything else at the moment. But in reality, it is just another thing travellers will need to take appropriate precautions against.
The truth is Coronavirus cases in Indonesia are some of the highest in the world, although Bali has substantially lower numbers than other areas in Indonesia.
My advice, however, is to stop looking at the numbers altogether. There have been cases of coronavirus reported in every country in the world. There is a possibility of catching coronavirus in your home country and there is a possibility in Bali, there is no avoiding it.
If you feel fit and healthy and do not class yourself as high risk, then, in my opinion, there is no reason why Bali would be any more unsafe than anywhere else in the world.
So Is It Worth Visiting Bali Now
Yes. Seriously it's such a unique time to visit Bali. You won't regret it.
Is It Safe To Book Tickets To Bali For 2021
No! I defiantly wouldn't recommend booking flights to Bali just yet, (unless you have a visa that is).
The assumption is that Bali will be opening again from January 2020. However, as I mentioned Balinese people are a little over-optimistic about the country's reopening. The expectation that Bali will open in January comes from an announcement given stating Bali will not open until 2021 at the earliest.
The message that should have been taken from the announcement is that Bali is staying closed for the foreseeable future. But the message has been interpreted as on the 1st of January, the island will be open.
I would love to be proven wrong, and I'd love to see the island fully open to tourism in early 2021. But I don't think it's going to happen.
Making any reservations for 2021, with the hopes that Bali will open is crazy. The pandemic has made travel uncertain, things change at the last minute and making a booking now is a pretty solid way to lose your money.
If you want to travel to Bali, you've got two choices.
One, wait until an official announcement has been given with a date to reopen, and then wait until after that date to book anything! Even after a date has been announced to open Bali, history could repeat itself and the announcement could be later back-tracked.
Or secondly, if you don't want to wait. Get yourself a Bali social visit visa and you'll be able to travel wherever you want, next week if you like.
Remember, even if you've found an incredible deal on flights or accommodation. If borders stay closed, then you'll lose everything. Don't give in to the lucrative deals that airlines are offering.
Where Can I Find Official Updates On COVID-19 In Bali?
Bali Province Responses COVID-19: You can read the latest and official Coronavirus updates from the Bali provincial government here.
https://infocorona.baliprov.go.id/
Where To Next
If you've found this post useful and wanted to show your support, you can do here. If you want to read more, then you might be interested in these posts.
FULL LIST OF CONTRIES ALREADY OPEN TO AMERICAN TOURISTS
WHEN WILL BALI OPEN BORDERS TO TOURISTS
ENTRY REQUIRMENTS TO TRAVEL TO THAILAND NOW
WHAT IS FLYING LIKE DURING THE CORONAVIRUS PANDEMIC
3 TIPS FOR BOOKING FLIGHTS TO BALI DURING THE PANDEMIC